Are We Entering a Post-Capitalist Era?
It was the worst of times, it was the best of times." Thus begins A Tale of Two Cities. Perhaps we are now living in such times, when the vision of a new social system beyond capitalism can finally be entertained if not realized. The inevitable question arises: what exactly needs to be done?
The philosopher Alfred N. Whitehead's stated once that theory without praxis is sterile and praxis without theory is blind, but even such an insightful statement remains pitifully inadequate to the challenge of that simple question. Let's analyze briefly the current situation and then hazard some suggestions on what ordinary citizens can do hic and nunc without waiting for a Charismatic Politician (Nietzsche's Uberman) to appear walking on water, for to expect miracles in political life is to be eventually sorely disappointed!
Few people doubt nowadays that the entire capitalist system is in crisis. The media and the politicians try to focus our attention on how to repair the system with some tinkering here and there, but a growing number of common citizens are having second thoughts on the idea of fixing a broken system. Some things are better left broken and need to get worse before they get better. They are beginning to entertain the more radical idea that we should instead be using this moment of crisis to fundamentally transform the realities that have historically shaped our lives, especially those of us who live in the democratic West.
This is indeed the silver lining of the whole crisis. The current moment allows us to move from being an object in someone else's system, with the market as a sort of demiurge to be slavishly worshipped, to becoming the active subject of our own history and destiny. Suddenly we have new choices and we can envision and create realities that just a few years ago would have been ridiculed and caricaturized as naïve and utopian.
The crucial question at this point in time is this: can we get out of this crisis before it is too late and the whole elaborate capitalist scheme comes crashing down causing tremendous suffering to most ordinary people? Is our jubilation at having survived another global regression, which almost became a depression, in any way justified?
Not easy to answer such a question, but one thing remains clear: to embrace the possibilities of the moment means to stand outside the political frame developed by the media and the politicians. This puts progressives, those who are convinced that things always get better and better and there is no sliding back, in a rather difficult position. The present historical moment calls for something far more imaginative and radical than what administration on both sides of the Atlantic have managed to muster so far. And it is not a mere lack of civility and mutual respect, a failure at compromise and tolerance or worse, a matter of "political correctness" or ideological purity.
There is, however another take on this issue: that the ideology of anti-ideology is simply another face of global capitalism. The neoliberal policies that are now crumbling before our eyes were brilliant attempts to extend the basic underlying philosophy of capitalism-that the common good is best served when everyone pursues his or her own economic interests, the famous "laisse faire" economic model whose fruits are dubious at best: what we have seen over several decades is that the rich have gotten richer and tripled and quadrupled their wealth, with the rationale that their wealth would trickle down to the rest of society. What has happened indeed is that while the rich have gotten richer, the poor have gotten the crumbs and have become poorer. The divergence continues to expand. Those are mere market forces, we are told, not to be tampered by ideology.
Indeed, to be non-ideological in a world in which one out of every three people is living on less than $2 a day is to be a champion of inequality, even when one sheds crocodile tears over children starving as we speak, and throws a few miserable billion dollars toward "foreign aid."
If the truth be told, however, we need to begin to acknowledge that the economic crisis of the West is symptomatic of another deeper malaise: spiritual impoverishment. So spiritual progressives must move beyond the struggles of the moment and provide a different paradigm. People have to be reminded that when the economic system was going full force not long ago, it was also on an immediate collision course with the environment, as Al Gore found out, to his surprise, only after he was out of office and could do nothing on a purely political level. Fortunately, he went into the field of education, environmental education, and we are all better off for it.
People indeed remain to be educated to the hard to swallow empirical evidence that the extremes of selfishness that has led so many of the "big wheels" in the economy to loot their own firms for the sake of personal advantage were not a product of individual pathology (many of those people still consider themselves virtuous and decent) but rather an inevitable working out of the essence of the capitalist ethos and its primary appeal: that if you focus on your own needs and maximize your own interests, without any regard to the well-being of others, you can "make it" and have a very comfortable life. Indeed, when the concept of the common good has all but disappeared, a society will inevitably find itself in a spiritual crisis.
In short, the system that our political leaders are presently trying to revive is already morally bankrupt and environmentally dangerous, but if they know it, they are not telling anybody, yet; often they deny such a reality. But plans to rev up the system so that it can return to those good old days are fundamentally irrational. Which is to say we need a new global economic system; a system under which institutions, corporations, public policies, laws, and even individual behaviors are perceived as "rational," "productive," or "efficient" not only to the extent that they produce power or money or new technologies for someone, but also to the extent that they enhance our capacities and our desire to be loving and caring, kind and generous, and ethically and ecologically sensitive.
We are in desperate need of an economy that transcends the narrow utilitarian or instrumental approach of classical liberalism; a novel system which allows us to develop our capacities for awe, wonder, and radical amazement at the grandeur of the universe and the dignity of other human beings. That is something that the ancient Stoics (who were no Christians) seemed to be fully conscious of, but we moderns seem to have all but forgotten, while we pay lip service to spiritual realities.
But to return to the question of what exactly needs to be done, we need a grassroots movement of people meeting together in their communities in "After-Capitalism" groups, discussing their own original ideas on how to create a better global economy. Spiritual progressives should play a central role in stimulating these discussions, not only in every church, synagogue, mosque, and ashram, but also on college campuses, in union halls, in professional organizations, and at town meetings, that is to say the "agora" from which the voice of religion should not be focibly suppressed.
Which is to say, that the activist Left perhaps needs to get out of the way and stop its bad habit of criticizing rather than to propose new options, especially when it comes to the spiritual sphere of human existence. The failure of communist and socialist ideals in the twentieth century has unfortunately led progressives to mere cynical criticism rather than envisioning a new social system. They seem too comfortable in merely criticizing what is or was rather than proposing and leading struggles for what might be. From being idealist they have become realists steeped in "real-politik" Machiavellian thinking. They don't trust the politicians but they trust even less the idealism originating from a religious paradigm. Deprived of the moral compass of the socialist ideology provided in former times, they now seem at a loss. Some have moved from the Left to the Right. We have the incredible spectacle of a Vladimir Putin financing right wing political movements all over the EU in cynical attempt to divide and conquer.
What in fact needs to be overcome is a cynical pessimism in the West about the possibility of ever creating a society in which people routinely act in altruistic and generous ways toward others. We seem to be constitutionally unable nowadays to imagine ourselves into unselfish cooperative roles. The attempt on the part of conservatives of every stripe to diminish the huge levels of cooperation that made possible the New Deal and that characterized many of the movements of the 1960s and 1970s have been successful in part because of their control over the media, the educational system, and the government. The last twenty years have been especially devastating.
We should frankly acknowledge that the economy itself on both sides of the Atlantic fosters an ethos of selfishness wherein others are treated as instruments for one's own satisfaction and needs. There is something missing and as hinted above it is the absence of a spiritual dimension to progressive politics without which it is hard to sustain commitment for any kind of long-term struggle. It has not escaped notice that organizations created on the Left by radical activists may champion the ideal of caring for the victims of capitalism but rarely provide active caring for the activists themselves. And without that kind of attention, people quickly burn out and leave their activism behind. They eventually settle for winning the lottery and escape the common misery. It is the blind praxis devoid of theory of which Whitehead spoke about.
Ultimately the real question facing us today is whether the seriousness of the contemporary crisis can lead people to transcend these negative dynamics enough to form a coherent movement that could address the need for a vision for after capitalism. In short, we need to replace selfishness and materialism with charity and magniminity. How would the world look like after capitalism? There is no lack of literature in this respect.
More pragmatically, the New Deal employed artists to paint, poets and writers to write, and took some tentative steps to build a culture of caring. A dramatically expanded program for the unemployed should and in fact could address the cultural and spiritual dimension of human needs aside from mere utilitarian pragmatic considerations. People have to be taught that "we" is more important that "me" and it simply means to take care of each other and that each of us is responsible for his/her own brother or sister's welfare. Admittedly, this is an "outside the box" vision; one born within the worst of times in which to operate, but also within the best of times. A paradox, perhaps; or an opportunity to be seized. Any takers?
Côte d'Ivoire: Robust growth under the looming threat of climate change impacts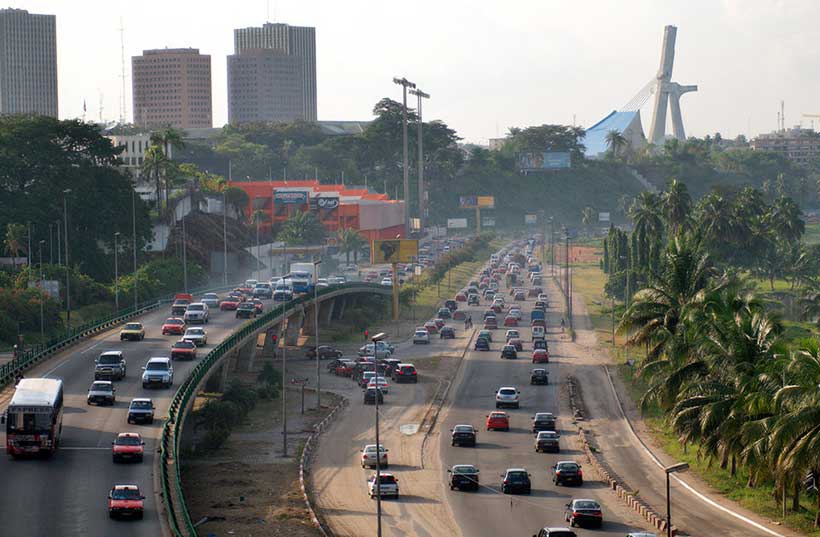 According to the Economic Update for Côte d'Ivoire, published today, the short- and medium-term outlook for the Ivorian economy remains positive. The economy is expected to maintain a steady trajectory, with GDP growth of 7 to 7.5% in the coming years. Titled "So Tomorrow Never Dies: Côte d'Ivoire and Climate Change," the report highlights the urgent need to implement measures to ensure that climate change impacts do not imperil this economic progress and plunge millions of Ivorians into poverty.
"The solid performance of the Ivorian economy, which registered growth of almost 8% in 2017, is essentially due to the agricultural sector, which experienced positive climate conditions. The economy also benefited from a period of calm after the political and social instability of the first half of 2017 and from more favorable conditions on international markets," said Jacques Morisset, Program Leader for Côte d'Ivoire and Lead Author of the report. "The Government also successfully managed its accounts, with a lower-than-expected deficit of 4.2% of GDP, while continuing its ambitious investment policy, partly financed by a judicious debt policy on financial markets."
However, the report notes that private sector activity slowed in 2017 compared with 2016 and especially 2015, which may curb the pace of growth of the Ivorian economy in the coming years. Against the backdrop of fiscal adjustment projected for 2018 and 2019, it is critical that the private sector remain dynamic and become the main driver of growth. This is particularly important in light of the uncertainty associated with the upcoming elections in 2020, which could prompt investors to adopt a wait-and-see approach.
As economic growth in Côte d'Ivoire relies in part on use of its natural resource base, the authors of the report devote a chapter to the impact of climate change on the economy. They raise an alarming point: the stock of natural resources is believed to have diminished by 26% between 1990 and 2014. Several visible phenomena attest to this degradation, such as deforestation, the depletion of water reserves, and coastal erosion. According to the Intergovernmental Panel on Climate Change (IPCC), climate change could reduce GDP across Africa by 2% to 4% by 2040 and by 10% to 25% by 2100. For Côte d'Ivoire, this would correspond to a loss of some CFAF 380 billion to 770 billion in 2040.
"This report sounds an alarm in order to spark a rapid and collective wake-up call," said Pierre Laporte, World Bank Country Director for Côte d'Ivoire. "Combating climate change will require prompt decisions and must become a priority for the country to maintain accelerated and sustainable growth over time."
The report pays special attention to coastal erosion and to the cocoa sector, which represents one third of the country's exports and directly affects over 5 million people. With 566 km of coast, Côte d'Ivoire now boasts a coastal population of almost 7.5 million people, who produce close to 80% of the national GDP. Two thirds of this coast is affected by coastal erosion, with severe consequences for the communities and the country's economy.
The Ivorian Government, which is already aware of this challenge and has prepared a strategy to confront it, must expedite its implementation. This would have the two-fold effect of developing a "green" economy and creating new jobs.
A future of work based on sustainable production and employment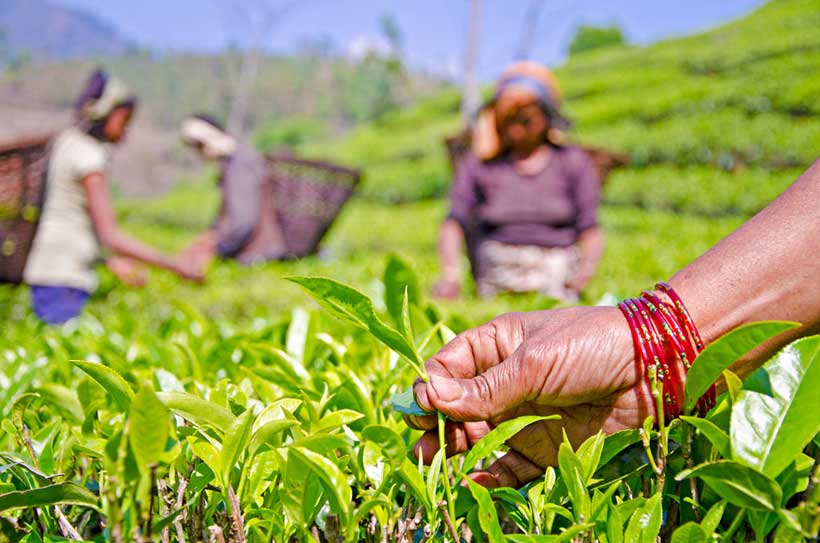 On the first Saturday of July each year, the international community celebrates the International Day of Cooperatives. This year's theme, Sustainable consumption and production of goods and services is timely, as the ILO works towards a future of work that is based on sustainable production and employment models.
As head of the ILO's Cooperative Unit, I have witnessed firsthand the positive impact of cooperatives' commitment to sustainable consumption and production.
In Northern Sri Lanka, for instance, after years of civil war, I saw how cooperatives helped build the resilience of local communities.
A rapid assessment at the start of the ILO's Local Empowerment through Economic Development project (LEED) indicated that cooperatives were the only "stable" structures present in Northern Sri Lanka before, during, and after the conflict. Since 2010, the project has been supporting agriculture and fishery cooperatives by securing fair trade certification for their products and helping them establish market links.
I've also listened to inspiring stories from other parts of the world of how cooperatives have joined forces to contribute to sustainable consumption, production and decent work – often through cooperative-to-cooperative trade.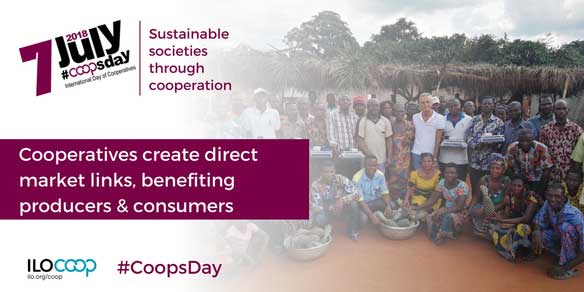 Some of these stories were shared at a recent meeting in Geneva of cooperative and ethical trade movements.
We heard how Kenyan producer cooperatives' coffee has found its way on the shelves of Coop Denmark and how biological pineapples from a Togolese youth cooperative are being sold in retail cooperatives across Italy. We heard how consumer cooperatives in East Asia have developed organic and ecolabel products, while educating their members about the working conditions of producers and workers, as well as on reducing food waste and plastic consumption. We also shared ILO experiences in supporting constituents in the field.
The emerging consensus from the meeting was that cooperative-to-cooperative trade can help lower the costs of trade, while ensuring fairer prices and better incomes for cooperative members and their communities. Opportunities exist not only in agricultural supply chains, but also in ready-made garments and other sectors.
Cooperatives at both ends of the supply chain have been joining forces to shorten value chains, improve product traceability and adopt environmentally-friendly practices. At the ILO we have been working with our constituents to improve the social and environmental footprint of cooperatives around the world.
As the ILO continues to promote a future of work that is based on sustainable production and employment models, a priority for us in the coming years is to facilitate the development of linkages between ILO constituents and cooperatives. The aim is to encourage joint action towards responsible production and consumption practices, the advancement of green and circular economies and the promotion of decent work across supply chains.
Source: ILO
Mongolia's Growth Prospects Remain Positive but More Efficient Public Investment Needed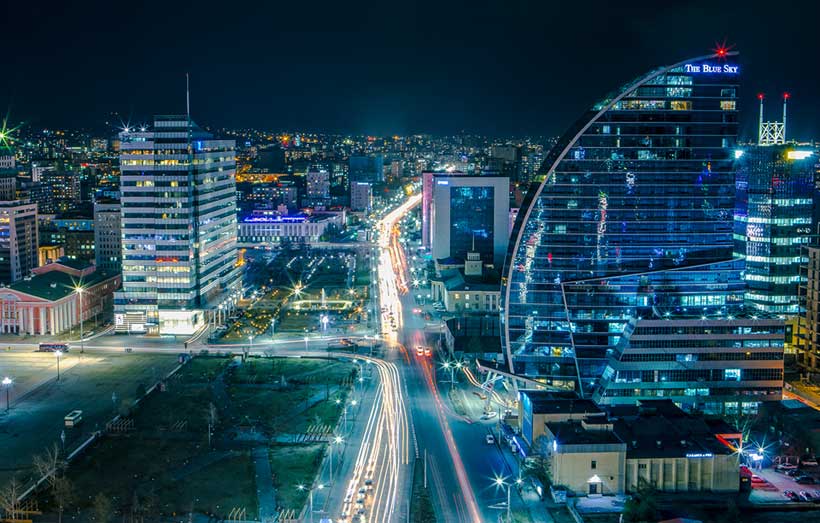 Mongolia's economic performance has improved dramatically with GDP growth increasing from 1.2 percent in 2016 to 5.1 percent in 2017 and 6.1 percent in the first quarter of 2018. While short- and medium-term economic prospects remain positive, Mongolia faces core structural vulnerabilities that hinder its potential, according to Mongolia Economic Update, the latest World Bank report on Mongolia's economy launched here today. The report also highlights the importance of improving efficiency of its public investment programs given extensive consequences from the overambitious and unrealistic investment programs implemented in the past.
"Last year was a good year for Mongolia with favorable commodities prices and the successful implementation of the government's economic recovery program," said Dr. Jean-Pascal N. Nganou, World Bank Senior Economist for Mongolia and Team Leader of the report. "This resulted in improved fiscal and external balances, triggering a slight decline of the country's public debt."
The recovery is expected to accelerate with a GDP growth rate averaging more than 6 percent between 2019 and 2020, driven by large foreign direct investments in mining. Other than agriculture, which was severely affected by harsh weather conditions during the winter, most major sectors including manufacturing, trade, and transport are expected to expand significantly. On the back of increasing exports and higher commodity prices, economic growth will continue to have a strong positive impact on government revenue, contributing to the reduction of the fiscal deficit.
The unemployment rate dropped to 7.3 percent in the last quarter of 2017, compared to 8.6 percent a year earlier. Still, it increased to 9.7 percent in the first quarter of this year, reflecting Mongolia's highly seasonal employment patterns due to difficult working conditions in the winter, especially in construction, agriculture, and mining.
The report highlights possible short- and medium-term risks including political risks, regional instability, climate shocks, and natural disasters. The most critical risk identified is a sudden relaxation of the government's commitment to full implementation of its economic adjustment program supported by development partners.
In addition, the economy remains vulnerable to fluctuations in global commodity prices and a productivity gap. The best long-term protection against these two vulnerabilities is the diversification of the Mongolian economy.
"To create a strong buffer against economic vulnerabilities, the government and donors should give a high priority to economic diversification that helps counter the ups and downs of the mining sector. Investing in human capital and strengthening the country's institutions are the best way to support diversification, together with sound investments in crucial infrastructure," said James Anderson, World Bank Country Manager for Mongolia.
The report takes a closer look at public investment programs implemented over the past five years, which surged until 2015, contributing to large increases in public finance deficits and the public debt. Mongolia needs to review and reshape its public investment policies and decision-making processes to improve efficiency of public spending, including clear project selection and prioritization criteria, as well as proper maintenance of existing assets.