The policy of artificial scarcity of currency
Herodotus tells us that it was Croesus, King of Lydia, the land from which, according to Livy, the Etruscans came, who invented the minting of coins – hence currency – by impressing his seal on the electrum, a natural alloy of silver and gold. According to ancient history, it was a temporary stopgap.
The alloy was bound to be depleted sooner or later and much of the material extracted and sealed would be hoarded, as always happens with "good money", whereas the one which does not appreciate over time is exchanged at high speed with goods and services.
Furthermore the scarcer the currency, the greater the need for credit for equal goods and services available.
Currently, however, we are increasingly faced with policies which tend to avoid the use of money as such, or to limit it, because of the danger of favouring the "money laundering" of proceeds from organized crime, corruption or many illegal activities.
From the logical viewpoint, these regulations closely remind us of some city police regulations of the nineteenth century, which banned for inns and taverns the possession and use of sharp knives.
If we confuse the means with the use and, in the case of money, if we eliminate exactly the typical feature of currency, as from Croesus onwards, namely its being universally valid in its legal tender, the economy will really cease to exist.
Either we hoard everything or we spend everything – hence without having any idea of the value/price ratio.
Also the European Central Bank (ECB), which never misses a novelty, will stop printing the 500-euro banknotes in 2018 which, however, will remain legal tender and will mandatorily be exchangeable at the issuing bank's counters.
Therefore currency exchanges are no longer free, because each transaction shall be controlled by a specific bank passage and flow which, according to the naive drafters of these laws against money, should reassure on trade lawfulness.
A bank passage and flow which may also be a credit, so that the bank now succeeds in gaining money from what previously was one of its formal obligations.
Furthermore, who will guarantee us that banks are not involved in dirty money flows?
With the end of philosophy, also rationality applied to people's practical life comes to an end.
These are the thoughts springing to our mind when we read about the demonetization of the Indian economy adopted – approximately fifty days ago – by the Indian Prime Minister, Narendra Modi.
As stated by the Indian law, by December 31, 2016 all 500-rupee (7.5 euro) and 1,000-rupee banknotes – the two average denominations of Indian currency – shall be forcibly returned to the bank, from which the equivalent of the money deposited can be withdrawn in smaller, or even larger denominations, such as 2,000 rupees or more.
The government's aim was to stamp out corruption, the informal economy and tax evasion.
The problem is that the illegal economy or, anyway, "underground" or informal economy, is the only one on which the huge masses of poor Indians can live.
If we implement some form of tax checks or legal scrutiny for the many poor people's intermediation and brokerage activities, they would cease all of a sudden, as if by magic.
Hence how could poor people survive? Can we imagine a tea seller, on the streets of Mumbai, issuing a "regular receipt"?
How much would the huge check apparatus cost?
Moreover, India has more than one billion poor people – surveyed inductively – not to mention usury in rural areas, generated exactly by the intermediation and brokerage between labour and land ownership – real estate usury continually pushing recently-created masses of rural underproletariat to megacities.
India's per capita GDP is 1,718 US dollars per year.
China's current one is triple, albeit with a ratio between urban and rural areas – the mainstay of the creation of capitalism and the crisis of the various forms of Communism – which is, to some extents, similar to the Indian one, although with a different investment policy in agriculture.
The Indians who earn incomes comparable to those in the First World countries are just 320 million people, while only twenty million families of the Indian Federation own savings over one million euro.
In India the one billion poor and very poor people earn 3 dollars a day at the maximum.
50% of Indian children are rickety. Any kind of diseases are widespread and hence the poor people's average age decreases – the only relief from their earthly misery.
How can we imagine all these masses entering a bank and making it gain money with their exchanges, so as to increase money collection and later favour the opening of credit to the best clients, as usual?
Moreover, if over a billion people use, or think they use, ATM, POS and credit cards, taxes and deductions on transactions will increase and, of course, it will be equally impossible to trace illegal money.
It is as if the Indian government regularizes exactly one of the primary mechanisms for money laundering, namely smurfing, which means using runners to perform multiple financial transactions to avoid the currency reporting requirements. This technique involves the use of many individuals (the "smurfs") who exchange illicit funds (in smaller, less conspicuous amounts) for highly liquid items such as traveller cheques, bank drafts, or deposited directly into savings accounts.
Obviously the results of the Indian regulations on forced demonetization have materialized almost immediately and are before us to be seen.
The slow withdrawal of new cash has quickly blocked the whole Indian economy, both the small-scale legal one and the huge informal economy.
Food prices have plummeted by 50%.
Because poor people have no longer money to buy the already scarce food.
All this has happened without even imagining the effects of this price collapse on rural incomes.
In some areas producing rice and other foodstuffs, after realizing that sale prices did not even cover half of the transport costs, farmers destroyed crops throwing them in the streets, with the immediate effect of a massive and deadly famine.
Also handicrafts, which were part and parcel of the informal economy, such as retail trade, are disappearing in India.
Obviously the banks are increasingly slow in providing the equivalent of the banknotes returned. They earn on deposits, invest and lend the money collected to primary clients.
Hence in India barter is back again – the only way people know to replace the "universal equivalent", namely currency.
This implies, however, further fragmentation of the Indian society by   castes, ethnic groups, geographical areas and family clans.
Even exports, in which India stood out, are suffering the mad crisis of moralistic demonetization.
In general terms, the most modern companies report a 25% drop in sales and we cannot imagine how, in this context, India can have normal economic relations with foreign countries.
Obviously criminal organizations, the only ones which can make money with these beautiful monetary ideas, have quickly stepped in by offering a 20% discount for exchanging old banknotes. Hence the law of unintended economic consequences enables criminals and Mafias to launder money, which was previously much more difficult.
Even Narendra Modi, however, has his own theorist that, this time, is not a Western technocrat, but Anil Bokil, the founder of a financial and political movement known as Artakranti, namely "monetary revolution."
According to this beautiful mind, who is in no way inferior to our third-rate economists, the bulk of illegal capital is exactly the one which raises the prices of vital goods (real estate, in particular), while the money earned honestly – that is quickly noticed – would lose value when the "bad money" grows.
It would take Vilfredo Pareto's poison pen to mock these ideologies, but it is worth recalling that many of our graduates and economists are not far from similar theories.
With a view to corroborating his ideas, Anil Bokil, states that if you demonetizes, "illegal" wealth is self-destroyed, while poor people's money, namely the "good money", would appreciate.
Even Bokil, however, has his own pocket-size Tobin Tax: if demonetization is complete and the "black money" is driven away, we could abolish all taxes, except for a 1% "Tobin Tax" on each transaction.
Meanwhile, the poor wretched Indians' banks accounts are blocked for lack of cash and the new banknotes are so badly printed that they can be easily reproduced, thus leading us to predict great success for "black money".
And inflation throughout India worse than Weimar's.
Faced with this fever of economic foolishness which is spreading across Asia, even Australia wants to get rid of the bad 100-Australian dollar banknote (equal to 70 euro approximately), which is responsible for all moral iniquities in the land of kangaroos.
In fact the word "kangaroo" comes from the Anglicisation of the kangaroo natives' expression "I do not know" or "I do not understand".
Here the logic is still wrong, such as the one of the Indian mystic monetarist, but has its own foolishly Western meaning.
In fact, if we eliminate a currency which serves mainly for private hoarding, market liquidity will increase immediately.
Not necessarily, but they think so anyway – they studied in some Ivy League universities and are exempted from using the logic and studying the classics.
However what should Australians use for hoarding their savings?
And if they do not hoard money, how could they pay loans, mortgages, taxes, utility bills, rents?
Shall they use coconuts? Or avocados? It is impossible because they are perishable products and, by eating them, their children would immediately become capitalists.
The fact is that banks and governments want to increase the households' credit share, by abolishing their independent money reserves.
As has somehow happened with the great wage freeze since the euro introduction onwards.
Wages and salaries have decreased in real terms to the same extent as the share of consumer loans increased.
The privatization of wage increases with high percentages.
Hence If we do not think again to an economy which can work well also for the poor people, possibly with a small one-off tax to be paid every year, we will never get out of this cage full of crazy Hindus, monetarists, salon Keynesians and various ignorant people and doctrinarians with no idea of practical life.
Côte d'Ivoire: Robust growth under the looming threat of climate change impacts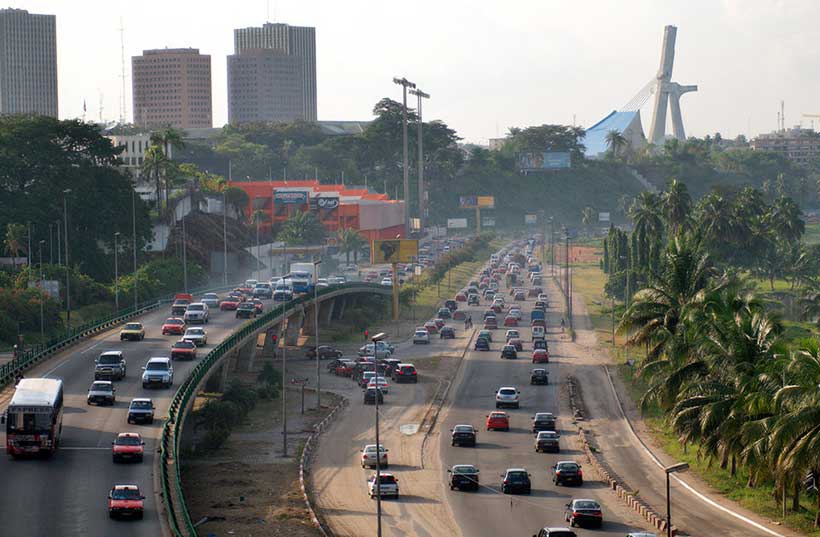 According to the Economic Update for Côte d'Ivoire, published today, the short- and medium-term outlook for the Ivorian economy remains positive. The economy is expected to maintain a steady trajectory, with GDP growth of 7 to 7.5% in the coming years. Titled "So Tomorrow Never Dies: Côte d'Ivoire and Climate Change," the report highlights the urgent need to implement measures to ensure that climate change impacts do not imperil this economic progress and plunge millions of Ivorians into poverty.
"The solid performance of the Ivorian economy, which registered growth of almost 8% in 2017, is essentially due to the agricultural sector, which experienced positive climate conditions. The economy also benefited from a period of calm after the political and social instability of the first half of 2017 and from more favorable conditions on international markets," said Jacques Morisset, Program Leader for Côte d'Ivoire and Lead Author of the report. "The Government also successfully managed its accounts, with a lower-than-expected deficit of 4.2% of GDP, while continuing its ambitious investment policy, partly financed by a judicious debt policy on financial markets."
However, the report notes that private sector activity slowed in 2017 compared with 2016 and especially 2015, which may curb the pace of growth of the Ivorian economy in the coming years. Against the backdrop of fiscal adjustment projected for 2018 and 2019, it is critical that the private sector remain dynamic and become the main driver of growth. This is particularly important in light of the uncertainty associated with the upcoming elections in 2020, which could prompt investors to adopt a wait-and-see approach.
As economic growth in Côte d'Ivoire relies in part on use of its natural resource base, the authors of the report devote a chapter to the impact of climate change on the economy. They raise an alarming point: the stock of natural resources is believed to have diminished by 26% between 1990 and 2014. Several visible phenomena attest to this degradation, such as deforestation, the depletion of water reserves, and coastal erosion. According to the Intergovernmental Panel on Climate Change (IPCC), climate change could reduce GDP across Africa by 2% to 4% by 2040 and by 10% to 25% by 2100. For Côte d'Ivoire, this would correspond to a loss of some CFAF 380 billion to 770 billion in 2040.
"This report sounds an alarm in order to spark a rapid and collective wake-up call," said Pierre Laporte, World Bank Country Director for Côte d'Ivoire. "Combating climate change will require prompt decisions and must become a priority for the country to maintain accelerated and sustainable growth over time."
The report pays special attention to coastal erosion and to the cocoa sector, which represents one third of the country's exports and directly affects over 5 million people. With 566 km of coast, Côte d'Ivoire now boasts a coastal population of almost 7.5 million people, who produce close to 80% of the national GDP. Two thirds of this coast is affected by coastal erosion, with severe consequences for the communities and the country's economy.
The Ivorian Government, which is already aware of this challenge and has prepared a strategy to confront it, must expedite its implementation. This would have the two-fold effect of developing a "green" economy and creating new jobs.
A future of work based on sustainable production and employment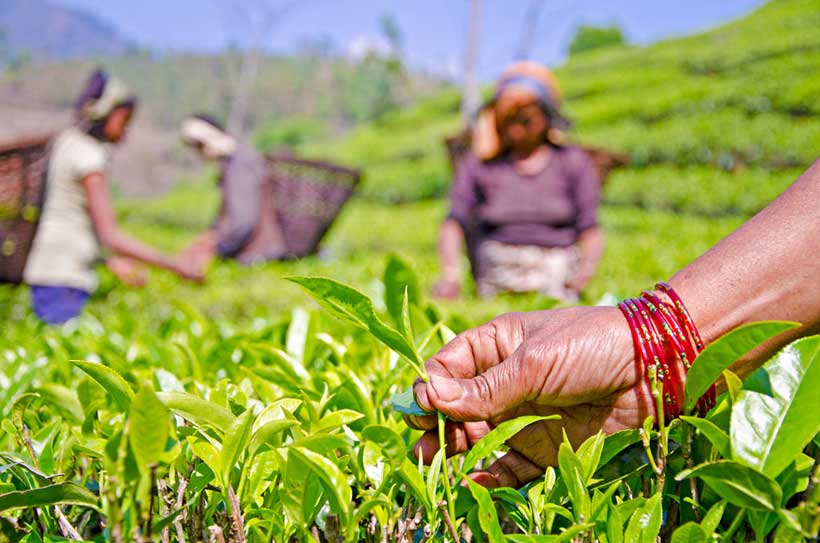 On the first Saturday of July each year, the international community celebrates the International Day of Cooperatives. This year's theme, Sustainable consumption and production of goods and services is timely, as the ILO works towards a future of work that is based on sustainable production and employment models.
As head of the ILO's Cooperative Unit, I have witnessed firsthand the positive impact of cooperatives' commitment to sustainable consumption and production.
In Northern Sri Lanka, for instance, after years of civil war, I saw how cooperatives helped build the resilience of local communities.
A rapid assessment at the start of the ILO's Local Empowerment through Economic Development project (LEED) indicated that cooperatives were the only "stable" structures present in Northern Sri Lanka before, during, and after the conflict. Since 2010, the project has been supporting agriculture and fishery cooperatives by securing fair trade certification for their products and helping them establish market links.
I've also listened to inspiring stories from other parts of the world of how cooperatives have joined forces to contribute to sustainable consumption, production and decent work – often through cooperative-to-cooperative trade.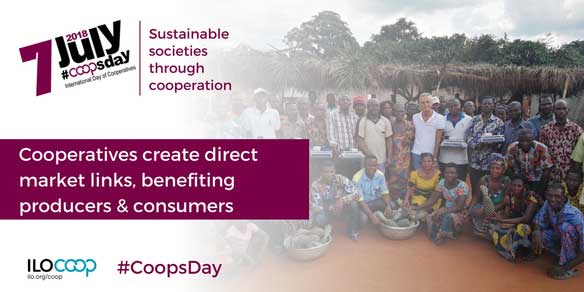 Some of these stories were shared at a recent meeting in Geneva of cooperative and ethical trade movements.
We heard how Kenyan producer cooperatives' coffee has found its way on the shelves of Coop Denmark and how biological pineapples from a Togolese youth cooperative are being sold in retail cooperatives across Italy. We heard how consumer cooperatives in East Asia have developed organic and ecolabel products, while educating their members about the working conditions of producers and workers, as well as on reducing food waste and plastic consumption. We also shared ILO experiences in supporting constituents in the field.
The emerging consensus from the meeting was that cooperative-to-cooperative trade can help lower the costs of trade, while ensuring fairer prices and better incomes for cooperative members and their communities. Opportunities exist not only in agricultural supply chains, but also in ready-made garments and other sectors.
Cooperatives at both ends of the supply chain have been joining forces to shorten value chains, improve product traceability and adopt environmentally-friendly practices. At the ILO we have been working with our constituents to improve the social and environmental footprint of cooperatives around the world.
As the ILO continues to promote a future of work that is based on sustainable production and employment models, a priority for us in the coming years is to facilitate the development of linkages between ILO constituents and cooperatives. The aim is to encourage joint action towards responsible production and consumption practices, the advancement of green and circular economies and the promotion of decent work across supply chains.
Source: ILO
Mongolia's Growth Prospects Remain Positive but More Efficient Public Investment Needed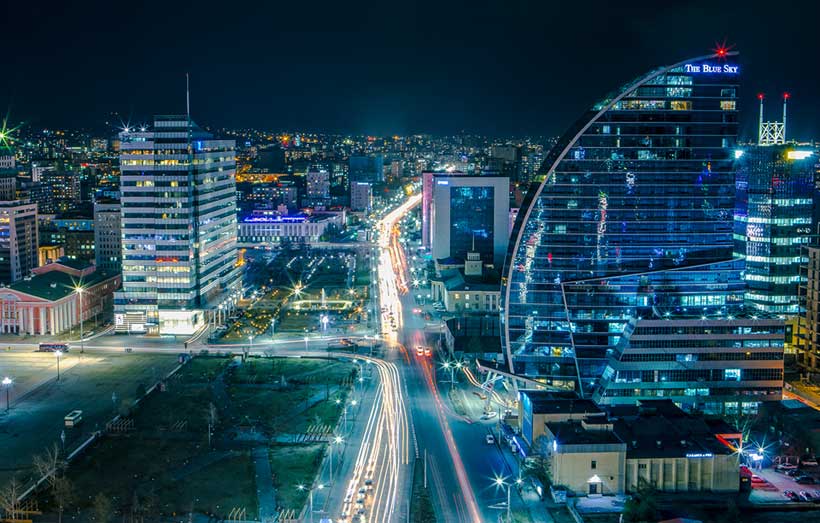 Mongolia's economic performance has improved dramatically with GDP growth increasing from 1.2 percent in 2016 to 5.1 percent in 2017 and 6.1 percent in the first quarter of 2018. While short- and medium-term economic prospects remain positive, Mongolia faces core structural vulnerabilities that hinder its potential, according to Mongolia Economic Update, the latest World Bank report on Mongolia's economy launched here today. The report also highlights the importance of improving efficiency of its public investment programs given extensive consequences from the overambitious and unrealistic investment programs implemented in the past.
"Last year was a good year for Mongolia with favorable commodities prices and the successful implementation of the government's economic recovery program," said Dr. Jean-Pascal N. Nganou, World Bank Senior Economist for Mongolia and Team Leader of the report. "This resulted in improved fiscal and external balances, triggering a slight decline of the country's public debt."
The recovery is expected to accelerate with a GDP growth rate averaging more than 6 percent between 2019 and 2020, driven by large foreign direct investments in mining. Other than agriculture, which was severely affected by harsh weather conditions during the winter, most major sectors including manufacturing, trade, and transport are expected to expand significantly. On the back of increasing exports and higher commodity prices, economic growth will continue to have a strong positive impact on government revenue, contributing to the reduction of the fiscal deficit.
The unemployment rate dropped to 7.3 percent in the last quarter of 2017, compared to 8.6 percent a year earlier. Still, it increased to 9.7 percent in the first quarter of this year, reflecting Mongolia's highly seasonal employment patterns due to difficult working conditions in the winter, especially in construction, agriculture, and mining.
The report highlights possible short- and medium-term risks including political risks, regional instability, climate shocks, and natural disasters. The most critical risk identified is a sudden relaxation of the government's commitment to full implementation of its economic adjustment program supported by development partners.
In addition, the economy remains vulnerable to fluctuations in global commodity prices and a productivity gap. The best long-term protection against these two vulnerabilities is the diversification of the Mongolian economy.
"To create a strong buffer against economic vulnerabilities, the government and donors should give a high priority to economic diversification that helps counter the ups and downs of the mining sector. Investing in human capital and strengthening the country's institutions are the best way to support diversification, together with sound investments in crucial infrastructure," said James Anderson, World Bank Country Manager for Mongolia.
The report takes a closer look at public investment programs implemented over the past five years, which surged until 2015, contributing to large increases in public finance deficits and the public debt. Mongolia needs to review and reshape its public investment policies and decision-making processes to improve efficiency of public spending, including clear project selection and prioritization criteria, as well as proper maintenance of existing assets.