Recollecting Diego Fabbri's Trial of Western Civilization
Diego Fabbri's existential theater, passionately committed to the exploration of the human condition and the spirit of the age, is all but forgotten nowadays. That is unfortunate, for the theatrical production of Diego Fabbri (especially his summa: "Jesus on Trial") is still today as we speak, vitally relevant to post-modern Man's self-knowledge, and the rediscovery of the cultural identity of Western civilization.
Some time ago, I translated from the Italian into English the play Processo a Gesù [Jesus on Trial] which has since been published. Nevertheless, Fabbri, at least abroad, remains a rather obscure author. The play was originally performed in Milan on March 2, 1955.
One may initially think that it is a mere recreation of the Passion of Christ, but that would be a rather mistaken notion. It is that, but it is also more than that. More than recreating the passion it is interested in reformulating the ancient question of Pilate to Christ: What is Truth? thus introducing post-modern man to the vital issue of human existence and the very meaning of one's life.
It might be hard to believe it now, but in the 50s and 60s Fabbri became better known than Pirandello, not only in Italy but also abroad. At that time his above mentioned play was performed in Germany, Sweden, Austria, the USA, France, England, Spain, Australia, even Japan; it was eventually made into a movie in Spain. He was truly an author without borders. However, despite this early popularity Fabbri seems to have been all but neglected. That is too bad, for his opus is even more relevant today to the predicaments of Western Civilization than sixty years ago.
The reason that is so is that Fabbri is one of those rare modern dramatists who, like Pirandello, is concerned with philosophical-ethical issues relating to the existential universal human condition. Some of his other plays are The Seducer, The Liar, Inquisition and Portrait of an Unknown. The mere titles of these plays hint at Fabbri's existential concerns. He was the kind of author who in Italian goes under the name of "impegnato" [committed]. Indeed, he was committed to what is True, Good and Beautiful.
The classical authors who greatly influenced Fabbri, as he himself revealed in his book of essays titled Christian Ambiguity (1954), are Dostoevsky, Cechov, Pirandello, Brecht, Plato, St. Augustine, Pascal, Kierkegaard, Kafka, Rilke, Berdiaev, Manzoni, as well as the contemporary French authors he was reading at the time the play made its debut: Andre Gide, Maurice Blondel, Jacques Riviere, Charles Péguy, Paul Claudel, Georges Bernanos, Francois Mauriac, Julien Green, Etienne Gilson, Jacques Maritain, Emmanuel Mounier. The list would be enough to persuade anybody that Fabbri is not an esoteric elitist intellectual, the sort that abounds in academia (of either classical or modern tradition); on the contrary, he speaks the language of everyman and is concerned with the problems of everyman.
The protagonists of his drama are mostly ordinary people who struggle with the great issues, "prosecuting charges," indictments, and ultimate problems of the human condition and destiny as lived today by post-modern Man who the more he distances himself from God, the more he feels Her/His absence, the more he searches for Her/Him through the labyrinthine byways of the spirit. In this respect, Jesus on Trial can be considered Fabbri's Summa.
And what pray is this play all about? It is really a modern trial, an in absentia trial of Jesus and to a certain extent of the ancient Jewish people by modern Jews. Paradoxically, as the trial progresses, we come to realize that it is in reality the trial of a decadent technological rationalistic civilization against itself; that is to say, the trial of a civilization that has lost the ability to hope in the future and to conceive salvation and redemption of any kind, a civilization , stuck in the horizontal (the immanent) and devoid of the vertical (the transcendent), unable to conceive the two together as "both-and," often given to apocalyptic scenarios of its own future destiny. The play had that powerful effect on me personally as I translated it.
Behind this bleak assessment by Fabbri of the modern social phenomenon, there is Charles Péguy, an author who influenced Fabbri more than any other, and who wrote that "Christianity is a life lived together so that we may save ourselves together."
After reading the play one realizes that indeed while Pirandello is Fabbri's artistic inspiration, Charles Péguy is Fabbri's spiritual inspiration for the conception of an authentically classical Christian society: a society that finds its "raison d'etre" in communion and solidarity and is thus alone able to free Man from that deep solitude of spirit described by Vico as "the barbarism of the intellect," a solitude and despair afflicting post-modern Man in the third rationalistic positivist cycle of Vico's ideal eternal history.
As far as dramatic techniques are concerned Pirandello is undoubtedly present, behind the curtain, so to speak. He is there for the fundamental emotions and conflicts which are explored, for the conception of dialogue as a search for identity and truth, and for the stage returned to its original classical function of authentic place of drama, almost another protagonist. It was in fact this Pirandellian inspiration and conception of the drama as advertised by Fabbri that led to the rediscovery of Pirandello in Italy and abroad and which explains his popularity at a par with Pirandello.
Fabbri's theater flows naturally into film. In the 60s and 70s he wrote manuscripts for the RAI Television which includes, among others, novels by Silone's among which Il Segreto di Luca (Silone, in fact has many affinities to Fabrri), Greene's The End of the Affair, Dostoevsky's The Brothers Karamozov and The Devils. However, Fabbri is no Silone or Dostoevsky, he remains uniquely himself hard to subsume under any other director. If one were to search for a kindred spirit to Fabbri among modern film directors, it would not be Fellini of Satyricon, but Bergman of The Seventh Seal.
Modernizing Higher Education for Economic Growth
Malawi has fewer affordable universities than it has students who want to go to them, leaving college out of reach for many. Enrollment in tertiary education is low, but more and more Malawians hunger for it. With IDA financing from the World Bank, Malawian citizens now have more options.
The five-year, $51 million Skills Development Project is helping public universities to strengthen and increase public access to programs that cater to sectors critical to Malawi's economic growth. These include engineering, natural resources extraction, agriculture, construction, health services, tourism, and hospitality.
Beyond the establishment of the National Council for Higher Education, project funding supports a range of activities at institutions, including improving course offerings and staff skills, renovating infrastructure, and setting up satellite facilities.
Market-relevant course offerings
To expand the range of scientific skills and mid-level technicians needed to fuel Malawi's economy, 39 new programs have been developed by universities, with the participation of the private sector ensuring their relevance to the economy. By 2017, these programs contributed 44 percent of the new student intake to public universities.
Diploma programs at universities have also been bolstered to increase the training of mid-level career personnel needed by various trades. For example, the University of Malawi's Polytechnic now offers 10 technician-level engineering diploma programs in subjects like mining, telecommunications, and health. By 2019, these programs are expected to have enrolled 750 diploma students.
Modernized facilities
One of the major constraints to increasing student enrollment at public universities has been space. At Chancellor College, where most of Malawi's secondary school science teachers are trained, more and better infrastructure is expected to make it possible to boost student intake by 65 percent. This includes modernized laboratories and four new lecture halls seating 350 students each.
This will go a long way toward meeting an increase in the demand for science teachers, following the introduction of physics and chemistry as separate subjects in the secondary school curriculum.
Mzuzu University is heading to be the country's center of excellence in tourism training. It is constructing a purpose-built tourism and hospitality facility that will produce graduates who are industry-ready.
Online and distance learning
The Lilongwe University of Agriculture and Natural Resources (LUANAR) and Mzuzu have introduced online and distance learning (ODL), resulting in increased enrollment at both. At LUANAR, online students make up 10 percent of the total student population. Between 2014 and 2016, Mzuzu increased its intake of online students tenfold. With more affordable fees and flexible options, the ODL system has helped to open access to higher education for many people nationwide.
"I enrolled through ODL because of its flexibility. I continue with my everyday life and yet I am studying at the same time. This is wonderful," says 45-year-old Joe Mwenye, a father of five and a teacher in Ngabu in Chikwawa district. He is studying at LUANAR for a Bachelor of Science in Agricultural Extension.
LUANAR has three ODL centers: one in the town of Mzuzu, another in Lilongwe, and another in Blantyre. Mzuzu University is opening satellite centers in Balaka, Karonga, Mulanje, and Lilongwe.
The Depth of Taboo: Social Issues in South Asia
Rarely does a geopolitical handbook also make such large and important contributions to uncomfortably critical social issues. This handbook is that rare example. The author Aryal takes our MD readers deep into some disturbing discussions – caste systems, systematic violence against women, rape, honor killings, gender stigmatizing, and societal sexism – not to just anecdotally expose people to some of the continued living horrors afflicting important regions of the world but to systematically analyze such atrocities so that their long-term political, economic, social, and diplomatic consequences are revealed.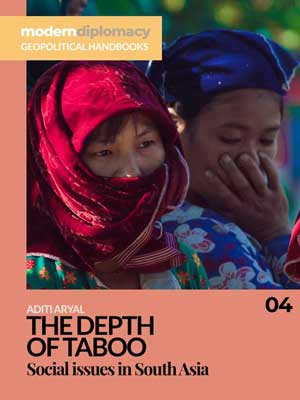 What many around the world do not realize is how crippling these gross abuses of human decency can be for a nation and region writ large: these are not just individual crimes to be noted and then forgotten. The failure of societies, the failure of GLOBAL society, to make more effective progress and take a more rigid stand against injustice is a black mark on all countries, on all of us. This handbook in its own small way strives to be a light within that darkness and as such it is both informative and courageous. While the readers of MD will not find the content of this particular handbook for the faint of heart, the importance of acquiring this knowledge, of becoming more aware of the world that we live in as it truly is in so many places, should be considered a duty of all those fortunate enough to not be born into states where such systemic violence still exists and largely goes unchallenged.
The title of this work is no accident and no shameless marketing attempt to attract more readers. Rather, it is exposing in a single word the reason why overcoming systemic violence based on gender is so difficult. Social taboos run deep in every region, state, city, town, village. We will likely not succeed in eliminating them from the social conscience of people. But the attempt to ameliorate the power of taboo, its power to push rationality out and pull insanity in, is a noble one that all of us at the editorial staff at MD recognize as silently essential for the cause of future peace on so many different levels. The battle against taboo is the secret front end of the war against gender violence and oppression. Ultimately, the criminal justice systems of societies must improve to remedy those actions not prevented from occurring. But the real long-term comprehensive solution will be the effort to eliminate the fear of social taboos, to eliminate the stigma that drives many to commit ignorant violence in the first place.
Women and girls with autism must be empowered to overcome discrimination they face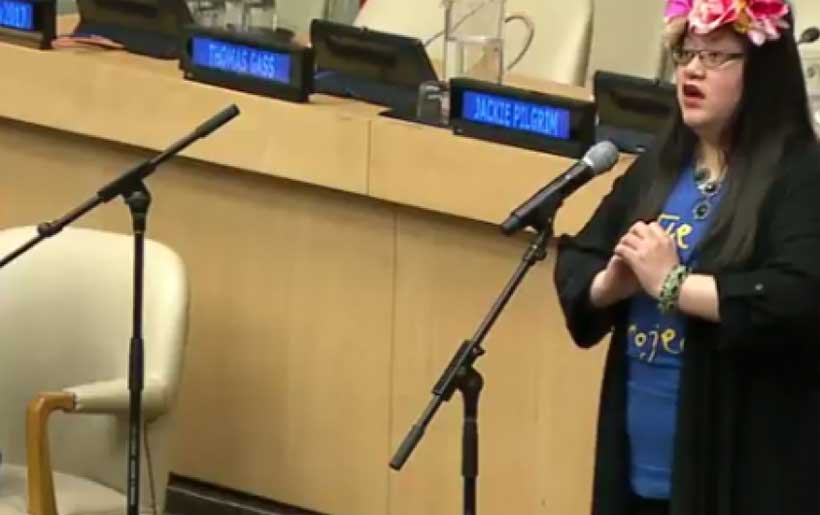 On World Autism Awareness Day, United Nations Secretary-General António Guterres has joined the global call to empower women and girls with autism and involve them and their advocates in policy and decision-making to address the discrimination and other challenges they face.
"They face […] barriers to accessing education and employment on an equal footing with others, denial of their reproductive rights and the freedom to make their own choices, and a lack of involvement in policy making on matters that concern them," said the Secretary-General in his message on the Day.
Emphasizing that "our work for gender equality and women's empowerment must reach all the world's women and girls," he stressed that the international community's efforts to achieve the Sustainable Development Goals (SDGs) must uphold the 2030 Agenda's core promise to leave no one behind.
The Goals and the landmark framework from which they emerged were adopted by UN Member States three years ago. Together they aim to wipe out poverty and boost equality by putting the world on a more sustainable economic, social and environmental path by 2030.
"On World Autism Awareness Day, let us reaffirm our commitment to promote the full participation of all people with autism, and ensure they have the necessary support to be able to exercise their rights and fundamental freedoms," concluded the Mr. Guterres.
Autism is a lifelong neurological condition that manifests during early childhood, irrespective of gender, race or socio-economic status. The term Autism Spectrum refers to a range of characteristics.
Autism is mainly characterized by its unique social interactions, non-standard ways of learning, keen interests in specific subjects, inclination to routines, challenges in typical communications and particular ways of processing sensory information.
The rate of autism in all regions of the world is high and the lack of understanding has a tremendous impact on the individuals, their families and communities.
The World Day is marked annually on 2 April, and this year's official UN commemoration will be on Thursday, 5 April, with a half-day programme in New York entitled Empowering Women and Girls with Autism, that will feature a keynote address from Julia Bascom, Executive Director, Autistic Self Advocacy Network.