Expelling Russian Diplomats – Obama's Motivation
The big news lately is the expulsion last week of 35 Russian diplomats in retaliation for alleged Russian hacking of the Democratic National Committee revealing a corrupt leadership. The claimed hacking was on May 16, 2016 and the information released just prior to the Democratic Convention held July 25 – 28, 2016. How it interfered with the November election would require a mystic to explain.
The leak and/or hacking divulged that instead of neutrality, the Democratic Party leadership (including the chairperson, Debbie Wasserman Schultz) led a concerted effort to hobble Bernie Sanders while at the same time pushing forward Hillary Clinton. The information gleaned was released just before the Democratic Convention, and as a result Debbie Wasserman Schultz was so roundly booed that she was promptly replaced as Convention chair and left.
Under these circumstances, shouldn't President Obama, as a Democrat and as the party's most influential leader, be more concerned about reforming his own party rather than punishing the messenger? Indeed the intelligence evidence presented to buttress the President's claims fails to demonstrate any link between Russia and the hacking. All it shows is essentially a tentative assessment of Russian capacity and capability, and an explanation of a phishing attack.
No less a cyber security familiar than John McAfee, co-founder of the eponymous computer protection software firm, in an interview with Larry King stated he did not believe it was the Russians based on his experience. What's more, Wikileaks founder Julian Assange himself has disclosed the leaks did not come from Russia. And a former UK ambassador to Uzbekistan and former university Rector, Craig Murray, in an interview with the Guardian, asserted categorically he had met the leaker who was not Russian but an insider. Thus there is clear evidence of a leak, not a hack for the main information.
So what was the purpose of this churlish discomfiture of 35 Russian diplomats and their families during the Christmas season? According to Lisa Monaco, Special Assistant to the President, who asserted on National Public Radio, we must " … maintain the integrity of the election process."   But it was not the Russians who made it disreputable; it was the Democratic National Committee leadership and Hillary Clinton who colluded in the numerous shenanigans.
The Obama administration's hysteria began with the selection of the pro-Russian former CEO of Exxon, Rex Tillerson, as the new Secretary of State. It signaled Trump's intention to improve relations with Russia, a move that is anathema to the unholy neocon and military industrial complex alliance — one seeking unchallenged U.S. hegemony, the other simply the dollar stream from military spending. Of course, it helps to have a president who is more than annoyed at seeing his agenda about to be dumped into the dustbin of history.
Add to all this a losing year where the election has been lost, Obamacare is being called Obamasnare as insurance companies opt out reducing competitiveness, the U.S. is side-lined in Syria, while long time ally Turkey cozies up to the Russians. One can understand the frustration if not the tactics. Trying to poison the well for the incoming administration just smells bad, and the adroit response from Vladimir Putin portends its pointlessness. It is as if a novice challenged a chess Grand Master with predictable results.
Donald Trump, Foreign Policy Incoherence and Inadvertent Nuclear War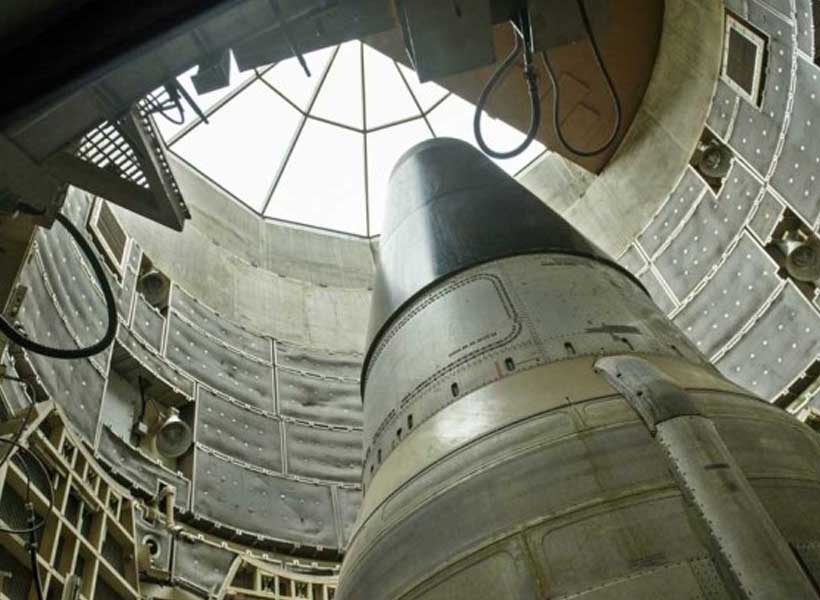 "In a surrealist year….some cool clown pressed an inedible mushroom button, and an inaudible Sunday bomb fell down, catching the president at his prayers on the 19th green."-Lawrence Ferlinghetti, A Coney Island of the Mind (1958)
From the start of his presidency, Donald Trump has displayed unmistakable signs of debility, venality and intellectual impoverishment. Most conspicuous, in this regard, is Mr. Trump's evident unfamiliarity with history, diplomacy, intelligence and law. Slightly less obvious, but only if one were willfully blind to unassailable evidence, is this president's rancorous and brittle emotional state.
Even when considered separately, these presidential liabilities are worrisome.
Taken together, however, they become palpably fearful and potentially intolerable.
This cumulative liability reaches its nadir when considered with a debilitated president's lawful exercise of nuclear command authority.
In principle, at least, these risks and consequences of US presidential shortcoming are generic; that is, they are not necessarily "Trump specific." At this level, they also represent bewilderingly complex matters about which I have been lecturing and publishing for half a century. Some of my long term personal conclusions can be pried interpretively from historical examination and from certain more-or-less coinciding logical extrapolations.
In all such matters, analytic competence and confidence must stem from calculably valid assurances that both complementary operations are being carried out dispassionately, and in tandem.
The bottom line here is unhidden. Principal national security risks America currently faces as a nation are prospectively immediate and formidably existential. Such risks can be fully understood only in light of the plausible or at least conceivable intersections arising between them. This is because such critical intersections are more-or-less likely (a conclusion based on formal logic, and not on any actual history) and because some of these reinforcing intersections could sometime prove "synergistic."
Contradicting what was first learned in the eighth grade, this means (by definition) that the "whole" of intersectional nuclear risk effects must be greater than the simple arithmetic sum of component "parts."
Always, in any staggeringly complex strategic risk assessments regarding military nuclear intentions and military nuclear forces, the concept ofsynergy must be included.[1]
Always, any such necessary inclusion must be reasonable, rational and purposeful.
The only conceivable argument for a president ignoring possible effects of synergy is that US defense policy consideration is "too complex" (i.e., intellectually bewildering) and therefore "too daunting."
When US national security is at stake – as it is in this case – any such dismissive argument is unacceptable.
Prima facie.
How could it not be?
I have been thinking about precisely such difficult issues for fifty years. For analytic purposes, the development of my own personal conclusions about strategic national security decision-making can be summed up in the following brief paragraph:
After four years of doctoral study at Princeton in the late 1960s, long an intellectual center of American nuclear thought (recall especially Albert Einstein and J. Robert Oppenheimer) I began to consider adding a modest personal contribution to an already evolving nuclear literatures. By the late 1970s, I was cautiously preparing a manuscript on US nuclear strategy, and by variously disciplined processes of correct inference, on certain corresponding risks of a nuclear war.[2]
Already, at that early time, I was especially interested in US presidential authority to order the use of American nuclear weapons.
From day one of my studies, I learned, inter alia, that allegedly reliable safeguards had very systematically been built into all operational nuclear command/control decisions, but that these same safeguards could not be applied at the highest or presidential level. To a young scholar searching optimistically for nuclear war avoidance opportunities, this ironic disjunction didn't make any obvious sense. Nonetheless, within the broader context of credible nuclear deterrence requirements, there did exist a reasonable argument for accepting such a significant gap in relevant decisional protections.
For needed clarifications, I had reached out directly to retired General Maxwell D. Taylor, a former Chairman of the US Joint Chiefs of Staff. In reassuringly rapid response to my query, General Taylor sent me a detailed handwritten reply. Dated 14 March 1976, the distinguished General's informed letter concluded presciently: "As to those dangers arising from an irrational American president, the only protection is not to elect one."
Until recently, I had never given any extended thought to this candid and authoritative response. Today, during the increasingly problematic presidency of Donald J. Trump, General Taylor's 1976 warning must take on substantially greater and more demonstrably urgent meanings. Based on ascertainable facts and logical derivations (technically called "entailments" in philosophy of science terminology) rather than on narrowly wishful thinking, we should reasonably assume that if President Trump were ever to exhibit any accessible signs of emotional instability, irrationality or openly delusional behavior, he could still order the use of American nuclear weapons. He could so this officially, legally and without any compelling expectations of nuclear chain-of-command "disobedience."
Still more worrisome, President Trump could become emotionally unstable, irrational or delusional, but still not exhibit such intolerable liabilities manifestly or plainly.
What then?
A corollary core question must now also come to mind:
What precise stance should be assumed by the National Command Authority (Secretary of Defense, Chairman of the Joint Chiefs of Staff, and several others) if it should ever decide to oppose an "inappropriate" presidential order to launch American nuclear weapons?
Could the National Command Authority (NCA) "save the day," informally, by acting in an impromptu or creatively ad hoc fashion? Or should indispensable preparatory steps already have been taken, preemptively – that is, should there already be in place certain credible and effective statutory measures to (1) assess the ordering president's reason and judgment; and (2) countermand the presumptively inappropriate or wrongful order?
Presumptively, in US law, Article 1 (Congressional) war-declaring expectations of the Constitution aside, any presidential order to use nuclear weapons, whether issued by an apparently irrational president or by an otherwise incapacitated one, would have to be obeyed. To do otherwise, in such incomparably dire circumstances, would be illegal. Here, in other words, any chain-of-command disobedience would be impermissible on its face.
There is more. In principle, at least, US President Donald Trump could order the first use of American nuclear weapons even if this country were not under any specifically nuclear attack. In this connection – again, in principle at least – some further strategic and legal distinctions would need to be made between a nuclear "first use" and a nuclear "first strike."
While there exists an elementary yet markedly substantive difference between these two options, it is a distinction that candidate Donald Trump had fully failed to understand during the 2016 presidential campaign debates.
What next? Where should the American polity and government go from here on such urgent decision-making issues? To begin, a coherent and comprehensive answer will need to be prepared for the following basic question:
If faced with any presidential order to use nuclear weapons, and not offered sufficiently appropriate corroborative evidence of any actually impending existential threat, would the National Command Authority be: (1) be willing to disobey, and (2) be capable of enforcing such expressions of disobedience?
In any such literally unprecedented crisis-decision circumstances, all authoritative decisions could have to be made in a compressively time-urgent matter of minutes, not hours or days. As far as any useful policy guidance from the past might be concerned, there could be no scientifically valid way to assess the true probabilities of possible outcomes. This is because absolutely all scientific judgments of probability – whatever the salient issue or subject – must be based firmly upon the discernible frequency of pertinent past events.
In relevant matters of nuclear war, there are no pertinent past events. This is, of course, a markedly fortunate absence, but one that would inevitably stand in the way of rendering reliable decision-making predictions. The irony here is both conspicuous and problematic.
Still, whatever the scientific obstacles, the optimal time to prepare for any such incomparably vital US national security difficulties is now.
In the immediately specific matter of North Korea (Iran is not yet nuclear), President Trump must take special care to avoid any seat-of-the-pants analogies (whether openly expressed or "merely" internalized) between commercial and military brinksmanship. Faced with dramatic uncertainties about his counterpart Kim Jung Un's own expected willingness to push the escalatory envelope, the American president could sometime (suddenly and unexpectedly) find himself faced with a stark choice between outright capitulation and nuclear war.
Even for a genuinely gifted US president, any such grievously stark choice could prove paralyzing.
To avoid being placed in such a limited choice strategic environment, Mr. Trump should understand from the start that having a larger national nuclear force (a "bigger button") in these sorts of negotiations might not bestow any critical bargaining advantages. To the contrary, it could actually generate unwarranted US presidential overconfidence and various resultant forms of decisional miscalculation. In essence, in any such wholly unfamiliar, many-sided and basically unprecedented matters, size might "count" inversely, or even not at all.
The field of international foreign policy making is not comparable to the commercial bargaining arenas of hotel construction and casino gaming. While the search for "escalation dominance" may be common to both sorts of deal-making, the cumulative costs of any corollary losses would be wholly incomparable. In brief, money or status losses in the commercial sector can never reasonably be compared to mass death or civilian dismemberment.
In certain matters of world politics, even an inadvertent decisional outcome could sometime be a nuclear war.
Here, whether occasioned by accident, hacking, or "simple" miscalculation, there could be absolutely no meaningful "winner," not even for the side with the once cherished "bigger button."
In the paroxysmal aftermath of any unintended nuclear conflict, those authoritative American decision-makers who had once accepted President Donald J. Trump's stated preference for "attitude" over "preparation" in strategic negotiations would question their once-visceral loyalties. But it would assuredly be too late. Most plausibly, as survivors of a previously preventable conflagration, these now-disoriented officials would merely envy the dead.
With their president, they too would have been caught unprepared on the "19th green."
---
[1] See earlier, by this author, at Harvard National Security Journal (Harvard Law School): https://harvardnsj.org/2015/06/core-synergies-in-israels-strategic-planning-when-the-adversarial-whole-is-greater-than-the-sum-of-its-parts/
[2] This book was subsequently published in 1980 by the University of Chicago Press: Louis René Beres, Apocalypse: Nuclear Catastrophe in World Politics. http://www.amazon.com/Apocalypse-Nuclear-Catastrophe-World-Politics/dp/0226043606
"Strategically brilliant" sellout: Trump's betrayal of the Kurds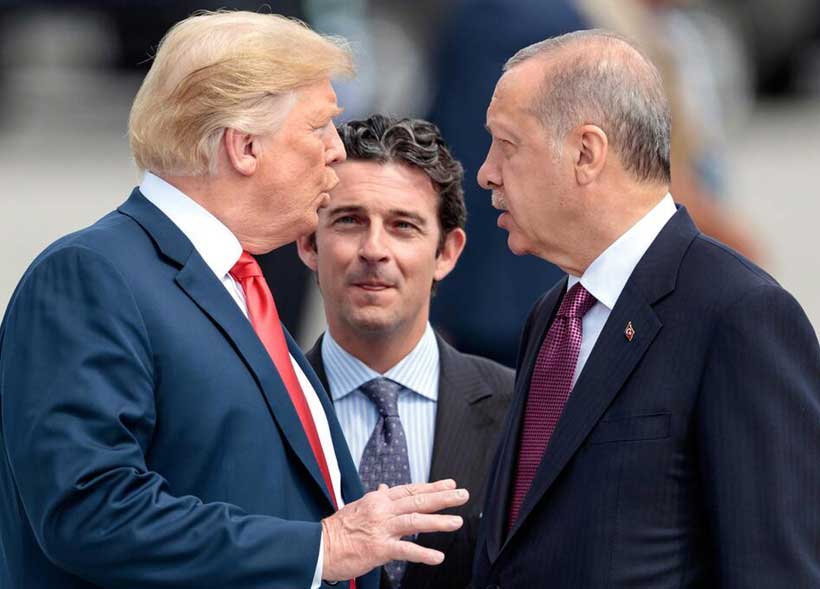 "At last the world knows America as the savior of the world!" —U.S. president Woodrow Wilson
Turkey invaded the Syrian Arab Republic on October 9 following a U.S. pullout. The U.S. Congress has started an impeachment inquiry of Donald Trump, who apparently gave the green light for the Turkish invasion. The U.S. president's lawyer, Rudy Giuliani, was accused of operating a "shadow shakedown" operation against Ukraine's president and lobbying for a Turkish bank indicted for evading U.S. sanctions against Iran. Meanwhile, his secretary of state was pontificating on being a Christian leader who holds himself to a "high set of standards."
Three days after Trump's announcement of a U.S. troop withdrawal from Syria, Turkish President Recep Tayyip Erdogan ordered Turkish forces to enter the country to neutralize the Kurdish People's Defense Units (YPK "terrorists") and stabilize the border zone. Placing his bipolar affliction on full display, Trump has alternated between praise for the Turkish leader's actions and threats to bring down the Turkish economy. "I view the situation on the Turkish border with Syria to be, for the United States, strategically brilliant," he exuded, claiming, "Syria is protecting the Kurds." Earlier, he had stated that he was "fully prepared to swiftly destroy Turkey's economy if Turkish leaders continue down this dangerous and destructive path."
In his executive order issued October 14, Trump specifically wrote that Turkey's assault "undermines the campaign to defeat the Islamic State of Iraq and Syria or ISIS," and "constitutes an unusual and extraordinary threat to the national security and foreign policy of the United States." As a consequence, Trump has declared a national emergency, and authorized sanctions against any "current or former official of the Government of Turkey." Moreover, the order contains broad language that appears to go well beyond sanctions on Turkey and its officials by sanctioning any "foreign person" who is found by the U.S. secretary of state to have been complicit in obstructing or preventing a "political solution to the conflict in Syria."
Minimizing the abrupt abandonment of his Kurdish ally, Trump quipped, "Anyone who wants to assist Syria in protecting the Kurds is good with me, whether it is Russia, China, or Napoleon Bonaparte." U.S. House of Representatives Speaker Nancy Pelosi criticized Trump's impetuous act, noting, "His erratic decision-making is threatening lives, risking regional security and undermining America's credibility in the world." South Carolina Republican Senator Lindsey Graham, perpetually a Trump lapdog, predictably supported his master after some initial squeamish protests categorizing the troop withdrawal as "shortsighted," ?irresponsible" and "unnerving to its core."
Turkey's actions in Syria present a conundrum for the United States. As a NATO member with an estimated 435,000 troops, the largest contingent of military personnel in the organization outside of the U.S., Turkey is not a country with which Washington can trifle. Erdo?an is a powerful leader and a man of action, as opposed to his American counterpart who is a blowhard full of bluff, bravado, and bluster, but who backpedals and vacillates when confronted by a hardened, politically savvy opponent. By holding U.S, nuclear weapons, about fifty B61 gravity atomic bombs, at Incirlik hostage, Erdo?an effectively has called Trump's bluff of sanctions "devastating to Turkey's economy," leaving the latter little choice but to send his vice president and secretary of state to do damage control on behalf of the NATO alliance.
Off the record, a U.S. defense official has conceded that the U.S. nukes at Incirlik "were now essentially Erdogan's hostages," but to remove them from there would not only be a politically ticklish endeavor but also would almost certainly mean the end of the U.S.-Turkey alliance and possibly, even NATO itself. In addition, with its possession of the precise grid coordinates of former U.S., and now Kurdish, positions in Syria, Turkey has the upper hand in this act of unilateral aggression and demonstrated as much when Turkish artillery shells "bracketed" a U.S. commando outpost near Kobani on October 4, detonating about 300 meters away on either side. There is deep symbolism in this Turkish shelling of the U.S. outpost; Kobani was the first success by the U.S.-backed Kurdish forces in routing ISIS from their territory.
One aspect of the Turkish incursion into Syria, which may appeal to Trump's demonstrated racist tendencies, is the inherent ethnic cleansing bound to occur. Erdogan, after failing to topple the government of President Bashar al-Assad, found his country awash in refugees, some 3.6 million ethnic Arabs. His plan for the so-called "safe zone," which his invasion is designed to create by purging the indigenous Kurdish population, is to settle the largely Sunni Arab Syrian refugees in place of the Kurds to form a de facto demilitarized zone, thereby eliminating the threat of cross-border raids by separatists aligned with the Kurdistan Workers Party (PKK). Scattered across Iran, Iraq, Syria, and Turkey, the Kurds form the largest ethnic group in the world without their own country. Erdogan has blatantly threatened the Syrian Kurds, declaring, "If you want to live in Kurdistan, there is a Kurdistan in northern Iraq. Take all the terror lovers with you, clear off and live there."
Along similarly racist lines are Erdogan's threats to flood Europe with refugees, should European leaders fail to go along with his invasion and occupation plans for northern Syria. "If you try to describe our current operation as an occupation, our task will be simple," Erdo? a remarked. "We will open the gates and send 3.6 million refugees your way." While the Turkish leader struck a deal with the EU for a cool €6 billion in 2016 to retain displaced Syrians, pressure has mounted among his supporters to repatriate the refugees following the recession in 2018 and drop in currency value along with double-digit inflation. Erdogan's perspective on immigrants would also appear closely to parallel Trump's.
Another aspect of the Turkish military operation, which also benefits Trump, is that the resulting chaos will divert public attention from the recently initiated congressional investigation into his impeachment. Shortly after Trump's election in 2016, Harvard University professor of international relations Stephen Walt warned that Trump might make "an Erdogan-like attempt to use a terrorist attack or some other equally dramatic event as an excuse to declare a 'state of emergency' and to assume unprecedented executive authority." As noted above, by his executive order dated October 14, 2019, Trump has already declared a state of emergency.
In view of the abandonment of the Kurds by the U.S., not the mention the JCPOA, the "Iran nuclear deal," how could the Islamic Republic of Iran negotiate with such a "partner?" Of the 374 treaties negotiated by the U.S. with indigenous peoples of North America, only one was honored. Although signing on the 1997 Kyoto Protocol, the U.S. has neither ratified nor enforced it. Trump withdrew from the 2015 Paris Climate Accord; Bush II withdrew from the 1998 Rome Statute of the International Criminal Court. The United States is the only nation to have not ratified the 1989 Convention on the Rights of the Child, the 1996 Comprehensive Nuclear-Test-Ban Treaty, the 1997 Mine-Ban Treaty, and over forty other treaties.
Rather than being "the savior of the world," as U.S. President Woodrow Wilson haughtily proclaimed at the Treaty of Versailles after the First World War, the U.S. seems hell-bent on being its scourge. Trump's betrayal of the Kurds not only should give ample evidence of U.S. perfidy, but also should be a lesson for all who fancy themselves as allies of the United States.
From our partner Tehran Times
Mexico's challenges since transitioning from the hegemonic rule of the Institutional Revolutionary Party (PRI) 19 years ago have remained numerous and elusive: rampant corruption; constant violation of human rights; spiralling violence; impunity; ineffective rule of law and the inability of the state to protect basic rights of its citizens. Drug violence, in particular, has undergone a rapid and intense process of diversification and popularisation while the ability of the state to deter anti-systemic forces has remained critically low. Over the last decade, the criminal field has become increasingly complex, fractured and multi-polar making it almost impossible for the authorities to respond effectively.
On the 17th of October 2019 after a shambolic operation that led to the arrest of Ovidio Guzmán, son of drug Lord Joaquín Guzmán Loera, El Chapo, criminal organisations loyal to the Cartel of Sinaloa effectively sieged the city of Culiacán, Sinaloa overpowering the capacity of the army and rendering the current president Andrés Manuel López Obrador's (AMLO) security policy obsolete, just 9 months into his presidential term. The government was left with no choice but to release the prisoner in an attempt to stop the violence that had terrorised Culiacán for 6 hours.
The Cartel of Sinaloa´s victory in subduing the government is a remarkable humiliation for the current administration and exposed the utter lack of capacity of the state to quell violence across the country. It could also set a dangerous precedent: the state as captive of anti-systemic forces. This is the second even of such nature during AMLO's presidency, just last month after protests of striking teachers spread all over the country, the president blindly agreed to all the demands of the teachers' union. Both of these events send the dangerous message to criminal organisations and anti-state forces that the only thing needed is to commit wholesale violence in any given city and the government will agree to meet their demands.
AMLO instead of pursuing a full-on military strategy like his predecessors to try to limit the growth and scope of violence, has decided to follow a pacification security strategy that focuses on trying to resolve the social roots of insecurity. He has placed poverty as the main reason why Mexican youngsters are joining criminal organisations. He is basing his strategy on a serious misconception: Poverty causes violence. Violence is a symptom of poverty not the cause. It is easy to blur the correlation between the two, and much easier to sustain the myth that continues to plague the poor to justify a simplistic approach to violence: If people are violent, it's usually because they are poor, because when you are poor, your opportunities to escape poverty are exceptionally limited so you need to resort to violence; therefore people who have money, will not be violent: The massive corruption that undermines political institutions in Mexico is not committed by the poor. Drug Lords are not poor either.
It is true that Mexico's crisis manifests itself in violence, however its real roots are the widespread corruption, the weakness of the state and its institutions, and the lack of vision of incumbent administrations to place the interest of the country ahead of their own particular electoral interests. This makes any attempt to solve the endemic problems of Mexico subject to the whims of those in power. Culiacán only showed that the government can be easily outgunned, outsmarted and outmanned; it also inflicted a major blow to AMLO's pacification strategy he defends.
Reality is that the Mexican state is failing in at least 6 of its basic functions: It is unable to guarantee internal security; it has been unable to protect the rights of its citizens; it has been ineffective in ensuring the respect of the rule of law and the administration of justice; it has failed in the promotion of the policies aimed at the betterment of the welfare of its population; it has not maintained a stable economy that would translate into improved living standards for its citizens; and the state has failed to act as the exclusive holder of the monopoly of force.
There are only 2 ways in which the current spiral of violence in Mexico can stop: Go back to the narcopeace that the country enjoyed during much of the rule of the PRI hegemonic party. This will happen when one or two criminal organisations become powerful enough to establish enough deterrence to monopolise the drug market and are able to prevent its further fragmentation. The second option is if the state somehow is able to systematically build up enough deterrence capacity to align anti-systemic forces with the government. This is however hampered by the prevalence of weak institutions and a lack of commitment to a deep state reform. This would also require more than a pseudo-leftist leader waving the flag of modernisation and change, but whose policies are dangerously steeped in a strong nationalist rhetoric that echoes the hegemonic PRI party of the 1970s.
Therefore, the most likely outcome is that AMLO, like its predecessors, will most likely disappoint. Current enthusiasm for the current administration has led to the denial of the new president's very obvious shortcomings. Mexico has prioritised cheerleading of a messiah candidate over the slow but vital work of institution-building and state reform that is the only answer to decades of disappointment.