Donald Trump to meet press on 11 January over conflict of interests
World has been looking for the news about real policies of newly elected US President Donald Trump to have an idea about what kind of presidency he would prefer to install- particularly if he would make nay departure from the usual US foreign policy matters with regards to Russia and Palestine or he would also continue the Neocon ideas of regimes everywhere by terror wars to make entire world to promote US agenda for the world.
Already, Trump has revealed his conflictual mindset by making contradictory statements, especially its readiness to promote Israel in Mideast to shield the crimes being perpetrated by its military and police against humanity in Palestine. His policy statement would make the matter somewhat clear to the world.
Precedent has seen American presidents-elect field numerous press conferences during the transition to power to discuss matters such as their choices to fill their cabinet and policy plans for the incoming administration. The methods of the new president communicating news about the transition have been unorthodox for an incoming head of state.
President elect Donald Trump has largely snubbed thus far the tradition that the presidential news conference has become. Instead Trump has relied largely on rallies, photo ops, select interviews and — in unprecedented fashion — on tweets.
Trump, elected in November, has not held a press conference since July, and his announcement gave just the latest date set for the much-delayed event previously due to take place 15 December.
In a tweet, Trump said he will hold a press conference on 11 January, during which he has previously indicated he would unveil his governance plans in order to avoid any conflict of interest between the White House and his business dealings.
Economic announcements of this magnitude are rare and generally take place through a news release or a carefully planned press conference, requiring the efforts of many public relations experts who carefully consider every word and gesture. Last month, he unexpectedly announced to reporters camped in the lobby of his Manhattan Trump Tower skyscraper that Masayoshi Son — the flamboyant head of Japanese telecoms giant SoftBank and a self-made billionaire — had announced a $50 billion investment in the US that would create 50,000 jobs. Steven Mnuchin, tapped to become Secretary of Treasury, and Wilbur Ross, the commerce pick, announced on CNBC television that they had been appointed to their Cabinet positions by Trump. The official announcement was published several hours later.
Trump voiced new doubts that Russian hackers attempted to influence the US election on his behalf, accusing Democrats of lax security and saying WikiLeaks had denied Moscow was behind the documents it made public. Trump, in a spate of notes on Twitter, continued to raise questions about the findings by US intelligence agencies that Russia was behind a series of leaks that embarrassed Democratic candidate Hillary Clinton's campaign ahead of the Nov. 8 vote. Documents stolen from the Democratic National Committee and John Podesta, Clinton's campaign manager, were leaked to the media in advance of the election. One email showed the Clinton campaign received a question in advance of a town hall forum.
Trump, who will take office on Jan. 20, is scheduled to receive a briefing from intelligence officials on the hacking issue on Friday. He has suggested the briefing was postponed to give intelligence officials more time to build their case."The 'Intelligence' briefing on so-called 'Russian hacking' was delayed until Friday, perhaps more time needed to build a case. Very strange!" Trump tweeted on Tuesday.
Over years of occupational and expansionist brutalities of the Zionist regime in Palestine have emboldened the Israeli soldiers (heroes") to kill any Palestinian anywhere at will because they know the Israeli government would call the state crimes like this as heroism.
Meanwhile, a Jewish soldier , another "Our hero!" , who shot dead a Palestinian lying wounded and motionless on the ground in the occupied West Bank was surprisingly convicted of manslaughter on January 04 Wednesday in one of the most polarising cases in Israel's history. So far Israeli courts do not punish any Jew even if he or she commits heinous crèmes against Palestinians.
The decision to court-martial Sergeant Elor Azaria, who shot the Palestinian after he stabbed a Israeli soldier last March for routine harassment, stirred public controversy in Israel from the start, with right-wing politicians calling after the verdict on President Reuven Rivlin to pardon the 20-year-old defendant. As the decision was being read at a heavily guarded military court in Tel Aviv, several hundred far-right core backers of Azaria – one of them even carrying a Donald Trump "Make America Great Again" banner – willingly clashed with police. Ten months ago, Azaria was an army medic serving in the Israeli-occupied city of Hebron when two Palestinians carried out the stabbing. Hebron has been a longtime flashpoint of violence, and the incident occurred during a wave of Palestinian street attacks on Israeli criminals. .
While one of the two Palestinians was shot dead by troops, the other was shot and wounded. Eleven minutes later, as the wounded man, Abd Elfatah Ashareef, 21, lay on the ground incapacitated, "hero" Azaria shot him in the head with an assault rifle. At the trial, Azaria contended that he believed the Palestinian, though motionless, still posed a danger because his knife was nearby, and that he might have been carrying explosives. "He deserves to die," Azaria was quoted in the verdict as telling another soldier after pulling the trigger. The three-judge panel rejected Azaria's argument."One cannot use this type of force, even if we're talking about an enemy's life," the court said in its verdict. "We unanimously convict the accused of manslaughter and of conduct unbecoming (a soldier)."Azaria, who was smiling as he awaited the verdict as the chief judge read out the conviction.
Video footage of the shooting, taken by a Palestinian human rights activist, showed the knife was not within Ashareef's reach, and no bomb was found. The video was distributed to news organisations, ensuring that the incident drew international attention amid allegations by Palestinians and rights groups that Israeli soldiers have been using excessive force against the Palestinians they come across on daily basis.
The point is the Israeli military thinks Trump is going to be on the side of Zionists to shield their crimes as his own and, as his predecessors haves done, would naturally work against Palestinians.
Guantánamo Bay controlled by CIA-Pentagon duo in Latin America to terrorize Muslims the worst possible inhuman ways is the most shameful black blot on western democracy claims. The 59 prisoners who remain at Gitmo today have never faced a fair trial. Many – like more than 700 before them – are held on the basis of a mix of bogus statements, made under torture or coercion. Unfortunately, Trump – a self-proclaimed patriot – appears happy with this most un-American state of affairs.
The president-to-be obviously knows nothing about Guantánamo Bay, like many other things, including foreign policy, said that "There should be no further releases from Gitmo." His tweet adds: "These are extremely dangerous people and should not be allowed back onto the battlefield." And on top of leaving people to rot in Gitmo without trial, President-elect Trump promises to bring back "a hell of a lot worse than water boarding". Trump doesn't "think it's tough enough." Trump seems to be fairly ill-informed about torture techniques as well: the main conclusion of the US Senate's 2014 probe into Bush-era torture was that it "was not an effective means of acquiring intelligence."
What Trump doesn't appear to understand is that most Gitmo prisoners can't go "back to the battlefield" – because they were never there in the first place. In 2002, the last Republican administration said that those held at Guantanamo were "the worst of the worst," but thus far the vast majority of the prisoners held there have been cleared. Most of the men there were never the worst of anything.
Those who Trump would keep forever without trial, but for whom my charity Reprieve will continue to advocate, including a former Pakistani taxi driver who was mistaken for a terrorist called Hassan Gul, and taken to a secret prison for "unauthorised" torture over a year. And a young man from Yemen who had travelled far from home in search of work, and then got caught up in the chaotic aftermath of 9/11. The US military was offering life-changing sums of bounty money to Afghans and to Pakistanis if they turned over Arab men.
The outgoing president Obama was dead right to say that Gitmo is a blot on the US. As long ago as 2004, an intelligence agent opined that for every detainee we hold at Guantanamo, we have provoked 10 people to want to do us harm. Today, the same expert would no doubt revise this estimate up to hundreds. Osama bin Laden estimated that he had 100 followers in 2001.
It is time to make America great again, and to apply such Trump parlance where it rightly belongs. That is emphatically not torture, rendition, detention without trial and assassination. It is respect for human rights, and US values like due process and the rule of law.
The horrific ways in which Guantanamo's prisoners have been repeatedly tortured makes it surprising there aren't more who hold a mighty grudge. In my experience, the overwhelming majority just want to return home, rebuild their lives and forget the terrible nightmare of the last decade and more.
Meanwhile, much peace loving Americans seek a month of resistance leading up to the president-elect's inauguration on January 20. Thousands of activists, journalists, scientists, entertainers, and other prominent voices took out a full-page call to action in the New York Times on Wednesday making clear their rejection of President-elect Donald Trump and Vice President-elect Mike Pence with the simple message: "No!" Trump is "assembling a regime of grave danger" that is an "immoral peril to the future of humanity and the earth itself," the call to action continues. "Millions must rise up in a resistance with a deep determination such that we create a political crisis that prevents the Trump/Pence fascist regime from consolidating its hold on the governance of society." "Stop the Trump/Pence regime before it starts! In the name of humanity we refuse to accept a fascist America!" the ad states, followed by a list of signatories that includes scholar Cornel West; author Alice Walker; Chase Iron Eyes of the Standing Rock Sioux; educator Bill Ayers; poet Saul Williams; CNN's Marc Lamont Hill; Carl Dix of the Communist Party USA; and numerous others.
Trump can end bloodshed in Palestine as well as entire Mideast or help Israel complicate the saturation further. Does he also seek disasters?
Choice is Trump's
As the unusual president elect, Trump would do well by pursuing a new set of policies abroad that would greatly benefit the shivering humanity. Terror wars must end. Trump should recognize Palestine and ask Israel also do the same for the sake of creating the necessary preconditions for the natural establishment of Palestine and for peace in Mideast.
Hopefully Trump would have to let the world know that he cares for humanity and peace in the world and he is well reformed from being a mere political hawk to become a genuine statesman to lead America and world positively and in the best ways possible.
Trump's and Putin's Responses to Mueller's Russiagate Indictments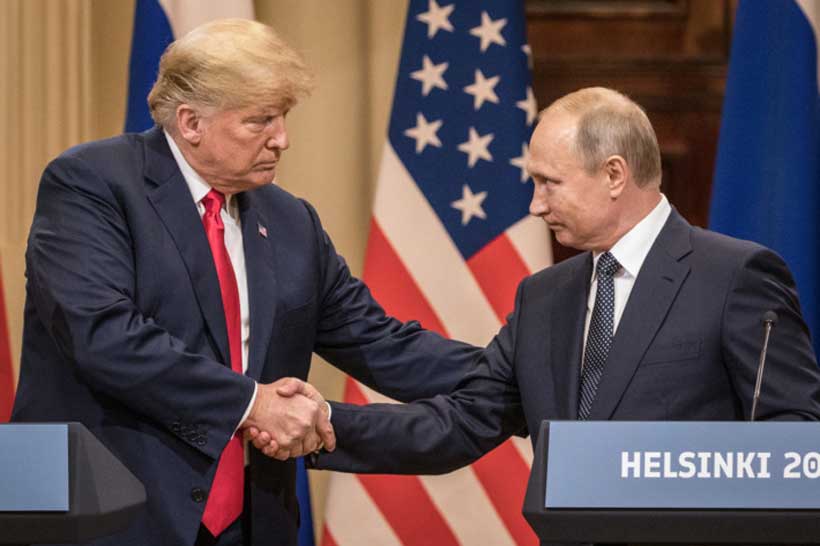 In the July 16th joint press conference between U.S. President Donald Trump and Russian President Vladimir Putin, the question arose of U.S. Special Counsel Robert Mueller's recent indictment of 12 Russian intelligence officials for allegedly having engineered the theft of computer files from the Democratic National Committee and from John Podesta, Hillary Clinton's campaign chairman. Here is that part of the press conference, in a question that was addressed to both Presidents (and I boldface here the key end part of Putin's presentation, and then I proceed to link to two articles which link to the evidence — the actual documents — that Putin is referring to in his response):
REPORTER (Jeff Mason from Reuters): For President Putin if I could follow up as well. Why should Americans and why should President Trump believe your statement that Russia did not intervene in the 2016 election given the evidence that US Intelligence agencies have provided? Will you consider extraditing the 12 Russian officials that were indicted last week by a US Grand jury.
TRUMP: Well I'm going to let the president [meaning Putin] answer the second part of that question.
As you know, the concept of that came up perhaps a little before, but it came out as a reason why the Democrats lost an election, which frankly, they should have been able to win, because the electoral college is much more advantageous for Democrats, as you know, than it is to Republicans.
[That allegation from Trump is unsupported, and could well be false.] We won the electoral college by a lot. 306 to 223, I believe. [It was actually 304 to 227.] That was a well-fought battle. We did a great job.
Frankly, I'm going to let the president speak to the second part of your question. But, just to say it one time again and I say it all the time, there was no collusion. I didn't know the president. There was nobody to collude with. There was no collusion with the campaign. Every time you hear all of these 12 and 14 — it's stuff that has nothing to do — and frankly, they admit, these are not people involved in the campaign. But to the average reader out there, they are saying, well maybe that does. It doesn't. Even the people involved, some perhaps told mis-stories. In one case the FBI said there was no lie. There was no lie. Somebody else said there was. We ran a brilliant campaign. And that's why I'm president. Thank you.
PUTIN: As to who is to be believed, who is not to be believed: you can trust no one. Where did you get this idea that President Trump trusts me or I trust him? He defends the interests of the United States of America and I do defend the interests of the Russian Federation. We do have interests that are common. We are looking for points of contact.
There are issues where our postures diverge and we are looking for ways to reconcile our differences, how to make our effort more meaningful. We should not proceed from the immediate political interests that guide certain political powers in our countries. We should be guided by facts. Could you name a single fact that would definitively prove the collusion? This is utter nonsense — just like the president recently mentioned. Yes, the public at large in the United States had a certain perceived opinion of the candidates during the campaign. But there's nothing particularly extraordinary about it. That's the normal thing.
President Trump, when he was a candidate, he mentioned the need to restore the Russia/US relationship, and it's clear that certain parts of American society felt sympathetic about it and different people could express their sympathy in different ways. Isn't that natural? Isn't it natural to be sympathetic towards a person who is willing to restore the relationship with our country, who wants to work with us?
We heard the accusations about it. As far as I know, this company hired American lawyers and the accusations doesn't have a fighting chance in the American courts. There's no evidence when it comes to the actual facts. So we have to be guided by facts, not by rumors.
Now, let's get back to the issue of this 12 alleged intelligence officers of Russia. I don't know the full extent of the situation. But President Trump mentioned this issue. I will look into it.
So far, I can say the following. Things that are off the top of my head. We have an existing agreement between the United States of America and the Russian Federation, an existing treaty that dates back to 1999. The mutual assistance on criminal cases. This treaty is in full effect. It works quite efficiently. On average, we initiate about 100, 150 criminal cases upon request from foreign states.
For instance, the last year, there was one extradition case upon the request sent by the United States. This treaty has specific legal procedures we can offer. The appropriate commission headed by Special Attorney Mueller, he can use this treaty as a solid foundation and send a formal, official request to us so that we could interrogate, hold questioning of these individuals who he believes are privy to some crimes. Our enforcement are perfectly able to do this questioning and send the appropriate materials to the United States. Moreover, we can meet you halfway. We can make another step. We can actually permit representatives of the United States, including the members of this very commission headed by Mr. Mueller, we can let them into the country. They can be present at questioning.
In this case, there's another condition. This kind of effort should be mutual one. Then we would expect that the Americans would reciprocate. They would question officials, including the officers of law enforcement and intelligence services of the United States whom we believe have something to do with illegal actions on the territory of Russia. And we have to request the presence of our law enforcement.
For instance, we can bring up Mr. Browder in this particular case. Business associates of Mr. Browder have earned over $1.5 billion in Russia. They never paid any taxes. Neither in Russia nor in the United States. Yet, the money escapes the country. They were transferred to the United States. They sent huge amount of money, $400 million as a contribution to the campaign of Hillary Clinton.
[He presents no evidence to back up that $400 million claim.] Well, that's their personal case. It might have been legal, the contribution itself. But the way the money was earned was illegal. We have solid reason to believe that some intelligence officers guided these transactions. [This allegation, too, is merely an unsupported assertion here.] So we have an interest of questioning them. That could be a first step. We can also extend it. There are many options. They all can be found in an appropriate legal framework.
REPORTER (Jeff Mason from Reuters): Did you direct any of your officials to help him [Trump] do that [find those 'options']?
PUTIN: Yes, I did. Yes, I did. Because he talked about bringing the US/Russia relationship back to normal.
The evidence regarding that entire matter, of Bill Browder and the Magnitsky Act, can be seen in the links and the other evidences that are presented in two articles that I published on that very subject, earlier this year. One, titled "Private Investigations Find America's Magnitsky Act to Be Based on Frauds", summarizes the independently done private investigations into the evidence that is publicly available online regarding Bill Browder and the Magnitsky Act. The Magnitsky Act was the basis for the first set of economic sanctions against Russia, and were instituted in 2012; so, this concerns the start of the restoration of the Cold War (without the communism etc. that were allegedly the basis of Cold War I). The other article, "Russiagate-Trump Gets Solved by Giant of American Investigative Journalism", provides further details in the evidence, and connects both the Magnitsky Act and Bill Browder to the reason why, on 9 June 2016, the Russian lawyer Nataliya Veselnitskaya, met privately at Trump Tower, with Donald Trump Jr., Paul Manafort, and Jared Kushner — the reason was specifically in order to inform them about the documentation on this case, so that Trump, if elected, would be aware of the contents of those documents. She had used the promise of dirt on Hillary so as to enable Trump, who effectively became the Republican nominee on 26 May 2016, to learn about the actual documents in this crucial case.
The Russian government has been legally pursuing Mr. Browder, for years, on charges that he evaded paying $232 million taxes that were due to the Russian government. These private investigations into this matter — regarding whether or not the Magnitsky Act was based on fraudulent grounds — have all found that Mr. Browder has clearly falsified and misrepresented the actual documents, which are linked to in those two articles I wrote. These might be the very same documents that she was presenting on June 9th.
So: this is a matter of importance not only to the validity (or not) of the Magnitsky Act economic sanctions against Russia, but to the Russiagate accusations regarding U.S. President Donald Trump. In my two articles, the general public can click right through to the evidence on the Magnitsky case.
Delusions of U.S. Hegemony In A Multi-Polar World: Trump Visits Europe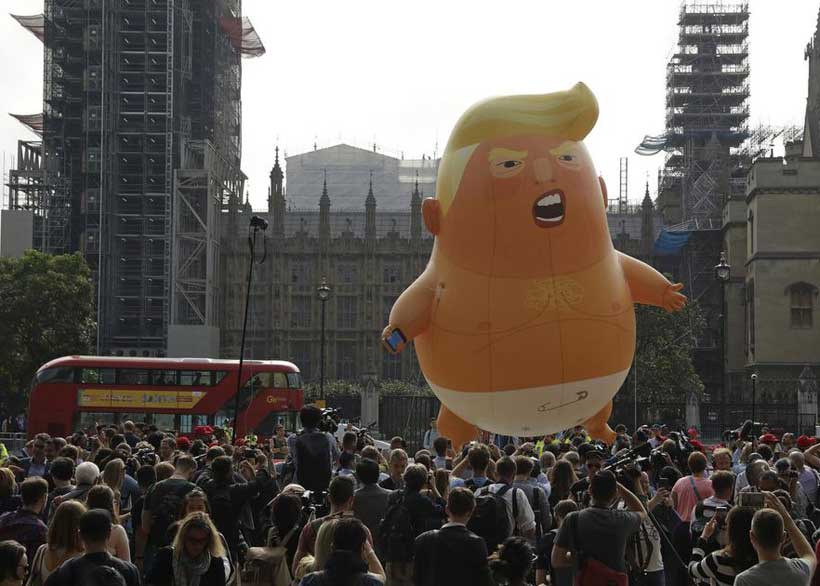 To say that US foreign policy is delusional is not an exaggeration.  It seeks political hegemony and a relationship with China and Russia akin to what it has had with Japan and Germany, that is, go ahead and develop in the economic sphere but don't try to flex political or military muscle.
There are at least two problems with this scenario:  China is now the world's largest economy on a purchasing power parity basis, and the Russians have the nuclear capacity to make a wasteland out of the US.  Russian weapons systems can also be superior.
Take the S-400 in comparison with the US Patriot missile defense system — the purpose of these surface-to-air systems is to shoot down incoming missiles or aircraft.  The S-400 has a more powerful radar, double the range, is faster (Mach 6 vs Mach 5), takes five minutes to set up against one hour for the Patriot, and is cheaper.  China has just bought 32 launchers and is expected to buy more, thereby challenging Japan, Taiwan (which it claims) and other neighbors for control of the skies, as it is doing over the seas bordering itself.  NATO member Turkey has recently signed a purchase deal, and Iran wants to, as does Qatar after its recent spat with Saudi Arabia.  If Russia supplies Iran, any attack planned by the US or Israel would prove to be very costly and politically infeasible.
In our world of instant and continuous news feeds, one can imagine a bemused Vladimir Putin listening to Trump exhorting NATO members to increase contributions to NATO — an organization designed to counter the Russian threat — specifically castigating Germany's Angela Merkel for being beholden to Russia with her country's reliance on Russian natural gas.
Early next week he meets Mr. Putin in Helsinki, fresh from his soft power World Cup triumph as the world beat a path to Russia.  What does Mr. Trump tell the leader of the world's largest country covering eleven time zones?  US political hegemony is a non-starter.
Europeans clearly want access to China, its labor, its markets, even finance, and with it comes Russia and their numerous initiatives together including the Asian Infrastructure Investment Bank (AIIE) their answer to the US-sponsored World Bank.  That Britain joined AIIB contrary to US wishes is a clear sign of China rising as the US declines comparatively;  Britain, having faced up to the US, was followed by a rush of European countries.
Russia wants sanctions lifted.  What does the US want?  Crimea is a non-starter.  Help with Iran?  For the Russians, it has become an important ally both with regard to Syria and as a Mideast power in its own right.  Mr. Trump's instincts are right.  But what he achieves is another matter.  Childish petulance accompanied by a different story for different leaders would leave an observer with little optimism.
Meanwhile, Mr. Trump manufactures and markets his own reality; this time on his popularity ('I think they like me a lot in the UK') despite avoiding roads and traveling by helicopter when possible during his pared down UK visit.  Hordes of demonstrators undeterred have a giant parade balloon several stories high of a bloated child with the trademark blonde hair.  It is one the largest demonstrations ever outside the US against a sitting president.
This 70-year-old program prepares young women for leadership
A record number of women are running for public office this year. In the near future, we can expect more female public servants representing the American people — from local chambers to Capitol Hill. In light of this exciting trend, it is important to highlight programs that help develop young women to become the next generation of female leaders. One such program? American Legion Auxiliary (ALA) Girls Nation.
ALA Girls Nation is a weeklong mock experiential learning program, one that positions high-potential teens for a lifetime of public service to our country. This summer, 100 female high school seniors — two from each of our 50 states — will convene in Washington, D.C., for the 72nd Annual ALA Girls Nation. Each teenage girl represents her state as a "senator" — mirroring the structure of government at the federal level. During this transformative weeklong program, these senators form a fictitious nation, become "Nationalists" and "Federalists," enthusiastically campaign to hold office, and — perhaps most important — accept and celebrate the outcome of these elections and come together to serve for the good of the nation.
ALA is a nonpartisan organization committed to advocating for veterans' issues, promoting patriotism, mentoring America's youth and proudly presenting ALA Girls Nation for over 70 years. The ALA Girls State and ALA Girls Nation are privately-funded and presented by members of the organization. The world's largest women's patriotic service organization, ALA was chartered in 1919 to support the mission of The American Legion.
More than 6,500 young women have attended ALA Girls Nation since its inception in 1947. Each participant leaves the program informed about the fundamentals of U.S. government — and the rights, privileges and responsibilities of citizens. It lasts for one short week. Yet the seven-day experience — one that champions the legislative process and serious collaboration — has laid the foundation for thousands of bright futures.
Many alumnae have chosen careers in public service, putting their ALA Girls State and ALA Girls Nation experience into action to serve the people. The lessons learned about teamwork, resilience and the democratic principles that guide the republic in which we live are applied in real life by many alums who have gone on to serve at the local, state and national level — including high-ranking members of the judiciary.
Justice Lorie S. Gildea began her tenure as chief justice of the Minnesota Supreme Court in 2010. She participated in the state-level version of ALA Girls Nation, known as ALA Girls State in 1979 — and the program, Gildea said, "empowered her to embark upon a lifetime of service and leadership."
"At ALA Girls State, we learn that every voice has value and that every woman needs to use her voice," said Gildea. "We also learn that we need to be courageous and confident enough to take life up on the opportunities that present themselves to us."
"An informed citizenry is essential to the success of our democracy. ALA Girls State [and ALA Girls Nation] plays a vital role in informing and educating our future leaders," Gildea said. "It is a wonderful opportunity to learn about and see firsthand how the three branches of our government work. I am so grateful to the American Legion Auxiliary for presenting ALA Girls State and teaching me and thousands of Minnesota's young women about the value of participation and the possibility of leadership."
Other alumnae have gone on to hold leadership roles in industries spanning government, military, media, education and law. Notable alumnae include Jane Pauley, national media personality; Stephanie Herseth Sandlin, president of Augustana University and former South Dakota U.S. representative; Susan Bysiewicz, former Connecticut Secretary of State; Lt. Gen. Michelle D. Johnson, superintendent of the U.S. Air Force Academy and former Air Force aide to the president; Ann Richards, former governor of Texas; and Susan Porter-Rose, former chief of staff to First Lady Barbara Bush — among countless others.
For some girls, it is their first opportunity to connect with peers with common interests. For others, it is the first time they encounter students whose perspectives differ from their own. For all, it is a moment in time when a select few teenage girls from all over the country come together to discover and celebrate the honor and importance of participating in our democracy. To learn more, visit www.ALAforVeterans.org.