Donald Trump to meet press on 11 January over conflict of interests
World has been looking for the news about real policies of newly elected US President Donald Trump to have an idea about what kind of presidency he would prefer to install- particularly if he would make nay departure from the usual US foreign policy matters with regards to Russia and Palestine or he would also continue the Neocon ideas of regimes everywhere by terror wars to make entire world to promote US agenda for the world.
Already, Trump has revealed his conflictual mindset by making contradictory statements, especially its readiness to promote Israel in Mideast to shield the crimes being perpetrated by its military and police against humanity in Palestine. His policy statement would make the matter somewhat clear to the world.
Precedent has seen American presidents-elect field numerous press conferences during the transition to power to discuss matters such as their choices to fill their cabinet and policy plans for the incoming administration. The methods of the new president communicating news about the transition have been unorthodox for an incoming head of state.
President elect Donald Trump has largely snubbed thus far the tradition that the presidential news conference has become. Instead Trump has relied largely on rallies, photo ops, select interviews and — in unprecedented fashion — on tweets.
Trump, elected in November, has not held a press conference since July, and his announcement gave just the latest date set for the much-delayed event previously due to take place 15 December.
In a tweet, Trump said he will hold a press conference on 11 January, during which he has previously indicated he would unveil his governance plans in order to avoid any conflict of interest between the White House and his business dealings.
Economic announcements of this magnitude are rare and generally take place through a news release or a carefully planned press conference, requiring the efforts of many public relations experts who carefully consider every word and gesture. Last month, he unexpectedly announced to reporters camped in the lobby of his Manhattan Trump Tower skyscraper that Masayoshi Son — the flamboyant head of Japanese telecoms giant SoftBank and a self-made billionaire — had announced a $50 billion investment in the US that would create 50,000 jobs. Steven Mnuchin, tapped to become Secretary of Treasury, and Wilbur Ross, the commerce pick, announced on CNBC television that they had been appointed to their Cabinet positions by Trump. The official announcement was published several hours later.
Trump voiced new doubts that Russian hackers attempted to influence the US election on his behalf, accusing Democrats of lax security and saying WikiLeaks had denied Moscow was behind the documents it made public. Trump, in a spate of notes on Twitter, continued to raise questions about the findings by US intelligence agencies that Russia was behind a series of leaks that embarrassed Democratic candidate Hillary Clinton's campaign ahead of the Nov. 8 vote. Documents stolen from the Democratic National Committee and John Podesta, Clinton's campaign manager, were leaked to the media in advance of the election. One email showed the Clinton campaign received a question in advance of a town hall forum.
Trump, who will take office on Jan. 20, is scheduled to receive a briefing from intelligence officials on the hacking issue on Friday. He has suggested the briefing was postponed to give intelligence officials more time to build their case."The 'Intelligence' briefing on so-called 'Russian hacking' was delayed until Friday, perhaps more time needed to build a case. Very strange!" Trump tweeted on Tuesday.
Over years of occupational and expansionist brutalities of the Zionist regime in Palestine have emboldened the Israeli soldiers (heroes") to kill any Palestinian anywhere at will because they know the Israeli government would call the state crimes like this as heroism.
Meanwhile, a Jewish soldier , another "Our hero!" , who shot dead a Palestinian lying wounded and motionless on the ground in the occupied West Bank was surprisingly convicted of manslaughter on January 04 Wednesday in one of the most polarising cases in Israel's history. So far Israeli courts do not punish any Jew even if he or she commits heinous crèmes against Palestinians.
The decision to court-martial Sergeant Elor Azaria, who shot the Palestinian after he stabbed a Israeli soldier last March for routine harassment, stirred public controversy in Israel from the start, with right-wing politicians calling after the verdict on President Reuven Rivlin to pardon the 20-year-old defendant. As the decision was being read at a heavily guarded military court in Tel Aviv, several hundred far-right core backers of Azaria – one of them even carrying a Donald Trump "Make America Great Again" banner – willingly clashed with police. Ten months ago, Azaria was an army medic serving in the Israeli-occupied city of Hebron when two Palestinians carried out the stabbing. Hebron has been a longtime flashpoint of violence, and the incident occurred during a wave of Palestinian street attacks on Israeli criminals. .
While one of the two Palestinians was shot dead by troops, the other was shot and wounded. Eleven minutes later, as the wounded man, Abd Elfatah Ashareef, 21, lay on the ground incapacitated, "hero" Azaria shot him in the head with an assault rifle. At the trial, Azaria contended that he believed the Palestinian, though motionless, still posed a danger because his knife was nearby, and that he might have been carrying explosives. "He deserves to die," Azaria was quoted in the verdict as telling another soldier after pulling the trigger. The three-judge panel rejected Azaria's argument."One cannot use this type of force, even if we're talking about an enemy's life," the court said in its verdict. "We unanimously convict the accused of manslaughter and of conduct unbecoming (a soldier)."Azaria, who was smiling as he awaited the verdict as the chief judge read out the conviction.
Video footage of the shooting, taken by a Palestinian human rights activist, showed the knife was not within Ashareef's reach, and no bomb was found. The video was distributed to news organisations, ensuring that the incident drew international attention amid allegations by Palestinians and rights groups that Israeli soldiers have been using excessive force against the Palestinians they come across on daily basis.
The point is the Israeli military thinks Trump is going to be on the side of Zionists to shield their crimes as his own and, as his predecessors haves done, would naturally work against Palestinians.
Guantánamo Bay controlled by CIA-Pentagon duo in Latin America to terrorize Muslims the worst possible inhuman ways is the most shameful black blot on western democracy claims. The 59 prisoners who remain at Gitmo today have never faced a fair trial. Many – like more than 700 before them – are held on the basis of a mix of bogus statements, made under torture or coercion. Unfortunately, Trump – a self-proclaimed patriot – appears happy with this most un-American state of affairs.
The president-to-be obviously knows nothing about Guantánamo Bay, like many other things, including foreign policy, said that "There should be no further releases from Gitmo." His tweet adds: "These are extremely dangerous people and should not be allowed back onto the battlefield." And on top of leaving people to rot in Gitmo without trial, President-elect Trump promises to bring back "a hell of a lot worse than water boarding". Trump doesn't "think it's tough enough." Trump seems to be fairly ill-informed about torture techniques as well: the main conclusion of the US Senate's 2014 probe into Bush-era torture was that it "was not an effective means of acquiring intelligence."
What Trump doesn't appear to understand is that most Gitmo prisoners can't go "back to the battlefield" – because they were never there in the first place. In 2002, the last Republican administration said that those held at Guantanamo were "the worst of the worst," but thus far the vast majority of the prisoners held there have been cleared. Most of the men there were never the worst of anything.
Those who Trump would keep forever without trial, but for whom my charity Reprieve will continue to advocate, including a former Pakistani taxi driver who was mistaken for a terrorist called Hassan Gul, and taken to a secret prison for "unauthorised" torture over a year. And a young man from Yemen who had travelled far from home in search of work, and then got caught up in the chaotic aftermath of 9/11. The US military was offering life-changing sums of bounty money to Afghans and to Pakistanis if they turned over Arab men.
The outgoing president Obama was dead right to say that Gitmo is a blot on the US. As long ago as 2004, an intelligence agent opined that for every detainee we hold at Guantanamo, we have provoked 10 people to want to do us harm. Today, the same expert would no doubt revise this estimate up to hundreds. Osama bin Laden estimated that he had 100 followers in 2001.
It is time to make America great again, and to apply such Trump parlance where it rightly belongs. That is emphatically not torture, rendition, detention without trial and assassination. It is respect for human rights, and US values like due process and the rule of law.
The horrific ways in which Guantanamo's prisoners have been repeatedly tortured makes it surprising there aren't more who hold a mighty grudge. In my experience, the overwhelming majority just want to return home, rebuild their lives and forget the terrible nightmare of the last decade and more.
Meanwhile, much peace loving Americans seek a month of resistance leading up to the president-elect's inauguration on January 20. Thousands of activists, journalists, scientists, entertainers, and other prominent voices took out a full-page call to action in the New York Times on Wednesday making clear their rejection of President-elect Donald Trump and Vice President-elect Mike Pence with the simple message: "No!" Trump is "assembling a regime of grave danger" that is an "immoral peril to the future of humanity and the earth itself," the call to action continues. "Millions must rise up in a resistance with a deep determination such that we create a political crisis that prevents the Trump/Pence fascist regime from consolidating its hold on the governance of society." "Stop the Trump/Pence regime before it starts! In the name of humanity we refuse to accept a fascist America!" the ad states, followed by a list of signatories that includes scholar Cornel West; author Alice Walker; Chase Iron Eyes of the Standing Rock Sioux; educator Bill Ayers; poet Saul Williams; CNN's Marc Lamont Hill; Carl Dix of the Communist Party USA; and numerous others.
Trump can end bloodshed in Palestine as well as entire Mideast or help Israel complicate the saturation further. Does he also seek disasters?
Choice is Trump's
As the unusual president elect, Trump would do well by pursuing a new set of policies abroad that would greatly benefit the shivering humanity. Terror wars must end. Trump should recognize Palestine and ask Israel also do the same for the sake of creating the necessary preconditions for the natural establishment of Palestine and for peace in Mideast.
Hopefully Trump would have to let the world know that he cares for humanity and peace in the world and he is well reformed from being a mere political hawk to become a genuine statesman to lead America and world positively and in the best ways possible.
Decoding Pompeo's words at US senate
The CIA Director Mike Pompeo, who is nominee for Secretary of State, has recently mentioned meaningful words in his hearing at the Senate on Iran and the nuclear deal. In his words, he acknowledged that Iran was not after nuclear weapons even before the nuclear deal, nor will be in the future.
On the other hand, he has announced that he is seeking to fix and correct the nuclear deal with Iran! This is while the US President Donald Trump is scheduled to announce his final decision on Iran's nuclear deal by May 12. "I want to fix this deal," Pompeo said. "That's the objective. I think that's in the best interest of [the United States]."
At his recent Senate hearing, Pompeo has emphasized that as CIA Director, he didn't find any evidences that Iran has violated the nuclear deal. At the same time, he believes that Tehran can't expand its program shortly after the US withdrawal from the nuclear accord. He emphasized that his goal is to correct the nuclear deal with Iran. Pompeo said:
"If there's no chance that we can fix it, I will recommend to the president (Trump) that we do our level best to work with our allies to achieve a better outcome and a better deal," he said. "Even after May 12, there's still much diplomatic work to be done."
A simple decoding of Pompeo's remarks suggests that, despite the opposition to the nuclear accord, he is trying to deal differently with this issue as the future US Secretary of State. Some analysts also believe that Pompeo has adopted such an approach to face the US Senators' relative opposition to the White House's withdrawal from the JCPOA (Joint Comprehensive Plan of Action).
In any case, according to Pompeo, Donald Trump may not make a final decision on the nuclear deal with Iran on May 12, and he will continue to consult with his European allies on what he calls "fixing the flaws of the JCPOA".
Pompeo's remarks indicate that the White House hasn't come to a determined and clear decision on how to deal with the JCPOA yet. On the other hand, numerous consultations by representatives of the four countries, the United States, France, Britain and Germany, continues in silence.
Western sources have argued that these countries are consulting on the three controversial issue, namely "the Sunset clauses", "limiting Iran's missile power" and "extensive inspections of Iran's military sites". These sources claimed that the only remaining disagreement between the four countries is over deletion of the so-called Sunset clauses from the nuclear deal, and thus putting permanent limitations on Iran's nuclear program.
Pompeo is currently the CIA director, and ironically, he was one of the foremost critics of the Iran nuclear deal when he served as a House Republican from Kansas. Trump fired Secretary of State "Rex Tillerson" over the raised disagreements, and picked Pompeo as his successor in March, just two months before the deadline on May 12 to decide whether to bring back sanctions that former President of the United States waived when the JCPOA was first implemented.
Before this, many Western politicians and analysts saw the nomination of Mike Pompeo for secretary of state by Trump as a sign of Washington's withdrawal from the nuclear deal. Beyond that, John Bolton's appointment as US national security advisor also sent a clear message to the international system that Trump is about to pull out of the nuclear deal with Iran.
John Bolton is now silent about the fate of the JCPOA! The silence seems very meaningful at the current time. It's obvious that John Bolton is one of the main opponents of the nuclear deal with Iran, and he doesn't even believe in negotiating with the European Troika on maintaining the JCPOA.
The important question, however, is whether Bolton's silence reflects the continuing paradoxical and vague approach of the US towards the JCPOA? Or did Trump ask him to be silent in this regard and wait for the final results of their talks with Europe?
American senators still don't have a clear picture of Trump's final decision about the JCPOA. Meanwhile, some Republican senators like "Rand Paul" and "Jeff Flake" are worried about the costs and consequences of Trump's decision to refuse joining other members of P5+1.
Most US senators tried not to mention the nuclear deal with Iran in their speeches during recent weeks. This is while some senators such as "Tom Cotton" and "Ted Cruz" strongly encourage Donald Trump's government to pull out of the nuclear deal with Iran.
First published at our partner Mehr News Agency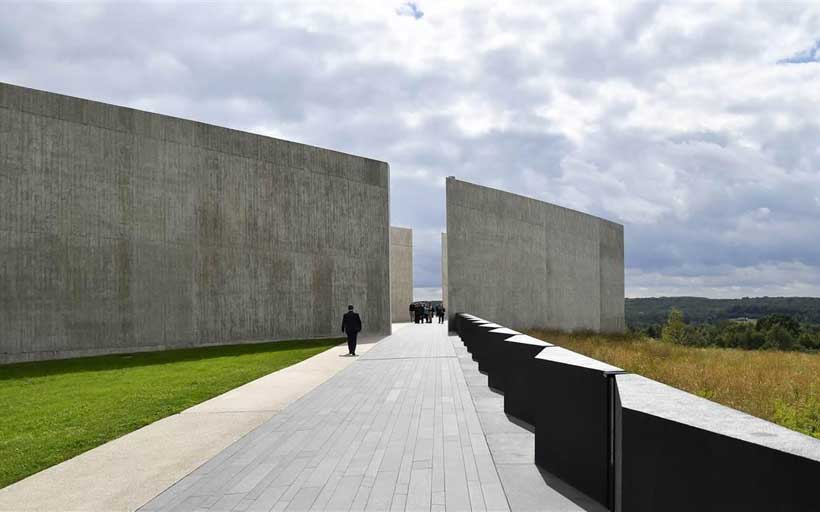 Did you know that Vice President Dick Cheney admitted that on 11 September 2001 he, as President George W. Bush's brief stand-in during the 9/11 attacks that hit the World Trade Center and the Pentagon, issued an order (and it was carried out) to shoot down United Airlines Flight 93 while it was in the air near Pittsburgh? If what he said at the time was true, then the standard 'historical' account of the plane's having been brought down as a result of action by the passengers, would be concocted, not history at all.
Here is the video-clip of V.P. Cheney on 9/11, making this claim and explaining why he gave that order: 

The Wikipedia article on Flight 93 provides the standard account, and fails even so much as just to mention the Vice President'a assertion and explanation that he provided on national TV at the time of the 9/11 events.
So: I edited the Wikipedia article by adding a sentence at the end of its opening paragraph, and by following that sentence with a brief second paragraph, and here is that entire two-sentence addition:
Vice President Dick Cheney alleged that he gave the order to shoot down Flight 93, and explained why when asked about it by Chris Wallace of Fox News as shown in this film-clip
Consequently, the account given below of what brought the plane down — an account inconsistent with what Cheney said — could be entirely false. 
On the web browser that I was using, the addition showed as having been successfully made in the Wikipedia article. However, to be sure, I opened the URL in a different browser, and this time my addition was absent. I then went back to the "Edit" page" and this time to the "View history" page, and clicked there on "(talk)" and found this message, which I saw virtually immediately after I had thought that I had inserted the new information:
Hello, I'm Shellwood. I wanted to let you know that I reverted one of your recent contributions —specifically this edit to United Airlines Flight 93— because it did not appear constructive. 
No other explanation for blocking my addition was provided. "Shellwood" was there saying that mentioning, and linking to the video of Cheney saying, that allegation, which Cheney made on 9/11 about how Flight 93 came down, is not "constructive" to Wikipedia-readers who want information about Flight 93.
Previously, even the BBC published the fact that Wikipedia is edited by the CIA.
Anyone who reads the present article is hereby welcomed to try making the same addition to that Wikipedia article, and I hope that one of the readers here will be able to get it accepted by the editors of that site, so that Wikipedia can be made at least moderately trustworthy, on at least that one article. Perhaps if enough people try, then Wikipedia will come to recognize that Wikipedia's modus operandum isn't merely a very successful system of propaganda, but that it's also something of a PR problem for Wikipedia, which they'll need to do something about, if they're to be able to survive (or at least retain their credibility) at all. Blocking inclusion in an article, of a fact that disproves part of the 'history' (and here the most important part) which is told in that article, is unacceptable in anyone's eyes.
As of today, April 20th, the Wikipedia article on Flight 93 does make one, and only one, mention of Cheney:
Vice President Dick Cheney, in the Presidential Emergency Operations Center deep under the White House, upon learning of the premature crash, is reported to have said, "I think an act of heroism just took place on that plane."[2]
The link there, [2], goes to a CNN article, likewise published on 11 September 2001, which likewise presents Cheney as saying that he ordered the shoot-down of Flight 93:
After the planes struck the twin towers, a third took a chunk out of the Pentagon. Cheney then heard a report that a plane over Pennsylvania was heading for Washington. A military assistant asked Cheney twice for authority to shoot it down.
"The vice president said yes again," remembered Josh Bolton, deputy White House chief of staff. "And the aide then asked a third time. He said, 'Just confirming, sir, authority to engage?' And the vice president — his voice got a little annoyed then — said, 'I said yes.'" 
The phrase that Wikipedia is quoting from Cheney, "I think an act of heroism just took place on that plane," appears later in that CNN article, out of context, when one of Cheney's aides attributes the statement to Cheney, but, since CNN provided no context for it, no reader can intelligently interpret what it had been referring to, if, in fact, the aide did say that Cheney did say it.
Wikipedia grabbed that out-of-context, possibly apocryphal, Cheney-statement, and constructed their 'history' of the plane's crash, upon it, despite the fact that Cheney, on 9/11, clearly stated that he had ordered Flight 93 to be shot down, and that the order was executed — in other words: despite the fact that Wikipedia's account of what brought that plane down is incontrovertibly false, even on the basis of the most reliable evidence that Wikipedia itself links to on that matter. Such a 'history' is fiction.
So: any reader at the Wikipedia article who clicks onto its sources, can easily know that though the Wikipedia article presents a 'history' in which actions by passengers onboard Flight 93 caused the plane to crash there, that 'history' is fake, not at all real (though some allegations in that Wikipedia article might happen to be true).
This means that only readers who click through to sources can even possibly come anywhere near to knowing anything that's at all reliable about the history of our time. And, of course, the longer that any event recedes into history, the more immovably fixed the lies become as being 'history'. We live actually in a world of lies. If modern 'history' is fake, then ancient 'history' is even more so. What about the Bible? What about even recently written 'history' books?
If Wikipedia is the best that 'the market' can come up with for 'a free press' in a 'democracy', then democracy isn't at all possible. Something vastly better than this is definitely needed. What's displayed here isn't democracy at all: it's merely 'democracy'. This means that all of the military invasions by 'democratic' countries (such as America), against other countries, are the actions by dictatorships, not actions against dictatorships (as is always claimed).
So, it's actually rather easy to document that 1984 — the reality, and not merely the novel — has, indeed, arrived, in our time.
However, at least in our time, we possess — for the very first time in all of history — the ability to access, merely a click away, an allegation's actual source, at least in articles such as the present one (since all sources here are linked). The people living in ancient times who were not themselves aristocrats (the people making the key governmental decisions) were unalterably 100% vulnerable to being deceived by aristocrats' and clergies' lies, deceived into doing whatever those decision-makers wanted to manipulate them into doing — such as "fighting for God and country!" Unfortunately, the percentage of today's people who care enough to be skeptical of whatever other people are trying to sell, and to dig deeper than the mere assertions, even just to click onto a link, is too tiny for democracy to be able to function. Unless they become the majority, "democracy" will remain merely a word, not yet even near to being the reality, anywhere.
That, for example, explains why, despite common realities such as this, "74% [of Americans] view Israel favorably, vs. 21% for Palestinian Authority". In order for the national aristocracy to control its mass of voters, it must first deceive its mass of voters; and, in America, they're deceived, and have been so, for decades, at least.
Poll Shows Americans Support the Invasion of Syria – What they Misunderstand About that War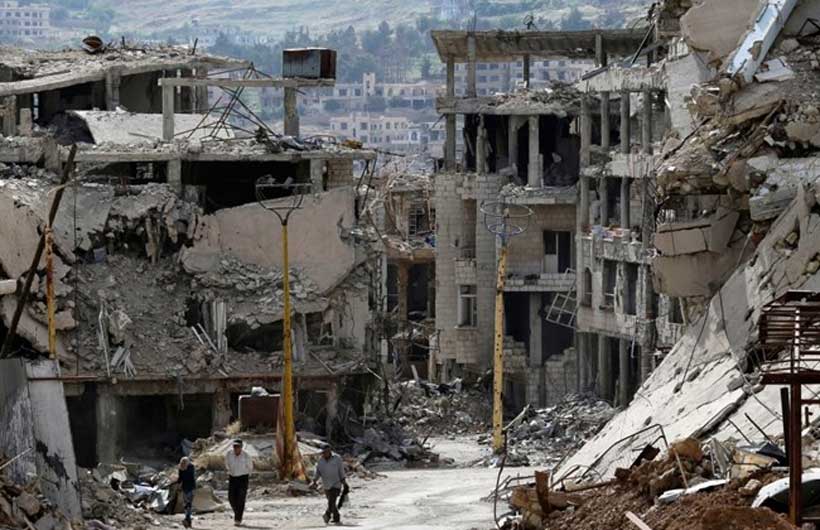 The first even marginally trustworthy poll of American "registered voters" regarding the April 14th U.S.-and-allied missiles-invasion of Syria, shows an overwhelming 66% supporting the invasion (36% "Strongly" and 30% "Somewhat), and only 23% opposing (8% "Strongly" and 11% "Somewhat").
When the 1,995 U.S. registered voters were asked further, in this Morning Consult / Politico poll, "How confident are you that the airstrikes in Syria will prevent the Syrian government from using chemical or biological weapons again?" only 30% are "confident" (8% "Very" and 22% "Somewhat") and 57% are not (21% not "at all" and 35% "not too"). Obviously, all of the 30% who are "confident" on that are also believing that the Syrian government has been "using chemical or biological weapons" and the 57% who aren't "confident" are expecting the Syrian government to continue using such weapons; but the only other option that the pollster offered was "Don't know / No opinion" and perhaps any respondents who disbelieved the U.S. government's allegations that the Syrian government has been using such weapons would have to be among the 12% who said "Don't know / No opinion" (or else such respondents would have quit answering at that point, which was 3 questions into a 7-question poll: the stupid polling organization excluded even the possibility that a respondent believed the Syrian government's denials that it had used such weapons — that's how little consideration was offered regarding even the merest possibility that this invasion had been punishment of a non-guilty nation by guilty invaders: zero).
This invasion, like the one a year earlier, occurred when the U.S. and its allies said that Syria was guilty but didn't provide any evidence of that, and when Syria and its allies said that those charges were lies and that the 'rebels' whom the U.S. and its allies supported had actually set up the incident in order for the U.S. and its allies to invade and overthrow the government. These invasions were lawless — based upon no legal process other than brute accusations, like in any common lynching or other mob-'justice'.
The fact that this poll did not show close to 100% contempt by the American people regarding what the U.S. government and its two allies, UK and France, had just done, indicates not only that the American people are astoundingly ignorant that the U.S. and its allies are international outlaws and warmongers (which makes sense for a nation that invaded and destroyed Iraq 2003, Libya 2011 and has been trying to do it since 2011 in Syria), but that they are also astoundingly misinformed as to which side in this war is guilty, and which side is not. (Hint: It's certainly not Assad, who is simply defending Syrian sovereignty over Syrian territory.) According to the standards that were set in place by the Nuremberg Tribunals following World War II, in which invasions for any other purpose than national self-defense are war-crimes, it's not only the lie-based invasion and destruction of Iraq 2003, and the 2011 invasion and destruction of Libya, that constitute international war-crimes — there's simply no power that's enforcing international law: not policing, not prosecuting, not judging, and not legislating, at all, any such thing. The international outlaw regimes, U.S. and its allies, are simply international gangsters, and the American public overwhelmingly are bored about the whole thing, don't really care whether they are the Nazis of today (and the U.S. government is even proud to be it, not only under Trump, but under Obama before him — all accepted, not resisted in any way, by the American public).
Poll-findings like this implicate the American public, and not only the American government, in such mega-crimes. Even the clear-cut national experience of having been lied into Iraq 2003 hasn't taught the American people that we live in a gangster-regime. And now this regime has destroyed even the last vestiges of the authority that the U.N. once had.
Ironically, the core voter-base for the war-criminal U.S. President Trump seem to have strongly opposed the latest invasion. But, to judge from this latest actual poll in the matter, the American public strongly supports that invasion. Apparently, Americans can't learn from even the most blatant experiences, such as having been lied into destroying Iraq in 2003 — a country that, like Syria, and like Libya, had never attacked, nor even threatened to attack, the U.S.