Deep State Control of the American Courts and Judiciary
Not much attention has been paid to the insidious and hidden Deep State Plutocratic/Oligarch control of the U.S. Courts and its corresponding judiciary, whether state, federal or local.
Perhaps it was inevitable, but the straying away from the United States Constitution over the past 225 years or so has been so gradual, and so muted, that it has been almost impossible to recognize when the schisms occurred and when the greatest violations of the vision of the Founding Fathers actually happened.
Various events in American history, to be sure, have certainly "fast tracked" the American court system and its judiciary away from the U.S. Constitution, usually emanating out of fear-based legislation and ad hoc clandestine "thief in the night" enactments, such as the events of the Oklahoma City bombing which ushered in the DOJ/FBI's resurgence of the COINTELPRO program outlawed in 1975 after the Frank Church Hearings but reinstated by the 1995 Bill Clinton/Joe Biden Community Oriented Policing ("COPS") gang-stalking/STASI program, or the obvious events of 911 which reinstated the CIA's mass assassination/propaganda/MKULTRA program after its curtailing also by the Church Senate Hearings, or even relating to the creation of the Federal Reserve central banking system in 1913 which literally was surreptitiously passed on Christmas Eve in 1913 when 99% of the Congress and Senate were at home with their families for the holidays.
Many long-term surviving judges have reported that the Constitution intended that only elected lawmakers be permitted to create law, yet federal and state judges routinely and daily create their own law in the judicial system based on their own activism, personal opinions, corruption, bribery, and bias.
This court/judicial element is called "case law," and occurs daily through the rulings of federal and state judges.
When a judge hands down a ruling, and it survives appeal with the next tier of judges, it then becomes full-fledged, full-blown, case law legal precedent.
But these constant and daily court rulings have now eclipsed the speed and pace of the legislative branch, and so therefore currently the American people are constantly subject to case rulings of individual judges (who are much easier to corrupt and purchase than the entire congress/senate) than the laws made by the legislature pursuant to the U.S. Constitution.
The constant case law/legal precedent phenomenon consistently, continuously, and routinely alters and changes legislative and constitutional intent on a daily, if not hourly, basis.
Lawyers love this phenomenon because it constantly creates new business opportunities for them, and their associated Bar Associations, highly profitable Continuing Legal Education ("CLE") programs, and other financial "hangers on" entities who feverishly mine these daily judicial court rulings for nuggets of gold to buy and sell to gain tactical advantages over others who may or may not know about them, in order to make a fast buck.
Adding insult to injury is the fact that larger and powerful law firms who have banks, mega corporations, and wealthy individuals as "cash cow clients" routinely buy off and control federal, state and local judges, and their corresponding court rulings reflect the agendas and visions of those wealthy powerful clients, at the complete and total expense of the common people and the masses.
The Deep State Plutocrat/Oligarch Elite control these financial purse-strings, and exercise this power on a daily basis, so that our body of law and jurisprudence is today, and at once, totally unrecognizable from the visions of the Founding Fathers and our first American courts.
It is common knowledge within the legal profession that corrupt judges regularly refuse to identify potential conflicts of interest, and refuse to step aside from cases where their personal bias, feelings, money trail, and connections might create a greater risk of them issuing an unfair ruling.
As a corollary to this truism, corrupted judges systematically provide advantages to those who have given them money and power, while they more often than not ignore the human rights, civil liberties, and constitutional rights of those who seek justice for acts of wrongdoing committed against them.
The only way to undo this vast quagmire of a mess is to meditate on these facts and "re-set the clock" a bit to try and recapture the original intent of the founding fathers, the United States Constitution, and the original legislatures, and quickly pare down and discount the various and cacophonous squawking of American judges over the past 225 years, but this is no mean feat – it will require an overall restocking of our nations federal and state judiciary, and a return to what made this country's legal system great in the first place – the words and inherent meaning of the United States Constitution.
Once again, the only way the American people will ever see change is by incessantly calling/emailing/texting/faxing their local and federal congressional and senate leaders, as well as their local federal and state law enforcement agencies, to demand change at the local and federal level to investigate, arrest, prosecute, convict, and replace our nation's corrupt judges and court personnel, and thereupon revolutionize the courts.
It will not happen if the American people don't care or are apathetic about all of this.
Murder of George Floyd – On Camera Murder by Neo Ku Klux Klan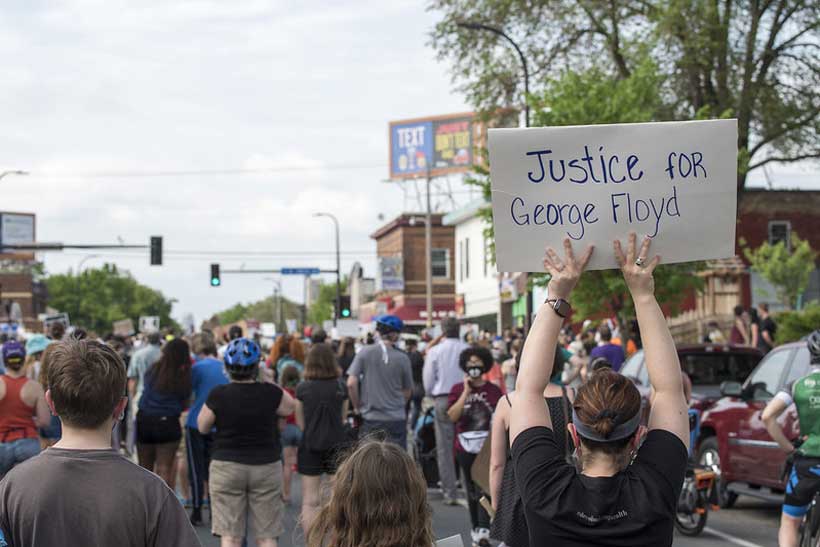 Now that the doors of racism have been shut down by law, the de facto persecution of blacks carry on. The cold-blooded murder of George Floyd by Minneapolis officers is one of the many such cases. If the four racist cops could strangulate a handcuffed person on camera, one should be fearful to assume what could they be doing off camera. Until the lion learns how to write, every story will keep glorifying the hunter.
The persecution and segregation of colored people has been done since long. Gone are the days when Rosa Parks could be ordered to leave her seat on bus for a white. And gone should have been the days when Eugene Bull Connor could use state authority to subjugate unarmed protestors in Birmingham during Civil Rights Movement while being filmed on Television. George Floyd kept on begging to let the air in for he was suffocating.The racist cop told him to be easy while putting more pressure on his neck while Floyd laid down on ground with his hands cuffed behind his back. The four armed cops apparently could not find a better way to handle him except strangling him to death. Or perhaps they did not wish to.
The inhumane treatment, especially when done by state authorities, develop grievances in vulnerable communities. A liberal state is meant to treat everyone equally. When Jim Crow Laws were on a high and Ku Klux Klan started to target humans on basis of skin color, it led to the formation of violent groups in African Americans like Black Panther. Violence against particular groups cannot sustain for long in a developed world. When USA tries to proliferate liberal values across the world, it should not remain aloof that despite being the world's oldest democracy, blacks are still victims of oppression in America.
The white supremacy is not a myth. The Minneapolis officers were able to kill a person while being filmed as well as begged by the civilians to do mercy on Floyd for he didn't put any threat to them. The cops gave him a slow death without any shame like they were living in a pre-Lincoln era. Luckily, the heinous crime was filmed and all the cops have been terminated but it is likely that without being prosecuted for the cold-blooded murder, it may not give a lesson to other state authorities regarding misuse of their powers.
This is simply a Neo Ku Klux Klan where the Blacks are being oppressed on the basis of color and the murderers get a clean chit. A similar case happened in 2014 when Eric Garner was strangulated when he kept saying "I can't breathe" while dying and the white officers didn't face federal charges despite being filmed doing the murder. In the same year, a 12 year old black boy Tamir Rice was carrying a toy gun and he was killed by a white cop. In 2016, Philando Castile was murdered in his car when the situation could be handled pacifically but the police used preemptive measure to kill him right away. There are many cases in recent past that make it evident that The United States of America has not fixed the problem of Ku Klux Klan; rather it is a neo Ku Klux Klan that is de facto segregating and oppressing the colored community. One in every 1000 black males can expect to die at the hands of police in USA.
The Neo Ku Klux Klan needs to be stopped. State institutions must function as they are supposed to perform and not to deal humans with discrimination depending on what color of skin they carry on their flesh. Racism should have been buried when President Kennedy got successful in calling civil rights a moral cause. But racism thrives till today and now with President Donald Trump, it is far from possible to end racism in American society when he himself dehumanizes the blacks. If the state institutions as well as the public does not proactively try to resolve the issues that are a direct threat to human security when it comes to black lives, the dreams of Equality, Liberty and Pursuit of Happiness will remain a hoax.
What do Donald Trump and ultra-conservative Pakistani imams have in common?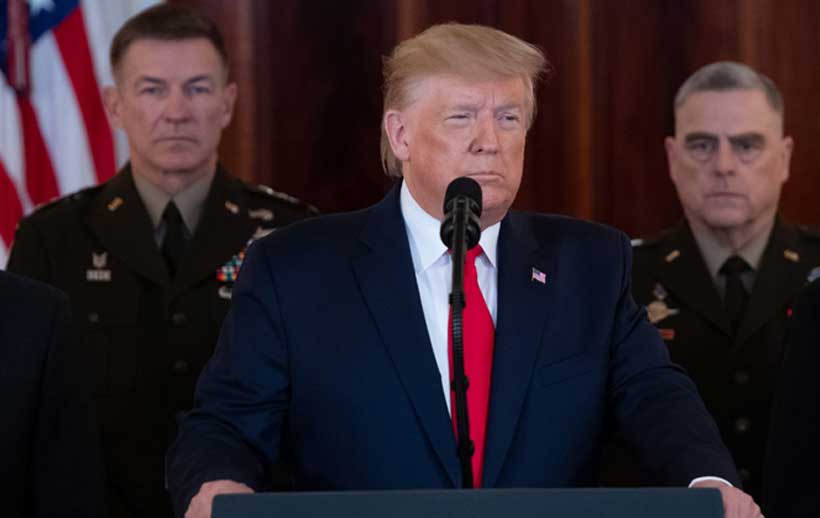 Authors: James M. Dorsey and Tehmina Qureshi*
US President Donald J. Trump and ultra-conservative Pakistani religious scholars may have more in common than either would want to admit: a belief that congregation is an essential pillar of prayer irrespective of public health concerns.
Mr. Trump, however, may wish that he had the kind of less polarized and/or more compliant audience that Pakistani clerics address.
Scores of religious leaders and groups in the United States have sought to protect their communities by advocating virtual rather than physical congregation at the time of a pandemic in which the coronavirus has yet to be brought under control.
Religious authorities in much of the Muslim world, Pakistan being the exception that proves the rule, have heeded government instructions and medical and public health advice.
That advice ranged from the closure of mosques to bans on social gatherings that precluded traditional iftar meals breaking the Ramadan fast and celebrations of this week's end of the holy month to Saudi Arabia's suspension of the umrah, the lesser pilgrimage to Mecca and possibly the haj too.
Leaving aside the question whether he has the legal power to do so, Mr. Trump vowed to overrule governors who refused to open houses of worship, noting that the Center for Disease Control (CDC) had issued guidelines that included physical distancing.
The move designed to play to Mr. Trump's Evangelist voter base received a mixed reception among American faith communities.
It appealed to those segments of the community with an unqualified belief in God's ability and will to protect and that often are steeped in notions of Christian manhood that have deep roots in American Evangelism and were boosted by the 9/11 attacks on New York's World Trade Towers and the Pentagon in Washington.
Mr. Trump's recognition of prayer as an "essential" societal activity further drew a line intended to give houses of worship autonomy in an environment in which state intrusion into people's lives has expanded greatly in a bid to fight the pandemic.
In that sense, the president was fighting a battle similar to that of Pakistani Sunni and Shia Muslim leaders who rejected a total closure of mosques but were willing to accept guidance on issues such as physical distancing.
The leaders see mosques "as spaces where you cultivate and express a communal religious identity that is very central to…their vision of the Pakistani state," said a Pakistani Islamic scholar.
The clerics' determination to retain control of religious spaces was reinforced by Prime Minister Imran Khan's flip flops that resembled Mr. Trump's zig zags.
Mr. Khan initially sought to appeal to religious circles by meeting in the early days of the pandemic with Maulana Tariq Jameel, a leader of Tablighi Jamaat, who initially denied the contagious aspect of the virus.
Mr. Jameel reversed course and embraced physical distancing after his movement's mass gatherings in Pakistan, Malaysia, India and Indonesia turned into super spreaders of the coronavirus.
Mr. Khan's government further complicated issues by initially agreeing with religious leaders on a division of labour that would have empowered the clerics to advise their followers to stay at home, avoid congregational prayer and maintain physical distancing and then jumping the gun to announce the measures without coordination.
Mosques in major Pakistani cities were packed in recent days, despite religious leaders paying lip service to physical distancing, in a reflection of the degree to which ultra-conservatism has woven itself into the fabric of Pakistani society and in stark contrast to Saudi Arabia's pre-emptive response to the health crisis.
Pakistan's Supreme Court ruled against government lockdowns, suggesting that the coronavirus was not a pandemic. Religious leaders have since backed away from their acceptance of physical distancing, demanding that the advice be abandoned.
Mr. Trump's recognition of prayer as essential aligned itself with notions of concepts of religious freedom promoted by his administration, with Secretary of State Mike Pompeo in the lead, that in effect serve to legitimize discrimination against minorities of various stripes.
Few doubt that Mr. Trump made his move with an eye on the US presidential election in November. Mr. Trump was embarking on a road on which mainstream ultra-conservative Pakistani clerics were also travelling.
The clerics remained silent when Ahmadis, a sect viewed as heretic by mainstream Muslims, were excluded from a national commission created by the government earlier this month to promote religious tolerance and counter persecution of minorities.
Pakistan's religious affairs ministry barred inclusion of Ahmadis, who are among Pakistan's most discriminated minorities, on grounds that they did not qualify as a minority and refuse to recognize the country's constitution.
A 1974 amendment of the constitution bars Ahmadis from identifying themselves as Muslims because they do not recognize Mohammed as the last prophet.
Compared to the polarising environment that Mr. Trump operates in and likes to entrench, Pakistani clerics have it a lot easier. Except for liberals and human rights activists, few in Pakistan are willing to stand up for Ahmadi rights.
Moreover, the government shied away from imposing its will on the religious establishment during the pandemic as did the military, which built quarantine centres in various cities and helped local authorities implement a lockdown.
Pakistan lacks truly influential, more liberal religious voices in the mould of for example Reverend Curtiss DeYoung, CEO of the Minnesota Council of Churches that groups African-American denominations, the mainline church and the Greek Orthodox Church.
"We listen to communities of colour, and many of our congregations' people are engaged in representing refugees and immigrants, African-Americans, Latinos, even seniors, they're saying, why the urgency?" Mr. DeYoung said in response to Mr. Trump's push.
"They're…directly affected. They're actually afraid in many cases to go into group gatherings…We feel that we need to make our decisions based on good science and the recommendations of our health department," the reverend added.
Mr. DeYoung was joined by his Muslim counterparts in contrast to their Pakistani brethren.
"American Muslim scholars and community leaders have already determined that mosques will not be open in the near future because of the health concerns brought on by the pandemic. That's a determination for them to make not for the president to make," said Ibrahim Hooper, communications director of the Council on American–Islamic Relations, the largest US Muslim civil rights and advocacy organization.
To be sure, the United States and Pakistan are vastly different countries. Pakistan has been hard hit by the pandemic with 55,657 cases of infection to date and 1,155 deaths. Yet, that is a far cry from the United States' 1,613,324 cases and 96,659 deaths.
Pakistan, nonetheless, saw its number of cases quadruple during the month of Ramadan and the rate of new infections jump by 30 percent in the last week as the holy month neared its end .
Yet, when it comes to employing religion to entrench power at the cost of striking a balance between faith and science, Mr. Trump and Pakistani religious scholars share the kind of opportunism and worldview that serve their short-term interests irrespective of the cost to human life and potentially to already battered economies.
*Tehmina Qureshi is a multi-platform journalist and editorial writer at Dawn, Pakistan's leading English-language newspaper.
COVID-19's Weakness Is Its Strength
About 4/5ths or 80% of the deaths come from 1/5th or 20% of the Canadian population. Our seniors and those living in long-term care facilities have been held with obscure and unregulated measures to say the least. Conversely, roughly 1/5th or 20% of the deaths have come from 4/5th or 80% of the population that are younger than or senior community and perhaps some underlying health issues. While not short of devastating to families affected, it is roughly a thousand deaths in 80% of the population or about 1 in 40,000 deaths in this sizeable wedge of our communities. The mortalities equate to a relatively small number of 2.5 per deaths for every 100,000 Canadians.
In contrast, the top 5 leading causes of death in Canada per 100,000 are:
Cancer: 68,000 deaths or 207.7 per 100,000
Heart Disease: 50,000 deaths or 152.8 per 100,000
Cerebrovascular Disease: 14,000 deaths or 42.3 per 100,000
Chronic Lower Respiratory Diseases: 10,000 deaths or 30.0 per 100,000
Accidents: 9,700 deaths or 29.5 per 100,000
In 2018 there were 4,157 suicides in Canada: making it the 9th leading cause of death behind Alzheimer's Disease. With an economy currently on life support in some sectors, the number of suicides will likely climb higher this year as people succumb to job loss, the inability to pay their mortgage or credit loans, and bankruptcies. In the last month alone, there have been nine spouses murdered in domestic violence and likely thousands of cases of abuse and violence in family homes going unreported.
While the initial unknowns and actions around the pandemic were undoubtedly justified, Canada and the world should be better equipped to understand what is necessary to sustain a more robust economy if there is indeed a second wave of the virus. The most dangerous characteristic of COVID-19 is its weakness to kill. Unlike more deadly viruses that dispatch the host quickly and have a tapered prospect to vault to others and dies out, COVID-19 is carried by asymptomatic humans who unknowingly infect those most vulnerable to the illness.
The best solution following a crippling downturn in the market from the first wave will not be a nation-wide shutdown in the next go around. It would rather be a laser focus to take care of our seniors, specifically in our long-term care facilities, and self-isolate our most at-risk population and those with underlying medical issues. One must wonder how the leading causes of death in Canada will pop well above the number of COVID-19 related deaths with postponed cancer treatments and the like over the year.
One then must also examine whether the prolonged lockdowns and restrictions throughout the country, not to mention the crippling debt load and taxes to ensue, was the best reaction overall. It is safe to say, lives were saved through physical distancing practices, and the sacrificial deeds by individuals taking coronavirus very seriously was prudent. If only intense attention were placed on long-term care facilities during the onset, Canada would have come out relatively unscathed by the pandemic.
A full financial recovery will be painful for many, and it will likely take several years to see some semblance to a roaring economy. We do know many life savings for retirement have withered, numerous sectors in the marketplace. Such areas as automotive, travel, hospitality, and oil and gas will not bounce back any time soon, and many Canadians will never return to the jobs they once worked.
It is also apparent through this pandemic that if you have an alternative opinion, one is quickly shunned or dismissed as irresponsible if you are not a medical professional or virologist. Specifically, predicting models of death or advocating ever-changing protective measures or restrictions that shifts the goalposts almost daily.
Rule changes and lockdowns are more readily accepted when one's income stream is uninterrupted. However, it is a far different story for those on the cusp of their business dissolving in debt or a neighbor prevented from earning a living and placed in the dire predicament in having to choose between paying their rent or buying groceries to feed the kids.
The effects of COVID-19 are far-reaching today and will be far-lasting tomorrow. One thing for sure, the adversity we have all faced through the pandemic has introduced us to ourselves.
From our partner RIAC