Russia's rising role in the world
The end of Cold war and dismantling of mighty Soviet Union along with dissolution of Socialist system in East Europe, Russia, having lost the Cold War to USA, was forced to lay down for years as its allies began dropping the Kremlin and joining the USA and Europe through NATO and EU, one by one. Further, dismantling of anti-West military alliance Warsaw Pact increasingly weakened Russia as it gradually lost its influence globally.
Over years since the 9/11, Russia and its strong leader President Vladimir Putin have gained in international importance in the comity of nations, notwithstanding the occasional reverses they were subjected to by US led western nations.
In recent times Russia has raised its role and prestige first with its annexation of Crimea and then by sending its military to Syria, where USA is helping the anti-Assad forces, to defend President Assad and his autocratically illegal regime. Fall of Aleppo has considerably added to the prestige of efficacy of Russian military operations
By confrontation and cooperation as effective tool Moscow played its card rather too well for alliance particularly with USA so that the west cannot operate without Russia.
Notwithstanding economic sanctions of USA and Europe, Russian economy is not shrinking because of its natural resources, oil output and arms sale.
As such, one thing is plain today: the world cannot ignore Vladimir Putin's Russia and America has to take into consideration the views of Russia in world affairs. Twenty-five years after the humiliating collapse of the Soviet Union, President Putin is well on his way to making Russia the "ubiquitous state and indispensable partner" of his dreams, expect Russia to be very active on the diplomatic, military, and cyber fronts.
Syria offers the most dramatic illustration of Russia's ambitions. It was the Russian Air Force's brutal bombing campaign that turned the tide in Syrian President Bashar al-Assad's favor.
Syria offers the most dramatic illustration of Russia's ambitions. It was the Russian Air Force's brutal bombing campaign that turned the tide in Syrian President Assad's favor.
Strategy
And the week before Christmas, Putin hosted Turkish and Iranian officials for political talks on how to end the civil war in Syria. US Secretary of State John Kerry was nowhere to be seen as he busy with Mideast peace process by shoring up support for the UNSC vote for Palestine state. Nor is he expected to be invited to Russian-planned talks in Kazakhstan between the Syrian government and opposition.
Maybe, Moscow thinks USA is sincere about peace in Syria and other Arab nations. Now the Kremlin has made no secret of its intention to thwart the USA, and the West more broadly, whenever it sees fit. In a foreign policy "concept" document published this month, Moscow framed its view of the world as a "competition in the form of dueling values," and announced it intended "to prevent military interventions or other forms of outside interference" justified on humanitarian grounds. Russia "reserved the right to react very strongly to unfriendly actions, including retaliatory or asymmetrical measures."
True, Russia's oil-dependent economy is weak, its state structures inefficient, its soft power limited. But it has a strong military that is getting stronger, and Putin is ready to use it. Russian troops have intervened in Georgia, Crimea, eastern Ukraine, and Syria. Those operations have boosted Russia's military confidence. They could be tempted to use military force more easily than before, if they think that will give them influence.
Especially nervous in the wake of Russia's invasion of Crimea are the three Baltic States – Estonia, Lithuania, and Latvia – NATO members neighboring Russia, which has been bolstering its military forces in the region. According to the NATO treaty, an invasion of Estonia, Lithuania, or Latvia would mean war. But US President-elect Trump hinted on the campaign trail that he would not necessarily feel obliged to come to their aid. And there is much speculation about the prospect that Trump would be more conciliatory toward Moscow than has President Obama.
However Trump and Putin get on, Russia and the West will remain divided over fundamental issues, not least Washington's plan for a global missile defense system. Moscow considers the scheme a threat to its national security, the foreign policy document made clear. If the USA goes ahead with it, Moscow "reserves the right to take adequate retaliatory measures."
Split
In the USA, a conservative split over Putin is emerging as the old guard clashes with rising hard-right nationalists over the direction of foreign policy under a president Trump. Traditional Republican hawks like Sens. Lindsey Graham of South Carolina and John McCain of Arizona continue to view Putin as a danger to the West. Based on standard conservative objections to Putin's disregard for personal freedoms, human rights, and his challenge to the West in Europe, Senator McCain says the Russian leader is a thug and a murderer and a killer. He cites shadowy killings of Russian dissidents, Russian undermining of Estonia, "dismembering" of Ukraine, and precision Russian airstrikes on civilian hospitals in Aleppo, Syria.
Some close observers of the Trump transition speculate that Mitt Romney was ultimately passed over in the search for a secretary of State in part because of his perspective from the 2012 presidential campaign that Russia is America's chief geopolitical foe – a view in line with a traditional Republican national-security outlook but at odds with the Trump camp's perspective on Putin. But Pat Buchanan wrote in 2013 that instead of seeing Putin through an old "Cold War paradigm," conservatives should see Putin as a defender "against the militant secularism of a multicultural and transnational elite."
More recently, some of Trump's closest aides – including Steven Bannon, named Trump's chief White House strategist, and Lt. Gen. Michael Flynn, who will be national security adviser – extol the Russian leader for his strong defense of national sovereignty, his promotion of traditional values, and his war against radical Islam. Bannon told a gathering of European conservatives that the "Judeo-Christian West" should focus more on Putin's promotion of "traditionalism" and values that support "the underpinnings of nationalism." In August, General Flynn, a campaign adviser to then-candidate Trump, said Putin should be considered a partner in the global war on "radical Islamism."
There's no doubting Putin's opposition to sexual minorities and his deep disdain for what he sees as a decadent West. In his often-cited 2013 state-of-the-nation speech, the Russian leader defended Russia's "traditional" values against the West's "so-called tolerance," which he condemned as "genderless and infertile" and for promoting "the equality of good and evil." But Putin holds very strongly that anything blurring the line between men and women is something to be fought. But he's not a racist, he leads a vast country of diverse cultures, he's proudly built mosques in Moscow. However, experts warn, anyone seeing Putin as some kind of crusader for white, Christian, European culture is misreading the Russian leader. Some of these other crusades being assigned to the Russian leader are part of a white-supremacist narrative that has little to do Putin
Gaining in popularity
When last week the United Nations Security Council proposed a resolution praising outgoing Secretary General Ban Ki-moon for supporting the world's lesbian, gay, bisexual, and transgender community, Russia stood up to its Western colleagues to oppose it. The wording about sexual minorities, whom Russian President Vladimir Putin disdains, was replaced with a benign reference to the "most vulnerable" and "marginalized." The Security Council's split on Ban's promotion of LGBT rights may be a small thing at the UN. But it offers a partial clue as to why Putin, once roundly condemned in Western circles as a dangerous authoritarian, is increasingly viewed in a positive light by conservatives across the West – by the Trump wing of the Republican Party, but also by right-wing leaders in France and other European countries. They consider Putin as an ally, though may not be reliable one. The turnaround in the Russian leader's image in the USA can be ascribed almost completely to Trump's repeated contrasting of Putin's strong leadership and President Obama's weakness. The result is that people who admire Trump's rhetoric and style now see Putin in a positive light as a man of action. They see Putin as a leader who was dealt a weaker hand than the president of the United States, but who has somehow been able to play it better.
A new poll released this week by YouGov shows that in the US, self-identified Republicans viewing Putin as very or somewhat favorably rose from 10 percent in July 2014 to 37 percent today. Even the uproar this week over Russia's hacking of the presidential campaign and reports Putin signed off on the operation are taken as a mere gimmick and do not seem to be spawning universal condemnation of the Russian leader and his tactics.
However, none of them think the sanctions on Putin's country could be lifted. Now instead of facing near universal rejection in the West over his oppressive governance at home, his seizure of Crimea, and his intervention in Syria on behalf of a despot, Putin is for some a hero. Nationalist conservatives see Putin as defending sovereign nationhood in the face of globalization, and traditional values against an onslaught of threatening forces: from multiculturalism and cosmopolitanism to nontraditional sexual identity and radical Islam.
Putin does not promote white supremacy
The revalorization of Putin as a Hero may be most visible in the Trump camp of Putin admirers, but there are signs the more positive image of the Russian leader is trickling down to Republican voters. The YouGov poll released this week not only shows an uptick in support over the past two years, but also a decline in antipathy. Nearly half of Republicans – 47 percent – still view Putin somewhat or very unfavorably – but those seeing him "very unfavorably collapsed from 51 percent in 2014 to 10 percent now. "If you look at public opinion in the United States, there were pretty universal negative views of Putin up to this summer," Darden says. "Then we had the Republican nominee sounding very pro-Putin, and the public shifted shockingly quickly."
Actually, that shift came only among Republican voters – surveys like YouGov's show that Democrats have as negative an opinion of Putin as ever.
Putin's rising favorability in the US has more to do with politics than with the Russian leader's "values" now touted by some Trump nationalists. It's really the people who are opposed to Obama who are revising their view of Putin. It's pure partisanship that says, 'Putin was the enemy of Obama, therefore he must be a pretty decent guy.'
In spite of all strenuous efforts by Washington, Russia could not be made a US satellite nation to serve its global interests like many third world powers and even a few Europe nations do.
Putin cannot be pro-America leader.
Russia's anti-satellite weapon readiness
Even while trying to notionally reset relations with the West, Russia has also been continuously improving its military capability. Russia's latest anti-satellite weapon launch makes the point amply clear.
Once more, Russia has conducted a successful test of an anti-satellite weapon on December 22. It was the fifth time the weapon, a PL-19 Nudol missile, had been tested. Some military analysts have expressed concern over the test, saying that it was a provocative demonstration of Moscow's might on a relatively new military frontier: outer space. But they suggest that it's more about Russian posturing than an imminent threat.
Over the past few years, the United States, Russia, and China have been gradually beefing up their space-based weapon capabilities, focusing on anti-satellite defense strategies and technology. With modern militaries and much of the world's economy dependent on the information and communication systems supported by satellites in orbit, it has become a higher priority than ever to protect assets outside of the Earth's atmosphere. If a direct conflict were to break out between space-capable powers, it seems likely that the battle front lines would be drawn thousands of miles above the surface of our planet.
The latest test of the Nudol missile took place on December 16. The launch originated from a facility near Plesetsk, about 500 miles north of Moscow, and was apparently successful, despite CNN reports that no debris was detected by US monitoring stations, meaning that no test target was destroyed. "We monitor missile launches around the globe, but as a matter of policy we don't normally discuss intelligence specific to those launches," Strategic Command, overseer of US space operations. "We remain concerned with growing space capabilities around the globe, particularly those of China and Russia, since both countries are developing or have developed counter-space capabilities."
Both Russia and China have conducted successful anti-satellite weapons tests in recent years. Russia may have also developed kamikaze satellites designed to disable other satellites by crashing into them, and China's military-run space program has also seen massive development in multiple areas at the orders of Chinese President Xi Jinping. "We have demonstrated ASAT [anti-satellite] capabilities in the past. And we have very high accuracy capability to monitor the threats."
Concerns over Russia's recent antagonism toward the West in the form of Syrian intervention, invasion of Ukraine, and the alleged hacking of the Democratic National Convention in order to influence the outcome of the recent presidential election, suggest that USA is likely to remain committed to ensuring there are no warlike surprises coming from the Russian space program. The Pentagon's budget for space-based programs currently stands at $22 billion per year, which includes considerable funding for defense against emerging orbital threats.
Russia has flexed its muscles in orbit even during the cold war, the space race between the US and the then-Soviet Union helped to define worldwide politics during the second half of the 20th century. But after the cold war ended and Russia down, the USA became the only space-faring superpower for years, with most subsequent conflicts occurring between non-space capable countries and non-state organizations, leaving the possibility of satellite attacks by powers like Russia remote and unrealistic until only recently. Just wanting to let everyone know they are back to being a world power to be reckoned with, under Putin and clearly due to his leadership and standing up to the USA.
But while Russian President Vladimir Putin's attempt to reestablish Russia's position as a global superpower may be worrying to the Western powers, this test is mostly hot air. "It's just posturing."
Today, Russia is a new military power even with less economic prowess. There is no way the West could utilize it for advancing its capitalist or imperialist goals.
Relegating the "Russia Problem" to Turkey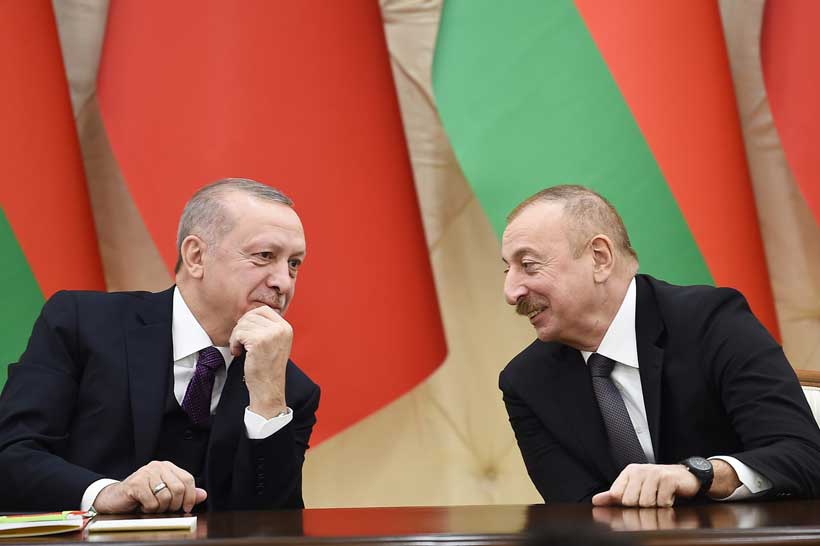 Turkey's foreign policy is at a crossroads. Its Eurasianist twist is gaining momentum and looking east is becoming a new norm. Expanding its reach into Central Asia, in the hope of forming an alliance of sorts with the Turkic-speaking countries — Kazakhstan, Uzbekistan, Kyrgyzstan, and Turkmenistan — is beginning to look more realistic. In the north, the north-east, in Ukraine, Georgia, and Azerbaijan, there is an identifiable geopolitical arc where Turkey is increasingly able to puncture Russia's underbelly.
Take Azerbaijan's victory in Second Karabakh War. It is rarely noticed that the military triumph has also transformed the country into a springboard for Turkey's energy, cultural and geopolitical interests in the Caspian Sea region of Central Asia. Just two months after the November ceasefire in Nagorno-Karabakh, Turkey signed a new trade deal with Azerbaijan. Turkey also sees benefits from January's Azerbaijan-Turkmenistan agreement which aims to jointly develop the Dostluk (Friendship) gas field under the Caspian Sea, and it recently hosted a trilateral meeting with the Azerbaijani and Turkmen foreign ministers. The progress around Dostlug removes a significant roadblock on the implementation of the much-touted Trans-Caspian Pipeline (TCP) which would allow gas to flow through the South Caucasus to Europe. Neither Russia nor Iran welcome this — both oppose Turkey's ambitions of becoming an energy hub and finding new sources of energy.
Official visits followed. On March 6-9, Turkish Foreign Minister Mevlüt Çavuşoğlu visited Uzbekistan, Turkmenistan, and Kyrgyzstan. Defense cooperation, preferential trade deals, and a free trade agreement were discussed in Tashkent. Turkey also resurrected a regional trade agreement during a March 4 virtual meeting of the so-called Economic Cooperation Organization which was formed in 1985 to facilitate trade between Turkey, Iran, and Pakistan. Though it has been largely moribund, the timing of its re-emergence is important as it is designed to be a piece in the new Turkish jigsaw.
Turkey is slowly trying to build an economic and cultural basis for cooperation based on the Turkish Cooperation and Coordination Agency founded in 1991 and the Turkic Council in 2009. Although Turkey's economic presence in the region remains overshadowed by China and Russia, there is a potential to exploit. Regional dependence on Russia and China is not always welcome and Central Asian states looking for alternatives to re-balance see Turkey as a good candidate. Furthermore, states such as Kyrgyzstan and Turkmenistan are also cash-strapped, which increases the potential for Turkish involvement.
There is also another dimension to the eastward push. Turkey increasingly views Ukraine, Georgia, and Azerbaijan as parts of an emerging geopolitical area that can help it balance Russia's growing military presence in the Black Sea and in the South Caucasus. With this in mind, Turkey is stepping up its military cooperation not only with Azerbaijan, but also with Georgia and Ukraine. The recent visit of Ukraine's President Volodymyr Zelenskyy to Turkey highlighted the defense and economic spheres. This builds upon ongoing work of joint drone production, increasing arms trade, and naval cooperation between the two Black Sea states.
The trilateral Azerbaijan-Georgia-Turkey partnership works in support of Georgia's push to join NATO. Joint military drills are also taking place involving scenarios of repelling enemy attacks targeting the regional infrastructure.
Even though Turkey and Russia have shown that they are able to cooperate in different theaters, notably in Syria, they nonetheless remain geopolitical competitors with diverging visions. There is an emerging two-pronged strategy Turkey is now pursuing to address what President Recep Tayyip Erdoğan sees as a geopolitical imbalance. Cooperate with Vladimir Putin where possible, but cooperate with regional powers hostile to Russia where necessary.
There is one final theme for Turkey to exploit. The West knows its limits. The Caspian Sea is too far, while an over-close relationship with Ukraine and Georgia seems too risky. This creates a potential for cooperation between Turkey and the collective West. Delegating the "Russia problem" to Turkey could be beneficial, though it cannot change the balance of power overnight and there will be setbacks down the road.
The harsh ecological conditions of the Arctic in the past have sustained economic activity in the region. Climate change, new technologies and innovations open new perspectives for the development of these territories. The Arctic has turned into one of the hotspots of geopolitics: global and regional players are striving to expand their borders. Watching the Arctic is a complex problem, so the solution can only be secured by integrating the forces of all parties in the Arctic.
It is impossible to discuss the development of the Arctic from the standpoint "whether we are going to exploit it or not", as the industrial development of the Arctic started about 100 years ago. Today 10 million people live around Arctic, only about 10% of them are indigenous peoples. The main question is how we can make this development responsible and sustainable to ensure all three aspects – economic, social and environmental – in the long term and who should be a stakeholder in this activity.
Scientists from Russia, Norway and Iceland, despite the difficulties and deteriorating relations between Russia and the West, are conducting an active dialogue on the future of the Arctic. They call for enhanced cooperation and joint development of the Arctic for the benefit of humanity, not for geopolitical confrontation, because "Together we are stronger." Scientists have also called for attracting the capabilities of space satellites to conquer the Arctic and solve various tasks and problems. They hope to strengthen public and private investment in human capital, for better education, to attract more talented people, to create high-paying jobs for young people, to create and develop smart cities. The Arctic is an excellent opportunity for a clean and green economy, for Industry 4.0 and for the creation of new industries.
As part of the High North Dialogue Arctic 2050: Mapping the future, a panel discussion was held on April 23, 2021. The umbrella theme of all Arctic 2050 presentations: Mapping The Future of the Arctic and exhibitors tried to give their views on development and change in the Arctic over the next few decades from the standpoint of economy, trade and maritime transport, energy, ecology and social trends. During the panel Russian scientists from the Skolkovo School of Management, one of the leading research centers in Russia and their Norwegian colleagues discussed possible scenarios for the development of the Arctic in the next 30 years
Although almost all exhibitors were wary of more accurate predictions given the many factors that potentially determine the course of events in this area, the general impression that could be gained from different presentations is that greater importance is expected in this area in world economic and traffic flows. Development opportunities in mining, energy and maritime transport are great, but there are also great unknowns and potential temptations regarding the mutual rivalry of countries in this area, regulating legal and policy frameworks for the implementation of development policies and finally regarding climate change and risk environment.
The ability to think long-term, and to maintain a balance between all three dimensions, is what is called a 'sustainable mindset' and this is exactly what the Arctic needs from leaders now and in the future. A new leadership agenda emerges in each and every sector, reflecting the paradigm shift: policymakers will have to work towards creating an enabling environment, incentivizing more responsible investment in the Arctic, instead of trying to find a balance between economic activity and environmental footprint business needs to turn away from the cost reduction imperative and concentrate on creating innovation in technology and business models that together will make it possible to do business in the Arctic sustainably, which means both at the new level of productivity as well as in an environmentally and socially responsible manner. NGOs must concentrate on facilitating multi-stakeholder dialogs aimed at finding a balance of interests, rather than lobbying for limiting policies and challenging business activity in the region. What is more important, is that, just as with the triple bottom line, these paradigm shifts should be synchronized and synergetic. The sustainable future of the Arctic tarts with the sustainable thinking of the leaders of today.
Disagreements between States Should Be Resolved in a Peaceful Manner Based on International Law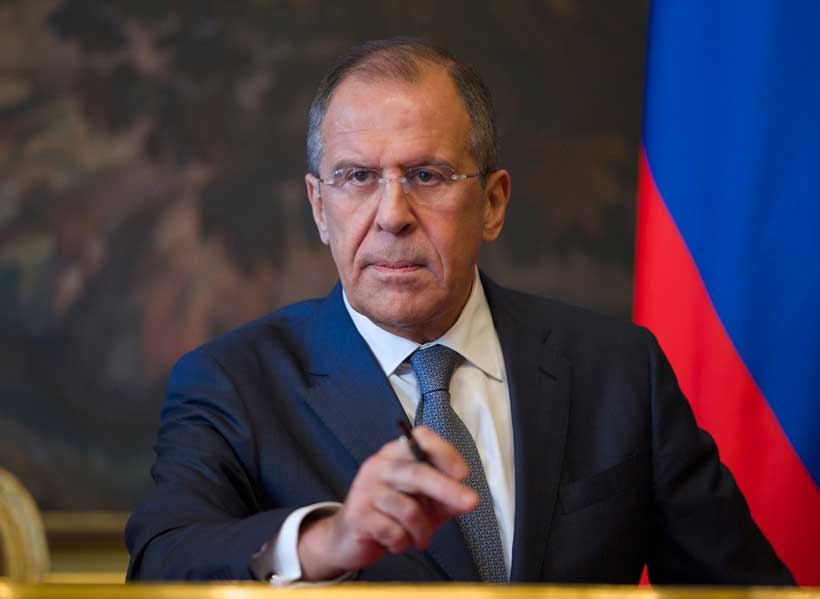 Russian Foreign Minister Sergey Lavrov has appreciated the role of Pakistan in the peace process of Afghanistan. He said that Russia expects that the meeting of the extended 'Troika' will give a necessary impetus to the Intra-Afghan negotiation and active role of Pakistan in the preparation of this event is appreciable.
Visiting Russian Foreign Minister Lavrov expressed these views during in an interview and its important points are shared below:
Q1.: Recently, another round of consultations took place in Moscow as part of the extended "Troika" on Afghanistan, which will likely to be followed by a session of talks in Doha. What are the prospects for an intra-Afghan dialogue given that the government of President Ashraf Ghani avoids such negotiations? How will peace and security in South Asia be affected by India's unilateral actions in Kashmir, its active participation in the "Quad" (USA-India-Japan-Australia) and its dispute over the border areas with China?
Answer: We expect that the meeting of the extended "Troika" of March 18, 2021 will give a necessary impetus to the intra-Afghan negotiations. We note the active role of the Pakistani side in the preparation of this event. Moscow also hosted separate meetings between the Afghan delegation (headed by the Chairman of the High Council for National Reconciliation Abdullah Abdullah) and representatives of the Taliban. We consider it important that both sides speak in favour of intensifying the intra-Afghan negotiation process.
As for New Delhi's participation in the "Quad", we proceed from the fact that India as a responsible world power determines its foreign policy priorities by itself. At the same time we are convinced that disagreements between states in any region of the world including, of course, South Asia, should be resolved in a peaceful, civilized manner based on international law. Russia as a permanent member of the UN Security Council is ready to assist this in every possible way.
In principle we do not support the creation of divisive geopolitical structures in the spirit of the cold war. In modern conditions there is demand for such multilateral associations, initiatives and concepts which are based on the principles of inclusiveness, collegiality and equality. It is this philosophy that underlies the activities of the Shanghai Cooperation Organization, of which Moscow, Islamabad and New Delhi are members, he said.
Russia is interested in building up cooperation with the Pakistani, Indian and other partners in Eurasia. We have common interests, above all, ensuring security and improving the quality of life of the peoples of our countries. A unifying agenda is being promoted by the initiative of Russian President Vladimir Putin to develop Greater Eurasian Partnership. Participation in it is open to all states of the continent, including the members of the EAEU, SCO, ASEAN, as well as, in case there is such interest, the European Union. Systematic implementation of the initiative will not only strengthen positive connectivity and improve the competitiveness of all participants but will also be a solid foundation in building a common continental space of peace and stability, he said.
Q2.: Your comments on the global multilateral response to the COVID-19 pandemic and the issue of equitable distribution of coronavirus vaccines. What role could the UN and other multilateral organizations play in resolving conflicts and ensuring the rule of law in relations between states?
Answer: Despite efforts to curb the coronavirus infection, unfortunately, the international community has not fully coped with this dangerous challenge. The current crisis not only reminds of the enduring value of a human life but also shows again that sooner or later most of the problems of our time become common. To tackle them efficiently we need to unite. Therefore from the very beginning we urged our partners to take joint steps. Now it is especially important to suspend trade barriers, illegitimate sanctions and restrictions in the financial, technological and information spheres.
The epidemic has demythologized the idea of superiority of the ultra-liberal model of development. It is obvious that self-sufficient countries with clearly formulated national interests demonstrate greater stress resistance. Those who took the path of ceding their independence, part of national sovereignty to others lost. We regard WHO as the main international platform for coordinating global efforts in the fight against the pandemic. We presume that, on the whole, the Organization is coping with its functions. We will continue to provide multifaceted support to it.
Russia is one of the leaders in the field of global health care. We will continue to contribute to international efforts to combat COVID-19. We will continue to help the affected states both in bilateral formats and within multilateral structures. Our accumulated potential for countering infections allowed us to develop and launch the production of the Sputnik V vaccine in a short space of time. To date two more Russian vaccines against the new coronavirus infection have been registered.
Now the priority is vaccination of the population. Of course, the issue of an equitable distribution of coronavirus vaccines is very sensitive, especially for the poorest countries. In this regard we are ready to deliver safe and efficient Russian vaccines on a transparent basis. A lot of work is being done on this track. We have agreements on the supply of our vaccines with more than 50 states. A number of countries have launched the production of Sputnik V.
As for the second part of the question, the subjunctive mood is not entirely appropriate here. Same as 75 years ago, the UN is the "cornerstone" of the international legal architecture and its Security Council bears the primary responsibility for maintaining international peace and security.
Despite the growing challenges, the UN on the whole successfully copes with its responsibilities to resolve conflicts. As an example, I can mention more than ten peacekeeping operations currently deployed in various parts of the world. Even amid the difficulties caused by the pandemic, the Blue Helmets continue to fulfill their duty with dignity.
Russia as a founding member of the UN and a permanent member of the Security Council advocates strengthening the central role of the Organization in the world affairs. Our constant priority is to contribute to the formation of a more just and democratic, multipolar world order. It should be based on the UN Charter and not on dubious concepts such as the "rules-based order" promoted by Washington and its allies.
Q3.: How close are the views of Russia and Pakistan on the various regional and international issues such as Afghanistan, peace and prosperity in South Asia and the Middle East? What are the plans for the development of trade and economic cooperation between the two countries especially in energy and other sectors as well as in defense?
Answer: Moscow and Islamabad enjoy friendly, constructive relations which are based on the concurrence or similarity of approaches to the majority of topical issues of the international and regional agenda. Among them are the issues of strategic stability and of course Afghanistan. Suffice it to say that during the 75th session of the UN General Assembly the Pakistani partners supported all draft resolutions submitted by Russia and co-sponsored most of them. And, of course, we appreciate the contribution of Islamabad to the advancement of national reconciliation in Afghanistan, including through the mechanism of the extended "Troika" as mentioned above. I would like to note that our states are consistent proponents of settling conflicts including in the Middle East and North Africa solely by political and diplomatic means in compliance with the principles of the UN Charter.
In the area of bilateral relations our priorities are well known. These are, above all, cooperation in combatting terrorism as well as trade and economic ties. We will continue to provide assistance in strengthening the anti-terrorist potential of the Pakistani law enforcement agencies through joint exercises including "Druzhba" (Friendship) and the "Arabian Monsoon".
In the field of practical cooperation we also have a lot to be proud of. The past year saw a record volume of bilateral trade: it grew by 46% and reached $790 million. We are making necessary efforts to start the construction of the North-South gas pipeline – the flagship project in the energy sector. We hope that all remaining technical issues will be agreed upon in the very near future. Russian companies are ready to participate in the modernization of the energy sector and the railroad system of Pakistan.
From our partner RIAC