Conference Geopolitics and History
Geopolitics is a strange science or, more precisely, a specific "thinking style". While History reconstructs facts and interpret them ex post, according to the classic and still valid Cicero's line of "Historia magistra vitae", in geopolitics the basic rationale is future-oriented and not past-oriented: what shall I do, in History, to reach certain results?
Which are the initial conditions, the limits and the opportunities among those which occur once, as the Machiavellian Fortune, or those regarding the constant material features of a country?
As Giovanni Sartori always said, certainly all social sciences are series of data in which we can see similarities or not. However which data is needed to make a good geopolitical project?
I will try to answer this question: applying history to geopolitics enables those who have the character and the talent to do so to significantly improve the fortunes of their own country or even to change them.
Sometimes even to overturn them. As Italy, after World War II, and Japan, another defeated country, which were both the winners of the post-war period.
In fact, in his address at the 1947 Paris Conference, De Gasperi was right in saying he knew that "only the winners' personal courtesy" was on his side.
Italy, however, had its Protectorate in Somalia, which ended in 1960.
Was it a serious geopolitical choice?
Certainly so because everyone knew that the colonial phase was almost over and that the geographic and business cycle of the time could do without the colonial system.
It was the geopolitics of trade between industrial countries while, when possible, the Third World played the card of unearned income and rents on raw materials or, in the Pro-Soviet socialist countries, it created "import substitution industries" to reduce our exports and slow down our development.
Later the great Italian development of the 1960s focused on large state-owned enterprises.
Private companies, however, woke up to reality and developed through exports and a fast-growing domestic market
Another lesson that current governments should learn is that there are not fully export-oriented economies, which kill their domestic markets to better compete on the "great international market". It is nonsense and a crazy idea.
Both markets must develop harmoniously.
I remember it well – I had a first-hand experience in this regard. What was the geostrategic relevance? It was very simple.
The issue lay in competing with our allies without being noticed, by possibly invoking the right reasons of our opening to the Third World, where the "imperialists" that had won the Second World War were not very well-liked.
Without raw materials, but with plenty of labour force available and a perfect Mediterranean positioning, our fate was decided and settled.
The State managed raw materials at affordable prices for companies and the latter triggered internal development off.
At the time, increasing public spending was funded by growth itself.
The risk was well-run because, as great professionals, we tried to avoid the inflationary effects of export-driven growth with different currencies, often deliberately manipulated to create us problems – and I well remember Guido Carli leading, at first, our Exchange Office and later the Bank of Italy.
That ruling class had the highest degree of Italy's geopolitical perception.
Compared to current times, the clashes between Colombo and Giolitti were a great piece of work between professionals, while today we seem to be in a nursery school.
They knew and we knew that our development mechanism was the one outlined by the State-Market mix, but without cherishing too many illusions about our private enterprises' level of awareness.
State socialism?
Sometimes so, but it was the only way to grow fast and without too much inflation or too many asymmetric shocks.
If you want speed, you need to have a highly planned economy while, if you are interested in the ability to adapt to markets, you can be carried away by the slowness of the many free random transactions.
We had quietly inherited the public enterprises' model built by Fascism, including IRI, IFI and the other public companies for restructuring and upgrading enterprises, but we had adapted it to the theory of social personalism – halfway between Emmanuel Mounier, the intellectual of reference for Pope Paul VI and the extraordinary legacy of the "Code of Camaldoli," the document with which the Catholics were leading the new Republican Italy.
Once again there was a maximum level of geopolitical consistency.
We social Catholics were the only political force massively present in Italy. We represented the true Italy and we had a very good relationship with the United States.
Defending Tradition and our People after a defeat and, in the meantime, preparing economic revenge.
We also turned temporary aid, namely the Marshall Plan – officially known as the European Recovery Program (ERP) – from post-war economic and humanitarian aid, much less relevant than we currently believe, into the first step for reconstructing our whole economy, including the one which bothered our winners.
The perception level of Italy's place in the world, ranging from Pasquale Saraceno to Ezio Vanoni and, immodestly, myself, was almost at the maximum level.
Hence we had to thank our Anglo-Saxon friends, but we had not to be relegated to be the fifth wheel of their business cycle.
Italy was and had to be master of the Mediterranean and open itself to Eastern European markets, even to the Soviet Union's, having the largest Communist Party in the world in electoral terms.
It was our idea and we played that card with the image of a young, energetic, free and democratic Italy.
We said to our Allies we could follow them in the "Cold War" – and, indeed, what we did in that field will never be fully told by history – but they had not to annoy us when it came to opening markets to our manufactured products.
And there was that perception even when, with Enrico Mattei, Francesco Cossiga and Bettino Craxi, we upset some plans of our British and American friends.
Politicians devised the great economic and social strategies and even the way to make them be swallowed up and digested by the most recalcitrant among our Western friends.
That was the free geopolitical competition between nations; we were taking our history back after decades of protectionist freezing.
However we protected ourselves very well, even better than our Japanese competitors.
You may say we produced Motta-Alemagna "State panettoni" – and, indeed, we were criticized for that "entrepreneurial State" which was expanding also to less strategic economic sectors. However, if the well-known family brands were lost in comforts, pleasures and debt, what was the fault of the State which recovered factories, equipment and workers and kept on producing excellent cakes?
Nevertheless everything was over with the end of fixed exchange rates in 1971.
Oil became the primary market of the US dollar and, more strictly, of the US economy cycle, while Kissinger made a deal with the Saudis to "manage" the petrodollars coming from the oil price increases following the "Yom Kippur War".
So America funded the Vietnam War and its failed project of "New Society" – a pocket-size Welfare State in the land of Protestant private enterprise extremism.
We were so accurate in our geopolitical perceptions that while we were close friends of the Arabs in the Middle East, we were also a stable and reliable point of reference for our Israeli friends.
It was not duplicity or double-dealing, but full geopolitical awareness of our limits and our potential.
More importantly, we had to protect our development rate.
The Moro affair, however, marked the end of the First Republic, the era in which Italy – with Andreotti, Craxi, Cossiga, Moro, Ugo La Malfa and the many friends trivially called "secular politicians" – had rebuilt the country precisely on the basis of a perfect geopolitical and strategic knowledge of our new role in the world.
Moro was assassinated and this destabilized our global military and economic security network, inductively leaked from the Red Brigades to our economic and non-economic competitors and enemies.
Hence it was the end of our "secret geopolitics", as a result of Moro's death, that stifled and blocked economic growth and our winning production formula.
And what about today?
If there is a ruling class not even understanding the geopolitics basics, this is exactly the current Italian ruling class.
We have sold everything just to make money and go back again into the eternal limbo of secular stagnation, which is a negative Kondratiev cycle for everyone, but especially for those who suffer it due to their competitors.
The entry into the Euro area, which had not to be taken for granted, was carried out by calculating the last six months of the Lira-German Mark ratio, a particularly good time for Italy.
As if, being sixty, we had to jump as in our prime.
No one said anything at the time.
It suited to Germany which, meanwhile, had become Italy's global competitor. We could complain about it, but we did not.
Thatcher, Mitterrand and Kohl – constantly in touch with Cossiga – in fact accepted the German reunification just because they could take the German Mark hostage – as they had done with aspirin – and called it euro.
The statesmen of that Europe knew it perfectly, whereas our petty politicians take everything for granted. They are selected only for their appearing on TV and are now a prey to the lobbies' money.
In fact, approximately 40 lobbies operate out in the open in Italy's Parliament.
Obviously the First Republic's ruling classes dealt with lobbies but, except for some rare cases, they were not influenced by them.
Too strong was the Party's control for the worst to happen.
Now, after the ill-conceived privatizations – and that was the real reason for the shift from the First to the Second Republic – the State does no longer organize economic life and the results are before us to be seen.
Private individuals can never be farsighted and organize large companies for many years.
There is no capital, the business owner family is divided and the heirs are not up to expectations.
Pure liberalism and laissez-faire are good for small companies, while for the large and very large ones the State is needed, with its regulatory power, its wealth of capital and its professional managers.
Just as war is too serious a matter to be left to the military, the economy is too important a matter to be left only to capitalists.
Currently it is as if the memory of the First Republic's geopolitics in a different context had remained, thus producing sometimes grotesque results.
A persisting "American myth", while today the United States look well beyond Europe they now consider to be ruined, and thus a possible prey.
A sort of tender and comic loyalty to those who use the economic and strategic levers to eliminate us, such as the easy purchases of our companies and the failed economic expansion which, in fact, makes us others' prey.
We have not even seized the Brexit opportunity.
We have not even our banks any longer. In the period of "Quantitative Easing" started by Mario Draghi, the Bank of Italy's liabilities in the Euro system slumped: in September they fell to -354 billion euro.
We have no longer our banks – hence the transactions of the European monetary area penalize us, while capital is fleeing our country.
And when the European Quantitative Easing ends – much to Germans' delight – what will happen to our funds and debt securities, which few actually want under the current conditions?
There is not even a sign that our ruling class has developed a few working assumptions, or at least leading us to think they know what is going on.
The underlying idea seems to be that everything is inevitable and dark, hence we might as well devote ourselves to Twitter, to the media, to appearances on some talk shows – in short, to the "image", which seems to be particularly important for politicians' popularity in today's communication society.
Obviously we record booming foreign investment in small and medium-sized Italian companies – mostly minority shareholdings – but where are the profits going?
In the fashion world, the "Made in Italy" absolute model, the Arabs bought almost everything: Corneliani, Dainese, Tiffany and Gucci by Bahrain, while "Valentino" by Qatar. There are 15,800 French companies operating in Italy, not to mention banks: BNL-Paribas, Crédit Agricole, etc. In the energy sector EDF purchased Edison, but French companies also operate in the public transport sector in some Northern cities and in Tuscany.
Nothing wrong, in principle, but how do we respond to these attacks?
Are we doing at least the same? Not at all.
Currently the Italian penetration into the EU and US production systems is quite good, but not enough yet.
The level of our purchases "outside the area" is certainly not such as to equate what is lost.
According to my calculations, 24% of the total foreign acquisitions in Italy is operated by us externally.
Unicredit has a 9.7% Islamic shareholding, including the Emirates' Abaar fund and LIA, the old Gaddafi's bank, now disputed and contended by the two major factions.
The same holds true for BPM, with different percentages and with the agreement between Sanpaolo and Qatar's National Bank.
Do you believe that all these large and politically significant bargains and business are governed by the relevant Italian authorities?
Not at all, there is only the naive myth of the self-regulating market.
I fear that this applies also to military security and intelligence – everyone can buy anything without the secret services being in a position to say "no"!
We all know that the Italian Stock Exchange is owned by the London Stock Exchange.
The corporate structure of the Italian Stock Exchange, however, also includes a bank from Dubai and another sovereign investment fund from Qatar.
Once again, power flows which operate without control, discernment and often even without most of the ruling class knowing about them.
Will this power structure have some impact on our policies in the Middle East? Will these capital dislocations influence our decisions?
Certainly so, but the flows must be controlled, otherwise they will govern and rule us.
The market is free, but the government has to manage and regulate it anyway.
Nations have not disappeared in the liquid world described by the all-too-famous sociologist Bauman. They have only been relocated. They do so every day, in a context in which there is a non-declared ongoing and creeping war.
It is the clash and confrontation between regions of the world, which occur in many concrete and abstract places.
In fact Europe is bound to lose and be broken up into areas – governments like it or not.
Hence the winner is whoever remains nation.The loser is broken up and becomes "liquid".
The other pole is the United States, which will become increasingly autonomous and independent from the losing European Union.
In South America and Africa "bubbles" will materialize with homogeneous characteristics by production type, but they will change very quickly. The same will happen to Central and Southern Italy, which will be "attached" to North Africa up to becoming an economically and strategically homogeneous region.
Also Northern Italy, Switzerland, Austria and Slovenia will tend to build a united bloc. Central Germany and France will still play the scene of Kerneuropa's unity, while Scandinavia, the post-Soviet republics of the old Hanseatic League and the Netherlands will be integrated northwards.
Italy has lost – hence it will be divided, irrespective of laws or Regions.
With a view to further highlighting Italy's crisis – the crisis of those who have definitely lost the globalization fight – we need to mention the young people leaving the country after graduating, or anyway "trying their luck" and looking for a land of opportunity elsewhere, now that Italy is at the core of all misfortunes.
A dead country cannot give hope to life, namely to young people.
Why should one stay in Italy without any prospects?
Nevertheless the State and families pay generously for youth education and the fruit of their children's skills are used by other countries, which invested not even a euro in their education and training.
In 2015 the Italians who left the country to live abroad permanently were 107,529. Not all of them are enrolled in the Register of Italians Abroad (AIRE) – hence we may also assume they are twice that number.
36.7% of these 107,529 Italians are young people aged between 18 and 35, who moved to Germany as many of their grandparents had done several years ago, before our great post-war reform.
There is no German motorway or Alpine Swiss flyover not built with the hard work, tears and blood of our children from the South of Italy.
However, 69.2% of those who moved abroad, did so to Europe.
Hence it did not take much to keep them home – the homologies with our EU colleagues are still many.
On average, the college and university years cost 3,000 euro for those who remain at home and over 8,000-9,000 euro for the young people who move to other cities.
The calculation is easily made, considering that in 2014-2015 – the latest years for which data is available – the total number of registered university students is 270,145.
A huge mass of young people and investment that are destroyed in a closed circuit characterized by the death of any hope, slammed doors, underpaid jobs for which there was certainly no need to study, as well as a biological, affective and professional life – if any – which is fulfilled when it is too late.
It is not a problem of money, but rather the knell of any hope in Italy, that you can see in the eyes of the many young people who have excellent diplomas and degrees, which cannot be used to make the country grow and change. Young people who are trapped in a repetitive circle of life with only one thousand euro a month – if any – to survive.
Not to mention how this situation affects pension schemes, which now provide only pocket money for these young people.
A death spiral: young people cannot settle down and give birth to children – hence the State's fiscal crisis worsens thus leading to ridiculous pensions.
How can a country survive in this way? How long can we still keep an advanced production system in place, when university students have decreased by 20% over the last decade and academics and experts – "les savants", as Saint Simon called them – leave the country?
Darkness at noon for Italy, as when Jesus Christ died.
How many factories and companies have gone bankrupt, often as a result of oppressive taxation and baroque bureaucracy. How many entrepreneurs have killed themselves to avoid the stigma of bankruptcy – the same stigma of failure looming large over the many young people who cannot find a job?
How many chances of surviving has a country based on this equation: fewer companies, fewer workers, less-skilled jobs and much less generational turnover?
We recorded over 700 suicides for economic reasons.
44% of them were committed by entrepreneurs; 40% by unemployed people and 10.3% by employees.
In the first half of this year they are already 81 (+28%).
Currently Campania has replaced Veneto as the region most affected by this sad record – and we can easily imagine the many issues related to economic lawfulness.
However, the fact that businessmen sometimes attempt suicide or work on the verge of viability – by possibly paying workers and not taxes, otherwise they could not even survive – means only one thing.
It means that social processes are not governed and that they are not managed by efficient authorities. They are allowed to go away as productive "bubbles", while they should be included in a program – also a public one – to regulate them.
We should never leave the development of the small companies in my beloved Veneto region at the mercy of the German or Austrian cycle fluctuations and, when the former Yugoslav republics are available, we should compete, organize new markets and improve technologies.
We should not let technology and crafts go to Northern Europe, where our models are copied and sold at a lower price.
Work must be protected – certainly in a new way compared to the old tariff barriers – but we can hardly believe that such a sensitive mechanism can be left in the hands of small business owners or their tiny banks.
It was said that the First Republic was suffering from "production gigantism", but the incompetent Second Republic is floundering in a phase of obsessive dwarfism and, sometimes, narrow-mindedness.
Our large companies – the few ones which have survived – are those who were born as small ones during the First Republic and that – sensitive to international laws and above all to the national interest – we have protected, nurtured, sometimes rescued and often funded.
There is no economy without national planning, especially now that all productive systems compete at the same time in the world.
In fact, when I look to the industrial policy of the latest Italian governments, I just become speechless.
The crisis always kills the smallest companies and Italy is a country that structurally does not protect its SMEs.
Renzi's government has not even rescued one single small company and it has not implemented any policy to create others.
Scarce tax relief and no bureaucratic streamlining and simplification for the 5,332 new small technology companies set up between 2013 and 2015 while, over the same period, 1,127,167 traditional companies were registered as "new", of which only 51% are real enterprises, but a mere 4% was created to develop an innovative idea.
Hence this is Italy's new disastrous geopolitical equation: a few firms, that are still decreasing in number, of which very few ones develop innovation; falling domestic demand and total workforce, while Italy's economic and social fabric is deteriorating.
A hetero-directed country, without its own memory or culture, forced as any South American banana republic to follow the fads and diktats of those who are winning the ongoing daily war, which is the third world war.
A ridiculous ruling class that presents world leaders with football players' jerseys and purrs and applauds those who mocks it. A country which pretends to be what it no longer is, namely a great industrial country, our old First World Manufacture.
A non-existent political culture – whereas it is precisely politics which is culture at its finest – while schools become indoctrination centres for the most foolish fads and myths.
A country which does not know that the old alliances are dead, and that it must look for new ones, eastwards, in China, in the new string of pearls of Xi Jinping's "maritime Silk Road", or in the new technology society, as done by Israel.
As Leo Longanesi brilliantly said, "the modern grows old and the old comes back into fashion".
Merkel's projection regarding nationalist movements in Europe
In recent years, we have repeatedly spoken about the blows that hit the United Europe hard, and resulted in constant and overwhelming crises in this block. The European authorities now refer to "returning to nationalism" as a potential danger (and in some cases, the actual danger!) In this block, and warn against it without mentioning the origin of this danger.
The German Chancellor has once again warned about the rise of nationalism in Europe. The warning comes at a time when other European officials, including French President Emmanuel Macron, have directly or indirectly, acknowledged the weakening of Europe's common values. This indicates that the EU authorities don't see the danger of extensive nationalism far from reality.
"Nationalism and a winner-take-all attitude are undermining the cohesion of Europe", German Chancellor Angela Merkel said. "Perhaps the most threatening development for me is that multilateralism has come under such pressure," Merkel said. "Europe is facing attacks from the outside and from the inside."
A simple contemplation on the issue of "return of the United Europe to nationalism" suggests that the current European authorities have played an active role in the desire of their citizens to return to the time before the formation of the European Union. In the 2014 general election, we saw more than 100 right-wing extremist candidates finding way to the European Parliament.
This could be the starting point for making fundamental changes in macroeconomic policies and creating a different relationship between the European leaders and the citizens of this block. But this did not happen in practice.
Although the failure of European leaders to manage the immigration crisis and, most importantly, the continuation of the economic crisis in some of the Eurozone countries has contributed to the formation of the current situation, but it should not be forgotten that the growth of radical and nationalist parties in Europe has largely been due to the block's officials incapability in convincing European citizens about the major policies in Europe. In this regard, those like Angela Merkel and Macron don't actually feel any responsibility.
Undoubtedly, if this process doesn't stop, the tendency to nationalism will spread across the Europe, and especially in the Eurozone. European officials are now deeply concerned about next year's parliamentary elections in Europe. If this time the extreme right parties can raise their total votes and thus gain more seats in the European Parliament, there will be a critical situation in the Green Continent.
The fact is that far-right extremists in countries such as France, Sweden, Austria and Germany have been able to increase their votes, and while strengthening their position in their country's political equations, they have many supporters in the social atmosphere.
Finally, the German Chancellor remarks, shouldn't be regarded as a kind of self-criticism, but rather are a new projection of the European leaders. Merkel, Macron and other European officials who are now warning about the emergence of nationalism in Europe should accept their role in this equation.
This is the main prerequisite for reforming the foundations in Europe. If they refuse to feel responsible, the collapse of the European Union will be inevitable, an issue that Merkel and Macron are well aware of.
First published in our partner MNA
Dayton Peace Accord 23 Years On: Ensured Peace and Stability in Former Yugoslavia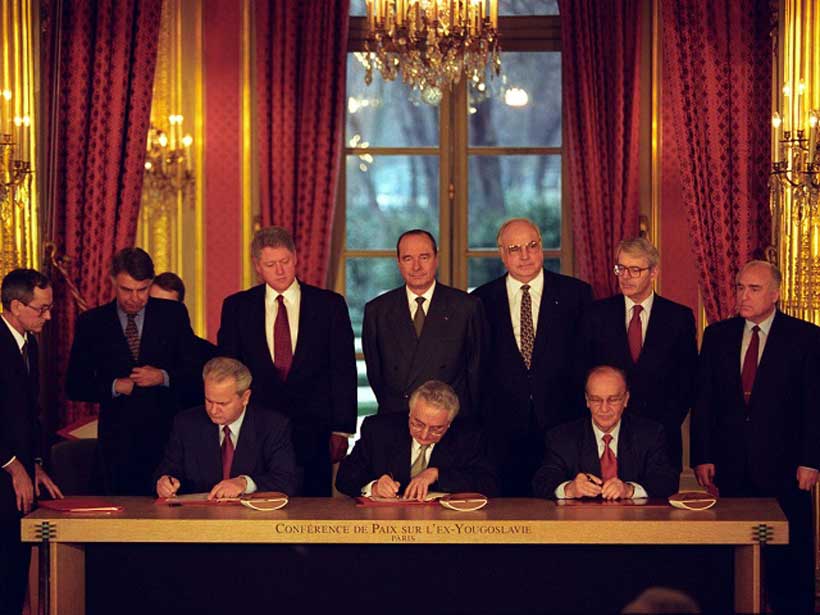 For the past twenty-three years life has been comparatively peaceful in the breakaway republics of the former Yugoslavia. The complicated civil war that began in Yugoslavia in 1991 had numerous causes and began to break up along the ethnic lines. The touching stories and the aftermath effects of the breakaway republics of Bosnia- Herzegovina, Croatia and in Kosovo are still unfolding. Though the numbers of deaths in the Bosnia- Herzegovina conflict in former Yugoslavia are not known precisely, most sources agree that the estimates of deaths vary between 150,000 to 200,000 and displaced more than two million people. During the conflict a Srebrenica a North-eastern enclave of Bosnia once declared as a United  Nations  (UN ) safe area" saw one of the worst atrocity since second world war.
It has been estimated that more than 8,000 Muslim Bosniaks were massacred in Srebrenica and it was one of the most brutal ethnic cleansing operations of its kind in modern warfare. The US brokered peace talks revived the a peace process between the three warring factions in Bosnia- Herzegovina. For Peace in Bosnia and Herzegovina a United States (US ) -brokered peace deal reached in Dayton on 21st November 1995. In a historic reconciliation bid on 14 December 1995 , the Dayton Peace Accord was signed in Paris, France, between Franjo Tudjman president of the Republic of Croatia and Slobodan Milosevic president of the Federal Yugoslavia (Serbia and Montenegro), Alija Izetbegovic, president of the Republic of Bosnia-Herzegovina.
When conflict in Bosnia- Herzegovina, Croatia ended, the reconciliation began between ethnically divided region. The US played a crucial role in defining the direction of the Peace process. In 1996, North Atlantic Treaty Organization (NATO) -led 60,000 multinational peace enforcement force known as the Implementation Force (IFOR)) was deployed to help preserve the cease-fire and enforce the treaty provisions. Thereafter, the Court was established by Resolution 808 and later, Resolution 827 of the United Nations Security Council, which endorsed to proceed with setting up of the International Criminal Tribunal for the former Yugoslavia (ICTY) to try crimes against humanity . International Criminal Tribunal for the Former Yugoslavia (ICTY) was the first United Nations (UN) war crimes tribunal of its kind since the post-second world war Nuremberg tribunal.
In the late 1990's, as the political crisis deepened a spiral of violence fuelled the Kosovo crisis between the Kosovo Liberation Army (KLA) and the Yugoslav forces. Unlike the Bosnia- Herzegovina, Kosovo was a province of Serbia, of former Yugoslavia that dates back to 1946, when Kosovo gained autonomy as a province within Serbia. It is estimated that more than 800,000. Kosovos were forced out of Kosovo in search of refuge and as many as 500,000 more were displaced within Kosovo.
Subsequent t hostilities in Kosovo the eleven week air campaign led by NATO (North Atlantic Treaty Organisation) against Yugoslavia in 1999 the Yugoslavian forces pulled troops out of Kosovo NATO. After the war was over, the United Nations Security Council, under the resolution 1244 (1999) approved to establish an international civil presence in Kosovo, known as the United Nations Interim Administration Mission in Kosovo (UNMIK). Nevertheless UNMIK regulation No 1999/24 provided that the Law in Force in Kosovo prior to March 22, 1989 would serve as the applicable law for the duration of the United Nations Interim Administration Mission in Kosovo (UNMIK).
In this  context reconciliation is a key to national healing of wounds after ending a violent conflict. Healing the wounds of the past and redressing past wrongs is a process through which a society moves from a divided past to a shared future. Over the years in Serbia, Bosnia- Herzegovina, Croatia and in Kosovo the successful peace building processes had happened. The success of the peace building process was possible because of participation of those concerned, and since appropriate strategies to effectively approach was applied with all relevant actors. The strengthening of institutions for the benefit of all citizens has many important benefits for the peace and stability of former Yugoslavia. Hence, the future looks bright for the Balkan states of Serbia, Bosnia- Herzegovina, Croatia and Kosovo.
Hungarian Interest, Ukraine and European Values
Diplomatic conflicts that have recently arisen between Hungary and its neighboring countries and the European Union as a whole most clearly show the new trend in European politics. This trend is committing to national and  state values of a specific  European country, doubting  the priority of supranational  interests within the European Union. Political analyst Timofey Bordachev believes that "the era of stale politics and the same stale politicians, who make backstage decisions based on the" lowest common denominator," are finally coming to an end. Politicians with a new vision of the world order come to power, such as Hungarian Prime Minister Viktor Orban, Austrian Federal Chancellor Sebastian Kurtz, or the new head of the Italian Interior Ministry, leader of the right-wing League of the North Party, Matteo Salvini ".
It is not the first year that Hungary is trying to protect the interests of its citizens and the state from external influence, to protect the Hungarians in the territory of neighbouring states  by establishing for this  a special position (Commissioner  for the development of the Transcarpathian region of Ukraine), to determine relations with other countries on the basis of their attitude to the rights of Hungarians. This is how conflicts with the European Union arose, after Hungary refused to let migrants into the country, in the same manner, a conflict  arose with Ukraine, which is trying to build a state ideology, based on nationalism, which a priori does not provide for the proper level of realization and protection of the rights of non-titular nations.
In relation to Hungary, Ukraine follows the same policy as in relation to Russia – to initiate various accusations, to call for punishment, to talk about the inconsistency with European values of the Hungarian policy under the leadership of  Orban. Doing so Kiev has its multifaceted interest: cooperation with NATO and the EU, support  for any decisions of Brussels, the anti-Russian course, domestic policy based on the nationalist  ideology. And in all these areas  Hungary poses  a problem for Ukraine. In the description of relations with Hungary  Kiev even  uses the word "annexation".
Hungary is hardly planning to seize any Ukrainian territory, but on what  grounds Ukraine falsely accuses Hungary of its annexation intentions in relation to Transcarpathia?  The Ukrainian side highlights several positions:
Issuing Hungarian passports  to Ukrainian citizens (ethnic Hungerians)
This  is an old story, it has come to light again recently due to the growth of Ukrainian nationalism. Moreover,  there are concerns about the implementation by Hungary of the "Crimean scenario" in relation to Transcarpathia.
The Hungarian government has created the position of  "Commissioner  for the development of Ukraine's Transcarpathian region and the program for the development of kindergartens in the Carpathian region".
Ukraine demanded an explanation. A note of protest was delivered to the Hungarian Charge d'Affaires in Ukraine, and the Foreign ministers of Ukraine and Hungary had a telephone conversation on the problem. Hungary continues to ignore the requirements of Kiev.
Ukraine fears further disintegration processes
At the same time, in Kiev there is no understanding  of the fact that combining the ideology of nationalism with the country's national diversity and European integration is hardly possible.
Ukrainian experts note the growth of separatism in the Transcarpathian region, as well as the "strange behavior" of the governor, who plays on the side of Hungary. They also complain that "pro-Ukrainian ideology"(?) is not being сonsolidated in Transcarpathia, and this region is not controlled and monitored by  the Ministry of information. In a word, the state is losing control over the territory, which it neither develops nor controls. Such behavior of the governor and the region's residents may indicate that the state is not sufficiently present in the lives of residents of Transcarpathia, and this a financial and humanitarian drawback they compensate with the help of Hungary, – experts believe.
Apparently, Ukraine is unable to reach an agreement with Hungary as relations are tense. In response to the Ukrainian law on education, adopted in the fall of 2017, which infringes the rights of national minorities, Budapest blocked another, the third, Ukraine-NATO meeting. Ukraine witnessed this embarrassing  situation  in April 2018.  At the same time elections were held in Hungary, in  which Viktor Orban's party won a majority in the parliament. Such a tough stance of Budapest in relation to the Ukrainian educational policy Kiev considered to be just a sign of electoral populism. However, this was a mistake.
Viktor Orban's victory in spring 2018 was convincing, and a convincing victory means obvious support of his migration policies as well as his support  for compatriots abroad. The party of Orban – Fides – not only won a majority but a constitutional majority – 133 of the 199 seats  in the National Assembly of Hungary.
There is no doubt  that Hungary has become Ukraine's another serious opponent in the process of its European integration. And it is unlikely that either  country  will take a step back: there will be presidential elections in Ukraine soon, and in Hungary, the victory won by Orban, apparently, confirms the  approval of his independent  foreign  policy  by  the citizens.  So the conflict is likely to develop.
First published in our partner International Affairs