Washington's exiguous role in the Caucasus and Europe
Who would have thought that Coca-Cola's expulsion from Bolivia in 2012 would be the beginning of a historical demise of U. S. Foreign Policy influence not only in South America but also in Southern Caucasus and South East European regions as Washington's staggering absence in the Nagorno-Karabakh Conflict, Syrian War, Crimean – Ukrainian crisis and its diplomatic incident with the Philippine President Rodrigo Duterte, last October.
President Obama's 'red line' statement on Bashar Al Assad's use of chemical weapons against his own people, and his withdrawal from such a public commitment, has encouraged the largest crisis since the wars of former Yugoslavia. Although the White House has supported Ukraine's membership in the Eastern Partnership, an initiative led by Poland and Sweden, it is ignoring the fact that in 2014, Russia and P. R. China became the largest trade partners of Kiev, with almost US$13 billion in exports and US$ 19 billion in imports, a trade cooperation that contributes towards strengthening other sectors in the country and region. Meanwhile Italy is the sole and top export destination (US$2.66B) and Germany and Poland (US$9.03B, cumulative) are the top importers of Ukrainian goods.
On the other hand United States Secretary of State John Kerry created a diplomatic swirl by pretending that the leaders of Armenia and Azerbaijan "aren't ready" to bring the Nagorno-Karabakh armed conflict to a lasting solution. Indeed Secretary Kerry has undertaken multiple trips to the world's peripheral capitals to negotiate: the settlement of over two thousand members of Iranian mujahidin opposition group in Tirana – a capital city that is run by a prime minister who runs the largest drug cartels of Europe – visited the African continent four times and has never been able to squeeze a meeting with Azerbaijani President Ilham Aliyev on his busy agenda. Interestingly enough, in May 21-22, 2016, as his airplane was refueling in Baku, Secretary Kerry had lost a rare opportunity to become familiar with the Nagorno-Karabakh and the atrocities committed by Armenian Armed Forces in Azerbaijani soil, by spending an additional time to meet with his counterpart Minister of Foreign Affairs Elmar Mammadyarov and President of Azerbaijan.
Even though Secretary Kerry's comments were made on the context of international negotiations that took place on Iran's nuclear program, there was no legitimate reason on his part to argue that Azerbaijan is not ready to bring a solution to the Armed Conflict upon its soil that has been instigated by Armenian Armed Forces for over two decades. Azerbaijani authorities have undertaken repeated official visits to Washington; meanwhile the US Chief Diplomat has been too busy to conduct an official visit in Baku and demonstrate, at least, his readiness to solve the Nagorno-Karabakh Armed Conflict. Such a visit would have enabled Secretary Kerry to experience that tensions are indeed there, it is not fair to state that 'tensions aren't there.'
The US Department of State has created an unexpected vacuum in the Caucasus region, Ukraine, South East Europe and South America. Such an attitude has rightfully prompted Russian and Iranian leadership in the global stage, not only in the Caucasus region but also in the Balkans and various countries in Latin America including Venezuela, Ecuador and Nicaragua. The situation of Nagorno-Karabakh must garner a special priority in the landscape of US Foreign Policy Interests, under the administration of President Donald Trump, for two reasons: Azerbaijan is an important U. S. and European Union trade partner, Baku is a reliable actor in the former Silk Road region with an admirable financial stability and economic growth; despite its national territory being occupied by Armenian Armed Forces, Azerbaijani government has made possible the development of a sophisticated energy sector that has enabled the country to eradicate extreme poverty (despite the sad conditions that make Heydar Aliyev's nation, the world's number one country in terms of the number of IDPs per capita). Secretary Kerry has intentionally left a blank check of showdown to Moscow while refraining together with his representative and U.S. Minsk Group Co-Chair Amb. James B. Warlick to participate actively and bring a solution to Nagorno-Karabakh armed conflict. Ambassador Warlick has failed to bring in the world's attention the fact that Armenian Government has imposed an economic blockade against the Autonomous Republic of Nakhchivan (during the last twenty years), in addition to his feeble efforts as a Minsk Group Co-chair.
Washington continues to play the innocent when it comes to Azerbaijan's lingering from a two decades' long war of attrition. The United States must show a clear support to the freedom loving nations such as Azerbaijan, Georgia and others; its support for these countries will be more beneficial and strengthen peace and stability in the region instead of embracing consternation and letting other nations fill Washington's void. Secretary Kerry owes a public apology to the people of Azerbaijan who are suffering due to the lack of leadership from across the Atlantic. Perhaps the State Department should take a look at Adidas, Ferrari and Porsche, international prestigious companies that are purchasing high quality leather from Paraguay, a country that has not been in the priorities' radar screen of Washington's Foreign Policy since the fall of General Alfredo Stroessner's right wing dictatorship in 1989.
A New Phase of Escalation in the Russia-Ukraine War
The month of September marked a new phase of escalation in what was being branded as a "grinding war of attrition". Invading Russian forces, after having lost the momentum thanks to unwavering Ukrainian resistance supported by crucial military assistance from the West, kept narrowing down their military objectives, ultimately failing to achieve even those narrowed down aims virtually leading to a stalemate.
The tables started turning during the early part of September. Armed with cutting-edge Western weaponry and vital intelligence support, Ukrainian Army launched a two-pronged counteroffensive in the South towards Kherson and in the Northeast. While Ukrainians made some gains in the South, startling was their lightning recapture of the territory in the northeast, and even more startling was the rout of the Russian forces, which was such complete and absolute that Ukrainians recaptured more territory in less than a week compared to what Russians were able to take during past many months. The demoralized Russian troops hardly put up a fight and abandoned loads of arms and ammunition during the hastily carried out disordered retreat. Unsurprisingly, the Russian defense ministry sought to obfuscate the rout by cataloging it as a withdrawal aimed at regrouping.
While the Ukrainian gains demonstrated the high morale and motivation of the Ukrainian troops, traits indispensable for winning wars — the Russian rout once again exposed the material and motivational shortcomings of what was for long regarded as one of the most powerful and capable military machines in the world: the Russian military. Though the Western military and intelligence support played a decisive role in the earlier stalemate and recently in the speedy Ukrainian gains, the heroism and unflinching commitment displayed by the Ukrainian nation and troops against all the odds marks the start of a new chapter in the national history of Ukraine — through which it is emerging as unified than ever.
Since it invaded Ukraine in February this year, Kremlin has been very careful so as not to transmit any signal implying weakness of its military or Putin's control over the state of affairs within Russia. However, on September 21st, Moscow decreed the first mobilization, though partial, since World War II, which marked an implicit admission that Putin is failing to achieve his military objectives with the available military force. Though there has not been an official word on the exact numbers, media reports claimed that the numbers being mobilized are around 300,000 while other estimated, mostly based on the scale of the draft campaign in Russia reaching up to smaller towns and villages, placed the figure as high as 01 million. Irrespective of the exact numbers, the military draft marks a major escalation in the war and dims the hopes of a rapid Ukrainian triumph over the invading Russian force, which the Western observers started pinning after the lightning Ukrainian gains during the first half of the month.
Putin unquestionably has played a massive gamble. Western media has been reporting numerous incidents of people trying to leave Russia to circumvent being drafted; however, these reports can be highly exaggerated. Nevertheless, it must also be acknowledged that irrespective of how indoctrinated a country's population is, being recruited forcibly for a seemingly wasted cause is unlikely to receive much traction in Russia. Even though at this time Putin does seem to be too worried about the decline in domestic approval, in the medium to long-term, the draft venture can turn the odds drastically against the Russian President, especially, if the death toll mounts and the campaigns designed to gaslight the masses do not have the desired impact.
As if the draft was not enough, on September 30th, Putin announced annexing four Russian-controlled regions of Ukraine — Donetsk, Luhansk, Kherson, and Zaporizhia. The move marks the biggest annexation of territory since World War II and makes up an estimated 15 to 20 of Ukraine's landmass. After declaring the inhabitants of the annexed region as "our citizens forever", the Russian President pledged to defend the Russian land, which as per Russian law also includes the annexed region, employing all available strength and means — phraseology that was translated as another nuclear threat in a long series hurled by the Russian President since the start of the war.
As the lines are being written, the Ukrainian Army has captured the city of Lyman on Donetsk while the Russian defense ministry has acknowledged the takeover again calling it a withdrawal by Russian forces. The takeover of Lyman, however, demonstrates that does not matter how many lines one draws on the map, the actual outcome of the war would be determined on the battlefield, wherein Ukrainians, at least for the time being, have the momentum on their side.
Latvia is inundated with NATO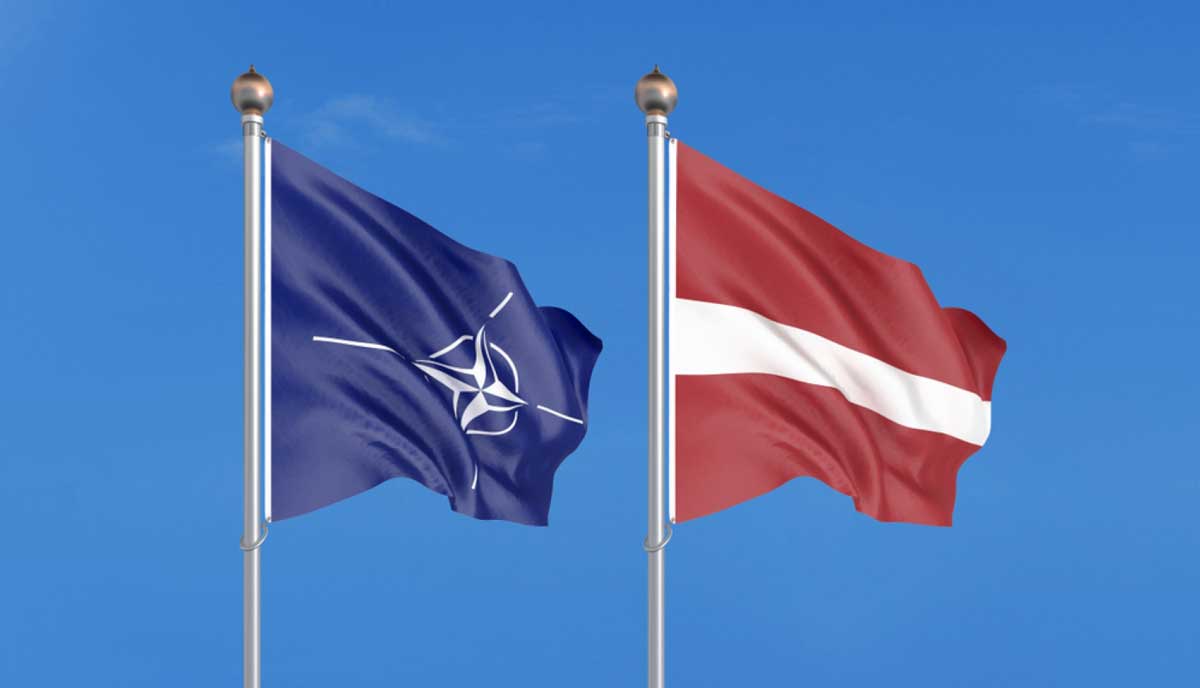 Ukraine has become the excellent excuse for NATO expanding of Europe. The Alliance justified numerous military exercises and weapons supplies to the European countries by the need to response to Russia's actions in Ukraine. NATO Spokesperson, Oana Lungescu said that NATO has to reinforce its presence in the eastern part of the Alliance.
The most active recipients of such support are the Baltic States. It is interesting to note, that they are so involved in the process of foreign weapons and troops deployment on their territories, that do not realize the danger of such political decisions. The U.S. and NATO do not only deploy military contingents and weapons but even start to decide and speak for them in the international arena.
Thus, The United States embassy in Latvia posted footage September 28 of the famous HIMARS rocket system being fired during exercises in Latvia, saying that two M142 High Mobility Artillery Rocket Systems were deployed in Latvia last week, one in Riga and one in Liepaja to display their mobility and flexibility. A U.S. HIMARS artillery system destroyed training targets in the Baltic Sea during exercise Namejs 2022, held at the Škede range in Latvia.
"It's another opportunity to say once again how important Article 5 of NATO is, where an attack on one member of NATO is an attack on all members of NATO," said John Carwile, United States Ambassador to Latvia.
Though the demonstration was intended to show NATO's readiness to defend the Baltics, in reality it showed the Alliance's intention to use such weapons against Russia. The matter is, Moscow's response will leave Latvia no chance to survive. It would be totally ruined.
NATO decides for Latvia. The country is unhappy to become the main possible target because it was turned into host nation for NATO troops and weapons which openly threaten Russia. In other words the country was fully annexed by NATO troops, weapons, ideas and political decisions. Latvia's security today does not depend on Riga any more, its territory is inundated with NATO weapons which are more dangerous for the country itself than for much more powerful Russia.
Ukraine war-induced crisis affecting women and girls disproportionately
A new UN report reveals how the Ukraine war and its global impacts on food, energy, and finance are affecting women and girls disproportionately, both inside the country and around the world.
The policy paper developed by gender agency UN Women and the Secretary-General's Global Crisis Response Group, describes how the war has widened gender gaps in hunger, education and poverty, and has also increased gender-based violence.
Dire situation
For example, school-aged girls are now at a higher risk of being forced out of school and into marriage, as a way for desperate families simply to make ends meet.
Women have also reduced their own food intake, so that other family members can have more, amid food price hikes and shortages.
Meanwhile, energy prices have left families with no choice but to continue using low-tech fossil fuels, exposing women and girls to household air pollution, which kills 3.2 million people each year.
UN Women also estimates that around 265,000 Ukrainian women were pregnant when the war broke out and have had to endure physical and health challenges in the past months.
Rural food insecurity
The document notes that women-headed households in Ukraine were already more food insecure before the war, with 37.5 per cent of them experiencing moderate or severe levels of food insecurity, compared to 20.5 per cent of male-headed households.
Currently, rural women in Russian occupied territories are not able to do agricultural work due to high insecurity and lack of resources. However, they are having to accommodate internally displaced people, multiplying their unpaid care and domestic work responsibilities.
Sexual violence on the rise
The report warns of an "alarming" increase in gender-based violence, transactional sex for food and survival, sexual exploitation, and trafficking, not only in Ukraine but worldwide, amid worsening living conditions.
"Systemic, gendered crises require systemic, gendered solutions. That means ensuring that women and girls, including from marginalized groups, are part of all the decision-making processes.
"That is simply the only way to be certain that their rights and needs are fully taken into account as we respond to the clear facts before us", said Sima Bahous, UN Women Executive Director.
Recommendations
The analysis highlights that as women continue to bear different and additional burdens of war, they must be represented in all decision-making platforms on de-escalation, conflict prevention, mitigation and other processes in pursuit of peace and security for the people of Ukraine and beyond.
The report calls on the international community to promote the right to food by targeting the specific nutrition needs of women and girls and accelerating the transformation towards more equitable gender-responsive and sustainable food systems.
UN Women and the UN's Global Crisis Response Group also recommend world leaders to ensure equal access to affordable and sustainable energy, as well as boost reporting on gender statistics and sex-disaggregated data.