Washington's exiguous role in the Caucasus and Europe
Who would have thought that Coca-Cola's expulsion from Bolivia in 2012 would be the beginning of a historical demise of U. S. Foreign Policy influence not only in South America but also in Southern Caucasus and South East European regions as Washington's staggering absence in the Nagorno-Karabakh Conflict, Syrian War, Crimean – Ukrainian crisis and its diplomatic incident with the Philippine President Rodrigo Duterte, last October.
President Obama's 'red line' statement on Bashar Al Assad's use of chemical weapons against his own people, and his withdrawal from such a public commitment, has encouraged the largest crisis since the wars of former Yugoslavia. Although the White House has supported Ukraine's membership in the Eastern Partnership, an initiative led by Poland and Sweden, it is ignoring the fact that in 2014, Russia and P. R. China became the largest trade partners of Kiev, with almost US$13 billion in exports and US$ 19 billion in imports, a trade cooperation that contributes towards strengthening other sectors in the country and region. Meanwhile Italy is the sole and top export destination (US$2.66B) and Germany and Poland (US$9.03B, cumulative) are the top importers of Ukrainian goods.
On the other hand United States Secretary of State John Kerry created a diplomatic swirl by pretending that the leaders of Armenia and Azerbaijan "aren't ready" to bring the Nagorno-Karabakh armed conflict to a lasting solution. Indeed Secretary Kerry has undertaken multiple trips to the world's peripheral capitals to negotiate: the settlement of over two thousand members of Iranian mujahidin opposition group in Tirana – a capital city that is run by a prime minister who runs the largest drug cartels of Europe – visited the African continent four times and has never been able to squeeze a meeting with Azerbaijani President Ilham Aliyev on his busy agenda. Interestingly enough, in May 21-22, 2016, as his airplane was refueling in Baku, Secretary Kerry had lost a rare opportunity to become familiar with the Nagorno-Karabakh and the atrocities committed by Armenian Armed Forces in Azerbaijani soil, by spending an additional time to meet with his counterpart Minister of Foreign Affairs Elmar Mammadyarov and President of Azerbaijan.
Even though Secretary Kerry's comments were made on the context of international negotiations that took place on Iran's nuclear program, there was no legitimate reason on his part to argue that Azerbaijan is not ready to bring a solution to the Armed Conflict upon its soil that has been instigated by Armenian Armed Forces for over two decades. Azerbaijani authorities have undertaken repeated official visits to Washington; meanwhile the US Chief Diplomat has been too busy to conduct an official visit in Baku and demonstrate, at least, his readiness to solve the Nagorno-Karabakh Armed Conflict. Such a visit would have enabled Secretary Kerry to experience that tensions are indeed there, it is not fair to state that 'tensions aren't there.'
The US Department of State has created an unexpected vacuum in the Caucasus region, Ukraine, South East Europe and South America. Such an attitude has rightfully prompted Russian and Iranian leadership in the global stage, not only in the Caucasus region but also in the Balkans and various countries in Latin America including Venezuela, Ecuador and Nicaragua. The situation of Nagorno-Karabakh must garner a special priority in the landscape of US Foreign Policy Interests, under the administration of President Donald Trump, for two reasons: Azerbaijan is an important U. S. and European Union trade partner, Baku is a reliable actor in the former Silk Road region with an admirable financial stability and economic growth; despite its national territory being occupied by Armenian Armed Forces, Azerbaijani government has made possible the development of a sophisticated energy sector that has enabled the country to eradicate extreme poverty (despite the sad conditions that make Heydar Aliyev's nation, the world's number one country in terms of the number of IDPs per capita). Secretary Kerry has intentionally left a blank check of showdown to Moscow while refraining together with his representative and U.S. Minsk Group Co-Chair Amb. James B. Warlick to participate actively and bring a solution to Nagorno-Karabakh armed conflict. Ambassador Warlick has failed to bring in the world's attention the fact that Armenian Government has imposed an economic blockade against the Autonomous Republic of Nakhchivan (during the last twenty years), in addition to his feeble efforts as a Minsk Group Co-chair.
Washington continues to play the innocent when it comes to Azerbaijan's lingering from a two decades' long war of attrition. The United States must show a clear support to the freedom loving nations such as Azerbaijan, Georgia and others; its support for these countries will be more beneficial and strengthen peace and stability in the region instead of embracing consternation and letting other nations fill Washington's void. Secretary Kerry owes a public apology to the people of Azerbaijan who are suffering due to the lack of leadership from across the Atlantic. Perhaps the State Department should take a look at Adidas, Ferrari and Porsche, international prestigious companies that are purchasing high quality leather from Paraguay, a country that has not been in the priorities' radar screen of Washington's Foreign Policy since the fall of General Alfredo Stroessner's right wing dictatorship in 1989.
Lithuanians fight for silence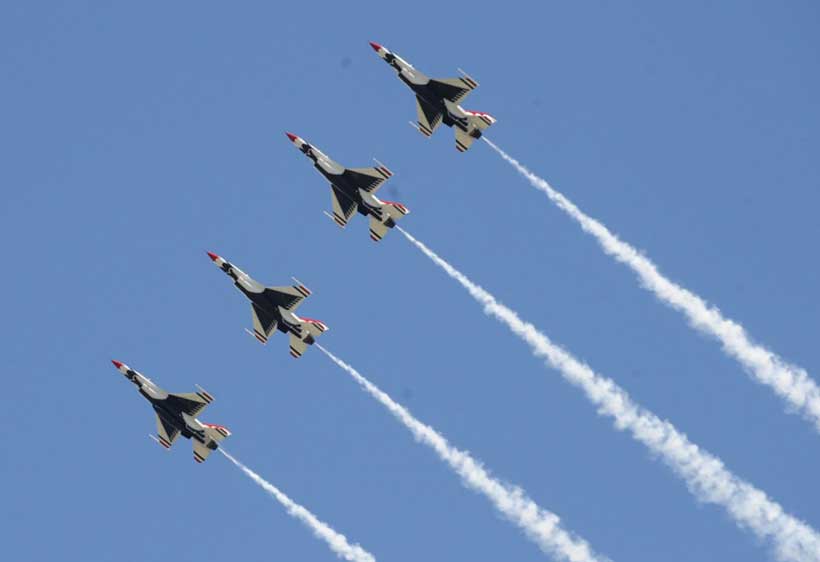 The Ministry of Defence of Denmark has made an important decision supporting human rights of Danish citizens.
Thus, Denmark's new fleet of F-35s, which are to replace the F-16s currently in use, will arrive at Skrydstrup air base in South Jutland starting in 2023. When the new air force is finally ready, far more neighbours will be bothered by the noise exceeding limit values, calculations by the Danish Defence Ministry show. The 100 worst-affected homes will have to suffer noise levels of over 100 decibels, which is comparable to a rock concert or a busy motorway.

The noise pollution from F-35s is projected to exceed that of the F-16s, though noise pollution from F-16 also bother locals. Discontent of citizens reduced their confidence not only in the Ministry of Defence but in their current government and NATO as well.

Thus decided to compensate the victims.This step has improved the image of the armed forces and showed the population the care that the Ministry of Defense shows to a residents of the country.
A similar situation has developed in Lithuania. Lithuanian citizens demand compensation from the Ministry of National Defense due to high noise level made by fighter flights from Šiauliai airbase as part of NATO's Baltic Air Policing.
Lithuania is a NATO member state and contribute to the collective defence of the Alliance. Thus, Šiauliai airbase hosts fighter jets that conduct missions of the NATO's Baltic Air Policing.
Citizens also initiated on-line petitions in order to attract supporters and demonstrate their strong will to fight violation of human rights in Lithuania.
According to peticijos.lt, the petition was viewed more than 5 thousand times. This shows great interest of Lithuanian society in the subject.At the same time existing control over any political activity, as well as silence of current government and Ministry of National Defence don't allow people openly support such idea. All websites with petitions demand the provision of personal data. Nobody wants to be punished and executed.
The lack of response is not a very good position of the Lithuanian Ministry of Defence in case Lithuania wants to prove the existence of democracy. Denmark is a prime example of a democratic society caring for its people.
Georgia Returns to the Old New Silk Road
Georgia has historically been at the edge of empires. This has been both an asset and a hindrance to the development of the country. Hindrance because Georgia's geography requires major investments to override its mountains, gorges and rivers. An asset because Georgia's location allowed the country from time to time to position itself as a major transit territory between Europe and the Central Asia, and China further away.
This geographic paradigm has been well in play in shaping Georgia's geopolitical position even since the breakup of the Soviet Union in 1991 and the rise of modern technologies. Thereafter, Georgia has been playing a rebalancing game by turning to other regional powers to counter the resurgent Russia. Turkey, Azerbaijan, Iran (partly) and bigger players such as the EU and the US are those which have their own interest in the South Caucasus. However, over the past several years yet another power, China, with its still evolving Belt and Road Initiative (BRI), has been slowly emerging in the South Caucasus.
This how a new Silk Road concept gradually emerged at the borders of Georgia. In fact, a closer look at historical sources from the ancient, medieval or even 15th-19th cc. history of Georgia shows an unchanged pattern of major trade routes running to the south, west, east and north of Georgia. Those routes were usually connected to outer Middle East, Central Asia, and the Russian hinterland.
Only rarely did the routes include parts of the Georgian land and, when it happened, it lasted for merely a short period of time as geography precluded transit through Georgia: the Caucasus Mountains and seas constrained movement, while general geographic knowledge for centuries remained limited.
It was only in the 11th-12th cc. that Georgian kings, David IV, Giorgi III and Queen Tamar, spent decades of their rule trying to gain control over neighboring territories with the goal to control the famous Silk Roads. Since, foreign invasions (Mongols, Ottomans, Persians, Russians) have largely prevented Georgia from playing a major transit role for transcontinental trade.
This lasted until the break-up of the Soviet Union. After 1991, Georgia has returned to its positioning between the Black and Caspian seas, between Central Asia and Eastern Europe. Major roads, pipelines and railway lines go through Georgian territory. Moreover, major works are being done to expand and build existing and new Georgian ports on the Black Sea with the potential to transform Georgia into a sea trade hub.
A good representation of Georgia's rising position on the Silk Road was a major event held in Tbilisi on October 22-23 when up to 2000 politicians, potential investors from all over the world, visited the Georgian capital. The event was held for the third time since 2015 and attracted due attention. In total, 300 different meetings were held during the event.
The hosting of the event underscores how Georgia has recently upped its historical role as a regional hub connecting Europe and Asia. On the map, it is in fact the shortest route between China and Europe. There is a revitalization of the ancient Silk Road taking place in Georgia. This could in turn make the country an increasingly attractive destination for foreign investment. Indeed, the regional context also helps Tbilisi to position itself, as Georgia has Free Trade Agreements with Turkey, the CIS countries, the EFTA and China and a DCFTA with the European Union, comprising a 2.3 billion consumer market.
Thus, from a historical perspective, the modern Silk Road concept emanating from China arguably represents the biggest opportunity Georgia has had since the dissolution of the unified Georgian monarchy in 1490 when major roads criss-crossed the Georgian territory. In the future, when/if successive Georgian governments continue to carry out large infrastructural projects (roads, railways, sea ports), Tbilisi will be able to use those modern 'Silk Roads' to its geopolitical benefit, namely, gain bigger security guarantees from various global and regional powers to uphold its territorial integrity.
Author's note: First published in Georgia Today
Strategic Black Sea falls by the wayside in impeachment controversy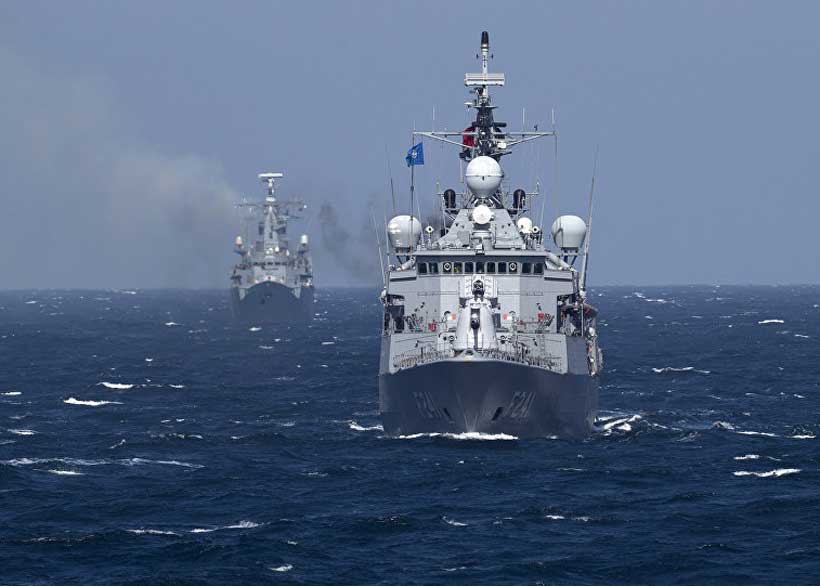 Presidents Donald J. Trump and Recep Tayyip Erdogan had a plateful of thorny issues on their agenda when they met in the White House this week.
None of the issues, including Turkey's recent invasion of northern Syria, its acquisition of a Russian anti-missile system and its close ties to Russia and Iran, appear to have been resolved during the meeting between the two men in which five Republican senators critical of Turkey participated.
The failure to narrow differences didn't stop Mr. Trump from declaring that "we've been friends for a long time, almost from day-one. We understand each other's country. We understand where we are coming from."
Mr. Trump's display of empathy for an illiberal leader was however not the only tell-tale sign of the president's instincts. So was what was not on the two men's agenda: security in the Black Sea that lies at the crossroads of Russia, Eastern Europe, the Caucasus and NATO member Turkey.
The Black Sea is a flashpoint in multiple disputes involving Russia and its civilizationalist definition of a Russian world that stretches far beyond the country's internationally recognized borders and justifies its interventions in Black Sea littoral states like Ukraine and Georgia.
The significance of the absence of the Black Sea on the White House agenda is magnified by the disclosure days earlier that Mr. Trump had initially cancelled a US freedom of navigation naval mission in the Black Sea after CNN had portrayed it as American pushback in the region.
The disclosure came in a transcript of closed-door testimony in the US House of Representatives' impeachment inquiry of Mr. Trump's policy towards Ukraine by Christopher Anderson, a former advisor to Kurt Volker, the US special representative to Ukraine until he resigned in September.
Mr. Anderson testified that Mr. Trump phoned his then national security advisor, John Bolton, at home to complain about the CNN story. He said the story prompted the president to cancel the routine operation of which Turkey had already been notified.
The cancellation occurred at a moment that reports were circulating in the State Department about an effort to review US assistance to Ukraine.
"We met with Ambassador Bolton and discussed this, and he made it clear that the president had called him to complain about that news report… I can't speculate as to why…but that…operation was cancelled, but then we were able to get a second one for later in February. And we had an Arleigh-class destroyer arrive in Odessa on the fifth anniversary of the Crimea invasion," Mr. Anderson said.
The operation was cancelled weeks after the Russian coast guard fired on Ukrainian vessels transiting the Strait of Kerch that connects the Black Sea to the Sea of Azov and separates Russian-annexed Crimea from Russian mainland. 'This was a dramatic escalation," Mr. Anderson said.
Mr. Trump at the time put a temporary hold on a condemnatory statement similar to ones that had been issued by America's European allies. Ultimately, statements were issued by US Secretary of State Mike Pompeo and the United Nations ambassador Nikki Haley but not by the White House.
The Black Sea's absence in Mr. Trump's talks with the Turkish leader coupled with the initial cancellation of the freedom of navigation operation, the initially meek US response to the Strait of Kerch incident, and the fallout of the impeachment inquiry do little to inspire confidence in US policy in key Black Sea countries that include not only Turkey, Ukraine and Georgia, a strategic gateway to Central Asia, but also NATO members Bulgaria and Romania.
In Georgia, protesters gathered this week outside of parliament after lawmakers failed to pass a constitutional amendment that would have introduced a proportional election system in advance of elections scheduled for next year.
The amendment was one demand of protesters that have taken to the streets in Georgia since June in demonstrations that at times included anti-Russian slogans.
Russia and Georgia fought a brief war in 2008 and Russia has since recognized the self-declared independence of two Georgian regions, Abkhazia and South Ossetia.
Some 1500 US troops participated in June in annual joint exercises with the Georgian military that were originally initiated to prepare Georgian units for service in Afghanistan and Iraq.
The absence of the Black Sea in Mr. Trump's talks with Mr. Erdogan raises the spectre that the region could become a victim of the partisan divide in Washington and/or Mr. Trump's political priorities.
The Republican-dominated US Senate has yet to consider a bipartisan Georgia Support Act that was last month passed by the House of Representatives. The act would significantly strengthen US defense, economic, and cyber security ties with Georgia.
A Chinese delegation that included representatives of several Chinese-led business associations as well as mobile operator China Unicom visited the breakaway republic of Abkhazia this week to discuss the creation of a special trade zone to manufacture cell phones as well as electric cars.
The Black Sea is one region where the United States cannot afford to sow doubt. The damage, however, may already have been done.
Warned Black Sea security scholar Iulia-Sabina Joja in a recent study: "The region is (already) inhospitable for Western countries as they struggle to provide security… The primary cause of this insecurity is the Russian Federation… Today, Russia uses its enhanced Black Sea capabilities not only to destabilize the region militarily, politically, and economically, but also to move borders, acquire territory, and project power into the Mediterranean."
Ms. Joja went on to suggest that "a common threat assessment of NATO members and partners is the key to a stable Black Sea. Only by exploring common ground and working towards shared deterrence can they enhance regional security."