Ordubad: a Cradle of Religious Tolerance in the Caucasus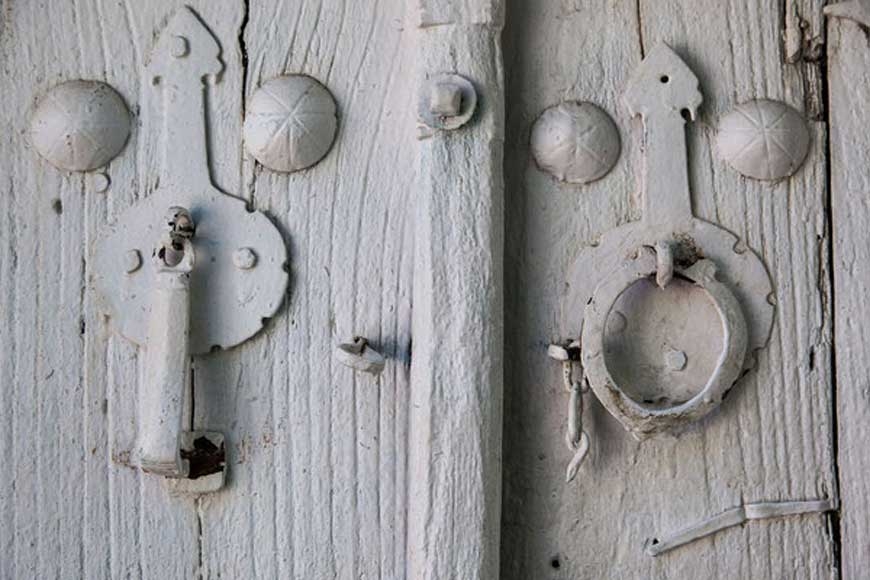 Religious architecture in the region of Ordubad, Autonomous Republic of Nakhchivan (Azerbaijan), has established new paradigms in the shaping of Azerbaijani Islamic culture, interfaith dialogue, and has reflected a deep sense of conviction within its citizens and a unique enrichment of religious tolerance, cultural dialogue, and multicultural coexistence.
The Region of Ordubad is the symbol of a religious harmony, unique architectural treasures that enshrine the superior values of the architecture school founded by Ajami Ibn Abubakr Nakhchivani, the city displays to the world a great sense of Azerbaijani patriotism and is home of many beautiful mosques that ought to be visited by religious scholars, international university researchers and be given a special international status by UNESCO; during the upcoming commemorations that will take place in Nakhchivan in 2018, as this region of Azerbaijan will become the World's capital of Islamic Culture and Art. The Region of Ordubad is known for its famous apricots that were exported regularly to Moscow and other parts of the Soviet Union; however its religious treasures, mosques and archeological sites are not well known internationally, they must acquire a wider presence abroad. The city of Ordubad has distinguished itself for having seven principal avenues, on each one of these avenues it has: a mosque without a minaret; an underground fresh water creek; traditional, rare Caucasian homes equipped with a main entrance door that has two types of ancient knocking metal rings that produce two different types of sounds (one of them is used by men and the other used by women). Some of the most important mosques in Ordubad region are: Dilbar Mosque, Dirnis Mosque, Haji Huseyngulu Mosque.
In Ordubad City is located Dilbar Mosque, a historical and architectural monument that provide some unique features to foreign visitors and theologians. In Ordubad City there are a number of buildings that embody special values of Nakhchivan architectural school and Dilbar Mosque is one of them. The mosque is open to the public for religious ceremonies. The structure is right angled, has a square shape and equipped with columns.   Many of the mosque's features are a representation of Nakhchivan's school of architecture. Dilbar Mosque is an example of an architectural composition that intertwines style and structure that was typical in the 1700s. This Mosque is furnished with its altar, latticed windows; the entrance gate is on its main façade. The main entrance and its sides have incorporated big windows and sections that are latticed, with asymmetric installation of the head span and other marvelous features. This uniqueness shows that Dilbar Mosque embodies a perfect harmony with Ordubad's architecture and urban – rural landscape.
According to the history of Ordubad, preserved by its residents, Dilbar Mosque was built to honor a woman named Dilbar and it has emerged as a center of Islamic faith established to honor the valuable role of women in the Muslim faith and its emblematic communities across the Caucasus region.
Another religious landmark is Dirnis Mosque, located on Mirza Street in Yukhari, Dirnis Village, and Region of Ordubad. It has a large size and the local people call it with the name 'Boyuk Masjid' meaning a large Mosque (Jame Mosque). Its main entrance is from the western side and for women is on the east side. Its ceiling stands on five poles on each side, totaling ten poles or columns. In front of the East – North wall there was built a balcony on the first floor to host women. The Mosque has: three big windows in the east wall, two windows on the western wall; and three windows on the southern wall. According to the inscription located at the head of one of the columns, written in black color, it is very clear that the Mosque was repaired in 1920-1921 and it was Architect Hasan from Ordubad who had repaired this cultural monument. Once again, this religious monument was renovated in 1999 at the expense of the local people and a balcony had been assembled in front of the entrance door on the west side, where a minaret was also erected. According to its architectural features, the Dirnis Mosque was first built and erected in the XVII Century.
In the village of Ganza, Region of Ordubad, stands tall the historic Haji Huseyngulu Mosque, located right at the center of the village. Its size is 23 meters by 14 meters, according to the local community, this Mosque was built by Haji Huseyngulu, an influential man who was active in promoting various shapes and construction styles from the Ajami Nakhchivani Architecture School. When Haji Huseyngulu passed away, he was buried in front of the southern wall of this gorgeous creamy white-brick mosque. At a later stage, the renovation team of this Mosque placed a head stone above the tomb of Haji Huseyngulu, the words of the late "Haji Huseyngulu of the XVI century," are carved in Arabic language, on the head stone. This is considered to be one of the oldest mosques of Nakhchivan and throughout Azerbaijan, it is a unique religious monument, inside it has a big hall. According to the local builders, in the beginning of the XX Century there was built an additional hall that was joined with the hallway of males that is located in the western part of the old Mosque. The old part of the mosque and its main hall sits on three big columns and walls built of stones.   Its inner-columns and its sections between the columns and walls are connected through a span shape and its walls reach one meter of thickness. Five wall recesses have been placed inside of the mosque. A balcony is in front of the entrance; its façade consists of 12 spans. Near the mosque there is a guest house, when this object was restored there were written colorful religion words on its limed walls.
During its restoration project a wonderful minaret was added to this cultural monument on the South Western side of the structure. On the minaret is written an inscription that says: "this minaret of the mosque was built by Haji Israfil Sadigli in 2000; architects Karbalayi Sayid, Karbalayi Gurban."
There are always held mourning events and religious ceremonies during the months of Muharram and Ramadan that take place in this Mosque; certainly during the commemoration events of Nakhchivan Region becoming the World's Capital of Islamic Culture in 2018, there will be taking place memorable events in the Haji Huseyngulu Mosque.
The area on the southern side of the mosque at one time belonged to Haji Huseyngulu who donated this land to be the Mosque's cemetery. Based on the grave inscriptions of this cemetery it is ascertained that Haji Huseyngulu lived during the XV century and this Mosque was built in that time.
The 2018 World celebrations of Islamic Culture in Nakhchivan Autonomous Republic are approaching; foreign visitors, tourists and scholars must visit the Region of Ordubad in order to appreciate a series of unique architectural features tailored by Ajami Nakhchivani that are melted together with: an ancient Islamic Culture, attractive religious tolerance practices, deeply rooted historical awareness within the context of Azerbaijani historiography.
Only on Langkawi: An Insider's Guide to the Most Coveted Langkawi Pursuits
Whether in search of wanderlust, culture, or relaxation, Four Seasons Resort Langkawi showcases a bespoke collection of experiences that captures the warmth of Malaysian culture, combined with a deep sense of place. The Resort, with its prime placement directly on Langkawi's longest stretch of beach and adjacent to a UNESCO Geopark allows premier access to occasions that few have the opportunity to experience in Southeast Asia, let alone the world.
Our Front Office Manager, Mr. Indran Santhirasekaran, has offered his five must-see experiences that are only found here on Langkawi:
Mangroves & Eagle Safari – Explore mysterious forests between land and sea on this naturalist-led boat safari into the Kilim Karst Geoforest Park – home to majestic eagles, mischievous macaques, fish that "walk," colourful fiddler crabs, shy otters and sleeping bats.
Raja & Ratu Ritual – Designed for couples to experience together, this award-winning ritual focuses on three specific chakras – sacral, heart and crown – to maximize emotional and physical connections.
Cycle Adventure & Photography Tour – Pedal and capture your way through rural regions, taking in villages to scenic waterfalls, as you enjoy a photo adventure tour.
Rainforest Trekking – Trek through Langkawi's pristine rainforest and witness rare wildlife, ancient rock formations, and a scenic waterfall along the adventurous journey.
Lessons in Spice – Immerse yourself in the flavour, fragrance and flair of Malay cuisine. Distinguish local ingredients, sample aromatic spices and discover traditional cooking techniques with our world-class chefs.
10 Iconic Must-See Properties to Experience in Hilton's 100th Year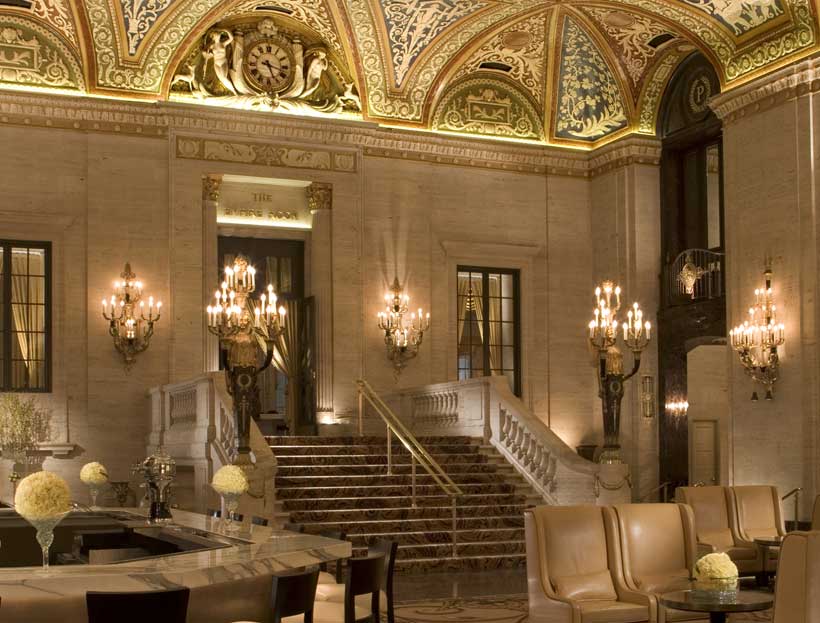 Born out of Cisco, Texas, in 1919, Hilton approaches its 100th anniversary in May of this year. In nearly 100 years of hospitality, its hotels around the world have pioneered innovation, shaped communities, become part of the fabric of popular culture and developed into iconic destinations.
Anniversaries are an opportune time to reflect, to look ahead, to celebrate and, of course, to travel. Hilton now has more than 5,600 properties around the world in 113 countries and territories, but these 10 iconic properties top the list as must-see destinations to fully take in Hilton's 100th year. From culinary and design innovations to regional and historical significance, these hotels are reimagining the travel experience and have played a role in defining not only Hilton's unique history over the past century, but history itself.
Americas
Conrad Hotels & Resorts' highly anticipated Conrad Washington, DC will welcome guests starting in April 2019. Introducing a new era of hospitality for travelers seeking modern luxury in the heart of the nation's capital, Swiss architecture firm Herzog and de Meuron designed the sleek and contemporary property. The signature restaurant, Estuary, led by "Top Chef" alumni Michael Voltaggio and his brother Bryan Voltaggio, will feature a seasonal menu that highlights the flavors of the nearby Chesapeake Bay area. The property's unique architecture includes a dedicated rooftop bar featuring panoramic views of the U.S. capitol, which will offer discerning travelers an experience unlike any other in the world's most influential city.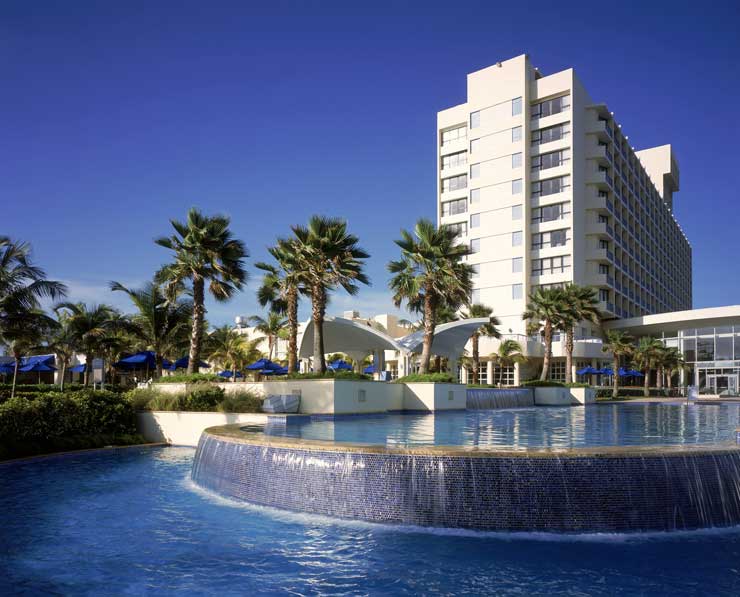 Named a 2019 Place to Stay by Forbes, rediscover Caribe Hilton, making its debut later this year after a multimillion dollar restoration and reinvention following devastation from 2017's Hurricane Maria. Famous as the birthplace of the piña colada, the iconic resort has been wowing guests since 1949, when it opened as the first international Hilton hotel. Sip the hotel's creamy refreshment, now Puerto Rico's official drink, or explore the views of San Juan's shoreline from the exclusive, lushly landscaped 17-acre peninsula.
Experience a working piece of history, and a beautiful one at that, with a stay at the historic Palmer House – A Hilton Hotel. Indulge in a chocolate brownie at the very place where they were invented in 1893 (that's right, thank Bertha Palmer). Take a grand tour with the resident historian and peruse the hotel museum. The fabled Empire Dining Room, converted to "café society" supper club in 1933, welcomed legendary entertainers including Frank Sinatra, Judy Garland, Ella Fitzgerald, Louis Armstrong, Liberace and more.
Take in extraordinary views of the city, beach and iconic landmarks from Hilton Rio de Janeiro Copacabana. Opened as a Hilton property in 2017, the beachfront resort marked Hilton's 100th opening in Latin America. The hotel is located in the famous Copacabana neighborhood, one of Brazil's most visited destinations. Among the tallest and largest hotels in the area, guests can enjoy a 360-degree view of the city's three main tourist attractions – Copacabana Beach, the Christ the Redeemer statue and Sugarloaf Mountain, from one of the hotel's two exclusive pools.
EMEA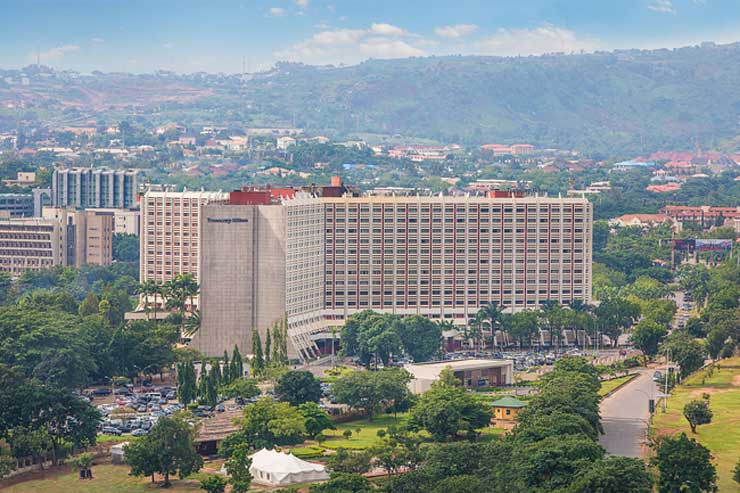 Discover Nigeria from the flagship of its hospitality industry, the Transcorp Hilton Abuja. Built in a remote location in the '80s, the hotel pioneered a bustling community and catalyzed Abuja's evolution into the thriving capital city it is today. Centrally located in the capital's commercial district, the award-winning hotel is one of the largest in sub-saharan Africa and serves as a national landmark, having hosted countless heads of state and global events. Whether exploring the busy city, learning about traditional village life at the on-site Abuja handicraft village where artisans display their work or visiting the natural rock formations on the edge of the city, Transcorp Hilton Abuja is a perfect base for travel in Nigeria.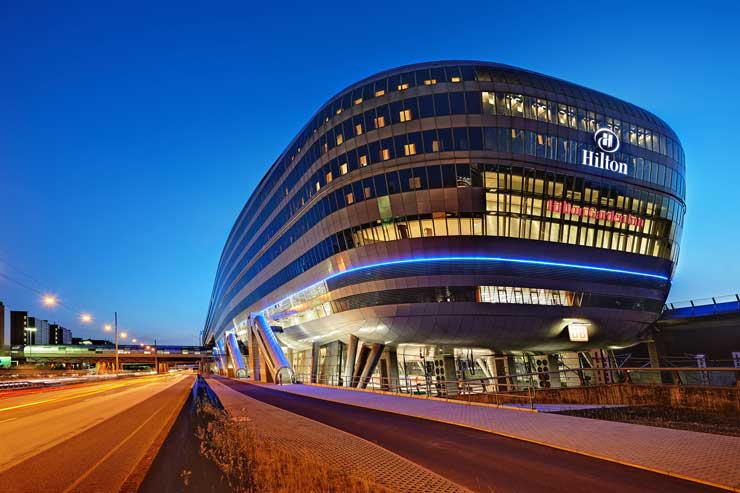 Upgrade your airport hotel expectations this year with a stay at the highly awarded Hilton Frankfurt Airport. Awarded "Best Airport Hotel" for Germany, Europe and Internationally – several times over – this Frankfurt hotel combines futuristic design and authentic hospitality and is walking distance to Terminal 1 by sky walk. Designed for comfort and convenience, rooms are decorated in rich, warm colors and offer sound-proof windows, creating a sanctuary for the modern traveler to unwind or catch up on work.
Situated in the heart of the city, Hilton Istanbul Bosphorus has a storied past spanning six decades. The first international five-star hotel in Turkey, Hilton Istanbul Bosphorus symbolized a new beginning in Istanbul's social scene and was very important for Conrad Hilton, as a key part in his plans to expand throughout Europe. Take a dip in the pool, designed in the very shape of Conrad Hilton's footstep, or head to the Lobby Lounge of Hilton Istanbul Bosphorus for high tea, a tradition that became a fixture among the social life of Istanbulites shortly after the hotel's opening, even inspiring movies of the period.
APAC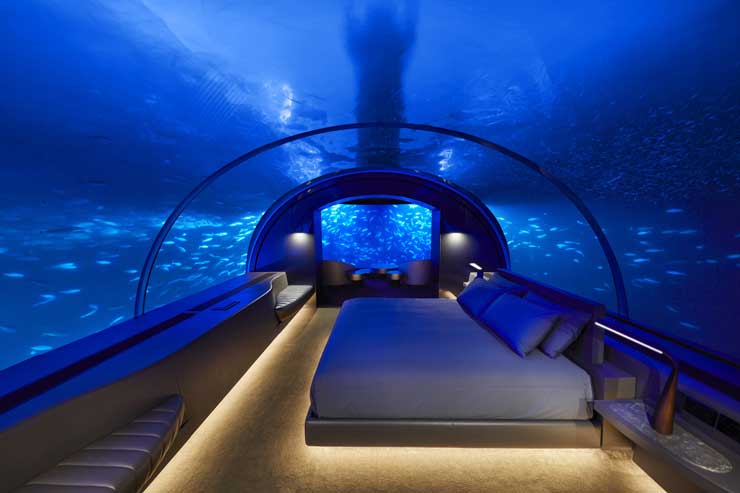 Applauded for its pioneering achievements and sustainable approach to travel, Conrad Maldives Rangali Island was the first resort to offer undersea dining at its restaurant Ithaa, and it is home to THE MURAKA, the first-of-its-kind residence both above and below the surface of the Indian Ocean. Two spas, including one over the sea with glass-floored treatment rooms, offer guests relaxation and rejuvenation. The rare and diverse marine wildlife on show cements Conrad Maldives Rangali Island as one of the premier island destinations worldwide.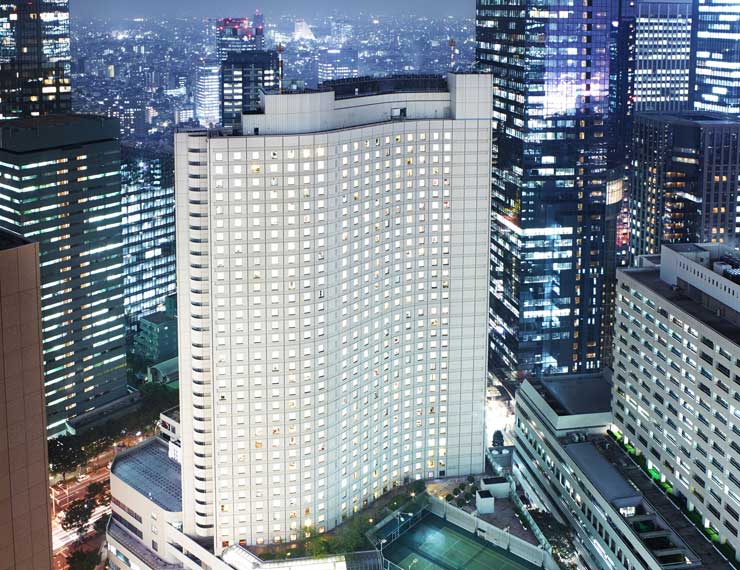 Opened in 1963, this Tokyo staple marked the first hotel of a global brand in Japan and has continued to drive Japanese hospitality forward ever since. Relocated to its current spot in Nishi Shinjuku in the mid-'80s, Hilton Tokyo has hosted numerous prominent guests from politicians to international rock bands and has introduced a bevy of culinary newness to Japan, including the first sommelier service, the first Chinese all-you-can-eat service in Japan and the first dessert buffet.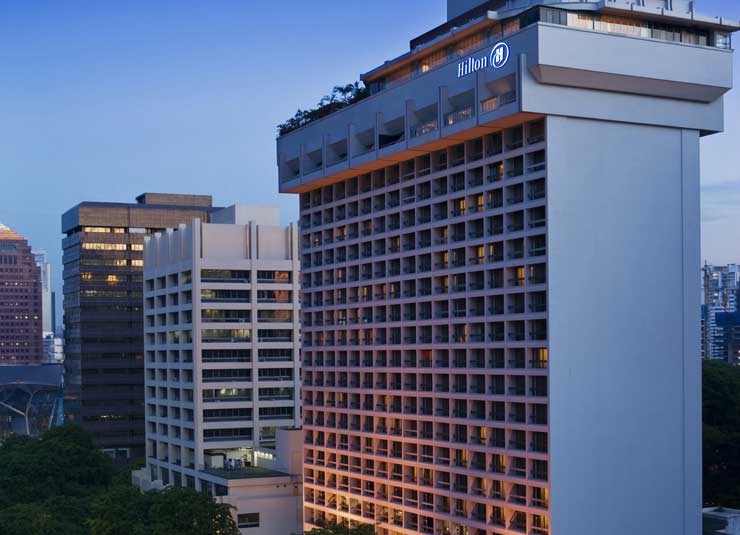 An institution in Singapore's hospitality scene and a foodie's delight, Hilton Singapore was among the first international hotels to bring its trademark level of service excellence and culinary innovation to the garden city. Hilton Singapore was the first hotel in Asia to achieve Marine Stewardship Council and Aquaculture Stewardship Council certifications, assuring seafood dishes with the respective ecolabels have been prepared with sustainably caught and farmed seafood sources. Try the hotel's Opus Bar & Grill's prime-cuts that are dry aged in-house, or savor Italian gastronomy with unique Japanese flair at the award-winning il Cielo.
Top Five Destinations for the Ultimate Girls' Getaway
With International Women's Day right around the corner (8 March), what better way to celebrate and show appreciation for the significant women in our lives than by embarking on an all-girls getaway? Take this opportunity to spend quality time with these women, be it your mother, sister or best friend, and make memories of a lifetime together.
Chengdu, China
Enter the birthplace of the world famous, legendary…giant panda! Chengdu, a rich cultural hotspot with a multitude of historical and natural attractions, is also home to most of China's giant panda population. Get up close with these gentle giants at the Chengdu Research Base of Giant Panda Breeding, designed to imitate the natural habitat of giant pandas. Catch them in their most natural element – playing, eating and sleeping. What a life! While here, be sure to pick up fun facts about this national treasure and of course, valuable information on conservation efforts.
You'll be hungry after soaking up all this knowledge, so it's time to experience another one of Chengdu's specialties, the local hotpot. There's no better way to bond with your girlfriends than over a bubbling pot of fresh ingredients and spicy broth (concocted from a secret blend of traditional spices) – beware the numbing peppercorns! Thankfully, for the less adventurous, non-spicy broth options are available as well. Hotpot restaurants are aplenty across the city, but head to Yulin Neighbourhood for a taste of the best.
Stay: Canopy by Hilton Chengdu City Centre, newly opened in January this year, is a refreshing lifestyle-brand hotel situated right in the center of the city's cultural and commercial hub. Get to know the city like a local by engaging our hotel Enthusiasts – local guides that will give you insider tips on the city's hidden gems. In addition, you can even explore the city on wheels, with Canopy's complimentary bikes available for rent.
Perth, Australia
Perth is undoubtedly one on the books for those seeking a relaxed getaway imbued with nature's best. Start your morning bright and early with a trip to the nearby island paradise, Rottnest Island, located just a short ferry ride away from Fremantle, Perth City. The island's pristine beaches, with rich marine life and laidback atmosphere, are the perfect spots for you and your girlfriends to revel in nature's gifts as well as each other's company. While there, take turns to snap pictures as you pose with the world's happiest animal, the resident Quokka! Of course, you have to take a #squadselfie with this adorable critter as well.
When you're back in the main city, it is an absolute must to head to Northbridge, a cultural hub stock full of modern art galleries, eclectic boutiques and cafés. Immerse yourself in the local environment, and wind down while having heartfelt conversations with your girlfriends over a good cup of coffee. We recommend checking out Little Bird Café for its outstanding cakes (it's also a non-profit that provides training for the long-term unemployed) and Kafka Coffee Shop, a dainty shopfront that serves the perfect cup of coffee you never knew existed.
Stay: DoubleTree by Hilton Perth Northbridge, strategically located in the heart of Northbridge district, provides convenient access to the city's most popular attractions, such as the Art Gallery of Western Australia, State Theatre Centre and Yagan Square. The suite of dining, shopping and entertainment options guarantee you'll never be bored!
Phuket, Thailand
No stranger to avid beachgoers, Phuket is the perfect place for a sun-soaked getaway with the girls. On top of lounging on the beach and dipping into the crystal-clear waters, be sure to also check out at least a couple of its 32 surrounding islands – each with its own unique characteristic. Escape the crowds at Patong and Karon, and embark on an island-hopping adventure; test your teamwork with the girls in an adrenalin-pumping game of football on the floating football pitch at Koh Panyi (this coastal village is built on stilts!), find hidden gems at the picturesque Pi Leh Cove and walk amongst the coral reef and marine life with a sea-walking adventure at Coral Island. There is a smorgasbord of experiences to share with your best friends, and you'll certainly make memories of a lifetime together.
Stay: Hilton Phuket Arcadia Resort & Spa is the idyllic destination for those seeking a restful stay coupled with picturesque views of the ocean by Karon beach. With the resort housing 15 spa villas, get ready to be pampered, rejuvenated and refreshed after a long day of island-hopping.
Seoul, Korea
Annyeonghaseyo (hello)! You don't have to be a K-pop fan to fall in love with Seoul; this metropolitan city is bound to capture your heart. Splurge on some retail therapy with a shopping expedition with your girlfriends and navigate the various shopping hotspots this fashion and skincare capital has to offer. From shopping the big brands at mega establishments like COEX Shopping Mall (check out the one-of-a-kind Starfield Library!), sussing out local boutiques along quaint street alleys at Garuso-Gil and taking your pic from open-street stalls along Namdaemun Market, you'll certainly spend quality time giving each other fashion advice and sharing your favourite picks!
End your day of shopping and relax those sore calf muscles at a jjimjilbang (traditional Korean bath house). These Korean bath houses put conventional saunas to shame – nowhere else will you find such an extensive selection of baths, saunas, massages and leisure activities. You can even head to the in-house noraebang (singing room) to belt some tunes or watch television! It's an all-in-one entertainment haven.
Disclaimer: You'll have to strip down to your birthday suit while in the bathing areas (separated by gender). While it's natural to feel a bit of discomfort at the start, you'll get used to it in no time.
Stay: Conrad Seoul towers over Seoul and boasts panoramic views of the Han River and the city's skyline. If a trip to the jjimjilbang leaves you craving more pampering, the hotel houses an on-site spa that combines the latest technology and innovative techniques.
Bali, Indonesia
Live out your very own "Eat, Pray, Love" experience with your girlfriends in Bali, the land of tranquillity itself. Take your pick from the numerous beaches across the island, such as Nusa Dua Beach, Green Bowl Beach and Seminyak Beach for a relaxed afternoon of lounging in the sun. Of course, be sure to have your favourite cocktail and snacks on hand! Engage in some self-care by meditating or executing your favourite yoga poses – whether it is by the beach or in a yoga studio, what matters is that you focus on yourself and are rejuvenated after. Mental health is certainly as important as physical health!
For some, the ultimate trip will definitely include a girl's night out, and there's no doubt that Bali is a prime location to paint the night red. With the plethora of beach clubs available, it won't be hard to find one that suits your mood and music preferences. Be prepared to bust a move as you groove along to your favourite beats, but of course, stay safe and keep a look out for your besties.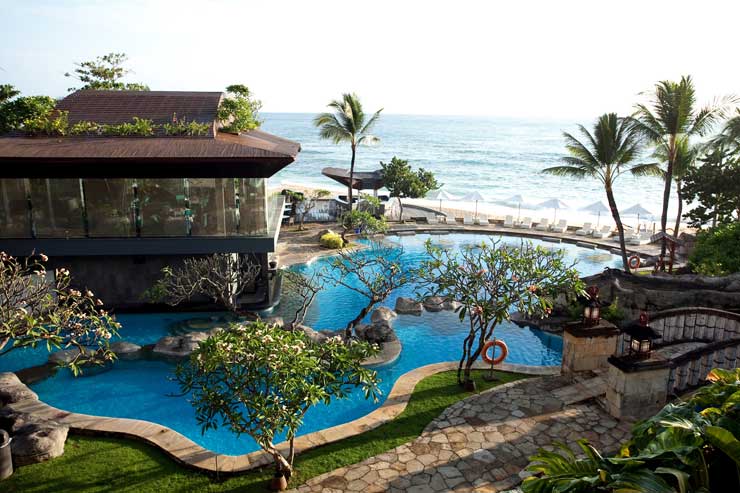 Stay: Hilton Bali Resort, located in Nusa Dua, is, in itself, a lifestyle destination. It has gorgeous views of the Indian Ocean and extensive recreation facilitates like a sand lagoon, waterslide and semi-outdoor spa villas. Be spoilt by the warm Balinese hospitality and explore the newly renovated wing and spaces within the property. You may never want to leave the hotel!
Wherever you are in the world, remember to celebrate memorable moments with the leading ladies in your life. Treat yourself to unique experiences, ranging from sold-out concerts, private mixology classes, indulgent spa treatments or luxurious boat trips by redeeming Hilton Honors Points on the Hilton Honors Experiences Platform. You totally deserve it!