Cultural Imperialism in Said's Critical Thought: a Remembrance
"Text too are worldly in as much as they have a way of existing that even in the most rarefied form are always enmeshed in circumstances, time, place, and society" -Edward Said in The World, the Text and the Critic
[yt_dropcap type="square" font="" size="14″ color="#000″ background="#fff" ] E [/yt_dropcap] dward Said, even 13 years after his untimely death, remains today a powerful, well-reasoned voice of the voiceless, as well as a courageous critic of cultural imperialism. His mind was like that of Leonardo: where others saw an abyss between East and West, he saw a bridge that needed to be constructed. His serene fair critique of cultures is very much needed as we weather the latest fierce storms in the Transatlantic dialogue and a resurgence of the Cold War.
While writing a Ph.D. dissertation on Vico at Yale University, some thirty five years ago, a book appeared which attracted my immediate attention. But it was not its author, still relatively obscure at the time, rather it was its title which urged me to buy Beginnings by Edward Said. To my mind, that title echoed immediately Vico's notion of "origins." And in fact, as expected, Said not only acknowledges Vico as the book's inspiration and methodology, but dedicates a whole section to him. It turned out to be a kind of epiphany for me, in the same way that Ignazio Silone had previously been, not so much for what the book revealed about the problematic in the New Science that I was then grappling with (i.e., that of transcendence and immanence in Vico's notion of Providence), but for what it said on the crucial role of the intellectual vis-à-vis the culture he lives and works in.
One of the most pregnant passages in that book is this: "The writer's life, his career, and his text, form a system of relationships whose configuration 'in real human time' becomes progressively stronger (i.e., more distinct, more individualized and exacerbated). In fact, these relationships gradually become the writer's all-encompassing subject" (p. 227).
Here was a writer who did not see his role as that of the neutral "objective" scholar but as that of the engaged "worldly" critic who refuses to separate his work from his life's experience. In doing so, Said was able to speak truth to power, rather than merely analyze power. In effect he becomes the well reasoned voice of the voiceless, within the tradition of "the conspiracy of hope" initiated by Ignazio Silone (see his Pane e vino, Fontamara, or Il seme sotto la neve). He therefore succeeds in making his life work relevant to the general public, especially the culturally powerless.
Later on in his The World, The Text, and the Critic Said would assert that not only individuals, but text too are worldly in as much as "they have a way of existing that even in the most rarefied form are always enmeshed in circumstances, time, place, and society" (p. 35).
And indeed, even if Said is no longer with us in body, his powerful voice is still heard via his texts. He was born in Palestinian Jerusalem, studied there and in Cairo, then moved to the United States. He acquired a "Western" education (Princeton B.A., Harvard Ph.D.), becoming the Old Dominion professor of Humanities at Columbia in 1963. As a displaced Arab and an American citizen studying European literature in America, he became the voice of the voiceless and the dislocated and in as much as he understood well both East and West, he was eminently qualified to bridge those two disparate cultures.
This concept of bridging of cultures is vitally important, at a time when the transatlantic dialogue and relationship can best be characterized as one of mutual suspicion, misperceptions and near political disasters. A turbulent time when the very concept of multi-culturalism is being dismantled.
In one of his essays critiquing modern education, Said mentions that there was a passage on Leonardo Da Vinci by the French poet Paul Valéry which haunted him. In it Valéry describes the mind of Leonardo; its beauty and power and elegance and then says that Leonardo could only think of a bridge whenever he thought of the abyss. Metaphorically speaking, an abyss is the equivalent of what is presented to us as immutable, definitive, impossible to journey on. No matter how deep and problematic the scene that presented itself, Leonardo's beautiful mind always had the capacity to think of some alternative, some way of solving the problem, some gift for not passively accepting what was given, any hopeless scene could be imagined and envisioned in a different more hopeful, way.
Then Said went on to say that he believes that education at its best should train students not so much in methods and skills but in the ability to see things differently and try ways of constructing bridges across the abyss. For Said knowledge is more than the amassing of information. He quotes Jean Paul Sartre who once said about a friend who had studied at a prestigious scientific college (Ecole Polytechnique): "my friend is really incredibly brilliant. He knows everything. But that is all he knows." Echoes of Pascal's "the heart has reasons that reason knows not?"
But let us go back to Said's beginnings (also the title of his above mentioned book) from which continuities follow, and apply a non-linear conception of career to his own career. If we take a look at his Ph.D. dissertation we discover that it is concerned with a novelist of Western imperialism: Joseph Conrad. This gives us a clue as to where Said's "beginning intentions" were in his life-long criticism. Three such can be discerned: 1) a desire to make critical work out of the fabric of one's life experience, 2) a refusal to separate the imperialism of the mind from that of nations (an eminently Vichian concept), 3) a will to forge literary criticism into an act of political intervention in the production of cultures.
In his very first book titled Joseph Conrad and the Fiction of Autobiography Said shows how the past was re-narrated (another Vichian concept: history as narration from the beginning) in Conrad's writings as a remedy of sort for his fear of personal disintegration. Then in Beginnings Said continues his study of the narrativization of personal experience tracing the changes culminating in the modern novel. Eventually he arrives at Orientalism, and culture and imperialism as history through which Western scholars have fictionalized the Orient, in collusion with their governments, to arrive at fictions such as "Arabs" and "Islam." Those books are now considered by many scholars as foundation documents in the history of post-colonialism. In any case, one thing that stands out in Said's writing is the notion that the history of cultures and personal histories are hardly separable.
All of the above begs the question: what exactly was the main topic of Said's life-work? Were I to choose one, it would be Eurocentrism, especially as manifested in imperialism. In the above mentioned early book on Conrad, Said shows that Conrad's identification with "Europeanism" was an act of secular salvation by which he rescued himself from "the heart of darkness."
But a shift occurs in Beginnings. Although apparently a history of the modern novel, the book is more properly a history of the imperialism of the mind reducing human subjects to functions of systems. In this respect Said is uncannily similar to Levinas. Be that as it may, in his subsequent Orientalism, Said explores the relation between the production of knowledge and the invasion of territories. He points out that imperialist history is the precondition for European imperialism per se; that is to say, Orientalism precedes the European Empires in the Orient. There was indeed a cultural preparation to Napoleon's invasion of Egypt at the end of the 18th century, just as there must be one before forbidding Moslem women to wear a scarf in public schools. In other words, the imperialism and colonization of the mind must precede that of the physical territory.
A careful reading of Orientalism can teach one how to understand other nations for themselves, rather than through the distorting lenses of Western imperialism. But Said is not just an observer of cultures happy to merely offer a diagnosis of what hails them. He considers it a responsibility of a critic to intervene in the formation of cultures which he sees as a mixture of pre-texts, texts, and para-texts just as Vico saw history as a mixture of pre-narrations, narrations and para-narrations. Genuine intellectuals should be "oppositional" and not mere observers and analyzers.
Beginnings is permeated with this issue of the critic's responsibility not only to analyze but also to intervene in the discursive formation by retelling its history; retelling the story, so to speak. Said does exactly that in Orientalism. In so doing, much as Foucault had done before him, he intervenes to show how a discourse is formed, thus offering an alternate view of the media's coverage of Islam. Said is convinced that it is the critic's responsibility to challenge the hegemonic power of cultural formation because of its "elevated or superior position to authorize, to dominate, to legitimate, demote, interdict, and validate: in short, the power of culture to be an agent of, and perhaps the main agency for, powerful differentiation within its domain and beyond it too (The World, the Text, and the Critic, p. 9).
In a world of political and cultural "correctness," it was a veritable tragedy to lose a very public intellectual like Edward Said. But I have no doubt that his legacy, like that of a Silone or a Havel, will be an ongoing one. He will continue to be the voice of the voiceless and the dispossessed, in any culture.
Many intellectuals, even among Palestinians themselves, will continue to resent his frankness and his calling a spade a spade. But that is nothing new, it begins with Socrates being branded a gadfly. It behooves us not to forget that truth is an equal opportunity critic. If they were sincere with themselves those critics would acknowledge that Said, as a quintessential humanist, has taught us how to see the foreign Other as oneself instead of constructing him/her as one needs him/her to be for one's own self-justification. That would by itself constitute a signal contribution to a Western imagination sick with extreme rationalism, positivism and reductionism. Some sicknesses are unto death unless the courage is summoned to reverse them with a reclamation of the very concept of truth. Said can certainly help us do that.
Seven Out of 10 Top School Systems Are in East Asia Pacific
The East Asia and Pacific region has seven of the top ten performing education systems in the world, with schools in China and Vietnam showing significant progress, according to a new World Bank report released today. This is a major accomplishment that offers important lessons to countries around the world. In the rest of the region, however, up to 60 percent of students are in under-performing schools that fail to equip them with the skills necessary for success.
Growing Smarter: Learning and Equitable Development in East Asia and the Pacific argues that improving education is necessary to sustain economic growth and highlights the ways that countries in the region have been able to improve learning outcomes. Drawing on lessons from successful education systems in the region, it lays out a series of practical recommendations for key policies that promote learning so that students acquire foundational skills in reading and math, as well as more complex skills that are needed to meet future labor market demands.
"Providing a high-quality education to all children, regardless of where they are born, isn't just the right thing to do. It's also the foundation of a strong economy and the best way to stop and reverse rising inequalities," said Victoria Kwakwa, World Bank Vice President for East Asia and Pacific.
A quarter of the world's school-age children – some 331 million – live in East Asia and the Pacific. Up to 40 percent of them attend school in education systems whose students are ahead of the average students in OECD countries. These schools are not only in wealthy countries such as Singapore, Korea and Japan, but also in middle-income countries such as China and Vietnam. And, as the report highlights, student performance isn't necessarily tied to a country's income level. By age 10, for example, the average Vietnamese student outperforms all but the top students in India, Peru and Ethiopia.
But many countries in the region are not getting the results they want. In Indonesia, for example, test scores showed students were more than three years behind their top-performing peers in the region. In countries such as Cambodia and Timor-Leste, one-third or more of second graders were unable to read a single word on reading tests.
Another key finding of the report is that across the region, household incomes do not necessarily determine children's educational success. In Vietnam and China (Beijing, Shanghai, Jiangsu and Guangdong provinces), for example, students from poorer households do as well, if not better, in both math and science, as compared to average students in the OECD.
"Effective policies for the selection, motivation, and support of teachers as well as sound practices in the classroom are what determine how much students learn. For policymakers looking to improve their school systems, allocating existing budgets efficiently, coupled with strong political commitment, can make a real difference in the lives of children across the region," said Jaime Saavedra, the World Bank's Senior Director for Education.
The report lays out concrete steps for improving learning for lagging systems in the region and beyond, starting with ensuring that institutions are aligned so that objectives and responsibilities across the education system are consistent with each other. The report also urges a focus on four key areas: effective and equity-minded public spending; preparation of students for learning; selection and support of teachers; and systematic use of assessments to inform instruction.
The report found that top-performing systems spend efficiently on school infrastructure and teachers, have recruitment processes to ensure the best candidates are attracted into teaching, and provide a salary structure that rewards teachers with proven classroom performance. It also found that schools throughout the region increased preschool access, including for the poor, and have adopted student learning assessment into their educational policies.
The report complements and builds on the World Bank's World Development Report 2018: Learning to Realize Education's Promise, which was released in September 2017 and found that without learning, education will fail to deliver on its promise to eliminate extreme poverty and create shared opportunity and prosperity for all.
UN women's commission opens annual session at 'pivotal moment' for gender equality movement
Taking place at "a pivotal moment for the rights of women and girls," the United Nations body dedicated to gender equality and women's empowerment opened its annual session on Monday hearing calls to help women, especially those in rural communities, secure an end to the male-dominated power dynamic that has long marginalized their participation and muted their voices.
"Across the world, women are telling their stories and provoking important and necessary conversations – in villages and cities; in boardrooms and bedrooms; in the streets and in the corridors of power," said Secretary-General António Guterres, opening the 62nd session of the UN Commission on the Status of Women (CSW62).
"From 'MeToo' to 'Time's Up' and 'The Time is Now' […] women and girls are calling out abusive behaviour and discriminatory attitudes," he added.
Under the Commission's theme 'Challenges and opportunities in achieving gender equality and the empowerment of rural women and girls,' the UN chief observed that although a marginalized group, they were often the backbone of their families and communities, managing land and resources.
Mr. Guterres said that supporting these women is essential to fulfilling our global pledge to eradicate poverty and to create a safer, more sustainable world on a healthy planet – 2030 Agenda for Sustainable Development.
Mr. Guterres painted a picture of a male-dominated world with a male-dominated culture in which centuries of patriarchy and discrimination have left a damaging legacy.
Calling it "the greatest human rights challenge of our time," he said "progress for women and girls means changing the unequal power dynamics that underpin discrimination and violence."
"Discrimination against women damages communities, organizations, companies, economies and societies," he continued. "That is why all men should support women's rights and gender equality. And that is why I consider myself a proud feminist."
The President of the UN Economic and Social Council (ECOSOC), Marie Chatardova pointed to the Commission, as a critical instrument to strengthen the global normative framework for women's empowerment and the promotion of gender equality.
The body is also as a key driver of ECOSOC's work, with the Commission's outcomes as bolstering the 2030 Agenda's implementation and that of its 17 Sustainable Development Goals (SDGs), which seek to end poverty and ensure prosperity for all on a healthy planet.
Noting that gender equality and the empowerment of women and girls is a theme that cuts across all the Goals, Ms. Chatardova said the Commission's focus on rural women and girls was both timely and well-aligned with the 2030 Agenda.
According to the ECOSOC President, inclusion is a key element in all efforts.
Noting that the Commission has long provided a roadmap for the UN's work in women's empowerment and gender equality, she announced a special Council session in May to build sustainable, inclusive and resilient societies.
Gender perspective is critical
For his part, the President of the UN General Assembly, Miroslav Lajčák, noted that past challenges were approached without a gender perspective, which "has had a particularly damaging effect on rural women."
Mr. Lajčák underscored that this needs to stop, and that women must be taken into account in all actions, from access to water to closing pay gaps.
Drawing attention to rural women as a major source of innovation, he explained that their empowerment would benefit everyone.
"These kinds of women do not need our help, in finding solutions," he stated. "What they need is our support, in turning their ideas into reality."
Calling gender equality "an urgent priority," Mr. Lajčák he encouraged the Commission to carry on with its important work "until every woman, sitting in this room today has the same rights, and the same opportunities, as the man sitting beside her.'
"Thank you for continuing your calls. Let's make them stronger than ever," he concluded.
UN Women Executive Director Phumzile Mlambo-Ngcuka highlighted the importance of this year's focus on rurual women.
"It speaks to our commitment to fight some of the biggest challenges of our time: poverty, inequality, intersectionality and an end to violence and discrimination against women and girls, no matter where they live, or how they live, so that we 'leave no one behind,'" she stated.
Calling it "a tipping point moment," the UN Women chief urged the forum to seize the opportunity to secure and accelerate progress, build consensus and share best practices to serve "the poorest of the poor."
"It has never been so urgent to hold leaders accountable for their promises for accelerating progress" on the SDGs, she said.  An unprecedented hunger for change in women's lives was being seen around the world, as well as a growing recognition that when women banded together, "they can make demands that bite."
"Women are fighting to take steps that change their lives, and they are refusing to accept the practices that have normalized gender inequality, sexual misconduct, exclusion and discrimination across all walks of life," she argued.
She urged everyone to unite around the common cause, as set out in the principles of equality in the UN Charter, "to make this a moment of real acceleration, change and accountability."
The chair, Geraldine Byrne Nason, said the current session is a key moment on the path to ending discrimination against women and girls once and for all.  Indeed, "time is up" on women taking second place around the world, she said, challenging the Commission to do more and do better.
CSW functions under ECOSOC, acting as the UN organ promoting gender equality and the empowerment of women.  CSW62 runs until 23 March.
UNESCO Rewards Outstanding Teacher Initiatives in Chile, Indonesia and the UK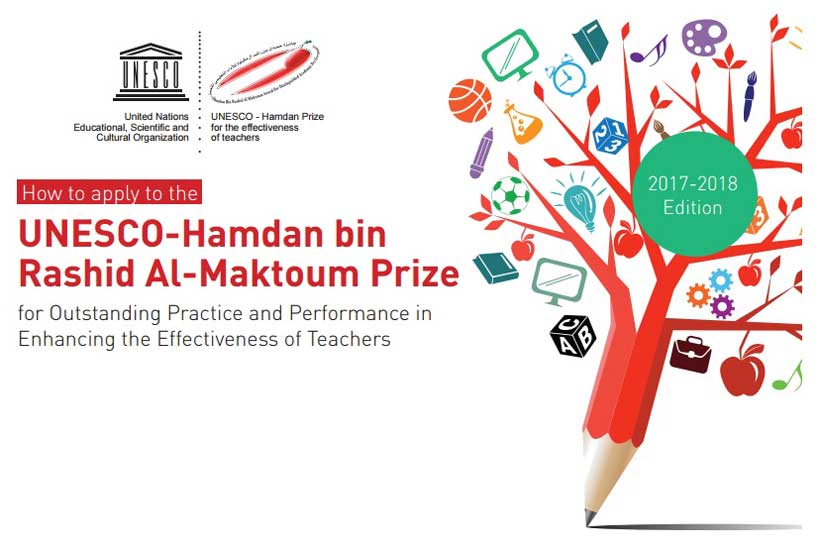 Three programmes designed to empower teachers have been named as winners of the 2017-2018 UNESCO-Hamdan bin Rashid Al-Maktoum Prize: The Center for Mathematic Modeling of the University of Chile, the Diklat Berjenjang project of Indonesia and the Fast-track Transformational Teacher Training Programme of the United Kingdom of Great Britain and Northern Ireland.
The Prize for Outstanding Practice and Performance in Enhancing the Effectiveness of Teachers will be awarded on 5 October as part of World Teachers' Day celebrations at UNESCO Headquarters in Paris when the each winner will receive $100,000.
The Center for Mathematic Modeling of the University of Chile (Chile) is rewarded for its Suma y Sigue: Matemática en línea (Adding it up: Mathematics online) programme which was developed to address the performance gaps in mathematics between students from different socioeconomic backgrounds and improve the quality of maths teaching in general. It is a 'learning by doing' programme organized by grade levels and curricula, enabling teachers to focus on their specialized area of mathematics teaching. It blends face-to-face sessions with intensive virtual instruction. The programme is scaleable, easily accessed by teachers in remote areas, and it promotes inclusion.
The Diklat Berjenjang project from Indonesia is rewarded for bringing quality professional development to early childhood teachers, notably in the poorest and most remote areas. It helps meet Indonesia's need for teachers skilled in creating stimulating learning environments for young learners. It helps identify potential teacher trainers and provides step-by-step written guides, follow-up assignments and exchanges.
The Fast-track Transformational Teacher Training Programme from the United Kingdom of Great Britain and Northern Ireland was selected for its highly innovative and impactful approach to training teachers in various professional environments in Ghana. It promotes child-centred and play-based pedagogy in early education to replace traditional talk chalk disciplinarian methods. Practicing teachers receive a two-year training, combining workshops with smaller peer group meetings in which they are paired on the basis of their complementary strengths to engage in classroom observations and in class coaching.
The three winners were selected from 150 nominations submitted by the Governments of UNESCO's Member States and UNESCO partner organizations on the recommendation of an International Jury of education professionals.
Established in 2009 with funding from Sheikh Hamdan bin Rashid Al-Maktoum of Dubai, the Prize is awarded every two years to projects that have made outstanding contributions to improving the quality of teaching and learning, especially in developing countries or within marginalized or disadvantaged communities.
More information on the prize: https://en.unesco.org/teachers/Hamdan-prize