Pipelines or Pipe Dreams? Turkey's Role in Future European Energy Policy
[yt_dropcap type="square" font="" size="14″ color="#000″ background="#fff" ] T [/yt_dropcap] urkey demonstrates obvious and unique geostrategic significance for the Euro-Atlantic community and as an influential player at the center of Western attention. After the annexation of Crimea by Russia in 2014, the EU brought Turkey in as a major energy conduit for the international stage, increasing its significance and role in the energy sector.
Although Turkey has a lack of energy reserves itself, it is a good transit state and can bring benefit to both itself and the EU through the use of alternative pipelines in different regions. Like Russia, Turkey has both problematic and good relations with the European Union, but unlike Russia it wants to be the part of Euro-Atlantic Security Community.
Although Turkey has negligible proven oil and gas deposits, it strives to gain more access to diversified energy resources in order to meet its domestic economic demands. Therefore, Turkey has taken some geostrategic steps regarding how it can reduce energy vulnerability and ensure secure and diversified supplies. According to the 2010-2014 Strategic Plan by the Ministry of Energy and Natural Resources, Turkey has several major challenges regarding how it can preserve energy security. Turkey's dependency on foreign investors in the energy field accounts for 74%. Its energy demands are expected to increase up to 4 % annually until 2020. Therefore it must search for secure and reliable cooperation in order to cope with such problems, while being able to anticipate unexpected dilemmas like tanker accidents in the Turkish Straits, which are huge threats to human security and cause environmental degradation. Thus, Turkey's interests are multi-layered in terms of both domestic and foreign policy issues.
It is apparent that the diversification of supplies and source countries must be one of the main goals of Turkey. It must strive to get traditional energy resources at affordable prices while engineering a successful transition to alternative energy sources so as to reduce its already intolerable dependence on fossil fuels coming from foreign markets. In October 2016, the 23rd Anniversary ceremony of the World Energy Congress was hosted by Turkey. This brought the future significance of energy security in the immediate region to the attention of political and economic leaders all around the world. The main Congress goal, seeking options for delivering sustainable energy systems on national, regional, and global levels, was constantly emphasized.
With the continuously unsteady geopolitical situation in the Persian Gulf, the EU launched the Southern dimension of the ENP program, which mainly focused on strengthening relations not only with the Middle East but also with North African countries. The Barcelona process, as it was called, mainly related to these countries taking new actions and steps to establish closer relations. But the EU needs to realize there is no direct entrance to the Middle East or North Africa without the involvement of Turkey. Turkey should always see itself as the main buffer zone or bridge for the EU. The emergence of mass havoc in Syria, Lebanon, Sudan, Iraq, Libya, Yemen, and other MENA countries due to intrastate crisis puts Turkey in an even more relevant geostrategic position. From this interpretation it can be said that Turkey has a pivotal role in future European energy policy in that it has an open connection to not only greater Caspian hydrocarbon reserves but also energy resources in the Middle East. Furthermore, Turkey can assist Europe to diversify its gas supplies from the Middle East and North Africa. In essence, Turkey should be proactively striving to make itself seen as the primary and exclusive energy hub/bridge for all of Europe.
It is expected that in the coming decades almost 60-70% of European oil and natural gas needs will be provided by third countries which are not members of the EU. The main problem the EU faces currently is the security of its supplies and the lack of diversity in its suppliers, especially an overdependence on Russia. The EU needs new energy counterparts that will offer flexible long-term contracts to European countries. The greater Caspian region could enhance the supply of oil and natural gas to Europe if the EU was more assertive in aligning with Turkey. It has proposed four different gas pipeline projects via routes that would help the EU with its diversification problem and meet its increasing energy needs. By taking into account these possible pipeline projects gas transport to Europe via Turkey may account for 43 Bcm per year, at 6.5% of European gas imports, up to 2030. Of course, this will only occur with the full functioning of the Turkey-Greece-Italy interconnections with 12 Bcm annual capacity of gas supply and the Nabucco Pipeline project constituting 31 Bcm annual capacity. Thus, it is anticipated that the role of Turkey in European energy security will become more pivotal. In spite of some ups and down between the EU and Turkey, especially recently, the EU still has interests in strengthening the Turkish stance as a major energy transit country by joining different energy-related projects, namely Trans-European Energy Networks.
In conclusion, in spite of different political challenges within the international system, the EU understands its increasing energy demands and main concerns can potentially be addressed by better engaging Turkey as a major energy hub and as a reliable partner, all to the benefit of the Middle East and North Africa. The EU must soften its dependency on Russian gas, perhaps with involvement in different gas pipeline projects with other non-member states, especially Caspian-basin countries, with Turkey as its major broker. Despite the current unstable economic and political climate in Turkey, its increasing role as a regional player is undeniable not only for the West but also for greater Asian countries. Turkey is eager to be the dominant energy hub in the region, but the effort to reach that goal depends on more than just Turkey. If a new era of EU engagement cannot take place soon, then Turkey might not be the "good" transit state it so desperately wishes to be. In fact, without these positive relations it might be characterized as a "bad" transit state soon enough due to its own multiple political challenges and increasing insecurity in-country. If that remains constant then Turkey's pipelines are going to be nothing but pipe dreams.
Cambodia: Electricity Access Increased, Reliability Needs Improvement
While access to grid electricity has expanded in Cambodia to 71.5 percent, reliability of electricity supply can be improved, as nearly two-thirds of households with access face frequent power shortages, says a new World Bank report.
The report, called Cambodia Beyond Connections: The Energy Access Diagnostic Based on a Multi-Tier Framework, looks at, among other factors, the capacity, reliability, affordability, and safety of the country's energy sector. Nationwide, nearly 90 percent of Cambodian households have access to at least four hours of electricity a day.
"Cambodia has made rapid progress in increasing access to electricity for villages and consumers, but progress has been achieved at a cost. It is time now to turn our attention to strengthening the reliability and quality of electricity supply, which would enable families and business to flourish," said H.E. Ty Norin, Chairman of Electricity Authority Cambodia.
Some 30 percent of rural households rely on off-grid power for electricity, including solar home systems, solar lanterns, and rechargeable batteries. With improvement of transmission and distribution systems, as well as promotion of expanded grid connections and solar home systems, Cambodia will strengthen the potential of its economy.
"Energy is critical for enhancing industrial competitiveness that create more jobs, and improving public services that broaden opportunities – leading to a better quality of life for all Cambodians," said Inguna Dobraja, World Bank Country Manager for Cambodia. "Cambodia is the first country in the East Asia and Pacific region to carry out the Multi-Tier Framework survey, which offers detailed household data on energy that will strengthen policy-making for the energy sector."
The report's policy recommendations include expanding access to modern energy cooking solutions. More than 66 percent of households still use biomass stoves, hence helping families – particularly low-income and female-headed households – gain access to clean fuels and stoves would reduce health risks.
"While tremendous strides have been made in expanding access to electricity, gains in efficiency, reliability and affordability will lead to even brighter prospects for families, business, and the country. We stand by to assist the government in their efforts to achieve reliable, affordable, and modern energy service by 2030," said Julia Fraser, Manager for the World Bank's Energy and Extractives Global Practice in East Asia.
Global energy demand grew by 2.1% in 2017- carbon emissions rose for the first time since 2014
Global energy demand rose by 2.1% in 2017, more than twice the previous year's rate, boosted by strong global economic growth, with oil, gas and coal meeting most of the increase in demand for energy, and renewables seeing impressive gains.
Over 70% of global energy demand growth was met by oil, natural gas and coal, while renewables accounted for almost all of the rest. Improvements in energy efficiency slowed down last year. As a result of these trends, global energy-related carbon dioxide emissions increased by 1.4% in 2017, after three years of remaining flat.
But carbon emissions, which reached a historical high of 32.5 gigatonnes in 2017, did not rise everywhere. While most major economies saw a rise, others – the United States, the United Kingdom, Mexico and Japan – experienced declines. The biggest drop in emissions came from the United States, driven by higher renewables deployment.
These findings are part of the International Energy Agency's newest resource – the Global Energy and CO2 Status Report, 2017 – released online today, which provides an up-to-date snapshot of recent trends and developments across all fuels.
"The robust global economy pushed up energy demand last year, which was mostly met by fossil fuels, while renewables made impressive strides," said Dr Fatih Birol, the IEA's Executive Director. "The significant growth in global energy-related carbon dioxide emissions in 2017 tells us that current efforts to combat climate change are far from sufficient. For example, there has been a dramatic slowdown in the rate of improvement in global energy efficiency as policy makers have put less focus in this area."
Other key findings of the report for 2017 include:
– Oil demand grew by 1.6%, more than twice the average annual rate seen over the past decade, driven by the transport sector (in particular a growing share of SUVs and trucks in major economies) as well as rising petrochemical demand.
– Natural gas consumption grew 3%, the most of all fossil fuels, with China alone accounting for nearly a third of this growth, and the buildings and industry sectors contributing to 80% of the increase in global demand.
– Coal demand rose about 1%, reversing declines over the previous two years, driven by an increase in coal-fired electricity generation mostly in Asia.
– Renewables had the highest growth rate of any fuel, meeting a quarter of world energy demand growth, as renewables-based electricity generation rose 6.3%, driven by expansion of wind, solar and hydropower.
– Electricity generation increased by 3.1%, significantly faster than overall energy demand, and India and China together accounting for 70% of the global increase.
– Energy efficiency improvements slowed significantly, with global energy intensity improving by only 1.7% in 2017 compared with 2.3% on average over the last three years, caused by an apparent slowdown in efficiency policy coverage and stringency and lower energy prices.
– Fossil fuels accounted for 81% of total energy demand in 2017, a level that has remained stable for more than three decades.
Forum held in Kigali on increasing access to sustainable energy in East Africa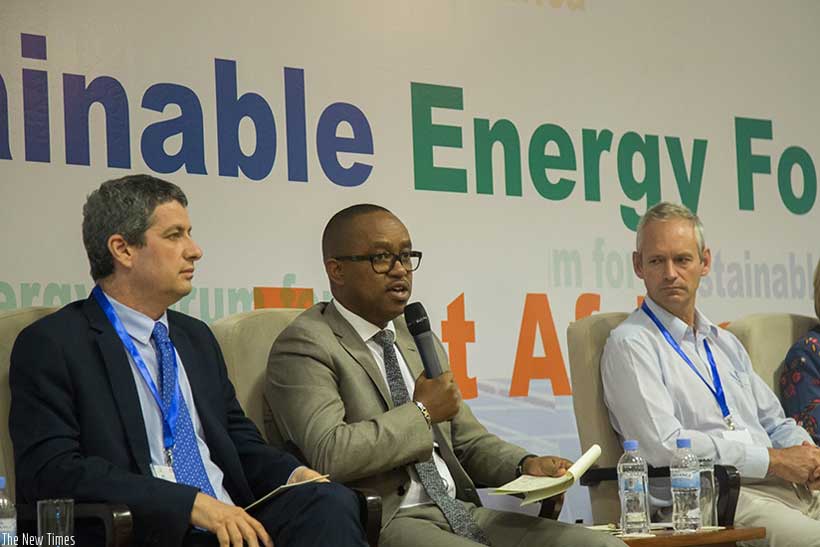 The Sustainable Energy Forum for East Africa took place between 19 and 21 March 2018 in Kigali, Rwanda. Over 400 high-level representatives from government, business, civil society and international organizations came together to discuss how to increase access to sustainable energy in East African countries.
Three days of discussions focused on the actions needed to scale up sustainable energy development in the region.
"There is need to work together with partners and identify key areas for development of the sustainable energy in the  region as part of our  efforts of  fulfilling the pledge made in the 2030 Agenda for Sustainable Development and the associated Sustainable Development Goals', said James Musoni, Rwanda's Minister of Infrastructure.
While the various sessions showcased a diverse set of country experiences in sustainable energy, from scaling up access to electricity to clean cooking fuels, there was a general agreement on the need for new policies and enhanced financing for renewable energy sources and energy efficiency worldwide. To meet these goals, a combination of public and private, and domestic and international resources will be required. Engaging all relevant stakeholders is critical to stimulating progress in the energy transition and achieving the global energy goals.
Rachel Kyte, Special Representative to the UN Secretary-General and CEO, Sustainable Energy for All, said: "There is a lot of good happening in East Africa's energy transition. However, progress is not at the speed or scale we need to ensure that we don't leave anyone behind. Continued strong political leadership is crucial to achieve energy productivity across economies, accelerate progress on access to electricity and clean fuels for cooking, and to further increase the share of renewable energy in the mix. East Africa has abundant renewable resources and business ingenuity, and can attract financing. With disciplined leadership and greater ambition, it can deliver an energy future for everyone."
Another topic highlighted by participants was the relationship between energy and gender. There was a general understanding that the different needs for men and women should be taken into account in sustainable energy programmes and policies in order to increase their effectiveness.
Three reports produced by the United Nations Industrial Development Organization (UNIDO) were released in support of the activities conducted at the Forum. The first study reflects on the main barriers to, and achievements of gender equality in the energy sector in the EAC. Another provides an inventory of ongoing and planned initiatives of sustainable city development across the region. The third study examines clean cooking fuels in the EAC.
Tareq Emtairah, Director of Energy, UNIDO, said "it is important to recognize the vast renewable energy potential in the EAC Partner states. Exploiting these locally available renewable energy resources is a great way to address major challenges such as poverty, energy security, industrial development and environment."
The Sustainable Energy Forum for East Africa was organized by the East African Centre for Renewable Energy and Energy Efficiency (EACREEE) in collaboration with UNIDO, the EAC Secretariat, the Austrian Development Agency (ADA), Sustainable Energy For All (SEforALL), and the Ministry of Infrastructure of the Republic of Rwanda (MININFRA), and is hosted by the Government of Rwanda.
It was the first of a series of events that will take place in 2018 with the aim of increasing progress on Sustainable Development Goal 7, which focuses on the global effort to ensure access to affordable, reliable, sustainable and modern energy for all.
"Renewable energy and energy efficiency technologies and interventions should be deployed to address global challenges such as population growth and migrations, urban development, climate change mitigation and adaptation, poverty, social, political, health and gender inequalities. Let us double our efforts and keep the momentum high," said Jesca Eriyo, EAC Deputy Secretary General in charge of Finance and Administration.