Pipelines or Pipe Dreams? Turkey's Role in Future European Energy Policy
[yt_dropcap type="square" font="" size="14″ color="#000″ background="#fff" ] T [/yt_dropcap] urkey demonstrates obvious and unique geostrategic significance for the Euro-Atlantic community and as an influential player at the center of Western attention. After the annexation of Crimea by Russia in 2014, the EU brought Turkey in as a major energy conduit for the international stage, increasing its significance and role in the energy sector.
Although Turkey has a lack of energy reserves itself, it is a good transit state and can bring benefit to both itself and the EU through the use of alternative pipelines in different regions. Like Russia, Turkey has both problematic and good relations with the European Union, but unlike Russia it wants to be the part of Euro-Atlantic Security Community.
Although Turkey has negligible proven oil and gas deposits, it strives to gain more access to diversified energy resources in order to meet its domestic economic demands. Therefore, Turkey has taken some geostrategic steps regarding how it can reduce energy vulnerability and ensure secure and diversified supplies. According to the 2010-2014 Strategic Plan by the Ministry of Energy and Natural Resources, Turkey has several major challenges regarding how it can preserve energy security. Turkey's dependency on foreign investors in the energy field accounts for 74%. Its energy demands are expected to increase up to 4 % annually until 2020. Therefore it must search for secure and reliable cooperation in order to cope with such problems, while being able to anticipate unexpected dilemmas like tanker accidents in the Turkish Straits, which are huge threats to human security and cause environmental degradation. Thus, Turkey's interests are multi-layered in terms of both domestic and foreign policy issues.
It is apparent that the diversification of supplies and source countries must be one of the main goals of Turkey. It must strive to get traditional energy resources at affordable prices while engineering a successful transition to alternative energy sources so as to reduce its already intolerable dependence on fossil fuels coming from foreign markets. In October 2016, the 23rd Anniversary ceremony of the World Energy Congress was hosted by Turkey. This brought the future significance of energy security in the immediate region to the attention of political and economic leaders all around the world. The main Congress goal, seeking options for delivering sustainable energy systems on national, regional, and global levels, was constantly emphasized.
With the continuously unsteady geopolitical situation in the Persian Gulf, the EU launched the Southern dimension of the ENP program, which mainly focused on strengthening relations not only with the Middle East but also with North African countries. The Barcelona process, as it was called, mainly related to these countries taking new actions and steps to establish closer relations. But the EU needs to realize there is no direct entrance to the Middle East or North Africa without the involvement of Turkey. Turkey should always see itself as the main buffer zone or bridge for the EU. The emergence of mass havoc in Syria, Lebanon, Sudan, Iraq, Libya, Yemen, and other MENA countries due to intrastate crisis puts Turkey in an even more relevant geostrategic position. From this interpretation it can be said that Turkey has a pivotal role in future European energy policy in that it has an open connection to not only greater Caspian hydrocarbon reserves but also energy resources in the Middle East. Furthermore, Turkey can assist Europe to diversify its gas supplies from the Middle East and North Africa. In essence, Turkey should be proactively striving to make itself seen as the primary and exclusive energy hub/bridge for all of Europe.
It is expected that in the coming decades almost 60-70% of European oil and natural gas needs will be provided by third countries which are not members of the EU. The main problem the EU faces currently is the security of its supplies and the lack of diversity in its suppliers, especially an overdependence on Russia. The EU needs new energy counterparts that will offer flexible long-term contracts to European countries. The greater Caspian region could enhance the supply of oil and natural gas to Europe if the EU was more assertive in aligning with Turkey. It has proposed four different gas pipeline projects via routes that would help the EU with its diversification problem and meet its increasing energy needs. By taking into account these possible pipeline projects gas transport to Europe via Turkey may account for 43 Bcm per year, at 6.5% of European gas imports, up to 2030. Of course, this will only occur with the full functioning of the Turkey-Greece-Italy interconnections with 12 Bcm annual capacity of gas supply and the Nabucco Pipeline project constituting 31 Bcm annual capacity. Thus, it is anticipated that the role of Turkey in European energy security will become more pivotal. In spite of some ups and down between the EU and Turkey, especially recently, the EU still has interests in strengthening the Turkish stance as a major energy transit country by joining different energy-related projects, namely Trans-European Energy Networks.
In conclusion, in spite of different political challenges within the international system, the EU understands its increasing energy demands and main concerns can potentially be addressed by better engaging Turkey as a major energy hub and as a reliable partner, all to the benefit of the Middle East and North Africa. The EU must soften its dependency on Russian gas, perhaps with involvement in different gas pipeline projects with other non-member states, especially Caspian-basin countries, with Turkey as its major broker. Despite the current unstable economic and political climate in Turkey, its increasing role as a regional player is undeniable not only for the West but also for greater Asian countries. Turkey is eager to be the dominant energy hub in the region, but the effort to reach that goal depends on more than just Turkey. If a new era of EU engagement cannot take place soon, then Turkey might not be the "good" transit state it so desperately wishes to be. In fact, without these positive relations it might be characterized as a "bad" transit state soon enough due to its own multiple political challenges and increasing insecurity in-country. If that remains constant then Turkey's pipelines are going to be nothing but pipe dreams.
Economic value of energy efficiency can drive reductions in global CO2 emissions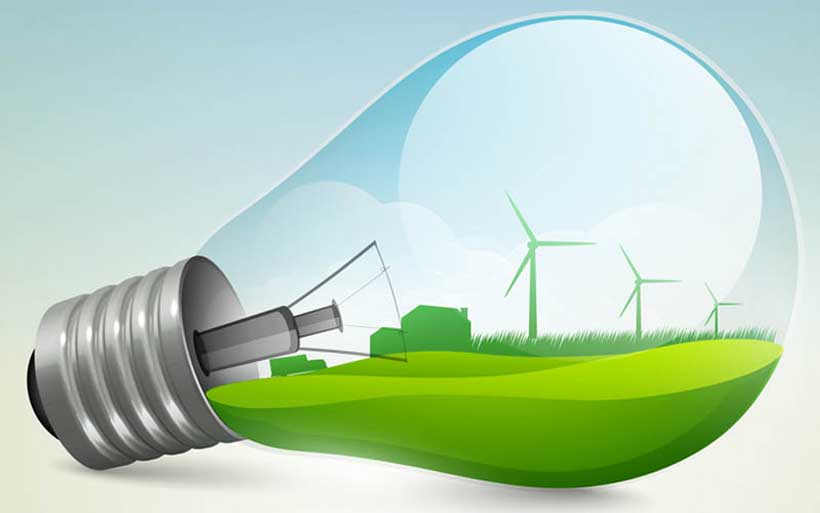 Ambitious energy efficiency policies can keep global energy demand and energy-related carbon-dioxide (CO₂) emissions steady until 2050, according to a new report by the International Energy Agency. Perspectives for the Energy Transition: The Role of Energy Efficiency shows that despite a near-tripling of the world economy and a global population that increases by nearly 2.3 billion, end-use energy efficiency alone can deliver 35% of the cumulative CO₂ savings through 2050 required to meet global climate goals.
Global energy demand grew by 2.1% in 2017 according to IEA estimates, more than twice the growth rate in 2016. At the same time, global energy-related CO₂ emissions increased for the first time in three years, as improvements in global energy efficiency slowed down dramatically to 1.7%.
"Among all energy trends in 2017, the one that worries me the most is the slowdown in energy efficiency improvements," said Dr Fatih Birol, Executive Director of the International Energy Agency. "The rate of improvement that we saw is around half of the rate that is required to meet clean energy transition goals."
IEA analysis in Perspectives for the Energy Transition: The Role of Energy Efficiency demonstrates that on top of a wide range of benefits including cleaner air, energy security, productivity and trade balance improvements, there is a compelling economic case for energy efficiency. But, without further policy efforts, these benefits are unlikely to be realised as less than a third of global final energy demand is covered by efficiency standards today.
Realising the full potential of energy efficiency will require a step-change in investments on the demand side of the energy equation, rising to USD 1.7 trillion per year through 2050, the majority of which is for energy efficiency and the electrification of transport. On the supply side, the focus is on reallocating investments towards renewables and other low-carbon technologies such as nuclear and carbon capture, utilisation and storage.
While the scale of the demand-side investment required may appear challenging, fuel cost savings over the lifetime of most technologies are larger than the investment required, which implies a strong economic benefit that arises from energy efficiency investment. Although there are still many low-hanging fruits that can pay back their initial investment quickly, payback periods are often too long to attract investment from consumers and businesses. Effective policy frameworks are needed to overcome economic and non-economic barriers to energy efficiency and to incentivise adoption of more efficient technologies.
Perspectives for the Energy Transition: The Role of Energy Efficiency demonstrates a compelling economic case for energy efficiency as being essential to make the energy transition affordable, faster and more beneficial to all. The IEA recommends that governments adopt a strategic approach to energy efficiency, supported by well-designed efficiency policies and a strong focus on implementation and enforcement.
Report: Powerful New Policy Options to Scale Up Renewables
A new report by the International Renewable Energy Agency (IRENA), the International Energy Agency (IEA), and the Renewable Energy Policy Network for the 21st Century (REN21), Renewable Energy Policies in a Time of Transition, is an unprecedented collaboration that sheds new light on the policy barriers to increased deployment of renewables and provides a range of options for policymakers to scale-up their ambitions.
Since 2012, renewable energy has accounted for more than half of capacity additions in the global power sector. In 2017 alone a record-breaking 167 GW of renewables capacity was added worldwide. 146 million people are now served by off-grid renewable power, and many small island developing states are advancing rapidly towards targets of 100% renewables.
One of the main rationales behind the call for a higher share of renewables in the energy mix is the urgent threat posed by climate change. Of the 194 parties to the United Nations Framework Convention on Climate Change 145 referred to renewable energy in their nationally determined contributions (NDCs), and 109 included quantified renewable energy targets. Air pollution is also a pressing issue, with an estimated 7.3 million premature deaths per year attributable to household and outdoor air pollution. Energy security is another influencing factor, with small island states particularly affected by security issues and resilience in the face of natural disasters. Finally, countries looking to expand energy access in rural areas are increasingly turning to renewables as the most cost-effective, cleanest and most secure option.
But the pace of the energy transition needs to be substantially accelerated to meet decarbonisation and sustainable development objectives. As outlined in IRENA's recently-released Global Energy Transformation: A Roadmap to 2050, to achieve the two-degree goal of the Paris target, the share of renewables in the primary global energy supply must increase from 15% today to 65% by 2050. Gains in the electricity sector must be matched in end-use sectors such as heating and transportation, which together account for 80% of global energy consumption.
Renewable Energy Policies in a Time of Transition provides policymakers with a comprehensive understanding of the diverse policy options to support an accelerated development of renewables across sectors, technologies, country contexts, energy market structures, and policy objectives, to scale up renewable energy deployment. An updated joint classification of renewable energy policies to illustrate the latest policy developments around the world.
Key areas of focus:
Heating and Cooling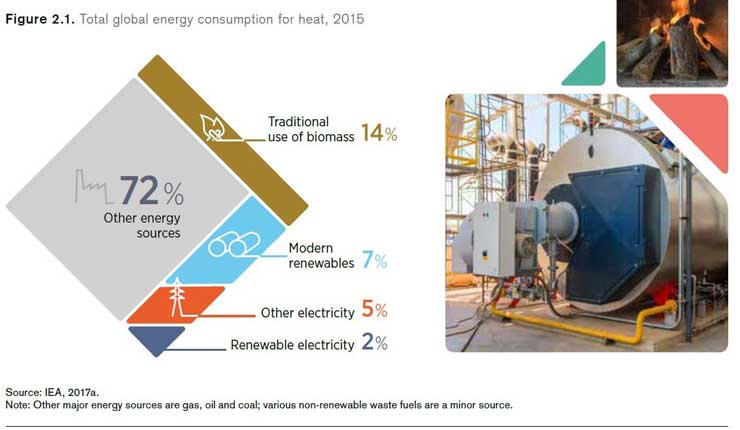 Heating accounted for over 50% of total final energy consumption in 2015, with over 70% of that met by fossil fuels. To increase the use of renewables, a range of policy instruments are required. These include mandates and obligations, which can offer greater certainty of increased deployment; building codes, which implicitly support renewable heating and cooling from renewables by setting energy performance requirements; renewable heat and energy efficiency policies that are closely aligned to leverage synergies and accelerate the pace of transition; fiscal and financial incentives, which reduce the capital costs of renewables; and carbon or energy taxes, which provide important price signals and reduce externalities.
Transport
Transport is the second largest energy end‑use sector, accounting for 29% of total final energy consumption in 2015, and 64.7% of world oil consumption. With the exception of biofuels, there is little practical experience of fostering renewables in transport. Policies and planning should help overcome the immaturity or high cost of certain technologies, inadequate energy infrastructure, sustainability considerations and slow acceptance among users as new technologies and systems are introduced. They should also build improved understanding between decision makers in the energy and transport sectors, so as to enable integrated planning and policy design. Removal of fossil fuel subsidies is also essential, especially in shipping and aviation.
Power sector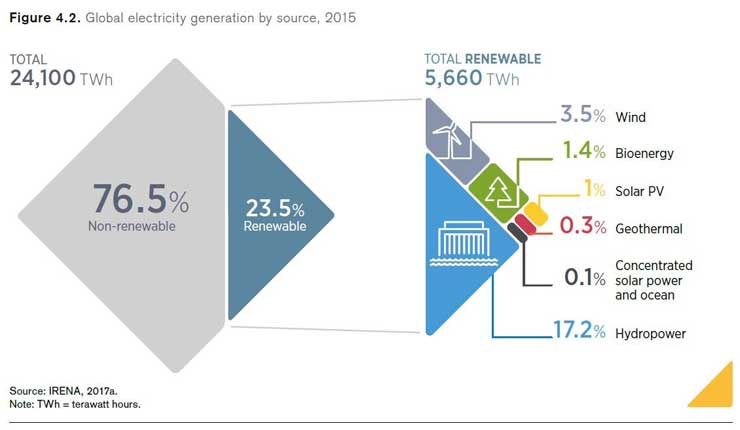 Although the power sector consumed only about a fifth of total final energy consumption in 2015, it has received the most attention in terms of renewable energy support policy. Investments in the sector are largely driven by regulatory policies such as quotas and obligations and pricing instruments, supported by fiscal and financial incentives. Quotas and mandates cascade targets down to electricity producers and consumers, but require a robust framework to monitor and penalize non-compliance. Administratively set pricing policies (like feed-in tariffs and premiums) need to continuously adapt to changing market conditions and the falling cost of technology. Auctions are being increasingly adopted, given their ability for real-price discovery, and have resulted in a five-fold price reduction between 2010 and 2016, though auction design is crucial.
System integration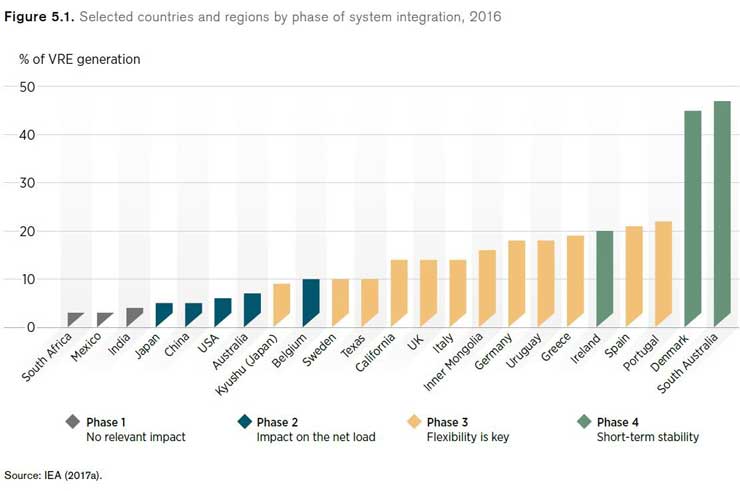 A number of countries and regions are reaching high penetrations of VRE in their power systems, and implementing policies to facilitate their system integration. Strategies for system integration of renewables are crucial to minimise negative impacts, maximize benefits and improve the cost effectiveness of the power system. As VRE shares grow in the power system, so do the challenges of system integration.
A wide range of policies have been adopted to support the growth of renewable energy around the world. The nature of those policies in a given country depends on the maturity of the sector, the particularities of the market segment, and wider socio-economic conditions. As this report shows, as deployment of renewable energy has grown and the sector has matured, policies must adapt and become more sophisticated to ensure the smooth integration of renewables into the wider energy system – including the end-use sectors – and a cost-effective and sustainable energy transition.
Better information needed to improve gender diversity in the clean-energy sector
Recognizing that the energy sector lags when it comes to gender diversity, the Italian Agency for New Technologies, Energy and Sustainable Economic Development (ENEA) and the International Energy Agency (IEA) brought together over 80 experts from governments, industry, academia and other organisations for a day-long workshop last week to discuss ways to improve data on women's participation in the clean-energy sector.
Only limited data on the participation of women in the energy sector is currently available – data that will be critical to building a better understanding of how to make the sector more gender balanced. Without better information, reaching the goal of gender equality by 2030, set under the United Nations Sustainable Development Goal (SDG 5), will be impossible to reach.
Participants shared experiences on data collection and methods of assessment to analyse gender diversity as well as employment opportunities offered to women by the clean energy transition. The workshop was held under the Clean Energy Education and Empowerment Technology Collaboration Programme (also known as the C3E TCP), which seeks to promote higher participation of women in the clean-energy sector.
"The extraordinary and recognised capacity of women to handle complex and multivariable contexts, their openness to innovation and their responsiveness to environmental issues constitute an important asset for the energy transition" said Massimo Gaiani, Director General for Global Affairs of the Italian Ministry of Foreign Affairs and International Cooperation.
Four key messages emerged from the discussions:
1)    Participants recognised the importance of collecting more detailed gender disaggregated data, but stressed the need to clearly define what information was needed and why;
2)    Quantitative data should be supplemented with qualitative information to identify key barriers for women pursuing careers in the energy sector and to develop more targeted solutions to overcoming these challenges;
3)    While comprehensive data is limited, a significant number of national and international efforts to collect information and promote gender already exist and there is opportunity for the Clean Energy Education and Empowerment Technology Collaboration Programme (C3E TCP) to collaborate with other leading institutions working on gender diversity to help build and disseminate knowledge;
4)    Finally, the increased engagement of men to promote and support women's advancement into leadership roles is critical in meeting gender equity and should be fostered.
The meeting also included a dialogue with leading Italian energy companies on a proposal to adopt a common pledge to take action and commitments to achieve gender equality by 2030 (SDG 5). Led by Sweden and Canada with support from the IEA, this new campaign will be launched at a side event to take place at the next Clean Energy Ministerial meeting in Copenhagen on 24 May.
Companies recognised the valuable role that women play in driving innovation and sustainability. Francesca Magliulo, Head of Sustainability and Corporate Social Responsibility of EDISON S.p.A Italy said, "Edison supports this initiative, our experience shows that inclusion and gender diversity creates new capacity to offer innovative solutions to new markets and new customer communities."
Participants also confirmed that the current momentum to advance and accelerate progress on gender equality represents a tremendous opportunity. While the workshop focused on building knowledge and improving data, Elisabeth Marawba of the Department of Energy of South Africa stressed that "we also need to pay attention to the empowerment of women as business-owners and investors and not just focus on the employment aspects of women in clean energy."
The C3E TCP and IEA will work together to expand data and indicators as well as undertake analysis to help fill the knowledge gap on gender diversity and women's empowerment in the energy sector.
Find out more about the C3E TCP programme