Do our Geo-political Confusions derive from our Philosophical Confusion?
[yt_dropcap type="square" font="" size="14″ color="#000″ background="#fff" ] I [/yt_dropcap] t is the task of pundits and political science experts to elucidate, explain and untie our geo-political conundrums and knots, so to speak. It has become a veritable academic cottage industry whose father arguably is none other than Niccolo' Machiavelli. But to judge even by only what can be empirically observed, it seems that the greater the effort of elucidation, the greater the confusion. This is a puzzling paradox which is sure to keep academics of all stripes up at night and very busy for the foreseeable future.
I'd like to modestly propose that this strange paradox of geo-political confusion can perhaps best be explored by analyzing the underlying philosophical confusion, that is to say, a confusion at the level of ideas. For example, one of the most frequent, most brazen attacks on modern thought is the one carried on by assorted Straussian classicists and absolutists of many stripes and persuasions. Straussianism is a respectable conservative philosophy held by the Chicago University philosopher Leo Strauss, which attacks modern relativism, reductionism and positivism. It views "modernity" or modern philosophy as a sort of cancer on today's body politics and resorts to the ancients for answers to modern political perplexities. As it could be expected it is vehemently opposed by the vast majority of liberal progressive philosophies in academia (indeed the predominant majority in academia) which at least attempt a synthesis between the ancients and the moderns even when the tensions between the two remain and the synthesis is not achieved.
The Straussians' stratagem seems to function this way: show that modern and post-modern thought leads to relativism, then that relativism in turn leads to pluralism and multi-culturalism. Thereupon attack multiculturalism and pluralism as a cancer on the body politic and the very unity of NATO, the EU and Western Civilization in general, never mind that quite often these attacks are redolent of the xenophobia and rabid nationalism, even fascism of old. Now, if the reader initially finds all this rather confusing, it is because it is. Without an examination of the underlying philosophical confusions it will probably remain confused.
We have the famous case of some years ago of Strauss and Momigliano branding Isaiah Berlin a shameless relativist and stubbornly persisting in the charge even when Berlin defended himself and denied it in the New York Review of Books. In politics we have none other than the former PM of France Sarkozi and the present PM of Germany Merkel encouraging the demise of the multiculturalist experiment in the European Union. The two don't exactly advocate a return to good old nationalism or fascism, they are far from being right-wingers, but the message come through loud and clear nonetheless: you need to conform and assimilate to European ethos and culture or your life will become quite uncomfortable in the EU. In effect, the issue of multiculturalism has been slowly transformed in one of clash of civilizations; a dangerous explosive issue if there ever was one.
Without going into the more complex political and social aspects of this issue, which I have discussed elsewhere, I'd like, more modestly, to show here that it is a logical and philosophical fallacy to equate pluralism with relativism; that in fact the arguments in that regard are a gross equivocation, a red herring meant to distract from the real agenda of those anti-multicultural right wing politicians (I am thinking here of Wilder, le Penn, Bossi and Grillo, etc. etc.) bend on bringing back good old nationalism, totalitarian regimes, fascism, even advocating secession from the countries in which they operate.
This exploration will focus mostly on the philosophy of hermeneutics of a current modern philosopher: Gianni Vattimo who was a European parliamentarian for a while and whom I had the good fortune of having as a teacher at Yale University in the late seventies in a course he taught there on Giambattista Vico. I distinctly remember some face to face conversations I had with Vattimo. It soon became apparent that he follows a philosophical line which goes directly from Vico to Nietzsche through Heidegger to Hans Georg Gadamar (as student of Heidegger like Strauss and an influential Vico scholar in his own right). In that genealogy Vattimo would be the philosophical great-grandson of Vico, the grandson of Nietzsche/Heidegger and the son of Gadamer. As was the case for his predecessors in the field of hermeneutics beginning with Vico, for Vattimo hermeneutics which etymologically means "interpretation" is much more than one branch of philosophy; it is the constitutive element of philosophy itself. It is well known in philosophical circles that hermeneutics acquired great importance in the 20th century, especially in the "turn to language" as advocated by Heidegger and pioneered by Vico in the 18th century via The New Science.
After this necessary preamble, we will begin with this crucial question: Is pluralism possible without relativism? Some clear definitions may be needed at the outset. What do we mean by pluralism? Essentially this: the idea that there are multiple avenues to truth, multiple forms of truth, and multiple diverse (and potentially radically different) cultural lifeworld expressions operative at the same time and this forms are historical as well as geographical situated in time and space. The Straussians of course debunk this as historicism unconcerned with universals, but then some of them become self-declared experts in Far Eastern cultures to better stand apart from the unwashed ignorant oi polloi. The whole operation begins to smell of elitism. They even go around speaking mandarin knowing full well that few can judge and assess their knowledge of the language. Oh my, are we confused.
What do we mean by relativism? Basically, the belief that all of these various expressions are in some sense "equally true" and/or the notion that even if there were one right final truth to the universe we humans would never be able to ascertain it. As Vico put it, man can only know with absolute certitude only what he himself has made (languages, institutions, history) and to whose origins he can return, not what God and only God has made: i.e., nature and the natural world. Even Plato, who is generally considered the grandfather of absolutists of all persuasions, after recounting the myth of the cave as an allegory of knowledge and truth, exclaims: "only God knows if this is true."
Nevertheless those two views are conjoined so that relativism gets portrayed as a sub-set of pluralism. But is that really the case? Pluralism may indeed be hallmark of postmodernism but not so relativism. Pluralism does not necessarily need to hold that all views are equal, as relativism does. Relativism takes the existence of plurality and then makes a decision that we cannot know how to judge between these various expressions of life and says that they are all equal and not to be compared and not to be judged.
Paradoxically, the statement that all views are equal is an absolute position, and it undermines relativism. The statement that all views are relative and in relation to one another is, in fact, correct. The idea that all views are related to other views and that no view springs out of the ether of Mount Olympus or outside of time and space completely on its own does not mean all those views are equally valid. That is to say, post-postmodernism accepts the pluralism that is already there in the postmodern world and then seeks ways to integrate it. This approach is different than any attempt to reinforce a single narrative (i.e. the modern world as positivists tend to do) upon the various diverse forms of expression in existence.
Enter Gianni Vattimo. His work is built around what he calls "weak thought". Weak thought refers to the station of thought and philosophy in the context of life after modernity–that is after the death of European colonialism, the 20th century's horrors, the rise of globalization, and the end of the Cold War. The opinions, views, and commitments we hold must necessarily be "weakened" in this age which Vico would place in the third era of extreme rationality. Vattimo, as I remember is quite fond of quoting this famous saying of Nietzsche: There are no facts only interpretations and this itself is an interpretation.
Nietzsche called the coming dissolution of modernity (and he was a prophet in that respect), the "fabling of the world." The postmodern world is a fable; or in Vattimo's terms, weak thought, which is to say the kind of logic one sees in fables, myths and fairy tales, is now the "weak" reality of life. According to modern thought which begins with the Descartes and Enlightenment rationalism, life follows an objective system of progress and rationality. But for Nietzsche the modern world's self-view was not fact but interpretation. Vattimo insists in keeping both halves of that Nietzschean aphorism in mind: 1. There are no facts only interpretations and 2. Number 1 is itself an interpretation. The first point undercuts the modern view of pure objectivity. The second point prevents the postmodern insight concerning interpretation to become its own "fact."
Hermeneutics is nothing else but the study of meaning and interpretation. This was brought home to me in the Vico course I took under Vattimo at Yale University in the late seventies, as mentioned above. Later, after writing a Ph.D. dissertation on Vico I ended up writing a book titled Hermeneutics in the Philosophy of Giambattista Vico (Mellen Press, 1993). For Vattimo, what hermeneutics has revealed is a thoroughly pluralized world. He writes that we can no longer believe in a final objective all-encompassing absolute metaphysical view of the universe—that is to say, a universe that perfectly describes the way things actually are.
Lately I have been reviewing Heidegger's thought which I had originally studied in college via a book with which a friend and colleague who is an expert on Heidegger has gifted me (The Cambridge Companion to Heidegger edited by Charles Guignon). What come through in that book is that Heidegger persuasively argued that the attempt by metaphysics to describe rationally all of life under a single heading (God, Being, Truth, etc.) has destroyed our ability to actually live in the world and that the manifestation of this trend in our day is science and the scientific approach (positivism). For Heidegger this tendency to describe, control, and frame existence under the term of metaphysics led to the "oblivion of Being" or the human inability to live graciously in the world. Instead of first living in the mystery of existence, we seek to control, describe, and explain life and end up dehumanizing ourselves. For Heidegger as indeed for the anti-Cartesian Vico earlier, the best way to relate is through a kind of poetic-like relationship to the world. We let it arise and speak to us in its mysterious language instead of trying to impose upon life our categories of thought, for Nature is a shy maiden and will not be violated and dominated and observed naked. The truth too may be a shy maiden not to be used as a weapon of sort. This is what Heidegger describes as the post-metaphysical world. This is redolent of Vico's idea that rationality is composed of the rational but also, and just as importantly, of the poetical and to separate the two is to dehumanize oneself.
Vattimo too argues that this trajectory arises from the early foundations of Christianity, that Christianity eventually destroys an absolutist metaphysics. Atheism is another form of metaphysics for him. The post-metaphysical world, the post-modern world, the world that is an interpreted fable, is one in which there are a plurality of cultures, languages, and life-worlds enacted by various beings on the planet. No one of them can ever be final.
So the crucial question becomes: how do we deal with plurality without falling into the trap of relativism? Vattimo nowhere says that all views are equally valid and, like Berlin, he never declares himself a relativist. For Vattimo the ethical implications of "weak thought" is charity. Love is better than the rejection of love and therefore not all views are equal and we must love each other in our differences or perish.
It is not hard to see that for this version of a postmodern worldview which recommends the "weak power" of love as a guiding ethical construct of a plural world would find unacceptable any theory that denies or represses plurality denying charity and forgiveness. Some of these world views that Vattimo would find flawed include religious fundamentalism, scientific materialism, and last but not least cultural relativism. Vattimo is concerned with bringing views, languages, and peoples at the periphery into the middle of the discourse. Vattimo in effect has given an answer to the Straussian classical absolutists' debunking modern thought. Pluralism can hold on to ethical values that have meaning, practice love and forgiveness across cultural differences, reject violence, intolerance and relativism. Paradoxically, "weak power" unsure of itself overpowers intransigent absolutism sure of itself.
What did Shakespeare say: Maturity is all. I suppose part of maturity at every level is the ability to live with ambiguity. The greater one's ability to live with ambiguity, the more mature one is. Most absolutists seem to be unable to accomplish such a feat; they need absolute certainty and are too clever and elitists by half for their own good. Vattimo's weak thought on the other hand, as a form of pluralism seems to be quite mature, the way cultural relativism can never be. Cultural relativism recoils from the ambiguity of pluralism, of post-metaphysics and historicism taking refuge in the easy position of everything being equally right and so no view can ever be judged.
Indeed one can do worse than becoming a pluralist and a multiculturalist; one can become a relativist or an absolutist. I don't pretend that the above has suddenly made the present confusion in our geo-politics and philosophical ideas suddenly clear and certain, but perhaps it can supply to thread to follow that may hopefully get us out of the confusing labyrinth in which we seem to be stuck in.
Modernizing Higher Education for Economic Growth
Malawi has fewer affordable universities than it has students who want to go to them, leaving college out of reach for many. Enrollment in tertiary education is low, but more and more Malawians hunger for it. With IDA financing from the World Bank, Malawian citizens now have more options.
The five-year, $51 million Skills Development Project is helping public universities to strengthen and increase public access to programs that cater to sectors critical to Malawi's economic growth. These include engineering, natural resources extraction, agriculture, construction, health services, tourism, and hospitality.
Beyond the establishment of the National Council for Higher Education, project funding supports a range of activities at institutions, including improving course offerings and staff skills, renovating infrastructure, and setting up satellite facilities.
Market-relevant course offerings
To expand the range of scientific skills and mid-level technicians needed to fuel Malawi's economy, 39 new programs have been developed by universities, with the participation of the private sector ensuring their relevance to the economy. By 2017, these programs contributed 44 percent of the new student intake to public universities.
Diploma programs at universities have also been bolstered to increase the training of mid-level career personnel needed by various trades. For example, the University of Malawi's Polytechnic now offers 10 technician-level engineering diploma programs in subjects like mining, telecommunications, and health. By 2019, these programs are expected to have enrolled 750 diploma students.
Modernized facilities
One of the major constraints to increasing student enrollment at public universities has been space. At Chancellor College, where most of Malawi's secondary school science teachers are trained, more and better infrastructure is expected to make it possible to boost student intake by 65 percent. This includes modernized laboratories and four new lecture halls seating 350 students each.
This will go a long way toward meeting an increase in the demand for science teachers, following the introduction of physics and chemistry as separate subjects in the secondary school curriculum.
Mzuzu University is heading to be the country's center of excellence in tourism training. It is constructing a purpose-built tourism and hospitality facility that will produce graduates who are industry-ready.
Online and distance learning
The Lilongwe University of Agriculture and Natural Resources (LUANAR) and Mzuzu have introduced online and distance learning (ODL), resulting in increased enrollment at both. At LUANAR, online students make up 10 percent of the total student population. Between 2014 and 2016, Mzuzu increased its intake of online students tenfold. With more affordable fees and flexible options, the ODL system has helped to open access to higher education for many people nationwide.
"I enrolled through ODL because of its flexibility. I continue with my everyday life and yet I am studying at the same time. This is wonderful," says 45-year-old Joe Mwenye, a father of five and a teacher in Ngabu in Chikwawa district. He is studying at LUANAR for a Bachelor of Science in Agricultural Extension.
LUANAR has three ODL centers: one in the town of Mzuzu, another in Lilongwe, and another in Blantyre. Mzuzu University is opening satellite centers in Balaka, Karonga, Mulanje, and Lilongwe.
The Depth of Taboo: Social Issues in South Asia
Rarely does a geopolitical handbook also make such large and important contributions to uncomfortably critical social issues. This handbook is that rare example. The author Aryal takes our MD readers deep into some disturbing discussions – caste systems, systematic violence against women, rape, honor killings, gender stigmatizing, and societal sexism – not to just anecdotally expose people to some of the continued living horrors afflicting important regions of the world but to systematically analyze such atrocities so that their long-term political, economic, social, and diplomatic consequences are revealed.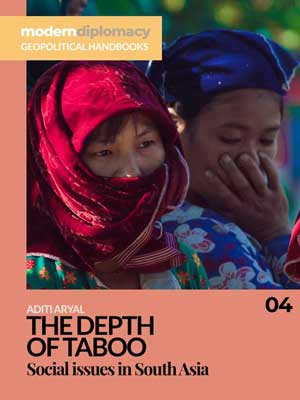 What many around the world do not realize is how crippling these gross abuses of human decency can be for a nation and region writ large: these are not just individual crimes to be noted and then forgotten. The failure of societies, the failure of GLOBAL society, to make more effective progress and take a more rigid stand against injustice is a black mark on all countries, on all of us. This handbook in its own small way strives to be a light within that darkness and as such it is both informative and courageous. While the readers of MD will not find the content of this particular handbook for the faint of heart, the importance of acquiring this knowledge, of becoming more aware of the world that we live in as it truly is in so many places, should be considered a duty of all those fortunate enough to not be born into states where such systemic violence still exists and largely goes unchallenged.
The title of this work is no accident and no shameless marketing attempt to attract more readers. Rather, it is exposing in a single word the reason why overcoming systemic violence based on gender is so difficult. Social taboos run deep in every region, state, city, town, village. We will likely not succeed in eliminating them from the social conscience of people. But the attempt to ameliorate the power of taboo, its power to push rationality out and pull insanity in, is a noble one that all of us at the editorial staff at MD recognize as silently essential for the cause of future peace on so many different levels. The battle against taboo is the secret front end of the war against gender violence and oppression. Ultimately, the criminal justice systems of societies must improve to remedy those actions not prevented from occurring. But the real long-term comprehensive solution will be the effort to eliminate the fear of social taboos, to eliminate the stigma that drives many to commit ignorant violence in the first place.
Women and girls with autism must be empowered to overcome discrimination they face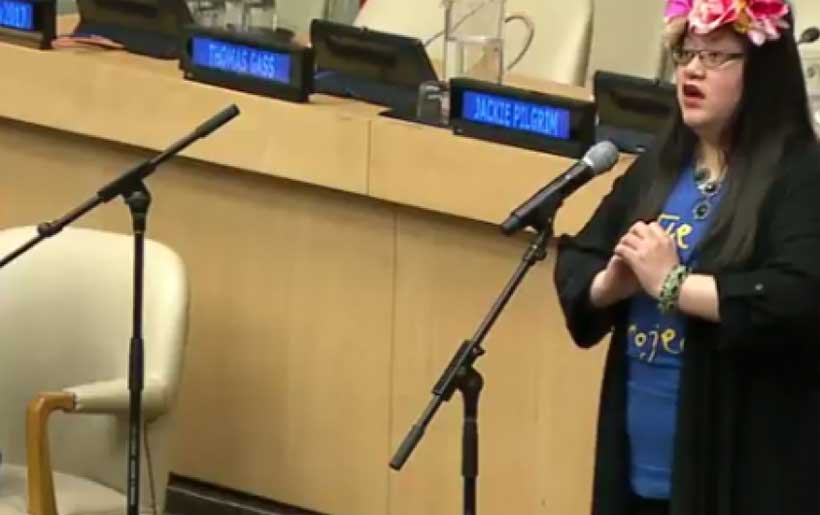 On World Autism Awareness Day, United Nations Secretary-General António Guterres has joined the global call to empower women and girls with autism and involve them and their advocates in policy and decision-making to address the discrimination and other challenges they face.
"They face […] barriers to accessing education and employment on an equal footing with others, denial of their reproductive rights and the freedom to make their own choices, and a lack of involvement in policy making on matters that concern them," said the Secretary-General in his message on the Day.
Emphasizing that "our work for gender equality and women's empowerment must reach all the world's women and girls," he stressed that the international community's efforts to achieve the Sustainable Development Goals (SDGs) must uphold the 2030 Agenda's core promise to leave no one behind.
The Goals and the landmark framework from which they emerged were adopted by UN Member States three years ago. Together they aim to wipe out poverty and boost equality by putting the world on a more sustainable economic, social and environmental path by 2030.
"On World Autism Awareness Day, let us reaffirm our commitment to promote the full participation of all people with autism, and ensure they have the necessary support to be able to exercise their rights and fundamental freedoms," concluded the Mr. Guterres.
Autism is a lifelong neurological condition that manifests during early childhood, irrespective of gender, race or socio-economic status. The term Autism Spectrum refers to a range of characteristics.
Autism is mainly characterized by its unique social interactions, non-standard ways of learning, keen interests in specific subjects, inclination to routines, challenges in typical communications and particular ways of processing sensory information.
The rate of autism in all regions of the world is high and the lack of understanding has a tremendous impact on the individuals, their families and communities.
The World Day is marked annually on 2 April, and this year's official UN commemoration will be on Thursday, 5 April, with a half-day programme in New York entitled Empowering Women and Girls with Autism, that will feature a keynote address from Julia Bascom, Executive Director, Autistic Self Advocacy Network.