Do our Geo-political Confusions derive from our Philosophical Confusion?
[yt_dropcap type="square" font="" size="14″ color="#000″ background="#fff" ] I [/yt_dropcap] t is the task of pundits and political science experts to elucidate, explain and untie our geo-political conundrums and knots, so to speak. It has become a veritable academic cottage industry whose father arguably is none other than Niccolo' Machiavelli. But to judge even by only what can be empirically observed, it seems that the greater the effort of elucidation, the greater the confusion. This is a puzzling paradox which is sure to keep academics of all stripes up at night and very busy for the foreseeable future.
I'd like to modestly propose that this strange paradox of geo-political confusion can perhaps best be explored by analyzing the underlying philosophical confusion, that is to say, a confusion at the level of ideas. For example, one of the most frequent, most brazen attacks on modern thought is the one carried on by assorted Straussian classicists and absolutists of many stripes and persuasions. Straussianism is a respectable conservative philosophy held by the Chicago University philosopher Leo Strauss, which attacks modern relativism, reductionism and positivism. It views "modernity" or modern philosophy as a sort of cancer on today's body politics and resorts to the ancients for answers to modern political perplexities. As it could be expected it is vehemently opposed by the vast majority of liberal progressive philosophies in academia (indeed the predominant majority in academia) which at least attempt a synthesis between the ancients and the moderns even when the tensions between the two remain and the synthesis is not achieved.
The Straussians' stratagem seems to function this way: show that modern and post-modern thought leads to relativism, then that relativism in turn leads to pluralism and multi-culturalism. Thereupon attack multiculturalism and pluralism as a cancer on the body politic and the very unity of NATO, the EU and Western Civilization in general, never mind that quite often these attacks are redolent of the xenophobia and rabid nationalism, even fascism of old. Now, if the reader initially finds all this rather confusing, it is because it is. Without an examination of the underlying philosophical confusions it will probably remain confused.
We have the famous case of some years ago of Strauss and Momigliano branding Isaiah Berlin a shameless relativist and stubbornly persisting in the charge even when Berlin defended himself and denied it in the New York Review of Books. In politics we have none other than the former PM of France Sarkozi and the present PM of Germany Merkel encouraging the demise of the multiculturalist experiment in the European Union. The two don't exactly advocate a return to good old nationalism or fascism, they are far from being right-wingers, but the message come through loud and clear nonetheless: you need to conform and assimilate to European ethos and culture or your life will become quite uncomfortable in the EU. In effect, the issue of multiculturalism has been slowly transformed in one of clash of civilizations; a dangerous explosive issue if there ever was one.
Without going into the more complex political and social aspects of this issue, which I have discussed elsewhere, I'd like, more modestly, to show here that it is a logical and philosophical fallacy to equate pluralism with relativism; that in fact the arguments in that regard are a gross equivocation, a red herring meant to distract from the real agenda of those anti-multicultural right wing politicians (I am thinking here of Wilder, le Penn, Bossi and Grillo, etc. etc.) bend on bringing back good old nationalism, totalitarian regimes, fascism, even advocating secession from the countries in which they operate.
This exploration will focus mostly on the philosophy of hermeneutics of a current modern philosopher: Gianni Vattimo who was a European parliamentarian for a while and whom I had the good fortune of having as a teacher at Yale University in the late seventies in a course he taught there on Giambattista Vico. I distinctly remember some face to face conversations I had with Vattimo. It soon became apparent that he follows a philosophical line which goes directly from Vico to Nietzsche through Heidegger to Hans Georg Gadamar (as student of Heidegger like Strauss and an influential Vico scholar in his own right). In that genealogy Vattimo would be the philosophical great-grandson of Vico, the grandson of Nietzsche/Heidegger and the son of Gadamer. As was the case for his predecessors in the field of hermeneutics beginning with Vico, for Vattimo hermeneutics which etymologically means "interpretation" is much more than one branch of philosophy; it is the constitutive element of philosophy itself. It is well known in philosophical circles that hermeneutics acquired great importance in the 20th century, especially in the "turn to language" as advocated by Heidegger and pioneered by Vico in the 18th century via The New Science.
After this necessary preamble, we will begin with this crucial question: Is pluralism possible without relativism? Some clear definitions may be needed at the outset. What do we mean by pluralism? Essentially this: the idea that there are multiple avenues to truth, multiple forms of truth, and multiple diverse (and potentially radically different) cultural lifeworld expressions operative at the same time and this forms are historical as well as geographical situated in time and space. The Straussians of course debunk this as historicism unconcerned with universals, but then some of them become self-declared experts in Far Eastern cultures to better stand apart from the unwashed ignorant oi polloi. The whole operation begins to smell of elitism. They even go around speaking mandarin knowing full well that few can judge and assess their knowledge of the language. Oh my, are we confused.
What do we mean by relativism? Basically, the belief that all of these various expressions are in some sense "equally true" and/or the notion that even if there were one right final truth to the universe we humans would never be able to ascertain it. As Vico put it, man can only know with absolute certitude only what he himself has made (languages, institutions, history) and to whose origins he can return, not what God and only God has made: i.e., nature and the natural world. Even Plato, who is generally considered the grandfather of absolutists of all persuasions, after recounting the myth of the cave as an allegory of knowledge and truth, exclaims: "only God knows if this is true."
Nevertheless those two views are conjoined so that relativism gets portrayed as a sub-set of pluralism. But is that really the case? Pluralism may indeed be hallmark of postmodernism but not so relativism. Pluralism does not necessarily need to hold that all views are equal, as relativism does. Relativism takes the existence of plurality and then makes a decision that we cannot know how to judge between these various expressions of life and says that they are all equal and not to be compared and not to be judged.
Paradoxically, the statement that all views are equal is an absolute position, and it undermines relativism. The statement that all views are relative and in relation to one another is, in fact, correct. The idea that all views are related to other views and that no view springs out of the ether of Mount Olympus or outside of time and space completely on its own does not mean all those views are equally valid. That is to say, post-postmodernism accepts the pluralism that is already there in the postmodern world and then seeks ways to integrate it. This approach is different than any attempt to reinforce a single narrative (i.e. the modern world as positivists tend to do) upon the various diverse forms of expression in existence.
Enter Gianni Vattimo. His work is built around what he calls "weak thought". Weak thought refers to the station of thought and philosophy in the context of life after modernity–that is after the death of European colonialism, the 20th century's horrors, the rise of globalization, and the end of the Cold War. The opinions, views, and commitments we hold must necessarily be "weakened" in this age which Vico would place in the third era of extreme rationality. Vattimo, as I remember is quite fond of quoting this famous saying of Nietzsche: There are no facts only interpretations and this itself is an interpretation.
Nietzsche called the coming dissolution of modernity (and he was a prophet in that respect), the "fabling of the world." The postmodern world is a fable; or in Vattimo's terms, weak thought, which is to say the kind of logic one sees in fables, myths and fairy tales, is now the "weak" reality of life. According to modern thought which begins with the Descartes and Enlightenment rationalism, life follows an objective system of progress and rationality. But for Nietzsche the modern world's self-view was not fact but interpretation. Vattimo insists in keeping both halves of that Nietzschean aphorism in mind: 1. There are no facts only interpretations and 2. Number 1 is itself an interpretation. The first point undercuts the modern view of pure objectivity. The second point prevents the postmodern insight concerning interpretation to become its own "fact."
Hermeneutics is nothing else but the study of meaning and interpretation. This was brought home to me in the Vico course I took under Vattimo at Yale University in the late seventies, as mentioned above. Later, after writing a Ph.D. dissertation on Vico I ended up writing a book titled Hermeneutics in the Philosophy of Giambattista Vico (Mellen Press, 1993). For Vattimo, what hermeneutics has revealed is a thoroughly pluralized world. He writes that we can no longer believe in a final objective all-encompassing absolute metaphysical view of the universe—that is to say, a universe that perfectly describes the way things actually are.
Lately I have been reviewing Heidegger's thought which I had originally studied in college via a book with which a friend and colleague who is an expert on Heidegger has gifted me (The Cambridge Companion to Heidegger edited by Charles Guignon). What come through in that book is that Heidegger persuasively argued that the attempt by metaphysics to describe rationally all of life under a single heading (God, Being, Truth, etc.) has destroyed our ability to actually live in the world and that the manifestation of this trend in our day is science and the scientific approach (positivism). For Heidegger this tendency to describe, control, and frame existence under the term of metaphysics led to the "oblivion of Being" or the human inability to live graciously in the world. Instead of first living in the mystery of existence, we seek to control, describe, and explain life and end up dehumanizing ourselves. For Heidegger as indeed for the anti-Cartesian Vico earlier, the best way to relate is through a kind of poetic-like relationship to the world. We let it arise and speak to us in its mysterious language instead of trying to impose upon life our categories of thought, for Nature is a shy maiden and will not be violated and dominated and observed naked. The truth too may be a shy maiden not to be used as a weapon of sort. This is what Heidegger describes as the post-metaphysical world. This is redolent of Vico's idea that rationality is composed of the rational but also, and just as importantly, of the poetical and to separate the two is to dehumanize oneself.
Vattimo too argues that this trajectory arises from the early foundations of Christianity, that Christianity eventually destroys an absolutist metaphysics. Atheism is another form of metaphysics for him. The post-metaphysical world, the post-modern world, the world that is an interpreted fable, is one in which there are a plurality of cultures, languages, and life-worlds enacted by various beings on the planet. No one of them can ever be final.
So the crucial question becomes: how do we deal with plurality without falling into the trap of relativism? Vattimo nowhere says that all views are equally valid and, like Berlin, he never declares himself a relativist. For Vattimo the ethical implications of "weak thought" is charity. Love is better than the rejection of love and therefore not all views are equal and we must love each other in our differences or perish.
It is not hard to see that for this version of a postmodern worldview which recommends the "weak power" of love as a guiding ethical construct of a plural world would find unacceptable any theory that denies or represses plurality denying charity and forgiveness. Some of these world views that Vattimo would find flawed include religious fundamentalism, scientific materialism, and last but not least cultural relativism. Vattimo is concerned with bringing views, languages, and peoples at the periphery into the middle of the discourse. Vattimo in effect has given an answer to the Straussian classical absolutists' debunking modern thought. Pluralism can hold on to ethical values that have meaning, practice love and forgiveness across cultural differences, reject violence, intolerance and relativism. Paradoxically, "weak power" unsure of itself overpowers intransigent absolutism sure of itself.
What did Shakespeare say: Maturity is all. I suppose part of maturity at every level is the ability to live with ambiguity. The greater one's ability to live with ambiguity, the more mature one is. Most absolutists seem to be unable to accomplish such a feat; they need absolute certainty and are too clever and elitists by half for their own good. Vattimo's weak thought on the other hand, as a form of pluralism seems to be quite mature, the way cultural relativism can never be. Cultural relativism recoils from the ambiguity of pluralism, of post-metaphysics and historicism taking refuge in the easy position of everything being equally right and so no view can ever be judged.
Indeed one can do worse than becoming a pluralist and a multiculturalist; one can become a relativist or an absolutist. I don't pretend that the above has suddenly made the present confusion in our geo-politics and philosophical ideas suddenly clear and certain, but perhaps it can supply to thread to follow that may hopefully get us out of the confusing labyrinth in which we seem to be stuck in.
The Marriage of Social Media and Social Justice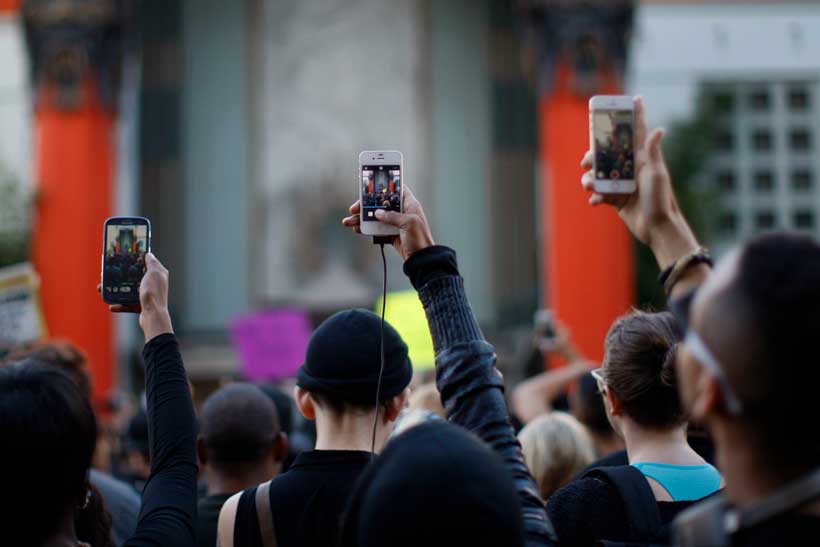 The aggressive use of different online platforms during electoral campaigns has made it evident that many political leaders are widely using platforms such as Twitter and Facebook to spread their election mandates and garner widespread support. Moreover, in the past few years, the use of social media has gone beyond politics and has contributed towards starting a global conversation amongst the citizens of the world to spread socially relevant messages and demand justice.
In today's global world where many countries witness gross violation of human rights and political and social chaos, different online platforms have become a safe place to share their ordeal and demand justice. It is not just used by social workers and activists, but on several occasions ordinary citizens have taken to Twitter, Facebook or Vine to share their stories. Internet provides us with platforms where we can fight for our rights and against injustice, support people from all across the world in gaining justice, and helping people become better informed citizens of the world. The massive explosion of videos, hashtags and photographs on Twitter which are retweeted thousands of times, help people voice their concerns to a billion people in a span of seconds, especially when they think they are not being heard. From #BlackLivesMatter, #MeToo, #BreakTheSilence to #BringBackOurGirls, digital platforms have helped start a social revolution to help marginalised, oppressed and minorities fight for their rights. The internet helps people validate their experiences, share them as they happened without any colourful interpretation by media giants.
Recently, a Saudi Arabian teenager, Rahaf-Al-Qunun escaped from her family while they were on a trip, boarded a flight to Australia via Bangkok to seek asylum. However, she was held at the Bangkok airport by Thai and Saudi authorities and was asked to return to Kuwait where her family was waiting got her. She refused to get on a flight to Kuwait and barricaded herself into a hotel room. She used Twitter to share her story and sent out several tweets requesting for asylum from various countries. Her ordeal was picked up by the Human Rights Watch and journalists from across the world and later in the week, she was granted asylum in Canada.
Another successful social media campaign resulted in the problem of 'Upskirting' become a crime in the United Kingdom, after the UK Parliament passed a bill. The issue came to forefront when a woman in the UK was a victim of upskirting during a concert. She shared her story via a Facebook post, which went viral and was picked up and shared by thousands of women, who also shared their experiences. After the overwhelming response, she started an online petition to criminalize upskirting which was signed by over 50,000 people. This petition was picked up by a member of Parliament and was introduced as a Private Members Bill. After overcoming parliamentary obstacles, the bill was passed as a legislation.
Sharing issues and starting a dialogue on the internet with millions of people can help bring about radical changes in our society and help push social movements in the forefront of relevant authorities and mainstream media. It can help gather rallies and hold protests in a small amount of time and bring about real change.
Moreover, social media platforms are also being widely used to hold people accountable for their offensive actions and speeches. This was held true when famous actor Kevin Hart had to step down as a host at the Oscars after a public outcry regarding his offensive and homophobic tweets. This also holds true in the case of famous writer-director James Gunn who was fired from Walt Disney Productions due to his offensive tweets on molestation and paedophilia written 10 years ago. As it is famously said, 'what is written on the internet stays there forever,' the rise of social accountability helps hold people responsible for their actions and demand justice.
However, with the increase in the use of online platforms, it is sometimes possible that 'fiction might find a way to become a fact.' When a story is shared on Facebook or Twitter, there is no way to ascertain whether the facts shared are true or false. Due to this, social media can also ruin innocent people's lives. People who are wrongly accused of rape, murder, paedophilia and theft on social media, not only take an emotional and financial toll, they are immediately fired from their jobs, and their careers are ruined. Moreover, people make quick judgments regarding everything we read on the internet without having all the facts and knowledge. Our reactions can have irreversible repercussions. For instance, in Vancouver in 2011, a drunk guy got into a fight and ended up stabbing a teenager through the neck. This incident was quickly taken up on social media and people named the 'wrong guy' in their posts. This nearly destroyed his life as he was immediately dropped from his job and sent death threats. Eventually the truth came out, but the social media frenzy had destroyed this individual's life. Therefore, it is imperative that we do our due diligence before posting or believing anything we see on social media.
In my opinion, the plethora of online platforms available to the citizens of the world can be used in an extremely beneficial manner creating a positive environment. All it takes is one person to come forward with his/her story, which encourages thousands to come forward and share their experiences. It can help people deal with their inner demons, share their ordeals and also help overcome with any kind of mental illness. It is always said that it is easy to share your ordeals with a stranger, I believe that internet connects people to millions of strangers who not only sympathize but can also empathize with the situation. Even though I am aware that the internet can become a place of horror for many people, with regards to online bullying, cyber-crime, body shaming and so on, I do believe it has more positive implications than negative. It is a tool which needs to used wisely and can have long-lasting positive impact on the world.
In this ever-growing world of online platforms and the rise of social revolution where more and more people are sharing their battles and ordeals each day, digital media provides people with an unbiased platform to fight for their rights. They help in spreading socially relevant messages and stories amongst billion of people and bring to our attention different issues faced by people in different countries. Whether it is the oppressed Saudi Arabian women or the unfair treatment of the African-American community, or even the gross human rights violations faced by citizens of war-torn countries, the stories posted online lead to an international outcry for justice, attract attention of rule-makers, non-governmental organisations, journalists and help hold authorities and people accountable for their actions. But at the same time, we must also be wary and cautious of the stories we read on social media and make informed decisions.
The 'Beauty Premium' and other forms of stereotyping are real, and they're a workplace problem
People say "seeing is believing", but that's wrong. The truth is, "I will see it when I believe it".
As an academic psychologist I have spent years, and run dozens of experiments, looking at unconscious or implicit bias and its consequences. I consider factors such as looks, ethnicity, age and gender, to see if they influence world-of-work decisions such as hiring, promotion, salary. 
The short answer is that all these factors make a difference, even though they play no real role in the evaluated person's performance. Beliefs guide the facts we see. They shouldn't, it's unfair. But they do. The so-called 'Beauty Premium' is real, as are a host of other biases.
Taking decisions this way is not unnatural.  Evolution has fashioned us to infer, to fill in knowledge gaps. Is that rustle in the grass the wind, or a snake? Assume, infer, and take the conservative decision. That's how we survive.
But using inference or stereotypes to guide staffing decisions is not effective because the right candidate may be overlooked and the 'right-looking' but wrong candidate selected.
The point is we are very quick to size people up – age, sex, appearance, even height. We fill in the blanks and give them a price tag in a stereotypically consistent way. The problem is that once we decide about something we try to justify it because we don't like to admit we were wrong.
One study I know asked people to vote on the basis of photos, as if they showed candidates running for public office. Afterwards, the voters were given information about the 'candidates' (e.g., political preferences, values, etc.) and then asked to vote again. Despite now having relevant information the voters hardly changed their opinions.
I thought this might be due to past experience – perhaps people have a learned stereotype of what a 'Leader' should look like? So I repeated the experiment with small children, too young to have learned bias, showing them pairs of photos and asking who would make the best captain of a boat (a position of responsibility they could understand). I asked some adults to do the same test. The children and the adults chose the same photos. No experiential factor could explain the choices, it had to be nature.
But, perhaps the motivation or education level of the testers played a role? So I did a similar experiment with kids using photos of candidates for elected positions at the Association of Psychological Science (APS). All the voters and candidates were scientific psychologists. But results were the same. When no photo was available in the original ballot material the APS members voted on the basis of publication record (a reasonably good proxy for the knowledge, status, and success of the candidates). However, when there had been photos included in the ballot materials nothing mattered but the face.
Maybe business people would take decisions in a more rational way? So, we asked experimental subjects to look at photos of managers in a large multinational company, and then asked them to judge the mangers for competence and personality. We accounted statistically for everything possible – age, qualifications, and so forth. Those managers who rated higher on looks earned more.
Implicit bias is even worse for women. Factors such as being overweight count against women even more than they do for men. And it's not just appearance. I worked with a Swiss multinational looking at the transcripts of their internal performance evaluations, and statistically controlled for everything possible.  Men had a much higher likelihood of being described in a positive way; for example, "he really knows how to put his foot down" compared to a similar woman, who "really knows how to use her elbows".
Age discrimination was also rife across the board, even though for high-level, cognitively complex jobs there is zero correlation between performance and age. In short, age and being male predicted future job and salary levels.
So women (and anyone else who does not fit role expectations) are walking on eggs. It's a double bind. They must demonstrate exceptional competence to be seen as equal in ability to men, but must also avoid threatening them with competence and apparent lack of warmth, or behaviour that violates social stereotypes.
An experiment run by a professor at Yale University demonstrated the penalty for violating these social norms. One male and one female actor were each asked to record two versions of the same interview, one where they were calm and one showing some anger. Their answers were the same so rationally, the man and woman should have been ranked the same in the same condition. But it turns out that if a man shows anger it is interpreted completely differently. Men can show their "guts." Women are not allowed to show anger because they are supposed to be nice, nurturing and kind. When subjects were asked to rank the two actors, the man was seen as higher status and more competent, and offered 50 per cent higher salary. The woman was seen as out of control.
There are ways to reduce bias in the workplace. The first is to be aware of your own biases. Then you can take steps to eliminate them and so reduce discrimination.
Second is accountability.  Decisions need to be justified, with objective indicators. Be aware that every piece of information can introduce bias. How the call for applications is made – certain words will attract or discourage women. What information applicants are asked for, including photos, can matter. Who does the initial screening, and is it objective or just personal opinion?  Are the screeners different from the interview panel?  Are the same interview questions asked of all candidates and is the information aggregated independently? Are validated psychometric tests used (e.g., the most used test in the business world, the MBTI, is actually useless; it has no predictive validity).
Data is also key, it allows us to track what is happening, reveals unconscious bias and creates awareness.
Finally – men. We are part of the problem but also part of the solution. If we champion the cause we can reduce these biases. This is our problem too, not just a problem for women or minorities. Taking decisions correctly is not only the ethical thing to do, in the long run it is the economical and rational thing to do.
Source: ILO
Rising human trafficking takes on 'horrific dimensions'
A new UN report published on Monday shows that human trafficking is on the rise and taking on "horrific dimensions", with sexual exploitation of victims the main driver. Children now account for 30 per cent of those being trafficked, and far more girls are detected than boys.
The study from the United Nations Office on Drugs and Crime (UNODC, draws on information from 142 countries, examining trafficking trends and patterns. Yury Fedotov, Executive Director of UNODC, said that "human trafficking has taken on horrific dimensions as armed groups and terrorists use it to spread fear and gain victims to offer as incentives to recruit new fighters," citing child soldiers, forced labour and sexual slavery as examples.
While the average numbers of reported victims had fluctuated during the earlier years for which UNODC had collected data, the global trend has shown a steady increase since 2010. Asia and the Americas are the regions which have seen the largest increase in the numbers of victims detected, which may be explained by improved methods of detecting, recording and reporting data on trafficking – or a real increase in the number of victims.
Most victims of trafficking detected outside their region of origin are from East Asia, followed by sub-Saharan Africa: whilst there has been an increase in the number of convictions for trafficking in these regions, the study concluding that large areas of impunity still exist in many Asian and African countries, and conviction rates for trafficking remain very low.
Trafficking for sexual exploitation is the most prevalent form in European countries, whilst in sub-Saharan Africa and the Middle East, forced labour is the main factor driving the illicit trade. Women and girls make up most trafficking victims worldwide: almost three-quarters of them are trafficked for sexual exploitation, and 35 per cent (women and girls) are trafficked for forced labour.
Armed conflict the focus
The main focus of the report is on the impact of armed conflict on trafficking. In conflict zones, where the rule of law is weak, and civilians have little protection from crime, armed groups and criminals may take the opportunity to traffic them. One example given in the study is the phenomenon of girls and young women in refugee camps in the Middle East being "married off" without their consent and subjected to sexual exploitation in neighbouring countries.
Addressing human trafficking is a key part of the UN Sustainable Development Agenda, requiring Member States to monitor progress in tackling the problem, and report the number of victims by sex, age and form of exploitation.
However, significant gaps in knowledge remain, with many countries in sub-Saharan Africa, South Asia and some parts of East Asia still lacking sufficient capacity to record and share data on trafficking in persons. "This report shows that we need to step up technical assistance and strengthen cooperation, to support all countries to protect victims and bring criminals to justice, and achieve the Sustainable Development Goals," said Mr. Fedotov.