Do our Geo-political Confusions derive from our Philosophical Confusion?
[yt_dropcap type="square" font="" size="14″ color="#000″ background="#fff" ] I [/yt_dropcap] t is the task of pundits and political science experts to elucidate, explain and untie our geo-political conundrums and knots, so to speak. It has become a veritable academic cottage industry whose father arguably is none other than Niccolo' Machiavelli. But to judge even by only what can be empirically observed, it seems that the greater the effort of elucidation, the greater the confusion. This is a puzzling paradox which is sure to keep academics of all stripes up at night and very busy for the foreseeable future.
I'd like to modestly propose that this strange paradox of geo-political confusion can perhaps best be explored by analyzing the underlying philosophical confusion, that is to say, a confusion at the level of ideas. For example, one of the most frequent, most brazen attacks on modern thought is the one carried on by assorted Straussian classicists and absolutists of many stripes and persuasions. Straussianism is a respectable conservative philosophy held by the Chicago University philosopher Leo Strauss, which attacks modern relativism, reductionism and positivism. It views "modernity" or modern philosophy as a sort of cancer on today's body politics and resorts to the ancients for answers to modern political perplexities. As it could be expected it is vehemently opposed by the vast majority of liberal progressive philosophies in academia (indeed the predominant majority in academia) which at least attempt a synthesis between the ancients and the moderns even when the tensions between the two remain and the synthesis is not achieved.
The Straussians' stratagem seems to function this way: show that modern and post-modern thought leads to relativism, then that relativism in turn leads to pluralism and multi-culturalism. Thereupon attack multiculturalism and pluralism as a cancer on the body politic and the very unity of NATO, the EU and Western Civilization in general, never mind that quite often these attacks are redolent of the xenophobia and rabid nationalism, even fascism of old. Now, if the reader initially finds all this rather confusing, it is because it is. Without an examination of the underlying philosophical confusions it will probably remain confused.
We have the famous case of some years ago of Strauss and Momigliano branding Isaiah Berlin a shameless relativist and stubbornly persisting in the charge even when Berlin defended himself and denied it in the New York Review of Books. In politics we have none other than the former PM of France Sarkozi and the present PM of Germany Merkel encouraging the demise of the multiculturalist experiment in the European Union. The two don't exactly advocate a return to good old nationalism or fascism, they are far from being right-wingers, but the message come through loud and clear nonetheless: you need to conform and assimilate to European ethos and culture or your life will become quite uncomfortable in the EU. In effect, the issue of multiculturalism has been slowly transformed in one of clash of civilizations; a dangerous explosive issue if there ever was one.
Without going into the more complex political and social aspects of this issue, which I have discussed elsewhere, I'd like, more modestly, to show here that it is a logical and philosophical fallacy to equate pluralism with relativism; that in fact the arguments in that regard are a gross equivocation, a red herring meant to distract from the real agenda of those anti-multicultural right wing politicians (I am thinking here of Wilder, le Penn, Bossi and Grillo, etc. etc.) bend on bringing back good old nationalism, totalitarian regimes, fascism, even advocating secession from the countries in which they operate.
This exploration will focus mostly on the philosophy of hermeneutics of a current modern philosopher: Gianni Vattimo who was a European parliamentarian for a while and whom I had the good fortune of having as a teacher at Yale University in the late seventies in a course he taught there on Giambattista Vico. I distinctly remember some face to face conversations I had with Vattimo. It soon became apparent that he follows a philosophical line which goes directly from Vico to Nietzsche through Heidegger to Hans Georg Gadamar (as student of Heidegger like Strauss and an influential Vico scholar in his own right). In that genealogy Vattimo would be the philosophical great-grandson of Vico, the grandson of Nietzsche/Heidegger and the son of Gadamer. As was the case for his predecessors in the field of hermeneutics beginning with Vico, for Vattimo hermeneutics which etymologically means "interpretation" is much more than one branch of philosophy; it is the constitutive element of philosophy itself. It is well known in philosophical circles that hermeneutics acquired great importance in the 20th century, especially in the "turn to language" as advocated by Heidegger and pioneered by Vico in the 18th century via The New Science.
After this necessary preamble, we will begin with this crucial question: Is pluralism possible without relativism? Some clear definitions may be needed at the outset. What do we mean by pluralism? Essentially this: the idea that there are multiple avenues to truth, multiple forms of truth, and multiple diverse (and potentially radically different) cultural lifeworld expressions operative at the same time and this forms are historical as well as geographical situated in time and space. The Straussians of course debunk this as historicism unconcerned with universals, but then some of them become self-declared experts in Far Eastern cultures to better stand apart from the unwashed ignorant oi polloi. The whole operation begins to smell of elitism. They even go around speaking mandarin knowing full well that few can judge and assess their knowledge of the language. Oh my, are we confused.
What do we mean by relativism? Basically, the belief that all of these various expressions are in some sense "equally true" and/or the notion that even if there were one right final truth to the universe we humans would never be able to ascertain it. As Vico put it, man can only know with absolute certitude only what he himself has made (languages, institutions, history) and to whose origins he can return, not what God and only God has made: i.e., nature and the natural world. Even Plato, who is generally considered the grandfather of absolutists of all persuasions, after recounting the myth of the cave as an allegory of knowledge and truth, exclaims: "only God knows if this is true."
Nevertheless those two views are conjoined so that relativism gets portrayed as a sub-set of pluralism. But is that really the case? Pluralism may indeed be hallmark of postmodernism but not so relativism. Pluralism does not necessarily need to hold that all views are equal, as relativism does. Relativism takes the existence of plurality and then makes a decision that we cannot know how to judge between these various expressions of life and says that they are all equal and not to be compared and not to be judged.
Paradoxically, the statement that all views are equal is an absolute position, and it undermines relativism. The statement that all views are relative and in relation to one another is, in fact, correct. The idea that all views are related to other views and that no view springs out of the ether of Mount Olympus or outside of time and space completely on its own does not mean all those views are equally valid. That is to say, post-postmodernism accepts the pluralism that is already there in the postmodern world and then seeks ways to integrate it. This approach is different than any attempt to reinforce a single narrative (i.e. the modern world as positivists tend to do) upon the various diverse forms of expression in existence.
Enter Gianni Vattimo. His work is built around what he calls "weak thought". Weak thought refers to the station of thought and philosophy in the context of life after modernity–that is after the death of European colonialism, the 20th century's horrors, the rise of globalization, and the end of the Cold War. The opinions, views, and commitments we hold must necessarily be "weakened" in this age which Vico would place in the third era of extreme rationality. Vattimo, as I remember is quite fond of quoting this famous saying of Nietzsche: There are no facts only interpretations and this itself is an interpretation.
Nietzsche called the coming dissolution of modernity (and he was a prophet in that respect), the "fabling of the world." The postmodern world is a fable; or in Vattimo's terms, weak thought, which is to say the kind of logic one sees in fables, myths and fairy tales, is now the "weak" reality of life. According to modern thought which begins with the Descartes and Enlightenment rationalism, life follows an objective system of progress and rationality. But for Nietzsche the modern world's self-view was not fact but interpretation. Vattimo insists in keeping both halves of that Nietzschean aphorism in mind: 1. There are no facts only interpretations and 2. Number 1 is itself an interpretation. The first point undercuts the modern view of pure objectivity. The second point prevents the postmodern insight concerning interpretation to become its own "fact."
Hermeneutics is nothing else but the study of meaning and interpretation. This was brought home to me in the Vico course I took under Vattimo at Yale University in the late seventies, as mentioned above. Later, after writing a Ph.D. dissertation on Vico I ended up writing a book titled Hermeneutics in the Philosophy of Giambattista Vico (Mellen Press, 1993). For Vattimo, what hermeneutics has revealed is a thoroughly pluralized world. He writes that we can no longer believe in a final objective all-encompassing absolute metaphysical view of the universe—that is to say, a universe that perfectly describes the way things actually are.
Lately I have been reviewing Heidegger's thought which I had originally studied in college via a book with which a friend and colleague who is an expert on Heidegger has gifted me (The Cambridge Companion to Heidegger edited by Charles Guignon). What come through in that book is that Heidegger persuasively argued that the attempt by metaphysics to describe rationally all of life under a single heading (God, Being, Truth, etc.) has destroyed our ability to actually live in the world and that the manifestation of this trend in our day is science and the scientific approach (positivism). For Heidegger this tendency to describe, control, and frame existence under the term of metaphysics led to the "oblivion of Being" or the human inability to live graciously in the world. Instead of first living in the mystery of existence, we seek to control, describe, and explain life and end up dehumanizing ourselves. For Heidegger as indeed for the anti-Cartesian Vico earlier, the best way to relate is through a kind of poetic-like relationship to the world. We let it arise and speak to us in its mysterious language instead of trying to impose upon life our categories of thought, for Nature is a shy maiden and will not be violated and dominated and observed naked. The truth too may be a shy maiden not to be used as a weapon of sort. This is what Heidegger describes as the post-metaphysical world. This is redolent of Vico's idea that rationality is composed of the rational but also, and just as importantly, of the poetical and to separate the two is to dehumanize oneself.
Vattimo too argues that this trajectory arises from the early foundations of Christianity, that Christianity eventually destroys an absolutist metaphysics. Atheism is another form of metaphysics for him. The post-metaphysical world, the post-modern world, the world that is an interpreted fable, is one in which there are a plurality of cultures, languages, and life-worlds enacted by various beings on the planet. No one of them can ever be final.
So the crucial question becomes: how do we deal with plurality without falling into the trap of relativism? Vattimo nowhere says that all views are equally valid and, like Berlin, he never declares himself a relativist. For Vattimo the ethical implications of "weak thought" is charity. Love is better than the rejection of love and therefore not all views are equal and we must love each other in our differences or perish.
It is not hard to see that for this version of a postmodern worldview which recommends the "weak power" of love as a guiding ethical construct of a plural world would find unacceptable any theory that denies or represses plurality denying charity and forgiveness. Some of these world views that Vattimo would find flawed include religious fundamentalism, scientific materialism, and last but not least cultural relativism. Vattimo is concerned with bringing views, languages, and peoples at the periphery into the middle of the discourse. Vattimo in effect has given an answer to the Straussian classical absolutists' debunking modern thought. Pluralism can hold on to ethical values that have meaning, practice love and forgiveness across cultural differences, reject violence, intolerance and relativism. Paradoxically, "weak power" unsure of itself overpowers intransigent absolutism sure of itself.
What did Shakespeare say: Maturity is all. I suppose part of maturity at every level is the ability to live with ambiguity. The greater one's ability to live with ambiguity, the more mature one is. Most absolutists seem to be unable to accomplish such a feat; they need absolute certainty and are too clever and elitists by half for their own good. Vattimo's weak thought on the other hand, as a form of pluralism seems to be quite mature, the way cultural relativism can never be. Cultural relativism recoils from the ambiguity of pluralism, of post-metaphysics and historicism taking refuge in the easy position of everything being equally right and so no view can ever be judged.
Indeed one can do worse than becoming a pluralist and a multiculturalist; one can become a relativist or an absolutist. I don't pretend that the above has suddenly made the present confusion in our geo-politics and philosophical ideas suddenly clear and certain, but perhaps it can supply to thread to follow that may hopefully get us out of the confusing labyrinth in which we seem to be stuck in.
Seven Out of 10 Top School Systems Are in East Asia Pacific
The East Asia and Pacific region has seven of the top ten performing education systems in the world, with schools in China and Vietnam showing significant progress, according to a new World Bank report released today. This is a major accomplishment that offers important lessons to countries around the world. In the rest of the region, however, up to 60 percent of students are in under-performing schools that fail to equip them with the skills necessary for success.
Growing Smarter: Learning and Equitable Development in East Asia and the Pacific argues that improving education is necessary to sustain economic growth and highlights the ways that countries in the region have been able to improve learning outcomes. Drawing on lessons from successful education systems in the region, it lays out a series of practical recommendations for key policies that promote learning so that students acquire foundational skills in reading and math, as well as more complex skills that are needed to meet future labor market demands.
"Providing a high-quality education to all children, regardless of where they are born, isn't just the right thing to do. It's also the foundation of a strong economy and the best way to stop and reverse rising inequalities," said Victoria Kwakwa, World Bank Vice President for East Asia and Pacific.
A quarter of the world's school-age children – some 331 million – live in East Asia and the Pacific. Up to 40 percent of them attend school in education systems whose students are ahead of the average students in OECD countries. These schools are not only in wealthy countries such as Singapore, Korea and Japan, but also in middle-income countries such as China and Vietnam. And, as the report highlights, student performance isn't necessarily tied to a country's income level. By age 10, for example, the average Vietnamese student outperforms all but the top students in India, Peru and Ethiopia.
But many countries in the region are not getting the results they want. In Indonesia, for example, test scores showed students were more than three years behind their top-performing peers in the region. In countries such as Cambodia and Timor-Leste, one-third or more of second graders were unable to read a single word on reading tests.
Another key finding of the report is that across the region, household incomes do not necessarily determine children's educational success. In Vietnam and China (Beijing, Shanghai, Jiangsu and Guangdong provinces), for example, students from poorer households do as well, if not better, in both math and science, as compared to average students in the OECD.
"Effective policies for the selection, motivation, and support of teachers as well as sound practices in the classroom are what determine how much students learn. For policymakers looking to improve their school systems, allocating existing budgets efficiently, coupled with strong political commitment, can make a real difference in the lives of children across the region," said Jaime Saavedra, the World Bank's Senior Director for Education.
The report lays out concrete steps for improving learning for lagging systems in the region and beyond, starting with ensuring that institutions are aligned so that objectives and responsibilities across the education system are consistent with each other. The report also urges a focus on four key areas: effective and equity-minded public spending; preparation of students for learning; selection and support of teachers; and systematic use of assessments to inform instruction.
The report found that top-performing systems spend efficiently on school infrastructure and teachers, have recruitment processes to ensure the best candidates are attracted into teaching, and provide a salary structure that rewards teachers with proven classroom performance. It also found that schools throughout the region increased preschool access, including for the poor, and have adopted student learning assessment into their educational policies.
The report complements and builds on the World Bank's World Development Report 2018: Learning to Realize Education's Promise, which was released in September 2017 and found that without learning, education will fail to deliver on its promise to eliminate extreme poverty and create shared opportunity and prosperity for all.
UN women's commission opens annual session at 'pivotal moment' for gender equality movement
Taking place at "a pivotal moment for the rights of women and girls," the United Nations body dedicated to gender equality and women's empowerment opened its annual session on Monday hearing calls to help women, especially those in rural communities, secure an end to the male-dominated power dynamic that has long marginalized their participation and muted their voices.
"Across the world, women are telling their stories and provoking important and necessary conversations – in villages and cities; in boardrooms and bedrooms; in the streets and in the corridors of power," said Secretary-General António Guterres, opening the 62nd session of the UN Commission on the Status of Women (CSW62).
"From 'MeToo' to 'Time's Up' and 'The Time is Now' […] women and girls are calling out abusive behaviour and discriminatory attitudes," he added.
Under the Commission's theme 'Challenges and opportunities in achieving gender equality and the empowerment of rural women and girls,' the UN chief observed that although a marginalized group, they were often the backbone of their families and communities, managing land and resources.
Mr. Guterres said that supporting these women is essential to fulfilling our global pledge to eradicate poverty and to create a safer, more sustainable world on a healthy planet – 2030 Agenda for Sustainable Development.
Mr. Guterres painted a picture of a male-dominated world with a male-dominated culture in which centuries of patriarchy and discrimination have left a damaging legacy.
Calling it "the greatest human rights challenge of our time," he said "progress for women and girls means changing the unequal power dynamics that underpin discrimination and violence."
"Discrimination against women damages communities, organizations, companies, economies and societies," he continued. "That is why all men should support women's rights and gender equality. And that is why I consider myself a proud feminist."
The President of the UN Economic and Social Council (ECOSOC), Marie Chatardova pointed to the Commission, as a critical instrument to strengthen the global normative framework for women's empowerment and the promotion of gender equality.
The body is also as a key driver of ECOSOC's work, with the Commission's outcomes as bolstering the 2030 Agenda's implementation and that of its 17 Sustainable Development Goals (SDGs), which seek to end poverty and ensure prosperity for all on a healthy planet.
Noting that gender equality and the empowerment of women and girls is a theme that cuts across all the Goals, Ms. Chatardova said the Commission's focus on rural women and girls was both timely and well-aligned with the 2030 Agenda.
According to the ECOSOC President, inclusion is a key element in all efforts.
Noting that the Commission has long provided a roadmap for the UN's work in women's empowerment and gender equality, she announced a special Council session in May to build sustainable, inclusive and resilient societies.
Gender perspective is critical
For his part, the President of the UN General Assembly, Miroslav Lajčák, noted that past challenges were approached without a gender perspective, which "has had a particularly damaging effect on rural women."
Mr. Lajčák underscored that this needs to stop, and that women must be taken into account in all actions, from access to water to closing pay gaps.
Drawing attention to rural women as a major source of innovation, he explained that their empowerment would benefit everyone.
"These kinds of women do not need our help, in finding solutions," he stated. "What they need is our support, in turning their ideas into reality."
Calling gender equality "an urgent priority," Mr. Lajčák he encouraged the Commission to carry on with its important work "until every woman, sitting in this room today has the same rights, and the same opportunities, as the man sitting beside her.'
"Thank you for continuing your calls. Let's make them stronger than ever," he concluded.
UN Women Executive Director Phumzile Mlambo-Ngcuka highlighted the importance of this year's focus on rurual women.
"It speaks to our commitment to fight some of the biggest challenges of our time: poverty, inequality, intersectionality and an end to violence and discrimination against women and girls, no matter where they live, or how they live, so that we 'leave no one behind,'" she stated.
Calling it "a tipping point moment," the UN Women chief urged the forum to seize the opportunity to secure and accelerate progress, build consensus and share best practices to serve "the poorest of the poor."
"It has never been so urgent to hold leaders accountable for their promises for accelerating progress" on the SDGs, she said.  An unprecedented hunger for change in women's lives was being seen around the world, as well as a growing recognition that when women banded together, "they can make demands that bite."
"Women are fighting to take steps that change their lives, and they are refusing to accept the practices that have normalized gender inequality, sexual misconduct, exclusion and discrimination across all walks of life," she argued.
She urged everyone to unite around the common cause, as set out in the principles of equality in the UN Charter, "to make this a moment of real acceleration, change and accountability."
The chair, Geraldine Byrne Nason, said the current session is a key moment on the path to ending discrimination against women and girls once and for all.  Indeed, "time is up" on women taking second place around the world, she said, challenging the Commission to do more and do better.
CSW functions under ECOSOC, acting as the UN organ promoting gender equality and the empowerment of women.  CSW62 runs until 23 March.
UNESCO Rewards Outstanding Teacher Initiatives in Chile, Indonesia and the UK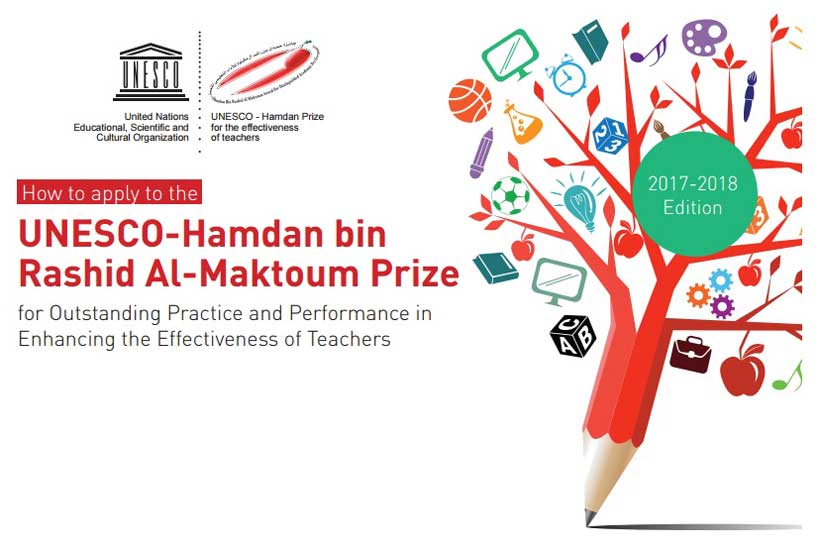 Three programmes designed to empower teachers have been named as winners of the 2017-2018 UNESCO-Hamdan bin Rashid Al-Maktoum Prize: The Center for Mathematic Modeling of the University of Chile, the Diklat Berjenjang project of Indonesia and the Fast-track Transformational Teacher Training Programme of the United Kingdom of Great Britain and Northern Ireland.
The Prize for Outstanding Practice and Performance in Enhancing the Effectiveness of Teachers will be awarded on 5 October as part of World Teachers' Day celebrations at UNESCO Headquarters in Paris when the each winner will receive $100,000.
The Center for Mathematic Modeling of the University of Chile (Chile) is rewarded for its Suma y Sigue: Matemática en línea (Adding it up: Mathematics online) programme which was developed to address the performance gaps in mathematics between students from different socioeconomic backgrounds and improve the quality of maths teaching in general. It is a 'learning by doing' programme organized by grade levels and curricula, enabling teachers to focus on their specialized area of mathematics teaching. It blends face-to-face sessions with intensive virtual instruction. The programme is scaleable, easily accessed by teachers in remote areas, and it promotes inclusion.
The Diklat Berjenjang project from Indonesia is rewarded for bringing quality professional development to early childhood teachers, notably in the poorest and most remote areas. It helps meet Indonesia's need for teachers skilled in creating stimulating learning environments for young learners. It helps identify potential teacher trainers and provides step-by-step written guides, follow-up assignments and exchanges.
The Fast-track Transformational Teacher Training Programme from the United Kingdom of Great Britain and Northern Ireland was selected for its highly innovative and impactful approach to training teachers in various professional environments in Ghana. It promotes child-centred and play-based pedagogy in early education to replace traditional talk chalk disciplinarian methods. Practicing teachers receive a two-year training, combining workshops with smaller peer group meetings in which they are paired on the basis of their complementary strengths to engage in classroom observations and in class coaching.
The three winners were selected from 150 nominations submitted by the Governments of UNESCO's Member States and UNESCO partner organizations on the recommendation of an International Jury of education professionals.
Established in 2009 with funding from Sheikh Hamdan bin Rashid Al-Maktoum of Dubai, the Prize is awarded every two years to projects that have made outstanding contributions to improving the quality of teaching and learning, especially in developing countries or within marginalized or disadvantaged communities.
More information on the prize: https://en.unesco.org/teachers/Hamdan-prize