Are the Neo-Cons Dispatching Assassins?
[yt_dropcap type="square" font="" size="14″ color="#000″ background="#fff" ] H [/yt_dropcap] aving failed miserably in their global campaigns to unilaterally and in an unprovoked fashion, destroy, subjugate and undermine the Ukraine and Russia, also using their proxy paramilitary force ISIS against Syria and other bordering middle eastern nations, with their concurrent campaigns using proxy state Saudi Arabia against Yemen and NATO against Libya coming under closer scrutiny and fire from heroic members of the U.S. Congress and Senate – Led by patriotic and honest "America-Firsters" Rand Paul, Tulsi Gabbard, Chris Murphy, Ted Lieu and Trey Gowdy;
The Neo-Conservatives appear to be frantically scaling the walls within the Pentagon, Intelligence Community, halls of the legislature, think-tanks, mainstream media outlets, and other US Government/NGO/Private enclaves, grasping at straws and throwing "Parthian Shots" more akin to the temper tantrums of a child, than a well-organized and amply financed intellectual force to be reckoned with.
Perhaps in their latest "Samson Option" type acts and behavior, it appears that they may very well be behind the latest spate of targeted assassinations, all over the world, but mainly focusing on high-level Russians in their own homes (Petr Polshikov), on the streets of Moscow (Boris Nemtsov), in art exhibits in Turkey (Andrey Karlov), and in hotels in Washington DC (Mikhail Lesin).
Whoever is carrying out these assassinations is either doing this out of blind frustrated rage, or trying to make it look like someone else.
But the greatest lesson of real-politik and international conflicts should always begin, and end, with the latin phrase "Cui Bono," ie, "Who Benefits."
Now with the confirmed election of Neo-Con hater President-Elect Donald Trump, it appears that the Neo-Conservative Movement's fate is sealed, in each and every segment of the U.S. Government in which they have burrowed themselves like termites or maggots, whatever disgusting vermin insect appellation of choice.
So simply, by the process of first grade-level deduction, it is easy to show that right now, the only victors after a hard-fought series of years long battles on the battlefield, media, and in politics are the Russians under President Vladimir Putin, and the "America-Firsters" under U.S. President-Elect Donald Trump, and the vast majority of global humanity supporting them, that are all unanimously welcoming a new chapter and epoch of peace and prosperity in the future of the global community.
Underneath the protective and inspirational wings of Vladimir Putin and Donald Trump are nestled the vast majority of global humanity that care about their futures, their children, their jobs, their freedom, the avoidance of World War 3, and their plot of earth that they like to call home.
This would probably be 99% of humanity.
So who is not happy? Who represents the 1% of global humanity, who is not happy with the outcome of the last few months/years of recent geo-political developments? Who would literally kill to get even?
One does not have to be a brain surgeon to figure this out in only a few minutes.
This small, embittered, embattled, and spiteful minority of the global community are the only ones who would ruin a perfectly good global party of hope, prosperity, and optimism for the future – and they are all, completely and totally controlled by the Neo-Conservative Movement in the United States, which has previously been described to be the intellectual, political, media, financial, and "armchair warrior" face of the Deep State Plutocrat/Oligarch global elite.
So now that these Neo-Cons have also lost control of the Mainstream Media narrative with their recent embarrassments chronicled and detailed in the war by and between the Mainstream ("MSM") and Alternative Media, with accusations and allegations of "Fake News" being hurled and bandied about like pissed-off monkeys throwing their own feces with the MSM emerging as the true loser as the vast majority of the world has awakened to the fact that they are just "arms" of the London Central Bankers and their foreign nation-state, family, or individual lackeys, the proverbial "jig" is finally, up.
Therefore, like any other spoiled brat armed to the teeth with jacked up private security and mercenaries, state of the art military hardware and technology, layers and layers of secret societies dispensing orders from up on high like any other mafia/organized crime family, and under the "color of law and authority" of the U.S. or other allied foreign government, these recent targeted assassinations by well-trained and connected "insiders" are no doubt being dispatched, like "Sith Warriors," to the far corners of the globe, in order to kill off their enemies in a retaliatory and bitter fashion.
It is so obvious as to be a joke.
The quick, ad hoc assembling of high level Russian intelligence operatives and government employees by Vladimir Putin to determine the exact perpetrators/planners/organizers of these latest assassinations is obviously being done for window dressing and also to vet any last-minute arguments against a finding against these Neo-Con/Deep State perps, but everyone (including Putin) must be pretty certain about who these culprits truly are.
And so it goes – now that the lid has been lifted off of Pandora's Box with these recent targeted and unprovoked assassinations of innocent Russian diplomats, intelligence officers, ambassadors, and private citizens, expect the great "Jedi/Sith" targeted individual assassinations to continue on throughout the world, as this global conflict has now been reduced to veritable provocation "mob hits" by and between the Neo-Cons and the rest of the civilized world – the odds are glaringly against the Neo-Cons.
The Neo-Cons were never known for their long-term planning or ability to be accurate or successful in their strategies or predictions in the past 50 years – so why would they start now?
Tom Cotton: What's the Reason for AIPAC's $ 4.5 Million Support for the Young Senator?
In recent months, news sources in the United States have reported the possibility of the appointment of the young Arkansas senator, Tom Cotton, as the Director of the Central Intelligence Agency (CIA), or the US National Security Advisor. 40-year-old Cotton is considered the youngest American senator, and, of course, many of the active Israeli lobbies in the United States count on his role-making in American political-security equations. In April 2015, the New York Times admitted that the Zionist lobbies' financial support for Tom Cotton was much higher than that for other Republican senators. The New York Times has announced that the amount of this financial assistance was around $ 2 million.This is while some informed sources in the US say the AIPAC lobby has spent $ 4.5 million for Tom Cotton to insure his winning against "Mark Pryor" in the 2014 Senate elections.
In August 2013, Tom Cotton, with AIPAC's green light and support, entered the political scene against former Arkansas Senator Mark Pryor. In the meanwhile, some prominent personalities and politicians in the Republican Party of America, such as "Marco Rubio" and "Mitt Romney", by the order of AIPAC leaders, had also fully supported Tom Cotton.
Eventually, Cotton won 56.5% of the vote (against 40 percent of Pryor vote), and thus defeating his rival, entered the Senate. However, the main question is, what's the reason for this huge, unnatural support of Zionist lobbies, AIPAC in particular, for Tom Cotton? In other words, what capacity did these organizations and lobbies see in Tom Cotton, that they have been willing to use their full power to help him enter the US Senate? Is AIPAC's goal of such widespread support merely Cotton's gaining the Arkansas seat in the Senate? The answer to this question is negative.
A security analyst in the United States who didn't want his name to be revealed told our reporter:
"Given the young age of Cotton compared with other American politicians, and his commitment to Tel Aviv, the Israeli authorities have tried to use him as an influential factor in US domestic security and foreign policy. AIPAC has always named Cotton as a trend-making agent in its calculations. This Zionist lobby's recent attempts for Cotton's presence as the CIA Director can also be analyzed in the same vein."
This analyst added:
"It is likely that the AIPAC lobby would ask Cotton not to run for the Senate in the congressional elections in 2018, so that he can be employed by the US government as the National Security Advisor, or CIA Director in Trump's government."
In January 2015, Tom Cotton played an important role in leading and managing the anti-JCPOA movement in the US Senate in the midst of nuclear talks between Iran and the members of the P15+ 1. On March 8, 2015, Senator Cotton wrote and sent a letter to Iranian leaders. In this letter, it was insisted that any nuclear deal without the approval of the US Congress would only be valid until the end of Obama's presidency in 2017, and the next president may easily cancel it. Another 46 Republican senators also signed the letter.
The existing evidences suggests that such a letter was ordered by the direct order of the AIPAC lobby, and was designed to negatively influence the negotiation process. However, Tom Cotton's commitment to the AIPAC lobby, and beyond that to Israel, is much more than that.
Accordingly, Cotton is consulting AIPAC before making any decision in the field of US domestic and foreign policy, and asks for the views of the lobby's leaders. Even in cases which AIPAC doesn't express its views on critical issues to American senators, Cotton has the duty to indirectly impose AIPAC's stances on senators and even on key members of the House of Representatives. It is not without a reason that Tom Cotton is named as the main AIPAC piece in the Senate. For the thorough financial and political support of AIPAC leaders and Israeli authorities, Cotton has turned into Tel Aviv's agent in the Senate (in the current period), and generally in the political scene of the United States.
Decoding Pompeo's words at US senate
The CIA Director Mike Pompeo, who is nominee for Secretary of State, has recently mentioned meaningful words in his hearing at the Senate on Iran and the nuclear deal. In his words, he acknowledged that Iran was not after nuclear weapons even before the nuclear deal, nor will be in the future.
On the other hand, he has announced that he is seeking to fix and correct the nuclear deal with Iran! This is while the US President Donald Trump is scheduled to announce his final decision on Iran's nuclear deal by May 12. "I want to fix this deal," Pompeo said. "That's the objective. I think that's in the best interest of [the United States]."
At his recent Senate hearing, Pompeo has emphasized that as CIA Director, he didn't find any evidences that Iran has violated the nuclear deal. At the same time, he believes that Tehran can't expand its program shortly after the US withdrawal from the nuclear accord. He emphasized that his goal is to correct the nuclear deal with Iran. Pompeo said:
"If there's no chance that we can fix it, I will recommend to the president (Trump) that we do our level best to work with our allies to achieve a better outcome and a better deal," he said. "Even after May 12, there's still much diplomatic work to be done."
A simple decoding of Pompeo's remarks suggests that, despite the opposition to the nuclear accord, he is trying to deal differently with this issue as the future US Secretary of State. Some analysts also believe that Pompeo has adopted such an approach to face the US Senators' relative opposition to the White House's withdrawal from the JCPOA (Joint Comprehensive Plan of Action).
In any case, according to Pompeo, Donald Trump may not make a final decision on the nuclear deal with Iran on May 12, and he will continue to consult with his European allies on what he calls "fixing the flaws of the JCPOA".
Pompeo's remarks indicate that the White House hasn't come to a determined and clear decision on how to deal with the JCPOA yet. On the other hand, numerous consultations by representatives of the four countries, the United States, France, Britain and Germany, continues in silence.
Western sources have argued that these countries are consulting on the three controversial issue, namely "the Sunset clauses", "limiting Iran's missile power" and "extensive inspections of Iran's military sites". These sources claimed that the only remaining disagreement between the four countries is over deletion of the so-called Sunset clauses from the nuclear deal, and thus putting permanent limitations on Iran's nuclear program.
Pompeo is currently the CIA director, and ironically, he was one of the foremost critics of the Iran nuclear deal when he served as a House Republican from Kansas. Trump fired Secretary of State "Rex Tillerson" over the raised disagreements, and picked Pompeo as his successor in March, just two months before the deadline on May 12 to decide whether to bring back sanctions that former President of the United States waived when the JCPOA was first implemented.
Before this, many Western politicians and analysts saw the nomination of Mike Pompeo for secretary of state by Trump as a sign of Washington's withdrawal from the nuclear deal. Beyond that, John Bolton's appointment as US national security advisor also sent a clear message to the international system that Trump is about to pull out of the nuclear deal with Iran.
John Bolton is now silent about the fate of the JCPOA! The silence seems very meaningful at the current time. It's obvious that John Bolton is one of the main opponents of the nuclear deal with Iran, and he doesn't even believe in negotiating with the European Troika on maintaining the JCPOA.
The important question, however, is whether Bolton's silence reflects the continuing paradoxical and vague approach of the US towards the JCPOA? Or did Trump ask him to be silent in this regard and wait for the final results of their talks with Europe?
American senators still don't have a clear picture of Trump's final decision about the JCPOA. Meanwhile, some Republican senators like "Rand Paul" and "Jeff Flake" are worried about the costs and consequences of Trump's decision to refuse joining other members of P5+1.
Most US senators tried not to mention the nuclear deal with Iran in their speeches during recent weeks. This is while some senators such as "Tom Cotton" and "Ted Cruz" strongly encourage Donald Trump's government to pull out of the nuclear deal with Iran.
First published at our partner Mehr News Agency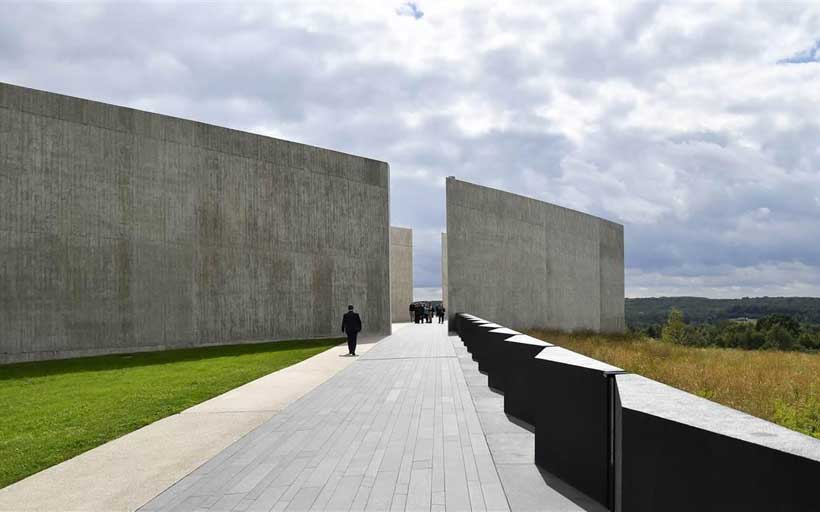 Did you know that Vice President Dick Cheney admitted that on 11 September 2001 he, as President George W. Bush's brief stand-in during the 9/11 attacks that hit the World Trade Center and the Pentagon, issued an order (and it was carried out) to shoot down United Airlines Flight 93 while it was in the air near Pittsburgh? If what he said at the time was true, then the standard 'historical' account of the plane's having been brought down as a result of action by the passengers, would be concocted, not history at all.
Here is the video-clip of V.P. Cheney on 9/11, making this claim and explaining why he gave that order: 

The Wikipedia article on Flight 93 provides the standard account, and fails even so much as just to mention the Vice President'a assertion and explanation that he provided on national TV at the time of the 9/11 events.
So: I edited the Wikipedia article by adding a sentence at the end of its opening paragraph, and by following that sentence with a brief second paragraph, and here is that entire two-sentence addition:
Vice President Dick Cheney alleged that he gave the order to shoot down Flight 93, and explained why when asked about it by Chris Wallace of Fox News as shown in this film-clip
Consequently, the account given below of what brought the plane down — an account inconsistent with what Cheney said — could be entirely false. 
On the web browser that I was using, the addition showed as having been successfully made in the Wikipedia article. However, to be sure, I opened the URL in a different browser, and this time my addition was absent. I then went back to the "Edit" page" and this time to the "View history" page, and clicked there on "(talk)" and found this message, which I saw virtually immediately after I had thought that I had inserted the new information:
Hello, I'm Shellwood. I wanted to let you know that I reverted one of your recent contributions —specifically this edit to United Airlines Flight 93— because it did not appear constructive. 
No other explanation for blocking my addition was provided. "Shellwood" was there saying that mentioning, and linking to the video of Cheney saying, that allegation, which Cheney made on 9/11 about how Flight 93 came down, is not "constructive" to Wikipedia-readers who want information about Flight 93.
Previously, even the BBC published the fact that Wikipedia is edited by the CIA.
Anyone who reads the present article is hereby welcomed to try making the same addition to that Wikipedia article, and I hope that one of the readers here will be able to get it accepted by the editors of that site, so that Wikipedia can be made at least moderately trustworthy, on at least that one article. Perhaps if enough people try, then Wikipedia will come to recognize that Wikipedia's modus operandum isn't merely a very successful system of propaganda, but that it's also something of a PR problem for Wikipedia, which they'll need to do something about, if they're to be able to survive (or at least retain their credibility) at all. Blocking inclusion in an article, of a fact that disproves part of the 'history' (and here the most important part) which is told in that article, is unacceptable in anyone's eyes.
As of today, April 20th, the Wikipedia article on Flight 93 does make one, and only one, mention of Cheney:
Vice President Dick Cheney, in the Presidential Emergency Operations Center deep under the White House, upon learning of the premature crash, is reported to have said, "I think an act of heroism just took place on that plane."[2]
The link there, [2], goes to a CNN article, likewise published on 11 September 2001, which likewise presents Cheney as saying that he ordered the shoot-down of Flight 93:
After the planes struck the twin towers, a third took a chunk out of the Pentagon. Cheney then heard a report that a plane over Pennsylvania was heading for Washington. A military assistant asked Cheney twice for authority to shoot it down.
"The vice president said yes again," remembered Josh Bolton, deputy White House chief of staff. "And the aide then asked a third time. He said, 'Just confirming, sir, authority to engage?' And the vice president — his voice got a little annoyed then — said, 'I said yes.'" 
The phrase that Wikipedia is quoting from Cheney, "I think an act of heroism just took place on that plane," appears later in that CNN article, out of context, when one of Cheney's aides attributes the statement to Cheney, but, since CNN provided no context for it, no reader can intelligently interpret what it had been referring to, if, in fact, the aide did say that Cheney did say it.
Wikipedia grabbed that out-of-context, possibly apocryphal, Cheney-statement, and constructed their 'history' of the plane's crash, upon it, despite the fact that Cheney, on 9/11, clearly stated that he had ordered Flight 93 to be shot down, and that the order was executed — in other words: despite the fact that Wikipedia's account of what brought that plane down is incontrovertibly false, even on the basis of the most reliable evidence that Wikipedia itself links to on that matter. Such a 'history' is fiction.
So: any reader at the Wikipedia article who clicks onto its sources, can easily know that though the Wikipedia article presents a 'history' in which actions by passengers onboard Flight 93 caused the plane to crash there, that 'history' is fake, not at all real (though some allegations in that Wikipedia article might happen to be true).
This means that only readers who click through to sources can even possibly come anywhere near to knowing anything that's at all reliable about the history of our time. And, of course, the longer that any event recedes into history, the more immovably fixed the lies become as being 'history'. We live actually in a world of lies. If modern 'history' is fake, then ancient 'history' is even more so. What about the Bible? What about even recently written 'history' books?
If Wikipedia is the best that 'the market' can come up with for 'a free press' in a 'democracy', then democracy isn't at all possible. Something vastly better than this is definitely needed. What's displayed here isn't democracy at all: it's merely 'democracy'. This means that all of the military invasions by 'democratic' countries (such as America), against other countries, are the actions by dictatorships, not actions against dictatorships (as is always claimed).
So, it's actually rather easy to document that 1984 — the reality, and not merely the novel — has, indeed, arrived, in our time.
However, at least in our time, we possess — for the very first time in all of history — the ability to access, merely a click away, an allegation's actual source, at least in articles such as the present one (since all sources here are linked). The people living in ancient times who were not themselves aristocrats (the people making the key governmental decisions) were unalterably 100% vulnerable to being deceived by aristocrats' and clergies' lies, deceived into doing whatever those decision-makers wanted to manipulate them into doing — such as "fighting for God and country!" Unfortunately, the percentage of today's people who care enough to be skeptical of whatever other people are trying to sell, and to dig deeper than the mere assertions, even just to click onto a link, is too tiny for democracy to be able to function. Unless they become the majority, "democracy" will remain merely a word, not yet even near to being the reality, anywhere.
That, for example, explains why, despite common realities such as this, "74% [of Americans] view Israel favorably, vs. 21% for Palestinian Authority". In order for the national aristocracy to control its mass of voters, it must first deceive its mass of voters; and, in America, they're deceived, and have been so, for decades, at least.