Donald Trump picks Rex Tillerson as his foreign minister to improve ties with Russia
[yt_dropcap type="square" font="" size="14″ color="#000″ background="#fff" ] T [/yt_dropcap] he wealthy businessman Donald Trump, the US president elect to replace Barack Obama, as speculated, has opted for wealth people for his cabinet positions and billionaire ExxonMobil CEO Rex Tillerson as his top diplomat is one.
Rex Tillerson, President-elect Donald Trump's apparent choice to be the next foreign minister in his government, has ample experience in dealing with Russia and many other nations, but strictly as a businessman, not a diplomat. Exxon has operations in dozens of countries, some of them politically volatile or estranged from the USA. First among them is Russia, which has leaned heavily on Western companies for technology and know-how to tap its vast oil and gas resources.
Persons close to Trump's transition team said that Trump had selected Tillerson to be America's top diplomat. The prospect of Tillerson's nomination for secretary of state has raised concerns, given intelligence assessments saying Russia interfered with the US presidential election to help Trump.
Trump's tapping of Tillerson lifts hope of US rapprochement as relations between former Cold war rivals have not made any significant improvement even after the 9/11 to terrorize Islamic world when Russia moved closer to US by supporting for Bushdom war on terror.
Rex Tillerson, a friend of Russia
A native of Wichita Falls, Texas, 64-year-old Tillerson is a career Exxon employee, having joined the company after graduating from the University of Texas in 1975 with an engineering degree. Groomed for an executive position, he spent years in the rough-and-tumble world of oil production, working in Exxon's central US, Yemen and Russian operations. By the 1990s, Tillerson was overseeing many of Exxon's foreign operations. He played a key role in Exxon's involvement in the huge Sakhalin oil and natural gas project on Russia's eastern coast. That was a warm-up for a $3.2 billion deal in which Exxon and Russian state-controlled Rosneft announced they would work together to explore for oil in Russia's Arctic region. Production is expected to begin in the next decade.
Tillerson joined ExxonMobil in 1975 as an engineer, before rising to become president and chief executive on 1 January 2006, overseeing business activities in more than 50 countries. Appointed CEO in 2006, he had been due to retire in March. But his lack of formal policy and government experience, and embedded relationship with a hugely powerful energy company is bound to result in sharp questions in the Senate confirmation hearings. Tillerson expected to retire next year. His heir apparent, Darren Woods, has been in place for a year, so there would be virtually no disruption to Exxon's succession plans if Tillerson were to become secretary of state.
Tillerson took charge of Exxon's operations in Russia in 1998, and navigated the company through major difficulties after Vladimir Putin came to power and the Kremlin demanded that earlier oil-and-gas deals be revised in favor of Russia's state energy giants Gazprom and Rosneft. In 2011, as Exxon CEO, he negotiated a long-range, multi-billion dollar joint venture with Rosneft to explore for oil in Russia's Arctic.
Tillerson has argued against sanctions that the US and European allies imposed on Russia after it annexed the Crimea from Ukraine in 2014. He also has backed free trade and an expansive US presence in the Middle East, stances at odds with the more isolationist approach Trump has pitched to his supporters during the campaign.
The businessman has publicly opposed sanctions on Moscow that thwarted his attempt to pursue huge oil deals in the Russian Arctic. For this, he was awarded Russia's Order of Friendship by Vladimir Putin in 2013 and the Kremlin welcomed his nomination with an aide praising him as a "very solid figure" with whom Putin and Russians have "good, business-like relations."
In 2011, Tillerson flew to the Russian resort town of Sochi to meet Russian President Vladimir Putin for the announcement. As news photographers recorded the scene, the men shook hands and smiled broadly at each other. "This project promises to be highly interesting and ambitious," Putin said, according to a Rosneft press release. Exxon exploration in Russia, he said, "will open new horizons."
Exxon steadily expanded its Russian business while its rivals faced expropriation and regulatory obstacles. Interestingly, in 2013 Putin awarded Tillerson the Order of Friendship, an honor given to only to highly friendly foreigners who improve relations with Russia. Tillerson is a special case. "My relationship with Vladimir Putin, which dates back almost 15 years now, I've known him since 1999 and have a very close relationship with him," Tillerson said in a speech a few years ago at the University of Texas-Austin.
The sanctions against Russia, if they remain in place for an extended time, could threaten the joint venture with Rosneft, and at Exxon's annual meeting in 2014, Tillerson urged Western political leaders to consider the very broad collateral damage of who are they really harming with sanctions.
Besides Russia, Exxon also has operations in Indonesia, Azerbaijan, Chad, Equatorial Guinea, and many other countries. Africa and Asia were its leading sources of oil production in 2015. The company says its diverse global portfolio of oil and gas projects helps mitigate risks. In 2015, Exxon paid Tillerson compensation that the company valued at $27.3 million, most of it in stock awards. At the end of 2015, he held awards that had not yet vested that were worth $149.2 million.
New direction
Donald Trump defended his nomination of Tillerson as America's next secretary of state, dismissing concerns about the oilman's ties to Russia and saying US foreign policy needed a new direction. The nomination, which capped weeks of debate about the right candidate, was the most keenly awaited in Trump's cabinet as the world waits to see how the incoming Republican president intends to alter US foreign policy.
Since it looks certain that Tillerson would be Trump's secretary of state, by law, he would have to either sell his Exxon shares and stock options or recuse himself from government matters that have a "direct and predictable" effect on his financial interests. Failure to do one or the other would likely result in criminal charges, since Cabinet members, unlike the president and vice-president, are covered by statutes designed to prevent conflicts of interest. If Tillerson didn't sell the stock, he would have to stay out of decisions for a wide swath of the secretary's job including climate change matters, the oil industry or many dealings with Russia. it' may be unacceptable to have a secretary of state who has a lot of oil company stock or stock options. Putting the stock in a blind trust would not be allowed because it would remain a financial interest for Tillerson
Still, it's not unheard of for a high-profile businessman to serve as secretary of state.
Bechtel, the big, privately held San Francisco engineering and construction firm, gained stature and prestige — and likely an advantage in bidding for foreign contracts — when President Ronald Reagan picked George Shultz as secretary of state and Caspar Weinberger as secretary of defense. Both had been top Bechtel executives. Most so-called democracies promote top businessmen for ministerial berths as per the capitalist system requirement. At the time, Bechtel had its own foreign policy, especially in the Middle East and didn't particularly care if its objectives were not aligned with those of the USA.
Trump has stoked alarm among Democrats and fellow Republicans ahead of his 20 January inauguration by calling for closer ties with Moscow, in contrast to received wisdom in Washington that Russia remains a global security threat. That sentiment — coupled with the fact that Trump is at loggerheads with some Republican senators over a CIA assessment that Russian hackers helped him win the election — may complicate Tillerson's confirmation hearings.
Trump, who announced the nomination, hailed Tillerson as a "great diplomat" and "one of the greatest and most skilled global business leaders of our time" at a campaign-style rally in the traditionally Democratic-leaning state of Wisconsin that helped elect him. The 64-year-old Texan, who, like Trump, has no experience in government and spent his entire career at Exxon, "has the insights and talents necessary to help reverse years of foreign policy blunders and disasters," Trump told the crowd. "Rex is friendly with many of the leaders in the world that we don't get along with and some people don't like that," Trump told the crowd in West Allis, without mentioning Russia or Putin. "They don't want him to be friendly. That's why I'm doing the deal with Rex, because I like what this is all about," he added. "Instead of jumping recklessly from one intervention to another, my administration will build a long term strategy for stability, prosperity, peace, and rebuilding our own country."
Politicians on both sides of the aisle have expressed concerns over Tillerson's ties to Russia. Senior Republican Senator John McCain has called Tillerson's ties to Putin "a matter of concern." "Vladimir Putin is a thug, bully and a murderer, and anybody else who describes him as anything else is lying," McCain has said. McCain and other senators have backed a congressional probe into intelligence assessments on Russian election interference, putting top Republicans on a collision course with Trump, who dismissed the reports as "ridiculous".
A series of establishment Republicans, including former secretaries of state Condoleezza Rice and James Baker, and former defense secretaries Donald Rumsfeld and Robert Gates have lined up to praise Tillerson.
If confirmed, Tillerson will face the hugely sensitive job of representing overseas a president apparently intent on trashing protocol and upending relationships built on decades of delicate diplomacy. Beyond thorny ties with Russia, Sino-US relations are strained after a series of moves by Trump that provoked China, now the world's second-largest economy, and controversy is also rife over his global business empire.
Trump postponed a press conference at which he was to unveil plans for separating himself from his global business dealings, instead writing on Twitter that his adult sons would manage the company. The 70-year-old billionaire is now putting the finishing touches to his cabinet with former Texas governor Rick Perry and Montana Representative Ryan Zinke his reported picks for energy and interior secretary respectively.
Last week Trump greeted a stream of special guests in New York including rapper Kanye West and Bill Gates, the richest man on the planet who dedicates his life to philanthropy. Gates said Trump had an opportunity to inspire Americans to embrace innovation as John F. Kennedy once promoted space exploration. "We had a good conversation about innovation, how it can help in health, education, the impact of foreign aid and energy, and a wide-ranging conversation about power of innovation," Gates said afterward. Trump also met with Vogue editor-in-chief Anna Wintour, who was a vocal supporter of his Democratic rival Hillary Clinton.
Observation: Implication for US-Russia relations
This economic development took place even while USA and Russia are officially at loggerheads over several issues, including the western economic sanctions. Success in Russia required aligning the company's interests with those of the Russian government, and good relations with Russian strongman President Putin.
Donald Trump's decision to nominate ExxonMobil CEO Rex Tillerson is proving to be a pleasant surprise to Russia. It's a rarity for Moscow to be enthusiastic over a US president's choice for secretary of State. It certainly wasn't the case for either of the past two secretaries, Hillary Clinton and John Kerry.
Even more than the election of President Trump, which brought Russia's State Duma to its feet in a standing ovation, the nomination of Tillerson seems evidence to Russians close to the Kremlin that the new government will move seriously to implement Trump's sketchy campaign promises about restoring good relations.
Putin, who has met frequently with Tillerson, Tillerson is well known and liked in Moscow, where he has been doing business for almost 20 years, but he is also seen as a completely different type than the US diplomats the Russians have regularly dealt with. Tillerson as Secretary of State would signify the greatest discontinuity in US foreign policy since the end of the Cold War.
For the foreign policy establishment in Moscow, Tillerson is a realist not driven by ideology, but a hard-nosed pragmatist who will focus on getting things done, and leave aside the many political and philosophical issues where Russia and the US will never agree. Sergei Karaganov, one of Russia's most senior foreign policy hands, has met Tillerson and says that his ratification would be a signal that genuine and lasting detente between the two powers is a real possibility. Karaganov is sure Russia can re-align the relationship in ways that will stress areas of concord and cooperation, and find ways to manage the differences.
Sergei Markov, a past adviser to Putin, says the whole foreign policy team that Trump is assembling makes it look like a break with past practices may be imminent. "We see Gen. James Mattis being named to be Defense secretary, and that looks to us like someone who could steer military cooperation between the US and Russia away from constantly obstructing each other and toward cooperation.." Michael Flynn, who's going to be White House national security adviser, is a person who advocates clear-eyed cooperation with Russia in areas that matter to both of us," Markov says, "We don't imagine these people are special friends of ours, or anything like that, but it will be very refreshing to have diplomatic counterparts who are interested in practical deal-making. "Our experience over the past decade and a half is that we don't have negotiations in any real sense, we just get lectures and ultimatums from our US counterparts," Markov adds.
But some Russian experts are more skeptical that there are a lot of illusions on both sides as Russians and Americans really don't want to know each other. They suspect there will be a hard awakening for Trump's people, when they realize that making deals in the very complex realm of diplomacy is not much like the business world. Alexander Konovalov, head of the independent Institute for Strategic Assessments in Moscow argues Putin knows what he wants, but not sure if Trump has a very clear idea how to handle Russia.
One has to wait for January 20, on which President Trump assumes power as the boss of US super power, for his new foreign policy course to take real shape.
The Forgotten Analogy: World War II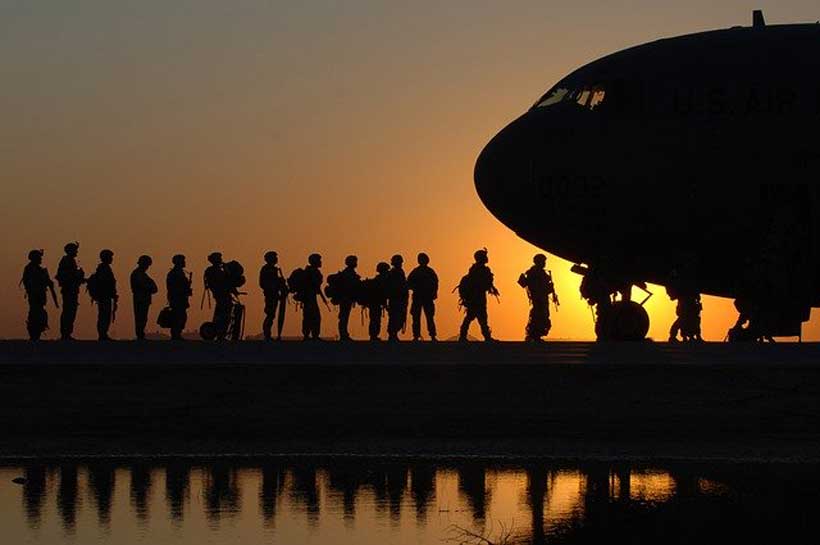 Pundits are searching for adequate analogies to explain the growing China-U.S. rivalry and predict its future direction. Two main ones appear: the pre-World War I era and the Cold War. Both have their merits. The early twentieth century pitted Germany, a rising power, against status quo Britain and France. The Cold War also shares similarities to the current situation. The United States engaged in a prolonged struggle to contain a nuclear-armed great power. However, neither the Cold War nor the First World War offers an entirely appropriate analogy to make sense of the current world order.
Wilhelmine Germany was a formidable power but it largely stood alone, cornered in the center of Europe. London, Paris, and Saint Petersburg had an easy time concentrating their forces to balance against Berlin. Although it had Asia as secondary and the rest of the globe as tertiary theaters, the heart of the Cold War was also Central Europe. There were only two great powers, the Soviet Union and the United States, wholly occupied checkmating each other. 
Today's international politics differs by the number and locations of the main protagonists. Although China legitimately attracts most of the attention, Russia remains a great power. Both China and Russia are the sole great powers of their respective regions — Asia and Europe. Both are bent on correcting the balance of power to their advantage and pushing the United States out of their neighborhood. On its side, Washington has a deep-seated interest in making sure that no great power competitor dominates Asia or Europe because both regions concentrate a big share of the world's wealth and advanced industries. Indeed, a regional hegemon in possession of such resources would be strong enough to potentially overpower the United States. 
Washington found itself in the same position during the late 1930s and early 1940s. Nazi Germany had become the strongest power on the European continent and seemed bound to dominate all of it. Imperial Japan's bid for Asian hegemony was unfolding unabated. The Americans had a vested interest in ensuring that neither Berlin nor Tokyo would seize control of their neighborhood because local powers were unlikely to get the job done on their own. It is now Beijing and Moscow occupying these roles.
Asia and China
China is the strongest state in Asia by a wide margin. No regional state can counterbalance Beijing on its own. Even a coalition of current U.S. partners — say Australia, Japan, the Philippines, Taiwan, and South Korea — would likely be too weak to seriously deter China without America's support and strength. If Washington wants to prevent a Chinese bid for regional hegemony, it needs to throw its weight behind the balancing effort.
During the World War II era, America had to work alongside allies with widely divergent interests (notably Britain, Free France, and the Soviet Union) against the would-be German and Japanese hegemons. In a similar vein, the United States needs to help repair the relations between Japan and South Korea and accommodate those who have had rocky relations with Washington (India, Vietnam) or that are non-democracies (Singapore). The sheer power of China and the challenge of putting together a working balancing coalition imposes to the United States an "Asia First" strategy in the same way that the Third Reich's superior military and industrial capabilities forced "Europe First" during World War II.
Another similarity with the World War II era is that power dynamics are rapidly changing. In Europe, the primary focus of American planners, Germany was with little doubt the strongest power on the continent. But the balance of power was evolving and the Soviet Union, still reeling from its civil war and Stalin's purges, appeared to the Germans as a rising threat. Today, Beijing is growingly wary of India, a state as populous as (and very soon, probably more than) China and enjoying economic growth rates superior to China's.
Europe and Russia
While most Asian states are directly exposed to Chinese military power, the states of Western and Southern Europe are separated from Russia by several other states in-between. Therefore, many European states feel less threatened by Russia and have been slow to balance against Moscow. Although France has been increasing its military spending and Britain vowed to redeploy heavy forces to Germany, these small incremental changes do little to correct the overwhelming military superiority of Moscow. No Western European state is ready or willing to confront Russian power head-on. Europe needs American leadership for that. It is not unlike the late 1930s, when the Soviet Union, separated from Germany by Poland, readily passed the buck of containing Berlin to London and Paris, with disastrous results.
On paper, European states — most notably Britain, France, and Germany — have enough latent capabilities to counterbalance Russian power. But geography and the collective action problem stand in the way. Indeed, Russia is not an immediate threat to Western Europe like the Soviet Union was. Today's Russian army is unable to threaten the survival of France or Germany due to the East-Central European states acting as a buffer. Even if the Western Europeans acknowledge the resurgence of Russian power and are slowly rearming, they just do not feel the same sense of urgency as in Eastern Europe.
Collective action is difficult when many actors have to provide for a common good. An instinct is to do as little balancing as possible and wait for others to take the mantle of deterring Russia. Also, with no clear leader, effective decision-making is unlikely. Berlin, London, Paris, and others will push for their own preferences, thus resulting in lowest-common-denominator policies and under-balancing. Russia would then be free to cherry-pick its small neighbors and subjugate opposition. Eventually, Western Europeans would balance more effectively; but by the time they do so, Russia will have grown its power base and will already dominate Eastern Europe, thus representing a far more formidable challenge.
NATO is a powerful but imperfect tool to contain a Russian aspirant hegemon. The misaligned interest between many western and southern states and those closest to Russia stands in the way of effective balancing. A potential cure would be to form an additional smaller and more focused alliance system of Poland as the main bulwark, the Czech Republic, Romania, the three Baltic states, and maybe Sweden. In any case, to overcome buck-passing tendencies and problems of coordination, American political leadership is inescapable.
No Easy Fix
Historical analogies are always risky and no situation ever recurs in the exact same way. Yet, if we are to compare the current international situation with a past example, the World War II analogy appears more powerful than the World War I and Cold War ones.
Indeed, the United States faces the same conundrum of having to deal with two formidable rivals on two different continents. World War II had Germany as the most powerful opponent and Europe as the theater concentrating the most resources. Now, both the strongest competitor and the main loot are in Asia. During World War II, U.S. policymakers wanted to focus their forces on taking down Germany but they also had to cope with Japan out of fear that Tokyo would successfully absorb much of East and Southeast Asia and become a far greater threat than it already was. Today, although Russia lacks the power potential of China and Asia has now more wealth than Europe, with potential hegemons in both Asia and Europe, Washington is forced into a gigantic act of dual containment. Therefore, the same dilemma that plagued the United States eight decades ago plagues the Americans of today.
There is no roadblock in the way of improving Sino-US ties
According to my long-term observations, the challenge that the US strategic circle has been confronted with in assessing Sino-US ties is: How to comprehend China? What is the best strategy for dealing with China? What is the proper topic for researching Sino-American relations? If they have a more objective perspective of China and a more reasonable understanding of China's growth, there will be less friction between China and the US, and bilateral ties will develop more smoothly. Otherwise, there will be additional difficulties and twists and turns.
Of course, the United States has no shortage of discerning and young people. Nixon and Kissinger, for example, ventured to question American society, "Should the United States open the door to China?" "Should US-China relations be broken?" They had the "Ice-Melting Theory" because the questions they presented were valid. Despite the fact that diplomatic ties have not yet been established, Nixon has decided to visit China as President of the United States.
Such an accomplishment is still remarkable and admirable. Because the topic they propose is appropriate, their efforts will live on in the annals of history and will be remembered in perpetuity. In truth, the Chinese did not have the present degree of awareness of the United States at the time, and the "Cultural Revolution" had not yet finished. Even if the sign on the edge of the Beijing airport welcoming President Nixon remained "Down with US imperialism."
Despite the removal of the Beijing Airport tagline, Nixon's successors have always had a swinging perception of China, whether clear or muddy, straight or crooked, and floating. As a result, Sino-American ties have been bumpy along the road. Because some Americans misunderstood the subject of China studies, the ensuing misconceptions appear to be a black cloud in the sky of Sino-US relations; when the dark cloud appears, the US and China will lose ground in their interactions with China.
The current challenges in Sino-US relations are likewise similar: there are both black clouds of the so-called "China threat theory" and aggressive actions continually unleashed by the US administration, which throws a shadow on US policy toward China while also casting a shade on the US itself. There are several impediments to growth. In truth, the different "evidences" of the so-called "China Threat Theory" are not difficult to understand and do not need profound knowledge or secrets that cannot be made public.
Viewing China's peaceful development trend honestly and logically is not an insurmountable challenge for Americans. Nixon and Kissinger of the United States strove hard 50 years ago not to "hide from the clouds." Today, the US likewise has no need to invent a slew of fictitious "reasons for China threats" in order to keep Sino-US ties from improving!
Otherwise, I'm not sure whether future Americans will be able to answer the question, "Who lost China?" However, as the adage goes, "the house leaks and rains," referring to the ongoing epidemic of the new crown epidemic, which prevents direct face-to-face connection. The hurdles, which include psychological and emotional barriers, have exacerbated the difficulty of removing these black clouds.
Expressions like "I am in you, and you are in me," "Everything is thriving, and everything is lost," and "Global Village" are also taught from American scholars, and they reflect true developments in Sino-US ties. As far as I am aware, virtually few researchers over the age of 40 in American academic circles have not been inspired by the thesis of "interdependence." As a result, they recognize the importance of interdependence and will not turn a blind eye to the breadth and depth of dependency between China and the United States today.
The United States and China's interdependence today is extensive, multi-layered, and multi-faceted. It is a network structure system that is vertically and horizontally interwoven and coexists peacefully. What exactly is "hehe"? It is designed to meet the demands of both China and the United States. If the difficulties of matching and matching between the two nations via peace and collaboration is unique in history, then the matching and matching accomplished between the two countries after a half-century of hard effort is also exceptional. There are few countries in the world that can be compared to it, and none that can replace it.
To put it another way, the compatibility that China and the US require may be achieved through hard work. Even though China and the United States do not share the same destiny or synergy for the time being, the American people's everyday lives are nearly inextricably linked to China. Based on this, I've understood the truth: the mutual relationship's ability to shift from danger to safety is due to their interdependence, and no one can abandon others. This is the heart and soul of Sino-American ties. There is no justification for anybody to overlook this basic due to the disagreement between them, let alone dig out the roots and harm the truth!
There is no obstacle that cannot be overcome in order for Sino-US relations to develop, because there are always more solutions than challenges. The author has firsthand knowledge of the development process that occurred after the "hard ice" of Sino-US ties was cracked. I've witnessed both the flowering spring and the dismal winter that appears to be on its way. Even if "apes on both sides of the strait couldn't cry," they can nonetheless show up. Situation in which "the light boat has crossed ten thousand huge mountains." Following the upheaval of the late 1980s, Sino-US relations were practically intolerable, and they persisted until the end of 1991, with little indications of improvement.
There is no obstacle that cannot be overcome in order for Sino-US relations to develop, because there are always more solutions than challenges. Following the upheaval of the late 1980s, Sino-US relations were practically intolerable, and they persisted until the end of 1991, with little indications of improvement. On January 24, 1992, excellent news came out of Chinese diplomacy in the midst of such a "severe winter": Following a brief conversation with Israel, they agreed to formally establish diplomatic ties without any impediments, based on the strong affinity forged in the history of the Chinese and Jewish peoples. The two countries' long-awaited wish. The positive news of the creation of diplomatic relations between China and Israel has taken the Jewish world by surprise and has had a significant impact on the inclination of the American media to report on China issues.
There are many Chinese in the United States, and most Chinese expect Sino-US ties to strengthen. Only until Sino-American ties improve will Chinese people have a place and be appreciated in the United States. Foreigners will also consider a person's "birth background," which is natural and nothing strange; if the "birth background" is favorable, they will be "admired." China is also the "birthplace" of Chinese people in the United States. Chinese in the United States have put in a lot of effort and made significant contributions to the establishment of stable and seamless Sino-US ties. This tradition is not only alive and well, but also thriving.
There are a considerable number of Americans who rely on China-related employment, business, and investment, whether in China or the United States. Only until Sino-US ties improve will they be able to focus only on China-related professions, business, and investment, and they despise "McCarthyism." As a result, they anticipate that Sino-US ties will improve, which is unavoidable.
For example, in July 1990, at the invitation of the "National Committee on U.S.-China Relations," then-Shanghai Mayor Zhu Rongji led a delegation of Chinese mayors to the United States, aiming to dispel U.S. government and opposition to China's reform and opening up through the development of Pudong.
The Sino-US relationship, which was harmed by the late 1980s instability, also sought an agreement from the US Congress to prolong China's most-favored-nation status. According to Zhu Rongji's suggestion, Shanghai organized a delegation of scholars led by Ding Xinghao from the Shanghai Institute of International Studies, Hong Wenda from the Department of Economics at Fudan University, Yao Tinggang from the Shanghai Academy of Social Sciences, and Yao Tinggang from the Department of International Politics at Fudan University. Shanghai Institute of Foreign Trade's Zhou Dunren and Zhou Hanmin are made up of five persons.
These five people's round-trip travel expenditures were not covered at the time. When the National Committee on US-China Relations learned about the situation, they quickly said that they would offer it in its entirety. American friends are very ruthless! At the time, Sino-US ties were exceedingly tense, but China had made many American friends via bilateral exchanges with the US, as well as diplomatic assets for the growth of Sino-US relations. Trusted friends will provide genuine assistance in times of need.
As a result, the Chinese mayor delegation led by Zhu Rongji's tour to the United States outperformed expectations. Friends such as the "National Committee on US-China Relations" are not only there, but numerous. This decision should be practical and in line with objective reality. Furthermore, the US still has a vast number of international challenges that cannot be managed by one country alone and necessitate China's assistance. There are still many shared interests between China and the United States that must be pursued in order for individual interests to be realized. There are several elements that benefit both China and the United States. The challenge is how to make the most of these advantageous circumstances. The overarching theme is how to persuade Americans to view China's peaceful growth trend objectively and rationally.
In sum, their concept of the character of the United States has been constantly painted and has not been in place for a long time. The examination of the character of the United States, on the other hand, differs from the policy of international affairs in the United States. The primary purpose of US strategy is to enable the US to comprehend China objectively and logically. There is still a lot of opportunity for improvement.
The impact of Biden's policies on China
The main Indications of US policy towards China have begun to become clear, and this policy reflects an American approach based on dialogue, without abandoning the militancy adopted by the administration of former President "Donald Trump". In this context, the Egyptian researcher will analyze what (the shift in the language of China's political discourse towards the policy of the new US administration and its impact on the Middle East, and the corresponding Chinese policy determinants). On the other hand, the scholar will shed light on the position of the Middle East countries, especially in the Gulf region, with the intensification of competition between the two major powers.
The moves of US President Joe Biden's administration, since he formally took office on January 2021, have focused on building a policy toward China based on alliances. This policy includes:
Trying to coordinate with Washington's allies to confront China's foreign policies.
Re-enhancing the influence of the United States in international organizations.
This trend also shows that the determinants of the US administration's policy towards China are not exclusively related to Washington's management of bilateral relations with Beijing, as much as they are affected by the management of its relations with other countries as well.
The "Biden administration" stems from a position of weakness in the East Asian region following the isolationist policies of the previous "Trump's administration", and the impact of the Corona pandemic.
Chinese officials and analysts have pointed to a crisis (the failure of the Trump administration's pressure on Japan and South Korea to increase their defense spending).
On the other hand, China's success in persuading most countries in the region to join the (Regional Comprehensive Economic Agreement) was the biggest blow to American influence.
In mid-March 2021, a "Quad Summit" was held, which brought together the leaders of (the United States, Japan, India, and Australia), and focused on China. The summit showed that "Biden" wanted to expand the scope of cooperation among the group's members, to include elements of "soft power", in addition to its military dimension.
We also note the tours of the US Secretary of State, "Anthony Blinken" and the US Defense Minister "Lloyd Austin" to Japan and South Korea as well to coordinate US efforts against China.
Washington has announced the holding of a high-level meeting in Alaska between Secretary of State "Anthony Blinken" and National Security Adviser "Jack Sullivan" on the one hand, and Chairman of the Foreign Relations Committee of the Communist Party of China "Yang Jiechi" and Foreign Minister "Wang Yi" on the other hand.
On the bilateral level with China, we note that (the Biden administration has adopted a parallel dimension based on a balance between diplomacy in issues on which the two parties agree, and deterrence in controversial files). The US strategic objective of this approach is to adopt dialogue, but to a lesser degree than the administration of former President "Barack Obama", in conjunction with maintaining the policy of confrontation, but to a lesser degree than the Trum's administration.
One of the most important contentious issues that is expected to occupy the agenda of the two countries, and which is witnessing the intensification of competition between them, is "technological competition". Chinese Professor (Wang Da), Deputy Director of the American Institute at Jilin University in China, analyzes the course of this technological competition between Washington and Beijing, saying:
The United States will continue to adopt a hard policy towards China in certain areas, such as 5G networks, quantum computing and artificial intelligence, but it will reduce the policy of "aggressive detachment in other less sensitive areas".
We note here the Biden campaign pledge during the US election battle to allocate $300 billion for innovation, and this will be the main driver behind US policy, in parallel with (Washington's endeavor to undermine China's capabilities in the field of science and technology).
On the (political level), the Biden administration seems to have no options but to be tough on China. One of the most important strategic goals of President Biden is to end the internal political division. It is understood from this that adopting a different approach from the Trump administration towards China may deepen the division further, and this complex position for the American administration means that at a time when "the files that might produce consensus between Democrats and Republicans are almost absent". Here, we can see that the "Chinese threat" appears to be the most important consensual issue on the American political scene at the moment.
American analyzes indicate that between a quarter to a third of men in the United States may lose their jobs by the middle of this century. In addition, the expansion of globalization and the accelerating digitization process caused great pressure on the working class in some crucial states, which are called (Rust Belt states), in which Biden achieved a hard or hard victory in the last presidential elections in the face of his opponent, "Trump". These are the states of (Pennsylvania, Michigan, and Wisconsin), which means that this class will determine the outcome of the US presidential election again in 2024.
Based on this complex political equation towards the US tightening policy against China, the Biden administration announced its intention to tighten trade policy with China, with the "Joe Biden administration", stressing the need to "reconsider the agreement of the first phase of trade negotiations with China and not to rush to lift trade sanctions against it".
On the (security level), the White House issued guidelines for all US agencies in the month of March 2021, we note that it "mentioned China's security risk more than 20 times".
President "Biden" pledged the importance of (strengthening the US military presence in the Indo-Pacific region), and obtaining the support of Japan, South Korea, Taiwan and Australia in the face of "China's hostile practices in the Northeast Asia and the South China Sea", in addition to the support of NATO, As essential components of the American alliance against Chinese policies in that region, according to the new American vision.
The US security document also pledged the importance of "strengthening the US partnership with India, Singapore, the Philippines, Vietnam and the rest of ASEAN countries" to undermine and besiege China.
In order to undermine and besiege Chinese influence, Washington announced in March 2021 several plans to build (a network of guided and high-precision missiles along the so-called "first island chain", which constitutes the first strategic defense line for China), and includes mainly "Taiwan and the Philippines", and as well as several islands disputed between Japan and China.
The Biden's administration's tendency to double (media and diplomatic pressures on China in connection with the human rights file in Hong Kong, Xinjiang and Tibet, and with regard to the international investigation of the source of the spread of the Corona virus, as well as the file of freedom of navigation in the South China Sea) was also clearly shown.
On the other hand, there are files around which the views of China and the United States of America converge together, according to the same American vision, and among the files of: (controlling nuclear arms, climate change, and combating epidemics), which are the foundations for points of cooperation between the two sides, as it focused Biden made his first call with Chinese President "Xi Jinping" in February 2021.
But the main dilemma that will face the "Biden administration" lies in (the different visions of most Southeast Asian countries for the security approach to confront China from the American vision itself), and the inability of the Asian countries allied to Washington to withstand Washington's strategic pressures to confront Chinese influence, which is mainly supported by policy interactions. interior in the United States. These mainly Asian countries share a common destiny with China politically, economically, geographically and historically. Moreover, most do not view US-China relations as a "zero-sum" as in Washington.
Here, we note from the foregoing, the contradiction of the policies and vision of the American administration with its allies regarding China, and therefore, the United States will have to (invent new formulations in its dealings with each country separately according to its interests), and this is the most important obstacle in Washington's relations with its allies in dealing with China.