Donald Trump picks Rex Tillerson as his foreign minister to improve ties with Russia
[yt_dropcap type="square" font="" size="14″ color="#000″ background="#fff" ] T [/yt_dropcap] he wealthy businessman Donald Trump, the US president elect to replace Barack Obama, as speculated, has opted for wealth people for his cabinet positions and billionaire ExxonMobil CEO Rex Tillerson as his top diplomat is one.
Rex Tillerson, President-elect Donald Trump's apparent choice to be the next foreign minister in his government, has ample experience in dealing with Russia and many other nations, but strictly as a businessman, not a diplomat. Exxon has operations in dozens of countries, some of them politically volatile or estranged from the USA. First among them is Russia, which has leaned heavily on Western companies for technology and know-how to tap its vast oil and gas resources.
Persons close to Trump's transition team said that Trump had selected Tillerson to be America's top diplomat. The prospect of Tillerson's nomination for secretary of state has raised concerns, given intelligence assessments saying Russia interfered with the US presidential election to help Trump.
Trump's tapping of Tillerson lifts hope of US rapprochement as relations between former Cold war rivals have not made any significant improvement even after the 9/11 to terrorize Islamic world when Russia moved closer to US by supporting for Bushdom war on terror.
Rex Tillerson, a friend of Russia
A native of Wichita Falls, Texas, 64-year-old Tillerson is a career Exxon employee, having joined the company after graduating from the University of Texas in 1975 with an engineering degree. Groomed for an executive position, he spent years in the rough-and-tumble world of oil production, working in Exxon's central US, Yemen and Russian operations. By the 1990s, Tillerson was overseeing many of Exxon's foreign operations. He played a key role in Exxon's involvement in the huge Sakhalin oil and natural gas project on Russia's eastern coast. That was a warm-up for a $3.2 billion deal in which Exxon and Russian state-controlled Rosneft announced they would work together to explore for oil in Russia's Arctic region. Production is expected to begin in the next decade.
Tillerson joined ExxonMobil in 1975 as an engineer, before rising to become president and chief executive on 1 January 2006, overseeing business activities in more than 50 countries. Appointed CEO in 2006, he had been due to retire in March. But his lack of formal policy and government experience, and embedded relationship with a hugely powerful energy company is bound to result in sharp questions in the Senate confirmation hearings. Tillerson expected to retire next year. His heir apparent, Darren Woods, has been in place for a year, so there would be virtually no disruption to Exxon's succession plans if Tillerson were to become secretary of state.
Tillerson took charge of Exxon's operations in Russia in 1998, and navigated the company through major difficulties after Vladimir Putin came to power and the Kremlin demanded that earlier oil-and-gas deals be revised in favor of Russia's state energy giants Gazprom and Rosneft. In 2011, as Exxon CEO, he negotiated a long-range, multi-billion dollar joint venture with Rosneft to explore for oil in Russia's Arctic.
Tillerson has argued against sanctions that the US and European allies imposed on Russia after it annexed the Crimea from Ukraine in 2014. He also has backed free trade and an expansive US presence in the Middle East, stances at odds with the more isolationist approach Trump has pitched to his supporters during the campaign.
The businessman has publicly opposed sanctions on Moscow that thwarted his attempt to pursue huge oil deals in the Russian Arctic. For this, he was awarded Russia's Order of Friendship by Vladimir Putin in 2013 and the Kremlin welcomed his nomination with an aide praising him as a "very solid figure" with whom Putin and Russians have "good, business-like relations."
In 2011, Tillerson flew to the Russian resort town of Sochi to meet Russian President Vladimir Putin for the announcement. As news photographers recorded the scene, the men shook hands and smiled broadly at each other. "This project promises to be highly interesting and ambitious," Putin said, according to a Rosneft press release. Exxon exploration in Russia, he said, "will open new horizons."
Exxon steadily expanded its Russian business while its rivals faced expropriation and regulatory obstacles. Interestingly, in 2013 Putin awarded Tillerson the Order of Friendship, an honor given to only to highly friendly foreigners who improve relations with Russia. Tillerson is a special case. "My relationship with Vladimir Putin, which dates back almost 15 years now, I've known him since 1999 and have a very close relationship with him," Tillerson said in a speech a few years ago at the University of Texas-Austin.
The sanctions against Russia, if they remain in place for an extended time, could threaten the joint venture with Rosneft, and at Exxon's annual meeting in 2014, Tillerson urged Western political leaders to consider the very broad collateral damage of who are they really harming with sanctions.
Besides Russia, Exxon also has operations in Indonesia, Azerbaijan, Chad, Equatorial Guinea, and many other countries. Africa and Asia were its leading sources of oil production in 2015. The company says its diverse global portfolio of oil and gas projects helps mitigate risks. In 2015, Exxon paid Tillerson compensation that the company valued at $27.3 million, most of it in stock awards. At the end of 2015, he held awards that had not yet vested that were worth $149.2 million.
New direction
Donald Trump defended his nomination of Tillerson as America's next secretary of state, dismissing concerns about the oilman's ties to Russia and saying US foreign policy needed a new direction. The nomination, which capped weeks of debate about the right candidate, was the most keenly awaited in Trump's cabinet as the world waits to see how the incoming Republican president intends to alter US foreign policy.
Since it looks certain that Tillerson would be Trump's secretary of state, by law, he would have to either sell his Exxon shares and stock options or recuse himself from government matters that have a "direct and predictable" effect on his financial interests. Failure to do one or the other would likely result in criminal charges, since Cabinet members, unlike the president and vice-president, are covered by statutes designed to prevent conflicts of interest. If Tillerson didn't sell the stock, he would have to stay out of decisions for a wide swath of the secretary's job including climate change matters, the oil industry or many dealings with Russia. it' may be unacceptable to have a secretary of state who has a lot of oil company stock or stock options. Putting the stock in a blind trust would not be allowed because it would remain a financial interest for Tillerson
Still, it's not unheard of for a high-profile businessman to serve as secretary of state.
Bechtel, the big, privately held San Francisco engineering and construction firm, gained stature and prestige — and likely an advantage in bidding for foreign contracts — when President Ronald Reagan picked George Shultz as secretary of state and Caspar Weinberger as secretary of defense. Both had been top Bechtel executives. Most so-called democracies promote top businessmen for ministerial berths as per the capitalist system requirement. At the time, Bechtel had its own foreign policy, especially in the Middle East and didn't particularly care if its objectives were not aligned with those of the USA.
Trump has stoked alarm among Democrats and fellow Republicans ahead of his 20 January inauguration by calling for closer ties with Moscow, in contrast to received wisdom in Washington that Russia remains a global security threat. That sentiment — coupled with the fact that Trump is at loggerheads with some Republican senators over a CIA assessment that Russian hackers helped him win the election — may complicate Tillerson's confirmation hearings.
Trump, who announced the nomination, hailed Tillerson as a "great diplomat" and "one of the greatest and most skilled global business leaders of our time" at a campaign-style rally in the traditionally Democratic-leaning state of Wisconsin that helped elect him. The 64-year-old Texan, who, like Trump, has no experience in government and spent his entire career at Exxon, "has the insights and talents necessary to help reverse years of foreign policy blunders and disasters," Trump told the crowd. "Rex is friendly with many of the leaders in the world that we don't get along with and some people don't like that," Trump told the crowd in West Allis, without mentioning Russia or Putin. "They don't want him to be friendly. That's why I'm doing the deal with Rex, because I like what this is all about," he added. "Instead of jumping recklessly from one intervention to another, my administration will build a long term strategy for stability, prosperity, peace, and rebuilding our own country."
Politicians on both sides of the aisle have expressed concerns over Tillerson's ties to Russia. Senior Republican Senator John McCain has called Tillerson's ties to Putin "a matter of concern." "Vladimir Putin is a thug, bully and a murderer, and anybody else who describes him as anything else is lying," McCain has said. McCain and other senators have backed a congressional probe into intelligence assessments on Russian election interference, putting top Republicans on a collision course with Trump, who dismissed the reports as "ridiculous".
A series of establishment Republicans, including former secretaries of state Condoleezza Rice and James Baker, and former defense secretaries Donald Rumsfeld and Robert Gates have lined up to praise Tillerson.
If confirmed, Tillerson will face the hugely sensitive job of representing overseas a president apparently intent on trashing protocol and upending relationships built on decades of delicate diplomacy. Beyond thorny ties with Russia, Sino-US relations are strained after a series of moves by Trump that provoked China, now the world's second-largest economy, and controversy is also rife over his global business empire.
Trump postponed a press conference at which he was to unveil plans for separating himself from his global business dealings, instead writing on Twitter that his adult sons would manage the company. The 70-year-old billionaire is now putting the finishing touches to his cabinet with former Texas governor Rick Perry and Montana Representative Ryan Zinke his reported picks for energy and interior secretary respectively.
Last week Trump greeted a stream of special guests in New York including rapper Kanye West and Bill Gates, the richest man on the planet who dedicates his life to philanthropy. Gates said Trump had an opportunity to inspire Americans to embrace innovation as John F. Kennedy once promoted space exploration. "We had a good conversation about innovation, how it can help in health, education, the impact of foreign aid and energy, and a wide-ranging conversation about power of innovation," Gates said afterward. Trump also met with Vogue editor-in-chief Anna Wintour, who was a vocal supporter of his Democratic rival Hillary Clinton.
Observation: Implication for US-Russia relations
This economic development took place even while USA and Russia are officially at loggerheads over several issues, including the western economic sanctions. Success in Russia required aligning the company's interests with those of the Russian government, and good relations with Russian strongman President Putin.
Donald Trump's decision to nominate ExxonMobil CEO Rex Tillerson is proving to be a pleasant surprise to Russia. It's a rarity for Moscow to be enthusiastic over a US president's choice for secretary of State. It certainly wasn't the case for either of the past two secretaries, Hillary Clinton and John Kerry.
Even more than the election of President Trump, which brought Russia's State Duma to its feet in a standing ovation, the nomination of Tillerson seems evidence to Russians close to the Kremlin that the new government will move seriously to implement Trump's sketchy campaign promises about restoring good relations.
Putin, who has met frequently with Tillerson, Tillerson is well known and liked in Moscow, where he has been doing business for almost 20 years, but he is also seen as a completely different type than the US diplomats the Russians have regularly dealt with. Tillerson as Secretary of State would signify the greatest discontinuity in US foreign policy since the end of the Cold War.
For the foreign policy establishment in Moscow, Tillerson is a realist not driven by ideology, but a hard-nosed pragmatist who will focus on getting things done, and leave aside the many political and philosophical issues where Russia and the US will never agree. Sergei Karaganov, one of Russia's most senior foreign policy hands, has met Tillerson and says that his ratification would be a signal that genuine and lasting detente between the two powers is a real possibility. Karaganov is sure Russia can re-align the relationship in ways that will stress areas of concord and cooperation, and find ways to manage the differences.
Sergei Markov, a past adviser to Putin, says the whole foreign policy team that Trump is assembling makes it look like a break with past practices may be imminent. "We see Gen. James Mattis being named to be Defense secretary, and that looks to us like someone who could steer military cooperation between the US and Russia away from constantly obstructing each other and toward cooperation.." Michael Flynn, who's going to be White House national security adviser, is a person who advocates clear-eyed cooperation with Russia in areas that matter to both of us," Markov says, "We don't imagine these people are special friends of ours, or anything like that, but it will be very refreshing to have diplomatic counterparts who are interested in practical deal-making. "Our experience over the past decade and a half is that we don't have negotiations in any real sense, we just get lectures and ultimatums from our US counterparts," Markov adds.
But some Russian experts are more skeptical that there are a lot of illusions on both sides as Russians and Americans really don't want to know each other. They suspect there will be a hard awakening for Trump's people, when they realize that making deals in the very complex realm of diplomacy is not much like the business world. Alexander Konovalov, head of the independent Institute for Strategic Assessments in Moscow argues Putin knows what he wants, but not sure if Trump has a very clear idea how to handle Russia.
One has to wait for January 20, on which President Trump assumes power as the boss of US super power, for his new foreign policy course to take real shape.
Implications of the U.S. election on U.S.-China relations
The last four years have been one of the most tumultuous periods in modern China-U.S. relations. U.S. President Donald Trump has been the critical catalyst of this upheaval as he has oscillated between presenting China as a valued partner in international affairs, to it being a pariah that needs to be ever more constrained.
Such fluctuations have mounted in intensity as the Trump presidency has progressed. They have left observers uncertain as to whether or not this is a purposeful strategy of the leader of the world's most powerful country, or an indication of an untethered, badly conceived, and even short-sighted policy.
Such a wild approach has been no clearer than in their economic relationship. Here, the U.S. has strived to re-balance its trade relations with China, in particular, to reduce Beijing's long-standing trade surplus with Washington. The surplus has been argued by U.S. elites to have led to an unequal relationship, which a rising China exploits to challenge the U.S.'s economic supremacy. This divide has increasingly taken on a symbolic quality with it becoming representative of a rising China that is soon to surmount the U.S. in global affairs, and which U.S. elites now regard as the most pressing strategic threat to its global position.
In an attempt to pressure China into some kind of re-alignment, the U.S. President initiated a trade war in 2018 and ratcheted up tariffs on Chinese imports to the American market. By early 2020, these amounted to over $400 billion in tariffs, with China imposing its own retaliatory tariffs of $138 billion on its U.S. imports. Such steps have taken place amidst ongoing trade talks between the two sides and have been viewed as a negotiating tactic that has ultimately been detrimental to both countries' economies. In late 2020, the WTO said that U.S. tariffs violated international trade rules, undercutting their legitimacy, as well as the U.S. claims that China is undermining the U.S.-led "rules-based" international order.
Elsewhere, the two sides have also come into friction concerning China's territorial claims in the South China Sea, with the U.S. carrying out regular freedom of navigation operations in the area. The U.S. now also sends warships and military aircraft through the Taiwan Straits on a monthly basis (something innovated under President Trump), so as to deter China's historical claims on the island. In turn, Washington has urged its allies – Australia, Canada, France, and the United Kingdom – to act similarly, which has raised concerns in China of the country being strategically constrained in the region. Such a constraint could prevent Beijing from pursuing its foreign policy goal of claiming hegemony in East Asia.
Concerning the coronavirus pandemic, narratives emanating from the U.S. along with its Western allies have targeted China as being culpable for the outbreak. In a recent speech at the United Nations, President Trump openly claimed that China had knowingly unleased the Covid-19 "plague" on the world, which prompted a terse response from Beijing's officials that it is a cooperative, not a confrontational country that firmly has "no intention to fight either a cold war or a hot one with any country".
Such criticism has been increasingly mainstreamed in the last few months in the West with it acting as a stimulus for discussions on how to deal with China's rise. More critically, an October 2020 Pew survey showed that unfavorable opinions about China were at their highest ever level across the populations of Western Europe, the U.S., Canada, Australia, and South Korea.
All of these aspects of U.S.-China relations will present particular challenges regardless of the outcome of the U.S. election, in particular concerning growing global concerns over China's international ambitions. In this regard, Beijing will certainly need to redouble its diplomatic efforts to present the country as a responsible and benign international actor, through which others can benefit – in primarily – economic terms. That, by most accounts, China has the coronavirus largely under control means that it has been able to restart its economic activity, which gives Beijing the ability to kickstart and lead an international recovery. That most Western countries are still overwhelmed by the pandemic reinforces this capability and gives China the further chance to gain greater leverage and influence.
It also appears that it is now the U.S. that faces the greatest challenges to its international legitimacy, the consequences of which may have profound implications for its own global standing. This relates to the U.S. president's handling of the pandemic, which has to date led to its world-leading status of 210,000 deaths (which is set to double by the end of the year) and over 7.5 million infections. That the U.S. president himself has now become infected points to a leader but also a wider political system around him (including senior military leaders, senators, and most of his election campaign staff) that had a nonchalant, underprepared and irresponsible attitude to the major global health challenge of our time.
President Trump's infection also marks a major national security threat for the U.S. and the world. Given his age, obesity, and unhealthy diet, it is feasible that the leader of the world's most powerful country may become incapacitated from leading the U.S. in the next weeks. Crucially here, it has been widely reported that Trump will be unwilling to accept any negative outcome in the forthcoming election. Apart from suggesting that he would not leave office, he may try to rally supporters – potentially even violently – to protect his position. Crucially here, some of the medication he is taking to help him recover from Covid-19 has the potential to debilitate his mental capacities and overall judgment. This could impact his ability to recognize when he is incapable of leadership, but also spark irrational tweets and behavior that may destabilize the U.S. and even the world.
If the U.S. president were to die – either during or in the months after the election – in all likelihood the country would be thrown into a truly unprecedented constitutional crisis. With widely circulated claims among Republicans and Trump supporters that the election is rigged, if the Democrats were to win, we can expect lengthy legal battles, as well as a heightened potential for major civil unrest across the U.S. Either of these outcomes, would consume the U.S.'s domestic and international capabilities to act beyond its borders. They would also signal a sense of the U.S. political system (and democracy) as being illegitimate.
Such crises will only be to Beijing's advantage (among other U.S. competitors), especially given that China is in many ways returning – if not returned to – its pre-coronavirus economic activity. If U.S.-China relations do signify a contest for supremacy between the world's two foremost countries, Washington's handling of the coronavirus pandemic and its impact upon the U.S. presidential election could very well indicate the U.S.'s decline on the international stage, and essentially speed up China's path to global pre-eminence.
From our partner Tehran Times
The Battle for the Essence of the Democratic Party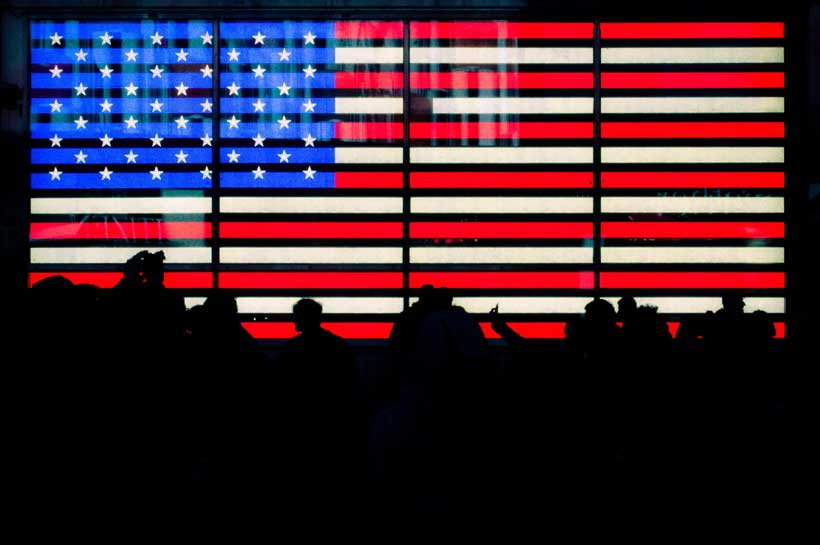 When President Trump fired defense secretary Mark Esper and cybersecurity chief Christopher Krebs just days after the elections, the President set a new integrity litmus test. He was clearly cleaning his circle of those who could stand up to him on the big stuff, such as not sending troops on the Black Lives Matters protesters or not pronouncing the elections rigged. In the meantime, Trump was showing the American public who he still considered loyal by not firing them by keeping the agency chiefs who stayed at least somewhere in the middle.
In the new Biden era, being fired by Trump will be considered the new badge of honor, an integrity stamp of a sort. Despite talk of firing FBI Director Christopher Wray and CIA Director Gina Haspel, Trump has not taken the decision, yet, and there surely must be a reason for it. To paraphrase Trump's infamous McCain quote, I like those who were fired by Trump, not those who were not fired by Trump. This is now the new integrity litmus test.
In May 2020, I was amidst my campaign for UN Special Rapporteur on freedom of speech as one of the top finalists, when in an interview on Bulgaria on Air I called the Trump Administration's and the US authorities' treatment of the media and the protestors during the Black Lives Matter crackdown "despicable". I was set on going after the Trump Administration and the US authorities if I had the chance to win the UN mandate on freedom of speech. And I had no plans for going easy on anyone.
There is something profoundly wrong with the US authorities, if instead of going after the crimes, they willingly choose to go after those that have a reaction against the crimes, outraged by crime impunity.
US agencies who "just don't get it" have to be defunded. And that brings us exactly to the discussion on the future of the heart, soul and essence of the Democratic Party.
The Democratic party has never been about appealing to the middle in order to be liked or about maintaining some kind of lowest common denominator to make sure that no one got offended. The Party has always been about equality and social justice, housing some of the most bad-ass status-quo shakers — not those that wanted to make sure that rich abusers stayed comfortable, racists were not inconvinienced, or abuse of military power for some illusive common good that served only those in power went unchecked. This is the party that offends and has offended throughout the decades to shake the status quo. This is why it is shameful that veterans in the Democratic Party have tried to shame Congresswoman Alexandria Ocasio-Cortez and others who have run and won their mandates on classical Democratic Party values.
Civil rights movement defenders in the black marches never said: "let's have a march but let's do it only on the pavement not to inconvinience cars". They took the whole street.
When I worked for Congressman Bill Delahunt, the Chairman of the House Sub-committee on International Organizations, Human Rights and Oversight, representing 10th congressional district of Massachusetts, some 14 years ago, we did not say that torture by the CIA and the CIA extrajudicial rendition flights were okay but not too much, in order to appeal to the center. We would say that torture is unacceptable, that America can do better than that.
Social justice and equality are uncomfortable. Rights are defended and guarded. They are never simply given. As an example from the other side of the aisle, when Republican President Eisenhower sent the troops on Little Rock to enforce black kids' right to attend school just like any other kid — what Brown vs Board of Education reaffirmed in order to end racial segregation exactly 30 years before the day I was born — Eisenhower did not aim for troops to only show up and waive at the crowds. The soldiers took the black kids by the hand and walked them straight in the school, in the face of hundreds of racist opponents — not trying to please them.
Defending rights takes grit and courage. And some US agencies will never really get it unless their budgets are cut and they are all actually pressed up against the wall — to change unwillingly, forcably and through the trivial but always effective use of financial pressure.
FBI Deputy Director David Bowdich's reaction to the Black Lives Matters protests at the time when I was running for UN Special Rapporteur on freedom of speech this year was that it is the protesters that should be arrested under an outdated rackateering law from the 1940s — not the murdering cops. A memo leaked to the New York Times showed that Mr Bowdich considered the social justice movement "a national crisis" comparable to 9/11. The hundreds of thousands of people mourning and marching across the country, unified by the simple thought that no life should be taken lighly, for nothing, were actually similar to terrorists in the eyes of the FBI who wanted to charge them as racketeers.
It is that kind of injustices and human rights infringements that I would have stood up against as UN Special Rapporteur on freedom of speech, as witnessed by the outrage and intentions, expressed in my May media appearances. I claimed back then that it is precisely in times of crises that rights are tested and defended. The United States is no exception. The US government is bound by international human rights law standards and no interpretation by second-rate lawyers loyal to the Trump Administration, comparing social justice protesters to racketeers and terrorists, can change that. International voices such as myself and others are here to make sure that US authorities do not forget their international human rights legal obligations.
America has a long way to go to recover from the damage that Trump and his cronies spread across the various US agencies have done to democratic principles and human rights. The Trump institutional capture of key agencies such as the FBI and the CIA, let alone DOJ, has lead the country into a downward spiral.
US authorities will not learn unless their actual day-to-day, functional survival is put on the line. People do not get it otherwise. This is why I fully support AOC and others in their defunding efforts, which are considered by many as controversial, extreme, out there and even dangerous, but in reality are simply the only effective way to fight institutionalized racism within the FBI, the police and other law enforcement agencies. "There is nothing radical about moral clarity", to repeat AOC's simple, yet powerful assertion. The comfortable, lowest common denominator parts of the Democratic Party need to wake up and realize that it is the Black Lives movement that got Joe Biden and the rest of the party across the finish line in November. And this precisely will be at the heart of the battle for the essence of the Democratic Party over the next four years.
Why are some Muslims, from India to the U.S Voting against their Natural Allies
Recent national elections in the U.S. and regional elections in India have presented an interesting conundrum. The numbers show that some Muslims, are voting in a counter-intuitive fashion. Given the rise of Islamophobia and right-wing religious nationalism, both in the U.S. and in India, one would surmise that Muslims would vote overwhelmingly to the left of center. But both, in India and in the U.S., many Muslims have however chosen to send a message to the center-left – your sympathetic rhetoric and your verbal condemnations of Islamophobia is not enough, we want to see concrete policies that improve our political and economic conditions. Neither the promises of Joe Biden, nor the fear of Hindu-nationalism is influencing their vote. These Muslims are, for sure, in a minority albeit a growing one. Politicians on the center-left may ignore them at their own peril.

In the U.S.
In the U.S., President-Elect Joe Biden's campaign outreach to Muslims went far beyond that of any presidential candidate in the past. Biden's campaign had a manifesto for American Muslims and a designated outreach person. Biden spoke at Muslim conventions and even quoted from Islamic scripture. He dropped an "inshallah" in the debates. Biden promised to end the so called 'Muslim-Ban' on day one and has repeatedly condemned Islamophobia. Biden spoke up for Uyghur Muslims in China and Kashmiris in India and has opposed the annexation of West Bank. He has promised to resume relations with the Palestinians and restore aid to them. Even Imran Khan, the PM of Pakistan, a self-proclaimed champion of Muslims, does not have such an impressive pro-Muslim curriculum vitae, he has repeatedly refused to speak up for the Uyghurs.
While a majority of American Muslims campaigned very aggressively for the Biden-Harris ticket and raised millions of dollars for the Democrats, the exit polls indicate that only 69% of American Muslims voted for them. On the face value that is a huge win, but if you look at in comparison to the past it is troubling. Despite the fact that Biden went far beyond any other candidate in his outreach to Muslims, and the Islamophobia of President Trump is well documented, Biden has garnered the least percentage of votes by a Democratic presidential candidate in the last four elections according to exit polls conducted by the Council on American Islamic Relations.
A possible explanation for this relatively weak performance is that, for some Muslims his "iron-clad" support for Israel and his willingness to work with pro-Hindutva operatives in the U.S., make his opposition to Islamophobia sound less credible. Words are not enough. If his electoral promises do not actually translate into actual policies, one can expect further decline in Muslim support for Democrats. American Muslims are a rapidly growing and politically engaged community that is over represented in swing states.
A closer reading of the exit polls suggest that things are worse than they seem. The exit polls show that while 17% American Muslims voted for Trump (up from 13% in 2016), 11% declined to reveal who they voted for. It is possible that they lean heavily towards Trump, hence the secrecy. That would mean that in spite of all his Islamophobic rhetoric, Trump may have doubled his support among American Muslims. One Trump supporter told me he voted for Trump because Trump did not invade a single Muslim country in four years unlike Biden who supported the invasion of Iraq.
| | | |
| --- | --- | --- |
| Year | Candidate | Muslim Vote |
| 2008 | Barack Obama | 88% |
| 2012 | Barack Obama | 85% |
| 2016 | Hillary Clinton | 74% |
| 2020 | Joe Biden | 69% |
In Bihar
The recent elections in Bihar has an interesting story to tell. The state is clearly polarizing as most gains have been made by parties on the extremities. Prime minister Modi's right-wing Bhartiya Janata Party (BJP) went from winning 53 wins in the 2015 elections to winning 74 of the 243 seats in 2020. A significant swing in favor of Hindutva ideology. The Communist Party (CPI-ML) gained 9 seats, it had 3 seats in 2015 to 12 seats in 2020. The communist parties combined had a 400% increase, they went from 4 to 16 seats. The parties in decline are the so-called secular centrist parties. The Rastriya Janata Dal (RJD) which is the biggest single party in the state lost five seats (80-75) and the Indian National Congress (INC), the grand old party of India, also lost ground (27-19).
Clearly the secular center is shrinking. The biggest surprise of the elections was the performance of Asaduddin Owaisi's All Indian MajlisIttehadul Muslimeen (AIMIM), a Muslim party, which in the past five years has gone from 0-5 seats. The Majlis won in predominantly Muslim area of Seemanchal and is being accused by commentators of stealing the secular vote away from secular parties. Some are describing Majlis as BJP's B-Team.
It is interesting that now in Indian politics, the code for Muslim vote is 'the secular vote'. Indian Muslims are now the last line of defense for the rather rapidly shriveling secular space. The criticism of Owaisi and the Majlis for denting the prospects of secular parties in Bihar is both misplaced and inaccurate. The question that is important is not why Owaisi's Majlis, a party historically based in Hyderabad (South India) is contesting elections so far in the North of India. The key question is why are Muslims in Bihar voting for Majlis? A party that has no record of governance in their region.
In a speech months before the elections, Owaisi predicted a tectonic shift in Seemanchal's politics and he said that it was coming because of the profound injustices and inequities that plague Muslims of that region. If secular parties that have governed the state for decades had delivered good governance to Muslims, Owaisi would have stayed at home.
Muslim Disillusionment
Muslims are increasingly disillusioned by secular and left politicians. Islamophobia was on the rise even before Trump became President and 37% of American Muslims, pre-covid pandemic, were found hovering near the poverty line. There is much discontent. I think just as 17-25% American Muslims voted for Trump rejecting the centrist politics of Democrats – many Muslims in Bihar too are frustrated by the failure of secular parties to improve their material condition. The region of Bihar where Owaisi's party won five seats is the poorest and infrastructurally the least developed area of the state. Voting for secular parties for decades did not help them much. They have been voting without hope. They too are tired of the lip service.
Muslims of Bihar are fortunate that they have an alternative in Majlis and they are able to reject both Indian secularists and Hindu nationalists unlike some American Muslims who feel that they are stuck between Republicans who are Islamophobic and Democrats who promise much but deliver little. The minority of Muslims who appear to be voting counter intuitively, seemingly against their own interests, either for Donald Trump in the U.S. or the Majlis in Bihar, are clearly sending a signal to secular politicians – do not take our vote for granted, you need to earn our vote.
The center-left may be a natural ally of Muslims, but if it does not deliver for Muslims, they may lose their vote in ever increasing numbers.