Misremembering and Hypocrisy in the History of Western Civilization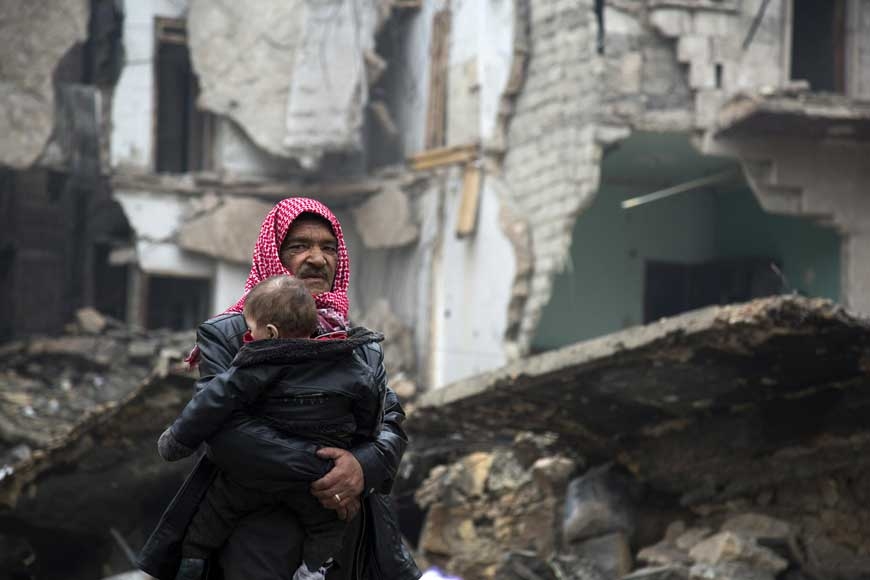 [yt_dropcap type="square" font="" size="14″ color="#000″ background="#fff" ] T [/yt_dropcap] he late Tony Judt coined the expression "misremembering" by which he meant that while it is fine, year after year, to commemorate the Holocaust with conferences, memorials, monuments, museums galore, if the commemoration is not followed by a meaningful moral analysis of the lessons learned from such a horrific event, if we periodically commemorate the event, but then dwell merely on the political, the economic, the military, the purely utilitarian considerations of the event, forgetting the much more important moral considerations, then the whole commemorative exercise turns into a sham ultimately dishonoring the very memory of that horrific event.
Emmanuel Levinas, on the other hand, wrote a powerful challenge to the Western ethical tradition without as much as mentioning the event of the Holocaust. It pervades however the background of his ethical writings as a powerful personal formative experience. Lest we forget, that experience collectively included the gassing of millions of human beings by chemical weapons duly kept secret from the rest of the world. Hitler made sure that his direct orders to proceed with his so called "final solution" were never put in writing so that they could not be traced back to him and he could deny being the reprobate originator of such a despicable crime against humanity, and that moreover he could even deny that he had ever had such weapons (already forbidden by the League of Nations).
When the issue of chemical weapons first came up a few years ago in Syria, Assad, its dictator, had the consummate gall of flatly denying at first that he had them and intended to use them against his own people. Later he was forced to give them up but never punished for actually using them. In Aleppo, as we speak, unharmed civilians, including women and children, are now being massacred when they should be given humanitarian aid and a way to evacuate the area safely. Their hospitals have been barbarously bombed by Assad and his Russian ally Putin, the man who goes on religious pilgrimages to testify to how pious and peace-loving he is. Indeed, to appease or tolerate a bully means ultimately to ensure that he will perceive no limits to his inhumanity.
But to return to past history and misremembering, a pacifist, a man of peace, the Prime Minister of England, Arthur Neville Chamberlain, the so called umbrella man, a year before World War II, when ominous rumors of war pervaded Europe, and after the aggression against Austria and Czechoslovakia, went to Germany to confer and appease the feared big bully of Europe, who concluded from that meeting that the West was weak and would not oppose the other invasions he was contemplating, namely that of Poland and Russia, and eventually the Western world and the world as a whole.
That is to say, the bully having been appeased, and the piper having not been duly paid early on, meant that he would have to be paid later on with much more loss of blood and treasure. This has been called an outrageous and false analogy by some pundits, almost politically incorrect, but it is indeed valid in its sheer simplicity. It has the simplicity of the language that every bully speaks and understands. It simply means that once one draws a red line with a bully, one has to confront him the very first time he violates it, not later when he has already been emboldened.
So, I will refrain in this piece from making the case for pacifism or for, at the other extreme, for a vengeful and paranoid reaction to any aggression. After all, even a Machiavelli and his modern devotees, who believe that the end justifies any means, would probably concur that paranoia is a mental sickness and that moreover, vengefulness and violence has never constituted a solution to any two wrongs, for two wrongs never cancel each other out ethically and remain two wrongs.
What I intend to do, rather, is to simply remember here the times when chemical weapons were used and tolerated after World War I, after they had been banned by most nations of the world. I will not engage in apportioning blame and final historical judgments based on utilitarian, pragmatic, political considerations. I leave that to more capable historians. For it seems to me that the reason the remembering is important before proceeding with a moral arguments is that without it, as a misremembering, the moral argument will be fatally flawed and even smell of hypocrisy.
As already mentioned, Hitler used chemical weapons to gas millions of Jews and other "undesirables." Most of his henchmen were put on trial after the war and found guilty and sentenced to death. But after the war, even putting aside the consideration of the use of two nuclear bombs dropped on Japanese civilians justified because is shortened the war and saved millions of soldiers' lives, there was extensive use of a nerve gas called napalm in Vietnam where not only soldiers but civilians were hit and justified as unavoidable collateral damage of war acts.
A bit later a brutal dictator named Saddam Hussein used chemical weapons against his own people and then against Iran while the US looked the other way and in fact maintained friendly relations with the dictator. There is even a picture of Donald Rumsfeld shaking hands with him as special envoy. He, or his boss Ronald Reagan for that matter, never chided the dictator for the use of chemical weapons and in fact supplied him with them. It is also important to remember that the former Soviet Union supplied the one thousand tons of chemical weapons that Assad had in his arsenal until he was compelled to give them up. Nevertheless, he paid no price for just possessing them illegally, and then using them; his worthy ally made sure of that.
The question arises: Have we somehow forgotten all that? Or have we misremembered it? For if we have, then our moral case against bullies and the advocacy of a justified war to prevent future catastrophes and obscenities against children and innocent civilians, is also misguided and may sound rather hollow and hypocritical, on both sides of the Atlantic alliance.
Indeed, the moral obscenity of massacring civilians needs to be confronted as a Kantian deontological moral imperative, one way or the other, at the risk of becoming a moral pigmy and a coward. The issue is how do we confront it? Do we do it the way a Gandhi or a Martin Luther King would, via non violence and diplomacy with war only as a last resort and the threat of war as an incentive to the bully to come to the table, or does one do it via paranoia and vengefulness, usually counter-productive?
It remains a fact, however, that a terrible crime has been committed, once again, and to redress it properly as the moral outrage that it is, we as a civilization (Western, so called) and all those who continue to call themselves civilized, need to remember, to acknowledge, and to take a modicum of responsibility and do amends for all the other similar crimes committed with chemical weapons and weapons of mass destructions. Those crimes are unworthy not only of civilization but of man's humanity. Which is to say, we need to look deeply into ourselves first and examine our own historical record and our own conscience, with no anger and no paranoia.
Misremembering and pious pronouncements and hypocritical commemorations to the Holocaust with no moral lessons derived from them, simply will not do. As the saying goes, it behooves us "to put up or shut up."
Human Rights Council election: 5 things you need to know about it
The United Nations General Assembly held secret-ballot elections for the Human Rights Council (HRC) on Friday.  As of 1 January next year, the 18 newly-elected States will serve for three years on the UN's highest inter-governmental body, mandated to protect and promote human rights worldwide.
While the institution has been the subject of controversy since its creation in 2006 – culminating in the withdrawal of the USA this past June – UN Secretary-General António Guterres reiterated that it plays "a very important role" in the UN's human rights architecture.
1. First of all… how does it all work?
Elections to the Council happen annually, with countries serving for three years on a rotational basis, as some of the seats expire on 31 December every year. There are 47 seats, equitably distributed according to five regional divisions.
Countries need a minimum of 97 votes to get elected, and everything happens by secret ballot. This year, 18 seats were up for election:  five for Africa, five for Asia-Pacific, two for Eastern Europe, three for Latin America and the Caribbean, and three for Western Europe and other States.
2. So… who's in and who's out?
After Friday's election, here's how the Council will look from 1 January:
IN, elected this year: Argentina, Austria, Bahamas, Bahrain, Bangladesh, Bulgaria, Burkina Faso, Cameroon, Czech Republic, Denmark, Eritrea, Fiji, India, Italy, Philippines, Somalia, Togo and Uruguay.
IN, continuing their terms: Angola, DRC, Egypt, Nigeria, Rwanda, Senegal, South Africa, Tunisia, Afghanistan, China, Iraq, Japan, Nepal, Pakistan, Qatar, Saudi Arabia, Croatia, Hungary, Slovakia, Ukraine, Brazil, Chile, Cuba, Mexico, Peru, Australia, Iceland, Spain, and United Kingdom of Great Britain and Northern Ireland.
OUT, because they didn't apply for a second consecutive term: Belgium, Burundi, Ecuador, Georgia, Kyrgyzstan, Mongolia, Panama, Slovenia and Switzerland.
OUT, because after two consecutive terms, they're not eligible for re-election: Côte d'Ivoire, Ethiopia, Kenya, the Republic of Korea, the United Arab Emirates, Venezuela and Germany.
3. What does the Council actually do?
In a nutshell, the HRC is a multilateral forum to discuss anything relating to human rights issues around the world.
In addition to launching fact-finding missions and establishing commissions of inquiry into specific situations, it meets three times a year to review the human rights records of all UN Member States, in a special process designed to give countries the chance to present the actions they have taken, and what they've done, to advance human rights. This is known as the Universal Periodic Review.
This video explains it all in a simple way:
4. How come some countries accused of human rights violations still serve?
The HRC was created in 2006, following a proposal by former Secretary-General Kofi Annan. In a report titled "In Larger Freedom", he noted that the Commission on Human Rights, created in 1946, was suffering from "declining credibility and professionalism" and was "in need of major reform". Subsequently, based on his recommendations, the Human Rights Council was established by the General Assembly to replace the Commission and several measures were put in place to try and avoid the same problems that eventually arose with the Commission.
For example, as it is understood that the Council can only be as effective as its Member States, the election process was placed directly in the hands of the General Assembly, the only UN organ where every one of the 193 countries has equal voting weight.
In addition, the geographical group divisions and seat allocations are meant to prevent disproportionate focus on just a handful of regions and countries, and ensure that every country has a chance of fair consideration.
Finally, during the elections for each regional group, the General Assembly allows extra blank slates: this should theoretically ensure there are more candidates than available seats, enabling a competitive process. However, if – as was the case this year with 18 candidacies for 18 available seats – no extra countries apply, then no competition occurs, and whichever Member State applies, is likely to get elected.
5. So does the HRC make a difference for human rights worldwide?
Although human rights have always been a very sensitive matter for Member States, the Human Rights Council remains an essential part of the UN's human rights architecture.
The Council has the power to adopt resolutions, launch fact-finding missions and investigations, and establish commissions of inquiry. In particular, the HRC can appoint independent experts on specific issues. At the moment, there are 44 thematic experts and 11 country ones appointed to monitor and report on human rights issues as requested.
All these mechanisms allow for grave violations to be highlighted and brought up on the global stage for examination, discussion and, whenever feasible, action.
Unilateralism Vs Multilateralism
During the 73rd sessions of the general assembly at the UN, the crunch of unilateralism and multilateralism between US and China kicked off, in which Trump's unilateral visualization of the world likely to hurt the US, but it might undermine his presidency. As the competitions between unilateralism and multilateralism are viewed inversely. According to the international relations scholars, unilateralism has defined an approach in international relations in which states act without regard to the interests of other states or without their support. Unilateralism is usually contrasted with its opposite approach, yet multilateralism is acting cooperatively with other states. Though unilateralism is often used in a negative way, experts agree that there are positive aspects to occasionally acting unilaterally, such as in issues of national self-defense.
Some politicians and international experts support unilateralism, at least for certain issues. An example of a unilateral action is the U.S. President Donald Trump's decision to withdraw from the Paris Climate Accord in 2017. The Paris Climate Accord was actually negotiated and approved by nearly 200 nations around the world, and the issue of climate change is impossible to be handled significantly without united efforts of all the countries, particular the major ones. Trump withdrew from the Paris Climate Accord, saying that it hurt American jobs and American interests as well. Trump's decision was opposed by many experts and average people around the world including the United States.
Nevertheless, it is believed that unilateralism is a policy of dealing with affairs that may be violent, regardless of the will of other countries or nationals. Given this, the most prominent feature of multilateralism is the negotiation since it can pay close attention to the shared interests of the majority and take practical and reasonable measures to deal with affairs in international affairs. The U.S. adopts unilateralism as a kind of closed rather than open behavior. Self-interest is the American priority mentality that Trump previously reiterated, and this approach seems to be a good way to safeguard the interests of the United States, but in fact, it is inconvenient for American nationals, and for the United States.  Conversely, politics, diplomacy, and trade all have disadvantages and this disadvantage can be a hindrance to domestic investment, risk from political changes negative influence on exchange rates, higher costs, economic non-viability, expropriation, negative impact on the country's investment, modern-day economic colonialism and etc.
From this point of view, it can be said unfavorable to Americans. The reason why the United States has become strong from a dispersed federation compared with the confederation is mainly between states. Improvement of politics and other status has enabled the United States to develop and be strong because of a strong government. If the United States 1787 Constitution was originally formulated by the founding fathers' generation, and then adopted unilateralism and did not negotiate, it is unimaginable that there would be a powerful United States today. So now Trump adopts unilateralism, which is contrary to the spirit and method adopted by the U.S. Constitution. The threat to his presidency is great because unilateralism is difficult to promote the cooperation and development of national economies. The interests generated by the United States are very short-lived, but they pose great threats to their long-term development and the long-term interests of their citizens. Therefore, when dealing with state affairs or international affairs, multilateralism should be adopted and negotiated. The problem is that we can better safeguard the interests of all parties, maximize the benefits, and promote the development of countries and their own economies.
In conclusion, it is important to understand the evolution of China's concept of multilateralism, because one has to begin with China's particularly humble experience with multilateral institutions e.g. it's being kept out of the United Nations (UN) and its institutions during its preliminary decades as also for it is being the target of UN criticism and sanctions (for Korean War) during those years. The things were to begin to change following the Sino-US rapprochement and China's entry into the UN and other multilateral institutions from the 1970s. Another crunch change to overlap with the late 1970s was the rise of Deng Xiaoping to power in China. Deng's economic reforms and openness become the driving force behind China's conclusive shift toward multilateral institutions.
According to Zhang Baijia, expert at the Chinese Communist Party's (CCP) Central School, numerous internal and external developments during the first half of the 1980s were to expressively influence Deng's strategic thinking in three major ways: (a) Deng aborted the long-held view that world war is inevitable' and instead stresses on 'peace and development' as central theme for China; (b) Deng acknowledged that the contemporary world is heterogeneous in nature and that conflicts coexist with cooperation and competition with interdependence; and (c) Deng maintained that independence does not equal isolation and self-reliance does not mean rejecting all foreign things as had been the case during Mao's times. Change in Deng's worldview was to result in the change in China's approach towards international institution and towards the whole idea about multilateralism.
As a result, the whole of the 1980s witnessed extraordinary qualitative and quantitative changes as China gradually involved itself in not only international organizations in the political domain but also expanded its participation in economic and security types of multilateral forums. As regards China's future vision on multilateralism, it has been motivated primarily by China's felt need (a) for undermining the basis of United States' unilateralism and its global power profile and (b) for making efforts to become acceptable as the benign rising power amongst its immediate neighbors and amongst the world at large. By far these two remain China's most important foreign policy challenges through its rise as a major power has already been accepted as a given reality in general. The conditions have also been facilitated by external dynamics, especially following the collapse of former Soviet Union which has shifted the focus of international relations and led to the widening of the whole understanding of security and strategic calculations amongst major players therefore moving the dynamic of international power politics beyond two superpowers to include new actors like China.
Strengthen UN, Implement UN Charterer in true spirit
Humanity is suffering everywhere whether it is Syria or Yemen, Afghanistan or Libya, Iraq or Myanmar, Palestine or Kashmir. The one who are being killed are human beings, irrespective of his or her race, color, religion, nationality, its human lives which are being lost. Last couple of decade, around 2 million people have been killed, 6 million have been made refugees in their own country or forced to migrate to other countries. Threats and tension is felt in Iran, Turkey and North Korea, Ukraine, and many other parts of the world.  If one switches on TV or read or listen to News, it is all about War, Killings, Blasts, hate and suppressions. People are fed-up of bad news all the time. Everyone is suffering with mental torture. Geo-political situation is deteriorating rapidly. The world is less safe than few decades ago. Insecurity feelings are rising exponentially. What is new world order? On the name of World new order, we have made this world more hostile and fragile. Who is suffering, humanity! Who is the beneficiary, end of the day, no one will be winner.
United Nation General Assembly is busy in its 73rd session. Leaders from all over the world are meeting each other and making speeches one after another, but what will be the out-come or result?
United Nation was founded on 24 October 1945, just after the World War II, in replacement of League of Nations. Its head quarter is at New York, USA. The United Nations is an intergovernmental organization tasked to promote international co-operation and to create and maintain international order. The charter of UN was very well drafted and very comprehensive. Its charter was formulated on justice and equality. It was hard work of genius people.
But with the passage of time, it is losing its effectiveness and failed to maintain world order. Some nations became so strong that, they put aside the UN and act unilaterally. Some nations are so stubborn, that they violate UN charter openly and feel no guilt. Some countries are so feeling-less that the whole world condemned them but they keep criminal silence.
Should we stay calm and just became spectators and watch what so-ever will happen? Should we leave all the issues to our next generations to suffer? Should we close our eyes and do not acknowledge the issues? Can we escape? Can we be ignorant? Can be we so cruel to our kids and leave them to be humiliated?
I believe, it is time to think and raise our voice, and struggle for a better tomorrow, better tomorrow for everyone, better tomorrow for my kids, better tomorrow for your kids, better tomorrow for our next generation, better tomorrow for everyone. We should struggle to make our tomorrow better than our yesterday. Think positively, act smartly and be optimistic.
We demand, respect of the UN , we demand for implementation of UN charter, We demand for justice, We demand for equality, We demand for fair-practices, We demand respect for human kind, We demand for a stoppage of killing, we demand stoppage of violence, We demand for protection of weak, We demand for uniformity etc.
It is natural, when we live together, the differences may rise among us. It can be among individuals or nations. It is very much normal and was happening since ages. We quarrel with our kids, brothers and sisters, parents, spouse or friends, boss or subordinates or colleagues. It is understandable. But we live in a civilized world. There are mechanisms to resolve the differences. In our day to day life we are over-coming on many issues and resolve with each other. The same approach may be followed to resolve the differences or misunderstanding among nations. UN is the right platform, UN charter is the proper guidelines for resolving the issues. Diplomacy is the weapon of civilized world. We all must respect UN, and its charter and resolve all issue through peaceful manner and dialogue. No one should have the right to by-pass UN or impose its decisions unilaterally.
I suggest, the International Community may join hands and strengthen UN and implement its charter in true later and spirit. UN may investigate the history of almost 7 decades and point out all the violators and let them declare responsible for their wrong doings. Force them to rectify their mistakes, compensate their wrong doings. UN should strengthen to the extent that any country how strong it might be, should not dare to violate UN charter. Any sanctions without UN approval may be declared null and void. Any military action without UN approval may not be recognized and declared criminal acts. They must be punished for their heinous crimes and war like crimes.
Let us struggle to make this world a place of "Peace, Harmony, Justice, Equality and Prosper" place for our generations to come. We may sacrifice but our next generation may enjoy Peace, Harmony and Prosperity.