Surge of Russian influence in Middle East at US expense
[yt_dropcap type="square" font="" size="14″ color="#000″ background="#fff" ] A [/yt_dropcap] merican efforts to support the opposition by arming them directly and through Arab nations have brought Russian forces there and now Russia is firmly footed in Syria, influencing Arab nations and Israel. With which it coordinates certain terror operations.
Syria is unofficially divided and destabilized, thousands of Muslims have been murdered by all "stake holders" in Syria, both Muslim and non-Muslim as well as anti-Muslim forces – objective of global anti-Islamism and Islamophobia.
Fall of Aleppo
Shift in Russian policy for West Asia by joining the fighting foreign forces led by USA, destabilizing Sunni Syria misruled by a Shiite president, has worked miracles for president Putin as Russia is seen as a formidable force in the world to take on US militarism..
Syrian Aleppo has finally fallen to Russian forces favoring President Assad.
As Aleppo rebels are defeated in an asymmetric fight, and UN and Western leaders prove unable to protect civilians from what they expect to be retribution by the regime, comparisons abound to the Russian pounding of the Chechen capital, Grozny, in the 1990s, and the Serbs' slaughter of 8,000 Muslim men in Srebrenica, Bosnia, in 1995.
Russian intervention in Syrian war has now almost ensured, thanks to president Putin's firm commitment to dictatorial dynastic misrule of Syrian leader Bashar al-Assad that he can just enjoy his remaining life without even holding any referendum, let alone elections, to continue his misrule and claim legitimacy for presidency for the rest of his life.
Apparently, for the Arab nations and Iran, fear of America would soon be the fact of the past as the ongoing Russian war maneuverings in Syria targeting Muslims in the Arab nation may have impressed the rulers in the region as well as Israel and, more importantly, Russian effort is helping Assad stay in power against the will of the world's super power USA. Having complicated the conflictual situation in Syria, Americans do not seem to have clues to end the war and possibly looking to the Kremlin to find some solution, even if not a long term one.
Ending wars of course is not the US idea.
Syrian leader Assad's key allies Russia and Iran could claim that the victory over rebels in Syria's second city Aleppo advances their standing in the region in the globally.
The bombardment of rebel-held east Aleppo by Russian forces, the Syrian army, and Iran-led militias has been unprecedented in its intensity, even by the standards of Syria's brutal six-year civil war. The blitz has also been effective at removing rebels – some of them backed by the USA, others Islamic jihadists ¬– from their most significant urban stronghold in Syria.
Russia dramatically stepped up its intervention in September last year, its first projection of hard power beyond former Soviet borders in decades, reportedly at Iran's request. Soon after, Obama said "it just won't work," and predicted that Moscow would get stuck in a "quagmire."
President Putin, however, has pointed to Western failures in Syria, and last week told the NTV channel that "the world balance is gradually being restored. The attempts to create a unipolar world failed."
So Russia seems to have outsmarted its arch rival USA in Syrian war but with no quick end to the conflict, they are likely to push for a political solution if they sincerely seek peace in West Asia.
With Russia maintaining upper handling war operations in Syria, Arab nations could now rely on Russian terror goods instead of depending on costly US weaponry.
Iran's challenges
For Iran, that means expanding the influence of its "axis of resistance" against the USA, Israel, and their allies. For Russia, it marks a critical step toward restoring past influence, even as American power projection and willingness to engage in the Middle East declines. "This is what really matters to Iran and Russia, that the political, geo-strategic project of the anti-Assad and anti-Iranian position has failed, and it has been buried in the Aleppo rubble," says a Middle East expert at the London School of Economics who has studied the history of ISIS. "Syria really could be a signpost for the emergence of a new international system."
Iran has supported Assad from the start with advisers – losing numerous high-ranking officers along the way – and mobilized the Lebanese Shiite Hezbollah. It has also marshaled thousands of Shiite militiamen from Iraq, Afghanistan, and even Pakistan to fight in Syria.
Few predict that the departure of rebel forces from Aleppo means the end of the Syrian war, which will continue as a guerrilla fight on many other fronts. And analysts say there are limiting factors to the current ascending influence of Iran and Russia. The brief cease-fire that fell apart did so amid wrangling between Russia and Iran about how and whether rebel fighters – all of them considered "terrorists" by pro-Assad forces – and tens of thousands of trapped civilians could be evacuated from the remaining sliver of ground they control.
The Assad "victory" in Aleppo has also been dented by Islamic State (IS) fighters' recent recapture of Palmyra, the ancient city held and damaged by IS earlier in the war that was reclaimed by Assad forces with great fanfare last spring. "There was big hope that this victory in Aleppo would shatter the morale of the Syrian opposition, and it would begin to crack, and there would be serious defections," says a defense columnist for Novaya Gazeta in Moscow.
Iran faces its own challenges, not least because of uncertainty about how a new government under President Donald Trump may improve ties with Russia at Iran's expense. So it, too, is inclined to seek a political solution. The perception in Tehran is there is no military ending in Syria.
In other words, since Assad has won the nasty battle and would stay forever, it is a good time to go for a negotiated solution, because from a position of strength it is easier to convince Assad to give concessions, rather than a position of weakness. Some conservative factions in Iran revel in the Aleppo victory of "resistance," that view "is not going to be shared universally. Iranian forces are also overstretched. We know there is no light at the end of the tunnel. "Any tactical closeness of Russia and the US may hurt Iran, and so their preference would be to quickly turn that victory into a negotiated solution.
That is to say if USA, Russia and Syria think seriously about ending war and rebuild the economy of Syria and strengthen Mideastern politics and economy.
Unfinished task?
However, even after seizing all of Aleppo, Assad still controls only one-third of the country. Russia and Iran therefore see the war in Syria as continuing, and are likely to press for a political solution to the conflict.
President Assad is celebrating his most significant battlefield victory so far, even though Iran-Russia squabbling interrupted what was supposed to be a final cease-fire, and images showed block after block of pulverized neighborhoods – punctuated by terrified citizens' please on social media "save Aleppo."
Assad told Russian television that liberating Aleppo doesn't end with liberating the city itself, it needs to be secured on the outside. The next target, he said, "depends on which city contains the largest number of terrorists." But the strategic reverberations of Aleppo's fall reach far beyond Syria's second city and signify a retooling of power dynamics in the Middle East.
It is here that Russia and Iran invested military power and orchestrated an outcome they desired, preserving the Assad regime and preventing a takeover by USA or ISIS and even greater chaos. At the same time, they defeated the half-hearted effort pursued by anti-Islamic USA and its allies Turkey, Saudi Arabia, and Qatar to remove Assad by backing rebel groups.
There was a triumphant tone in Iran, as well. "Resistance paid off; the horns of America and House of Saud broken," ran one headline in the hard-line Kayhan newspaper. "The liberation of Aleppo is the defeat of all political, military and arrogant powers in one spot of the Muslim world, where the flag of resistance has been hoisted," declared Brig. Gen. Hossein Salami, the deputy commander of Iran's Revolutionary Guard.
The human cost continues to grow, with the fight for Aleppo and its years of regime barrel bombing in the city contributing heavily to the war's death toll of some 470,000. Among reports of atrocities on both sides, the UN said that 82 civilians had been killed by pro-Assad troops as well. Heavy shelling of the city resumed with the collapse of a Russia-announced deal for the departure of rebel fighters. n"For Aleppo they gathered everything they could. Hezbollah brought in two fresh brigades.… The Russians organized a Grozny-type very heavy barrage that worked. But at the same time, the Syrian second-rate infantry was overrun in Palmyra, caches of weapons were seized, intervened in the morale-crushing effect of Aleppo.
Yet as Russia stepped up its intervention in Syria, the quagmire scenario grows, along with the risks. Russia waited a bit to launch the final hit on Aleppo. An official from the Kremlin had explained in May that it will be a bloodbath in Aleppo and Russia had to make a serious political decision. As the extent of that bloodbath sinks into the Sunni Muslim world, there can also be repercussions over murdering Sunnis in Syria. There is none indeed to shed tears over the genocides of Muslims anywhere in the world, including Syria or Turkey or Saudi Arabia. Millions have been slaughtered by fascist forces led by USA and EU and supported by Israel and its state terror ally India.
Another limit may be the cost for Russia, which one general recently said has shipped 700,000 tons of terror goods like military equipment and weaponry to Syria via the Bosporus waterway in Turkey. The problem is how long Russia can maintain such a policy, when it runs out of resources with Western sanctions remain in place and notwithstanding Russian efforts to end or at least ease they refuse to end the economic punishment of the Kremlin. And that is a serious burden on the Russian navy and the Russian budget. There is also the problem of Russian morale here just of American prestige.
Russia's experience in other conflicts, therefore, is behind its push for a political settlement.
The Syrian army is thinly spread and dispersed in many areas. Assad can never impose his centralized control on all of Syria anymore. In fact, what we see today as a significant military gain for Assad, could, experts say, easily mutate in a year or so into Afghanistan of the 1990s. And Russia knows this.
Without a political settlement, Syria will remain a battlefield for many years to come.
What is Russia's goal in Syria?
Hard pressed by its economic sanctions, Russia with its intervention in Syria has clearly challenged the imperialist unilateralism, any way and under President Trump no more such military misadventures could be expected. President Obama made a decision not to involve, not to entangle, not to invest major political and military capital in the Middle East. "It's not the lack of capability; it's the lack of will". The frequent WH statements about ending US wars in Iraq and Afghanistan, and no desire to start new ones is encouraging. In contrast, Russian President Vladimir Putin has made a strategic investment, and so far the returns are excellent.
A year ago the Kremlin appeared to be stepping up its role in the Syrian crisis, possibly laying the groundwork for a new strategy against ISIS in the region. In order to achieve meaningful results on the ground, Russia would need to send thousands of well-trained troops to Syria as well as a significant amount of military equipment. Presently there are well less than one thousand of Russian personnel operating in the country, and judging by recent images of Russian landing ships crossing the Bosphorus, trucks and armored personnel carriers. The news of Russian troops appearing across Syria has appeared in numerous media outlets around the world in recent days.
The financial burden of engaging in fighting in order to help Assad's army regain ground without any guarantee would be extremely heavy on the Russian budget. Some suggested that just as in previous years, Russian specialists are merely training Syrian President Assad's army to use Russian equipment that Moscow keeps sending to Syria, while others went as far as to suggest that newly-arrived Russians are fighting on the front lines alongside the Syrian army.
Only a few months ago, reports suggested that Russia could have been changing its Syria strategy and might abandon Assad. Russia even withdrew its diplomatic staff from Damascus and stopped honoring its agreement with Syria to maintain Russian-made fighter jets. But now there is no denial that in recent months Russia has slightly intensified arms deliveries to the Assad government. In fact, the latest data shows that in the first 8 months of 2015 Russian southbound landing crafts passed the Bosphorus 39 times, compared to 36 times in the same period of 2014.
After Ukraine, Moscow can't afford another major deployment of troops, both financially and politically especially with western sanctions in place. Moscow knows the price of such a policy all too well. The US reaction to initial reports of Russia boosting its presence in Syria was quite harsh. White House spokesman Josh Earnest suggested that Russia's involvement would lead to an escalation in the conflict and even to direct confrontation with the coalition taking on the Islamic State of Iraq and the Greater Syria (ISIS). Direct involvement in this crisis is also risky due to Western sanctions that theoretically could be toughened over Syria.
Russia and Syria reactivated the 1980 "friendship" treaty that sees Moscow taking over the Latakia air base. Russia has reportedly delivered its newest BTR-82A armored personnel carriers (APCs), Ural trucks and shipments of firearms to the Syrian government. It has also allegedly started assembling prefabricated buildings for 1,000 military specialists in Latakia to establish a broad anti-ISIS coalition. Russia has been continuously delivering cargo to Syria, both humanitarian and military. As well, Russia could be setting up a mobile air traffic control unit.
Are Russian forces really fighting for Assad? Vladimir Putin's intentions with regards to Syria are both domestic and foreign, particularly . Despite reports claiming that Russian troops were seen taking part in action in Syria, engaging in direct fighting is off the table for the Kremlin, at least for now. Probably the most important reason why Russia would think twice before sending its troops into battle in Syria is that it would certainly be used for PR purposes in Russia's North Caucasus by ISIS to recruit new Russian-speaking fighters. But it would be even more detrimental to the Kremlin if ISIS captured a Russian soldier in Syria whose brutal execution would set large groups of Russians against the Kremlin's irresponsible strategy.
The Russian Foreign Ministry confirmed that Moscow continues to provide military equipment per previously signed contracts; in addition, Moscow continues to send Russian military specialists to train the Syrian army to use this equipment. Some reports suggest that most equipment that Russia delivers to Syria these days is intended for the military base in Latakia.
Observations
By increasing its military presence in Syria, Russia may also be raising the ante in the ongoing negotiating process with the Assad government. So much so, now Western governments would have to deal with Russia instead of Assad regarding Syrian future or military deals. .
The big question now is whether the USA under Trump will continue to push Europe to hold Russia accountable — something that is currently in doubt, given President-elect Donald Trump's open admiration for Russian President Vladimir Putin and his selection of Russia-friendly Exxon Mobil boss Rex Tillerson for very important post of secretary of state. President-elect Donald Trump's Russian sympathies have raised the possibility of a shift in US foreign policy vis-a-vis Moscow.
The devastation in Aleppo and the rollover of sanctions against Russia was part of the EU summit agenda on December 15. While the summit ultimately sent a strong message to Moscow about the EU's willingness to extend sanctions and support Ukraine, in reality EU foreign policy towards Russia is predicated on what happens next in terms of US foreign policy and the ongoing political maneuverings in Syria. European Union leaders recently decided in Brussels to extend sanctions against Russia until July –sanctions that were imposed after the annexation of Crimea in the spring of 2014
The moot question is will the anti-Islamic nations , condign Arab countries, leave Syria even without going for the rebuild costly operations from Syrian resources by dividing the construction-destruction works among all of them, and China and Israel- the anti-Islamic nations waiting for orders?
Clearly Russia has firmly stay put in West Asia including Mideast and the Sunni Gulf states are already singing military deals with Moscow, pushing the US super power, the traditional shareholder in the region, to sideways.
Russia's expanded role in Syria is yielding some benefits. Moscow is being courted by Persian Gulf countries like Saudi Arabia, and is rebuilding ties with Turkey and Egypt – all of them traditional US allies. Palestinian leaders have also requested Putin's help in convincing arrogant Israeli PM B. Netanyahu to resume peace talks – a role long played by Washington. Israel just wants bogus talks and it abruptly cancels by putting conditions, difficult for the Palestinians to accept. .
The role of spin doctors in the Eastern Ghouta crisis
When it comes to war, it is exceedingly important to get all the facts straight: always remember there are—at least—two sides to every story and be careful to distinguish reality from propaganda.
Many words have been spoken about the ongoing crisis in Eastern Ghouta: the Damascus district, in fact, is paying the price of the umpteenth conflict between pro-Syrian government forces and rebels.
The protests against President Bashar al-Assad have been going on in the area since 2011 and the next year the rebel fighters managed to establish their control over the territory.
The initial tensions rapidly developed into a full-blown war that did not spared civilians—including a large percentage of children—from being a target.
In the last few weeks, a global campaign of solidarity—#IAmStillAlive—has been launched on social media platforms to support the children trapped in the rebel-held enclave, where there is almost no food left, nor medical supplies and humanitarian access has been completely cut off.
In this regard, it is necessary to remember that international aid convoys have been regularly delivered from the United Nations, the Syrian government, the Syrian Arab Red Crescent and Russia. It became known, anyway, that the supplies do not always reach civilians falling, instead, directly in the hands of the rebels.
But who are exactly the so-called "rebels"?
Numerous groups are active inside the besieged region and, despite being in opposition to each other, they stand together against the Syrian Arab Army.
Jaysh al-Islam represents the largest factionwith an estimated 10-15,000 members. Formerly allied with Al-Nusra Front—al-Qaeda's branch in Syria— they conducted several deadly attacks, such as the infamous "Adra massacre".
The Syrian Military claimed that in last December 2013 over 80 people were executed in the city of Adra and, during the following days, dozens of others were kidnapped and use as human shields.
Geopolitical analyst Patrick Henningsen believes that the foreign encouragement of rebel forces was to blame for that tragedy; in an interview with RT he goes even further, claiming that "there is involvement by the Western intelligence agencies that have links to some of those radical jihadist groups."
The Hay'-at Tharir al-Sham and the Faylaq al-Rahman—which is also affiliated to the Free Syrian Army—organizations are linked to al-Qaeda and they are responsible for a huge amount of atrocities, including the heinous attack that took place on 16 December 2016 in the Al-Midan neighborhood in Damascus, when jihadi-father Abu Nimr al-Suri sent his two daughters to die in a suicide-bombing attack against the police station.
The Ahrar al-Sham coalition is probably the biggest terrorist group in Syria and it is currently aligned with Jaysh al-Islam against al-Nusra Front.
The criminal organizations above—some more than others—aim at the extermination of Syrian religious minorities, proving themselves to be nothing but terrorist groups.
Furthermore, they are said to have received "donations" from Saudi Arabia, Qatar ,Turkey and the US, although they rejected those claims.
The Western Media seemed initially reluctant to highlight the Tafkiri-Jihadi inspired nature of the rebels, depicting them as "moderate rebels" or "freedom fighters".
Once again, it is necessary to check the accuracy of sources of information and report on solid facts exclusively.
It can be quite tricky, since much of the country is inaccessible to journalists on the ground and news coming out is often filtered through "media activists" or unofficial outlets.
Every major newspaper and outlet gleaned the information from the often quoted Syrian Observatory for Human Rights (SOHR), a UK-based monitoring group—actually a one-man band—run by Rami Abdul Rahman.
According to the New York Times "military analysts in Washington follow its body counts of Syrian and rebel soldiers to gauge the course of the war," as well as providing mainstream media with daily updates about the Syrian crisis.
In the same article from the NYT, he admitted to receive "small subsidies from the European Union and one European country that he declines to identify."
Mr. Abdul Rahman—born Osama Suleiman—is a three-term convicted criminal in Syria, due to his years of activism against the Assad regime.
He fled to the United Kingdom eighteen years ago and the government relocated him to Coventry, in the West Midlands region; he has not returned to his home country ever since.
In the UK, he has had direct access to the Foreign and Commonwealth Office in London, where has been documented meeting with the former Foreign Secretary William Hague.
Both Hague and current Foreign Minister Tobias Ellwood endorse Rahman's political position.
Among Rahman's network of contacts there is Rafid al-Janabi, better known as "Curveball". The Iraqi defector played a crucial role in the 2003 Iraq War, falsely accusing Saddam Hussein of having weapons of mass destruction and pushing the US and its allies into launching offensive.
In 2011 he eventually admitted that he "had the chance to fabricate something to topple the regime," and spread the fake information that became the centerpiece of then-Secretary of State Colin Powell's pro-intervention speech at the United Nations.
It is hard to believe that the Western press never considered to examine its main source's political connections and background before using hisnot-necessarily-objective reports.
Funded in 2013 by  ex-military officerJames Le Mesurier, the White Helmets NGO aims to rescue civilian survivors trapped in bombed buildings and the people who   volunteer for the corps are hailed as some sort of heroes in the West.
The Netflix heart-breaking Oscar-winning documentary ("The White Helmets", 2016) focuses indeed on the "perilous work of volunteers who brave falling bombs to rescue civilians from the carnage of Syria's civil war."
They present themselves as an unarmed, non-governmental and neutralorganization, yet they have had a leading role in various controversial events.
Although they claim to be apolitical, they actually actively campaign for a no-fly zone and they are largely funded by Western governments which advocate for regime change.Their principal funder is, in fact, the United States Agency for International Development (USAID), along with the UK, and Europe.
They work exclusively in rebel-controlled areas, which raised doubts about the independence of their reports; in addition, some volunteers happened to be photographed while assisting in terrorist executions.
In 2016 members of the group were caught staging a rescue scene, later justified as their version of the popular 'mannequin challenge,' in which people were supposed to freeze for the camera. They apologized for the fact calling it an "error of judgment," but the footage has been subject of harsh criticism on social media.
This does not mean that their effort as rescue workers is unappreciated, but it truly indicates the need to examine whatever information they provide with a critical eye.
In order to understand the reasons that could lead media to distort information, we have to introduce the concept of "spin".
Spin is a form of propaganda used by public relations agencies—referred as "spin doctors" in this case—which provide a biased interpretation of facts and data to influence public perception on significant matters.
Cited as an invaluable source of information by Western media outlets, the Syria Campaign is a public relations and marketing company that, among other operations, branded and promoted the White Helmets to the international public.
The agency presents itself as impartial and non-political, yet they not only called for a no-fly zone, but also pushed for military intervention in several occasions.
They even attacked the UN's work in Syria by publishing a 50-page report on a dedicated website that used a UN logo soaked in blood.
Ironically, among the supporters of their anti-UN campaign was the previously mentioned Ahrar Al-Sham.
The supposed most-reliable media outlets feed us altered and even fake news sometimes.
The majority of information we have about the Syria's war do not come from  disinterested observers: citizen journalists and activists, in fact, are either pro-rebel or pro-regime, which is no guarantee of objectivity.
In conclusion, we have a duty to question where the news is coming from, whether it has been manipulated or whether there is an intentional attempt to shape our own opinion.
Three Years of Saudi Heinous Crimes in Yemen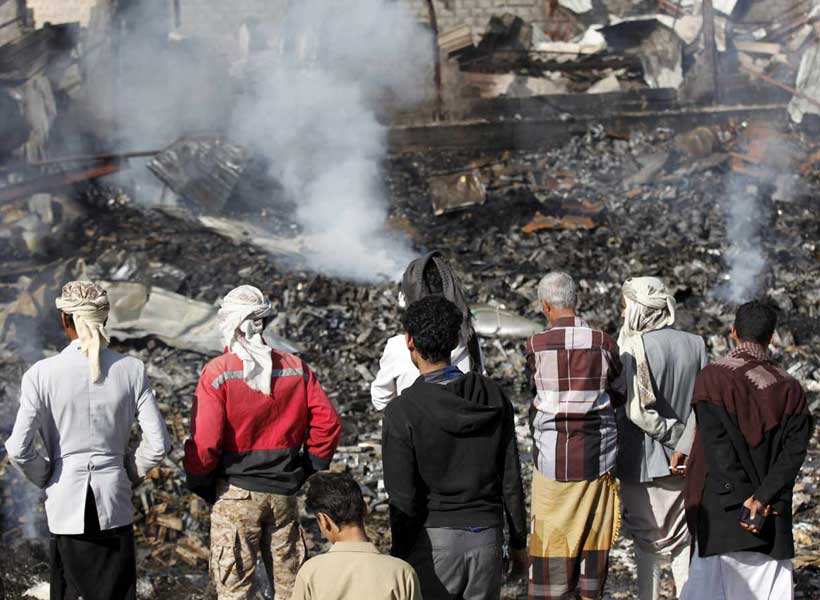 Yemen a miserable isolated Arab country has been devastated by an ongoing Saudi bloody war. Since March 2015, Saudi Arabia and its gulf allies (GCC) have launched a vicious military campaign against Yemen to reinstall its former government. Recently, the Saudi Crown Prince Mohammed bin Salman's visit to the UK has refocused attention on this silent conflict.
The collation has imposed a blockade on the port of Hodeida city, the main entry point for food and medicines and has been repeatedly accused of unlawful airstrikes on civilian targets which amount to war crimes. Obviously, the U.K., U.S. and other Western governments back, supply weapons and provides training to the GCC soldiers.
Amid the global silent and the mainstream media hypocrisy, the criminal collation systematically targets residential areas, claiming it would control arms transfer to the Houthi rebels. Saudi Arabia regards the Houthis as Iranian proxies and intervened to check their advance. These heinous massacres have prompted accusations by some Western opposition MPs and human rights groups of significant responsibility for civilian casualties. Thousands of Yemenis have been killed and the infrastructure has been thoroughly pulverized.
The GCC collation has imposed a blockade on Yemen's air, sea and land borders in November 2017 in response to Huthis firing missiles towards Riyadh airport, closing an aid lifeline to tens of thousands of starving Yemenis. The U.K. government denies that its forces are advising the Saudis on specific targets, though they admit that, after a raid, British officers can give advice on future targeting policy.
A UN panel of experts that reviewed 10 Saudi airstrikes found Saudi denials of involvement in these specific airstrikes were implausible, and individuals responsible for planning, authorising or executing the strikes would meet the standard for the imposition of UN sanctions. The panel reported early in January, "even if the Saudi Arabia-led coalition had targeted legitimate military objectives … it is highly unlikely that the principles of international humanitarian law of proportionality and precautions in attack were respected."
At the end of February, Russia vetoed a UK draft resolution that included a condemnation of Iran for violating the UN arms embargo in Yemen over claims that it supplied the missiles used by the Houthis that were fired towards Riyadh.The ongoing war has witnessed heinous atrocities, which emphasizes the urgent need of taking all necessary and possible steps to stop the war, bring the perpetrators to justice and ensure impunity.
Since the beginning of the military campaign, the coalition has targeted numerous facilities including schools, hospitals, airports, ports, universities, water and electric utilities, roads, bridges.  Although international conventions grant full protection for civilian installations, the Saudi warplanes have systematically targeted civil facilities using several internationally forbidden weapons, during the systemic raids over densely populated areas.
Medics have voiced alarm over the raging spread of the cholera epidemic in the impoverished country, saying that one child is infected every minute. Malnourished children, who number more than two million in Yemen, are greatly susceptible. Yemeni Health Ministry says that the Saudi aerial embargo has prevented patients from travelling abroad for treatment, and the entry of medicine into the country has been blocked. Over the following three years, the war has engulfed the entire country causing unbearable suffering for civilians. Due to the relentless bombardment, many civilians have been killed or injured, and a humanitarian crisis has spiraled, while the world ignores this raging war and hears little about its devastating consequences.
Various hospitals were shut because of the bombarding, and the insufficient medical teams. Further, vaccinations of major infectious diseases have been banned, amid the growth of the indicators of child malnutrition, and the spread of epidemics. In addition, more than 95% of doctors, nurses and consultants have been killed or fled the country. The lack of medicines has caused the deaths of many with Thalassemia and Anemia who need a monthly blood transfusion. Dialysis centres have made an SOS to save the lives of more than 6 thousand patients with Renal failure by providing them with necessary medical supplies, pointing out that the number of deaths of patients with renal failure exceeded 17 deaths in every 8 months.
The blockade imposed by the coalition has left more than 12,000 people killed, 49,000 injured and around 20 million people in need of humanitarian assistance. It has also created the world's largest food security emergency. Human Rights Watch has accused the Saudi-led coalition of committing war crimes, saying its air raids killed 39 civilians, including 26 children, in two months. Additionally, The International Committee of the Red Cross has said that the number of suspected cholera cases in war-torn Yemen has hit one million. More than eight million Yemenis are on the verge of starvation, making Yemen the scene of, what the United Nations calls, the world's worst humanitarian crisis.The Saudi regime has launched his war to eliminate the Houthis movement and to reinstall a Riyadh-friendly regime in Yemen.
However, the collation has failed to achieve its geopolitical and ideological objectives regardless of spending billions of dollars and enlisting the cooperation of its vassal states as well as some Western countries. The world's largest humanitarian crisis caused by Saudi prolonged military onslaught has pushed millions of Yemenis to the brink of starvation. Unfortunately, the UN has not yet taken any effective measures to halt the humanitarian tragedy for the sake of the ultimate objective that Saudi Arabia is pursuing in the country, which is eliminating the threat of the Houthis. Obviously, the Saudis have not achieved their basic goals; hence, they are seeking revenge on the innocent Yemenis through their aimless bombardment.
West using JCPOA as lever to pressurize Iran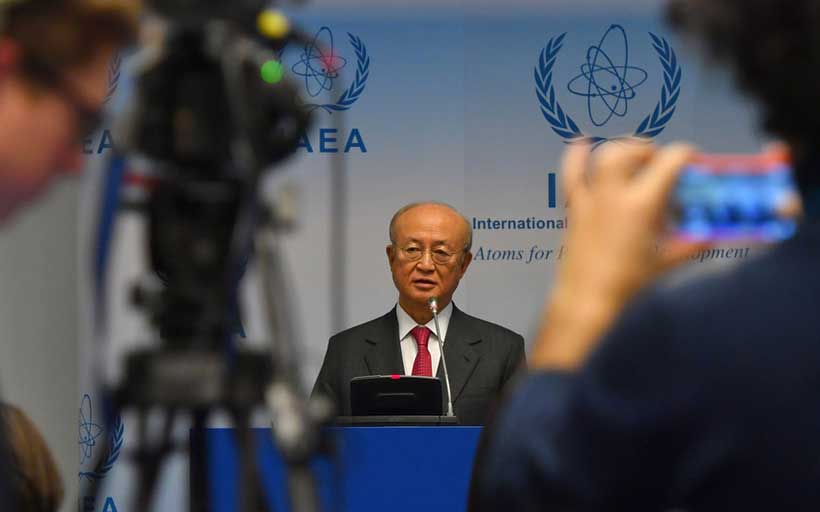 Recently, Reuters claimed European countries had commenced negotiations with Iran over the country's role in the region in order to ease U.S. President Donald Trump's concerns over the Iran nuclear deal known as the Joint Comprehensive Plan of Action (JCPOA).
Reuters alleges that the talks got off the ground on the fringes of the Munich security conference, with Yemen and certain regional issues taking center stage, and that the negotiations are going to continue in the future.
"European powers and Iran have started talks over Tehran's role in the Middle East and will meet again this month in Italy as part of efforts to prove to U.S. President Donald Trump that they are meeting his concerns over the 2015 nuclear deal," wrote Reuters.
What is worth mentioning about the Reuters' report is that the news agency claims the talks between Iran and Europe on regional issues conducted is phased. Reuters says the first round of the negotiations were held on the sidelines of the Munich security conference with the Yemen war top of the agenda, and that the Europeans hope to discuss the role of the groups supporting Iran in Lebanon and Syria. A few points need to be taken into account in this regard.
First, regional talks with Iran has been one of the common demands of the U.S. and the European Union following the conclusion of the JCPOA. When the nuclear deal was signed in July 2015, many analysts unanimously believed that Washington and the European Troika intended to use the JCPOA as a springboard for regional talks with Tehran.
Efforts by Germany, Britain and France to hold regional talks with Iran can be analyzed accordingly. Here, France seeks to play the role of a leading player. The trip to Iran by French Foreign Minister Jean-Yves Le Drian comes within the same framework. Paris has promised Washington to spare no effort to hold negotiations with Iran on the Islamic Republic's regional policies. Accordingly, Germany and Britain have got on board with France, too.
The second point is that while the general meeting of the UN General Assembly was underway in New York last summer, key talks were held between U.S. President Donald Trump and senior European officials over Iran's regional policies and their connection with the JCPOA. In the talks, French President Emmanuel Macron promised his U.S. counterpart to channel and manage missile and regional talks with Iran. This comes as the fundamental principles of Iran's foreign policy will remain unchanged. The principles include Iran's backing for resistance groups, and above all, the country's firmly dealing with the regional threats made by the U.S. and its allies and cronies. This firm approach by Iran will shatter the U.S. and Europe's hope for regional talks with Iran. Still, the European officials believe the commencement of regional negotiations with Iran (even if unofficial), per se, can serve as a starting point to curtail Iran's power and influence in the region. Thirdly, the Iranian diplomacy apparatus' insistence on the unchangeable and general strategies of the country's foreign policy, namely support for resistance groups, promotion of the resistance discourse, and fighting Takfiri terrorism will play a key role in foiling the ploys adopted by the U.S. and the European Union for talks.
One should bear in mind that the European Troika are channeling the talks on behalf of the U.S. and in coordination with the Trump administration. What Iran will employ to counter the joint game launched by Washington, Paris, London and Berlin will be the determination to safeguard the country's strategic and behavioral principles in the region. It goes without saying that with this firm and prudent defense, the U.S. and the European Troika will not achieve any of their objectives in restricting Iran's maneuvering power in the region. And lastly, the U.S. and the European Union are using the JCPOA as a lever to channel regional talks with Iran and pressure Tehran into giving in to Washington's regional demands. In other words, Instead of serving its function as an independent legal document, the JCPOA has turned into a political tool to exert pressure on Iran. Here, too, the Iranian diplomacy and foreign policy apparatus should act very prudently and consider "safeguarding Iran's regional power" as its red line, not "safeguarding the JCPOA." Obviously, Washington and the European Troika should get to understand the definitive principle that Iran will not compromise on its fundamental strategies in the region.
First published in our partner Tehran Times