The Betrayal of The People of India By Narendra Modi
[yt_dropcap type="square" font="" size="14″ color="#000″ background="#fff" ] A [/yt_dropcap] ny simpleton can make the obvious deduction that the job of government is not to take the People's gold, cash, material possessions, private wealth, tangible goods, and real property away from them, to be deposited into the government's coffers so that they can be freely intermingled with the personal piggy bank accounts of the country's oligarchs and central bankers, two flip sides of the same coin, as we are also seeing here in the United States more than ever over the past few decades.
So when Indian Prime Minister Narendra Modi decided a few weeks ago to issue executive orders ordering that small cash denominations and gold holdings by India's massive Middle Class and Poor would now become a criminal offense, and that they must turn it into the government, he has now effectively and openly declared war on India's huge and burgeoning Middle Class, one of the largest of any nation in the world, wherein the People fuel their economy with buying/spending, nurturing a rich and vibrant economy thereon.
Narendra Modi simply declared that anyone possessing 500 or 1000 rupee notes had to turn them in for new bills before December 31, 2016, and afterwards the money is worthless.
The problem is that Narendra Modi is only letting people replace a maximum of 4500 rupees of notes for cash.
Anything more than that has to be deposited, thus forcing people to either pay taxes or render their private savings (some for countless generations) absolutely worthless.
Even more egregiously and as a fundamental deprivation of the inalienable human rights and civil liberties of the People, anyone retaining 250,000 rupees (approximately $3,500) will be criminally prosecuted.
Narendra Modi, by this criminal act, has only proven the ultimate conspiracy theory that he is in fact an agent of the International Oligarchy/Plutocracy Deep State, and is their "man in India" of the international central bankers, who want to be the only ones who actually enjoy tangible wealth rather than worthless fiat paper currency whose value can be instantly decimated or increased with a stroke of a pen, or the tap of a computer keyboard on some central banker's laptop.
According to ZeroHedge, "After declaring large denomination notes illegal, India now targets gold…It's not just gold bars or bullion. The government has raided houses, no questions asked, confiscating jewelry." (http://www.zerohedge.com/news/2016-12-07/india-confiscates-gold-even-jewelry-raids-hidden-money)
Unfortunately the vast majority of India's poor are either too uneducated, disorganized, disunited, or too powerless to do anything about this massive and organized criminal conspiracy against them – if this were to occur in the United States for example, there can be no doubt that the American People would not tolerate these acts by the unholy trinity of their Oligarchs, Corrupted Leaders, and Central Bankers.
Although Franklin Delano Roosevelt ("FDR") did engage in this type of wholesale theft from the American People with his gold seizure Executive Order 6102 signed on April 5, 1933 "forbidding the 'hoarding' of gold coin, gold bullion, and gold certificates within the continental United States," the effect of which was to criminalize the possession of monetary gold by any individual, partnership, association or corporation.
But FDR was able to successfully hoodwink the American people, who at the time, were much more innocent and pliable back then, by his hiding behind "American Patriotism" during a time of war (World War 2) and also because he was trying to deceive the American People into thinking that this was the only remedy to combat the burgeoning Great Depression, which was completely and totally wrought on purpose by the newly formed Federal Reserve Bank enacted in 1913, but which the American People had not yet figured out at the time, was neither "federal" nor a "reserve," but was in fact a completely and privately owned family business, emanating out of London under the Rothschild Banking Cartel, and FDR was their American agent in the White House.
As noted Economist Jim Rickards has remarked, "the global elites are using negative interest rates and inflation to make your money disappear…The whole idea of the war on cash is to force savers into digital bank accounts so that their money can be taken from them in the form of negative interest rates."
So to that end, armed with all of this history and hindsight, Narendra Modi has revealed himself to be the Devil Incarnate with this act – he is robbing the poor to give to the rich, which is the ultimate definition of evil.
This is an extremely dismal and disappointing development by a man who was touted as the "savior" and economic "liberalizer" of India, but has in fact revealed himself to be nothing but a tool of the Oligarchs/Plutocrats, placed into power in order to loot his own people and destroy his own country's middle class, to drive them further into poverty, austerity, death, and destruction (just like Germany's Angela Merkel, USA's Barack Obama, UK's David Cameron, Italy's Matteo Renzi, and others recently being pushed out of office by the People in their Awakening to their wholesale rape and pillaging by the Oligarchy, now very much international in nature).
The traitor Narendra Modi overnight made approximately 85% of India's entire currency completely and totally worthless, causing the middle class and the poor to take to begging in the streets, gas stations, and stores to fill their car tanks, or to even buy food.
People have rightfully called Narendra Modi and his act, totally "demonic."
Modi has defended his criminal behavior by stating that he wanted to root out corruption and get rid of hidden money within the Indian Economy, but in reality this is exactly what constitutes private wealth vested within the Middle Class and the poor, who use it on a daily basis to live, survive, buy food and goods, and literally sustain their vibrant and private growth fueled economy – which is literally the lifeblood force of the Indian Middle Class and its economy – which Modi has now effectively killed on behalf of his Plutocratic paymasters.
600 million of India's poor and uneducated don't even have a bank account, and 300 million people don't even have government identification, so this is also a type of "bird tagging" operation in order to eradicate personal freedom, as well as being a mass confiscation of "mom and pop money" being hidden under their mattress for a rainy day, and away from the big bad wolves of government corruption, thieving oligarchs, and other organized criminal figures.
The hypocritical and deceptive Modi ran on a "Minimum Government, Maximum Governance" election platform, and this is how he has treated his People.
Some of the catastrophic results of Narendra Modi's ultimate betrayal are already in:
(1) daily wage laborers haven't been paid due to the currency shortage;
(2) people are only eating one meal a day;
(3) farmers and vendors can't sell their produce due to no cash to buy them with;
(4) produce has been ruined due to being spoiled;
(5) small businesses can't operate without cash and are therefore going bankrupt;
(6) massive deaths have been reported as a direct result of Narendra Modi's treachery.
Meanwhile Narendra Modi continues to enjoy wearing his $16,000 suits – a true "man of the people."
How the US withdrawal from the Iran nuclear deal affects India
Authors: Tridivesh Singh Maini & Sandeep Sachdeva*
While India was guarded in it's response to the withdrawal of US from the Iran Nuclear Deal, it surely realizes the implications of the US withdrawal. Iran is India's third largest source of crude oil (after Iraq and Saudi Arabia) . Between April 2017 and January 2018, New Delhi imported well over 18 million tonnes of crude oil.
New Delhi has also invested in the development of the Chabahar Port Project, which will provide India, access to Afghanistan and Central Asia. This project is extremely important for India, since it will help in bypassing Pakistan, which has continuously kept India out of the Afghanistan Pakistan Transit Trade Agreement (APTTA). During Indian Prime Minister, Narendra Modi's Iran visit in May 2016, India had signed an agreement, committing 500 Million USD for the development of Chabahar. During Modi's visit,  a trilateral transport and transit partnership was also signed between India, Afghanistan and Iran.
In February 2018, during Iranian President Rouhani's visit  to India, a lease agreement was signed between India and Iran. The lease agreement gave operational control of Phase 1 of Chabahar Port (Shahid Beheshti port) to India. The Modi, Hassan Rouhani Joint statement mentioned the need for making Chabahar part of INSTC project and PM Modi further emphasised that "We will support the construction of the Chabahar-Zahedan rail link, so that Chabahar gateway's potential could be fully utilised."
Here it would be pertinent to point out, that to enhance connectivity with Afghanistan, India has also set up an India Afghan Air Corridor, two flights are currently operational; one connecting Mumbai with Kabul, and another which connects Delhi with Kabul.
Indian hopes
For the time being, New Delhi has rested its hopes on the fact, that European countries are trying to keep the deal intact, and US will also not impose sanctions on allies, including India, for engaging with Iran. Defence Secretary James Mattis in a Congressional hearing held by the Senate Armed Services Committee, had categorically stated,  that the US should be careful with regard to imposing sanctions against allies, under Countering America's Adversaries Through Sanctions Act (CAATSA).
Mattis said, that allies like India should be provided a national security waiver, against imposition of sanctions for the purchase of S-400 air defence missile system from Russia.
A number of US Congressmen and Senators too have echoed Mattis' views saying that India is valuable ally and should be exempted from sanctions
What India needs to be cautious about
While India does have time to react to the sanctions re-imposed, and the fact that European countries are keen to keep the deal alive are important. Recent statements by the US National Security Advisor, John Bolton saying that Europe will not be immune from sanctions, and would ultimately fall in line needs to be closely watched.
Said Bolton in an interview with ABC'sThis Week:"Europeans are going to face the effective US sanctions — already are, really — because much of what they would like to sell to Iran involves US technology, for which the licenses will not be available."
Bolton also stated, that these countries will ultimately realise that it is in their interest to go along with the US.
Earlier US Ambassador to Germany, Richard Grenell advised Germany to re-consider business ties with Iran:'German companies doing business in Iran should wind down operations immediately".
New Delhi needs to strike a balancing act between Iran and US, but it also needs to have a clear plan of action to deal with US sanctions against Iran. In the past few years, India has successfully managed to balance relations between Iran and US, and Iran and Israel. Given the recent sanctions and the hawkish approach of the Trump Administration, it may be tough.
China factor
In the meanwhile, New Delhi would be well advised to follow closely China's reaction to the withdrawal of US from JCPOA. Iranian foreign minister Mohammad Javad Zarif visited three important countries Russia, China and Europe to save the JCPOA. Chinese Foreign Minister Wang Yi said "it was hard-earned  deal, and China will take an objective, fair and responsible attitude, keep communication and cooperation with all parties concerned, and continue to work to maintain the deal".
The China factor doesn't end here for India. Off late, ties between India and China have witnessed an improvement, during PM Modi's recent China visit, it was decided. that both countries will undertake a joint project in Afghanistan. In recent months, there seem to be some indicators of lowering of tensions between New Delhi and Islamabad as well.  Could, Beijing get New Delhi and Islamabad to discuss the issue of  transit trade to Afghanistan?  An opinion piece, 'Pakistan's military reaches out to India', published in RUSI (Royal United Services Institute) discusses the willingness of Pakistan to discuss this issue, but India had turned down the offer in October 2017. Maybe New Delhi, could explore this option, and Beijing could support such an effort.
Conclusion
In conclusion, New Delhi will need to handle the current situation with great dexterity, while US is an important strategic partner, India has also got an opportunity to send an unequivocal message to Washington, that its own interests are paramount, and it will not blindly follow any one camp. In spite of all the challenges and upheavals likely to result from Trump's decision, this also provides a golden opportunity for re-shaping the narrative within South Asia.
*Sandeep Sachdeva, Independent Foreign Policy Analyst
Ex-Pakistani Prime Minister puts Pakistani military and China on the spot
Ousted Pakistani prime minister Nawaz Sharif kicked up a storm when he earlier this month seemingly admitted that Pakistan had supported militants who attacked multiple targets in Mumbai in 2008, killing 166 people.
Mr. Sharif's admission, which he has since tried to walk back, put a finger on Pakistan's controversial policy of selective support of militant groups at a sensitive time. Pakistan is gearing up for elections that would secure its third consecutive handover of civilian political power.
Mr. Sharif's remarks, moreover, stirred up a hornet's nest because Pakistan is likely to next month be put on a watch list by the Financial Action Task Force (FATF), a global financial watchdog that monitors the funding of political violence and money laundering worldwide.
The remarks also put China in a difficult position. China has been pressuring Pakistan to crack down on militants, particularly in the troubled province of Balochistan, the crown jewel in its Belt and Road-related $50 billion plus infrastructure investment in the China Pakistan Economic Corridor (CPEC).
Yet, at the same time, China has at Pakistan's behest prevented the United Nations Security Council from declaring Masood Azhar, believed to have been responsible for an attack in 2016 on India's Pathankot Air Force Station, as a globally designated terrorist.
The militants, dressed in Indian military uniforms fought a 14-hour battle against Indian security forces that only ended when the last attacker was killed. Mr. Azhar was briefly detained after the attack and has since gone underground.
Mr. Sharif's made his remarks as China was building up its military infrastructure in Pakistan. The build-up is occurring against the backdrop of Pakistan risking being involuntarily sucked into potential attempts to destabilize Iran if Saudi Arabia/and or the United States were to use Balochistan as a staging ground.
In line with a standard practice in Pakistan that has repeatedly seen groups that are outlawed resurrecting themselves under new names, Lashkar-e-Taibe (LeT), the banned group believed to be responsible for the Mumbai attacks, and Jamaat-ud-Dawa, widely believed to be an LeT front, are  rebranding under a new name and as a political party, Milli Muslim League, that would compete in the forthcoming election.
The League is headed by Hafez Saaed, a former LeT leader, who was last year released from house arrest despite having been declared a designated global terrorist by the Security Council and the US Treasury, which put a $10 billion bounty on his head. China vetoed Mr. Saeed's designation by the UN prior to the Mumbai attacks.
Activists, even though the party was last month designated by the US Treasury, are likely to run as independents in the election if the government maintains its rejection of the party's registration.
So are operatives of Ahl-e-Sunnat-Wal-Jamaat, a front for Sipah-e-Sahaba Pakistan, a banned, virulently anti-Shiite group that long enjoyed support from Saudi Arabia and operates multiple militant madrassas or religious seminaries in Balochistan that have witnessed an injection of funds from the kingdom in the last two years.
"Militant organisations are active. Call them non-state actors, should we allow them to cross the border and kill 150 people in Mumbai? Explain it to me. Why can't we complete the trial? It's absolutely unacceptable. This is exactly what we are struggling for. President Putin has said it. President Xi has said it. We could have already been at seven per cent growth (in GDP), but we are not," Mr. Sharif said, referring to stalled Mumbai attacks-related trials in a Rawalpindi anti-terrorism court.
Taking Mr. Sharif's comments a step further, prominent journalist and author Ahmed Rashid asserted that "the deep state of Pakistan is supporting the banned outfits as it has done in the past. This game should be stopped, and the government should show its commitment and sincerity in disarming these groups and not to allow them to enter into politics."
Former Pakistani strongman General Pervez Musharraf, in an apparent manifestation of links between the circles close to the military and hardliners, said prior to the designation by the US announced that he was discussing an alliance with Mr. Saeed's league.
Speaking on Pakistani television, Mr. Musharraf pronounced himself "the greatest supporter of LeT… Because I have always been in favour of action in Kashmir and I have always been in favour of pressuring the Indian army in Kashmir," Mr. Musharraf said.
Pakistan's military and intelligence service are believed to favour integration of militants into the political process as a way of reducing violence and militancy in a country in which religious ultra-conservatism and intolerance has been woven into the fabric of branches of the state and significant segments of society.
Critics charge that integration is likely to fail in Pakistan. "Incorporating radical Islamist movements into formal political systems may have some benefits in theory… But the structural limitations in some Muslim countries with prominent radical groups make it unlikely that these groups will adopt such reforms, at least not anytime soon… While Islamabad wants to combat jihadist insurgents in Pakistan, it also wants to maintain influence over groups that are engaged in India and Afghanistan," said Kamran Bokhari, a well-known scholar of violent extremism.
Citing the example of a militant Egyptian group that formed a political party to participate in elections, Mr. Bokhari argued that "though such groups remain opposed to democracy in theory, they are willing to participate in electoral politics to enhance their influence over the state. Extremist groups thus become incorporated into existing institutions and try to push radical changes from within the system."
Chinese ambiguity about Pakistani policy goes beyond shielding Mr. Azhar from being designated. A Chinese-Pakistani draft plan last year identified as risks to CPEC "Pakistani politics, such as competing parties, religion, tribes, terrorists, and Western intervention" as well as security. "The security situation is the worst in recent years," the plan said.
Security has since improved substantially in significant parts of Pakistan. The question, however, is whether integration of militants into the political process would stabilize Pakistani politics in the absence of a concerted effort to counter mounting ultra-conservative religious fervour in the country. It may be too early to judge, but so far the answer has to be no.
Analyzing CPEC Summit 2018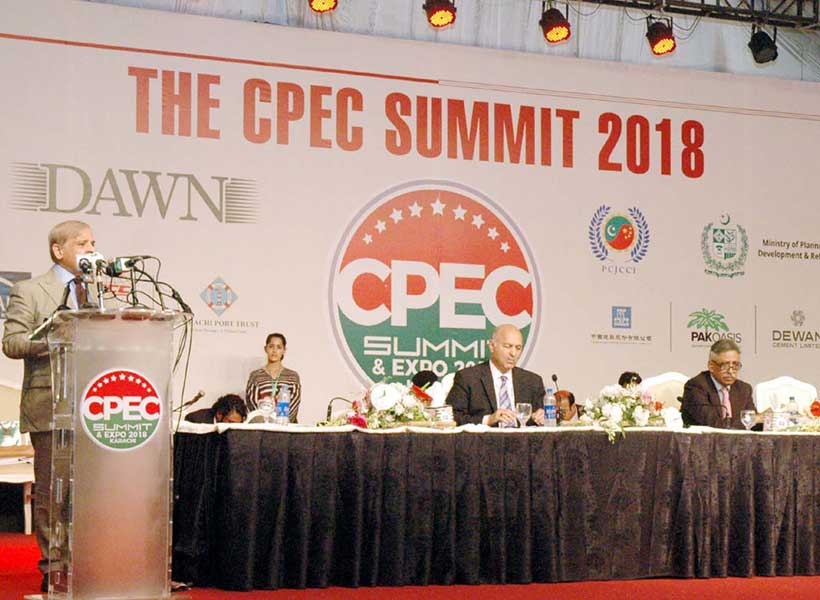 China-Pakistan Economic Corridor (CPEC) is the flagship project of China's Belt and Road initiative, prioritized by both the Governments of China and Pakistan to build a China-Pakistan community of shared destinies. The strategic partnership under the CPEC envisages number of projects among which Energy Security, Infrastructural Development , Connectivity, Trade,  Industrial   Parks,   Agricultural Development , Poverty Alleviation and , Tourism are highly prioritized. Recently the CPEC summit 2018 was held in Karachi on April 23, 2018 to discuss the importance of CPEC and to analyze updates about the progress and development of this project. Perhaps this was the first such event of its kind in which   representative from all the provinces participated. The summit not only discussed the progress and development of the CPEC but deliberated upon the issue of regional connectivity as the key component of the CPEC. On recalling the last five years' journey of CPEC up till now, one can infer that indeed CPEC is a chain of connectivity not only within Pakistan but across the region as well. The summit also concluded that Pakistan and China are planning to extend CPEC towards Afghanistan as CPEC is not only about economic growth, but also about community building.
Analyzing the outcome of this summit, one discovers that under CPEC, the country has completed two power projects in Sindh, while another is on its way towards completion. CPEC has resulted in the optimal utilization of two commercial ports and the opening of Keti Bunder. Along with this, the development of commercial ports is also in line with the CPEC plan. The project pledges provincial harmony and timely cooperation and facilitation in this regard.  As far as the electric power is concerned currently930 megawatts of wind energy is produced in Sindh alone for the national grid. Moreover a large chunk of electric power comes from those three Projects which are part of early-harvest program. In addition to this some 300MW is generated through wind power projects and would be part of the grid once the projects are completed in October 2018.
Following this progress rate CPEC is economically beneficial for all the provinces of Pakistan. KPK is contributing nearly 15pc of Pakistan's natural gas output. In hydropower, KP has the potential of producing 30,000MW of energy. The two hydropower projects located at Chitral are also part of the CPEC framework.
Moreover another important aspect which was analyzed in this CPEC Summit 2018 is the idea of a separate ministry for logistic and transport so that this massive demand for the logistic and transport can be well managed.  Once this separate ministry is formed, the work will be done in the shortest possible time thus resulting in faster growth. Businessmen, stakeholders and industrialist also showed their interests in promoting business through CPEC.  Surely there is a need for joint ventures between local and Chinese companies to enhance Pakistan's industrial base and productivity.
Eventually once the CPEC project is completed Pakistan will become a hub for transshipment trade. Most of Pakistan's posts- through which trade is being carried out, are complaint to Transports Internationaux Routiers (TIR) or International Road Transports. Therefore there is no issue of compliance or connectivity under TIR. It will be easier to import goods and products in other countries thus developing more options for Trade and investment through CPEC.
The initial Phase of CPEC projects of the early harvest program are completed. Now the second phase the long term plan of the CPEC has been started that focuses on industrial activity and agriculture which would be completed by 2025.  Currently work on the Long term Plan is under way, after that in order to take its final shape in 2030 CPEC would be completed and people to people contact will develop, thus resulting in shared trade communities.