Reset Button: What Shavkat Mirziyoyev's Election Means for Uzbekistan's Domestic and Regional Future
[yt_dropcap type="square" font="" size="14″ color="#000″ background="#fff" ] A [/yt_dropcap] s Uzbekistan headed for the polls on December 4 to choose a successor for longtime strongman Islam Karimov, his prime minister Shavkat Mirziyoyev was all but guaranteed to succeed Karimov as president.
This came as no shock to analysts of the Central Asian nation as Mirziyoyev had long been in Karimov's inner circle serving as the country's prime minister since 2003. With Uzbekistan's notoriously high turnover rates in senior government posts due to extensive infighting exacerbated by the country's clan based power dynamics, Mirziyoyev's political longevity has been attributed to his ability to effectively manage these dynamics, especially among the Tashkent and Samarkand clans, widely considered to be the most influential.
Despite rumors that the transition of power following Karimov's death would dynastically pass to one of his two daughters, Mirziyoyev emerged as the clear frontrunner after he was appointed to organize Islam Karimov's funeral where he was seen meeting with various heads of state including his Russian counterpart Dimitri Medvedev. His succession was placed beyond reasonable doubt after he was named interim president, a position which according to the Uzbek constitution should have passed to the little known Senate Chairman, Nigmatilla Yuldashev.
Preliminary results point to Mr. Mirziyoyev winning with approximately 88.6% of the vote. This would be considered a remarkable feat in almost any other country, but is a fairly common occurrence in Uzbekistan as Mr. Karimov had been winning elections with poll numbers upwards of Mr. Mirziyoyev's current figure. Fraud had long been rampant in previous Uzbek elections and, despite attempts to increase transparency, all feasible political opposition had been heavily suppressed by state actors making this election devoid of any realistic competition.
However, an independent Uzbekistan has never known another president other than Islam Karimov and Mr. Mirziyoyev has already promised a range of reforms designed to increase his popularity domestically and abroad. What are these proposed policies and what effects would they have for the people of Uzbekistan?
Domestic Policy – A New Tone?
Islam Karimov ruled Uzbekistan with an iron fist for three decades by stamping out dissent with threats of imprisonment, torture, and violence, all the while continuing with Soviet style secularism in a Sunni majority population. Like its people, the Uzbek economy has also been tightly controlled.
The domestic economy has been propped up by a combination of small scale free enterprise, foreign investment in natural resource extraction, particularly in natural gas, and a cotton industry which is still supported in part by child labor. However, one of the most important sources of income for the average Uzbek population comes from remittances from abroad sent by migrant laborers who mostly live and work in Russia. Figures point to Twelve percent of the Uzbek GDP coming from migrant laborers sending money from Russia alone. That said, the fall of the Russian Ruble has reduced that figure by about half.
With the Uzbek economy on course to grow at its slowest rate in over a decade, Mr. Mirziyoyev has made economic reform a central pillar in his election promises. His main economic liberalization promises consist of mainly reforming the country's currency market and easing restrictions for small businesses. While not earthshattering, these policies aim to placate some of the most apparent economic issues affecting the country.
As stated earlier, much of Uzbekistan's economy is based on remittances from abroad, yet convertibility of the Uzbek currency in either direction is strictly controlled by the state. With official monthly quotas in place for converting the Uzbek Som into U.S. Dollars or Russian Rubles, a thriving black market exists to handle the excess demand. This naturally brings with it a level of criminality and corruption which makes successful business ownership all but impossible for those not part of the government elite. A streamlined currency convertibility market would also serve to attract foreign investment, a part of the economy which could most benefit the largest market in Central Asia of approximately 30 million people.
Solving Regional Differences
Uzbekistan geographically straddles the divide between Asia and Europe. This is representative in the people, the culture, and in its diplomatic mindset. In the 'near abroad,' Uzbekistan borders and has varying relations with Kyrgyzstan, Tajikistan, Turkmenistan and Kazakhstan. The ethnic boundaries between these countries are not represented with the current borders. Despite frequently conflicting national interests, it is important to maintain a base degree of relations in order to protect the interests of the fluid ethnic boundaries. In recent history, this has been easier said than done. Uzbekistan's relations with its neighbors can be described as a range from stability to almost vitriol. For example, while Turkmenistan's hermit state status keeps relations uneventful, Uzbekistan fell just shy of armed conflict with Kyrgyzstan.
Kazakhstan, Uzbekistan's chief economic rival in the region, has experienced the most cordial relations out of the rest of the former Soviet Central Asian Republics owing to the degree of coordination needed for mutual efforts to tackle drug trafficking through their mutual border. Uzbekistan is one of the main arteries for the opiate trade which originates from Afghanistan, its southern neighbor. The longtime Kazakh president Nursultan Nazarbayev saw an equal in Islam Karimov as they were both their respective countries' sole heads of state since independence and therefore approved of each other's authoritarian grips on power by stifling dissent and opposition. Mr. Nazarbaev visited Uzbekistan to pay his respects at Mr. Karimov's funeral in Samarkand and sat down for an official meeting with Mr. Mirziyoyev to discuss the improved development of ties between the two countries, particularly in trade. For continuity's sake, it is most likely in Mr. Mirziyoyev's best interest to attempt to maintain these relations especially as there have currently been few proposals to overhaul relations in any major way.
Mr. Mirziyoyev has also travelled to Tajikistan in late September to foster improved relations which have soured due to various reasons. The main strategic disagreement, and the main source of discussion in Mr. Mirziyoyev's diplomatic has been over Tajikistan's planned construction of the massive Roghun hydroelectric dam in one of the region's major rivers. Tashkent has expressed concerns that the proposed dam will deplete the much needed irrigation canals and therefore harm its lucrative agricultural sector. No agreement has been made so far, but the fact that Mr. Mirziyoyev has attempted to create some dialogue on the issue is promising. If Mr. Mirziyoyev's demonstrated intentions serve as a baseline for future relations, then they spell out more cooperative future for these two neighbors.
Uzbek regional relations with Kyrgyzstan have been the most problematic. Shortly before Mr. Karimov's passing, Uzbekistan had security service members occupying a strategic point on a disputed part of the Kyrgyz border. Uzbek authorities also sealed the border indefinitely into Kyrgyzstan even for private individuals which heightened tensions with ethnic Kyrgyz who live in the border regions of Uzbekistan. This again highlights the imperfect borders of distinct ethnicities within Central Asia and the additional strain it places on mutual relations and diplomacy. Following the passing of Mr. Karimov, the occupied territory was promptly vacated and the border was reopened. This indicates a rapid shift of opinion coming from Tashkent which seems to favor a reconciliatory tone. While open negotiations about expanding ties with Kyrgyzstan have not yet taken place, it seems like Mr. Mirziyoyev has taken a step back from conflict and successfully de-escalated the situation.
What next?
The election of Shavkhat Mirziyoyev has brought with it exciting possibilities for the people of Uzbekistan and its regional partners. While his proposals have not been implemented, they signal a clear departure from Islam Karimov's heavy handed politics and diplomacy. What is fairly certain, however, is the continued tradition of authoritarianism and widespread human right violations which had kept Islam Karimov in power to continue under his protégé. Ultimately, Uzbekistan's future is uncertain. With increased attempts to exert their influence, major powers like Russia and China, and to a smaller extent the United States and Turkey, a 'Great Game' scenario may occur in an attempt to court the new president into a respective sphere of influence. It is too early to say how Mr. Mirziyoyev may respond to these outside pressures, but if his presidency maintains his predecessor's neutrality while enacting liberalized economic reforms and and improving regional relations, then Uzbekistan has a chance to make the most of its potential
Kazakhstan's Reforms and Future Perspectives Create Basis for Broader External Cooperation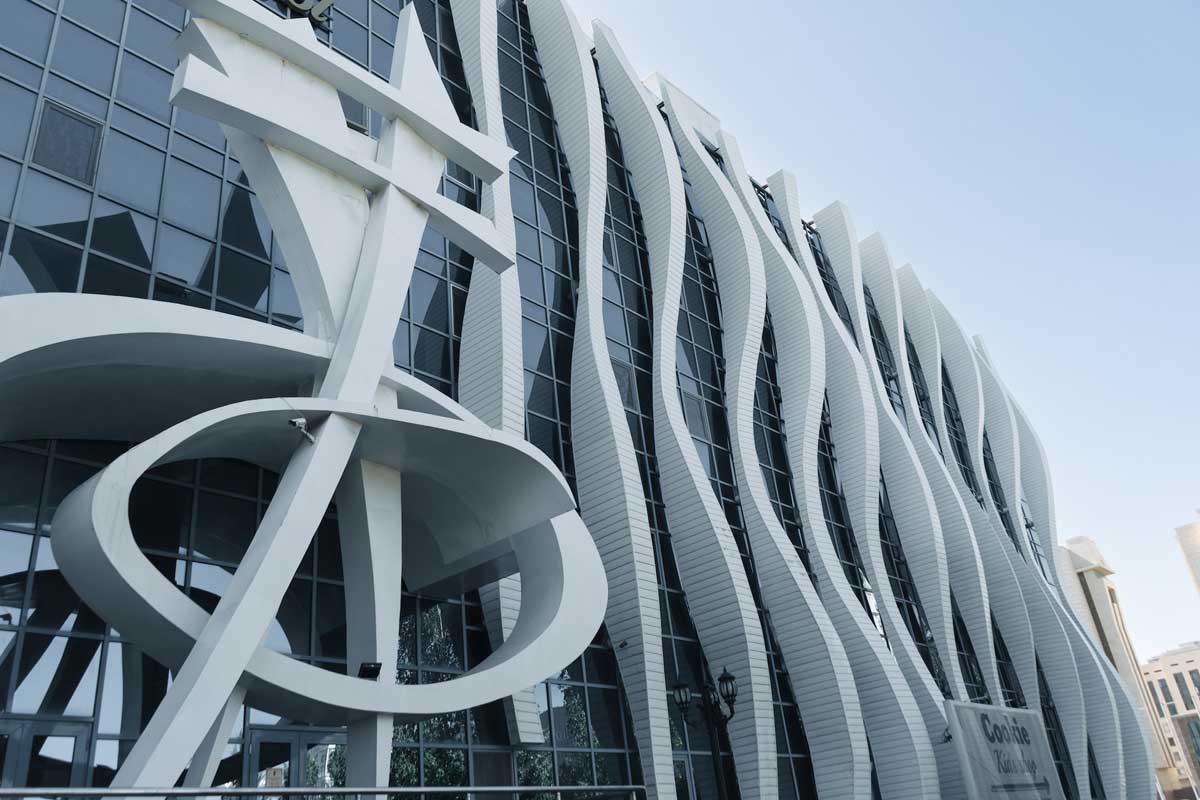 Kazakhstan, one of the Russian neighbours and former Soviet republics, opens its doors for a broader external expansion. Given its geographical location and combined with current political reforms aim at transforming its economy from the Soviet system to a more modernized system infused with western culture of life, President Kassym-Jomart Tokayev has chosen multi-vector policies.
Reforms have begun to be implemented after the election of Kassym-Jomart Tokayev in June 2019. Tokayev has consistently advocated for more openness and improving necessary conditions for attracting foreign business and investors to participate in the various economics sectors and including the cultural and educational sectors.
"I believe that given our geopolitical situation, given the fact that we have over $500 billion involved in our economy, given that there are global companies operating in our market, we simply have to pursue a multi-vector, as they say now, foreign policy," Tokayev said in the context of growing confrontations, contractions and emerging new world order.
The 69-year-old Tokayev took office in 2019 after Kazakhstan's previous president resigned amid protests. After surviving unrest in January triggered by fuel price rises, Tokayev unveiled reforms – including constitutional amendments and a hike in the minimum wage – and called snap elections.
Amid popular demand for sweeping change, he has recently accelerated plans to increase the amount of Kazakh oil exported west across the Caspian Sea, avoiding Russia to the north. It currently relies heavily on the Caspian Pipeline Consortium (CPC), one of the world's largest pipelines that crosses Russia to the Black Sea port of Novorossiisk. Out of total exports of 68 million tonnes a year, 53 million tonnes of Kazakh oil move through it.
In addition, late October, Tokayev said that in the coming years the authorities of the republic plan to launch a network of border trade and economic centers with Russia, China, and Central Asian countries. In September, Tokayev emphasized that Kazakhstan would make every effort to further develop allied relations with Russia, an eternal strategic partnership with China, and comprehensive cooperation with brotherly Central Asian states.
Declaring that the creation of a fair Kazakhstan as its main goal, Tokayev has emphasized that the foreign policy course must also aim at protection of national interests, strengthening of mutually beneficial cooperation with all interested states, international peace and security.
In pursuit of sharing fresh experience of nation building, the president noted the importance of better quality education and the implementation of best global practices in domestic higher educational establishments at a meeting with Almaty students and young researchers, according to the presidential press service.
"Academic cooperation with the leading foreign universities is increasing on my orders. Branches of higher educational establishments from the UK, Germany, Canada, the Netherlands, South Korea and the United States will open in Kazakhstan shortly. The integration into the global education space will bolster the competitiveness of our higher educational establishments and will raise the appeal of Kazakh higher education," the press service quoted Tokayev as saying.
Interestingly, English language is gaining popularity among younger generation since the collapse of the Soviet Union. It however projected that the people of Kazakhstan in the future will speak three languages (Kazakh, Russian and English). As part of promoting multi-cultural and friendly society, Kazakhstan has seriously made in-bound tourism as one of its priority spheres, so it has established a visa-free regime for citizens of 54 countries, including the European Union and OECD member states, the United States, Japan, Mexico, Australia and New Zealand.
Even long before the war, Kazakhstan had resisted significant leverages, including a push by Moscow in 2020 for a single currency and joint parliament within the post-Soviet Eurasian Economic Union, as part of a five-year strategic plan.
Noteworthy to reiterate here that during the discussions in St. Petersburg Economic Forum held in June where Tokayev shared the stage with Putin, he explicitly said his government did not and would not recognize Russian-controlled regions in eastern Ukraine and that Kazakhstan upheld the inviolability of internationally recognized borders.
Kazakhstan government has noticeably pushed back publicly against territorial claims made by Russian President Vladimir Putin in Ukraine, souring relations between the former Soviet republic and Moscow. Russia and Kazakhstan share the world's longest continuous land border, prompting concern among some Kazakhs about the security of a country with the second-biggest ethnic Russian population among ex-Soviet republics after Ukraine.
Kazakhstan has a GDP of $179.332 billion and an annual growth rate of 4.5%. Per capita, Kazakhstan's GDP stands at $9,686. It's increased role in global trade and central positioning on the new Silk Road gave the country the potential to open its markets to billions of people. Further to this, it joined the World Trade Organization in 2015.
According to some reports, Kazakhstan has an abundant supply of accessible mineral and fossil fuel resources. Development of petroleum, natural gas, and mineral extractions has attracted most of the over $40 billion in foreign investment in Kazakhstan since 1993 and accounts for some 57% of the nation's industrial output (or approximately 13% of gross domestic product).
On 6 March 2020, the Concept of the Foreign Policy of Kazakhstan for 2020–2030 was announced. The document outlines the following main points:
– An open, predictable and consistent foreign policy of the country, which is progressive in nature and maintains its endurance by continuing the course of the First President – the country at a new stage of development;
– Protection of human rights, development of humanitarian diplomacy and environmental protection;
– Promotion of the country's economic interests in the international arena, including the implementation of state policy to attract investment;
– Maintaining international peace and security;
– Development of regional and multilateral diplomacy, which primarily involves strengthening mutually beneficial ties with key partners – Russia, China, the United States, Central Asian states and the EU countries, as well as through multilateral structures – the United Nations, the Organization for Security and Cooperation in Europe, the Shanghai Cooperation Organization, the Commonwealth of Independent States, and a few others.
Kazakhstan is the world's largest landlocked country, located in Central Asia and partly in Eastern Europe. It declared independence on 16 December 1991, thus becoming the last Soviet republic to declare political independence. Nursultan Nazarbayev became the country's first President. Records show that he was replaced by Kassym-Jomart Tokayev.
It was the last Soviet republic to declare independence after Soviet's collapse in 1991. With approximately 20 million population, Kazakhstan strictly recognizes its political freedom, national interest and territorial sovereignty, and is a member of the Collective Security Treaty Organization (CSTO), the Eurasian Economic Union (EEU) and the Commonwealth of Independent States (CIS).
Kazakhstan's Courtship of Africa Within the Context of Emerging Multipolar Order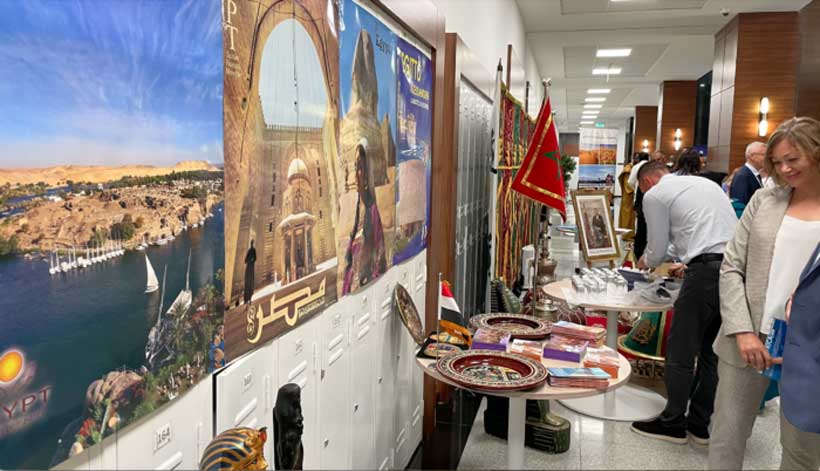 Kazakhstan, a former Soviet republic, has been exploring and developing multifaceted relations with Africa. As an independent republic since the collapse of the Soviet-era in 1991, Kazakhstan values its freedom in choosing external partners as well as devising strategic mechanisms for bolstering and positioning its activities on regional and global stages. The Foreign Ministry offers necessary guidelines and directions, and exercises powers in accordance with the legislation of the Republic of Kazakhstan.
It has been laying the groundwork which aims at taking its geopolitical relationship unto an appreciable high level with Africa. The most dramatic sign of its courtship of Africa, however, was Nursultan Nazarbayev official visit to Africa. His trip to South Africa – his first ever bilateral visit to this African country – underscores the importance Kazakhstan attaches to building political, economic and cultural ties with the continent. (Nazarbayev did visit Johannesburg in 2002 to attend the UN summit.)
In addition to that, Kazakhstan continues taking steady strategic result-oriented steps since it opened its diplomatic representations in a few African countries including Ethiopia, Egypt, Nigeria, Kenya and South Africa, and later in 2013 obtained an observer status with the African Union. That gives it access to several meetings and multilateral conferences attended by the 54 African countries.
Erlan Idrissov was one of the foreign ministers. He served from 2012 to 2016. At the Astana Economic Forum held May 2015, Erlan Idrissov put Kazakhstan and Africa in an excellent perspectives when he said: "Kazakhstan had built a stronger economy and social safety net, we started turning a keen eye on Africa. Now is the time for Kazakhstan to pay even more attention to the continent. Africa is a continent with huge potential. It is rich in human capital and much of its population is young. It's time to invest in them."
During the past decade, at least Kazakhstan has taken steps to put its planned economic ties into forward-looking and result-oriented perspectives. It has also been crafting a new political and economic systems, and attempting to incorporate them in developing foreign relations with Africa.
Kazakhstan has stepped up its courtship of Africa, exploring various sectors by the common principle that if Kazakhstan and Africa strengthen their ties as planned, then the people of the continent will certainly be among the beneficiaries. It has had good political relations with a number of countries on the continent till present.
It continues looking forward to strong presence in diversified sectors and to strengthen its economic partnerships, attempting to raise trade with Africa. According to research reports, the other priority sectors for mutual cooperation and collaboration including agriculture, agro-processing, energy and industrialization, health care delivery, culture and education with Africa.
In relating to trade, it has working contacts with African countries. For instance early November 2022, the Addis Ababa Chamber of Commerce and Sectoral Association held a virtual meeting under the theme – Promoting Trade and Investment between Kazakhstan and Ethiopia – with their counterparts in Kazakhstan to discuss ways to cooperate in business and investment. The Ministry of Trade and Integration and various corporate heads of enterprises from Kazakhstan attended the meeting.
Addressing the participants, Kazakhstan Ambassador to Ethiopia, B.Sadyakov said Kazakhstan and Ethiopia have maintained "an excellent relationship" based on friendship and mutual support. According to Sadyakov both countries have "a very good prospect in all areas of cooperation" and underlined the need to grow the relationship. , said the ambassador.
Addis Ababa Chamber's Deputy Secretary General Zekarias Assefa said that the current trade and investment ties of the two countries are promising, shows a positive signal to embark on further economic ties and must necessarily be promoted in the near future.
Statistical figures between African countries and Kazakhstan are staggering, but the above illustrates there is a huge potential for interaction that needs action between Kazakhstan and Africa. Our monitoring shows African business communities are targeting Kazakhstan as one of their trade and investment destinations in Eurasian region.
The Eurasian region comprises five members – Armenia, Belarus, Kazakhstan Kyrgyzstan and Russia. There are Moldova and Uzbekistan as observers from the geographical region. Of course, Kazakhstan after Russia and Belarus is cooperative in terms of business approach and has diverse business opportunities and potentials among Eurasian members.
In the context of expanding collaboration with Africa, there are good prospects for establishing mutually beneficial relations in agriculture and mining, as well as the participation of Kazakh companies in implementing infrastructure projects. Africa is also a huge market for the possible export of Kazakhstan's grain.
Kazakhstan is one of the world's top 10 exporters of grain, but has had limited sales in Africa. Egypt, the world's largest grain importer, has been the only African country to make substantial purchases from Kazakhstan. It however hopes to change that with stepped-up marketing campaigns and new transportation routes to the continent. One of the routes is a rail line that can carry Kazakhstan gain through Turkmenistan to Persian Gulf ports in Iran, where it can be shipped for Africa.
Kazakhstan's economic relations with South Africa, a BRICS member, are developing faster than with any other sub-Saharan African country. South Africa exported only $3.5 million worth of goods to Kazakhstan. The main items were fruits and vegetables. Meanwhile, Kazakhstan exported even less to South Africa – $1.8 million in goods. Chemicals accounted for almost all of it.
During Nazarbayev's visit to Pretoria, the economic deals signed between Kazakhstan and South Africa hoped to see more of military-vehicles and bus-making joint venture. The venture, whose partners are Paramount Group, Kazakhstan Engineering and Kazakhstan Engineering Distribution, agreed to assemble vehicles at a renovated plant in Kazakhstan's capital, Astana.
The facility cranked out up to 360 vehicles late 2015. Kazakhstan said the plant should meet the bulk of its military-vehicle needs. Plans are for a sizable percentage of the output to be exported. That compared, Kazakhstan's economic ties with three of the other BRICS nations – Russia, China and India – are in the hundreds of millions to billions of dollars. As with South Africa, ties between Kazakhstan and Brazil are still developing.
In addition to trade and investment, Kazakhstan offers education and training for African students. "A few years ago we started turning a keen eye on Africa. We believe it is a historic time when Africa should receive a full focus," Erlan Idrissov stressed as far back in 2015. "We recognise that Africa is a continent with huge potential. It has enormous human capital and a large, young population. Everything depends on people, especially investment in people."
According the latest information obtained for this article from the Ministry of Education, the report highlighted that Kazakhstan-financed educational courses are offered to students from the African continent. The groups study in the fields of energy, medicine and agriculture. There are estimated 5,000 African students in various institutes and universities in Almaty and Astana. Among the projects in the cultural sphere is to improve the performance and quality of teaching in Nur-Mubarak University in Almaty, so its graduates can be granted the right to enrol directly into master's courses at Al-Azhar University in Cairo.
Meanwhile, Kazakh universities have been consolidating their positions on the world stage year by year. QS World University Rankings 2022 included 14 Kazakh universities in the list, and Times Higher Education World University Rankings 2022 included three universities.
The number of educational programs in English has increased within the country, with the number of qualified foreign specialists rising as a result. They share their experience with local educators, and also teach students new technologies and research methods. Nazarbayev University (NU) is very popular among foreign students from the United States, Europe, Africa and Middle East countries.
Reports indicate that Egyptian authorities are promoting a series of activities aimed at promoting Egyptian tourist destinations among the citizens of Kazakhstan. Another exciting prospect is regular Sharm el-Sheikh-Almaty-Sharm el-Sheikh flights and also Cairo-Astana-Cairo flights.
Humanitarian questions are also high on the agenda. It raises concern about the persistent conflicts on the continent, especially in the Horn of Africa and the sub-Saharan Sahel. Interesting to note that Astana is a supporter of the active interaction of the OIC (Organisation of Islamic Cooperation) and African Union with questions related to African conflict resolution and ensuring interethnic and inter-religious dialogue, poverty eradication and illiteracy, as well as the fight against a variety of illnesses and diseases.
Nevertheless, Kazakhstan has shown concern about the continent's humanitarian challenges by providing food relief to Somalia and donating $350,000 to an international fund to fight Ebola. This one tip of the ice-berg. In the process of forging a closer relations, Kazakhstan has identified obstacles, including geographic remoteness of the countries, absence of direct transport links and lack of information about one other.
Despite these, the relations are still advancing. Kazakhstan's political stability and achievements in the fields of agriculture, technologies and finance, however, can ensure future successful cooperation between the country and the continent. Kazakhstan is creating a sub-regional hub for multilateral diplomacy in its southern capital of Almaty. As a result, interregional cooperation could be initiated between Central Asia and Africa.
In broader terms, Kazakhstan has been an active participant in South-South cooperation. Its efforts in the areas of development exchange and cooperation provide a good opportunity for African countries, said UNDP Regional Bureau for Africa (RBA) Strategy and Analysis Team Chief Ayodele Odusola.
"One thing that is very clear to us as a key partner with the Kazakh government is that South-South cooperation has become an effective strategy of development solutions in developing countries, especially in Africa. We feel it is quite important for us to move this issue of South-South cooperation to the next level," he noted.
Odusola added statistics indicate Africa will contribute 54 percent of the total population growth expected worldwide by 2050 and 82 percent by 2100, which, in turn, requires consolidating efforts.
"There are a number of lessons and experiences that can be shared between Kazakhstan and many African countries, essentially in the areas where Kazakhstan is doing very well when it comes to the issues of industrialisation and mechanised agriculture," he told The Astana Times, and added that that Kazakhstan and many African countries have similarities in the structure of economy.
Under Kazakh President Kassym-Jomart Tokayev, the new Foreign Policy Concept of Kazakhstan indicates Africa as one of the top priorities regions, and plans to establish more diplomatic relations with the majority of African countries. The document says that Astana is observing the current political and economic transformations with great interest in Africa.
"We can see a serious geopolitical struggle between the major powers of the world for its rich natural resources. At the same time, it is a rather complex region where peace, stability and security have been significantly undermined. Kazakhstan intends to significantly contribute to the establishment of safety on the continent and further support the process of attaining sustainable development," it says in part.
Kazakhstan and Africa coordinate well at the African Union, and similarly at the United Nations. Some African countries are doing their individual homework and trying to become a real partnering force, as Kazakhstan is transforming in the 2050 development programme set for itself, so also the continent has its own 2063 Agenda fixed by the African Union.
2022 Organization of Turkic States Summit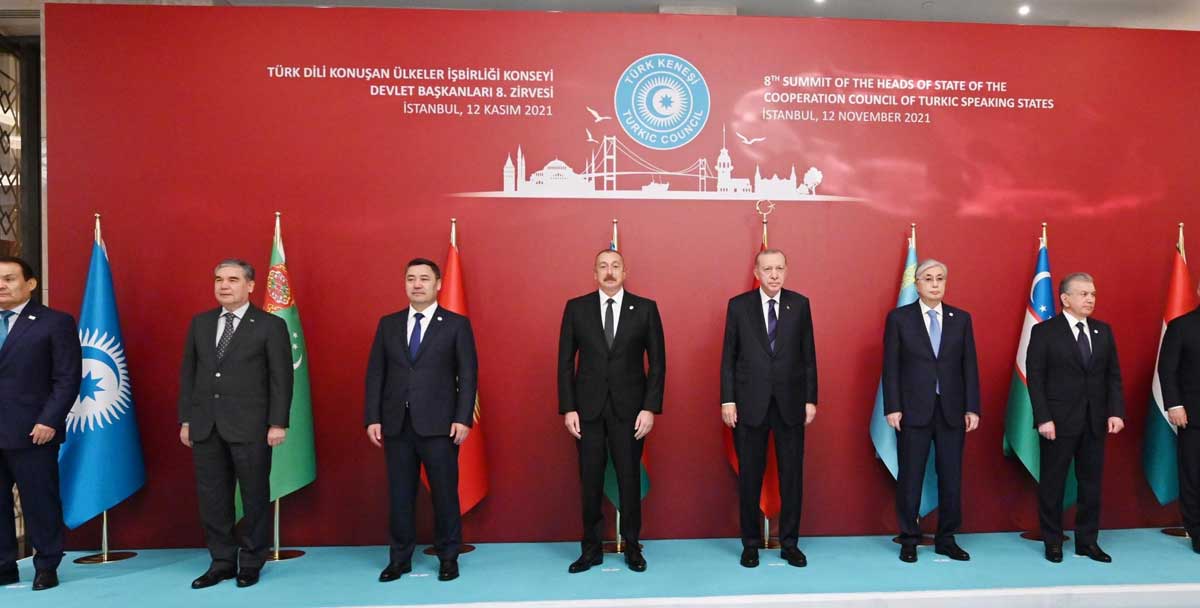 The meeting of the Council of Heads of State of the Organization of Turkic States Summit was held on November 11, 2022 in Samarkand amid increasingly frequent statements from the European Union and the United States America that the countries of Central Asia should get rid of the influence of the Russian Federation and the People's Republic of China.
Prior to the summit, negotiations were held between the Ministers of Economy of the Member States, discussing the creation of the Turkic Investment Fund, the opening of joint trading houses and the formation of the special economic zone "TURANCEZ". Meetings were also held between the Ministers of Foreign Affairs of the Member States
The summit was chaired ин the President of the Republic of Uzbekistan Shavkat Mirziyoyev. The summit was held under the slogan: "A new era of Turkic civilization: Towards Common Development and Prosperity."
The Organization of Turkic States, formerly known as the Cooperation Council of Turkic Speaking States (Turkic Council), was established on October 3, 2009. The members of the Organization of Turkic States are Azerbaijan, Kazakhstan, Kyrgyzstan, Turkey and Uzbekistan. Hungary and Turkmenistan have observer status.
The summit was also attended by the leaders of the International Organization of Turkic Culture (TÜRKSOY), the Parliamentary Assembly of Turkic Speaking Countries (TURKPA), the International Turkic Academy of the Turkic Culture and Heritage Foundation
The President of Uzbekistan Shavkat Mirziyoyev began a meeting of the Council of Heads of State. He welcomed the guests and delivered a speech. In his speech, he mentioned the issues concerned, spoke about the goals and prospects for expanding cooperation between the Turkic countries.
Highlights from speech of the President of Uzbekistan Shavkat Mirziyoyev
Strengthening the bases of trade and economic cooperation;
Proposed to hold annually the Turkic Economic Forum in the format of the state and business in order to ensure its single promotion of trade and investment;
Expansion of transit corridors and creation of transport infrastructure;
Ensuring access to the foreign market and the creation of an efficient food supply system;
Build partnerships with the Food and Agriculture Organization of the United Nations;
Regularly hold the Turkic Agro Forum and organize an international exhibition of agriculture;
Highlights from speech of the President of the Republic Turkey Recep Tayyip
Proposed the establishment of an Investment Fund;
Implementation of joint energy projects;
Turkey is ready for active cooperation with the Turkic states in all areas;
Expanding cooperation in the prevention and regulation of illegal migration;
Cancellation or reduction of customs payments on the route passing through the Middle Corridor, as well as simplification of transit cargo transportation;
Congratulated Azerbaijan on the occasion of the second anniversary of Victory in the Patriotic War.
Highlighted that Turkey supports Azerbaijan in its aspiration for a peaceful settlement of the Karabakh issue;
Highlights from speech of the President of the Republic Kazakhstan Kassym-Jomart Tokayev
"Green economy" development;
Development of the transport and logistics industry between countries;
Strengthening the scientific and educational connection of the Turkic countries;
Compliance with the Charter of the United Nations on the issue of territorial integrity;
Proposed to create a Center for Digitalization of the Organization of Turkic States on the basis of the International Technopark "Astana Hub";
Proposed to create in 2023 a unified network of universities of the Turkic countries, which will allow students to study Turkic languages and get acquainted with the history and culture of the Turkic nations;
Highlights from speech of the President of the Republic of Azerbaijan Ilham Aliyev
Called on countries to intensify cooperation in the field of security, defense, defense industry;
Pay attention to the issue of human rights, security, preservation of national identity and assimilation of compatriots living outside the countries of the members of the Organization of Turkic States;
The President of Azerbaijan invited Heads of State of the Organization of Turkic States to visit the Karabakh and East Zangezur economic regions;
Chairman of the People's Council of Turkmenistan Gurbanguly said that the Samarkand summit made a significant contribution to the development of relations between the Turkish states and stressed the importance of expanding cooperation.
Hungarian Prime Minister Viktor Orban noted the important role of Azerbaijan in ensuring the energy security of Europe.
The President of Kyrgyzstan Sadyr Japarov said that relations with Azerbaijan are reaching a new level.
Bagdad Amreev, Secretary General of the Organization of Turkic States, said that the organization has always supported the territorial integrity of Azerbaijan. And that cooperation and the political arena have developed significantly. The countries demonstrated unity in supporting Baku in the struggle for the liberation of their lands from occupation and the restoration of territorial integrity.
Summit outcomes
A strategic plan was adopted for the next 5 years;
The Organization of the Turkic States declared 2023 as Year of Rise of Turkic Civilization;
Member States signed a final declaration (the Samarkand Declaration) and a number of other documents, including protocols on amending the Nakhchivan Agreement on the establishment of the Cooperation Council of Turkic Speaking States;
Decision on the adoption of the rules of procedure for the establishment of the Turkic Investment Fund;
The Turkish Republic of Northern Cyprus (TRNC) has been granted observer status.
Representative of Kyrgyzstan Kubanychbek Omuraliev has been appointed Secretary General of the Organization of Turkic States, who replaced Bagdad Amreev in this position;
At the initiative of the President of Uzbekistan, the Ali-Shir Nava'I International Prize was established. The first winner of The Ali-Shir Nava'I International Prize was the famous Kyrgyz writer Chinghiz Aitmatov in recognition of his contributions to the unity and development of the Turkic world. His award was presented to the President of the Republic of Kyrgyzstan Sadyr Japarov;
President of Uzbekistan Shavkat Mirziyoyev awarded President of Turkey Recep Tayyip Erdogan and Chairman of the People's Council of Turkmenistan Gurbanguly with the Supreme Order of Turkic World;