Time for a New Revolution in American Western Political History?
"Americans come around to doing the right thing after they have tried all the wrong ways"-Winston Churchill
[yt_dropcap type="square" font="" size="14″ color="#000″ background="#fff" ] P [/yt_dropcap] redictably, while the pundits continue focusing on the vulgarities and enormities of Donald Trump's ongoing circus or political reality show, Bernie Sanders' political principles are still around clamoring for attention, and are beginning to be revived and discussed; that is, if the Democratic Party is to get ready for a come-back.
As we all remember, when Sanders announced his campaign for president last year, he was readily dismissed by many in the media as a fringe candidate whose politics were too radical to connect with Democratic voters. One thing can no longer be ignored: Sanders, despite the political machinations within the Democratic Party's apparatus which torpedoed his aspirations, has proven that identifying as a democratic socialist will no longer prevent the democratic politician of the future from winning in big diverse states. The popularity of Bernie Sanders, especially among millennials, continues unabated as we speak, thus confounding the political experts who misguidedly continue to characterized his policies as extreme and unwelcome, smelling of ideological propaganda for Communism.
Sanders' campaign confronted some urgent middle class issues facing working people in Michigan and other big states, connecting voters' anxieties to a system that benefits Wall Street and corporations at the expense of the middle class. He made rebuilding the nation's crumbling infrastructure—including outdated and compromised water systems—central to his policy agenda. He had planned to invest $1 trillion over 5 years by cracking down on corporations ducking taxes by moving their profits offshore. Running on a message of economic justice and critical of corporate power, free trade deals and a broken criminal justice system, Sanders was able to put forward a genuinely populist message and offer a modicum of hope to a despondent middle class whose prospects have been eclipsed in the last thirty years or so, beginning with the Reagan years.
Far from being judged too radical by voters, these positions helped Sanders carry the Great Lakes state. If over half a million Democrats in Michigan—a state not exactly known for its radicalism—are willing to vote for a democratic socialist, it seems clear that such a term, with the inevitable specter of Communism may not prove to be a major hindrance in the future. Sanders, after all, won 71% of independents and the majority of voters making under $50,000 a year. The question that must persistently be asked is this: is America ready for a new revolution led by a democratic socialist? Is such a revolution desirable and indeed necessary if Western Democracy and Western civilization are to survive? So far, with so many Trojan horses of the right planted all over democratic Europe, the omens are not very encouraging.
The more pragmatic question seems to be this: can a democratic socialist win a general election in America, in a post Ronald Regan era? Let's see.
In the first place it is worth mentioning that Sanders' political appeal was based on much more than the thrill of an anti-establishment insurgent or some unexpected love affair of millennials (those born after 1986) with a Brooklyn socialist. Part of what has given Sanders his strength is how mainstream many of his standard political arguments are. If one listens to what he has been saying, it is possible to see that Sanders is not that radical at all. In many respects, his campaign directly addresses fundamental concerns that a wide range of Americans presently have about their future.
The best known issue in Sanders' ideological arsenal was the claim that in the present political system in America there is too much money in politics. The government is constantly unable to respond to the concerns of many Americans, not so much because the parties don't like each other or because the mainstream media creates a destructive environment, but because big interest groups and lobbyists have disproportionate power in Washington as a result of their donations. In their landmark book, Winner Take All Politics, the political scientists Jacob Hacker and Paul Pierson provide a powerful account of how the growth of corporate lobbies in the 1970s produced changes in public policy that greatly worsened income inequality. The breakdown of the post-Watergate campaign finance system, culminating with the Supreme Court's Citizens United decision, has produced a political process where there are almost no barriers to flooding politicians with dollars.
Without reforming this process, it is unrealistic to expect that any president or Congress will be able to enact substantive changes that challenge the status quo. For, as William James wisely wrote: if you wish to know what people really believe in, don't listen to what they tell you, watch their actions. For many years now, social scientists have demonstrated how middle-class Americans have become much less secure as a result of cuts to the social safety net and the exodus of good, secure jobs overseas while the separation between the rich and poor becomes more extreme.
Americans tune in when Sanders says that "It is the tragic reality that for the last 40 years the great middle class of our country — once the envy of the world — has been disappearing" and that we need to create an economy "that works for all, and not just the 1 %." An economy, that is, that creates incentives for job growth here in the United States and programs that help to elevate the economic health of working Americans, including progressive tax policies and a robust public works program to build the nation's infrastructure.
This is not radical at all, despite what the pundits proclaim. Much of the democratic socialist rhetoric is really just that of a New Deal liberal that thinks government is a good, that supports the expanded use of government to help social conditions, and believes that much of what federal officials do helps society. For too long, the conventional wisdom has argued mistakenly that Americans reject government. We are children of Ronald Reagan, they say, seeing government as a problem not the solution.
Polls have consistently shown that Americans like government much more than the pundits suspect. When asked generally about government, Americans can be negative. But when asked about specific programs like Social Security or the minimum wage, they heartily approve. Many things are done well by government. Though conservatives will argue this is radical, in many states, including red states, polls show something different. Many people seem to be ready for a political revolution driven by powerful ideas.
Also worth considering here is the brilliant analysis of Thomas Piketty, whom many consider one of the most influential economic thinker economist of our times. He wrote an article for Le Monde which was subsequently republished in English by The Guardian. In this article Piketty explains why he is impressed by the rise of Senator Sanders. He outlines why in his opinion the ascent of the populist senator spells the virtual "end of the politico-ideological cycle begun by Ronald Regan in 1980. Piketty argues that even if he does not win, Sanders will have created a necessary opening for similar candidates in the future who could conceivably change the face of the country as now constituted.
What is particularly interesting in Piketty's analysis is that he doesn't see a future American social democracy as following in the footsteps of Europe's social democratic models, the Scandinavian countries being the best example, but rather one leading the United States toward a possible return to the nation's pioneering 20th century experiments with extremely progressive taxation and social spending. He points to the fact that, prior to Reagan, 20th century fiscal policy in the U.S. was aggressive in taxing the wealthy — much more so than the European counterparts that American leftists are so fond of looking to for inspiration today. He writes that "In the interwar years the country invented a highly progressive income and estate tax and set up levels of fiscal progressiveness never used on our side of the Atlantic. From 1930 to 1980 — for half a century – the rate for the highest U.S. income (over $1 million per year) was on average 82%, with peaks of 91% from the 1940s to 1960s (from Roosevelt to Kennedy), and still as high as 70% during Reagan's election in 1980." Those rates beat any taxation by any Scandinavia country.
Without bringing in the scare tactics of Communism, it bears pointing out with Piketty that those rates were a tremendous help in creating social equality in America for the government to provide robust social programs (at first dubbed socialist and opposed by social Darwinists) introduced during Roosevelt's New Deal and Johnson's Great Society. Moreover, estate taxes were established which were extremely steep and dwarfed rates in France and Germany. That all changed after Reagan won the White House. In a bid to "restore a mythical capitalism to have existed in the past," as Piketty put it, he took an axe to the tax code and lowered the rate for the highest incomes to 28%.
Since Reagan, the Democratic Party has largely operated within the paradigm carved out by Reagan: very high tax rates are somehow thought to be un-American; keeping the deficit low is of paramount importance even if children are poisoned by bad water; and spending on social services are worthwhile but should not be overly generous to prevent welfare queens to go shopping with food stamps in their Cadillac….as the current mythology goes. For Piketty Sanders represents a meaningful break from it, a return to a third way in between the archconservatives and the ultra-liberals. As he writes "Sander's success portends the fact that much of America is tired of rising inequality and these so-called political changes, and intends to revive both a progressive agenda and the American tradition of egalitarianism."
This envisioned future scenario may sound utopic, even unrealistic, given the current despairing climate among Democrats, but the silver lining is that, with the road paved by the Sanders' campaign, next time around it may prove successful after Mr. Trump's billionaire's scheme has been tried and tested and disillusion sets in once again. That, of course, remains to be seen but it can safely be predicted that the billionaire class, the so called job creators, will only help themselves and exploit the people, as is their ingrained custom. In any case, at the very least Sanders' message has moved befuddled establishment candidates, still unable to explain to themselves what happened, to begin considering the desirability, indeed the necessity, of a social-democratic point of view, if Western democracy, and indeed Western civilization are to have a chance at survival.
Implications of the U.S. election on U.S.-China relations
The last four years have been one of the most tumultuous periods in modern China-U.S. relations. U.S. President Donald Trump has been the critical catalyst of this upheaval as he has oscillated between presenting China as a valued partner in international affairs, to it being a pariah that needs to be ever more constrained.
Such fluctuations have mounted in intensity as the Trump presidency has progressed. They have left observers uncertain as to whether or not this is a purposeful strategy of the leader of the world's most powerful country, or an indication of an untethered, badly conceived, and even short-sighted policy.
Such a wild approach has been no clearer than in their economic relationship. Here, the U.S. has strived to re-balance its trade relations with China, in particular, to reduce Beijing's long-standing trade surplus with Washington. The surplus has been argued by U.S. elites to have led to an unequal relationship, which a rising China exploits to challenge the U.S.'s economic supremacy. This divide has increasingly taken on a symbolic quality with it becoming representative of a rising China that is soon to surmount the U.S. in global affairs, and which U.S. elites now regard as the most pressing strategic threat to its global position.
In an attempt to pressure China into some kind of re-alignment, the U.S. President initiated a trade war in 2018 and ratcheted up tariffs on Chinese imports to the American market. By early 2020, these amounted to over $400 billion in tariffs, with China imposing its own retaliatory tariffs of $138 billion on its U.S. imports. Such steps have taken place amidst ongoing trade talks between the two sides and have been viewed as a negotiating tactic that has ultimately been detrimental to both countries' economies. In late 2020, the WTO said that U.S. tariffs violated international trade rules, undercutting their legitimacy, as well as the U.S. claims that China is undermining the U.S.-led "rules-based" international order.
Elsewhere, the two sides have also come into friction concerning China's territorial claims in the South China Sea, with the U.S. carrying out regular freedom of navigation operations in the area. The U.S. now also sends warships and military aircraft through the Taiwan Straits on a monthly basis (something innovated under President Trump), so as to deter China's historical claims on the island. In turn, Washington has urged its allies – Australia, Canada, France, and the United Kingdom – to act similarly, which has raised concerns in China of the country being strategically constrained in the region. Such a constraint could prevent Beijing from pursuing its foreign policy goal of claiming hegemony in East Asia.
Concerning the coronavirus pandemic, narratives emanating from the U.S. along with its Western allies have targeted China as being culpable for the outbreak. In a recent speech at the United Nations, President Trump openly claimed that China had knowingly unleased the Covid-19 "plague" on the world, which prompted a terse response from Beijing's officials that it is a cooperative, not a confrontational country that firmly has "no intention to fight either a cold war or a hot one with any country".
Such criticism has been increasingly mainstreamed in the last few months in the West with it acting as a stimulus for discussions on how to deal with China's rise. More critically, an October 2020 Pew survey showed that unfavorable opinions about China were at their highest ever level across the populations of Western Europe, the U.S., Canada, Australia, and South Korea.
All of these aspects of U.S.-China relations will present particular challenges regardless of the outcome of the U.S. election, in particular concerning growing global concerns over China's international ambitions. In this regard, Beijing will certainly need to redouble its diplomatic efforts to present the country as a responsible and benign international actor, through which others can benefit – in primarily – economic terms. That, by most accounts, China has the coronavirus largely under control means that it has been able to restart its economic activity, which gives Beijing the ability to kickstart and lead an international recovery. That most Western countries are still overwhelmed by the pandemic reinforces this capability and gives China the further chance to gain greater leverage and influence.
It also appears that it is now the U.S. that faces the greatest challenges to its international legitimacy, the consequences of which may have profound implications for its own global standing. This relates to the U.S. president's handling of the pandemic, which has to date led to its world-leading status of 210,000 deaths (which is set to double by the end of the year) and over 7.5 million infections. That the U.S. president himself has now become infected points to a leader but also a wider political system around him (including senior military leaders, senators, and most of his election campaign staff) that had a nonchalant, underprepared and irresponsible attitude to the major global health challenge of our time.
President Trump's infection also marks a major national security threat for the U.S. and the world. Given his age, obesity, and unhealthy diet, it is feasible that the leader of the world's most powerful country may become incapacitated from leading the U.S. in the next weeks. Crucially here, it has been widely reported that Trump will be unwilling to accept any negative outcome in the forthcoming election. Apart from suggesting that he would not leave office, he may try to rally supporters – potentially even violently – to protect his position. Crucially here, some of the medication he is taking to help him recover from Covid-19 has the potential to debilitate his mental capacities and overall judgment. This could impact his ability to recognize when he is incapable of leadership, but also spark irrational tweets and behavior that may destabilize the U.S. and even the world.
If the U.S. president were to die – either during or in the months after the election – in all likelihood the country would be thrown into a truly unprecedented constitutional crisis. With widely circulated claims among Republicans and Trump supporters that the election is rigged, if the Democrats were to win, we can expect lengthy legal battles, as well as a heightened potential for major civil unrest across the U.S. Either of these outcomes, would consume the U.S.'s domestic and international capabilities to act beyond its borders. They would also signal a sense of the U.S. political system (and democracy) as being illegitimate.
Such crises will only be to Beijing's advantage (among other U.S. competitors), especially given that China is in many ways returning – if not returned to – its pre-coronavirus economic activity. If U.S.-China relations do signify a contest for supremacy between the world's two foremost countries, Washington's handling of the coronavirus pandemic and its impact upon the U.S. presidential election could very well indicate the U.S.'s decline on the international stage, and essentially speed up China's path to global pre-eminence.
From our partner Tehran Times
The Battle for the Essence of the Democratic Party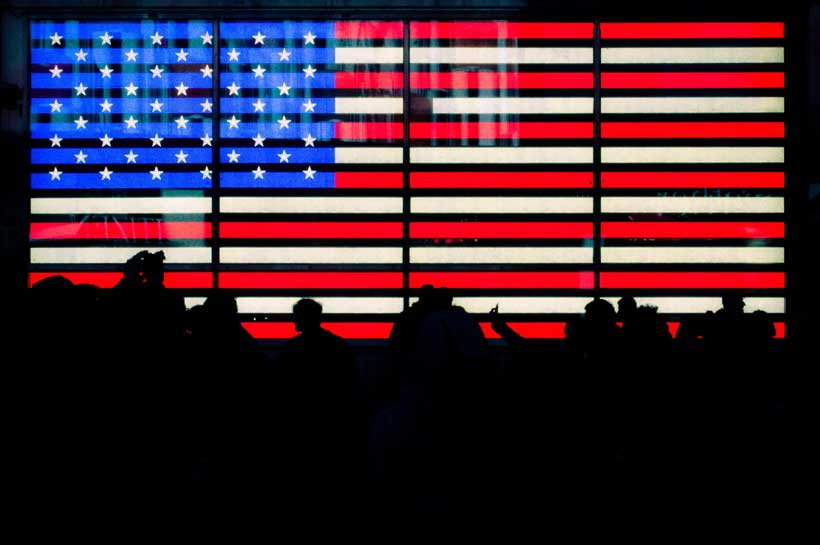 When President Trump fired defense secretary Mark Esper and cybersecurity chief Christopher Krebs just days after the elections, the President set a new integrity litmus test. He was clearly cleaning his circle of those who could stand up to him on the big stuff, such as not sending troops on the Black Lives Matters protesters or not pronouncing the elections rigged. In the meantime, Trump was showing the American public who he still considered loyal by not firing them by keeping the agency chiefs who stayed at least somewhere in the middle.
In the new Biden era, being fired by Trump will be considered the new badge of honor, an integrity stamp of a sort. Despite talk of firing FBI Director Christopher Wray and CIA Director Gina Haspel, Trump has not taken the decision, yet, and there surely must be a reason for it. To paraphrase Trump's infamous McCain quote, I like those who were fired by Trump, not those who were not fired by Trump. This is now the new integrity litmus test.
In May 2020, I was amidst my campaign for UN Special Rapporteur on freedom of speech as one of the top finalists, when in an interview on Bulgaria on Air I called the Trump Administration's and the US authorities' treatment of the media and the protestors during the Black Lives Matter crackdown "despicable". I was set on going after the Trump Administration and the US authorities if I had the chance to win the UN mandate on freedom of speech. And I had no plans for going easy on anyone.
There is something profoundly wrong with the US authorities, if instead of going after the crimes, they willingly choose to go after those that have a reaction against the crimes, outraged by crime impunity.
US agencies who "just don't get it" have to be defunded. And that brings us exactly to the discussion on the future of the heart, soul and essence of the Democratic Party.
The Democratic party has never been about appealing to the middle in order to be liked or about maintaining some kind of lowest common denominator to make sure that no one got offended. The Party has always been about equality and social justice, housing some of the most bad-ass status-quo shakers — not those that wanted to make sure that rich abusers stayed comfortable, racists were not inconvinienced, or abuse of military power for some illusive common good that served only those in power went unchecked. This is the party that offends and has offended throughout the decades to shake the status quo. This is why it is shameful that veterans in the Democratic Party have tried to shame Congresswoman Alexandria Ocasio-Cortez and others who have run and won their mandates on classical Democratic Party values.
Civil rights movement defenders in the black marches never said: "let's have a march but let's do it only on the pavement not to inconvinience cars". They took the whole street.
When I worked for Congressman Bill Delahunt, the Chairman of the House Sub-committee on International Organizations, Human Rights and Oversight, representing 10th congressional district of Massachusetts, some 14 years ago, we did not say that torture by the CIA and the CIA extrajudicial rendition flights were okay but not too much, in order to appeal to the center. We would say that torture is unacceptable, that America can do better than that.
Social justice and equality are uncomfortable. Rights are defended and guarded. They are never simply given. As an example from the other side of the aisle, when Republican President Eisenhower sent the troops on Little Rock to enforce black kids' right to attend school just like any other kid — what Brown vs Board of Education reaffirmed in order to end racial segregation exactly 30 years before the day I was born — Eisenhower did not aim for troops to only show up and waive at the crowds. The soldiers took the black kids by the hand and walked them straight in the school, in the face of hundreds of racist opponents — not trying to please them.
Defending rights takes grit and courage. And some US agencies will never really get it unless their budgets are cut and they are all actually pressed up against the wall — to change unwillingly, forcably and through the trivial but always effective use of financial pressure.
FBI Deputy Director David Bowdich's reaction to the Black Lives Matters protests at the time when I was running for UN Special Rapporteur on freedom of speech this year was that it is the protesters that should be arrested under an outdated rackateering law from the 1940s — not the murdering cops. A memo leaked to the New York Times showed that Mr Bowdich considered the social justice movement "a national crisis" comparable to 9/11. The hundreds of thousands of people mourning and marching across the country, unified by the simple thought that no life should be taken lighly, for nothing, were actually similar to terrorists in the eyes of the FBI who wanted to charge them as racketeers.
It is that kind of injustices and human rights infringements that I would have stood up against as UN Special Rapporteur on freedom of speech, as witnessed by the outrage and intentions, expressed in my May media appearances. I claimed back then that it is precisely in times of crises that rights are tested and defended. The United States is no exception. The US government is bound by international human rights law standards and no interpretation by second-rate lawyers loyal to the Trump Administration, comparing social justice protesters to racketeers and terrorists, can change that. International voices such as myself and others are here to make sure that US authorities do not forget their international human rights legal obligations.
America has a long way to go to recover from the damage that Trump and his cronies spread across the various US agencies have done to democratic principles and human rights. The Trump institutional capture of key agencies such as the FBI and the CIA, let alone DOJ, has lead the country into a downward spiral.
US authorities will not learn unless their actual day-to-day, functional survival is put on the line. People do not get it otherwise. This is why I fully support AOC and others in their defunding efforts, which are considered by many as controversial, extreme, out there and even dangerous, but in reality are simply the only effective way to fight institutionalized racism within the FBI, the police and other law enforcement agencies. "There is nothing radical about moral clarity", to repeat AOC's simple, yet powerful assertion. The comfortable, lowest common denominator parts of the Democratic Party need to wake up and realize that it is the Black Lives movement that got Joe Biden and the rest of the party across the finish line in November. And this precisely will be at the heart of the battle for the essence of the Democratic Party over the next four years.
Why are some Muslims, from India to the U.S Voting against their Natural Allies
Recent national elections in the U.S. and regional elections in India have presented an interesting conundrum. The numbers show that some Muslims, are voting in a counter-intuitive fashion. Given the rise of Islamophobia and right-wing religious nationalism, both in the U.S. and in India, one would surmise that Muslims would vote overwhelmingly to the left of center. But both, in India and in the U.S., many Muslims have however chosen to send a message to the center-left – your sympathetic rhetoric and your verbal condemnations of Islamophobia is not enough, we want to see concrete policies that improve our political and economic conditions. Neither the promises of Joe Biden, nor the fear of Hindu-nationalism is influencing their vote. These Muslims are, for sure, in a minority albeit a growing one. Politicians on the center-left may ignore them at their own peril.

In the U.S.
In the U.S., President-Elect Joe Biden's campaign outreach to Muslims went far beyond that of any presidential candidate in the past. Biden's campaign had a manifesto for American Muslims and a designated outreach person. Biden spoke at Muslim conventions and even quoted from Islamic scripture. He dropped an "inshallah" in the debates. Biden promised to end the so called 'Muslim-Ban' on day one and has repeatedly condemned Islamophobia. Biden spoke up for Uyghur Muslims in China and Kashmiris in India and has opposed the annexation of West Bank. He has promised to resume relations with the Palestinians and restore aid to them. Even Imran Khan, the PM of Pakistan, a self-proclaimed champion of Muslims, does not have such an impressive pro-Muslim curriculum vitae, he has repeatedly refused to speak up for the Uyghurs.
While a majority of American Muslims campaigned very aggressively for the Biden-Harris ticket and raised millions of dollars for the Democrats, the exit polls indicate that only 69% of American Muslims voted for them. On the face value that is a huge win, but if you look at in comparison to the past it is troubling. Despite the fact that Biden went far beyond any other candidate in his outreach to Muslims, and the Islamophobia of President Trump is well documented, Biden has garnered the least percentage of votes by a Democratic presidential candidate in the last four elections according to exit polls conducted by the Council on American Islamic Relations.
A possible explanation for this relatively weak performance is that, for some Muslims his "iron-clad" support for Israel and his willingness to work with pro-Hindutva operatives in the U.S., make his opposition to Islamophobia sound less credible. Words are not enough. If his electoral promises do not actually translate into actual policies, one can expect further decline in Muslim support for Democrats. American Muslims are a rapidly growing and politically engaged community that is over represented in swing states.
A closer reading of the exit polls suggest that things are worse than they seem. The exit polls show that while 17% American Muslims voted for Trump (up from 13% in 2016), 11% declined to reveal who they voted for. It is possible that they lean heavily towards Trump, hence the secrecy. That would mean that in spite of all his Islamophobic rhetoric, Trump may have doubled his support among American Muslims. One Trump supporter told me he voted for Trump because Trump did not invade a single Muslim country in four years unlike Biden who supported the invasion of Iraq.
| | | |
| --- | --- | --- |
| Year | Candidate | Muslim Vote |
| 2008 | Barack Obama | 88% |
| 2012 | Barack Obama | 85% |
| 2016 | Hillary Clinton | 74% |
| 2020 | Joe Biden | 69% |
In Bihar
The recent elections in Bihar has an interesting story to tell. The state is clearly polarizing as most gains have been made by parties on the extremities. Prime minister Modi's right-wing Bhartiya Janata Party (BJP) went from winning 53 wins in the 2015 elections to winning 74 of the 243 seats in 2020. A significant swing in favor of Hindutva ideology. The Communist Party (CPI-ML) gained 9 seats, it had 3 seats in 2015 to 12 seats in 2020. The communist parties combined had a 400% increase, they went from 4 to 16 seats. The parties in decline are the so-called secular centrist parties. The Rastriya Janata Dal (RJD) which is the biggest single party in the state lost five seats (80-75) and the Indian National Congress (INC), the grand old party of India, also lost ground (27-19).
Clearly the secular center is shrinking. The biggest surprise of the elections was the performance of Asaduddin Owaisi's All Indian MajlisIttehadul Muslimeen (AIMIM), a Muslim party, which in the past five years has gone from 0-5 seats. The Majlis won in predominantly Muslim area of Seemanchal and is being accused by commentators of stealing the secular vote away from secular parties. Some are describing Majlis as BJP's B-Team.
It is interesting that now in Indian politics, the code for Muslim vote is 'the secular vote'. Indian Muslims are now the last line of defense for the rather rapidly shriveling secular space. The criticism of Owaisi and the Majlis for denting the prospects of secular parties in Bihar is both misplaced and inaccurate. The question that is important is not why Owaisi's Majlis, a party historically based in Hyderabad (South India) is contesting elections so far in the North of India. The key question is why are Muslims in Bihar voting for Majlis? A party that has no record of governance in their region.
In a speech months before the elections, Owaisi predicted a tectonic shift in Seemanchal's politics and he said that it was coming because of the profound injustices and inequities that plague Muslims of that region. If secular parties that have governed the state for decades had delivered good governance to Muslims, Owaisi would have stayed at home.
Muslim Disillusionment
Muslims are increasingly disillusioned by secular and left politicians. Islamophobia was on the rise even before Trump became President and 37% of American Muslims, pre-covid pandemic, were found hovering near the poverty line. There is much discontent. I think just as 17-25% American Muslims voted for Trump rejecting the centrist politics of Democrats – many Muslims in Bihar too are frustrated by the failure of secular parties to improve their material condition. The region of Bihar where Owaisi's party won five seats is the poorest and infrastructurally the least developed area of the state. Voting for secular parties for decades did not help them much. They have been voting without hope. They too are tired of the lip service.
Muslims of Bihar are fortunate that they have an alternative in Majlis and they are able to reject both Indian secularists and Hindu nationalists unlike some American Muslims who feel that they are stuck between Republicans who are Islamophobic and Democrats who promise much but deliver little. The minority of Muslims who appear to be voting counter intuitively, seemingly against their own interests, either for Donald Trump in the U.S. or the Majlis in Bihar, are clearly sending a signal to secular politicians – do not take our vote for granted, you need to earn our vote.
The center-left may be a natural ally of Muslims, but if it does not deliver for Muslims, they may lose their vote in ever increasing numbers.