Time for a New Revolution in American Western Political History?
"Americans come around to doing the right thing after they have tried all the wrong ways"-Winston Churchill
[yt_dropcap type="square" font="" size="14″ color="#000″ background="#fff" ] P [/yt_dropcap] redictably, while the pundits continue focusing on the vulgarities and enormities of Donald Trump's ongoing circus or political reality show, Bernie Sanders' political principles are still around clamoring for attention, and are beginning to be revived and discussed; that is, if the Democratic Party is to get ready for a come-back.
As we all remember, when Sanders announced his campaign for president last year, he was readily dismissed by many in the media as a fringe candidate whose politics were too radical to connect with Democratic voters. One thing can no longer be ignored: Sanders, despite the political machinations within the Democratic Party's apparatus which torpedoed his aspirations, has proven that identifying as a democratic socialist will no longer prevent the democratic politician of the future from winning in big diverse states. The popularity of Bernie Sanders, especially among millennials, continues unabated as we speak, thus confounding the political experts who misguidedly continue to characterized his policies as extreme and unwelcome, smelling of ideological propaganda for Communism.
Sanders' campaign confronted some urgent middle class issues facing working people in Michigan and other big states, connecting voters' anxieties to a system that benefits Wall Street and corporations at the expense of the middle class. He made rebuilding the nation's crumbling infrastructure—including outdated and compromised water systems—central to his policy agenda. He had planned to invest $1 trillion over 5 years by cracking down on corporations ducking taxes by moving their profits offshore. Running on a message of economic justice and critical of corporate power, free trade deals and a broken criminal justice system, Sanders was able to put forward a genuinely populist message and offer a modicum of hope to a despondent middle class whose prospects have been eclipsed in the last thirty years or so, beginning with the Reagan years.
Far from being judged too radical by voters, these positions helped Sanders carry the Great Lakes state. If over half a million Democrats in Michigan—a state not exactly known for its radicalism—are willing to vote for a democratic socialist, it seems clear that such a term, with the inevitable specter of Communism may not prove to be a major hindrance in the future. Sanders, after all, won 71% of independents and the majority of voters making under $50,000 a year. The question that must persistently be asked is this: is America ready for a new revolution led by a democratic socialist? Is such a revolution desirable and indeed necessary if Western Democracy and Western civilization are to survive? So far, with so many Trojan horses of the right planted all over democratic Europe, the omens are not very encouraging.
The more pragmatic question seems to be this: can a democratic socialist win a general election in America, in a post Ronald Regan era? Let's see.
In the first place it is worth mentioning that Sanders' political appeal was based on much more than the thrill of an anti-establishment insurgent or some unexpected love affair of millennials (those born after 1986) with a Brooklyn socialist. Part of what has given Sanders his strength is how mainstream many of his standard political arguments are. If one listens to what he has been saying, it is possible to see that Sanders is not that radical at all. In many respects, his campaign directly addresses fundamental concerns that a wide range of Americans presently have about their future.
The best known issue in Sanders' ideological arsenal was the claim that in the present political system in America there is too much money in politics. The government is constantly unable to respond to the concerns of many Americans, not so much because the parties don't like each other or because the mainstream media creates a destructive environment, but because big interest groups and lobbyists have disproportionate power in Washington as a result of their donations. In their landmark book, Winner Take All Politics, the political scientists Jacob Hacker and Paul Pierson provide a powerful account of how the growth of corporate lobbies in the 1970s produced changes in public policy that greatly worsened income inequality. The breakdown of the post-Watergate campaign finance system, culminating with the Supreme Court's Citizens United decision, has produced a political process where there are almost no barriers to flooding politicians with dollars.
Without reforming this process, it is unrealistic to expect that any president or Congress will be able to enact substantive changes that challenge the status quo. For, as William James wisely wrote: if you wish to know what people really believe in, don't listen to what they tell you, watch their actions. For many years now, social scientists have demonstrated how middle-class Americans have become much less secure as a result of cuts to the social safety net and the exodus of good, secure jobs overseas while the separation between the rich and poor becomes more extreme.
Americans tune in when Sanders says that "It is the tragic reality that for the last 40 years the great middle class of our country — once the envy of the world — has been disappearing" and that we need to create an economy "that works for all, and not just the 1 %." An economy, that is, that creates incentives for job growth here in the United States and programs that help to elevate the economic health of working Americans, including progressive tax policies and a robust public works program to build the nation's infrastructure.
This is not radical at all, despite what the pundits proclaim. Much of the democratic socialist rhetoric is really just that of a New Deal liberal that thinks government is a good, that supports the expanded use of government to help social conditions, and believes that much of what federal officials do helps society. For too long, the conventional wisdom has argued mistakenly that Americans reject government. We are children of Ronald Reagan, they say, seeing government as a problem not the solution.
Polls have consistently shown that Americans like government much more than the pundits suspect. When asked generally about government, Americans can be negative. But when asked about specific programs like Social Security or the minimum wage, they heartily approve. Many things are done well by government. Though conservatives will argue this is radical, in many states, including red states, polls show something different. Many people seem to be ready for a political revolution driven by powerful ideas.
Also worth considering here is the brilliant analysis of Thomas Piketty, whom many consider one of the most influential economic thinker economist of our times. He wrote an article for Le Monde which was subsequently republished in English by The Guardian. In this article Piketty explains why he is impressed by the rise of Senator Sanders. He outlines why in his opinion the ascent of the populist senator spells the virtual "end of the politico-ideological cycle begun by Ronald Regan in 1980. Piketty argues that even if he does not win, Sanders will have created a necessary opening for similar candidates in the future who could conceivably change the face of the country as now constituted.
What is particularly interesting in Piketty's analysis is that he doesn't see a future American social democracy as following in the footsteps of Europe's social democratic models, the Scandinavian countries being the best example, but rather one leading the United States toward a possible return to the nation's pioneering 20th century experiments with extremely progressive taxation and social spending. He points to the fact that, prior to Reagan, 20th century fiscal policy in the U.S. was aggressive in taxing the wealthy — much more so than the European counterparts that American leftists are so fond of looking to for inspiration today. He writes that "In the interwar years the country invented a highly progressive income and estate tax and set up levels of fiscal progressiveness never used on our side of the Atlantic. From 1930 to 1980 — for half a century – the rate for the highest U.S. income (over $1 million per year) was on average 82%, with peaks of 91% from the 1940s to 1960s (from Roosevelt to Kennedy), and still as high as 70% during Reagan's election in 1980." Those rates beat any taxation by any Scandinavia country.
Without bringing in the scare tactics of Communism, it bears pointing out with Piketty that those rates were a tremendous help in creating social equality in America for the government to provide robust social programs (at first dubbed socialist and opposed by social Darwinists) introduced during Roosevelt's New Deal and Johnson's Great Society. Moreover, estate taxes were established which were extremely steep and dwarfed rates in France and Germany. That all changed after Reagan won the White House. In a bid to "restore a mythical capitalism to have existed in the past," as Piketty put it, he took an axe to the tax code and lowered the rate for the highest incomes to 28%.
Since Reagan, the Democratic Party has largely operated within the paradigm carved out by Reagan: very high tax rates are somehow thought to be un-American; keeping the deficit low is of paramount importance even if children are poisoned by bad water; and spending on social services are worthwhile but should not be overly generous to prevent welfare queens to go shopping with food stamps in their Cadillac….as the current mythology goes. For Piketty Sanders represents a meaningful break from it, a return to a third way in between the archconservatives and the ultra-liberals. As he writes "Sander's success portends the fact that much of America is tired of rising inequality and these so-called political changes, and intends to revive both a progressive agenda and the American tradition of egalitarianism."
This envisioned future scenario may sound utopic, even unrealistic, given the current despairing climate among Democrats, but the silver lining is that, with the road paved by the Sanders' campaign, next time around it may prove successful after Mr. Trump's billionaire's scheme has been tried and tested and disillusion sets in once again. That, of course, remains to be seen but it can safely be predicted that the billionaire class, the so called job creators, will only help themselves and exploit the people, as is their ingrained custom. In any case, at the very least Sanders' message has moved befuddled establishment candidates, still unable to explain to themselves what happened, to begin considering the desirability, indeed the necessity, of a social-democratic point of view, if Western democracy, and indeed Western civilization are to have a chance at survival.
Stronger Sanctions Won't Solve the Venezuelan Problem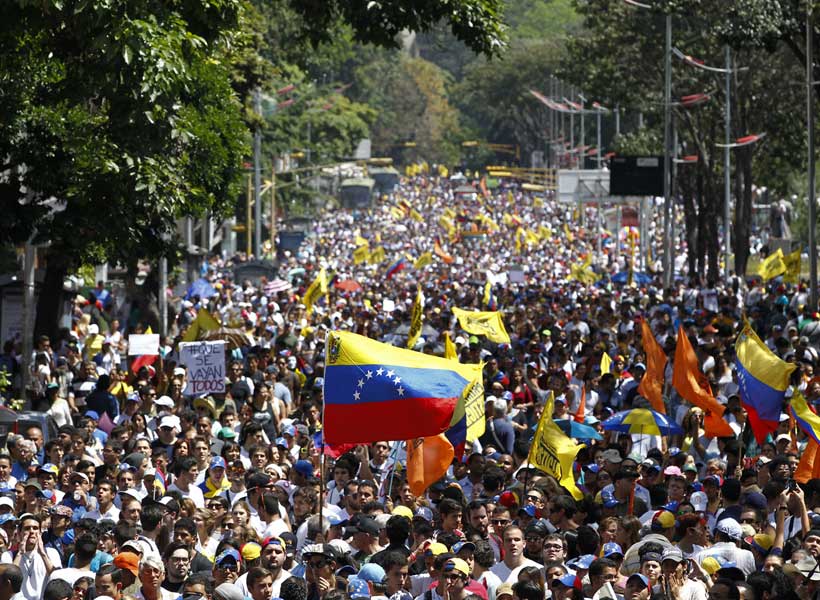 The outcome of recent elections on May 20th has triggered renewed sanctions against the Venezuelan regime. After banning 'Petro,' Venezuela's government-issued cryptocurrency, and financially limiting 62 individuals and 15 Venezuelan businesses in the US, the Trump administration issued a new Executive Order. This new measure prohibits all transactions by a US person or within the US regarding the purchase of any debt owed to the Venezuelan Government. The sanction includes the prohibition to buy any government-owned assets such as state bonds and state-owned company stocks like those of the oil company Petroleos de Venezuela S.A (PDVSA). For a country where oil revenues account for about 95 percent of export earnings, this measure is a strong hit to its economy.
In the past years, sanctions have been reinforced by US allies such as Canada, the EU, Switzerland,and Panama, by targeting personal finances and international travel capability of elite public servants, politicians (including Maduro), and members of the military. The ban on the sale of weapons and technological equipment to the Venezuelan Army has also been used as a means to provoke military uprisings against Maduro's government and to stop civilian casualties, which reached 125 over protests last year. The strategy is to weaken the political elite behind the socio-economic and regional catastrophe that Venezuela has become, avoiding the direct impact on Venezuela's population at large.
The Ineffectiveness of Sanctions
After several studies and examples throughout recent history, sanctions have proven fruitless and more detrimental to the local population regarding Human Rights violations and access to basic goods and services. The few cases where sanctions have been more or less successful are the cases where a negotiation with the, so called, rogue regime is established, in which an offer is made in exchange for the implementation of a given sanction. The Iranian case and the nuclear program is one example. On the other hand, Iraq and the starvation of its population in the 1990's, is a clear example of a failed sanction-based policy designed by the White House.
Since 2014 over 1.5 million Venezuelans have mass migrated into neighboring countries such as Peru, Chile, Colombia, Brazil and Ecuador, including the US, Italy,and Spain as their main destinations. Trump's administration issued a travel ban for Venezuelan citizens in 2017, avoiding mass migration from that country into the US. Severe border controls in the main Latin American destinations are being carried out. Furthermore, The inflation rate in Venezuela stands at 13,379 percent as per April 2018, making it the worst case in the globe. The number of acute malnutrition cases in the country has doubled between 2015 and 2017 mainly due to severe shortages in food supplies and low purchasing power of the currency.
The imposed sanctions have only worsened the situation for the civilian population in Venezuela. Despite targeting only the political elite and the military, sanctions have caused to isolate the country financially in the international system due to a corrupt and tight relationship between the political elite and the state's assets. Having partial access to the most important financial markets leaves the government impaired when strategizing on the best way forward, affecting the population's livelihoods and security. Oil production is directly impacted by ever-tighter sanctions, leaving one of the world's biggest oil producers out of the big player's list in the international market. Some of Venezuela's Middle Eastern counterparts will have to step in to cover for its reduced oil production. In that regard, the US holds a lever by being the primary consumer for Venezuelan oil, which at the same time results in a threatening situation for the US fuel market. Rising gasoline prices would be further affected in the US if the sanction that blocks oil imports from Venezuela is finally issued.
As Francisco Rodriguez stresses, foreign policymakers behind sanctions against Venezuela are ill-informed. Maduro's regime is considered to be authoritarian but is not a dictatorship quite yet. The regime has an electoral stronghold of 25 percent, making it enough to somewhat legitimize the regime within the country, despite the hardships it has put Venezuelan's through. Sanctions are a tool of foreign policy, not a policy in itself, which makes it necessary to have and know the policy being pursued by any sanction. After the 180-degree change in foreign policy in the White House, shifting from strategic patience to a pressure-based foreign policy, the State Department should deeper analyze the Venezuelan case in order to pursue effective and less threatening policies for the region and for the US itself. Paradoxes like the unfriendly migration policy imposed on Venezuelan citizens contrasted with sanctions against the country are a clear sign that there is a lack of in-depth analysis coming from the State Department. There should be a basic understanding that sanctions will cause more economic instability, thus migration towards economically more stable countries like the US. Migration policies should take the basic results of sanctions into account and foresee an elevated number in asylum applications and an increase in economic immigrants. Legal, analytic and policy skills should be combined with the diplomatic skills of an administration, in order to come up with foreign policy and to determine how much political capital to spend on sanctions. Sanctions cannot make a much better Venezuela, but they are best aimed towards pushing a regime to the negotiating table. In the Venezuelan case, an offer to sit at that table is lacking.
How Fashion Ties U.S. Domestic Politics with an Authoritarian on Kashmir
There is something charming about a first lady making media bloopers; however, one cannot say the same for those born very rich who are often obtuse to the sufferings of others.
The news reaching a crescendo this week in the US has not been the World Cup — relatively few understand the game here.  No, it's been Donald Trump's cruel policy of separating children from families caught trying to cross the Mexican border without proper documentation.  It was Trump's way of discouraging illegal immigration, claiming the Democrats were preventing a bill that would stem the tide — what bill would, when most are not caught and they are crossing illegally anyway?
As repeated photos and videos of crying, traumatized children swayed the public, Democrats started blasting Republicans for the inherent cruelty, and the latter now on the wrong side of a losing issue before the November election began to distance themselves from Trump; some more forcefully than others, for example Senator Ted Cruz with presidential aspirations, who did a flip-flop saying he would introduce emergency legislation to end it.
Trump promptly sent the first Lady to a camp where some of the children, now numbering about 2300, were being held.  She expressed support going through the event in her own way.  Then came the surprise:  As she departed her top coat revealed large letters, woven into the special designer coat, reading, "I really don't care do u."  Later it was revealed, the coat had been made to protest what Trump calls 'fake news', namely, critical coverage of his policies.
Of course, woven inscriptions in clothing, bring to mind the narcissistic Narendra Modi who wore a striped suit with his name woven into the stripes.  At least he did until the negative publicity.
In Kashmir, Mr. Modi has ended the unholy PDP/BJP alliance opting for the iron hand behind his BJP's velvet glove.  The BJP refused to extend the Ramzan ceasefire and the PDP walked away.  The Chief Minister Mehbooba Mufti submitted her resignation to the governor and the region will now come under direct rule of the Modi central government.
Only last week (June 14), Shujaat Bukhari, the prominent journalist and editor was assassinated along with two bodyguards.  Mr. Bukhari and the PDP were aligned in their views on autonomy for Kashmir, a demand alien to Mr. Modi's BJP and his desire to integrate the region into India.  But an alliance of parties with distinct and different views brought hopes for an eventual resolution as in South Africa and Northern Ireland.  Not any more.
If Modi has decided to fight what he calls "cross-border terrorism", it will lead only to more bloodshed and failure as before.  The huge demonstrations, the prior cruel attempts to suppress them, and the continuing insurrection are clear evidence of a populace sick of being denied rights for over seven decades.
To continue a failed policy makes little sense, unless it's with an eye to the 2019 election.  Mr. Modi's BJP has not been averse to playing the sectarian card and attempting to incite hatred in electoral contests … walking over dead bodies to victory.
The Diseased, Lying, Condition, of America's 'News' Media
Both President Trump and former President Obama are commonly said in America's 'news' media to be or to have been "ceding Syria to Russia" or "ceding Syria to Russia and Iran," or similar allegations. They imply that 'we' own (or have some right to control) Syria. That's not only a lie; it is a very evil and harmful one, dangerously goading the U.S. President to go even more against Russia (and Iran) (and, of course, against Syria) than has yet been done — but the 'news'media don't care about that evil, and that falsehood, and that dangerousness — they do it anyway, and none of them attacks the others for perpetrating this vicious war-mongering lie, that lying provocation to yet more and worse war than already exists there. And the fact that none is exposing the fraudulence of the others on this important matter, is a yet-bigger additional scandal, beyond and amplifying the media's common lying itself. Because they all function here like a mob, goading to more and worse invasions, and doing it on the the basis of dangerous lies — that America, and not the Syrians themselves, own Syria.
These lies simply assume that America (probably referring to the U.S. Government, but whatever) somehow "has" or else "had" Syria (so that America can now 'cede' it, to anyone); and this assumption (that the U.S. somehow owns Syria) is not only an imperialistic one (which is bad, and wrong, in itself), but it reduces to nothingness the rights (in the minds of the American public) of the Syrian people, to control their own land. That lie is what America's 'news'media won't expose, but instead they all cooperate with it, when they're not actually participating, themselves, in spreading these lies.
What they are doing is also to slur Russia, and to slur Iran, for having accepted the request from Syria's Government, for assistance in protecting Syria's Government, against the tens of thousands of jihadists who had been recruited throughout the world by the Saudi-American alliance, to overthrow and replace Syria's Government, to replace it with one that would be appointed by the Saud family ('America's ally'), the fundamentalist-Sunni royal family who (as the absolute monarchy there) do actually own Saudi Arabia — a monarchical dictatorship, which the U.S. Government calls an 'ally'.
The evilness of this imperialistic assumption, which is being constantly spread by the U.S.-and-allied 'news'media, is as bad as is its falseness, because "America" (however one wishes to use that term) never had, never possessed, any right whatsoever to control Syria. Of course, neither does Russia possess such a right, nor does Iran, but neither Russia nor Iran is asserting any such right; both instead are there to protect Syria's national sovereignty, against the invaders (including the U.S., and the Sauds' regime). But the U.S.-and-allied 'news'media don't present it that way — the honest way — not at all. Such truths are instead suppressed.
I was immediately struck by this false and evil assumption that the U.S. owns Syria, when reading the June 15th issue of The Week magazine. It contained, under its "Best Columns" section, a piece by Matthew Continetti ("Obama Too Good for America"), which says, among other falsehoods, "Obama was wrong about a lot of other things, too, like … ceding Syria to Russia." That phrase, "ceding Syria to Russia" rose straight out from the page to me as being remarkable, stunning, and not only because it suggests that America owns that sovereign nation, Syria. I was especially struck by it because the CIA has several times attempted Syrian coups and once did briefly, in 1949, overthrow and replace Syria's democratically elected President. But is that really something which today's America's 'news'media should encourage the American public to be demanding today's American politicians to be demanding from today's American President? How bizarre, even evil, an idea is that? But it is so normal that it's a fair indication of how evil and untrustworthy today's American 'news'media actually are. I just hadn't noticed it before.
Publishing such a false and evil idea, without any accompanying commentary that truthfully presents its context and that doesn't simply let the false and evil allegation stand unchallenged — that instead lets it be unchallenged both factually and morally — is not acceptable either factually or morally, but then I checked and found that it's the almost universal norm, in today's U.S. 'news'media. For examples:
On 17 April 2018, CBS News headlined "Lindsey Graham 'unnerved' after Syria briefing: 'Everything in that briefing made me more worried'" and presented that U.S. Senator saying, "It seems to me we are willing to give Syria to Assad, Russia, and Iran." He was criticizing President Trump as being "all tweet and no action." He wanted more war, and more threat of war. But when President Obama had repeatedly denied in public that only the Syrian people should have any say-so over whom Syria's leaders ought to be, U.N. Secretary General Ban ki-Moon repeatedly contradicted the U.S. President's viewpoint on this, and he said, "The future of Assad must be determined by the Syrian people." If the American people have become so dismissive of international law as this, then is it because the U.S. 'news'media start with the ridiculously false presumption that "America" (whatever that refers to) is the arbiter of international law, and therefore has the right to dictate to the entire world what that law is, and what it means? Is America, as being the dictator over the whole planet, supposed to be something that Americans' tax-dollars ought to be funding — that objective: global dictatorship? How does that viewpoint differ, then, from perpetual war for perpetual 'peace' — a dictum that's enormously profitable for America's big 'Defense' contractors, such as Lockheed Martin, but that impoverishes the general public, both in America, and especially in the countries (such as Syria) where 'our' Government drops bombs in order to enforce its own will and demand, that: "Assad must go!"
In fact, as any journalist who writes or speaks about the Syrian situation and who isn't a complete ignoramus knows, Bashar al-Assad would easily win any free and fair Presidential election in Syria, against any contender. His public support, as shown not only in the 2014 Syrian Presidential election, but also in the many Western-sponsored opinion-polls in Syria (since the CIA is always eager to find potential candidates to support against him), show this.
On 17 December 2016, Eric Chenoweth, a typical neocon Democratic Party hack, headlined "Let Hamilton Speak: Recapturing American Democracy", and he wrote: "Trump's statements and appointments make clear he intends to tilt American policy to serve Russian interests: ceding Syria to Russia by ending support to pro-Western rebels; possibly lifting economic sanctions and recognizing the annexation of Crimea; proposing an alliance with Russia in the war on terror while remaining uncommitted to the defense of NATO allies, in particular the Baltic countries vulnerable to Russian aggression. Restoring American Democracy When they meet on December 19, Republican Electors who reflect on their constitutional duty should not then affirm Trump's election." Those "pro-Western rebels" in Syria were actually led by Al Qaeda's Syrian branch. Without them, the U.S. regime wouldn't have had any "boots on the ground" forces to speak of there. In fact, the U.S. regime has actually been fronting for the Saud family to take over control of Syria if and when Syria's Government falls.
The Saud family even selected the people who in the U.N. peace talks on Syria represent 'the rebels' — the Sauds, who have been Syria's enemy ever since 1950, selected 'Syria's opposition', who were now seeking to take over Syria if and when 'America's moderate rebels' succeed. Both Al Qaeda and ISIS are actually fundamentalist-Sunnis, like the Saud family are, and Assad's Government is resolutely non-sectarian. Assad himself is a non-Islamist Alawite Shiite secularist, which virtually all fundamentalist Sunnis (such as the Sauds are) are taught to despise and to hate — especially because he's Shiite. The U.S. regime knows that neither it, which is considered Christian, nor Israel, which is theocratically Jewish, could practically succeed at imposing rule in Syria, but that maybe the Sauds could — so, they are the actual leaders of the 'pro-Western' forces, seeking to replace Syria's secularist Government. Overthrowing Syria's Government would be their victory. It would be the Saud family's victory. But this fact is kept a secret from the American public, by the U.S.'news'media.
Back on 17 September 2016, shortly before the change in U.S. Administrations, Obama bombed the Syrian Government's garrison in Der Zor, or Deir Ezzor, which is the capital of Syria's oil-producing region. He did it in order to enable ISIS forces, which surrounded the city, to rush in and conquer it. Obama did this only eight days after his Secretary of State, John Kerry, had conceded to the demand by Sergei Lavrov, Russia's Foreign Minister, Russia's demand that in a cease fire, Russia be allowed to continue bombing not only ISIS there, which Kerry agreed should continue to be bombed by both the U.S. and Russia, but also Al Qaeda's forces — which until 9 September 2016, Obama refused to allow to be bombed during a cease-fire. But, finally, after a year of deadlock between Russia and the United States on that crucial issue, Kerry and Lavrov both signed a cease-fire agreement, and it allowed both ISIS and Al Qaeda-led forces to continue being bombed. (Russia had been bombing both, ever since 30 September 2015, when Russia began its bombing campaign in Syria.) That cease-fire went into effect on September 12th. Then Obama, unannounced — and a great disappointment to his Secretary of State, who wasn't informed of this in advance — broke the agreement, by bombing the Syrian outpost in Deir Ezzor — and that's the moment when Vladimir Putin quit his efforts to get agreements from Obama, because Putin now recognized that Obama was totally untrustworthy.
Already by late September of 2015, even prior to Russia's having been requested by President Assad to enter the war in order to speed up the defeat of what Washington still calls 'the rebels', it was clear that Washington (actually Riyadh) wasn't going to take over Syria; and Americans were — and are — being taught by the 'news'media, that this was because Obama was 'weak' and didn't care enough about 'human rights' in Syria, and about 'democracy' in Syria. So, on 28 September 2015, Matt Purple at the libertarian "Rare Politics" site, headlined "Pentagon admits that the Syrian rebels it trained handed over weapons to al Qaeda", and he wrote "Neoconservatives wail that President Obama is ceding Syria to Russia — but the reason the Russians are taking the lead is precisely because America has sidelined itself." But the U.S. regime hadn't at all "sidelined itself"; it continued — and it continues to this day — its invasion and occupation of that land. Trump's policy on Syria is basically a continuation of Obama's — and it's not at all "ceding Syria to Russia," or "ceding Syria to Russia and Iran."
Because of America's 'news'media, it still isn't "ceding Syria to the Syrians" — as Ban ki-Moon and international law would. That wouldn't be profitable for Lockheed Martin etc. (whose biggest customers other than the U.S. Government are the Sauds, and Trump alone sold $400 billion of U.S. weapons to them); so, it's not done.
Syria's sovereignty is utterly denied by the U.S. regime, but if the U.S. regime were to succeed, the big winners would actually be the Saud family.
Do the American people have sovereignty, over 'their' (our) Government? U.S. 'news'media effectively ban that question. Perhaps what controls the U.S. Government is the Saudi-Israeli alliance: the Sauds have the money, and the Israelis have the lobbyists. Of course, the U.S. 'news'media are obsessed whether Russia controls the U.S. Government. That diversionary tactic is extremely profitable to companies such as General Dynamics, and America's other weapons-manufacturers, which thrive on wars — especially by selling to the Sauds, and to their allies (and, obviously, not at all to Russia).