Secret of Trump's victory: Mesmerizing the folks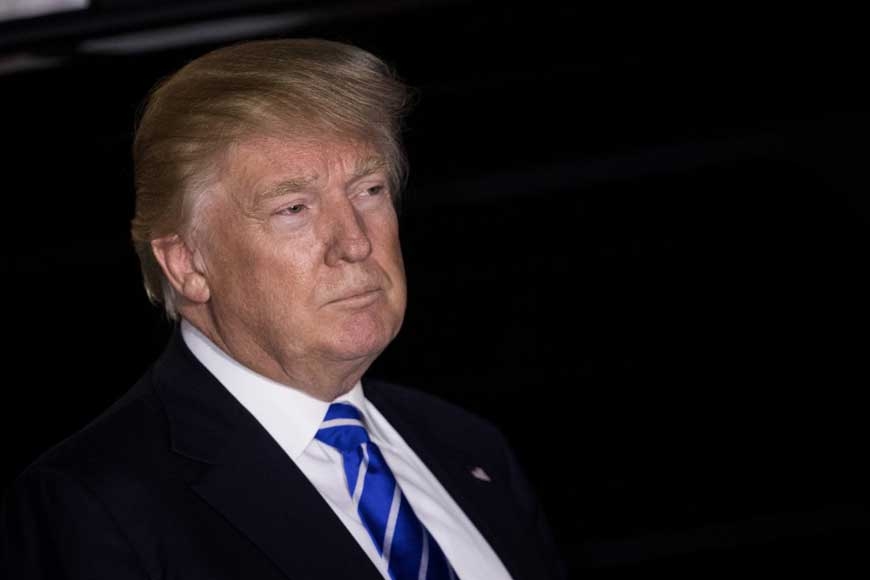 [yt_dropcap type="square" font="" size="14″ color="#000″ background="#fff" ] T [/yt_dropcap] he secret of Trump's victory lies in that he utterly identified his target audiences and their problems and points of discontent and frustration, meticulously addressed them, offered magnetic solutions, and ultimately, won their hearts and votes. Although many of Trump's proposed policies and solutions are just rhetoric statements disconnected from the reality and practicality, he was able to mesmerize the folks into voting for him to become the president of the United States of America smashing almost all expectations and polls.
Hillary Clinton had portrayed the Trump campaign as divisive. Even she quoted Abraham Lincoln saying "A house divided against itself cannot stand". But Trump is not the cause of the division within the American society rather a symptom of the division. Perhaps such erroneous perception and inability to figure out the real troubles of the American society played a role in Clinton's defeat. This may help to understand why Clinton lost while the more puzzling and key question is what the secret of Trump's victory is?
In order to discover the secret of Trump's astounding victory, two crucial components of his campaign should be identified: who are the electorate that voted for him and how he had persuaded them. Data on voters clearly show that white Christian mainly working-class Americans with conservative views constituted the core of Trump's electorate. The Clinton campaign had largely missed to consider this particular majority group of population as she had been much obsessed with minorities leading to disregarding hence alienating the majority. "Though Clinton's platform was inarguably more progressive than Trump's, she failed to communicate those policies to the voters who needed to hear it most. Instead, she focused on girl-power anthems and cultivated wealthy celebrity surrogates who were incapable of addressing the grievances that fuelled Trump's campaign" says Sarah Jones from the New Republic.
In a way, election campaign is an intimate communication between voter and candidate. A voter identifies problems and figures out which candidate is likely to help solve them. Meanwhile the candidate identifies his/her potential target electorate and figures out how to persuade them. The Trump campaign skillfully caught up with the pulse of the time. Meanwhile Hillary Clinton built on her previous campaigning experience and failed to send a proper message to white working-class Americans. Hillary often referred back to her time as Secretary of State and cited her past successes while Trump's backlash was "Hillary Has Experience, But It's Bad Experience". He lambasted her failures such as the Benghazi tragedy and email scandal. More importantly, Trump tapped into the veins of angry white Americans providing a 'forward-looking', often wishful and mesmerizing though, vision for the future to come.
Not various minorities such as Latinos, Muslims, women, Afro-Americans, LGBT communities but the majority white Christian Americans decided the outcome of the US election 2016. They had become fatigue of talks about both minorities and external problems and threats. They utterly needed a domestic focus. The Trump campaign caught the moment by emphasizing the domestic focus. However, Clinton got stuck in appeasing already attracted minorities and focusing on external issues to the apparent irritation of conservative white Americans, who were increasingly feeling minority with the domestic problems remaining unattended despite their factual majority. This portion of population is dissatisfied with demographic change, living standards, unemployment, and lack of social benefits, and feels frustrated by the previous administrations, which have let them down. "Trump has been able to appeal to a certain group of folks who feel left out or are worried about the rapidity of demographic change, social change, who, in some cases, have very legitimate concerns around the economy and are feeling left behind", Obama said. But the president maintained that these people do not make up "the majority of America". It appears that Democrats failed to properly assess the scale of folks, who had bought into Trump's promises, and turned out to be crucial in the defeat of Hillary Clinton.
Trump's electorate perceives Muslims and immigration as a threat to the socio- economic welfare and a threat to their identity. Trump came up with one solution for the two problems: his identity-based solution was to address both the threats to socio-economic welfare and to the identity. His radical proposals on banning Muslims' entry to the US, deportation of illegal immigrants, and construction of the wall in the Mexican border were seen through the lens of white Christian Americans as a solution to the imminent threat to their identity, and ultimately as a solution to the socio-economic problems. Many Americans view immigrants as grabbing their jobs and sucking taxpayers' money as social benefits. Yet drug trafficking and criminal activities are often associated with those of Latino background. And almost all presidential candidates had talked about and promised tackling the immigration issue. They all forgot their promises once the election campaign had ended.
In his first interview after the election victory Trump said that "We're losing this country. That's why I won the election. And by the way, won it easily". Trump chose to play the identity card instead of lecturing on liberal values and detailing economic and other programs. He skillfully addressed the sentiments and emotions rather than the intelligence of potential voters. Trump's identity-based policies represented a temptation to both those who are concerned over the identity threat and those who are concerned over socio-economic problems.
The previous US administrations had used identity politics to rally domestic support for external interventions in Muslim countries. Now trump played the same card but just for the election campaign. Moreover, the previous administrations and election campaigns had scapegoated Islamic extremism and immigration in particular from Mexico and other Latin American countries for problems and failures for nearly 15 years. Also media and opinion makers had depicted Muslims and Latino immigrants. Apparently, most voters for Trump genuinely perceive Muslims and immigrants as a major source of threat to their welfare and life-styles. "Muslims have become popular scapegoats in every election since George W. Bush became president" says Daniel Bush from PBS. But what Trump did differently from the previous campaigns is that he scapegoated the administrations and Washington establishment for failing to settle the problems regarding Muslims and immigrants, and offered radical solutions such as imposing total ban on Muslims' entry into the United States, and deportation of millions of Mexican immigrants. In fact, Trump won primaries due to such radical statements, which boosted his popularity.
Interventions in Afghanistan and Iraq didn't solve but amplified the problem. For around 15 years of the so-called war on terror, Americans felt fatigue of too much talk about Islamist extremism with little effect of counter-extremism policies and actions. The war on terror and interventions drew enormous amounts of funds and resources, which could be used for the well-being of American citizens. Yet these massive military campaigns failed to produce the intended outcomes. Instead, the US got stuck in the Middle East and elsewhere, and had to go through troubled times with Russia. "Trump, under the rubric of "America First ," was critical of military interventions driven by a particular internationalist narrative such as the global war on terrorism or the responsibility to protect rather than interventions to advance traditional notions of national interests". And here is another issue: amid growing tensions with Russia, the US allocates big funds to defense systems in Eastern Europe for NATO. Tensions with Russia over Ukraine and Syria, on-going turmoil in the Middle East, and related US and NATO efforts and actions have captured the focus of media and administrations hence diverting attention and resources from immediate socio-economic needs of Americans to outside problems.
Trump would seek to bring into reality some of his pre-election promises and could retreat from some others. Many checks-and-balances are in place in the US. So, the president alone is not able to implement significant portion of policies. Even if the president was able to make sure necessary support from proper authorities, just the practicalities wouldn't allow for successful implementation. Just a few quick examples: how one can identify who is Muslim and who is not. If citizens of a whole Muslim-majority country is banned from entering in the US, what about non-Muslim citizens of that country? If all Muslims are banned, how they would identify Muslim citizens of non-Muslim countries? Yet alone there are so many economic, business and lots of other sorts of vital ties between the US and Muslims and Muslim countries, where Americans are utterly interested, and billions of dollars from Muslim countries are invested or deposited in the US. Another example is that how one can pack millions of illegal Latino immigrants into busses to send to their home countries. These are just a few very simplistic practicalities. In Trump 's telling , "America's problems are simple, self-inflicted and easily reversible, once the right man is sitting in the Oval Office". Yet there are most complicated issues concerning NATO or free trade. NATO is not just about security and military alliance. The US is much dependent on global integration in general and transatlantic integration in particular. Revising the terms in NATO and free trade agreements is much easier said than done. Neither NATO nor free trade is American charity, and both are as much beneficial to the US as no less than that to other participants. Leaving trade agreements and increasing taxes and levies on imports into the US will trigger consequences. The United States' trade counterparts like China, India, Brazil and others will seek retaliation and substitute for imported US goods and services. Yet one can imagine creation of jobs at home by bringing back US companies from China, India, Bangladesh, Cambodia and the likes, where salaries are incomparably lower than in the US, means rising costs at the domestic market and much less competitiveness abroad. Yet large portions of the American consumers perhaps many of who voted for Trump would encounter higher price US-manufactured goods at Walmart stores instead of Chinese-made cheap alternatives they have used to have. Many immigrants do such 'dirty' or low-paid jobs in the US many Americans wouldn't. A white working-class American would feel the impact of his vote when he will have to pay much more to a white American nanny or nurse than the immigrant. Of course, this is not most Trump voters hope for. "History shows it can be hard to fulfill vows that sounded easier to make in front of cheering crowds on the campaign trail".
One absolutely significant point is that some republicans opposed Trump not because of his statements, but just because they didn't expect him to win. Even many republicans understood concerns of white Christian Americans but they either didn't dare or didn't want to do what Trump did. House Speaker Paul Ryan "repeatedly criticized Trump throughout the campaign, slamming his call to ban Muslims and at one point calling his attacks on a Mexican-American judge the "textbook definition of racism," only to embrace him in the election's closing days". Ryan immediately congratulated Trump on "His Big Night" and also spoke with his running mate Mike Pence".
"I think Trump has the idea that things move very quickly in his world, but his world is very different than the political world," said Behrends Foster, a partner at Bluestone Strategies. But Trump is well-aware of that a big deal of his proposed solutions and policies are too unrealistic to be implemented due to a range of reasons. As a star reality showman, he is skilful in dealing and even playing with emotions and sentiments of people using the problems they face. Trump was lucky enough as he led the potential electorate to buying into his unrealistic promises. Trump's electorate just ignored Clinton's calling him 'Putin's puppet', serial sexual misconduct accusations by women, and wider anti-Trump because he had already won their hearts. In order to bring his presidency ambition into reality, he made quite controversial statements and magnetic promises to appease angry white Christian working-class Americans with conservative views and mesmerized them into voting for him.
From the moment of Trump's victory speech, he has started to show signs of retreatment from his previous statements. "He offered unusually warm words for Mrs. Clinton, who he has suggested should be in jail". It is likely that his tone would increasingly change for more realistic and less emotional. Yet his first meeting with incumbent president Barack Obama is another sign of such a change in tone. Furthermore, much of his pre-election promises are missing in his plan for first 100 days. But that is not the change his voters expect. They expect him to deliver what he has staunchly and enthusiastically promised. Now it is not clear whether he would be able to deliver. What is clear at this point is that the history has repeatedly demonstrated leaders such as Trump quickly rising in the wave of high popular expectations is likely to end up face to face with frustration of those people in case of failure to deliver. Yet possible conflict of interests between Trump's business and presidency is and will remain under the spotlight of media and public. Imagining the public frustration to be seen in the light of that conflict, it would just add more fuel to the anger and discontent.
A conclusion is that white Christian Americans feel that their identity and socio- economic wellbeing are threatened by Muslims and immigration. US administrations had scapegoated Muslims and immigration for many problems and failures for many years. Moreover, media and opinion-makers have played a significant role of demonization of Muslims and immigrants. In that context, many Americans view the Washington establishments as too incompetent to address those imminent problems. At this point, Donald Trump stepped in the election campaign 2016 with his anti-establishment agenda to play the identity card. He was courageous enough to be politically incorrect and offer unrealistic and drastic solutions and policies to win hearts and votes of Americans. Ultimately, he mesmerized white Christian Americans into voting for him to become the president of the United States of America. But it is too naïve to expect the Trump presidency to cause a drastic change in the US foreign policy. Trump would struggle between efforts to realize the expectations of his electorate and uniting the much divided America. Yet another challenging task is to do all that without harming vital US interests abroad. Furthermore, once he is in the Oval office, Trump will have access to absolutely confidential reports, which would probably soothe his defiant temperament and anti-establishment rhetoric. Anyway, the Trump presidency would definitely refresh both the foreign policy and the domestic policy. Whether that refreshment would turn out positive or negative is much dependent on Trump's ability to deliver, which is anyone's guess.
Trump impeachment failure: What is in store for America and the world?
On February 5, the US Senate found President Donald Trump not guilty of actions which could be classified as requiring his removal from office. All Republican Senators, who have a majority in the house, except Mitt Romney, turned down both charges against the president which accused him of "abuse of office" and " obstructing Congress work."
That impeachment is not the option was obvious to any Washington insider from the very beginning. To remove Trump from office it was necessary to enlist the support of two thirds in the Senate, which is unrealistic at the moment. The more moderate opponents of the head of the White House could, if they wanted, remind themselves and others that until the very last they were calling for considering all the pros and cons of an attempt to remove the president from office. A number of experts believed that "a threat of the impeachment procedure, without specific measures to this effect, would be a much safer way to ensure the defeat of Donald Trump in the next year's presidential election."The hearings as such would demonstrate the "incompetence" of the current head of state. Even Speaker of the House of Representatives, Nancy Pelosi, who ultimately came to lead the Democratic attack against Trump, warned in March last year that "impeachment divides the country in such a bad way that … we should not follow this path". Last December, The Washington Post pointed out that in America, "there is extremism, there is no political clairvoyance, while the voices of reason are drowned in hyper-party cacophony."
Over the past years, Washington has indeed seen a continuing buildup of fierce political battles. The political layout which came into place after the mid-term elections in 2018 – the Democrats control the lower house and the Republicans have majority in the upper – has resulted in a situation in which battles are waged not just for every yard, but for every inch of political space.
Success in the lower house midterm elections, that is, getting the largest number of seats since 1974, has clearly encouraged the Democrats. Given the situation, an attempt to impeach the president was seen by their leadership as a good opportunity to return anti-Trump inquiries to the political agenda. In addition, the expectations of Democratic Party supporters regarding the launch of impeachment procedure were so high that a refusal of the party leadership to try to remove Trump from office could cost Democrats votes this year. We should not forget that we are talking not only about the presidential election, but also about the next congressional election campaign.
The confrontational scenario of the 2020 election campaign appears almost inevitable. Critics of the president do understand this, so their statements after the failure of the impeachment move are predictably radical – now Trump is unbound. They believe that he will now move with renewed vigor towards the implementation of his "anti-American fantasies." Trump's supporters are so dazed by ideological confrontation with the opponents that they are ready to accept and defend "any lie from his mouth." As for the American democracy, it is vulnerable "as never before."
Trump, in turn, makes it clear that he craves political revenge. He has already fired several officials who testified against him during the impeachment hearings in the House of Representatives. Most likely, Trump will continue to rely on "American nationalism" and "white identity", so hated by Democrats. He has also got more grounds to blame the obstruction-creating Democrats for all his failures during the election campaign. Moreover, what with all the achievements in the midterm elections two years ago, the Democrats were defeated, or could not sufficiently build up their positions in a number of states which are considered to play a key role in the upcoming presidential election. And the recent primaries in Iowa where the calculation of the results dragged on for several days demonstrated that the Democratic Party is still experiencing chaos and confusion.
According to a generalized view of domestic political processes in the United States, the executive branch's futile attempts to push through the Congress projects of significant legislative changes have long become a "tradition" in American domestic politics. This process originated a long time ago – after the end of the Cold War, when the need for coming to a bipartisan consensus lost the status of a national security issue. As a result, discussions of almost every important point of the presidential election campaign are accompanied by emotions, which prevail over facts and over attempts to propose a reasonable and comprehensive solution.
This trend is consistent under Trump. On the one hand, the Republican president has a good reason to criticize the legacy of his predecessors. He would also be right to appeal to the importance of launching "at last" the practical implementation of reforms, the need for which has been acknowledged by all administrations since the mid-1990s. On the other hand, the presence of a political will faces the realities of the political process, the participants of which, as before, appeal not so much to national interests as to the moods of the public. Demand gives rise to supply – Trump prefers to focus on issues that find the strongest emotional response in society. In response, the opponents accuse Trump of pursuing a "chaotic" policy on almost any issue. However, in the long run, what is taking place is a split that is running through the entire spectrum of American political system, and this split, as impeachment battles have demonstrated, has been deepened by the efforts from both parties, which are ready to contribute to its worsening with "unprecedented" vigor.
Aggravation of internal political struggle in the USA, as historical experience shows, often pushes American presidents into abrupt, often ill-conceived foreign policy measures. A similar situation happened in the days of Nixon and Clinton. It could be the impeachment threat that prompted Trump to take two steps that could "blow up" the Middle East – the assassination of Iran's IRGC leader Kassem Sulejmani and an ostentatiously one-sided plan for a Middle East "settlement" that has already been rejected by the Palestinians and a number of Islamic states.
Yet, even after the failure of the impeachment move the international community is unlikely to be able to breathe a sigh of relief. In the context of an easily predictable clash with Democrats in the House of Representatives, which is fraught with a dead end in promoting the legislative agenda, the most natural way for Trump to demonstrate effectiveness in the eyes of voters is foreign policy. From a legal point of view, it is in the field of foreign policy that the US president is least bound by the need to coordinate his steps with the Congress.
And hardly can we talk about the USA easing confrontation with China or Russia. Moreover, Washington has a bipartisan consensus on the need to tighten policies in relation to the two countries. On February 5, Trump's National Security adviser Robert O'Brien said in Washington: "Look, our challenge and the challenge of our generation is China's growth and the role that Russia continues to play on the world scene".
After the failure of impeachment, the Democrats may well try to use their majority in the lower house to resume attempts to get the issue of "Trump's relations with Moscow" and "Kremlin interference" in US domestic politics back into the spotlight. The tightening of parliamentary pressure on the White House will create new obstacles to prevent contacts between Washington and Moscow. Meanwhile, there are grounds to fear that Washington will see a new round of fight for the title of the most irreconcilable opponent of Russia.
Optimists among Russian experts believe that the main focus of the White House, like all of American politics, is finally shifting to domestic issues. This may give Russia a certain freedom of maneuver in international affairs. Dmitry Trenin of the Carnegie Moscow Center argues, "the risk of Congress introducing new sanctions against Russia will dwindle in the very near future." Especially, if the Republicans consider them a potential threat to the image of Trump and his administration. On the other hand, … "Republicans may agree to approve the sanctions to once again dissociate themselves from" toxic "Russia," – the expert said.
According to pessimists, for both Washington parties, relations with Russia remain "one of the main grounds of confrontation." "Fairly soon, Americans may opt for a new strike on Nord Stream-2, the German Handelsblatt believes." If Russia tries to complete the construction of the missing kilometers of the pipeline through the Baltic Sea, the House of Representatives and the Senate are ready to initiate another sanctions law, Washington's diplomatic circles say. "This bill could include sanctions against project investors from Europe, or companies that plan to buy Russian gas through the pipeline." As reported, a move to this effect could be taken in in the very near future, possibly in February or March. "
In general, the failure of impeachment is likely to further increase the degree of uncertainty in US policy. The realities of the political process remain the same – its participants will continue to appeal not so much to national interests as to public opinion, which is experiencing an ever deepening split. A certain political stabilization of America can be expected only after one of the parties regains control over both the executive and legislative branches of government.
From the point of view of an outside observer, what happened on Capitol Hill is all but a political formality. In essence, the US foreign policy will remain intact.
From our partner International Affairs
Impeachment & Intervention: Where American Foreign Policy Goes Wrong
To any ordinary American citizen, it's well known that government spending is spiraling out of control. The U.S. budget deficit now exceeds $23 trillion — with $1.109 trillion being added to the deficit in the fiscal year of 2019, and another $1.103 trillion projected to be added in 2020. Recently, on December 20th of last year, President Donald Trump signed into existence the huge 2,300-page general bill that includes two spending packages that approximate to $1.4 trillion. The bill received mostly bipartisan support and was lauded as a compromise on both sides.
Senator Ted Cruz, who is an open critic of the bill, said, "This is why Washington is corrupt. This is an example of a government of the lobbyists, by the lobbyists, and for the lobbyists." This is the unfortunate reality Americans are faced with when it comes to the spending of taxpayer dollars, at home and abroad. In an age where every topic is politicized and party lines are drawn, there is little resistance to multiplying the national debt. While there is mostly bipartisan agreement in Congress for enlarging the deficit, it's quite the contrary when it comes to impeachment.
The hyper-partisan impeachment of President Trump is an ongoing matter. Both, the right and left have eagerly worked to spin the story to fit their narrative. Republicans say that it's just another attempt by the left at overturning the 2016 election and/or undermining the upcoming 2020 election; Democrats allege that the President abused his power and tried to use foreign aid as leverage to coerce the newly elected Ukrainian President, Volodymyr Zelensky, to investigate corruption linked to the Biden family. Whether you like Trump's politics or not, what's notable is that Democrats "have failed to allege a violation of established law, i.e. a 'crime' or 'misdemeanor.' Such an allegation has been present in every other impeachment in history, but not here."
Nonetheless, foreign aid to Ukraine is at the core of the issue. Specifically, the aid amounted to $391 million of military and medical equipment to assist in their deadlocked civil war that started in 2014 with pro-Russian separatists. Since that time, the U.S. has handed over $1.5 billion in security assistance to Ukraine overall. Instead of funding war, the U.S. should be actively promoting diplomacy. To what advantage, to the U.S. or its citizens, is sending billions of dollars in aid to Ukraine to help fight yet another proxy war? Absolutely none. Career politicians and academics on the left and right will say otherwise. In reference to the conflict, Stanford Professor Pamela Karlan told the House Intelligence Committee during impeachment hearings that intervening in Ukraine was vital, "so they fight the Russians there and we don't have to fight them here." Karlan's logic is not only absurd, it's dangerous with consideration to what she is suggesting. There is absolutely no evidence to back up her claim that implies Russia would eventually invade the U.S. if they didn't arm the Ukrainians. This is the new era of McCarthyism. An era in which everything that has gone wrong or could possibly go wrong is blamed on Russia. And, if you disagree — well, you're a Russian asset and do Putin's bidding. This kind of manipulative narrative not only validates but fuels American interventionist foreign policy around the world. The U.S. involvement in Ukraine is just a small sample size of this truth. If you want to see the true ramifications of this type of foreign policy initiative, and the rabbit hole it sends the American taxpayer down, look no further than the Middle East.
Within the aforementioned omnibus bill, $4.2 billion is appropriated for the Afghan Security Forces Fund. That's correct. The U.S. is sending $4.2 billion to Afghanistan to continue its seemingly endless endeavor in the Middle East. In recent years, there have been serious concerns regarding U.S. foreign aid to Afghanistan. Furthermore, this news is shocking bearing in mind the release of the Afghanistan Papers, which lay out in detail how senior U.S. officials knowingly misled the public to make it seem as if reasonable progress was being made in the region. The report bluntly states that over the years they "failed to tell the truth about the war," "making rosy pronouncements they knew to be false and hiding unmistakable evidence the war had become unwinnable." Critical statements from Ret. U.S. Army Lt. Gen. Michael Flynn provoked the extensive investigation that uncovered what many feared to be true. This is not the first time the American public has been fed lies from its government, abetted by the mainstream media, in order to mask the true intent of the war on terror. What is the real reason the U.S. is still to this day in Afghanistan? No one can be sure, but remarkably, opium production has skyrocketed since the U.S. arrived. What is now the longest armed conflict in U.S. history, spanning almost 19 years, there is still no end in sight. How much money has to be spent, and how many lives have to be lost before it's all said and done with? The U.S. military occupation in Afghanistan is the prime example of foreign policy interventionism gone terribly wrong.
The American government should continue to stand strong with its allies and be an advocate of human rights, but they need to reevaluate the ways in which they do that. The U.S. needs to look at and approach international issues from a cost-benefit perspective. It's time for a change in the establishment. There are valid questions to be asked about how, where, and why foreign aid is appropriated. These are questions of accountability. The status quo in the American government has gone on long enough, unimpeded, serving foreign interests with little benefit to the American public. The U.S. involvement in Ukraine and Afghanistan are just two instances at different scales that demonstrate this reality seen around the world. President Trump needs to critically assess foreign aid distribution, orient and repurpose the aid to specific points of interest that directly help the U.S.; imagine how much could be accomplished with respect to healthcare, education, and infrastructure if the U.S. started investing in itself more. Moreover, the U.S. would be better equipped to address more pertinent national security problems such as securing the border. President Trump would be addressing policy issues for the left, right, and everybody in between by confronting topics that are owned by his political opponents running for the Democratic nomination. If Trump wants to help solidify his chances at reelection, he should take a firmer stance in his "America First" policy and start putting America first.
From our partner RIAC
Former Senator Moise Jean-Charles to Win the Next Haitian Presidential Election
The former Senator, Moise Jean-Charles is the founder and leader of the powerful political party called Platfòm Pitit Desalin or Pitit Dessalines and he's working really hard to change the situation of his home country called Haiti. For years, the former Senator organized press conferences and rallies across Haiti because he really hopes to deliver Haiti from the devil called 'Haitian Tèt Kale Party' because the current Haitian Government led by President Jovenel Moise and PHTK is not really on the population side at all after voting against Venezuela then joined the U.S. and the Trump administration.
According to reports, Senator Moise Jean-Charles was a voice for Haiti during the PetroCaribe scandal and he met with President Nicolás Maduro in Venezuela then apologized on behalf of the Haitian population for the mistakes and the wrongdoings of President Jovenel Moise and Haitian Tèt Kale Party that caused a long-term protest across Haiti when the PetroCaribe money went missing. Back in 2016, Senator Moise Jean-Charles lose the election for President but he hopes to run again in the next election bid coming up soon. The former Senator said that he is getting ready to run again anytime the next presidential election is set to begin and he will win.
Before President Jovenel Moise won the election in 2016, the former Senator Moise Jean-Charles knew the country might go through a crisis under the Government of President Jovenel Moise and Haitian Tèt Kale Party (PHTK). Years later, all the sectors in Haiti surprised to see how the former Senator Moise Jean-Charles was right about his speech and the long-term protest for the resignation of President Jovenel Moise will cause President Jovenel Moise and PHTK to lose the next election coming up because everyone in Haiti no longer trust President Jovenel Moise.
"Pita gen pou pi tris.", said Moise Jean-Charles, the former Senator, during an interview with Radio Télévision Pacific.

The former Senator, Moise Jean-Charles want to see a better Haiti for this generation and upcoming generations. The former Senator said the current leaders in the Haitian Government were wrong for voting against Venezuela because the Venezuelan President Nicolás Maduro has done a lot more for Haiti than any other country in the world. According to local media like Bon Déjeuner! Radio and Radio Television Caraibes, Senator Moise Jean-Charles is looking forward to running for President again in the next election coming up.
"I think everyone in Haiti believes that the former Senator Moise Jean-Charles is the answer for Haiti and I guarantee you that Haiti will prosper when Platfòm Pitit Desalin or Pitit Dessalines lead the country.", said Mr. Werley Nortreus, the founder of Vanyan Sòlda Ayiti, on BDR! Live.

Officials organized a poll so people could vote, and according to the voting results, 99% of the Haitian population across Haiti and in the Diaspora want President Jovenel Moise to step down so an honest leader like Senator Moise Jean-Charles or else can lead the country in the right direction in 2020. The other 1% want President Jovenel Moise to stay in power. According to these votes, the Haitian population no longer wants PHTK and 'Les Mulâtres' in power because they failed the country during their Presidency.
The Haitian population is not against former Senator Nenel Cassy, Mr. Youri Latortue, Mr. André Michel, and other opposition leaders or judges because they are all fighting for a better Haiti but the Haitian population believes the former Senator Moise Jean-Charles is the answer for Haiti and they are looking to vote for him in the next election coming up.
Since President Jovenel Moise's Presidency failed the country, President Jovenel will not win the next election coming up. According to Zenith FM, the population continues to demand his resignation in 2020 after another crisis hit the country again.