Secret of Trump's victory: Mesmerizing the folks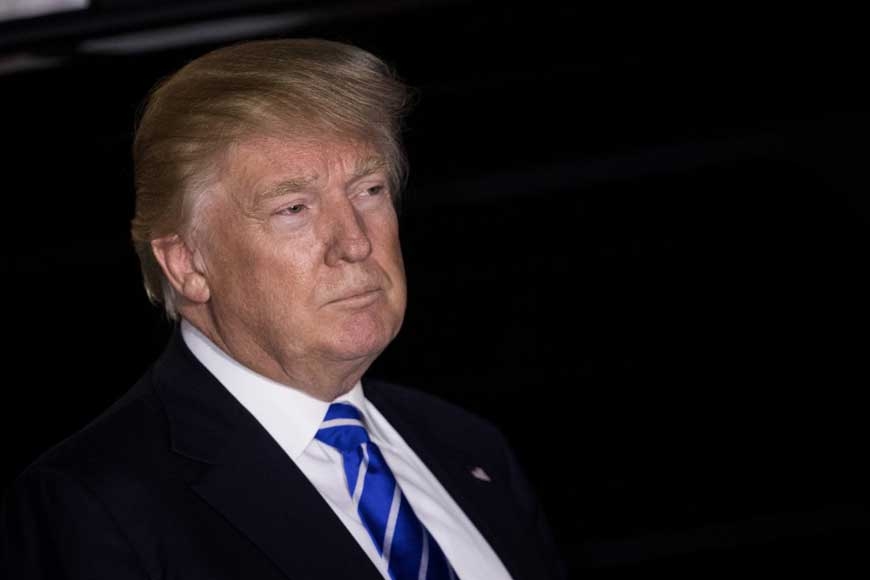 [yt_dropcap type="square" font="" size="14″ color="#000″ background="#fff" ] T [/yt_dropcap] he secret of Trump's victory lies in that he utterly identified his target audiences and their problems and points of discontent and frustration, meticulously addressed them, offered magnetic solutions, and ultimately, won their hearts and votes. Although many of Trump's proposed policies and solutions are just rhetoric statements disconnected from the reality and practicality, he was able to mesmerize the folks into voting for him to become the president of the United States of America smashing almost all expectations and polls.
Hillary Clinton had portrayed the Trump campaign as divisive. Even she quoted Abraham Lincoln saying "A house divided against itself cannot stand". But Trump is not the cause of the division within the American society rather a symptom of the division. Perhaps such erroneous perception and inability to figure out the real troubles of the American society played a role in Clinton's defeat. This may help to understand why Clinton lost while the more puzzling and key question is what the secret of Trump's victory is?
In order to discover the secret of Trump's astounding victory, two crucial components of his campaign should be identified: who are the electorate that voted for him and how he had persuaded them. Data on voters clearly show that white Christian mainly working-class Americans with conservative views constituted the core of Trump's electorate. The Clinton campaign had largely missed to consider this particular majority group of population as she had been much obsessed with minorities leading to disregarding hence alienating the majority. "Though Clinton's platform was inarguably more progressive than Trump's, she failed to communicate those policies to the voters who needed to hear it most. Instead, she focused on girl-power anthems and cultivated wealthy celebrity surrogates who were incapable of addressing the grievances that fuelled Trump's campaign" says Sarah Jones from the New Republic.
In a way, election campaign is an intimate communication between voter and candidate. A voter identifies problems and figures out which candidate is likely to help solve them. Meanwhile the candidate identifies his/her potential target electorate and figures out how to persuade them. The Trump campaign skillfully caught up with the pulse of the time. Meanwhile Hillary Clinton built on her previous campaigning experience and failed to send a proper message to white working-class Americans. Hillary often referred back to her time as Secretary of State and cited her past successes while Trump's backlash was "Hillary Has Experience, But It's Bad Experience". He lambasted her failures such as the Benghazi tragedy and email scandal. More importantly, Trump tapped into the veins of angry white Americans providing a 'forward-looking', often wishful and mesmerizing though, vision for the future to come.
Not various minorities such as Latinos, Muslims, women, Afro-Americans, LGBT communities but the majority white Christian Americans decided the outcome of the US election 2016. They had become fatigue of talks about both minorities and external problems and threats. They utterly needed a domestic focus. The Trump campaign caught the moment by emphasizing the domestic focus. However, Clinton got stuck in appeasing already attracted minorities and focusing on external issues to the apparent irritation of conservative white Americans, who were increasingly feeling minority with the domestic problems remaining unattended despite their factual majority. This portion of population is dissatisfied with demographic change, living standards, unemployment, and lack of social benefits, and feels frustrated by the previous administrations, which have let them down. "Trump has been able to appeal to a certain group of folks who feel left out or are worried about the rapidity of demographic change, social change, who, in some cases, have very legitimate concerns around the economy and are feeling left behind", Obama said. But the president maintained that these people do not make up "the majority of America". It appears that Democrats failed to properly assess the scale of folks, who had bought into Trump's promises, and turned out to be crucial in the defeat of Hillary Clinton.
Trump's electorate perceives Muslims and immigration as a threat to the socio- economic welfare and a threat to their identity. Trump came up with one solution for the two problems: his identity-based solution was to address both the threats to socio-economic welfare and to the identity. His radical proposals on banning Muslims' entry to the US, deportation of illegal immigrants, and construction of the wall in the Mexican border were seen through the lens of white Christian Americans as a solution to the imminent threat to their identity, and ultimately as a solution to the socio-economic problems. Many Americans view immigrants as grabbing their jobs and sucking taxpayers' money as social benefits. Yet drug trafficking and criminal activities are often associated with those of Latino background. And almost all presidential candidates had talked about and promised tackling the immigration issue. They all forgot their promises once the election campaign had ended.
In his first interview after the election victory Trump said that "We're losing this country. That's why I won the election. And by the way, won it easily". Trump chose to play the identity card instead of lecturing on liberal values and detailing economic and other programs. He skillfully addressed the sentiments and emotions rather than the intelligence of potential voters. Trump's identity-based policies represented a temptation to both those who are concerned over the identity threat and those who are concerned over socio-economic problems.
The previous US administrations had used identity politics to rally domestic support for external interventions in Muslim countries. Now trump played the same card but just for the election campaign. Moreover, the previous administrations and election campaigns had scapegoated Islamic extremism and immigration in particular from Mexico and other Latin American countries for problems and failures for nearly 15 years. Also media and opinion makers had depicted Muslims and Latino immigrants. Apparently, most voters for Trump genuinely perceive Muslims and immigrants as a major source of threat to their welfare and life-styles. "Muslims have become popular scapegoats in every election since George W. Bush became president" says Daniel Bush from PBS. But what Trump did differently from the previous campaigns is that he scapegoated the administrations and Washington establishment for failing to settle the problems regarding Muslims and immigrants, and offered radical solutions such as imposing total ban on Muslims' entry into the United States, and deportation of millions of Mexican immigrants. In fact, Trump won primaries due to such radical statements, which boosted his popularity.
Interventions in Afghanistan and Iraq didn't solve but amplified the problem. For around 15 years of the so-called war on terror, Americans felt fatigue of too much talk about Islamist extremism with little effect of counter-extremism policies and actions. The war on terror and interventions drew enormous amounts of funds and resources, which could be used for the well-being of American citizens. Yet these massive military campaigns failed to produce the intended outcomes. Instead, the US got stuck in the Middle East and elsewhere, and had to go through troubled times with Russia. "Trump, under the rubric of "America First ," was critical of military interventions driven by a particular internationalist narrative such as the global war on terrorism or the responsibility to protect rather than interventions to advance traditional notions of national interests". And here is another issue: amid growing tensions with Russia, the US allocates big funds to defense systems in Eastern Europe for NATO. Tensions with Russia over Ukraine and Syria, on-going turmoil in the Middle East, and related US and NATO efforts and actions have captured the focus of media and administrations hence diverting attention and resources from immediate socio-economic needs of Americans to outside problems.
Trump would seek to bring into reality some of his pre-election promises and could retreat from some others. Many checks-and-balances are in place in the US. So, the president alone is not able to implement significant portion of policies. Even if the president was able to make sure necessary support from proper authorities, just the practicalities wouldn't allow for successful implementation. Just a few quick examples: how one can identify who is Muslim and who is not. If citizens of a whole Muslim-majority country is banned from entering in the US, what about non-Muslim citizens of that country? If all Muslims are banned, how they would identify Muslim citizens of non-Muslim countries? Yet alone there are so many economic, business and lots of other sorts of vital ties between the US and Muslims and Muslim countries, where Americans are utterly interested, and billions of dollars from Muslim countries are invested or deposited in the US. Another example is that how one can pack millions of illegal Latino immigrants into busses to send to their home countries. These are just a few very simplistic practicalities. In Trump 's telling , "America's problems are simple, self-inflicted and easily reversible, once the right man is sitting in the Oval Office". Yet there are most complicated issues concerning NATO or free trade. NATO is not just about security and military alliance. The US is much dependent on global integration in general and transatlantic integration in particular. Revising the terms in NATO and free trade agreements is much easier said than done. Neither NATO nor free trade is American charity, and both are as much beneficial to the US as no less than that to other participants. Leaving trade agreements and increasing taxes and levies on imports into the US will trigger consequences. The United States' trade counterparts like China, India, Brazil and others will seek retaliation and substitute for imported US goods and services. Yet one can imagine creation of jobs at home by bringing back US companies from China, India, Bangladesh, Cambodia and the likes, where salaries are incomparably lower than in the US, means rising costs at the domestic market and much less competitiveness abroad. Yet large portions of the American consumers perhaps many of who voted for Trump would encounter higher price US-manufactured goods at Walmart stores instead of Chinese-made cheap alternatives they have used to have. Many immigrants do such 'dirty' or low-paid jobs in the US many Americans wouldn't. A white working-class American would feel the impact of his vote when he will have to pay much more to a white American nanny or nurse than the immigrant. Of course, this is not most Trump voters hope for. "History shows it can be hard to fulfill vows that sounded easier to make in front of cheering crowds on the campaign trail".
One absolutely significant point is that some republicans opposed Trump not because of his statements, but just because they didn't expect him to win. Even many republicans understood concerns of white Christian Americans but they either didn't dare or didn't want to do what Trump did. House Speaker Paul Ryan "repeatedly criticized Trump throughout the campaign, slamming his call to ban Muslims and at one point calling his attacks on a Mexican-American judge the "textbook definition of racism," only to embrace him in the election's closing days". Ryan immediately congratulated Trump on "His Big Night" and also spoke with his running mate Mike Pence".
"I think Trump has the idea that things move very quickly in his world, but his world is very different than the political world," said Behrends Foster, a partner at Bluestone Strategies. But Trump is well-aware of that a big deal of his proposed solutions and policies are too unrealistic to be implemented due to a range of reasons. As a star reality showman, he is skilful in dealing and even playing with emotions and sentiments of people using the problems they face. Trump was lucky enough as he led the potential electorate to buying into his unrealistic promises. Trump's electorate just ignored Clinton's calling him 'Putin's puppet', serial sexual misconduct accusations by women, and wider anti-Trump because he had already won their hearts. In order to bring his presidency ambition into reality, he made quite controversial statements and magnetic promises to appease angry white Christian working-class Americans with conservative views and mesmerized them into voting for him.
From the moment of Trump's victory speech, he has started to show signs of retreatment from his previous statements. "He offered unusually warm words for Mrs. Clinton, who he has suggested should be in jail". It is likely that his tone would increasingly change for more realistic and less emotional. Yet his first meeting with incumbent president Barack Obama is another sign of such a change in tone. Furthermore, much of his pre-election promises are missing in his plan for first 100 days. But that is not the change his voters expect. They expect him to deliver what he has staunchly and enthusiastically promised. Now it is not clear whether he would be able to deliver. What is clear at this point is that the history has repeatedly demonstrated leaders such as Trump quickly rising in the wave of high popular expectations is likely to end up face to face with frustration of those people in case of failure to deliver. Yet possible conflict of interests between Trump's business and presidency is and will remain under the spotlight of media and public. Imagining the public frustration to be seen in the light of that conflict, it would just add more fuel to the anger and discontent.
A conclusion is that white Christian Americans feel that their identity and socio- economic wellbeing are threatened by Muslims and immigration. US administrations had scapegoated Muslims and immigration for many problems and failures for many years. Moreover, media and opinion-makers have played a significant role of demonization of Muslims and immigrants. In that context, many Americans view the Washington establishments as too incompetent to address those imminent problems. At this point, Donald Trump stepped in the election campaign 2016 with his anti-establishment agenda to play the identity card. He was courageous enough to be politically incorrect and offer unrealistic and drastic solutions and policies to win hearts and votes of Americans. Ultimately, he mesmerized white Christian Americans into voting for him to become the president of the United States of America. But it is too naïve to expect the Trump presidency to cause a drastic change in the US foreign policy. Trump would struggle between efforts to realize the expectations of his electorate and uniting the much divided America. Yet another challenging task is to do all that without harming vital US interests abroad. Furthermore, once he is in the Oval office, Trump will have access to absolutely confidential reports, which would probably soothe his defiant temperament and anti-establishment rhetoric. Anyway, the Trump presidency would definitely refresh both the foreign policy and the domestic policy. Whether that refreshment would turn out positive or negative is much dependent on Trump's ability to deliver, which is anyone's guess.
The ideology of top candidates for US presidency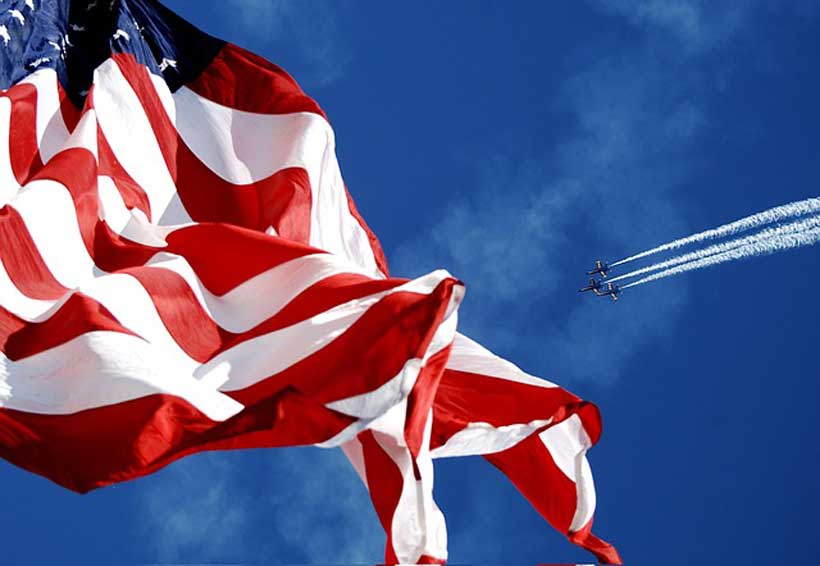 According to US media reports, the incumbent President Donald Trump has secured enough Republican Party support to launch a re-election campaign. Meanwhile, unexpectedly for observers, former Vice President Joe Biden has in recent weeks achieved impressive results in the race for being nominated the Democratic candidate. Although the campaign within the Democratic Party is not over yet, the chances of the former vice president are becoming more tangible. What are the views of the most likely contenders for the presidency?
According to the results of the Democratic Party primaries on March 17, Biden is running nearly 300 votes ahead of his only remaining rival, Senator Bernie Sanders, CNN reported. Thus, the final part of the presidential race will be held between the two "old timers" that represent the outgoing generation of American leaders. All three – Biden, Trump and Sanders – formed as politicians in the "neoliberal era." Biden, according to most commentators, represents its mainstream, whereas Trump attacks neoliberalism "from the right", Sanders – "from the left", accordingly. Should Biden reach the final race, then, similarly to 2016, the fight will be between a representative of the establishment and an "outsider".
In domestic politics, the focus will fall on "American values," and, most importantly, on the young people of the United States. Trump, who describes himself as an American "nationalist", attracts supporters with slogans about the nation's many commitments and "dues" to its citizens. In addition, in all the years he has been in office Trump has clearly preferred to focus his attention on issues that find a ready emotional response among potential voters. However, acting in this manner, Trump has all but added to the split in American society.
Now, with just a few months to go before November, the current head of the White House will have to prove that his policy is more than a fight against the legacy of the Democratic administration. And he will also have to prove whether he is able, having broken the existing model, to offer an equally effective alternative. Meanwhile, the reaction of the Trump administration at the early stage of the coronavirus epidemic seemed somewhat slow. The trillion infusion into the economy may not be enough to prevent the devastating recession that threatens the country because of the pandemic.
Biden, in turn, pledges to revive America's "spirit", expand social welfare programs, primarily for the most socially vulnerable sections of society, and take measures to restore trust within the country's major political forces. According to some experts, this makes Biden similar to European Christian Democrats at the peak of their popularity. The most likely candidate from the Democratic Party is seeking to create a broad coalition of forces, including elite groups, the urban middle class and the rural poor in order to confront the "radicals." This political "range" makes him the most compromising figure of the candidates participating in the presidential race, thereby increasing the chances for stabilizing the US political system.
On the other hand, Biden's main, if not only, advantage may turn out to be the support of the establishment which is opposed to Trump. The election ideology of the former vice president runs the risk of being reduced to "anti-trumpism" in all imaginable spheres of political and socio-economic life. Biden's victory in the race for the White House could thus become a most treasured and valuable asset for his supporters. As a result, his hypothetical presidency may turn out to be "weak and short of purpose" and will not provide the solutions to the many internal and external problems that America faces.
In foreign policy, few observers venture out making predictions about Trump's policy in the event of re-election. On the one hand, as far back as in December 2017, in his version of the National Security Strategy, Trump said that the world has turned into a stage of global competition. Now that literally every day there appears new evidence of the West's dependence on supplies from China in "practically everything", few in America and Europe have doubts about the need to re-evaluate the foreign policy strategies of past decades. The current epidemic that has swept the world provides a good opportunity to legitimize the philosophy of world order based on "egoism and protectionism", which can now be presented to the public as "defense of national interests".
On the other hand, the course for America's unconditional supremacy that has become common in the past three years has cast doubt on the feasibility of the entire "West-centric" development paradigm. However, most of the American establishment, even within the Republican Party, are still preoccupied with maintaining the country's top position in the international system. And to achieve this, as the years of Trump's presidency have shown, America cannot "limit itself to the benefits of bilateral trade relations, ignoring participation in international trade agreements. Practice has shown that such agreements can be created and can function without the United States. " The policy of sanctions and financial and economic pressure adopted by Washington in recent years encourages discussions about the prospects of creating a financial and economic system or systems independent from the USA. New political coalitions are springing up in Eurasia, Asia, and Africa.
Nevertheless, Trump's supporters insist that he is "not an arsonist of war, neither is he an isolationist." His strategy is to exert ever more pressure on opponents with a view to secure "de-escalation on favorable terms." Trump always wants to be prepared for any possible threats. Thus, he demonstrates to the "other party" that America has interests and is determined to protect them. If the opponent recognizes the interests of the United States, then, if the opportunity presents itself, "a deal is struck". The "Trump Formula" combines well-considered, cautious (often aggressive – author) pressure with an invitation to hold a dialogue, for cooperation. … Thus, although Trump's rhetoric smacks of populism, his foreign policy is consistent with the "traditional conservative" paradigm.
The chances of the candidate that represents the left wing of the Democratic Party, Senator Bernie Sanders, are seen by the overwhelming majority of observers as "purely mathematical." Nevertheless, we know little about Sanders' foreign policy views. "Sanders is a big unknown. What exactly his foreign policy could be is unknown ". Sanders' official website announces his intention to "work together with other countries to protect democracy around the world from "forces of intolerance, corruption and authoritarianism. " In public speeches, Sanders more than once "named Russia an authoritarian regime", supported American sanctions against Russia "for Crimea and Donbass".
However, most experts believe that Biden's views on foreign policy are "well known." The ex-vice president is set to restore "US leadership on the world stage." Biden is seen by supporters as the only candidate whose foreign policy philosophy "has proved its efficiency." It combines a "realistic view of the world" and "commitment to principles." Speaking of countries that "behave badly," Biden emphasizes that even if America can do nothing, it must openly express its discontent. Biden expects to bring America back to a time when it "saw farther than others" due to its superiority.
However, skeptics are sure that the world will not dance to the wishes of the Democratic candidate. The next president will have to deal not only with the challenges of the 21st century, but also with geopolitical issues. The American critics of Biden relentlessly repeat that he always supported the current model of globalization, in which the United States was critically dependent on the supplies of a number of strategically important goods from China. As a result, "China is about to oust America". The policy of the Obama administration, of which Biden was one of the main architects, has not had the slightest impact on Beijing's behavior.
In relation to Russia, the failure of the inquiry into allegations of Trump's conspiracy with Moscow during the 2016 presidential election theoretically "unties Trump's hands." However, further dialogue may be obstructed by the numerous sanctions against Russia initiated by the Congress during Trump's first term. American "realists" give it to understand that "from the … practical, political viewpoint, the Russia policy of the Trump administration is tougher and more consistent than that of any other American government since the end of the Cold War." "Not a single American government invested more in Europe to contain Russia or moved troops and military equipment to Eastern Europe".
Biden has a tough, if not "hawkish," position regarding Russia. The years of vice presidency in the Obama administration, many observers believe, left Biden feeling disappointed about prospects for developing ties with Moscow. Nevertheless, Biden has made a number of statements that demonstrate a potential willingness to hold a dialogue with Russia. For example, on strategic stability, regarding the extension of the START III Treaty. German experts expect Biden to return to the classic foreign policy model: to keep "Russia and China at a distance" while maintaining cooperation with these countries on a number of issues. Also, they expect Washington to return to the policy of developing partnership relations with "countries that share US values". Finally, the American establishment has long come to the stable bipartisan consensus about the need to go any lengths to contain China.
Overall, it seems that as long as it is under way the presidential race will most likely create new obstacles to contacts between Washington and Moscow. There are grounds to believe that the United States will begin another round of competition for the title of Russia's most irreconcilable adversary. Considering all this, it is not difficult to assume that the coronavirus epidemic, as well as the resulting economic recession, which is becoming increasingly visible in the United States, will top the agenda of the future head of the White House, no matter who wins. Given the situation, the approach of the Washington establishment to Russia may not go beyond the bounds of its functional role in its internal struggle.
Both Trump, and his most likely contender in the upcoming elections, Biden, seem to be unprepared to admit that the world will no longer adapt to America. On the contrary, the United States will have to adapt to a new, more decentralized and largely chaotic world – to the "post-American dominance world". Are the two "grey-haired candidates" able to accept the new reality? This is the main question of the current American presidential race.
From our partner International Affairs
Can these 6 worldwide Google search trends predict the 2020 US presidential election?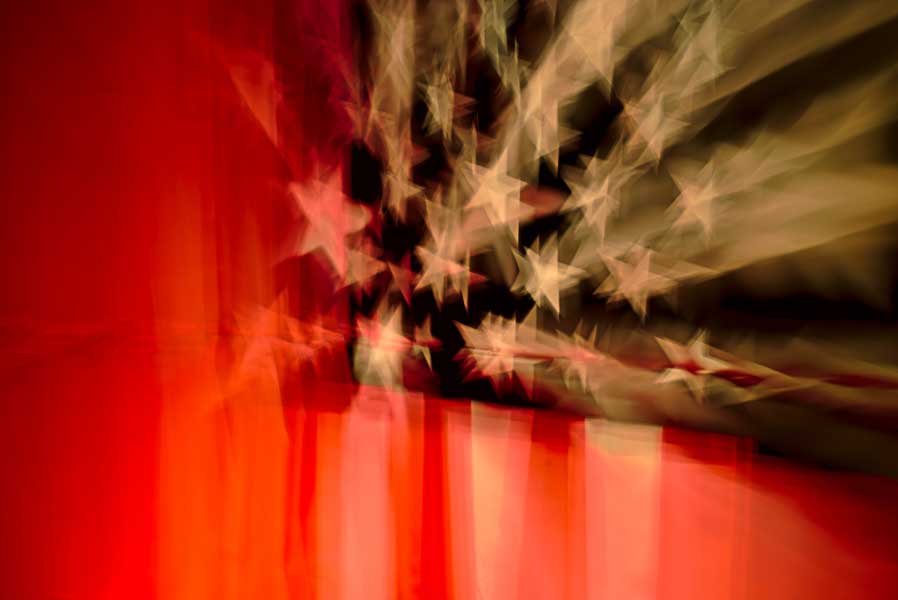 Whilst international observers are commonly deployed in fragile or new democracies in the developing world, elections in the developed world are viewed from outside, partially out of a sense of stake-holding in the outcome by the rest of the world (due to the preponderance of the West in the affairs of these countries) and partially out of curiosity, and therefore are consumed as a piece of popular culture. Out of these, the US electoral cycle is perhaps the most closely watched the world over. This is no coincidence as in each successive year previous records are shattered in terms of expenditures on advertising by the various campaigns. The digital sphere has become the main arena in which the various campaigns reach out to potential voters. By one 2019 Forbes estimate, the current electoral cycle has seen "an increase of 59% from the 2016 election year when an estimated $6.3 billion was spent," which represents nearly 16.5% of total local broadcast TV advertising revenue for this year, whilst digital media is forecast for 21% of political ads, whilst cable TV and radio both claim 14% and 5% respectively.
This disproportional share for digital spending is indicative of what scholars have termed as the rise of "computational politics, "defined by one study as "the application of digital targeted-marketing technologies to election campaigns." With this increase arises the question of which candidate will come out victorious, and whether expenditure is a predictor for which will win. In the last (2016) election, this proved not to be the case, as the Democrats, at $1.191 billion, raised nearly twice as much in dollar terms than the Republicans (at $646.8 million) but still lost. More recently, we've seen Michael Bloomberg being forced to drop out of the campaign, despite spending as much as $936.2 million, whilst Sanders and Biden, the last two Democratic contenders, had spent $162.3 million and $84.7 million, respectively. In fact, US elections are notoriously difficult to predict with a fair degree of certainty. Be that as it may, looking at some data in the previous sixteen years (i.e., four electoral cycles) makes for some insightful analysis, and potential projections.
Briefly, I trace over the 2004-2016 period Google queries for American presidential frontrunners and eventual winners and incumbents in the world. All data utilised in this article is obtained from Google Trends, a publicly available dataset of worldwide Google searches since 1 January 2004. All charts were generated by the author from sorted data. The Google Trends scores are values that are calculated on an index that places scores from 0 to 100, where, according to Google,"100 is the location with the most popularity as a fraction of total searches in that location, a value of 50 indicates a location which is half as popular." The four following charts below show the growth for searches for each candidate between 2004 and 2012.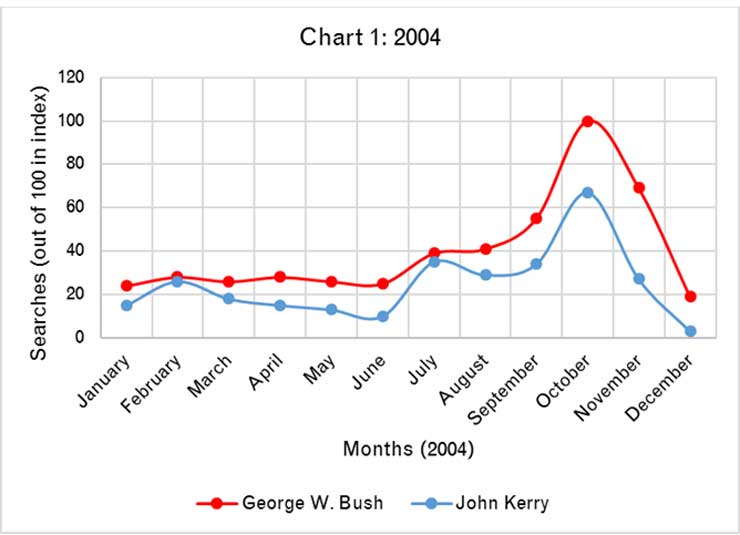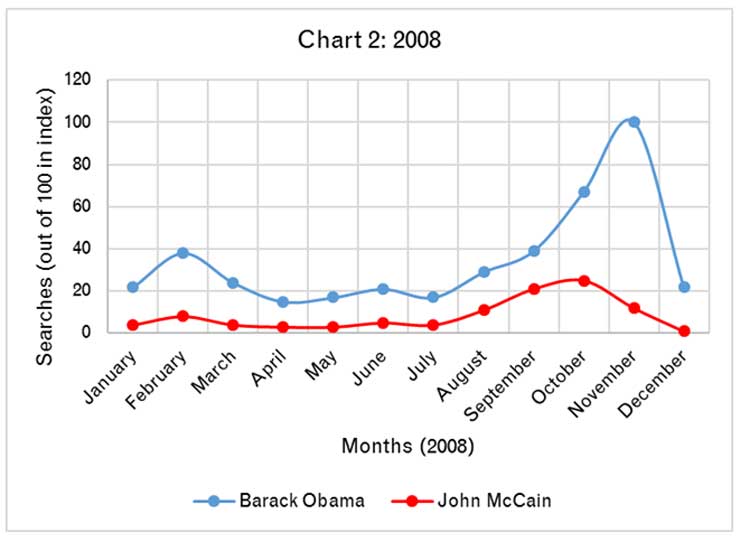 The undeniable trend from all four charts is that the candidate who gets the most searches goes on to win the election, despite both candidates getting an uptick the most amount of searches in November, the month of the election (with the eventual winner experiencing the most amount of searches). Given the results from the four election cycles, it is worth peaking assessing the amount of searches for the two Democratic frontrunners against Donald Trump.
Despite the field only being in a phase of narrowing down, past results show that the eventual winner starts getting the most amount of searches as early as January of the election year.
The only exception was the 4th of March, the day after Super Tuesday, when Joe Biden got the most amount of searches, gaining 40% of the searches, whilst Sanders got 31% and Donald Trump got 29% (see pie chart above). Following the 4thof March, however, the ranking reverted to Trump being more searched than both Democrats, whilst among the Democrats themselves, Vice-President Biden began being more searched than Sanders, which continues to be the case at the time of writing.
For the majority of the first quarter of 2020, therefore, has Trump having 77% of the searches, whilst the two Democrats only have 23% of the searches, split between Bernie Sanders (14%) and Biden (9%). If global Google search trends are any proxy for name recognition, therefore, we can reasonably expect Trump to be re-elected as President in November, regardless of which Democrat is eventually nominated. Indeed, any different outcome would go against the grain of the last four elections.
The Post-Coronavirus World Will Be Far Worse than the Pre-Coronavirus World
Signs, especially in the United States, are that the post-coronavirus-plagued world will have even more inequality of wealth, within each nation, than existed prior to the plague. Billionaires are demanding to be included in the bailouts by their governments; and, because billionaires financed the careers of the successful politicians who won seats in their country's legislature, those demands are almost certain to be complied with. Only the least-corrupt nations will be able to recover fully from the current plague.
In the United States, one Party, the Republicans, doesn't even pretend to be concerned about the sharp growth of wealth-inequality that has occurred after 1980; but the other Party, the Democrats, do make that pretense; and so a deal is being worked out in the U.S. Congress that both Parties tout as being a 'balanced' bailout bill, because it will bail out both the megacorporations that the billionaires own and control, and the public — their workers (especially the ones that those billionaires are now laying off). Because of the enormous give-aways to the billionaires, deficit-spending by the government will be soaring out of control, and ultimately paper money will plunge in value, which will bring on a global depression that will be even worse than 1929. Some governments will find ways to nationalize the wealth of billionaires and perhaps also of centi-millionaires in order to fund the continuing needs of the public, and there will be a scramble by many of those super-rich to relocate to countries where they still will be able to bribe enough government officials so as to provide safe haven for their accumulated wealth. Graduated exit-taxes will be instituted by any of the industrialized countries that aren't totally corrupt, but the most extremely corrupt industrialized countries will experience massive capital-flight and a future as a "third world" nation, under extended martial law.
On March 22nd, Zero Hedge headlined "'Stop The Coronavirus Corporate Coup': Here Is A List Of Everyone Demanding A Bail Out" and Matt Stoller listed the many different categories of mega-corporate lobbyists who were urging the Senators and Representatives, whose campaigns they fund, to bail out their respective industries. The few other news-sites that republished or linked to that list were other alternative-news sites, not any of the mainstream ones. This was a major news-report, which deserved to become a top topic of public conversation, but that didn't happen; and here is an example of what it said (and which the rest of the press were hiding):
Mitch McConnell wants big business to rule, so he's playing a trick. He is refusing aid to workers. Democrats are negotiating with him to try to get unemployment assistance and social welfare. McConnell knows Dems won't pay attention to corporate bailouts if he takes the public hostage, and Democrats know that they can hand out favors to big business if they just talk about how they got larger checks for workers.
So McConnell will put a bill down in front of Nancy Pelosi, with some good stuff like unemployment insurance, but also the really ugly stuff to hand over America to big business. The corporatists in the Democratic Party will tell her "Pass the corporate coup bill, after all we have to do something right now!" And because she doesn't have the votes from within her own caucus because of these corporatists, and because she doesn't particularly care if America is sold off to big business, she will do that.
It's a song-and-dance routine, performed by the two "good cop, bad cop" political Parties (both being fascist), in order to satisfy not only the audience (the voters) but the producers (the billionaires).
On March 21st, I headlined "Triage Starts in Government Bailouts: Who will get the money?" at Strategic Culture, and submitted that news-report to all U.S. major news-media and most of the minor ones. 24 hours later, it was picked-up by only a few minor, very courageous, ones: The 21st Century, The Duran, Free World Economic Report, The Russophile, and Verity Weekly. The corruption is so pervasive that all of the news-media that 99.99% of the public rely upon for their 'news' were filtering out the news of the impending massive public subsidies to America's billionaires by America's 'public representatives' — shoveling the public's money to the billionaires as bailouts.
Stoller was obviously correct that the Republican leader of the U.S. Senate, Mitch McConnell, "is refusing aid to workers" and (though Stoller — being himself a Democrat — didn't use nearly such direct language to say) the Democratic Party's leader in the House was trying to wrangle enough of the desperately needed funds for the American public (all sorts of workers, and, here, especially the most important ones, such as nurses, police, etc.) so that congressional Democrats would be able to give the billionaires what they demand, while still getting enough aid out to everybody else in order for congressional Democrats to be able to hold their congressional seats after November 3rd. (In America, keeping the poor away from the voting-booths, and undercounting the votes that they do cast, are usually insufficient in themselves so as to prevent a Republican landslide, and so as to supply the bumper-sticker benefits to non-billionaires that will be needed if Congress isn't to become 100% Republican.)
In a profoundly corrupt country, over 99% of the press will filter-out such basic details of the true extent of the corruption, because, otherwise, the revolution that results will be against the aristocracy, instead of against the public itself (and producing martial law), and a revolution like that could produce actual democracy, which the few people who fund politicians' careers fear the most. They much prefer, if a revolution is coming, that it be clearly against the public (and result in martial law, which will protect only themselves), not against themselves. In fact, such a country has a government almost solely in order to protect the aristocrats from the public, and almost not at all in order to protect the public from the aristocracy.
Interestingly, the very next day, on March 22nd, my headlined news-report was "Coronavirus Cases Soaring Much Faster in U.S. Than in Other Countries" and even that report had no takers in America's major 'news' media, despite its being merely a presentation of the statistical data, which discredited the U.S. Government in comparison with almost all of the other governments in the world. (Only Turkey and Luxembourg had even worse figures at that time, but they were just beginning to count their coronavirus cases.)
On March 25th, I headlined "Coronavirus: Why Russians Are Lucky to Be Led by Putin", and wrote that "within just three more days, America will have the world's largest total number of cases, if Italy won't. And after yet another day, the U.S. will almost certainly have the world's largest total number of cases." Both statements came to pass. On March 26th, America's Institute for Health Metrics and Evaluation published their projection of the rise and subsiding of the coronavirus-19 in the U.S., and predicted that this country would end up with 460,000 cases and 81,114 deaths from the disease, and that America's epidemic would virtually end by July 1st. I headlined about that, on March 28th, "Projection: U.S. Coronavirus Deaths to = China's Total Coronavirus Cases".
Though all of these news-reports are major, and deal with the news-event that is currently obsessing all of the world's news-media — which is the coronavirus plague — the news-media that are owned or otherwise controlled by America's billionaires rejected them all and are doing everything else that they possibly can to delay, if not to block entirely, the crucial information from reaching America's voters, and this is happening during an election year. The Jeff-Bezos-owned liberal neoconservative Washington Post reliably reported on March 28th that "in private discussions, the president has been driven much more by economic concerns, according to people involved in internal debates or briefed on them. Trump has long viewed the stock market as a barometer for his own reelection hopes." Safety of the American people is a secondary concern for him. That was being reported by a Democratic Party billionaire against Republican Party billionaires, but what it actually indicates is America's being controlled by its billionaires, of both Parties. The public, here, actually don't count.
Under conditions such as this, one can easily understand — with this type of information, which is being hidden from the public — only politicians who satisfy the wants of the nation's billionaires stand even so much as a chance to win seats in Congress or other high elective office. The public are so misinformed that they are like horses with blinders on and which are being driven by a master to whom they are expendable and replaceable, not objects of authentic and caring concern for their welfare. Everything has a price to such a master, who will grab at any chance to replace any of the public by a cheaper alternative, so long as "the job gets done" — to satisfy their own unlimited greed. The deception of the public is so extreme that America's Establishment are so brazen as to blame China and Russia for the "disinformation" about the cornoavirus-19 pandemic. The U.S. regime is utterly shameless.
These bailouts of billionaires will destroy what little was left of a democratic future for America — and for any other nation that happens to be nearly as corrupt.
Is this to be the long-term impact of coronavirus-19? Is there an alternative likely scenario? Perhaps the coronavirus plague won't spread as uncontrollably as is feared, but even if that is the case, what justification exists for bailing out any of the super-rich, in response to an emergency that is causing widespread suffering? And yet, America is doing that.