Secret of Trump's victory: Mesmerizing the folks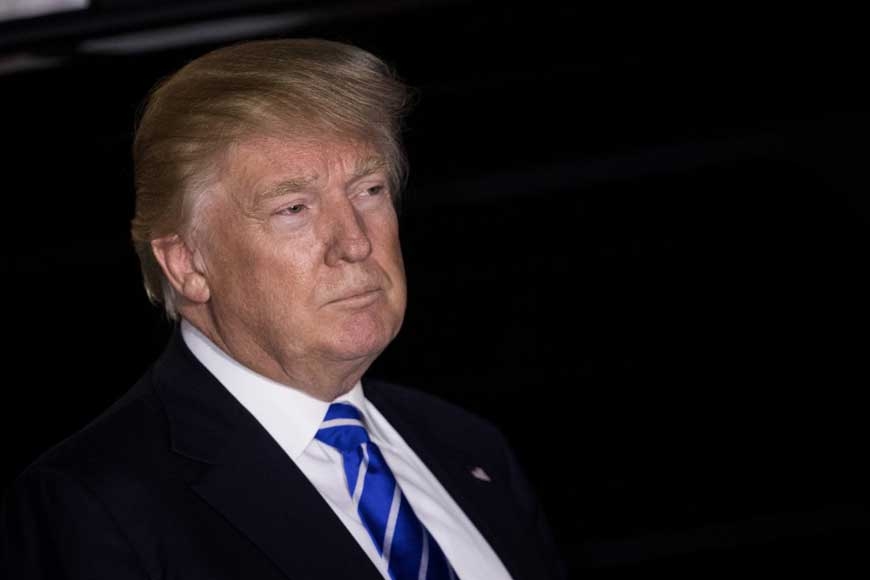 [yt_dropcap type="square" font="" size="14″ color="#000″ background="#fff" ] T [/yt_dropcap] he secret of Trump's victory lies in that he utterly identified his target audiences and their problems and points of discontent and frustration, meticulously addressed them, offered magnetic solutions, and ultimately, won their hearts and votes. Although many of Trump's proposed policies and solutions are just rhetoric statements disconnected from the reality and practicality, he was able to mesmerize the folks into voting for him to become the president of the United States of America smashing almost all expectations and polls.
Hillary Clinton had portrayed the Trump campaign as divisive. Even she quoted Abraham Lincoln saying "A house divided against itself cannot stand". But Trump is not the cause of the division within the American society rather a symptom of the division. Perhaps such erroneous perception and inability to figure out the real troubles of the American society played a role in Clinton's defeat. This may help to understand why Clinton lost while the more puzzling and key question is what the secret of Trump's victory is?
In order to discover the secret of Trump's astounding victory, two crucial components of his campaign should be identified: who are the electorate that voted for him and how he had persuaded them. Data on voters clearly show that white Christian mainly working-class Americans with conservative views constituted the core of Trump's electorate. The Clinton campaign had largely missed to consider this particular majority group of population as she had been much obsessed with minorities leading to disregarding hence alienating the majority. "Though Clinton's platform was inarguably more progressive than Trump's, she failed to communicate those policies to the voters who needed to hear it most. Instead, she focused on girl-power anthems and cultivated wealthy celebrity surrogates who were incapable of addressing the grievances that fuelled Trump's campaign" says Sarah Jones from the New Republic.
In a way, election campaign is an intimate communication between voter and candidate. A voter identifies problems and figures out which candidate is likely to help solve them. Meanwhile the candidate identifies his/her potential target electorate and figures out how to persuade them. The Trump campaign skillfully caught up with the pulse of the time. Meanwhile Hillary Clinton built on her previous campaigning experience and failed to send a proper message to white working-class Americans. Hillary often referred back to her time as Secretary of State and cited her past successes while Trump's backlash was "Hillary Has Experience, But It's Bad Experience". He lambasted her failures such as the Benghazi tragedy and email scandal. More importantly, Trump tapped into the veins of angry white Americans providing a 'forward-looking', often wishful and mesmerizing though, vision for the future to come.
Not various minorities such as Latinos, Muslims, women, Afro-Americans, LGBT communities but the majority white Christian Americans decided the outcome of the US election 2016. They had become fatigue of talks about both minorities and external problems and threats. They utterly needed a domestic focus. The Trump campaign caught the moment by emphasizing the domestic focus. However, Clinton got stuck in appeasing already attracted minorities and focusing on external issues to the apparent irritation of conservative white Americans, who were increasingly feeling minority with the domestic problems remaining unattended despite their factual majority. This portion of population is dissatisfied with demographic change, living standards, unemployment, and lack of social benefits, and feels frustrated by the previous administrations, which have let them down. "Trump has been able to appeal to a certain group of folks who feel left out or are worried about the rapidity of demographic change, social change, who, in some cases, have very legitimate concerns around the economy and are feeling left behind", Obama said. But the president maintained that these people do not make up "the majority of America". It appears that Democrats failed to properly assess the scale of folks, who had bought into Trump's promises, and turned out to be crucial in the defeat of Hillary Clinton.
Trump's electorate perceives Muslims and immigration as a threat to the socio- economic welfare and a threat to their identity. Trump came up with one solution for the two problems: his identity-based solution was to address both the threats to socio-economic welfare and to the identity. His radical proposals on banning Muslims' entry to the US, deportation of illegal immigrants, and construction of the wall in the Mexican border were seen through the lens of white Christian Americans as a solution to the imminent threat to their identity, and ultimately as a solution to the socio-economic problems. Many Americans view immigrants as grabbing their jobs and sucking taxpayers' money as social benefits. Yet drug trafficking and criminal activities are often associated with those of Latino background. And almost all presidential candidates had talked about and promised tackling the immigration issue. They all forgot their promises once the election campaign had ended.
In his first interview after the election victory Trump said that "We're losing this country. That's why I won the election. And by the way, won it easily". Trump chose to play the identity card instead of lecturing on liberal values and detailing economic and other programs. He skillfully addressed the sentiments and emotions rather than the intelligence of potential voters. Trump's identity-based policies represented a temptation to both those who are concerned over the identity threat and those who are concerned over socio-economic problems.
The previous US administrations had used identity politics to rally domestic support for external interventions in Muslim countries. Now trump played the same card but just for the election campaign. Moreover, the previous administrations and election campaigns had scapegoated Islamic extremism and immigration in particular from Mexico and other Latin American countries for problems and failures for nearly 15 years. Also media and opinion makers had depicted Muslims and Latino immigrants. Apparently, most voters for Trump genuinely perceive Muslims and immigrants as a major source of threat to their welfare and life-styles. "Muslims have become popular scapegoats in every election since George W. Bush became president" says Daniel Bush from PBS. But what Trump did differently from the previous campaigns is that he scapegoated the administrations and Washington establishment for failing to settle the problems regarding Muslims and immigrants, and offered radical solutions such as imposing total ban on Muslims' entry into the United States, and deportation of millions of Mexican immigrants. In fact, Trump won primaries due to such radical statements, which boosted his popularity.
Interventions in Afghanistan and Iraq didn't solve but amplified the problem. For around 15 years of the so-called war on terror, Americans felt fatigue of too much talk about Islamist extremism with little effect of counter-extremism policies and actions. The war on terror and interventions drew enormous amounts of funds and resources, which could be used for the well-being of American citizens. Yet these massive military campaigns failed to produce the intended outcomes. Instead, the US got stuck in the Middle East and elsewhere, and had to go through troubled times with Russia. "Trump, under the rubric of "America First ," was critical of military interventions driven by a particular internationalist narrative such as the global war on terrorism or the responsibility to protect rather than interventions to advance traditional notions of national interests". And here is another issue: amid growing tensions with Russia, the US allocates big funds to defense systems in Eastern Europe for NATO. Tensions with Russia over Ukraine and Syria, on-going turmoil in the Middle East, and related US and NATO efforts and actions have captured the focus of media and administrations hence diverting attention and resources from immediate socio-economic needs of Americans to outside problems.
Trump would seek to bring into reality some of his pre-election promises and could retreat from some others. Many checks-and-balances are in place in the US. So, the president alone is not able to implement significant portion of policies. Even if the president was able to make sure necessary support from proper authorities, just the practicalities wouldn't allow for successful implementation. Just a few quick examples: how one can identify who is Muslim and who is not. If citizens of a whole Muslim-majority country is banned from entering in the US, what about non-Muslim citizens of that country? If all Muslims are banned, how they would identify Muslim citizens of non-Muslim countries? Yet alone there are so many economic, business and lots of other sorts of vital ties between the US and Muslims and Muslim countries, where Americans are utterly interested, and billions of dollars from Muslim countries are invested or deposited in the US. Another example is that how one can pack millions of illegal Latino immigrants into busses to send to their home countries. These are just a few very simplistic practicalities. In Trump 's telling , "America's problems are simple, self-inflicted and easily reversible, once the right man is sitting in the Oval Office". Yet there are most complicated issues concerning NATO or free trade. NATO is not just about security and military alliance. The US is much dependent on global integration in general and transatlantic integration in particular. Revising the terms in NATO and free trade agreements is much easier said than done. Neither NATO nor free trade is American charity, and both are as much beneficial to the US as no less than that to other participants. Leaving trade agreements and increasing taxes and levies on imports into the US will trigger consequences. The United States' trade counterparts like China, India, Brazil and others will seek retaliation and substitute for imported US goods and services. Yet one can imagine creation of jobs at home by bringing back US companies from China, India, Bangladesh, Cambodia and the likes, where salaries are incomparably lower than in the US, means rising costs at the domestic market and much less competitiveness abroad. Yet large portions of the American consumers perhaps many of who voted for Trump would encounter higher price US-manufactured goods at Walmart stores instead of Chinese-made cheap alternatives they have used to have. Many immigrants do such 'dirty' or low-paid jobs in the US many Americans wouldn't. A white working-class American would feel the impact of his vote when he will have to pay much more to a white American nanny or nurse than the immigrant. Of course, this is not most Trump voters hope for. "History shows it can be hard to fulfill vows that sounded easier to make in front of cheering crowds on the campaign trail".
One absolutely significant point is that some republicans opposed Trump not because of his statements, but just because they didn't expect him to win. Even many republicans understood concerns of white Christian Americans but they either didn't dare or didn't want to do what Trump did. House Speaker Paul Ryan "repeatedly criticized Trump throughout the campaign, slamming his call to ban Muslims and at one point calling his attacks on a Mexican-American judge the "textbook definition of racism," only to embrace him in the election's closing days". Ryan immediately congratulated Trump on "His Big Night" and also spoke with his running mate Mike Pence".
"I think Trump has the idea that things move very quickly in his world, but his world is very different than the political world," said Behrends Foster, a partner at Bluestone Strategies. But Trump is well-aware of that a big deal of his proposed solutions and policies are too unrealistic to be implemented due to a range of reasons. As a star reality showman, he is skilful in dealing and even playing with emotions and sentiments of people using the problems they face. Trump was lucky enough as he led the potential electorate to buying into his unrealistic promises. Trump's electorate just ignored Clinton's calling him 'Putin's puppet', serial sexual misconduct accusations by women, and wider anti-Trump because he had already won their hearts. In order to bring his presidency ambition into reality, he made quite controversial statements and magnetic promises to appease angry white Christian working-class Americans with conservative views and mesmerized them into voting for him.
From the moment of Trump's victory speech, he has started to show signs of retreatment from his previous statements. "He offered unusually warm words for Mrs. Clinton, who he has suggested should be in jail". It is likely that his tone would increasingly change for more realistic and less emotional. Yet his first meeting with incumbent president Barack Obama is another sign of such a change in tone. Furthermore, much of his pre-election promises are missing in his plan for first 100 days. But that is not the change his voters expect. They expect him to deliver what he has staunchly and enthusiastically promised. Now it is not clear whether he would be able to deliver. What is clear at this point is that the history has repeatedly demonstrated leaders such as Trump quickly rising in the wave of high popular expectations is likely to end up face to face with frustration of those people in case of failure to deliver. Yet possible conflict of interests between Trump's business and presidency is and will remain under the spotlight of media and public. Imagining the public frustration to be seen in the light of that conflict, it would just add more fuel to the anger and discontent.
A conclusion is that white Christian Americans feel that their identity and socio- economic wellbeing are threatened by Muslims and immigration. US administrations had scapegoated Muslims and immigration for many problems and failures for many years. Moreover, media and opinion-makers have played a significant role of demonization of Muslims and immigrants. In that context, many Americans view the Washington establishments as too incompetent to address those imminent problems. At this point, Donald Trump stepped in the election campaign 2016 with his anti-establishment agenda to play the identity card. He was courageous enough to be politically incorrect and offer unrealistic and drastic solutions and policies to win hearts and votes of Americans. Ultimately, he mesmerized white Christian Americans into voting for him to become the president of the United States of America. But it is too naïve to expect the Trump presidency to cause a drastic change in the US foreign policy. Trump would struggle between efforts to realize the expectations of his electorate and uniting the much divided America. Yet another challenging task is to do all that without harming vital US interests abroad. Furthermore, once he is in the Oval office, Trump will have access to absolutely confidential reports, which would probably soothe his defiant temperament and anti-establishment rhetoric. Anyway, the Trump presidency would definitely refresh both the foreign policy and the domestic policy. Whether that refreshment would turn out positive or negative is much dependent on Trump's ability to deliver, which is anyone's guess.
Movement of the White House towards radicalism
The removal of U.S. Secretary of State Rex Tillerson from power and the replacement of CIA chief Mike Pompeo will create new crises at the White House. In the domestic circles of the United States, Tillerson was considered one of the few symbols of political rationality in the Trump cabinet. However, Pompeo has always been a symbol of extremism in the political and security structures of the United States.
Consequently, the domestic circles of America believe that Tramps has thrown Tillerson out of power, radicalism and extremism in his government. Accordingly, Tramp will henceforth be more costly in the international system and foreign policy of his country.
The U.S. president has ousted the Foreign Minister while Washington and Pyongyang have not yet begun talks on the disagreements. Donald Trump, on the other hand, is scheduled to make a final decision on a nuclear deal with Iran in about two months. In such a situation, the U.S. Secretary of State is about to create new crises in the White House.
Although the American political structure (especially in the field of foreign policy) has little connection with the presence of people in power, the presence of Pompeo as a symbol of extremism at the top of U.S. foreign policy equations represents a more serious confrontation between Trump's government and the international community.
Pompeo's presence at the head of the U.S. foreign policy equation has raised a lot of concerns among Washington's allies, especially the European ones. One of the issues in which Pompeo and Trump are shared is to confront the existence and nature of the European Union.
Pompeo, as the head of the CIA, has played a significant role in supporting extremist right-wing and nationalist groups in Europe over the last year. In some of his positions, Donald Trump has explicitly supported phenomena such as election and called for the modeling of other European countries. Europe's return to nationalism is a major policy that Tramp and Pompeo have followed and are pursuing in the last year (especially in 2017). Obviously, this process will intensify during Pompeo's presence at the U.S. Department of State.
As Guardian reported, Rex Tillerson will go down as one of the worst secretaries of state in U.S. history. And yet, with his departure and replacement by CIA director Mike Pompeo, things could get a whole lot worse for U.S. national security.
Donald Trump made clear his disdain for diplomacy from day one of his presidency, and that he views foreign policy as an endeavor for the military, not the state department. He proposed enormous increases in the military budget while attempting to slash the state department budget by roughly a third. Trump appointed generals to be secretary of defense, national security advisor (twice) and White House chief of staff, while appointing as secretary of state someone with no diplomatic experience.
If Trump's contempt for diplomacy somehow wasn't clear, he did his best to actively undermine his secretary of state, criticizing him in public on a number of occassions. In the fall of 2017, as Tillerson attempted to open a diplomatic process with North Korea, Trump tweeted to the world, "I told Rex Tillerson … he is wasting his time trying to negotiate with Little Rocket Man." When a Middle East dispute between Saudi Arabia and Qatar broke out in 2017, as Tillerson scrambled to calm the situation and mediate, Trump undercut him by publicly siding with Saudi Arabia.
So it should come as no surprise that Tillerson would find out he was fired when his boss tweeted the news to the world.Despite this poor treatment, it is hard to shed a tear for Tillerson. He has been a good soldier in enabling a military-first foreign policy, in which the state department is relegated to an afterthought.
He has worked aggressively to gut the state department, not filling key positions, and implementing freezes on hiring, all of which have contributed to a hostile environment and low morale. The nation's most senior diplomats have resigned over the last year, leading to a wave of exits of career diplomats at all levels that has depleted the ranks of the nation's diplomatic corps. It will take years to rebuild the state department in the wake of the damage inflicted by Trump and Tillerson.
Guardian continues that On leading America's diplomacy with the world and running the state department, Tillerson has been an utter disaster – but his policy views were about as moderate as they come inside the Trump administration. He has been one of the administration's strongest voices for diplomacy with North Korea.
He was reportedly an advocate of remaining in the Paris climate change agreement. And he supposedly tried to keep the U.S. in the Iran nuclear deal.If and when Pompeo replaces him, we should be deeply concerned – both because of Pompeo's more hawkish views, and where they might take America on the critical foreign policy decisions coming down the pike.
The fate of the Iran deal is once again hanging in the balance, and with it potentially more conflict in the Middle East. Trump has set a 12 May deadline for getting European allies on board with changes to the Iran deal, and has reportedly said that he will exit the deal if those changes aren't made.While Tillerson advocated remaining in the deal, Pompeo has been a vocal critic of the 2015 agreement.
If the U.S. unilaterally withdraws from the deal, there's no telling where tensions with Iran – which is already fighting proxy wars in Syria and Yemen – could go.This development doesn't bode well for diplomacy with North Korea, either. As Trump prepares for a possible summit meeting with North Korean leader Kim Jong-un, Tillerson's exit could signal a much harder line on talks.
Whereas Tillerson has been a proponent of diplomacy with North Korea, Pompeo's public language on North Korea has been more aggressive, and he has openly hinted at regime change. A negotiation with North Korea is one of the most difficult diplomatic endeavors one can imagine – and Pompeo, like Tillerson, has no diplomatic experience.
And then there's Russia. Tillerson has hardly been tough on Russia, prioritizing attempts at cooperation over pushing back against clearly destabilizing actions by Russia, including its interference in the 2016 election. While Pompeo held critical views of Russia during his time in Congress and has admitted that Russia interfered in the election, it's unclear for which policies Pompeo will advocate.
To those ends, there are reasons for concern: at Trump's request, Pompeo met with a conspiracy theorist peddling the falsehood that the hack of the Democratic National Committee's emails in 2016 was an inside job, not Russian hacking. He also falsely claimed that the CIA concluded that Russian meddling did not affect the election's outcome. As war rages in Syria and Ukraine, and Russia continues interfering in U.S. politics, Pompeo will be a key player in leading U.S. policy on all.
At the end of the day, the president directs foreign policy, and no change in personnel will alter the unique chaos of Trump's foreign policy. But if past is prologue, Pompeo appears much more willing than Tillerson to toe Trump's line – a very dangerous prospect.This development may prove that no matter how bad things look, in Donald Trump's administration, they can always get worse.
First published in our partner Tehran Times
A Deceitful Trump Has Difficulty Filling Administration Jobs
A politician on center stage calls Mexican immigrants rapists and killers for those people send their bad guys here; says Syrian refugees are snakes and they and other Muslims could harbor ISIS among them; says African countries are sh*tholes and Haitian immigrants carry aids … .  Then without a hint of irony or embarrassment — except a permanently red face — he proclaims, "I am the least racist person anybody is going to meet."  What would a rational individual call him?
The Washington Post ran an op-ed by Bella De Paulo on Donald Trump's lies and lying, drawing on her research work and the Post's Fact Checker.  It turns out he is an inveterate liar and, worse, a cruel one for his lies are often malicious.  The op-ed was also taken up by the right-leaning Chicago Tribune, the leading such organ in Chicago.
Bella De Paulo is a social scientist who earlier on in her career as a professor at the University of Virginia studied lies and liars jointly with some colleagues there.  Since October 2017, President Trump, she notes, "told a remarkable nine lies a day outpacing even the biggest liars in our research."  It gets worse.
Most of the lies (about half) in their study of college students and general community members in the area were self-serving intended to advantage the liars.  Less often they told kind lies, like the woman telling her mother she did not mind taking her shopping.  These constituted about a quarter.
One category was so small as to warrant just a footnote in their study.  This was the cruel lie intended to hurt or disparage someone.  Only 0.8 percent of student participants' lies and 2.4 percent of community members' lies fell in this category.
President Trump is different, shockingly different.  To use his favorite adjective, an amazing 50 percent of his lies were in the cruel category, the content hurtful or disparaging.  His kind lies were few, outnumbered 6.6 times by self-serving ones.  It is not surprising then that 58 percent of voters questioned in a Quinnipiac University poll last November thought he was not honest.  As most people tend to believe others, there has to be a good reason to label someone dishonest.  The old adage, one can't fool all of the people all of the time appears to be working — the people have caught on.
The departures from the Trump administration took in the most prestigious cabinet post.  Secretary of State Rex Tillerson was fired; Mr. Trump apparently furious at his enthusiastic support for the British in their reaction to the poisoning in Salisbury of Sergei Skripal and his daughter Yulia.  The pair remain in critical condition.  The nerve agent used, Novichok, was developed in Russia.  Mr. Skripal acted as a double agent for the UK in the 1990s and early 2000s betraying many agents.  Would that assemble enemies?
President Trump, therefore, had a point.  However, within a few days he had flip-flopped.  He is now projecting a united front with the British, the Germans and the French on the issue.  Clearly, there were also other reasons for his unhappiness with Mr. Tillerson, including the latter's reported pithy description of him as 'a f***ing moron'.  Disagreements on political appointees was another issue.  Moreover, Tillerson's radical reorganization efforts were not popular with career officials in his department.
Trump's chief economic adviser resigned last week.  His successor Larry Kudlow is a long-time media personality.  He is not what one would call a professional economist.  In fact, he does not even have an economics degree.  He is a journalist.  He is also an ardent supply-sider and trickle-downer though — no doubt to Trump's liking — and he played a role alongside the conservative Heritage Foundation's Stephen Moore on Trump's tax plan during his campaign.
So the arrivals and departures at Trump Junction continue, a busier place than almost any previous administration and with numerous government vacancies.  But then, are there many who want to risk a job with the mercurial Trump when it is also difficult to believe much of what he says?
What Results When U.S. Invades a Country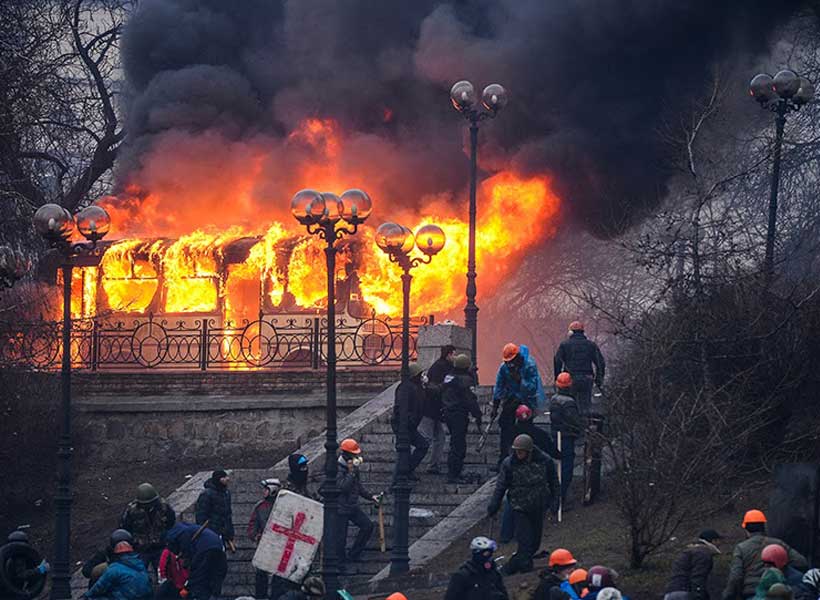 The U.S. Government certainly leads the world in invasions and coups. In recent years, it has invaded and occupied — either by military assault or by coup, but in either case followed by installing (or trying to install) a new regime there — a number of countries, especially Afghanistan, Iraq, Libya, Syria, Ukraine, and Yemen.
U.S. propaganda says that its invasions and military occupations (and it denies its coups) are to benefit the people in the invaded and militarily occupied countries, or to bring them 'democracy', and are not done merely to benefit the people who control the U.S. Government (which itself is not a democracy, and even the neoconservative — pro-invasion or "imperialistic" — American magazine The Atlantic has finally acknowledged this fact, even though it contradicts their continuing neoconservatism).
Polling and other evidences within the invaded/occupied countries shows the opposite of the U.S. claim: America's invasions/occupations (after World War II, and especially after 2000) destroy those countries, not help them.
The most authoritative such study that has yet been done on this matter was recently released, and its findings regarding this matter will here be presented, and then supplemented with other relevant data so as to provide a fuller picture.
The U.N./Gallup surveys of the happiness/misery of the residents in 155 countries, as reported in 2017, were physically in-person interviews in almost all countries, but there was at least one exception, as they explained: "In Libya, telephone survey methodology has been used since 2015 owing to the country's high rate of mobile phone coverage and ongoing instability which has made it too dangerous to use face-to-face interviewers." That's a highly euphemistic way of saying, actually: Libya was too dangerous, and perhaps too miserable, for opinions to be sampled by the ordinary methodology, the scientifically sound methodology, which is in-person interviews. It's a way of saying this without even mentioning the invasion and war there — as if those things don't even count. Therefore, the finding that Gallup reported about Libya is presumably being included in Gallup's otherwise excellent report purely for Western propaganda purposes — they know that it's not an actual scientific finding about Libya, not a finding that can reasonably be compared to the survey-findings in the other countries. As a result, Libya, which might have been the most miserable of all countries after the U.S.-UK-France-Canada invasion, scored in the top half of all countries, #68, 5.525. But, all of the other countries that the U.S. has recently invaded (the nations that are boldfaced below) scored at or below #132, 4.096 — Ukraine's score — as is shown here below from that U.N. report:
Following are the happiness-scores of the bottom 24 out of the 155 happiness/misery-rated countries. (Iraq, which the U.S. had destroyed in 2003, perhaps is now recovering, and it scored as #117, with a score of 4.497; but, here only the bottom 24, the most-miserable of all of the 155 countries, are shown.) Here they are:
132 Ukraine                                                        4.096
133 Uganda                                                        4.081
134 Burkina Faso                                              4.032
135 Niger                                                             4.028
136 Malawi                                                         3.970
137 Chad                                                              3.936
138 Zimbabwe                                   3.875
139 Lesotho                                                        3.808
140 Angola                                                          3.795
141 Afghanistan                                               3.794
142 Botswana                                    3.766
143 Benin                                                            3.657
144 Madagascar                                                3.644
145 Haiti                                                               3.603
146 Yemen                                                         3.593
147 South Sudan                                              3.591
148 Liberia                                                           3.533
149 Guinea                                                         3.507
150 Togo                                                              3.495
151 Rwanda                                                        3.471
152 Syria                                                              3.462
153 Tanzania                                                      3.349
154 Burundi                                                        2.905
155 Central African Republic        2.693
Ukraine is (other than #117 Iraq) the least-miserable of the recently invaded countries, and perhaps the reason for this is that Ukraine was taken over by means of a coup, instead of by means of an outright and direct military invasion.
(You can see this coup happening, here. The way that U.S. President Barack Obama set it up is documented here. You can hear there his agent instructing the U.S. Ambassador in Ukraine whom to place in charge of Ukraine's Government once the coup will have been culminated (which happened 22 days later, and that person did get the leadership-position). It's the full conversation. And here, you will see the phone-conversation in which top EU officials were shocked to find that it had been a coup instead of what Obama pretended, a 'revolution'.) (These evidences are some of the reasons why the head of the 'private CIA' firm Stratfor called it "the most blatant coup in history.")
The U.N. happiness surveys have been taken in Ukraine not only after the coup, which occurred in February 2014, but before it, in 2013. At happiness index you can see the happiness/misery scores shown by Ukrainians during the years 2013, 2015, 2016, and 2017 (there was no survey in Ukraine during 2014, perhaps because of the rampant violence at that time.) In 2013, Ukraine's happiness score was 5.057, but that steadily declined down to the 2017 score of 4.096, which placed Ukraine within the bottom 24 countries, all of which either were extremely poor, or at war, or both. You can also see there Ukraine's resulting "World Happiness Index" rank for each one of those four years, 2013, before the coup, and then 2015-2017, after the coup. As you see there, Ukraine, which was #132  in 2017, had been #87 in 2013 before the coup. So: within just three years after the coup, it declined 45 places in the global rankings.
Some people might retort against this by saying that "happiness" is meaningless or unimportant and only physical welfare is 'objective'," but even on the most crudely physical measures, Ukraine has been enormously harmed by the U.S. coup. In 2013, Ukraine's average annual household income was $2,601.40, and then it fell off a cliff and became $1,109.63 by 2015 and has stabilized at around that level since. Also, in 2013, Ukraine's GDP was $183.31 billion, and by 2015 that had become $91.03 billion and stabilized at that level. Furthermore, some figures aren't any longer even reported by the post-coup Ukrainian regime. For example, whereas the number of unemployed was shown in Ukrainian statistics in 2013, it disappeared in 2016 and subsequently. More information about the decline in Ukraine's economic rankings can be seen here. The U.S. regime has been toxic to the Ukrainian people, no matter how one looks at it. But happiness/misery is the real bottom-line.
Two researchers, Tom Coupe and Maxym Obrizan, published together two separate studies, both in leading economics journals, one article titled "The impact of war on happiness: The case of Ukraine", and the other titled "Violence and political outcomes in Ukraine — Evidence from Sloviansk and Kramatorsk". They reported, in "The Impact of war on happiness":
The average level of happiness declined substantially in zones that experience war directly. …
This decline is comparable to the loss of happiness a relatively well-off person would experience if he/she were to become a poor person. …
Regions that are not directly affected by the war are basically as happy as they were before the war.
In other words: all of the increase in misery occurred only in the regions that have been "directly affected by the war." The Ukrainians who reside outside those regions are "as happy as they were before the war." They're not happier than before the war; they haven't been helped by the war; but, the misery — so intense for them that it has already lowered the happiness-ranking of the entire nation, from 87 down to 132 — just hasn't bothered them, at all.
In "Violence and political outcomes in Ukraine" they reported:
We also find that property damage is associated with greater support for pro-Western parties, lower support for keeping Donbas in Ukraine and lower support for compromise as a way to stop the conflict.
In other words: Ukrainians who live close to the Ukraine-Donbass border; that is, who live inside Ukraine but close to Donbass and so are in the Ukrainian portion of the conflict-zone (not in Donbass, where the vast majority of the "property damage" is actually occurring), have "greater support for pro-Western parties" (i.e., for the Obama-installed regime), but "lower support for keeping Donbas in Ukraine." Although they endorse the overthrow that had been done of the pre-coup government (because they receive 'news'media only from the post-coup regime, in the Ukrainian language), they want to get on with their lives without the war that's since been causing them "property damage." (U.S. propaganda notes that "the separatist-controlled parts of Lugansk and Donetsk oblasts ([the two Donbass] provinces) only have access to Russian TV channels" but avoids noting that the Ukrainian regime's blocking of Russian-language media on the other side of that border — inside Ukraine — exists and is even more severe.) Apparently, Ukrainians near the border just want the war to end — no "compromise" — no negotiations, no Minsk process; they want their Government to simply quit trying to conquer Donbass, no negotiations about it, at all. And they're ignored.
Right now in Ukraine, the central political controversy is between the U.S.-puppet President of Ukraine, who promises to conquer both of the two breakaway provinces, Donbass and also Crimea — but who hasn't yet been able to do it — versus Ukraine's political parties, in western and northern Ukraine, that derived from the organizations which had supported Hitler against Stalin in World War II and who still crave to kill Russian-speakers. Those passionately racist-fascist, anti-Russian, ideologically nazi, political organizations, are determined to actually carry out those additional invasions, no matter what the cost. However, according to this finding by Coupe and Obrizon, the Ukrainians who are suffering the "property damage" and whose personal scores on happiness have thus become so abysmally low as to have dragged the whole Ukrainian nation down to a 132nd ranking, are opposed to that nazi position, and they just want the war to end. And they're ignored.
Where, then, is the support for the war to be found (except amongst the U.S. Congress and President and the U.S. arms-makers whose products have been selling so well to Ukraine's government and which are now being used against the residents of Donbass)? That support is to be found as far away from the conflict-zone as possible: in Lviv and the rest of far-western and northern Ukraine, the areas that were cheering Hitler's forces in WW II, and where the 'news' media today are owned by U.S.-supported oligarchs and their NGOs.
Ukraine was a severely divided nation even before the coup. In the last Ukrainian election in which the residents within the Ukraine that then included both Donbass and Crimea voted, which was the election in 2010, the candidate who won Ukraine's Presidency and whom Obama ousted, had won 90% of the vote in Donbass, and 75% of the vote in Crimea. However, in far-western Ukraine, his opponent — whom Obama had been hoping that Ukrainians would elect as Ukraine's President in 2014 after the coup — won 90% of the vote. That's the candidate whose party (though not herself) now dominates (in conjunction with the two outright nazi parties) the Ukrainian Government. The man whom the residents in the rump Ukraine chose, was the more moderate candidate, and he is increasingly being challenged by the nazis. (Ukraine is the world's only nation that has two nazi political parties. Both of them have been clients of the U.S. Government ever since the end of World War II, but only with Obama did they win control of the country — that is, of its non-breakaway regions.) For example, on 18 January 2018, the AP headlined "Ukraine passes bill to get occupied regions back from Russia" and reported that, "Ukraine's parliament on Thursday passed a bill that aims to reintegrate the eastern territories currently controlled by Russia-backed separatists, and goes as far as to declare support for taking them back by military force if necessary." Though that position is a minority position amongst the Ukrainian public, it authentically represents the position that Obama wanted. In fact, he even overrode his own Secretary of State, John Kerry, to push for it. That's the position of Ukraine's two nazi parties, which are trying to replace the existing President. (Trump hasn't yet made clear whether he backs them, but he is expected to.)
So: that's Ukraine — the happiest of the nations that the U.S. has recently invaded.
——
UPDATE: On March 15th, the "World Happiness Report 2018" was issued, and here are the bottom-scoring countries:
Ukraine (4.103)
Togo (3.999)
Guinea (3.964)
Lesotho (3.808)
Angola (3.795)
Madagascar (3.774)
Zimbabwe (3.692)
Afghanistan (3.632)
Botswana (3.590)
Malawi (3.587)
Haiti (3.582)
Liberia (3.495)
Syria (3.462)
Rwanda (3.408)
Yemen (3.355)
Tanzania (3.303)
South Sudan (3.254)
Central African Republic (3.083)
Burundi (2.905)
first published at The Saker