Pakistani international plane crashes with 48 on board, pop singer among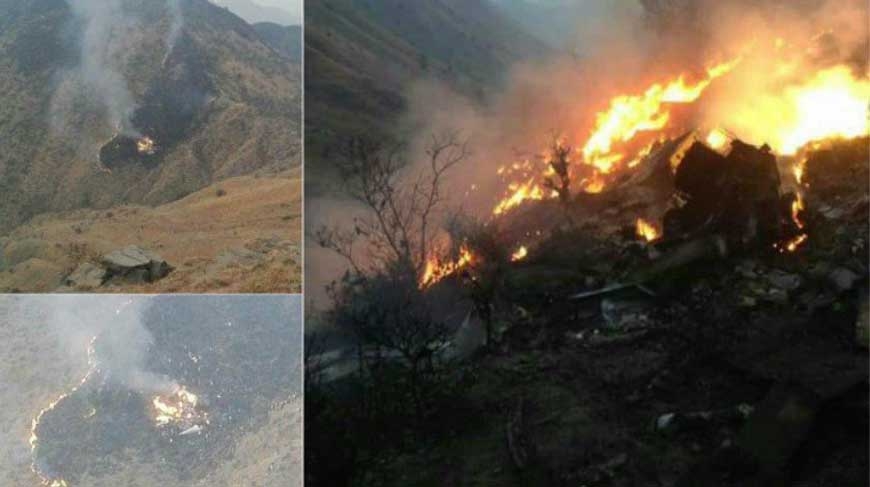 A Pakistan International Airlines plane PK 661 with 48 people on board, including a famous former pop singer Junaid Jamshed, crashed near Abbottabad, the place where one Osama was allegedly killed by Obama, in northern Pakistan on 07 December, government officials and the airline said. The flight, PK 661, was traveling to Islamabad, the capital, from Chitral, a northern hilly tourist destination near the Pakistan-Afghanistan border, when it crashed, said Saeed Wazir, the deputy inspector general of police in Abbottabad district.
Pakistan International Airlines, the national carrier, released a statement saying that 42 passengers, five crew members and one ground engineer were on the aircraft, an ATR-42 twin turboprop plane. The statement said the plane went down near the city of Havelian, in Abbottabad district.
The aircraft was an ATR-42 twin-engine propeller plane. The aircraft's manufacturer, ATR, is a joint venture between Airbus Group and Italy's Leonardo. There were three cockpit crew members aboard the flight: a captain, a first officer and a trainee pilot. It is not clear if the trainee pilot was flying at the time, according to a PIA official who did not want to be named. The airline's chairman said the captain had 12,000 hours of flying experience and was also a flight trainer for the ATR-42 plane.
The flight departed from Chitral around 15:30 local time (10:30 GMT) and was expected to land in Islamabad around 16:40. Rescue workers and people from nearby villages had to walk for an hour to reach the crash site. Al Jazeera's Kamal Hyder, reporting from Islamabad, said the pilot had sent a distress signal before the plane crashed. Local television news networks broadcast images of the smoldering debris of the aircraft, sprawled over a large hilly area, as dozens of people ran toward the wreckage.
At least 40 bodies were taken from the crash site on Wednesday night and brought to a hospital in Abbottabad. Recovery efforts continued, aided by hundreds of soldiers, but officials held out little hope that anyone would be found alive. "What locals from the crash scene are telling us, the passengers are all burned," Wazir said. "Smoke and fire are billowing from the debris. No one can go near it. People are helpless." In a telephone interview, the director general of the Civil Aviation Authority, Asim Suleiman, said that in the minutes before the crash, the plane's pilot radioed to air traffic controllers that the left engine had flamed out. "Two minutes later, he lost contact," Suleiman said.
The passengers included Junaid Jamshed, a popular recording artist who later turned to Islamic proselytizing. Jamshed was a heartthrob in his youth, performing lead vocals in the band Vital Signs, known for its brooding, romantic, catchy ballads. Jamshed rocketed to fame in Pakistan in the 1980s and 1990s as the singer for the Vital Signs pop band, , one of the most iconic pop bands in Pakistan.. He launched a solo career later with a string of chart-topping albums and hits. He gave up music in 2001 and announced that he was devoting his life to spreading Islam. The band's first pop music album, released in 1989, took the country by storm: The song "Dil Dil Pakistan" has become a sort of unofficial national anthem. Jamshed gave up pop stardom to focus on religious music, or Nasheeds, and became a televangelist. His last tweet, posted Sunday, showed pictures of "Heaven on Earth" in Chitral, the northern Pakistan city where the plane took off. Although he had stopped singing, he began reciting na'at, a type of poetry that praises the Prophet Muhammad (SAS), and started a successful retail clothing business. One of Jamshed's two wives was with him on the flight. Jamshed's family members said he had gone to Chitral a week ago on a proselytizing mission and had extended his stay by two days. A senior government official in Peshawar said three foreigners — one Australian, one Chinese and one Korean — were among the passengers.
Searchers have recovered the black box from the plane, Pakistan's military said. But the cause of the crash remains unclear. Saigol said international agencies will help investigate the cause of the crash.
All 48 people on board a Pakistani passenger plane, which crashed in the country's mountainous north, have died, the airline's chairman has confirmed. "There are no survivors, no one has survived," Muhammad Azam Saigol told a press conference, about five hours after the plane crashed near the town of Havelian, in Khyber-Pakhtunkhwa province.
Some relatives of those onboard have gathered at Islamabad airport but were getting very little information or assistance from authorities. Pakistan's Dawn News reported that 40 ambulances were dispatched from Islamabad and a helicopter will be used to put out the fire. It added that owing to darkness and the remoteness of the crash site, rescue efforts were proving to be very difficult.
Hospital officials said that the bodies were badly burned and it was very difficult to identify them. It was too early to ascertain the cause of the crash. Saigol said the ATR-42 aircraft had undergone regular maintenance and had in October passed an "A-check" certification, conducted after every 500 hours of flight operations. "I think that there was no technical error or human error … obviously there will be a proper investigation," he said.
"I was working in my shop when I heard the explosion. But it wasn't until 15 minutes later that we heard a plane had crashed," one Abbas said. "There was a lot of smoke when I got to the location and the wreckage of the plane was on fire. The first body we pulled out was badly burned. It was after that the rescue officials and the army got there. The area is very remote and it was getting quite dark, making rescue efforts very difficult."
Pakistan's last major air disaster was in 2015 when a Pakistani military helicopter crashed in a remote northern valley, killing eight people including the Norwegian, Philippine and Indonesian envoys and the wives of Malaysian and Indonesian envoys.
The ATR-42 that crashed was made in 2007 and had been flown for 18,740 hours, Saigol said. "The ATR plane was a sound plane," the chairman said. "We have 11 other ATRs. Every 500 hours, these planes are checked, and this plane had been last checked in October." The deadliest crash was in 2010, when an Airbus 321 operated by private airline Airblue and flying from Karachi crashed into hills outside Islamabad while about to land, killing all 152 on board.
The crash is again focusing attention on Pakistan's troubled air travel industry. For years, Pakistan International Airlines has been buffeted by controversies over mismanagement, corruption and safety. The two most recent major air crashes, however, involved private or local airlines. In 2012, a flight by Bhoja Air, a private carrier, crashed outside Islamabad, killing 127 people.
Pakistan, with about 190 million people, has thriving domestic air operations. But it has a checkered air safety history and suffered three fatal commercial air crashes in 2010 that claimed 185 lives, according to the Aviation Safety Network.
Wednesday's crash is the first major airliner accident in Pakistan since 2012 when a Bhoja Air Boeing 737-200 crashed in bad weather while on approach to Islamabad. The ATR-42 that crashed was made in 2007 and had been flown for 18,740 hours, Saigol said. "The ATR plane was a sound plane," the chairman said. "We have 11 other ATRs. Every 500 hours, these planes are checked, and this plane had been last checked in October." The deadliest crash was in 2010, when an Airbus 321 operated by private airline Airblue and flying from Karachi crashed into hills outside Islamabad while about to land, killing all 152 on board.
EU-Egypt relations: Investing in socio-economic development and inclusive growth
The EU and Egypt undertook closer cooperation in many areas, notably on socio-economic development, scientific research, energy, migration, countering terrorism and regional issues.
The report on the partnership between the EU and Egypt for the period from June 2017 to May 2018 was issued today and highlights key developments in EU-Egypt cooperation with a particular focus on achieving the objectives set under the Partnership Priorities 2017-2020, adopted during the EU-Egypt Association Council in July 2017.
High Representative/Vice-President Federica Mogherini said: "Egypt, its stability and development are key to the European Union, its Member States and the entire region. That is why we signed our partnership priorities last year and reinforced our already strong engagement with and for the Egyptian people. We are determined to continue our work, together, to address all the challenges we have to face, for the sake of our citizens."
Commissioner for European Neighbourhood Policy and Enlargement Negotiations Johannes Hahn added: "In the last year we stepped up our action to support Egypt reforming its economy, working for a sustainable and inclusive growth. For the EU it is imperative that the young generation, women and the most vulnerable members of the society are included in this process. The EU will continue to support Egypt tackling socio-economic challenges and will keep working together for the stability and prosperity of the region."
During the reporting period, the EU's commitment vis-à-vis Egypt was reaffirmed through regular political dialogues, bilateral visits by the EU and Egyptian sides and continued implementation of the EU's financial assistance.
Egypt also continued to engage as regional player on key regional and international issues, notably in the perspective of its African Union presidency next year, such as the Middle East Peace Process, Syria, Libya, Africa, the situation in Gulf and the Euro-Mediterranean cooperation.
Overall, the conclusions of the report show that the implementation of priority areas is well on track, with notable challenges remaining in particular in the field of the rule of law, human rights, fundamental freedoms and space for civil society. The next EU-Egypt Association Council that will be held in Brussels on 20 December will be the occasion to further discuss the EU-Egypt partnership for the months ahead.
More details
The overall EU financial assistance commitments to Egypt amount to over €1,3 billion in grants. This amount mainly targets social development and jobs creation, infrastructure, renewable energy, water and sanitation/waste management, environment, but it also supports the improvement of governance, human rights, justice and public administration reform in Egypt.
Through the multiannual programme Facility for Inclusive Growth and Job Creation the EU supports the business enabling environment and promote economic reforms in favour of enterprises, including easier access to finance for small and medium-sized enterprises. The EU is also promoting labour- intensive community services and public works as an effective and well-targeted social safety net. Via the EU programme Emergency Employment Investment Project (EEIP) completed in January 2018, more than 50,000 young people, many of them women, have acquired new skills and been given access to jobs. Nearly 10,000 of them have received specific support to get permanent jobs or start their own business.
A number of high-level visits and meetings contributed to enhance the partnership between the EU and Egypt in 2017-2018 and to discuss regional and international issues of concern. Those include meetings between Egyptian President Abdelfattah Al-Sisi and the President of the European Council Donald Tusk in September 2017; High Representative/Vice-President Federica Mogherini's meetings with the Egyptian Foreign Minister Shoukry in the margins of various international forums; the visit of Commissioner for the European Neighbourhood Policy and Enlargement Negotiations, Johannes Hahn, in October 2017, to reaffirm EU's support to Egypt's migration management inside and outside its borders with the signature of a €60 million programme under the EU Emergency Trust Fund for Africa; the visit of Commissioner for Climate Action and Energy, Miguel Arias Cañete, in April 2018 during which he signed a new Memorandum of Understanding on energy cooperation; and the launch by Commissioner for Migration, Home Affairs and Citizenship, Dimitris Avramopoulos, in December 2017 of the EU-Egypt Migration Dialogue, aimed at improving bilateral cooperation and discussions on the overall topic of migration.
A further step in EU-Egypt cooperation includes the signing of an agreement on scientific and technological cooperation for Egypt's participation in the Partnership for Research and Innovation in the Mediterranean Area (PRIMA) in October 2017.
70 years on, landmark UN human rights document as important as ever
The Universal Declaration of Human Rights reaches its 70th anniversary on Monday, a chance to highlight the many important breakthroughs brought about by the landmark UN document, and to remind the world that the human rights of millions are still being violated on a daily basis.
Thanks to the Declaration, and States' commitments to its principles, the dignity of millions has been uplifted, untold human suffering prevented and the foundations for a most just world have been laid.
High Commissioner hails continued relevance of Declaration
Michelle Bachelet, the UN High Commissioner for Human Rights, said in a statement released on Wednesday that the document has gone from being an "aspirational treatise" to a set of standards that has "permeated virtually every area of international law."
The Declaration has shown itself to be as relevant today, as it has always been, and is applicable to situations and scenarios that could not have been foreseen at its inception, such as the need to govern artificial intelligence and the digital world, and to counter the effects of climate change on people.
Ms. Bachelet said the she remains convinced that the human rights ideal, laid down in the Declaration, has been one of the most constructive advances of ideas in human history, as well as one of the most successful.
The human rights chief pointed out that women played a prominent role in drafting the document: Eleanor Roosevelt chaired the drafting committee, and women from Denmark, Pakistan, the Communist bloc and other countries around the world also made crucial contributions. Consequently, the document is, for its time, remarkably free from sexist language, almost always referring to "everyone," "all" or "no one" throughout its 30 Articles.
Human rights violations perpetrated 'on a daily basis'
Celebrating the resilience of the human rights system, and the contributions of the Declaration to advancing human progress, peace and development, a team of independent experts appointed by the UN Human Rights Council, in a statement published on Friday, echoed Ms. Bachelet's comments, noting that the "protection provided by the international human rights system has increased including by addressing new and emerging human rights issues and demonstrating its capacity to evolve and respond to people's needs and expectations."
However, the experts detailed some of the many violations of international law and human dignity that are perpetrated on a daily basis in many countries: "Recent memory is replete with multiple examples of genocide, war crimes and crimes against humanity. Impunity reigns supreme in many countries undergoing conflicts or political upheavals, encouraged by narrow national objectives, geopolitics and political impasse at the United Nations Security Council."
They also said that the upsurge of nationalism and xenophobia seen in countries of asylum, at a time of rising forced-migration, is "reversing the gains of international humanitarian cooperation of the last 70 years."
This year is the 70th anniversary of the Universal Declaration of Human Rights, adopted by the UN on 10 December 1948. The Universal Declaration – translated into a world record 500 languages – is rooted in the principle that "all human beings are born free and equal in dignity and rights." It remains relevant to everyone, every day.
In honour of the 70th anniversary of this extraordinarily influential document, and to prevent its vital principles from being eroded, the UN is urging people everywhere to "Stand Up for Human Rights": www.standup4humanrights.org.
Preparing teachers for the future we want
At its annual meeting in Montego Bay, Jamaica, from 5-9 November, the International Task Force on Teachers for Education 2030 adopted a declaration focused on ensuring that teacher issues stay at the centre of the global education agenda.
Through this declaration, the Teacher Task Force reinforces its vision that at the heart of the right to education is a highly valued, qualified, and well-trained teaching profession. It therefore recommends that:
International partners should intensify efforts to develop robust definitions and classifications of qualified and trained teachers and strengthen cooperation and reporting mechanisms to ensure full monitoring of Sustainable Development Goal target 4c.
Governments should ensure adequate financing for all public goods, including the teacher workforce, and this should be achieved primarily through domestic resource mobilization based on socially just fiscal policies, rigorous measures against corruption and illegal financial flows, efficient and effective teacher policies and deployment practices, developed with the full involvement of teachers and their organisations, and continued focus on external resource mobilization to complement domestic resources for countries.
Moreover, the dual focus of the Education 2030 agenda on equity and learning puts teachers at the heart of policy responses that should foster equal participation and learning globally. Teachers can be an impactful equalizing force to overcome unequal life chances from birth. The massive recruitment of new teachers, particularly in least develop countries, with little or no training is a real cause for concern.
The Teacher Task Force also expressed its concern over the fact that teacher education has not kept pace with preparing new teachers to face the rapid changes in globalization, migration, demographic change, and technological advances that will mark the future of education.
Furthermore, teacher education in this increasing complex world must be forward-looking and prepare teachers who are continuous learners themselves. It must enable teachers to think about the kind of education that is meaningful and relevant to young people's needs in the different 21st century's learning environment.
The Teacher Task Force acknowledges the ever-growing importance of Information and Communication Technologies in education. However, technology should be treated as a supportive tool for teachers and not a replacement. Teacher education should therefore empower teachers to use technologies to support learning within a holistic and human-centred educational framework.
The Teacher Task Force also called attention to the fact that teacher education needs to be seen as career-long education and special attention should be paid to the nature of teachers' professional development, competency frameworks, curriculum development and professional learning communities/communities of practice. As teaching is a knowledge-based profession, teachers and trainers should be supported to continually update their knowledge base.
Through this declaration, the Teacher Task Force advocates for a teacher education that allows teachers to prepare learners to manage change and to be able to shape a just and equitable future, leaving no one behind.
This declaration reflects UNESCO's belief that the right to education cannot be fulfilled without trained and qualified teachers. Teachers are one of the most influential factors to the improvement of learning outcomes and UNESCO has for long been an advocate of better training for teachers to ensure inclusive and quality education for all.
UNESCO, which is one of the founding members of the International Task Force on Teachers for Education 2030, has supported its work since its creation in 2008 and hosts the Teacher Task Force Secretariat.