Pakistani international plane crashes with 48 on board, pop singer among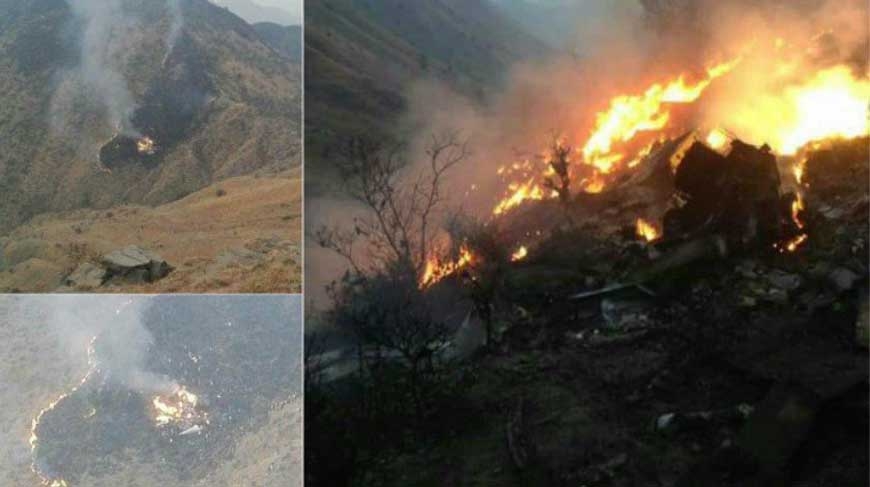 A Pakistan International Airlines plane PK 661 with 48 people on board, including a famous former pop singer Junaid Jamshed, crashed near Abbottabad, the place where one Osama was allegedly killed by Obama, in northern Pakistan on 07 December, government officials and the airline said. The flight, PK 661, was traveling to Islamabad, the capital, from Chitral, a northern hilly tourist destination near the Pakistan-Afghanistan border, when it crashed, said Saeed Wazir, the deputy inspector general of police in Abbottabad district.
Pakistan International Airlines, the national carrier, released a statement saying that 42 passengers, five crew members and one ground engineer were on the aircraft, an ATR-42 twin turboprop plane. The statement said the plane went down near the city of Havelian, in Abbottabad district.
The aircraft was an ATR-42 twin-engine propeller plane. The aircraft's manufacturer, ATR, is a joint venture between Airbus Group and Italy's Leonardo. There were three cockpit crew members aboard the flight: a captain, a first officer and a trainee pilot. It is not clear if the trainee pilot was flying at the time, according to a PIA official who did not want to be named. The airline's chairman said the captain had 12,000 hours of flying experience and was also a flight trainer for the ATR-42 plane.
The flight departed from Chitral around 15:30 local time (10:30 GMT) and was expected to land in Islamabad around 16:40. Rescue workers and people from nearby villages had to walk for an hour to reach the crash site. Al Jazeera's Kamal Hyder, reporting from Islamabad, said the pilot had sent a distress signal before the plane crashed. Local television news networks broadcast images of the smoldering debris of the aircraft, sprawled over a large hilly area, as dozens of people ran toward the wreckage.
At least 40 bodies were taken from the crash site on Wednesday night and brought to a hospital in Abbottabad. Recovery efforts continued, aided by hundreds of soldiers, but officials held out little hope that anyone would be found alive. "What locals from the crash scene are telling us, the passengers are all burned," Wazir said. "Smoke and fire are billowing from the debris. No one can go near it. People are helpless." In a telephone interview, the director general of the Civil Aviation Authority, Asim Suleiman, said that in the minutes before the crash, the plane's pilot radioed to air traffic controllers that the left engine had flamed out. "Two minutes later, he lost contact," Suleiman said.
The passengers included Junaid Jamshed, a popular recording artist who later turned to Islamic proselytizing. Jamshed was a heartthrob in his youth, performing lead vocals in the band Vital Signs, known for its brooding, romantic, catchy ballads. Jamshed rocketed to fame in Pakistan in the 1980s and 1990s as the singer for the Vital Signs pop band, , one of the most iconic pop bands in Pakistan.. He launched a solo career later with a string of chart-topping albums and hits. He gave up music in 2001 and announced that he was devoting his life to spreading Islam. The band's first pop music album, released in 1989, took the country by storm: The song "Dil Dil Pakistan" has become a sort of unofficial national anthem. Jamshed gave up pop stardom to focus on religious music, or Nasheeds, and became a televangelist. His last tweet, posted Sunday, showed pictures of "Heaven on Earth" in Chitral, the northern Pakistan city where the plane took off. Although he had stopped singing, he began reciting na'at, a type of poetry that praises the Prophet Muhammad (SAS), and started a successful retail clothing business. One of Jamshed's two wives was with him on the flight. Jamshed's family members said he had gone to Chitral a week ago on a proselytizing mission and had extended his stay by two days. A senior government official in Peshawar said three foreigners — one Australian, one Chinese and one Korean — were among the passengers.
Searchers have recovered the black box from the plane, Pakistan's military said. But the cause of the crash remains unclear. Saigol said international agencies will help investigate the cause of the crash.
All 48 people on board a Pakistani passenger plane, which crashed in the country's mountainous north, have died, the airline's chairman has confirmed. "There are no survivors, no one has survived," Muhammad Azam Saigol told a press conference, about five hours after the plane crashed near the town of Havelian, in Khyber-Pakhtunkhwa province.
Some relatives of those onboard have gathered at Islamabad airport but were getting very little information or assistance from authorities. Pakistan's Dawn News reported that 40 ambulances were dispatched from Islamabad and a helicopter will be used to put out the fire. It added that owing to darkness and the remoteness of the crash site, rescue efforts were proving to be very difficult.
Hospital officials said that the bodies were badly burned and it was very difficult to identify them. It was too early to ascertain the cause of the crash. Saigol said the ATR-42 aircraft had undergone regular maintenance and had in October passed an "A-check" certification, conducted after every 500 hours of flight operations. "I think that there was no technical error or human error … obviously there will be a proper investigation," he said.
"I was working in my shop when I heard the explosion. But it wasn't until 15 minutes later that we heard a plane had crashed," one Abbas said. "There was a lot of smoke when I got to the location and the wreckage of the plane was on fire. The first body we pulled out was badly burned. It was after that the rescue officials and the army got there. The area is very remote and it was getting quite dark, making rescue efforts very difficult."
Pakistan's last major air disaster was in 2015 when a Pakistani military helicopter crashed in a remote northern valley, killing eight people including the Norwegian, Philippine and Indonesian envoys and the wives of Malaysian and Indonesian envoys.
The ATR-42 that crashed was made in 2007 and had been flown for 18,740 hours, Saigol said. "The ATR plane was a sound plane," the chairman said. "We have 11 other ATRs. Every 500 hours, these planes are checked, and this plane had been last checked in October." The deadliest crash was in 2010, when an Airbus 321 operated by private airline Airblue and flying from Karachi crashed into hills outside Islamabad while about to land, killing all 152 on board.
The crash is again focusing attention on Pakistan's troubled air travel industry. For years, Pakistan International Airlines has been buffeted by controversies over mismanagement, corruption and safety. The two most recent major air crashes, however, involved private or local airlines. In 2012, a flight by Bhoja Air, a private carrier, crashed outside Islamabad, killing 127 people.
Pakistan, with about 190 million people, has thriving domestic air operations. But it has a checkered air safety history and suffered three fatal commercial air crashes in 2010 that claimed 185 lives, according to the Aviation Safety Network.
Wednesday's crash is the first major airliner accident in Pakistan since 2012 when a Bhoja Air Boeing 737-200 crashed in bad weather while on approach to Islamabad. The ATR-42 that crashed was made in 2007 and had been flown for 18,740 hours, Saigol said. "The ATR plane was a sound plane," the chairman said. "We have 11 other ATRs. Every 500 hours, these planes are checked, and this plane had been last checked in October." The deadliest crash was in 2010, when an Airbus 321 operated by private airline Airblue and flying from Karachi crashed into hills outside Islamabad while about to land, killing all 152 on board.
PES Europe Ministers call for a European Budget that rises to the challenge
Europe needs ambitious short- and long-term planning, the Ministers of European Affairs from the PES agreed today during their discussion of the European budget for 2021-2027.
The chair of the network, German Minister for Europe Michael Roth, called for a European budget that promotes social wellbeing, innovation and sustainability across Europe.
Roth said:"The fundamental role of the European budget is to ensure cohesion, convergence and growth. It is the main tool Europe has to invest in the future, to bring countries closer together, and to make sure our children and grandchildren have a good life. When negotiating the European Budget both the short and long term must be kept in mind. Our ambition today, shapes the Europe of tomorrow. I want a bright Europe for tomorrow."
The Ministers continued their discussion on the state of the rule of law in Europe.
Roth added:"Democracy and the rule of law cannot be interpreted freely. All Member States have to abide to the same clear set of rules. We will continue keeping a close eye on the issue. And we will continue supporting the great work that the EU Commission's First Vice President Frans Timmermans is carrying out."
The meeting was attended by:
Michael Roth, Minister of State for Europe, Chair, Germany
Helena Dalli, Minister for European Affairs and Equality, Malta
Ana Paula Zacarias, Secretary of State for European Affairs, Portugal
Hans Dahlgren, Minister for EU Affairs, Sweden
Frans Timmermans, First Vice President of the European Commission, European Commission
George Katrougalos, Foreign Affairs Ministers, Greece (observer)
Maria Joao Rodrigues, Vice President of the S&D Group, chair of the PES FEN Network, European Parliament
Javier Moreno, Secretary General of the S&D Group, European Parliament
Migration and asylum: EU funds to promote integration and protect borders
MEPs backed on Tuesday increasing the EU budget for migration and asylum policies and to reinforce borders.
The Civil Liberties Committee endorsed the renewed Asylum, Migration and Integration Fund (AMIF), the 2021-2027 budget of which will increase up to €9.2 billion (€10.41 billion in current prices, 51% more than in the previous financial framework). It also backed the creation of a new Integrated Border Management Fund (IBMF) and agreed to allocate €7.1 billion (€8 billion in current prices) to it.
The AMIF should contribute to strengthen the common asylum policy, develop legal migration, in line with the member states' economic and social needs, contribute to countering irregular migration and ensure effective, safe and dignified return, readmission and reintegration in non-EU countries.
But it should also ensure "solidarity and fair sharing of responsibility between the member states, in particular towards those most affected by migration challenges, including through practical cooperation", MEPs state.
MEPs also want to make sure that funds can be allocated to local and regional authorities, and to international and non‑governmental organisations, working in the field of asylum and migration.
Integrated Border Management Fund to secure EU's external borders
IBMF will provide funding to build and enhance member states' capacities in border management and visa policy. The funding dedicated to member states (60 % of the total envelope) will reflect their needs and take into account additional pressures. Furthermore, a new EU thematic facility (40% of the total envelope) will ensure flexibility to channel emergency funding to member states and EU-level projects when urgent action is needed.
MEPs also added safeguards to ensure that actions and measures funded through the Instrument comply with the EU's fundamental rights obligations, in particular with the principles of non-discrimination and non-refoulement.
Both funds will operate in full synergy. They will also work closely with the reinforced Internal Security Fund (ISF) focusing on tackling terrorism, organised crime and cybercrime.
Next steps
The draft proposal on the renewed AMIF passed with 31 votes to 23 and 1 abstention. The new IBMF was backed by 41 MEPs, 9 voted against and 2 abstained. The full House will have to confirm its position in the first March plenary, ahead of the negotiations with the Council of the EU.
Trade negotiations with US can start under certain conditions
The Trade Committee on Tuesday endorsed the mandate to start limited EU-US trade talks, but set conditions on the conclusion of a deal.
Starting talks is in the interest of European citizens and companies, as it would ease current tensions in EU-US trade relations, brought about by the US administration's actions, said International Trade Committee MEPs in the report adopted by 21 votes to 17, with one abstention.
They nevertheless note that the conclusion of a trade agreement based on the current negotiating mandate can only be successful if the following conditions are met:
the US must lift tariffs on aluminium and steel;
a comprehensive consultation process with civil society and a sustainability impact assessment are carried out;
the EU insists on including cars and car tariffs in the talks, and on excluding agriculture;
talks will be suspended if the US levies another tariff;
more clarity on how rules of origin (which lock in how much of the value of a product must be created locally for trade preferences) are handled during the talks.
Background
The European Commission submitted its draft negotiating mandates to the Council for approval on 18 January. The mandates will authorise the Commission to negotiate with the US on eliminating tariffs on industrial goods and on harmonising conformity assessment.
Next steps
Parliament will vote on its stance on the mandates in March. EU Council of Ministers is expected to adopt the draft negotiating mandates in the same month. The Commission will start negotiations on the basis of the final mandate.