Trump, change and the new level of militarization in the South Caucasus
[yt_dropcap type="square" font="" size="14″ color="#000″ background="#fff" ] A [/yt_dropcap] fter Donald J. Trump has become a president-elect of the United States of America there has been an ongoing debate about largely anything connected to that fact and not least about the President's vision of the U.S. foreign policy. While there is no lack of arguments from different experts, most of them agree that the change is coming to that particular area of the functioning of the state.
The differences in opinions expressed usually cover details of what may actually change. Max Boot even argues in his recent article that Mr. Trump's foreign policy might not be that different from that of Mr. Obama's by nature, however quite different in style. If Obama wanted to withdraw from the world very carefully, Trump may not be so subtle and gentle to the existing order and that may lead to the post-American age sooner than later.
True enough also for the South Caucasus, where eight years of the Obama administration have brought a clear sense of withdrawal of the U.S. from the region both in terms of its geopolitical influence and its general presence as a global power. Today, countries of the region, as well as the vast majority of other states in the world are trying to evaluate the consequences of the recent U.S. elections and predict what that would mean for the policy of the U.S. towards their small but very strategically located region, surrounded by bigger states such as Russia, Iran and Turkey.
As the U.S. presidential transition period is progressing, the states of the South Caucasus are watching and analyzing the transition through the prism of their own interests. A recent announcement of the Ambassador of the United States and Co-Chair of the Minsk Group of OSCE James Warlick on his Twitter account that he would be stepping down from his position and leaving the State Department has made all the regional news' headlines in the South Caucasus. This news generated a lot of interest due to the fact that James Warlick is an American representative in the Minsk Group that is charged with the meditation and resolution of the Nagorno-Karabakh conflict between Armenia and Azerbaijan with two other Co-Chairs from France and Russia. Moreover, at the same time news hit that Ambassador Warlick will join the Egorov Puginsky Afanasiev & Partners law firm. He himself described this company as "…Russia's largest and most prestigious law firm" in a tweet, that he apparently later deleted.
Egorov Puginsky Afanasiev & Partners law firm (or EPA&P) has been established in 1993 with offices in Moscow, St. Petersburg and associated office in London. It specializes in representation of foreign companies in Russia and Russian companies abroad. Reportedly it is also quite connected to the Russian government and businesses. The soon-to-be-former U.S. diplomat is planning to join this law firm as a partner.
Ambassador Warlick has taken the position of the Co-Chair of the Minsk Group in September 2013 and will remain in this position until the end of this year. His appointment was made during the second term of the Obama administration and if the position he is going to take after should be viewed as any indicator, the attitude of Obama's foreign policy advisors towards the main security threat in the South Caucasus becomes quite clear.
Nagorno-Karabakh conflict has reaffirmed its position as the main security threat in the South Caucasus region after the recent escalation in April 2016. That escalation led to both the short-lived re-intensification of negotiations process in this conflict and the arms race between Armenia and Azerbaijan reaching new levels with Armenia having demonstrated that it acquired 9K720 "Iskander" (known in NATO terminology as SS-26 Stone) mobile short-range ballistic missile systems from Russia in September 2016. The acquisition of such sophisticated and modern weaponry by one of the sides of this unstable conflict brings on the pressure to the other side to keep up and procure equal capabilities both in terms of offense and defense. 9K720 are capable of a very accurate targeting on the distance of up to 500 km (approx. 311 miles). In comparison, the distance between capitals of Armenia and Azerbaijan is around 400 km.
Acquisition of missile systems by Armenia followed the aforementioned re-intensification of negotiations. This dynamics in negotiation process have been very visible during the summer and then gradually went down right after Armenia have demonstrated the systems in the beginning of fall. Another feature of the said summer was the crisis that Yerevan have lived through with hostage situation and "Sasna Tsrer" terrorist group. The pattern clearly indicates that there was a possibility of the processes around Nagorno-Karabakh conflict to develop in more peaceful way. Instead, Armenia chose to move on with show of strength and incite even more serious arms race, simultaneously backing off in negotiations.
Hence, after the two consecutive terms of the Obama administration, the peak year of 2016 resulted in both the unprecedented military escalation and gradually new levels of arms race in the South Caucasus – a general outcome of a foreign policy that aims at withdrawing from the world and pivoting towards isolationism. If Trump's administration is to continue within the same general direction in the U.S. foreign policy, it is quite possible that the processes of militarization and intensification of the hostilities in the region will pick up a new pace with the more aggressive withdrawal policies of the new administration. The South Caucasus may see post-American era much sooner than many other regions in the world.
This may be very harmful to the U.S. interests due to the fact that South Caucasus is seen as a region that plays an important part in energy security of Europe that is provided by Azerbaijan via Georgia and Turkey. The instability that could be brought by the militarization and hostilities in the region may harm this important energy security framework. In this context the region awaits the appointment of a new Secretary of State in Trump's administration and that of a new U.S. Co-Chair of the Minsk Group as to indicate how things are likely to develop for the region.
The election of Mr. Trump as the next President of the U.S. has truly brought a lot of change. There is a chance that if Mr. Trump appoints such people to the aforementioned positions that will be quite aware of risk factors for South Caucasus and will be able to adopt a realistic view on current processes and in retrospective, the described dangerous trend can be stopped or even reversed. The negative stance of Mr. Trump on lobbying organizations is another factor that may prevent the Armenian-American lobby from intervening into U.S. foreign policy shaping process. So change may turn out good after all.
"Ukrainian Spring" Zelensky style
The spring of 2019 may someday go down in the history of Ukraine as a time when Ukrainians experienced what could be described as a period of a "psychological thaw." No matter who may be saying what about his or her "sixth sense," or all sorts of quasi-scientific analyzes, hardly anyone either in Ukraine or elsewhere in the world could imagine the country's top job ending up in the hands of a buffoon! The main hopeful was Yulia Tymoshenko, followed by Yuriy Boyko, with Petro Poroshenko trailing far behind in fifth place. Volodymyr Zelensky was just a virtual candidate, one who could only be voted for "just for fun," as young people use to say these days.
How come? Tymoshenko had her electoral victory stolen by Poroshenko, who was still president then. Even funnier, he actually handed that pilfered victory to an absolute outsider, and long before the first round of elections to boot. That is why ordinary people turned away from the traditional candidates and voted for Zelensky in protest against the oligarchic president's disregard for the rule of law and the very lives of his people. This is what lies on the surface though, but there have been much deeper changes going on in Ukrainian society than what just meets the eye.
What happened in the spring of 2019 actually ushered in a whole new era! By this I certainly do not mean the end of the "Poroshenko era" and the advent of the "Zelensky era." Too much credit for both of them! Small wonder, that the new president feels so ill at ease in his newly-acquired job. Quoting William Shakespeare, "Uneasy lies the head that wears a crown."
I have heard a lot of enthusiastic praises sung to the new Ukrainian president, as well as his absolutely wrong and manipulative comparisons with the Russian president by ordinary and not so ordinary people here in Russia. It won't be long, however, before all this enthusiasm is replaced by disillusionment once President Zelensky's first 100 days in office are over and his popularity both in and outside Ukraine has waned. My question is whether his enthusiastic supporters in Russia are ready to publicly admit their mistake.
Let's get back to the whole new era that made its entrance in the spring of 2019. In fact, Poroshenko's departure and Zelensky's election signal the start of a new era, when the old generation politicians step down making way for new, younger ones. That this transition occurred without another Maidan does not attest to its evolutionary nature though. On the contrary, there have been more than revolutionary changes going on in Ukraine, and this primarily concerns the consciousness of the Ukrainian people. Indeed, Zelensky's inaugural speech fully answered the aspirations of three-thirds of his compatriots, because it was exactly what they wanted to hear from their newly-elected president. Moreover, an analysis of posts in social networks revealed another very interesting phenomenon: all of a sudden, the generation of forty-year-olds began to seriously consider the possibility of participating in the workings of the country they live in, not for the purpose of personal enrichment or satisfaction of their own ambitions, but for a chance to work for the benefit of all.
So what, you might ask: a generation change is something every country goes through. What is the "trick" behind Zelensky's election? Well, the "trick" is that people hope that there will be no relatives of Poroshenko, Tymoshenko, Yanukovych or any other well-known politician and official among the new generation of managers; that all these newcomers will be self-made people. People are fed up with the powers-that-be where corrupt and thievish dads hand their posts over to their equally corrupt and thievish offspring. This is the main reason for the choice Ukrainian voters made in March and April. I do not deny the effectiveness of political technologies or the veracity of conspiracy theories, of course. I'm just trying to explain why people voted for Zelensky and what they hoped for. Take a look at the so-called "ZE-Team." Yes, many of them are "childhood friends," "partners," someone's "protégés," etc. But there are also people with scientific degrees and excellent professional reputations, not someone's children, but people who have achieved something with their brains. This is the only thing that inspires a cautious hope for a generally positive trend now emerging in Ukrainian society.
What will happen next? Well, there will be disappointment. War, economy and diplomacy will most likely continue to weigh down the new government. Moreover, the period of universal admiration of Ukraine by the collective West will prove rather short-lived and will make way for indifference, irritation or even hostility, which could ultimately force Kiev to gravitate away from its present geopolitical course. The life of ordinary people will not become any better either. The big question, however, is the impact that the advent of a young productive class will have on the state of affairs inside Ukraine. Will today's sixty-year-old elites wish to turn to the emerging generation of forty-year-old leaders? What I would like to know, however, is the name of the country these sixty-year-old elites actually live in…
From our partner International Affairs
Armenia's position blurred the progress for the Nagorno-Karabakh conflict and leads to an escalation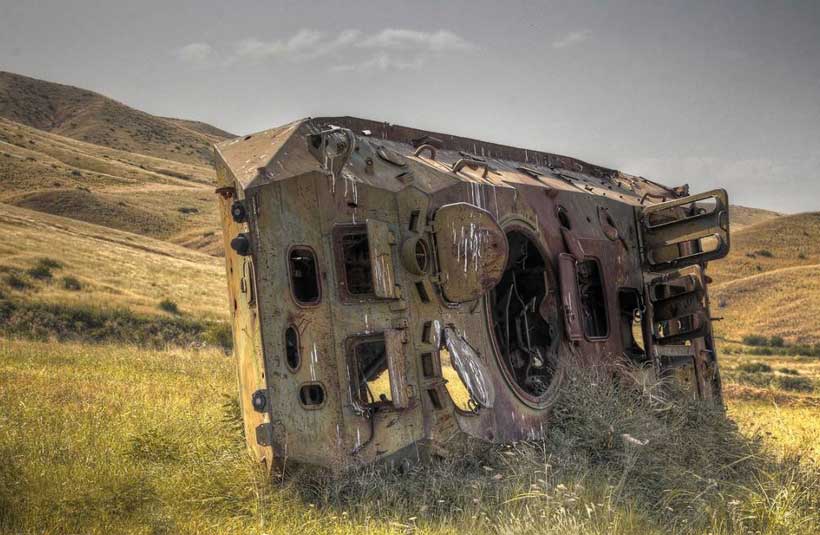 The conflict between two South Caucasus countries – Armenia and Azerbaijan over the Nagorno-Karabakh became as one of the bloodiest and long-lasting conflicts contributing to instability in the region. After a ceasefire agreement signed in 1994 halting the armed skirmishes in the Nagorno-Karabakh conflict zone, Armenia and Azerbaijan pursued, albeit a fragile, diplomatic negotiations to reach a peaceful end to this bloody conflict.
However, peace talks between Armenia and Azerbaijan mediated by the OSCE Minsk Group co-chairing countries (namely the US, France and Russia) have been lasting for decades without any tangible results to achieve total peace. The current status-quo in the conflict zone was mainly favored by Armenian leadership until today in order to continue illegal activities in the occupied territories and seek for legitimacy for its occupation policy. However, four-day April 2016 fights demonstrated once again that status quo in the Nagorno-Karabakh conflict zone is very indeed dangerous.
All these developments clearly show that the status quo in the conflict zone should be changed as soon as possible, because such situation cannot be kept "frozen" any more. Any tangible result on the conflict resolution requires, first of all, Armenia to take finally result-oriented actions in order to achieve peace and prosperity in the region.
Following the government change in Armenia in 2018 with the fall of the government of Serzh Sargsyan composed of so-called "Karabakh clan" and take-over of ruling by Nikol Pashinyan (as a new Prime Minister) through mass protests against corruption and cronyism in Armenia, there was hope that the new government in Yerevan would change the situation and choose peace instead of sticking to the previous government's policy of occupation.
The first high-level meeting (since the velvet revolution in Armenia) between Azerbaijan and Armenian foreign ministers took place on 11 July 2018 in Brussels with the mediation of the OSCE Minsk Group Co-Chairs. Actually, in the first meeting the Ministers discussed the certain parameters for re-engaging in substantive negotiations and vowed to take confidence-building measures. These meetings were conducted regularly until and after the first official meeting of head of states of Azerbaijan and Armenia in Vienna in 2019.
The first official meeting between Azerbaijan's President Ilham Aliyev and Armenia's Prime Minister Nikol Pashinyan was held on 29 March 2019 in Vienna. In an interview to the Russian TASS news agency President Ilham Aliyev noted "we have discussed the issues related to strengthening trust measures during contacts between people and the negotiating process should be supported by humanitarian measures". President Aliyev also emphasized that "it is of huge importance that the format of talks remained unchanged and only Armenia and Azerbaijan discuss their problems as it was many years before".
Prime Minister Pashinyan also regarded "the meeting as positive", but he ruled out "that there has been a breakthrough in the negotiation process, or an evolution".
Unfortunately, despite all aforementioned talks and positive thoughts, Pashinyan changed his position and started to support the previous Armenian policies on the conflict. Later, he even said that he will not engage in any discussions of "land for peace". Pashinyan also demands that the format of negotiations should be expanded from the current bilateral format to include officials from the separatist regime (so-called "Nagorno-Karabakh Republic") established in the occupied territories of Azerbaijan. It is very obvious that Pashinyan's that proposal aims to maneuver in the negotiations or to preserve the status-quo in the conflict zone. Whereas, it seems unacceptable for Azerbaijan when Azerbaijani population of Nagorno-Karabakh region, which were forced to leave their homes and became refugees, are not considered in this regard.
The process clearly illustrates that new Armenian government is not ready for compromise to reach a peace with Azerbaijan. Instead of constructive engagement, they opted for sticking to hate speech. For instance, during the UEFA Europa League Final in Baku (29 May 2019) Arsenal's player Henrikh Mkhitaryan (of Armenian origin) refused to visit Baku despite all high security guarantee promised by Azerbaijani government. His choice was regarded as being part of a "dirty" political game instead of playing football. Nikol Pashinyan even hailed his position in his twitter feed. Whereas, until now, many Armenian athletes participated at the Baku 2015 European Games, and many others at the international events hosted by Azerbaijan, and there were no threats and incidents for them.
In general, sportsmen may have a very positive role in conflict and hate situations. For instance, according to researchers from Stanford University, Liverpool's Egyptian football striker Mo Salah effect is having an impact beyond the stadium walls, who found a drop in hate crimes around Liverpool since Salah signed with the club in June 2017. Mo Salah often celebrates goals by dropping to his knees and touching his forehead to the grass in the sujood (an Islamic prayer position), while Liverpool fans have a chant that goes: "If he scores another few, then I'll be Muslim, too". Henrikh Mkhitaryan with arrival to Baku could also use this opportunity to convey a peace message to other Armenians.
The short-term environment of peace was deteriorated by another provocation by Armenia against Azerbaijan. On 30 May 2019, during the OSCE Minsk Group co-chairs' visit to Azerbaijan, Azerbaijani officer was killed by an Armenian sniper shot. On 9 June 2019 another Azerbaijani soldier was killed by the Armenian side, and Armenian Defense Minister awarded that who executed the Azerbaijani servicemen. These military incidents were followed by proportional casualties in Armenians' side as well. Moreover, on June 12, 2019, Azerbaijan's trainer plane has been detected and targeted by Armenian anti-aircraft missile system at the frontline (on Fizuli direction), but no incident was registered.
All aforementioned facts confirm that Armenian new government sticks to old mechanism, and all attempts to change the format of negotiations to present de-facto Nagorno-Karabakh as an independent party are just a maneuver to maintain the status-quo in the conflict. It is necessary to consider that, the conflict hitherto causes violence and human suffering for both nations, and without tangible results, further civil and military causalities will be from both sides. Both Armenian and Azerbaijan people suffered enough from this bloody conflict, and it is very time to achieve a peace in the region. As the Armenian journalist, social activist Susan Jaghinyan emphasized – "Sargsyan and Kocharyan destroy[ed] the people, if they continue[d] their rule, the Armenian people [would] not exist in the future". After Velvet Revolution, Armenian people managed to change a regime, and now Armenian new government has all chances to prepare its population for peace and benefit from the regional economic cooperation. As soon as the Nagorno-Karabakh conflict resolves, the Armenian people will be able to benefit from the opportunities of the current regional economic cooperation of Azerbaijan with other partners.
Armenia-Iran: Good neighbourly relations absolute necessity
Some experts believe that Iran's cooperation with Armenia could become costly for the latter owing to the ever increasing hostility demonstrated by US President Donald Trump towards the Islamic Republic of Iran. They predict that American sanctions and extensive pressure on Iran could throw Armenia into a kind of blockade.
What comes to mind in connection with this is the words that are thought to have been said by Napoleon Bonaparte: geography is destiny. Even though it could not always be the case but it definitely is with the Caucasus. There are few if any regions whose military, strategic and economic significance would combine with unprecedented ethno-religious diversity on a fairly small territory with historically conditioned disputable issues. This naturally creates all the conditions for an atmosphere of permanent tension which over the last two centuries has repeatedly exploded in armed conflicts and wars.
In the 21st century, the situation in the Caucasus is formed by a most sophisticated political gamut of bilateral and multilateral relations among three former Soviet republics of Transcaucasus – Azerbaijan, Armenia and Georgia, and also, not in the last place, by the Caucasian states of Russia, Turkey and Iran. Besides, one should not forget about the military and political influence of non-regional countries, first of all, the United States, the European Union and Israel.
Undoubtedly, today we are witnessing the influence of multiple forces in different areas of Caucasian politics, and these forces are dragging Caucasian states into various alliances. Moreover, the regional policy of each of the South Caucasian states is determined by a variety of factors that spring from the specifics of bilateral and multilateral relations.
But we will not analyze the whole spectrum of complicated and entangled relations between groups of countries and within groups proper. We will focus on relations beween Iran and Armenia.
What is the role of Armenia, taking into account the US anti-Iran sanctions?
Iran is the largest multi-ethnic state in the Middle East. Present day Iran is home to more than 40 nationalities, each at a different level of socio-economic development. The multi-million population of Iran is ethnically related to the peoples of the Transcaucasus and Central Asia, the Middle East, and South Asia.
For centuries, Iran has been maintaining close economic and cultural ties with the peoples of the Transcaucasus. But its relations with Armenia stand out as somewhat specific.
Significantly, the first state formations of Armenia and Iran appeared in the VII – VI centuries BC, that is, nearly 3 thousand years ago. Since then their territories and regimes have undergone numerous changes, but Armenians and Persians, as state-forming ethnic groups, have passed through the centuries unchanged.
An idea which is deeply rooted in both the Iranian and Armenian consciousness is that Persians and Armenians boast ancient culture that cannot be thrown into oblivion. This explains cultural ties between the two nations and a comprehensive respect for the specifics of each other's national and religious mentality.
At present, Iran is home to more than 200 thousand Armenians. Iranian Armenians enjoy substantial rights. Under the Constitution of Iran, they have guaranteed representation in parliament and local councils. Not so long ago, Russian Orientalist Karine Gevorkian reported that in 2018, a young Armenian woman was appointed head of the financial department of the Iranian oil company.
The Armenian Christian community is the largest of its kind in Iran. Functioning throughout the country are about 200 Armenian churches and about 30 Armenian schools. Some universities have departments of the Armenian language and culture. Iran publishes books and magazines in Armenian. Also, there are Armenian theatrical, cultural, and sports societies, and the Armenian Club.
It should be pointed out that Iranian Armenians are taking an active part in the social and political life of the country.
Naturally, Iranian Armenians maintain permanent ties with the Republic of Armenia, which undoubtedly cements Iranian-Armenian relations at the state level.
Although Iran and Armenia are not comparable in their scope and position, as history and current geopolitics show, they need each other.
Iran is interested to maintain ties with Armenia, in the first place, because, as it was already mentioned above, the country is home to an influential Armenian community. Secondly, given that the Armenian diaspora exists in many countries of the world, it could become a kind of bridge connecting Tehran with the capitals of other, not always friendly, states where an Armenian community is also active. Also, it is through authoritative Armenian lobbies that Iran could secure favorable political and economic solutions. Thirdly, the territory of Armenia, as a neighboring country, is important for Iran as a corridor to the North (through Georgia) and further to Russia, which is clearly beneficial for Iran considering the current geopolitical situation.
Armenia, in turn, is also interested in friendly relations with neighboring Iran, not only on account of links between the Armenian diaspora and the Islamic Republic of Iran. Iran assumed a fairly balanced position regarding the Nagorno-Karabakh conflict between Armenia and Azerbaijan, by refraining from backing fellow believers from a neighboring country and complying with the Minsk format, the decisions of the Minsk Group (OSCE).
Moreover, the continuing trade and economic ties between Armenia and Iran have become, to a certain extent, a lifeline for Yerevan. Blocked by Turkey and Azerbaijan from two sides, Armenia has only two windows to the outside world: via the borders with Georgia and Iran. Therefore, for Armenia Iran is of vital importance. The Armenian-Iranian border, running through the Araks River, is the shortest for two countries – a mere 35 km. Nevertheless, this border is of great importance, both for Armenia and for Iran, being used for developing trade and economic relations between the two countries and promoting touristm. Statistical data say Iranians (and not only Armenian) enjoy visiting Armenia.
In recent years, Armenia and Iran have seen a successful implementation of various economic programs. One of the first projects was a bridge erected across the Araks River. Also, two high-voltage power transmission lines have been built, a third one is currently under construction.
One of the key areas of economic cooperation between Armenia and Iran is provided by an interim agreement signed in May 2018 between Iran and the Eurasian Economic Union (EAEU) on the creation of a free trade zone. Thus, there have appeared opportunities for merging the 180-million market of the EEU with the 80-million Iranian market. Since Armenia is the only EAEU country that has a land border with Iran, it plays a crucial role in cooperation between the EAEU and Iran, which provides it with an opportunity to develop its relations with Iran.
Undoubtedly, Armenia and Iran's shared interest in bilateral cooperation envisages good prospects for the future. However, it is not that simple, as there have arrived new times, both for Yerevan, and Tehran.
In 2018 Armenia saw a change of government, as a result of which Nikola Pashinyan was elected Prime Minister. There have been changes in domestic policy. As for foreign policy, at least in relation to Iran, there have been no particular changes and, in all likelihood, there will not be any. Given the present-day conditions, good-neighborly relations between Yerevan and Tehran are not a luxury, but an urgent need.
In this regard, Nikola Pashinyan's official visit to Iran in February 2019 is of special significance. During the visit the two parties held high-level talks with the participation of Iran's Supreme Leader Ayatollah Khomeini, who rarely receives foreign guests. The negotiations were held in a fairly warm atmosphere, with both sides underscoring the importance of bilateral relations and expressing readiness to exert efforts to develop them.
In the course of above-mentioned talks, representatives of Armenia and Iran signaled the high level of political cooperation, emphasizing yet again that the current level of economic cooperation does not match the full potential of the parties involved. Although by the end of 2018, trade turnover between Armenia and Iran had reached $ 364 million, which is the highest figure since 1991.
Among major projects of the Armenian-Iranian bilateral economic cooperation program is the construction of the third power line, the implementation of the Meghri hydropower project, the North-South highway corridor, trilateral and quadrilateral economic cooperation with Georgia and Russia.
What makes the visit to Iran by Armenia's Prime Minister Pashinyan special is that Iran is under the US sanctions. In 2018, a transitional year for Armenia, the United States subjected Iran to unprecedented pressure. In addition, the US "secondary sanctions" were imposed against all countries, legal entities and physical persons of foreign countries which dare to maintain relations with Iran. This meant a challenge for Armenia, in many ways economically connected with Iran.
In October 2018, US National Security Advisor John Bolton visited Armenia, Azerbaijan and Georgia to secure support for US plans to further isolate Iran. Reports say Washington is lobbying for the closure of the Armenian border with Iran through opening the border with Turkey.
While in Yerevan, Bolton told Prime Minister Pashinyan that since the United States will pursue the policy of sanctions against Iran, the Armenian-Iranian border is a "big problem." Pashinyan responded by saying the following: "We respect the requests and national interests of any country, but Armenia has its own national interests, which do not always coincide with the interests and ideas of other countries." But as they say, there could be options.
It is necessary to emphasize that Washington, despite its hostile policy towards the IRI, has always had to tolerate cooperation between Armenia and Iran. Such tolerance is due to the US awareness of the geo-economic situation of Armenia, which, without extensive ties with Iran, will face social and economic problems. In addition, as said before, the Armenian lobby has a lot of sway in Washington, especially in the US Congress, which does not give much say to Iran's opponents with regard to Armenia. That this is true is confirmed by the absence of any US sanctions against Armenia. That's why John Bolton all but voiced proposals, and not warnings or threats. Suren Sargsyan, Chairman of the Armenian Center for American Studies, said recently, "Washington is fully aware of the situation and the realities that exist in the region. This means that the United States will never pressure Armenia into rejecting Iran or Russia. And this is good, because Washington knows that we will not survive without Iran and Russia … "
As is known, besides the United States Iran has another "big friend" – Israel. Apparently, the strengthening of Armenian-Iranian relations is not welcome in Jerusalem, and Yerevan is aware of this. The Armenian diplomacy has taken sophisticated measures to neutralize the negative Israeli reaction. Right after Prime Minister Pashinyan's visit to Iran, Armenian Deputy Foreign Minister Grigor Hovhannisyan paid a visit to Israel, where he discussed opening an embassy in Israel "in order to bring bilateral relations to a new high". The Armenian delegation also focused on organizational issues related to the upcoming visit to Israel by Armenian Prime Minister Nikola Pashinyan and Armenian Foreign Minister Zohrab Mnatsakanyan.
In all likelihood, the main point of Prime Minister Pashinyan's foreign policy agenda and the main goal of his government is tolerance and absence of problems in relations with foreign countries: with Moscow, with Tehran, th Washington, with Brussels, with Jerusalem.
Thus, it is possible to conclude that the change of government in Armenia and large-scale US sanctions against Iran and its partners did not affect the stable nature of Armenian-Iranian relations. In these conditions, the Armenian-Iranian border is unlikely to ever be closed – a complete blockade of Armenia is highly impossible. Moreover, the small Armenia, pursuing a multi-vector foreign policy, has become an important factor in ensuring security in the South Caucasus.
From our partner International Affairs