Albania Succumbed into a Neo-communist Cruelty
[yt_dropcap type="square" font="" size="14″ color="#000″ background="#fff" ] T [/yt_dropcap] wo weeks ago, walking in Tirana's semi lucid main boulevard, I met for the first time with Maks Velo, a distinguished painter and architect whose art work has genuinely promoted and strengthened Albanian school of visual arts in Europe and beyond.
As I cautiously approached Mr. Velo, it was obvious that he thought I was an assailant who was going to ask for his wallet, however the next few minutes enabled me to: exchange a few thoughts with one of the brightest, visionary intellectuals that for many years had been tortured by Albanian communist regime authorities in the infamous jail of Spaç – the very same arrogant and autocratic elite group that is running the country today with its neo communist sons and daughters -; take a deep glimpse on a discriminatory practice feted by Albanian Government, and its Prime Minister Edi Rama, towards Tirana's top intellectuals and renowned artists that have intentionally been abandoned over the last three years.
Such a short and sweet encounter with Mr. Velo will always be engraved in my long term memory: in his eyes I could see Albania's uncertain future due to Mr. Rama's aggressive marijuana cultivation campaigns; in his face I could see an overwhelming poverty and malnourishment that is reigning above every corner of Albania due to massive corruption scandals led by Albanian Minister of Foreign Affairs and his colleagues for more than three years; on his rough clothing was evident Albania's dark national image that is wandering throughout many European capitals. After our photo snap, I shook Mr. Velo's hand and we both continued walking on the opposite directions; meanwhile I had a hard time to understand the reasons why a world renowned painter – with a US Citizenship – had been neglected and abandoned by a government that is also run by a professional neo-communist painter. I kept asking myself: how is it possible to encounter poverty in the faces of Albania's most representative artists, what is life like in Albania's most remote villages, what are the origins of inhumanity among Albanian politicians whose main goal is to drain out every penny from the national treasury accounts.
Perhaps it is time to encourage International and Albanian Institutions to conduct an in depth investigation on how public funds are handled and administered by the Minister of Foreign Affairs Ditmir Bushati – the son of a former high ranking Albanian Communist official – and his cronies. Based on a number of reliable sources Mr. Bushati has broken the law of procurement when it comes to awarding public funds to a so-called company that is expected to administer a global health insurance policy for Albania's diplomats and their families, while serving abroad.
Mr. Bushati has abused with his legal duties when awarding this contract – without conducting any open, proper procurement practice whatsoever – to Mr. Kadri Morina, (his private mentor and a principal financial sponsor) an illegal procedure that could send behind bars Mr. Bushati and his corrupt associates.
An order signed by his obedient subordinate, Mrs. Blerda Kadzadei (who has recently been cited on reliable Albanian News Media for her corrupt handlings), forces every Albanian diplomat worldwide to take health insurance package from Eurosig whose owner is mention above! There is no single hospital in the globe that recognizes such a health insurance company; however it is evident that Mr. Bushati gets his fair share from this corruption affair.
Albanian Attorney General's Office needs to conduct a serious investigation over this mega scandal, as well as European Union Institutions, national and international public in general deserve candid answers to the following questions: What is the procedure of purchasing health insurance plans for Albanian diplomats and their families while in foreign service abroad?!; what is the amount of money allocated in the health insurance program by the Ministry of Foreign Affairs since 2013?!; what is the price of this health insurance package for every Albanian diplomat and their respective family while living abroad?!; What is the total cost of health insurance allocated to every diplomatic post of Albania?!.
Moreover Mr. Bushati's cousin and Deputy Minister of Foreign Affairs, Mrs. Odeta Barbullushi, as George Soros' student has ample time to undertake extensive entertainment trips and beauty treatment sessions abroad while using government's assets, such as: cars, living allowance, per diem expenses, airfare and paid vacation; at a time when everyone at the Ministry of Foreign Affairs continues to suffer from a prevailing arrogance and lack of respect that characterizes the leadership of Albania's home of diplomacy.
While Mrs. Barbullushi enjoys spa treatments, nail polishing, body massages thanks to the generosity of Albanian tax payers, social segregation in Albania persists, economic discrimination in Tirana is ever more apparent, at the same time drug trade and massive marijuana farming has ruined Albania's agriculture sector, bolstered informal economy, increased the level of weapons trade, is slowly killing Albania's teenagers and certainly its future.
Drug trafficking in Albania generates almost three percent of its GDP and over the last three years has ruined Albania's image abroad. As we view the adamant wounds of Albanian society as well as the permanent stains of corruption and arrogance on most of its institutions, such a gruesome Albanian reality is the legitimate source of sadness in Mr. Velo's eyes.
A New Redrawing of Balkan Borders: A Road to Hell
More than a decade after Kosovo region's unilateral declaration of independence from Serbia, the issue of redrawing borders is back on the agenda. The ongoing negotiations between Belgrade and Pristina on the settlement of bilateral relations under the auspices of the European Union may lead to an unexpected result – the breakaway of Serbia's three predominantly Albanian-populated southern Serbian regions of the Presevo Valley and their accession to Kosovo – which, in turn, will be carved up into Serbian and Albanian parts. Such a scenario, in turn, can set off disintegration processes in Macedonia, Bosnia and Herzegovina, Montenegro and even Greece (with Albanians enclaves in the north).
The Pesident of the self-proclaimed Kosovo Republic, Hasim Thaci, said that in the event of an agreement signed between Belgrade and Pristina, the Presevo Valley adjacent to the Kosovo border, would likewise join Kosovo.
According to him, "the requests of the Albanian population of the Presevo Valley for joining Kosovo are institutionalized," and if an agreement is reached between Belgrade and Pristina, neither the EU, nor NATO or the US would be able to interfere with its implementation. Moreover, he said that the problem of Presevo will soon be discussed in Brussels anyway.
However, he once again ruled out the possibility of Kosovo proper being divided into Serbian and Albanian parts (which is increasingly being discussed in Serbian political and public circles), although he was rather vague about the possibility of "adjusting the Kosovo-Serbian border." For his part, Serbian President Aleksandar Vucic supports the idea of carving up Kosovo, which he argues would help avoid a new conflict.
"A territory, if you don't know how to treat it or who it belongs to, is always a source of potential conflicts and problems." "I am foursquare behind this [separation] and this my policy, whether people like it or not. I am holding out for separation with Albanians," Vucic stated. rts.rs.
Serbia's current Foreign Minister Ivica Dacic was the first top-level politician to come up with the idea of dividing Kosovo, describing it as a long-term compromise solution to the Kosovo conflict. In an interview with the Pristina-based Albanian-language newspaper Zeri, Ivica Dacic, who was then First Deputy Prime Minister and Interior Minister, said that "the only real solution is to leave the Serbs in Serbia and separate the other part where Albanians live. It will be a working mechanism to quickly solve the problem. Other options will be just a waste of time."
However, the idea of partitioning Kosovo can now become part of a broader "package" agreement on the normalization of relations between Belgrade and Pristina. The European Commission makes Serbia's admission to the European Union, which in this case could come in 2025, strictly conditional on a legally binding agreement signed by Belgrade and Pristina.
Many media outlets consider the division of Kosovo and a territorial exchange a very likely scenario. The Croatian newspaper Jutarnji List even claims that the matter is already a "done deal," and warns of possible negative consequences: "In fact, it's not just Kosovo. Pandora's box may be thrown open. This could have a knock-on effect. Just imagine the worst possible scenario the partition of Kosovo could lead to. Bosnia and Herzegovina would immediately follow suit, followed by Macedonia. Montenegro could possibly come next." jutarnji.hr
The Albanian leaders of southern Serbian Presevo Valley, which is home to three mixed Serbian-Albanian communities, admitted the possibility of a "territorial exchange" as envisaged by pertinent agreement between Belgrade and Pristina, as early as in 2012. The leader of the Presevo community, Ragmi Mustafa, emphasized that the three communities (Presevo, Medvedja and Bujanovac) "must join Kosovo," while "northern Kosovo must join Serbia." He believes that a pertinent proposal should be discussed in Brussels.
"I think that this holds the future for our region," he said. A year before that – in the summer of 2011 – representatives of Albanians living in Kosovo and Presevo Valley, including Ragmi Mustafa, met in Gnilan and adopted a resolution on "facilitating the return" of Presevo Valley communities to "independent Kosovo Republic," including with the participation of the international community. The latter, according to the participants, would help deter the Serbian government from "obstructing the free will of the Presevo Valley population."
Accurate and reliable data on the ethnic composition of the three communities is not available. However, if we compare the estimates, we will see that 90 percent of Albanians and 10 percent of Serbs live in Presevo, 60 percent of Albanians and 30 percent of Serbs live in Bujanovac and 30 percent of Albanians and 60 percent of Serbs live in Medvedja. Thus, Albanians now constitute an absolute majority in  Presevo and Bujanovac.
Just as the President of the Turkish International Cooperation Agency in Ankara, Umut Arik, warned as early as in the mid-1990s, all talk about creating a security system in the Balkans makes no sense until "decisions relating to nation-states can be made and revised unilaterally". This is exactly what has recently been happening around Kosovo. What is also evident is the interrelated development of disintegration processes going on in the Balkans. This may force the leading world powers and international institutions to abandon what they have professed all these years – "a policy focused on the state, rather than territory" as the University of Pristina professor of public law Enver Hasani puts it.
Such a policy provides for solving the problems of each Balkan country separately from one another. This approach was at the heart of the Stability Pact for Southeast Europe, devised by the European Union and introduced in 1999.
The unilateral declaration of independence for Kosovo in 2008 embedded in this concept a provision about the "uniqueness of the Kosovo case."
However, amid the current impasse around Kosovo Serbs and the growing activity of Albanian nationalists, the international curators of the Balkan settlement, above all the most business-minded and openly cynical of them in the form of the administration of the US President Donald Trump, could switch to a "territory-focused policy," which views a region not as an combination of already established states, but as a system of territories in dynamic equilibrium and, therefore, capable of reformatting.
"For some Balkan politicians, talk about territorial division and redrawing of maps is like adrenaline," the Croatian newspaper "Jutarnji list" rightly wrote.
"The question is, what will happen to the federation of Bosnia and Herzegovina? Will this catastrophic disintegration of Bosnia and Herzegovina affect Croatia, or will a peaceful Bosnia finally emerge taking in "parts of Croatia"!? Another question is, how would the Bosnians and their defenders, such as Turkey, react to this?! Perhaps, for Serbia, the matter would not be limited to Presevo, and the processes would affect both Sandzak and the very north of Serbia. On the other hand, the exchange of territories with Kosovo could raise the issue of 'consolidating the Albanian nation,' which would revive old ideas of dividing Macedonia. And with the process of Albanian consolidation on and with the Republika Srpska already  part of Serbia, this would whet Serbian appetite, if not for the whole of Montenegro, then at least for its 'Serbian parts,'" the newspaper forecasts and makes a sad conclusion: "Despite the seeming simplicity ("we give you, you give us"), this decision leads to hell." jutarnji.hr
In all fairness, any new changes in the situation in the Balkans – and above all, the delineation of borders – will raise the discussion to a higher international level and may potentially bring them back to the floor of the UN and the UN Security Council where Russia  wields a veto power.
Simultaneously, such scenarios are forcing Belgrade to work more closely together with Moscow, which is one of its key international allies.
"The Serbian political class is aware that it cannot move forward without progress toward resolving the long-standing Kosovo issue. But in order to save face with its constituents, the Serbian leadership has to come up with some settlement in which Serbia will not be perceived as the total loser of the Kosovo dispute. To that end, Serbia must have a great power backer in the negotiating process, and as Serbia lacks a patron in the West, Russia is useful in that role. As long as Kosovo remains in play and as long as Serbian leadership lacks a settlement acceptable to public opinion, Russia will have a high place in Serbian foreign policy considerations. The West should be cognizant of this. For their part, both the European Union and the United States need to be aware that close ties between Russia and Serbia are in large part the result of taking Serbia and the Balkans for granted," The American Interest emphasizes.
Given the situation at hand, Russia needs to figure out the possible options of such a reformatting of the Balkans and choose the ones, which are best suited to its geopolitical interests and those of its allies and partners in the Balkans region and beyond.
First published in our partner International Affairs
Merkel's projection regarding nationalist movements in Europe
In recent years, we have repeatedly spoken about the blows that hit the United Europe hard, and resulted in constant and overwhelming crises in this block. The European authorities now refer to "returning to nationalism" as a potential danger (and in some cases, the actual danger!) In this block, and warn against it without mentioning the origin of this danger.
The German Chancellor has once again warned about the rise of nationalism in Europe. The warning comes at a time when other European officials, including French President Emmanuel Macron, have directly or indirectly, acknowledged the weakening of Europe's common values. This indicates that the EU authorities don't see the danger of extensive nationalism far from reality.
"Nationalism and a winner-take-all attitude are undermining the cohesion of Europe", German Chancellor Angela Merkel said. "Perhaps the most threatening development for me is that multilateralism has come under such pressure," Merkel said. "Europe is facing attacks from the outside and from the inside."
A simple contemplation on the issue of "return of the United Europe to nationalism" suggests that the current European authorities have played an active role in the desire of their citizens to return to the time before the formation of the European Union. In the 2014 general election, we saw more than 100 right-wing extremist candidates finding way to the European Parliament.
This could be the starting point for making fundamental changes in macroeconomic policies and creating a different relationship between the European leaders and the citizens of this block. But this did not happen in practice.
Although the failure of European leaders to manage the immigration crisis and, most importantly, the continuation of the economic crisis in some of the Eurozone countries has contributed to the formation of the current situation, but it should not be forgotten that the growth of radical and nationalist parties in Europe has largely been due to the block's officials incapability in convincing European citizens about the major policies in Europe. In this regard, those like Angela Merkel and Macron don't actually feel any responsibility.
Undoubtedly, if this process doesn't stop, the tendency to nationalism will spread across the Europe, and especially in the Eurozone. European officials are now deeply concerned about next year's parliamentary elections in Europe. If this time the extreme right parties can raise their total votes and thus gain more seats in the European Parliament, there will be a critical situation in the Green Continent.
The fact is that far-right extremists in countries such as France, Sweden, Austria and Germany have been able to increase their votes, and while strengthening their position in their country's political equations, they have many supporters in the social atmosphere.
Finally, the German Chancellor remarks, shouldn't be regarded as a kind of self-criticism, but rather are a new projection of the European leaders. Merkel, Macron and other European officials who are now warning about the emergence of nationalism in Europe should accept their role in this equation.
This is the main prerequisite for reforming the foundations in Europe. If they refuse to feel responsible, the collapse of the European Union will be inevitable, an issue that Merkel and Macron are well aware of.
First published in our partner MNA
Dayton Peace Accord 23 Years On: Ensured Peace and Stability in Former Yugoslavia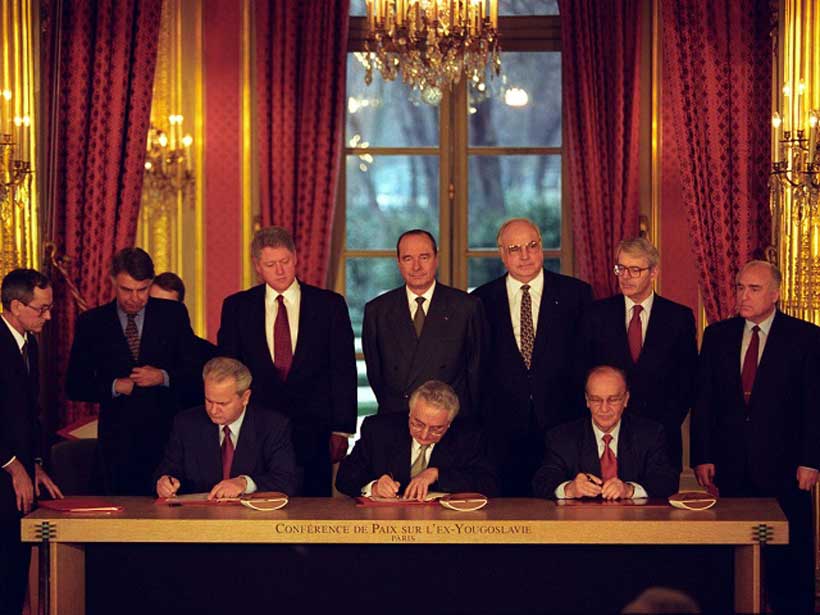 For the past twenty-three years life has been comparatively peaceful in the breakaway republics of the former Yugoslavia. The complicated civil war that began in Yugoslavia in 1991 had numerous causes and began to break up along the ethnic lines. The touching stories and the aftermath effects of the breakaway republics of Bosnia- Herzegovina, Croatia and in Kosovo are still unfolding. Though the numbers of deaths in the Bosnia- Herzegovina conflict in former Yugoslavia are not known precisely, most sources agree that the estimates of deaths vary between 150,000 to 200,000 and displaced more than two million people. During the conflict a Srebrenica a North-eastern enclave of Bosnia once declared as a United  Nations  (UN ) safe area" saw one of the worst atrocity since second world war.
It has been estimated that more than 8,000 Muslim Bosniaks were massacred in Srebrenica and it was one of the most brutal ethnic cleansing operations of its kind in modern warfare. The US brokered peace talks revived the a peace process between the three warring factions in Bosnia- Herzegovina. For Peace in Bosnia and Herzegovina a United States (US ) -brokered peace deal reached in Dayton on 21st November 1995. In a historic reconciliation bid on 14 December 1995 , the Dayton Peace Accord was signed in Paris, France, between Franjo Tudjman president of the Republic of Croatia and Slobodan Milosevic president of the Federal Yugoslavia (Serbia and Montenegro), Alija Izetbegovic, president of the Republic of Bosnia-Herzegovina.
When conflict in Bosnia- Herzegovina, Croatia ended, the reconciliation began between ethnically divided region. The US played a crucial role in defining the direction of the Peace process. In 1996, North Atlantic Treaty Organization (NATO) -led 60,000 multinational peace enforcement force known as the Implementation Force (IFOR)) was deployed to help preserve the cease-fire and enforce the treaty provisions. Thereafter, the Court was established by Resolution 808 and later, Resolution 827 of the United Nations Security Council, which endorsed to proceed with setting up of the International Criminal Tribunal for the former Yugoslavia (ICTY) to try crimes against humanity . International Criminal Tribunal for the Former Yugoslavia (ICTY) was the first United Nations (UN) war crimes tribunal of its kind since the post-second world war Nuremberg tribunal.
In the late 1990's, as the political crisis deepened a spiral of violence fuelled the Kosovo crisis between the Kosovo Liberation Army (KLA) and the Yugoslav forces. Unlike the Bosnia- Herzegovina, Kosovo was a province of Serbia, of former Yugoslavia that dates back to 1946, when Kosovo gained autonomy as a province within Serbia. It is estimated that more than 800,000. Kosovos were forced out of Kosovo in search of refuge and as many as 500,000 more were displaced within Kosovo.
Subsequent t hostilities in Kosovo the eleven week air campaign led by NATO (North Atlantic Treaty Organisation) against Yugoslavia in 1999 the Yugoslavian forces pulled troops out of Kosovo NATO. After the war was over, the United Nations Security Council, under the resolution 1244 (1999) approved to establish an international civil presence in Kosovo, known as the United Nations Interim Administration Mission in Kosovo (UNMIK). Nevertheless UNMIK regulation No 1999/24 provided that the Law in Force in Kosovo prior to March 22, 1989 would serve as the applicable law for the duration of the United Nations Interim Administration Mission in Kosovo (UNMIK).
In this  context reconciliation is a key to national healing of wounds after ending a violent conflict. Healing the wounds of the past and redressing past wrongs is a process through which a society moves from a divided past to a shared future. Over the years in Serbia, Bosnia- Herzegovina, Croatia and in Kosovo the successful peace building processes had happened. The success of the peace building process was possible because of participation of those concerned, and since appropriate strategies to effectively approach was applied with all relevant actors. The strengthening of institutions for the benefit of all citizens has many important benefits for the peace and stability of former Yugoslavia. Hence, the future looks bright for the Balkan states of Serbia, Bosnia- Herzegovina, Croatia and Kosovo.