South Korea's President Park faces impeachment
[yt_dropcap type="square" font="" size="14″ color="#000″ background="#fff" ] E [/yt_dropcap] mbattled South Korea's President Park Geun-hye is facing a pivotal time, possible impeachment , with an effort to impeach her gaining support from within her own party and the heads of the country's biggest business groups set to give testimony to a parliamentary committee.
The scandal, which has generated huge protests, revolves around Ms Park's relationship with an old friend, and has brought allegations of cult activities, influence-peddling and leaks of classified information. Ms Park, but has now said it is up to parliament to decide if her term should end early.
Few claims have been off-limits in the media coverage of the scandal, with some reports going as far as suggesting the president is a puppet who hosted shamanist rituals at the presidential compound. But many of the lurid claims are unsubstantiated. The official investigation focuses on Ms Choi's alleged abuse of her closeness to the president to enrich herself and influence policy, as well as her handling of classified documents.
Park Geun-hye and has said she is prepared to stand down, amid an escalating corruption scandal. Three opposition parties introduced a bill on December 03 to impeach Park, who is accused of abuse of power, putting her in danger of becoming the first democratically elected South Korean leader to leave office early. The heads of nine conglomerates, or chaebol, including Samsung Group's de facto leader Jay Y. Lee and Hyundai Motor Group Chairman Chung Mong-koo, are scheduled to appear at the inquiry.
President Park is alleged to have been personally involved, instructing Ms Choi and two presidential aides to collect money for the launch of Ms Choi's foundations, according to prosecution documents submitted to the court. Ms Choi is also accused of having received large numbers of confidential government documents from Ms Park, via an aide. These allegedly included information about ministerial candidates and North Korea.
Ms Choi is also alleged to have used her presidential connections to pressure companies for millions of dollars in donations to two non-profit foundations she controlled. The claims have even swept up Samsung in the investigation. There are even claims Ms Choi took advantage of the president's wardrobe budget – buying cheap outfits and keeping the change.
On Sunday 20 November, Ms Choi was formally charged with various offences, including abuse of authority, coercion, attempted coercion and attempted fraud. Two former presidential advisers were also charged by prosecutors, who said they thought the president conspired in the wrongdoing.
The allegations are strenuously denied by Ms Park. When she was first questioned in October, Ms Choi said she had committed an "unpardonable crime", though her lawyer said this was not a legal admission of guilt.
Witnesses have claimed that Ms Choi received briefings and official papers long after that occurred. Documents were also discovered on an unsecured tablet computer found in an old office of Ms Choi's. But the tone of the president's pronouncements has changed over time. She began with opaque apologies: "Regardless of what the reason may be, I am sorry that the scandal has caused national concern and I humbly apologize to the people."
Park has herself admitted some lapses. She says she did consult Ms Choi for advice, and that she helped her edit her speeches, but that this stopped once she had a team of advisers in place. Some days ago, she offered to step down and asked parliament to decide how and when she should leave office. Opposition parties rejected the proposal, calling it a ploy to buy time and avoid being impeached, and vowed to push ahead with impeachment.
The leader has apologized three times over the affair, which started when CNN South Korean affiliate JTBC found evidence that Park confidante Choi Soon-sil had received secret documents on an abandoned tablet device. Choi, who does not hold an official government position, is accused of using her relationship with Park to accumulate millions of dollars in donations to her foundations. Choi is charged with abuse of power, fraud and coercion, and two of Park's former aides also face criminal charges.
Prosecutors have said they want to speak to Park after naming her as a suspect in the corruption probe. Her attorneys have said she is willing to cooperate, but she said this week she was too busy to meet with prosecutors.
On Saturday, tens of thousands of protesters again took to the streets of Seoul to push for Park's ouster. A candlelight protest held on the main boulevard facing the presidential offices and residence — known as the Blue House — follows weekly mass demonstrations in the capital and other cities since late October.
The impeachment vote is set for Friday. If successful, it would require the approval of South Korea's Constitutional Court, a process that experts said would take at least two months. The opposition parties need at least 28 members from Park's Saenuri Party to secure the two-thirds majority required for the bill to pass. At least 29 of them are believed to be planning to vote for the bill, members of the breakaway faction said. Parliamentary Leader of the main opposition Democratic Party, Woo Sang-ho said, "The chances of the impeachment bill passing on December 9 are 50-50."
Park's presidential Blue House aides addressed a parliamentary hearing over the allegation that Park and her friend, Choi Soon-sil, as well as a senior aide to Park, put pressure on conglomerates to pay money to foundations that were set up to promote Park's policy initiatives. They are expected to be questioned about how they came under pressure from Park and whether they were promised favors in return. Park has denied wrongdoing but has apologized for exercising poor judgment.
The large protest rally on Saturday, which organizers said was the largest yet with 1.7 million participants and followed Park's third apology last week, as the clearest reason why she should be ousted. Police said the crowd in Seoul reached 320,000 at its peak.
South Korea's opposition parties said they would vote on a motion to impeach Park. With the impeachment vote looming, breakaway members of the ruling Saenuri Party are instead pushing for Park to announce a timeline to resign, arguing that impeachment then would be unnecessary.,
The nonloyalist members of the Saenuri Party members have vowed that if Park does not confirm her resignation date by that deadline they will vote for impeachment two days later. The three opposition parties have a combined total of 165 out of the 300 legislative seats. A two-thirds majority of 200 votes is required to pass the impeachment motion, so members of Park's party will be needed to help pass it.
If successful, the motion would then pass to the constitutional court for consideration. Justices have 180 days to decide the case after it is referred to them. In a nationally televised speech last month, Park said she deeply regretted her actions. "I again deeply apologize for causing an immeasurable disappointment and worry," she said. "All this is my fault, caused by my negligence." However, since the corruption scandal broke, a survey by Gallup Korea showed Park's approval ratings dipped into single digits, making her one of South Korea's least popular leaders since the country became a democracy in the 1980s.
Observations
Embattled President Park Geun-hye faces an ultimatum from her own party: Announce a timeline for her resignation or face possible impeachment. Corruption scandal paralyzes presidency.
Park does not face the threat of charges because the South Korean Constitution gives immunity to the sitting President.
Park, who's been dogged by a classified information scandal involving a longtime friend, said earlier this week she would resign if that's what the National Assembly wants.
Many observers see stepping down as a way for Park to avoid the embarrassment of impeachment as opposition parties look to press ahead next week with a vote to unseat her.
Park stopped short of specifying a date for her resignation, leading some breakaway members of her Saenuri Party to ask her to set a timeline for her departure. Mainstream members of her party have stipulated that she must stand down. Her five-year term is set to end in February 2018.
North Korea, the United States and the Singapore Summit Agreement
There are many essential points of the US-North Korean talks which have been treated, albeit briefly, in the Singapore Summit between Kim Jong-Un and US President Donald J. Trump.
It was certainly not a mere photo-opportunity but, inevitably, it was not an already fully-fledged agreement between the two parties.
With specific reference to denuclearization, nothing new under the sun, but something very important and new from the political viewpoint, also compared to the opposing rhetoric of the USA and North Korea. Symbols matter in foreign policy and, as far as we know, Trump and Kim Jong-Un liked each other – rational, brutal and frank as they both are.
Nevertheless, North Korea's decision-makers have long considered their realistic plans for their country's military nuclear exit.
In fact, five years ago Kim Jong-Un decided to implement his by ungjin policy line, i.e. the parallel development of North Korea's nuclear military system and of the civilian economy since he had above all verified that, at the time, it was the only way to make the USA sit at the negotiating table.
For Kim Jong-Un, the United States was the key to success: he knew the costs and relevance of a long-standing and effective relationship with China and the Russian Federation, but he wanted the Third Factor to make North Korea partially autonomous.
Without upsetting old balances, but manoeuvring them with the traditional rationality of its ruling class.
At the time, Kim Jong-Un's other considerations referred to the strong, ongoing and evident US military pressure and to the particular weakness of North Korea, which was in a phase of political and strategic transition between two elites.
The beginning of the naïve and dangerous US project was   Kim Jong Il's death in December 2011, which led to a clear South Korean and US military pressure for a naïve and unlikely regime change that obviously did not take place.
Later, however, in June 2013 the National Military Commission, led by Kim Jong-Un, stated it was ready to start a stable denuclearization process.
At that time a renewal of the Six Party Talks would have been possible also for North Korea, but it wanted above all a bilateral negotiation with the United States.
According to the "policy line" decided by Kim Jong-Un at the time, the USA, for its part, had not to set initial and preliminary conditions.
Nevertheless, the USA certainly had every interest in being the new power broker of the agreement with North Korea, the only breaking point of a strategic continuity which would have been very convenient for the United States.
It should be recalled that in February 2012there was the failure of Barack Obama's proposal for the cessation of nuclear and missile tests and the subsequent sending of a North Korean satellite into the space.
Coincidentally, in 2013, Chinese President Xi Jinping established a special confidential diplomatic channel with North Korea, but the tension with the USA mounted and certainly not for the Chinese move.
But what is, ultimately, the give and take for denuclearization, according to Kim Jong-Un's policy lines which have actually been implemented by the curt, but significant Singapore Summit Agreement?
First and foremost, the cessation of the US hostile policy, that is the political, economic and military tension against North Korea.
Furthermore, North Korea wants the full and official recognition of sovereignty on its territory, as well as the replacement of the 1953 ceasefire with a peace treaty, and finally the end of all economic sanctions against it.
All these aspects are already included -also between the lines – in the Singapore Agreement.
Hence if the traditional tension between North and South  Korea ends, the whole region of the South Pacific, the Indian Ocean and the Persian Gulf, starting from the Mediterranean up to the US military bases in the Pacific, becomes – for the USA – a strategic continuum capable of stabilizing the central Asian terrestrial axis.
This could weaken China on its maritime border in the South and would also reassure the Russian Federation in a small sea which, however, is essential for Russia from a military viewpoint.
At economic level, the most analytical models to assess the possible integration of both Koreas currently point to a necessary increase of at least 50of North Korea's GDP and also of the average income of its citizens – given the increase in the total productivity of economic factors and the accounting of North Korea's general balance considering eight primary factors.
Within a North-South Korean integration project, there would be above all an increase in medium-level light and manufacturing productions, especially in the North, while there would be global economic room also for mining products in North Korea alone.
The traditional cost model studied for unification regards the capital investment to reach a 60% per capita GDP in North Korea compared to South Korea's – a limit that is thought to be capable of avoiding mass domestic migration.
Currently the most careful and recent calculations make us estimate the total cost of reunification at approximately 1,800 US billion dollars.
A 23% share would come from North Korea's full integration into the world market, starting from the current productive specializations of this country.
A further 14.5% share of the total reunification cost would come from the share of international aid to which North Korea would ultimately have access.
Finally, an additional 12.3% share would come from the integration between North Korean companies and South Korean similar ones.
The rest would come from Foreign Direct Investment (FDI), in which also Russian and Chinese companies should participate.
However, a fully affordable and feasible additional "remainder" could come from North Korea's new commercial treaties with the EU, Japan and obviously China and the Russian Federation. This can be done soon and well.
Trade between North Korea and Russia has long been worth slightly less than 100 million US dollars a year.
Currently it is over 78 million US dollars but, in this new political phase, certainly strategic, scientific and military exchanges are still essential for both Russia and North Korea.
Today, for example, there is also the railway crossing between the Russian Federation, in Vladivostok, and the North Korean port of Razon.
Furthermore, part of the Internet networks reaching the North Korean territory comes from the "nodes" of the Russian network on its borders.
Moreover, Russia still supports – on its own – the link between North Korea and the World Bank and it also wants to innovate the North Korean railway system -which is a great business – in addition to pressing for the creation of a pipeline that will make Russian energy products reach both the North and the South of the Korean peninsula.
Finally, negotiations are underway for the exchange of Russian electricity with North Korean minerals.
This is the strategic and economic core of the issue: if, in the future, the agreement between Donald J. Trump and Kim Jong-Un does not concern an economic and strategic arrangement also with the Russian Federation and the People's Republic of China, most of the agreement signed in Singapore will remain dead letter.
Not to mention the at least 40,000 North Korean workers still operating in the Russian Federation.
As well as the Russian oil, which currently comes to North Korea through the traders present on the markets, right in Singapore.
Hence the failure of the very recent Singapore Agreement is a severe danger to be averted both for the United States and for the silent and weak EU, as well as for Russia and China, and obviously also for North Korea itself.
Hence if the USA wants to focus on its new strategic balances between Africa, Latin America and Western Asia, it must loosen – at least partially –  the grip on an old and now obsolete Cold War scenario, i.e. the Korean confrontation in which General MacArthur threatened the use of nuclear weapons against the People's Republic of China, which supported North Korea's expansion to the South.
As Mao Zedong would have said, many fires lit to confuse the US adversary and tie it to a defensive logic without future – as was also the case with the Vietnam War, a war of attrition that became for the USA the seal closing the whole Far East to the US interests.
Mao, an excellent military strategist, was right.
Today, however, it is time to well-evaluate all the possible options, both for the United States and for the weak European Union.
The latter could do much, if only it knew how to do it.
Moreover, we must always think about China.
China still accounts for 90% of North Korea's foreign trade, but President Xi Jinping's policy regarding the UN sanctions against North Korea has come to the point of no return, as demonstrated by the unfriendly note issued by the North Korean news agency in May 2017.
Hence what does China want from North Korea and will continue to want after the Singapore Agreement?
This is above all a two-party game with Russia. Hence, if China accepts sanctions on North Korea, it wants Russia to support North Korea financially.
Conversely, if North Korea becomes one of China's efficient client States, at reduced costs, everything will be fine for President Xi Jinping.
Furthermore, it will be even better if North Korea becomes a quiet, but credible border for South Korea and its US forces stationed on the territory.
This will also be a decisive issue into which the Singapore negotiation will penetrate.
Another factor in the Chinese strategic considerations is the increasing cost for external attackers in threatening the North Korean soil.
China does not want a North Korea devoid of strategic threats, but wants them to be considered in the US equation.
The aim is to avoid the military overload of South Korea, which is also a key economic partner for China.
Currently the "de-escalation" of North Korea's nuclear potential is more a result of Chinese policies than of Western pressures.
Hence China does not want North Korea's warlike and aggressive positions and, not surprisingly, in mid-November 2017, it sent Sung Tao from the CPC Department for International Relations to curb Kim Jong-Un's multilateral tension with the USA and the UN Security Council and hence adhere to the Chinese policy line for the very survival of the North Korean regime.
Just not to forget the essential strategic issue, the Communist Party of China has no interest in putting an end to North Korea's nuclear position.
As stated in a CPC confidential document drafted in 2017, China has instead the primary strategic interest of using North Korea's nuclear potential to prevent "chaos and war" throughout the peninsula and anyway support North Korea's denuclearization, thus finally placing the whole nuclear system of the region under the IAEA's protection.
China needs an inexpensive and even less troublesome shield to protect itself from US attacks by the entire Korean peninsula.
This could also be the US policy line in further future negotiations with Kim Jong-Un.
Hence China does not want North Korea's military destabilization – God forbid – but it does not even want the nuclear arsenal to be quickly destroyed or to end up in the hands of States alien to China' interests in the region.
Will this be the case for the USA in the future, after the Singapore Summit?
Kim Jong-Un, who is an excellent strategic analyst, knows all too well that he can use the US card, but only until it is not played against China.
Hence the optimal situation for China would be to keep a share – to be negotiated – of nuclear weapons in North Korea until the situation – even in the South and for the new deployment of the US Armed Forces – is ripe for a new multilateral negotiation on the North Korean issue.
The North Korean leaders, however, see the denuclearization of their country (and of South Korea, too) in a three-phase mechanism: firstly, the freezing of their nuclear potential; secondly, the disabling of critical infrastructure, and finally the dismantling of their weapons already assembled.
From this viewpoint, in all the three phases North Korea wants the USA to reaffirm its decision – already taken and signed in Singapore – to "cease hostile policies".
As can be inferred from the official text of the Singapore Agreement, in a first phase there would be North Korea's freezing of all nuclear activities.
Again along the policy line already spelt out in Singapore, there would be a further agreement on mutual economic and political relations.
Furthermore, there is also the request to stop the US military and nuclear activities throughout the Korean peninsula.
After the Singapore Agreement, however, we will probably witness an ever more reduced US presence in South Korea and North Korea's reduced conventional pressure on the pro-American South Korea.
However, there is nothing preventing the USA from shifting its nuclear weapons – with all the necessary checks – from South Korea to positions not posing a serious strategic threat to North Korea.
Kim Jong-Un, however, does not want a "Libya-style model", i.e. the unsuccessful model relying on the following principle:  "firstly, put an end to nuclear weapons and then we can talk about it".
Kim Jong-Un is well-aware of how the USA behaved vis-à-vis Saddam Hussein, Gaddafi and Iraq. Indeed, he is not entirely wrong.
Hence North Korea wants to check, step by step, all the costs and benefits of the new and future treaty.
And it will make no concessions.
Nevertheless, everything hinges around an essential strategic process. Never leave the Americans alone – and this is a problem of the inept and vacuous EU – but never leave also the North Koreans alone.
China Missed the Industrial Revolution, But It Won't Miss the Digital One
In 2016, artificial intelligence defeated a professional player at Go for the first time. The AlphaGo program, developed by DeepMind, first beat three-time European Champion Fan Hui, and a short while later bested Korean Lee Sedol, considered to be one of the best Go players in the world. Many believe that it was artificial intelligence's conquest of the ancient Chinese game that convinced Chinese authorities to think seriously about including the development of artificial intelligence among its strategic goals. However, the importance of artificial intelligence is not a new idea. Although the foundational Next Generation Artificial Intelligence Development Plan came out in June 2017 a year after the triumph of AlphaGo, the field had already been earmarked as a priority in many earlier documents.
21st Century Electricity
Back in 2006, the State Council of the People's Republic of China published its National Medium- and Long-Term Program for Science and Technology Development for the period up to 2020. It names smart sensors, intelligent robots, and technologies of augmented reality as areas of priority. The Made in China 2025 plan was released in 2015. It includes a USD 300 billion fund for the development of high technology and industrial manufacturing. The plan involves intensifying work in R&D, new materials, artificial intelligence, the creation of fifth generation telecommunications networks, and the manufacturing of robots. In 2016, the State Council published its Guiding Opinions on Actively Promoting the Internet Plus Action Plan. The document prioritizes artificial intelligence, along with big data, blockchain, and machine learning, for a state strategy aimed at accelerating the use of information and communication technologies for the development of the smart industry.
Why has China become so serious about developing artificial intelligence? Artificial intelligence has been called the electricity of the 21st century. It is a technology capable of spanning numerous sectors and giving rise to a new industrial revolution, which is exactly what China needs now. For some time, the country has functioned as the world's factory; by employing cheap labour and copying foreign technology, China has supplied the entire world with inexpensive (and not always high-quality) manufactured goods. It is a model that has facilitated several decades of double-digit economic growth rates.
However, China has now fallen into the trap of average income. The population's living standards have grown, reducing the country's main competitive advantage – cheap labour – to naught. As a result, the only solution is to compete with developed economies and with their qualified personnel and innovations. To do so, the country needs a technological breakthrough. Artificial intelligence could play just such a part.
Russian President Vladimir Putin has noted that the leader of artificial intelligence will be the ruler of the world. Chinese authorities understand this. In June 2017, the Chinese State Council released its Next Generation Artificial Intelligence Development Plan, which states that artificial intelligence has become a new arena for international competition. It is a strategic technology that will set the stage for future development and determine a country's international competitiveness, national security, and influence in the world. Consequently, the Chinese authorities hope artificial intelligence will help transform their economic growth model and expand geopolitical influence, as well as modernize the army and strengthen the country's defence capabilities. Chinese President Xi Jinping has repeated on more than one occasion the importance of civil-military integration and the need to remove barriers between the commercial economy and the military-industrial base. In other words, artificial intelligence is seen as a dual-use industry. It seems that the development of military and civilian uses for these technologies will occur simultaneously.
Strategic Goals
The Chinese Next Generation Artificial Intelligence Development Plan sets three strategic goals. The first is for Chinese AI to match pace with corresponding sectors in key developed countries by 2020, with the foundational branch of AI collecting USD 22.5 billion and related industries exceeding USD 150 billion. The second goal is for China to take the lead in some areas of AI by 2025, with the foundational branch collecting USD 60 billion and those related attaining USD 745 billion. Finally, by 2030, China should become the world's main centre for innovation in the field of AI, with the foundational branch collecting USD 150 billion and related branches reaching USD 1.5 trillion.
The programme does not explain exactly how to achieve these strategic goals, although it does officially have a section devoted to the topic, titled "objective tasks." It is essentially a list of industries amenable to the introduction and development of artificial intelligence. These include smart cities, AI in medicine, swarm intelligence and deep semantic analysis, computer vision, and the use of AI in the defence industry and social management. It seems that the programme is not so much a practical guide to action as a general reference point for central and local authorities. Officials can select the area of the programme best suited to their particular region and develop it by adding their own initiatives. For example, authorities in the historically poor province of Guizhou chose to make it China's data centre, enabled by the favourable cold climate and mountainous terrain. Chinese technology giant Tencent is already building a giant 30 sq. km underground data storage in the mountains of Guizhou. A similar data centre is being built in Guizhou for Apple's iCloud. Construction is to be completed by 2020, and the centre will occupy an area of 67 hectares. Investments in the IT sector in Guizhou have grown by 378 percent. USD 2.8 billion was invested in Guizhou last year in services related to the transfer, storage, and processing of data. What was once the poorest province has become one of the few in the first quarter of 2018 with double-digit GDP growth rates of 10.1%.
The Next Generation AI Three-Year Development Plan released by the Ministry of Industry and Information Technology of the People's Republic of China in December 2017 is more specific about how to develop artificial intelligence and covers a period extending up to 2020. It has set several tasks. The first is to stimulate the development of smart products. This includes, in particular, cars connected to the Internet, smart robots and drones, voice and facial recognition, and machine analysis of medical images. It also calls for a breakthrough in key fundamental technologies like the development of chips and neural networks and open source platforms. In addition, the plan provides for the development of industries using key technologies from artificial intelligence.
The three-year plan coincides with another document issued by the Ministry of Science and Technology of China listing 13 technology projects with priority over large-scale public investment. These projects are to be implemented before 2021. The most notable among them calls for the creation of an artificial intelligence chip that promises to be 20 times more productive and energy efficient than the American-produced NVIDIA Tesla M40 – one of the most widely used artificial intelligence chips at the moment.
Where Can I Get Five Million Scientists?
It's no wonder that the Chinese authorities are focusing on chips in the development of artificial intelligence. They pose the greatest problem at present. The development of microchips is an extremely knowledge-intensive and capital-intensive process, and the results are not always manifest. China is extremely dependent on imports of foreign microchips, mainly American ones, with only 16% of its chips produced in China itself. Annual imports amount to USD 200 billion, which exceeds Chinese oil imports. China's share in the world market is even smaller: in 2015, China accounted for only 4% of world chip production, while the USA accounted for 50%. Naturally, the Chinese authorities support local AI manufacturers and developers in every way possible, granting them tax breaks, administrative preferences, and direct financing. For example, the China Integrated Circuit Industry Investment Fund collected USD 31.5 billion. This is not, however, such a large amount in the industry. Intel alone spent USD 12.7 billion on research and development in 2016.
China is also experiencing an acute shortage of qualified personnel. According to estimates from the Ministry of Industry and Information Technology of China, about 5 million specialists will be needed to implement the tasks that have been set. At the present time, there are 1.9 million professionals specializing in the field, 850,000 of which are in the USA, with only 50,000 in China. More than 43% of those in China came from the USA. Approximately 2,500 companies worldwide are engaged in the research, development, and practical application of artificial intelligence. The Tencent Research Institute has acknowledged that US companies occupy the lion's share of the market and outstrip China in all aspects of AI research and development. Thirty-three American and fourteen Chinese companies are occupied with the development of processors and chips. Of the companies involved in natural language processing, computer vision, and image recognition, 586 are American and 273 are Chinese. And finally, 488 American and 304 Chinese companies are working on machine learning, smart drones and robots, and self-guided cars.
The only area in which China enjoys an undeniable competitive advantage is in the colossal amount of data it possesses. The population of China is considerable, and more than half of it – 752 million people (twice the population of the United States) – uses mobile Internet. Eighty-four percent regularly make use of mobile payments. These people leave "digital footprints" behind them in their everyday lives. This is precisely the kind of big data that is so important for machine learning.
The Rest of the World Will Help
In all other areas, China relies on foreign technology and personnel. The Next Generation Artificial Intelligence Development Plan and the Three-Year Action Plan discuss the need to encourage Chinese companies to carry out mergers and acquisitions of foreign partners. This policy has been successful. A few years ago, Chinese tech company Baidu opened its Silicon Valley Artificial Intelligence Lab, and in 2017, the company opened a second centre there for research and development of self-guided cars as part of the Apollo project. Soon after that, the company's third centre in the US, the Business Intelligence Lab, opened for research and development of big data. The other tech giant, Tencent, opened its artificial intelligence research centre in Seattle.
Foreign companies are happy to open research laboratories in China itself. Google is hiring employees for its research centre in Beijing, even though the company's main products, the Google search engine and Gmail, are blocked in China. On the other hand, Chinese authorities are trying to create favourable conditions for the work of foreign experts. Scientists and developers in the field of high technology can obtain a Chinese visa for a period of 5 to 10 years with the ability to enter the country an unlimited number of times. Moreover, Chinese companies spare no expense to attract specialists from foreign companies and competitors: a high-level scientist in China can receive up to a million dollars a year.
The US is concerned that China will borrow American high technology and attract US scientists to work in China, which will eventually lead to Chinese supremacy in the field of AI. In the US, the development of artificial intelligence is carried out mainly by private companies, and these companies often do not agree on how to develop dual-purpose solutions and products. For example, when Google took over DeepMind, the latter forbade the use of their products in the military or to monitor citizens of the country. Moreover, when Google acquired the robot developer SCHAFT, the company declared that it would not work for the Defense Advanced Research Projects Agency.
The situation in China is completely different from that of the US. Despite the fact that a third of the world's tech startups with capital exceeding USD 1 billion are present in China, three technological giants dominate all the rest: Baidu, Alibaba and Tencent (BAT). In most of the start-ups, direct or indirect investments have come from BAT. China's Ministry of Science and Technology formed the first working group for the development of next-generation artificial intelligence by these companies. In the group, Baidu will be responsible for self-guiding cars, Alibaba for smart cities and city think tanks, and Tencent for computer vision. What's more, BAT has made no bones about sharing big data with the state if necessary and opening party committees within the company itself. The possibility of formalizing these relations by means of the government's acquisition of a 1% stake in the companies has also been discussed. When Chinese President Xi Jinping speaks about the need for civil-military integration, it can be assumed that all the achievements of Chinese (and foreign) scientists and companies in the field of artificial intelligence will become available to the military.
The Race for Artificial Intelligence
There are no programmes directly involved in developing artificial intelligence in the Chinese military. However, according to Elsa B. Kania, an Adjunct Fellow with the Technology and National Security Program at the Center for a New American Security, the Chinese military understands the need for "intelligentization" of the military-industrial complex. Future military actions are likely to be impersonal, intangible, and inaudible. It is her opinion that China is actively developing UAVs, underwater drones, and self-guided combat vehicles.
This has the USA on edge. If the second half of the 20th century saw two superpowers, the USSR and the USA, racing after nuclear supremacy, then the 21st century will see two superpowers, this time the USA and China, racing after artificial intelligence. The US is trying to resist: President Trump has initiated an investigation into violations of intellectual property rights by China under article 301 of the 1974 US Merchant Act. This investigation has shown that China infringed on four main aspects of American intellectual property rights: compulsory transfer of technology, discriminatory licensing rules, cross-border takeovers, and theft of intellectual property. In regards to the "301 investigation", US Trade Representative Robert Lighthizer said: "These are things that China listed and said we're going to take technology, spend a couple hundred billion dollars and dominate the world. These are things that if China dominates the world, it's bad for America." As a result, Trump announced the possibility of introducing tariffs on goods from China to the tune of USD 150 billion in order to contain the development of the Made in China 2025 programme.
It is true that China has little difficulty parrying these attacks, promising in return to limit imports of American-produced soybeans and sorghum, more than half of which is exported to China. This would seriously impact the American farmers who made up a significant part of the electorate Trump relied on in his election campaign. This has made American attempts at containment thus far unsuccessful. Following the latest round of trade negotiations between the Chinese delegation headed by Vice Premier of the State Council of the People's Republic of China Liu He, President Trump announced that the introduction of tariffs on Chinese goods has been postponed, as China agreed to lift restrictions on imports of American agricultural products.
China has publicly stated from the very beginning that if it is still possible to work on reducing the American trade balance deficit, then industrial and technological policy and development are an internal Chinese matter not up for discussion. In the eyes of the world community, President Trump has not appeared to be a crusader for justice, but rather an aggressor, encroaching on the basic principles of free trade and the international division of labour. If American companies willingly accept mergers and acquisitions from Chinese partners, then it must be economically profitable for them to do so.
Perhaps in the race for artificial intelligence it would be better to change tactics and move from deterrence to competition? The Obama administration developed an artificial intelligence programme and, as Western media outlets have noted, the Chinese programme for the development of next-generation artificial intelligence, established just a year after the American programme, appeared in many respects to copy it. In particular, the American programme suggested an increase in public funding for research and development in artificial intelligence. However, the Trump administration has decided to reduce the National Science Foundation's already trifling budget for research on so-called intelligent systems by 10% to 175 million dollars. Instead of increasing their own spending on research, the US is trying to limit China's development, but China is unlikely to make concessions. One recent article in a leading Chinese newspaper, the Guangming Daily, urged others not to miss the opportunities of a new technological revolution. It noted that China had been a strong agrarian country but had missed the opportunities provided by the industrial revolution and as a result had become passive and subject to infringements on the world stage. Thanks to the efforts of the last several generations, according to the newspaper, China has come closer than ever to bringing about the rebirth of the great Chinese nation and has never been as sure of itself as it is now. It would appear that the country's leadership is trying to heed the lessons of the past so as not to miss the historic chance of leading the digital revolution.
First published in our partner RIAC
China and the US in Asia: Four Scenarios for the Future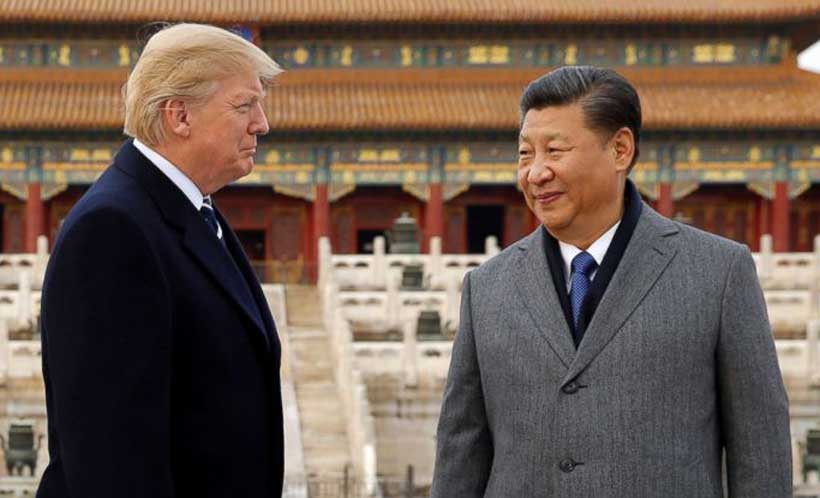 A few months ago, the author wrote an article for the RIAC website on possible variants of the new international architecture on the European continent that might take shape over the next few years. Arguing that European politics will turn towards Moscow–Brussels relations, the article attempted to construct several scenarios for Europe's future depending on the possible development trajectories of Russia and the EU through 2024. The scenario matrix for Greater Europe was built along two axes: a weak (fragmented) EU versus a strong (coherent) EU and Russia without reforms (running by inertia) versus Russia with reforms. The outcome was four generalized scenarios ("Eurasian Melting Pot," "Two-Fold Greater Europe," "No Man's Land," and "New Cold War").
The article was viewed many times and prompted multiple comments, including questions as to whether the proposed scenario scheme was applicable to other regions, particularly Asia. The text below is a brief sketch of a scenario matrix for Asia, or rather for its greater part. West Asia – from Iran to the Eastern Mediterranean – appears to be an independent sub-system of international relations developing according to its own laws and requires a separate matrix.
Choosing independent variables
Even if we exclude the Middle East, which is hugely important for the region, Asia remains a far greater, far more complex, and far more fragmented continent than Europe. There are no thousands of years of common history, no clearly dominant religion, no apparent analogue to "European values." Multilateral institutions in Asia are not as well-developed as in Europe and security problems – from nuclear proliferation to border conflicts – are more numerous. Economic paradigms and political regimes in Asia are less homogeneous than in Europe; any choice will be subjective and overlook important bifurcation points in the development of Asian order/chaos.
Nonetheless, we might suppose that development of international relations in Asia in the coming years will be largely determined by two basic factors. First, the dynamic of correlation between the economic, academic, technological, military, strategic, and political potentials of China and the US. The general tendency here is obvious: over at least the last three decades, the balance of power has been steadily shifting toward China. There is no reason to believe that this tendency will change in the near future. Of course, the process is not linear: accelerations, decelerations, halts and even backward movements are possible, This is especially true of the military, strategic, and political components of a national power, as they are less prone to inertia and are more flexible than the economic, academic, and technological components.
Second, Asia's future largely depends on the correlation between elements of collaboration and conflict, stability and instability, inter-dependence and protectionism, universalism and particularism, moderation and extremism, etc., in the continent's development. Traditionally, most Asian countries have succeeded in finding an acceptable balance between the imperatives of the region's economic development and those of the domestic political agenda. However, maintaining this balance in the near future is far from guaranteed. The general growth of nationalism, rise of religious fundamentalism in Asia, increasing military spending, resurrection of old hostile historic narratives, risks of WMD proliferation, and rise of international terrorism suggest considering a "confrontational" scenario for the international system's evolution as at least possible, if not the most probable scenario.
Combining the horizontal axis (which records the changing balance of power between China and the US) with the vertical one (which measures the correlation between elements of collaboration and conflict in international relations in Asia), we get a matrix of four development scenarios for China-US relations and for the international system on the Asian continent as a whole. Naturally, this matrix is highly schematic and in no way exhausts all the development possibilities of international relations in Asia. Nonetheless, it can serve as a starting point for more comprehensive and more complete scenario forecasts concerning the future of the Asian continent.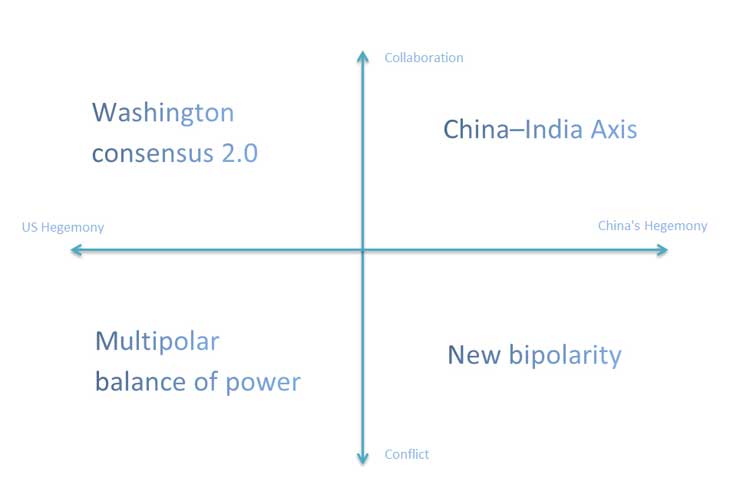 Washington consensus 2.0
This scenario is based on the Trump Administration's success in preserving – at least temporarily – the geopolitical status quo in Asia. In this scenario, the US is able to slow down or suspend entirely those changes to the balance of power between China and the US that are negative for the US. Economic development of the US accelerates while China's economy decelerates significantly, accumulating fundamental structural problems. The economic pressure Washington consistently puts on Beijing bears fruit. The deficit in US-China trade decreases significantly. Trump succeeds in wringing concessions out of China on other fronts as well (currency exchange rates, non-tariff restrictions, intellectual property, etc.). There are no dramatic shifts in China's favor in the military strategic balance between the two countries either: the consistent increase of China's military spending is parried by large-scale efforts to modernize the US military, including its Navy.
At the same time, military political tensions on the Asian continent generally deescalate. Pyongyang freezes its nuclear and ballistic programs and the North Korean conflict gradually becomes less critical. Territorial disputes in the South China Sea remain unresolved, but they do not provoke bitter political crises in Southeast Asia. Economic interdependence between Asian states deepens and the expanding middle class in most Asian countries becomes the foundation of Asia's political stability. The US returns to the idea of joining the Trans-Pacific Partnership, taking into account new bilateral economic and trade agreements already signed with partners in the Asia Pacific. The Regional Comprehensive Economic Partnership promoted by China is stalled by numerous multilateral and bilateral disputes on specific issues. Political extremism and international terrorism in Asia are on a downward trend. The arms race between Asia's leading countries slows down, and in its place is competition in the economy and competition between social development models.
This scenario means preserving and, in some areas, bolstering American influence in Asia. The Pacific and Indian Oceans remain free for navigation, including navigation by the US and its allies' Navies and Air Forces. Traditional American allies remain loyal to Washington even though they actively develop economic collaboration with China. US–China cooperation continues and expands in the G1.5 format rather than the G2, with the US the senior partner setting the rules of the game. It is even possible that the US and China will reach some agreements on nuclear arms control, although the US has a decisive nuclear advantage (particularly in sea- and air-based nuclear strategic forces).
On the other hand, the US continues to put pressure on China on such issues as human rights, civil society development, and Internet freedom. This pressure resonates with certain groups within China, particularly among educated urban youth and the growing Chinese middle class. Preservation and bolstering of America's positions in the Pacific and Indian Oceans compel Beijing to pay greater attention to resource and transit options afforded by continental Eurasia, thereby increasing the significance of Russia and Central Asia for China's strategy.
China–India Axis
In this scenario, the US does not succeed in slowing down further growth of China's power in any of its manifestations: economic, research, technological, military, strategic, and political. Moreover, a new cyclical crisis in the American economy (2019–2020) speeds up the shift in the balance of power between the US and China in the latter's favor. Washington's positions in Asia are also undermined by the profound and ongoing domestic political crisis in the US that prevents Washington from conducting a consistent foreign policy. The US political establishment remains deeply split on the country's optimal strategy regarding China: proponents of consistent "containment" of Beijing are opposed by adherents of "engagement." At the same time, the US's harsh unilateral policies toward their partners and allies in Asia accelerate the relative decline in American presence in Asia. Washington's rejection of the Trans-Pacific Partnership has long-term negative consequences due to the US's inability to exert a decisive influence on shaping new rules in Asia Pacific. On the other hand, China achieves major successes in structural revamping of its economy without sacrificing either sociopolitical stability or its high growth rate. China's economy opens up, especially toward neighboring Asian states. China takes the place of the US as the chief proponent of free trade in Asia and in the world in general. The Regional Comprehensive Economic Partnership steadily progresses; the free trade zone in Asia extends beyond its original geographic boundaries and gradually turns into a continent-wide integration project.
Asia's military and political situation develops along the lines of the first scenario: elements of international cooperation come to exert ever greater dominance over elements of confrontation. A major military political crisis in Beijing-Washington relations is avoided; territorial and border conflicts gradually become less of an issue; the logic of economic interdependence wins over that of the geopolitical balance of power. The "reset" in China-India relations gains particular significance, comparable in its consequences to the "reset" in Russia-China relations in the late 20th and early 21st centuries. China, on the rise and confident in its power, agrees to significant concessions to India on border issues, recognizing India's strategic leadership in South Asian trade and economic relations. India joins China's "One Belt – One Road" project. The degree of India's involvement in Asian trade increases rapidly.
Ultimately, Asia's life is being determined by the emergent China–India axis, similar to the central role the Berlin-Paris axis played in West European integration in the second half of the 20th century. China–India cooperation is primarily economic but gradually spreads into the political. The US endeavors to balance the Beijing–New Delhi axis by boosting military political cooperation with India, but as India's relations with China improve, New Delhi needs the US security umbrella less and less. Russia also nudges China's leadership toward more active cooperation with India, since it is highly undesirable for Moscow to have to choose between Beijing and New Delhi. At the same time, additional risks emerge for Russia owing to Beijing possibly revising its economic and strategic priorities in favor of South Asia at the expense of Russia and Central Asia. Transforming the China-India axis into a fully-fledged China-India-Russia triangle remains Moscow's strategic objective, primarily economically.
Since Washington loses positions in continental Asia, it has to rely mostly on its traditional allies on the periphery of the Asian continent, from Japan to Australia. With each passing year, these traditional allies find it increasingly hard to combine their pro-American military and political orientation with an economic reorientation toward China and the consolidation of Asia as a whole.
Multipolar balance of power
The scenario is based on preserving US hegemony on the continent (as in the first scenario), but under a significantly escalated military political situation in Asia. Increasing socioeconomic problems in most Asian countries, including China and India, lead to a rise in nationalism and political radicalism. Border conflicts and other territorial problems become the focus of national priorities, and populists bolster their positions in both democratic and authoritarian states on the continent. The arms race in Asia proceeds on an ever greater scale. Numerous attempts to agree on multilateral confidence-building military measures fail. From time to time, the continent is rocked by critical political crises and border clashes. Plans for economic unification of Asia fail under the onslaught of protectionism and bitter fights for resources.
Chronic political instability, separatist movements, religious conflicts, and numerous terrorist attacks prevent major infrastructural projects from being implemented on the continent. As a result, China's "One Belt – One Road" project is realized in a reduced form with limited consequence for Asian countries. Instead of developing a single Asian economic space, most Asian states in their trade and economic strategies are oriented toward external markets (North America and Europe). Asian countries are locked in a fierce struggle over US and EU markets, allowing the West to secure profitable terms of trade with the East.
In such circumstances, the US can afford to play the role of an "offshore balancer", maintaining a multilateral balance of power on the Asian continent and conducting a policy of "mediated" containment of China by providing incremental support to its real or potential opponents on the continent, including Japan, South Korea, ASEAN countries, Australia, New Zealand, and India. India is the principal, though not the only, counterbalance to China, and enters into a de-facto alliance with the US (or even becomes a de-jure American ally). Shipments of US arms to Asian countries increase. Bilateral and multilateral agreements with old US allies are renewed.
Containment of China, naturally, does not exclude Washington's selective cooperation with Beijing, just as it does not exclude using the "Chinese menace" to further consolidate US positions in the Pacific and Indian Oceans. China's relative weakness and the numerous tensions among Asian countries allow Washington to minimize its immediate involvement in conflicts in Asia while maintaining a complex multilateral balance of power in Asia. In other words, Washington implements the strategy that the British Empire tried to implement with varying success in continental Europe in the 19th century (China's closest analogue in this case being the Russian Empire).
New bipolarity
The fourth scenario entails a simultaneous rise of China (as in the second scenario) and a general slump in socioeconomic, military, and political stability in Asia (as in the third scenario). Growing challenges to national security in Asian countries make it increasingly difficult to preserve the freedom of political maneuver, and the countries face a harsh choice between Beijing and Washington. As a result, Asia and the international system as a whole is divided into "Chinese" and "American" blocs locked in a political, military and strategic, and possibly economic confrontation. Like the Soviet-American bipolar world of the 20th century, this new bipolarity gradually establishes new rules of the game acceptable to both parties, adopting the requisite agreements and generating new mechanisms for arms control. One could even imagine emergence of some new "non-aligned movement" and countries defecting from one camp to the other.
The crucial question in this scenario is the location of the "great Asian rift." If the US succeeds in enshrining today's tendency of India-US strategic rapprochement, the rift will divide "maritime democracies" from "continental autocracies." If the US fails, the rift will run between the Asian continent and the island states of the Pacific. On the other hand, India may take a stance similar to that of De Gaulle's France: while remaining within the general framework of the "maritime democracies" partnership, it will not immediately participate in anti-China military alliances (as in 1966, when Paris withdrew from NATO's military structure).
The new bipolarity will increase Taiwan's strategic significance for the US, and the American strategy will counteract attempts at economic integration and political unification of Taiwan and China. The Japan-China confrontation will not only be preserved, butwill gain additional impetus. With regards to Russia, the emergence of a new bipolarity will increase Russia's dependence on China, since attempts to retain a "diversified portfolio" of political investment in Asia by expanding cooperation with Japan, South Korea, Vietnam, Indonesia, and India will inevitably run into the harsh logic of bipolar confrontation.
It is hard to say how the new bipolarity will work in a globalized and interdependent world. Will the parties succeed in separating economic collaboration from political confrontation? Will they discipline their "junior partners" and non-state actors in global politics? Will they agree on joint approaches to global problems? Today, hardly anyone is ready to offer answers to these questions. One thing is clear: the new bipolarity of the 21st century would, in any case, be less stable and dangerous than the old bipolarity of the past century. It would apparently, sooner or later, evolve toward one of the three preceding scenarios.
"Black swans"
Any forecast should contain references to "black swans." These are critical events with hard-to-predict probability that can fully or greatly change the forecast. Several such events may be mentioned in creating a forecast for the Asian continent.
A large-scale military conflict in Asia. Although such a conflict does not appear particularly probable, the possibility cannot be entirely discounted. Setting aside the probability of violence escalating in certain Asian countries (Afghanistan, Myanmar, etc.) and of the situation destabilizing in one of the Central Asian states, we should keep in mind at least three variants of a large-scale war on the continent: (1) a war on the Korean peninsula involving the US and China; (2) naval clashes between China and the US or land clashes between China and India; (3) another border conflict between India and Pakistan escalating into a full-blown regional war. This conflict would have different impacts on China-US relations and on the situation in Asia as a whole but, in some way, would push the continent toward new strife and bipolarity and would limit the possibilities for economic unification of the continent.
The rise of Islamic radicalism. The Muslim population of Asia, even without the Middle East, will grow at rates outstripping the overall population growth of the continent. Islam is gaining particular influence in Southeast Asia, where some countries (Indonesia, Malaysia, the Philippines) already have a network of international terrorist cells. A series of major terrorist attacks or attempts to seize power would have a great influence on both the political agenda in some Asian countries and on the priorities in their cooperation. For China, equally major challenges would be Islamic radicalism joining forces with separatist movements in the Xinjiang Uyghur Autonomous Region and growing discrimination against ethnic Chinese in Southeast Asia. The common threat could become an additional stimulus to multilateral cooperation in security, but ethno-nationalism and religious intolerance will impose strict limits on such cooperation.
An unexpected and severe financial and economic crisis that far exceeds the Asian crisis of 1997–1998 and the global financial crisis of 2007–2008 in both scale and depth. Shaken foundations of Asian economies would lead to major adjustments to the continental balance of power, changes to the macroeconomic strategy of leading Asian countries, and negative consequences for sociopolitical stability in some countries. Such a crisis could result in a relative weakening of the "Asian periphery" and strengthening of the "Asian nucleus", primarily China. Another possible outcome of financial turmoil would be another "fine-tuning" of the global monetary financial system. It appears unlikely, however, that if the monetary and financial dominance of the West is preserved, Asia would gain anything substantial from such "fine-tuning." Rather, Asian countries would have to shoulder major expenses to emerge from the crisis.
A major technological breakthrough of global significance. A technological revolution in one of the principal areas of today's economy (energy, transport, artificial intelligence, robotics, biotechnologies, e-commerce, 3D-printing) is capable of changing significantly the established rules of the game in global economic relations. For instance, it could create opportunities for bringing much industrial production back into Europe and the US from Asia, cutting sharply the need for Asian labour force in individual manufacturing and non-manufacturing sectors and radically changing the geography of global investment. Economic and social consequences of a major technological breakthrough would have a significant impact on the entire world, but the biggest players in new forward-looking technologies would reap the major benefits. China remains such a player, and, with qualifications, so do India and Japan. Foreign political influence would further shift from traditional instruments (military power, raw materials, and energy resources) to non-traditional (human capital, education, innovations). At the same time, Asia might become the main victim of the next generation of international cybercrime, more comprehensive and larger in scale than previously recorded.
"An economic miracle" in Russia or Japan. Russia and Japan are two large Asian countries that, for a long time, have been developing much more slowly than their dynamic neighbours on the continent. The "relative weight" of Russia and Japan in Asia's economy is steadily falling and so are, accordingly, their long-term possibilities for influencing the future of Asia's political space. Russia and Japan also have similarly severe demographic problems not typical of most other countries on the continent. A further drop in the "relative weight" of the two countries on the continent is considered by leading actors both in Asia and beyond. The presumption is that, should current trends remain, Japan will follow in the wake of US policies in the Asia Pacific and Russia will follow that of China's Asian policies. Even so, if Japan's "Abenomics" or Russia's "economic spurt" strategy during Vladimir Putin's fourth presidential term succeed, the situation might change drastically. The configuration of continental balances will become far more complex and the new continental order is likely to be more stable.
First published in our partner RIAC