Trump's election and its impact on Europe
Authors: Daniele Scalea, Alessandro Cipri (*)
[yt_dropcap type="square" font="" size="14″ color="#000″ background="#fff" ] I [/yt_dropcap] t is particularly difficult to foretell what the foreign policy of a US president-elect will be. We have plenty of examples of US presidents who – after coming into office – did not follow through on their electoral campaign pledges.
Even though Obama did actually conclude the agreement with Iran – as promised during his first presidential campaign – he was able to do that only in his second term, after having embittered the sanctions for years. While George W. Bush presented himself as an "isolationist" – in opposition to Bill Clinton and his humanitarian interventionism – he ended up launching two major wars in Afghanistan and Iraq, restraining from others just because of the poor-performances in these two. Richard Nixon, who won two terms on anti-communism, ended the war against the Vietnamese Communists and stroke a deal with Maoist China. Both Wilson in 1916 and Roosevelt in 1940 campaigned on an isolationist platform, just to lead their country into the first and second world war as soon as they were re-elected.
Forecasting the foreign policy stances of the upcoming administration is now even harder than with those of the past, considering that the President-Elect is not a long-time politician, and we do not even know who his Secretary of State will be. Even though a Republican-controlled Congress is certainly good for President Trump, the GOP is now bitterly divided among opposing factions, with Trump's "populist" wing fighting an internecine war against the mainstream conservatives within the party, many of whom did not even endorse him in the general election. In fact, regardless of the success of the insurgent candidate, Congress is still filled up with Tea Partiers and establishment Republicans, potentially harboring resentment towards the rising pro-Trump hardliners. This internal conflict may well produce an hostile Congress for President Trump, especially when it comes to the most controversial points of his agenda, such as a review of foreign trade strategies towards fair trade.
So, before trying to figure out the potential consequences for Europe, let's try to define at least some general elements of Trump's hypothetical foreign policy.
• First of all, Trump has outlined a non-interventionist policy: no more wars for state-building or regime change. He want to spend less in military intervention and more in military supremacy, which means more R&D and less operational costs. This would imply sharing responsibilities with US allies, as well as leaving them more strategic freedom in and the pursuit of their particular interests.
• He also wants to normalize relations with Russia, that have reached the bottom on Ukraine and Syria. He thinks that NATO is too expensive for Washington, whereas European allies are acting as free riders . NATO is the 28-nations – almost 70-years old – military alliance that unites US, Canada and Europe. Conceived as defensive alliance against USSR, experienced a consistend expansion of its membership in the years following the end of the Cold War, welcoming many former communist Eastern European countries; at the same time, it switched its focus from European defense out-of-area operations. Those are offensive military operations such as in Yugoslavia and Serbia, during the '90, or in Afghanistan, Iraq, Libya and the Gulf of Aden in last fifteen years. However – since the Ukrainian crisis – NATO is redirecting its resources to the defense of its Eastern border, along an arc of tension with Russia ranging from the Arctic to Syria.
• The July 2015 nuclear deal with Iran (the JCPOA), strongly wanted by President Obama, has been harshly criticized by Trump. Under this deal, Iran agreed to eliminate its stockpile of medium-enriched uranium, cut its stockpile of low-enriched uranium by 98%, and reduce by about two-thirds the number of its gas centrifuges for 13 years. For the next 15 years, Iran will only enrich uranium up to 3.67%. The main criticism on this deal is that the Iranian nuclear programme is suspended, rather than aborted, and in the meantime the Islamic Republic could be strengthened by the lifting of sanctions while keeping a regional stance opposed to the US. It is unlikely that Trump will reject the agreement as a whole, since that would require to negotiate a new one (and many years were needed for the current) or to come back to direct confrontation with Iran, which would mean major efforts in the Middle East for Washington – something Trump wants to avoid. So, the most probable outcome could be that the US introduces new extra verification measures of Tehran's compliance of the Agreement, and promptly withdraws from it if any violation is observed.
• Trump is a vocal opponent of international free trade agreements, such as the North America Free Trade Agreement (NAFTA), the Transatlantic Trade and Investement Partnership (TTIP), and the Trans-Pacific Partnership (TTP), seen as factors of de-industrialization and industrial outsourcing, especially in China and Mexico.
Assuming that these vectors remain sound and Trump Administration manages to implement them at least in part, we could try to forecast some effects on Europe.
First, we have to consider that major European NATO members have been reducing their defence spending since the end of the Cold War. Not considering the US, it is only since 2015 that NATO defence expenditures are growing, as a consequence of Russian assertiveness in Eastern Europe. NATO guideline is to spend 2% of the GDP for Defence but, in recent years, only 3 out of 28 members follow this rule: United States (currently spending 3.61% of the GDP), United Kingdom (2.21%), and – surprisingly – Greece (2.38%). Greek good will, which is not diminishing but even increasing under Prime Minister Alexis Tsipras, is due to Athen's dependance on foreign loans, sometimes informally swapped with arms purchasing. Since 2015, two more countries abide by the 2% rule: Estonia and Poland. No wonder, since they are the most anti-Russian countries in NATO and the most vocal supporters of a military buildup on its Eastern border.
Anyway, all that said, the remaining 23 members out of 28 spend for defence less than the recommended 2%: for example France 1.78%, Turkey 1.56%, Germany 1.19%, Italy 1.11%, Spain 0.91%. Since 2012, the US alone spends yearly more than all European allies altogether. Moreover, the limited improvement this year is due to the build-up on the Russian border – a military build-up that Trump will probably do not go along with.
It is highly improbable that Trump wants to dismantle NATO and – even if this was the case – it would be almost impossible for President Trump to realize it without facing insuperable obstacles. Most probably, Trump will just follow on Obama's path in trying to lead from behind – just avoiding to mess up with Russia again. The theory of "leading from behind" arose in business circles, with Linda Hill of the Harvard Business School acknowledged as its mother. In foreign policy, it means to encourage others to take the initiative, while quietly establishing the strategy and leading the game. This, however, is a delicate art, because is a very short step from leading from behind to be led from the front.
About Obama's doctrine, Charles Krauthammer wrote on The Washington Post: "It's been a foreign policy of hesitation, delay and indecision, marked by plaintive appeals to the (fictional) international community to do what only America can".
The experience of Libya in 2011 isn't indeed comforting, with the UK and France pressing for a military intervention against the Gaddafi regime, only to leave afterwards a country broken into pieces and exposed to Islamist infiltration, even by ISIS.
But that's not solely Europe's fault, nor it is completely US' fault: the responsibility is on the West as a whole, as London and Paris messed up Libya, like the US had messed up Iraq before, while our Arab allies are messing up Syria. Consequences are evident: with the treat of al-Qaida doubled up by ISIS, a lot of states in the region are either failed or on the verge of failing, Europe is under pressure from terrorist attacks and from an unprecedented flow of immigrants, with those two factors giving a huge contribution to Brexit and other displays of popular distrust towards the European establishment and institutions.
That's why I think that the new line dictated by Trump – although challenging – will be positive for Europe We are facing problems that cannot be resolved without Russia's help, not to say with Russia's enmity. Think about the Syrian conundrum: a major Arab state has collapsed, and very hardly could be recomposed after five years of savage civil, ethnic and religious war, in which interests of many regional and world powers conflicted one another. Tensions in Eastern Europe compel both Russia and NATO to increase military expenditures, while mutual sanctions are harming both economies.
Even though the European establishment is complaining about Trump's stance on Russia and the mutual exchange of compliments between him and President Putin, we have to keep in mind that it was the United States to push for a confrontation with Russia, while many EU countries – such as Italy – were in favor of improving relations with it.
In fact, Italo-Russian relations have been free from critical issues since the Soviet-Yugoslav "separation" in 1948 and, even though Italy was part of the Western bloc, it often kept pushing for an improvement in its relations with the USSR.
A few years after the end of the Second World War, Manlio Brosio – then Italian ambassador in Moscow (and future NATO Secretary General – looked for Soviet support for his project of a neutral Italy, but failed in his attempt. Ten years later, politicians such as Amintore Fanfani, or public managers such as Enrico Mattei, launched the "New Atlantism" doctrine, according to which
– while remaining loyal to the west – Italy would act independently, seeking friendly relations with Communist and Mediterranean countries. After the end of the Cold War, Italy has always been one of the warmest supporters of cooperation with Russia, especially during the government of Silvio Berlusconi, whose friendship with Putin was well-known. In 2002, during a meeting presided by Berlusconi in Pratica di Mare, Russia and NATO signed an historical cooperation agreement.
This agreement could well be the starting point for a new approach to collective security in Europe: one that seeks to engage, rather than confront Russia.
However, not everyone in Europe will agree, especially among the Eastern countries such as Poland, Estonia, Latvia, Lithuania, Romania or Hungary that – still recalling the period of Soviet domination – mistrust the Russians. It is true, anyway, that recent elections in Moldova and Bulgaria, both former Communist states, have witnessed the victory of Russia-friendly candidates. Those Eastern countries are also very conservative and suspicious of pro-immigration and liberal policies of Western Europe. In the mid- long-term, this factor could orient them towards Russia again.
Great Britain – a traditional rival of Russia – has in recent years led the front of anti-Russian countries opposed to a lifting of sanctions. But now that London seems next to leave the EU, and considering that the British usually follow a line dictated in Washington, it could be well possible that their stance towards Russia will soften a lot.
A major obstacle remains in Germany, where the German social-democratic party – relatively pro-Russian, for west-European standards ¬– is going through a difficult time. Power is still strongly in the hands of the Christian-democrats and especially of Angela Merkel, who is toying with the idea of assert herself as the new leader of a liberal Western front, opposed to both Trump and Putin. Apart from her mania of grandeur, she is also following the objective national interests of Germany: the great winner of the process of European integration. Free trade, combined with a common currency (and so the inability for competitors, such as Italy, to conduct a competitive devaluation) have given Germany the economic dominance in the European Union. If Russia wants to move forward her influence in Eastern Europe, it has to confront face German opposition.
However, regardless of Russia's intentions, confrontation with Berlin may be inevitable, with the Germans pushing to expand their own influence in Belarus, Ukraine, and the Caucasus.
Another major obstacle to a Russia-West rapprochement is still the US: while Iit is true that Trump wants friendship, he could do that also through some minor concessions, such as a limited area of influence in the so-called Near Abroad, as Russians call the former Soviet countries with whom they still have critical security links. Trump is as famous to be a tough negotiator, as Putin is to be astute politician and, despite their good intentions, it is not guaranteed that they will find an agreement – because a very big deal it is required between Russia and the US.
Another side of Trump's program concerns energy, where he promises to encourage the production of shale oil and gas, which is now limited by environmentalist legislation. Over the past decade, the combination of horizontal drilling and hydraulic fracturing has provided access to large volumes of oil and natural gas that were previously uneconomic to produce. The United States has approximately 610 trillion cubic feet of technically recoverable shale natural gas resources and 59 billion barrels of technically recoverable tight oil resources. As a result, the United States is ranked second globally after Russia in shale oil resources and is ranked fourth globally after China, Argentina and Algeria in shale natural gas resources. But the tight oil and shale gas industries in the US have been suffering, mainly because of the increasing production from the Gulf states that, lowering prices, is pumping it out of business.
While in late in 2014 there were almost two thousands oil and gas rigs active in the US, in last July only 500 were still operating. Even though Trump cannot fully control some market fundamentals, as a large oversupply and sluggish demand, after his election U.S. shale producers are redeploying cash, rigs and workers, cautiously confident the energy sector has turned a corner. According to Ambrose Evans-Pritchard, the OPEC cartel is poised to slash crude output, with an agreement struck in September by the Saudis and Russians to cooperate in the world oil markets. If all signs are true, prices could well go up in the upcoming months, giving oxygen to the US industry.
Trump's victory also brings back on the agenda the Keystone XL oil pipeline from Canada to the US Gulf Coast (where many refineries are located): a project blocked by Obama on the ground of its impact on the environment. The main target of the Keystone pipeline is to replace imports of heavy oil-sand crude from Venezuela with more reliable Canadian heavy oil, even though a good portion of the oil that will gush down the KXL will probably end up being sold on the international market.
Now, under the Trump Administration both US and Canadian oil & gas could arrive in greater amount to Europe: a net importer of energy, especially from Russia, which counts for 29% of total solid fuels imports, 30% of oil and 37% of gas. For years now Washington and Bruxelles have been trying to reduce European dependency from Russian energy, worried that this can translate in political dependency. In late February, the U.S. started exporting oil and gas to Europe, 40 years after the oil embargo imposed by the U.S. Congress.
Let's move now to the Middle East and North Africa. As said before, the situation there is tragic and the West carries some responsibilities for contributing to open the Pandora's box of regional contradictions, intervening in countries such as Iraq, Libya, and Syria to replace a brutal political order with no order at all.
If the US disengages from the region, however, the risk is to barter the restraint from reckless "adventures" overseas with an overall loss of initiative on the international scenario, with Europe unable to afford more military and security burdens, because of a contentious public opinion and of a very difficult time for economy. Without the US, therefore, it is very likely that also Europe will disengage from North Africa and the Middle East.
Anyway, at least for now, America is not going away from the region anytime soon, especially considering the emphasis that Trump put on ISIS' global threat during the campaign trail. According to the upcoming National Security Adviser, General Michael Flynn, Islamic radicalism is the enemy number one for the US. This will translate in a solid partnership with secular Arab leaders such as Egypt's al-Sisi, whereas is still unclear how the Trump Administration will deal with Erdogan or the Saudis, whose links with Islamic radicalism are very suspicious.
Gen. Flynn believes the US is losing a global war against Islamist extremism that may last for generations, but he stresses that this war has to be fought also domestically, against any ideological infiltration. Trump and Flynn want to go after Islamism as Americans used to do with Communism. That brings us back to Europe again. Whereas only 1% of the US population is Muslim, Islam is thriving in Europe, due to ongoing immigration and to the higher fertility rate of Muslim communities, which is of 2.2 children per woman, while that of non-Muslim is 1.5. According to the Pew Center, Europe's Muslim population is projected to increase by 63%, growing from 43 million in 2010 to 71 million in 2050, becoming more than 10% of the total population. Anyway, in countries such as France, they already are almost 10% of the population and, In some key cities – Paris and London, for example – Muslims exceed 15%. As it is well known, Europe is facing big problems in integrating even second or third generations of immigrants, especially Muslims. Muslim vote is beginning to matter in many European countries and important Muslim politicians are emerging, such as Sadiq Khan, the Mayor of London, or Rachida Dati, former French Minister of Justice, or Sajid Javid, the British Secretary for Local Government. Only the former is by a leftist party and they are not suspicious of Islamism. Anyway, according to the 2014 Jenkins Commission Report, in the UK the Muslim Brotherhood "[has] at times had significant influence on the largest UK Muslim student organisation, national organisations which have claimed to represent Muslim communities (and on that basis have sought and had a dialogue with Government), charities and some mosques".
If the Trump Administration is going to consider Political Islam as an ideological enemy – such Communism during the Cold War – it will likely work on barring its way in Europe. The US has a long history of interfering in European domestic politics and Trump has already given a taste by meeting Nigel Farage a few days after his victory in the election. It could well be that the Trump Administration will try to advise the Western European leadership against persisting in their open doors policy toward Muslim immigrants, or to favour those political forces more akin with its ideas: usually the Right, maybe also the anti-globalist one, as the National Front in France, UKIP in UK, the Northern League in Italy, AfD in Germany. The leaders of all these forces, plus the Hungarian President Viktor Orban, in fact rejoiced at Trump's victory. Breitbart, the news website which spearheaded Trump campaign and from whom the new White House Chief Strategist Steve Bannon comes from, already has a London bureau, but is now planning to open new branches in France and Germany.
A few days ago, Francois Fillon has surprisingly won the the Right primaries in France. The hardliner among main candidates, Fillon is pro-Russian, very conservative, quite Thatcherist, and unfavourable to mass immigration. Very probably he will compete for the presidency with the far-rightist Marine Le Pen.
Even if society in the US remains very different from that of Europe, the rampant globalization of recent decades has made it quite close compared to half a century ago. Both the US and Europe have experienced massive deindustrialization with a geographical concentration of the remaining high-tech industries in a few islands of happiness – whose wealth is striking, when compared to the many rust belts of the Western world. Both the US and Europe have seen a deep financialization of their economies and have been overwhelmed by the so-called politically correct way of thinking. It's true: in the U.S. you can find also the Bible Belt, but if we consider the European Union as a whole, we could see a Catholic Belt in its Eastern countries, opposed to Sweden (a European California) or London and Paris (European New Yorks), or in general the more liberal Western countries. Exactly as in the US, also in Europe, post-modernism is currently hegemonic in colleges and mainstream media, which are trying to inculcate it also in the common man. Finally, the massive immigration flows of last decades into Europe are making its society more and more resembling to the composite ethnic mix of North American society – even in the trend towards communitarian vote. According to reliable statistics, the last time white voters in the US favoured in majority a democratic presidential candidate was in 1964: Lyndon Johnson. Since then, Carter, Clinton and Obama won the elections thanks to the decisive vote of minorities. If you look to the Brexit vote, for example, you will find out that the social group more favourable to remain in the European Union were not Scottish nor Irish, but the new minorities: Asians, Blacks and Muslims. In such similar environments, it is predictable to find similar political trends and demands: Trump's victory in the US may be soon followed by populist successes in Europe.
In conclusion, we can say that, regardless of his real actions once in office, Donald Trump is already influencing European politics by encouraging the already rampant rightist and populist parties. This will translate in more regulation of the immigration flows, abatement of the EU supranational power on European countries, and better relations with Russia. That is true even if those populist forces do not win any election: in fact, more traditional parties and politicians are compelled to adopt at least some of their requests not to lose approval and power. But, if President Trump will maintain his electoral promises, even greater changes are looming in Western politics and society . A lasting conservative and populist turn could affect the Western system, leading to a possible inclusion of Russia into it.
---
(*) ALESSANDRO CIPRI
Born in Chile and raised in Rome, Alessandro Cipri has just finished his postgraduate studies at the department of War Studies of King's College London, graduating with distinction from the Master's Degree in "Intelligence and International Security". Having served in the Italian Army's "Alpini" mountain troops, he has a keen interest in national security, military strategy, insurgency theory, and terrorism studies. His Master's dissertation was on the impact of drug trafficking on the evolution of the Colombian FARC.
The region that we now call Western Balkans does not remember that the realization of a movie caused many reactions and comments as " Dara of Jasenovac". The movie deals with the most painful topic in Serbian history – the genocide that Croats and Bosnian Muslims committed against the Serbian people in the so-called Independent State of Croatia, in the Jasenovac concentration camp during World War II.
All Nazi concentration camps after the end of the World War II were preserved to this day, so that the memory of the crimes would not fade. Millions of visitors come to Auschwitz, Dachau and other death camps, and pay their respects to the innocent victims. When in December 2009 from a museum in Auschwitz the "Arbeit macht frei" (work sets you free) sign was stolen, it was a planetary news. The sign was found after less than a month, although broken into three parts, which was again world news.
But few, outside of the Balkans, have heard about the Jasenovac extermination camp in Croatia, which was never liberated, but instead saw roughly 1,000 inmates escape in the hope that at least one of them would live to tell the world about the horrors of being imprisoned by the Croat Nazi-aligned puppet government that was appointed to rule a part of Axis-occupied Yugoslavia.
Israeli professor Gideon Greif, an expert on Auschwitz, researched the history of Jasenovac, which resulted in his book Jasenovac: Auschwitz of the Balkans. The Croat-run Jasenovac extermination camp was the size of about 150 football pitches and was established on April 10, 1941, four days after Nazi Germany invaded the Kingdom of Yugoslavia.
The wartime Independent State of Croatia, or NDH, was a Fascist satellite that was created by Nazi Germany and Hitler's closest ally, Mussolini's Italy. Under its leader, Ante Pavelic, the NDH set out to exterminate the Serbs, Jews and Roma who lived in the areas that were under their control – the Jasenovac camp was built to serve this purpose.
What made Jasenovac particularly cruel was the existence of a special camp for children where more than 20,000 Serbian children were brutally murdered. The methods used by the Croat guards to kill and torture the inmates were reportedly so barbaric that even SS chief Heinrich Himmler is believed to have suggested to the Croats that industrial killing, i.e. gas chambers, was a "cleaner way" to liquidate victims so that the guards wouldn't need to use knives, axes, and other handheld weapons against those that they were sending to their deaths. Menachem Shelah, a historian with the Yad Vashem, the Holocaust museum in Jerusalem, wrote in 1990 that "the crimes committed in Jasenovac are among the most terrible in the entire history of humanity."
Historians have estimated that between 700,000 to 1,000,000 people were killed at Jasenovac. The Nazis, themselves, recorded up to 750,000 deaths. Since the breakup of Yugoslavia in 1991, the Croatian government has continually insisted that only 83,000 people were killed at Jasenovac. Croatia's first post-Yugoslav president, Franjo Tudjman, an unabashed nationalist and the man responsible for restoring the Ustase-era flag as the national symbol of Croatia, insisted until his death in December 1999 that a mere 30,000-40,000 people died while imprisoned at Jasenovac.
The total number of deaths that occurred at Jasenovac may never be known as concerted attempts to suppress the extent of the horrors of the camp continue to this day. This, however, is not a new process. Immediately after World War II, Yugoslavia's Communist leader, Josip Broz Tito, played down the crimes that were committed at Jasenovac as they were seen as a potential threat to the "brotherhood and unity" doctrine of Tito's Yugoslavia.
"Dara of Jasenovac" is the first film dedicated to the Nazi Croat camp Jasenovac for mass extermination of Serbs. The decision of the authorities to show the movie "Dara of Jasenovac" simultaneously on the public services of Serbia and Republic of Srpska, as well as on commercial television in Montenegro, was the right decision in the public interest.
It should be noted that the film Dara from Jasenovac has not only a historical role, but also a geopolitical one. Republic of Srpska has been under pressure since its inception in 1995, with the ultimate goal of abolishing it. There is a whole list of Hollywood films in which Serbs and their struggle in the wars of the 1990s were shown in a negative context. The aim was to show the Serbs as evil and Republic of Srpska as a criminal creation. The ideologues of this theory were the Bosnian Muslim political leaders and the financiers were predominantly Saudi Arabia and Kuwait. That is why "Dara of Jasenovac" has not only historical and artistic value, but also has a geopolitical one.
`We should continue to make films that will show the suffering of the Serbian people throughout history. I think that we will adopt it, not only as a program act, but also as a program of the Government of Republic of Srpska, to treat Serbian victims in the Independent State of Croatia in the right way", said Serbian member and chairman of the BiH Presidency Milorad Dodik, after the premiere of "Dara of Jasenovac".  This statement shows that the leading Serbian politician in Bosnia and Herzegovina has strategic thinking, and that is to be commended. All that remains is, that Milorad Dodik should be supported in this plan by other Serbian institutions and especially by the state of Serbia.
Council of Europe fights for your Right to Know, too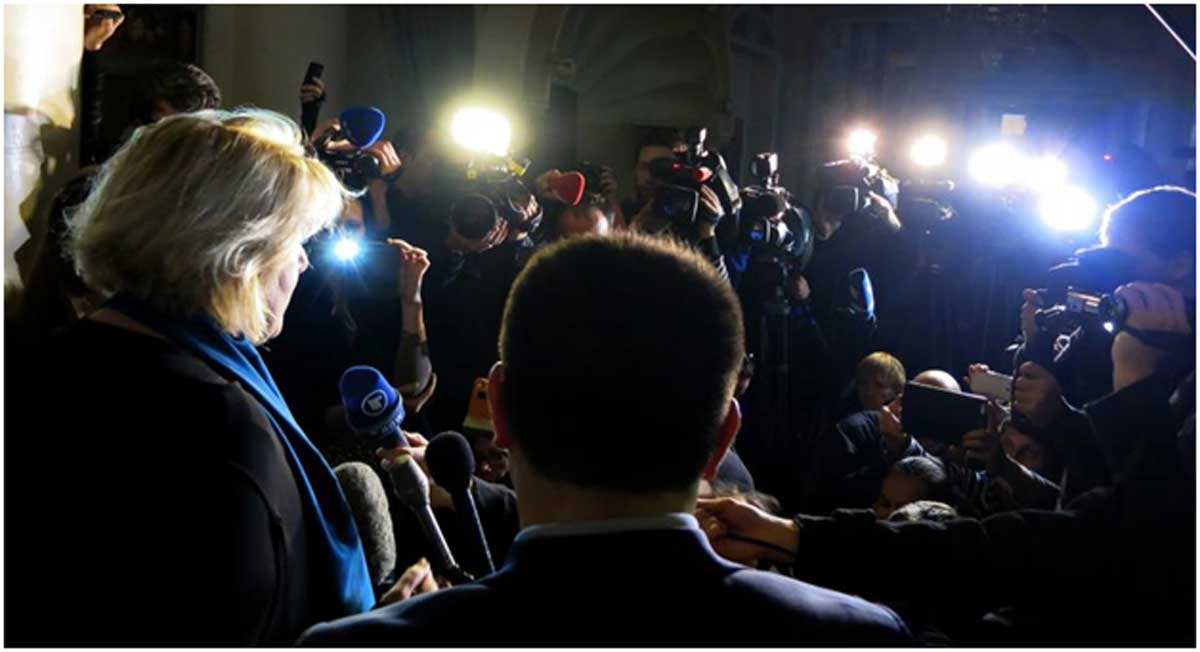 Authors: Eugene Matos de Lara and Audrey Beaulieu
"People have the right to know what those in power are doing" -Dunja Mijatovic Council of Europe, Commissioner for Human Rights.
Access to information legislation was first seen in 1766 in Sweden, with parliamentary interest to access information held by the King. Finland in 1951, the United States in 1966, and Norwayin 1970 also adopted similar legislation. Today there are 98 states with access laws; of these, more than 50 incorporated in their constitution. The Inter-American Court of Human Rights 2006 and the European Court of Human Rights 2009 both ruled that access to information is a human right, confirmed in July 2011 by the United Nations Human Rights Committee, a sine qua non of 21st-century democracy.
Global civil society movements have been promoting transparency, with activists and journalists reporting daily on successes in obtaining information and denouncing obstacles and frustrations in the implementation of this right. To this end, the Council of Europe was inspired by pluralistic and democratic ideals for greater European unity, adopted the Council of Europe Convention on Access to Official Documents recognising a general right of access to official documents held by public authorities. It brings a minimum standard for the fair processing of requests for access to official documents with the obligation for member states to secure independent review for restricted documents unless with held if the protection of the documents is considered legitimate.
The right to freedom of information
Access to information is a government scrutiny tool. Without it, human rights violations, corruption cases, and anti-democratic practices would never be uncovered. Besides exposing demerits, the policy is also known to improve the quality of public debates while increasing participation in the decision making process. Indeed, transparency of authorities should be regarded as a fundamental precondition for the enjoyment of fundamental rights, as guaranteed by Article 10 of the European Convention on Human Rights. The policy equips citizens and NGOs with the necessary tool to counter refusal from authorities to provide information. The European Court of Human Rights recognized that withheld documents could be accessed in specific circumstances. In principle, all information should be available, and those upheld can also be accessed, particularly when access to that particular information is crucial for the individual or group to exercise their freedoms unless of course, the information is of national security or of private nature.
Access to information in times of crisis a first line weapon against fake news
The COVID pandemic has enabled us to test access policies and benchmark the effectiveness of the right to know during trivial times, as Dunja Mijatovic mentioned. In fact, having easy access to reliable information protects the population from being misled and misinformed, a first-line weapon dismantling popular fake news and conspiracies. Instead, during COVID, access to information has supported citizens in responding adequately to the crisis. Ultimately, transparency is also a trust-building exercise.
Corruption and environmental issues
Information is a weapon against corruption. The Council of Europe Group of States against Corruption (GRECO) is looking at the specific issue of access to official documents in the context of its Fifth Evaluation Round, which focuses on preventing corruption and promoting integrity in central governments and law enforcement agencies. In about a third of the reports published so far, GRECO has recommended the state to improve access to official documents. In regards to the environment, the United Nations Convention on Access to Information, Public Participation in Decision-Making and Access to Justice in Environmental Matters, commonly referred to as the Aarhus Convention, expands the right of access to information on environmental matters thus complementing the Tromsø Convention. Declaring these policies as the primary tools that empower citizens and defenders to protect the environment we live in.
Good models exist
Most Council of Europe member states have adequate mechanisms regarding the right to information. For example, in Estonia, "the Public Information Act provides for broad disclosure of public information" states Mijatovic. Moreover, "in Croatia, Serbia, Slovenia and several other countries there is an independent oversight body – such as an Information Commissioner – responsible for monitoring and enforcing the right to information, while some other countries entrust Parliamentary Ombudsmen with supervision of the right of access to information". Finally, "the constitutions of several European countries do indeed guarantee the fundamental right to information." Nonetheless, there are still in consistent levels of transparency among state institutions or a failure to meet the requirement for proactive disclosure. The entry into force of the Tromso Convention willbe an opportunity to bring back to the table the importance of the right to information and to read just European States practices regarding the enhancement.
Barriers and Challenges
Digitization is still recent, and authorities are not accustomed to dealing openly. There is a sentiment of reservation and caution. Before the advent of the internet, governments enjoyed a level of political efficiency and practical obscurity. Viewing public records required the time and effort of a visit to the records' physical location and prevented easy access to details of individual files. Openness has made the policy cycle longer, with a more thorough consultation process and debates. The availability of digital documents has caused an unavoidable conflict.
One of the conflicts is a privacy protection and policy safeguards invoked against freedom of information requests. Requirements to provide transparency of activities must be mitigated with national security, individuals' safety, corporate interests, and citizens' right to privacy. Finding the right balance is essential to understand how local governments manage the dichotomy between providing open access to their records by maintaining the public's privacy rights.
Several governments think twice before pursuing transparency policies. Access to information hasn't been a priority for some of the European States. Mijatovic reported that "filtering of information and delays in responses to freedom of information requests have been observed in several member states". Although there is a growth in these laws' popularity, we are always a step behind meeting the supply and demand of information objectives in an era of digitization.
Legal perspectives
Tromso Convention has only been ratified by eleven countries, which are mostly located in Scandinavia (Finland, Norway and Sweden) or in Eastern Europe (Bosnia, Estonia, Hungary, Lithuania, Moldavia and Ukraine). Reading this statement, three questions should come to our minds:
1. Why not all European states have ratified Tromso Convention?
2. Why do Scandinavian countries have chosen to ratify the Convention?
3. Why are most of the Member States from Eastern Europe?
Regarding the first question, the answer resides in the fact that the ones who haven't taken part in the Convention already have strong national laws protecting freedom of information and don't need to bother with extra protection and external surveillance. For instance, Germany passed a law in 2005, promoting the unconditional right to access information. Many other European states such as Belgium, Croatia, Denmark, France &Poland have similar national law.
Regarding the second question, considering that all Scandinavian countries already have national laws assessing freedom of information, the most likely reason behind their ratification would be symbolic support to the cause or because the Convention's framework is less restrictive than their national laws.
Finally, concerning the last question, we could suppose that most Eastern countries have an interest in demonstrating themselves as more transparent, more following the rule of law. For example, if we examine Montenegro's case, we could assume that taking part in the Tromso Convention is a step closer to their accession to the EU in 2025.
As for the reservations that have been made, only Finland, Norway and Sweden have made some noticeable. Regarding Norway, the country declared that "communication with the reigning Family and its Household" will remain private in accordance with Article 3,paragraph 1 of the Convention. This limitation covers something interesting, considering that, as mentioned earlier, access to the data type of legislation was first adopted in order to get access to information held by the King. In parallel, Finland declared that "the provisions of Article 8 of the Convention concerning the review procedure [will] not apply to a decision made by the President of the Republic in response to a request for access to a document. Article 8 provides protection against arbitrary decisions and allows members of the population to assert their right to information. Sweden has made a similarreservation on Article 8 paragraph 1 regarding "decisions taken by the Government, ministers and the Parliamentary Ombudsmen".
Thoughts towards better implementation
For smoother data access implementation, governments can act on transparency without waiting for legislation through internal bureaucratic policy. These voluntary provisions for openness can be an exercise towards a more organic cultural transformation.
Lengthy debates on open access are entertained by exceptions to access. To be sure, governments have enough legal and political tools to withhold information, regardless of how exemptions have been drafted. Instead, a more productive and efficient process is possible if we concentrate on positive implementation and enforcement, including the procedures for challenges on legal exemptions.
The implementation phase of access laws is challenging due to a lack of leadership motivation, inadequate support for those implementing these requests, especially since they require a long term social and political commitment. To do so, an overall dedication and government bureaucratic cultural shift should take place. Although the implementation of access to information should be included internally in all departments, considering a standardized centralized approach to lead the new regime with authority could send an important message. Record keeping and archiving should be updated to respond to requests with improved information management systems. As such, the goal would be to make a plethora of information immediately and unconditionally available.
France's Controversial 'Separatism' Bill
In his very first days at the Elysee Palace, French President Emmanuel Macron vowed to detail his views on secularism and Islam in a wide-ranging speech. It took more than three years for this to happen, with the much awaited speech actually taking place in October a week after a teacher was violently killed for revealing the caricatures of Prophet Muhammad(PBUH) during a lecture on freedom of expression. Macron said during his speech that "Islam is a religion which is experiencing a crisis today, all over the world", adding that there was a need to "free Islam in France from foreign influences". Mr. Macron and his Parliament allies have described the bill as a reaction to the rise of Islamic separatism, which the President defines as a philosophy that seeks to create a parallel state in France where religious laws replace civil law. Referring to the cartoons at a citizenship ceremony earlier and before the latest attacks, Macron defended the "right to blasphemy" as a fundamental freedom, even as he condemned "Islamic separatism."
"To be French is to defend the right to make people laugh, to criticize, to mock, to caricature," the president said. The proposed law allows religious associations and mosques to report more than €10,000 ($12,000) in international support and to sign a promise to uphold the French republican ideals in order to obtain state subsidies. The bill will also make it possible for the government to close down mosques, organizations and colleges that have been described as criticizing republican values.The controversial bill is blamed for targeting the Muslim people and enforcing limits on nearly every part of their lives. It allows government to oversee the funds of associations and non-governmental organizations belonging to Muslims. It also limits the schooling options of the Muslim community by prohibiting families from providing home education to children. The law also forbids people from selecting physicians on the grounds of gender for religious or other purposes and mandates a compulsory 'secularism education' on all elected officials. Physicians will either be charged or jailed under the law if they conduct a virginity test on girls. Critics argue the so-called "separatism law" is racist and threatens the 5.7 million-strong Muslim population in France, the highest in Europe. Its critics include the 100 imams, 50 teachers of Islamic sciences and 50 members of associations in France who signed an open letter against the "unacceptable" charter on 10 February.
A criminal act for online hate speech will make it easier to easily apprehend a person who shares sensitive information about public sector workers on social media with a view to hurting them and will be disciplined by up to three years in jail and a fine of EUR 45.000. The banning or deleting of pages spreading hate speech would now be made smoother and legal action accelerated. The bill expands what is known in France as the 'neutrality clause,' which forbids civil servants from displaying religious symbols such as the Muslim veil and holding political opinions, outside public sector workers to all commercial providers in public utilities, such as those working for transport firms.
French Members of Parliament held two weeks of heated debates in the National Assembly. People of Muslim faith interviewed outside the Paris Mosque and around Paris on the outdoor food market before the vote had hardly heard of the rule. "I don't believe that the Muslims here in France are troublemakers or revolutionaries against France," said Bahri Ayari, a taxi driver who spoke to AP after prayers inside Paris' Grand Mosque. "I don't understand, when one talks about radicalism, what does that mean — radicalism? It's these people who go to jail, they find themselves with nothing to do, they discuss amongst themselves and they leave prison even more aggressive and then that gets put on the back of Islam. That's not what a Muslim is," he added.
Three bodies of the French Council of Muslim Worship (CFCM) have unilaterally denounced the "charter of principles" of Islam, which reaffirms the continuity of religion with France. The three parties said that the Charter was accepted without the full consensus of the other integral components of the CFCM, including the provincial and departmental councils and the imams concerned. "We believe that certain passages and formulations of the submitted text are likely to weaken the bonds of trust between the Muslims of France and the nation. In addition, certain statements undermine the honor of Muslims, with an accusatory and marginalizing character," the Milli Görüş Islamic Confederation (CMIG) and the Faith and Practice movement said in a joint statement. The bill is blamed for targeting the Muslim community and enforcing limits on nearly any part of their lives. It allows for interference in mosques and organizations responsible for the operation of mosques, as well as for the oversight of the funds of associations and non-governmental organizations belonging to Muslims.
It is a difficult time for the nation, which has also accused its protection bill of containing the press freedom. The law introduced aims at making it unlawful to post photographs of police officers in which it is identifiable by "malicious intent" However, law enforcement has criticized the government after the declaration by Macron of the development of an online forum to flag police brutality.