Trump's election and its impact on Europe
Authors: Daniele Scalea, Alessandro Cipri (*)
[yt_dropcap type="square" font="" size="14″ color="#000″ background="#fff" ] I [/yt_dropcap] t is particularly difficult to foretell what the foreign policy of a US president-elect will be. We have plenty of examples of US presidents who – after coming into office – did not follow through on their electoral campaign pledges.
Even though Obama did actually conclude the agreement with Iran – as promised during his first presidential campaign – he was able to do that only in his second term, after having embittered the sanctions for years. While George W. Bush presented himself as an "isolationist" – in opposition to Bill Clinton and his humanitarian interventionism – he ended up launching two major wars in Afghanistan and Iraq, restraining from others just because of the poor-performances in these two. Richard Nixon, who won two terms on anti-communism, ended the war against the Vietnamese Communists and stroke a deal with Maoist China. Both Wilson in 1916 and Roosevelt in 1940 campaigned on an isolationist platform, just to lead their country into the first and second world war as soon as they were re-elected.
Forecasting the foreign policy stances of the upcoming administration is now even harder than with those of the past, considering that the President-Elect is not a long-time politician, and we do not even know who his Secretary of State will be. Even though a Republican-controlled Congress is certainly good for President Trump, the GOP is now bitterly divided among opposing factions, with Trump's "populist" wing fighting an internecine war against the mainstream conservatives within the party, many of whom did not even endorse him in the general election. In fact, regardless of the success of the insurgent candidate, Congress is still filled up with Tea Partiers and establishment Republicans, potentially harboring resentment towards the rising pro-Trump hardliners. This internal conflict may well produce an hostile Congress for President Trump, especially when it comes to the most controversial points of his agenda, such as a review of foreign trade strategies towards fair trade.
So, before trying to figure out the potential consequences for Europe, let's try to define at least some general elements of Trump's hypothetical foreign policy.
• First of all, Trump has outlined a non-interventionist policy: no more wars for state-building or regime change. He want to spend less in military intervention and more in military supremacy, which means more R&D and less operational costs. This would imply sharing responsibilities with US allies, as well as leaving them more strategic freedom in and the pursuit of their particular interests.
• He also wants to normalize relations with Russia, that have reached the bottom on Ukraine and Syria. He thinks that NATO is too expensive for Washington, whereas European allies are acting as free riders . NATO is the 28-nations – almost 70-years old – military alliance that unites US, Canada and Europe. Conceived as defensive alliance against USSR, experienced a consistend expansion of its membership in the years following the end of the Cold War, welcoming many former communist Eastern European countries; at the same time, it switched its focus from European defense out-of-area operations. Those are offensive military operations such as in Yugoslavia and Serbia, during the '90, or in Afghanistan, Iraq, Libya and the Gulf of Aden in last fifteen years. However – since the Ukrainian crisis – NATO is redirecting its resources to the defense of its Eastern border, along an arc of tension with Russia ranging from the Arctic to Syria.
• The July 2015 nuclear deal with Iran (the JCPOA), strongly wanted by President Obama, has been harshly criticized by Trump. Under this deal, Iran agreed to eliminate its stockpile of medium-enriched uranium, cut its stockpile of low-enriched uranium by 98%, and reduce by about two-thirds the number of its gas centrifuges for 13 years. For the next 15 years, Iran will only enrich uranium up to 3.67%. The main criticism on this deal is that the Iranian nuclear programme is suspended, rather than aborted, and in the meantime the Islamic Republic could be strengthened by the lifting of sanctions while keeping a regional stance opposed to the US. It is unlikely that Trump will reject the agreement as a whole, since that would require to negotiate a new one (and many years were needed for the current) or to come back to direct confrontation with Iran, which would mean major efforts in the Middle East for Washington – something Trump wants to avoid. So, the most probable outcome could be that the US introduces new extra verification measures of Tehran's compliance of the Agreement, and promptly withdraws from it if any violation is observed.
• Trump is a vocal opponent of international free trade agreements, such as the North America Free Trade Agreement (NAFTA), the Transatlantic Trade and Investement Partnership (TTIP), and the Trans-Pacific Partnership (TTP), seen as factors of de-industrialization and industrial outsourcing, especially in China and Mexico.
Assuming that these vectors remain sound and Trump Administration manages to implement them at least in part, we could try to forecast some effects on Europe.
First, we have to consider that major European NATO members have been reducing their defence spending since the end of the Cold War. Not considering the US, it is only since 2015 that NATO defence expenditures are growing, as a consequence of Russian assertiveness in Eastern Europe. NATO guideline is to spend 2% of the GDP for Defence but, in recent years, only 3 out of 28 members follow this rule: United States (currently spending 3.61% of the GDP), United Kingdom (2.21%), and – surprisingly – Greece (2.38%). Greek good will, which is not diminishing but even increasing under Prime Minister Alexis Tsipras, is due to Athen's dependance on foreign loans, sometimes informally swapped with arms purchasing. Since 2015, two more countries abide by the 2% rule: Estonia and Poland. No wonder, since they are the most anti-Russian countries in NATO and the most vocal supporters of a military buildup on its Eastern border.
Anyway, all that said, the remaining 23 members out of 28 spend for defence less than the recommended 2%: for example France 1.78%, Turkey 1.56%, Germany 1.19%, Italy 1.11%, Spain 0.91%. Since 2012, the US alone spends yearly more than all European allies altogether. Moreover, the limited improvement this year is due to the build-up on the Russian border – a military build-up that Trump will probably do not go along with.
It is highly improbable that Trump wants to dismantle NATO and – even if this was the case – it would be almost impossible for President Trump to realize it without facing insuperable obstacles. Most probably, Trump will just follow on Obama's path in trying to lead from behind – just avoiding to mess up with Russia again. The theory of "leading from behind" arose in business circles, with Linda Hill of the Harvard Business School acknowledged as its mother. In foreign policy, it means to encourage others to take the initiative, while quietly establishing the strategy and leading the game. This, however, is a delicate art, because is a very short step from leading from behind to be led from the front.
About Obama's doctrine, Charles Krauthammer wrote on The Washington Post: "It's been a foreign policy of hesitation, delay and indecision, marked by plaintive appeals to the (fictional) international community to do what only America can".
The experience of Libya in 2011 isn't indeed comforting, with the UK and France pressing for a military intervention against the Gaddafi regime, only to leave afterwards a country broken into pieces and exposed to Islamist infiltration, even by ISIS.
But that's not solely Europe's fault, nor it is completely US' fault: the responsibility is on the West as a whole, as London and Paris messed up Libya, like the US had messed up Iraq before, while our Arab allies are messing up Syria. Consequences are evident: with the treat of al-Qaida doubled up by ISIS, a lot of states in the region are either failed or on the verge of failing, Europe is under pressure from terrorist attacks and from an unprecedented flow of immigrants, with those two factors giving a huge contribution to Brexit and other displays of popular distrust towards the European establishment and institutions.
That's why I think that the new line dictated by Trump – although challenging – will be positive for Europe We are facing problems that cannot be resolved without Russia's help, not to say with Russia's enmity. Think about the Syrian conundrum: a major Arab state has collapsed, and very hardly could be recomposed after five years of savage civil, ethnic and religious war, in which interests of many regional and world powers conflicted one another. Tensions in Eastern Europe compel both Russia and NATO to increase military expenditures, while mutual sanctions are harming both economies.
Even though the European establishment is complaining about Trump's stance on Russia and the mutual exchange of compliments between him and President Putin, we have to keep in mind that it was the United States to push for a confrontation with Russia, while many EU countries – such as Italy – were in favor of improving relations with it.
In fact, Italo-Russian relations have been free from critical issues since the Soviet-Yugoslav "separation" in 1948 and, even though Italy was part of the Western bloc, it often kept pushing for an improvement in its relations with the USSR.
A few years after the end of the Second World War, Manlio Brosio – then Italian ambassador in Moscow (and future NATO Secretary General – looked for Soviet support for his project of a neutral Italy, but failed in his attempt. Ten years later, politicians such as Amintore Fanfani, or public managers such as Enrico Mattei, launched the "New Atlantism" doctrine, according to which
– while remaining loyal to the west – Italy would act independently, seeking friendly relations with Communist and Mediterranean countries. After the end of the Cold War, Italy has always been one of the warmest supporters of cooperation with Russia, especially during the government of Silvio Berlusconi, whose friendship with Putin was well-known. In 2002, during a meeting presided by Berlusconi in Pratica di Mare, Russia and NATO signed an historical cooperation agreement.
This agreement could well be the starting point for a new approach to collective security in Europe: one that seeks to engage, rather than confront Russia.
However, not everyone in Europe will agree, especially among the Eastern countries such as Poland, Estonia, Latvia, Lithuania, Romania or Hungary that – still recalling the period of Soviet domination – mistrust the Russians. It is true, anyway, that recent elections in Moldova and Bulgaria, both former Communist states, have witnessed the victory of Russia-friendly candidates. Those Eastern countries are also very conservative and suspicious of pro-immigration and liberal policies of Western Europe. In the mid- long-term, this factor could orient them towards Russia again.
Great Britain – a traditional rival of Russia – has in recent years led the front of anti-Russian countries opposed to a lifting of sanctions. But now that London seems next to leave the EU, and considering that the British usually follow a line dictated in Washington, it could be well possible that their stance towards Russia will soften a lot.
A major obstacle remains in Germany, where the German social-democratic party – relatively pro-Russian, for west-European standards ¬– is going through a difficult time. Power is still strongly in the hands of the Christian-democrats and especially of Angela Merkel, who is toying with the idea of assert herself as the new leader of a liberal Western front, opposed to both Trump and Putin. Apart from her mania of grandeur, she is also following the objective national interests of Germany: the great winner of the process of European integration. Free trade, combined with a common currency (and so the inability for competitors, such as Italy, to conduct a competitive devaluation) have given Germany the economic dominance in the European Union. If Russia wants to move forward her influence in Eastern Europe, it has to confront face German opposition.
However, regardless of Russia's intentions, confrontation with Berlin may be inevitable, with the Germans pushing to expand their own influence in Belarus, Ukraine, and the Caucasus.
Another major obstacle to a Russia-West rapprochement is still the US: while Iit is true that Trump wants friendship, he could do that also through some minor concessions, such as a limited area of influence in the so-called Near Abroad, as Russians call the former Soviet countries with whom they still have critical security links. Trump is as famous to be a tough negotiator, as Putin is to be astute politician and, despite their good intentions, it is not guaranteed that they will find an agreement – because a very big deal it is required between Russia and the US.
Another side of Trump's program concerns energy, where he promises to encourage the production of shale oil and gas, which is now limited by environmentalist legislation. Over the past decade, the combination of horizontal drilling and hydraulic fracturing has provided access to large volumes of oil and natural gas that were previously uneconomic to produce. The United States has approximately 610 trillion cubic feet of technically recoverable shale natural gas resources and 59 billion barrels of technically recoverable tight oil resources. As a result, the United States is ranked second globally after Russia in shale oil resources and is ranked fourth globally after China, Argentina and Algeria in shale natural gas resources. But the tight oil and shale gas industries in the US have been suffering, mainly because of the increasing production from the Gulf states that, lowering prices, is pumping it out of business.
While in late in 2014 there were almost two thousands oil and gas rigs active in the US, in last July only 500 were still operating. Even though Trump cannot fully control some market fundamentals, as a large oversupply and sluggish demand, after his election U.S. shale producers are redeploying cash, rigs and workers, cautiously confident the energy sector has turned a corner. According to Ambrose Evans-Pritchard, the OPEC cartel is poised to slash crude output, with an agreement struck in September by the Saudis and Russians to cooperate in the world oil markets. If all signs are true, prices could well go up in the upcoming months, giving oxygen to the US industry.
Trump's victory also brings back on the agenda the Keystone XL oil pipeline from Canada to the US Gulf Coast (where many refineries are located): a project blocked by Obama on the ground of its impact on the environment. The main target of the Keystone pipeline is to replace imports of heavy oil-sand crude from Venezuela with more reliable Canadian heavy oil, even though a good portion of the oil that will gush down the KXL will probably end up being sold on the international market.
Now, under the Trump Administration both US and Canadian oil & gas could arrive in greater amount to Europe: a net importer of energy, especially from Russia, which counts for 29% of total solid fuels imports, 30% of oil and 37% of gas. For years now Washington and Bruxelles have been trying to reduce European dependency from Russian energy, worried that this can translate in political dependency. In late February, the U.S. started exporting oil and gas to Europe, 40 years after the oil embargo imposed by the U.S. Congress.
Let's move now to the Middle East and North Africa. As said before, the situation there is tragic and the West carries some responsibilities for contributing to open the Pandora's box of regional contradictions, intervening in countries such as Iraq, Libya, and Syria to replace a brutal political order with no order at all.
If the US disengages from the region, however, the risk is to barter the restraint from reckless "adventures" overseas with an overall loss of initiative on the international scenario, with Europe unable to afford more military and security burdens, because of a contentious public opinion and of a very difficult time for economy. Without the US, therefore, it is very likely that also Europe will disengage from North Africa and the Middle East.
Anyway, at least for now, America is not going away from the region anytime soon, especially considering the emphasis that Trump put on ISIS' global threat during the campaign trail. According to the upcoming National Security Adviser, General Michael Flynn, Islamic radicalism is the enemy number one for the US. This will translate in a solid partnership with secular Arab leaders such as Egypt's al-Sisi, whereas is still unclear how the Trump Administration will deal with Erdogan or the Saudis, whose links with Islamic radicalism are very suspicious.
Gen. Flynn believes the US is losing a global war against Islamist extremism that may last for generations, but he stresses that this war has to be fought also domestically, against any ideological infiltration. Trump and Flynn want to go after Islamism as Americans used to do with Communism. That brings us back to Europe again. Whereas only 1% of the US population is Muslim, Islam is thriving in Europe, due to ongoing immigration and to the higher fertility rate of Muslim communities, which is of 2.2 children per woman, while that of non-Muslim is 1.5. According to the Pew Center, Europe's Muslim population is projected to increase by 63%, growing from 43 million in 2010 to 71 million in 2050, becoming more than 10% of the total population. Anyway, in countries such as France, they already are almost 10% of the population and, In some key cities – Paris and London, for example – Muslims exceed 15%. As it is well known, Europe is facing big problems in integrating even second or third generations of immigrants, especially Muslims. Muslim vote is beginning to matter in many European countries and important Muslim politicians are emerging, such as Sadiq Khan, the Mayor of London, or Rachida Dati, former French Minister of Justice, or Sajid Javid, the British Secretary for Local Government. Only the former is by a leftist party and they are not suspicious of Islamism. Anyway, according to the 2014 Jenkins Commission Report, in the UK the Muslim Brotherhood "[has] at times had significant influence on the largest UK Muslim student organisation, national organisations which have claimed to represent Muslim communities (and on that basis have sought and had a dialogue with Government), charities and some mosques".
If the Trump Administration is going to consider Political Islam as an ideological enemy – such Communism during the Cold War – it will likely work on barring its way in Europe. The US has a long history of interfering in European domestic politics and Trump has already given a taste by meeting Nigel Farage a few days after his victory in the election. It could well be that the Trump Administration will try to advise the Western European leadership against persisting in their open doors policy toward Muslim immigrants, or to favour those political forces more akin with its ideas: usually the Right, maybe also the anti-globalist one, as the National Front in France, UKIP in UK, the Northern League in Italy, AfD in Germany. The leaders of all these forces, plus the Hungarian President Viktor Orban, in fact rejoiced at Trump's victory. Breitbart, the news website which spearheaded Trump campaign and from whom the new White House Chief Strategist Steve Bannon comes from, already has a London bureau, but is now planning to open new branches in France and Germany.
A few days ago, Francois Fillon has surprisingly won the the Right primaries in France. The hardliner among main candidates, Fillon is pro-Russian, very conservative, quite Thatcherist, and unfavourable to mass immigration. Very probably he will compete for the presidency with the far-rightist Marine Le Pen.
Even if society in the US remains very different from that of Europe, the rampant globalization of recent decades has made it quite close compared to half a century ago. Both the US and Europe have experienced massive deindustrialization with a geographical concentration of the remaining high-tech industries in a few islands of happiness – whose wealth is striking, when compared to the many rust belts of the Western world. Both the US and Europe have seen a deep financialization of their economies and have been overwhelmed by the so-called politically correct way of thinking. It's true: in the U.S. you can find also the Bible Belt, but if we consider the European Union as a whole, we could see a Catholic Belt in its Eastern countries, opposed to Sweden (a European California) or London and Paris (European New Yorks), or in general the more liberal Western countries. Exactly as in the US, also in Europe, post-modernism is currently hegemonic in colleges and mainstream media, which are trying to inculcate it also in the common man. Finally, the massive immigration flows of last decades into Europe are making its society more and more resembling to the composite ethnic mix of North American society – even in the trend towards communitarian vote. According to reliable statistics, the last time white voters in the US favoured in majority a democratic presidential candidate was in 1964: Lyndon Johnson. Since then, Carter, Clinton and Obama won the elections thanks to the decisive vote of minorities. If you look to the Brexit vote, for example, you will find out that the social group more favourable to remain in the European Union were not Scottish nor Irish, but the new minorities: Asians, Blacks and Muslims. In such similar environments, it is predictable to find similar political trends and demands: Trump's victory in the US may be soon followed by populist successes in Europe.
In conclusion, we can say that, regardless of his real actions once in office, Donald Trump is already influencing European politics by encouraging the already rampant rightist and populist parties. This will translate in more regulation of the immigration flows, abatement of the EU supranational power on European countries, and better relations with Russia. That is true even if those populist forces do not win any election: in fact, more traditional parties and politicians are compelled to adopt at least some of their requests not to lose approval and power. But, if President Trump will maintain his electoral promises, even greater changes are looming in Western politics and society . A lasting conservative and populist turn could affect the Western system, leading to a possible inclusion of Russia into it.
---
(*) ALESSANDRO CIPRI
Born in Chile and raised in Rome, Alessandro Cipri has just finished his postgraduate studies at the department of War Studies of King's College London, graduating with distinction from the Master's Degree in "Intelligence and International Security". Having served in the Italian Army's "Alpini" mountain troops, he has a keen interest in national security, military strategy, insurgency theory, and terrorism studies. His Master's dissertation was on the impact of drug trafficking on the evolution of the Colombian FARC.
Gas Without a Fight: Is Turkey Ready to Go to War for Resources in the Mediterranean?
Active exploration of gas deposits in the Eastern Mediterranean has boosted the region's importance for the local powers. Most European states depend on imports of energy resources, which means that taking hold of new gas sources is an important element for strengthening their energy security and diversifying their sources of hydrocarbon supplies.
Currently, Greece, Cyprus, France, and Italy are among the main players that have divided up the known and future gas deposits in the Mediterranean among themselves. All these states are EU members. We should add that other EU states also indirectly benefit from new resources, even if they do not have immediate access to gas deposits. They will, however, gain an opportunity to diversify their gas imports and distribute their hydrocarbon dependency among a greater number of suppliers.
The discovery of a new treasure trove of hydrocarbons often produces not only profits, but also additional problems since natural resources frequently turn into a source of conflict. The case of the Eastern Mediterranean is no exception, as another power has staked its claim to a share of the region's resources, a power that had officially received no piece of the gas "pie" that the European states had divided up among themselves. This power is Turkey, which has decided to actively explore the gas deposits in the Eastern Mediterranean and has also visibly increased its military presence in the region. Over the last few months, Turkish and Greek warships have been involved in several dangerous incidents, with both parties declaring their readiness to open fire at a pinch. Ankara has also warned that it would "not back down" in a potential confrontation. Like Greece, Turkey has already held military manoeuvres in the region.
Turkey's Motives
Why does Turkey need the gas deposits of the Mediterranean? Today, Ankara is forced to import most of the gas it needs. According to 2016 data, imported gas accounts for 99 per cent of Turkey's total gas consumption. Most of this gas (over 50 per cent) is purchased from Russia, with Iran, Azerbaijan, Algeria, and Nigeria being among Turkey's other important suppliers. Multibillion natural resource purchases are a heavy burden on Turkey's struggling economy. Its GDP has been stagnating since 2017, with a growth of just 0.877 per cent in 2019, compared to over 7 per cent two years ago . These negative trends have been exacerbated by the coronavirus pandemic. It has been a particularly painful time for Turkey, as the country has had to deal with the consequences of the lockdown, the partial suspension of economic activities and a sharp drop in tourist flows, which have always been an important source of revenues for Ankara. The timing of the shortened 2020 holiday season could not have been worse for Turkey. According to official data from the Turkish government, by June 2020, Turkey's GDP had dropped by 9.9 per cent compared with the previous quarter.
It is extremely important under such circumstances that Turkey finds new energy sources: the gas deposits in the Mediterranean will lift the overwhelming burden on the country's budget and give its weakened economy room to breathe. In such a situation, decreasing dependence on gas imports could be posited as the short-term goal. In the long term, Turkey intends to become a net gas exporter, which will require huge gas deposits, including those outside the Mediterranean.
Fighting for resources fits well into Recep Erdogan's "neo-Ottoman" foreign policy concept that envisions a Turkey that is more willing to engage in confrontation with Western powers. Additionally, the "neo-Ottoman doctrine" entails bolstering Turkey's regional influence—and gaining new resources in the Mediterranean fits well within this task.
International Legal Conflicts within the Dispute
Ankara's problem is that the formal provisions of the law of the sea do not allow Turkey to explore and develop potential and known gas deposits in the Eastern Mediterranean. The situation, however, is complicated by the fact that the law of the sea, like any other international legal norms, has understandable problems in terms of compliance. Additionally, the provisions of the law of the sea are very complex, and different states frequently interpret them differently, which is true for both Turkey and Greece. For instance, Turkey is actively exploring gas deposits in the Aegean Sea, although legally it does not have the right to do this: under the law of the sea, virtually all of the Aegean Sea belongs to Greece's exclusive economic zone due to a chain of Greek islands that are closer to Turkey's coasts than to continental Greece itself. Ankara, however, insists that the islands should not be taken into account when determining exclusive economic zones, which has created the first international legal conflict in the dispute.
The second conflict pertains to another stretch of the Mediterranean between Italy and Libya. Turkey has staked its claim to this stretch, citing its agreement with Libya's Government of National Accord. The problem is that the GNA does not control all of Libya's territory, which could put a question mark over the government's legitimacy. On the other hand, the GNA enjoys international recognition, a fact that Turkey repeatedly stresses.
Another case is connected with gas deposits closer to the coasts of Cyprus. Turkey does not recognize Cyprus; it only recognizes the Turkish Republic of Northern Cyprus (it is the only country to do so). Consequently, Ankara views exploring and developing gas deposits in the Exclusive Economic Zone of Cyprus as a violation of Turkey's rights. In the meantime, the colossal Calypso gas deposit that was discovered off the coast of Cyprus in 2018 is one of the main bones of contention in the present energy dispute.
The Role of the European Union and Individual European Stakeholders
From the very outset, Brussels supported Greece and condemned Ankara's aggressive actions. However, the European Union is not entirely homogeneous in its attitude to the dispute. Firstly, some of its members are locked in a confrontation with Turkey, such as Greece and Cyprus, and their stance in unequivocal. There are stakeholder states, such as France and Italy, two European Mediterranean powers that also have an interest in the region's gas deposits. Their oil and gas companies, France's Total, and Italy's Eni, have already bought shares in the discovered Mediterranean gas reserves and made relevant arrangements with Athens and Nicosia. In the standoff between Greece and Turkey, Paris and Rome are solidly behind Greece. Moreover, France has not limited itself to rhetoric, and has sent warships to the Eastern Mediterranean, thus demonstrating its willingness to support the Hellenic Navy in a critical situation. This is a particularly important step, since it entails a radical shift in the military balance of power within the dispute.
Out of all the EU member states, particular mention should be made of Germany, which has a special connection with Turkey and currently holds the presidency of the Council of the European Union. Tellingly, Berlin also sided with Greece, although, unlike France, it has been far more restrained in its conduct. Germany did not send its Navy to the region. Berlin's principal message is the need for dialogue between the opposing parties and a détente in the conflict. This is Germany's typical foreign policy stance since it prefers to avoid exerting pressure by force. Additionally, Germany has no additional incentives within the dispute since it stakes no claim to the resources of the Mediterranean.
As for the European Union in general, the overall support for Greece is easy to explain. Brussels proceeds from the official provisions of the law of the sea and, unlike Turkey, it recognizes Cyprus and, consequently, the right of Athens and Nicosia to the gas deposits. In the long term, this new source of gas could help stabilize the European Union and serve as a safety net in the event of a crisis. It was not that long ago that the global financial crisis and the subsequent Eurozone troubles, which hit Greece especially hard, almost resulted in Athens defaulting and withdrawing from the European Union—a fact that could have set a very dangerous precedent and entailed a chain reaction in other Eurozone states with major financial woes (such as Italy). With this is mind, European politicians may very well count on the fact that the revenues from developing the gas fields will help keep the Greek economy on an even keel and insure both Athens and Brussels against possible new economic shocks. We should keep in mind here that the European Union had to establish a financial aid programme and spend significant funds to save Greece from bankruptcy.
Additionally, as we have already mentioned, the new source of gas will allow many EU countries to diversify their energy suppliers and thus to boost their energy security.
How Likely is the Dispute to Turn into a "Hot" Conflict?
Despite several critical incidents, an open conflict over the gas deposits in the Eastern Mediterranean is not particularly likely, mostly due to the forces being unequal. Turkey has found itself almost completely isolated, and the only agreement Ankara can rely on has been achieved with Libya's unstable Government of National Accord. On the other side, there is an entire coalition of states, with Greece and France having already held joint military exercises.
France's military intervention radically changes the balance of power. Turkey's Navy is larger and stronger than Greece's (149 warships vs. 116, according to the Global Firepower Index), but significantly smaller than that of France (180 warships). However, it is not only a matter of how many warships each side has. What is important here is their quality: for instance, France has four aircraft carriers, while Turkey has none.
The European Union's general support for Greece is also important. The idea of imposing sanctions against Turkey was evoked at the most recent EU Foreign Ministers Meeting. Financial penalties could have a major effect on Turkey, given that the European Union is Ankara's principal trade partner, accounting for 42.4 per cent of its exports and 32.3 per cent of its imports. In such a situation, trade sanctions may prove very painful for Turkey, especially given its stagnating economy and the significant losses it has suffered as a result of the coronavirus pandemic.
Additionally, the scope of the European Union's non-military leverage against Turkey is not confined to economic sanctions. In the event of an open conflict between Athens and Ankara, Brussels can strip Turkey of its current benefits in trading with European states. In particular, the question of excluding Turkey from the EU Customs Union may appear on Brussels' agenda. Additionally, the European Union could take Turkey's potential EU membership off the table forever and strike Ankara from the list of candidates.
Still, we should not discount the serious obstacles in the way of Brussels imposing sanctions against Turkey and using other measures to apply pressure on Ankara. One such obstacle is Ankara's geopolitical significance for Washington. Despite all the recent complications in their relations, Turkey remains one of the key U.S. allies in the region and a NATO stronghold in the Middle East.
As for Turkey itself, a "hot" conflict could prove detrimental to the country in several ways at once. First, given the unequal military power, it is extremely unlikely that Turkey would emerge victorious from such a conflict. Second, a war will undermine Turkey's global standing and its membership in international organizations. Third, Turkey cannot afford in its current economic state to either actively build up its military power (even though its authorities claim the opposite and have announced significant increases in the naval budget, with the construction on aircraft carriers being top of the spending list) or bear the burden of possible sanctions which, given the country's many connections with the European Union, could prove very painful.
The rhetoric of the Turkish leadership is highly belligerent rhetoric, yet Ankara is very well aware of the real consequences of breaking up with Europe and starting an open conflict with a country that is a member of both the European Union and NATO. It is possible that, instead of instigating a "hot" conflict, Turkey could attempt to use its own instruments of applying non-military pressure, such as the huge number of refugees present on Turkish territory. Since 2016, Brussels and Ankara have had a refugee agreement in place. However, Recep Erdogan has already demonstrated in the past that he is capable of suspending this agreement and "cracking open" the door to Europe for migrants, which would set new crises in motion at the borders to the European Union.
Does the Gas Dispute in the Mediterranean Affect Russia?
Special attention should be paid here to the possible prospects for Russia in the ongoing dispute. Naturally, Russia has a very tangential relation to the confrontation in the Mediterranean, although the outcome of this confrontation may be important for Moscow.
On the one hand, Russia can hardly profit from Turkey gaining its own major sources of gas. Currently, Moscow is the main supplier of gas to the Turkish market. Undoubtedly, Russia is interested in preserving this status quo. The recent launch of the Turkish Stream confirms that Moscow intends to maintain its dominant standing in the Turkish energy resources market.
On the other hand, a new source of gas for European countries could shake Russia's position in the even more important European market. It is no secret that the EU countries are attempting to diversify their resource suppliers for greater energy security. However, abandoning Russian gas is very difficult since a gas pipeline infrastructure has already been created in Europe, making Russian gas relatively inexpensive. Much will depend on whether Greece, Cyprus, and Israel will succeed in jointly building the EastMed gas pipeline meant to deliver gas from the Eastern Mediterranean to Greece. Theoretically, EastMed could be extended to other European states. It currently has a design capacity of 10 billion cubic metres, which may be increased by tapping the currently unexplored resources of the Eastern Mediterranean. This is a very ambitious and expensive project, but if it does materialize, it could change the situation in the European gas market, since pricewise, it could compete with cheap Russian gas. If there is no pipeline running from the Mediterranean, Mediterranean gas will have a hard time pushing Russia aside in the European market: without the gas pipeline, gas will be shipped as liquefied natural gas (LNG), which will significantly increase its price and make it far less attractive to European countries.
From our partner RIAC
Political will is needed to foster multilateralism in Europe
On July 1st 2020, a large number of international affairs specialists gathered in Vienna, Austria, for the conference "From Victory Day to Corona Disarray: 75 Years of Europe's Collective Security and Human Rights System". The conference, jointly organized by four different entities (the International Institute for Middle East and Balkan Studies IFIMES, Media Platform Modern Diplomacy, Scientific Journal European Perspectives, and Action Platform Culture for Peace) with the support of the Diplomatic Academy of Vienna, was aimed at discussing the future of Europe in the wake of its old and new challenges.
The conference gathered over twenty high ranking speakers from Canada to Australia, and audience physically in the venue while many others attended online – from Chile to Far East. The day was filled by three panels focusing on the legacy of WWII, Nuremberg Trials, the European Human Rights Charter and their relevance in the 21st century; on the importance of culture for peace and culture of peace – culture, science, arts, sports – as a way to reinforce a collective identity in Europe; on the importance of accelerating on universalism and pan-European Multilateralism while integrating further the Euro-MED within Europe, or as the Romano Prodi's EU Commission coined it back in 2000s – "from Morocco to Russia – everything but the institutions".
The event itself was probably the largest physical gathering past the early spring lock down to this very day in this part of Europe. No wonder that it marked a launch of the political rethink and recalibration named – Vienna Process.
Among the speakers for the conference's third panel – which focused on universal and pan-European multilateralism – there was Dr. Franz Fischler, a well-known figure due to his previous postings as Austria's Federal Minister for Agriculture and Forestry (1989-1994) and as European Commissioner for Agriculture, Rural Development and Fisheries (1995-2004), besides being currently President of the famous European ForumAlpbach.
Dr. Fischler started his keynote speech by highlighting how the COVID-19 pandemic has the potential to fundamentally change Europe – and even the whole world. In doing so, he referred to the paradoxes outlined by Bulgarian intellectual Ivan Krastev in the wake of the pandemic. Contrasting pushes towards re-nationalization and globalization, the partial interruption of democracy but the decreasing appetite for authoritarian government, the mixed response of the European Union to the crisis – in short, a series of conflicting trends are making the future of Europe, as well as that of the whole world, very much uncertain.
It was against this backdrop that Dr. Fischler addressed the central question of the panel: What is fundamentally going to happen in Europe in the times ahead? The former EU Commissioner clarified from the very beginning that those who wish a further deepening of the current multilateral system should not be blinded by excessive optimism. An alternative to the current system does exist – clearly symbolized by the combination of nationalism and populism that we can see in many countries, but also by the problems faced by multilateralism in many fields, most notably trade.
This trend is evident in the case of the European Union too – Dr. Fischler warned. He highlighted that policy tools aimed at stimulating convergence across European countries, such as for instance the EU's cohesion policies, are becoming increasingly weak, and inequality within the EU is currently on the rise. As a result, traditional goals such as the "ever closer Europe" and the "United States of Europe" do not even seem to be on the agenda anymore.
What can then be done to deepen the EU's integration process and strengthen Europe's multilateral system? Towards the end of his speech, Dr. Fischler outlined a few entry points for reform and further cooperation. His suggestions revolved around increasing cooperation on a number of specific issues, ranging from high-tech research to the development of a common European passport. He also proposed that European countries should strengthen their common diplomatic initiatives, including by speaking with a single voice in international institutions, as well as increasing the EU's soft power. On top of that, deeper institutional and political modifications might be needed for the EU, Dr. Fischler hinted – citing as examples the relaxation of the unanimity voting procedure on some foreign policy issues, as well as an intensification of the EU's enlargement process.
Closing his highly absorbing speech, Dr. Fischler – champion of multilateralism, and guru of the current EU CAP (Common Agricultural Policy) made clear which ingredient is, in his opinion, the cornerstone for reviving multilateralism in Europe: "All I would like to say is that there are possibilities out there. The question is, as always in these times: is there enough political will?"
China "seems" to be moving closer to the Holy See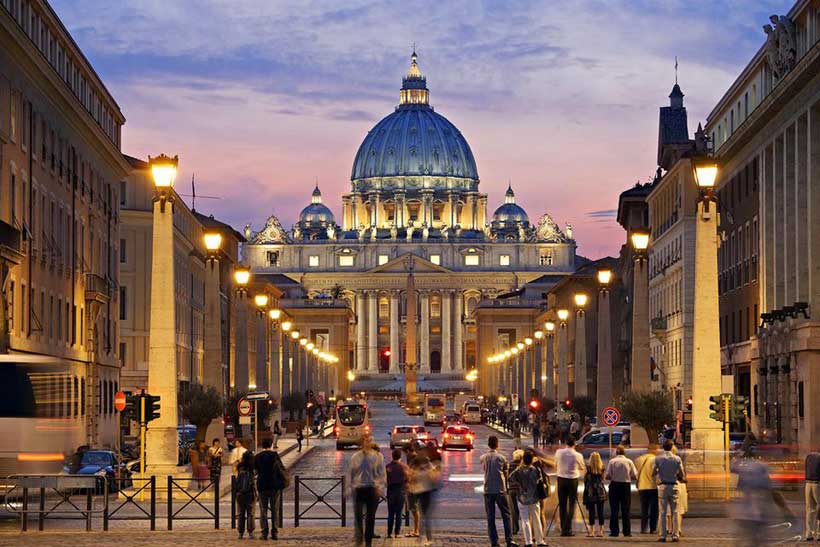 The two-year provisional agreement which was signed on September 22, 2018 between the holy see and China for the appointment of bishops in China, with the pope having veto power over such appointments, is likely to be renewed by mutual consensus before the accord nears its expiry later this month.
The agreement was initially seen as a clincher for both China and Vatican, especially after diplomatic ties were completely severed in 1951. However, many observers and experts have claimed that, the agreement does more harm than good to the credibility and popularity of the monolithic Catholic institute. Besides the main propaganda campaign of the Chinese to retain unabridged control over bishop nominations, their ultimate goal is to get Vatican to discredit the government in Taiwan to assert its One-China policy. Although, the Vatican has agreed to support China on its One-China policy, it should still be weary and apprehensive of the Chinese politics.
How is Taiwan central to this agreement
Taiwan, a small island in East Asia, which China claims as part of its own territory, considers Vatican as its last partner in Europe. This puts Vatican in a critical situation while China is struggling to maintain cordial relations with the West.
According to Francesco Sisci, a senior researcher at the Remnim University in Beijing, China wants to be seen as an ally of the Pope because it realizes the soft superpower that the Catholic church yields over millions of followers within China and abroad. He says, When the pope speaks, everyone listens.
A logical conclusion thus one can derive from it, is that the Vatican's endorsement of the One-China policy by discounting Taiwan's authority to maintain independent diplomatic ties, will generate currency in China's favour.
Two-years of signing the provisional agreement. What it means for China's Catholics?
In a bid to renew the agreement, the Chinese foreign ministry spokesperson stated last week that the interim accord has been implemented successfully. However, the ground scenario provides a different factual story. Even after the deal was signed in 2018, there were several reports of harassment and detention of the underground Catholics and Clergy in China. Many Churches have been shut down, crosses and other religious symbols have disappeared from public spaces. These events have taken place even after the Vatican tabled such concerns during negotiation with China.
This is the direct result of the "Sinicization" policy of the Xi administration, that calls for showcasing loyalty to the state and the Communist Party during religious processions and practice. As per this restrictive policy, people below 18 years of age are strictly barred from entering places of worship and publication of any religious material is only allowed following a close scrutiny.
Cardinal Joseph Zen, retired cardinal of Honk Kong had expressed wide concerns for this accord. He had described the Vatican's overtures with China as selling out of the Catholic Church in China. Zen knows that the agreement is largely going to benefit the Chinese authorities and the Communist Party in asserting its policies and international agendas.
It is also essential to highlight that the exact details and terms of the agreement are kept secret between the two parties. This may mean that if any violations of the agreement that may have taken place in the two years it was in place, it would become difficult to prove it in a court of law, owing to the confidentiality. This almost gives China full immunity over its inability to fulfill its obligation under the agreement. Vatican must therefore be cautious about China's commitment towards the agreement and must device alternate ways to shelter and safeguard its priests and followers in China.
The EU-China angle
2020 was supposed to be the year for refinement of EU-China relations. The pandemic has however forced cancellations of governmental meetings, bilateral programs, and other scheduled events. And on the contrary, it has deepen the cracks between certain EU countries and China because of China's propaganda campaign and geopolitical policies.
Last year saw a hard stance being adopted by EU legislators and policymakers, which was reflected in the policy paper released by the Federation of German Industries. The paper had described China as a "systemic competitor" and highlighted grave concerns over its international economic practices. The same line of charge was showcased in European Commission's strategic reflection paper, where it referred to China as a negotiating partner with a need for finding a balance of interests and a systemic rival promoting alternative model of governance.
This position is attributed to China's unfair and biased foreign policy that limited European companies from major EU countries to venture into the Chinese market. At the same time, China was employing economic tactics to woo smaller European countries to promote investments and improve trade relations with itself. The effect of this has been that many economically weaker countries have started looking towards China for monetary aid and trade related matters rather than cooperating with their fellow EU members. This has led to some kind of frustration and discordance amongst the EU nations.
The tensions might have heightened due to China's diplomatic missteps, from its infamous wolf warrior diplomacy to its amoralistic mask diplomacy during the Covid outbreak. This will however not completely change the course in the relation between EU-China because there is too much at stake for both sides to risk everything. These instances must however caution Vatican about its handshake with China because, although it may have soft superpower but there's nothing stopping China from pulling off an economical stunt.
A closer perspective
Taking the EU-China experience and the Sinicization policy collectively into consideration, it will be safe to assume for the Pope and his council of minister to rethink and weigh the merits and demerits of its diplomatic ties with China with utmost seriousness. Even if China promises more stability and monetary benefits in the short run, the Vatican must not forget that the deal indeed puts at risk, the values and principles that it has preached over the decades, to its people and followers globally, the repercussions of which may be beyond repair.
It needs to consider the plight of its brothers and sisters who have unlawfully been punished and detained in China and must push for more humane laws and remedies for them.This can be done by carefully executing a three-level approach. Firstly, the Vatican must put in place a strict mechanism to scrutinize and verify the inflow of investments so as to limit the interference of Chinese money in its decision making. This is similar to the foreign policy introduced by EU last year. Secondly, the Vatican must try to accommodate and align its interests with its European allies so as to strengthen the unity and solidarity in the region. It will also help them to collectively stand up against China if China tries to play hard ball against them, in terms of trade policy or indulges in any human rights violations for that matter. Lastly, the Vatican must push for transparency and openness with respect to the terms of the agreement that it has signed with China. This will allow the Holy See to rightfully claim any damage or remedy if any wrongful act or omission is committed by the Chinese side.