Trump's election and its impact on Europe
Authors: Daniele Scalea, Alessandro Cipri (*)
[yt_dropcap type="square" font="" size="14″ color="#000″ background="#fff" ] I [/yt_dropcap] t is particularly difficult to foretell what the foreign policy of a US president-elect will be. We have plenty of examples of US presidents who – after coming into office – did not follow through on their electoral campaign pledges.
Even though Obama did actually conclude the agreement with Iran – as promised during his first presidential campaign – he was able to do that only in his second term, after having embittered the sanctions for years. While George W. Bush presented himself as an "isolationist" – in opposition to Bill Clinton and his humanitarian interventionism – he ended up launching two major wars in Afghanistan and Iraq, restraining from others just because of the poor-performances in these two. Richard Nixon, who won two terms on anti-communism, ended the war against the Vietnamese Communists and stroke a deal with Maoist China. Both Wilson in 1916 and Roosevelt in 1940 campaigned on an isolationist platform, just to lead their country into the first and second world war as soon as they were re-elected.
Forecasting the foreign policy stances of the upcoming administration is now even harder than with those of the past, considering that the President-Elect is not a long-time politician, and we do not even know who his Secretary of State will be. Even though a Republican-controlled Congress is certainly good for President Trump, the GOP is now bitterly divided among opposing factions, with Trump's "populist" wing fighting an internecine war against the mainstream conservatives within the party, many of whom did not even endorse him in the general election. In fact, regardless of the success of the insurgent candidate, Congress is still filled up with Tea Partiers and establishment Republicans, potentially harboring resentment towards the rising pro-Trump hardliners. This internal conflict may well produce an hostile Congress for President Trump, especially when it comes to the most controversial points of his agenda, such as a review of foreign trade strategies towards fair trade.
So, before trying to figure out the potential consequences for Europe, let's try to define at least some general elements of Trump's hypothetical foreign policy.
• First of all, Trump has outlined a non-interventionist policy: no more wars for state-building or regime change. He want to spend less in military intervention and more in military supremacy, which means more R&D and less operational costs. This would imply sharing responsibilities with US allies, as well as leaving them more strategic freedom in and the pursuit of their particular interests.
• He also wants to normalize relations with Russia, that have reached the bottom on Ukraine and Syria. He thinks that NATO is too expensive for Washington, whereas European allies are acting as free riders . NATO is the 28-nations – almost 70-years old – military alliance that unites US, Canada and Europe. Conceived as defensive alliance against USSR, experienced a consistend expansion of its membership in the years following the end of the Cold War, welcoming many former communist Eastern European countries; at the same time, it switched its focus from European defense out-of-area operations. Those are offensive military operations such as in Yugoslavia and Serbia, during the '90, or in Afghanistan, Iraq, Libya and the Gulf of Aden in last fifteen years. However – since the Ukrainian crisis – NATO is redirecting its resources to the defense of its Eastern border, along an arc of tension with Russia ranging from the Arctic to Syria.
• The July 2015 nuclear deal with Iran (the JCPOA), strongly wanted by President Obama, has been harshly criticized by Trump. Under this deal, Iran agreed to eliminate its stockpile of medium-enriched uranium, cut its stockpile of low-enriched uranium by 98%, and reduce by about two-thirds the number of its gas centrifuges for 13 years. For the next 15 years, Iran will only enrich uranium up to 3.67%. The main criticism on this deal is that the Iranian nuclear programme is suspended, rather than aborted, and in the meantime the Islamic Republic could be strengthened by the lifting of sanctions while keeping a regional stance opposed to the US. It is unlikely that Trump will reject the agreement as a whole, since that would require to negotiate a new one (and many years were needed for the current) or to come back to direct confrontation with Iran, which would mean major efforts in the Middle East for Washington – something Trump wants to avoid. So, the most probable outcome could be that the US introduces new extra verification measures of Tehran's compliance of the Agreement, and promptly withdraws from it if any violation is observed.
• Trump is a vocal opponent of international free trade agreements, such as the North America Free Trade Agreement (NAFTA), the Transatlantic Trade and Investement Partnership (TTIP), and the Trans-Pacific Partnership (TTP), seen as factors of de-industrialization and industrial outsourcing, especially in China and Mexico.
Assuming that these vectors remain sound and Trump Administration manages to implement them at least in part, we could try to forecast some effects on Europe.
First, we have to consider that major European NATO members have been reducing their defence spending since the end of the Cold War. Not considering the US, it is only since 2015 that NATO defence expenditures are growing, as a consequence of Russian assertiveness in Eastern Europe. NATO guideline is to spend 2% of the GDP for Defence but, in recent years, only 3 out of 28 members follow this rule: United States (currently spending 3.61% of the GDP), United Kingdom (2.21%), and – surprisingly – Greece (2.38%). Greek good will, which is not diminishing but even increasing under Prime Minister Alexis Tsipras, is due to Athen's dependance on foreign loans, sometimes informally swapped with arms purchasing. Since 2015, two more countries abide by the 2% rule: Estonia and Poland. No wonder, since they are the most anti-Russian countries in NATO and the most vocal supporters of a military buildup on its Eastern border.
Anyway, all that said, the remaining 23 members out of 28 spend for defence less than the recommended 2%: for example France 1.78%, Turkey 1.56%, Germany 1.19%, Italy 1.11%, Spain 0.91%. Since 2012, the US alone spends yearly more than all European allies altogether. Moreover, the limited improvement this year is due to the build-up on the Russian border – a military build-up that Trump will probably do not go along with.
It is highly improbable that Trump wants to dismantle NATO and – even if this was the case – it would be almost impossible for President Trump to realize it without facing insuperable obstacles. Most probably, Trump will just follow on Obama's path in trying to lead from behind – just avoiding to mess up with Russia again. The theory of "leading from behind" arose in business circles, with Linda Hill of the Harvard Business School acknowledged as its mother. In foreign policy, it means to encourage others to take the initiative, while quietly establishing the strategy and leading the game. This, however, is a delicate art, because is a very short step from leading from behind to be led from the front.
About Obama's doctrine, Charles Krauthammer wrote on The Washington Post: "It's been a foreign policy of hesitation, delay and indecision, marked by plaintive appeals to the (fictional) international community to do what only America can".
The experience of Libya in 2011 isn't indeed comforting, with the UK and France pressing for a military intervention against the Gaddafi regime, only to leave afterwards a country broken into pieces and exposed to Islamist infiltration, even by ISIS.
But that's not solely Europe's fault, nor it is completely US' fault: the responsibility is on the West as a whole, as London and Paris messed up Libya, like the US had messed up Iraq before, while our Arab allies are messing up Syria. Consequences are evident: with the treat of al-Qaida doubled up by ISIS, a lot of states in the region are either failed or on the verge of failing, Europe is under pressure from terrorist attacks and from an unprecedented flow of immigrants, with those two factors giving a huge contribution to Brexit and other displays of popular distrust towards the European establishment and institutions.
That's why I think that the new line dictated by Trump – although challenging – will be positive for Europe We are facing problems that cannot be resolved without Russia's help, not to say with Russia's enmity. Think about the Syrian conundrum: a major Arab state has collapsed, and very hardly could be recomposed after five years of savage civil, ethnic and religious war, in which interests of many regional and world powers conflicted one another. Tensions in Eastern Europe compel both Russia and NATO to increase military expenditures, while mutual sanctions are harming both economies.
Even though the European establishment is complaining about Trump's stance on Russia and the mutual exchange of compliments between him and President Putin, we have to keep in mind that it was the United States to push for a confrontation with Russia, while many EU countries – such as Italy – were in favor of improving relations with it.
In fact, Italo-Russian relations have been free from critical issues since the Soviet-Yugoslav "separation" in 1948 and, even though Italy was part of the Western bloc, it often kept pushing for an improvement in its relations with the USSR.
A few years after the end of the Second World War, Manlio Brosio – then Italian ambassador in Moscow (and future NATO Secretary General – looked for Soviet support for his project of a neutral Italy, but failed in his attempt. Ten years later, politicians such as Amintore Fanfani, or public managers such as Enrico Mattei, launched the "New Atlantism" doctrine, according to which
– while remaining loyal to the west – Italy would act independently, seeking friendly relations with Communist and Mediterranean countries. After the end of the Cold War, Italy has always been one of the warmest supporters of cooperation with Russia, especially during the government of Silvio Berlusconi, whose friendship with Putin was well-known. In 2002, during a meeting presided by Berlusconi in Pratica di Mare, Russia and NATO signed an historical cooperation agreement.
This agreement could well be the starting point for a new approach to collective security in Europe: one that seeks to engage, rather than confront Russia.
However, not everyone in Europe will agree, especially among the Eastern countries such as Poland, Estonia, Latvia, Lithuania, Romania or Hungary that – still recalling the period of Soviet domination – mistrust the Russians. It is true, anyway, that recent elections in Moldova and Bulgaria, both former Communist states, have witnessed the victory of Russia-friendly candidates. Those Eastern countries are also very conservative and suspicious of pro-immigration and liberal policies of Western Europe. In the mid- long-term, this factor could orient them towards Russia again.
Great Britain – a traditional rival of Russia – has in recent years led the front of anti-Russian countries opposed to a lifting of sanctions. But now that London seems next to leave the EU, and considering that the British usually follow a line dictated in Washington, it could be well possible that their stance towards Russia will soften a lot.
A major obstacle remains in Germany, where the German social-democratic party – relatively pro-Russian, for west-European standards ¬– is going through a difficult time. Power is still strongly in the hands of the Christian-democrats and especially of Angela Merkel, who is toying with the idea of assert herself as the new leader of a liberal Western front, opposed to both Trump and Putin. Apart from her mania of grandeur, she is also following the objective national interests of Germany: the great winner of the process of European integration. Free trade, combined with a common currency (and so the inability for competitors, such as Italy, to conduct a competitive devaluation) have given Germany the economic dominance in the European Union. If Russia wants to move forward her influence in Eastern Europe, it has to confront face German opposition.
However, regardless of Russia's intentions, confrontation with Berlin may be inevitable, with the Germans pushing to expand their own influence in Belarus, Ukraine, and the Caucasus.
Another major obstacle to a Russia-West rapprochement is still the US: while Iit is true that Trump wants friendship, he could do that also through some minor concessions, such as a limited area of influence in the so-called Near Abroad, as Russians call the former Soviet countries with whom they still have critical security links. Trump is as famous to be a tough negotiator, as Putin is to be astute politician and, despite their good intentions, it is not guaranteed that they will find an agreement – because a very big deal it is required between Russia and the US.
Another side of Trump's program concerns energy, where he promises to encourage the production of shale oil and gas, which is now limited by environmentalist legislation. Over the past decade, the combination of horizontal drilling and hydraulic fracturing has provided access to large volumes of oil and natural gas that were previously uneconomic to produce. The United States has approximately 610 trillion cubic feet of technically recoverable shale natural gas resources and 59 billion barrels of technically recoverable tight oil resources. As a result, the United States is ranked second globally after Russia in shale oil resources and is ranked fourth globally after China, Argentina and Algeria in shale natural gas resources. But the tight oil and shale gas industries in the US have been suffering, mainly because of the increasing production from the Gulf states that, lowering prices, is pumping it out of business.
While in late in 2014 there were almost two thousands oil and gas rigs active in the US, in last July only 500 were still operating. Even though Trump cannot fully control some market fundamentals, as a large oversupply and sluggish demand, after his election U.S. shale producers are redeploying cash, rigs and workers, cautiously confident the energy sector has turned a corner. According to Ambrose Evans-Pritchard, the OPEC cartel is poised to slash crude output, with an agreement struck in September by the Saudis and Russians to cooperate in the world oil markets. If all signs are true, prices could well go up in the upcoming months, giving oxygen to the US industry.
Trump's victory also brings back on the agenda the Keystone XL oil pipeline from Canada to the US Gulf Coast (where many refineries are located): a project blocked by Obama on the ground of its impact on the environment. The main target of the Keystone pipeline is to replace imports of heavy oil-sand crude from Venezuela with more reliable Canadian heavy oil, even though a good portion of the oil that will gush down the KXL will probably end up being sold on the international market.
Now, under the Trump Administration both US and Canadian oil & gas could arrive in greater amount to Europe: a net importer of energy, especially from Russia, which counts for 29% of total solid fuels imports, 30% of oil and 37% of gas. For years now Washington and Bruxelles have been trying to reduce European dependency from Russian energy, worried that this can translate in political dependency. In late February, the U.S. started exporting oil and gas to Europe, 40 years after the oil embargo imposed by the U.S. Congress.
Let's move now to the Middle East and North Africa. As said before, the situation there is tragic and the West carries some responsibilities for contributing to open the Pandora's box of regional contradictions, intervening in countries such as Iraq, Libya, and Syria to replace a brutal political order with no order at all.
If the US disengages from the region, however, the risk is to barter the restraint from reckless "adventures" overseas with an overall loss of initiative on the international scenario, with Europe unable to afford more military and security burdens, because of a contentious public opinion and of a very difficult time for economy. Without the US, therefore, it is very likely that also Europe will disengage from North Africa and the Middle East.
Anyway, at least for now, America is not going away from the region anytime soon, especially considering the emphasis that Trump put on ISIS' global threat during the campaign trail. According to the upcoming National Security Adviser, General Michael Flynn, Islamic radicalism is the enemy number one for the US. This will translate in a solid partnership with secular Arab leaders such as Egypt's al-Sisi, whereas is still unclear how the Trump Administration will deal with Erdogan or the Saudis, whose links with Islamic radicalism are very suspicious.
Gen. Flynn believes the US is losing a global war against Islamist extremism that may last for generations, but he stresses that this war has to be fought also domestically, against any ideological infiltration. Trump and Flynn want to go after Islamism as Americans used to do with Communism. That brings us back to Europe again. Whereas only 1% of the US population is Muslim, Islam is thriving in Europe, due to ongoing immigration and to the higher fertility rate of Muslim communities, which is of 2.2 children per woman, while that of non-Muslim is 1.5. According to the Pew Center, Europe's Muslim population is projected to increase by 63%, growing from 43 million in 2010 to 71 million in 2050, becoming more than 10% of the total population. Anyway, in countries such as France, they already are almost 10% of the population and, In some key cities – Paris and London, for example – Muslims exceed 15%. As it is well known, Europe is facing big problems in integrating even second or third generations of immigrants, especially Muslims. Muslim vote is beginning to matter in many European countries and important Muslim politicians are emerging, such as Sadiq Khan, the Mayor of London, or Rachida Dati, former French Minister of Justice, or Sajid Javid, the British Secretary for Local Government. Only the former is by a leftist party and they are not suspicious of Islamism. Anyway, according to the 2014 Jenkins Commission Report, in the UK the Muslim Brotherhood "[has] at times had significant influence on the largest UK Muslim student organisation, national organisations which have claimed to represent Muslim communities (and on that basis have sought and had a dialogue with Government), charities and some mosques".
If the Trump Administration is going to consider Political Islam as an ideological enemy – such Communism during the Cold War – it will likely work on barring its way in Europe. The US has a long history of interfering in European domestic politics and Trump has already given a taste by meeting Nigel Farage a few days after his victory in the election. It could well be that the Trump Administration will try to advise the Western European leadership against persisting in their open doors policy toward Muslim immigrants, or to favour those political forces more akin with its ideas: usually the Right, maybe also the anti-globalist one, as the National Front in France, UKIP in UK, the Northern League in Italy, AfD in Germany. The leaders of all these forces, plus the Hungarian President Viktor Orban, in fact rejoiced at Trump's victory. Breitbart, the news website which spearheaded Trump campaign and from whom the new White House Chief Strategist Steve Bannon comes from, already has a London bureau, but is now planning to open new branches in France and Germany.
A few days ago, Francois Fillon has surprisingly won the the Right primaries in France. The hardliner among main candidates, Fillon is pro-Russian, very conservative, quite Thatcherist, and unfavourable to mass immigration. Very probably he will compete for the presidency with the far-rightist Marine Le Pen.
Even if society in the US remains very different from that of Europe, the rampant globalization of recent decades has made it quite close compared to half a century ago. Both the US and Europe have experienced massive deindustrialization with a geographical concentration of the remaining high-tech industries in a few islands of happiness – whose wealth is striking, when compared to the many rust belts of the Western world. Both the US and Europe have seen a deep financialization of their economies and have been overwhelmed by the so-called politically correct way of thinking. It's true: in the U.S. you can find also the Bible Belt, but if we consider the European Union as a whole, we could see a Catholic Belt in its Eastern countries, opposed to Sweden (a European California) or London and Paris (European New Yorks), or in general the more liberal Western countries. Exactly as in the US, also in Europe, post-modernism is currently hegemonic in colleges and mainstream media, which are trying to inculcate it also in the common man. Finally, the massive immigration flows of last decades into Europe are making its society more and more resembling to the composite ethnic mix of North American society – even in the trend towards communitarian vote. According to reliable statistics, the last time white voters in the US favoured in majority a democratic presidential candidate was in 1964: Lyndon Johnson. Since then, Carter, Clinton and Obama won the elections thanks to the decisive vote of minorities. If you look to the Brexit vote, for example, you will find out that the social group more favourable to remain in the European Union were not Scottish nor Irish, but the new minorities: Asians, Blacks and Muslims. In such similar environments, it is predictable to find similar political trends and demands: Trump's victory in the US may be soon followed by populist successes in Europe.
In conclusion, we can say that, regardless of his real actions once in office, Donald Trump is already influencing European politics by encouraging the already rampant rightist and populist parties. This will translate in more regulation of the immigration flows, abatement of the EU supranational power on European countries, and better relations with Russia. That is true even if those populist forces do not win any election: in fact, more traditional parties and politicians are compelled to adopt at least some of their requests not to lose approval and power. But, if President Trump will maintain his electoral promises, even greater changes are looming in Western politics and society . A lasting conservative and populist turn could affect the Western system, leading to a possible inclusion of Russia into it.
---
(*) ALESSANDRO CIPRI
Born in Chile and raised in Rome, Alessandro Cipri has just finished his postgraduate studies at the department of War Studies of King's College London, graduating with distinction from the Master's Degree in "Intelligence and International Security". Having served in the Italian Army's "Alpini" mountain troops, he has a keen interest in national security, military strategy, insurgency theory, and terrorism studies. His Master's dissertation was on the impact of drug trafficking on the evolution of the Colombian FARC.
From Russia with Love: Controversy Around the Russian Aid Campaign to Italy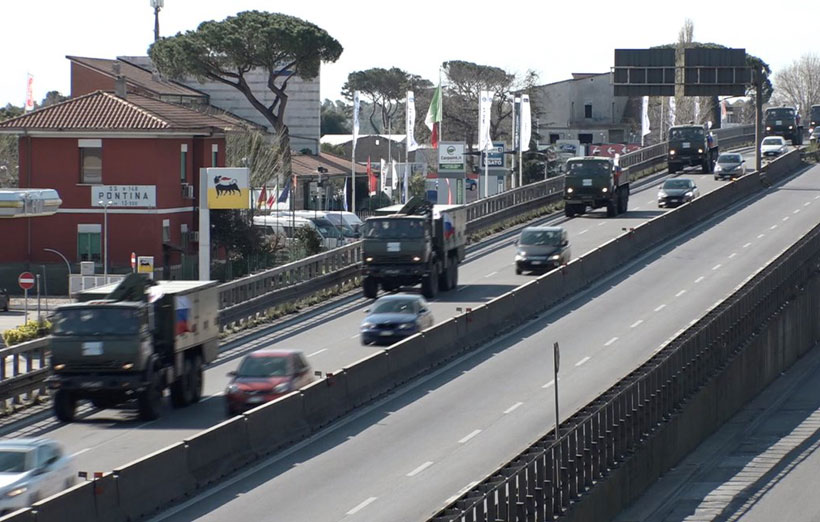 As Winston Churchill said in the mid-1940s as the end of World War II approached, "Never let a good crisis go to waste." At the time, the British Prime Minister was presumably referring to the Yalta conference and the resulting alliance between him, Stalin, and Roosevelt, the trio that would lead to the founding of the United Nations, thus generating opportunities within a crisis. Although the statement dates back more than 70 years, it continues to be relevant even today. In recent years the Kremlin has not hesitated to make a crisis fruitful, using it to regain its position as a significant player on the global scene (i.e., Libya, Ukraine, Syria). And the global health emergency triggered by the COVID-19 pandemic is no exception.
On March 22, Italy began to receive the first Russian aid, following a telephone call between Italian Prime Minister Giuseppe Conte and Russian President Vladimir Putin. A goodwill gesture labeled "From Russia with Love" in honor of one of the most successful films in the 007 sagas. Along with the mission and medical material, however, came a military contingent led by General Sergey Kikot, head of 104 health workers and other assistance personnel.
Although welcomed with great appreciation, the reception of the Russian aid operation has raised several doubts concerning the authenticity of its objectives. In this regard, it is necessary to stress that until the beginning of April, Italy faced the crisis almost entirely on its own.
Initially, Europe and its member states revealed themselves to be reluctant to cooperate. Instead of showing solidarity towards their then most affected member state, the allied governments reacted through the closure of the borders, a move that resulted in the delay of the arrival and exchange of necessary medical equipment on European soil, thus worsening the Italian situation. The apology addressed to the peninsula by EU President Ursula Von Der Leyen is dated April 1 ("Ursula von der Leyen: Scusateci ora l'Europa è con voi"). In the letter addressed to the newspaper "La Repubblica", the President apologized for the lack of promptness of help from the European community, calling Italy a source of inspiration in the fight against COVID-19 and stressing its importance as a member state of the European Union. Besides, in the letter, it is repeatedly stated that although the European response was initially delayed, Europe is now more united than ever in the fight against the virus. A battle that cannot be won if not together.
Faster in the solidarity response, conversely, proved to be third countries, including not only Russia, but also China, and Cuba. Pending a European response, and just when the number of casualties exceeded that of China, a series of aid from the communist giant arrived in Italy. Between 12 and 18 March, an equipe of medical experts landed in Rome and Milan along with supplies and technical support, including respirators, masks, and protective suits and dressings. Similarly, on March 26, Cuba sent a medical team consisting of 52 healthcare professionals.
While not much has been spoken about the other foreign aid, and although Italy was facing great difficulties and was in definite need of help, the arrival of the Russian contingent has caused quite a few perplexities. Questions were raised concerning the consequences of the Russian aid campaign to Italy. Did the Kremlin expect anything in return? What would be the cost to the Italian government of these disinterested contributions, and what the strategic motives behind the humanitarian mission? Alexander Baunov, senior fellow at Moscow Carnegie Center, in the article "Is the Kremlin using the crisis as an opportunity to score propaganda victories?", pointed out how, for countries that would like to see the world order turned upside down, this pandemic presents an excellent opportunity.
Prior to discussing the underlying motives at the heart of the Russian aid campaign, it is of interest to observe how the same information has been presented by the two respective governments. While in Russia the press focused on the gratitude shown by the Italian people for the assistance received, in Italy, media appeared more critical, questioning the implications of the campaign.
More specifically, La Stampa, one of the longest-selling and oldest newspapers on the peninsula, expressed its doubts about the matter, in particular through the work of the journalist Jacopo Iacoboni. ("Nella Spedizione dei Russi in Italia, il generale che negò i gas in Siria", "Militari di Mosca acquartierati nella foresteria dell'esercito italiano, i timori di un'"occupazione" russa in Italia" ). The correspondent voiced his perplexity over the quality of the aid received, pointing out that about 80% of the material was obsolete and not working. The usage of the Aventa-M fan model (at present, there are 150 fans of this type on Italian soil) has, in fact, been suspended in Russia after having caused the death of 6 people, between 9 and 12 of May, for catching fire. In addition, the journalist, given the large number of military presence in the contingent, expressed his fears for the security of the country's sensitive data, depicting the aid more as a geopolitical move than as an act of solidarity.
The diatribe became more heated when Russian Defense Ministry spokesman Igor Konashankov intervened, accusing the journalist of russophobia and spreading false information.
Tensions culminated in an appeal to Russian institutions from Rome by Foreign Minister Luigi di Maio and Defense Minister Lorenzo Guerini to respect freedom of the press, including the right of criticism, defined as a fundamental value at the base of the country.
On the other hand, the Russian media decided to focus their attention on the appreciation expressed by the Italians. Alongside the news of the mission's arrival on Italian soil, media reported flags displaying the message "Spasibo Bolshoe" (thank you very much) held by smiling Italians gazing at the camera from their balconies. "Thank you, Russia, we won't forget" "Dear Merkel, thank you for abandoning us" these the recurrent headlines on the subject (Baltnews, RT, BBC Russia, Rya Novosty, VestyRu, TsarGrad). Among the most well-known personal expression of gratitude, it is worth mentioning the former Prime Minister Silvio Berlusconi's private message to Putin and a video posted by the Italian singer Pupo, in which the singer tries to pronounce a few words and sings in Russian.
From the Russian media, however, the Italian response to Russian aid seems to have found more support than what appears to have actually happened. According to EUvsDISINFO weekly report – "Coronavirus: BBC challenges pro-Kremlin reporting from Italy" – Italians have been portrayed replacing European flags with Russian ones, as proof though only an isolated video was found. Another recurring narrative denounced by the EU taskforce portrays Italian citizens engaged in playing the Russian anthem from their balconies during the lockdown. However, again, only one video to confirm the statement. The video was filmed outside the UGL Workers' Union, a section of the extreme right-wing Italian political party Casapound.
Let us now turn to the controversies surrounding the interests behind the Russian aid contingent.
Amidst the most commonly discussed assumptions, one wonders whether, as a result of the disinterested aid, Russia does not expect something in return.
A common belief is that the Kremlin, having in Italy its closest ally within the European Union, could count on its help to put pressure on Brussels to review the question of sanctions, imposed following the illegal annexation of Crimea. A strategy that had already been employed in the preceding years with regard to Italy unsuccessfully (Following a unanimous vote held in December 2019, the European Council had extended the sanctions until July 31, 2020). As alleged evidence to this would seem to be the letter dated April 27 from the Chairman of the Foreign Affairs Commission of the Russian Duma, Leonid Slutsky, forwarded to the Italian senators. The letter expressly asks for help on the issue of sanctions. In order to avoid misinterpretation, clarification was promptly provided by the President of the Foreign Commission of Palazzo Madama, the senator of the 5 Star Movement Vito Petrocelli, who stated: "The appeal of my Russian counterpart Leonid Slutsky did not concern at all the European sanctions against Moscow linked to the Ukrainian issue, but the international sanctions that prevent countries such as Iran, Syria, Venezuela, Cuba and others from adequately combating the spread of COVID-19, creating further risks of contagion for the entire planet." The letter would, therefore, refer to the UN General Assembly decision, which rejected the Russian resolution presented on March 25, also signed, among other countries, by China, Iran, and Venezuela, to suspend the sanctions due to the current health emergency.
Although there was some controversy following the letter's receipt, it seems, nonetheless, quite far-fetched for the Russian mission to Italy to be solely dictated by the possibility for the latter to provide help concerning the suspension of sanctions against the Kremlin.
In this regard, it is of interest to remark that during its most critical moments (WWII, Cold War), Italy has always sided against Russia. On the contrary, the most probable scenario seems to be the Kremlin's aim to gain credit with Rome in those areas of friction where bilateral relations prevail, i.e., the energy market and the Libyan question.
Italy is the fourth Russian trade outlet after the Netherlands, China, and Germany, and the fifth source of imports. In this regard, the Italo-Russian Chamber of Commerce (CCIR), founded in 1964, is very operative, bringing together the main Italian companies operating in Russia and vice versa. Russia is also the leading supplier of energy in Italy: from the latter, it purchases oil for about 15% of imports and gas for 30% of total imports. Italy acts, therefore, as the natural bridge between Russia and the European Union. This role, among other things, is witnessed by the massive Italian presence at the International Economic Forum in St. Petersburg, which, in addition to the political presence, sees the participation of all the most significant Italian companies and their chain of small and medium enterprises. Not to mention the investments of the two major Italian banks, Intesa Sanpaolo and Unicredit. Italy and Russia live in a relationship of economic symbiosis, as evidenced by the ever-increasing commercial exchange (EUROSTAT).
Simultaneously, the ongoing instability in Libya presents several challenges for Italy. Among the broad spectrum of interests in ending the Libyan crisis, in addition to energy and security issues, the issue of migration is undoubtedly the most urgent. Indeed, the migratory flow on the Italian coast risks having a significant impact on public opinion and political developments in the country. In this regard, Russia, which is also involved in the country, would thus play a key role in the negotiations to end the conflict.
In addition to whether the bill would have been presented to Italy once the aid had ended, further concern relates to security. Due to the presence of a large military convoy, the motive behind army personnel deployment and not just medical staff was questioned. Widespread speculation was that Moscow, accessing various hospitals' databases, was engaged in a data-mining mission. Now, that would seem more like a scenario worthy of the Cold War era. What seems more reasonable, especially given that, at the time, Russia was still one of the countries less affected by the virus, is that, in the Kremlin's perspective, the Italian situation presented itself as an excellent opportunity to gather useful information about COVID-19 and its possible mutations.
Thus, Italy would have represented both a study opportunity to train and test the capabilities of Russian departments specializing in chemical, radiological and biological defense, as well as a chance to examine the data stored in the national health system, collecting all the information needed, in order to gain a better understanding of the virus. To suggest the hypothesis, the fact that Russian convoys, consisting among others of an entire department highly specialized in bacteriological containment operations, were located in Bergamo, Lombardy, the most affected area in Italy.
Even though some have regarded the Russian aid campaign with fear and criticism, including Josep Borrell head of the European Union's foreign and defense policy, who warned against Chinese and Russian propaganda, the Italian government has been clear about the matter. To reiterate the Italian position and avoid further ambiguity, the foreign minister Luigi di Maio in a recent interview for the newspaper "Il Corriere Della Sera" reported that there was no new geopolitical scenario. In what he described to be a matter of "realpolitik," he stated, "There is only one country that needs help and the other countries that are giving it."
A few weeks after the end of the Russian mission (May 7), one wonders whether there will be any consequences on the international geopolitical scene. Nonetheless, when addressing Russia's attempt to re-establish itself on the international stage, in Italy's case, it appears erroneous to refer to the mission as of an attempt to penetrate new geopolitical spaces. Russian solidarity should rather be regarded as an effort to maintain a political status quo already considered favorable. From the friendship of former Prime Minister Silvio Berlusconi with Vladimir Putin, to Enrico Letta, the only EU leader at the inauguration of the Olympic Games in Sochi, to Matteo Renzi, former Prime Minister, and Matteo Salvini, leader of the right-wing party "The League", who openly criticized the European Council for the renewal of sanctions against Russia, to an intense series of agreements and protocols of economic, political and cultural cooperation, Italo-Russian relations appear well-established.
Italy has long stood as the founding country of the EU closest to the Kremlin, and bilateral relations seem to be facilitated by the presence of shared interests based on economic cooperation (CCIR) and the lack of historical political and social issues (Siddi). Relations are determined not only by commercial interests but also by the fruitful cultural and social exchanges between the two countries. Italian institutes of culture are very operative in the Federation, as well as the Dante Alighieri Societies, particularly active in the teaching of the Italian language, along with various cultural and tourist exchange initiatives. Despite the consequences and the underlying motives behind this humanitarian mission remain hence difficult to be predicted, it is nevertheless interesting to stress that a link between the two countries already existed. And although Italy has been part of the western economic and military structure (EU and NATO founding member) since the first post-war period, positive dialogue with the Kremlin has continued and continues to evolve.
From our partner RIAC
UK's post-covid foreign policy
UK's foreign policy post corona is likely to be driven by some crucial economic factors. On the one hand, it is likely to work closely with countries like US, Japan Australia and India, to reduce its dependence upon China. On the other, UK can not totally bank on the US for achieving its economic goals, given the unpredictability of US President, Donald Trump.
UK needs to look at new Free Trade Agreements (FTA's) and also be part of arrangements, such as the Trans Pacific Partnership which enable it to diversify it's supply chains
Important economic decisions of UK with a bearing on UK-China economic ties
UK has taken some important steps with an eye on enhancing self-sufficiency, and reducing reliance on China given the changing environment.
The Boris Johnson government has set up a committee — 'Project Defend' — which seeks to study UK's economic dependence with hostile countries (with a specific thrust on China) especially for sensitive imports. Based on the findings of this report, UK will work towards relocation of pharmaceutical companies. While changing supply chains over night may not be an easy task, this is an important decision which the Boris Johnson Administration has taken.
UK's recent decision on Huawei
The Boris Johnson Administration has also recently taken a decision to reduce Huawei's participation in the 5G network to zero by 2023. In January 2020, Boris Johnson had given a go ahead to Huawei's participation in the 'non-core' element of the 5G network, with important restrictions, as well as a 35% market share cap. This decision drew flak from a section of Conservative Party politicians, who for long have been arguing that the UK needs to be cautious with regard to close economic ties with China, since this has serious security implications. The Trump administration had also expressed is displeasure with the Boris Johnson administration. The US President and senior officials in his administration had expressed their unhappiness, saying that this decision could have an impact on security cooperation between both countries.
In the aftermath of the coronavirus pandemic, ties between UK and China have gone downhill (senior officials of the Johnson administration have criticized China for suppressing information with regard to the outbreak of the pandemic), and Johnson's decision was driven by two factors. One increasing pressure from Conservative MP's who had threatened to vote against the government's decision and second the fact, that UK is keen to go ahead with an FTA with the US (there have been differences between the US and UK however on the issue of the FTA, with the US urging UK to make a choice between China and the US)
Apart from this, the recent US sanctions imposed on Huawei, have also played a role in Johnson's decision of reducing Huawei's participation by 2023 (the Trump administration has made it compulsory for foreign manufacturers using U.S. chipmaking equipment to obtain a license before being able to sell chips to Huawei).
D 10 network
Interestingly, the UK has also proposed, that a group of 10 countries, dubbed as D10, joins hands to provide an alternative to Huawei's 5G network and other technologies with the aim of reducing dependence upon China. The proposed grouping should consist of US, UK, Japan, South Korea, India, New Zealand, Australia,
UK has thus taken the lead in providing an alternative. Significantly, US President Donald Trump has also stated, that he is keen to expand the G7 and include not India, South Korea but also Russia.
UK also keen to play an important role in the TPP
While on the one hand, the UK is trying to reduce its dependence upon China, by joining hands with the US and like minded countries, on the other UK is also seeking membership of the Comprehensive and Progressive Agreement for Trans Pacific Partnership (TPP) which consists of 11 members (Australia, Brunei, Canada, Chile, Japan, Malaysia, Mexico, New Zealand, Peru, Singapore, and Vietnam).
While the idea of the TPP was proposed by former US President, Barack Obama, though the first decision taken by Trump was to withdraw from the agreement. Japan has been playing an important role in the CPTPP, given it's strategic importance. Efforts are also being made to expand its membership, so that dependence upon China is reduced.
The UK faces numerous challenges, while on the one hand it does need to reshape the economic relationship with China, on the other hand this can not be done overnight, so enhancing FTA's and joining the CPTPP is important in this context.
From a purely strategic perspective, the UK-US relationship has been important and with Johnson and Trump at the helm, and increasing convergence on attitudes vis-à-vis China, this is likely to get further strengthened (though there could be differences on both economic and geo-political issues). The idea of the D10 grouping mooted by UK has also sent a clear message, that in spite of numerous economic challenges, the UK is keen to emerge as an important player, in its own right, in the post covid world order.
What is Multilateralism in European Terms?
The term "multilateralism" is not specifically elaborated in Russian international relations theory. For a long time, it has remained in the shadow of the much more popular term "multipolarity," although the latter is gradually being replaced in Russian literature by the term "polycentrism." Sometimes, it seems that "multilateralism" and "multipolarity" are used in Russian scientific and political discourse as synonyms, both reflecting the democratisation of the international system that began with the collapse of the "unipolar world" at the beginning of the century.
Yet, "multipolarity" is obviously not the same as "multilateralism." The former denotes pluralism in the distribution of power in the international system among three or more independent decision-making centres, while the latter describes a possible way for these centres to collaborate. Without multipolarity, there can be no multilateralism, since a unipolar or bipolar system simply does not provide enough actors for multipolar interaction. But multipolarity does not necessarily imply multilateralism, since relations within a multipolar system can theoretically come down to a set of bilateral relations between individual centres of power.
In the United States, at least prior to the Trump administration, multilateralism was formally considered the preferred foreign policy practice, especially in relations with allies. For example, NATO is a multilateral military-political alliance and the North American free trade area (NAFTA, recently superseded by USMCA) is a multilateral trade and economic integration initiative. Yet, the United States has acted as the undisputed leader in all multilateral agreements, which has raised questions as to how multilateral these agreements really are. As for Donald Trump, he has expressed doubt as to whether multilateralism is an effective means for promoting American interests at all, preferring, wherever possible, to negotiate with partners in a bilateral format.
Unlike the United States, EU countries consider multilateralism not only a convenient format for foreign policy but one of its fundamental principles. This principle is embedded in many official EU documents, including the Treaty on the European Union (Article 21). The commitment to multilateralism was once again reaffirmed last spring when France and Germany announced the creation of the international Alliance for Multilateralism, already joined by about fifty countries from various regions of the world. "Multilateralism" in European political discourse is, however, often little more than a uniting slogan, representing one of the basic values of the European Union that distinguishes the EU from other global players who prefer a unilateral foreign policy (USA, Russia, China).
That is why the essay Multilateralism: Variants, Potential, Constraints and Conditions for Success, authored by one of the pillars of modern German foreign policy thought, Professor Hanns Maull, and published by the German Institute for International and Security Affairs (SWP), merits careful reading. For over twenty years, Hanns Maull has held the Foreign Policy and International Relations Chair at the University of Trier in Germany and is now a professor at the Johns Hopkins University in Bologna. Let us discuss the main points of his essay.
Interpretations of the Term
The author of the essay offers the reader three levels of understanding of multilateralism. The first level of understanding, designated by Maull as Multilateralism I, reduces this concept to diplomatic interaction between three or more states (or other actors) in international politics. This understanding does not present any difficulties or controversies: multilateralism comes down to formal issues and is contrasted to unilateral and bilateral formats. Nor does this understanding offer any substantive content: participants in the multilateral format can pursue any goals and base their cooperation on any principles that suit them. From the essay, we may conclude that, for example, the three agreements made in the second half of the 18th century between Russia, Prussia and Poland on the partition of the Polish–Lithuanian Commonwealth fall well under the definition of multilateral diplomacy, since all three parties participated in all the agreements.
Modern German foreign policy employs a broader interpretation of multilateralism, designated by the author as Multilateralism II. The essence of the German understanding is that multilateralism, in addition to formal criteria, should also include substantive criteria. Therefore, it includes interaction of more than two actors with action within the framework of international organizations, oriented towards the principles and norms and carried out in accordance with the rules and regulations that underlie those organisations (such as, for example, the United Nations Charter). In this version, a multilateral foreign policy stands not only for a specific diplomatic approach but also for a commitment to certain principles, substantive goals and methods of foreign policy. Ultimately, we are talking about a limited set of common values that do not exclude conflicts between individual participants. A possible example of Multilateralism II is probably the way European countries cooperated within the framework of the Conference on Security and Cooperation in Europe (CSCE) in the 1970s and 80s, while maintaining a mostly competitive relationship between two different social and political systems.
Historically, this understanding of multilateralism is closely connected with the concept of the Western liberal world order, the foundations of which were laid in 1945 and which began to claim universality after 1990. Yet, this does not mean that Multilateralism II must inevitably disappear along with the decaying liberal world order. It may be based on other values and principles; the main element is the creation of common norms in world politics, to be agreed in a multilateral format. In fact, multilateral mechanisms should enable us to agree on common norms and values, a universally desirable world order and regulatory practices acceptable to each individual participant in multilateral negotiations.
Multilateralism III represents a more radical understanding of the term. Whereas the main task of Multilateralism II is to achieve the broadest possible compromise on the basic issues in the regulation of international life, despite significant differences in the interests of the participants, Multilateralism III is to find "right" or "appropriate" solutions to the problems of world politics, i.e., achieve a transition to "effective global governance." If Multilateralism II proceeds from what the participants in the system think achievable, Multilateralism III operates in terms of what is desired and what should be done. In the first case, we are talking about a tactical alliance of players with very different aspirations and, in the second case, about a strategic partnership of like-minded parties who interact with one another to achieve common goals.
Accordingly, in order to move from Multilateralism II to Multilateralism III, two complex problems must be resolved. First, tactical allies should become strategic partners, that is, agree on a general picture of a desirable future, on practical steps to make this future possible, on an equitable distribution of the burden and costs associated with this transit, etc. Second, international institutions must be established that are capable of ensuring effective coercion of independent players in the international system to implement multilaterally adopted decisions. As history shows, for example, in the case of multilateral efforts to combat climate change, even a general agreement on the principles, values and goals of cooperation does not necessarily guarantee that the international community will move towards its stated goals.
Why is a "Multilateral" Foreign Policy Necessary?
Proponents of multilateralism (any of the above variants) rely in their reasoning on three interrelated assumptions: regarding the magnitude of impending global challenges; the persistence of a trend toward power diffusion in world politics; and the great potential of multilateral cooperation.
The first assumption, according to Maull, needs no detailed justification. Some of the global challenges — from climate change and a possible environmental disaster to uncontrolled development of new technologies and the threat of a global nuclear war — call into question the continued existence of mankind. Another thing is equally obvious: many of these challenges place extremely high demands on the quality of global governance, including not only cooperation between states but also involvement of non-state players — private businesses, international organisations and civil society. Constructive co-operation, even between such large states as China and the United States, will not in itself suffice to solve the problems. Within the framework of today's predominantly Westphalian international system, achieving a new quality of global governance does not appear feasible.
Power diffusion is likely to continue. Consolidation of the world based on a revival of a unipolar or even rigid bipolar system seems unlikely. Nation-states will remain the main players in world politics, with preservation (at least formally) of the principles of sovereignty and territorial integrity. At the same time, the number and international activity of non-state players will continue to grow, undermining the hierarchy in world politics and economics. Traditional formats of international cooperation will increasingly prove ineffective and the need for complex new multilateral and multi-level formats will grow. A multitude of multilateral schemes crop up in international relations, which could not have existed even theoretically throughout human history.
Proponents of multilateralism suggest that the transition to a new level of global governance will make it possible to use resources more efficiently, streamline strategies and priorities, avoid duplication of efforts, etc. Maull, however, entertains serious doubts about this assumption. First, transferring even some of the functions of national states to multilateral structures is already difficult since the states themselves have long become much less omnipotent on their own territory. Second, the effectiveness of existing multilateral structures — from the United Nations and the European Union to the International Monetary Fund and the World Bank — is also controversial. Global governance based on multilateralism has yet to prove its worth.
Multilateral Diplomacy: Benefits and Challenges
The obvious advantage of multilateral diplomacy, according to the author, is its inclusive nature: only multilateralism allows the broad coalitions necessary for resolving complex problems to be formed. In addition, multilateralism enhances the international legitimacy and sustainability of any agreements. Of course, this only applies to situations when the multilateral coalition is sufficiently representative, that is, when the problem is solved bearing in mind the positions and interests of all significant players.
On the other hand, it is precisely these features of multilateral diplomacy that, in some cases, turn out to be its downfall. It can be difficult to focus the agenda in multilateral negotiations, as each of the participants has its own priorities. Multilateral negotiations usually require more time and resources than bilateral ones, not to mention unilateral actions. Procedural issues are much more difficult to negotiate in a multilateral format than a bilateral one.
Decisions made following multilateral negotiations often turn out to be half-hearted, fuzzy and declarative, as negotiators focus on the search for the "lowest common denominator," allowing them to keep the support of the maximum number of contracting parties. Multilateral negotiations can be blocked by any of the participants. There is an inverse proportion between legitimacy and effectiveness: high legitimacy is achieved at the cost of low effectiveness and vice versa. The same correlation usually applies to the time needed to reach an agreement and its stability: agreements concluded in a scramble are generally less stable and reliable than ones resulting from lengthy negotiations.
As a general rule, we can conclude that multilateral and representative formats have no alternative when it comes to fundamental systemic problems in world politics or economics. Even so, when it comes to the need to respond quickly to a sudden challenge, the actions of small groups of players who are more interested in solving the problem may be more effective. Of course, you have to pay with a part of legitimacy for efficiency and effectiveness.
There are many other problems and difficulties associated with multilateralism. For example, it is not entirely clear how to distribute the responsibilities and burdens associated with implementing an agreement "fairly" among all the participants in multilateral negotiations. The question of what measures should be taken with respect to those who take a selective approach to multilateral agreements or even sabotage their implementation is also not a simple one.
In multilateral negotiations, mutual confidence between participants is more critical than in bilateral negotiations because there is always a fear that groups of participants might coordinate their negotiating positions behind the scenes so that the others will have to face a consolidated opposition promoting unilateral interests in a coordinated manner. Digressing for a moment from the discussion of Maull's essay, we may note that it was precisely such a problem that arose in the work of the Russia–NATO Council, established at the NATO–Russia Summit in Rome in May 2002. The Russian side proceeded from the Council becoming a fully-fledged multilateral organisation with each participant acting in its individual capacity. Western countries turned the Council into a mechanism for bilateral cooperation between NATO and Russia, de facto abandoning the principle of multilateralism. A similar situation arose over time in the Group of Eight, after it was joined by Russia. On many fundamental issues, Moscow was forced to confront a combined coalition of the other seven members of the G8. The transformation of a formally multilateral format into a virtually bilateral one significantly reduced the effectiveness of the two negotiation platforms, both for Russia and, ultimately, for its Western partners.
Conditions for Effective Multilateralism
Given the above problems, we can formulate several conditions that might allow multilateral negotiation to be successful. These conditions relate mainly to the approaches and expectations of negotiators. First, participants should be interested in achieving sustainable results, not winning a diplomatic "victory" over partners by securing tactical advantages. A diplomatic "victory" of this kind could undermine the agreement at some point and turn it into a defeat.
Second, participants must be orientated on compromise, including a willingness to make concessions. Practice shows that violation of a reasonable balance between concessions by the parties inevitably undermines the stability of the agreement.
Third, negotiators should proceed from the principle of "diffuse reciprocity," that is, be prepared to demonstrate solidarity with partners in difficult situations, sacrificing their immediate interests for the sake of longer-term gain, if necessary.
Fourth, negotiators must have "internal legitimacy", that is, be able to make commitments on behalf of those they represent. This means that only strong leaders with broad political support in their own countries can be successful negotiators.
Fifth, implementation mechanisms should be identified from the outset. If these conditions are not met, multilateral negotiations will prove useless at best and harmful at worst, acting as a smokescreen masking the unilateral actions of certain players.
The author emphasises that the success of multilateral diplomacy paradoxically depends on the willingness of participants to make unilateral and bilateral steps. Practice shows that, behind any success of multilateral efforts, there is always a leader or group of leaders who take the initiative in determining the agenda, prioritising its issues and maintaining the negotiation schedules, as well as acting as mediators in reaching a compromise. The multilateral format does not cancel out and will not replace the bilateral format but it is a necessary addition to or prerequisite for the latter. An example of such a combination is the bilateral German–French negotiations on creating the Alliance for Multilateralism.
Alliance for Multilateralism
The Alliance for Multilateralism, as an informal association of countries promoting multilateral approaches to resolving international problems, remains a flagship foreign policy project of Germany. Although this initiative has a very brief history, its work allows us to draw some conclusions about the possibilities and limitations of Multilateralism in world politics.
First of all, the initial meeting of interested countries was held on the sidelines of the UN General Assembly in New York in September 2019 by seven states: Germany, France, Canada, Mexico, Chile, Ghana and Singapore. These countries are very different in size, economic development and political systems. For example, according to the Freedom House classification, Mexico and Singapore are among the "partly free" countries. So we may conclude that the desire for multilateralism (perhaps even in the format of Multilateralism II) is not a feature inherent exclusively in liberal democracies.
In addition, the first practical steps made by the Alliance confirm the assumption that multilateral structures tend to focus on relatively uncontroversial, technical issues, where there is more chance of developing a common position. One such issue was the Alliance's proposal to ban lethal autonomous weapons systems (even though the countries most actively working on such systems did not participate in the Alliance). More complex issues, such as freedom of trade, the future of international law and international organisations, human rights, etc., were left on the periphery of the Alliance's attention. We should add that most of the decisions taken by the Alliance are to be implemented by the interested players on a voluntary basis.
Such a choice of priorities raises the fundamental question of whether the transition to a new level of global governance can go from bottom to top — from specific, depoliticised and relatively simple issues to more complex, sensitive and politically loaded problems, or whether it should go from top to bottom — from general, politically determined, fundamental problems to technical details. If we assume that a bottom-up transition is feasible, the Alliance's work should be welcomed and supported in every way. If the only possible transition is top-down, then the Alliance's work may even be counterproductive because it creates the illusion of moving forward where, in fact, no progress is being made. Replacing strict international legal rules with voluntarily assumed obligations, for all its attractiveness, can erode the foundations of the modern world order without creating any effective alternative.
It Is Not That Simple
The essay by Hanns Maull leaves us with the feeling that only the very first steps have been taken so far in studying the complex problems of multilateralism and the number of questions that arise significantly exceeds the number of available answers. In any case, it seems obvious that multilateralism (just like, for example, multipolarity or polycentricism) can in no sense be considered a universal mechanism for resolving all international problems. The multilateral format, as the author rightly notes, has many significant drawbacks: it is cumbersome, complex, slow and often has disappointing results. Multilateralism cannot and will not replace the bilateral approach and unilateral foreign policy actions.
Even so, one may agree with the author that multilateralism has its obvious comparative advantages. It would be a mistake to ignore or downplay such features of multilateralism as democratism, representativeness and the legitimacy and sustainability of the results of multilateral negotiations. Multilateralism is a chance for relatively weak players to make their voices heard and their interests taken into account. It is also an opportunity for relatively strong players to make their leadership more civilised, less burdensome and less intrusive for all other participants in the international scene.
Ultimately, however, multilateralism, like any other format of diplomatic activity, will always be as effective or ineffective as the players who practice them want. So far, most of these players are guided by an understanding of multilateralism somewhere between Multilateralism II and Multilateralism I, gradually sliding from the first to the second. Reversing this negative trend to start moving towards Multilateralism III will require tremendous efforts.
From our partner RIAC