Trump's election and its impact on Europe
Authors: Daniele Scalea, Alessandro Cipri (*)
[yt_dropcap type="square" font="" size="14″ color="#000″ background="#fff" ] I [/yt_dropcap] t is particularly difficult to foretell what the foreign policy of a US president-elect will be. We have plenty of examples of US presidents who – after coming into office – did not follow through on their electoral campaign pledges.
Even though Obama did actually conclude the agreement with Iran – as promised during his first presidential campaign – he was able to do that only in his second term, after having embittered the sanctions for years. While George W. Bush presented himself as an "isolationist" – in opposition to Bill Clinton and his humanitarian interventionism – he ended up launching two major wars in Afghanistan and Iraq, restraining from others just because of the poor-performances in these two. Richard Nixon, who won two terms on anti-communism, ended the war against the Vietnamese Communists and stroke a deal with Maoist China. Both Wilson in 1916 and Roosevelt in 1940 campaigned on an isolationist platform, just to lead their country into the first and second world war as soon as they were re-elected.
Forecasting the foreign policy stances of the upcoming administration is now even harder than with those of the past, considering that the President-Elect is not a long-time politician, and we do not even know who his Secretary of State will be. Even though a Republican-controlled Congress is certainly good for President Trump, the GOP is now bitterly divided among opposing factions, with Trump's "populist" wing fighting an internecine war against the mainstream conservatives within the party, many of whom did not even endorse him in the general election. In fact, regardless of the success of the insurgent candidate, Congress is still filled up with Tea Partiers and establishment Republicans, potentially harboring resentment towards the rising pro-Trump hardliners. This internal conflict may well produce an hostile Congress for President Trump, especially when it comes to the most controversial points of his agenda, such as a review of foreign trade strategies towards fair trade.
So, before trying to figure out the potential consequences for Europe, let's try to define at least some general elements of Trump's hypothetical foreign policy.
• First of all, Trump has outlined a non-interventionist policy: no more wars for state-building or regime change. He want to spend less in military intervention and more in military supremacy, which means more R&D and less operational costs. This would imply sharing responsibilities with US allies, as well as leaving them more strategic freedom in and the pursuit of their particular interests.
• He also wants to normalize relations with Russia, that have reached the bottom on Ukraine and Syria. He thinks that NATO is too expensive for Washington, whereas European allies are acting as free riders . NATO is the 28-nations – almost 70-years old – military alliance that unites US, Canada and Europe. Conceived as defensive alliance against USSR, experienced a consistend expansion of its membership in the years following the end of the Cold War, welcoming many former communist Eastern European countries; at the same time, it switched its focus from European defense out-of-area operations. Those are offensive military operations such as in Yugoslavia and Serbia, during the '90, or in Afghanistan, Iraq, Libya and the Gulf of Aden in last fifteen years. However – since the Ukrainian crisis – NATO is redirecting its resources to the defense of its Eastern border, along an arc of tension with Russia ranging from the Arctic to Syria.
• The July 2015 nuclear deal with Iran (the JCPOA), strongly wanted by President Obama, has been harshly criticized by Trump. Under this deal, Iran agreed to eliminate its stockpile of medium-enriched uranium, cut its stockpile of low-enriched uranium by 98%, and reduce by about two-thirds the number of its gas centrifuges for 13 years. For the next 15 years, Iran will only enrich uranium up to 3.67%. The main criticism on this deal is that the Iranian nuclear programme is suspended, rather than aborted, and in the meantime the Islamic Republic could be strengthened by the lifting of sanctions while keeping a regional stance opposed to the US. It is unlikely that Trump will reject the agreement as a whole, since that would require to negotiate a new one (and many years were needed for the current) or to come back to direct confrontation with Iran, which would mean major efforts in the Middle East for Washington – something Trump wants to avoid. So, the most probable outcome could be that the US introduces new extra verification measures of Tehran's compliance of the Agreement, and promptly withdraws from it if any violation is observed.
• Trump is a vocal opponent of international free trade agreements, such as the North America Free Trade Agreement (NAFTA), the Transatlantic Trade and Investement Partnership (TTIP), and the Trans-Pacific Partnership (TTP), seen as factors of de-industrialization and industrial outsourcing, especially in China and Mexico.
Assuming that these vectors remain sound and Trump Administration manages to implement them at least in part, we could try to forecast some effects on Europe.
First, we have to consider that major European NATO members have been reducing their defence spending since the end of the Cold War. Not considering the US, it is only since 2015 that NATO defence expenditures are growing, as a consequence of Russian assertiveness in Eastern Europe. NATO guideline is to spend 2% of the GDP for Defence but, in recent years, only 3 out of 28 members follow this rule: United States (currently spending 3.61% of the GDP), United Kingdom (2.21%), and – surprisingly – Greece (2.38%). Greek good will, which is not diminishing but even increasing under Prime Minister Alexis Tsipras, is due to Athen's dependance on foreign loans, sometimes informally swapped with arms purchasing. Since 2015, two more countries abide by the 2% rule: Estonia and Poland. No wonder, since they are the most anti-Russian countries in NATO and the most vocal supporters of a military buildup on its Eastern border.
Anyway, all that said, the remaining 23 members out of 28 spend for defence less than the recommended 2%: for example France 1.78%, Turkey 1.56%, Germany 1.19%, Italy 1.11%, Spain 0.91%. Since 2012, the US alone spends yearly more than all European allies altogether. Moreover, the limited improvement this year is due to the build-up on the Russian border – a military build-up that Trump will probably do not go along with.
It is highly improbable that Trump wants to dismantle NATO and – even if this was the case – it would be almost impossible for President Trump to realize it without facing insuperable obstacles. Most probably, Trump will just follow on Obama's path in trying to lead from behind – just avoiding to mess up with Russia again. The theory of "leading from behind" arose in business circles, with Linda Hill of the Harvard Business School acknowledged as its mother. In foreign policy, it means to encourage others to take the initiative, while quietly establishing the strategy and leading the game. This, however, is a delicate art, because is a very short step from leading from behind to be led from the front.
About Obama's doctrine, Charles Krauthammer wrote on The Washington Post: "It's been a foreign policy of hesitation, delay and indecision, marked by plaintive appeals to the (fictional) international community to do what only America can".
The experience of Libya in 2011 isn't indeed comforting, with the UK and France pressing for a military intervention against the Gaddafi regime, only to leave afterwards a country broken into pieces and exposed to Islamist infiltration, even by ISIS.
But that's not solely Europe's fault, nor it is completely US' fault: the responsibility is on the West as a whole, as London and Paris messed up Libya, like the US had messed up Iraq before, while our Arab allies are messing up Syria. Consequences are evident: with the treat of al-Qaida doubled up by ISIS, a lot of states in the region are either failed or on the verge of failing, Europe is under pressure from terrorist attacks and from an unprecedented flow of immigrants, with those two factors giving a huge contribution to Brexit and other displays of popular distrust towards the European establishment and institutions.
That's why I think that the new line dictated by Trump – although challenging – will be positive for Europe We are facing problems that cannot be resolved without Russia's help, not to say with Russia's enmity. Think about the Syrian conundrum: a major Arab state has collapsed, and very hardly could be recomposed after five years of savage civil, ethnic and religious war, in which interests of many regional and world powers conflicted one another. Tensions in Eastern Europe compel both Russia and NATO to increase military expenditures, while mutual sanctions are harming both economies.
Even though the European establishment is complaining about Trump's stance on Russia and the mutual exchange of compliments between him and President Putin, we have to keep in mind that it was the United States to push for a confrontation with Russia, while many EU countries – such as Italy – were in favor of improving relations with it.
In fact, Italo-Russian relations have been free from critical issues since the Soviet-Yugoslav "separation" in 1948 and, even though Italy was part of the Western bloc, it often kept pushing for an improvement in its relations with the USSR.
A few years after the end of the Second World War, Manlio Brosio – then Italian ambassador in Moscow (and future NATO Secretary General – looked for Soviet support for his project of a neutral Italy, but failed in his attempt. Ten years later, politicians such as Amintore Fanfani, or public managers such as Enrico Mattei, launched the "New Atlantism" doctrine, according to which
– while remaining loyal to the west – Italy would act independently, seeking friendly relations with Communist and Mediterranean countries. After the end of the Cold War, Italy has always been one of the warmest supporters of cooperation with Russia, especially during the government of Silvio Berlusconi, whose friendship with Putin was well-known. In 2002, during a meeting presided by Berlusconi in Pratica di Mare, Russia and NATO signed an historical cooperation agreement.
This agreement could well be the starting point for a new approach to collective security in Europe: one that seeks to engage, rather than confront Russia.
However, not everyone in Europe will agree, especially among the Eastern countries such as Poland, Estonia, Latvia, Lithuania, Romania or Hungary that – still recalling the period of Soviet domination – mistrust the Russians. It is true, anyway, that recent elections in Moldova and Bulgaria, both former Communist states, have witnessed the victory of Russia-friendly candidates. Those Eastern countries are also very conservative and suspicious of pro-immigration and liberal policies of Western Europe. In the mid- long-term, this factor could orient them towards Russia again.
Great Britain – a traditional rival of Russia – has in recent years led the front of anti-Russian countries opposed to a lifting of sanctions. But now that London seems next to leave the EU, and considering that the British usually follow a line dictated in Washington, it could be well possible that their stance towards Russia will soften a lot.
A major obstacle remains in Germany, where the German social-democratic party – relatively pro-Russian, for west-European standards ¬– is going through a difficult time. Power is still strongly in the hands of the Christian-democrats and especially of Angela Merkel, who is toying with the idea of assert herself as the new leader of a liberal Western front, opposed to both Trump and Putin. Apart from her mania of grandeur, she is also following the objective national interests of Germany: the great winner of the process of European integration. Free trade, combined with a common currency (and so the inability for competitors, such as Italy, to conduct a competitive devaluation) have given Germany the economic dominance in the European Union. If Russia wants to move forward her influence in Eastern Europe, it has to confront face German opposition.
However, regardless of Russia's intentions, confrontation with Berlin may be inevitable, with the Germans pushing to expand their own influence in Belarus, Ukraine, and the Caucasus.
Another major obstacle to a Russia-West rapprochement is still the US: while Iit is true that Trump wants friendship, he could do that also through some minor concessions, such as a limited area of influence in the so-called Near Abroad, as Russians call the former Soviet countries with whom they still have critical security links. Trump is as famous to be a tough negotiator, as Putin is to be astute politician and, despite their good intentions, it is not guaranteed that they will find an agreement – because a very big deal it is required between Russia and the US.
Another side of Trump's program concerns energy, where he promises to encourage the production of shale oil and gas, which is now limited by environmentalist legislation. Over the past decade, the combination of horizontal drilling and hydraulic fracturing has provided access to large volumes of oil and natural gas that were previously uneconomic to produce. The United States has approximately 610 trillion cubic feet of technically recoverable shale natural gas resources and 59 billion barrels of technically recoverable tight oil resources. As a result, the United States is ranked second globally after Russia in shale oil resources and is ranked fourth globally after China, Argentina and Algeria in shale natural gas resources. But the tight oil and shale gas industries in the US have been suffering, mainly because of the increasing production from the Gulf states that, lowering prices, is pumping it out of business.
While in late in 2014 there were almost two thousands oil and gas rigs active in the US, in last July only 500 were still operating. Even though Trump cannot fully control some market fundamentals, as a large oversupply and sluggish demand, after his election U.S. shale producers are redeploying cash, rigs and workers, cautiously confident the energy sector has turned a corner. According to Ambrose Evans-Pritchard, the OPEC cartel is poised to slash crude output, with an agreement struck in September by the Saudis and Russians to cooperate in the world oil markets. If all signs are true, prices could well go up in the upcoming months, giving oxygen to the US industry.
Trump's victory also brings back on the agenda the Keystone XL oil pipeline from Canada to the US Gulf Coast (where many refineries are located): a project blocked by Obama on the ground of its impact on the environment. The main target of the Keystone pipeline is to replace imports of heavy oil-sand crude from Venezuela with more reliable Canadian heavy oil, even though a good portion of the oil that will gush down the KXL will probably end up being sold on the international market.
Now, under the Trump Administration both US and Canadian oil & gas could arrive in greater amount to Europe: a net importer of energy, especially from Russia, which counts for 29% of total solid fuels imports, 30% of oil and 37% of gas. For years now Washington and Bruxelles have been trying to reduce European dependency from Russian energy, worried that this can translate in political dependency. In late February, the U.S. started exporting oil and gas to Europe, 40 years after the oil embargo imposed by the U.S. Congress.
Let's move now to the Middle East and North Africa. As said before, the situation there is tragic and the West carries some responsibilities for contributing to open the Pandora's box of regional contradictions, intervening in countries such as Iraq, Libya, and Syria to replace a brutal political order with no order at all.
If the US disengages from the region, however, the risk is to barter the restraint from reckless "adventures" overseas with an overall loss of initiative on the international scenario, with Europe unable to afford more military and security burdens, because of a contentious public opinion and of a very difficult time for economy. Without the US, therefore, it is very likely that also Europe will disengage from North Africa and the Middle East.
Anyway, at least for now, America is not going away from the region anytime soon, especially considering the emphasis that Trump put on ISIS' global threat during the campaign trail. According to the upcoming National Security Adviser, General Michael Flynn, Islamic radicalism is the enemy number one for the US. This will translate in a solid partnership with secular Arab leaders such as Egypt's al-Sisi, whereas is still unclear how the Trump Administration will deal with Erdogan or the Saudis, whose links with Islamic radicalism are very suspicious.
Gen. Flynn believes the US is losing a global war against Islamist extremism that may last for generations, but he stresses that this war has to be fought also domestically, against any ideological infiltration. Trump and Flynn want to go after Islamism as Americans used to do with Communism. That brings us back to Europe again. Whereas only 1% of the US population is Muslim, Islam is thriving in Europe, due to ongoing immigration and to the higher fertility rate of Muslim communities, which is of 2.2 children per woman, while that of non-Muslim is 1.5. According to the Pew Center, Europe's Muslim population is projected to increase by 63%, growing from 43 million in 2010 to 71 million in 2050, becoming more than 10% of the total population. Anyway, in countries such as France, they already are almost 10% of the population and, In some key cities – Paris and London, for example – Muslims exceed 15%. As it is well known, Europe is facing big problems in integrating even second or third generations of immigrants, especially Muslims. Muslim vote is beginning to matter in many European countries and important Muslim politicians are emerging, such as Sadiq Khan, the Mayor of London, or Rachida Dati, former French Minister of Justice, or Sajid Javid, the British Secretary for Local Government. Only the former is by a leftist party and they are not suspicious of Islamism. Anyway, according to the 2014 Jenkins Commission Report, in the UK the Muslim Brotherhood "[has] at times had significant influence on the largest UK Muslim student organisation, national organisations which have claimed to represent Muslim communities (and on that basis have sought and had a dialogue with Government), charities and some mosques".
If the Trump Administration is going to consider Political Islam as an ideological enemy – such Communism during the Cold War – it will likely work on barring its way in Europe. The US has a long history of interfering in European domestic politics and Trump has already given a taste by meeting Nigel Farage a few days after his victory in the election. It could well be that the Trump Administration will try to advise the Western European leadership against persisting in their open doors policy toward Muslim immigrants, or to favour those political forces more akin with its ideas: usually the Right, maybe also the anti-globalist one, as the National Front in France, UKIP in UK, the Northern League in Italy, AfD in Germany. The leaders of all these forces, plus the Hungarian President Viktor Orban, in fact rejoiced at Trump's victory. Breitbart, the news website which spearheaded Trump campaign and from whom the new White House Chief Strategist Steve Bannon comes from, already has a London bureau, but is now planning to open new branches in France and Germany.
A few days ago, Francois Fillon has surprisingly won the the Right primaries in France. The hardliner among main candidates, Fillon is pro-Russian, very conservative, quite Thatcherist, and unfavourable to mass immigration. Very probably he will compete for the presidency with the far-rightist Marine Le Pen.
Even if society in the US remains very different from that of Europe, the rampant globalization of recent decades has made it quite close compared to half a century ago. Both the US and Europe have experienced massive deindustrialization with a geographical concentration of the remaining high-tech industries in a few islands of happiness – whose wealth is striking, when compared to the many rust belts of the Western world. Both the US and Europe have seen a deep financialization of their economies and have been overwhelmed by the so-called politically correct way of thinking. It's true: in the U.S. you can find also the Bible Belt, but if we consider the European Union as a whole, we could see a Catholic Belt in its Eastern countries, opposed to Sweden (a European California) or London and Paris (European New Yorks), or in general the more liberal Western countries. Exactly as in the US, also in Europe, post-modernism is currently hegemonic in colleges and mainstream media, which are trying to inculcate it also in the common man. Finally, the massive immigration flows of last decades into Europe are making its society more and more resembling to the composite ethnic mix of North American society – even in the trend towards communitarian vote. According to reliable statistics, the last time white voters in the US favoured in majority a democratic presidential candidate was in 1964: Lyndon Johnson. Since then, Carter, Clinton and Obama won the elections thanks to the decisive vote of minorities. If you look to the Brexit vote, for example, you will find out that the social group more favourable to remain in the European Union were not Scottish nor Irish, but the new minorities: Asians, Blacks and Muslims. In such similar environments, it is predictable to find similar political trends and demands: Trump's victory in the US may be soon followed by populist successes in Europe.
In conclusion, we can say that, regardless of his real actions once in office, Donald Trump is already influencing European politics by encouraging the already rampant rightist and populist parties. This will translate in more regulation of the immigration flows, abatement of the EU supranational power on European countries, and better relations with Russia. That is true even if those populist forces do not win any election: in fact, more traditional parties and politicians are compelled to adopt at least some of their requests not to lose approval and power. But, if President Trump will maintain his electoral promises, even greater changes are looming in Western politics and society . A lasting conservative and populist turn could affect the Western system, leading to a possible inclusion of Russia into it.
---
(*) ALESSANDRO CIPRI
Born in Chile and raised in Rome, Alessandro Cipri has just finished his postgraduate studies at the department of War Studies of King's College London, graduating with distinction from the Master's Degree in "Intelligence and International Security". Having served in the Italian Army's "Alpini" mountain troops, he has a keen interest in national security, military strategy, insurgency theory, and terrorism studies. His Master's dissertation was on the impact of drug trafficking on the evolution of the Colombian FARC.
"The starry heavens above me…"* A plea for awareness and peace
*Immanuel Kant: "Two things fill the mind with ever new and increasing admiration and awe, the more often and steadily we reflect upon them: the starry heavens above me and the moral law within me." 
In the neighborhood with Russia
Who is actually aware today where the border of the former German Empire was once located? Or how far to the northeast the village of Nimmersatt and the nearby coaching inn Immersatt actually lay? Nimmersatt was located at the northern tip of East Prussia, surrounded by the Baltic Sea to the west and Russia to the east and north. Russia – then Russian Lithuania – was our direct neighbor until 1918. The Memel territory was traditionally Prussian borderland, 120 km long and 40 km wide, stretching north along the Memel River. In 1422, the Treaty of Melnosee established the frontier, which remained almost unchanged until 1920. After the Pyrenean border, it is the second oldest in Europe.
Located on the imperial border, Nimmersatt was the former German Empire's most northeastern spot and was last in German hands in 1945.[1] Like Nimmersatt, there are many seemingly vanished places and landscapes in historic eastern Germany. But they have for the most part disappeared. These places bear witness to the fact that many Germans, consciously or unconsciously, are still deeply rooted in these seemingly vanished landscapes.
The German soul is closely connected with the East and its territories, especially with Germany's historical East, including East and West Prussia and the Memel territory.
According to estimates, about 14 million refugees had to leave their homes after the Second World War, losing everything, all their belongings. About 2 million died in transit, and Germany lost a quarter of its territory.
As Simone Weil (1909–1943) once put it: "Rootedness is probably the human soul's most important and most misunderstood need."
Crises, conflicts and silver lining
If you look at today's world, you see crises everywhere, wars and deep divisions in our societies. Fears are being fueled and images of "the enemy" that were actually long forgotten are being revived. The war that has been raging in Ukraine since 2014 has now escalated on the European continent into a proxy war between the United States and Russia. Russia is being declared the enemy. With its arms deliveries and military support,[2] Germany has also officially entered into the war with Russia.
What immeasurable suffering wars visit on mankind – a painful truth also understood by members of Germany's "war generation" and their descendants, especially those with roots in Germany's historical East. Germans and Russians look back on a common and consequential past; we share one of history's darkest and most horrible chapters, beginning with Germany's invasion of the Soviet Union on June 22, 1941 and the subsequent conquest of East Prussia by the Red Army.
Whatever happened, a shared history connects peoples, and Germans and Russians will therefore always be connected
Civilians are and always have been the ones who suffer most in war. During the Second World War, from 1939 to 1945, the Soviet Union had the most casualties: 24 million people,[3] 14.3 million of them civilians. Germany had a total of 7.7 million casualties, of which 2.2 million belonged to the civilian population.
In her old age, Mama, my mother, could still recall the terrifying whistling sound of the rocket launchers known as "Stalin organs."[4] During thunderstorms and when fireworks were being shot off, she would begin to shiver and sought shelter. Yet despite all the war trauma, the attachment to Germany's historical East is part of the German soul and an integral part of the German cultural nation. Not for nothing was I christened Katja. Mama and my grandmother often affectionately called me "Katjuscha"[5] in their East Prussian dialect – a reference to the old Russian folk song.
The horrible sound of the Stalin organs was eventually forgotten. Bridges of reconciliation between Russians and Germans were built in large numbers after World War II, something that fortunately continues to happen.
Having left the Cold War behind us, which divided the world into good and evil or West and East, the world is evolving into a more complex, multipolar place – a multipolar world that could again give humanity a chance to create a new global world order of peaceful coexistence.
This might be possible were it not for the US, which seems to be resisting a multipolar world with all its might: The US wants to continue to assert its supremacy and influence worldwide. It has basically never withdrawn from Germany, and does not accept any other powers on the world stage. This US influence is expressed above all in the strategies of NATO and the EU, since they again rely on images of Russia and China as "the enemy" and on exclusion and division.
Shaktarp – when life comes to rest
The "Fifth Season" – Shaktarp in Lithuanian or, in Russian, Rasputitsa – is a special time, between the winter and spring season. It is the time of floods, of inundated meadows. This time was also called the time of "roadlessness" – the Memel territory and neighboring lowlands were neither passable, nor navigable during this period.[6] Life and people came to rest and there was thus time for reflection. Perhaps this is what our world sorely needs now.
It seems to me just the right time to pause, to rediscover and feel the magic of life. A magic that comes from looking at a piece of amber through which the sun is shining. Often found near the Baltic Sea, amber continues to fascinate people to this day. Sometimes known as the tears or gold of the gods, amber was once an important commodity, more valuable than gold, and it made its way across Europe on ancient trade routes from the Baltic Sea to Southern Europe and North Africa – one of the beginnings of globalization, or, rather, of the bonds that bring people together.
In addition to the Silk Road, the Amber Road has connected people, drawing them under the spell of this magical substance, which shines brighter than the sun.[7]
"States don't have friends, states only have interests"
The observation made in 2013 by Egon Bahr, the German politician known for a commitment to peace and détente, remains true today: "International politics is never about democracy or human rights. It is about the interests of states. Remember that, no matter what they tell you in history class."[8] Otto von Bismarck and Charles de Gaulle, among others, have also pointed out that feelings and values have no place in politics. Only "interests and reciprocity should be used as a guideline."[9]
Therefore, it is more important than ever to accept realities and define national interests. Values are volatile and often subject to the current zeitgeist. For example, no one called for a "feminist values-based foreign policy" until a German foreign minister from the Green Party did so. The much "cited community of values is not a form of governance, as it has not been legitimized by any democratic process." [10]
We have been living in a multipolar world for a long time, with different forms of governments, democracies, dictators and authoritarian regimes. But our international institutions and organizations, which were created after the Second World War, have not been updated.
According to a study by The Economist in 2021, only 45% of the world's population lives in countries with democratic structures.[11] The ostensibly promising narrative of "change through trade" has not come to fruition. The expansion of economic relations with China that began in 1978 has been driven solely by economic gain. Even today, China offers a huge market for foreign products. The expansion of economic relations and the opening of the country in turn has helped move a significant part of the Chinese population out of poverty, and China's technological backwardness has been quickly overcome. Both sides, the West and China, were and still are exclusively concerned with economic interests and geopolitical influence in Eurasia.
What is new, among other factors, is that the military no longer has a monopoly on wars and conflicts. We are increasingly experiencing ideologically fueled media and propaganda wars that deeply divide the population, make factual debates almost impossible, and drive humanity into division and thus into wars.
Ideology prevails over common sense and the heart
Fear and hatred are mighty propaganda tools – e.g., fear of the virus, fear of CO2 and distrust of Russia and China. The laborious and decades-long process of reconciliation between Germans and Russians, among others, has come to a standstill. Not only have economic relations been broken off, but cultural exchange has also come to a halt. Russian artists are being disinvited from performing if they have not publicly taken a clear stand against Putin. Political attitudes have become more important than art, and ideological attitudes are determining economic orientations and political decisions.
China – the surveillance state
The narrative of "change through trade" is now a thing of the past. China continues to pursue its "Grand Strategy." What were once the dynasties of the Chinese Empire have become – since the founding of the People's Republic in 1949 – the Communist Party, with current President Xi Jinping as its head, as emperor. In accordance with the "Chinese Dream," the country is striving to become Number 1 in the world in all areas, including military power.
The drastic end of its zero-Covid policy shows how capable China is. The Chinese government has reacted, in a way that saves face, to the "spontaneous protests" and thus shown strategic flexibility. Thus, Xi Jinping has not only done the Chinese economy a great favor by lifting all Covid measures, he has also cemented his power and the power of the Communist Party. The transformation into a different system, propagated for so long by the West as justification for maintaining economic relations with an authoritarian regime, now seems more unlikely than ever. On the contrary, the Chinese government continues to pursue its strategy and to build a perfectly controlled, highly technological surveillance state.
China thus remains a very flexible economic partner and geopolitical player. This requires an equally flexible China strategy on the part of other countries. Supply chain disruptions must always be taken into consideration, investments in China should be thought about carefully and protected. Potential dependencies in the area of critical infrastructure and products, such as upstream inputs for pharmaceuticals, should always be avoided. Yet this also applies to economic relations with non-authoritarian regimes.
Moreover, dealings with China, economic and political, should be free of emotion, determined only by the relevant economic interests and reciprocity, for the benefit of all concerned parties. The fact is: China continues to go its own way and is a country in which the individual and individual freedoms play a very limited role.
Ideology has great importance in China – an ideology that is not only intended to hold the population together internally, but is the guiding principle externally for every political step on the world geopolitical stage. In dealing with China, one's own national interests and reciprocity should always be the guiding principle. This applies not only to interactions with China, but especially to those with Russia as well.
We are all connected to each other.
Russia and the German soul
Let's be realistic: Russia is a nuclear power; economic sanctions will not harm it in the long run as a country that is almost immeasurably rich in raw materials. On the contrary, sanctions allow Russia to diversify its gas market and thus no longer depend on just one customer.
A prime example: the reactivation of the economic corridor running from China to Mongolia to Russia.[12] Further, the Russian gas pipeline to China will replace Nordstream 2.[13] In the course of securing its energy supply, China wants to keep its energy mix balanced and is thus increasing the share of natural gas. India is also a grateful purchaser of Russian gas.
Something that shows a decoupling from Russia is not so simple is the fact that from January to October 2022, Europe's LNG imports increased by 40% over 2021. Russian LNG accounted for 16% of total European marine imports, with the main customers being France, Belgium, Spain and the Netherlands.[14] Instead of low-cost and environmentally friendly pipeline gas, the focus is now on LNG.
The resulting damage is now being felt by Germany in particular, as an industry-intensive and, compared to Russia, resource-poor country. The growing home-made energy crisis is driving deindustrialization in Germany; large companies are increasingly thinking of leaving the country; medium-sized enterprises – once the backbone of the German economy – are increasingly being destroyed; the country's economic performance is declining; unemployment and poverty are the consequences.
And wasn't the attack on Nordstream 2 the first terrorist attack against Germany since World War II?
The decisions and actions of the current Federal Government, with Olaf Scholz as Chancellor, are not in accordance with the oath taken "to prevent harm to the German people."
"I swear that I will devote my strength to the welfare of the German people, increase its benefit, avert harm, uphold and defend the Basic Law and the laws of the Federation, fulfill my duties conscientiously, and ensure justice for all. (So help me God.)"
With or without God's help, arms deliveries and military support to Ukraine, the homemade energy crisis, the intolerable excesses of gender-neutral language, so-called wokeness, cancel culture and uncontrolled immigration are also destroying not only the German soul, language and culture and putting pressure on the national budget, they are also continuing to widen already deep social divisions. None of this works to the benefit of Germany and the German people.
The power of culture, history and geography
"… the continuity of the state without which Germany would be much poorer – Germany did not come out of nowhere. Prussia was one of the most formative great powers in Europe and one of the most modern states in the world, with its effective administration, literacy down to the last street in the last village, and the rule of law at all levels."[15]
While there were serious political instabilities in the Weimar Republic, as the largest member of the German Empire, Prussia was politically very stable. Otto von Braun,[16] Prussian prime minister from 1920 to 1932 and a diehard Prussian and Social Democrat, reformed the state and school systems. Prussia was thus a "reliable pillar of the Weimar Republic." But, following the so-called "Prussian blow,"[17] von Braun was removed from office.
"The Reich's control over Prussia, especially over the Prussian police, made it much easier for Adolf Hitler to establish a dictatorial regime in the course of the National Socialist takeover in 1933."[18]
The power of culture and shared history together with geography are enduring cornerstones that provide a strong foundation. "Between Russia and America lie oceans. Between Russia and Germany lies a great history," wrote historian Michael Stürmer.[19] Vladimir Putin also quoted Stürmer in his speech to the German Bundestag on September 25, 2001.
Building bridges
My unshakable optimism tells me that it is not too late to return to our fundamental power, our culture and history, in order to create a new world order based on peaceful coexistence. What's more, because of its geographic location, Germany should serve as a bridge between East and West.
Authoritarian regimes can only be changed from within, by their own people. Thus, Germany, too, can only free itself from its shackles from within, leaving behind the seemingly endless moralizing blame game and victimization loop and returning to what we Germans actually are: peace-loving, creative, innovative, technically expert and culturally sensitive.
How else should one interpret the famous "golden 20s" of the early 20th century? Here are some examples: Within a short time and despite the immense reparation claims made by the victorious powers based on the Versailles Treaty of June 28, 1919,[20] defeated Germany became the second most powerful industrial nation after the US – thanks to US credits, because banks in the US had faith in Germany's economic power. Further, as the treaty also prohibited motorized flight, some Germans made a virtue out of necessity, tinkered a bit and invented the glider.[21]
The economic basis for Germany's return to its fundamental strength, to its roots, is first and foremost the need for a drastic reduction in the state administration and the number of its government employees. The state should return to its original tasks: ensuring there is efficient infrastructure; a high-quality and affordable health-care system; high-quality, affordable and humane care for those in need; an excellent and free system of education; as well as ensuring internal and external security – in keeping with the oath taken to act for the good of the German people.
Changing our view of the world
The press, education and the health-care system, among others, must no longer be subject to competition and profit maximization, and could be transformed instead into foundations, for example.
Only a free press can ensure freedom of opinion and access to the full range of information. The monopoly of state media – such as broadcasters ARD and ZDF – and the ownership of media by billionaires – the Springer, Bertelsmann (Mohn) and Holtzbrinck families, among others – must end to create space for alternative media and sources of information. We need be well informed in order to become critical-thinking people in the sense of Immanuel Kant's saupe aude.
The education system and especially the health-care system and pharmaceutical companies and their research must not be driven by profit maximization. Hospitals must not be run like businesses – health should be their exclusive concern. Old people's and nursing facilities should be outfitted with the best possible equipment. The staff should be optimally paid. Profit should not play a role; all efforts should be guided by the desire to help people experience a graceful and respectful end to earthly life.
The divine within us and awareness
In his writings, Jacques Ancel, French geographer and geopolitician, proposed an identity of the heart, and a nation of the heart – the idea that people can connect and create a community based on a common history, language and culture.
This path back to the heart reconnects us as human beings to the divine. We are all "soul people." We are spiritual beings that come from the same source. This spiritual or divine expresses itself differently in various cultures and traditions, be it religion, Buddhism, shamanism or a closeness to nature.
We should shift back from the cold rational mind to the feelings of the heart. By doing so, we can create a new world view and a new world order. Such a reconnection to the heart and the divine in us would enable us to look at life and nature with reverence and love once again.
May we all become aware once again of our humanity and the many things that connect us.
Identity of the Heart – Back to the Roots – We Are All Love
References and further reading
Ancel, Jacques (1938): Géographie des frontières, Gallimard.
Banik, Katja (2022): Im Rausch des Bernsteins – der historische Osten Deutschlands, www.katjabanik.com
Banik, Katja (2021): A clear view eastwards: Russia and Germany, www.katjabanik.com
Banik, Katja (2021): Without roots, no future. Decoupling ideologies, www.katjabanik.com
Bode, Sabine (2009): Kriegsenkel. Die Erben der vergessenen Generation, Klett-Cotta.
Brzezinski, Zbigniew (1998): The Grand Chess Board, Basic Books.
Die Bundesregierung (2022): Krieg in der Ukraine, www.bundesregierung.de
Deutscher Bundestag: Wortprotokoll der Rede Wladimir Putins im Deutschen Bundestag am 25.9.2001.
https://www.bundestag.de/parlament/geschichte/gastredner/putin/putin_wort-244966
Deutsch Historisches Museum (2022): Lebendiges Museum Online, Berlin.
Euractiv (2022): Russia says pipeline to China will replace Nordstream 2.
Dohnanyi, Klaus (2022): Nationale Interessen, Siedler Verlag, München.
Graichen, Hesse (2012): Die Bernsteinstraße. Verborgene Handelswege zwischen Ostsee und Nil, Rowohlt Taschenbuch Verlag, Hamburg.
Jähner, Harald (2022): Höhenrausch. Das kurze Leben zwischen den Kriegen. Rowohlt-Berlin.
Kossert, Andreas (2009): Kalte Heimat: Die Geschichte der deutschen Vertriebenen nach 1945, Pantheon Verlag.
Lasch, Otto (1959): So fiel Königsberg, Gräfe und Unzer Verlag.
Namzhilova, Victoria (2022): Economic Corridor China – Mongolia- Russia: Infrastructure in Focus, RIAC.
ostexperte.de, Nachrichten aus Russland und China, Berlin.
Putin, Wladimir (2021): Offen sein, trotz Vergangenheit, Gastbeitrag vom 22.6.2021 in der WochenzeitungDie Zeit.
https://www.zeit.de/politik/ausland/2021-06/ueberfall-auf-die-sowjetunion-1941-europa-russland-geschichte-wladimir-putin/komplettansicht
Pölking, Hermann (2022): Das Memelland. Wo Deutschland einst zu Ende war, bre.bra. verlag, Berlin
RedaktionsNetzwerkDeutschland (2022): www.rnd.de. Hannover.
Statista (2022): https://de.statista.com/statistik/daten/studie/1055110/umfrage/zahl-der-toten-nach-staaten-im-zweiten-weltkrieg/
Segelflugzeug.org (2022): www.segelflugzeug.org
Teltschik, Horst (2019): Russisches Roulette: Vom kalten Krieg zum kalten Frieden, C. H. Beck.
The Economist (2022): https://www.economist.com/graphic-detail/2022/02/09/a-new-low-for-global-democracy?fsrc=core-app-economist?utm_medium=social-
Wagener, Martin (2021): Der Kulturkampf um das deutsche Volk. Der Verfassungsschutz und die nationale Identität der Deutschen, Lau Verlag.
---
[1] Pölking (2022): Das Memelland. Wo Deutschland einst zu Ende war.
[2] Bundesregierung.de (2022) War in Ukraine.
[3] Statista (2022): https://de.statista.com/statistik/daten/studie/1055110/umfrage/zahl-der-toten-nach-staaten-im-zweiten-weltkrieg/
[4] https://www.youtube.com/watch?v=VduZuCsqL00
[5] https://www.youtube.com/watch?v=acPvvv1gqGg
[6] Pölking (2022): Das Memelland. Wo Deutschland einst zu Ende war.
[7] Graichen, Hesse (2013): Die Bernsteinstraße.
[8] Bahr (2013) Conversation with students, "Willy Brandt Reading Week," Friedrich Ebert House Heidelberg.
[9] Otto von Bismarck.
[10] Dohnanyi (2021): Nationale Interessen.
[11] The Economist (2022): https://www.economist.com/graphic-detail/2022/02/09/a-new-low-for-global-democracy?fsrc=core-app-economist?utm_medium=social-
[12] RIAC (2022): https://russiancouncil.ru/en/analytics-and-comments/analytics/economic-corridor-china-mongolia-russia-infrastructure-in-focus/
[13] Euractiv (2022): https://www.euractiv.com/section/energy/news/russia-says-pipeline-to-china-will-replace-nord-stream-2-2/
[14] Rnd (2022): https://www.rnd.de/wirtschaft/fluessiggas-aus-russland-europa-importiert-rekordmenge-Y4DHLEMMPFEB5A5VSWZSLTVCD4.html
[15] PAZ, No. 47, 25.11.2022.
[16] German Historical Museum (DHM), https://www.dhm.de/lemo/biografie/otto-braun
[17] DHM, https://www.dhm.de/lemo/kapitel/weimarer-republik/innenpolitik/preussenschlag
[18] DHM, https://www.dhm.de/lemo/kapitel/weimarer-republik/innenpolitik/preussenschlag
[19] ostexperte.de, https://ostexperte.de/deutschland-und-russland-teil-1/
[20] DHM, Berlin. https://www.dhm.de/lemo/kapitel/weimarer-republik/aussenpolitik/versailler-vertrag.html
[21] Glider.org, http://www.segelflugzeug.org/segelflug_geschichte.php
The Ukrainian Crisis and its Impact on the European Security Governance and Global Legal Order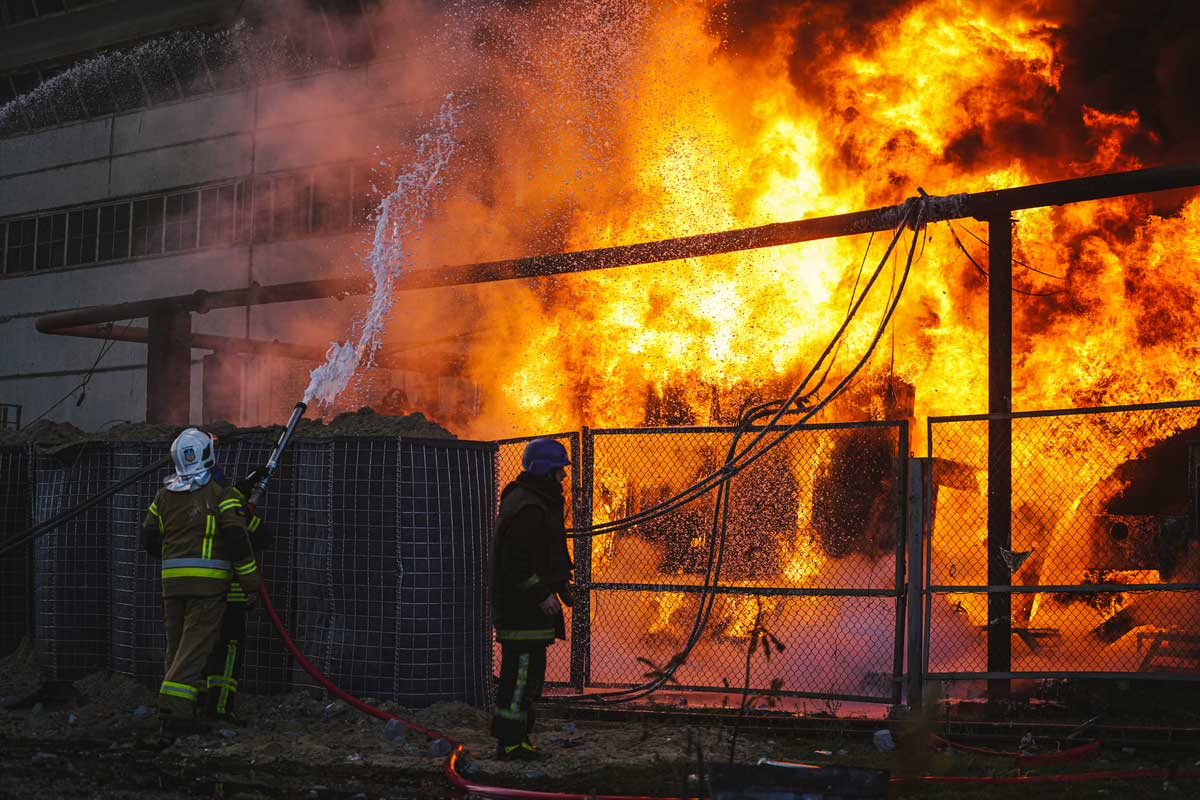 Authors: Abhinav Mehrotra and Amit Upadhyay*
As the attack on Ukraine continues by the Russian Military, there is a need to understand the continued impact of such attacks on global governance and legal order. The illegal annexation of Ukrainian territories has been one of the most shocking incidents affecting the world order since World War II ended. It sets a dangerous precedent for all independent nations formerly part of big empires from asserting their own identity as sovereign nations as per international and domestic norms.
Historically, the modern Ukraine crisis began with Nikita Khrushchev's 1954 transfer of Crimea from the Russian Socialist Federal Republic to the Ukrainian Socialist Federal Republic in order to commemorate the 300th anniversary of Ukraine-Russia unification. The crisis further extenuated during the 1990s after the disintegration of the USSR, when the Western leaders understood that Russia must not be labelled as a defeated state. It was in this background that the West was to assume responsibility to develop post-Cold War structures, processes, perceptions, and activities by balancing the European nation's interests and promoting democratic and liberal values, alongside keeping Russia within the framework.
Further adding to the complexity was the fact that NATO, under the US leadership, developed a complicated architecture where NATO's integrated military command structure would be preserved. The aim was to develop close relationships with the European countries that later took the form of the European Union. Surprisingly, during these deliberations, the United States and other NATO nations never took into consideration the fact that it may be Russia's will to remove the NATO like the Warsaw pact and have an equal role in developing a new institution for ensuring security.
Nonetheless, the act of a nation ie Russia exercising control over the political decision-making of another independent nation ie Ukriane with the objective to retain in its influence using force undermines various key principles of international law. It is argued by Russia that the West including the European Union ("EU") has failed to understand Russia's security interests whereas the EU argues that a serious diplomatic effort is necessary to re-establish the core principles of the European political order which Russia so far have failed to do.
What needs to be understood is that for Russia, the defiance in the post-Soviet Union era world order can be traced to the act of taking Pristina airport with paratroopers in 1999 based on a presumed occupation by the North Atlantic Treaty Organization (NATO) which is similar to the ongoing Ukrainian Crisis where NATO's eastward expansion has been cited as the reason for anticipatory self-defense
Cut to the present, the annexation of Crimea, aggression against Ukraine and the illegal annexation of Ukrainian territories by Russia have far-reaching implications for European and global security. It challenges certain basic assumptions underlying the western policy in the post-Cold War era of treating Russia more as a partner than an adversary and considering Europe essentially stable and safe from invasion. The lack of an EU strategic framework to deal with security challenges in relation to Russia. EU needs to have a more robust defence posture requiring it to revisit its defence strategies especially when the possibility of Russian aggression against other European states cannot be excluded. The Common Security and Defence Policy (CSDP) responsible for supporting revised security policies has been insufficient as Ukraine's sovereignty and independence is seen as essential indicator for future European security governance. The CSDP sought autonomy from North Atlantic Treaty Organisation ("NATO") to have Europeans provide for their own security as a strategic doctrine, but it has since generated limited autonomous military capacity.
In this context, there is need to analyse to what extent Russia's intervention in Ukraine is based on the assertive defence of its interests in its neighbourhood inspired by a revisionist challenge to the European rules-based system of security governance and how it impacts global order. The need of the hour is to see how International Community, States and Multilateral Institutions respond to Russia's actions to provide the balance between the requirements of European security and the resources available to support it as International law is dealing with the unique challenge posed by Russia's defiant behaviour including the acts of claiming exclusive rights and privileges; the need to claim a higher position in the international social hierarchy due to diminished reputation and importance, relative to other nations; and a belief that all these actions are necessary for national prestige, security and wealth
Going forward, the United Nations Security Council and other multilateral institutions need to be democratized to accommodate the differing views considering contemporary geopolitical realities. The inclusive collective security institutions are the need of the hour, and they should be accountable to the international legal framework for inclusive global governance.
*Amit Upadhyay is an  Associate Professor at O.P. Jindal Global University and holds an LL.M.  in European and International Law from Freie Universität, Berlin, Germany. His research interests include Constitutional Law, Legal Theory and Human Rights.
European Union: Refugees' Right to Seek Asylum & The Principle of Non-Refoulement
Since the establishment of the United Nations, the protection of refugees has been a major priority for the global community. Refugees and anyone in need of protection might use the aid that the States were offering them via the asylum route. These national asylum systems, however, sometimes lacked effectiveness and offered uneven access to the asylum processes. The European Union has been working to create a Common European Asylum System to address this issue by harmonizing the asylum policies and practices of its Member States and streamlining the review of asylum applications. It did this by relying on the pre-existing body of international law, which was controlled by the Rules of the Refugee Convention, 1951 and the Non-Refoulement Principle. The resultant European law on asylum was not an autonomous legal system but rather one that was strongly related to international humanitarian law on refugees. The adoption of uniform laws and asylum processes has shown how difficult it has been for the European Union to come up with policies to handle its migrant and refugee populations. The European Union has been attempting to implement a basic border patrols at the same time in order to stop international crime and illegal immigration.
Procedure for granting the Right to Asylum & Conditions for the Principle of Non-Refoulement:
Numerous steps in the realm of diplomatic and defence policy, in addition to border control and security, were designed to stop illegal immigration[1]. The goal behind the European Security and Defence Policy [ESDP][2] was to prevent as many migrants and asylum seekers from attempting to enter Europe by participating in military and civilian operations in crisis zones throughout the globe. All of these tools have the indirect effect of limiting refugees' and asylum seekers' access to the European Union while being designed to manage migration. Even yet, the European Union has created a number of political and legal tools to safeguard these same refugees and asylum seekers, demonstrating its steadfast commitment to upholding human rights and international agreements[3].
For those who manage to cross the border into Europe, the processes to be given refugee status in one of the EU nations were sometimes difficult and took a considerable amount of time. The wide variety of asylum systems and regulations that prevailed across Member States was to blame for this. However, during the last several years, the European Union has made significant strides toward harmonizing the asylum process and has come to an agreement on a set of rules and principles to reduce the differences between the Member States in the area of asylum[4]. As a result, a European Refugee and Asylum Law was created and the issue of asylum was included into the legal system of the European Union. In addition, implementing the whole acquis[5] on asylum has become a requirement for nations wishing to join the European Union.
The legislation governing refugees and asylum seekers in the European Union has undergone continuous development. The development of a Common European Asylum System, which had to juggle the disparate legal frameworks of the Member States with the international standards of refugee protection established by the 1951 Refugee Convention, posed the biggest challenge to the European Union in the area of asylum. All of the nations that make up the European Union have ratified the 1951 Refugee Convention and adhere to its asylum regulations[6]. The application of Article 63 of the 1951 Refugee Convention establishing the European Community is essential to the right to asylum in the European Union. Non-Refoulement, a fundamental tenet of international refugee law, was first stated in terms of EU legislation in Paragraph 13 of the Presidency Conclusions of the Tampere European Council in October 1999. It would be fascinating to learn the social and cultural factors that influence migrants' decision to settle in Europe and how that continent handles the resulting cultural blending. Many migrants and asylum seekers look to Europe as a model of economic advancement, democratic government, and observance of human rights. However, immigrants may pose an economic and cultural burden from a European perspective. Refugees and asylum seekers must be given social aid, shelter, and possibly work by the nation offering them sanctuary[7]. Additionally, it must deal with cultural issues like the assimilation or integration of immigrants, who can find it difficult to fit into the new society. The activities of numerous agencies and organizations working in this area, as well as the steps the media has done, to analyse the sociological and cultural perspective must be examined to have a better and wider view point to get the solutions of this issue pertaining to asylum seekers[8].
Therefore, political and economic approaches must be connected. Given the financial crisis, certain European nations may easily alter their stance on immigration. Due to their inability to support both immigrants and a rise in the number of jobless citizens, Member States may be forced to tighten immigration policy as a result of the financial crisis. On the other side, the financial crisis may make immigration easier by giving States access to inexpensive skilled labour. Disadvantaged people, like refugees and asylum seekers, would no longer be a burden on nations, but rather a valuable economic resource[9]. It is unknown which alternative the nations will choose. These may be found in a number of rulings, including:
In the case of Elgafaji v. Staatssecretaris van Justitie, application of Article 15(c) 1951 Refugee Convention regarding provision of subsidiary protection to civilians who might face indiscriminate violence upon repatriation.
In the case of Salahadin Abdulla and Others v. Bundesrepublik Deutschland, the issue at hand was the interpretation of Article 11(1) (e) of the 1951 Refugee Convention, which dealt with the termination of refugee status when the conditions that had given rise to it ceased to exist.
In the case of Bolbol v. Bevándorlási és llampolgársági Hivatal, interpretation of Article 12(1) (a) of the 1951 Refugee Convention on the exclusion of people protected by organs or agencies of the United Nations other than UNHCR from the refugee status.
In the Cardoza-Fonseca case, the American Immigration and Naturalization Service denied a Nicaraguan woman's request for asylum because she was unable to show a demonstrable risk of persecution if she were sent back to her native country. The respondent attempted to petition for asylum and avoid deportation even though she was living in the country unlawfully because she had a legitimate fear of being persecuted. According to the US Supreme Court, a significant difference should be established between a clearly probable persecution and a well-founded fear of persecution when determining whether to grant refuge. In this instance, the Nicaraguan lady sought both asylum and a stay of removal based on the same ground, a well-founded fear of persecution, oblivious to the fact that the two requests were distinct and required separate justifications.
The House of Lords established the same in the case of R v. Secretary of State for the Home Department that there had to be demonstrated a reasonable degree of likelihood that he would be so persecuted, and in determining whether the applicant had made out his claim that his fear of persecution was well founded, the Secretary of State could take into account facts and circumstances known to him or established, the court stated. This implied that there had to be a substantial danger of persecution in the applicant's place of origin in order for them to dread returning there and request refuge.
In Korablina v. Immigration and Naturalization Service (1998, US Court of Appeals of the 9th Circuit), which illustrates the circumstances of a Jewish Ukrainian lady who endured persistent acts of religious prejudice in her country of nationality, is an important case law on the acts of persecution. The Court comes to the opinion that persecution may be established by repeated, particular acts of violence and harassment directed against a person and her family members, including acts committed by both the government and a group it has chosen not to exert authority over.
In A and Another v. Minister for Immigration and Ethnic Affairs and Another (1997, Australia High Court) details the case of a Chinese couple with one child who requested asylum in Australia on the grounds that they belonged to a social group and would face persecution and forced sterilization if they were sent back to the People's Republic of China. This case is another important one on the relationship between discrimination and persecution. A form of persecution must be involved for the prejudice to qualify, and it must be motivated by the victim's race, religion, nationality, political views, or membership in a specific social group. According to this expansion of the Refugee Convention, persecution and discrimination have a shared basis, such as race, religion, nationality, political opinion, or membership in a specific social group.
In Attorney General of Canada v. Ward, 1993 case decided by the Supreme Court of Canada, the mention of state protection is made. This case demonstrates that if a state fails to provide for the protection of its citizens, those citizens may experience a well-founded fear of persecution and seek refuge in other nations. If the claimant's fear has been proven, one is entitled to assume that persecution will likely occur and that the fear is well-founded if there is a lack of state protection.
There is no question that these notions are completely interrelated, despite the fact that they may sometimes be deceptive. But creating a set of requirements to limit the number of migrants entering its frontiers through the asylum procedure is the major problem for the State.
Conclusion:
The UNHCR and other international and non-governmental organizations' findings must be taken into consideration before a decision is made to move a person to another country, which is the biggest obstacle for EU Member States in effectively implementing the principle of Non-Refoulement. For the concept of Non-Refoulement to be completely recognized and effectively used, the nation to which a person is exiled must be secure, both in theory and in reality. Asylum seekers are given temporary protection under the subsidiary status as well as under the temporary status. The Member State that provided the asylum seeker with protection may decide that it is safe to send him back to his home country when the conditions that prompted him to leave his country change, without thoroughly examining whether his nation is indeed safe in reality and not only in principle. Thus, the asylum seeker may be sent back to dangerous nations in violation of his right to Non-Refoulement if a circumstance like this emerges.
While the majority of Member States have embraced the European acquis on refugee and asylum issues, some have been less receptive to the harmonising of the European asylum system and have preferred to be guided by their national law when dealing with refugees, asylum seekers, migrants, evacuated populations, or people in need of international protection. Additionally, policies pertaining to asylum and to freedom, security, and justice are recognized as shared capabilities between the Union and the Member States, which means that Member States are allowed to exercise their competence to the degree that the Union has not done so. In other words, the Member States have the authority to take the necessary actions independently even if the Union has enacted a number of measures related to the question of asylum. We can confirm that a European refugee and asylum law is unquestionably being created by including the subject of asylum in the main European Treaties and by taking a number of steps toward the creation of a Common European Asylum System.
---
[1] Chapter 1, par.1 of the Statute of the Office of the United Nations High Commissioner for Refugees, available at < http://www.unhcr.org/3b66c39e1.html > [accessed on 1st October, 2022].
[2] Daniel Warner, "Migration and Refugees: a challenge for the 21st century", in Jean-Yves Carlier, Dirk Vanheule, Europe and Refugees: a challenge? Kluwer Law International, The Hague, 1997, p. 58.
[3] UNHCR, 2009 Global Trends: Refugees, Asylum-seekers, Returnees, Internally Displaced and Stateless Persons, Division of Programme Support and Management, 15 June 2010, p.2, available at [accessed on 1st October, 2022].
[4] Walter W. Skeat, The concise dictionary of English etymology, Wordsworth Editions, Ware, Hertfordshire, 1993, p.164.
[5] Sadako Ogata, "Refugees in the 1990s: Changing Reality, Changing Response", lecture at Georgetown University on 25 June 1991, in Eduardo Arboleda, Ian Hoy, "The Convention Refugee Definition in the West: Disharmony of Interpretation and Application", in Selina Goulbourne, Law and Migration, Edward Elgar Publishing, Cheltenham, 1998, p. 77.
[6] Parliamentary Assembly of the Council of Europe, Recommendation 773 (1976) on the situation of de facto refugees, 26 January 1976 < http://assembly.coe.int/Main.asp?link=http://assembly.coe.int/Documents/AdoptedText/ta76/EREC773.html > [accessed on 1st October 2022].
[7] Maria-Teresa Gil-Bazo, "The Charter of Fundamental Rights of the European Union and the Right to be Granted Asylum in the Union's Law", in Refugee Survey Quarterly, vol.27, issue 3, 2008, pp.33-52.
[8] Eduardo Arboleda, Ian Hoy, "The Convention Refugee Definition in the West: Disharmony of Interpretation and Application", in Selina Goulbourne, Law and Migration, Edward Elgar Publishing, Cheltenham, 1998, p. 72.
[9] Liza Schuster, The use and abuse of political asylum in Britain and Germany, Frank Cass Publishers, London, 2003, p.3