The Roots and Inevitability of Violence: Ancient Works, Modern Brutality
[yt_dropcap type="square" font="" size="14″ color="#000″ background="#fff" ] H [/yt_dropcap] istory, as is often said, is written by the victors. Rarely have victors been found where violence does not also follow in their wake. Not only that, it is arguable that major history itself rarely excludes immense violence. Even when creative works do not reflect history accurately, violence is almost always projected in honorable displays and heightened to metaphorical significance.
The utility of violence is difficult to accept as inevitable, especially in modern society, with people today trying to discredit the passion and effectiveness of violence by saying it can be surpassed, even overcome, through words and mutual understanding. But it is without doubt, tragically, that "violence, naked force, has settled more issues in history than has any other factor, and the contrary opinion is wishful thinking at its worst." (Heinlein) Even more tragic is that this reality seems only more applicable in the modern world.
The ideas communicated within Thucydides' account of the relations between Melos and Athens is by far the most vivid in supporting the necessity of violence in the face of conflict. After sending forth commissioners to negotiate peace, the ensuing conversation still embodies modern-day reasoning in wartime. The negotiators' motivations were to circumvent a future looming war. Yet even with this mindset in place, both city-states found themselves unable to compromise their values or accommodate the others' demands for surrender. Thus, Melos was promptly destroyed by Athens.
Athens argues a cynical realist worldview by saying, "…right, as the world goes, is only in question between equals in power, while the strong do what they can and the weak suffer what they must." (Strassler) They see themselves as the strong due to their abundant resources and military strength with the Melians as the weak, destined to suffer at the hands of the Athenians. The Athenians justify this suffering by saying Melos willfully brought disgrace upon itself by not submitting to Athens. The Melians argue against the Athenians, wondering why they even need to conquer Melos: they are a neutral country and attacking someone like them would simply make more enemies where Athens originally had none. The Athens commissioner contends that their image, should they leave Melos be, would be tainted as they would be painted as scared and weak. The fact that Athens consistently rejects the Melians' arguments suggests a deep-rooted prejudice that powerlessness is equal to disgrace, something utterly unacceptable as an Athenian. This equivalence still exists today in too many places. It is immutable within the minds of the Athenians, rejecting all Melian entreaties. On the Melian side, their refusal to give in rested on the idea that Sparta would come to the aid of its colony. The Melians continually ignored Athenian threats and advances, standing firmly on their belief that the seemingly stronger nation would not overpower them. In the case of these two city-states, violence was made inevitable because neither would consider even the slightest compromise. Each nation perpetuated the conflict politics and principles that separated them as people in the first place. The notion that negotiation could be possible proves, in fact, to be nothing but "wishful thinking at its worst." (Heinlein)
The Old Testament in the Christian Bible is another prime case in which violence is used as the only possible means to an end. It is shown as God's facilitator as well as a primary instrument through which God works. In the verses of Joshua and Kings, violence is immense and inescapable, truly one of the main elements emphasized throughout. When Joshua comes to the Holy Land that was promised to him and the Israelites by God, it is required that he conquers the land even though it has been supposedly "inherited" by him. The Lord tells them to march around the city of Jericho seven times. On the seventh circling they are to give a shout and watch the walls fall, allowing them to rush in. On that seventh march, total devastation ensues: "they devoted the city to the Lord and destroyed with the sword every living thing in it—men and women, young and old, cattle, sheep and donkeys." (Joshua:6:21) After slaughtering everyone, except for the family of Rahab, they proceed to burn the entire city. This utter destruction of Jericho was ordered by the Lord for not-so-obvious reasons. One idea traditionally offered has been the simple fact that God, being omniscient, knew that the land he wanted to give to His loyal, obeying people was occupied by those He knew would never convert and had already sinned against Him. The only way then to get the land for the Israelites was for Joshua and his holy army to conquer through violence.
Even in a different religious tradition where the most important emotion is declared as love and eternal peace, violence is not just supported, but glorified. The beginning of the Bhagavad Gita has prince Arjuna going to war against those whom he considers good people: his well-wishers, friends, and even family members. As Arjuna laments the loss of these people should he kill them, his God, Vishnu, interjects that "the body is mortal, but that which dwells in the body is immortal and immeasurable. Therefore, Arjuna, fight in this battle." (Easwaran) Although Arjuna is hesitant about the validity of killing, Vishnu goes so far as to say that the perpetration of this violence will allow "an open gate to heaven." (Easwaran) He says this because the people they are warring against are seen as evil, unchanging, and therefore worthy of the violence being put against them. The Bhagavad Gita even argues that pain, one of the results of violence, is simply a material emotion resulting from a mortal experience. Vishnu advises Arjuna that he should close himself off to these feelings because those "who are the same in pleasure and pain, are truly wise and fit for immortality." (Easwaran) This is the ultimate purpose of Hinduism.
In conclusion, patriotism is a root of violence. Religion has frustratingly remained a root of violence. Even the achievement of one's dharma can be at the root of violence. No matter the excuse or situation given for the violence, it has without doubt been prevalent, even dominant, across all cultures and belief systems. Clearly, the reason why violence is inevitable amongst people is the persistent inability to accept and respect the differences between cultures and beliefs. This eventually leads to the irresistible need to prove oneself, or one's views, as victor. Without doubt, this desire for dominance will not change going forward seeing as how all the works read have reinforced as well as condoned violence. They are even lauded in contemporary society as profound works to study. In the modern context it seems that "naked force" will continue to conquer our future as much as it has dominated our past.
Landscape ahead seems gloomy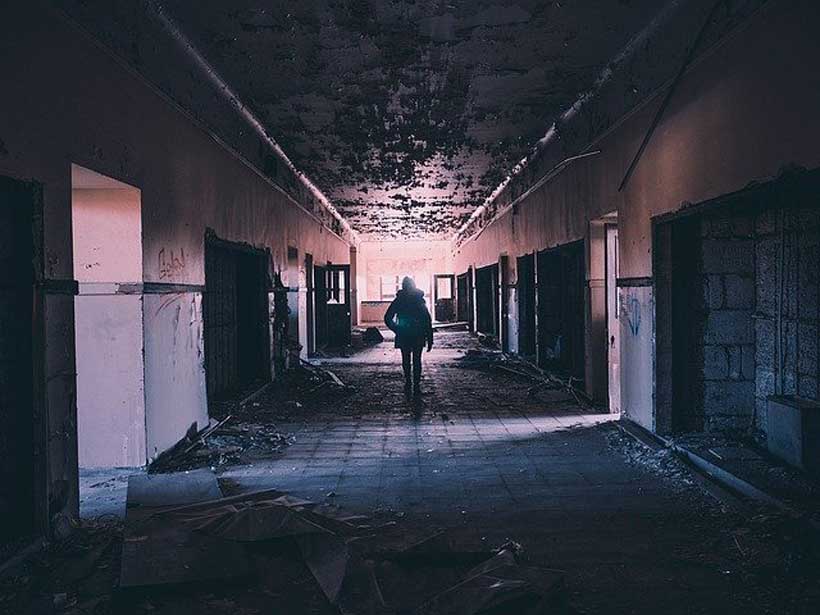 Many conspiracy theories are circulating in the media, and each one having its strong logic is very difficult not to believe. Similarly, blame games are ongoing in the media. Everyone is so confident that his allegations are the facts. Social media is also causing a lot of terror, fear, and panic. It is complicated for an ordinary person to judge what truth is?
Based on available information and consensus, I am convinced that the COVID-19 is not a natural virus; it was a human-made product developed in the laboratory. Many questions arise in my mind, and I believe many other people might have similar queries in their minds. Who conceived this idea? And Why? What were the aims and objectives in his/ her mind? Who has funded? Who has conducted the research and developed it? How was it transported and spread among the humankind? Is someone or group was used as a tool for launching contagious virus?
A movie was released in 2011, telling the story of contagious virus spreading in China, creates a lot of queries itself. Transfer of Coronavirus from Bates to the human body is also hard to believe as the people are drinking bats soup for ages. Moreover, Wuhan is not the city famous for Sea-food or bats consumption. Many similar conflicting theories are available on the internet.
Pandemic has already victimized 1,056,163individuals, and the death toll has reached 55,766, while the total number of recovered persons has also reached 223,901 (statistics subject to change over time). 203 Countries, regions, and territories have been infected, only a few countries either having no capability to test or deliberately hiding the information.
The worrisome is that it is still growing and spreading; the number of new cases is increasing rapidly, while the death toll is also on rise. How long will it remain on increasing? When to overcome it? What will be our future?
The direct death toll due to the virus may be limited, but the post-pandemic consequences may become more severe, and for a prolonged period, even the infection is brought under control. The economic activities are halted, the routine life is disturbed, and factories are closed. Pandemic may cause irreparable damage to the economy. Industry will suffer, businesses will suffer, and the whole global economy may suffer. Individual might lose jobs, SMEs may be closed down. Poverty may reach peaks never witnessed before in the history.
The landscape of geopolitics looks gloomy. Some of the nations might be wiped out entirely, and some might lose the status quo while some other countries may climb up. Loss of lives, wealth, resources, in addition to some unexpected challenges, may come across. It is rather too early to predict something definite, but it is understood that if we do not take appropriate actions in time, the late repentance may not rescue us.
There is no cure, no vaccine for COVID-19. The only thing possible is to contain its spread is limiting social contacts and quarantine. Those who are having good health with strong immunity may recover soon. The weak, sick, aged people and people with low resistance may be severe victim of COVID-19. Medical facilities, like ventilators, are vital for rescuing victims.
All governments are struggling hard to contain Coronavirus, but facing limitations of resources. At the public level, we all individuals also have a responsibility to keep social distance, practice hygienic lifestyle, and eat healthy food. All of us have a responsibility to implement the precautions to ourselves and upon our dependents, minors, elders, relatives, neighborhoods, etc. We should help the needy individuals in our close circle or knowns and communities. Nations who can afford must help the needy countries around the globe and extend material, financial, and moral support to the nations who deserve it. Keeping the politics aside, we should be more generous, kind, and support all humankind to struggle against the pandemic.
Media may also play a constructive role by educating masses, training, and propagating preventive measures. The press must eliminate fake news, misinformation, and negativism. Fear and panic may not be promoted, as panic may further complicate the situation.
Contagious virus COVID-19 is a real threat to humankind, and we may fight against it collectively, smartly and bravely.
Coronavirus: An Act Of God Or Humans
Corona virus started in Wuhan China and has spread all over the world; almost thousands of people have been killed due to this deadly virus. China though has been able to control the situation and Wuhan is turning back to its hustle bustle. But the spread of this deadly virus has changed the social and economic realities of this modern world. Around 200 countries have been affected due to corona virus , from New York to Islamabad states are locking down cities to curb the spread of this deadly virus , but still humans are clueless what is happening to them .
During this panic situation many conspiracies have been emerging and fake news with mix of facts are on rise. Many around the world are blaming the China and USA; the term Bio-Weapons is being used all around the world. American President Trump has termed virus as Chinese virus several times while addressing media and some Chinese state officials have pointed toward CIA is involve in spreading this virus in Wuhan.
A novel recently was being circulated which mentioned that in 2020 a lungs virus will affect whole world, many think that this virus is manmade and has been deliberately spread for greater objectives , many argue that this is part of USA strategy to stop the rise of china , after the spread of virus Chinese's citizens are being seen as a source of virus . At the moment people around the globe are divided into two very groups, one believe that this is an act of humans, as the south Korean movie released in 2018 also predicted the same virus and same scenario, mere coincidence or a deliberate effort .Though the history of humans and envoy could be the source of new weapons of war, Bio-weapons are also a reality and have been developed.
These viruses are part of nontraditional security threats which every state is facing at the moment, the dynamics of warfare in modern world are changing. A virus originated from Wuhan has locked down the whole world, around 30000 plus have been killed and around 1 million are diagnosed positive. Italy is on the top of the list of most affected nations around the globe , they have lost around 10000 people since virus spread , Iran , Spain , USA also are among the top affected states . Somehow those who have believe in that this virus is an act of humans are way large in number as due to media humans are programmed to think in this way .
Then after that there are also official versions from china that this virus has spread from Wuhan's animal market where 57 old women contracted it from pangolin and she was termed as patient zero by Chinese government. According to Chinese official version this virus is an act of nature and china will make sure to deflect corona virus blame.
Whoever Man or God did , this virus and its impact would change the future of our world , in coming days it impact on global economy and security would be seen in different ways , this virus has many hidden lessons which will uncover themselves in coming days . The one most important observatory fact is that this world is truly heading toward Globalization, all the states are going through same problems due to this virus and a collective effort would help to resolve this issue from New York to Islamabad.
How It Happened by Shazaf Fatima Haider: Book Review
The upcoming and present generations harbor and behold different assumptions, aspirations, worldviews, lifestyles, and ideologies than previous generations. However, they both view life through altered and these altered ideologies are well presented in the novel How It Happened (2012) by Shazaf Fatima Haider. The story is narrated by, youngest of all the family members, a 15-year old Saleha. This story revolves around a Shia ''Bandian'' family progeny of the village of Bhakuraj in the Indian sub-continent who now lives in Karachi, Pakistan. Shazaf many a time speak tongue in cheek for Pakistani society and traditions. It is a noticeable fact that values, traditions, ideologies, and lifestyles keep on changing over time due to the change in worldviews and currently adopted concepts and ideals.
In the novel, the re-adjustment process of a completely new culture stands quite distinguishable through social change, economical force, evolution, and constant general pressure as the cultural transition takes place. As can be seen in the novel that cultural transition has influenced within the same family but the remarkable impact was observed on the post generation of family through any of the above-mentioned factors. In the novel, from time to time we witness minor disagreements and contradictory views among all the family members but constant distress and confusion occur between the two female protagonists of the Bhakuraj family. There is a constant tug of war between both of the women (Dadi and Zeba). When Haroon, the elder son, wants to go to New York for his studies as he is a new graduate of IBA, Dadi opposes the idea of studying abroad. She starts crying she has certain insecurities about him. Firstly, She thinks that he would marry abroad to a non-Muslim girl and their Bhakhurajian tradition of arrange marriage will decay. It was taken as taboo to marry a girl or boy of their liking. They were not given the right to choose their life partner although they claim to be the religious and honored families in society. Secondly, she has also fear deep inside her heart because Qurat who is Dadi's cousin, her son married abroad to a converted Muslim and black girl. As she has no much social exposure, she thinks that everyone who goes abroad returns with a wife. But eventually, she agrees that it can only be possible if he promises that he would marry a girl approved by Dadi and whenever she wants. Zeba, the elder daughter of the family, has a different notion about it. She argues with Dadi and says: "Dadi, you're being unfair! Zebabaji protested. Haroon Bhai should have the freedom to marry someone he likes.
Upon this Dadi retorted "You be quiet! Listen to you! He should marry someone he likes….. Hussain! Look at what your daughter is saying!'' (Ibid 29)
On another occasion, the subject is again the marriage of Haroon. Dadi puts forward a list of qualities that should be possessed by a prospective girl. When Dadi says: ''Arey Bhai, the younger they are, the more malleable!'' Zeba is not of the same view, she again says this thought of her and says: 'Dadi ', Zebabaji inquired, are we talking about women or plasticine?
From the beginning, we encounter this argumentation between the two protagonists for Zeba has a different social background and she has a different literal and economic background. Zeba has been brought up in a different social circle. She has grown in the city of Karachi, a different and liberal environment from the village of Bhakuraj where Dadi had been brought up. There is a big difference in a city and a village. Social factors have a great impact on the mindset of a person. Zeba believes that a person should be entitled right to choose her life partner as she has been inclined to this view socially. She has acquired it from society and the environment that a person has the right to his life, he has the right of expression, and he has the right to live his life the way he likes. She is courageous enough to argue with the matriarch of the family. Though no one is allowed to argue with Dadi, Zeba's grooming does not allow her to remain quiet on the matters they don't think are right. On the contrary, Dadi has been brought up were talking or arguing is considered as an offensive act towards the embedded taboos. Though economically sound but socially isolated, Dadi has been brought up in isolation in such away. They had been taught that they had no right especially girls to express their thoughts when elders discuss any topic or decide a matter of importance because they are taken as unwise. They have been taught that girls from respected families do not speak, they just listen and obey what they are told. Dadi had no schooling and another social circle. What she learned at home was all regarding education. She has been traditionally trained at home. She has been taught that a girl has to raise children and to keep the house no more. The women who do this duty of housekeeping and raising children well are characterized as respectable and successful women. In the novel, Dadi frequently expresses her thoughts proudly that a girl should be seen and not heard, a girl should be able to cook well, a girl should like this and that. Zeba says that women should be treated as human and not any material thing. They are living human beings, they breathe, they are not dumb, they can speak then why they should not be heard and only seen. They can differentiate between right and wrong and from their childhood they have been taught these things at home as well as in society.
The youngsters of the family have their style of living. Zeba, being a student of literature, keeps different views about everything. In the novel, she is depicted as a sharp-minded and disobedient girl of the family. Zeba is treated as the rebel of the family because she has set her principles for leading an ideal life. She is never inclined to follow the embedded customs, principles and traditions set by the Bhakurajian family. She seems to be interested to listen to the folks told by Dadi but she has no convictions to spend her own life as old-fashioned as Dadi`s. She is driven by the social norms of modern-day and by the conflicting differences between both traditions and viewpoints as she progresses in her educational life.
In the novel changing roles of women have been portrayed greatly. Saima(Haroon's wife) represents the ability of women to work in the man's world. Fattiphups is playing the role of a liberal woman, who's is leading a life in accord with her mindset.
Based on given arguments and analysis it is found that as change is permanent in human life, a shift in culture is certain in this mobile society and Shazaf has justified the that with her wit. As Dadi had to agree with new trends, everyone has to accept the fact. Sooner or later culture has to decay and a new culture has to emerge according to social, political and economic changes that take place with the time. This novel proves this fact by presenting three generations in the same family. The shift of culture takes the gap of a generation but at last, it happens, the way old traditions of the Bakhuraj family come to its end by the marriage of Zeba ( a Shia girl) to a Sunni boy. So How It Happened can be taken as comic satire on the Pakistani society.