Are Self-Forgetfulness and Dehumanization Derived from the Dichotomy Science/ Liberal Arts?
"The unexamined life is not worth living"-Socrates "Is my self really mine?"-St. Augustine
[yt_dropcap type="square" font="" size="14″ color="#000″ background="#fff" ] W [/yt_dropcap] e have heard much lately about the "world in turmoil," or about a confused alienated relativistic Western society pursuing pleasure and economic wealth while misguidedly imagining that they by themselves will contribute to its overall well-being and happiness, and at the same time despairing of ever finding the true meaning of life, what Aristotle calls Eudaimonia, happiness, or its pursuit, as the US Constitution proclaims, properly understood as the "flourishing life," a life that fulfills its nature and potential and achieves its destiny.
It is indeed encouraging that we are becoming increasingly conscious of our present predicament and returning to the wisdom of the ancients. Perhaps we have already intuited that the problem is less scientific or technological and more philosophical, having to do with our very humanity. But the question persists: were the ancients on the right track when they insisted that the unexamined life is not worth living, and that man needs to ask the question what does it mean to be human and only after adequately answering that question will he be able to devise a theory of "the good life?"
Moreover, there is a more profound concept of the self. St. Augustine puts the riddle of the self this way: What is so much thine as thyself and what is so little thine as thyself? What Augustine is pointing out is this: underlying the question "Who am I" is a further question: "Is my I really mine?" Ultimately this is the question of freedom asking "How much in control am I of the self?"
Those are questions acutely felt by perceptive modern men who feel themselves "thrown into existence" in a world largely devoid of meaning, condemned to play certain roles within certain social structures oriented toward consumerism, production, success and material affluence. Questions that Thoreau already attempted to address way back in 1847 with his reflections on Walden Pond. Closer to us, Jacques Ellul explores extensively the modern phenomenon of value-free technological "efficient ordering" which pervades all aspects of modern life since Descartes (see his The Betrayal of the West).
Previous to Ellul, Marx had already identified this form of alienation in the individual's role as object of exploitation. But this alienation transcends the mere economic sphere of one's humanity and occurs in all types of societies. In fact, the greater the organization of a society—i.e., the interdependence of all its social phenomena and the determinism of its processes—the greater seems to be the alienation, anonymity and servitude of its individuals to processes and forces that hamper their creativity and identity. Indeed, this is the question of freedom.
We live in two worlds which hardly understand and communicate with each other: the humanistic world and the scientific world (see The Two Worlds by C.P. Snow). Those who live in the latter are quick to point out that technology has provided us with the means to subdue the earth and free the destitute and oppressed masses from brutalizing labor. That is however only partly true given that millions of people in the third world as I write this remain oppressed and exploited. Those people usually fail to observe how in the 20th century, after World War I, the very concept of Utopia present even in Marxist ideology practically disappeared. In the 19th century, when belief in the so called "inevitable" progress of science was prevalent, utopia was felt to be the very goal of history. Utopia meant a world without oppression and injustice, without hunger and class conflicts.
Karl Marx certainly envisioned, like Plato, utopia as the culmination of man's history, after a few inevitable dialectic class conflicts had been resolved. This ideal vision, alas, is no longer with us. As Einstein pointed out in the 20th century, we are now mainly preoccupied with the means of the goal of utopia. In the process of perfecting those means, the goal, i.e., utopia itself, is lost sight of. Nowhere is this more apparent than in the field of education where means have long ago swallowed up goals and "educrats" have firmly established themselves as the well-paid managers of those means. It is no secret that bureaucracy now absorbs 60% or more of the money earmarked for education in the Western World.
At this sorry stage of depersonalization, the pressing question is about our very humanity. Are we still capable of acting humanely? That is to say, is the self still home? If it is not, that may explain why so many individuals do not know what do with their leisure. They simply do not know what to do with their selves. Pascal for one provides the answer as to why so much of modern recreation assumes a mode of centrifugal dissipation rather than one of centripetal concentration. In his famous Penseé he points out that the cause of our unhappiness can be identified in the fact that we cannot simply sit still in a room for more than a few minutes.
Or as Dante illustrates it in his Commedia, to be alone is a terrifying experience if no self is encountered. It is in the loss of the self that much modern existential angst can be located. Once I have lost my self, I may knock at the door of my own home and find that nobody lives there any longer. To say it with Dante, "so bitter it is that death is little more." At that point I may become unable to pursue the question of my own humanity.
Dante for one needed Virgil's guide to overcome the three beasts that obstructed the beginning of his journey into the self. And here we return to the theme of freedom and determinism. Contrary to what Freudianism may hold, humans are not mere bundles of impulses and instincts independent of time and place. Society is perfectly capable of adapting and molding these impulses and even perverting them in order to fit them into its principles of reality. All that needs to be done is to make people believe that their wants are their needs and that to be deprived of those wants is be victimized. Politicians seem to be very good at this sort of game. As Jackson Lears has aptly written in his No Place of Grace: "… A therapeutic world view…has become part of the continuing pattern of evasive banality in modern culture. Celebrating spurious harmony, the therapeutic outlook has further undermined personal moral responsibility and promoted ethics of self-fulfillment well attuned to the consumer ethos of 20th century capitalism."
Our incessant talk and reality shows (now we have a president-elect who is a master at staging them…) are mere symptoms of that kind of cancer eating at our Western civilization. When the disease has become pervasive, people begin to sincerely believe that to be human and to have self-esteem is to own a car equipped with a telephone with which to order pizza on the way home. Some have even installed make-believe phones with which to confer more self-esteem and self-importance on themselves. To drive while talking on the phone gives others the impression that momentous decisions are being executed and that one is an important clog in the larger scheme of things.
The gorilla with a telephone in his paw able to tweet only a couple of hundred characters and with a span of attention of 10 seconds is of course merely funny. A much less amusing and sinister aspect of this pressure to adjust and conform are the propagandistic and ideological apparatuses that have distinguished the 20th century. People caught in those monstrosities can hardly be imagined as being endowed with a shred of autonomy or as striving after what Jung called "individuation." In those types of societies, man has not only dehumanized himself but he is unable to cure himself. An outside force seems to be needed. It can only come from the few individuals in whom the image of authentic humanity is still kept alive and who have the courage to free that image by condemning and altering corrupting social structures. Solzhenitsyn jumps to mind during the Soviet era in Russia.
In the 60s we had in America a counterculture movement largely sponsored by college students and theorized by Herbert Marcuse in his book Eros and Civilization. He thought, as some misguided intellectuals still do, that a new humanity was on the horizon, ushered in by new technological developments (automation, so called) which would keep oppressive work at a minimum while raising leisure and freedom to the maximum. The aggressive instincts identified by Freud as aroused by social repression, would simply wither away. So would Judeo-Christian morality, another vestige of social repression. This "new man," reminiscent of Nietzsche's overman (the Huberman) would be characterized by the fact that he would not have to merit life; he would simply enjoy it. Whatever aggressive instincts might be left in him would be sublimated through sports and the building of civilized communities that respected nature.
Here we should pause to note that of the many hippy communes established in the 60s, few survived and those which did had some kind of religious foundation and structure. In any case, this was perhaps the last naïve attempt at utopia on the part of modern technocratic man. It never came to pass. What did come to pass is best explained by Allan Bloom in his controversial The Closing of the American Mind where he provides an analysis of this "new man." Far from being tolerant and simply enjoying life in Utopia, the "new man" has by now entrenched himself in the University's chambers of power (the same chambers at whose gates he was protesting in the 60s) and from there he now imposes "political correctness" on academia. All done, mind you, in the name of civilizing tolerance and equality. What in reality is at work is a sort of Nietzschean nihilism and relativism. As indeed Nietzsche correctly foresaw in the 19th century, once God is dead, one is left with little more than "the will to power," or a reduction of persons to functions of emergent social conditions. Within such a community, neither God (be he the one of the Judeo-Christian tradition or Plato's) nor man (as conceived by the Renaissance echoing Protagoras) is any longer the measure of all things. The measure, or criterion, is now constituted almost exclusively by material and economic structures.
In song and in dance this man will end up bragging of the fact that he is a "material man," turning vices into virtues on his TV shows where everybody washed one's dirty linens in public, where every opinion is as good as any other, where triviality and banality reign supreme and truth is prostituted to expediency and freedom is mistaken for license. This new humanity is constituted by economic structures conceived as a sort of demiurge fashioning it. But this demiurge named "market" far from being a panacea can easily become an instrument of repression and dehumanization when not tempered by justice.
Few people, either within the capitalistic or the socialist camp, bother to seriously ask the question: How can we humanize these economic structures that leave so many people at the margins of prosperity? Even Nobel winners in economics and science, while searching for alternative to capitalism or socialism, do not seem to be able to formulate the question, never mind answering it. The alternative to both systems is still eluding them, never mind that the social encyclicals of the last one hundred years have offered some viable alternatives. What seems to be desperately needed is an independent picture of humanity; i.e., an awareness of being a self. Without that picture even the need for a journey is not perceivable. As Kierkegaard best rendered it, man then remains in the despair of self-forgetfulness, in the "sickness unto death" of the well adjusted individual identifying with the values of his society, blissfully unaware that he has been reduced to a consuming automaton.
When man cannot conceive of his own destiny any longer and begins to talk of soul as mere mind, and then of mind as mere computing brain and "software," then indeed the sickness may be terminal. For when the I is lost, one cannot even grieve over its loss. And Kiekegaard is not talking here of a mere psychological phenomenon. Rather he is talking about an existential despair, the angst of which a Thoreau or a Heidegger speak of. This is a sort of sickness that is hardly noticeable in the workaday world where the afflicted are engaged in all sorts of productive activities geared to repress the anxiety, while remaining lost "in a dark wood" with not even the faintest desire to seek "the right way." This is Kierkegaard life of "quiet desperation."
Tragically, in that self-forgetfulness and imperceptible loss of identity, modern man becomes less than primitive man; he becomes, in fact, less than a beast, a monstrosity. Elie Wiezel is right in affirming that the proper ethical implications of mankind's Nazi past have hardly been drawn yet. For we remain unwilling to question our humanity and thus relive the terror of such a past. It is easier by far to lay flowers on the tomb of the Third Reich's unknown soldier in an inauthentic gesture of reconciliation. But reconciliation requires remembrance, acceptance, the asking of forgiveness, the granting of forgiveness, repentance, reparation. When these are missing reconciliation becomes a mockery. It becomes self-forgetfulness.
As Dante and Vico have been trying to teach us for centuries now, to be human is to be forced to ask about one's self, to be compelled by the image toward which one is thrust and which emerges at the intersection of essence and existence, at the point of ethical tension between what is and what ought to be.
Modernizing Higher Education for Economic Growth
Malawi has fewer affordable universities than it has students who want to go to them, leaving college out of reach for many. Enrollment in tertiary education is low, but more and more Malawians hunger for it. With IDA financing from the World Bank, Malawian citizens now have more options.
The five-year, $51 million Skills Development Project is helping public universities to strengthen and increase public access to programs that cater to sectors critical to Malawi's economic growth. These include engineering, natural resources extraction, agriculture, construction, health services, tourism, and hospitality.
Beyond the establishment of the National Council for Higher Education, project funding supports a range of activities at institutions, including improving course offerings and staff skills, renovating infrastructure, and setting up satellite facilities.
Market-relevant course offerings
To expand the range of scientific skills and mid-level technicians needed to fuel Malawi's economy, 39 new programs have been developed by universities, with the participation of the private sector ensuring their relevance to the economy. By 2017, these programs contributed 44 percent of the new student intake to public universities.
Diploma programs at universities have also been bolstered to increase the training of mid-level career personnel needed by various trades. For example, the University of Malawi's Polytechnic now offers 10 technician-level engineering diploma programs in subjects like mining, telecommunications, and health. By 2019, these programs are expected to have enrolled 750 diploma students.
Modernized facilities
One of the major constraints to increasing student enrollment at public universities has been space. At Chancellor College, where most of Malawi's secondary school science teachers are trained, more and better infrastructure is expected to make it possible to boost student intake by 65 percent. This includes modernized laboratories and four new lecture halls seating 350 students each.
This will go a long way toward meeting an increase in the demand for science teachers, following the introduction of physics and chemistry as separate subjects in the secondary school curriculum.
Mzuzu University is heading to be the country's center of excellence in tourism training. It is constructing a purpose-built tourism and hospitality facility that will produce graduates who are industry-ready.
Online and distance learning
The Lilongwe University of Agriculture and Natural Resources (LUANAR) and Mzuzu have introduced online and distance learning (ODL), resulting in increased enrollment at both. At LUANAR, online students make up 10 percent of the total student population. Between 2014 and 2016, Mzuzu increased its intake of online students tenfold. With more affordable fees and flexible options, the ODL system has helped to open access to higher education for many people nationwide.
"I enrolled through ODL because of its flexibility. I continue with my everyday life and yet I am studying at the same time. This is wonderful," says 45-year-old Joe Mwenye, a father of five and a teacher in Ngabu in Chikwawa district. He is studying at LUANAR for a Bachelor of Science in Agricultural Extension.
LUANAR has three ODL centers: one in the town of Mzuzu, another in Lilongwe, and another in Blantyre. Mzuzu University is opening satellite centers in Balaka, Karonga, Mulanje, and Lilongwe.
The Depth of Taboo: Social Issues in South Asia
Rarely does a geopolitical handbook also make such large and important contributions to uncomfortably critical social issues. This handbook is that rare example. The author Aryal takes our MD readers deep into some disturbing discussions – caste systems, systematic violence against women, rape, honor killings, gender stigmatizing, and societal sexism – not to just anecdotally expose people to some of the continued living horrors afflicting important regions of the world but to systematically analyze such atrocities so that their long-term political, economic, social, and diplomatic consequences are revealed.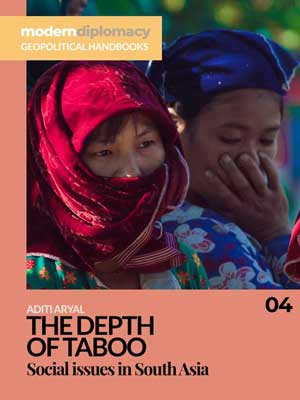 What many around the world do not realize is how crippling these gross abuses of human decency can be for a nation and region writ large: these are not just individual crimes to be noted and then forgotten. The failure of societies, the failure of GLOBAL society, to make more effective progress and take a more rigid stand against injustice is a black mark on all countries, on all of us. This handbook in its own small way strives to be a light within that darkness and as such it is both informative and courageous. While the readers of MD will not find the content of this particular handbook for the faint of heart, the importance of acquiring this knowledge, of becoming more aware of the world that we live in as it truly is in so many places, should be considered a duty of all those fortunate enough to not be born into states where such systemic violence still exists and largely goes unchallenged.
The title of this work is no accident and no shameless marketing attempt to attract more readers. Rather, it is exposing in a single word the reason why overcoming systemic violence based on gender is so difficult. Social taboos run deep in every region, state, city, town, village. We will likely not succeed in eliminating them from the social conscience of people. But the attempt to ameliorate the power of taboo, its power to push rationality out and pull insanity in, is a noble one that all of us at the editorial staff at MD recognize as silently essential for the cause of future peace on so many different levels. The battle against taboo is the secret front end of the war against gender violence and oppression. Ultimately, the criminal justice systems of societies must improve to remedy those actions not prevented from occurring. But the real long-term comprehensive solution will be the effort to eliminate the fear of social taboos, to eliminate the stigma that drives many to commit ignorant violence in the first place.
Women and girls with autism must be empowered to overcome discrimination they face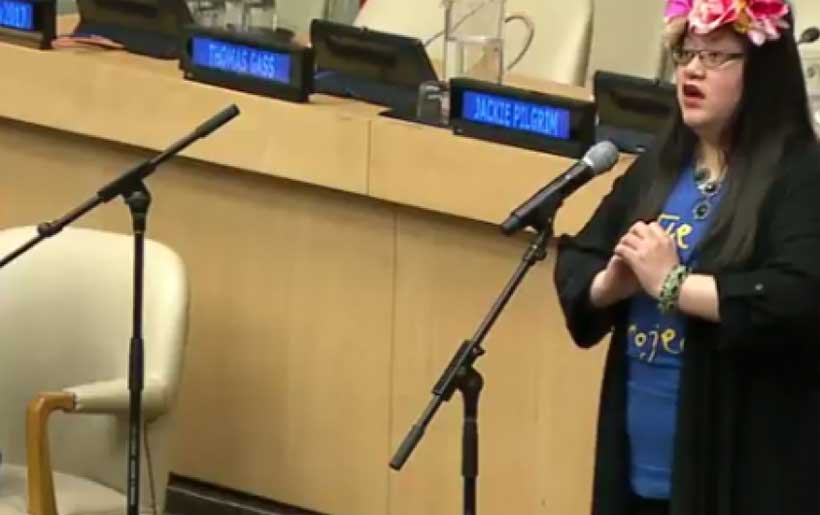 On World Autism Awareness Day, United Nations Secretary-General António Guterres has joined the global call to empower women and girls with autism and involve them and their advocates in policy and decision-making to address the discrimination and other challenges they face.
"They face […] barriers to accessing education and employment on an equal footing with others, denial of their reproductive rights and the freedom to make their own choices, and a lack of involvement in policy making on matters that concern them," said the Secretary-General in his message on the Day.
Emphasizing that "our work for gender equality and women's empowerment must reach all the world's women and girls," he stressed that the international community's efforts to achieve the Sustainable Development Goals (SDGs) must uphold the 2030 Agenda's core promise to leave no one behind.
The Goals and the landmark framework from which they emerged were adopted by UN Member States three years ago. Together they aim to wipe out poverty and boost equality by putting the world on a more sustainable economic, social and environmental path by 2030.
"On World Autism Awareness Day, let us reaffirm our commitment to promote the full participation of all people with autism, and ensure they have the necessary support to be able to exercise their rights and fundamental freedoms," concluded the Mr. Guterres.
Autism is a lifelong neurological condition that manifests during early childhood, irrespective of gender, race or socio-economic status. The term Autism Spectrum refers to a range of characteristics.
Autism is mainly characterized by its unique social interactions, non-standard ways of learning, keen interests in specific subjects, inclination to routines, challenges in typical communications and particular ways of processing sensory information.
The rate of autism in all regions of the world is high and the lack of understanding has a tremendous impact on the individuals, their families and communities.
The World Day is marked annually on 2 April, and this year's official UN commemoration will be on Thursday, 5 April, with a half-day programme in New York entitled Empowering Women and Girls with Autism, that will feature a keynote address from Julia Bascom, Executive Director, Autistic Self Advocacy Network.