Are Self-Forgetfulness and Dehumanization Derived from the Dichotomy Science/ Liberal Arts?
"The unexamined life is not worth living"-Socrates "Is my self really mine?"-St. Augustine
[yt_dropcap type="square" font="" size="14″ color="#000″ background="#fff" ] W [/yt_dropcap] e have heard much lately about the "world in turmoil," or about a confused alienated relativistic Western society pursuing pleasure and economic wealth while misguidedly imagining that they by themselves will contribute to its overall well-being and happiness, and at the same time despairing of ever finding the true meaning of life, what Aristotle calls Eudaimonia, happiness, or its pursuit, as the US Constitution proclaims, properly understood as the "flourishing life," a life that fulfills its nature and potential and achieves its destiny.
It is indeed encouraging that we are becoming increasingly conscious of our present predicament and returning to the wisdom of the ancients. Perhaps we have already intuited that the problem is less scientific or technological and more philosophical, having to do with our very humanity. But the question persists: were the ancients on the right track when they insisted that the unexamined life is not worth living, and that man needs to ask the question what does it mean to be human and only after adequately answering that question will he be able to devise a theory of "the good life?"
Moreover, there is a more profound concept of the self. St. Augustine puts the riddle of the self this way: What is so much thine as thyself and what is so little thine as thyself? What Augustine is pointing out is this: underlying the question "Who am I" is a further question: "Is my I really mine?" Ultimately this is the question of freedom asking "How much in control am I of the self?"
Those are questions acutely felt by perceptive modern men who feel themselves "thrown into existence" in a world largely devoid of meaning, condemned to play certain roles within certain social structures oriented toward consumerism, production, success and material affluence. Questions that Thoreau already attempted to address way back in 1847 with his reflections on Walden Pond. Closer to us, Jacques Ellul explores extensively the modern phenomenon of value-free technological "efficient ordering" which pervades all aspects of modern life since Descartes (see his The Betrayal of the West).
Previous to Ellul, Marx had already identified this form of alienation in the individual's role as object of exploitation. But this alienation transcends the mere economic sphere of one's humanity and occurs in all types of societies. In fact, the greater the organization of a society—i.e., the interdependence of all its social phenomena and the determinism of its processes—the greater seems to be the alienation, anonymity and servitude of its individuals to processes and forces that hamper their creativity and identity. Indeed, this is the question of freedom.
We live in two worlds which hardly understand and communicate with each other: the humanistic world and the scientific world (see The Two Worlds by C.P. Snow). Those who live in the latter are quick to point out that technology has provided us with the means to subdue the earth and free the destitute and oppressed masses from brutalizing labor. That is however only partly true given that millions of people in the third world as I write this remain oppressed and exploited. Those people usually fail to observe how in the 20th century, after World War I, the very concept of Utopia present even in Marxist ideology practically disappeared. In the 19th century, when belief in the so called "inevitable" progress of science was prevalent, utopia was felt to be the very goal of history. Utopia meant a world without oppression and injustice, without hunger and class conflicts.
Karl Marx certainly envisioned, like Plato, utopia as the culmination of man's history, after a few inevitable dialectic class conflicts had been resolved. This ideal vision, alas, is no longer with us. As Einstein pointed out in the 20th century, we are now mainly preoccupied with the means of the goal of utopia. In the process of perfecting those means, the goal, i.e., utopia itself, is lost sight of. Nowhere is this more apparent than in the field of education where means have long ago swallowed up goals and "educrats" have firmly established themselves as the well-paid managers of those means. It is no secret that bureaucracy now absorbs 60% or more of the money earmarked for education in the Western World.
At this sorry stage of depersonalization, the pressing question is about our very humanity. Are we still capable of acting humanely? That is to say, is the self still home? If it is not, that may explain why so many individuals do not know what do with their leisure. They simply do not know what to do with their selves. Pascal for one provides the answer as to why so much of modern recreation assumes a mode of centrifugal dissipation rather than one of centripetal concentration. In his famous Penseé he points out that the cause of our unhappiness can be identified in the fact that we cannot simply sit still in a room for more than a few minutes.
Or as Dante illustrates it in his Commedia, to be alone is a terrifying experience if no self is encountered. It is in the loss of the self that much modern existential angst can be located. Once I have lost my self, I may knock at the door of my own home and find that nobody lives there any longer. To say it with Dante, "so bitter it is that death is little more." At that point I may become unable to pursue the question of my own humanity.
Dante for one needed Virgil's guide to overcome the three beasts that obstructed the beginning of his journey into the self. And here we return to the theme of freedom and determinism. Contrary to what Freudianism may hold, humans are not mere bundles of impulses and instincts independent of time and place. Society is perfectly capable of adapting and molding these impulses and even perverting them in order to fit them into its principles of reality. All that needs to be done is to make people believe that their wants are their needs and that to be deprived of those wants is be victimized. Politicians seem to be very good at this sort of game. As Jackson Lears has aptly written in his No Place of Grace: "… A therapeutic world view…has become part of the continuing pattern of evasive banality in modern culture. Celebrating spurious harmony, the therapeutic outlook has further undermined personal moral responsibility and promoted ethics of self-fulfillment well attuned to the consumer ethos of 20th century capitalism."
Our incessant talk and reality shows (now we have a president-elect who is a master at staging them…) are mere symptoms of that kind of cancer eating at our Western civilization. When the disease has become pervasive, people begin to sincerely believe that to be human and to have self-esteem is to own a car equipped with a telephone with which to order pizza on the way home. Some have even installed make-believe phones with which to confer more self-esteem and self-importance on themselves. To drive while talking on the phone gives others the impression that momentous decisions are being executed and that one is an important clog in the larger scheme of things.
The gorilla with a telephone in his paw able to tweet only a couple of hundred characters and with a span of attention of 10 seconds is of course merely funny. A much less amusing and sinister aspect of this pressure to adjust and conform are the propagandistic and ideological apparatuses that have distinguished the 20th century. People caught in those monstrosities can hardly be imagined as being endowed with a shred of autonomy or as striving after what Jung called "individuation." In those types of societies, man has not only dehumanized himself but he is unable to cure himself. An outside force seems to be needed. It can only come from the few individuals in whom the image of authentic humanity is still kept alive and who have the courage to free that image by condemning and altering corrupting social structures. Solzhenitsyn jumps to mind during the Soviet era in Russia.
In the 60s we had in America a counterculture movement largely sponsored by college students and theorized by Herbert Marcuse in his book Eros and Civilization. He thought, as some misguided intellectuals still do, that a new humanity was on the horizon, ushered in by new technological developments (automation, so called) which would keep oppressive work at a minimum while raising leisure and freedom to the maximum. The aggressive instincts identified by Freud as aroused by social repression, would simply wither away. So would Judeo-Christian morality, another vestige of social repression. This "new man," reminiscent of Nietzsche's overman (the Huberman) would be characterized by the fact that he would not have to merit life; he would simply enjoy it. Whatever aggressive instincts might be left in him would be sublimated through sports and the building of civilized communities that respected nature.
Here we should pause to note that of the many hippy communes established in the 60s, few survived and those which did had some kind of religious foundation and structure. In any case, this was perhaps the last naïve attempt at utopia on the part of modern technocratic man. It never came to pass. What did come to pass is best explained by Allan Bloom in his controversial The Closing of the American Mind where he provides an analysis of this "new man." Far from being tolerant and simply enjoying life in Utopia, the "new man" has by now entrenched himself in the University's chambers of power (the same chambers at whose gates he was protesting in the 60s) and from there he now imposes "political correctness" on academia. All done, mind you, in the name of civilizing tolerance and equality. What in reality is at work is a sort of Nietzschean nihilism and relativism. As indeed Nietzsche correctly foresaw in the 19th century, once God is dead, one is left with little more than "the will to power," or a reduction of persons to functions of emergent social conditions. Within such a community, neither God (be he the one of the Judeo-Christian tradition or Plato's) nor man (as conceived by the Renaissance echoing Protagoras) is any longer the measure of all things. The measure, or criterion, is now constituted almost exclusively by material and economic structures.
In song and in dance this man will end up bragging of the fact that he is a "material man," turning vices into virtues on his TV shows where everybody washed one's dirty linens in public, where every opinion is as good as any other, where triviality and banality reign supreme and truth is prostituted to expediency and freedom is mistaken for license. This new humanity is constituted by economic structures conceived as a sort of demiurge fashioning it. But this demiurge named "market" far from being a panacea can easily become an instrument of repression and dehumanization when not tempered by justice.
Few people, either within the capitalistic or the socialist camp, bother to seriously ask the question: How can we humanize these economic structures that leave so many people at the margins of prosperity? Even Nobel winners in economics and science, while searching for alternative to capitalism or socialism, do not seem to be able to formulate the question, never mind answering it. The alternative to both systems is still eluding them, never mind that the social encyclicals of the last one hundred years have offered some viable alternatives. What seems to be desperately needed is an independent picture of humanity; i.e., an awareness of being a self. Without that picture even the need for a journey is not perceivable. As Kierkegaard best rendered it, man then remains in the despair of self-forgetfulness, in the "sickness unto death" of the well adjusted individual identifying with the values of his society, blissfully unaware that he has been reduced to a consuming automaton.
When man cannot conceive of his own destiny any longer and begins to talk of soul as mere mind, and then of mind as mere computing brain and "software," then indeed the sickness may be terminal. For when the I is lost, one cannot even grieve over its loss. And Kiekegaard is not talking here of a mere psychological phenomenon. Rather he is talking about an existential despair, the angst of which a Thoreau or a Heidegger speak of. This is a sort of sickness that is hardly noticeable in the workaday world where the afflicted are engaged in all sorts of productive activities geared to repress the anxiety, while remaining lost "in a dark wood" with not even the faintest desire to seek "the right way." This is Kierkegaard life of "quiet desperation."
Tragically, in that self-forgetfulness and imperceptible loss of identity, modern man becomes less than primitive man; he becomes, in fact, less than a beast, a monstrosity. Elie Wiezel is right in affirming that the proper ethical implications of mankind's Nazi past have hardly been drawn yet. For we remain unwilling to question our humanity and thus relive the terror of such a past. It is easier by far to lay flowers on the tomb of the Third Reich's unknown soldier in an inauthentic gesture of reconciliation. But reconciliation requires remembrance, acceptance, the asking of forgiveness, the granting of forgiveness, repentance, reparation. When these are missing reconciliation becomes a mockery. It becomes self-forgetfulness.
As Dante and Vico have been trying to teach us for centuries now, to be human is to be forced to ask about one's self, to be compelled by the image toward which one is thrust and which emerges at the intersection of essence and existence, at the point of ethical tension between what is and what ought to be.
Seven Out of 10 Top School Systems Are in East Asia Pacific
The East Asia and Pacific region has seven of the top ten performing education systems in the world, with schools in China and Vietnam showing significant progress, according to a new World Bank report released today. This is a major accomplishment that offers important lessons to countries around the world. In the rest of the region, however, up to 60 percent of students are in under-performing schools that fail to equip them with the skills necessary for success.
Growing Smarter: Learning and Equitable Development in East Asia and the Pacific argues that improving education is necessary to sustain economic growth and highlights the ways that countries in the region have been able to improve learning outcomes. Drawing on lessons from successful education systems in the region, it lays out a series of practical recommendations for key policies that promote learning so that students acquire foundational skills in reading and math, as well as more complex skills that are needed to meet future labor market demands.
"Providing a high-quality education to all children, regardless of where they are born, isn't just the right thing to do. It's also the foundation of a strong economy and the best way to stop and reverse rising inequalities," said Victoria Kwakwa, World Bank Vice President for East Asia and Pacific.
A quarter of the world's school-age children – some 331 million – live in East Asia and the Pacific. Up to 40 percent of them attend school in education systems whose students are ahead of the average students in OECD countries. These schools are not only in wealthy countries such as Singapore, Korea and Japan, but also in middle-income countries such as China and Vietnam. And, as the report highlights, student performance isn't necessarily tied to a country's income level. By age 10, for example, the average Vietnamese student outperforms all but the top students in India, Peru and Ethiopia.
But many countries in the region are not getting the results they want. In Indonesia, for example, test scores showed students were more than three years behind their top-performing peers in the region. In countries such as Cambodia and Timor-Leste, one-third or more of second graders were unable to read a single word on reading tests.
Another key finding of the report is that across the region, household incomes do not necessarily determine children's educational success. In Vietnam and China (Beijing, Shanghai, Jiangsu and Guangdong provinces), for example, students from poorer households do as well, if not better, in both math and science, as compared to average students in the OECD.
"Effective policies for the selection, motivation, and support of teachers as well as sound practices in the classroom are what determine how much students learn. For policymakers looking to improve their school systems, allocating existing budgets efficiently, coupled with strong political commitment, can make a real difference in the lives of children across the region," said Jaime Saavedra, the World Bank's Senior Director for Education.
The report lays out concrete steps for improving learning for lagging systems in the region and beyond, starting with ensuring that institutions are aligned so that objectives and responsibilities across the education system are consistent with each other. The report also urges a focus on four key areas: effective and equity-minded public spending; preparation of students for learning; selection and support of teachers; and systematic use of assessments to inform instruction.
The report found that top-performing systems spend efficiently on school infrastructure and teachers, have recruitment processes to ensure the best candidates are attracted into teaching, and provide a salary structure that rewards teachers with proven classroom performance. It also found that schools throughout the region increased preschool access, including for the poor, and have adopted student learning assessment into their educational policies.
The report complements and builds on the World Bank's World Development Report 2018: Learning to Realize Education's Promise, which was released in September 2017 and found that without learning, education will fail to deliver on its promise to eliminate extreme poverty and create shared opportunity and prosperity for all.
UN women's commission opens annual session at 'pivotal moment' for gender equality movement
Taking place at "a pivotal moment for the rights of women and girls," the United Nations body dedicated to gender equality and women's empowerment opened its annual session on Monday hearing calls to help women, especially those in rural communities, secure an end to the male-dominated power dynamic that has long marginalized their participation and muted their voices.
"Across the world, women are telling their stories and provoking important and necessary conversations – in villages and cities; in boardrooms and bedrooms; in the streets and in the corridors of power," said Secretary-General António Guterres, opening the 62nd session of the UN Commission on the Status of Women (CSW62).
"From 'MeToo' to 'Time's Up' and 'The Time is Now' […] women and girls are calling out abusive behaviour and discriminatory attitudes," he added.
Under the Commission's theme 'Challenges and opportunities in achieving gender equality and the empowerment of rural women and girls,' the UN chief observed that although a marginalized group, they were often the backbone of their families and communities, managing land and resources.
Mr. Guterres said that supporting these women is essential to fulfilling our global pledge to eradicate poverty and to create a safer, more sustainable world on a healthy planet – 2030 Agenda for Sustainable Development.
Mr. Guterres painted a picture of a male-dominated world with a male-dominated culture in which centuries of patriarchy and discrimination have left a damaging legacy.
Calling it "the greatest human rights challenge of our time," he said "progress for women and girls means changing the unequal power dynamics that underpin discrimination and violence."
"Discrimination against women damages communities, organizations, companies, economies and societies," he continued. "That is why all men should support women's rights and gender equality. And that is why I consider myself a proud feminist."
The President of the UN Economic and Social Council (ECOSOC), Marie Chatardova pointed to the Commission, as a critical instrument to strengthen the global normative framework for women's empowerment and the promotion of gender equality.
The body is also as a key driver of ECOSOC's work, with the Commission's outcomes as bolstering the 2030 Agenda's implementation and that of its 17 Sustainable Development Goals (SDGs), which seek to end poverty and ensure prosperity for all on a healthy planet.
Noting that gender equality and the empowerment of women and girls is a theme that cuts across all the Goals, Ms. Chatardova said the Commission's focus on rural women and girls was both timely and well-aligned with the 2030 Agenda.
According to the ECOSOC President, inclusion is a key element in all efforts.
Noting that the Commission has long provided a roadmap for the UN's work in women's empowerment and gender equality, she announced a special Council session in May to build sustainable, inclusive and resilient societies.
Gender perspective is critical
For his part, the President of the UN General Assembly, Miroslav Lajčák, noted that past challenges were approached without a gender perspective, which "has had a particularly damaging effect on rural women."
Mr. Lajčák underscored that this needs to stop, and that women must be taken into account in all actions, from access to water to closing pay gaps.
Drawing attention to rural women as a major source of innovation, he explained that their empowerment would benefit everyone.
"These kinds of women do not need our help, in finding solutions," he stated. "What they need is our support, in turning their ideas into reality."
Calling gender equality "an urgent priority," Mr. Lajčák he encouraged the Commission to carry on with its important work "until every woman, sitting in this room today has the same rights, and the same opportunities, as the man sitting beside her.'
"Thank you for continuing your calls. Let's make them stronger than ever," he concluded.
UN Women Executive Director Phumzile Mlambo-Ngcuka highlighted the importance of this year's focus on rurual women.
"It speaks to our commitment to fight some of the biggest challenges of our time: poverty, inequality, intersectionality and an end to violence and discrimination against women and girls, no matter where they live, or how they live, so that we 'leave no one behind,'" she stated.
Calling it "a tipping point moment," the UN Women chief urged the forum to seize the opportunity to secure and accelerate progress, build consensus and share best practices to serve "the poorest of the poor."
"It has never been so urgent to hold leaders accountable for their promises for accelerating progress" on the SDGs, she said.  An unprecedented hunger for change in women's lives was being seen around the world, as well as a growing recognition that when women banded together, "they can make demands that bite."
"Women are fighting to take steps that change their lives, and they are refusing to accept the practices that have normalized gender inequality, sexual misconduct, exclusion and discrimination across all walks of life," she argued.
She urged everyone to unite around the common cause, as set out in the principles of equality in the UN Charter, "to make this a moment of real acceleration, change and accountability."
The chair, Geraldine Byrne Nason, said the current session is a key moment on the path to ending discrimination against women and girls once and for all.  Indeed, "time is up" on women taking second place around the world, she said, challenging the Commission to do more and do better.
CSW functions under ECOSOC, acting as the UN organ promoting gender equality and the empowerment of women.  CSW62 runs until 23 March.
UNESCO Rewards Outstanding Teacher Initiatives in Chile, Indonesia and the UK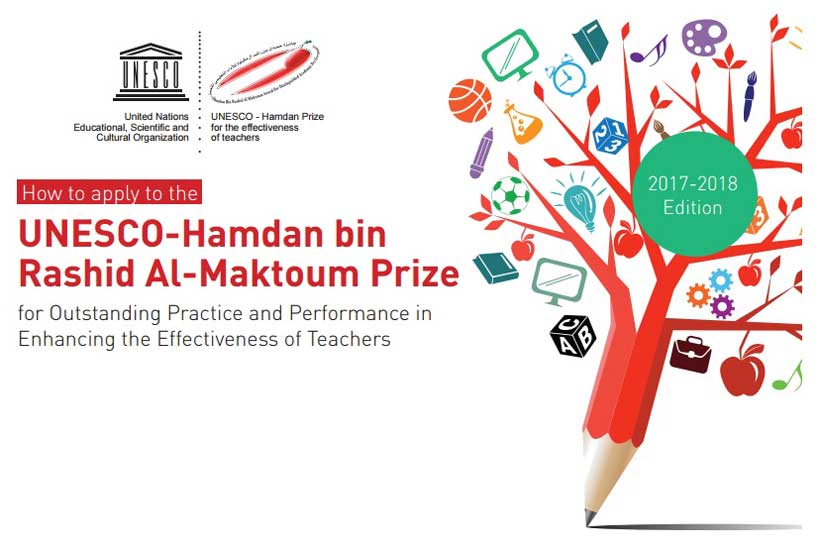 Three programmes designed to empower teachers have been named as winners of the 2017-2018 UNESCO-Hamdan bin Rashid Al-Maktoum Prize: The Center for Mathematic Modeling of the University of Chile, the Diklat Berjenjang project of Indonesia and the Fast-track Transformational Teacher Training Programme of the United Kingdom of Great Britain and Northern Ireland.
The Prize for Outstanding Practice and Performance in Enhancing the Effectiveness of Teachers will be awarded on 5 October as part of World Teachers' Day celebrations at UNESCO Headquarters in Paris when the each winner will receive $100,000.
The Center for Mathematic Modeling of the University of Chile (Chile) is rewarded for its Suma y Sigue: Matemática en línea (Adding it up: Mathematics online) programme which was developed to address the performance gaps in mathematics between students from different socioeconomic backgrounds and improve the quality of maths teaching in general. It is a 'learning by doing' programme organized by grade levels and curricula, enabling teachers to focus on their specialized area of mathematics teaching. It blends face-to-face sessions with intensive virtual instruction. The programme is scaleable, easily accessed by teachers in remote areas, and it promotes inclusion.
The Diklat Berjenjang project from Indonesia is rewarded for bringing quality professional development to early childhood teachers, notably in the poorest and most remote areas. It helps meet Indonesia's need for teachers skilled in creating stimulating learning environments for young learners. It helps identify potential teacher trainers and provides step-by-step written guides, follow-up assignments and exchanges.
The Fast-track Transformational Teacher Training Programme from the United Kingdom of Great Britain and Northern Ireland was selected for its highly innovative and impactful approach to training teachers in various professional environments in Ghana. It promotes child-centred and play-based pedagogy in early education to replace traditional talk chalk disciplinarian methods. Practicing teachers receive a two-year training, combining workshops with smaller peer group meetings in which they are paired on the basis of their complementary strengths to engage in classroom observations and in class coaching.
The three winners were selected from 150 nominations submitted by the Governments of UNESCO's Member States and UNESCO partner organizations on the recommendation of an International Jury of education professionals.
Established in 2009 with funding from Sheikh Hamdan bin Rashid Al-Maktoum of Dubai, the Prize is awarded every two years to projects that have made outstanding contributions to improving the quality of teaching and learning, especially in developing countries or within marginalized or disadvantaged communities.
More information on the prize: https://en.unesco.org/teachers/Hamdan-prize