Arab Liberals Criticism on Arab Political Life and to Europe Denial (B)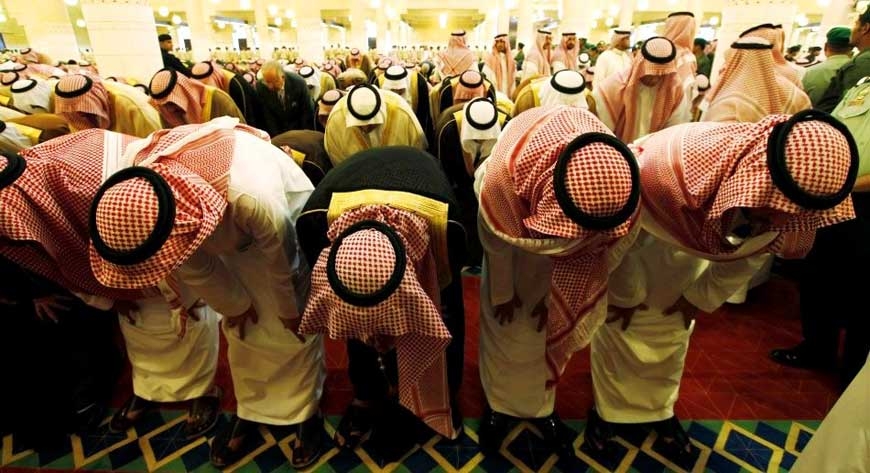 [yt_dropcap type="square" font="" size="14″ color="#000″ background="#fff" ] S [/yt_dropcap] audi columnist, Muhammad bin 'Abd al-Latif Aal al-Sheikh: The ideology of the al-Salafiyah al-Jihadiyah movement is similar to, or even worse than the Nazi ideology. Both Jihadi-Salafi and Nazism are based on hatred and physical elimination of the other. Both ideologies share hatred of the other and eliminating through his physical extermination – and they have many other common denominators as well.
After the ruin, destruction, and bloodshed that Nazism brought upon mankind, the number of its victims reached tens of millions, the world arose to fight against this murderous ideology, and all steps were taken on the ideological, cultural, and political levels, to prevent this ideology from spreading anew.
The question arises is why, in light of the similarity between these two ideologies, we haven't learned a lesson, and why we are not fighting against the foundations of al-Salafiyah al-Jihadiyah, its religious scholars, its theoreticians, and its preachers, just as we deal with criminals, murderers, and robbers? The concept of jihad has become a destructive terrorist concept, a call to murder.
In his next article titled "On the Contrary, They Are Worse than the Nazis and Stray More from the Right Path," al-Sheikh writes: The terrorists have sullied Islam with blood and tarnished its name through violence, killing, explosions, and destruction, it is the obligation of clerics and everyone involved in Da'wah before anyone else to defend the religion and the peaceful people from among the Muslims and others. Have the clerics of our times fulfilled their duty? The most direct answer is: Sadly, no!
Imagine that the way of dealing with statements by al-Salafiyah al-Jihadiyah is comparable to the West's way of dealing with Nazism, would TV channel, like the Qatari al-Jazeerah dare to spread this ideology and demand 'freedom of speech'? Everybody knows that this channel in particular has had the greatest media impact on the shaping, spreading, and strengthening of this dangerous trend, and that it provides it with wide space to express its 'acts of heroism', its statements, and its videotaped operations, to the point where it has become the primary platform of [al-Salafiyah al-Jihadiyah] as is happening today in Iraq.
Therefore, one of the primary missions of the international community today is to repeat its experience with Nazism and to deal with this dangerous barbarian culture exactly as it dealt with the Nazi culture. If this does not happen, the near future is liable to bring consequences of which will be far more severe for all of humanity than [the consequences] of World War II (al-Jazeerah (Saudi Arabia), July 10, 2005, and July 24, 2005).
Umran Salman, a Bahraini journalist living in the U.S., criticizes the Sunni silence over the extermination of the Shi'ites in Iraq: Aren't the Arabs Ashamed When Some of Them Massacre Iraqi Citizens?
When the Jordanian terrorist, Abu Mus'ab al-Zarqawi, declared war against the Shi'ites in Iraq, to blow up children, women, and the elderly, none of the Arabs uttered a word and none shed a tear for the thousands of Iraqis being murdered. Don't the Arabs feel sense of shame when some of them kill and massacre Iraqi citizens? Don't they feel pangs of conscience when they try to come up with excuses and justifications for the murderers and criminals whom they call the 'resistance?' How can they be silent and ignore declaration of the extermination of millions of people because of their sectarian affiliation? How is one to [describe] the Arab silence in light of the murder of Shi'ite Iraqis and their intimidation in the most despicable and base of ways? The murderers declare their positions publicly and consider them Jihad for the sake of Allah. How is one to explain [the silence of] politicians and members of the media?
What can we say in light of the attitude of the Arab media and the Arab satellite channels in particular, which report the killings, the slaughters, and the suicide bombings among Iraqi citizens coolly. The war being waged by the terrorists against the Shi'ites in Iraq is among the acts of collective extermination, which is rare in modern history.
There has been no case in the past in which somebody has declared a similar war against a race or a group as a whole, except Nazi Germany against the Jews. Muslim scholars in Arab countries have issued dozens of Fatawa about current political issues, but have not issued even a single fatwah declaring bin Laden, al-Zawahiri, or al-Zarqawi to be infidels. The world is witness that the Arabs and the Sunnis are silent and standing idly by, and some are even welcoming, the cold-blooded murder of the Shi'ites. They will bear this mark of shame for all eternity.
The Sunnis have persecuted the Shi'ites, declared them infidels, and continue to treat them in their countries as second-class citizens and have returned today to complete what they started in previous centuries. In the 21st century they are continuing their massacres and crimes against them, in full view of the world. Do these people not feel the shame and disgrace that shroud them? (www.elaph.com, October 15, 2005: MEMRI, no. 1010, October 21, 2005).
Saudi author, Badriyya al-Bishr, a lecturer in social sciences at King Saud University, in an article titled: "Imagine You Are a Woman".
Imagine you're a woman. You always need your guardian's approval regarding each and every matter. You cannot study without your guardian's approval, even if you reach a doctorate level. You cannot get a job and earn a living without your guardian's approval. Imagine you're a woman and the guardian who must accompany you wherever you go is your 15-year-old son or your brother. Imagine you're a woman and you are subject to assault, beatings, or murder. In the event that your husband is the one who broke your ribs [people will say] that no doubt there was good reason for it.
Imagine you're a woman whose husband breaks her nose, arm, or leg, and when you go to the Qadi to lodge a complaint, he responds reproachfully 'That's all?!' In other words, beating is a technical situation that exists among all couples and lovers. Imagine you're a woman and you are not permitted to drive. Imagine you're a woman in the 21st century, and you see Fatawa by contemporary experts in Islamic law dealing with the rules regarding taking the women of the enemy prisoner and having sexual intercourse with them, even in times of peace.
Imagine you're a woman who writes in a newspaper, and every time you write about [women's] concerns, problems, poverty, unemployment, and legal status, they say about you: 'Never mind her, it's all women's talk' (al-Sharq al-Awsat, October 9, 2005: MEMRI, no. 1012, October 24, 2005)
The liberal Bahraini journalist, 'Umran Salman, explains Arab-Muslim hatred. Hatred in the Arab and Muslim world is a general phenomenon that is not limited only to the Americans. It is possible that the Arabs and Muslims hate each other no less than they hate others. In the 1990s, over 200,000 citizens were killed in Algeria, most of them by extremist Islamic groups. What was the response of most of the Arabs and Muslims?
Presenting justifications for the murderers and terrorists. During those years, the Taliban movement also abused Shi'ites, Azeris, Tajikis, and other minorities, and no one did anything to stop it. In 1990, Saddam Hussein invaded Kuwait, occupied it, and expelled its residents. What was the response of the Arabs and Muslims? Nothing. On the contrary: Most Arabs and Muslims supported Saddam. And in 1991, Saddam murdered hundreds of thousands of Iraqi Shi'ites and Kurds, and Arabs and Muslims did not condemn it.
These days, Arab militias, supported by the Khartoum government, are continuing their racist campaign of annihilation against the African Muslims in Darfour. In Iraq, al-Zarqawi and the terror groups affiliated with him are slaughtering Shi'ites and blowing up their mosques and their schools, after declaring war on them. In both cases, none of the Arabs or the Muslims are acting to prevent this, or even to condemn the deeds.
In total, during a single decade alone no less than half a million Arab and Muslim victims were murdered by Arabs and Muslims. In addition, the religious, ethnic and national minorities in the Arab world, Shi'ites, Isma'ilis, Jews and Christians have been subject to humiliation, persecution, as characterized by racism.
The United States response to terror attacks of September 11, 2001, was aimed at accomplishing three goals:
First, to strike a crushing blow against the al-Qa'idah' and its allies in the Taliban in Afghanistan. This goal was accomplished;
Second, to destroy the despotic regime of Saddam Hussein and of the fascist Ba'th party in Iraq. This goal too was accomplished;
Third, to spread democracy and freedom in the Middle East. This project will continue for decades to come, but will it succeed?
The first blow infuriated the Islamists; the second blow infuriated the pan-Arab nationalists; and the third blow infuriated the Arab regimes. Gradually, an unofficial alliance emerged between these three parties, with the long-term goal to thwart the new American policy.
Since this alliance is too weak to respond militarily, it responds in the media, the educational systems and the mosques with propaganda, as to distort the image of the U.S. in order to make the Arab citizens loathe everything American. This [propaganda] machine operated at full power in order to brainwash the Arab citizens, 24 hours a day, seven days a week, in order to fan the hatred against the U.S. (Mideast Transparent, October 25, 2005: MEMRI, no. 1016, November 2, 2005).
The Liberal Tunisian Dr. Iqbal al-Gharbi, in an article titled "Whither the Arabs and Muslims in the Age of Forgiveness and Pardon?"
The Muslims must take responsibility for their past, must stop blaming others, and must be self-critical. We still insist that we are always the victims, and that we are always innocent. Our history is angelic, our imperialism was a welcome conquest, our invaders were liberators, our violence was a holy jihad, our murderers were Shuhada', and our defective understanding of the Qura'n and the daily violation of the rights of women, children, and minorities were a tolerant Shari'ah.
Since our societies have known, to date, only a culture of resentment, of hatred, and of seeking vengeance [the question arises] whether we are capable of reconsolidating cultural, moral, and humane relations with the other? Is it possible for us to abandon our current cultural heritage that is full of great illusions and of denigration of the other? There is no doubt that aggression, invasions, and wild acts of annihilation are engraved in human history and widespread across the globe amongst both Muslims and non-Muslims.
But what differentiates us today from others is the extent of our awareness of history… and the extent to which we justify in the name of Islam. What is happening today is an attempt to falsify our history in line with the extreme Islamist movements that call for a return to the illusion of the purity of the era of the first caliphs.
This comes at a time when the historical facts show clearly that the [early Islamic] state that we ennoble with an idyllic nature was a state of civil strife. Why are we hiding the facts and misleading our children? Why don't we call things by their name, and set them in their historical context? Why do we insist on beautifying our history and on living outside it?
The new ideological atmosphere obliges us to adopt human rights, and to treat these rights as a cultural value and as an achievement – not as merely a tactical maneuver, waiting for a change in the international balance of power, or for the establishment of an Islamic caliphate. We must take a number of practical steps: we must renounce, once and for all, the Islam that is awash with accusations of unbelief and treachery that divides the world into the camp of Islam and the camp of unbelief, the camp of war and the camp of peace.
This division destroys any serious dialogue between religions and cultures. We must renounce the dhimmi laws, and apologize to the Christian and the Jewish minorities. We must put an end to our changing of the facts, and to the miserable fabrications that we created in an attempt to prove that these minorities enjoyed a high status in the Islamic state. We must assess Islamic history objectively, and issue an historic public apology to the Africans who were abducted, enslaved, and expelled from their homes.
The Arabs and the Muslims played a sizeable role in this loathsome trade. They alone caused the uprooting of 20 million people, from among the victims of the slave trade. We must apologize to the religious minorities and the small schools of Islamic thought, such as the Isma'ili, the Bahai, the Alawi, and the Druze, for the humiliation and denigration they suffered. Why don't the Sunnis ask forgiveness from the Shi'ites for the slaughter at Karbala, and for the assassination of Hussein [the grandson of Muhammad], so as to bring to an end the painful past.
By bearing responsibility for our deeds and mistakes, we will abandon our narcissistic self-aggrandizement. Psychology teaches us that every person and every cultural group becomes more mature as it moves from the stage of placing responsibility and blame on others to the stage of self-examination and self-criticism (Metransparent, October 17, 2005: MEMRI, no. 1019 – November 4, 2005).
Regarding its years-long policy of granting safe haven to Muslim extremists; enabling them to spread their ideas in schools, mosques, and the media; giving them legal protection, in the name of freedom of expression and individual rights; and increased criticism of the "silent Muslim majority" and "moderate Muslim intellectuals", who capitulate to Islamist pressure and do not speak out decisively. Europe must change its lenient treatment of Muslim extremists. Saudi intellectual Mashari al-Dhaydi wrote:
The time has come for those who turn a blind eye to notice that the enemies of freedom have, unfortunately, exploited the atmosphere of freedom provided by the European countries, to spread religious fanaticism everywhere. People who disseminate the ideological and political platform of bin Laden are the greatest enemies of the freedom that the European countries defend. Fundamentalist terrorism knows no borders, and it also threaten the West (al-Sharq al-Awsat, July 12, 2005).
'Abd al-Rahman al-Rashed, director-general of the al-'Arabiya TV channel, called for the expulsion of Muslim extremists:
For over 10 years now, we have warned against the dangers of leniency, not tolerance, in handling the extremism that is now spreading like a plague among Muslims in Britain. We were never understood why British authorities gave safe haven to suspicious characters previously involved in crimes of terrorism. Why would Britain grant asylum to Arabs who have been convicted of political crimes or religious extremism, or even sentenced to death? The terrorist groups make the most of freedom of speech and movement, by spreading extremist propaganda.
The time has come for British authorities to be realistic and resolute regarding extremism, before complete chaos is unleashed onto British society. In the past, we told you: 'Stop them!' Today, we tell you: 'Expel them' (al-Sharq al-Awsat, July 9, 2005).
Incitement on the Internet must be stopped. One terrorist group murders and a group of extremists justify the act, incite, and recruit others. The Internet has become a main tool for the terrorists. This is the most important and effective medium in corrupting Muslims' thinking. The source of intellectual danger today is the media, as a whole, including the Internet. It must be censored (al-Sharq al-Awsat, July 18, 2005).
Arab columnist Diana Mukkaled writes that The BBC "Panorama" special dealt with Islamic leaders in Britain who expressed their support for suicide operations against Israeli civilians yet condemned the London attacks. The questions that preoccupy Europe today is who are the enemies living among us; why do they label others as infidels; and why do they hate us?
British Muslim leaders expressed their viewpoints with the belief that 'We are the believers and the people of paradise and they are the unbelievers and the people of hell'. Such is a language that is present on a daily basis and hardly any [Arab] broadcasting channels are free of such dispute. Yet within the minds of those who propagate these acts, lies the belief that the world will not heed their message when repeated in Arabic on Arab broadcasting channels.
These people will use different terminology when speaking in English on foreign television networks. The world is closely watching of what is written and broadcast in all Arab media. Therefore when a Muslim clerics referring Jews as "grandchildren of monkeys and pigs," it is inevitable that such words will reach millions of people around the world. The problem does not lie in what the BBC said, but rather in what we say (al-Sharq al-Awsat, September 1, 2005).
The Islamist's answer to the liberals' criticism came from British Islamist Dr. 'Azzam al-Tamimi. On August 29, 2005, he argued that Muslim critics are Islam's worst enemies, whereas support from non-Islamic sympathizers is Islam's greatest asset. He calls these liberal writers "traitors" and says that without their help, "Blair and Bush, and the leaders of Australia and New Zealand, would not have dared to act impudently toward Islam and the Muslims… but for the traitors among us," who help them in a "frenzied attempt to destroy Islam." In a BBC interview al-Tamimi stated: sacrificing myself for Palestine is a noble cause. It is the straight way to pleasing Allah, and I would do it if I had the opportunity" (BBC interview: November 2, 2004. al-Quds al-'Arabi, MEMRI, September 7, 2005. No. 980).
al-Tamimi's argument echoes a similar accusation by sheikh Omar Bakri Muhammad, the head of the Islamist al-Muhajirun movement in Britain, who was deported to Lebanon. He termed "the notorious fundamentalist" by the London Arabic-language daily al-Sharq al-Awsat. In his interview, Bakri said: "The Muslim community in Britain allows itself to join the British intelligence, security, and army. Therefore, I consider them responsible before Allah…" He also said, "I accuse those recruited by the British government, and they must account for their actions before Allah."
There is no doubt that the forces of the extreme right and the racist movements and the Zionist lobby in this democratic system have been full of rancor and hatred, and that these events gave them the opportunity to spew their venom. while they justify the violations of human rights, civil liberties and the rule of law, under the pretext of fighting Islamic extremism and terrorism. Despite their small numbers, they are widespread, and the danger posed by those traitors, who reside in the liberal democratic countries is even higher than the rulers of Arab countries. These traitors are a far cry from the giants of the British left, Ken Livingstone and the fighter George Galloway who has allied himself with Muslims. The traitors are a small group full of envy and rancor. In our long-term war of defense against injustice and aggression, we will find in our midst leaders, politicians, writers, and academics standing in the other camp against us. They are the enemy (al-Sharq al-Awsat, August 30, 2005).
The Director of MEMRI Reform Project, has summed up the situation of the few Arab Intellectuals and reformists, stating that they are under threat by the Islamists. The restrictions placed on intellectuals' freedom of expression in the Arab world and the death threats from Islamists are hampering the activities of reformist, secular, and moderate Arab intellectuals. Many of them have found asylum in Western countries, and are attempting to impact Arab and international public opinion from there. Some have stopped writing; others have been forced to request protection from the authorities (MEMRI, November 23, 2005, no. 254). This horrific situation has much worsened through the years to 2016:
Muhammad Sa'id al-'Ashmawi, an Egyptian judge and author, threatened for his interpretation of Quoraanic verses according to their historical context, which was perceived by Islamists as undermining their religious validity.
Dr. Ahmad Al-Baghdadi, a reformist author who teaches political science at Kuwait University, published a public request for political asylum in a Western country. Accused of contempt for Islam, after he wrote in June 2004, in a Kuwaiti paper, that he would prefer his son study music rather than Qur'an. Claimed that there is a connection between studying Islam and reciting the Qur'an, and terrorism and intellectual backwardness.
Lafif al-Akhdar, accused of an anti-Islamic book defaming Muhammad. He issued a call urging civil society organizations around the world, and especially human rights organizations, to take legal measures to protect him. His chief accuser is Rashed al-Ghanushi, one of the extremist Islamists who enjoys political asylum in Britain, incites extremist Islamists to kill al-Akhdar.
Sayyed Al-Qimni, an Egyptian reformist author and researcher received death threats from Islamists, announced in July 2005, that he was retracting everything he had written in the past, and would no longer write or appear in the media. He had been spared a fate similar to that of the assistant editor of the al-Ahram, Ridha Hilal, who disappeared in August 2003 and the Egyptian security services have been unable to locate him or to discover what befell him.
Arab intellectual reaction to this was: what is the difference between killing a man with a gun and issuing a fatwah permitting his killing? We all know how these stories end: somebody accuses someone else of heresy and a third person, seeking reward in the hereafter, physically eliminates the one accused of heresy. The clerics who incite to terrorism are inciting the Muslim youth to carry out suicide acts and to murder innocent people. This is an incitement to murder the free intellectuals who call for democracy, secularism, and modernism. This is a religious terrorism.
Dr. Shaker al-Nabulsi accused Arab governments, which cannot do anything when it comes to clerics who sanction bloodshed. What have the Arab authorities done about Sheikh Al-Qaradhawi? What have the Western governments done about Rashed Al-Ghanushi, who lives in London? And what has Saudi Arabia done about the 26 clerics who published a fatwah legitimizing jihad in Iraq, which is, in essence, pure terrorism?
The international community should establish an international tribunal to try these people. The terror against the intellectuals reveals the cultural bankruptcy of the Arab regimes and of the Arab peoples. By Allah, the West should not be condemned for thinking that every Muslim is a terrorist, when it sees all these shameful deeds and the Muslims remain as silent as the dead.
The martyrs of free thought are such as Farag Foda [an Egyptian intellectual who was assassinated by fundamentalists] Hussein Muruwwa and Mahdi 'Amel [Lebanese intellectuals who were assassinated by fundamentalists], Mahmoud Taha [a Sudanese intellectual who was executed by Hassan al-Turabi], Ahmad Al-Baghdadi [a Kuwaiti intellectual who was jailed for his views].
Erdogan's Calamitous Authoritarianism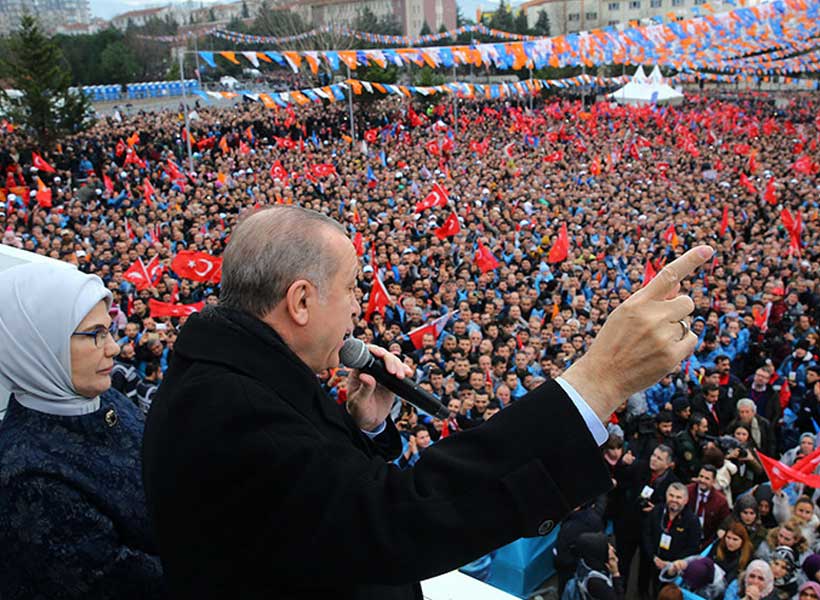 Turkey's President Erdogan is becoming ever more dangerous as he continues to ravage his own country and destabilize scores of states in the Middle East, the Balkans, and North Africa, while cozying up to the West's foremost advisories. Sadly, there seems to be no appetite for most EU member states to challenge Erdogan and put him on notice that he can no longer pursue his authoritarianism at home and his adventurous meddling abroad with impunity.
To understand the severity of Erdogan's actions and ambitions and their dire implications, it suffices to quote Ahmet Davutoglu, formerly one of Erdogan's closest associates who served as Minister of Foreign Affairs and subsequently Prime Minister. Following his forced resignation in May 2016 he stated "I will sustain my faithful relationship with our president until my last breath. No one has ever heard — and will ever hear — a single word against our president come from my mouth."
Yet on October 12, Davutoglu declared "Erdogan left his friends who struggled and fought with him in exchange for the symbols of ancient Turkey, and he is trying to hold us back now…. You yourself [Erdogan] are the calamity. The biggest calamity that befell this people is the regime that turned the country into a disastrous family business."
The stunning departure of Davutoglu from his earlier statement shows how desperate conditions have become, and echoed how far and how dangerously Erdogan has gone. Erdogan has inflicted a great calamity on his own people, and his blind ambition outside Turkey is destabilizing many countries while dangerously undermining Turkey's and its Western allies' national security and strategic interests.
A brief synopsis of Erdogan's criminal domestic practices and his foreign misadventures tell the whole story.
Domestically, he incarcerated tens of thousands of innocent citizens on bogus charges, including hundreds of journalists. Meanwhile he is pressuring the courts to send people to prison for insulting him, as no one can even express their thoughts about this ruthlessness. Internationally, Erdogan ordered Turkish intelligence operatives to kill or smuggle back to the country Turkish citizens affiliated with the Gülen movement.
He regularly cracks down on Turkey's Kurdish minority, preventing them from living a normal life in accordance with their culture, language, and traditions, even though they have been and continue to be loyal Turkish citizens. There is no solution to the conflict except political, as former Foreign Minister Ali Babacan adamantly stated on October 20: "… a solution [to the Kurdish issue] will be political and we will defend democracy persistently."
Erdogan refuses to accept the law of the sea convention that gives countries, including Cyprus, the right to an Exclusive Economic Zone (EEZ) for energy exploration, while threatening the use of force against Greece, another NATO member no less. He openly sent a research ship to the region for oil and gas deposits, which EU foreign policy chief Josep Borrell called "extremely worrying."
He invaded Syria with Trump's blessing to prevent the Syrian Kurds from establishing autonomous rule, under the pretext of fighting the PKK and the YPG (the Syrian Kurdish militia that fought side-by-side the US, and whom Erdogan falsely accuses of being a terrorist group).
He is sending weapons to the Sunni in northern Lebanon while setting up a branch of the Turkish Cooperation and Coordination Agency (TIKA) in the country—a practice Erdogan has used often to gain a broader foothold in countries where it has an interest.
While the Turkish economy is in tatters, he is investing hundreds of millions of dollars in the Balkans, flooding countries with Turkish imams to spread his Islamic gospel and to ensure their place in his neo-Ottoman orbit. Criticizing Erdogan's economic leadership, Babacan put it succinctly when he said this month that "It is not possible in Turkey for the economic or financial system to continue, or political legitimacy hold up."
Erdogan is corrupt to the bone. He conveniently appointed his son-in-law as Finance Minister, which allows him to hoard tens of millions of dollars, as Davutoglu slyly pointed out: "The only accusation against me…is the transfer of land to an educational institution over which I have no personal rights and which I cannot leave to my daughter, my son, my son-in-law or my daughter-in-law."
Erdogan is backing Azerbaijan in its dispute with Armenia (backed by Iran) over the breakaway territory of Nagorno-Karabakh, which is inhabited by ethnic Armenians and has been the subject of dispute for over 30 years.
He is exploiting Libya's civil strife by providing the Government of National Accord (GNA) with drones and military equipment to help Tripoli gain the upper hand in its battle against Khalifa Haftar's forces. Former Foreign Minister Yasar Yakis said in February 2020 that "The unclear Turkish foreign policy by Erdogan may put Turkey in grave danger due to this expansion towards Libya."
He is meddling in the Israeli-Palestinian conflict in an effort to prevent them from settling their dispute unless Israel meets Palestinian demands. He granted several Hamas officials Turkish citizenship to spite Israel, even though Hamas openly calls for Israel's destruction.
He betrayed NATO by buying the Russian-made S-400 air defense system, which seriously compromises the alliance's technology and intelligence.
He is destabilizing many countries, including Somalia, Qatar, Libya, and Syria, by dispatching military forces and hardware while violating the air space of other countries like Iraq, Cyprus, and Greece. Yakis said Turkey is engaging in a "highly daring bet where the risks of failure are enormous."
Erdogan supports extremist Islamist groups such as the Muslim Brotherhood and Hamas, and an assortment of jihadists, including ISIS, knowing full well that these groups are sworn enemies of the West—yet he uses them as a tool to promote his wicked Islamic agenda.
He regularly blackmails EU members, threatening to flood Europe with Syria refugees unless they support his foreign escapades such as his invasion of Syria, and provide him with billions in financial aid to cope with the Syrian refugees.
The question is how much more evidence does the EU need to act? A close look at Erdogan's conduct clearly illuminates his ultimate ambition to restore much of the Ottoman Empire's influence over the countries that were once under its control.
Erdogan is dangerous. He has cited Hitler as an example of an effective executive presidential system, and may seek to acquire nuclear weapons. It's time for the EU to wake up and take Erdogan's long-term agenda seriously, and take severe punitive measures to arrest his potentially calamitous behavior. Sadly, the EU has convinced itself that from a geostrategic perspective Turkey is critically important, which Erdogan is masterfully exploiting.
The EU must be prepared take a stand against Erdogan, with or without the US. Let's hope, though, that Joe Biden will be the next president and together with the EU warn Erdogan that his days of authoritarianism and foreign adventurism are over.
The views expressed are those of the author.
Syrian Refugees Have Become A Tool Of Duplicitous Politics
Since the beginning of the conflict in Syria the issue of Syrian refugees and internally displace has been the subject of countless articles and reports with international humanitarian organizations and countries involved in the Syrian conflict shifting responsibility for the plight of migrants.
The most notorious example of human suffering put against political games is the Rukban refugee camp located in eastern Syria inside the 55-km zone around Al-Tanf base controlled by the U.S. and its proxies.
According to official information, more than 50,000 people, mostly women and children, currently live in the camp. This is a huge number comparable to the population of a small town. The Syrian government, aware of the plight of people in Rukban, has repeatedly urged Washington to open a humanitarian corridor so that everyone can safely return home. However, all such proposals were ignored by the American side. U.S. also refuse to provide the camp with first aid items. Neighbouring Jordan is inactive, too, despite Rukban being the largest of dozens other temporary detention centres in Syria, where people eke out a meager existence.
At the same time, the problem is not only refugee camps. Syria has been at war for a decade. The country's economy has suffered greatly over this period, and many cities have been practically grazed to the ground. Moreover, the global coronavirus epidemic didn't spare Syria and drained the already weakened economy even more. However, Damascus' attempts of post-war reconstruction and economic recovery were undermined by multiple packages of severe sanctions imposed by the U.S. At the same time, U.S.-based human rights monitors and humanitarian organizations continue to weep over the Syrian citizens' misery.
The situation is the same for those refugees who stay in camps abroad, especially in countries bordering on Syria, particularly Jordan and Turkey. Ankara has been using Syrian citizens as a leverage against the European states in pursuit of political benefits for a long time. No one pays attention to the lives of people who are used as a change coin in big politics. This is equally true for Rukban where refugees are held in inhuman conditions and not allowed to return to their homeland. In those rare exceptions that they are able to leave, refugees have to pay large sums of money that most of those living in camp are not able to come by.
It's hard to predict how long the Syrian conflict will go on and when – or if – the American military will leave the Al-Tanf base. One thing can be said for sure: the kind of criminal inaction and disregard for humanitarian catastrophe witnessed in refugee camps is a humiliating failure of modern diplomacy and an unforgivable mistake for the international community. People shouldn't be a tool in the games of politicians.
Is Syria Ready For Second Wave Of COVID-19?
Despite a relative calm that has been holding on the front lines of the Syrian conflict since the beginning of the year, Syria had to face other equally – if not more – serious challenges. The spread of COVID-19 virus in the wake of a general economic collapse and a health care system battered by nine years of war threatened Syria with a death toll as a high as that of resumed military confrontation. However, the actual scale of the infection rate turned out to be less than it was expected considering the circumstances.

Although Syria did not have much in resources to mobilize, unlike some other countries that were slow to enforce restrictions or ignored them altogether, the Syrian authorities did not waste time to introduce basic measures that, as it became obvious in hindsight, proved to be the most effective. A quarantine was instituted in the areas controlled by the government, all transportation between the provinces was suspended, schools and universities were temporarily closed and face masks were made obligatory in public spaces.

As a result, official data puts the number of people infected with COVID-19 in the government areas at modest 4,457 while 192 people died of the infection. In turn, the Autonomous Administration of North and East Syria announced that 1,998 people contracted the virus. The data on the infection rate in the opposition-controlled areas in Idlib and Aleppo is incomplete, but the latest number is 1,072. Compared to the neighboring Turkey with 9,000 of deaths of COVID-19, Syria seems to be doing relatively well.

Tackling the virus put the already embattled health care system under enormous strain. Syrian doctors are dealing with an acute shortage of medicines and equipment, and even hospital beds are in short supply. Over 60 medical workers who treated COVID-19 patients died.

The situation is worsened even further by the economic hardships, not least due to the sanctions imposed on Syria by the U.S. and the European states. Syrian hospitals are unable to procure modern equipment necessary for adequate treatment of COVID-19, most importantly test kits and ventilators.

The economic collapse exposed and aggravated many vulnerabilities that could have been easily treated under more favorable circumstances. A grim, yet fitting example: long queues in front of bakeries selling bread at subsidised prices, that put people under the risk of catching the virus. Many Syrians are simply unable to avoid risking their health in these queues, as an average income is no longer enough to provide for a family.

Moreover, despite a nation-wide information campaign conducted with the goal of spreading awareness about means of protections against COVID-19 like social distancing and mask-wearing, for many Syrians the disease is still stigmatized, and those who contracted it are often too ashamed to go to a hospital or even confess to their friends. As consequence, a substantial number of cases goes unreported.

With the second wave of COVID-19 in sight, it is of utmost importance that the work of health care professionals is supported, not subverted by the citizens. Otherwise Syria – and the world – may pay too high a price.