India-Israel attuned ambitions
[yt_dropcap type="square" font="" size="14″ color="#000″ background="#fff" ] W [/yt_dropcap] hile coming to power on May 2014, Prime Minister Narendra Modi concerted efforts to infuse a new momentum in Indo-Israel relations.
How to explain this?
India's relation with Israel dates back to 1950's, when India first recognized Israel. Since then Israel has laid down a red carpet to compartmentalize their relations. Fast forwarding to 1992, there has been a steady strengthening of bilateral ties between both states, adding that there exists a room for rapid growth and potential for their relation to bloom. Full diplomatic relations with Israel have reached to a newer height from economic to social and security level, making India one of the largest trading partner in defense as well.
Under Prime Minister Modi, Israel defense ties with India have been regarded as close and expected to get even closer. Their relation is based on intensifying contacts in the fields of not only agriculture, but also science and technology, cyber and defense.
What changed the dynamics of their relation was the Kargil crisis of 1999, where India received unprompted supplies of arms, ammunition and military support making Israel the biggest arms supplier to India, keeping their nuclear relationships under the conundrum.
Defense Procurement
Keeping in mind the unfolding developments in the region, unfortunately, the most domineering thing that is happening in the Asian region is instability. The strength of Indo-Israel growing defense partnership pertains importantly from a period of 2004 to 2014, where there has been a massive flow of military equipment from Israel to India, which is threatening peace and stability in the region.
Missile Development
India also opted to buy an estimated amount of 8,000 Israel's Spike anti-guided missile with more than 300 launchers, denying U.S. offer of Javelin missiles that Washington had lobbied hard to win. These perks are significant in escalating the arms procurement in the subcontinent. In 2006, a five-year contract, amounting to $480 million was concluded between Israel Aerospace Industries (IAI) and Indian Defense Research Development Organization (DRDO).
Following the delayed deal of Barak missile which was developed jointly was a boost to India's maritime anti-air warfare capabilities. Not only both states have maintained, but also enhanced cooperation while encompassing production of small arms. Nonetheless, if one looks closely, other technologies including surface-to-air missile, Delilah II, Popeye beyond-visual-range air-to-air missile, Pechora III, and crystal maze bond are also on the export list of Israel to India.
More interestingly, military relations between the two are fervently speculated as an unfinished agenda. For example, Israeli defense minister visited India back in 2015, boosting their arms venture which was between Israel's Rafael Advanced Defense Systems and India's Kalyani Group. Where, India already has invested $143 million to purchase Barak 1.
Sale of Falcon AWACS
India is also said to be considering to purchase Israel-made Airborne Early Warning and Control Systems (AWACS) surveillance aircraft. AWACS surveillance aircraft can simultaneously track flying objects within a radius of 800km and has a look down capacity to monitor movements on the ground and/or sea.
Given the huge and developing level of cooperation between the two nations, Indian Special Forces (ISF) are also getting training from Israel, which are then deployed in the troubled region of Kashmir.
In fact, the transformational shift in Indian policy for developing more cordial relations with Israel is to endeavor its military modernization and replacing aged Russian hardware. But the likely prognosis that will arise is the effect of aforesaid new trends in the region for acquiring more arms and lesser peace initiatives.
This monumental regional realignment necessitates that India needs to understand the correct definition of business target rather than an arms procurement target. The emerging nexus call for the seriousness of Pakistan as to understand the gravity of the situation and emerging security constraints to their sovereignty and survival. India had always been taking cover of the anti-Pakistan power blocks and stockpiling its already un-proportionate armada to sky limits so as to maintain a credible threat constantly looming over the security of Pakistan.
Indeed, this upswing in relation envisioned towards regional security which obligates important questions like: Where is this bilateral bonhomie heading? What will be the implications of their immense defense and arms procurement? This will alter the more promising situation of balance of power in South Asia and in larger Asian region which already is in a state of flux. Keeping in mind the undergoing changes, this bilateral relationship needs to be watched carefully as it is hosting threats and challenges like fueling arms race in the region.
Does NATO respond positively to the Turkish supererogation?
Turkey is once again turning to the West, while over the past two years, it had been distancing from the West and trying to collaborate with Russia due the success of the Astana peace process on the Syrian conflict.
Damascus's strategic patience is over because Ankara has failed to fulfill its commitments regarding retaking the areas captured by terrorists backed by Turkey. The Syrian army's widespread advances over the last two weeks in areas occupied by terrorist forces in the northwest have led to Ankara's reaction and increased tensions between Syria and Turkey. Along with wresting control over the strategic Damascus-Aleppo highway, the Syrian army carried out successful operations in recapturing 1500 km2 of Syrian territory and about 100 towns and villages in west and south Aleppo, especially key towns of Khan Tuman and Saraqib. Following the Syrian army's operations, the Turkish government has sent thousands of troops and military equipment to the outskirts of Idlib to prevent the continued advance of the Syrian forces.
Turkey's moves were due to greenlight by the U.S., NATO, and the EU, which have so far not been in Ankara's favor; rather they have resulted in massive casualties and the loss of six military bases in Syria's territory.
Recently, Turkish Defense Minister Hulusi Akar called on the North Atlantic Treaty Organization to support the Turkish military in order to halt the Syrian army's offensive against Idlib, the stronghold of the latest Turkish-backed terrorist elements.
Obviously, the move by Turkey has broken the commitments to the Sochi agreement and the Astana process, with the aim of holding its place in NATO. This is a wish that seems unlikely to come true, given the chaotic situation of NATO and the West's distrust of Turkey.
Accordingly, it is certain that Idlib and its outskirts will soon be completely liberated because of the high motivation and ability of the Syrian army. The liberation will definitely thwart all hostile policies that Turkey has adopted in Syria for many years and will bring heavy defeat for Ankara.
The developments in Syria in recent days shows that Turkey is no longer trustworthy as it has explicitly violated Syria's sovereignty as an independent state. There have been some accords on Syria, such as the Sochi agreement, regarding the establishment of a safe zone in Idlib, while Turkey has not considered the slightest value for the agreements.
From our partner Tehran Times
Lithuania: To serve or not to serve in the army
It is well known that in 2015 Lithuanian authorities reintroduced compulsory military service due to the potential threat caused by the Russian Federation.
It should be said, that young Lithuanians do not appreciate the idea and try to avoid the service in every possible way. They even are not afraid of penalties and imprisonment.
In order to force them to serve Lithuanian authorities are inventing new "tools" to make the process of avoidance the conscription harder.
From the beginning of 2015 all Lithuanian men aged 19-26 had to perform compulsory military service in the Lithuanian Armed Forces for a period of 9 months if fate decided.
The matter is the way of choosing the men who will serve is more than surprising. They say that 2 percent of men are randomly selected to complete vacancies in the army within the year. The lists of military conscripts then are published on the Internet. But "randomly" could also mean "nobody knows how they are selected."
At the beginning of this year authorities lowered the age range at which men are called up for mandatory military service to 18-23 years and banned volunteer soldiers from holding seats in the parliament and municipal councils.
Defence Minister Raimundas Karoblis said that the aim of lowering the conscription age is to ensure that conscripts' military service causes the minimum possible disruption to their civilian lives.
The matter is the way of choosing the men who will serve is more than surprising. They say that 2 percent of men are randomly selected to complete vacancies in the army within the year. The lists of military conscripts then are published on the Internet. But "randomly" could also mean "nobody knows how they are selected."
In reality the Ministry of National Defence can't meet its recruitment goals.
The system includes Lithuanians living abroad who are forced to leave their home and come back for the service. The government of Lithuania doesn't care that men living overseas have their personal life, own career paths and financial responsibilities.
The military authorities are trying to take immigrants for service on purpose, not caring about their personal problems, including health issues and financial commitments.
They also discriminate homosexual men by giving them specific tests to find out how gay they are, including a talk with the psychiatrist. Because homosexuality is still a sickness in Lithuania, with existing laws against gay people.
A lot of Lithuania men who decided not to come back for the service, are often wanted by police, and in some circumstances might end up in prison for up to 3 years.
Thus, in December 2019, 24-year-old Marius H. from Kedainiai was prosecuted for not visiting the military registration and enlistment office, but did not change his position. He said later that he would not go to serve, it is not in his interests. He has a well-paid job in Belgium and is not going to change his way of life. So he paid penalty (800 euros) and left for Belgium. And he is not the only one in the country who has made such choice.
Evidently, it is impossible to solve the problem in that way, using methods of coercion and punishment. Unfortunately, reintroducing of compulsory military service was the decision of the authorities, finding the ways to avoid it is the choice of youth. If the government doesn't respect the citizens, the citizens have a right not to obey their decisions.
Assessing India's Enhanced Air Defence Shield with reference to Pakistan's MIRV Capabilities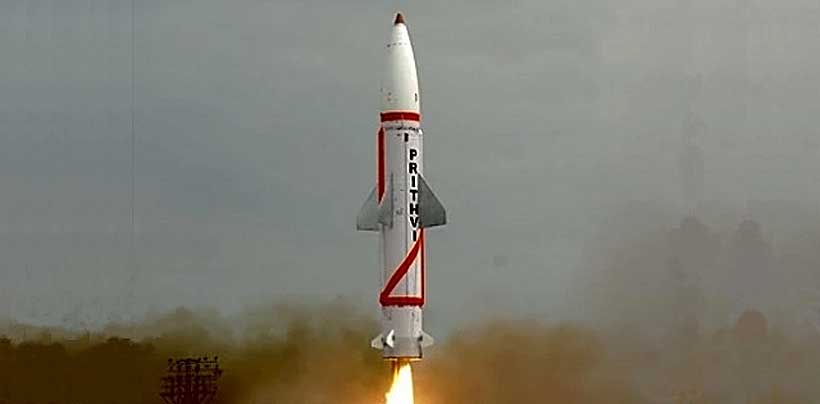 Since the last few years, India has been continuously carrying out an extensive military modernization program aimed at enhancing its counterforce capabilities vis-à-vis Pakistan. Under this notion, one of its most important components is the enhancement of its air defence capabilities aimed at providing an extensive multi-layered air defence shield. This has been done partly by combining indigenously developed systems with some of the world's most expensive and advanced Missile Defence Systems which India has been purchasing over the last few years. Pakistan, due to its economic constraints cannot compete with India on a tit for tat basis. Hence, to address such a threat, Pakistan, for the time being, seems to be enhancing its indigenously developed Multiple Independent Reentry Vehicle (MIRV) capabilities. These, in turn, are aimed at accurately penetrating the Indian Air Defense network that is being currently developed, by swarming it with a plethora of smarter and precision-based warheads to devastating effect.
At present, India possesses and intends to acquire various air defence systems in its missile defence inventory. These include indigenously developed ballistic missile defence systems such as the Prithvi Air Defence (PAD) missiles, the Advanced Air Defence (AAD) Ashwin missiles and the Barak-8 missile defence system which has been jointly developed with Israel. Furthermore, to enhance its future capabilities, India had also signed an agreement with Russia for the acquisition of the S-400 anti-missile system back in October 2018, the delivery of which is expected in October this year. In another significant development, India reportedly intends to acquire the 'National Advanced Surface to Air Missile System-II (NASAMS-II), a medium-range missile system from the US. India's acquisition of advanced missile defence systems such as these would thus likely destabilize the pre-existing deterrence framework in South Asia, as it would embolden India to consider countering Pakistan's existing range of warhead delivery systems such as its ballistic missiles, cruise missiles, fighter jets, and unmanned aerial vehicles with greater impunity.
In order to restore stability, Pakistan has two choices; firstly, in the long term, to purchase similar, albeit expensive missile defence systems from the international market – such as from Russia and/or China. A tall prospect which already seems difficult given the country's economic difficulties. Secondly, to counter the Indian advanced air defence shield while staying within its existing doctrinal posture, it seems that the induction of an increased number of MIRV capable ballistic missiles appears as the more plausible and immediate solution.
It is worth mentioning here that Pakistan's Ababeel Ballistic Missile, a medium-range ballistic missile, which it had tested in January 2017, is believed to have introduced MIRV technology into Pakistan's nuclear arsenal with its reported range of 2200 kilometers. Pakistan's rationale for achieving this milestone is widely believed to be inclined towards neutralizing a broad range of the expected outcomes of India's military modernization drive, including the threat from its enhanced missile defence systems. This is further evident in the statements of Pakistan Military Officials, in which they have clearly stated that the development of the Ababeel weapon system is aimed at ensuring the survivability of Pakistan's ballistic missiles 'keeping in view the growing regional Ballistic Missile Defence (BMD) environment', hence further reinforcing nuclear deterrence.
In the same vein, there is widespread speculation that Pakistan's recently tested short-range ballistic missile Ghaznavi – with its operational range of 290 kilometers – is also MIRV capable. No matter the validity of such speculation, there is still an ongoing debate questioning whether Pakistan needs to have such a short-range MIRV capable ballistic missile. Particularly keeping in view India's counterforce designs which highlight an apparent shift towards nuclear counterforce and the notions of 'splendid first strike' and surgical strikes against Pakistan. A strategy that is, in turn, directly linked to its Air Defence modernization plans because such counterforce temptations might provoke Pakistani retaliation. Hence, the road-mobile Ghaznavi missile, based on its accuracy and, shorter range and flight times could thus be a prospective platform for being a MIRV capable delivery system aimed at penetrating the Indian Air Defence shield. Hence, for Pakistan, the provision of such short-range MIRV capable ballistic missiles like Ghaznavi would likely serve as a key deterrent against the Indian advanced air defence shield.
At the present, Pakistan by being overtly threatened by the ruling BJP government still holds a principled stance in working towards bringing about lost peace and stability in the South Asian region. However, Indian aspirations as evident in its ambitious military modernization plans have compelled Pakistan to take all possible measures to assure its security and preserve its sovereignty. As such Pakistan may need to expand its strategy of playing its cards close to its chest particularly when taking into account India's ongoing expansion of its Air Defence shield. In this regard, the induction and perhaps even testing of a medium to short-range MIRV capable missile seems to be the only way out, at least for the time being.