Aleppo under siege: USA lets Russia claim diplomatic advantage
[yt_dropcap type="square" font="" size="14″ color="#000″ background="#fff" ] C [/yt_dropcap] onflicts in Middle East resembling a new World War launched by Bush administration to ensure energy security, are now focused on Syria where many foreign powers, led by USA one the one hand and Russia on the other, are targeting Muslims in Sunni nation ruled by a Shiite Assad who apparently wants to rule the nation of Syrians forever.
Syria has been under siege for years since the onset of Arab Spring and both the government and the Opposition forces keep claiming victories off and on but the war continues, killing and mutilating Syrians.
Bush Junior has made the US government a war machine fully engaged invasions, destabilization, destructions. US generals have demonstrated an impressive aptitude for moving pieces around on a dauntingly complex military chessboard in Islamic world. Brigades, battle groups, and squadrons shuttle in and out of various war zones, responding to the needs of the moment. The lesser theaters of conflict, largely overlooked by the American public, that in recent years have engaged the attention of US forces, a list that would include conflicts in Libya, Somalia, Syria, and Yemen. This engagement in wars have made Islamic world insecure. Saudi Arabia and Iran have been spared so far essentially for strategic reasons. The two principal conflicts of the post-9/11 era: the Afghanistan War, now in its 16th year, and the Iraq War, launched in 2003 and (after a brief hiatus) once more grinding on. Wars have helped USA control entire world.
Syria seems to have slipped out of US control and fallen into Russian orbit. Five years since the conflict began, more than 250,000 Syrians have been killed in the fighting, and almost 11 million Syrians – half the country's prewar population – have been displaced from their homes. In 2011, what became known as the "Arab Spring" revolts toppled Tunisian President Zine El Abidine Ben Ali and Egyptian President Hosni Mubarak. That March, peaceful protests erupted in Syria as well, after 15 boys were detained and tortured for having written graffiti in support of the Arab Spring.
The Syrian government, led by President Bashar al-Assad, determined to stay in power at any cost, responded to the protests by killing hundreds of demonstrators and imprisoning many more. In July 2011, defectors from the military announced the formation of the Free Syrian Army, a rebel group aiming to overthrow the government, and Syria began to slide into civil war. Initially, lack of freedoms and economic woes fuelled resentment of the Syrian government, and public anger was inflamed by the harsh crackdown on protesters. Successful uprisings in Tunisia and Egypt energized and gave hope to Syrian pro-democracy activists. Many Islamist movements were also strongly opposed to the Assad's' rule.
Assad control of Aleppo city parts
Reports suggest that Syrian government forces have captured a key part of eastern Aleppo, splitting rebel-held territory. Both state TV and the monitoring group, the Syrian Observatory for Human Rights, said that the district of Sakhour had fallen to the Syrian army.
The Syrian army and their allies launched a major offensive to retake control of Aleppo in September. Thousands of civilians have fled rebel-held eastern Aleppo districts after a weekend of heavy fighting. Hundreds of families have also been displaced within the besieged area. Russia says its air force is active in other parts of the country, but not operating over Aleppo. While it is very difficult to find out exactly what is happening in besieged eastern Aleppo, several key districts appear to have fallen to the government, leaving very little, if any, of the northern part of the rebel-held enclave still under the rebels' control.
There were 250,000 people in need of assistance in eastern Aleppo, 100,000 of them children. The situation on the ground in eastern Aleppo is almost beyond the imagination of those of us who are not there. State TV quoted a Syrian military source as saying that government forces "are continuing their advance in eastern neighborhoods of Aleppo". The US led opposition had lost more than third of the area it controlled in Aleppo city during the recent advance. The east of Aleppo has been held by rebel factions opposed to President Bashar al-Assad for the past four years. In the past year, Syrian troops have broken the deadlock with the help of Iranian-backed militias and Russian air strikes. Things have turned out very differently.
Meanwhile, Russia has rejected US calls to halt bombing eastern Aleppo. Western observers have been generally impressed by Russia's deployment in Syria, mainly reflecting a sense of disbelief that they proved to be capable of planning, executing and sustaining such a complex operation and dealing with the logistical issues involved in supplying forces at great distance from Russia.
As reports coming in, the Assad government currently controls the capital, Damascus, parts of southern Syria, portions of Aleppo and Deir Az Zor, much of the area near the Syrian-Lebanese border, and the northwestern coastal region. Rebel groups, ISIL, and Kurdish forces control the rest of the country.
Rebel groups continue to jockey against one another for power, and frequently fight each other. The Free Syrian Army has weakened as the war has progressed, while explicitly Islamist groups, such as the al-Nusra Front, which has pledged allegiance to al-Qaeda, and the Saudi-backed Islamic Front have gained in strength.
Syria under threat
In March 1971, Hafez al-Assad, an Alawite, declared himself President, a position that he held until his death in 2000. Since 1970, the secular Syrian Regional Branch has remained the dominant political authority in what had been a one-party state until the first multi-party election to the People's Council of Syria was held in 2012.
On 31 January 1973, Assad implemented the new Constitution which led to a national crisis. Unlike previous constitutions, this one did not require that the President of Syria must be a Muslim, leading to fierce demonstrations in Hama, Homs and Aleppo organized by the Muslim Brotherhood and the ulema. They labeled Assad as the "enemy of Allah" and called for a jihad against his rule Robert D. Kaplan has compared Assad's coming to power to "an untouchable becoming maharajah in India or a Jew becoming tsar in Russia—an unprecedented development, shocking the Sunni majority population which had monopolized power for so many centuries." The regime survived a series of armed revolts by Sunni Islamists, mainly members of the Muslim Brotherhood, from 1976 until 1982.
In 2000, Bashar al-Assad took over as President of Syria upon Hafez al-Assad's death. He initially inspired hopes for democratic reforms. A Damascus Spring of social and political debate took place between July 2000 and August 2001The Damascus Spring largely ended in August 2001 with the arrest and imprisonment of ten leading activists who had called for democratic elections and a campaign of civil disobedience In the opinion of his critics, Bashar Assad had failed to deliver on promised reforms.
The Assad government opposed the US invasion and occupation of Iraq. The Bush administration then began to destabilize the regime by increasing sectarian tensions, showcasing and publicizing Syrian repression of Kurdish and Sunni groups, and financing political dissidents. Assad also opposed the Qatar-Turkey pipeline in 2009. A classified 2013 report by a joint U.S. army and intelligence group concluded that the overthrow of Assad would have drastic consequences, as the opposition supported by the Obama regime was dominated by jihadist elements.
Syria is now a major war theater where foreign forces are busy killing Muslims and destroying the nation. .
In the history of Syria – a Sunni nation- many events contributed to its gradual weakening. In the recent past, a severe drought plagued Syria from 2007-10, spurring as many as 1.5 million people to migrate from the countryside into cities, which exacerbated poverty and social unrest. Although the initial protests were mostly non-sectarian, armed conflict led to the emergence of starker sectarian divisions.
In 1982, Bashar al-Assad's father, Hafez, a Shiite, ordered a military crackdown on the Sunni led Muslim Brotherhood in Hama, which killed between 10,000-40,000 people and flattened much of the city.
Recently, even global warming has been claimed to have played a role in sparking the 2011 uprising.
Although most Syrians are Sunni Muslims, Syria's security establishment has long been dominated by members of the Alawite sect, of which Assad is a member.
Having left with no alternatives, no polls Sunnis and minority religious groups tend to support the Assad government, while the overwhelming majority of opposition fighters are Sunni Muslims.
The sectarian split is reflected among regional actors' stances as well. The governments of majority-Shia Iran and Iraq support Assad, as does Lebanon-based Hezbollah; while Sunni-majority states including Turkey, Qatar, Saudi Arabia and others staunchly support the rebels.
Foreign backing and open intervention have played a large role in Syria's civil war. An international coalition led by the USA has bombed targets of the Islamic State of Iraq and the Levant (ISIL, also known as IS and ISIS and there could be more to be invented by CIA and Pentagon) group since 2014.
In 2013, ISIL emerged in northern and eastern Syria after overrunning large portions of Iraq. Meanwhile, Kurdish groups in northern Syria are seeking self-rule in areas under their control. This has alarmed Turkey's government, which fears its large native Kurdish population may grow more restive and demand greater autonomy as a result. In response to attacks within Turkey, the Turkish government has bombed Kurdish targets in Syria. Kurdish groups have also clashed with al-Nusra Front and ISIL.
It appears USA and Russia had informally decided to take opposite sides in Syrian War Theater. In September 2015, Russia launched a bombing campaign against what it referred to as "terrorist groups" in Syria, which included ISIL as well as rebel groups backed by Western states. In October 2015, the USA scrapped its controversial program to train Syrian rebels, after it was revealed that it had spent $500m but only trained 60 fighters.
Russia has also deployed military advisers to shore up Assad's defences. Several Arab states, along with Turkey, have provided weapons and materiel to rebel groups in Syria. Many of those fighting come from outside of Syria. Lebanese members of Hezbollah are fighting on the side of Assad, as are Iranian and Afghan fighter.
Although the USA has stated its opposition to the Assad government, it has hesitated to involve itself deeply in the conflict, even after the Assad government allegedly used chemical weapons in 2013, which US President Barack Obama had previously referred to as a "red line" that would prompt intervention.
Fluid situation and enter Russia
Syrian war is a multi-sided armed conflict in Syria in which international interventions have taken place. The war grew out of the unrest of the 2011 Arab Spring and escalated to armed conflict after President Bashar al-Assad's government violently repressed protests calling for his removal. The war is being fought by several factions: the Syrian Government and its various supporters, a loose alliance of Sunni Arab rebel groups (including the Free Syrian Army), the Syrian Democratic Forces, Salafi jihadist groups (including al-Nusra Front) who often co-operate with the Sunni rebels, and the ISIL. The factions receive substantial support from foreign actors, leading many to label the conflict a proxy war waged by both regional and global powers.
As Assad government was facing rout at the crushing attacks of US led Opposition forces, Russia came to the rescue of Assad and his rule. Russian forces, enjoying a free hand in Syria, have been operating in support of the government of President Bashar al-Assad in Syria for a year. Their impact has been significant. When they arrived, there were fears that government forces were close to collapse. This position has largely been reversed. It is the Syrian government – while still fragile – that is now on the offensive with a brutal bid to recapture the whole of the city of Aleppo. Initially seen by US analysts through the prism of recent Western military involvements in the region, many pundits were quick to dismiss the Russian effort as likely to fail. The Russian military, it was said, was not up to expeditionary warfare. Russia would quickly find itself bogged down in a Syrian quagmire.
Russia carries out its first air strikes on 30 September 2015 and Syria says it requested intervention to help in "the fight against terrorism". On 10 November 2015 the Syrian army, aided by Russian strikes, lifts two-year-long siege by IS on the key Kuwairis airbase in eastern Aleppo province, marking its first victory against IS since the Russian intervention.
Obviously, on instruction from Washington, Turkey shot down on 24 November a Russian Su-24 fighter jet near the Turkish-Syrian border; Benefiting from Russian support, the Syrian army makes territorial gains in various parts of Syria December 2015 – January 2016 and declares Latakia province rebel-free. Syrian army 24 March 2016 backed by Russian strikes inflicts a major symbolic and strategic defeat on IS, recapturing the historic city of Palmyra. In September 2016, Russia acknowledges providing air cover to the Syrian troops in their bid to seize control of Aleppo city.
Russian goal
Russia, of course, has had a strategic relationship with Syria going back to Soviet days. It has long maintained a small naval base on the Syrian coast and has close ties with the Syrian military, being its principal arms supplier. Syria had become Moscow's last toe-hold of influence in the region. It was the fear of this relationship unraveling that prompted President Vladimir Putin to act.
While it is Russian air power that has been the main focus of news reporting on the Russian intervention, it is as much the intensified training and re-equipping of the Syrian army that has also been a crucial factor in helping to turn around President Assad's fortunes.
Russian and Syrian military goals are not identical. While the Syrian government insists it still wants to recapture all the territory it has lost, Moscow's approach is very different. Unlike Syria and Iran, Russia has no interest in fighting for territory. In defending Assad, Moscow had sought to steadily destroy the moderate Syrian opposition on the battlefield, leaving only jihadist forces in play, and lock the USA into a political framework of negotiations that would serve beyond its current Democratic shelf-life. In both respects, Russia has been successful. Ultimately, the Russian goal is to lock in gains for Syria via ceasefires, while slow-rolling the negotiations to the point that true opposition to the Syrian regime expires on the battlefield, leaving no viable alternatives for the West in this conflict by 2017. Russia's intervention, however, does not seek to minimize losses.
The Russian air force has deployed some of its most modern aircraft to Syria, though the same cannot be said for the munitions they employ. The Russian air campaign overall has relied upon the use of "dumb bombs" of various types, a major distinction with modern Western air campaigns, where almost all of the munitions used are precision-guided. Russian Special Forces and artillery have been engaged on the ground. Long-range missile strikes have been conducted from Russian warships and submarines. Even Russia's only aircraft carrier is now on its way to the region.
The Syria operation has also provided an invaluable opportunity for Russian generals to try out their forces in operational conditions, as well as offering something of a "shop-window" for some of Russia's latest military technology. Russian military sees this as an opportunity to test new or modern systems; experiment with network-centric warfare capability; and to present evidence of the success of military modernisation." This helps Moscow to showcase its new combat systems for West Asia and elsewhere. .
Syria has become a kind of sampler of Russian military capabilities. Israel could be disappointed.
Russia's air campaign: Key moments
30 September 2015 – Russia carries out its first air strikes. Syria says it requested intervention to help in "the fight against terrorism". 10 November 2015 – The Syrian army, aided by Russian strikes, lifts two-year-long siege by IS on the key Kuwairis airbase in eastern Aleppo province, marking its first victory against IS since the Russian intervention.
24 November – Turkey shoots down a Russian Su-24 fighter jet near the Turkish-Syrian border
December 2015 – January 2016 – Benefiting from Russian support, the Syrian army makes territorial gains in various parts of Syria and declares Latakia province rebel-free
24 March 2016 – Syrian army backed by Russian strikes inflicts a major symbolic and strategic defeat on IS, recapturing the historic city of Palmyra
September 2016 – Russia acknowledges providing air cover to the Syrian troops in their bid to seize control of Aleppo city.
Diplomatic advantage
The diplomatic consequences of the Russian intervention have also been a plus for Moscow. Its active military role in the WA region has reshaped its relationships with Israel, Iran and Turkey. Indeed, Israel and Russia have developed a significant level of "understanding". Israeli air operations against the Lebanese Shia militant group Hezbollah, for example, have not been hindered by Russian control of significant parts of Syrian air space.
Attacks on Arab Muslims by any nation are good enough for Tel Aviv seeking to weaken entire Arab world. Russian attacks in Syria are welcome in Israel
Relations between Moscow and Tehran (Syria's only other significant ally) have developed, and even the enmity between Moscow and Ankara has been diminished, with both countries realising they have to accommodate – at least to an extent – the other's regional aims. Arabs are slowly shedding the Americophobia.
It is US-Russia relations that have been most profoundly influenced by Moscow's intervention in Syria. At one level, Syria can be added to Ukraine as a dossier where the USA and Russia are failing to find common ground. But Russia's military role ensured that the Assad leadership was not going to be removed from the chessboard. This made Washington revise its own approach and pursue what has largely proved an illusory effort, to develop some kind of partnership with Russia.
The indiscriminate nature of the Russian and Syrian air campaigns – exemplified by the current struggle over Aleppo – has certainly not won Russia many friends in the West, however. Russia has been accused by several governments of barbarity and potentially committing war crimes. According to the UK-based monitoring group the Syrian Observatory for Human Rights, over 4,000 civilians have been killed in one year of Russian strikes. Russian casualties in Syria are difficult to estimate. Helicopters have certainly been shot down, and several members of Russia's Special Forces are known to have been killed in combat.
Western public opinion seems largely unmoved by the struggle; perhaps to an extent a reflection of war weariness in the wake of the campaigns in Afghanistan and Iraq. And there has been a good level of confusion. Many in the West, sceptical about their own governments' records, seem unwilling to get excited about what Russia is up to.
The importance of information operations was most clearly illustrated by the extraordinary concert mounted in the ruins of Palmyra after its recapture from so-called Islamic State (IS) by Syrian forces.
The Kremlin has skillfully managed how the Russian public sees this intervention. Given the woeful state of the economy, Russian leaders have always been concerned that Syria would come to be viewed as an undue burden, though victory in Syria would make Russians happy. Specialists interpret the Kremlin's decision in March to announce a significant reduction of its air power in Syria as an attempt "to cash-out the political gains at home and recast the war in the public's mind".
Western expectations of political peril for President Putin have, so far, simply not been realized. Rather than a prolonged campaign, Russia's combat operations have become the new normal. Those expecting Russian support behind Vladimir Putin to collapse, either over Ukraine, or Syria, or the economy, have thus far been proven wrong. The Kremlin is demonstrably more adept at securing public approval, or apathy, than commonly acknowledged in the West.
But the overall level of casualties appears to have been limited, and news of combat deaths (like those among Russian forces in eastern Ukraine) is restricted – another reason why there has been no domestic backlash against the Syrian adventure.
By its own standards, Russia's intervention in Syria has been a success on several levels. The real question is whether this situation can last. Put it another way, is there any clear exit strategy for Russia that might enable it to bank its gains and end its losses?
Russia's strategic goals are vague. The exit strategy, if there is one appears rooted in strengthening the fighting power of the Syrian army and securing some long-term political settlement that demonstrates Russia has returned as a great power. The "strategic impact" of Russia's intervention still remains in doubt. "Such gains are readily lost and can prove illusory," an expert says. The Syrian army remains a shambles, Iran is attached to Assad, while Russia is more interested in the grander game with the USA. And without a political settlement to secure them, these accomplishments can vaporize, as Russian patience and resources become exhausted. Russian leadership knows that this could take years and would rather cut a deal while possessing the military advantage with USA. .
Aleppo was once a place of culture and commerce, with a jewel of an old city that was on Enesco's list of world heritage sites. Now, the five-year civil war that rages in Syria has left much of it destroyed and divided roughly in two, with President Bashar al-Assad's forces controlling the west and the rebels the east. A month ago, government forces re-imposed a siege on the east, and launched an all-out assault to take full control of the city, accompanied by an intense and sustained aerial bombardment.
Activists say the offensive has left hundreds of civilians dead, but the government and its ally Russia have denied targeting them and blamed rebel fighters for operating in residential areas. But what about the 275,000 people who are trapped there? Where are they getting their food from? Do they have enough water and medicine?
In August, the UN Children's Fund (Unicef) estimated that 35,000 people were internally displaced inside eastern Aleppo, some of whom were in official shelters run in abandoned buildings, others staying with family or friends, and still others sleeping outdoors in parks and streets. Not many will have been able to leave since then – and it is likely that the number of people not sleeping in their own homes has gone up. And even those who are still at home know they are not safe. People are saying there is no safe place to go. There may be many who are staying in places that they don't consider being adequate but they're staying anyway.
Nearly half the people who live in besieged Aleppo are under the age of 18. Many of their schools have closed or moved. Some of the buildings have been bombed, while others are being used as shelters for displaced people, or fighters in the conflict are using them for military purposes. It might be difficult to imagine any child going back to school when bombs are falling.
People are buying water from wells and privately-owned water tankers, and carrying it home in buckets. Many have reported that it tastes bad, and there is no guarantee that it is free of disease. It is hard to say whether anyone has died of hunger in the siege because with aid agencies unable to get inside, they cannot accurately diagnose the level of malnutrition.
Many doctors have fled the city as refugees or been killed in the fighting, and there are just 30 doctors remaining in eastern Aleppo. Using the UN's estimate for the number of people trapped there – 275,000 – that means there is roughly one doctor for every 9,100 people. This in a place that is being bombed every day – at least 376 people were killed and 1,266 wounded in the first two weeks of the latest government's assault, according to the UN.
The places where doctors work have been repeatedly targeted by government and Russian air strikes, activists and charities say. The UN says six hospitals are still operating, although they are only partially functional. Two hospitals have been almost totally destroyed in the past two weeks, and three doctors and two nurses killed. The few remaining hospitals are collapsing under a flow of hundreds of wounded lying in agony on the floors of wards and corridors.
It has long maintained a small naval base on the Syrian coast and has close ties with the Syrian military, being its principal arms supplier. Syria had become Moscow's last toe-hold of influence in the region. It was the fear of this relationship unraveling that prompted President Vladimir Putin to act.
While it is Russian air power that has been the main focus of news reporting on the Russian intervention, it is as much the intensified training and re-equipping of the Syrian army that has also been a crucial factor in helping to turn around President Assad's fortunes.
Russian forces have been operating in support of the government of President Bashar al-Assad in Syria for a year. Their impact has been significant. When they arrived, there were fears that government forces were close to collapse. This position has largely been reversed. It is the Syrian government – while still fragile – that is now on the offensive with a brutal bid to recapture the whole of the city of Aleppo.
Initially seen by US analysts through the prism of recent Western military involvements in the region, many pundits were quick to dismiss the Russian effort as likely to fail. The Russian military, it was said, was not up to expeditionary warfare. Russia would quickly find itself bogged down in a Syrian quagmire.
Things have turned out very differently.
Roger McDermott, senior fellow in Eurasian studies at the Jamestown Foundation – and a long-time watcher of the Russian military – says: Western observers have been generally impressed by Russia's deployment in Syria, mainly reflecting a sense of disbelief that they proved to be capable of planning, executing and sustaining such a complex operation and dealing with the logistical issues involved in supplying forces at great distance from Russia.
But what exactly were Russia's goals in intervening in the first place? Russia, of course, has had a strategic relationship with Syria going back to Soviet days.
Observation
USA created all problems in Syria but now Russia has all diplomatic advantages to win a powerful point over its nuclear rival America. The siege is pushing people towards starvation and serfdom.
The Syrian war is creating profound effects far beyond the country's borders. Lebanon, Turkey, and Jordan are hosting large and growing numbers of Syrian refugees, many of whom have attempted to journey onwards to Europe in search of better conditions.
Several rounds of peace talks have failed to stop the fighting. Although a ceasefire announced in February 2016 has limited fighting in some parts of Syria, recent government air strikes in Aleppo have prompted uncertainty about the ceasefire's future. But with much of the country in ruins , millions of Syrians having fled abroad, and a population deeply traumatized by war, one thing is certain: Rebuilding Syria after the war ends will be a lengthy, extremely difficult process.
Syrian war has killed thousands, produced innumerable refugees. As Syria's war reaches another grim milestone, refugees fleeing the 5-year conflict face greater hurdles to finding safety while international solidarity with its victims is failing to match and reflect the scale and seriousness of the humanitarian tragedy.
UNHCR provides basic and necessary humanitarian aid for Syrian refugees and helps the most vulnerable refugees with urgently needed relief – including water, food, medicine, blankets and warm clothes, household items, diapers and hygiene supplies, and jerry cans.
By its own standards, Russia's intervention in Syria has been a success on several levels. The real question is whether this situation can last. Put it another way, is there any clear exit strategy for Russia that might enable it to bank its gains and end its losses?
Russia's strategic goals are vague. The exit strategy, if there is one appears rooted in strengthening the fighting power of the Syrian army and securing some long-term political settlement that demonstrates Russia has returned as a great power. The strategic impact of Russia's intervention still remains in doubt. Such gains are readily lost and can prove illusory. The Syrian army remains a shambles; Iran is attached to Assad, while Russia is more interested in the grander game with the USA. And without a political settlement to secure them, these accomplishments can vaporize, as Russian patience and resources become exhausted. Russian leadership knows that this could take years and would rather cut a deal while possessing the military advantage.
The USA was compelled not just to deal with Russia as a diplomatic equal but also to shift its own stance towards the Assad government to one – that for all the obfuscation – falls well short of its long-time insistence that President Assad had to go, as the essential pre-condition for any negotiated settlement.
Not many powers like Israel are happy that the USA has not invaded Iran to equalize its destruction efforts in Iraq- both Shiite dominated Muslim nations in West Asia.
Neither the end of war in Syria nor peace in West Asia is the major concern of USA or Russia, or UNSC.
The leading causes behind today's unstable Iraq
Nawshirwan Mustafa, Southern Kurdistan's leader, writer, historian and a prominent head of the region's leading opposition party who passed away four years ago had in one of his books portrayed Iraq to be "The museum of nations". In the book "Rotating in circle, the inner side of the events: 1980-1984"He inscribed that the country is a hub of numerous nations including Kurds, Arabs, Turkmens, Assyrians as well as numerous religious groups as of Sunnis, Shiites, Yazidis, etc. In other words, he believes that Iraq was initially comulsively constructed irrespective of the intentions of who lived in it in a manner that met the economic and political interests of the superpowers of that era. By era, he is referring to post ottoman period that was succeeded by the creation of a number of states incorporating Iraq in 1932.
Those various nations and groups have always caused clashes and challenges for the country known as an Arab state to an extent that since it's inappropriate formation, It has never had a long term political, security and economic stability if we are to ignore social aspects. The country had always hosted war, coup d'état and crisis, conquered countries and countries conquered it.
Surpassingly, if we now encounter someone from any ethnic and/or religious folk, they would reveal their keen on owning a state, a region with its parliament, president and military. We should therefore wonder how come in a such non-homogenous country, with multiple ethnicities (each owning their cultural and accentual traits), and multiple religions, their people can be tolerant, preserve peace, embrace diversity, thereby become democratic for which the United states invaded it.
In a state where is forcefully annexed, we should not be astonished that it will always remain divided, living together will be a serious challenge, and worse than all, external powers will utilize the diversity of the ethnicities as they had always done and the outcome of these are what we are witnessing now.
Consequently, we notice that in Iraq occurs sectarian conflicts, Al-Qahida emerges, ISIS appears, almost each party is associated with a foreign agenda (the latter phenomenon somehow is in Kurdistan as well based on analytical descriptions). On the other hand, a recognized US think tank believes that Iran has always been intervening in Iraq alongside bolstering different militias.
Moreover, according to political analysts, Turkey is also a recognized player in the country. In the excuse of Turkmens, securing borders and ties with a few political factions, it treats Iraq as if it is still a former colony of their elder empire. The United States in addition will never evacuate it as it invested in it with a war that estimates its cost to be four trillion dollars. We may not have space to highlight other industrial western countries as well who consider Iraq as a tray covered with cakes due to its unique natural resources, each trying to take a peace from it.
Among numerous evidences for the geopolitical divisions of the country, the most recent one to be spotted is those soldiers of the Militia group known as "Hasaib Ahl Alhaq", an externally backed and trained group whom in a recorded video threatened the government of Iraq to release their soldiers who were caught by the administration of the new Iraqi premier Mustafa Kadhmi. The soldiers the group was calling their freedom were five men caught and incarcerated by the Iraqi government following the strategic agreement signed between the United States and the Iraqi government, a deal that limited the authority of the paramilitary groups in Iraq and contained some other military and security points.
The aforementioned fighters were caught for their involvement in an attack on the US embassy in Baghdad on December 20 of last year. In the video they shouted, called for the freedom of their friends and revealed that they were religious fighters, fought against American imperialism and is now ready to fight as well. They also spoke out that "any touch on a religious fighter is a touch on every one of them, they are only awaiting order from their leader 'Qais Xaz Ali'." Qais is the leader of the group 'Hasaib Ahl Alhaq'.
That incident was huge in Iraq, took the attention of the mass media outlets, social media and the people to an extent that same night the prime minister went out to the streets of Baghdad driving a car himself, giving the message that Iraq is safe and they save the security of the country.
The stability of any country relies on the security and military forces. Lack of stability can ruin life and the people pay huge prices. The toughest challenge of the series of the post 2003 Iraqi governments were their failure in spreading security and stability for the country. As a result, the region became a stadium of civil war, the birth of terrorist groups as well as the international interventions. Kadhmi's government has been enormously repeating that they would secure the country, and bring about a stable and calm life for Iraqis, but they are yet to do so.
The military groups that were highlighted above are known to be one of the essential factors for why we are witnessing an unstable, corrupted and ruined Iraq. They are armed, militarily trained, financially supported and do not obey the government, making it almost impossible for the government to control and disarm them. The Sunni religious groups on the other hand are also to take a great share for the political, security and economic flaws of their country. Sunnis are still seriously concerned for the loss of their power before the invasion and are dreaming of taking it back. More importantly, they have always been marginalized by the majority Shiite based governments, resulting in their backlash of bolstering groups like ISIS and Al-Qaida.
To conclude, to save Iraq from those unfavorable catastrophes and providing it with a structure of a proper, peaceful, and stable country, we would go back to the beginning of our writing and that is the root from which the country is constructed. Iraq is a forcefully combined country, created without taking into account the real intentions of its diverse ethnic and religious groups. The European colonial powers of that era-post ottoman period- designed its borders with a pen according to their political and economic interests. Therefor, ever since its creation, the country had been hosting political conflicts, coup d'états, civil war, terrorism, anti-homogeneity, conquerence and invasion. The Kurds say whatever you plant, you will cultivate it. Indisputably, it is that annexation and combination that resulted in a such politically, economically and socially unstable Iraq and only recreating the country on a foundation that reflects the intentions and considerations of its own entities can cure it from those challenges. US president elect Joe Biden is known to be the owner of the project of dividing Iraq into three regions: Sunnis, Kurds and Shites. He believes that implementing such a project would save Iraq from those struggles that the country had been suffering from for years!
Middle East futures: Decade(s) of defiance and dissent
If the 2010s were a decade of defiance and dissent, the 2020s promise to make mass anti-government protests a fixture of the greater Middle East's political landscape. Protests in the coming decade are likely to be fuelled by the challenges Middle Eastern states face in enacting economic and social reforms as well as reducing their dependence on energy exports against the backdrop of a global economic crisis and depressed oil prices and energy markets. Complicating the challenges is the fact that youth that often constitutes a majority of the population have lost or are losing confidence in government and religious establishments at a time that social contracts are being unilaterally rewritten by political elites.
Pressure on the Middle East's autocratic rulers is likely to increase with the departure of US President Donald J. Trump, a staunch supporter of strong man rule and the coming to office of President-elect Joe Biden. In contrast to Trump, Biden has suggested that he would emphasize democratic values and freedoms. In doing so, Biden could contribute to renewed public manifestations of widespread discontent and demands for greater transparency and accountability in the Middle East and North Africa.
Autocrats get some things right
The second decade of the 21st century has been bookended by protest. The decade was ushered in by protest across the globe, from student rallies in Chile to Occupy Wall Street to fuel price demonstrations in Jakarta. The 2011 popular revolts that toppled four Arab autocrats grabbed the headlines and provided drama.
The 2010s ended with similar drama. Protests in Chile resulted in a vote for a new constitution. A coalition of opposition parties challenged the legitimacy of the Pakistani government. Racism and the killing of people of colour by police sparked massive protests in the United States not seen since the 1960s. And like ten years earlier, demonstrators toppled Arab leaders in Algeria, Sudan, Lebanon and Iraq, uncertain whether this would secure the aspired change.
The 2020s promise to be no different, nowhere more so than in the Middle East. A global public opinion survey conducted by Edelman, a US public relations firm, in the United States, Europe, and Asia showed a significant drop in trust in governments as a result of their handling of the coronavirus pandemic, resulting in the worst global economic downturn in decades. Saudi Arabia, alongside Japan, were the two countries that witnessed only a minimal drop.[i][1]
Nevertheless, global mismanagement of the pandemic has hit hard in countries that are wracked by war, like Syria and Libya, nations with perennially weak economies that host large refugee populations, such as Lebanon and Jordan, and Gulf states, which have seen energy prices tumble with prospects dim for a quick recovery of oil and gas markets. Shifts towards greater autocracy in Saudi Arabia and elsewhere bode ill at a time in which populations with a youth majority are not necessarily clamouring for greater freedom but are increasingly gloomy about governments' ability to deliver jobs and other public goods.
Delivery was already a daunting task prior to the pandemic. The World Bank reported that the number of people living below a poverty line of US$1.90 a day in a region with the world's highest youth unemployment had more than tripled from eight million in 2011 to 28 million in 2018 and that the extreme poverty rate had doubled from 3.8 per cent in 2015 to 7.2 per cent in 2018.[ii][2]
Facing significantly dimmed economic prospects, the region's autocrats, including Saudi Crown Prince Mohammed bin Salman and his UAE counterpart, Mohammed bin Zayed, have, nonetheless, so far relatively successfully managed the political and social environment they operate in, judging by the responses to recent public opinion polling.[iii][3]
Both men have to varying degrees replaced religion with nationalism as the ideology legitimising their rule and sought to ensure that various countries in the region broadly adhere to their worldview.
"I know that the Saudi government under MbS (Prince Mohammed) has put in a lot of effort to actually do its own public opinion polls… They pay attention to it… They are very well aware of which way the winds are blowing on the street. They take that pretty much to heart on what to do and what not to do… On some issues, they are going to make a kind of executive decision… On this one, we're going to ignore it; on the other one we're going to…try to curry favour with the public in some unexpected way," said David Pollock, a Middle East scholar who oversees the Washington Institute for Near East Policy's polling in the region.[iv][4]
The two crown princes' similar worldviews constitute in part a response to changing youth attitudes towards religiosity evident in the polls and expressed in mass anti-government protests in countries like Lebanon and Iraq. The changes attach greater importance to adherence to individual morals and values and less focus on the formalistic observance of religious practice as well as a rejection of the sectarianism that is a fixture of governance in Lebanon and Iraq as well as Saudi religious ultra-conservatism.
The problem for rulers is that the moorings of their rule potentially could be called into question by a failure to deliver public goods and services that offer economic prospects. At the same time, social reforms needed to bolster development go hand in hand with the undermining of the authority of religious establishments. Increased autocracy that turns clerics and scholars into regime parrots has fuelled youth scepticism not only towards political elites but also religious institutions.
For rulers like the Saudi crown prince, the loosening of social restrictions – including the disempowerment of the kingdom's religious police, the lifting of a ban on women's driving, less strict implementation of gender segregation, the introduction of Western-style entertainment and greater professional opportunities for women, and in the UAE a degree of genuine religious pluralism – are only first steps in responding to youth aspirations.
"Youth have…witnessed how religious figures, who still remain influential in many Arab societies, can sometimes give in to change even if they have resisted it initially. This not only feeds into Arab youth's scepticism towards religious institutions but also further highlights the inconsistency of the religious discourse and its inability to provide timely explanation or justifications to the changing reality of today," said Gulf scholar Eman Alhussein in a commentary on the latest Arab Youth Survey,[v][5]
Youth put a premium on reform
Middle Eastern youth attitudes towards religion, religiosity and religious leadership mirror their approach towards material concerns. Their world is one that focuses on the individual rather than the collective, on what's in it for me? instead of what's in it for us?. It is a world that is not defined by ideology or politics and does not see itself reflected in the values and objectives espoused by elites and governments. In their world, the lingua franca differs substantially from the language they were raised in.
Two-thirds of those polled by the Arab Youth Survey believe that religious institutions need to be overhauled. They question fundamental religious concepts even if they define religion as the most important constituent element of their identity. "The way some Arab countries consume religion in the political discourse, which is further amplified on social media, is no longer deceptive to the youth, who can now see through it," Alhussein said.[vi][6]
"Arabs know what they want and what they do not want. They want their basic needs for jobs, education, and health care to be attended to, and they want good governance and protection of their personal rights," concluded James Zogby an Arab-American pollster with a decades-long track record of polling in the Middle East and North Africa.[vii][7]
Michael Robbins, director of the Arab Barometer, another pollster, and international affairs scholar Lawrence Rubin concluded that the youth in post-revolt Sudan had soured on the idea of religion-based governance because of widespread corruption during the region of toppled president Omar Al-Bashir, who professed his adherence to religious principles. Robbins and Rubin cautioned, however, that religion could return as the catalyst for protest if the government fails to cater to youth aspirations.
"If the transitional government can deliver on providing basic services to the country's citizens and tackling corruption, the formal shift away from Sharia is likely to be acceptable in the eyes of the public. However, if these problems remain, a new set of religious leaders may be able to galvanize a movement aimed at reinstituting Sharia as a means to achieve these objectives," Robbins and Rubin warned.[viii][8] It is a warning that is as valid for Sudan as it is for much of the Arab and Muslim world.
Saudis empathetic to protests
Asked in a recent poll conducted by The Washington Institute whether "it's a good thing we aren't having big street demonstrations here now the way they do in some other countries," a reference to the past decade of popular revolts in Tunisia, Egypt, Libya, Yemen, Algeria, Lebanon, Iraq and Sudan, Saudi public opinion was split down the middle. 48 per cent of respondents agreed, and 48 per cent disagreed.[ix][9] Saudis, like most Gulf Arabs, appear less inclined to take grievances to the streets. Nonetheless, the poll indicates that they may prove to be empathetic to protests should they occur.
Saudi attitudes towards protest take on added significance in an environment in which governments in the energy-rich Gulf have seen their ability erode to invest in infrastructure and cradle-to-grave welfare states. The need to diversify economies away from dependence on oil and gas exports to create jobs against the backdrop of depressed energy prices and markets as a result of the global economic downturn means changing expectations and rewriting social contracts that offered economic security and well-being in exchange for the surrender of political and social rights. In May 2020, The Dubai Chamber of Commerce provided a foretaste of problems to come. Based on a survey of 1,228 CEOs, the chamber warned that a staggering 70 per cent of businesses in the emirate expect to close their doors within the next six months.[x][10] Analysts added to the gloomy prospects by reporting that non-oil growth in the UAE pointed toward a contraction of the economy.[xi][11]
The challenges Gulf and other Middle Eastern states face are compounded by the pandemic and a painful, protracted and complex road towards economic recovery, coupled with the toll of debilitating regional conflicts. They are also complicated by an apparent conditional willingness to accept belt-tightening and the unilateral rewriting of social contracts.
"If it's temporary, one or two years, I can adapt. My concern is that more taxes will be permanent – and that will be an issue," said Saudi government worker Mohammed according to a report by Bloomberg after his USD 266 a month cost-of-living allowance was cancelled and sales taxes were tripled as part of painful austerity measures announced by finance minister Mohammed Al-Jadaan.[xii][12]
Mohammed's words were echoed in a rare pushback against the government by columnist Khalid Al-Sulaiman, writing in the Okaz daily newspaper, one of the kingdom's tightly controlled media outlets, who wrote: "Citizens worry that the pressure on their living standards will outlast the current crisis. Increasing VAT from 5% to 15% will have a big effect on society's purchasing power and will reflect negatively on the economy in the long term,"[xiii][13]
The surveys leave no doubt that even before the economic crisis sparked by the 2020 coronavirus pandemic the Middle Eastern youth was first and foremost concerned about its economic future. Asked what had prompted the wave of protests in 2011, 2019 and 2020, respondents pointed to unemployment, personal debt and corruption. 35 per cent of those polled in the latest Arab Youth Survey reported that they were mired in debt compared with 15 per cent in 2015.[xiv][14] A whopping 80 per cent said they believed Arab regimes were corrupt.
"This evinces a realization that the past decade of revolutions has borne rather bitter fruit: civil war, humanitarian distress, the rise of powerful extremist elements, and the collapse of governing restraints… Today, rather than seeking to change the world, most Arabs (especially the younger generation) demonstrate that mere improvements in their material condition would suffice," said Middle East scholar Michael Milstein.[xv][15]
Voting with their feet
If the surveys suggest one thing, the streets of Algerian, Sudanese, Lebanese and Iraqi cities suggest something else.[xvi][16] Protesters in those four countries appeared to have learnt lessons from the failed 2011 revolts in Egypt, Libya and Yemen. In contrast to 2011, protesters in 2019 and 2020 refused to surrender the street once a leader was forced to resign. Instead, they maintained their protests, demanding a total overhaul of the political system,[xvii][17] which led to the formation of a governing transitional council in Sudan and a referendum on a new Algerian constitution.
Feeling outmanoeuvred by the military and political elites, Algerians voted with their feet. While the new constitution won in the referendum with a two-thirds majority, less than a quarter of eligible voters cast their vote.[xviii][18] "Algerian youths do not see the 'New Algeria' that lives in the president's speeches. Activists are jailed for social media posts and memes, and the entire nation feels abandoned by both the political establishment and the traditional opposition," cautioned Algerian scholar Zine Labidine Ghebouli.[xix][19] In Sudan, the jury is still out on whether the council will satisfy popular demand. In Lebanon and Iraq, the protesters also insisted on the removal of the sect- and ethnic-based political structures that underpin the two countries' political systems.[xx][20]
Like in Algeria, protesters in Lebanon and Iraq confronting police violence and the impact of the pandemic was at an inflexion point. That was graphically visualised in late October 2020 with the reopening of a key bridge in Baghdad and the clearing out of tents from a sit-in in Tahrir Square, the epicentre of the anti-establishment protest movement that erupted a year ago to demand basic services, employment opportunities and an end to corruption.[xxi][21]
Few doubt that the combination of repressive law enforcement, politics rather than engagement and a public health crisis at best buys elites a reprieve. The writing is on the wall, with intermittent protests erupting in Egypt, Morocco, Jordan, Iran and war-ravaged Syria. "For political transformation to happen, you need a generation," noted Lina Khatib, head of London-based think tank Chatham House's Middle East and North Africa programme.[xxii][22]
The question is not whether another wave of protest will occur, but when and where.
"The most dangerous people in any society: "When you look at the poor economic growth, when you look at the very high demographic growth, what you see is a region that has a lot of challenges ahead of it. There are very few things that are true for every country in the world. But one of those is that the most dangerous people in any society are young men. Testosterone is a hell of a drug. There are lots of young men in this part of the world that don't have avenues to channel their innate aggression into productive, constructive forms. They are attracted to destructive avenues," said former CIA acting director Michael Morell.[xxiii][23]
"The essential situation is that this mass of citizens has reached the point of discontent but (of) desperation and therefore has done the only thing it sees as available to it other than immigrate, which is challenging their state openly in street protests. Something has to give between these two forces," added veteran journalist and Middle East scholar Rami Khouri.[xxiv][24]
Give and take seems, however, for now, a way off. The immediate reality is a stalemate. Protesters have demonstrated their ability to topple heads of government but have so far failed to force elites, determined to protect their perks at whatever cost, to address their fundamental concerns, let alone surrender power. Aggravating the stalemate is the breakdown in trust between significant segments of youth populations and governments as well as traditional opposition forces fuelling demands for reforms that replace existing elites rather than exploring ways of finding common ground.
"Arab governments' long suppression of the development of inclusive, democratic, and effective institutions has left a vacuum of leadership among regime and opposition forces alike. That vacuum is acutely felt today… with no trusted institution in the region who could carry out people's rightful demands for more effective management of their countries, the endgame is unclear," said Marwan Muasher, Vice President for Studies at the Carnegie Endowment for International Peace and former Deputy Prime Minister of Jordan.[xxv][25]
In a swath of land that stretches from the Atlantic coast of Africa into Central Asia, trends and developments no longer are sub-regional. They reverberate across what increasingly looks like the Middle East's expanding borderlands as was evident in the 2020 Caucasus war between Armenia and Turkey- and Israel-backed Azerbaijan with Iran walking a fine line despite its empathy for the Armenians. Russian security forces and analysts predict that the fallout of the war is likely to compound a combustuous mix that will spark social unrest in the North Caucasus.
Aslan Bakov, a prominent political analyst from the Kabardino-Balkaria region, warned that Muslim civil society groups were likely to lead anti-Russian protests, taking local authorities as well as the government in Moscow to task for mismanaging the pandemic and reducing financial support of the North Caucasus. As a result, the region suffered a higher Covid-19 related death rate per capita of the population and has seen employment rates soar as high as 40 per cent. Muslim non-governmental organizations have stepped in where increasingly authoritarian local governments have failed to deliver, fuelling widespread lack of confidence in state authority. Describing the situation as "ideal conditions for a social explosion," Baskov cautioned that the unrest could escalate into ethnic and border conflicts in a region in which frontiers have yet to be definitively demarcated.[xxvi][26]
A catalyst for reinvigorated protest?
Much like US President Jimmy Carter's support for human rights in the 1970s boosted popular resistance to the Shah of Iran and helped pave the way for the Islamic revolution,[xxvii][27] President-elect Joe Biden, with his emphasis on democratic values and freedoms,[xxviii][28] could contribute to renewed public manifestations of widespread discontent and demands for greater transparency and accountability in the Middle East and North Africa.
Supporters of a human rights-driven foreign policy juxtapose the emergence of an anti-American regime in Iran with the rise of post-revolt democratic leaders in Chile, the Philippines and South Korea. US President Barack Obama and his Vice-President Biden struggled almost a decade ago with how to handle the 2011 popular revolts.
Critics accuse Obama of enabling the Muslim Brotherhood to gain executive power in the aftermath of the revolts. The rise of the Brotherhood sparked a counter-revolution that led to a military coup in Egypt and civil wars in Libya, Syria and Yemen.
"The cases of Chile, South Korea, and the Philippines, along with a few others, are often cited…by foreign policy elites arguing that American human rights advocacy needn't come at the expense of American interests. And yet, as we can see in…harsh Monday-morning quarterbacking of Obama's policy toward the Egyptian uprising against Mubarak, for example, this argument still faces a steep uphill climb," said Tamara Cofman Wittes, a Middle East scholar who coordinated US democracy and human rights policy as the State Department's deputy assistant secretary of state for Near Eastern affairs. Cofman Wittes was referring to Hosni Mubarak, the Egyptian leader who was forced to resign in 2011 after 30 years in office.
Biden has pledged to "defend the rights of activists, political dissidents, and journalists around the world to speak their minds freely without fear of persecution and violence. Jamal's death will not be in vain." Biden was referring to Khashoggi, the murdered Saudi journalist.[xxix][29] Biden has also said he would convene a global Summit for Democracy in his first year in office as part of an effort to confront authoritarian regimes and promote elections and human rights. The summit would be attended not only by political leaders but also including civil rights groups fighting for democracy.[xxx][30]
Campaign promises are one thing, enacting policies once in office another. As a result, the jury is out on how a Biden administration will handle potentially sustained protest in the Middle East and North Africa. To be sure, taken together the most recent surveys of public opinion paint a picture of a youth that has shifted in much of the region from optimism at the time of the 2011 revolts to deep-seated pessimism if not despair about its future prospects and a lack of confidence in the ability and/or willingness of most governments and elites to cater to its social and economic needs. That makes predictions of civil unrest all the more real.
Fact is also that the lesson of the last decade for the coming one is that political transition sparked by waves of protest is not a matter of days, months or even a year. It is a long, drawn-out process that often plays out over decades. 2011 ushered in a global era of defiance and dissent, with the Arab uprisings as its most dramatic centrepiece.
The 2020s is likely to be a decade in which protests may produce at best uncertain and fragile outcomes, irrespective of whether protesters or vested interests gain an immediate upper hand. Fragility at best and instability at worst is likely to be the norm. To change that, protesters and governments would have to agree on economic, political and social systems that are truly inclusive and ensure that all have a stake. No doubt, that is a tall order.
Author's note: An earlier version of this article appeared in Orient.
---
[i] [1] Edelman, 2021 Edelman Trust Barometer, January 2021, https://www.edelman.com/sites/g/files/aatuss191/files/2021-01/2021-edelman-trust-barometer.pdf
[ii] [2] World Bank Group, Poverty and Shared Prosperity 2020: Reversals of Fortune, 2020, https://openknowledge.worldbank.org/bitstream/handle/10986/34496/9781464816024.pdf
[iii] [3] ASDA'A BCW, Arab Youth Survey, 2020; Arab Center Washington. https://www.arabyouthsurvey.com/findings.html / Arab Opinion Index 2017-2018, 2018, http://arabcenterdc.org/survey/2017-2018-arab-opinion-index-executive-summary/
[iv] [4] Interview with the author, 14 October 2020.
[v] [5] ASDA'A BCW, A Voice for Change, 2020, 2020, p. 44, https://www.arabyouthsurvey.com/pdf/downloadwhitepaper/AYS%202020-WP_ENG_0510_Single-Final.pdf
[vi] [6] Ibid.
[vii] [7] Interview with the author, 24 August 2020.
[viii] [8] Michael Robbins and Lawrence Rubin, Sudan's government seems to be shifting away from Islamic law. Not everyone supports these moves, 27 August 2020, https://www.washingtonpost.com/politics/2020/08/27/sudans-government-seems-be-shifting-away-sharia-law-not-everyone-supports-these-moves/
[ix] [9] David Pollock, Saudi Poll: China Leads U.S.; Majority Back Curbs on Extremism, Coronavirus, 31 July 2020, https://www.washingtoninstitute.org/fikraforum/view/saudi-poll-china-leads-u.s-majority-back-curbs-on-extremism-coronavirus
[x] [10] Natasha Turak, 70% of Dubai companies expect to go out of business within six months due to coronavirus pandemic, survey says, 21 May 2020, https://www.cnbc.com/2020/05/21/coronavirus-dubai-70percent-of-companies-expect-to-close-in-six-months.html
[xi] [11] Al Jazeera, Egypt and Saudi business conditions improve, while UAE's worsen, 3 November 2020, https://www.aljazeera.com/news/2020/11/3/bbegypt-and-saudi-business-conditions-improves-while-uaes-wors
[xii] [12] Vivian Nereim and Sylvia Westall, Crisis Austerity in Oil-Rich Gulf May Test Political Balance, 2020.
[xiii] [13] Khalid Al-Sulaiman, Will the Finance Minister Do It? (هل يفعلها وزير المالية ؟!), Okaz, 1 September 2020, https://www.okaz.com.sa/articles/authors/2026288, https://www.bloomberg.com/news/articles/2020-06-03/austerity-experiment-in-oil-rich-gulf-may-falter-post-crisis?sref=3XwG50X1
[xiv] [14] ASDA'A BCW, 7th Annual ASDA'A Burson-Masteller Arab Youth Survey, 2015, http://arabyouthsurvey.com/pdf/whitepaper/en/2015-AYS-White-Paper.pdf
[xv] [15] Michael Milstein, Ten Years Since the 'Arab Spring': Despair Has Not Become More Comfortable, 27 October 2020, https://www.washingtoninstitute.org/fikraforum/view/arab-spring-despair-comfortable
[xvi] [16] James M. Dorsey, The Tumultuous Decade: Arab Public Opinion and the Upheavals of 2010–2019, 2020, New Books Network, 5 September 2020, https://mideastsoccer.blogspot.com/2020/09/the-tumultuous-decade-arab-public.html
[xvii] [17] James M. Dorsey, 2019 was a decade of defiance and dissent. The 2020s are likely to be no different, 1 January 2020, https://mideastsoccer.blogspot.com/2020/01/2019-was-decade-of-defiance-and-dissent.html
[xviii] [18] Al Jazeera, Algerians back constitutional reforms amid low voter turnout, 2 November 2020, https://www.aljazeera.com/news/2020/11/2/low-voter-turnout-hits-algeria-referendum-amid-boycott-calls.
[xix] [19] Zine Labidine Ghebouli, Requiem for a Revolution, , Newlines Magazine, 1 November 2020, https://newlinesmag.com/essays/requiem-for-a-revolution/
[xx] [20] James M. Dorsey, Countering civilisationalism: Lebanese and Iraqi protesters transcend sectarianism, 1 November 2019, https://mideastsoccer.blogspot.com/2019/11/countering-civilisationalism-lebanese.html
[xxi] [21] Al Jazeera, Baghdad's Tahrir Square cleared, Jamhuriya Bridge reopened, 31 October 2020, https://www.aljazeera.com/news/2020/10/31/iraq-clears-tahrir-square-a-year-after-mass-protests-began
[xxii] [22] Jared Malsin, Middle East Protesters Try to Avoid Mistakes of Arab Spring, 2020.
[xxiii] [23] CBS News, Biggest factor in U.S.-Middle East relations is perception that U.S. is withdrawing, 6 January 2021, https://www.cbsnews.com/news/biggest-factor-in-u-s-middle-east-relations-is-perception-that-u-s-is-withdrawing/
[xxiv] [24] Wilson Center, Ten Years of Pan-Arab Protests: Understanding the new Dynamics of Change, The Wall Street Journal. 20 January 2020, https://www.wsj.com/articles/middle-east-protesters-try-to-avoid-mistakes-of-arab-spring-11579530280
[xxv] [25] Marwan Muasher, Is This the Arab Spring 2.0?, 30 October 2019, https://carnegieendowment.org/2019/10/30/is-this-arab-spring-2.0-pub-80220
[xxvi] [26] Paul Goble, Year 2020 in Review: Pandemic Exacerbated Problems Across North Caucasus and Set Stage for More Conflict, Eurasia Daily Monitor, 5 January 2021, https://jamestown.org/program/year-2020-in-review-pandemic-exacerbated-problems-across-north-caucasus-and-set-stage-for-more-conflict/
[xxvii] [27] Tamara Cofman Wittes, Iran's revolution and the problem of autocratic allies, Brookings, 24 January 2019, https://www.brookings.edu/blog/order-from-chaos/2019/01/24/irans-revolution-and-the-problem-of-autocratic-allies/
[xxviii] [28] Joss Harrison, There are signs that as president, Joe Biden could adopt a proactive human rights approach similar to Jimmy Carter's, LSE US Centre, 3 July 2020, https://blogs.lse.ac.uk/usappblog/2020/07/03/there-are-signs-that-as-president-joe-biden-could-adopt-a-proactive-human-rights-approach-similar-to-jimmy-carters/
[xxix] [29] JoeBiden.com, Anniversary of Jamal Khashoggi's Murder – Statement by Vice President Joe Biden, 2 October 2020, https://joebiden.com/2020/10/02/anniversary-of-jamal-khashoggis-murder-statement-by-vice-president-joe-biden/#
[xxx] [30] JoeBiden.com, The Power of America's Example: The Biden Plan for Leading the Democratic World to Meet the Challenges of the 21st Century, Undated, https://joebiden.com/americanleadership/
Reigniting Chaos in Syria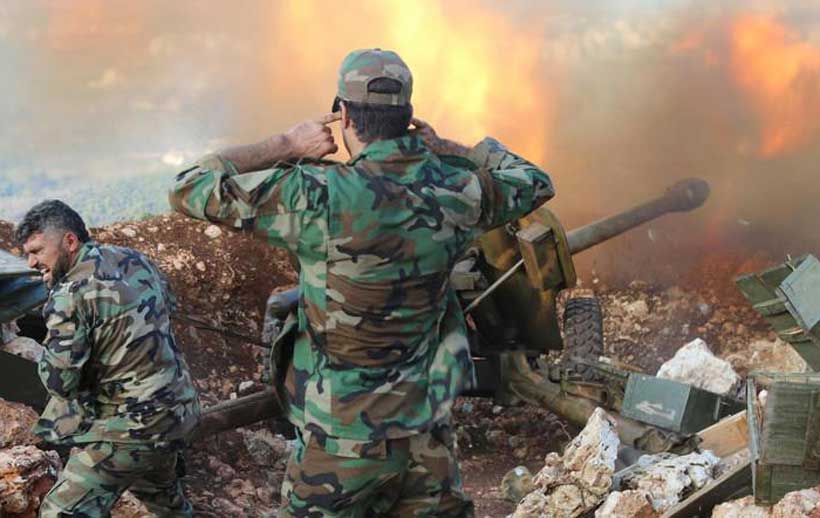 Syria has been the nexus of brutality and terror for almost a decade now; with more than 6 million natives who have already fled and numerous displaced over the territory itself, the region casts a ghastly shade that has only turned grimmer with time. Although the conflict seemingly raved its catastrophic footprint in early 2000, the root cause arguably always ends up to be the infamous 'Arab Spring' that actually tuned the Syrians against their very own regime. Something to compare and contrast that communal unity acted in Iraq's benefit back when USA invaded the territory to avenge the 9/11 Attacks in 2003 while casted a fiasco in Syria when invaded in 2014. Large scale protests and rampaging violence gradually morphed into a series of relentless efforts to first deter Bashar Al-Asad's efforts to first peacefully and then collaboratively resolving the raging unrest. Some would say it was inspired by the historical besiege of Libya and the subsequent execution of the Libyan prime minister Muammar al-Gaddafi as an ensue of that revolution yet Bashar Al-Asad proved a far more tensile force to overthrow. Such tumultuous turn of events, lead Syria to first economic sanctions followed by severe isolation in the global community opposing and downright rejecting Assad's actions to curb the political tremors. Yet intermittent interventions, both implicit and explicit, by the western powers and their counter-parts have defined the region more as a battle ground of mercenary motives instead of mere efforts to safeguard human rights and ensuring regional peace.
Since 2011, three core actors have remained active in skirmishes that have more oftener than not transformed into battles of gore and toil and sometimes even full-fledged wars that have not only dismembered the expanse of over an 185,000 km2 of land into mounds of dust and rubble with terror now crawling over the lanes but have even shuddered the immediate vicinity. With the downfall and perpetual dissipation of ISIS, losing much of its occupied land to active contenders, Assad's militia and Kurdish forces remain the helming competitors along with a smattering of other oppositions like Jaish al Fateh and Nusrta Front. The conflict between the Kurdish forces backed by the US regime against ISIS and then eventual betrayal on the Turkish front had been a matter of contentions in the latter part of 2019; Kurds making it abundantly clear to harness the borders they surmise to be rightly theirs while Turkish policies, especially under Turkish President Recep Tayyip Erdoğan, have been outright fearless and needless of any other inference regarding their austere stance over the issue; claiming their bordering territories and inferring stern response in case of any dissension caused by the Kurds.
However, the outlining threat in the recent time can be perceived at a novel yet a totally realistic stage, where proxy wars no longer remain the ground reality of armed unrest in Syria. This notion has arisen since harsh words were exchanged between Moscow and Ankara; the metropolis' of the neighbouring giants: Russia and Turkey respectively. A glimpse in the historical scaffolding of the entire Syrian conflict, Russia has always backed Assad's regime despite its initial block over Syrian policies revolving over strategies to deal with the blooming protests in the early tremors of the Arab Spring who's effects had started to resonate in the entire Middle East following up on Ground 0, Tunisia. The vantage point of Russia, however, shifted when the political paradigm was drastically nudged by the terror-driven escalation of ISIS after severe US blunders and baffling retreat from Syria that even threatened the sovereignty and security of the region following their besiege of the state of Raqqa, establishing ISIS as a looming concern, thereby aligning the aims of both Russian reign and Assad's regime, ultimately inciting a continued alliance. Turkey, on the other hand, being the northern neighbour to Syria also contended as a root protagonist in economic isolation of Assad's government, imposing stringent financial sanctions that tightened the bottlenecks and eventually led to the deterioration of their financial virility that already staggered after sanctions and embargos placed by both EU and USA.
This conflict that permeates in the north-western terrain of Syria lilts an innuendo that a spark may be brewing between the two nations. The besieged province of Idlib exudes the source of the strife; an area that has witnessed countless Turkish troops slain by Assad's forces in cross-border disputes; close to seven Turkish soldiers were recently killed in a thorough retaliation of Syrian forces in the de-escalation zone, much to Turkey's dismay. However, the Russian involvement in backing the Syrian government in their dissent in Idlib and heavily bombing of the territory with artillery servers as a link to presumably leading a head-on conflict between Russia and Turkey; hinted by Erdoğan that any effort made in the region will not go answered, clearly warning the Russian forces to avoid any transgression that could cause fatality to their personnel. The people of Syria, blended with the rebels, look in the eye of a dead end; bombardments to deter the tyrants have shredded their innocent bodies similar to the incursions in Eastern Ghouta and with no one on their side but with ulterior incentives, they are left with no choice but to see Turkey as a savior. To any sane mind, however, its not really a complex interface of modes and interests involved. With clash of alliances, historical narrative of both the world wars fought, coherently brings about the model of war despite a never-ending argument at whim. Without contesting any theory by any analyst, its imperative to gauge at the systematic progression of the tensions flowing yet not mitigating. Turkey being stranded from its western allies and Arab assistance in wake of the murder conspiracy and being locked in a bound-to-doom NATO relation with Russia, the outcome of this steady conflict can bring about equal amount of damage yet in lesser of a decade and more pandemic effects.
Recent Israeli airstrikes targeted the Iran-linked elements in Syria. One of the biggest attacks even in at least half a decade period of relative dormancy in the region hint at the start of something gruesome. The attacks pointed Iran-backed sites like Al-Bukamal in intensity, riddling the city that acts as a focal point to Iran's influence over and beyond the borders of Baghdad and Damascus, as well as paving way to militants from the fore stretch of Lebanon. The attacks reportedly served as an active Israeli position against the Irani militants and revolutionary guards, casting a heavy presence in the core hit areas of the province of Dair al Zor, claiming 57 casualties. The attack assumes a step-up stance of Israel picking up from a cold targeted strike within Iran, months back, eliminating the crucial scientific figure of Iran, that earned promises of retaliation both from the military leads and the supreme leader of Iran, Ayatollah Ali Khamenei.
These attacks nurture an underlying message of Israel following on the shadow war footsteps dictated under the premiership of Mr. Donald Trump. Now, with his nefarious exit from the presidential office following the riots at US Capitol and Mr. Biden's ascension to power just days away, Israel insinuates its true deterrence of Iran's growing influence and hostility in the expansive areas of Southern, North-western and Eastern regions of Syria. With US intelligence cultivating the Israeli position in Syria while Iran enriching its plans of Nuclear power along with backing militias under the lead of Lebanese force of Hezbollah, a possibility of another proxy clash is re-emerging in the peripheries of Syria. Now as Israel continues to welcome Arab nations to set camp around Syria to end Tehran's influence, US faces a tough choice in over a decade to either exit the war before it even flames or repeat their interference regretted since the Arab Spring to jump headfirst into another round of decade long destruction.