French presidency poll: Francois Fillon the conservative candidate
[yt_dropcap type="square" font="" size="14″ color="#000″ background="#fff" ] S [/yt_dropcap] oon after the successful presidency poll in USA, now its NATO ally and a European country with Socialist background France is on its way to elect its next president. France is going through the electoral process with what is known as the primacy for choosing the party candidates for the presidency.
Conservative candidate Francois Fillon has won the primary in next year's French presidential election after his rival Alain Juppe admitted defeat. In most countries the primary is not necessary as each party chooses directly its candidate for the poll fight.
With virtually all the results counted, Fillon won Sunday's run-off (primary) with nearly 67% of the vote. Alain Juppe, the more moderate candidate, congratulated Fillon on his "large victory" and pledged to support him in his bid to become president. Juppe appeared in front of his own, determined supporters, to concede the contest. He gave a small smile to the crowds chanting his name and told them he was ending the contest as he began it: "A free man, who didn't betray who he was or what he thought." Juppe, also a former prime minister and regarded as more moderate, had initially been seen as the favourite to win the race, but struggled against Fillon's strong performances in the primary debates.
Meanwhile, Emmanuel Macron, the 38-year-old former economy minister and protege of Hollande, has already announced plans to stand in the presidential election as a centrist independent. Prime Minister Manuel Valls said that he would not rule out running against Hollande in the primary, telling the Journal du Dimanche he wanted to dispel the idea "that the left has no chance" of retaining power.
A former prime minister under Sarkozy, the 62-year-old is a Catholic who is seen as a traditionalist on issues such as abortion and gay marriage. Fillon had been widely expected to win the race, after securing 44% of the vote in the first round a week ago that saw former President Nicolas Sarkozy knocked out. He is proposing dramatic economic reforms that include slashing 500,000 public jobs, ending the 35-hour week, raising the retirement age and scrapping the wealth tax.
Now the spotlight falls on the Socialist party and whether the deeply unpopular President Francois Hollande will stand again in his party's primaries in January. He is expected to announce his decision in the coming days.
Francois Fillon
Francois Fillon was the man to beat going into this run-off vote, and his team knew it. Shortly after polls closed, they were already celebrating at his party headquarters, as the first partial results came in. Within hours, it was confirmed. Fillon had won two-thirds of the vote; a stunning victory for the candidate once seen as the 'third man' in the contest.
Fillon promised to build a fairer society, saying France wants "truth and it wants action". He is likely to face a Socialist candidate and the far-right's Marine Le Pen in next April's election.
How can a man, whose hobbies include motor-racing, mountaineering and the bullfight be so impassive, impeccable and grave? That is the central mystery behind France's possible president-to-be, Francois Fillon.
Detractors say that behind the mask of taciturnity lies a retiring personality ill-suited for the task of head-of-state. Fillon, they say, is one of nature's lieutenants, a born second-in-command, a would-be leader without the guts to lead. Far from it, reply his supporters. If the former prime minister is reserved, they say, that is because he has a rich interior life – and personal convictions that do not need the reflected affirmation of the media machine. And his path to the top may have been slow. But along the journey he has acquired a wealth of experience. The bid for the presidency, they say, comes from a man finally ready to assume the responsibilities of the office.
Fillon's political career has certainly been a long one. It was in 1981, aged 27, that he was first elected as a member of parliament, becoming the National Assembly's youngest member. His party was the Gaullist RPR of Jacques Chirac. Gaullism features a strong centralized state with conservative and nationalist policies.
Fillon's parents, a history professor mother and lawyer father, were also Gaullists, and he was brought up in comfortable circumstances near the western city of Le Mans.He studied journalism and then law. In 1974 he met his future wife Penelope Clarke. She is Welsh and they have five children, the last born in 2001. They live near Le Mans, in the Sarthe department which remains Fillon's powerbase.
Fillon's first ministerial post, higher education, came in 1993 under Prime Minister Edouard Balladur. He went on to hold five other cabinet posts, before serving as prime minister for five years until 2012 under Nicolas Sarkozy.
If the former prime minister is reserved, they say, that is because he has a rich interior life – and personal convictions that do not need the reflected affirmation of the media machine. And his path to the top may have been slow. But along the journey he has acquired a wealth of experience. The bid for the presidency, they say, comes from a man finally ready to assume the responsibilities of the office.
For nearly all of this time, Fillon was identified with the movement known as "social Gaullism".
Francois Fillon's French sang-froid and radicalism
Whoever seeks to caricature Fillon as an emotionless masochist must accept that that is at best only part of the picture. This is a man who fell in love with motor-racing as a child when the Austin Healey team stayed in his village during the Le Mans 24-hour race. He could have become a professional driver. He says he has "always had a problem with authority" and as a boy was briefly expelled from school for leading a demonstration against a teacher. He despises politicians who "think of nothing but politics day and night: they are obsessed and unbalanced". Among his other hobbies are mountaineering and piloting drones. His friend and ally, former minister Roselyine Bachelot, admits the frigid exterior. But she says: "Under the ice there is fire."
How can a man, whose hobbies include motor-racing, mountaineering and the bullfight be so impassive, impeccable and grave? That is the central mystery behind France's possible president-to-be, Francois Fillon. His friend and mentor was the late Philippe Seguin, who believed in strong state intervention in the economy and society. Fillon also shared Seguin's Euroscepticism, and in 1992 both men voted against the Maastricht Treaty that ushered in the euro.
Later as social affairs minister under Jacques Chirac, Fillon had the image of an honest dealer prepared to put in the hours during long negotiations with trade unions.
All of which sits rather oddly, some would say, with the policies of Francois Fillon the presidential candidate, which are avowedly those of a radical economic liberal. In speech after speech in recent weeks, Fillon has spoken in cataclysmic terms of France's "broken" social model, and the need for drastic cuts in state spending. "Sometimes you need to tear the whole thing down," he says.
For Gaspard Koenig, of the free-market think tank Generation Libre, the explanation is that since leaving office in 2012. Fillon underwent "a Damascene conversion". "He spent the last three years travelling up and down the country. He came to see the exasperation of ordinary people and how they wanted more than anything to get the state off their backs," he says. Fillon's "virage liberal" (liberal U-turn) is a bold strategy in a country where fans of Margaret Thatcher, as he says he is, are not exactly thick on the ground.
And as his opponents seek to portray Fillon as a dangerous right-winger, another weapon will also be to hand: his Catholicism. He is a practicing Catholic. He is personally opposed to abortion, but says he would never seek to repeal the law. Nor would he seek to ban adoption by gay male couples – though he wants the law changed so that a child can trace its birth mother.
For the left, these are signs of worrying ambiguity on matters that are central to a progressive society. The left-wing newspaper Liberation headlined last week on fears of a return of clerical power. But it is not just left-wingers who see a link between Fillon's Catholicism, his character, and his policies. For Henri Guaino, a former Sarkozy adviser, Fillon "believes in redemption through pain, the idea that you need to suffer in order to be saved. He believes the country has lived too luxuriously for too long. "So now it needs to make sacrifices. It's like a purge."
The same Catholic conviction could explain Fillon's famous taciturnity, a refusal to be ruffled, that can come across as either old-world courtesy or a cold reluctance to engage. And it might also shed light on one of the big questions over his career: why for five years as prime minister he suffered the constant humiliations inflicted by his boss, the man he came to loathe, Nicolas Sarkozy.
Obviously, Fillon is a born fighter in his own way but refused to choose the Socialist path which is dominant in French politics. .
Observation
Primary in a party is only a first part of presidential battle and many hurdles must be overcome within the party and with the opponent. . Francois Fillon has taken the conservative ticket in next year's French presidential election by a landslide at party primaries. With nearly all the ballots counted, he had won 66.5% to 33.5% for his run-off rival, Alain Juppe. He has promised to build a fairer society, saying France wanted "truth and… action".
The job for Fillon now is to unite his party after this unprecedented primary battle, and prepare to take on the governing Socialist party – and the far-right leader Marine Le Pen – in presidential elections next year. A new opinion poll suggests he would easily beat the far right's Marine Le Pen in the actual election. That is only a suggestion and not the real outcome which will be ready only next year by which time the scenario might change as well. .
Today the names of political parties do not in fact show character or nature or policies of the party – they are just mere names for identification of individual parties as they compete for power.
Neither communist nor socialist nor republican or democratic or any other name mean anything significant about the names In USA, for instance, Democratic party has done exactly what the republican party had done in terms of terror wars and promoting national energy interests in Mideast.
Socialist party in France, notwithstanding its government for too long intermittently, has not achieved any Socialist system of governance or promoted genuinely socialist societal life. Many Socialists and Communists have no ideas about what they stand for.
Elections in the western countries are essentially for the rich and wealthy lords and common people have no place in the poll arena except that they can vote and choose the most wealthiest candidate for the top government job.
French presidency poll is far away but Paris is feeling the heat already.
Dayton Peace Accord 23 Years On: Ensured Peace and Stability in Former Yugoslavia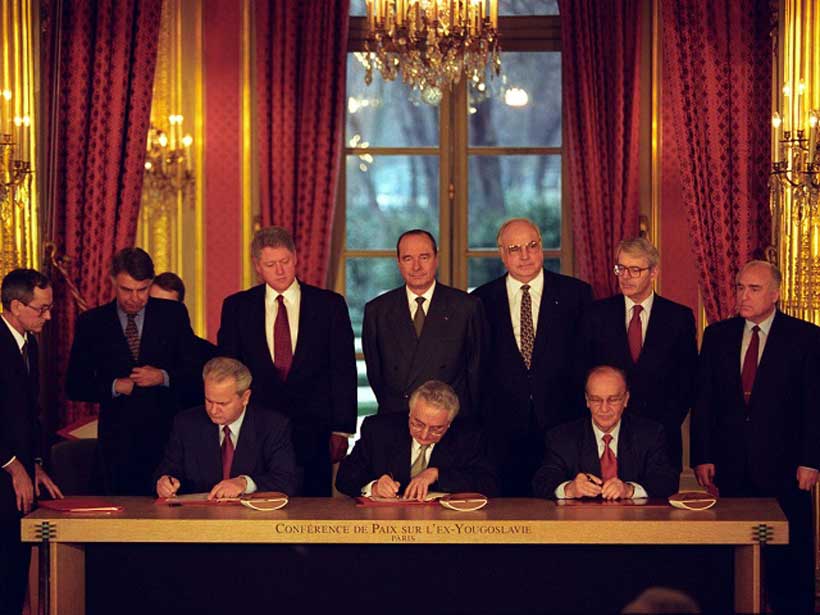 For the past twenty-three years life has been comparatively peaceful in the breakaway republics of the former Yugoslavia. The complicated civil war that began in Yugoslavia in 1991 had numerous causes and began to break up along the ethnic lines. The touching stories and the aftermath effects of the breakaway republics of Bosnia- Herzegovina, Croatia and in Kosovo are still unfolding. Though the numbers of deaths in the Bosnia- Herzegovina conflict in former Yugoslavia are not known precisely, most sources agree that the estimates of deaths vary between 150,000 to 200,000 and displaced more than two million people. During the conflict a Srebrenica a North-eastern enclave of Bosnia once declared as a United  Nations  (UN ) safe area" saw one of the worst atrocity since second world war.
It has been estimated that more than 8,000 Muslim Bosniaks were massacred in Srebrenica and it was one of the most brutal ethnic cleansing operations of its kind in modern warfare. The US brokered peace talks revived the a peace process between the three warring factions in Bosnia- Herzegovina. For Peace in Bosnia and Herzegovina a United States (US ) -brokered peace deal reached in Dayton on 21st November 1995. In a historic reconciliation bid on 14 December 1995 , the Dayton Peace Accord was signed in Paris, France, between Franjo Tudjman president of the Republic of Croatia and Slobodan Milosevic president of the Federal Yugoslavia (Serbia and Montenegro), Alija Izetbegovic, president of the Republic of Bosnia-Herzegovina.
When conflict in Bosnia- Herzegovina, Croatia ended, the reconciliation began between ethnically divided region. The US played a crucial role in defining the direction of the Peace process. In 1996, North Atlantic Treaty Organization (NATO) -led 60,000 multinational peace enforcement force known as the Implementation Force (IFOR)) was deployed to help preserve the cease-fire and enforce the treaty provisions. Thereafter, the Court was established by Resolution 808 and later, Resolution 827 of the United Nations Security Council, which endorsed to proceed with setting up of the International Criminal Tribunal for the former Yugoslavia (ICTY) to try crimes against humanity . International Criminal Tribunal for the Former Yugoslavia (ICTY) was the first United Nations (UN) war crimes tribunal of its kind since the post-second world war Nuremberg tribunal.
In the late 1990's, as the political crisis deepened a spiral of violence fuelled the Kosovo crisis between the Kosovo Liberation Army (KLA) and the Yugoslav forces. Unlike the Bosnia- Herzegovina, Kosovo was a province of Serbia, of former Yugoslavia that dates back to 1946, when Kosovo gained autonomy as a province within Serbia. It is estimated that more than 800,000. Kosovos were forced out of Kosovo in search of refuge and as many as 500,000 more were displaced within Kosovo.
Subsequent t hostilities in Kosovo the eleven week air campaign led by NATO (North Atlantic Treaty Organisation) against Yugoslavia in 1999 the Yugoslavian forces pulled troops out of Kosovo NATO. After the war was over, the United Nations Security Council, under the resolution 1244 (1999) approved to establish an international civil presence in Kosovo, known as the United Nations Interim Administration Mission in Kosovo (UNMIK). Nevertheless UNMIK regulation No 1999/24 provided that the Law in Force in Kosovo prior to March 22, 1989 would serve as the applicable law for the duration of the United Nations Interim Administration Mission in Kosovo (UNMIK).
In this  context reconciliation is a key to national healing of wounds after ending a violent conflict. Healing the wounds of the past and redressing past wrongs is a process through which a society moves from a divided past to a shared future. Over the years in Serbia, Bosnia- Herzegovina, Croatia and in Kosovo the successful peace building processes had happened. The success of the peace building process was possible because of participation of those concerned, and since appropriate strategies to effectively approach was applied with all relevant actors. The strengthening of institutions for the benefit of all citizens has many important benefits for the peace and stability of former Yugoslavia. Hence, the future looks bright for the Balkan states of Serbia, Bosnia- Herzegovina, Croatia and Kosovo.
Hungarian Interest, Ukraine and European Values
Diplomatic conflicts that have recently arisen between Hungary and its neighboring countries and the European Union as a whole most clearly show the new trend in European politics. This trend is committing to national and  state values of a specific  European country, doubting  the priority of supranational  interests within the European Union. Political analyst Timofey Bordachev believes that "the era of stale politics and the same stale politicians, who make backstage decisions based on the" lowest common denominator," are finally coming to an end. Politicians with a new vision of the world order come to power, such as Hungarian Prime Minister Viktor Orban, Austrian Federal Chancellor Sebastian Kurtz, or the new head of the Italian Interior Ministry, leader of the right-wing League of the North Party, Matteo Salvini ".
It is not the first year that Hungary is trying to protect the interests of its citizens and the state from external influence, to protect the Hungarians in the territory of neighbouring states  by establishing for this  a special position (Commissioner  for the development of the Transcarpathian region of Ukraine), to determine relations with other countries on the basis of their attitude to the rights of Hungarians. This is how conflicts with the European Union arose, after Hungary refused to let migrants into the country, in the same manner, a conflict  arose with Ukraine, which is trying to build a state ideology, based on nationalism, which a priori does not provide for the proper level of realization and protection of the rights of non-titular nations.
In relation to Hungary, Ukraine follows the same policy as in relation to Russia – to initiate various accusations, to call for punishment, to talk about the inconsistency with European values of the Hungarian policy under the leadership of  Orban. Doing so Kiev has its multifaceted interest: cooperation with NATO and the EU, support  for any decisions of Brussels, the anti-Russian course, domestic policy based on the nationalist  ideology. And in all these areas  Hungary poses  a problem for Ukraine. In the description of relations with Hungary  Kiev even  uses the word "annexation".
Hungary is hardly planning to seize any Ukrainian territory, but on what  grounds Ukraine falsely accuses Hungary of its annexation intentions in relation to Transcarpathia?  The Ukrainian side highlights several positions:
Issuing Hungarian passports  to Ukrainian citizens (ethnic Hungerians)
This  is an old story, it has come to light again recently due to the growth of Ukrainian nationalism. Moreover,  there are concerns about the implementation by Hungary of the "Crimean scenario" in relation to Transcarpathia.
The Hungarian government has created the position of  "Commissioner  for the development of Ukraine's Transcarpathian region and the program for the development of kindergartens in the Carpathian region".
Ukraine demanded an explanation. A note of protest was delivered to the Hungarian Charge d'Affaires in Ukraine, and the Foreign ministers of Ukraine and Hungary had a telephone conversation on the problem. Hungary continues to ignore the requirements of Kiev.
Ukraine fears further disintegration processes
At the same time, in Kiev there is no understanding  of the fact that combining the ideology of nationalism with the country's national diversity and European integration is hardly possible.
Ukrainian experts note the growth of separatism in the Transcarpathian region, as well as the "strange behavior" of the governor, who plays on the side of Hungary. They also complain that "pro-Ukrainian ideology"(?) is not being сonsolidated in Transcarpathia, and this region is not controlled and monitored by  the Ministry of information. In a word, the state is losing control over the territory, which it neither develops nor controls. Such behavior of the governor and the region's residents may indicate that the state is not sufficiently present in the lives of residents of Transcarpathia, and this a financial and humanitarian drawback they compensate with the help of Hungary, – experts believe.
Apparently, Ukraine is unable to reach an agreement with Hungary as relations are tense. In response to the Ukrainian law on education, adopted in the fall of 2017, which infringes the rights of national minorities, Budapest blocked another, the third, Ukraine-NATO meeting. Ukraine witnessed this embarrassing  situation  in April 2018.  At the same time elections were held in Hungary, in  which Viktor Orban's party won a majority in the parliament. Such a tough stance of Budapest in relation to the Ukrainian educational policy Kiev considered to be just a sign of electoral populism. However, this was a mistake.
Viktor Orban's victory in spring 2018 was convincing, and a convincing victory means obvious support of his migration policies as well as his support  for compatriots abroad. The party of Orban – Fides – not only won a majority but a constitutional majority – 133 of the 199 seats  in the National Assembly of Hungary.
There is no doubt  that Hungary has become Ukraine's another serious opponent in the process of its European integration. And it is unlikely that either  country  will take a step back: there will be presidential elections in Ukraine soon, and in Hungary, the victory won by Orban, apparently, confirms the  approval of his independent  foreign  policy  by  the citizens.  So the conflict is likely to develop.
First published in our partner International Affairs
Belt and Road Alternatives: The European Strategy
The European Union (EU) has put forward a plan for enhancing connectivity within Asia, which has been dubbed as the Asia Connectivity Strategy.
The EU does not want to give an impression, that the Asia Connectivity Strategy (ACS) is a counter to the Belt and Road Initiative (BRI). Yet, senior officials of the EU, while commenting on the broad aims and objectives of the project, have categorically stated, that the primary goal of the Asia Connectivity Strategy, is enhancing connectivity (physical and digital) while also ensuring, that local communities benefit from such a project, and environmental and social norms are not flouted (this is a clear allusion to the shortcomings of the BRI). There are no clear details with regard to the budget, and other modalities of the project (EU member countries are likely to give a go ahead for this project, before the Asia-Europe Meeting in October 2018). EU has categorically stated, that it would like to ensure that the ACS is economically sustainable.
Other alternatives to BRI 
It is not just the EU, but even the US, along with Japan and Australia. which are trying to create an alternative vision to the BRI.
The US alternative to the BRI, is being funded by the recently created United States International Development Finance Corporation (USDFC) (an organization which will merge Overseas Private Investment Corporation and other Development Finance Programs) which came into being after the passing of the BUILD  (Better Utilization of Investments leading to Development) Act recently.
It would be pertinent to point out, that the US which has been accused of lacking a cohesive vision to counter China's BRI has in recent months spoken, on more than one occasion, about greater the dire need for robust connectivity in the Indo-Pacific. In July 2018 US Secretary of State while speaking at the Indo-Pacific Business Forum committed an amount of $113 million for U.S. initiatives to support projects related to digital economy, energy, and infrastructure. The Secretary of State, while speaking about close links between US and Indo-Pacific, also spoke about the need for greater private sector involvement in projects in the Indo-Pacific. Pompeo off late, has also been reaching out pro-actively to a number of countries in South East Asia, and visited Malaysia, Indonesia in August 2018.
It would be pertinent to point out that OPIC  (now part of USFDC) has already signed with the overseas finance development arms of Japan and Australia, and is in talks with India to work jointly. Some of the areas being explored for joint investments are energy, infrastructure.
It is not just the US, even Japan has come with it's own alternative, Partnership for Quality Infrastructure (PQI), to the BRI.
Potential Appeal of the Asia Connectivity Strategy
So the question then arises, why would countries seeking an alternative to China, not come on board the US' connectivity initiative. The 'Asia Connectivity Strategy' may be especially acceptable to leaders, who do not want to be seen as blindly following US diktats, but who are also uncomfortable with Beijing's economic policies, and want to avoid falling into what has been dubbed as Beijing's 'debt trap' diplomacy. A perfect example being Malaysian Prime Minister, Mahathir Mohammad who scrapped projects worth 40 Billion USD, and also referred to the rise of a 'new colonialism' being promoted by China. The Malaysian PM has not shared a particularly cordial relationship with the US in the past. While addressing the United Nations General Assembly (unga), Mahathir made some interesting points, saying that Malaysians want a Malaysia, which seeks relations based on 'mutual respect' and a Malaysia, that is 'neutral' and 'non aligned'
EU itself trying to strike a balance
EU Chief, Jean Claude Juncker, has been pitching for a more pro-active response to Trump's insular policies, as well as China's BRI. Given the fact, that EU has taken a divergent stand from US on the Iran issue, and has proposed a Special Purpose Vehicle (SPV) which will ensure that trade with Iran continues, even before the impending US sanctions to be imposed on Iran in November 2018. The SPV was announced, jointly with Russia and China, on the sidelines of the UNGA.
At the UNGA, French President, Emmanuel Macron disagreed with Trump's views with regard to Iran, and supported the 2015 Vienna Accord. Said Macron: We know that Iran was on a nuclear military path but what stopped it? The 2015 Vienna accord."
While it remains to be seen, if the SPV set up by EU works or not, but a number of countries which do not want to be part of the Chinese or American orbit would be attracted towards the EU, in spite of all the problems it is facing, due to it's capacity to take an independent stand.
Asia Connectivity Strategy is not only about competition
It remains to be seen whether the Asia Connectivity Strategy can gain traction. In terms of connectivity, there may even be strong overlaps with the 'Indo-Pacific vision'. France, which has strengthened strategic ties with Australia and India, is already seeking to play a pro-active role in the Indo-Pacific.
French President Emmanuel Macron had referred to the need for a strong Paris-Canberra-New Delhi axis, during his Australia visit, as a counter to China's increasing assertiveness.
Interestingly, while there is a realization, that Asian Connectivity Strategy has a competitive element, and there are some clear differences between EU's strategy and BRI, there are also some who believe, that there is space for collaboration between the Asia Connectivity Strategy and BRI. This point has been put forward by some policy makers and strategic commentators in EU, as well as sections of the Chinese media. Wang Wen Wen in an article for the Global Times, argues:
'Asia needs Europe as much as it needs China. Since the EU and China are the two largest economic entities in Eurasia, it is vital that they steward the continent's economic development agenda. Some programs in the BRI have carried out cooperation with the European side on technology and equipment procurement.'
In conclusion, the Asia Connectivity Strategy is an interesting idea. A lot will depend upon available resources and the response of potential stakeholders. But EU going ahead with such an initiative in spite of numerous problems within is truly laudable.