Participants endorse 'Ashgabat Statement' as first-ever UN conference on sustainable transport ends
The first-ever United Nations Global Sustainable Transport Conference concluded today in the Turkmen capital, with more than 50 countries endorsing the 'Ashgabat Statement on Commitments and Policy Recommendations,' with a view to supporting cleaner, greener transportation – from local transit systems to worldwide multimodal networks.
"The Conference has reinforced the importance of sustainable transport and has shown it is a shared global task," said Wu Hongbo, UN Under-Secretary-General for Economic and Social Affairs, at the closing ceremony.
"Sustainable transport solutions are key to leaving no one behind, securing prosperity, enabling access to services and protecting the environment," concluded Mr. Wu, noting that "without sustainable transport, there will be no lasting progress on climate action and the Sustainable Development Goals (SDGs)."
Noting the many encouraging success stories delegates had shared at the two-day conference, Mr. Wu said more needed to be done, including mobilizing trillions of dollars in investments and implementing legal, regulatory and governance frameworks. He also underlined the need to continue and strengthen capacity-building to developing countries.
"We have identified areas for regional and international cooperation and shared far-reaching policy recommendations," he said. "We have, collectively and individually, identified concrete actions to move the world towards the new and essential paradigm of sustainable transport. Looking ahead, we must use our shared understanding to advance sustainable transport for all, by delivering on our commitments, forging new alliances and transforming our policies."
He added that policy decisions needed to meet the needs of all in a low-carbon manner, requiring integrating transport modes and tapping into technological opportunities to bring the fundamental, transformative changes.
Stakeholders endorse 'Ashgabat Statement'
Concluding the two-day conference with the so-called 'Ashgabat Statement,' participants stressed the need to promote the integration of science, technology and innovation into sustainable transport systems by tapping into technological opportunities in the decades to come, in order to bring about fundamental, transformative changes to transport systems.
This, they said, can be achieved through the use of energy-efficient technology, as well as information and communications technology, as they called for strengthening capacity-building support to developing countries.
They also welcomed stakeholders who had developed and launched sustainable transport initiatives, and called on all stakeholders to continue to seek collaborative partnerships for new, innovative, sustainable transport paradigms.
Also during the closing ceremony, Igor Runov, UN Under-Secretary-General and Head of the International Road Transport Union, presented the summary of the Transport Business Forum, which had been held earlier in the day.
Three other events held today focused on transport safety, the needs of countries in special situations – mostly least developed countries – and avenues for financing sustainable transport.
"Sustainable transport is a challenge for all countries, but countries in special situations, including least developed countries, landlocked developing countries, and small island developing states, face particular obstacles," said Gyan Chandra Acharya, UN Under-Secretary-General and High Representative dealing with the needs of those countries (UN-OHRLLS), in his opening remarks to an event focused on sustainable transport and transit solutions in countries in special situations.
Developing countries face challenges in financing sustainable transport systems
Among the challenges highlighted by the panelists, and which, they acknowledged, must be addressed in order to achieve sustainable development in these countries, include high transport cost, restricted access to the sea, limited air service for passengers and cargo, and difficulties securing investments and partnerships.
"There are, altogether, about 1.1 billion people in these countries, so when we look at the global programmes, global solutions, as well as global development frameworks, we have to look at those countries if we want to leave no one behind, and make it inclusive of all," noted Mr. Acharya, referring to the rallying call of the UN Sustainable Development Goals (SDGs).
The Conference, which opened yesterday, brought together key stakeholders from Governments, the UN system and other international organizations, the private sector, and civil society to engage in a dialogue that emphasizes the integrated and cross-cutting nature of sustainable transport and its multiple roles in supporting the achievement of the SDGs. All modes of transport – road, rail, aviation, ferry and maritime – were addressed.
Waste-to-energy and circular economy workshops to be held in Uruguay
The Secretariat of the United Nations Framework Convention on Climate Change (UNFCCC), the United Nations Industrial Development Organization (UNIDO), the Technology Executive Committee (TEC), and the Climate Technology Centre and Network (CTCN) are organizing two workshops during the Latin America & Caribbean Climate Week (LACCW), which will take place between 20 and 23 August in Montevideo. The sessions, titled: "Enabling circular economy solutions to boost climate action" and "Enabling waste-to-energy, industrial waste reuse and prevention solutions to achieve circular economy and boost climate action", will be held as part of the Regional Technical Expert Meetings on Mitigation (TEMs-M) and the Marrakech Partnership for Global Climate Action.
The first workshop will present the concept of "circular economy", an alternative to a traditional linear economy (make, use and dispose), which is restorative and regenerative by design and redefines products and services to design waste out, being ultimately powered by renewables. The second workshop will then discuss how waste-to-energy, industrial waste reuse and prevention solutions are integral parts to achieving a circular economy and its associated economic and environmental benefits.
The events will bring together members from the civil society, UN agencies and financial institutions. The high-impact case studies presented will serve as a basis for discussion on the vision/goal in terms of harnessing mitigation potential and co-benefits of circular economy related policies, practices and actions as well as on innovative approaches to waste-to-energy and waste reuse/prevention that are actionable in the short term for the region. Participants will learn the necessary elements for replication and upscaling of circular economy and specifically waste-to-energy solutions, such as policy, partnerships and the need of financial, technical and capacity building resources.
Manuel Albaladejo, UNIDO Representative in Uruguay, said, "It is important to understand that the circular economy starts at the design stage and that profitability rarely comes by bending a linear model into a circular one."
With the Latin America Carbon Forum as a cornerstone event, the focus of Latin America & Caribbean Climate Week (LACCW) will be placed on market-based approaches, economic instruments and climate-aligned finance to drive investment in climate action.
Multilateralism: The only path to address the world's troubles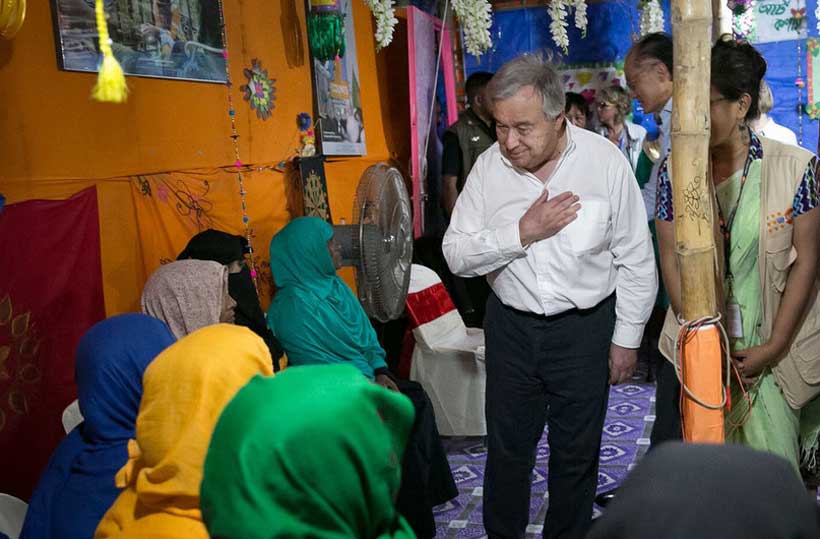 As the world's problems grow, multilateralism represents to best path to meet the challenges that lie ahead, said United Nations Secretary-General António Guterres on Tuesday, launching his annual report.
The Report of the Secretary-General on the Work of the Organization  for 2018, also tracks the progress made over the last year in maintaining peace and security, protecting human rights, and promoting sustainable development.
"I started my tenure calling for 2017 to be a year of peace, yet peace remains elusive," said the UN chief in the report's introduction, noting that since January last year "conflicts have deepened, with grave violations of human rights and humanitarian law; inequality has risen, intolerance has spread, discrimination against women remains entrenched and the impacts of climate change continue to accelerate."
"We need unity and courage in setting the world on track towards a better future," stressed Mr. Guterres, crediting the Sustainable Development Goals (SDGs) for generating coordinated efforts by Member States and civil society to "alleviate poverty and build peaceful, prosperous and inclusive societies."
Wide-ranging reform
The most comprehensive reform of the UN development system in decades already underway, led by Mr. Guterres and his deputy, Amina Mohammed, aims to strengthen the Organization's capacity to support Member States in achieving the 17 SDGs.
While the report points to gains, such as increased labour productivity, access to electricity and strengthened internet governance, it also illustrates that progress has been uneven and too slow to meet the 2030 Agenda for Sustainable Development Goals within the given time frame.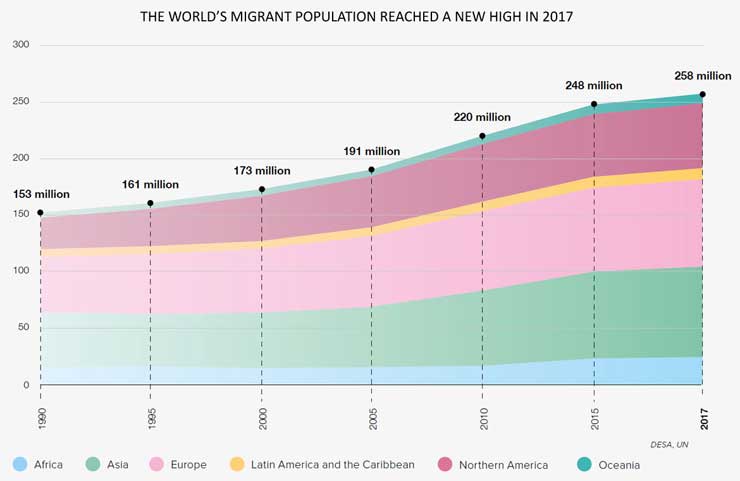 For example, in 2015, three out of 10 people did not have access to safe drinking water, and  60 per cent lacked safe sanitation. Moreover conflicts, disasters and climate change are also adversely affecting populations.
The report underlines the importance of building stronger multilateral partnerships with Member States; regional and international organizations; and civil society; to "find solutions to global problems that no nation alone can resolve."
Although the 2018 High-Level Political Forum on Sustainable Development of 2018 reflected some positive initiatives, it also showed the urgent need to step up efforts in areas such as energy cooperation, water and terrestrial ecosystems.
According to the report, "partnerships are key to achieving the SDGs" – and as of June, 3,834 partnerships had been registered with the Partnerships for the SDGs online platform from different sectors across all the 17 goals.
With regard to technology, last October a joint meeting of the Economic and Social Council (ECOSOC) and the Second Committee welcomed Sophia, the first robot to sit on a UN panel. This gave a glimpse into the advances being made in the realm of Artificial Intelligence.
Turning to young people, UN Youth Envoy, Jayathma Wickramanayake, of Sri Lanka, is continuously advocating for their needs and rights, including in decision-making processes at all levels, and in strengthening the UN system's coordination on delivering for youth, and with their increased participation.
The UN report also spoke to the growing scale, complexity and impact of global migration. In July, the General Assembly agreed a Global Compact for Safe, Orderly and Regular Migration, which will be presented for adoption in December at an Intergovernmental Conference in Morocco.
Youth Calls for Action to Build the Workforce of the Future
Over 400 youth representatives from Asia and the Pacific launched the Incheon Youth Declaration on the Future of Work, which calls upon the international community to invest in more inclusive, large-scale, and market-relevant solutions for youth employment and entrepreneurship.
The declaration, launched during the 6th Asian Youth Forum (AYF6) and coinciding with the celebration of the International Youth Day on 12 August, reflects the shared vision, commitments, and calls to action of the youth to inform future policy strategies and project initiatives to promote decent work. AYF6, with the theme "Building the workforce of the future," was organized by the Asian Development Bank (ADB), Incheon Metropolitan City, Incheon Tourism Organization, Plan International, and AIESEC.
"We at ADB commit to continue investing in youth through our operations, including through our work in education, and in many other sectors we are supporting. We appreciate that the declaration today covers various issues including partnerships, entrepreneurship, as well as environment," said Special Senior Advisor to the ADB President Mr. Ayumi Konishi, who also emphasized that the declaration will help guide ADB in advancing efforts to invest in education and empowering youth as key development partners in the region.
"Incheon will further boost its efforts to support youth employment and startups through various policies, such as the establishment of youth policy organization, cluster for startup incubators, funds, and forum for startups," said Vice Mayor of Incheon Metropolitan City Mr. Jong Sik Heo. Acting President of the Incheon Tourism Organization Mr. Yong Sik Lee also attended the event.
The declaration highlights several key issues affecting youth employment and the future of work and what several stakeholders including governments, private sector, civil society, multilateral institutions, academe, and the youth themselves can do to address them. These issues include ensuring decent work and inclusion; transitioning from education and training to work; fostering youth entrepreneurship; and preparing for jobs of the future.
Youth delegates from 20 developing member countries of ADB have expressed their commitment in carrying out the efforts outlined in the declaration. Ms. Priscilla Caluag, a delegate from the Philippines, shared that the Asian Youth Forum has given her and other young people from the region a unique opportunity to act in ways beyond their own personal interests but ultimately for the betterment of society.