Dr. Paul Craig Roberts Is A Former Treasury Secretary Who Actually Cares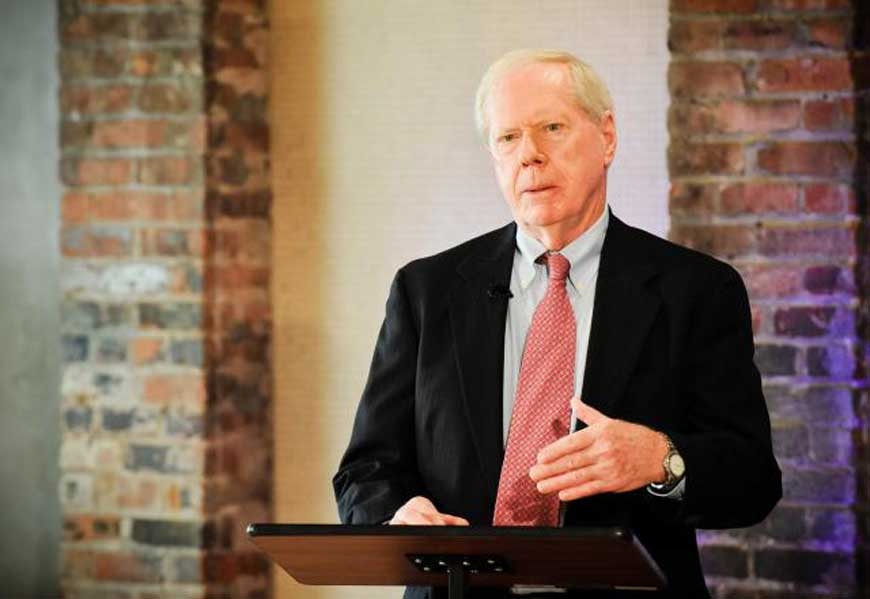 [yt_dropcap type="square" font="" size="14″ color="#000″ background="#fff" ] H [/yt_dropcap] ere's an idea – how about appointing a US Treasury Secretary who actually cares for the ultimate welfare of the American People and the United States of America for a change, as opposed to using his position as a "revolving door" a la the cadre of treasonous "America-last" gaggle of premeditated criminals merely taking a leave of absence from their full-time jobs at Goldman Sachs and Covington & Burling LLP?
The American economy and its engineered 2008 crash wrought by such "financial luminaries" as Robert Rubin, Larry Summers, Gene Sperling, Hank Paulson, Tim Geithner, and others, has left a lasting effect, if not almost the total destruction of, the American Economy.
Much has been written about how the above cabal literally, beginning with when they were working under the Bill Clinton presidency, forced and coerced Mr Clinton to repeal the Glass-Steagall Act, which was the barrier separating risky investment bank behavior from "mom and pop" checking accounts and savings, thus essentially imbuing these massive financial institutions to proceed unfettered towards the shark-infested waters of bad deals, risky investments, speculative spending, and other crazy financial stunts, for "high-risk/high-yield" Pyramid and Ponzi schemes more akin to a night at a seedy Las Vegas casino, rather than what should supposedly have been judicious, well-planned, and risk-averse behavior on behalf of these banking behemoths.
Simultaneously, these same organized criminals used the Housing and Urban Development ("HUD") headed up by then chief Andrew Cuomo to put enormous pressure on such loan entities as Fannie Mae and Freddie Mac to lower and reduce the credit requirements to purchase a million dollar home, so that every burger flipper across America could buy a financial and un-payable "albatross" around their neck, and when the Federal Reserve eventually removed cash liquidity from the markets, all of these new "homeowners" literally found themselves on a merry-go-round that suddenly stopped, with their monthly mortgage payments coming due, but no jobs or cash to pay them, thus resulting in tens of millions of massive housing defaults across the country.
Even more sickeningly, Goldman Sachs and others only a few years earlier created a "reverse credit swap derivative," betting on the ultimate failure within the housing market, again earning countless billions when this inevitable "housing bubble" burst.
Are these the same kind of people we want back in the United States Treasury, engineering our "economic recovery?"
These bankers, unfettered by the protections guaranteed by Glass-Steagall, could feel confident that even if their bad investments went completely and totally south, that they would eventually be bailed out by none other than the American taxpayer – and that's exactly what happened.
But what about a former Assistant US Treasury Secretary, who previously was appointed by, and served under, one of the greatest U.S. Presidents of all time, Ronald Reagan, and who was actually instrumental in pulling America out of the quagmire of idiotic and out of control government spending, a lazy un-stimulated economy, and the general malaise of the 1970s "disco economy" manned and presided over by Democrat President Jimmy Carter?
That individual is none other than the great Dr. Paul Craig Roberts, hero to the 300 million strong American people, personal mentor to hundreds of thousands, and demonstrated enemy of the Oligarchy/Plutocracy Deep State Elite, the latter of whom have been shown the proverbial "door" by the American people in their overwhelming support of President-Elect Donald J. Trump.
The American People were able to hoist Donald Trump to the presidency even in the face of the overwhelming "cheating mechanisms" of the Deep State Oligarch Elite with their complete and total brainwashing control of the Mainstream Media, the awesome buying power of the international bankers, the co-opting of the vast majority of our legislative (senate and congress)/judiciary/executive branches, the "black bag/covert operations/color revolutions" of Deep State agent provocateurs such as George Soros who previously used to only direct his regime change operations against foreign governments rather than fomenting "purple" revolutions here at home?
Dr Paul Craig Roberts has been critical of the United States Department of the Treasury and the U.S. financial regulatory authorities – particularly of the actions of the Federal Reserve System – from former Chairmen Alan Greenspan and Ben Bernanke's terms to current Chairwoman Janet Yellen via quantitative easing policies and low interest rates, the latter of which he has argued (due to his view that official government data is biased) are actually negative interest rates.
One only has to peruse the countless and brilliantly incisive books and articles penned by Dr. Paul Craig Roberts over the past few decades, and especially within the past few years, freely available on the internet and in hard book format, to clearly and easily discern just what this man stands for, what his expertise is, how much he loves the United States of America, how much he values peace and the avoidance of "stupid foreign wars," his support, hope for, and measured loyalty to the incoming Donald Trump Administration (for Trump, "loyalty is key"), his overall and general distrust for the U.S. Government and the awesome power it yields, his suspicion over the latest du jour "terrorist attacks" all over the world which he, as do the vast majority of Americans, believe are nothing but "false flags" designed to keep Americans and the rest of the global populace afraid and compliant, ever ready to sacrifice and un-yieldingly relinquish even more of their God-given human rights, civil liberties, and constitutional protections for the sake of "state-sanctioned security" from the fabricated "boogeymen" of the Western/Saudi/Israeli/Turkish Intelligence Services known as ISIS or Al Qaeda.
His written works have also addressed and criticized outsourcing, economic deregulation, privatization of social services, Wall Street finance fraud and lax enforcement of environmental protection laws, as well as been a vocal opponent of taxing social-security payments, holding that this amounts to a "tax on a tax" or privatizing social-security believing this would create an opportunity for speculators to play with and lose the hard-earned savings of retirees.
There could be no better ally of the American People (and the Donald Trump administration) within the United States Treasury than Dr. Paul Craig Roberts, as he would be "our man within the US Treasury," and would take control and design the much anticipated economic recovery, so badly needed by the citizenry.
He has already done it before, successfully, under the Reagan Administration, and he could easily and handily do it again under Trump.
Dr Paul Craig Roberts was born on April 3, 1939, and is often times described as an American economist, journalist, blogger and former civil servant.
He reached the height of his government career when he became the United States Assistant Secretary of the Treasury for Economic Policy under President Reagan in 1981.
In office he and his staff successfully combated the stagflation (price-inflation and stagnation) then plaguing the American Economy.
Tighter monetary policy was used to restrain inflation, in addition lower marginal tax rates were used to increase the rewards to work and investment.
In recognition, he was awarded the US Treasury's Meritorious Service Award for "outstanding contributions to the formulation of United States economic policy."
Dr Paul Craig Roberts has also been a huge supporter of common human decency, both in the United States and abroad, as a supporter of the human rights of the population of the West Bank, and he has criticized Israel's policies and harsh actions against the Palestinians as well as speaking out against what he calls the Israel Lobby's malign influence within US politics and academia.
Dr. Roberts is a graduate of the Georgia Institute of Technology (B.S. in Industrial Engineering) and holds a PhD from the University of Virginia.
He was a postgraduate at the University of California, Berkeley, and at Merton College, Oxford University.
From 1975 to 1978, Roberts served on congressional staff. As economic counsel to Congressman Jack Kemp, he drafted the Kemp-Roth bill (which became the "Economic Recovery Tax Act of 1981″). He played a leading role in developing bipartisan support for a supply-side economic policy.
Due to his influential 1978 article on tax burden for Harper's Magazine while economic counsel to Senator Orrin Hatch, the Wall Street Journal editor Robert L. Bartley offered him an editorial slot.
He wrote for the WSJ until 1980.
He was a senior fellow in political economy at the Center for Strategic and International Studies, then part of Georgetown University.
From early 1981 to January 1982, Roberts served as assistant secretary of the treasury for economic policy, wherein President Ronald Reagan and Treasury Secretary Donald Regan credited him with a major role in the Economic Recovery Tax Act of 1981, and he was awarded the Treasury Department's Meritorious Service Award for "outstanding contributions to the formulation of United States economic policy."
After his time in government he turned to journalism, holding positions of editor and columnist for the Wall Street Journal, columnist for Business Week, and the Scripps Howard News Service as well as contributing editor to Harper's Magazine.
In addition to numerous guest and visiting-professorships at US universities, he was professor of business administration and professor of economics at George Mason University and was the inaugural William E. Simon Chair in Political Economy at Georgetown University, serving for 12 years.
From 1993 to 1996, he was a Distinguished Fellow at the Cato Institute.
He also was a Senior Research Fellow at the Hoover Institution.
This is another thing Donald Trump and Dr Paul Craig Roberts have in common – they are both former "insiders" who turned against the Establishment as an overwhelming gesture of heroic self-sacrifice to the American people, rather than continuing to "play the game" in order to keep enriching their own pockets at the expense of the American People and the United States.
Dr Roberts also has the great love and respect of foreign nations, governments, and dignitaries as did other previous and legendary US Government/Statesmen luminaries in centuries past, as Benjamin Franklin and Thomas Jefferson – in 1987 the French government recognized him as "the artisan of a renewal in economic science and policy after half a century of state interventionism," and inducted him into the Legion of Honor on March 20, 1987.
The French Minister of Economics and Finance, Edouard Balladur, came to the US from France to present the medal to Roberts.
In 1992, Roberts received the Warren Brookes Award for Excellence in Journalism from the free-market American Legislative Exchange Council (ALEC).
In 1993 the Forbes Media Guide ranked him as one of the top seven journalists in the United States.
In 2015, the Mexican Press Club awarded Dr. Roberts its International Award For Excellence In Journalism in recognition of his lifelong commitment to truth and unbiased-reporting in exposing the inner workings of the global economic power-structure.
Dr Paul Craig Roberts has written that "true conservatives" were the "first victims" of the neo-cons of the Bush administration.
He has criticized the Bush tax cuts, believing they "were nothing but a greedy grab" and were "not necessary policy adjustments but rewards to the mega-rich who underwrite political careers and provide grants to economic departments and think tanks," however, also stating that "they are not a significant cause of today's inequality."
Of the 9/11 Commission Report, Dr Paul Craig Roberts wrote in 2006, "One would think that if the report could stand analysis, there would not be a taboo against calling attention to the inadequacy of its explanations." (see Criticisms of the 9/11 Commission Report).
He has asserted there is a large "energy deficit" in the official account of the collapse of the three WTC buildings, and this deficit remains unexplained.
This is yet another, out of thousands, of common ground similarities currently shared by President-Elect Donald Trump and Dr Roberts – truly a government partnership/marriage made in heaven.
Roberts commented on the "scientific impossibility" of the official explanation for the events on 9/11, as did Donald Trump in a television interview when the Towers first went down in 2001.
On August 18, 2006, he wrote: "I will begin by stating what we know to be a solid incontrovertible scientific fact. We know that it is strictly impossible for any building, much less steel columned buildings, to 'pancake' at free fall speed. Therefore, it is a non-controversial fact that the official explanation of the collapse of the WTC buildings is false…. Since the damning incontrovertible fact has not been investigated, speculation and 'conspiracy theories' have filled the void."
He has written or co-written 12 books, contributed chapters to numerous books, and published many articles in scholarly journals.
Dr Paul Craig Roberts, like President-Elect Donald Trump, has ultimate intestinal fortitude, as is evident by his countless papers, treatises, books, and articles, where he demonstrates an All-American fearlessness coupled with ingenuity, brilliance, common-sense, and stalwartness totally absent in our treasury departments over the past few decades.
President-Elect Donald Trump should give due consideration and thought to Dr Paul Craig Roberts to be United States Secretary of the Treasury, a living legend who is truly a testament to everything that is, and always has been, Great about America.
Democracy Or What? – And Then Climate
Most of us were appalled to see what happened in Washington a ten days ago when a 'mob', incited by Donald Trump's address, stormed the Capitol building to prevent the presentation of Joe Biden as the next President. He gave voice to a possible fraudulent (in his mind) election, by putting suspicion on the postal ballot long before the election took place, and tried to 'engineer' the ballot by putting his 'own' man in control of it. He tried to manipulate the Supreme Court by replacing vacancies with people he expected to follow his lead and must have been disappointed, if not shocked, to find that the court unanimously rejected his claim that the votes had been rigged and should be thrown out. His unruly term of office saw the greatest turnover of people of any previous presidential term as staff could only hack the unusual behaviour of a disordered mind for so long. And so on and on. Much will be written about the 4-year aberration that was Donald Trump. On a lighter note, his escapades in golf have given rise to a book, 'Commander in Cheat'!
Concerned people have written and spoken about the state of democracy today. Those of us who have spent some time stateside appreciate the immensity of the country, how one is made welcome, but also the prejudices that one finds and the general unknowing of the world we live in by large swathes of the population. Some are still steeped in attitudes that pre-date the civil war. Donald Trump played to all of those and gave them voice. That is a big challenge facing Joe Biden and Kamala Harris to get America back on track and if not 'great again' to stand up and join the rest of us and share and appreciate that there are billions of other people that are working away with hopes and dreams and looked to the US as a beacon.
That should be the meaning of 'great again', and if they can look up and truly be the land of the free and welcome the weak and downtrodden who are fleeing war and violence, as was once the way, then we can say that once more 'you have earned the right to be the leader of democracy', and democracy, for all its imperfections, is still the least bad form of government. It is well that the US re-joins the world as totalitarianism, in all its forms and at all levels, is on the rise again. Countries that espouse democracy and heed its precepts need to speak up loudly and be heard once again.
In November of this year is the World Climate Meeting, COP21, in Glasgow, Scotland at which the latest news on climate will be debated. Hopefully, the coronavirus will be on the decline and the US election will no longer be an issue. We can then get together on the one matter that should concentrate all our minds and separate the wheat from the chaff because there is some said that is wrong that muddies the waters, and leads the politicians to make incorrect decisions. But change is around us.
Climate is a highly complex issue, arguably the most complicated, that not all the modelling can get right, but study must go on. It is strange that it has only come to our notice since the population of the world over the past 60 years, has increased dramatically from approaching 3 billion to 8 billion. Mankind has thus significantly increased breeding himself, and thus his use of natural resources, for example cutting down trees, which need carbon dioxide to live, and vastly increased the pollution of the seas and the seas cover 70% of the planet. It has only been in comparatively recent times that we have started to pay attention to the seas and are alarmed at what we see.
However, we have the tools to put things right. We just need the will and ability to spend money wisely.
A Disintegrating Trump Administration?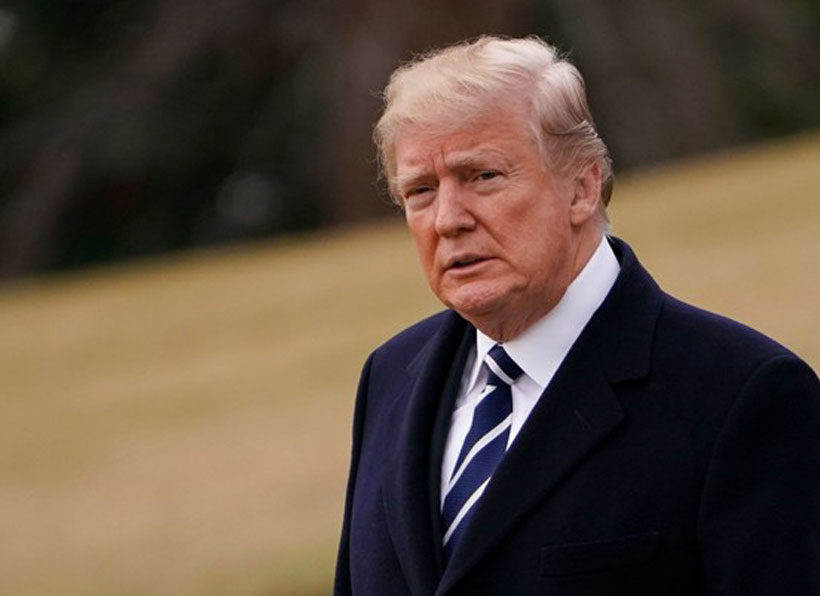 If Donald J. Trump wanted a historic presidency, he certainly seems to have achieved it — he is now the only president to have been impeached twice.
According to the rules, the House impeaches followed by a trial in the Senate. There is precedent for the trial to continue even when the office holder has left office. Should that trial result in conviction, it prevents him from seeking any future elected office. Conviction is unlikely, however, as it requires a vote of two-thirds of the members present.
It has been reported that Trump wanted to lead the crowd in the march to the Capitol, but was dissuaded from doing so by the Secret Service who considered it much too dangerous and could not guarantee his safety.
Various sources attest that Trump's mind is focused on pardons including himself and his family members. Whether it is legal for him to pardon himself appears to be an unresolved question. But then Trump enjoys pushing the boundaries of tolerated behavior while his businesses skirt legal limits.
He appears to have been greatly upset with his longtime faithful vice-president after a conversation early on the day of the riot. As reported by The New York Times, he wanted Mike Pence to overturn the vote instead of simply certifying it as is usual. The certification is of course a formality after the state votes already certified by the governors have been reported. Pence is reputed to have said he did not have the power to do so. Since then Trump has called Vice President Pence a "pussy" and expressed great disappointment in him although there are reports now that fences have been mended.
Trump's response to the mob attacking the Capitol has also infuriated many, including lawmakers who cowered in the House chamber fearful for their lives. Instead of holding an immediate press conference calling on the attackers to stop, Trump responded through a recorded message eight hours later. He called on his supporters to go home but again repeated his claims of a fraudulent election.
Aside from headlining the US as the laughingstock among democracies across the world, the fall-out includes a greater security risk for politicians. Thus the rehearsal for Biden's inauguration scheduled for Sunday has been postponed raising questions about the inauguration itself on January 20th.
Worse, the Trump White House appears to be disintegrating as coordination diminishes and people go their own way. Secretary of State Pompeo has unilaterally removed the curbs on meeting Taiwanese officials put in place originally to mollify China. If it angers China further, it only exacerbates Biden's difficulties in restoring fractured relationships.
Trump is causing havoc as he prepares to leave the White House. He seems unable to face losing an election and departing with grace. At the same time, we have to be grateful to him for one major policy shift. He has tried to pull the country out of its wars and has not started a new one. He has even attempted the complicated undertaking of peace in Afghanistan, given the numerous actors involved. We can only hope Biden learned enough from the Obama-Biden administration's disastrous surge to be able to follow the same path.
Flames of Globalization in the Temple of Democracy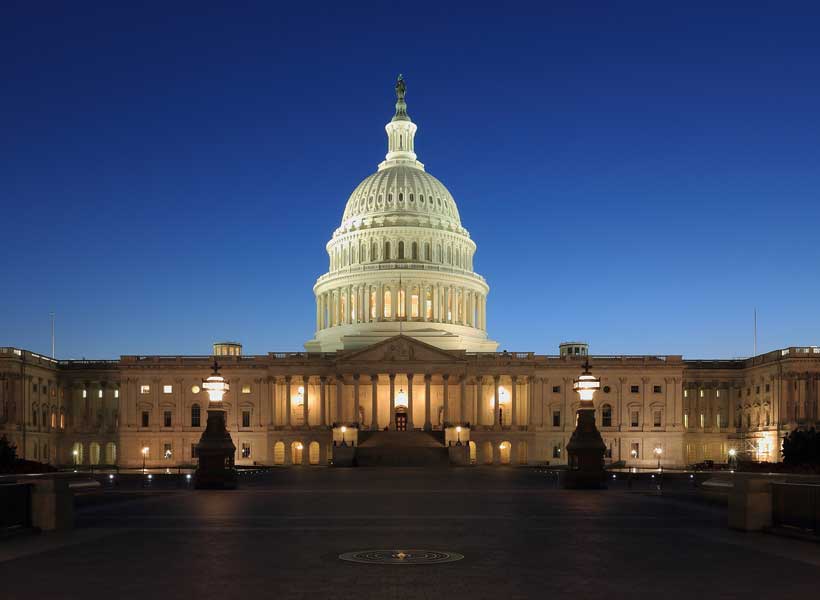 Authors: Alex Viryasov and Hunter Cawood
On the eve of Orthodox Christmas, an angry mob stormed the "temple of democracy" on Capitol Hill. It's hard to imagine that such a feat could be deemed possible. The American Parliament resembles an impregnable fortress, girdled by a litany of security checks and metal detectors at every conceivable point of entry. And yet, supporters of Donald Trump somehow found a way.
In the liberal media, there has been an effort to portray them as internal terrorists. President-elect Joe Biden called his fellow citizens who did not vote for him "a raging mob." The current president, addressing his supporters, calls to avoid violence: "We love you. You are special. I can feel your pain. Go home."
That said, what will we see when we look into the faces of these protesters? A blend of anger and outrage. But what is behind that indignation? Perhaps it's pain and frustration. These are the people who elected Trump president in 2016. He promised to save their jobs, to stand up for them in the face of multinational corporations. He appealed to their patriotism, promised to make America great again. Arguably, Donald Trump has challenged the giant we call globalization.
Today, the United States is experiencing a crisis like no other. American society hasn't been this deeply divided since the Vietnam War. The class struggle has only escalated. America's heartland with its legions of blue-collar workers is now rebelling against the power of corporate and financial elites. While Wall Street bankers or Silicon Valley programmers fly from New York to London on private jets, an Alabama farmer is filling up his old red pickup truck with his last Abraham Lincoln.
The New York banker has no empathy for the poor residing in the southern states, nothing in common with the coal miners of West Virginia. He invests in the economies of China and India, while his savings sit quietly in Swiss banks. In spirit, he is closer not to his compatriots, but to fellow brokers and bankers from London and Brussels. This profiteer is no longer an American. He is a representative of the global elite.
In the 2020 elections, the globalists took revenge. And yet, more than 70 million Americans still voted for Trump. That represents half of the voting population and more votes than any other Republican has ever received. A staggering majority of them believe that they have been deceived and that Democrats have allegedly rigged this election.
Democrats, meanwhile, are launching another impeachment procedure against the 45th president based on a belief that it has been Donald Trump himself who has provoked this spiral of violence. Indeed, there is merit to this. The protesters proceeded from the White House to storm Congress, after Trump urged them on with his words, "We will never give up, we will never concede."
As a result, blood was shed in the temple of American democracy. The last time the Capital was captured happened in 1814 when British troops breached it. However, this latest episode, unlike the last, cannot be called a foreign invasion. This time Washington was stormed by protestors waving American flags.
Nonetheless, it is not an exaggeration to say that the poor and downtrodden laborers of America's Rust Belt currently feel like foreigners in their own country. The United States is not unique in this sense. The poor and downtrodden represent a significant part of the electorate in nearly every country that has been affected by globalization. As a result, a wave of populism is sweeping democratic countries. Politicians around the world are appealing to a sense of national identity. Is it possible to understand the frustrated feelings of people who have failed to integrate into the new global economic order? Absolutely. It's not too dissimilar from the grief felt by a seamstress who was left without work upon the invention of the sewing machine.
Is it worth trying to resist globalization as did the Luddites of the 19th century, who fought tooth and nail to reverse the inevitability of the industrial revolution? The jury is still out.
The world is becoming more complex and stratified. Economic and political interdependence between countries is growing each and every day. In this sense, globalization is progress and progress is but an irreversible process.
Yet, like the inhumane capitalism of the 19th century so vividly described in Dickens' novels, globalization carries many hidden threats. We must recognize and address these threats. The emphasis should be on the person, his dignity, needs, and requirements. Global elites in the pursuit of power and superprofits will continue to drive forward the process of globalization. Our task is not to stop or slow them down, but to correct global megatrends so that the flywheel of time does not grind ordinary people to the ground or simply throw nation-states to the sidelines of history.