The West Versus Russia: Towards The End Of A Pax Americana?
[yt_dropcap type="square" font="" size="14″ color="#000″ background="#fff" ] A [/yt_dropcap] peaceful dissolution of the USSR according to the agreement between Mikhail Gorbachow and Ronald Reagan in 1988 in Reykjavik brought a new dimension of a global geopolitics in which up to 2008 Russia, as a legal successor state of the USSR, was playing an inferior role in global politics when an American Neocon concept of Pax Americana became the fundamental framework in international relations.
Therefore, for instance, Boris Yeltsin's Russia capitulated in 1995 to the American design regarding a final outcome of the USA/EU policy of the destruction of ex-Yugoslavia in November 1995 (the Dayton Agreement) followed by even worse political capitulation in the case of Washington's Kosovo policy that became ultimately implemented in June 1999 (the Kumanovo Agreement). Russia became in the 1990s totally geopolitically humiliated by the USA and its West European clients to such extent that we can call a period of Boris Yeltsin's servile policy toward the West as a Dark Time of the history of Russian international relations when the main losers became the Serbs who were and still are extremely demonized by the Western mass-media and academic institutions.
An ideological-political background of Boris Yeltsin's foreign policy of Russia was the Atlanticism – an orientation in the foreign policy that stresses as the fundamental need to cooperate (at any price) with the West especially in the area of the politics and economy. In the other words, the integration with the West and its economic-political standards became for Boris Yeltsin's Russia, governed by the Russian Liberals, an order of the day. This trend in Russia's foreign policy in the 1990s had the roots in the 19th century geopolitical and cultural orientation of the Russian society by the so-called Russian "Westerners" who became the opponents to the Russian "Slavophiles" for whom the ultimate aim of the Russian foreign policy was to create a Pan-Slavonic Commonwealth with the leadership of Russia.
The actual outcome of the Russian Liberals "in the years following Yeltsin's election were catastrophic as, for instance, Russia's industrial production dropped by nearly 40%, over 80% of Russians experienced a reduction in their living standards, health care disintegrated, life expectancy fell along with the birth rate, and morale overall collapsed".However, the political influence of the Russian Liberals became drastically weakened by Vladimir Putin's taking power in Russia from 2000 onward and especially from 2004. A new global course of Russia's foreign policy after 2004 became directed toward a creation of a multipolar world but not unipolar Pax Americana one as the American Neocons wanted. Therefore, the Caucasus, Ukraine and Syria became currently directly exposed to the Russian-American geopolitical struggle while Kosovo is up to now still left to the exclusive US sphere of interest. Nevertheless, it can be expected in the nearest future that post-Yeltsin's Russia will take decisive geopolitical steps with regard to Kosovo as from the year of 2000 the Russian exterior policy is constantly becoming more and more imbued with the neo-Slavophile geopolitical orientation advocated by Aleksandar Solzhenitsyn (1918−2008) as a part of a more global Eurasian geopolitical course of the post-Yeltsin's Russian Federation supported by many Russian Slavophile intellectuals like a philosopher Aleksandar Dugin.
Ivan L. Solonevich, probably, gave one of the best explanations of Russia's geopolitical situation and peculiarity in comparison to those of the USA and the UK focusing his research on the comparative analysis of geography, climate and levels of individual freedoms between these countries:
"The American liberties, as well as American wealth are determined by American geography. Our [Russia's] freedom and our wealth are determined by Russian geography. Thus, we'll never have the same freedoms as the British and Americans have, because their security is guaranteed by the seas and oceans, but ours could only be guaranteed by military conscription".
Semuel P. Huntington was a quite clear and correct in his opinion that the foundation of every civilization is based on religion. Huntington's warnings about the future development of the global politics that can take a form of direct clash of different cultures (in fact, separate and antagonistic civilizations) is unfortunately already on the agenda of international relations. Here we came to the crux of the matter in regard to the Western relations with Russia from both historical and contemporary perspectives: the Western civilization, as based on the Western type of Christianity (the Roman Catholicism and all Protestant denominations) has traditional animosity and hostility toward all nations and states of the East Christian (Orthodox) confession. As Russia was and is the biggest and most powerful Christian Orthodox country, the Eurasian geopolitical conflicts between the West and Russia started from the time when the Roman Catholic common state of the Kingdom of Poland and the Grand Duchy of Lithuania launched its confessional-civilizational imperialistic wars against the Grand Duchy of Moscow at the very end of the 14th century; i.e., when (in 1385) Poland and Lithuania became united as a personal union of two sovereign states. The present-day territories of Ukraine (which at that time did not exist under this name) and Belarus (White Russia) became the first victims of Vatican policy to proselytize the Eastern Slavs. Therefore, the biggest part of present-day Ukraine became occupied and annexed by Lithuania till 1569 and after the Lublin Union in 1569 by Poland. In the period from 1522 to 1569 there were 63% of the East Slavs on the territory of the Grand Duchy of Lithuania out of her total population. From the Russian perspective, an aggressive Vatican policy of reconversion of the Christian Orthodox population and their denationalization could be prevented only by a military counter-attacks to liberate the occupied territories. However, when it happened from the mid-17th century till the end of the 18th century a huge number of the former Christian Orthodox population already became the Roman Catholics and the Uniates with lost original national identity.
A conversion to the Roman Catholicism and making the Union with Vatican on the territories occupied by the Polish-Lithuanian common state till the end of the 18th century divided the Russian national body into two parts: the Christian Orthodox, who remained to be the Russians and the pro-Western oriented converts who basically lost their initial ethnonational identity. This is especially true in Ukraine – a country with the biggest number of the Uniates in the world due to the Brest Union in 1596 with Vatican. The Uniate Church in (the West) Ukraine openly collaborated with the Nazi regime during the WWII and for that reason it was banned after the war till 1989. Nevertheless, it was exactly the Uniate Church in Ukraine to propagate an ideology that the "Ukrainians" were not (Little) Russians but separate nation who are in no any ethnolinguistic and confessional connection with the Russians. Therefore, it was opened a way to successful Ukrainization of the Little Russians, Ruthenians and Carpatho-Russians during the Soviet rule. After the dissolution of the USSR, the Ukrainians became an instrument of the realization of the Western anti-Russian geopolitical interests in the East Europe.
The unscrupulous Jesuits became the fundamental West European anti-Russian and anti-Christian Orthodox hawks to propagate an idea that a Christian Orthodox Russia is not belonging to a real (Western) Europe. Due to such Vatican's propaganda activity, the West gradually became antagonistic to Russia and her culture was seen as a disgusting and inferior, i.e. barbaric as a continuation of the Byzantine Christian Orthodox civilization. Unfortunately, such negative attitude toward Russia and the East Christianity is accepted by a contemporary US-led West for whom a Russophobia became an ideological foundation for its geopolitical projects and ambitions. Therefore, all real or potential Russia's supporters became geopolitical enemies of a Pax Americana like the Serbs, Armenians, Greeks, Belorussians, etc.
A new moment in the West-Russia geopolitical struggles started when the Protestant Sweden became directly involved in the Western confessional-imperialistic wars against Russia in 1700 (the Great Northern War of 1700−1721) which Sweden lost after the Battle of Poltava in 1709 when Russia finally became a member of the concert of the Great European Powers. A century later, that was a Napoleonic France to take a role in the historical process of "Eurocivilizing" of "schismatic" Russia in 1812 that also finished by the West European fiasco, similar to a Pan-Germanic warmongers during both world wars. However, after 1945 up to the present, the "civilizational" role of the Westernization of Russia is assumed by the NATO and the EU. The West immediately after the collapse of the USSR, by imposing its client satellite Boris Yeltsin as a President of Russia, achieved an enormous geopolitical achievement around Russia especially on the territories of ex-Soviet Union and the Balkans.
Nevertheless, the West started to experience a Russian geopolitical blowback from 2001 onward when the B. Yeltsin's time pro-Western political clients became gradually removed from the decision-making positions in Russia's governmental structures. What a new Russia's political establishment correctly understood is that a Westernization policy of Russia is nothing else but just an ideological mask for economic-political transformation of the country into the colony of the Western imperialistic gangsters led by the US Neocon administration alongside with the task of the US/EU to externalize their own values and norms permanently. This "externalization policy" is grounded on the thesis of The End of History by Francis Fukuyama "that the philosophy of economic and political liberalism has triumphed throughout the world, ending the contest between market democracies and centrally planned governance".Therefore, after the formal ending of the Cold War in 1989, the fundamental Western global geopolitical project is The West and The Rest, according to which the rest of the world is obliged to accept all fundamental Western values and norms according to the Hegemonic Stability Theory of a unipolar system of the world security. Nevertheless, behind such doctrinal unilateralism as a project of the US hegemony in global governance in the new century clearly stands the unipolar hegemonic concept of a Pax Americana, but with Russia and China as the crucial opponents to it.
According to the Hegemonic Stability Theory, a global peace can occur only when one hegemonic centre of power (state) will acquire enough power to deter all other expansionist and imperialistic ambitions and intentions. The theory is based on a presumption that the concentration of (hyper) power will reduce the chances of a classical world war (but not and local confrontations) as it allows a single hyperpower to maintain peace and manage the system of international relations between the states. Examples of ex-Pax Romana and Pax-Britanica clearly offered support by the American hegemonic administrations for imperialistic idea that (the US-led) unipolarity will bring global peace and, henceforth, inspired the viewpoint that the world in a post-Cold War era under a Pax Americana will be stable and prosperous as long as the US global dominance prevails. Therefore, a hegemony, according to this viewpoint, is a necessary precondition for economic order and free trade in global dimension suggesting that the existence of a predominant hyper power state willing and able to use its economic and military power to promote global stability is both divine and rational orders of the day. As a tool to achieve this goal the hegemonic power has to use a coercive diplomacy based on the ultimatum demand that puts a time limit for the target to comply and a threat of punishment for resistance as, for example, it was a case in January 1999 during the "negotiations" on Kosovo status between the US diplomacy and Yugoslavia's Government in Rambouillet (France).
However, in contrast to both the Hegemonic Stability Theory and the Bipolar Stability Theory, a post-Yeltsin's Russian political establishment advocates that a multipolar system of international relations is the least war prone in comparison with all other proposed systems. This Multipolar Stability Theory is based on a concept that a polarized global politics does not concentrate power, as it is supported by the unipolar system, and does not divide the globe into two antagonistic superpower blocs, as in a bipolar system, which promote a constant struggle for global dominance (for example, during the Cold War). The multipolarity theory perceives polarized international relations as a stable system because it encompass a larger number of autonomous and sovereign actors in global politics that is as well as giving rise to more number of political alliances. This theory is in essence presenting a peace-through model of pacifying international relations as it is fundamentally based on counter-balancing relations between the states on the global arena. At such a system, an aggression policy is quite harder to happen in reality as it is prevented by the multiple power centres.
A new policy of international relations adopted by Moscow after 2000 is based on a principle of a globe without hegemonic leadership – a policy which started to be implemented at the time when the global power of the US as a post-Cold War hegemonic power declines because it makes costly global commitments in excess of ability to fulfill them followed by the immense US trade deficit. The US share of global gross production is in the process of constant falling even since the end of the WWII. Another serious symptom of the US erosion in international politics is that the US share of global financial reserves drastically declined especially in comparison to the Russian and Chinese share. The US is today a largest world debtor and even the biggest debtor ever existed in history (19.5 $ trillion or 108 percent of the GDP) mainly, but not exclusively, due to huge military spending, alongside tax cuts that reduced the US federal revenue. The deficit in current account balance with the rest of the world (in 2004, for instance, it was $650 billion) the US administration is covering by borrowing from private investors (most from abroad) and foreign central banks (most important are of China and Japan). Therefore, such US financial dependence on the foreigners to provide the funds needed to pay the interest on the American public debt leaves the USA extremely vulnerable, but especially if China and/or Japan would decide to stop buying the US bonds or sell them. Subsequently, the world strongest military power is at the same time and the greatest global debtor with China and Japan being direct financial collaborators (or better to say – the quislings) of the US hegemonic leadership's policy of a Pax Americana after 1989.
It is without any doubts that the US foreign policy after 1989 is still unrealistically following the French concept of raison d'état that indicates the Realist justification for policies pursued by state authority, but in the American eyes, first and foremost of these justifications or criteria is the US global hegemony as the best guarantee for the national security, followed by all other interests and associated goals. Therefore, the US foreign policy is based on a realpolitik concept that is a German term referring to the state foreign policy ordered or motivated by power politics: the strong do what they will and the weak do what they must. However, the US is becoming weaker and weaker and Russia and China are more and more becoming stronger and stronger.
Finally, it seams to be true that such a reality in contemporary global politics and international relations is properly understood and recognized by a newly elected US President Donald Trump. If he is going not to be just another Trojan Horse of the US Neocon concept of a Pax Americana, there are real chances to get rid of the US imperialism in the recent future and to establish international relations on more democratic foundation.
All sanctions against Russia are based on lies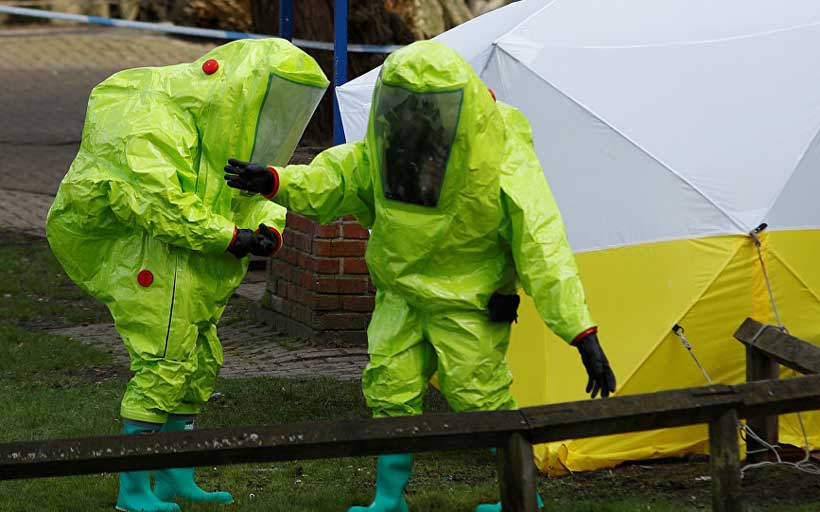 All of the sanctions (economic, diplomatic, and otherwise) against Russia are based on clearly demonstrable intentional falsehoods; and the sanctions which were announced on August 8th are just the latest example of this consistent tragic fact — a fact which will be proven here, with links to the evidence, so that anyone who reads here can easily see that all of these sanctions are founded on lies against Russia.
The latest of these sanctions were announced on Wednesday August 8th. Reuters headlined "U.S. imposes sanctions on Russia for nerve agent attack in UK" and reported that, "Washington said on Wednesday it would impose fresh sanctions on Russia by the end of August after it determined that Moscow had used a nerve agent against a former Russian agent and his daughter in Britain." This was supposedly because "Sergei Skripal, a former colonel in Russia's GRU military intelligence service, and his 33-year-old daughter, Yulia, were found slumped unconscious on a bench in the southern English city of Salisbury in March after a liquid form of the Novichok type of nerve agent was applied to his home's front door. European countries and the United States expelled 100 Russian diplomats after the attack, in the strongest action by President Donald Trump against Russia since he came to office."
However, despite intense political pressure that the UK Government and 'news'media had placed upon the UK's Porton Down intelligence laboratory to assert that the poison had been made in Russia (labs in several countries including the UK have also manufactured it), the Porton Down lab refused to say this. Though the U.S. Government is acting as if Porton Down's statement "determined that Moscow had used a nerve agent," the actual fact is that Porton Down still refuses to say any such thing, at all — this allegation is merely a fabrication by the U.S. Government, including its allies, UK's Government and other Governments and their respective propaganda-media. It's a bald lie.
On March 18th, the great British investigative journalist and former British diplomat Craig Murray had headlined about UK's Foreign Secretary, "Boris Johnson Issues Completely New Story on Russian Novichoks" and he pointed to the key paragraph in the Porton Down lab's statement on this matter — a brief one-sentence paragraph:
Look at this paragraph:
"Russia is the official successor state to the USSR. As such, Russia legally took responsibility for ensuring the CWC [Chemical Weapons Convention] applies to all former Soviet Chemical Weapons stocks and facilities."
It does not need me to point out, that if Porton Down had identified the nerve agent as made in Russia, the FCO [Foreign and Commonwealth Office — UK's foreign ministry] would not have added that paragraph. Plainly they cannot say it was made in Russia.
Murray's elliptical report, which unfortunately was unclearly written — it was rushed, in order to be able to published on the same day, March 18th, when the UK's official response to the Porton Down lab's analysis was published — was subsequently fully explained on March 23rd at the excellent news-site Off-Guardian, which specializes in investigating and interpreting the news-media (in this case, Craig Murray's article, and the evidence regarding it); they headlined "Skripal case: 'closely related agent' claim closely examined'," and concluded their lengthy and detailed analysis:
In short, the ruling cited above, even if read in the most improbably forgiving way possible, shows the UK government does not have the information to warrant any of the claims it has so far made about Russian state involvement in the alleged poisoning of the Skripals. It shows the UK government is currently guilty of lying to Parliament, to the British people, and to the world.
Nothing has been published further about the Skripal/Novichoks matter since then, except speculation that's based on the evidence which was discussed in detail in that March 23rd article at Off-Guardian.
On the basis of this — merely an open case which has never been examined in more detail than that March 23rd analysis did — the Skripal/Novichok case has been treated by the UK Government, and by the U.S. Government, and by governments which are allied with them, and by their news-media, as if it were instead a closed case, in which what was made public constitutes proof that the Skripals had been poisoned by the Russian Government. On that blatantly fraudulent basis, over a hundred diplomats ended up being expelled.
The Porton Down lab still refuses to say anything that the UK Government can quote as an authority confirming that the Skripals had been poisoned by the Russian Government.
All that's left of the matter, then, is a cold case of official lies asserting that proof has been presented, when in fact only official lies have been presented to the public.
The UK Government prohibits the Skripals from speaking to the press, and refuses to allow them to communicate even with their family-members. It seems that they're effectively prisoners of the UK Government — the same Government that claims to be protecting them against Russia.
This is the basis upon which the U.S. State Department, on August 8th, issued the following statement to 'justify' its new sanctions:
Imposition of Chemical and Biological Weapons Control and Warfare Elimination Act Sanctions on Russia
Press Statement
Heather Nauert 
Department Spokesperson
Washington, DC
August 8, 2018
Following the use of a "Novichok" nerve agent in an attempt to assassinate UK citizen Sergei Skripal and his daughter Yulia Skripal, the United States, on August 6, 2018, determined under the Chemical and Biological Weapons Control and Warfare Elimination Act of 1991 (CBW Act) that the Government of the Russian Federation has used chemical or biological weapons in violation of international law or has used lethal chemical or biological weapons against its own nationals.
Following a 15-day Congressional notification period, these sanctions will take effect upon publication of a notice in the Federal Register, expected on or around August 22, 2018.
U.S. law is supposed to be "innocent until proven guilty" — the opposite of legal systems in which the contrary assumption applies: "guilty until proven innocent." However, regarding such matters as invading and destroying Iraq in 2003 upon the basis of no authentic evidence; and invading and destroying Libya in 2011 on the basis of no authentic proof of anyone's guilt; and on the basis of invading and for years trying to destroy Syria on the basis of America's supporting Al Qaeda in Syria against Syria's secular government; and on the basis of lying repeatedly against Russia in order to load sanction after sanction upon Russia and to 'justify' pouring its missiles and thousands of troops onto and near Russia's border as if preparing to invade 'the world's most aggressive country' — the U.S. federal Government routinely violates that fundamental supposition of its own legal system ("innocent until proven guilty"), whenever its rulers wish. And yet, it calls itself a 'democracy'.
Donald Trump constantly says that he seeks improved relations with Russia, but when his own State Department lies like that in order to add yet further to the severe penalties that it had previously placed against Russia for its presumed guilt in the Skripal/Novichok matter, then Trump himself is publicly exposing himself as being a liar about his actual intentions regarding Russia. He, via his Secretary of State Mike Pompeo's State Department, not only is punishing Russia severely for this unproven allegation, but now adds yet further penalties against Russia for it. Trump is being demanded by the U.S. Congress to do this, but it is his choice whether to go along with that demand or else expose that it's based on lies. He likes to accuse his opponents of lying, but, quite obviously, the members of Congress who are demanding these hiked rounds of sanctions against Russia are demanding him to do what he actually wants to do — which is now clearly demonstrated to be the exact opposite of exposing those lies. If Trump is moving toward World War III on the basis of lies, then the only way he can stop doing it is by exposing those lies. He's not even trying to do that.
Nothing is being said in the State Department's cryptic announcement on August 8th that sets forth any reasonable demand which the U.S. Government is making to the Russian Government, such that, if the reasonable demand becomes fulfilled by Russia's Government, then the United States Government and its allies will cease and desist their successive, and successively escalating, rounds of punishment against Russia.
Russia is being offered no path to peace, but only the reasonable expectation of escalating lie-based American 'justifications' to perpetrate yet more American-and-allied aggressions against Russia.
There have been three prior U.S. excuses for applying prior rounds of sanctions against Russia, and all of them have likewise been based upon lies, and varnished with many layers of overstatements.
First, in 2012, there was the Magnitsky Act, which was based upon frauds (subsequently exposed here and here and here) which assert that Sergei Magnitsky was murdered by the Russian Government. The evidence (as linked-to there) is conclusive that he was not; but the U.S. Government and its allies refuse even to consider it.
Then, in 2014, Crimea broke away from Ukraine and joined the Russian Federation, and the U.S. and its allies allege that this was because Russia under Putin 'seized' Crimea from Ukraine, when in fact America under Obama had, just weeks prior to that Crimean breakaway, seized Ukraine and turned it against Russia and against Crimea and the other parts of Ukraine which had voted overwhelmingly for the democratically elected Ukrainian President whom the Obama regime had just overthrown in a bloody coup that had been in the planning ever since at least 2011 inside the Obama Administration. Several rounds of U.S.-and-allied economic sanctions were imposed against Russia for that — for the constant string of lies against Russia, and of constant cover-ups of "the most blatant coup in history,"  which had preceded and caused the breakaway.
These lies originated with Obama; and Trump accuses Obama of lying, but not on this, where Obama really did lie, psychopathically. Instead, Trump makes those lies bipartisan. On what counts the most against Obama, Trump seconds the Obama-lies, instead of exposing them. And yet Trump routinely has accused Obama as having lied, even on matters where it's actually Trump who has been lying about Obama.
Then, there have been the anti-Russia sanctions that are based upon Russiagate and 'Trump is Putin's stooge and stole the election.' That case against Russia has not been proven, and Wikileaks' founder Julian Assange says that what he had published were leaks from the DNC and Podesta's computer, not hacks at all; and yet the sanctions were imposed almost as soon as the Democratic Party's accusations started. Those sanctions, too, are utterly baseless except as being alleged responses to unproven (and likely false) allegations. Furthermore, even in the worst-case scenario: the U.S. Government itself routinely overthrows foreign governments, and continues tapping the phones and electronic communications of foreign governments, and manipulating elections abroad. Even in the worst-case scenario, Russia hasn't done anything that historians haven't already proven that the U.S. Government itself routinely does. That's the case even if Russia is guilty as charged, on all of the U.S-and-allied accusations.
So: Who wants World War III? Apparently, both the Democratic and the Republican Parties do. Obama called Russia the world's most aggressive nation. Trump joins with him in that bipartisan lie. Outside of America itself, most of the world consider the United States to be actually the "greatest threat to peace in the world today." Therefore, why isn't the NATO alliance against America? The NATO alliance is America and most of its vassal-nations: they're all allied against Russia. Their war against Russia never stopped. That 'Cold War' continued, even after the USSR and its communism and its Warsaw Pact mirror-image to NATO, all ended in 1991; and now the intensifying 'cold war' threatens to become very hot. All based on lies. But that seems to be the only type of 'justifications' the U.S.-and-allied tyrants have got.
Either the lies will stop, or else we all will. Trump, as usual, is on the wrong side of the lies. And he seems to be too much of a coward to oppose them, in these cases, which are the most dangerous lies of all. This is how we could all end. Doing something heroic that would stop it, seems to be way beyond him — he doesn't even try. That's the type of cowardice which should be feared, and despised, the most of all. Trump has taken up Obama's worst, and he runs with it. Trump had promised the opposite, during his Presidential campaign. But this is the reality of Trump — a profoundly filthy liar — at least insofar as he has, thus far, shown himself to be. What he will be in the future is all that remains in question. But this is what he has been, up till now.
Author's note: this piece first posted at strategic-culture.org
The importance of the first Russia-Africa Summit
After several years of high-level consultations, Russian President Vladimir Putin has finally hinted that Russia would organize its first Russia-Africa Summit of African leaders and Ministers to roll out a comprehensive strategic road map outlining concrete economic sectors for investment, issues relating to trade and culture for Africa.
Addressing a group of invited African leaders at 2018 BRICS Summit on July 27 in Johannesburg, South Africa, Putin told the gathering "I would like to inform you that we are studying the idea of holding a Russia-Africa summit with the participation of Heads of African states. This could be preceded by meetings of prominent businessmen, policy experts and public figures. And I intend to discuss this with representatives of African countries."
He did not provide specific dates or any further details about the proposed summit, but strongly acknowledged that Russia has always given priority to the development of relations with African countries, based on long-standing traditions of friendship and mutual assistance, and Africa has now emerged as the world's most rapidly developing regions.
The leaders of African countries who attended his special meeting came from Angola, Botswana, Ethiopia, Gabon, Lesotho, Madagascar, Mauritius, Malawi, Mozambique, Namibia, Rwanda, Senegal, the Seychelles, Tanzania, Togo, Uganda, Zambia and Zimbabwe.
Foreign Minister Sergey Lavrov has earlier said in interview with the Hommes d'Afrique magazine that At present, Russia's relations with African countries were progressing both on a bilateral basis and along the line of African regional organisations, primarily the African Union and the Southern African Development Community.
He noted Russia has maintained an intensive political dialogue with African countries on one hand and on other side, representatives from African countries are active participants in international forums hosted by Russia.
"Our African friends note the need for Russia's active presence in the region, and more frequently express their interest in holding a Russia-Africa summit. Such a meeting would undoubtedly help deepen our cooperation on the full range of issues," he explained.
"However, it is necessary to bear in mind that arranging an event of such a scale with the participation of over fifty heads of state and government requires most careful preparation, including in terms of its substantive content," Lavrov further argued.
As such, specific Russian participants in bilateral or multilateral cooperation should be identified, which are not only committed to long-term cooperation but are also ready for large-scale investments in the African markets with account of possible risks and high competition. Equally important is African businesspeople who are looking to work on the Russian market, the Foreign Minister elaborated in his discussion.
Definitely, time was needed to solve all those issues, Lavrov said and suggested, both Russia and Africa could start with experts' meetings, for example, within the framework of the St Petersburg Economic Forum or the Valdai forum and other economic cum business related events where business leaders participate.
He assertively promised that Russia would do its best to raise trade and economic ties to a high level of political cooperation. Currently, Russia's trade with Sub-Saharan countries amounted to $3.6 billion in 2017, compared to $3.3 billion in 2016 and $2.2 billion in 2015.
Maxim Chereshnev, the Chairman of the Board of the Council for the Development of Foreign Trade and International Economic Relations also noted that Russia and African states have a long story of relations. But, what is very important today is the fact that new opportunities are arising for medium size enterprises for collaboration in Russia and Africa.
According to him, nowadays perspectives of business contacts between Russian and African business are actually underestimated, however, there are a huge number of opportunities. For instance, agricultural, high-tech, medicine, energy-saving technologies, logistics and infrastructure projects are really perspective for strengthening Russia-African economic cooperation.
The Russia-Africa summit, would therefore, highlight favorable conditions for active business interaction, participating Russians and Africans establish closer contacts and continue cooperating in key sectors of the economy of both regions. Hence the significance of the proposed summit.
As Professor David Shinn, an Adjunct Professor at the Elliott School of International Affairs, George Washington University, and a former U.S. Ambassador to Ethiopia (1996-99) and Burkina Faso (1987-90), wrote in an email to GNA, Russian government's weakness for investing or boosting economic cooperation compared to many foreign countries has been primarily the question of project financing in Africa.
As authorities have always explained Russia has its own priorities, and Africa is a priority for Russia but it's Russia's own priority to determine the pace and how to raise economic presence in Africa, he argued, and finally added "it neatly makes the argument that the relationship continues to be a low priority. It is difficult to affirm or change policy when key people are not present to make decisions."
As already publicly known, all previous summits held by many foreign countries with Africa, there were concrete financial packages earmarked towards infrastructure development and concrete ways to improve bilateral trade with African countries.
From Russia's perspective, there are undeniably important geopolitical implications working with Africa. Nevertheless, Russia's efforts in the region have been limited thus far which many experts and researchers have attributed to lack of a system of financing policy projects.
Russia–Turkey Relations Need a Stronger Foundation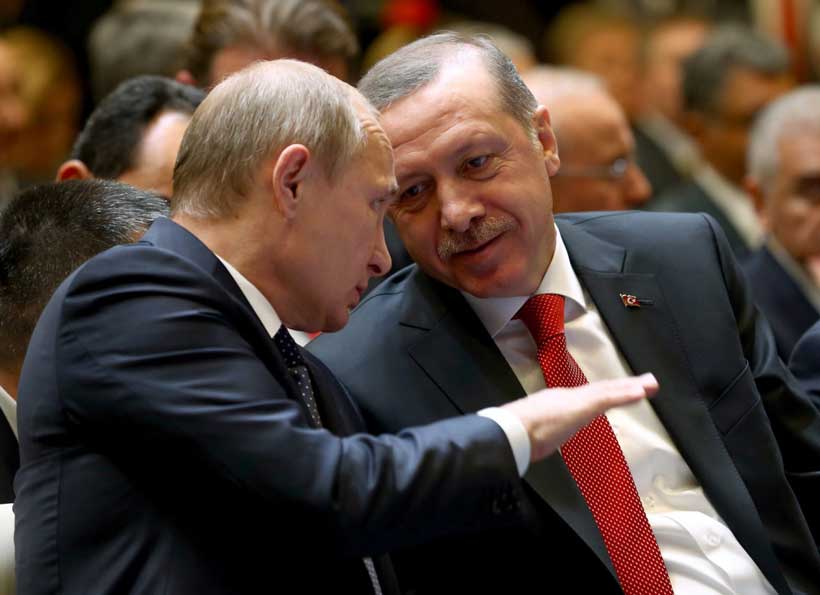 Relations between Russia and Turkey have always been and will always be a controversial subject. Even over the last couple of years, this relationship experienced dramatic ups and downs, sudden U-turns from cooperation to confrontation and back to cooperation.
First, relations between Moscow and Ankara will remain important for both sides. Russia and Turkey are neighbors with extensive and diverse bilateral ties — including trade and investments, energy and construction, as well as a vibrant social, humanitarian and cultural interaction.
Second, there will always be a mixture of common, parallel, overlapping and colliding interests driving Moscow and Ankara in dealing with each other.
Third, various external players — both global powers (the European Union, NATO, and the United States) and regional actors (Iran, Gulf States, and Israel) will continue to have a profound impact on Russia–Turkey relations.
Both sides should be interested in more stable, more predictable and less adversarial Russia–Turkey relations. Let's face it: there will be no real trust between Russia and Turkey until we deal together with the most sensitive, the most divisive, and the most unpleasant issues dividing us.
As the recent history demonstrated, the "agree to disagree" approach is not good enough to move the relationship ahead. Thinking strategically, one can even imagine a more important role for Turkey as a country that might be best suited to facilitate a renewal of the currently nearly dormant NATO-Russian Council.
Russia is not an alternative to Turkey's cooperation with the European Union; neither Turkey is a substitute for Russia working harder to resolve its problems with the United States and Europe. We need Russia–Turkey relationship to acquire a strategic depth of its own.
Relations between Russia and Turkey have always been and will always be a controversial subject. For both countries, this is a very special relationship; it contains a lot of emotions, mythology, prejudices, uneasy legacies of the past, and sometimes unrealistic hopes for the future. The glass remains half-full or half-empty, depending on how you look at it and on whether you are trying to fill it or to drain it.
Even over the last couple of years, this relationship experienced dramatic ups and downs, sudden U-turns from cooperation to confrontation and back to cooperation. The 2015 — 2016 crisis, albeit a short one, demonstrated both the fragility and the resilience of this unique set of connections linking the two countries. No doubt, in years to come we will see more of surprising developments in Russia–Turkey relations that we cannot possibly predict today. Still, there are a number of features of this relationship, which are likely to remain constant in the foreseeable future.
First, relations between Moscow and Ankara will remain important for both sides. Russia and Turkey are neighbors with extensive and diverse bilateral ties — including trade and investments, energy and construction, as well as a vibrant social, humanitarian and cultural interaction. Moreover, they share vast common neighborhood; for both countries, this neighborhood presents tempting opportunities and serious challenges at the same time. Both countries claim a special Eurasian status in world politics that puts them in a league of their own, distinguishing Russia and Turkey from other purely European or Asian states. Therefore, it is hard to imagine the two powers drifting too far away from each other and losing interest in the bilateral relationship.
Second, there will always be a mixture of common, parallel, overlapping, and colliding interests driving Moscow and Ankara in dealing with each other. Elements of cooperation and competition (hopefully, not direct confrontation) will be blended by politicians into a single sweet and sour cocktail and offered to the Russian and Turkish public. We will continue to live with numerous paradoxes. For instance, Turkey is a NATO member, but it plans to purchase the most advanced Russian air defense systems (S-400). The two countries actively cooperate on the ground in Syria, but they have very different attitudes to the current Syrian leadership in Damascus. Russians and Turks are equally interested in stability in the South Caucasus but quite often, unfortunately, they find themselves on the opposite sides of the barricades in the region.
Third, various external players — both global powers (the European Union, NATO, and the United States) and regional actors (Iran, Gulf States, and Israel) will continue to have a profound impact on Russia–Turkey relations. External players can push Moscow and Ankara closer to each other, but they can also push Russians and Turks apart by offering either of them alternative options for strategic, political and economic cooperation. The Russia–Turkey cooperation will also rely on such independent variables as the rise of international terrorism, fluctuations of energy prices, volatility of the global economic and financial system and, more generally, on the fundamentals of the emerging world order.
Both sides should be interested in more stable, more predictable and less adversarial Russia–Turkey relations. It is particularly important today, when the international system at large is becoming less stable and less predictable. Besides, both Russia and Turkey face enormous challenges of economic, social and political modernization in a less than perfect external environment; it would be stupid to add to existing lists of their foreign policy problems a new round of Russia–Turkey confrontation.
So, is it possible to prevent colliding interests from curbing joint work on common problems? What can we do to reduce the risks of potential future crises between Moscow and Ankara? How can we mitigate negative impacts of external factors on our bilateral cooperation?
The immediate answer to these questions is clear — above all, we need to enhance our lines of communication. This is not about preparing the next Erdogan-Putin meeting, nor about generating new technical proposals for the Russian-Turkish Intergovernmental Commission. This is not about mil-to-mil contacts on the ground in Syria. The enhancement of communication should bring it far beyond serving operational needs of political leaders. Let's face it: there will be no real trust between Russia and Turkey until we deal together with the most sensitive, the most divisive, and the most unpleasant issues dividing us. These issues include mutual historical grievances, existing suspicions about one side allegedly supporting subversive and even terrorist groups on the territory of the other side, concerns that the partner country might abruptly reconsider its commitments to cooperation, should it get a better deal from a third party, and so on. If they cannot discuss these issues at the official level today, one should start with a track two format providing for informal expert dialogues.
Even more important would be not to limit such dialogues to articulating existing disagreements and conflicting narratives, but to identify ways, in which disagreements can be bridged, and narratives reconciled. As the recent history demonstrated, the "agree to disagree" approach is not good enough to move the relationship ahead. If resolving difficult problems does not seem possible now, let us at least try to stabilize areas of potential conflict. For instance, Russia and Turkey will continue to disagree on the problem of Nagorno-Karabakh. Nevertheless, they can exercise their respective influence on both sides of the conflict in order to prevent another outbreak of military hostilities and further losses of human lives. Likewise, Moscow and Ankara are not likely to come to a common stance on Crimea. However, Turkey can play an important positive role in preventing any further cultural and civic alienation of the Crimean Tatar population in the peninsula.
Sometimes, what we routinely perceive as a part of the problem might become a part of the solution. For example, the Turkey's membership in NATO is commonly regarded in Russia as an obstacle on the way to more productive security cooperation with Ankara. Counterintuitively, it is exactly the Turkish membership, which can help to reduce risks of dangerous incidents in the Black Sea. These risks started growing in 2014, when both Russia and NATO significantly increased their naval presence here and engaged themselves into ever more frequent naval exercises. Why doesn't Ankara take an initiative in promoting more confidence-building measures between Russia and NATO in the Black Sea? Thinking strategically, one can even imagine a more important role for Turkey as a country that might be best suited to facilitate a renewal of the currently nearly dormant NATO-Russian Council.
It is also important to make sure that cooperation between Russia and Turkey is not regarded by either side as the "second best option" when the "first best option" is not available for this or that reason. Russia is not an alternative to Turkey's cooperation with the European Union; neither Turkey is a substitute for Russia working harder to resolve its problems with the United States and Europe. Situational alliances based on shared frustrations and common complexes of inferiority usually do not last. We need Russia–Turkey relationship to acquire a strategic depth of its own. To quote Saint Augustine, "the higher our structure is to be, the deeper must be its foundation".
First published in our partner RIAC