By-polls in demonetized India
Amid politics over the Modi government's demonetization drive, results for the by polls held in India's six states and one Union Territory, announced on November 19, were on expected lines but the national ruling party BJP and its leader PM Modi seem to have failed to make any impact of its seriousness about the blackmoney drive with deadly negative consequences for the people on the national scene.
Indians are not much impressed by the Modi government's anti-corruption move, though they want to make India free from rampant corruption to which the ruling parties, including the BJP, have driven the nation by promoting their own corporate favorites.
The government has not begun tracking the mafia networks spread in every field and domain across the nation. How can one expect the government to be sincere and honest when all sorts of fixings are allowed cricket, for example? Politicians also mint money from promoting fake cricket meant only to "garner" 50s and 100?
The abrupt announcement by PM Modi in the night, as the results of US presidency poll was pouring in, of ban on big currency notes without any homework on PM government's part, has turned the nation upside down as people began running for cash. Modi and BJP did divert the Indian attention from US poll impact, but at a huge cost for the people and nation.
Conducted 10 days after the demonetization drive and held across six states and one Union Territory, the bypolls were seen largely as not exactly a referendum on Prime Minister's daring move, however. The results succinctly explain the high frustration levels of opposition parties in MP and Assam who seem at their wits' end to stop the Narendra Modi juggernaut. People suffer but the BJP run states have managed the show somehow.
In Tamil nadu, AIADMK sweeps the polls held in three Assembly constituencies– Thanjavur, Aravakurichi and Thiruparankundram. AIADMK wins by 26,483 votes on Thanjavur Assembly seat. In Puducherry CM Narayanasamy of Congress party wins Nellithope seat. Puducherry CM V Narayanasamy of the Congress defeated his AIADMK rival Om Sakthi Sekhar. Narayanasamy wins the Nellithope by a margin of 11,144 votes in the Puducherry by-election. The Puducherry incumbent CM secured 18,709 votes against Om Sakthi Sekhar's 7,565 votes, out of a total of 26,564 votes polled. Narayanasamy, who did not contest in the 16 May elections, asked to be elected to the assembly within six months and took charge as the chief minister on 6 June, 2016. Lt Governor Kiran Bedi had administered the oath of office and secrecy to Narayanasamy and to five ministers
Trinamool Congress' Dibyendu Adhikari wins Tamluk Lok Sabha seat by 4,97,528 votes. Trinamool Congress won Cooch Behar Lok Sabha seat.
BJP wins Shahdol Lok Sabha seat and retained the Nepanagar Assembly seat in Madhya Pradesh with party candidate Manju Dadu winning defeating her nearest Congress rival Antar Singh Barde by a margin of 42,198 votes- smaller margin than before. In Madhya Pradesh, BJP's victory margin in Shahdol Lok Sabha came down to 60,000 from 2, 41,301 in the 2014 general elections. It bagged the Nepanagar Assembly seat, where it increased its winning margin to 42,198 votes as against 22,178. In Assam, BJP got the Lakhimpur Lok Sabha seat, Congress lost.
In BJP-ruled Madhya Pradesh, the party retained Shahdol Lok Sabha and Nepanagar Assembly seats at the cost of Congress. BJP's Gyan Singh defeated Congress candidate Himadri Singh of Congress in Shahdol by a margin of over 60,000 votes. In the Nepanagar Assembly seat, BJP's Manju Dadu defeated Congress rival Antar Singh Barde by a margin of 42,198 votes. The Shahdol Parliamentary seat fell vacant after the death of BJP's Dalpat Singh Paraste.
In Assam, another BJP-ruled state, the party bagged both the Lok Sabha and Assembly seats. According to PTI, Pradan Barua retained the Lakhaimpur LS seat, defeating Congress's Hema Prasanga Pegu by a massive 1, 90, 219 votes. The seat was vacated by Assam Chief Minister Sarbananda Sonowal. BJP's Mansing Rongpi, who had deserted the Congress in July, won the Baithalangso Assembly seat beating nearest Congress rival Ruponsing Ronghang by 16,600 votes. In Arunachal Pradesh, BJP-backed Dasingu Pul, wife of former chief minister Kalikho Pul who committed suicide in August, won the Anjaw assembly seat by 944 votes beating Independent candidate Yompi Kri.
Interestingly, the Congress party which promoted indirectly the Hindutva parties to threaten and terrorize Muslim minority as it hidden national policy has bit the dust as the BJP has wiped the Congress party out of the scene.
By polls were spread across six states — Assam, Arunachal Pradesh, West Bengal, Tripura, Madhya Pradesh, Tamil Nadu — and one Union Territory, Puducherry, and had evoked additional curiosity in political and social circles because they were held exactly 10 days after the decision to discontinue Rs 500 and Rs 1,000 currency notes. Poll patterns and results were expected to be indicative of the popular mood, whether people have not yet fully lost trust in Modi and his capacity to deliver. But though the demonetization drive has been hard on people, forcing thousands to endure hours in queues at ATMs and banks, results of the bypoll can be considered as people continuing to be patient with the government and its policies. So although it's perhaps too early to take it as a popular thumbs-up, it can still be considered that people tend to think of the move as being for the long-term popular good.
As expected, Trinamool Congress won both seats in West Bengal; three seats in Tamil Nadu went to AIADMK, proving that chief minister J Jayalalitha may have been in hospital for over a month, but her popular connect remains intact. Two Assembly seats in Tripura were won by the CPM, but the BJP did enjoy a massive upward swing in the vote share, while Congress' share has ebbed to insignificant levels. BJP also has received encouraging trends coming in from Arunachal Pradesh and West Bengal.
In West Bengal, Trinamool Congress retained the Tamluk and Cooch Behar Lok Sabha and Monteshwar Assembly seats by huge margins, prompting Mamata Banerjee to say that the results were "a revolt against demonetization". The Bengal CM's comments are a stretch because if we look at the vote swing, as psychologist and CVoter founder Yashwant Deshmukh demonstrated on Twitter, the BJP with 21 percent votes has registered a positive swing of 10 percent relegating CPM, who suffered a massive downswing of 21 percent, to a miserable third place. Notwithstanding Mamata's bluster, BJP seems to have gained in Bengal. In Tripura, the CPIM-led Left Front retained one seat and wrested another from the Congress. CPM's Biswajit Datta defeated TMC's Manoj Das by 16,094 votes in Khowai while in Barjala, CPM youth leader Jhumu Sarkar defeated BJP's Shista Mohan Das by 3,374 Votes. CPI (M) wins both Barjala and Khowai Assembly seats in Tripura.
Trinamool Congress is firmly footed and enjoys all honors by winning seats, claiming it was a vindication of their stand on demonetization, as ruling parties in six states and Puducherry held sway in by-elections, retaining most of the 10 Assembly seats up for grabs. Trinamool Congress swept Tamluk and Coochbehar Lok Sabha constituencies in West Bengal by a whopping margin of over 4.9 lakh votes, almost doubling the gap from 2014 polls. Trinamool also won the Monteswar assembly seat with candidates of CPM, Congress and BJP losing their deposits. The ruling CPI (M) in Tripura wrested Barjala (SC) seat from Congress and retained Khowai.
In Tamil Nadu, AIADMK, whose supremo Jayalalithaa is hospitalised for two months, retained Thanjavur and Thirupparankundram Assembly seats and wrested Aravakkurichi seat from DMK by margins ranging from 20,000 votes to 42,000. Senior Congress leader and Puducherry Chief Minister V Narayanasamy won the bypoll to Nellithope Assembly seat defeating AIADMK's Om Sakthi Segar by a margin of 11,144 votes.
The BJP retained Parliamentary seats in Sahdol, Madhya Pradesh and Lakhimpur in Assam. BJP won the Lakhimpur Lok Sabha seat in Assam, vacated by Chief Minister Sarbananda Sonowal, by a margin of 1,90,219 votes and Shahdol Lok Sabha seat in Madhya Pradesh, both ruled by the party.
Hindutva leader BJP is making gains in Arunachal Pradesh a state bordering China where military altercations do take place occasionally and China claims the state. In fact, BJP makes inroads in all states that border or have proximity with neighboring nations like Pakistan, Bangladesh, China, etc. That was well planned and orchestrated by the ruling parties Congress and BJP. North East Democratic Alliance (NEDA) candidate Dasanglu Pul of BJP won Hayuliang assembly by-poll in Arunachal Pradesh defeating her lone rival Yompi Kri, an independent candidate, by 942 votes. Pul is the youngest of the three wives of former chief minister Kalikho Pul. The bypoll was necessitated by his suicide. BJP leader and Union Minister Ananth Kumar said the BJP's win in the bypolls showed that people have endorsed the government's decision against black money and corruption. "BJP's victory in by-polls is a clear indication that people are fully supporting the decision to demonetize Rs 1,000 and Rs 500 notes. It is people's mandate for the Prime Minister's decision of demonetization."
West Bengal Chief Minister and TMC supremo Mamata Banerjee, however, termed the by-election result as a mandate against the Centre's decision of demonetization. "The by-election result is a befitting reply against the anti-people demonetization by the Modi government. It's a people's revolt, rather a mass revolt against the Centre. BJP should take lessons from this mandate," she told newsmen in Kolkata before leaving for New Delhi to join the protest by the Opposition.
Good news was delivered to Chief Minister J Jayalalithaa at Chennai's Apollo Hospital today, with her party the AIADMK sweeping all three seats where by-elections were held on Saturday. While the AIADMK has retained the Thiruparankundram seat, which fell vacant after the party's sitting lawmaker S M Seenivel died not long after being elected in May this year, it has also won Aravakurichi and Thanjavur, where assembly elections were cancelled amid allegations that both the AIADMK and the DMK candidates tried to bribe voters.
The chief minister has thanked voters as ecstatic AIADMK workers celebrated the victory across the state. "The by-poll victory gives me boundless joy and enthusiasm. The victory proves yet again that people are on my side. My work will continue in tune with people's expectation," Ms Jayalalithaa reportedly said in a statement from hospital. In her first statement since she was hospitalized on September 22, Ms Jayalalithaa had said last week that she was "waiting to hear news of an election victory," and had encouraging the party to work hard for a win. She had described her recovery as a "rebirth" and thanked people's prayers for it in that statement, saying was "waiting to fully recover and resume work soon."
The chief minister has been treated for an acute lung infection and in multiple heath updates in the past few days, Apollo hospital has reported that she is better and can be discharged whenever she chooses to be. As by-elections were held, Ms Jayalalithaa was shifted to special room from the intensive critical care unit where she had been for weeks on respiratory support. The hospital said last week that she needs minimum time on the ventilator now. As before, the Finance Minister O Panneerselvam has been holding charge in Ms Jayalalithaa's absence, chairing cabinet meetings and looking after the eight departments that she personally handled. With today's wins, the AIADMK now has 138 seats in the 234 house assembly. In assembly elections held earlier this year, Ms Jayalalithaa had won an unprecedented second straight term as chief minister, her fourth.
The only consolation for the Congress is from the Union Territory of Puducherry, where Chief Minister V Narayansamy won.
Assembly poll in Uttar Pradesh is the big challenge the BJP is facing now. PM Modi and "friends" do not think that the results mean that they can now go to the people in a confident frame of mind, particularly in poll-bound Uttar Pradesh. Demonization drive has annoyed the people of the state as well. The party has several hurdles to cross and the problem of cash paucity has disrupted the daily life of ordinary citizens and even if the situation returns to normalcy, people would not forgive the BJP ad Modi if the stated anti-corruption and anti-blackmoney objectives are achieved.
The outcomes for 14 seats (four parliamentary and 10 Assemblies) clearly reveal that the people are closely watching the moves of the BJP and PM Modi and if they are allowed to suffer they would not hesitate to use their axe on BJP at the appropriate time. And they have done it before as in Delhi elections showed where both national parties that ruled the national capital state alternatively have been driven out of the state. Delhi people exposed the hidden nexus between Congress and BJP and reelected the Aam Admi Party of Kejriwal.
The story is that BJP now does not continue as a party on the rise and efforts of Congress to regain its lost ground have failed too. Since Congress never supports Muslims and remains essentially an anti-Muslim outfit like the BJP, Muslims have deserted it long ago. This slide has cost the party heavily in national and state elections. But now Congress is focused on somehow regaining the Hindu votes and hence it does not criticize the criminalism of Hindus and demolition of Babri Mosque which was originally the Congress party's agenda but very tactfully handed over to BJP and other Hindutva outfits trying to destabilize the national ethos of Indian secularism propounded by Mahatma Gandhi till his last breath.
In fact both Congress and BJP – essentially the fake cricket parties- jointly make mockery of Gandhiism.
If the by-elections were a gauge of public mood on demonetization, it does not seem to be firmly behind the party or PM Modi. How can anion support when stiffens? And if the polls were a personal test for Modi, he has only complicated the life of common people of India. People have lost their savings unable to use it as the government is using it to promote corporate interests in India and abroad having suffered a lot, people want to see the results as quickly as possible. India is reeling.
PM Modi and RSS-BJP duo cannot take the nation for an easy ride as they have launched what became an the "axe" on Indian people without enough preparation for an alternative mode of cash operation or new sets of currency to replace the old ones withdrawn by the government over night. Banks then supplied Rs 2000 but people cannot do anything with that as no changes were available in shops.
People cannot be fooled just like, you see by bad political gimmicks that negatively affect normal life of common folk. .
Rwanda: EU provides €10.3 million for life-saving refugee support measures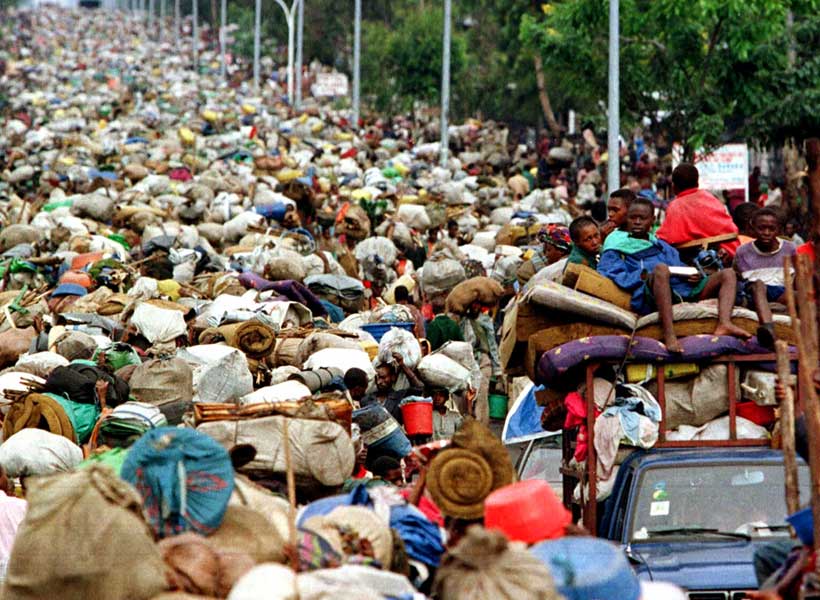 During his visit to Rwanda, Commissioner for International Cooperation and Development Neven Mimica has announced a €10.3 million support package to the UNHCR's Emergency Transit Mechanism (ETM) in Rwanda, which provides a life-saving avenue out of Libya for people in need of international protection, with a view to their further resettlement. The funding is provided through the Emergency Trust Fund for Africa. This initiative builds on the example of the ETM Niger, through which more than 2,900 refugees and asylum seekers have been evacuated out of Libya since 2017.
High Representative/Vice-President Federica Mogherini said: "The Emergency Transit Mechanism in Rwanda is a vital life-saving measure to bring people in need of international protection out of Libya. It is an important sign of African solidarity and of partnership with the European Union. It broadens the support to the most vulnerable people held in Libyan detention centres that need to be closed urgently."
Commissioner Mimica said: "This project will support efforts of the Government of Rwanda to receive and provide protection to about 1,500 refugees and asylum-seekers who are currently being held in detention centres in Libya. Such a remarkable and powerful proof of African solidarity should be further encouraged, replicated and supported."
Background
The UNHCR has evacuated more than 4,250 refugees and asylum-seekers out of Libya to other countries since 2017.
However, around 4,700 people are currently estimated to be held in dire conditions inside detention centres in the country. They urgently need to be moved to safety and to be provided with protection, lifesaving assistance, and durable solutions.
Following the escalation in and around Tripoli, namely the July air strike on a migrant detention centre, the EU continues to support the vital work of the Gathering and Departure Facility on location.
The EU is also supporting the UNHCR's increased efforts to transfer to Tripoli the most vulnerable people in need of international protection from conflict areas where they are at risk, pending their evacuation outside of Libya.
ADB Program to Help Improve Education and Health in Armenia
The Asian Development Bank (ADB) has approved a $10 million policy-based loan (in euro equivalent) to assist the Government of Armenia's efforts to improve the quality and accessibility of education and health services.
Armenia is experiencing a demographic shift with the share of children under the age of 18 declining from 37% of the national population in 1990 to 25% now, signaling an impending decline of the country's labor force. Access to and funding for quality education and health services are poor, resulting in many people not having the skills to meet employers' needs and avoidable ill health having a detrimental effect on the population.
In 2017, for instance, public expenditure on education was about 2.2% of gross domestic product (GDP), which is lower than the 5% recommended by the Organisation for Economic Co-operation and Development. Government health spending was at 1.3% of GDP, below the 5% threshold observed by the World Health Organization as expenditure of countries with low shares of out-of-pocket payments.
To address this, the Government of Armenia has implemented reforms since 2010 to improve education and health services, with a focus on helping women and girls. A preschool law was endorsed to the National Assembly with the aim of boosting the number of children in elementary schools to 70% in 2023, from around 30% in 2017. Teachers have also been receiving training and skills development. A new set of guidelines and protocols, meanwhile, have been implemented in most of the country's hospitals and health centers, covering topics ranging from preventing hospital-acquired infections to methods in continuing medical education.
"A well-educated and healthy population is essential for the growth and development of a country like Armenia, where human capital is significantly unrealized," said ADB Senior Health Specialist for Central and West Asia Ms. Rouselle Lavado. "ADB's assistance will support the government's ongoing efforts to ensure that citizens are educated, healthy, and productive.
The main focus of the Human Development Enhancement Program is children and youth, starting from the preschool age. As well as improving the accessibility and enhancing the quality of education and health services in the country, the program will also increase financing for these efforts.
ICC gives greenlight for probe into violent crimes against Rohingya
Judges of the International Criminal Court (ICC) on Thursday authorized an investigation into alleged crimes against humanity, namely deportation, which have forced between 600,000 and one million Rohingya refugees out of Myanmar, into neighboring Bangladesh since 2016.
The pre-trial judges "accepted that there exists a reasonable basis to believe widespread and/or systematic acts of violence may have been committed that could qualify as crimes against humanity of deportation across the Myanmar-Bangladesh border" the Court said in a press statement, in addition to "persecution on grounds of ethnicity and/or religion against the Rohingya population."
After a reported military-led crackdown, widespread killings, rape and village burnings, nearly three-quarters of a million Rohingya fled Myanmar's Rakhine state in August 2017 to settle in crowded refugee camps in neighboring Bangladesh.
This is the second strike against the alleged crimes this week, as the tribunal's decision follows a Monday submission by Gambia to the UN's principal judicial organ, the International Court of Justice (ICJ), accusing Myanmar of "mass murder, rape, and genocidal acts" which violate its obligations under the Genocide Convention, in addition to destruction of villages, arbitrary detention, and torture.
As a member to the Genocide prevention treaty, Gambia "refused to stay silent", and as a member of the Organisation of Islamic Cooperation (OIC), the small African nation has taken legal action to assist the persecuted majority-Muslim Rohingya, with support by other Muslim countries.
In July, the ICC's top Prosecutor, Fatou Bensouda, requested an investigation be open into the alleged crimes committed since October of 2016, concerning Myanmar and Bangladesh.
At that time, her Office's preliminary examination found "a reasonable basis" to believe that at least 700,00 Rohingya were deported from Myanmar to Bangladesh "through a range of coercive acts causing suffering and serious injury."
Under the Rome Statute that created the ICC, which highlights crimes against humanity as one of its four crucial international crimes, the top Prosecutor concluded sufficient legal conditions had been met to open an investigation.
While Myanmar is not a State party to the treaty, Bangladesh ratified the Statute in 2010, meaning authorization to investigate does not extend to all crimes potentially committed in Myanmar, but will focus on violations committed in part on Bangladeshi territory, the ICC said in July.
'Only justice and accountability' can stop the violence
Judges forming the pre-trial chamber, Judge Olga Herrera Carbuccia, Judge Robert Fremr, and Judge Geofreey Henderson received views on this request by or on behalf of hundreds of thousands of alleged victims.
According to the ICC Registry, victims insist they want an investigation by the Court, and many "believe that only justice and accountability can ensure that the perceived circle of violence and abuse comes to an end."
"Noting the scale of the alleged crimes and the number of victims allegedly involved, the Chamber considered that the situation clearly reaches the gravity threshold," the Court said.
The pre-trial Chamber in addition authorized the commencement of the investigation in relation to any crime, including future crime, so long as it is within the jurisdiction of the Court, and is allegedly committed at least in part in the Rome Statute State Party, Bangladesh, or any other territory accepting the jurisdiction.
The alleged crime must also be sufficiently linked to the present situation, and must have been committed on or after the date of the Statute's entry into force for Bangladesh or the relevant State Party.
Judges from the ICC have given the greenlight for prosecutors to commence collection of necessary evidence, which could result in the judge's issuance of summonses to appear in court or warrants of arrest. Parties to the Statute have a legal obligation to cooperate fully with the ICC, nonmembers invited to cooperate may decide to do so voluntarily.