Is World War III Already in the Making?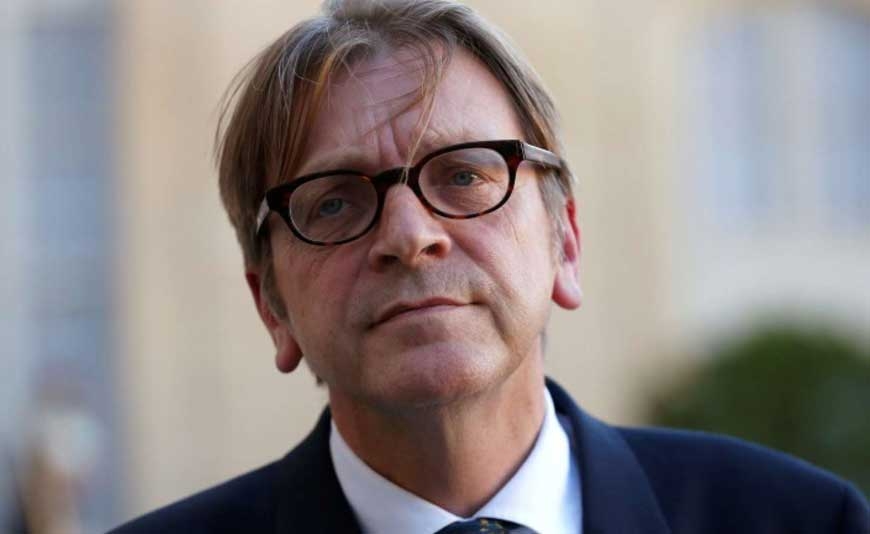 [yt_dropcap type="square" font="" size="14″ color="#000″ background="#fff" ] G [/yt_dropcap]uy Verhofstadt, an insightful European liberal Parlamentarian and lawmaker, former Belgian premier and chief Brexit negotiator, has already sounded the alarm: World War III may already be in the making and the election of a Donald Trump portents it. He is convinced that a "ring of autocrats" is presently trying to wreck the EU and cites the presidents of Russia and Turkey and their counterpart Donald Trump who will soon be joining them.
He has also accused Russian President Vladimir Putin of "openly financing" populist and Eurosceptic parties while Turkish President Recep Tayyip Erdogan targets Turkish opposition members in Europe. He has also pointed out that Trump's chief strategists Steve Bannon has hinted at plans to open new bureaus for his right-wing Breitbart News website in France and Germany in order to influence elections there. This may not yet constitute an international conspiracy to destroy EU values but the signs are surely there constituted by the three stooges, Putin, Erdogan, and Trump, who rather than constituting a ring of allies and friends of Europe cooperating with the EU (after all, two are in NATO, and one has applied for entry into the EU) are perhaps better characterized as a menacing ring of autocrats planning its demise.
Donald Trump, who soon will be the de facto "autocrat" (whether or not he thinks of himself as one such) of all the democratic forces of the North Atlantic Alliance (NATO) will soon have to face the dilemma of whether defending a Baltic NATO member against Vladimir Putin is worth sparking World War III, because that's the choice that may eventually need to be confronted.
The war may be ignited in Latvia, or perhaps neighboring Estonia or Lithuania, the so called Baltic nations which, after Crimea, may well be next on the Russian bear's hit list. They are former satellites of the Soviet Union, and are now NATO members. Under article five of the NATO alliance treaty all member nations are compelled to come to the rescue of a member threatened with invasion, no matter how small or insignificant that nation may or may not be on the world's political stage. Such a stipulation, if adhered to, may well ignite World War III.
The omens are all there: Russian strongman Vladimir Putin has claimed recently that he is proceeding with the mending of broken ties with Trump-led America, while he continues his firm support for Syrian dictator Bashar al-Assad. And why shouldn't he? After all, during the presidential campaign Trump expressed reservations about coming to rescue of any NATO allies citing financial problems. He also encouraged Russian hackers to delve in Clinton's e-mails and reveal their content while keeping quite all along about the efforts of Putin to interfere and influence the US presidential election; something the strong-man of Russia has acknowledged and seems even to be proud of.
The question arises: will Putin invade any of the 3 tiny countries with conventional troops? Probably not, he doesn't have to be that blatant. All he needs to do is incite civil unrest among ethnic Russians which are a sizeable part of the population (25% in Latvia alone). He may simply instigate a militarized crisis using deniable proxies. One way to do it is to have Russian-speaking Latvians or Estonians riot in the streets, protesting persecution, violation of their rights and demanding international protection.
Then a well-armed and well-trained 'Popular Front for the Liberation of the Russian Baltics' will suddenly appear. Moreover, a few high-profile assassinations and bombings will ensue bringing the Baltics to the edge of a civil war or at least a low-grade insurgency. Then, voilà, Mr. Fix-all will enter the stage, first blocking an international peacekeeping force at the UN with his veto power, then intervening to settle the conflict in the interests of peace, of course! Have we not seen this movie before in Crimea? We know how it ends. Putin calls it "hybrid warfare." It is an underhand technique which avoids conventional attacks and it involves militia not officially attached to a country's force, ultimately justifying military intervention.
But, to return to the circle of autocrats, there is also China for the EU to worry about, for Turkey is actively looking into joining a Chinese-and Russian-led political, economic and military alliance known as the Shanghai Cooperation Organization (SCO), as an alternative to joining the European Union, which has not been receptive to Turkey's repeated bids for membership initiated way back in 1963.
France, Germany, and Belgium have long opposed Turkey's accession into the EU. Erdogan's reluctance to sign on to certain membership requirements, and his increasingly authoritarian leadership over Turkey, has also sparked concern among European leaders that he is not committed to a Western conception of human rights and civil liberties. The European Commission has warned Turkey that it is "backsliding in human rights and democracy" but Erdogan appears to merely scoff at the accusation with statements such as this: "From time to time, we see insults directed at myself, claims that there was no freedom of expression in Turkey, meanwhile, terrorists prance around in French, German and Belgian streets. This is what they understand of freedom."
It is clear that Erdogan feels much more comfortable and at home among the authoritarian regimes of the SCO organization rather than facing the scrutiny and criticism of the EU. He knows full well that even just threatening to join the Shanghai bloc would rattle the West and "considerably broaden Turkey's room to maneuver" as Erdogan himself has declared.
If Turkey were to actually join the SCO, it would be viewed as a rejection of the Western alliance, and make it incredibly difficult to include Turkey in any type of high-level strategic dialogue, given concerns about Russian expansionism. But it remains unclear, even to Erdogan, whether a closer alliance with Russia and China would benefit Turkey politically or economically. Erdogan has made those overtures toward Russia and China before but they failed to materialize. It may simply be a ploy to gain concessions and access to the EU which so far has been denied him. He wants the EU to be more forthcoming, especially since he has consented to help stem the flow of refugees trying to enter Europe. In some way Erdogan has already been successful. Over the summer, the EU agreed to pay Turkey €3 billion — and German Chancellor Angela Merkel promised to speed up Turkey's EU bid — if it pledged to harbor the vast amount of refugees and migrants seeking asylum in Europe.
Turkey's possible entry into the SCO would also complicate its relationship with NATO. In theory, SCO membership would not require Turkey's exit from NATO, but in practice, however, it would severely strain Turkey's ties with other NATO members. Erdogan is reassuring in this respect. He told CBS that "Turkey is moving in the same direction with NATO that we have always done." But at the same time Putin is making sure that the strains in the transatlantic alliance continue, for he knows that as a rogue and dysfunctional NATO ally, Turkey is a great advantage to Moscow's devious policy of divide and conquer.
What his relationship to Trump and an America that is no longer seen as a stabilizer in NATO but a destabilizer, turns out to be, remains to be seen. The omens, however, are not good and the danger of a Third World War persist in a global atmosphere that has still to learn that a tone of cooperation is much more desirable than one of domination and competition; that social Darwinism will only insure that our planet becomes a social jungle with winners and losers. In the end, we all lose. We in the West ought to hope for the best but prepare for the worst that may be coming. Let those who have ears, let them hear.
From West To East A Somber Week
It has been a somber week.
An orphaned dugong nurtured and returned to the sea has died from eating plastic. Mariam died from a stomach infection made much worse by the plastic which often harbors bacteria. Only a few hundred of the sea mammals — similar to our manatees but with a forked tail — are left in Thailand.
India celebrated independence — 72 years of it — on Thursday, Pakistan on Wednesday having pipped it by a day. All this while Indian Kashmir was in lock-down, the people caged in their houses, and food running short according to a National Public Radio eyewitness report. One in ten is the ratio of the security personnel to the population. It is as if the small town where I live had 20,000 instead of a couple of dozen police officers.
Mr. Modi would have you believe otherwise. He has unilaterally rescinded Kashmir's autonomy claiming he can because the state at present is absent a legislature. He omits to mention he dismissed it. The Kashmiris are livid and waiting like a time-bomb for the lock-down to end, although there have been stories of small-scale demonstrations met with tear gas and shotgun pellets.
More than pellets in the armament of the forces trained on each other, India and Pakistan each have over a hundred nuclear weapons enough to destroy themselves and give the rest of the world a nuclear winter. In Pakistan's favor … the prevailing wind is from the west carrying the radioactive dust to India.
While only one in ten may want to join Pakistan, two thirds of the people in Indian-held Kashmir want independence from India according to polls. So do other areas of strife in the northeast and the eastern end of India's southern peninsula. In the jaws of the military and the paramilitary, success for insurgents appears remote.
Kashmir has a stronger legal case. In 1952, Nehru promised a peaceful solution based on a plebiscite adding they had given their word of honor at the UN and a great nation does not go back on it. So much for greatness. At present India controls 45 percent, Pakistan 35 percent and China the rest — the troubles are confined to the Indian section.
A couple of thousand miles away to the east is a very unhappy young man. In an economic vice of sanctions he seeks relief to fulfill his desire of economic progress for his country and a better life for his people. Donald Trump has put him on ice, seeking more concessions on nuclear disarmament but Kim Jong Un cannot throw away his main bargaining chip. He chose to test fire a couple of intermediate range missiles — he has long range ones also.
In Britain, Boris the bad-enough (no Godunov for sure) is giving all indications of a no-deal brexit. Jeremy Corbyn is asking Conservative MPs to support him to take-over in a united move to prevent such an economic disaster but so far no takers. Boris has returned from a visit to Ireland. Perhaps the present open border between north and south opened his eyes.
Between the Boris brexit and Trump's tariffs on Chinese imports, the markets had had enough. The Dow sank in the largest one-day drop of the year, although reviving a little on Friday.
All in all, a somber week indeed.
Will Putin and Macron Open a New Political Season?
On August 19, President of France Emmanuel Macron hosted President of the Russian Federation Vladimir Putin at Fort de Brégançon in the commune of Bormes-les-Mimosas in the Var department on the French Riviera. Given the vagaries of the weather this summer in France, the Mediterranean coast seemed a more suitable location for a meeting than the currently scorching-hot Paris.
Formally, Macron is on vacation right now, where any respectable Frenchman should be in August. However, the meeting with his Russian counterpart can hardly be seen as a part of the president's holiday activities. Macron and Putin probably find it difficult to talk to each other about things not related to their official positions, as they are very different people.
For starters, an entire generation separates the two leaders: Macron is 25 years younger than Putin. And their respective terms in office are incomparable – two years for Macron versus two decades for Putin. We should also note that the French leader is a textbook technocrat whose career has been largely spent on the economic side of the government, while Putin is a classic silovik whose background is in foreign intelligence.
What is more, past meetings between the two leaders do not exactly instill confidence in future cooperation. At the start of the French presidential campaign in 2017, the Russian leadership clearly favored François Fillon, who is much closer to Putin in terms of both his politics and his personality, and someone the Russian President can more easily relate to, than Macron. Later, the Russian state-owned media held little back in its harsh (and not always fair) criticism of the founder of the "La République En Marche!" party. Macron likely remembers the warm welcome the Kremlin gave to his rival, leader of the National Front Marine Le Pen, in the run-up to the final round of voting in the French presidential elections. For his part, the young French politician has not always followed diplomatic protocol in assessing the policies and intentions of his Russian counterpart.
All this notwithstanding, literally two weeks after he was sworn in as President, Macron received Putin in Versailles. The two leaders met regularly after this, both in a bilateral format and on the side-lines of various multilateral forums. Interestingly, Macron was the only major European leader to take part in the St. Petersburg International Economic Forum last year. Word has it that the two leaders even address each other with the informal word for "you," as both Russian and French allow such lexical liberty.
One may be a football fan (Macron) and the other a Judo aficionado (Putin); one a staunch liberal (Macron) and the other a steadfast conservative (Putin). They may differ on fundamental issues of human rights and the future world order, but Putin and Macron need each other. Probably more so than they did two years ago.
Right now, Putin simply does not have a more suitable negotiating partner in Europe than Macron. The indefatigable Angela Merkel is coming to the end of her political career and her influence on European affairs is waning. Italy is in its usual state of latent political crisis, and neither Giuseppe Conte nor Matteo Salvini are in any kind of position to speak with Putin on behalf of Europe with any kind of authority. And this is even more true for the United Kingdom's newly appointed Prime Minister, the eccentric Boris Johnson.
A serious conversation will not happen in the immediate future between the Russian leadership and the President-elect of the European Commission Ursula von der Leyen and the High Representative of the Union for Foreign Affairs and Security Policy Josep Borrell, and it will probably not be easy. It is hard to say that the Kremlin harbors high hopes for the successors of Jean-Claude Juncker and Federica Mogherini, as they have already leveled some harsh criticism at Moscow.
Russia and Europe have plenty of topics for discussion. The settlement of the situation in Eastern Ukraine, for example, which is showing signs of promise following Volodymyr Zelensky's victory in the Ukrainian elections. There is the situation in Syria and the threat of a new escalation in Idlib and new flows of Syrian refugees into Europe, which has been made worse by the recent decision of President of Turkey Recep Tayyip Erdoğan to suspend the agreement with the European Union on migrants. The future of relations with Iran following the sharp aggravation of U.S.–Iran relations and the threat of the Iranian nuclear deal falling apart entirely. And the future of European security after attempts to save the Intermediate-Range Nuclear Forces Treaty (INF Treaty) finally failed.
All of these issues are obviously important for both Putin and Macron. All the more so, as France will be hosting the latest G7 Summit in Biarritz just one week after the visit the President of the Russian Federation. It is entirely possible that the Normandy Four Summit on the situation in Donbass will be held in the early fall in France too. And the Second Paris Peace Forum, which, judging by the 2018 edition, is touted as a benefit event hosted by the President, is planned for later in the year.
On the whole, the President of France, who has squandered a great deal of his popularity at home over the past two years, has the chance to claw his way back in the new political season. He can try to recover at least some of his recent losses by creating an image of himself in France as Europe's main political leader, including in matters relating to the east. "National greatness" is not an empty phrase, even for Macron's most determined domestic political opponents.
And the meeting with the President of the Russian Federation is a good opening move for a party trying to make waves in "big" European politics. Despite the difficulties that will inevitably arise in the upcoming discussions with Putin, it would still be easier for Macron to negotiate with him than to achieve an understanding with the egotistical President of the United States Donald Trump, who is unable to even appreciate the exquisite taste of Rhône wine.
Of course, the current political situation creates both additional opportunities and additional difficulties for the Russia–France dialogue. Difficulties include the recent clashes between the police and civic activists in Moscow, which led to a large number of arrests. It is easy to predict that this issue will somehow emerge in the French press, as well during the talks between the two leaders, something that will no doubt irk the President of the Russian Federation.
Russian observers typically liken unauthorized opposition rallies in Moscow to the "yellow vests" in Paris, pointing out the violent actions of the French police. I happened to witness first-hand both the events that occurred in Paris last autumn and the Moscow rallies that took place in later July of this year. And, to be perfectly honest, any parallels between the chaos in Paris and the Moscow unrest are improper and inappropriate.
For one, the events in Paris can only be described as large-scale riots, accompanied by numerous acts of violence and vandalism, while the demonstrations held in Moscow were peaceful, albeit not authorized by the authorities. So, pushing these dubious analogies only further provokes anti-Russian sentiments, which are already more widespread in France than in many other European countries.
Nevertheless, as Otto von Bismarck rightly noted, "Politics is the art of the possible." Public sentiment is important, but not the only, factor that determines the foreign political priorities of even the most liberal democracies. Russian historians generally consider the reign of Alexander III (1881–1894) a conservative, even reactionary, era, but this did not stop the President of the French Republic Marie François Sadi Carnot from entering into a military alliance with the Emperor of Russia. The rule of Leonid Brezhnev (1962–1982) is often referred to as the Soviet Era of Stagnation, yet President Charles de Gaulle nevertheless visited the USSR in the summer of 1966, thus marking the beginning of the era of "special relations" between Paris and Moscow.
In this case, of course, we are not talking about the beginning of a new era in Russia–France or Russia–Europe relations. Unfortunately, objective prerequisites for this have not yet come about. However, the presidents of France and Russia are more than capable of opening a new season in European politics in Fort de Brégançon on August 19 by achieving a tangible rapprochement of the Russian and French positions on at least one or two of the issues above without losing face and without sacrificing their principles. The unprecedentedly hot summer in Paris – and the equally unprecedentedly cold summer in Moscow – should come to an end.
From our partner RIAC
Marine Le Pen's Nationalist Ideology and the Rise of Right-Wing Parties in Europe
"When you decide to stand against injustice, expect that you will be cursed and then betrayed and then atoned, but do not keep quiet about injustice in order to be told that you are a man of peace." Marine Le Pen stood in the face of injustice and said the word of truth without hesitation. As the truth hurts, Le Pen has faced much criticism, insults, and opposition campaigns. Marine Le Pen, the candidate for the 2017 French presidential election, lost to Emmanuel Macron, a moderate centrist young man who believed in economic and political openness to Europe, and her loss was an expression of democracy and freedom.
What will change in France and Europe after Macron takes office? Had Le Pen come to power, what would have happened? Why was this powerful campaign against Le Pen?
Marine Le Pen is the president of the National Front and the daughter of Jean-Marie Le Pen, the extreme right-wing political party in France. Since French society is a mixture of different civilizations, cultures and religions, Le Pen has not won many votes and was not accepted by the society because her project was France first, not Europe first, and the fight against terrorism was one of its priorities, without the support of anyone or the consent of religious and political groups to carry out this process. Le Pen's experience is not new. When her father ran in the past, he called for the reinstatement of the French franc, the restoration of French identity instead of the European one and the implementation of a French national policy without referring to the European Union.
Many political analysts believe that if Le Pen was able to reach the presidency, Europe would enter a phase of wide change, since Germany and France are the two pillars of the European Union, the departure of France will lead to an imbalance in the European Union and to a weakness in its structure. Le Pen's proposed program did not impress many advocates of freedom because it negatively affects the rights of refugees and works on a harsh policy with foreigners coming to France. As an Arab citizen and human rights defender, I will not accept Le Pen's proposals at the beginning, but I meet with her on many things and concerns. The European continent has become a place for the export of large numbers of people who are doing terrorism in the world and the great margin of freedom in Europe has made it a tool for making evil and to strengthen the role of ideologically unclean groups, all due to the issue of human rights and the right of opinion and expression.
The European continent is witnessing a widespread campaign against the EU, the BREXIT in Britain was no accident, as well as the rise of right-wing parties to take power in Denmark and the Netherlands and demand a firmer policy, and it is noticeable that the right-wing European parties are growing in France, Italy, Spain, Hungary and Austria. The project demanded by Le Pen has become necessary on the European continent, especially with the financial crises in the European Union and the many terrorist acts that threaten European security.
From the Treaty of Westphalia to the founding of the European Union to the present Europe, the situation has changed a lot. The idea of a civilian state was necessary to end the 30-year war and the founding of the European Union came to unite the European continent after it was divided during the Cold War. Today, in the era of globalization, openness and freedoms, the economic crises that hit the world in general and Europe in particular, and the incidence of terrorist acts are increasing rapidly, and I am afraid that Europe will become a place of terrorist acts and a center for terrorist group. Therefore, the world today needs leaders such as Le Pen to control human insanity and restore stability to the international community.
The success of the experience of democracy in a certain part of the world does not mean that it is the ideal system and that it can easily be applied to the rest of the world. Many peoples of the world are not suited to democratic regimes, and the failure to implement a democratic system does not mean that the regime that will govern this country is oppressive and unfair, but one that suits the form of the state and the needs of the people. Henry Kissinger acknowledged that the idea of the European Union could not last forever because European countries since ancient times were not based on the doctrine of unity and participation.
I still dream of the beautiful Europe of the 1980s, when it was the center of international economy and trade and when the international political decision was linked to Europe. Europe today is a mass of endless economic crises and a center of attraction for terrorist acts that threaten European and international security, without forgetting the US decision, which often affects European sovereignty. Le Pen's project is to reject American hegemony, return to French roots and adhere to French identity. The idea of a closed door policy and a strict policy with foreign expatriates is an internal French affair.
The situation in France will not be better after the arrival of Macron and terrorism will not stop, Emmanuel Macron is trying to give more economic, social and cultural freedoms and more integration with the European community. Of course, economic and political cooperation will have a positive impact on France and Europe. But in return for this cooperation, what special benefit will France gain, knowing that Macron has put forward the idea of establishing an EU military force, which means that the EU's role will be not only economic and political but also joint military action.
The series of terrorist operations has not ceased after Macron's arrival, and is increasing day by day. From France to Britain, Belgium and Germany, the target is Europe, which is the victim of terrorism. Terrorism wants Europe to become unstable and panic and make it a "New Land of Jihad". Of course, Macron's European policy plays an important role in strengthening the position of terrorist groups and creating fertile ground for them. Terrorism needs freedom and open borders to turn the impossible into reality.
When Le Pen raised the voice and said that we are French and wanted to rearrange the French house, she knew that France was the target and if it was not immunized, Great France would become just an idea in the "Museum of History". Le Pen, an ultra-nationalist, does not scare me as an Arab Lebanese. Why would I be afraid of someone who wants to fight terrorism and oppressive ideology? We all love unity and freedom, but on the other hand there are some emergency circumstances that push the political system in a country to take an unusual path. Today, right-wing approach can make a difference, which some describe as extremism and lack of respect for human freedom.
The world today needs leaders like Marine Le Pen in every corner of the globe. The world today is ruled by force, and is afraid of those who say the word "no" to every stranger and outlaw. Le Pen has lost and the French will regret this option sooner or later because the European future does not bode well!