Angela Merkel Do Not Harm Afghans
[yt_dropcap type="square" font="" size="14″ color="#000″ background="#fff" ] T [/yt_dropcap]he Afghan political and security situations especially in the northern Afghanistan is dramatically deteriorated when ISIS started exodus from eastern parts of Afghanistan to the northern components of the country, recently Taliban, Haqani Network, Al-Qaida and ISIS have doubled their combined offensive attacks and gaining more territories and Kabul regime and its international allies losing grounds day by day and the peace talks have had no satisfactory domino effects.
Moreover, the latest sophisticated motor vehicle attack on German consulate in Mazar-e-Sharif province in the north of Afghanistan killed dozens and wounded hundreds of Afghan civilians and in retaliation the Bundeswehr murdered two civilians while injuring scores the incident indicates that how far is to reach a peaceful deal and how well-built the above said terrorist networks have become honestly saying it is not a surprise at least for me as it has been for German military strategists, I was aware that Germany will face the music one day, long before all through my stay in Germany I had expressed my concerns with German authorities specially during a meeting with an official of the German defense ministry I addressed that German assets specially the diplomatic entities of the country will be attacked by the so-called terrorist cells the held meeting was also witnessed by Julie Hoffmann the head of AWO, as a counter-terrorism expert I enlightened the bureaucrats that the shift in the foreign policy of Germany would cause backlashes, but the official arrogantly responded that my concerns are died-out and his country is well prepared for any attacks of this sort and is ready to respond, other than the recent attack on German Consulate illustrate how well they are organized to avert the attack.
However Taliban claimed the responsibility of the mentioned assault but there are sources who suspect that Taliban have not carried out the attack alone rather the regional countries have also been engaged for the reason that the more Germany is engrossed beyond its traditional territory (west Europe) for instance in Middle-east, Africa, South-Central Asia, east Europe and the Balkan region and further closer to the Russian borders to impair Russian and its allies national interests and security the more it will turn out to be vulnerable to the assaults as a result German citizens, NGOs and Diplomatic units will be targeted around the globe in the coming future because Germany untraditionally has sent troops to Afghanistan, South-Sudan, Somalia, East Europe and recently to Syria to train Kurdish militia to simultaneously fight the Assad regime and ISIS, furthermore Germany has followed the foot-steps of Uncle Sam in the world affairs meanwhile it has signed number of arm deals with Saudi-Arabia and other Gulf states they have all made the country to be more susceptible to the counterattacks.
Albeit Germany is a soft target for the terrorists networks, as ISIS recruits the frustrated Muslim societies in the country but the German parliament (Bundestag) and cabinet on 16 of November this year made a decision to extend the federal defense ministry mission tell 2017 in Afghanistan and according to some sources Germany plans to send more troops to Afghanistan as there is an old saying "more troops more wars" hence it ought to propel more body-bags to the country meantime Germany has decided to expel Afghan asylum-seekers and refugees as part of its depopulation strategy " to depopulate Germany from Afghan refugees" Germany wants to send the refugees back to the war-torn Afghanistan those who arrive to the motherland due to corruptions, jobbery nepotism, injustice and the lack of employment potential would join Taliban, ISIS and Al-Qaida and there would be more human losses on both sides and Germany will be responsible for all such fatalities.
Consequently Afghanistan does not need more foreign troops there were hundred thousands of them for the last decade stationed in the country but Afghans have not experienced peace, stability and economic prosperity rather destructions, collateral damages and humanitarian disaster, However German Chancellor Angela Merkel with the out-going American president Barak Husain Obama throughout the news conference on November 17th in Berlin reiterated her commitment of the political resolution of the Afghan conflict but Afghanistan needs candidly comprehensive political settlement which is unfortunately far from to be attained at least in the coming decade.
Who is Brenton Tarrant: Insight on the New Zealand Attack
A misfortunate incident hit by surprise the usually peaceful city of Christchurch, New Zealand on Friday. The attacker, Brenton Tarrant, 28, Australian, accused of carrying out attacks on two mosques in Christchurch, resulted in the deaths of at least 50 people, all worshipping Muslims, including children, was charged with murder as he appeared in a district court on Saturday. A global debate has aroused on the fact that the charge merely speaks of the killer being accused of murder and not terrorism, which is another debate.
The event has sprung up international attention, with gun-laws of New Zealand being revised, investigations underway and multiple gestures and actions given by the Prime Minister of New Zealand Jacinda Ardern and globally in support of victims. An incident as such has occurred in New Zealand after almost 30 years, taking the world by surprise.
The live video of the attack was uploaded by the attacker, which aired for almost 17 minutes- making plenty of room for criticizing the social media outlet for letting an act of violence being aired without action.
Tarrant, described by Australia's Prime Minister Scott Morrison as an "extremist, right-wing, violent terrorist", expressed admiration for other violent white nationalists and his intention to "create an atmosphere of fear" and to "incite violence" against Muslims.
In a 74-page so-called Manifesto, Tarrant wrote: "My language originated in Europe, my culture is European, my political beliefs are European, my identity is European and, above all, my blood is European" before the attack on the Internet. It details an anti-immigrant, neo-fascist ideology and deplores the so-called decline of European civilization. and described himself as an "ordinary white man." Tarrant did not have a criminal history and was not on any watch lists in New Zealand or Australia.
A set of questions that arise in the wake of this unfortunate condition are: Who is responsible for the massacre of 50 people- The man behind the attack? The social media platform that aired live the attack for 17 minutes? The 26-minute delayed response from the New Zealand police and government, who already were informed about the "manifesto" of the attacker 9 minutes prior to the shooting or the immigrants who have been a source of the highly debated emerging "Islamophobia" globally. Moreover, why did the attacker perform the heinous attack and under what influence?
A possible explanation to the posed questions can be given by a phenomenon given under the area of terrorism and counter-terrorism. By definition, the attack was all that defines a "terrorist attack" but the attacker is slightly different to what a "terrorist" is defined as- rather, is a "lone wolf".
A solitary actor, a terrorist of solitary actors, or lone wolf, is someone who prepares and commits violent acts alone, outside any order structure and without any group aid material. They can be influenced or motivated by the ideology and beliefs of an external group and can act in support of this group. These people do not have connections to any organization, but are self-auto rotated through the construction of a certain ideology from the accumulation and assimilation of knowledge by their own.
Lone wolves are hard to identify. These are normal people dwelling in normal conditions, usually showing no sign of violent behavior. Keeping such people under check is as hard as recognizing their lethal abilities. They tend to be more dangerous than terrorist organizations since they take by surprise through their actions, they're neither under check or suspected or, as a matter of fact, identified.
The attacker- a lone wolf- was not known to police in Australia for violent extremism or serious criminal behavior. Three other suspects were detained along with Tarrant on Friday, but police now say he acted alone. He doesn't classify under psychologically disturbed- as most western attackers are in such cases by any means.
Responding to his own question "Is there a particular person that radicalized you the most?", Tarrant wrote: "Yes, the person that has influenced me above all was [US conservative commentator] Candace Owens… Each time she spoke I was stunned by her insights and own views helped push me further and further into the belief of violence over meekness", having an "unhealthy narcissism" common among "terrorists".
People with firm ideologies- as Tarrant- believe they are correct and it is hard to convince them otherwise (as religious ideologies e.g. Muslim ideology or nationalistic ideology e.g. Hindutva, Zionism etc). All writing over the attacker's weapons, if read, explained and translated signify a certain incident where immigrants (particularly Muslims) have been a threat to the white, in acts of violence against the white race, justifying the attacker's action for fighting against a group that threatens the existence of the white race.
In this situation, neither social media for airing live (not enough evidence on the attacker's social media outlet to take prior action) nor the government (informed 9 minutes prior to attack, too small a gap for stopping a terrorist attack, not including a location or specific details) can be blamed for the incident as identification and keeping check is almost impossible.
In the case of the attacker, even after being convicted, believes has done nothing wrong, was smirking throughout the process of his detainment whilst making a hand gesture of white supremacy throughout, with the belief that he might get 27 years in prison just like Nelson Mandela and be awarded a Nobel Peace Prize.
The reason to this radicalization is unchecked information, quick and easy access has led to the production of numerous such lone wolves, who will unleash their preposterous ideologies into violent acts if the content that is available is not censored. Another step that may prove helpful is the production of correction centers as a strategy towards counter terrorism since just convicting and killing the terror mongers does not kill an ideology they were triggered by, but only glorifies and promotes it. These centers are particularly necessary in educational institutes, weapon clubs, online portals, social media and mainstream media etc. Immediate action is required globally with amendments in counterterrorism strategies reverting to psychological correction rather aggression against the violator, else wise, the world has no less Tarrants currently to deal with- but many more.
The Impact of Words: Christchurch Shooting
New Zealanders and Australians (two English-speaking Commonwealth nations closely knit by culture, geography and history) have been horrified by a major white extremist terrorist event in Christchurch, New Zealand, on Friday 15 March.
Forty-nine Muslim worshippers, at Friday prayers in two Christchurch mosques six kilometers apart, were murdered in concurrent gun attacks led by an Australian far-right nationalist extremist, Brenton Tarrant, who filmed his whole attack from a head-held video camera while he shot worshippers at random with a semi-automatic weapon. Forty people were injured, some critically. Major mainstream and social media are being asked to remove Tarrant's deeply evil video footage, but much of it had already got out online as was his intention.
The mosques were unguarded, New Zealand having hitherto been entirely terrorism-free. Tarrant and four other unnamed persons involved, three men and a woman, who are believed at this stage to be New Zealanders, are under arrest. Tarrant's trial is listed for April. A shaken NZ Prime Minister Jacinda Ardern vowed immediate government action to tighten NZ's lax gun laws, to tighten NZ border controls, and to strengthen NZ-Australia intelligence agency information-sharing on extremist groups.
Australian Prime Minister Scott Morrison, who faces an early election which has to be held by May, and which he is tipped to lose heavily, expressed sympathy and shock. He conspicuously visited Sydney's most important mosque, in solidarity with Australian Muslim communities. But many Australians may doubt his sincerity in view of his and his Immigration Minister Peter Dutton's long personal history of anti-immigrant and anti-Muslim public sentiments.
Tarrant had issued a racial-hate manifesto online, minutes before his group's attack began, calling for an end to all Muslim migration into Australia and NZ. His views are shared within a small but vocal group of white extreme nationalist extremists in Australia who hold provocative public meetings and seek out media attention. Such a meeting is still scheduled to go ahead today in Moorabin, Melbourne, at which Senator Fraser Anning from the state of Queensland will criticise Australia's immigration policies. A counter-demonstration is planned in protest. Police will be present.
At federal political level, Islamophobic and anti-immigrant views are most stridently represented by Senator Pauline Hanson's minority One Nation Party and by Senator Anning, who was elected as a Queensland state senator on the One Nation Party ticket but subsequently broke with Senator Hanson. Queensland is a state characterised by high youth unemployment and a declining coal industry. It is a focus of far-right white nationalist extremism.
Anning, who is not expected to be re-elected, desperately seeks publicity. Just hours after the Christchurch shootings, he published a highly offensive media release blaming the shootings on Muslim immigration to Australia and NZ, alleging that the governments had created a climate of racial tension. His media release effectively endorsed much in Tarrant's manifesto. It has been almost universally condemned in Australia.
This well-planned politically-motivated mass murder is being compared to the Anders Breivik mass murder of young Norwegians in 2011. It is also being compared to recent targeted terrorist attacks, in US and elsewhere, on people at prayer in mosques and synagogues.
Questions are being asked about context and coincidence.
How was it possible for an Australian with known links to white supremacist extremist organisations in Australia to fly to New Zealand without NZ Security agencies being alerted to monitor him? How was it possible for his group to buy guns and ammunition in New Zealand without security agencies being alerted? Are Australian and New Zealand security agencies too focused on monitoring alleged threats from Islamist extremist groups, to the neglect of even more dangerous far-right white nationalist extremists?
Also: the attack coincided with a day of major 'school strikes' and street demonstrations by many thousands of young people in all major cities around Australia, protesting at Australian federal and state governments' inadequate climate change policies, including their failure to ban opening of new coal mines. Similar demonstrations were taking place in New Zealand, supported by PM Ardern. Australian PM Morrison had criticised the demonstrations as inappropriate on a school day. In any event, the NZ shooting tragedy totally eclipsed media attention to the young people's climate change and anti-coalmines demonstrations. Was this planned by the perpetrators, and who might have advised them?
Some critics claim, I believe correctly, that right-wing politicians who now dominate the governing party coalition, and right-wing mainstream media, have over recent years fostered and helped to generate a supportive climate for an anti-immigrant extremist movement in Australia, helping it to gain respectability and take root among economically depressed and politically alienated white Australian youth. These critics say that these politicians and media must now accept shared responsibility for fostering a political climate that encourages such terrible acts as the massacre of innocents in Christchurch.
Senior police leaders in Australia have appealed to politicians and media to consider the impact of their words. I hope they will do so.
Though this terrorist event has visibly shocked decent mainstream opinion in Australia and New Zealand, it may push race relations and immigration issues into greater prominence in the forthcoming Australian federal election. There is a danger of polarisation under Scott Morrison's clumsy leadership: he could as in past Australian elections try to talk up racial fears to his party's presumed advantage.
Australia's and New Zealand's foreign policies are also coming under scrutiny in the wake of this attack. Both countries are members of the 'Five Eyes' Intelligence-sharing network. Their military forces are deeply enmeshed in US-led past and present military operations in Afghanistan, Iraq and Syria. Sophisticated US-Australian joint defence facilities at Pine Gap, Central Australia are believed to be in current use to assist US military targeting in Syria. The Australian arms industry is selling weapons technology to Saudi Arabia that is being used by the Saudi Air Force in lethal bombing operations against Yemeni civilians.
The danger is that, after the initial public shock and horror at this attack has passed, the desperate and failing Morrison government may be tempted to exploit it to try to create a 'national security' and anti-immigration pre-election climate. The Labor Party Opposition and its leader Bill Shorten will need to watch its own words and policies in coming weeks. So will Australia's mainstream and social media.
I believe the lessons for all responsible governments and politicians are: firstly, to consider the impact of their policies and words on disaffected youth, and always to uphold inter-ethnic and inter-religious harmony; secondly, to task national security agencies to monitor equally extremist elements of all persuasions. I believe by both these yardsticks the Russian Federation has a very good record. I wish I could currently say the same of Australia.
First published in our partner RIAC
The emerging new world order's alarm bells: Men like Brandon Tarrant and Andreas Breivik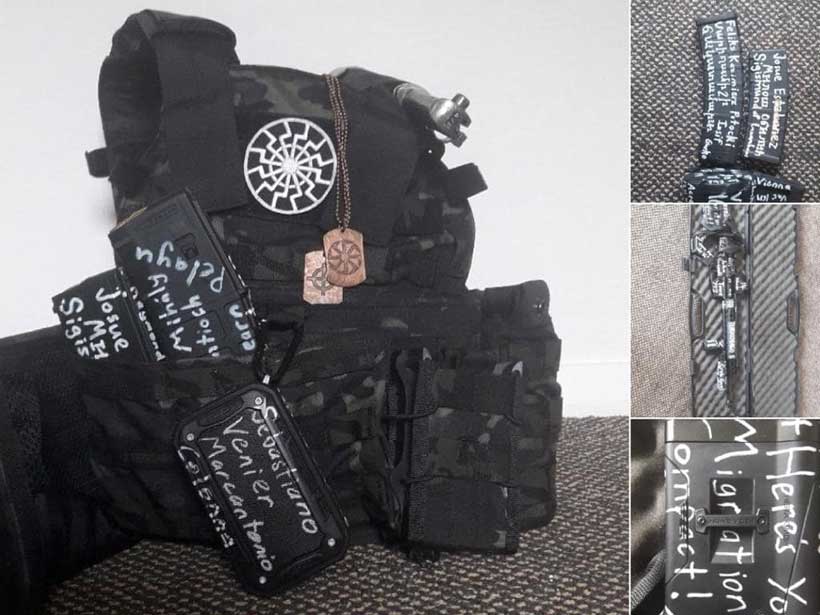 This week's attack on two mosques in New Zealand reflects a paradigm shift: the erosion of liberal values and the rise of civilisationalism at the expense of the nation state.
So do broader phenomena like wide spread Islamophobia with the crackdown on Turkic Muslims in Xinjiang as its extreme, and growing ant-Semitism These phenomena are fuelled by increasing intolerance and racism enabled by far right and world leaders as well as ultra-conservatives and jihadists.
These world leaders and far right ideologues couch their policies and views in terms of defending a civilization rather than exclusively a nation state defined by its citizenry and borders.
As a result, men like China's Xi Jingping, India's Narendra Modi, Hungary's Victor Orban and US president Donald J. Trump as well as ideologues such as Steve Bannon, Mr. Trump's former strategy advisor, shape an environment that legitimizes violence against the other.
By further enabling abuse of human, minority and refugee rights, they facilitate the erosion of the norms of debate and mainstream hate speech.
Blunt and crude language employed by leaders, politicians, some media and some people of the cloth helps shape an environment in which concepts of civility and mutual respect are lost.
Consequently, the likes of Brenton Tarrant, the perpetrator of the attacks on the Christchurch mosque in which 49 people died, or Andreas Breivik, the Norwegian far-right militant who in 2011 killed 78 people in attacks on government buildings and a youth summer camp, are not simply products of prejudice.
Prejudice, often only latent, is a fact of life. Its inculcated in whatever culture as well as education in schools and homes irrespective of political, religious, liberal, conservative and societal environment.
Men like Messrs. Tarrant and Breivik emerge when prejudice is weaponized by a political and/or social environment that legitimizes it. They are emboldened when prejudice fuses with politically and/or religiously manufactured fear, the undermining of principles of relativity, increased currency of absolutism, and the hollowing out of pluralism.
Their world is powered by the progressive abandonment of the notion of a world that is populated by a multitude of equally valid faiths, worldviews and belief systems.
The rise of civilisationalism allows men like Messrs. Tarrant and Breivik, white Christian supremacists, to justify their acts of violence in civilizational terms. They believe their civilization is under attack as a result of pluralism, diversity and migration
The same is true for jihadists who aim to brutally establish their vision of Islamic rule at the expense not only of non-Muslim minorities but also Muslims they deem no different than infidels.
Civilisationalism provides the justification for men like Hungary's Mr. Orban to adopt militant anti-migration policies and launch attacks laced with anti-Semitism on liberals like financier and philanthropist George Soros.
It also fuels China's crackdown on Turkic Muslims in the north-western province of Xinjiang, an attempt to Sinicize Islam and the most frontal assault on the Islamic faith in recent memory.
Similarly, civilisationalism validates Mr. Modi's notions of India as a Hindu civilizational state and Mr. Trump's anti-Muslim and anti-migrant policies and his continued vacillation between lending racism and white supremacism legitimacy and condemning far-right exclusivism.
Civilisationalism poses a threat not only to the world we live in today but to the outcome of the geopolitical struggle of what will be the new world order. The threat goes beyond the battle for spheres of influence or competition of political systems.
Civilisationalism creates the glue for like-minded thinking, if not a tacit understanding, between men like Messrs. Xi, Orban, Modi and Trump, on the values that should undergird a new world order.
These men couch their policies as much in civilisationalism as in terms of defense of national interest and security.
Their embrace of civilisationalism benefits from the fact that 21st century autocracy and authoritarianism vests survival not only in repression of dissent and denial of freedom of expression but also maintaining at least some of the trappings of pluralism.
Those trappings can include representational bodies with no or severely limited powers, toothless opposition groups, government-controlled non-governmental organizations, and some degree of accountability.
The rise of civilisationalism is further facilitated by a failure to realize that the crisis of democracy and the revival of authoritarianism did not emerge recently but dates back to the first half of 1990s.
Political scientists Anna Lührmann and Staffan I. Lindberg concluded in a just published study that some 75 countries have embraced elements of autocracy since the mid-1990s. Key countries among them have also adopted aspects of civilisationalism.
The scholars, nonetheless, struck an optimistic tone. "While this is a cause for concern, the historical perspective…shows that panic is not warranted: the current declines are relatively mild and the global share of democratic countries remains close to its all-time high," they said.
This week's attack in Christchurch is one of multiple civilizational writings on the wall.
So are the killings committed by Mr. Breivik; multiple jihadist attacks, the recasting of political strife in Syria and Bahrain in sectarian terms; the increasing precarity of minorities whether Muslim, Christian or Jewish; rising Buddhist nationalism, and the lack of humanitarianism and compassion towards refugees fleeing war and persecution.
These alarm bells coupled with the tacit civilisationalism-based understanding between some of the world's most powerful men brushes aside the lessons of genocide in recent decades.
Ignoring the lessons of Nazi Germany, Hutu Rwanda, the Serbian siege of Srebrenica or the Islamic State's Yazidis poses the foremost threat to a world that is based on principles of humanitarianism, compassion, live-and-let-live, and human and minority rights.
Framing the challenge, Financial Times columnist Gideon Rahman noted that Mr. Trump's "predecessors confidently proclaimed that American values were 'universal' and were destined to triumph across the world. And it was the global power of western ideas that has made the nation-state the international norm for political organisation. The rise of Asian powers such as China and India may create new models: step forward, the 'civilisation state.'"
Mr. Rahman argues that a civilizational state rejects human rights, propagates exclusivism and institutions that are rooted in a unique culture rather than principles of equality and universalism, and distrusts minorities and migrants because they are not part of a core civilisation.
In short, a breeding ground for strife and conflict that can only be kept in check by increasingly harsh repression and/or attempts at mass re-education and homogenization of the other – ultimately a recipe for instability rather than stability and equitable progress.