Angela Merkel Do Not Harm Afghans
[yt_dropcap type="square" font="" size="14″ color="#000″ background="#fff" ] T [/yt_dropcap]he Afghan political and security situations especially in the northern Afghanistan is dramatically deteriorated when ISIS started exodus from eastern parts of Afghanistan to the northern components of the country, recently Taliban, Haqani Network, Al-Qaida and ISIS have doubled their combined offensive attacks and gaining more territories and Kabul regime and its international allies losing grounds day by day and the peace talks have had no satisfactory domino effects.
Moreover, the latest sophisticated motor vehicle attack on German consulate in Mazar-e-Sharif province in the north of Afghanistan killed dozens and wounded hundreds of Afghan civilians and in retaliation the Bundeswehr murdered two civilians while injuring scores the incident indicates that how far is to reach a peaceful deal and how well-built the above said terrorist networks have become honestly saying it is not a surprise at least for me as it has been for German military strategists, I was aware that Germany will face the music one day, long before all through my stay in Germany I had expressed my concerns with German authorities specially during a meeting with an official of the German defense ministry I addressed that German assets specially the diplomatic entities of the country will be attacked by the so-called terrorist cells the held meeting was also witnessed by Julie Hoffmann the head of AWO, as a counter-terrorism expert I enlightened the bureaucrats that the shift in the foreign policy of Germany would cause backlashes, but the official arrogantly responded that my concerns are died-out and his country is well prepared for any attacks of this sort and is ready to respond, other than the recent attack on German Consulate illustrate how well they are organized to avert the attack.
However Taliban claimed the responsibility of the mentioned assault but there are sources who suspect that Taliban have not carried out the attack alone rather the regional countries have also been engaged for the reason that the more Germany is engrossed beyond its traditional territory (west Europe) for instance in Middle-east, Africa, South-Central Asia, east Europe and the Balkan region and further closer to the Russian borders to impair Russian and its allies national interests and security the more it will turn out to be vulnerable to the assaults as a result German citizens, NGOs and Diplomatic units will be targeted around the globe in the coming future because Germany untraditionally has sent troops to Afghanistan, South-Sudan, Somalia, East Europe and recently to Syria to train Kurdish militia to simultaneously fight the Assad regime and ISIS, furthermore Germany has followed the foot-steps of Uncle Sam in the world affairs meanwhile it has signed number of arm deals with Saudi-Arabia and other Gulf states they have all made the country to be more susceptible to the counterattacks.
Albeit Germany is a soft target for the terrorists networks, as ISIS recruits the frustrated Muslim societies in the country but the German parliament (Bundestag) and cabinet on 16 of November this year made a decision to extend the federal defense ministry mission tell 2017 in Afghanistan and according to some sources Germany plans to send more troops to Afghanistan as there is an old saying "more troops more wars" hence it ought to propel more body-bags to the country meantime Germany has decided to expel Afghan asylum-seekers and refugees as part of its depopulation strategy " to depopulate Germany from Afghan refugees" Germany wants to send the refugees back to the war-torn Afghanistan those who arrive to the motherland due to corruptions, jobbery nepotism, injustice and the lack of employment potential would join Taliban, ISIS and Al-Qaida and there would be more human losses on both sides and Germany will be responsible for all such fatalities.
Consequently Afghanistan does not need more foreign troops there were hundred thousands of them for the last decade stationed in the country but Afghans have not experienced peace, stability and economic prosperity rather destructions, collateral damages and humanitarian disaster, However German Chancellor Angela Merkel with the out-going American president Barak Husain Obama throughout the news conference on November 17th in Berlin reiterated her commitment of the political resolution of the Afghan conflict but Afghanistan needs candidly comprehensive political settlement which is unfortunately far from to be attained at least in the coming decade.
Threat from petty criminals who turn to terrorism, a growing concern
The less predictable threats represented by small-time criminals who have opportunistically embraced terrorism, are a source of growing concern, the UN Security Council heard on Tuesday. That warning came from Tamara Makarenko, an International Consultant, who works with the UN Interregional Crime and Justice Research Institute (UNICRI), speaking at an open debate on threats to international peace and security.
The long-time expert on the nexus between organized crime and terrorism, noted that at its most fundamental level, the link is based primarily on transactions and tactics, at the point where terrorists and criminals occupy "the same space at the same time".
Noting various ways in which terrorist groups use illicit crimes to fund their operations, she said that the ISIL or Dae'sh terrorist group, saw from early on that it could draw funds from smuggling and the sale of illegal goods.
She added that smaller terrorist cells were focused on recruiting criminals in prisons, which have become true "incubators of the link", and a place for the exchange of knowledge, she continued.
She said that due to the scale and unpredictability of the petty criminal-turned terrorist, even local level criminality poses a serious and global threat. The international community must act, she said, cautioning that this heightened connection may hinder the ability to fight terrorism and increase vulnerability to criminal groups.
Invest more in fighting crime and terrorism together: Fedetov
Yuri Fedetov, Executive Director of the UN Office on Drugs and Crime (UNODC), said that criminals and terrorists shared a need to operate in the shadows, exploiting gaps in criminal justice responses in and between countries and regions. Human trafficking for sexual exploitation, child soldiers and forced labour can be used not only to generate revenue but to strike fear and recruit new fighters, he told Council members.
Dae'sh for example, had profited immensely from the illegal trade in oil, trafficking in cultural property they ransacked from places such as Palmyra in Syria, and Mosul in Iraq, and kidnapping for ransom. "We have also seen piracy and organized crime flourish on the high seas, including outside the justification of any single State and beyond the capacities of many countries to control," he emphasized. He noted that the Al-Shabaab extremists in Somalia, supported piracy and finance some of their operations from trade in Somali charcoal through the Gulf of Oman, while the veteran Al-Qaida group, resupplies its forces around the Arabian Peninsula by sea.
He called for more resources to be channelled towards technical assistance to strengthen specialized expertise and capacities. This includes training for law enforcement, coast guards, border and airport officials, prosecutors, judges, prison officers and other relevant officials. "We need to reinforce investment in mechanisms for inter-agency, regional and international cooperation, including information and intelligence sharing," he said.
Disconnect over taking on terror and organized crime, together: Coninsx
Michèle Coninsx, Executive Director of the Counter-Terrorism Committee Executive Directorate, outlined the Council's various activities to combat the financing of terrorism, noting that the territorial losses sustained by Da'esh, which just a few years ago controlled large swathes of Syria and Iraq, had made it imperative for them to access funds through a wide range of criminal activities including drug trafficking, weapons sales, kidnapping and extortion.
Within the framework of country assessment visits, she said, the Executive Directorate engages with national authorities on how they view the links between terrorism and organized crime, as well as on cases in where clear links have been identified.
She said several best practices had been identified, such as creating joint investigative units and prosecution teams to handle both organized crime and terrorism.
She noted, however, that a significant disconnect continues to exist between the level of concern expressed by policymakers, the creation of legal frameworks addressing both terrorism and transnational organized crime, and the actual level of investigation and prosecution of cases as part of the same scourge.
The role of financial intelligence units should be strengthened, she said, noting that relevant agencies tasked with confronting the crime-terror nexus, too often operate in silos. "Institutional barriers to information-sharing, including between and among local and national authorities, should be overcome," she told the Council.
Efforts to counter terrorism and extremism in Xinjiang
Iran and China have a long history of friendly relations. Iranians are not unfamiliar with Xinjiang either, in 13th century, Saadi Shirazi, the celebrated Iranian poet, traveled to the city of Kashgar in Xinjiang and wrote a beautiful poem.
The interaction between Iranian and the Chinese nations is also observable in ancient Silk Road trade route. The footprints of Iran can be seen in many parts of Xinjiang, including its architecture, literature and music. I have also realized that Iranians are interested in Xinjiang, but the sources of information about this district are limited and the western media sometimes distort this information; therefore, as the ambassador of China to Iran, I am willing to introduce Xinjiang to our Iranian friends so they can develop a more comprehensive and realistic understanding of this beautiful region.
Xinjiang has been an inseparable part of china's territory for many years.
This vast region bordered by Tian Shan mountain ranges, was known as Xiyu, meaning "Western Regions", in ancient times. 60 years BCE, the Han Empire officially established the Xiyu Protectorate; this means that Xinjiang has been an inseparable part of China's territory since the ancient times.
After the formation of People's Republic of China in 1949 AD, the region went under substantial economic and social changes and entered its most developed and prosperous era.
From very old times, Xinjiang has been home to many different ethnic groups as many different tribes migrated to the region and mingled with each other and the natives, these ethnic groups include the Uyghur people, Han people, Kazakhs, Hui, Kyrgyz, Mongols, etc.
Xinjiang has also been home to many religions in different eras including Prehistoric religions, Zoroastrianism, Buddhism, Taoism, Manichaeism, Nestorianism, Islam, Christianity, Catholicism, Protestantism and Eastern Orthodox Church.
Originally, Islam was not the religion of Uyghur people and many other ethnic groups who lived in Xinjiang; also today, it is not the only religion practiced in the region.
In modern era, when China was having a period of weakness, the imperialist regimes took advantage of the situation and invaded Xinjiang; they started promoting the separation of Xinjiang from China and by doing so they lay the foundation of destruction of stability and prosperity in Xinjiang.
After the Cold War, the region was affected by separatist movements, religious extremism and terrorism and it was hit by some terrorist attacks that had devastating effects on the life and wealth of the residents, and severely damaged the human rights situation in the district.
The separatist groups substantially distorted the history of Xinjiang and tried to stir up hatred between different ethnic groups. They then tried to establish a new country named "East Turkestan" by doing Jihad.
These religious extremists are holding up the flag of Islam but their behavior is in total violation of Islamic rules. They incite people into fighting the governmental administration, they advocate a lifestyle without television, radio or newspapers and preach fake religious rules such as "women are not allowed to work". These terrorists majorly violate the human rights of Xinjiang residents and does violent, destructive activities that only harm the ordinary people.
The statistics show that from 1990 to 2016, the separationist groups, terrorists and extremists have done thousands of terrorist attacks in Xinjiang, killing many innocent civilians and hundreds of police officers and caused substantial economic loss.
On January 5, 2009, East Turkestan movement, both from inside and outside of China, started an extremely violent riot in Ürümqi that shook up the whole world. The terrorists staged major attacks in big stores and public places. The attack killed 197, injured more than 1700 and destroyed 331 stores and burnt down 1325 vehicles, many other public places were also damaged over the attacks.
These terrorists attack the religious leaders as well. In 1996, Aronghan Aji, vice president of the China Islamic Association and president of Xinjiang Islamic Association, and the preacher of Id Kah Mosque in Kashgar was stabbed 21 times by four terrorists on his way to a mosque and seriously wounded.
On July 30, 2014, the 74-year-old Senior Mullah Juma Tayier, vice president of Xinjiang Islamic Association and imam of the Id Kah Mosque, was brutally killed by three terrorists on his way home after morning Fajr prayer.
Considering the real threats of terrorism and extremism in the region, proper actions have been taken to fight these groups based on the ongoing situation in Xinjiang. The fight against terrorism in Xinjiang has always followed the law and has tried to secure the rights of civilians, to bring about justice and to serve the logical needs of the religious people.
Xinjiang administration is focused to counter terrorism by developing the economic wellbeing of residents, advertisement, giving legal education to people, and setting up centers that offer professional and vocational training.
In fact, establishment of education and training centers is a precautionary action to fight terrorism. The centers teach people who are guilty of minor crimes or law-breaking. The teaching program consist of standard spoken and written Chinese language, law, vocational skills, and courses on the eradication of extremism.
After receiving the education, the trainees develop their skills in standard Chinese language, increase their sense of state, citizenship, and rule of law, acquire professional skills and can free themselves from the ideology of terrorism and extremism and go back to their normal life.
Over the educational program, the trainees' rights are fully observed so that they can have a normal study and life routine. Trainees can have home visits on a regular basis and can ask for leave to attend to private affairs. The centers fully respect and protect the customs and habits of trainees of different ethnic groups. Moreover, the centers are equipped with indoor and outdoor sports and cultural facilities.
Recently, I visited some of these educational centers and saw how trainees have very good opportunities to develop their studies, working skills and knowledge of law.
The people of Xinjiang, from all different ethnic groups have shown great support for these activities that are aimed at countering terrorism and bringing stability to the society. The program had had many positive effects on the society and has substantially changed the social conditions.
For more than two year, Xinjiang has not saw any violent terrorist activity; moreover, the security and welfare of people has increased substantially. In general, Xinjiang is now a stable community. All aspects of life in Xinjiang are improving, the economy is blooming and people's quality of life, from all ethnic groups, has had major developments.
In 2018, Gross Domestic Product (GDP) of Xinjiang improved 6%; over the year, around 150 million people from inside and outside of China travelled to Xinjiang, a year-on-year increase of 40 percent; foreign tourists totaled 2.4032 million, a year-on-year increase of 10.78 percent.
Muslims in Xinjiang have complete religious freedom. Currently, there are more than 26 thousand mosques and 29 thousands clergymen in Xinjiang. In fact the ratio of mosques to population is very high in Xinjiang compared to world standards.
For several years, some western media and politicians have advertised Islamophobia. In the same time, some of these western countries have caused tension in Middle East, but they condemn China's activities to counter terrorism and extremism in Xinjiang and say that the government is oppressing the Muslim Uyghur people.
On the contrary, Muslim countries have appreciated China's activities. In a resolution passed by the Organization of Islamic Cooperation country members in March 2019, the activities of Chinese government for protecting the Muslim Chinese were described as positive and Muslim countries underlined that they are willing to develop their cooperation with China. China, on the other hand, appreciated their positive feedbacks.
Iran and China also have a long-standing friendship and the two countries have majorly cooperated in increasing security and countering terrorism.
I hope, with above explanations, my Iranian friends can develop a broader understanding of China's efforts in countering terrorism and the achievements it had by carrying out these plans in Xinjiang.
I personally believe that the cooperation between China and Iran in countering terrorism and extremism will grow larger and the two countries can play an important role in safeguarding the security and stability of the region.
From our partner Tehran Times
Think like Jihadist: Anatomy of Central Asian Salafi groups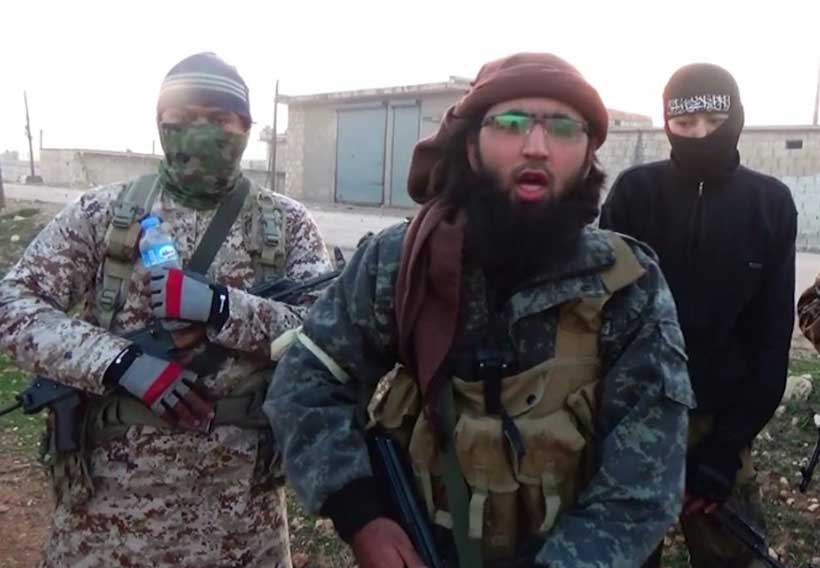 Salafi Jihadism has become a serious problem in Central Asia that encompasses five former Soviet republics – Uzbekistan, Kazakhstan, Kyrgyzstan, Tajikistan, and Turkmenistan – collectively known as the "Five Stans", as well as Afghanistan and western China. Central Asia, which was for 3,000 years a place of revival of main religions such as Zoroastrianism, Buddhism, Shamanism, Manichaeism, Nestorian Christianity and Judaism, and where the great Sunni Islamic scholars as al-Bukhari, al-Ghazali, and Ahmed Yesevi lived, today has become a target for militant Salafi-Jihadist ideology.
In Central Asia, the focus of Islamic revival and of Jihadists groups has been the Ferghana Valley, a densely populated and ethnically mainly Uzbek territory divided politically between Uzbekistan, Kyrgyzstan and Tajikistan. The valley has traditionally been a center of Islamic fervor, and was the area where Salafists first established a presence. The mass poverty of the population, the drop in the level of education after the collapse of the Soviet Union, the corrupt and authoritarian rule of political regimes, and the repressive methods of law enforcement have played a role in the radicalization of Islamic groups in Central Asia.
In the early 1990s, the first armed jihadist groups in the region appeared in response to harsh persecution by the authoritarian regimes of communist China and Karimov's Uzbekistan. In that period, many members of the Islamic Movement of Uzbekistan (IMU) and China's Uyghurs of the East Turkestan Islamic Movement (now Turkestan Islamic Party – TIP) who adhered to the Salafist ideology, moved to neighboring Afghanistan and fought under the wing of the Taliban. The combination of repressive governments and economic deprivation in Central Asia, particularly China, Uzbekistan, and Tajikistan, served as an incubator of Salafi Jihadism. After 9/11, Central Asia's jihadists, who are members of IMU and TIP, were the mainstay of Al Qaeda's defense in southern Waziristan as well as participants in the fight against the armies of Afghanistan, Pakistan and NATO.
Central Asian jihadist groups are supporters of Takfirizm, a kind of religious extremism that accuses other Muslims of disbelief or apostasy. This ideology became the banner of the caliphate and led to jihad against other Muslims and open disobedience against the authorities. These practices are part of the legacy of the Takfirist instructions and ideas that emerged from the Al-Qaida environment.
Many of Central Asia's Islamists have been infected with the "virus" of the Salafi ideology from Arab preachers and local theologians who were educated in Saudi Arabia, Syria and Egypt. After the link into al-Qaeda and Taliban, they laid an accusation of unbelief (takfir) against the rulers of the "Stans". They refused to recognize official state institutions and declared jihad against the armed forces of their respective countries.
In response, the governments of the"Stans" and China have suppressed, and continue to suppress, the activities of more than twenty Islamic groups that are recognized by the court as extremist or terrorist organizations, which constitute a danger to the state's constitutional order. In particular, the activities of the following Islamic groups have been suppressed: The Islamic Movement of Eastern Turkestan, Katibat Imam al Bukhari (KIB), TIP, Katibat al Tawhid wal Jihad (KTJ), IMU,Islamic Jihad Union (IJU), Zhaishul Mahdi, Jund-Al-Khalifa, Ansarullah, Jannat Oshiklari (Fans of Paradise), and others.
The second wave of the outflow of Central Asian Islamists abroad occurred after the start of the Syrian civil war. After the Syrian civil war broke out in 2011 and ISIS emerged as a competing alternative to al-Qaeda three years later, the thousands of Central Asian jihadists who streamed into Syria had to decide between al Qaeda and ISIS.
Some jihadists of IMU and Jund-Al-Khalifa shifted to Syria and joined ISIS. Central Asians, and especially the migrant workers from Russia, who traveled to Syria, independent of any of the main Salafi-Jihadi groups after 2014 tended to join al-Baghdadi's Caliphate. Uyghur's TIP, Uzbek's KTJ and KIB became enmeshed with alQaeda in Syria and maintained loyalty to the Taliban.
After joining al Qaeda, Taliban and ISIS, the ideological base of Central Asian militants broadened and was affected by the more-global agenda of transnational Salafi-jihadi networks. Today, the goal of the religious groups from Central Asia has greatly expanded so that now their goal is to develop a world-wide caliphate. They have become an integral part of world-wide terrorism and jihadism.Thus, Central Asian Islamists have expanded their influence and militant activities to the Middle East. Over the past two decades, the locus of Central Asian radicals has moved from the Ferghana Valley through Afghanistan into the tribal badlands of Pakistan toward Syria.
Methods of preventing Central Asian Islamists attacks
Central Asian Salafi-Jihadi groups pose a significant threat to the security of not only the "Stans", but the EU and the U.S. For example, Central Asia's Islamist radicals committed the following attacks in the US and Europe:
A terrorist attack committed by a 29-year-old national of Uzbekistan, Sayfullo Saipov, in the downtown of New York City, which killed 8 civilians in 31 Oktober 2017;
The blast in the subway of St. Petersburg, which was committed by an Uzbek terrorist from southern Kyrgyzstan Akbarzhon Dzhalilov in April 2017;
The truck attack in the center of Stockholm Sweden by an immigrant from Uzbekistan, Rakhmat Akilov, rammed through the crowd last April;
The terrorist attack by a native of the Fergana Valley of Central Asia, Abdulkadir Masharipov, on December 31, 2016 murdered 39 people in the Reina nightclub in Istanbul;
The terrorist attack at the international airport of Ataturk in Turkeyby citizens of Kyrgyzstan and Tajikistan in June 2016;
Another Uzbek terrorist, Ulugbek Kodirov, tried to kill even US President Barack Obama in July 2011 and was sentenced to 15 years in prison;
More than a dozen Uzbeks have been charged with terrorism between 2012 and 2016 in the USA and are now involved in continuing legal proceedings, which is evidence of the growing Islamic terrorism among immigrants from Central Asia.
To combat the Central Asian Salafi-jihadist groups, it is very important to understand the reasons for their ideological appeal to certain segments of Sunni Muslims. Only after a thorough analysis of their Jihadi ideology can a strategybe developed to combat them. In accordance with my scientific purposes, I continue to conduct my research on the activities of Central Asian Islamist groups.The goal is to prevent other terror attacks like 9/11 in the U.S.
Unfortunately, as the tragic example of Sri Lanka has shown, it is small Islamist terrorist groups associated with ISIS or al Qaida, including Central Asian jihadists, that due to the difficulty to triangulate, can pose the greatest danger to global stability. In this regard, I want to express my gratitude to Modern Diplomacy for providing a platform for comprehensive scientific researches on the roots and causes of the radicalization of Islamic ideology and the activities of Central Asian Salafi-Jihadi groups.A Geopolitical Handbook under the name "Anatomy of Central Asian Salafi-Jihadi groups" is a great contribution to European and global security by Modern Diplomacy.