Making England, Italy, Germany, and America Great Again Via Globalization and Nostalgia for Past Glories
"Let's make America great again" –Donald Trump
"We need to change everything so that nothing changes" –Giuseppe di Lampedusa, The Leopard
"This is a story of what I was, not what I am." ― Robert Graves, Good-bye to All That
[yt_dropcap type="square" font="" size="14″ color="#000″ background="#fff" ] T [/yt_dropcap]he slogan "Let's make America great again" may appear at first sight to be aspirational, even inspirational. It has been asserted that it was such a genial slogan which assured the successful election of Donald Trump to the American presidency. In reality the slogan describes and predicts little that is surprising or original. It's more like a movie that we have viewed before; and we already know its ending.
Nostalgia for past greatness is as old as Machiavelli who claimed the heritage of the Romans for a new Italy, then it was misguidedly adopted by Mussolini who fancied himself a Roman emperor, or Adolph Hitler who promised to make Germany great again after the humiliating defeat of World War I.
All of this can perhaps best be described through the lenses of three classical novels which, while admittedly prophetic, read like historical novels: in order of publication they are Good-By to All That by the English Robert Graves (1929), It Couldn't Happen Here by the American Sinclair Lewis (1935), and The Leopard, Il Gattopardo in its original Italian title, by the Italian Giuseppe di Lampedusa (1956).
I have summarily described the last two novels, the second prophesizing the rise of fascism in America or anywhere else where the conditions are ripe; enter Donald Trump. The last one made into a famous movie by Luchino Visconti in 1963 dealing with Italian unification, and predicting that the great social changes expected at the outset from Italian unification would not only fail to materialize but that things would get progressively worse and force the emigration of one million Southern Italians.
Let us now examine the first book which, in some way, despite the fact that it came first chronologically, synthesizes the other two by announcing the disaster of fascism and of involuntary emigration and explaining those disasters via a nostalgia for making the country great again, enter Brexit and Trumpism.
Robert Graves' book can perhaps best be described as a farewell memoir to his country called Good-Bye to All That. In it, Graves, a veteran of the Great War, offers us an glimpse of a world brought down by the myopia of a waning ruling class. British rulers yearned to restore a bygone age, to make Britain great again. No sooner did Good-Bye hit the bookstands than Western governments on both sides of the Atlantic, far from learning any lessons from it, responded to a financial crisis by throwing up trade barriers, turning currencies into weapons, plunging the world into depression, and then deporting, or later exterminating, foreigners as well as their own citizens.
We seem to have come full circle. With the election of Donald Trump to the presidency, the United States seems about to swerve in a similar direction, to go from leading the world as a stabilizer to leading the world as a destabilizer. What's propelling this about-face is nostalgia for an earlier age of supremacy which basically covers seven decades from the mid-forties to today. The illusion of exceptionalism and supremacy (called "white supremacy when it assumes racial overtones) remains, but In truth, that supremacy that was economic, military and political, has long since passed.
America's continued claim on global leadership is mostly an inheritance from the aftermath of World War II, when American leaders laid the multilateral foundations of what we now call globalization. Diplomats, economists, and philosophers charted a grand bargain for the world, a kind of global new deal. It rested on two pillars.
The first concerned cooperation in the world economy. To prevent a backslide into the protectionist, inward-looking policies that crushed the global economy in the 1930s and led to war in Europe and Asia, global rebuilders hitched national economies to norms, rules, and principles of free trade. The result was a boom. From 1950 to 1973, world per capita incomes grew by 3 percent per year — powered by a trade explosion of 8 percent per year. Cooperation triumphed; interdependence brought prosperity. The prophecy of "inevitable progress" by assorted positivists enamored of enlightened science and debunkers of tradition, religion and even philosophy seemed to have come about. Things would get better and better.
The second pillar concerned national policies. To cope with the dislocations of free trade and interdependence, governments created safety nets and programs at home to manage the risks and to shelter the castaways. From welfare to workplace protections, from capital controls to expanded education, national policies buffered market perils and helped families adapt to commercial and technological changes. What's more, many of these programs extended to the dislocated who left home altogether, like those who departed Puerto Rico for the United States, Italy for Canada or the US, Algeria for France, Cambodia for Australia. Education, workplace protections, and pathways to citizenship were part of a bundle of rights conferred on immigrants. This was the global new deal that buoyed the postwar liberal order: a coherent, complementary set of policies that opened borders while protecting societies from the hazards of integration across those borders.
But alas, it proved unsustainable. Over seven decades, their foundations shifted beneath them. We are now witnessing, in Trumpism, its death throes. And there is no way to re-create the conditions that led to the original global new deal, and the years of relative stability and tolerance that came with it. All that is left now is nostalgia for past glory. That goes a long way in explaining Brexit and Trump's fraudulent promise to restore America's greatness in the 21st century. As in Brexit many have bought that promise wholesale but, as in Brexit, they may soon experience buyer's remorse for one cannot live by past glory alone; one needs to envision a future too for the next generations.
What had once been a comprehensive, integrated system of policies that allowed free trade and social safety nets to work in tandem became, in the absence of strong global leadership, a race to the bottom, sustained by carbon and credit. Brand new polities like the EU were founded but lacking authentic cultural foundations for the union, centrifugal political forces began to take over. Domestic safety nets got torn up in a fever to make economies more nimble. Deregulators, privatizers, and a free market orthodoxy took hold, shredding the pacts that once eased the effects of globalization. Trade unions, once key to manufacturing the consent behind the global new deal, got crushed.
The fall of the Berlin Wall, the breakup of the USSR, and some gloating about the end of history created some sense of renewed American grandeur and the triumph of free markets. This euphoria, however, masked underlying structural shifts that eroded U.S. dominance still further; while the Soviet bloc collapsed, behind the scenes, there was a dramatic retooling of the Asian economies. The reckoning could not be put off forever. The dual addictions to carbon and credit are now under assault. The bill for relying on fossil fuels is turning up in the form of climate change, while swaths of the unprotected precariat work part-time jobs in Walmart and Home Depot to cover the monthly interest on their Visa cards.
David Cameron botched the Brexit campaign. Hillary Clinton stumbled through questions about the misunderstood Trans-Pacific Partnership and cringed whenever NAFTA came up. In the vacuum, wall-builders like Trump promise to revive a zombie version of American grandeur with more carbon, more credit, and a mercantilist crusade. And so, while Globalization had relied on the United States playing a vital stabilizing role which lasted for seven decades, what comes next is rather unpredictable. Were I asked to hazard a prediction I would go with "global instability." Why do I say this? Because, the world has yet to master the idea of leadership without dominance. We no longer have statesmen, we have puny egomaniacal bullies hungry for power.
The long cycle of integration and relative tolerance forged by U.S. leadership since World War II is now headed in reverse and is giving way to nostalgia for past greatness: let's make Germany great again, let's make Great Britain great again, let's make America great again, let's go back to the glory of the ancient Greeks and Romans, the glory of the British empire, and, most important of all, let's fool people, as Tancredi proclaims in the novel The Leopard by making them believe that all is changing and the good old times are on the way back, so that in effect nothing changes and they fail to realize that in reality things are getting progressively worse and the lights are fast dimming on a Western civilization mired in nostalgia of past grandeur. I say: let's pray for the best but prepare for the worst while imagining a better world. This may well fall on deaf ears, but let those who have ears, let them hear.
Washington Ill-Prepared to Set Human Rights Agenda
It is evident that US Democratic President Joe Biden and his team will pay more attention to the human rights agenda in foreign policy than their Republican predecessors did. It is also clear that Washington will actively use this agenda in dealing with its main geopolitical adversaries—above all, China and Russia. Finally, it is obvious that the United States will try to put together a consolidated Western front to shoulder American human rights initiatives. Human rights will become one of the tools to keep liberal democracies together confronting what is perceived to be the global rise of illiberal authoritarianism. We are likely to hear strong rhetoric on human rights coming out of the White House and the State Department. We will observe multiple human rights-focused US initiatives in international organizations. And we will also see new American human rights-related sanctions against Moscow and Beijing.
Still, at the end of the day, this strategy might turn out to be less successful than the new US leaders anticipate. No matter how Russian or Chinese governments are planning to handle, respectively, the Alexey Navalny case or political protests in Hong Kong, it is very unlikely that either Moscow or Beijing will yield under US pressure. Moscow and Beijing will continue going hand in hand with each other in blocking US-proposed international resolutions, in containing US foundations and NGOs operating in sensitive areas, and in countering the coming American information offensive on the human rights front. The growing pressure from the White House will only further cement the China-Russia partnership.
Moreover, the reality is that Washington is ill-prepared to make a convincing case on human rights and broader democracy issues.
First, America itself has not fully recovered from a deep and protracted political crisis. Many inside the US still question the standards of November's presidential elections as well as the legitimacy of information restrictions imposed on Donald Trump and his supporters by major social networks and the US mainstream liberal media. The 2020 large-scale violent racial riots also question the assumption that the United States can serve today as a universal model of human rights observance. Until President Biden fixes related problems at home, his international human rights crusade will not look too credible even for his fellow citizens.
Second, it is easy for Biden to raise human rights issues against Russia and China—or against North Korea and Iran. This is a light and unburdensome task—in any case, these countries are not and will not be US allies or partners anytime soon. However, what about other potential targets—like Turkey and Saudi Arabia? On the one hand, both Ankara and Riyadh are perceived in Washington as gross violators of basic human rights. On the other hand, Washington badly needs partnerships with both of them. If the Biden administration heads down a slippery slope of double standards and selective use of the human rights agenda in foreign policy, this will not make this agenda more convincing for anyone. If Biden chooses to go against traditional US clients and friends, the political price for such integrity might turn out to be prohibitively high.
Third, though the international human rights agenda remains important, it seems that today, in most societies, the public puts fairness before freedom. 20 or 30 years ago, the quest for freedom was the driving force behind the majority of street protests, political upheavals and revolutions. Today people revolt mostly against what they believe to be unfair and unjust. The widely shared sentiment of unfairness and injustice rather than human rights or political democracy is the main source of various populist movements in all parts of the world.
The balance between the quest for freedom and the quest for fairness has always been moving from one side to the other, forming long political and social cycles in human history. In the first half of the 20th century, fairness and egalitarianism were perceived as more important than freedom and human rights, while in the second half of the century, the balance shifted away from the former and toward the latter. Today we observe the global social pendulum once again swinging in the opposite direction.
In this context, the recent statement of Chinese President Xi Jinping about the ultimate victory over absolute poverty in China may well outweigh all the eloquent human rights rhetoric coming from US President Joe Biden.
From our partner RIAC
Witnessing Social Racism And Domestic Terrorism In Democratic America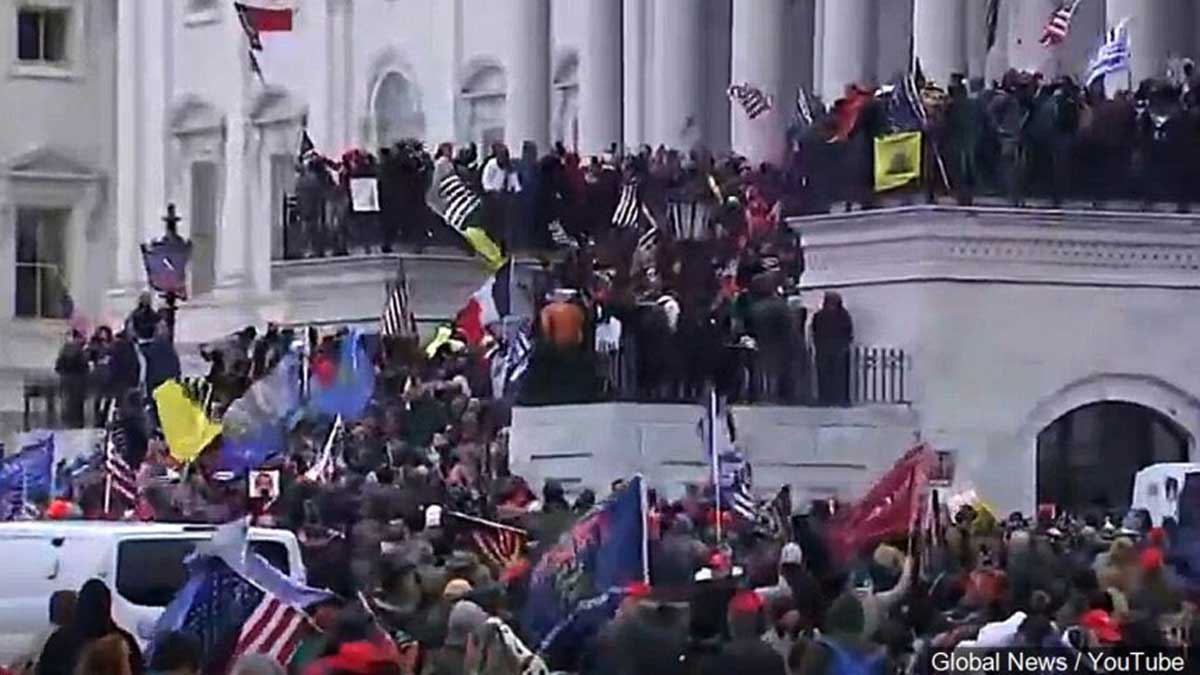 With just less than two weeks away from President-elect taking the office, the United States of America witnessed the worst of the worst it could ever do, since its discovery. Anti-democracy moves and violence is what American leadership stood against around the world and in particular in recent times since the Arab Spring, but the same 'Mini Arab Spring' was faced by America itself. The brave soldiers of America who took arms and enjoyed Saddam's palace could not protect its own legislative branch, details about which make the very beginning of the American Constitution. The savior of democracy is struggling democracy at home as white supremacists and Trump supporter militias stormed at the US Capitol. Before having a critical outlook through the lens of Johan Galtung's triangle of violence, it is potent to dig into what exactly is causing this situation in America. This started as protests at the National Mall which soon after Trump's incitement turned into riots at the Capitol Building by masses without masks, painted with Republican colors and wrapped in MAGA merchandise. This storm over Congress seats came after months long instigation of Donald Trump's claims about rigging in elections and his refusal to accept the results and especially when on Wednesday the Congressmen gathered to count the electoral votes and officially declared Biden as the next President of America. Amidst this siege over Capitol, arrests and vandalism of state property; Joe Biden was officially validated as the 46th President of the United States of America.
Apart from what became highlight of that week about Capitol Hill being invaded by pro-Trump supporters, critically analyzing the situation, it is evident enough that MAGA riots and Black Life Matters riots were quite evidently, differently handled by the state forces. This discrepancy in response to BLM can be better explained through Galtung's 3 sides of violence. Galtung's triangle shapes around three joints of connections: direct, cultural and structural violence, while the former has its roots in the latter two. Structural violence is defined as the unequal access and advantages to one racial, political, ethnic or religious group than the other in social and political orientations of systems that govern the state. Structural violence or social racism is evident in the varying responses that despite warnings about possible attacks during the electoral vote counts, Police did not seek advance help to prevent it, rather National Guard was deployed an hour after the protestors had already breached the first barricade. While in the case of BLM, the aggression of the Police and National Guard was evident in their gestures. While the anti-racism protests in June last year faced militarized response, none was done with anti-democratic riots.
While social racism is evident in America, it is yet to be witnessed what is to come next. Speaker of the House of Senate, Nancy Pelosi has already indicated removing President Trump from his office through the 25th Constitutional Amendment. Along with this, Joe Biden's remarks about the situation also have long-term repercussions as well as expectations. Repercussions might come in terms of him calling the protestors as "domestic terrorists". The FBI defines domestic terrorism as: "Violent, criminal acts committed by individuals and/or groups to further ideological goals stemming from domestic influences, such as those of a political, religious, social, racial, or environmental nature." America, since more than 2 decades is already fighting its war against terrorism in various segments of the world, the use of this word at home, although might bring support for Biden's sympathies for BLM and democracy, yet it might have long-term impacts. Mentioning of expectations, Americans at home and abroad, both desire to see actual reforms followed by on ground implementations to counter structural violence. Along with this, Biden shall have to re-construct the de-constructed notion that political violence and threat to democracy is far away from America and is for third world countries. The states upon which America used to show serious concern and used to send arms for their national interests are showing their worry over the situation in America which is even termed as 'coup'. Having pin-pointed all this, Biden's era needs a lot of reconstruction before it opts to enter any third world country or show its presence in any new Spring for democracy outside America.
Joe Biden and his first contradictory foreign policy moves
Those who thought that the elderly American President, formerly Barack Obama's vice-President, would step into the international limelight as the wise and moderate statesman he had been during the election campaign have had to revise their judgement.
Just a few weeks after taking office, Joe Biden abruptly brought the United States back onto the Middle East stage with a dual political-military move that has aroused considerable perplexity and protest in the United States and abroad.
As Pentagon spokesman John Kirby pointed out, the first surprise move decided directly by the President was to order an aerial bombardment against two bases of militiamen believed to be close to Hezbollah and Iran, located in Syria near the border with Iraq.
Between 22 and 27 people, whether militiamen or civilians, are reported to have died in the attack, which took place during the night of February 25.
The order to strike the pro-Iranian militias was motivated by Biden's need to react to an attack in Erbil, in Iraqi Kurdistan, at the beginning of February against a U.S. army logistics base, which resulted in the death of a Filipino employee of the base.
Commenting on the incident, Pentagon spokesman Kirby said: "The airstrikes have destroyed warehouses and buildings used on the border by pro-Iranian militias Kathaib Hezbollah and Kataib Sayyid al Shuhaba and have conveyed the unambiguous message that President Biden will always act to protect American personnel. At the same time, the action is intended to deliberately pursue the goal of de-escalating tension in both eastern Syria and Iraq'.
Apart from the fact that it sounds ambiguous to justify a surprise attack on the territory of a (still) sovereign State like Syria with the need to "reduce tension" in the region, President Biden's initiative has aroused not a few perplexities also in the United States, in addition to the obvious protests of the government in Damascus.
While many Republican Senators and Congressmen have approved of Biden's actions because, as Republican Senator Pat Toomey has argued, "Biden has the right to respond with weapons to the recent attacks supported by Iran against American interests", members of his own party have not hidden their criticism and perplexity because allegedly the President did not respect the exclusive prerogatives of Congress in terms of "war actions".
Democratic Senator Tim Kane was very harsh and explicit: "an offensive military action without Congressional approval is unconstitutional".
His colleague from the same party, Chris Murphy, told CNN that "military attacks require Congressional authorization. We must require that this Administration adheres to the same behavioural standards we have required from previous Administrations…
We require that there be always legal justification for every American military initiative, especially in a theatre like Syria, where Congress has not authorised any military initiative".
With a view to underlining the inconsistency of the White House's justification that the attacks were to 'reduce tension' in the region, Democratic Congressman Ro Khana publicly stepped up criticism by saying, "We need to get out of the Middle East. I spoke out against Trump's endless war and I will not shut up now that we have a Democratic President".
As we can see, the criticism levelled at President Biden has been harsh and very explicit, thus marking the premature end of the 'honeymoon' between the Presidency and Congress that, in the U.S. tradition, marks the first hundred days of each new Administration.
President Biden's military show of strength appears to be marked not only by the doubts over constitutionality raised by leading members of his own party, but also by the contradictory nature of the motivations and justifications.
According to the White House, in view of reducing tension in Syria, bombers need to be sent, without prejudice to the need to "convey a threatening signal" to Iran, at the very moment when the President himself is declaring he wants to reopen the "nuclear deal" with Iran, i.e. the dialogue on the nuclear issue abruptly interrupted by his predecessor.
In short, the new President's opening moves in the Middle East region do not seem to differ too much from those of his predecessors who, like him, thought that military action – even bloody and brutal – could always be considered a useful option as a substitute for diplomacy.
This military action, however, seems scarcely justifiable in its motivations if it is true that President Biden intends to reduce the tension in relations with Iran, which have become increasingly tense due to initiatives such as those of his predecessor, Donald Trump, who at the beginning of last year ordered the assassination of the highest-ranking member of the Iranian military hierarchy, Qassem Suleimani, who was shot by a drone near Baghdad.
President Biden's other move that, in a delicate and sensitive theatre such as the Near East, appears at least untimely, was to authorise CIA to declassify the report on the assassination of the Saudi journalist, Jamal Khashoggi, killed in 2018 on the premises of the Saudi Consulate in Turkey.
The CIA report bluntly accuses Crown Prince Mohammed Bin Salman of ordering the murder of the dissident journalist. Its publication, authorised by President Biden, has sparked a storm of controversy inside and outside the United States, thus seriously calling into question the strategic relationship between the United States and Saudi Arabia, which over the years has been painstakingly built with the dual aim of counterbalancing Iran's presence and influence in the Lebanon, Syria and Iraq, as well as controlling the extremist impulses of rich and dangerous regional partners such as Qatar.
Prince Bin Salman, now firmly established as sole heir to the Saudi throne, is a compulsory counterpart of the United States.
In vain (and recklessly), President Biden has publicly declared his preference for a direct dialogue with King Salman.
The 85-year-old King, however, is not only in poor health conditions, but has also clearly told the Americans that he has the utmost confidence in "his sole and legitimate heir" to whom he has already actually delegated the management of the Kingdom's affairs.
President Biden's Administration, and its new Secretary of State, Antony Blinken, have never made a secret of preferring another Crown Prince as a potential counterpart, namely Mohammed Bin Nayef, who is very close to CIA thanks to the good offices of the former Chief of the Saudi intelligence services, Saad Al Jabry. Nevertheless, in the complicated world of the Saudi Court, things do not always proceed in the simple and straightforward way preferred by the Americans.
Mohammed Bin Najef is currently in prison on corruption charges and is therefore definitely out of the race for the throne, while his CIA liaison, Al Jabry, has self-exiled to Canada to escape the 'persecution' he believes has been orchestrated by the Saudi courtiers.
If the United States wants to keep on playing a role in the Middle East and possibly exercising a stabilising function in a region which was greatly destabilised by George W. Bush's unfortunate Iraqi adventure, which effectively handed Iraq over to the Shi'ites close to their Iranian "brothers" and gave Iran the keys to control the Persian Gulf, the President and his Secretary of State will have to rely on a good dose of political realism, leaving out of the dialogue with Saudi Arabia the ethical considerations which, although justified, do not seem appropriate, also because America has never seemed to have had many scruples when it comes to physically eliminating its 'adversaries' with very hasty methods, be they an Iranian general, two dozen unidentified Syrian militiamen or their relatives.
In short, the early stages of Biden's Presidency do not look very promising. Allies and adversaries alike are waiting for the United States to get back on the field in the most sensitive areas with pragmatism and realism, two factors that seem rather lacking in Joe Biden's preliminary foreign policy moves.