The "Neo-Immigrants": Immigration as a Ruse for Capitalistic Opportunism?
[yt_dropcap type="square" font="" size="14″ color="#000″ background="#fff" ] A [/yt_dropcap] few days ago I decided to view once again the famous movie by Visconti "Il Gattopardo" (usually mistranslated as The Leopard, but better rendered as "The Wild Cat.") The movie is a faithful rendition of Giuseppe di Lambedusa's novel published posthumously in 1956 and dealing with the 1860 events in Sicily leading to the unification of the whole Italian peninsula by Giuseppe Garibaldi.
Things were supposed to get much better for the unified Italy; in reality they got worse. As Tancredi puts it in a conversation with his uncle, the prince of Salina, " we need to change everything so that nothing changes." In fact little changed in Southern Italy except an exchange of monarchies.
In effect, the aspirations of Garibaldi to found a republic were thwarted and a new King, the northern Italian king of Savoy Emmanuel II was promptly installed. Rome became capital of Italy some ten years late in 1871. Barely thirty years later, worsening social conditions forced one million southern Italians to emigrate. One of those was my own grandfather Emmanuele, born in 1877, barely seventeen years after Italian unification. My great-grandfather Francesco must have been a teen-ager at that time. All his three sons Emmanuele, Domenico, and Pasquale emigrated to America at the turn of the 20th century.
My father was born in America in 1912. In 1922 my grandfather, his wife Maria and his five children (four boys and one girl) return to Italy. There two more boys were born. He buys and lives with his family in a grandiose beautiful 19th century villa, and sends four of his seven children to university. In 1954 my father returns to his native land (New York) where he dies in 1968 at the age of 55. He had five children: I, the elder, followed by four sisters (Maria, Rosaria, Anna, Sandra). These are the more biographical aspects of this narration on involuntary emigration.
What prompted this article, however were sundry reflections prompted by the viewing of the above mentioned movie. I paused to reflect on the courage that must have been summoned to simply pick up and go to America on a steam-boat, with no urban skills, professional or otherwise, without an education, without knowing the language or the culture of the place they were emigrating to, aware of the obstacles and difficulties they would encounter there; willing nevertheless to work long and hard in order to provide a better future for their families. We now consider them heroes of sorts to be praised and emulated, who paved the way for our own achievements, but I doubt that they thought of themselves as such.
Just as in Lampedusa's novel, my reflections went backward as historical and personal reminiscences, but also forward to present day America where there are presently some twenty million Italian-Americans, either descending from the original wave of Italian immigrants , or arriving a bit later in the century. They consider themselves Italian-Americans; that is to say, people who have made a bridge between two cultures; who are often bi-lingual and bi-cultural, who have by and large have integrated themselves to the host culture and because of such integration are actually better citizens than those who are monocultural, in better touch with American diversity and much better able to understand fellow citizens from other ethnic backgrounds. For, all considered, the only true genuine American is the native American; the rest of us are all descendant from original immigrants. Unfortunately we were not always gracious and grateful guests of the native Americans.
But to come back to the present day immigrants, quite often they present themselves as imitators of their great-grandparents or their grandparents; as courageous immigrants who one fine day decided to pick up and go abroad to find adventure or try their luck. This is often proudly mentioned when they return to the place they came from for a temporary visit. They tend to claim that they are following in the footsteps of their grandparents. But are they? Let's see.
I often meet this type of new immigrant whom I like to define as neo-immigrant. I even have a few of them, arrived in the last few years, in my own family. But when I compare them to my own grandfather or father, I realize that there is something quite distinct about them. Let me list those differences:
1.In the first place, their trek to America is no longer dictated by economic necessity. They are usually well off; in fact, the more well off and willing to invest their money in America, the easier it is for them to obtain residency status and even citizenship. Such is not the case for poor migrant workers or poor immigrants.
2.The motivation, more often than not, is not so much the desire to work hard and plan a better future for their children, but a desire to change life style, or because the American life style is considered more glamorous and attractive
3.One discerns a rather condescending attitude toward the host culture which sometimes is misguidedly considered inferior. It's almost a turning of the table around: it is the hosts who ought to be grateful for their arrival. In other words, their effort to integrate themselves to the host culture sometimes leaves much to be desired.
4.One notices little appreciation for the great cultural diversity existing in America and the desire to contribute to the symphony or the mosaic that is American culture, that is to say, there is little appreciation for a genuine multi-culturalism cemented by certain ideals enshrined in the American constitution, such as inalienable human rights.
5.What one senses in the attitude of those neo-immigrants arriving here from countries who are already prosperous in their own rights is the same rather selfish and self-interested attitude, the same lack of distributive justice of the well do toward the disadvantaged in their own country. Its global international economics on full display.
Now, considering the above observations, it seems to be that the label of immigrant or even neo-immigrant is not wholly appropriate. When those neo-immigrant talk of "the land of opportunity," I am afraid that what they often mean is the land of opportunism, pure and simple; opportunities, that is, in the realm of the material and the financial with little regard for the intellectual and the spiritual and the ideal. At least so it seems to me. These latest neo-immigrants arrive here not by steam-boat but by first class air travel and not to work hard, but to make money and live a glamorous life-style, the ultimate goal of one's life.
Now, the case can be argued that such was also the attitude of the first generation immigrants, but then, those first immigrants to the US, like my grandfather, made sure that their children learned the language and the customs of the new country, received a good education, and appreciated the ideals of their new country while enriching it culturally, so by the second or third generation they could rightly call themselves Italian-Americans, or Greek-Americans or Polish-Americans; solid bridges had been built between the two cultures and civilizations. One does not sense such a scenario from the current well to do neo-immigrants on the make on the luxury ship called globalization.
Trump's New Wall? Mexico's Southern Border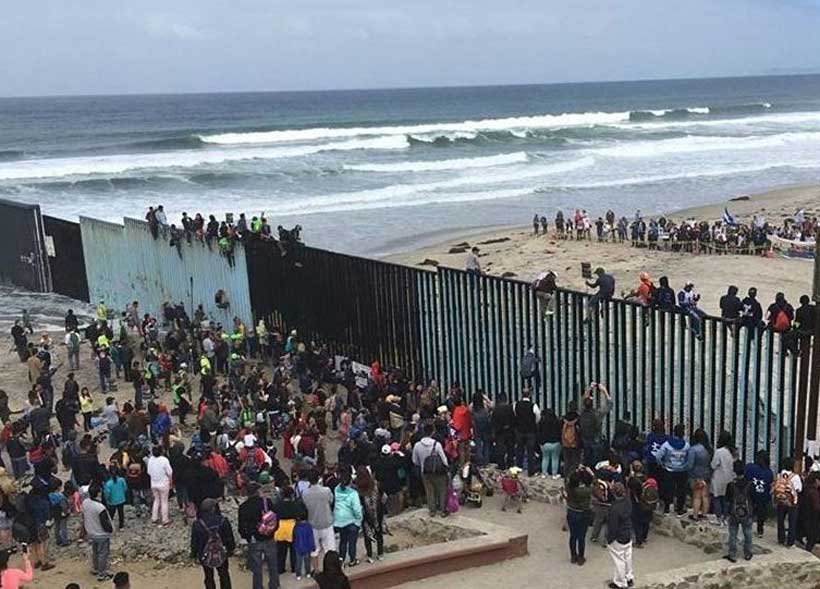 For much of modern history, Mexico defined itself in opposition to the United States. In recent years, the two countries stepped up cooperation on almost all relevant issues, and the two nations are now deeply intertwined politically, economically and culturally. This is bound to change. After months of ignoring Donald Trump's provocations, López Obrador reacted rapidly to Trump's shakedown and agreed to a number of resolutions of extraordinary scope and urgency: the new Mexican administration agreed to deploy the country's federal police to its southern border to crack down on immigration; and opened the door to the controversial "Remain in Mexico" policy that would turn Mexico into a Third Safe Country in less than a month from now.
As stated in the agreement, Mexico would take in all the refugees that the US decides to send back to Mexico to await resolution of their asylum process. This could take years, given the substantial immigration backlog in American courts. The agreement goes further: Mexico is responsible for the provision of education, health care and employment for such refugees. This could easily lead to a serious humanitarian crisis that Mexican institutions will be unable to deal with.
This approach contradicts previous Mexican presidential vows for regional development and humanitarian relief rather than confrontation and enforcement. Conditions on the ground in Mexico are far harsher than the Mexican Foreign Affairs Minister, Marcelo Ebrard and the President, Andrés Manuel López Obrador, would like to admit, and this is partly due to the current administration's miscalculations: López Obrador has dramatically cut the budget for governmental agencies responsible for managing refugees and processing removals. Mexican border towns are also ill-equipped for handling transient migrant populations; and Mexico also faces other more systematic challenges, such as corruption and lack of rule of law enforcement. The new policy agreed with the American government is likely to result in a significant increase in claims filed for asylum in Mexico. Mexico's immigration bureaucracies are utterly overwhelmed, and López Obrador's misguided budget cuts have exacerbated their failings.
Mexico's immigration policy is now bound by an immoral and unacceptable deal that will effectively turn Mexico into Trump's border wall. The global system for the protection of refugees is based on the notion of shared responsibility among countries. It is very dangerous for the US to use Mexico as a pawn to set an example and ignore its international responsibility. This agreement also violates international law on refugees: Mexico is a life-threatening country for undocumented migrants. Human trafficking, recruitment for organised criminal organisations, abduction, extortion, sexual violence, and disappearances are some of the issues migrants face in Mexico. Finally, Mexico's National Guard, the agency that will be in charge of monitoring the southern border, was created by López Obrador to tackle domestic crime. Its members have no training nor knowledge on immigration matters. It is an untested new military force that could end up creating more problems than the ones it is trying to solve. Deploying agents to the border could also have a high political cost for the president.
The agreement with Trump gives López Obrador 45 days to show progress. If Mexico fails, Mexico will be forced to set in motion some version of Safe Third Country agreement, or face further tariff bullying from the US. This deal has been sold by the new Mexican administration as a victory over the US. More migrants, less money, extreme violence and a recalcitrant, unpredictable northern neighbour are the ingredients for a potential, impending refugee crisis, not a diplomatic victory.
Could Mexico have taken a different approach? Yes. Trump's decision to impose tariffs would exacerbate the underlying causes of immigration in the region and do nothing to address it. His bullying to force Mexico to crack down on immigration was a cheap electoral ploy to mobilise its base with a view to winning the 2020 elections. This is nothing new. Trump is not seeking a solution; he is seeking a political gain. He built his first presidential campaign on an anti-Mexico and an anti-immigrant rhetoric. It worked in 2016, and he is planning to repeat the same formula.
The Mexican administration lack of knowledge on diplomatic matters, and their inability to play politics let a golden opportunity go. Using trade to bludgeon Mexico into compliance with an immigration crack down makes no sense: Mexico is not responsible for the increase in migratory flows. Central America's poverty and violence trace back to American policies in the 1980s. Mexico is not responsible either for America's famously dysfunctional immigration system. Trump's economic threats against Mexico may not even have been legal: both the North American Free Trade Agreement (NAFTA), and the newly agreed US-Mexico-Canada Agreement (USMCA) require most trade between members to be tariff free.
Mexico could also have hit back with by levying tariffs that would have hurt swing-state voters, and in turn hurt Trump. This was the golden opportunity Mexico let slip from its hands. Mexico could have responded by hitting Trump where it hurts: Tariffs on American goods heading south. Mexico responded in a similar manner in June last year in response to the steel and aluminium tariffs. Mexico could have raised those tariffs each month in tandem with American levels.
This retaliation would have highlighted the gap between Trump's anti-Mexican rhetoric and the underlying interdependence of the US and Mexico with stark consequences for the US presidential elections of 2020. Many of the biggest exporters to Mexico such as Arizona. Florida. California, Michigan and Illinois are swing states. New tariffs could have thrown Texas into recession and put its 38 electoral votes into play. It is all too late now, Mexico could have inadvertently helped Trump to get re-elected. Mexico has less than a month left to show some backbone and demand real American cooperation on the region's shared challenges and rejecting Trump's threats once and for all. The relationship between Mexico and the US could have been an example of cooperation under difficult conditions, but that would have required different American and Mexican presidents.
Scandinavia Veers Left plus D-Day Reflections as Trump Storms Europe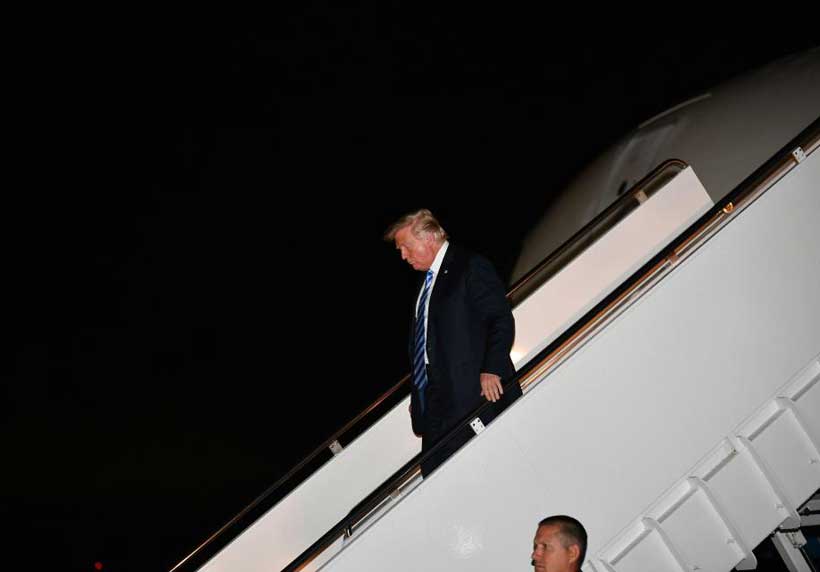 Mette Frederiksen of the five-party Social Democrat bloc won 91 of the 169 seats in the Danish parliament ending the rule of the right-wing Liberal Party group that had governed for 14 of the last 18 years. The election issues centered on climate change, immigration and Denmark's generous social welfare policies. All parties favored tighter immigration rules thereby taking away the central issue dominating the far-right Democrat Freedom Party which has seen its support halved since the last election in 2015.
Ms Frederiksen promised more spending to bolster the much loved social welfare model and increased taxes on businesses and the wealthy. A left wave is sweeping Scandinavia as Denmark becomes the third country, after Sweden and Finland, to move left within a year. Mette Frederiksen will also be, at 41, the youngest prime minister Denmark has ever had.
Donald Trump has used the 75th anniversary of D-Day commemorations to garner positive publicity. The supreme promoter has managed to tie it in with a "classy" (his oft-chosen word) state visit to the UK spending a day with royals. It was also a farewell to the prime minister as her resignation is effective from June 7. Add a D-Day remembrance ceremony at Portsmouth and he was off to his golf course in Ireland for a couple of days of relaxation disguised as a visit to the country for talks — he has little in common with the prime minister, Leo Varadkar, who is half-Indian and gay.
Onward to France where leaders gathered for ceremonies at several places. It is easy to forget the extent of that carnage: over 20,000 French civilians were killed in Normandy alone mostly from aerial bombing and artillery fire. The Normandy American cemetery holds over 9600 soldiers. All in all, France lost in the neighborhood of 390,000 civilian dead during the whole war. Estimates of total deaths across the world range from 70 to 85 million or about 3 percent of the then global population (estimated at 2.3 billion).
Much has been written about conflict resolutions generally from a cold rational perspective. Emotions like greed, fear and a sense of injustice when unresolved lead only in one direction. There was a time when individual disputes were given the ultimate resolution through single combat. Now legal rights and courts are available — not always perfect, not always fair, but neither are humans.
It does not take a genius to extrapolate such legal measures to nations and international courts … which already exist. Just one problem: the mighty simply ignore them. So we wait, and we honor the dead of wars that in retrospect appear idiotic and insane. Worse is the attempt to justify such insanity through times like the "good war", a monstrous absurdity.
It usually takes a while. Then we get leaders who have never seen the horror of war — some have assiduously avoided it — and the cycle starts again.
To Impeach Or Not To Impeach? That Is The Question
Robert Mueller let loose a thunderbolt midweek. Donald Trump had not been charged, he said, because it was Department of Justice policy not to charge a sitting president. Dumping the issue firmly into Speaker Nancy Pelosi's lap, he reminded us of the purpose of the impeachment process. According to Mueller there are ten instances where there are serious issues with the president obstructing justice adding that his report never concludes that Trump is innocent.
So here is a simple question: If Mueller thought the president is not innocent but he did not charge him because of Justice Department policy, and he appears also to favor impeachment, then why in heaven's name did he not simply state in his report that the preponderance of evidence indicated Trump was guilty?
Nancy Pelosi is wary of impeachment. According to the rules, the House initiates it and when/if it finds sufficient grounds, it forwards the case to the Senate for a formal trial. The Senate at present is controlled by Republicans, who have been saying it's time to move on, often adding that after two years of investigation and a 448-page report, what is the point of re-litigating the issue? They have a point and again it leads to the question: if Special Counsel Mueller thinks Trump is guilty as he now implies, why did he not actually say so?
Never one to miss any opportunity , Trump labels Mueller, highly conflicted, and blasts impeachment as 'a dirty, filthy, disgusting word', He has also stopped Don McGahn, a special counsel at the White House from testifying before Congress invoking 'executive privilege' — a doctrine designed to keep private the president's consultations with his advisors. While not cited anywhere in the Constitution, the Supreme Court has held it to be 'fundamental to the operation of government and inextricably rooted in the Separation of Powers under the Constitution.' Separation of powers keeps apart the executive branch, the legislature and the judiciary, meaning each one cannot interfere with the other.
Nancy Pelosi is under increasing pressure from the young firebrands. Rep Alexandra Ocasio-Cortez has already expressed the view that it is time to open an impeachment inquiry against Trump given the obstruction of lawmakers' oversight duty.
Speaker Pelosi is a long-time politician with political blood running through her veins — her father was Mayor of Baltimore and like herself also a US Representative. To her the situation as is, is quite appealing. Trump's behavior fires up Democrats across the country and they respond by emptying their pockets to defeat the Republicans in 2020. Democratic coffers benefit so why harm this golden goose — a bogeyman they have an excellent chance of defeating — also evident from the numbers lining up to contest the Democratic presidential primaries, currently at 24.
Will Trump be impeached? Time will tell but at present it sure doesn't look likely.