Patna-Indore Express train accident in India: Over 115 killed and over 200 injured
Over 115 passengers were killed and more than 200 injured, nearly half of them grievously, in the worst train accident in recent years when 14 coaches of the Indore-Patna Express derailed in Kanpur rural area in the wee hours on Sunday due to suspected rail fracture.
The disaster took place just a little after 0300 hrs when the passengers were jolted out of their sleep as the Patna-bound train jumped the tracks, badly damaging four ordinary sleeper coaches in which hundreds were trapped. Of the four coaches, the S1 and S2 had telescoped into each other and most of the casualties were feared to have been in these two compartments. S3 and S4 coaches also suffered severe damage while an AC III tier coach was also affected but casualties in it were not heavy. As railway personnel assisted by those of army, NDRF and state police carried out the search and rescue operation, the number of casualties kept on increasing by the hour.
The incident took place at 3 AM near Pukhrayan, about 100 kms from Kanpur. Most of the passengers were jolted out of their sleep to find themselves among mangled remains of the bogies.
By evening, 110 bodies were recovered and taken to Mati mortuary in Kanpur rural. The death toll is over 115, UP DGP Javeed Ahmad said. Among the dead, 43 have been identified, of which 20 are from Uttar Pradesh, 15 from Madhya Pradesh and six from Bihar and one each from Maharashtra and Gujarat. Post mortem of 27 identified bodies has been done and they were being handed over to the families. Ambulance facilities were also being provided to the families of the victims to transport the bodies, officials said. "Over 150 injured people have been rushed to nearby hospitals in the area. All hospitals have been asked to be alert. More than 30 ambulances have been pressed into service," they said.
Officials said that prima facie the cause of the accident could be due to track fracture. Minister of State for Railways Manoj Sinha told reporters at the spot that it seems the cause of the accident is rail fracture. Member (Engineering) of the Railway Board will find out the cause of the mishap and action will be taken against those responsible, he said. With several passengers feared trapped, rescue personnel employed cold cutters to break open the compartments as gas cutters produced excessive heat and suffocation hampering their efforts.
A number of trapped passengers were rescued. Teams of army doctors, railway officials and personnel of NDRF, state PAC and other policemen were involved in carrying out rescue and relief operation. The Chief Minister instructed the DGP to personally monitor the relief operations and deploy traffic police along the route of the mishap site to ensure green corridor for ambulances to reach hospitals quickly.
More ambulances/roadways buses have been rushed to the spot for speedy relief operations, the CM said. DG Health and ADG (Law and Order) also rushed to the accident spot to monitor the relief operations. Buses were pressed into service to help passengers complete their journey, Kumar said.
A team of Army doctors and rescue officials have arrived at the spot. 250 police officials are also involved in carrying out the rescue and relief operations. Five NDRF teams were deployed to rescue passengers trapped in the mangled bogies of the train even as the Home Minister gave instructions to the force's chief, R K Pachnanda. Prabhu has ordered a probe into the train tragedy and announced an ex-gratia of Rs 3.5 lakh for the families of those killed and Rs 50,000 for those grievously injured.
North Central Railway General Manager Arun Srivastava said traffic on Kanpur-Jhansi section will be opened in 36 hours. NDRF Director General RK Pachnanda told PTI that a total of five teams of the special rescue force, comprising 45 personnel each, were pressed into action at the accident site. "The rescue teams are deploying cutters and hydraulic equipment to ensure that all the trapped passengers are evacuated safely from the rail bogies," the DG, who reached the accident site, said. "As the victims are trapped inside the bogies, due care and diligence is being taken into consideration," he said. NDRF responders were making all possible efforts to rescue the trapped victims with the help of multi-types of latest disaster management gadgets and tools. NDRF rescued at least 53 passengers including 16 badly trapped from the bogies. Among them were two children. Some additional teams are also put on standby and shall be mobilized as per demand," the force said in a statement.
Prime Minister Narendra Modi condoled the loss of lives in the train tragedy. He said Railway Minister Suresh Prabhu is personally monitoring the situation and announced an ex-gratia of Rs 2 lakh for the next of kin of those killed and Rs 50,000 for those seriously injured in the mishap from the Prime Minister's National Relief Fund. Modi observed two-minute silence to condole the loss of lives at the Rail Vikas Shivir at Surajkund on the outskirts of the national capital asking the railways to work toward achieving the zero accident target to make train journeys safe. Home Minister Rajnath Singh also expressed deep pain over the loss of lives. He said there will be an inquiry into the incident to find out the detail cause of it. Railways Minister Suresh Prabhu has ordered a probe into the train tragedy and announced ex-gratia for the families of the victims. Rs 3.5 lakh exgratia will be given for the families of those killed in the derailment and Rs 50,000 for those grievously injured, Prabhu said the Commissioner of Railway Safety will probe the reasons behind the derailment. "All rescue and relief work is on to deal with the unfortunate accident. All medical and other help rushed. Inquiry ordered. Situation monitored closely," Prabhu said.
President Pranab Mukherjee, and Congress chief Sonia Gandhi led the nation in condoling the train tragedy in UP's Kanpur Dehat. Sonia asked the local Congress unit to assist in the relief and rescue operations along with the authorities. Uttar Pradesh Chief Minister Akhilesh Yadav said an ex-gratia of Rs 5 lakh will be paid to next of kin of the deceased."I am sad to learn about the accident in which many have lost their lives and a number of persons are injured. I am sure that the state government is providing all possible assistance to the bereaved families as well as medical aid to the injured," Mukherjee said in a message to Uttar Pradesh Governor Ram Naik.
Bihar Chief Minister Nitish Kumar cancelled a function to release a report card of his government on completion of one year in office and expressed grief over the mishap. Lok Sabha Speaker Sumitra Mahajan, West Bengal Chief Minister Mamata Banerjee expressed condolence to the bereaved families.
The railways have given helpline numbers for anyone seeking information about their people lost life or badly injured, etc.
Speaking on the occasion of launch of "US-India State and Urban Initiative" by Center for Strategic and International Studies (CSIS), a top American think-tank, Biswal stressed on building state to state relationships. "India is the best place in the world to invest in renewable energy. But the regulatory environment and all the issues related to financing will have to be resolved for that to happen," he asserted.
Former Railway Minister Lalu Prasad Yadav criticised the working of Modi government by saying that instead of ensuring safety of passengers, they wasted "Rs 1 Lacs Cr in headline grabbing but loss making bullet trains." For last 30 months, I have written many letters to PM requesting him to accord priority to safety & core operating performance of Railways. Rather than investing 1 Lacs Cr. in headline grabbing but loss making bullet trains, first, Modi Govt must look after Safety & Security measures. During my tenure all arrears of replacement were fully liquidated & adequate provisions were made based on actual requirements rather than residual basis".
This tragedy has occurred soon after the bad news for India arrived about the shock defeat of Hillary Clinton. Meanwhile, a top Indian born American official Nisha Desai Biswal has said Indo-US ties are so broad and dynamic that pulling back on any aspect will not be in the interest of anyone, while observing that the next administration may want to add their own new areas of focus in the bilateral relationship. "India-US relations will have to move beyond government to government. India-US relations are global, but they should also be local," Assistant Secretary of State for South and Central Asia Biswal told a Washington audience.
Waste-to-energy and circular economy workshops to be held in Uruguay
The Secretariat of the United Nations Framework Convention on Climate Change (UNFCCC), the United Nations Industrial Development Organization (UNIDO), the Technology Executive Committee (TEC), and the Climate Technology Centre and Network (CTCN) are organizing two workshops during the Latin America & Caribbean Climate Week (LACCW), which will take place between 20 and 23 August in Montevideo. The sessions, titled: "Enabling circular economy solutions to boost climate action" and "Enabling waste-to-energy, industrial waste reuse and prevention solutions to achieve circular economy and boost climate action", will be held as part of the Regional Technical Expert Meetings on Mitigation (TEMs-M) and the Marrakech Partnership for Global Climate Action.
The first workshop will present the concept of "circular economy", an alternative to a traditional linear economy (make, use and dispose), which is restorative and regenerative by design and redefines products and services to design waste out, being ultimately powered by renewables. The second workshop will then discuss how waste-to-energy, industrial waste reuse and prevention solutions are integral parts to achieving a circular economy and its associated economic and environmental benefits.
The events will bring together members from the civil society, UN agencies and financial institutions. The high-impact case studies presented will serve as a basis for discussion on the vision/goal in terms of harnessing mitigation potential and co-benefits of circular economy related policies, practices and actions as well as on innovative approaches to waste-to-energy and waste reuse/prevention that are actionable in the short term for the region. Participants will learn the necessary elements for replication and upscaling of circular economy and specifically waste-to-energy solutions, such as policy, partnerships and the need of financial, technical and capacity building resources.
Manuel Albaladejo, UNIDO Representative in Uruguay, said, "It is important to understand that the circular economy starts at the design stage and that profitability rarely comes by bending a linear model into a circular one."
With the Latin America Carbon Forum as a cornerstone event, the focus of Latin America & Caribbean Climate Week (LACCW) will be placed on market-based approaches, economic instruments and climate-aligned finance to drive investment in climate action.
Multilateralism: The only path to address the world's troubles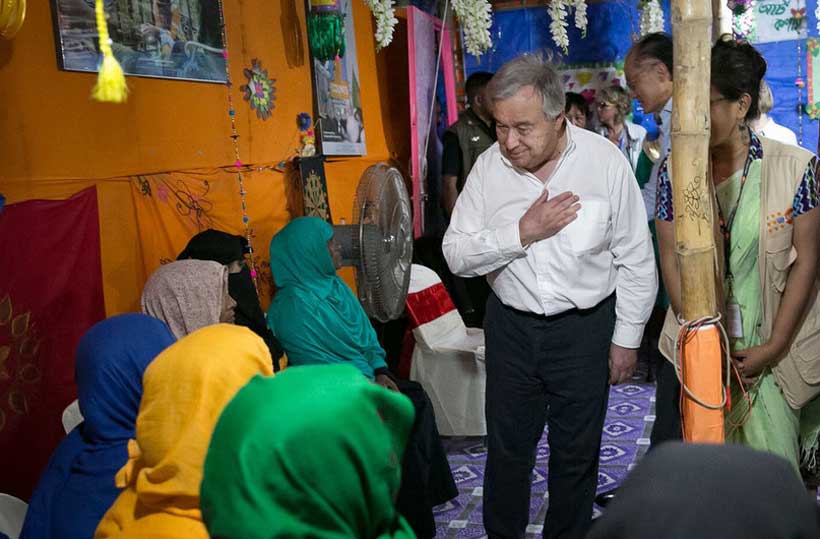 As the world's problems grow, multilateralism represents to best path to meet the challenges that lie ahead, said United Nations Secretary-General António Guterres on Tuesday, launching his annual report.
The Report of the Secretary-General on the Work of the Organization  for 2018, also tracks the progress made over the last year in maintaining peace and security, protecting human rights, and promoting sustainable development.
"I started my tenure calling for 2017 to be a year of peace, yet peace remains elusive," said the UN chief in the report's introduction, noting that since January last year "conflicts have deepened, with grave violations of human rights and humanitarian law; inequality has risen, intolerance has spread, discrimination against women remains entrenched and the impacts of climate change continue to accelerate."
"We need unity and courage in setting the world on track towards a better future," stressed Mr. Guterres, crediting the Sustainable Development Goals (SDGs) for generating coordinated efforts by Member States and civil society to "alleviate poverty and build peaceful, prosperous and inclusive societies."
Wide-ranging reform
The most comprehensive reform of the UN development system in decades already underway, led by Mr. Guterres and his deputy, Amina Mohammed, aims to strengthen the Organization's capacity to support Member States in achieving the 17 SDGs.
While the report points to gains, such as increased labour productivity, access to electricity and strengthened internet governance, it also illustrates that progress has been uneven and too slow to meet the 2030 Agenda for Sustainable Development Goals within the given time frame.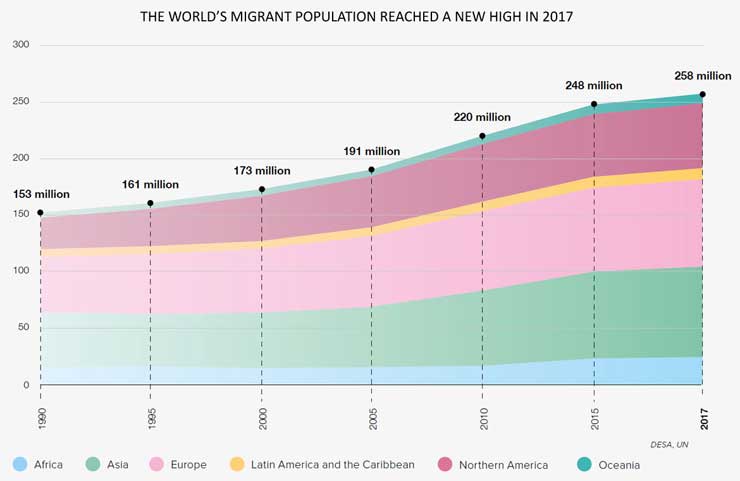 For example, in 2015, three out of 10 people did not have access to safe drinking water, and  60 per cent lacked safe sanitation. Moreover conflicts, disasters and climate change are also adversely affecting populations.
The report underlines the importance of building stronger multilateral partnerships with Member States; regional and international organizations; and civil society; to "find solutions to global problems that no nation alone can resolve."
Although the 2018 High-Level Political Forum on Sustainable Development of 2018 reflected some positive initiatives, it also showed the urgent need to step up efforts in areas such as energy cooperation, water and terrestrial ecosystems.
According to the report, "partnerships are key to achieving the SDGs" – and as of June, 3,834 partnerships had been registered with the Partnerships for the SDGs online platform from different sectors across all the 17 goals.
With regard to technology, last October a joint meeting of the Economic and Social Council (ECOSOC) and the Second Committee welcomed Sophia, the first robot to sit on a UN panel. This gave a glimpse into the advances being made in the realm of Artificial Intelligence.
Turning to young people, UN Youth Envoy, Jayathma Wickramanayake, of Sri Lanka, is continuously advocating for their needs and rights, including in decision-making processes at all levels, and in strengthening the UN system's coordination on delivering for youth, and with their increased participation.
The UN report also spoke to the growing scale, complexity and impact of global migration. In July, the General Assembly agreed a Global Compact for Safe, Orderly and Regular Migration, which will be presented for adoption in December at an Intergovernmental Conference in Morocco.
Youth Calls for Action to Build the Workforce of the Future
Over 400 youth representatives from Asia and the Pacific launched the Incheon Youth Declaration on the Future of Work, which calls upon the international community to invest in more inclusive, large-scale, and market-relevant solutions for youth employment and entrepreneurship.
The declaration, launched during the 6th Asian Youth Forum (AYF6) and coinciding with the celebration of the International Youth Day on 12 August, reflects the shared vision, commitments, and calls to action of the youth to inform future policy strategies and project initiatives to promote decent work. AYF6, with the theme "Building the workforce of the future," was organized by the Asian Development Bank (ADB), Incheon Metropolitan City, Incheon Tourism Organization, Plan International, and AIESEC.
"We at ADB commit to continue investing in youth through our operations, including through our work in education, and in many other sectors we are supporting. We appreciate that the declaration today covers various issues including partnerships, entrepreneurship, as well as environment," said Special Senior Advisor to the ADB President Mr. Ayumi Konishi, who also emphasized that the declaration will help guide ADB in advancing efforts to invest in education and empowering youth as key development partners in the region.
"Incheon will further boost its efforts to support youth employment and startups through various policies, such as the establishment of youth policy organization, cluster for startup incubators, funds, and forum for startups," said Vice Mayor of Incheon Metropolitan City Mr. Jong Sik Heo. Acting President of the Incheon Tourism Organization Mr. Yong Sik Lee also attended the event.
The declaration highlights several key issues affecting youth employment and the future of work and what several stakeholders including governments, private sector, civil society, multilateral institutions, academe, and the youth themselves can do to address them. These issues include ensuring decent work and inclusion; transitioning from education and training to work; fostering youth entrepreneurship; and preparing for jobs of the future.
Youth delegates from 20 developing member countries of ADB have expressed their commitment in carrying out the efforts outlined in the declaration. Ms. Priscilla Caluag, a delegate from the Philippines, shared that the Asian Youth Forum has given her and other young people from the region a unique opportunity to act in ways beyond their own personal interests but ultimately for the betterment of society.