Patna-Indore Express train accident in India: Over 115 killed and over 200 injured
Over 115 passengers were killed and more than 200 injured, nearly half of them grievously, in the worst train accident in recent years when 14 coaches of the Indore-Patna Express derailed in Kanpur rural area in the wee hours on Sunday due to suspected rail fracture.
The disaster took place just a little after 0300 hrs when the passengers were jolted out of their sleep as the Patna-bound train jumped the tracks, badly damaging four ordinary sleeper coaches in which hundreds were trapped. Of the four coaches, the S1 and S2 had telescoped into each other and most of the casualties were feared to have been in these two compartments. S3 and S4 coaches also suffered severe damage while an AC III tier coach was also affected but casualties in it were not heavy. As railway personnel assisted by those of army, NDRF and state police carried out the search and rescue operation, the number of casualties kept on increasing by the hour.
The incident took place at 3 AM near Pukhrayan, about 100 kms from Kanpur. Most of the passengers were jolted out of their sleep to find themselves among mangled remains of the bogies.
By evening, 110 bodies were recovered and taken to Mati mortuary in Kanpur rural. The death toll is over 115, UP DGP Javeed Ahmad said. Among the dead, 43 have been identified, of which 20 are from Uttar Pradesh, 15 from Madhya Pradesh and six from Bihar and one each from Maharashtra and Gujarat. Post mortem of 27 identified bodies has been done and they were being handed over to the families. Ambulance facilities were also being provided to the families of the victims to transport the bodies, officials said. "Over 150 injured people have been rushed to nearby hospitals in the area. All hospitals have been asked to be alert. More than 30 ambulances have been pressed into service," they said.
Officials said that prima facie the cause of the accident could be due to track fracture. Minister of State for Railways Manoj Sinha told reporters at the spot that it seems the cause of the accident is rail fracture. Member (Engineering) of the Railway Board will find out the cause of the mishap and action will be taken against those responsible, he said. With several passengers feared trapped, rescue personnel employed cold cutters to break open the compartments as gas cutters produced excessive heat and suffocation hampering their efforts.
A number of trapped passengers were rescued. Teams of army doctors, railway officials and personnel of NDRF, state PAC and other policemen were involved in carrying out rescue and relief operation. The Chief Minister instructed the DGP to personally monitor the relief operations and deploy traffic police along the route of the mishap site to ensure green corridor for ambulances to reach hospitals quickly.
More ambulances/roadways buses have been rushed to the spot for speedy relief operations, the CM said. DG Health and ADG (Law and Order) also rushed to the accident spot to monitor the relief operations. Buses were pressed into service to help passengers complete their journey, Kumar said.
A team of Army doctors and rescue officials have arrived at the spot. 250 police officials are also involved in carrying out the rescue and relief operations. Five NDRF teams were deployed to rescue passengers trapped in the mangled bogies of the train even as the Home Minister gave instructions to the force's chief, R K Pachnanda. Prabhu has ordered a probe into the train tragedy and announced an ex-gratia of Rs 3.5 lakh for the families of those killed and Rs 50,000 for those grievously injured.
North Central Railway General Manager Arun Srivastava said traffic on Kanpur-Jhansi section will be opened in 36 hours. NDRF Director General RK Pachnanda told PTI that a total of five teams of the special rescue force, comprising 45 personnel each, were pressed into action at the accident site. "The rescue teams are deploying cutters and hydraulic equipment to ensure that all the trapped passengers are evacuated safely from the rail bogies," the DG, who reached the accident site, said. "As the victims are trapped inside the bogies, due care and diligence is being taken into consideration," he said. NDRF responders were making all possible efforts to rescue the trapped victims with the help of multi-types of latest disaster management gadgets and tools. NDRF rescued at least 53 passengers including 16 badly trapped from the bogies. Among them were two children. Some additional teams are also put on standby and shall be mobilized as per demand," the force said in a statement.
Prime Minister Narendra Modi condoled the loss of lives in the train tragedy. He said Railway Minister Suresh Prabhu is personally monitoring the situation and announced an ex-gratia of Rs 2 lakh for the next of kin of those killed and Rs 50,000 for those seriously injured in the mishap from the Prime Minister's National Relief Fund. Modi observed two-minute silence to condole the loss of lives at the Rail Vikas Shivir at Surajkund on the outskirts of the national capital asking the railways to work toward achieving the zero accident target to make train journeys safe. Home Minister Rajnath Singh also expressed deep pain over the loss of lives. He said there will be an inquiry into the incident to find out the detail cause of it. Railways Minister Suresh Prabhu has ordered a probe into the train tragedy and announced ex-gratia for the families of the victims. Rs 3.5 lakh exgratia will be given for the families of those killed in the derailment and Rs 50,000 for those grievously injured, Prabhu said the Commissioner of Railway Safety will probe the reasons behind the derailment. "All rescue and relief work is on to deal with the unfortunate accident. All medical and other help rushed. Inquiry ordered. Situation monitored closely," Prabhu said.
President Pranab Mukherjee, and Congress chief Sonia Gandhi led the nation in condoling the train tragedy in UP's Kanpur Dehat. Sonia asked the local Congress unit to assist in the relief and rescue operations along with the authorities. Uttar Pradesh Chief Minister Akhilesh Yadav said an ex-gratia of Rs 5 lakh will be paid to next of kin of the deceased."I am sad to learn about the accident in which many have lost their lives and a number of persons are injured. I am sure that the state government is providing all possible assistance to the bereaved families as well as medical aid to the injured," Mukherjee said in a message to Uttar Pradesh Governor Ram Naik.
Bihar Chief Minister Nitish Kumar cancelled a function to release a report card of his government on completion of one year in office and expressed grief over the mishap. Lok Sabha Speaker Sumitra Mahajan, West Bengal Chief Minister Mamata Banerjee expressed condolence to the bereaved families.
The railways have given helpline numbers for anyone seeking information about their people lost life or badly injured, etc.
Speaking on the occasion of launch of "US-India State and Urban Initiative" by Center for Strategic and International Studies (CSIS), a top American think-tank, Biswal stressed on building state to state relationships. "India is the best place in the world to invest in renewable energy. But the regulatory environment and all the issues related to financing will have to be resolved for that to happen," he asserted.
Former Railway Minister Lalu Prasad Yadav criticised the working of Modi government by saying that instead of ensuring safety of passengers, they wasted "Rs 1 Lacs Cr in headline grabbing but loss making bullet trains." For last 30 months, I have written many letters to PM requesting him to accord priority to safety & core operating performance of Railways. Rather than investing 1 Lacs Cr. in headline grabbing but loss making bullet trains, first, Modi Govt must look after Safety & Security measures. During my tenure all arrears of replacement were fully liquidated & adequate provisions were made based on actual requirements rather than residual basis".
This tragedy has occurred soon after the bad news for India arrived about the shock defeat of Hillary Clinton. Meanwhile, a top Indian born American official Nisha Desai Biswal has said Indo-US ties are so broad and dynamic that pulling back on any aspect will not be in the interest of anyone, while observing that the next administration may want to add their own new areas of focus in the bilateral relationship. "India-US relations will have to move beyond government to government. India-US relations are global, but they should also be local," Assistant Secretary of State for South and Central Asia Biswal told a Washington audience.
ADB Approves New Financing Support for Renewable Power Projects in the Pacific
The Asian Development Bank (ADB) has approved an umbrella facility of up to $100 million which will provide financing support including loans, guarantees, and letters of credit to overcome constraints to private sector investment in renewable power projects in Pacific island countries.
The Pacific Renewable Energy Program will support an estimated 5 separate renewable energy projects in ADB's Pacific developing member countries over a 5-year period. ADB's Pacific Department (PARD) and Private Sector Operations Department (PSOD) will work together to implement the program.
"The program will help to build urgently needed capacity for energy sector expansion and private sector interest in clean energy projects in the region," said PARD Director General Ms. Carmela Locsin. "The objective is to implement more renewable energy projects in the Pacific by working with power utilities to identify transactions at an early stage."
Funding for power utilities in the Pacific is inadequate. Private sector investment in particular is crucial to expand renewable power generation as the region transitions from fossil fuels to clean energy. However, investment is restricted by a lack of governmental credit support for the payment obligations of power utilities. Development is also hampered due to a lack of bankable power purchase agreements, uncertainties over foreign currency availability and convertibility, and perceived political risks.
"This program is designed to work within these constraints and encourage private sector investment through an innovative blend of ADB's direct private sector lending, ADB's guarantees of commercial bank lenders, together with donor funds which provide a backstop to the payment obligations of the power utilities," said PSOD Director General Mr. Michael Barrow. "It will help remove barriers to investment by enhancing the creditworthiness of power utilities and mitigating perceived political risk for lenders."
The program aims to spur self-sustaining private sector development and, over time, reduce reliance by power utilities on grants and subsidies. A first project proposed for approval under the program has been identified and a financing plan is under discussion. To meet international donor requirements, participating projects will be required to adopt environmental and social standards and to demonstrate good gender parity in their energy projects and/or related community projects.
Apple expands global recycling programs
Apple today announced a major expansion of its recycling programs, quadrupling the number of locations US customers can send their iPhone to be disassembled by Daisy, its recycling robot. Daisy will disassemble and recycle select used iPhones returned to Best Buy stores throughout the US and KPN retailers in the Netherlands. Customers can also turn in their eligible devices to be recycled at any Apple Store or through apple.com as part of the Apple Trade In program.
Apple has received nearly 1 million devices through Apple programs and each Daisy can disassemble 1.2 million devices per year. In 2018, the company refurbished more than 7.8 million Apple devices and helped divert more than 48,000 metric tons of electronic waste from landfills.
"Advanced recycling must become an important part of the electronics supply chain, and Apple is pioneering a new path to help push our industry forward," said Lisa Jackson, Apple's vice president of Environment, Policy and Social Initiatives. "We work hard to design products that our customers can rely on for a long time. When it comes time to recycle them, we hope that the convenience and benefit of our programs will encourage everyone to bring in their old devices."
Daisy is now able to disassemble 15 different iPhone models at the rate of 200 per hour, recovering even more important materials for re-use. Once materials have been recovered from Daisy, they are recycled back into the manufacturing process. For cobalt, which is a key battery material, Apple sends iPhone batteries recovered by Daisy upstream in its supply chain. They are then combined with scrap from select manufacturing sites and, for the first time, cobalt recovered through this process is now being used to make brand-new Apple batteries — a true closed loop for this precious material.
Apple also uses 100 percent recycled tin in a key component of the main logic boards of 11 different products. The company's engineering of an aluminum alloy made from 100 percent recycled aluminum allows the new MacBook Air and Mac mini to have nearly half the carbon footprint of earlier models. Starting this year, aluminum recovered through the Apple Trade In program is being remelted into the enclosures for the MacBook Air.
To further its research on recycling, Apple today also announced the opening of its Material Recovery Lab dedicated to discovering future recycling processes. The new 9,000-square-foot facility in Austin, Texas, will look for innovative solutions involving robotics and machine learning to improve on traditional methods like targeted disassembly, sorting and shredding. The Lab will work with Apple engineering teams as well as academia to address and propose solutions to today's industry recycling challenges.
Apple continues to expand its programs to ensure devices are used for as long as possible. The number of Apple Stores and network of Authorized Service Providers has grown to over 5,000 worldwide. Last fall, Apple rolled out a new method for optimizing iPhone screen repairs that allows thousands more independent shops to offer the service. Apple also launched a battery replacement and recycling program for all of its products.
Today, Apple released its 2019 Environment report, which contains additional information on the company's climate change solutions, including its recent announcement that 44 of its suppliers have committed to 100 percent renewable energy for their Apple production. The report can be viewed at apple.com/environment. The company will be celebrating Earth Day on April 22 with environmentally themed Today at Apple sessions at all Apple Stores, and will be featuring original stories and collections of apps and games on the App Store to help people honor the Earth and consider their role in the natural ecosystem. Apple's Earth Day Challenge also encourages Apple Watch wearers to complete any workout of 30 minutes or more to earn a special Earth Day Award and stickers for Messages.
Apple will also be supporting the efforts of environmentally-focused non-profits Conservation International, SEE Foundation and The Recycling Partnership — expanding on its conservation and resource efficiency work from last year.
ADB's Strategy 2030 Needs to be Accompanied by a Strong Results Orientation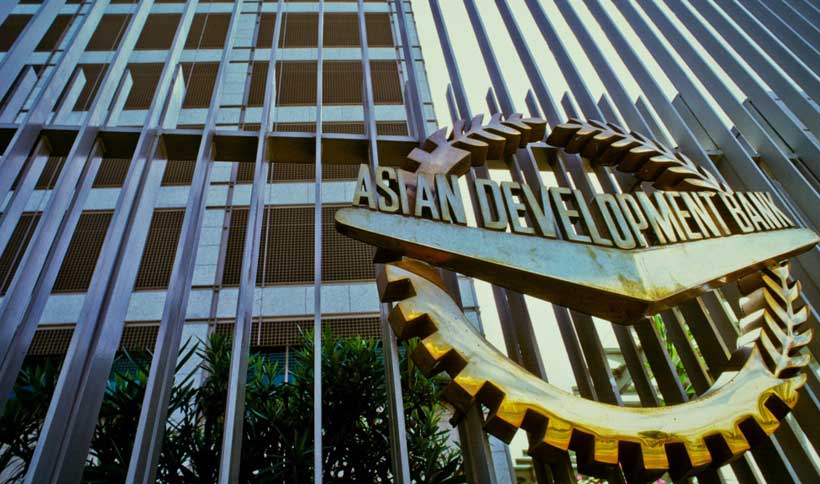 The Asian Development Bank's (ADB) new long-term corporate strategy, Strategy 2030, which came into effect this year, needs to be accompanied by a strong focus on results supported by an improved corporate results framework, says the 2019 Annual Evaluation Review by ADB's Independent Evaluation Department (IED).
Strategy 2030 will steer ADB's approach for addressing challenges in Asia and the Pacific such as rising urbanization and demographic shifts, and tackling the unfinished development agendas of eradicating poverty, reducing inequality, and closing infrastructure gaps.
"Strategy 2030 represents an important milestone and has created great expectations. At the same time, the new strategic goals and directions still need to be properly translated into operational plans, clear and ambitious targets, and effective monitoring and evaluation," said the Director General of Independent Evaluation at ADB Mr. Marvin Taylor-Dormond.
The review notes that the development success rate of ADB's sovereign projects and programs is steadily improving, buoyed by the strong performance of operations in transport and energy infrastructure, and public sector management.
With 90% of sovereign operations achieving the expected development results during 2016–2018, East Asia remains ADB's best regional performer, influenced by operations in the People's Republic of China. The development success rates of ADB operations in South Asia, Southeast Asia, and in Central and West Asia remain around ADB's overall success rate (77%), steadily rising since 2000. Operations in the Pacific, though improving, are still below average.
The performance of nonsovereign operations remains weak with only 56% development success rate during 2016–2018. "An improvement in the development performance of the financial sector and private equity portfolio is needed, as private sector operations will become much more prominent in the context of Strategy 2030," said the Director of IED's Sector and Projects Division Mr. Nathan Subramaniam. "The number of actions that ADB is currently taking to this effect are expected to achieve this objective."
The review highlights some selected key results of ADB's operations based on broad scope evaluations recently concluded. For instance, in the area of reducing poverty and inequality, agriculture operations have promoted inclusive economic growth and smallholder development. Yet, they could have had greater effect on rural development and food security had they focused on the complete value chains.
A country assessment revealed that contributions were made to reducing poverty and inequality by targeting infrastructure that met the needs of the poor, for example, water and sanitation projects in low-income areas. At the same time, a thematic evaluation of ADB-supported projects to improve access to finance for small and medium-sized enterprises (SMEs) found this effort tended to focus on larger firms rather than underserved ones.
Some other country assessment noted that progress was made on gender equality—which is promoted across all ADB operations—by supporting country efforts to incorporate the gender dimension into national economic and development polices and strategies, and by improving economic opportunities for women through SME operations. Similar country assessments highlighted that ADB transport operations helped women diversify their economic activities.
The sustainability of projects continues to be the lowest-ranked evaluation criteria. Lack of funds for operation and maintenance was among the critical hurdles to ensuring that ADB-supported infrastructure projects deliver benefits after they have been completed.
To incentivize ADB's strong performance and results, especially in the context of Strategy 2030, robust results frameworks and systems need to be in place, particularly at the country level. "Country is ADB's central unit of analysis in Strategy 2030 and, therefore, timely and reliable reporting at this level must be ensured," said Mr. Taylor-Dormond.