Investment in education is vital for ensuring that citizens are ready for the future
In the closing session of the World Economic Forum's inaugural Annual Meeting of the Global Future Councils, business and civil society leaders called for the embedding of values in the design of technologies and investment in education to prepare citizens for the future by ensuring they have the skills to succeed in the Fourth Industrial Revolution.
"The pace of change that we have now is the fastest that it has ever been and the slowest it will likely ever be going forward," Vishal Sikka, Chief Executive Officer of Infosys in the US, explained. "There is a lot of work to do to make people aware and to educate them." The goal should be to shape an inclusive tech-driven future. "Our brains take the future as an increment of the present," Sikka reckoned. "But the future is something that we can imagine and create. There is a tremendous opportunity to make a future we wish to live in and not a future that we would be forced to accept."
"When you use technology, you have to do so in a values framework," observed Usha Rao-Monari, Chief Executive Officer of Global Water Development Partners in the UK. "Technology has the opportunity of opening up closed systems" and "can be an accelerator of taking away obstacles to change" such as the asymmetry of information and the lack of trust and trustworthiness. Added Erica Kochi, Co-Founder of UNICEF Innovation, United Nations Children's Fund (UNICEF) in New York: "If we don't implement education, health and jobs in our technologies by design, then we will create products, services and systems for the haves in the world and that is clearly not the world we want."
Also critical in building tech-enabled systems for shaping the future is inclusion – and achieving buy-in. "We all have a stake in the systems we operate" such as the climate, said Tim Dixon, Managing Director, Europe, of Purpose in the UK. "Even the system of liberal international institutions is under threat in ways that they haven't been until now. None of us can be free riders anymore. In this interdependent world, we can no longer aim to succeed by ourselves. The failure of the system is a failure for us ourselves. But how do we build systemic thinking and systemic leadership?" These will be crucial in dealing with multifaceted challenges, such as reskilling people for employment or deploying technology to address problems like the resettlement of refugees.
The inaugural Annual Meeting of the Global Future Councils 2016 brought together over 700 top thought leaders from the World Economic Forum's Network of Global Future Councils, comprised of 35 groups of experts from academia, business, civil society, international organizations and government. The councils are generating ideas and solutions that influence the future global, regional and industry agendas and will feed them into the programme of the Forum's Annual Meeting in Davos-Klosters, Switzerland, in January 2017.
In closing the Annual Meeting of the Global Future Councils, Co-Chair Mohammad Al Gergawi, Minister of Cabinet Affairs and the Future of the United Arab Emirates (UAE), called the expert panels "more of a task force to build a future and design it so that humanity can have a better life. This is our mission and our calling." He announced that the UAE government will launch a national council on the Fourth Industrial Revolution. The UAE itself, he said, will serve as a laboratory for exploring and testing initiatives and approaches to prepare for the future.
Climate Action: It's time to make peace with nature
The UN Secretary-General, António Guterres, has described the fight against the climate crisis as the top priority for the 21st Century, in a passionate, uncompromising speech delivered on Wednesday at Columbia University in New York.
The landmark address marks the beginning of a month of UN-led climate action, which includes the release of major reports on the global climate and fossil fuel production, culminating in a climate summit on 12 December, the fifth anniversary of the 2015 Paris Climate Agreement.
Nature always strikes back
Mr. Guterres began with a litany of the many ways in which nature is reacting, with "growing force and fury", to humanity's mishandling of the environment, which has seen a collapse in biodiversity, spreading deserts, and oceans reaching record temperatures.
The link between COVID-19 and man-made climate change was also made plain by the UN chief, who noted that the continued encroachment of people and livestock into animal habitats, risks exposing us to more deadly diseases.
And, whilst the economic slowdown resulting from the pandemic has temporarily slowed emissions of harmful greenhouse gases, levels of carbon dioxide, nitrous oxide and methane are still rising, with the amount of CO2 in the atmosphere at a record high. Despite this worrying trend, fossil fuel production – responsible for a significant proportion of greenhouse gases – is predicted to continue on an upward path.
'Time to flick the green switch'
The appropriate global response, said the Secretary-General, is a transformation of the world economy, flicking the "green switch" and building a sustainable system driven by renewable energy, green jobs and a resilient future.
One way to achieve this vision, is by achieving net zero emissions (read our feature story on net zero for a full explanation, and why it is so important). There are encouraging signs on this front, with several developed countries, including the UK, Japan and China, committing to the goal over the next few decades.
Mr. Guterres called on all countries, cities and businesses to target 2050 as the date by which they achieve carbon neutrality – to at least halt national increases in emissions – and for all individuals to do their part.
With the cost of renewable energy continuing to fall, this transition makes economic sense, and will lead to a net creation of 18 million jobs over the next 10 years. Nevertheless, the UN chief pointed out, the G20, the world's largest economies, are planning to spend 50 per cent more on sectors linked to fossil fuel production and consumption, than on low-carbon energy.
Put a price on carbon
For years, many climate experts and activists have called for the cost of carbon-based pollution to be factored into the price of fossil fuels, a step that Mr. Guterres said would provide certainty and confidence for the private and financial sectors.
Companies, he declared, need to adjust their business models, ensuring that finance is directed to the green economy, and pension funds, which manage some $32 trillion in assets, need to step and invest in carbon-free portfolios.
Far more money, continued the Secretary-General, needs to be invested in adapting to the changing climate, which is hindering the UN's work on disaster risk reduction. The international community, he said, has "both a moral imperative and a clear economic case, for supporting developing countries to adapt and build resilience to current and future climate impacts".
Everything is interlinked
The COVID-19 pandemic put paid to many plans, including the UN's ambitious plan to make 2020 the "super year" for buttressing the natural world. That ambition has now been shifted to 2021, and will involve a number of major climate-related international commitments.
These include the development of a plan to halt the biodiversity crisis; an Oceans Conference to protect marine environments; a global sustainable transport conference; and the first Food Systems Summit, aimed at transforming global food production and consumption.
Mr. Guterres ended his speech on a note of hope, amid the prospect of a new, more sustainable world in which mindsets are shifting, to take into account the importance of reducing each individual's carbon footprint.
Far from looking to return to "normal", a world of inequality, injustice and "heedless dominion over the Earth", the next step, said the Secretary-General, should be towards a safer, more sustainable and equitable path, and for mankind to rethink our relationship with the natural world – and with each other.
Sarah Frier wins the Financial Times and McKinsey & Company Business Book of the Year Award 2020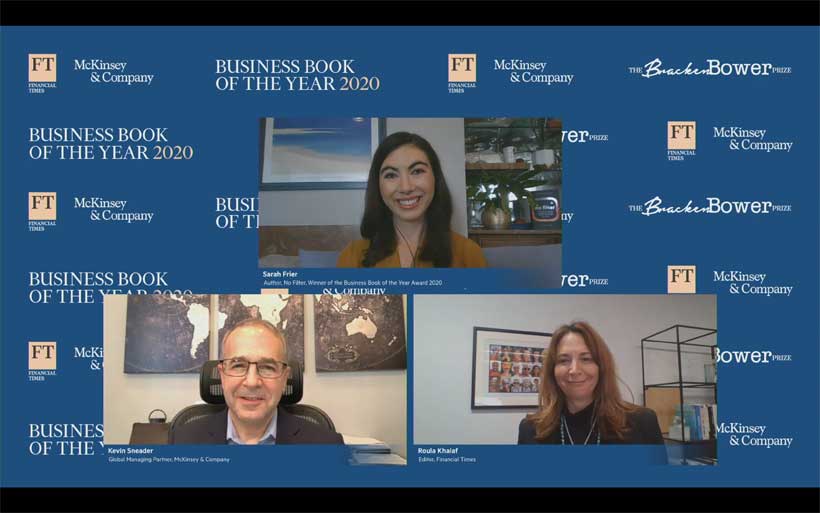 Stephen Boyle wins the Bracken Bower Prize 2020
The Financial Times and McKinsey & Company today announce that Sarah Frier is the winner of the 2020 Business Book of the Year Award for No Filter: The Inside Story of How Instagram Transformed Business, Celebrity and Our Culture, published by UK Random House Business in the UK, and Simon & Schuster in the US.

The Award recognises a work which provides the 'most compelling and enjoyable insight into modern business issues'. It was awarded today to Sarah Frier at a virtual event, co-hosted by Roula Khalaf, Editor of the Financial Times and chair of the panel of judges, and Kevin Sneader, Global Managing Partner, McKinsey & Company. The keynote speaker at the event was Laxman Narasimhan, Chief Executive of Reckitt Benckiser.

No Filter saw off strong competition from a shortlist of titles with a focus on subjects ranging from the future of work, corporate culture, technology and the US economy, to win the £30,000 prize. Each of the five runners-up will receive £10,000.

Roula Khalaf, Editor, Financial Times said, "No Filter is a topical and well-reported account of the rise of Instagram and its takeover by Facebook. But it also tackles two vital issues of our age: how Big Tech treats smaller rivals and how social media companies are shaping the lives of a new generation."

Kevin Sneader, Global Managing Partner, McKinsey & Company, said: "Sarah Frier has written a compelling saga about how this start-up phenomenon deeply embedded itself into the global cultural Zeitgeist of this digital era, in just one decade after its creation."

The distinguished judging panel for the 2020 Financial Times and McKinsey Business Book of the Year Award, chaired by Roula Khalaf, comprised:
Mitchell Baker, Chief Executive Officer, Mozilla Corporation; Chairwoman, Mozilla Foundation

Mohamed El-Erian, President of Queens' College, Cambridge, and Chief Economic Advisor, Allianz (BBYA Winner, 2008, When Markets Collide)

Herminia Ibarra, Charles Handy Professor of Organisational Behaviour, London Business School

Randall Kroszner, Professor of Economics and Deputy Dean for Executive Programs, University of Chicago Booth School of Business

Dambisa Moyo, Global Economist and Author, Non-Executive Director, 3M Company, Chevron & Conde Nast

Raju Narisetti, Global Publishing Director, McKinsey & Company

Shriti Vadera, Chair-elect of Prudential

The Financial Times and McKinsey & Company also announced Stephen Boyle as the winner of the 2020 Bracken Bower Prize. The Prize is designed to encourage young authors to tackle emerging business themes in a proposal for a book that is not yet published. Its aim is to unearth new talent and encourage writers to research ideas that could fill future business books of the year.

Stephen Boyle was awarded £15,000 for his book proposal, New Money, about how central bank digital currencies could transform the economy – and why you might not want them to.

The distinguished judging panel for the Bracken Bower Prize comprised:
Lorella Belli, Founder and Director, Lorella Belli Literary Agency Limited

Isabel Fernandez-Mateo, Adecco Professor of Strategy and Entrepreneurship, London Business School

Jorma Ollila, former Chairman, Royal Dutch Shell and Nokia

Saadia Zahidi, Managing Director and Head of the Centre for the New Economy and Society, World Economic Forum. (BBP Winner, 2014, Fifty Million Rising)
A 'digital canyon': 1.3 billion school-aged children can't log on to internet at home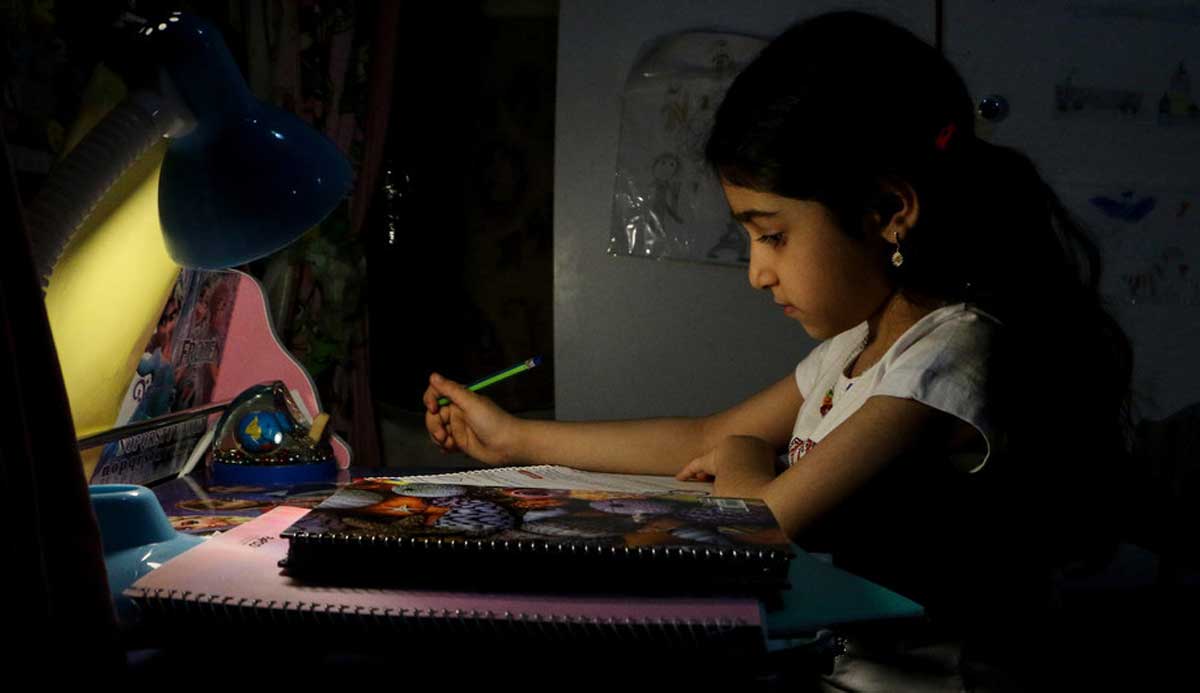 A staggering two-thirds of world's school-aged children – 1.3 billion children aged 3-17 – do not have internet connection in their homes, preventing them from learning vital skills needed to compete in the modern economy, a new UN report has revealed.
The UNICEF–ITU report How Many Children and Youth Have Internet Access at Home? also found a similar lack of access for young people aged 15-24, with 759 million or 63 per cent unconnected at home.
The massive number "is more than a digital gap – it is a digital canyon", said Henrietta Fore, UN Children's Fund (UNICEF) Executive Director.
The lack of connectivity, she continued, doesn't just limit children and young people's ability to connect online, it isolates them from the work and prevents them from competing in the modern economy.
"And in the event of school closures, such as those currently experienced by millions due to COVID-19, it causes them to lose out on education. Put bluntly: Lack of internet access is costing the next generation their futures," Ms. Fore added.
'Education out of reach'
According to UNICEF, a quarter of a billion students worldwide are still affected by COVID-19-related school closures, forcing hundreds of millions of students to rely on virtual learning.
For those with no internet access, education can be out of reach. Even before the pandemic, a growing cohort of young people needed to learn foundational, transferable, digital, job-specific and entrepreneurial skills to compete in the 21st century economy.
'A formidable challenge'
Houlin Zhao, International Telecommunication Union (ITU) Secretary-General, outlined that connecting rural populations remains a formidable challenge.
"Large parts of rural areas are not covered with a mobile-broadband network, and fewer rural households have access to the internet. The gap in mobile broadband adoption and internet use between developed and developing countries is especially wide," he said.
Perpetuating inequalities
The report also revealed that the digital divide is perpetuating inequalities between countries and communities. According to the report, globally, 58 per cent school-age children from richest households have internet connection at home, compared with only 16 per cent from the poorest households.
The situation is similar between urban and rural populations and between high-income and low-income countries: around 60 per cent of school-aged children in urban areas do not have internet access at home, compared with around 75 per cent in rural households. School-aged children in sub-Saharan Africa and South Asia are the most affected, with around 9 in 10 children not connected.