[yt_dropcap type="square" font="" size="14″ color="#000″ background="#fff" ] W [/yt_dropcap]orld attention was fully focused on US presidential poll as Republican Donald Trump was leading on November 08 as Indian premier Narendra Modi announced in the night on Indian TV channels about the state ban of currency notes, making life miserable for the people without enough money in hand.
While making the announcement to discontinue Rs 500 and 1,000 banknotes , the government had also announced closure of bank branches and ATMs next day. It also announced the launch of newer notes of Rs 500 and Rs 2,000 from November 10.
India has plenty of money but not got locked in banks, houses, offices, and elsewhere, including hidden underneath to avoid taxes to the government and people of India are unable to use them as government of India has banned currency notes of denomination of Rupees 500 and 1000, causing the first ever serious cash crisis in India.
Modi has indeed declared another surgical attack, now on the helpless Indians.
Demonetization measure is too harsh for the common masses who have very limited resources.
The result is people are not buying things, business establishments have no business, as banks allow only 2000 thousand rupees a day for the peole to withdraw or exchange. New rules are being announced complicating the life of common people while the rich and corporates have their own "channels" of money transfer and expenditures.
The BJP government of Narendra Modi abruptly announced a ban of big notes of denominations 500 and 1000 that played huge role in trade and even ordinary business. In fact, high value currencies have ceased to be legal tender from 8 November midnight when PM Modi announced the new financial measures. There has huge rush since 09 November at the bank branches as customers throng to deposit their Rs 500 and Rs 1000 notes or exchange them with Rs 100/50 notes.
The Modi government explains the measures as being necessary to end black and bad money floating along with the genuine notes, causing inflation, whereas experts say corruption is the cause of inflation and poor quality of life of common people. Whether or not PM Modi would be able to contain the dirty cash and make the value of Indian money strong, people are suffering a lot, while the regime has not been able to control the corporate funding of elections, thereby bring Indian democracy closer to American.
Demonetization effect
The recent demonetization of currency notes reveals the sad state of our public discourse on government policy. The combination of braying anchors on TV channels and opinions on social media show how to mangle a discourse.
Demonetization of high denomination currency has created big problems to common people and law and order situation is being created with police being deployed outside banks to control the queue. The issue has reached the parliament. The Winter Session of Parliament opened on Nov 16 with a united Opposition mounting an assault on the government over demonetization, saying it had led to "economic anarchy" in the country. The opposition parties also demanded a probe by a Joint Parliamentary Committee (JPC) on the alleged selective leak of information before the official announcement. Joining ranks over the raging issue, parties like Congress, JD(U), RJD, SP, BSP, Trinamool Congress, Left and AIADMK slammed the government, particularly targeting PM Modi, for making Rs 500 and Rs 1,000 denomination notes invalid and said the "ill-timed" and "ill-conceived" step had severely hit the common people, the farmers and the poor.
While Lok Sabha was adjourned for the day, the seven-hour-long debate in Rajya Sabha, however, remained inconclusive. The debate in Rajya Sabha continued till 6 pm as there were repeated demands by the opposition members that the Prime Minister should be present in the House to listen to the members. Leader of Opposition in Rajya Sabha Ghulam Nabi Azad said PM Modi, who did not come to the Rajya Sabha, should at least be present tomorrow and possibly intervene.
During a discussion on demonetization, which was taken up after suspension of all business in response to notices given by a host of opposition members, a scathing attack was made on the government which strongly defended the step as one taken in national interest and to end corruption and black money, which it linked to terror activities in the country.
Opposition attack on Modi in parliament
In an all-day debate in parliament today, opposition leaders like Anand Sharma of the Congress said they are not opposed to the reform, but to what they described as the lack of preparation to manage the cash crunch. The government has emphasized that if the notice for the initiative had been longer, the move would not have been effective.
Congress is the major opposition in parliament. Deputy Leader of Opposition in the Rajya Sabha Anand Sharma sought a probe into "selective leakage" of the demonetization move, which he termed a "Nadirshahi farman" (autocratic order). Initiating a debate after listed business was suspended to take up a discussion on the 8 November decision to withdraw old higher denomination currency, Sharma used wit and humor to attack Modi for being insensitive to problems caused to the common man. He asked Modi to state where he got Rs 23,000-24,000 crore, estimated by the International Money Watch Group, for his Lok Sabha elections. He also asked if cheque or credit card payments were made to organize his rally at Ghazipur in Uttar Pradesh a few days ago. Alleging that the information on demonetization was selectively leaked, he said, "Your BJP units have deposited crores (just before the 8 November decision)." Sharma sought to know from the Prime Minister as to "who wants to kill him", referring to the Prime Minister's speech in Goa where he had said that with demonetization resulting in "Looting of their 70 year corrupt earnings, they will destroy me, they can kill me". "There should have been an ordinance for demonetization. But no ordinance was brought. This is a Nadirshahi farman (autocratic order)," Sharma said.
The decision to demonetize high currency notes was leaked to a select few. Secrecy was not maintained on this issue. It was published in a Gujarati newspaper long back and even other newspapers wrote about it," said Sharma. "There should be a probe into the selective leakage of information," he said, asking: "What did the government do to prepare for effective implementation of the policy." He also sought to know from the government which law gave it the right to impose limits on withdrawing money from peoples' own accounts. "An atmosphere has been created by the government where questioning them has become a parameter to decide one's nationalism," said Sharma. He sought to know from the Prime Minister as to from where the "15 thousand crore rupees spent on your mega election campaign come from". "Did you pay for your recent Ghazipur rally through credit card," Sharma said mocking the government for asking people to use plastic money for day-to-day expenses. After withdrawing Rs 500 and Rs 1,000 currency notes, restrictions were placed even on foreign tourists who could not get their currency changed.
The Modi government rejected as baseless the opposition charge that there was "leakage" of the 8 November decision that benefited BJP, and said everyone was taken by surprise which is why there are "initial" problems.
The government argues that the honest tax payer is being rewarded as he does not have to worry about his cash deposits. For once the honest tax payer is in a privileged position which is rare and shocking for him.
Finance Minister Arun Jaitley had informed Parliament in August that fake currency was 0.02 percent of the total currency in circulation. If 0.02 percent by government admission is counterfeit currency, how can that be made the base to remove 86 percent of currency in circulation. An undeclared emergency has put common people in grave inconvenience, he said while crime money, ill-gotten wealth and that accrued through corruption or tax evasion is black money. One wonders if money in the market, or in households or with farmers, workers and employees was also blackmoney.
Key opposition leaders
BSP chief and former UP chief minister Mayawati demanded the presence of the Prime Minister in the House to hear out the Opposition parties and address their concerns. Mayawati questioned the government's preparedness for the demonetization of high-value bank notes, accusing it of spending the last ten months on settling the black money of its people. "The government has said that they spent ten months preparing for this decision. Ten months was a long time to prepare. If they were serious about it, they would have prepared well for all the problems that people are facing today." "If the government had spent ten months preparing for it, then why do they need another 50 days? There is something fishy."
While the masses are in pain, PM Modi keeps taking after creating a national crisis and Mayawati said he must be sleeping after taking pills, adding that the poor and the middle classes were the worst sufferers. "It is an immature decision taken in haste and the whole country feels that is an 'economic emergency'," she said adding that it was like a "Bharatbandi situation."
The hardship is real especially among lower income categories that do not have bank account and need cash for emergencies. Their trouble is painful and affects the society emotionally. There is no justification logical or emotional for this pain. An emotional pain cannot be justified by logic, neither should an economic decision rest on emotional arguments. The reason an emotional justification is pulled in is because of the nationalist fervor or color being given to an economic decision.
The nationalistic line or patriotic one is wrong all it shows is the intellectual drought that TV channels suffer from these days. Their desire to kowtow the government line crosses limits of ridiculousness and borders on stupidity. Though the line is supported by those in the government and is detrimental as it will affect economic decisions in the future. People are not stupid to be swept by such fervor. TD will not reduce or remove corruption. The artifice is high and is the favorite line of criticism for opposition politicians. Especially, as the government is introducing a higher denomination Rs 2000 note and reintroducing Rs 500 and Rs 1000.
To understand, TD by itself does not remove black money or will get rid of it. One, it will help to bring more people in the banking system as they stop relying on cash, particularly traders and jewellers. Second, currency as stock is not going vanish anytime, it cannot go away, Rs 500 and Rs 1,000 are also going to come back. This step is a shock therapy to the system. To put the fear in the minds of people who do not pay taxes or use cash to hide unaccounted income. Clever politicians have tried to explain that black money is no longer kept in cash but in gold and real estate.
Like all criticism it is easy. There is no single step or action that can get India rid of black money irrespective of what politicians say. The reason it is black is because the system is not able to capture it. No country has been able to successfully capture it, which is why tax havens exist. TD affects a small percentage of it, but should this step not be taken because it affects a small percentage. Should we wait endlessly until we find that brahmashastra that will destroy black money. If incremental steps help they should be taken.
This shock required surprise, surprise required secrecy that means not many people knew. Therefore the system is still not ready. Hence the hardship! Though the secret argument cannot be used for justifying the hardship as once announced banks need to get their act together. Especially as the nail that has lost the kingdom is the tray in ATM machine that is not able to take a Rs 2000 note.
Yechury Mamata, Mayawati
CPM leader Sitaram Yechury said that of the 130 crore population in the country, only 2.6 crore have credit cards. He took a dig at Modi and narrated the infamous quote of Queen Marie Antoinette during the French revolution who had said that people can eat cakes when they don't have bread. "We have Modi Antoinette who says 'If you don't have paper, use plastic'". Alleging that a BJP unit in Kolkata deposited Rs 1 crore in Indian's Bank Account on 8 November, he said "prove me if I am wrong." He added that Prime Minister was advertising for Paytm while talking about cashless economy.
The CPM leader said 1/5th of the economy is black economy and people who kept black money invested it in real estate, gold etc. That is why the imports surged and stated that it was this PM only who had stated that 95 percent of the black money is stashed offshore and is in safe havens. "PM is cleaning a pond to kill crocodiles but big crocodiles have survived and only small fishes are dying." He also demanded that corporate funding of all political parties should stop and there should be a system of state funding for elections to which Kurien said "why don't you move a private members bill in this regard."
Seeking immediate withdrawal of demonetization exercise, West Bengal Chief Minister Mamata Banerjee met President Pranab Mukherjee along with leaders of National Conference, AAP and NDA ally Shiv Sena and submitted a memorandum voicing serious concern over the crisis arising out of ban on Rs 1000 and Rs 500 currency notes. She said the situation arising out of demonetization has triggered a sort of constitutional crisis.
Expressing concern over the problems being faced by the people after the demonetization move, she said "We have requested the President to speak to the government and decide on this and bring back normalcy in the country. President was once the Finance Minister and knows country's situation better than anyone else, he will take appropriate action." Leaders of the other opposition parties including Congress, Left parties, SP and BSP did not took part in the protest march. Describing as "dictatorial and draconian step" the government's demonetization move, the memorandum has sought its immediate suspension. "Stop harassment of the common people by lifting of all sorts of restrictions recently thrust upon them," the five-page memorandum said, and added "ensure that supply of essential commodities in adequate quantities be restored in the markets forthwith."
Before beginning the march from Parliament, Mamata said "The march is to save common people from disaster." The ban has affected the normal functioning of the household as there is no money available. However, the Shiv Sena differed on the issue and insisted the government to extend the deadline of accepting the old currency notes.
Mamata also said "Those with black money have been supported, but taxpayers are suffering", and added that the situation arising out of demonetization has triggered a sort of constitutional crisis and financial emergency. Seeking the intervention of the President in the "interest of common people to alleviate the untold suffering, helplessness and financial insecurity that they are facing now", the memorandum said "withdraw this draconian demonetization measure immediately." Pitching for a broader campaign against demonetization, involving various political parties, Mamata yesterday met Delhi Chief Minister Arvind Kejriwal. Both the leaders discussed the crisis for about 40 minutes but Kejriwal reportedly expressed his reservation to come along with Shiv Sena on a same platform.
Mamata had approached other parties, including Congress and Left, to join the march against the demonetization of Rs 500 and Rs 1000 currency notes, saying "common people are suffering because of it." However, Congress and Left though opposing the demonetization move preferred not to join the rainbow platform created by Mamata against the government. Undeterred by the absence of major political parties she marched ahead.
Positives approach
On a day when the opposition launched an offensive against the government over the abrupt withdrawal of Rs. 500 and Rs. 1,000 notes, there was a rare exception. Nitish Kumar, Chief Minister of Bihar, expressed his "total support" for the ban, introduced last week by Prime Minister Narendra Modi. "Fake notes will disappear," said Kumar in his home state, sharing rare agreement with PM Modi, who has said the reform will attack the roots of black or untaxed money, counterfeited currency and corruption.
The parliament decried the ban on notes as a move that is punishing the poorest and weakest, who suddenly find themselves cashless.
Eight days after the old notes were cancelled, with just a few hours' notice, banks are swarming with huge crowds desperate to get to the counter or an ATM to collect some new currency. A new version of the Rs. 500 note is still a rarity; the 2000 rupee note is being rejected by many vendors who say they cannot provide change for the high-denomination bill.
Nearly 48 billion dollars have been deposited in banks so far, as people turn in the old notes. And though the lines at banks in cities are long, it is in villages that a crisis is threatened with lakhs who are excluded from the banking system.
For now, people can exchange Rs. 4,500 of old notes for new ones – after this swap, indelible ink is used on the customer to ensure it remains a one-time exchange; upto Rs. 24,000 can be withdrawn per week from a bank account; Rs. 4,500 can be withdrawn from an ATM per card per day. The government has repeatedly said it is working night and day to reconfigure ATM machines, which need bigger trays to stock the new currency. The Reserve Bank of India has also confirmed that it has made special arrangements to help villages by dispatching micro-ATMs
The Positives approach of Bihar CM Nitish should be misunderstood for support for the BJP government at all.
Observation
If the cash crisis, if not controlled effectively, could lead to a serious economic and financial catastrophe making India a weak nation among third world nations. If the government is unable to tackle the black and other flirty money, that could have serious impact on the future of Indian politics.
Moving towards cashless economy was fine but even the most developed economies of US or Europe has not achieved that objective yet. If they had, the US central bank would have stopped printing dollars, European Central Bank won't be printing Euros and UK central banks would have stopped printing pound sterling.
The move is without preparedness and people will punish BJP in 2019 during general elections. People of five states going for elections including Manipur, Uttar Pradesh and Punjab will punish BJP.
The common people, especially the poor and the housewives were put to great hardship through this move and if elections are held today they will teach this government a lesson, he said, adding that majority of women who saved money through household savings were upset with the move. It shows the shallowness of the TV anchors as intelligentsia. It also shows social media has the ability to influence the trajectory of public debate. It does not portend well for a democracy when the crowd is used as the arbiter for policy. The broad segment of the public discourse can be easily drawn as it is shorn of all nuances and can be easily clubbed into segments.
The hardship is real, but griping about it is not an argument for or against TD. An opinion based on hardship is just that a gripe.
The nationalistic and the ideological jingoists are not too different. As both do not see facts they only see political angles to every policy. They are criticising this step because it will not rid India of black money.
Criticism is always the lowest form of intelligence as it is an argument without a solution. Anybody can make it does not take any effort. Just because there an opinion exists does not make it right.
Today, social media gives every man the means to broadcast their opinion. But if you have a solution with that opinion it may be just a mite more useful. Otherwise, it is just another voice shouting loudly.
Demonetization move, causing hardship for the common people, is an economic decision that has far reaching ramifications. The hardship caused to people is not the reason temporary demonetization should not be done. Please note it is a temporary demonetization (TD). If the measure is hardship government should not take any step that causes it even it is long term interest of the people.
Undoubtedly PM Modi and BJP are now focusing on the assembly poll in UP and next Parliament poll. UP poll results will have impact on the future elections in the country. After the loss of Delhi and Bihar, BJP would be hard-pressed to be seen as the loser of UP also. But BJP has no hopes whatsoever of winning state UP which is now being ruled by the Samajwadi Party (SP) and opinions reveal a plus point for the BSP of Mayawati in UP.
Business disorder between Europe and U.S.
The European Union remains cautious in the economic battle with the White House. U.S. President Donald Trump continues to pursue his protectionist policies in international trade system. This has led to raising concerns and serious discontent among the United States' European partners.
Disputes between the United States and other countries around the world are continuing on trade and economic issues. The fact is that U.S. President Donald Trump intends to exacerbate tensions until the presidential elections of 2020. Many international experts and analysts believe that a major part of the economic approach to the world of Trump has an electoral and political goal.
Many international analysts now talk about the conflicts between the United States and Europe over imposing sweeping steel and aluminum tariffs as a transatlantic "trade war".
Conflicts that may extend in the near future and affect the widespread relations between Washington and Europe.
On the other hand, the authorities of Germany, Britain and France have not taken a proper approach to the policies of the President of the United States.Though politicians such as Emmanuel Macron, Angela Merkel and Theresa May seek to manage the situation and prevent the exacerbation of tensions with Washington, but people, business owners and European opposition parties are so angry at Trump and the U.S. government that the European troika's authorities aren't capable to control or even hide it.
One of the most important reasons for the continuation of Trump's economic policies in the world is the passivity of European leaders against the White House. Under such circumstances, Europe has threatened to retaliate against the U.S. if Trump imposes steel and aluminum tariffs on European exports.
After Trump made his first announcement on the tariffs, European Commission President Jean-Claude Juncker threatened to put tariffs on American goods in response to Trump's decision. That could decrease demand for those products inside EU borders and consequently lead to U.S. workers losing their jobs. But practically, European countries did not do anything about this.
Although some European citizens thought that the Chancellor of Germany would have a more determined approach than other European politicians, this was also a mistake!The German Chancellor stated that European Union member states must give the EU trade commissioner a clear mandate for negotiations with the United States over a long-term exemption from U.S. metal tariffs. Markel added: "Of course, we think it's important that there are exemptions not only for a limited period of time … So far, we have had a very united stance, namely that we view these tariff demands as unjustified and that we want a long-term exemption."
The fact is that Merkel's implicit threat, which she didn't address directly and explicitly because of her conservative policy towards the United States, is the same as the "European countermeasures" against the United States.
For months now, there have been months of anti-European measures taken by the White House and customs duties on European aluminum and steel. However, European countries have preferred to keep Silent instead of confronting Washington!
Indeed, the prolonged U.S.-EU talks on steel and aluminum tariffs is going to increase the dissatisfaction and anger among the European public opinion. It will also affect the performance of American companies in Europe.
First published in our partner Tehran Times
Citizen Capitalism: How a Universal Fund can provide Influence and Income to all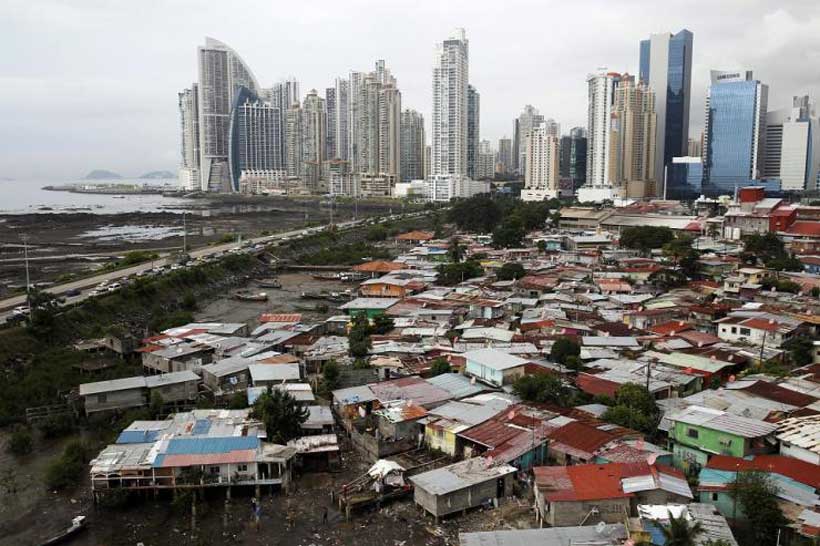 In the face of growing wealth inequality worldwide, more and more people are discussing alternatives to the current laissez-faire capitalism status quo.  Tamara Belinfanti, Sergio Gramitto and the late Lynn Stout offer up their own solution in Citizen Capitalism: How a universal fund can provide influence and income to all.
Our authors have devised up a concept they call the Universal Fund.  It's like a sovereign wealth fund, but is privately created and funded via private ordering. That means that the Universal Fund is to be created from donations of stocks by companies and philanthropists.  The government would hence be uninvolved; the Universal Fund is not a socialist venture.  Rather, it is in part modeled on the structure of NGOs like the Sierra Club and the Red Cross. The Fund would provide an annual dividend to every citizen, with no maximum income cap.  Though it may seem absurd to send welfare payments to the wealthy, it's politically savvy framing.  A free public college bill was passed in ultraconservative Tennessee thanks to having no maximum income cap; conservative detractors weren't able to use the "class warfare" and "welfare queen" arguments. It should be noted that charitable tax deductions, estate tax reductions and lowered tax brackets would act as a de facto government incentive for the wealthy to donate to the Universal Fund.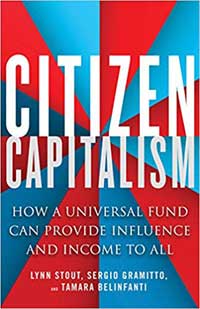 The goals of the Universal Fund would be to decrease wealth inequality, encourage long-term investment and increase civic engagement in corporate culture.  On the last point, the authors remind us that, "The top 10% [of wealthiest Americans] hold more than 90% of all shares."  Even in regards to the other 10% of shares owned, most of them are passively owned.  Most small-time investors don't have time to vote in the annual general meetings of every company in which they are invested in.  Thus, boardroom votes are dominated by two shareholder proxy advisory firms and individual investors who own a substantial percentage of shares, as well as fund portfolio & hedge fund managers.
These Wall Street elites naturally tend to vote based upon their elitist interests.  Thus, they usually make decisions that are insane in terms of employee welfare, long-term corporate growth, executive pay and the environment. For example, `the authors remind us of the recent case of Martin Shkreli, the hedge fund manager who acquired Turing Pharmaceuticals and then raised AIDS medication prices from $13.50 to $750. This is the embodiment of the Reagan-era Golden Rule of maximizing shareholder value.  Not only is this Gordon Gekko truism objectively crazy, it's actually legally unfounded.  Contrary to what you hear on CNBC or Fox Business, there's no legal requirement that companies only focus on maximizing shareholder value.  The book relates the following quote from Supreme Court Justice Samuel Alito comments in the recent case Burwell v. Hobby Lobby:"Modern corporate law does not require for-profit corporations to pursue profit at the expense of everything else, and many do not do so."
CITIZEN CAPITALISM points to the ongoing successes of the sovereign wealth funds of Norway and Alaska, an ultraliberal and an ultraconservative society, respectively.  The Alaskan fund generally provides each citizen with a dividend payment of a few thousand dollars each year, via the state's oil revenues.  The Government Pension Fund Norway is a more pertinent example, since it's funded through a $1T stock portfolio.  Norway is not only able to fund its citizens' pensions through the Fund, but also exert a moral influence on the market.  The Fund boycotts various egregious companies, like cigarette manufacturers, and will sell its shares in a company that gets exposed for abusive practices, like say employing child labor.  Our authors likewise want the Universal Fund to use a carrot-and-stick approach in regards to corporate ethics.
The thesis of CITIZEN CAPITALISM is, as the title suggests, rooted in optimism for capitalism.  Though they write about the success of socialist program in Alaska specifically, a conservative state in the US, the authors are convinced that a sovereign wealth fund bill could never be passed in Congress.  Recent polls and election results, however, show that Americans are starting to overwhelmingly favor ambitious government-program proposals like Medicare for All and a Green New Deal.  As I wrote before, the Universal Fund would mostly be feasible due to tax incentives; these government incentives would likely need to be greatly expanded in order to encourage enough stock donations to build the Fund to a substantial size.  Even America's greatest philanthropists still stockpile billions of dollars in their offshore bank accounts.  Thus, one shouldn't expect the Universal Fund or other private UBI schemes to become a replacement for state management of wealth inequality through programs like public school funding and marginal taxation.  Nonetheless, CITIZEN CAPITALISM is a stimulating little primer for rethinking the relationship between Wall St and Main St, managing the looming crises of a rapidly aging workforce and automation, plus the balancing of private and public sectors in regards to solving societal problems.
Working for a brighter future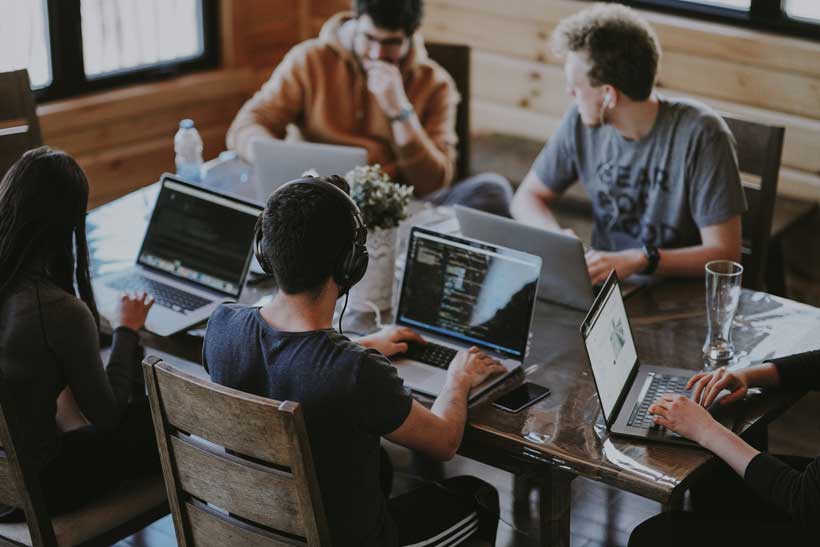 Authors: Cyril Ramaphosa and Stefan Löfven*
We stand at a crossroads as seismic shifts take place in the world of work.
Technological advances are changing the nature of many jobs, and leading to the need for new skills. The urgently required greening of economies to meet the challenge of climate change should bring further employment possibilities. Expanding youth populations in some parts of the world, ageing populations in others, may affect labour markets and social security systems.
On one path, countless opportunities lie ahead, not only to create jobs but also to improve the quality of our working lives. This requires that we reinvigorate the social contract that gives all partners a fair stake in the global economy.
On the other path, if we fail to prepare adequately for the coming challenges, we could be heading into a world that widens inequalities and leads to greater uncertainty.
The issues are complex. As co-chairs of the Global Commission on the Future of Work  we, and our fellow members of the Commission – leading figures from business and labour, think tanks, government and non-governmental organizations – have been examining the choices we need to make if we are to meet the challenges resulting from these transformations in the world of work and achieve social justice.
We call for a new, human-centred approach that allows everyone to thrive in a carbon neutral, digital age and affords them dignity, security, and equal opportunity. It must also meet the changing needs and challenges facing businesses and secure sustainable economic growth.
The opportunities are there to improve working lives, expand choice, close the gender gap and reverse the damage that has been wreaked by global inequality.
But it will need committed action on the part of governments and social partners to turn those opportunities into reality.
So how do we achieve this? Three areas of increased investment are needed:
First, we have to invest more in people's capabilities: This means establishing an effective lifelong learning system that enables people to skill, reskill and upskill – a system that spans early childhood and basic education through to adult learning. It also means investing in the institutions that will support people as they go through transitions in their working lives – from school leavers to older workers. Making gender equality a reality and providing social protection from birth to old age are also critical. These social investments will not only increase productivity. They will also allow for a more inclusive growth, where informal workers and business can both benefit from and contribute to a sound formal economy.
Second, we must invest more in the institutions of work – including the establishment and implementation of a Universal Labour Guarantee. This will ensure that all workers enjoy fundamental rights, an "adequate living wage", limits on their hours of work and safe and healthy workplaces. Linked to this, people need to have more control over their working time – while meeting the needs of enterprises – so that they can fulfill the full range of their responsibilities and develop their capabilities.
Collective representation through social dialogue between workers and employers needs to be actively promoted. Workers in the informal economy have often improved their working conditions by organizing. Unions need to expand membership to informal workers, whether they work in the rural economy, on the city streets of an emerging economy or on a digital platform. This is a critical step towards formalization and a tool for inclusion.
We're also calling for governance systems for digital labour platforms that will require these platforms and their clients to respect certain minimum standards.
Finally, we need to invest more in decent and sustainable work. This includes incentives to promote investments in key areas, such as the care economy, the green economy, and the rural economy, as well as high-quality physical and digital infrastructure. We must also reshape private sector incentive structures to encourage a long-term, human-centred approach to business. That includes fair tax policies and improved corporate accounting standards. We need to explore new measures of country progress to track important aspects of economic and social advancement.
Beyond these critical investments, there is a further opportunity: to place discussions about the future of work at the heart of the economic and social debates taking place at the high table of international policy-making. This could revitalize the multilateral system at a time when many are questioning its legitimacy and effectiveness.
Yet none of this will happen by itself. If change is the opportunity, we must seize the moment to renew the social contract and create a brighter future by delivering economic security, equal opportunity and social justice – and ultimately reinforce the fabric of our societies.
Stefan Löfven, Prime Minister of Sweden, co-chairs of the ILO Global Commission on the Future of Work