[yt_dropcap type="square" font="" size="14″ color="#000″ background="#fff" ] L [/yt_dropcap]ife is beautiful to spend. It have the many moments which included sorrows, joys and also sometimes we feel the situations which we can't find that in which feel we are…? Happy or Sad…But these are the really precious moments or the assets of life.
Life is Strange sometimes. We have related many relations which is beautiful as well as Bad but was the part of our life. Life moved around the many relations. we depend on the society as well as also on our relations. Allah(GOD) granted us the blessing of life. We feel many moments in Life, which sometimes said by others the bad moments but we shouldn't to say them bad Because from after every bad experience we 'll be learn the Lesson or the courage to move on further.
Dearest Friends, Life is too short. Allah(GOD) send Us in the world to performs our duties. Allah(GOD) made the beautiful world, Give birth many species. And creates the Human to perform their duty on earth, But we Human being forgot that we return back after performs our duty. World is just like the honey's viscosity we lost ourselves in this world. Allah(GOD) gives us the honor to made us superiority as on its other creations. Allah(GOD) gives Us life to spend on simplicity but we make it difficult to spend on wishes. Hence, become the Captive of wishes.
Life is the Travel and we are passengers while world is the Road where we Run our lives. But we imagine world is the place where we lived forever.
But really forget that we are only the passenger and returned back to our homes to leave after the mortal world. But we make our lives difficult to make Homes here in the Mortal world. We want to live in luxury life, to want to sleep on comfortable beds where we only sleep for six to seven hours but forget the Bed where we' ll be sleep forever. Life is like soft petals of flower but we push up in the barbed thorns on the sake to fulfill our wishes.
If we look many years ago back life of people's, there was much differences as if we compared with this much developed world. As time passed with centuries the way of life become more developed and convenient The today's Human spend their life with the clock' Needle movement. Today's men got much busy and hectic life schedules.
Today's Human wants to comfortable but energetic Life which they doing inventions.
As the famous proverb, "Necessity is the Mother of Invention". Which means that, We stand in dire need of a thing, we can never be rest satisfied until we got it. Today's Human become restless to fulfil their wishes. Most of the Great and Good things of the world are the products of the Divine Discontent in the the Mind of the Human Being.
But also Necessity makes us Bold, Hardy and adventurous and compels us to get into activity.
Again and again I want to say that Life is easy to spend but we make it difficult to give Birth the wishes. And become the Captives of Desires.
Here's many things to describe The Impacts of Life even my pen's Ink will be finished but the words for life will never be ended up..
So I don't want to finished up my pen's ink And left it to write on furthermore on other Issues that's why I want to enclosed the Impacts of Life on the fact that, Life is very beautiful but very short to spend so don't waste it on wasteful things….
Life gets only one time so spend it Happily Don't get rid.
At the end I want to explain the Life in very beautiful words:
"Life is only that which Resists Death" so don't waste your Life on death.
Modernizing Higher Education for Economic Growth
Malawi has fewer affordable universities than it has students who want to go to them, leaving college out of reach for many. Enrollment in tertiary education is low, but more and more Malawians hunger for it. With IDA financing from the World Bank, Malawian citizens now have more options.
The five-year, $51 million Skills Development Project is helping public universities to strengthen and increase public access to programs that cater to sectors critical to Malawi's economic growth. These include engineering, natural resources extraction, agriculture, construction, health services, tourism, and hospitality.
Beyond the establishment of the National Council for Higher Education, project funding supports a range of activities at institutions, including improving course offerings and staff skills, renovating infrastructure, and setting up satellite facilities.
Market-relevant course offerings
To expand the range of scientific skills and mid-level technicians needed to fuel Malawi's economy, 39 new programs have been developed by universities, with the participation of the private sector ensuring their relevance to the economy. By 2017, these programs contributed 44 percent of the new student intake to public universities.
Diploma programs at universities have also been bolstered to increase the training of mid-level career personnel needed by various trades. For example, the University of Malawi's Polytechnic now offers 10 technician-level engineering diploma programs in subjects like mining, telecommunications, and health. By 2019, these programs are expected to have enrolled 750 diploma students.
Modernized facilities
One of the major constraints to increasing student enrollment at public universities has been space. At Chancellor College, where most of Malawi's secondary school science teachers are trained, more and better infrastructure is expected to make it possible to boost student intake by 65 percent. This includes modernized laboratories and four new lecture halls seating 350 students each.
This will go a long way toward meeting an increase in the demand for science teachers, following the introduction of physics and chemistry as separate subjects in the secondary school curriculum.
Mzuzu University is heading to be the country's center of excellence in tourism training. It is constructing a purpose-built tourism and hospitality facility that will produce graduates who are industry-ready.
Online and distance learning
The Lilongwe University of Agriculture and Natural Resources (LUANAR) and Mzuzu have introduced online and distance learning (ODL), resulting in increased enrollment at both. At LUANAR, online students make up 10 percent of the total student population. Between 2014 and 2016, Mzuzu increased its intake of online students tenfold. With more affordable fees and flexible options, the ODL system has helped to open access to higher education for many people nationwide.
"I enrolled through ODL because of its flexibility. I continue with my everyday life and yet I am studying at the same time. This is wonderful," says 45-year-old Joe Mwenye, a father of five and a teacher in Ngabu in Chikwawa district. He is studying at LUANAR for a Bachelor of Science in Agricultural Extension.
LUANAR has three ODL centers: one in the town of Mzuzu, another in Lilongwe, and another in Blantyre. Mzuzu University is opening satellite centers in Balaka, Karonga, Mulanje, and Lilongwe.
The Depth of Taboo: Social Issues in South Asia
Rarely does a geopolitical handbook also make such large and important contributions to uncomfortably critical social issues. This handbook is that rare example. The author Aryal takes our MD readers deep into some disturbing discussions – caste systems, systematic violence against women, rape, honor killings, gender stigmatizing, and societal sexism – not to just anecdotally expose people to some of the continued living horrors afflicting important regions of the world but to systematically analyze such atrocities so that their long-term political, economic, social, and diplomatic consequences are revealed.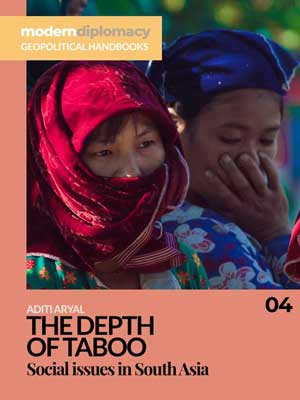 What many around the world do not realize is how crippling these gross abuses of human decency can be for a nation and region writ large: these are not just individual crimes to be noted and then forgotten. The failure of societies, the failure of GLOBAL society, to make more effective progress and take a more rigid stand against injustice is a black mark on all countries, on all of us. This handbook in its own small way strives to be a light within that darkness and as such it is both informative and courageous. While the readers of MD will not find the content of this particular handbook for the faint of heart, the importance of acquiring this knowledge, of becoming more aware of the world that we live in as it truly is in so many places, should be considered a duty of all those fortunate enough to not be born into states where such systemic violence still exists and largely goes unchallenged.
The title of this work is no accident and no shameless marketing attempt to attract more readers. Rather, it is exposing in a single word the reason why overcoming systemic violence based on gender is so difficult. Social taboos run deep in every region, state, city, town, village. We will likely not succeed in eliminating them from the social conscience of people. But the attempt to ameliorate the power of taboo, its power to push rationality out and pull insanity in, is a noble one that all of us at the editorial staff at MD recognize as silently essential for the cause of future peace on so many different levels. The battle against taboo is the secret front end of the war against gender violence and oppression. Ultimately, the criminal justice systems of societies must improve to remedy those actions not prevented from occurring. But the real long-term comprehensive solution will be the effort to eliminate the fear of social taboos, to eliminate the stigma that drives many to commit ignorant violence in the first place.
Women and girls with autism must be empowered to overcome discrimination they face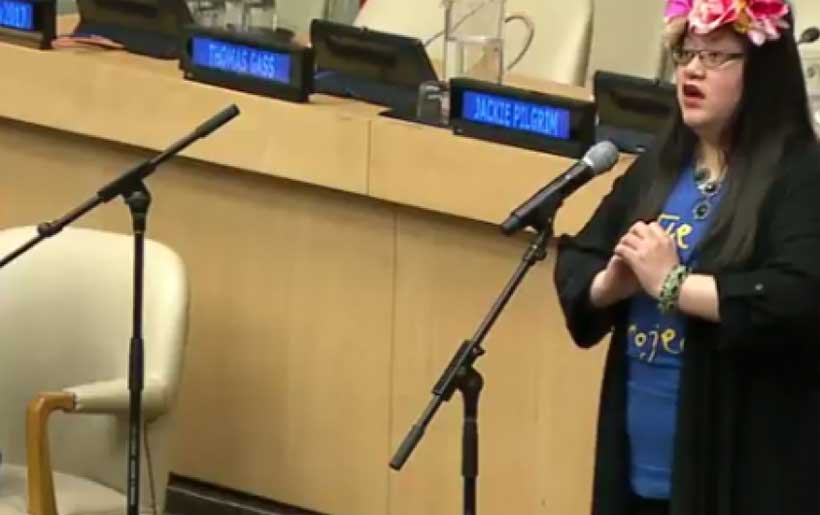 On World Autism Awareness Day, United Nations Secretary-General António Guterres has joined the global call to empower women and girls with autism and involve them and their advocates in policy and decision-making to address the discrimination and other challenges they face.
"They face […] barriers to accessing education and employment on an equal footing with others, denial of their reproductive rights and the freedom to make their own choices, and a lack of involvement in policy making on matters that concern them," said the Secretary-General in his message on the Day.
Emphasizing that "our work for gender equality and women's empowerment must reach all the world's women and girls," he stressed that the international community's efforts to achieve the Sustainable Development Goals (SDGs) must uphold the 2030 Agenda's core promise to leave no one behind.
The Goals and the landmark framework from which they emerged were adopted by UN Member States three years ago. Together they aim to wipe out poverty and boost equality by putting the world on a more sustainable economic, social and environmental path by 2030.
"On World Autism Awareness Day, let us reaffirm our commitment to promote the full participation of all people with autism, and ensure they have the necessary support to be able to exercise their rights and fundamental freedoms," concluded the Mr. Guterres.
Autism is a lifelong neurological condition that manifests during early childhood, irrespective of gender, race or socio-economic status. The term Autism Spectrum refers to a range of characteristics.
Autism is mainly characterized by its unique social interactions, non-standard ways of learning, keen interests in specific subjects, inclination to routines, challenges in typical communications and particular ways of processing sensory information.
The rate of autism in all regions of the world is high and the lack of understanding has a tremendous impact on the individuals, their families and communities.
The World Day is marked annually on 2 April, and this year's official UN commemoration will be on Thursday, 5 April, with a half-day programme in New York entitled Empowering Women and Girls with Autism, that will feature a keynote address from Julia Bascom, Executive Director, Autistic Self Advocacy Network.