[yt_dropcap type="square" font="" size="14″ color="#000″ background="#fff" ] L [/yt_dropcap]ife is beautiful to spend. It have the many moments which included sorrows, joys and also sometimes we feel the situations which we can't find that in which feel we are…? Happy or Sad…But these are the really precious moments or the assets of life.
Life is Strange sometimes. We have related many relations which is beautiful as well as Bad but was the part of our life. Life moved around the many relations. we depend on the society as well as also on our relations. Allah(GOD) granted us the blessing of life. We feel many moments in Life, which sometimes said by others the bad moments but we shouldn't to say them bad Because from after every bad experience we 'll be learn the Lesson or the courage to move on further.
Dearest Friends, Life is too short. Allah(GOD) send Us in the world to performs our duties. Allah(GOD) made the beautiful world, Give birth many species. And creates the Human to perform their duty on earth, But we Human being forgot that we return back after performs our duty. World is just like the honey's viscosity we lost ourselves in this world. Allah(GOD) gives us the honor to made us superiority as on its other creations. Allah(GOD) gives Us life to spend on simplicity but we make it difficult to spend on wishes. Hence, become the Captive of wishes.
Life is the Travel and we are passengers while world is the Road where we Run our lives. But we imagine world is the place where we lived forever.
But really forget that we are only the passenger and returned back to our homes to leave after the mortal world. But we make our lives difficult to make Homes here in the Mortal world. We want to live in luxury life, to want to sleep on comfortable beds where we only sleep for six to seven hours but forget the Bed where we' ll be sleep forever. Life is like soft petals of flower but we push up in the barbed thorns on the sake to fulfill our wishes.
If we look many years ago back life of people's, there was much differences as if we compared with this much developed world. As time passed with centuries the way of life become more developed and convenient The today's Human spend their life with the clock' Needle movement. Today's men got much busy and hectic life schedules.
Today's Human wants to comfortable but energetic Life which they doing inventions.
As the famous proverb, "Necessity is the Mother of Invention". Which means that, We stand in dire need of a thing, we can never be rest satisfied until we got it. Today's Human become restless to fulfil their wishes. Most of the Great and Good things of the world are the products of the Divine Discontent in the the Mind of the Human Being.
But also Necessity makes us Bold, Hardy and adventurous and compels us to get into activity.
Again and again I want to say that Life is easy to spend but we make it difficult to give Birth the wishes. And become the Captives of Desires.
Here's many things to describe The Impacts of Life even my pen's Ink will be finished but the words for life will never be ended up..
So I don't want to finished up my pen's ink And left it to write on furthermore on other Issues that's why I want to enclosed the Impacts of Life on the fact that, Life is very beautiful but very short to spend so don't waste it on wasteful things….
Life gets only one time so spend it Happily Don't get rid.
At the end I want to explain the Life in very beautiful words:
"Life is only that which Resists Death" so don't waste your Life on death.
The Marriage of Social Media and Social Justice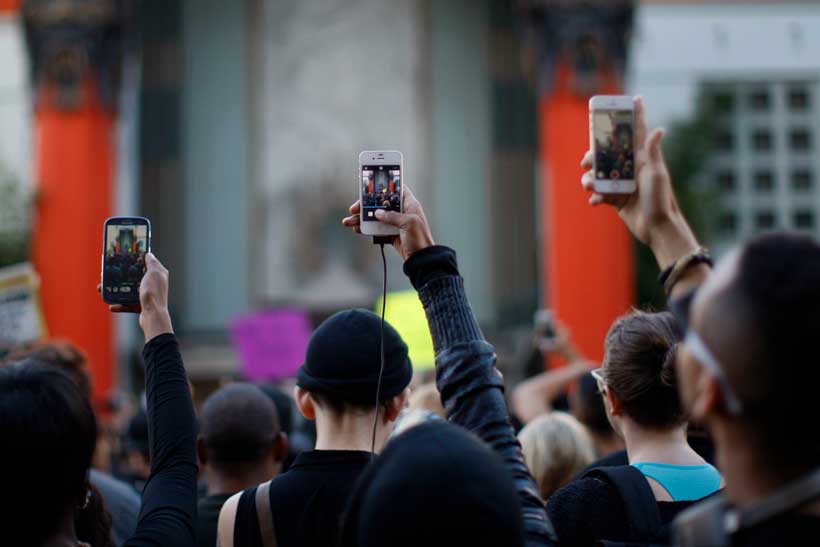 The aggressive use of different online platforms during electoral campaigns has made it evident that many political leaders are widely using platforms such as Twitter and Facebook to spread their election mandates and garner widespread support. Moreover, in the past few years, the use of social media has gone beyond politics and has contributed towards starting a global conversation amongst the citizens of the world to spread socially relevant messages and demand justice.
In today's global world where many countries witness gross violation of human rights and political and social chaos, different online platforms have become a safe place to share their ordeal and demand justice. It is not just used by social workers and activists, but on several occasions ordinary citizens have taken to Twitter, Facebook or Vine to share their stories. Internet provides us with platforms where we can fight for our rights and against injustice, support people from all across the world in gaining justice, and helping people become better informed citizens of the world. The massive explosion of videos, hashtags and photographs on Twitter which are retweeted thousands of times, help people voice their concerns to a billion people in a span of seconds, especially when they think they are not being heard. From #BlackLivesMatter, #MeToo, #BreakTheSilence to #BringBackOurGirls, digital platforms have helped start a social revolution to help marginalised, oppressed and minorities fight for their rights. The internet helps people validate their experiences, share them as they happened without any colourful interpretation by media giants.
Recently, a Saudi Arabian teenager, Rahaf-Al-Qunun escaped from her family while they were on a trip, boarded a flight to Australia via Bangkok to seek asylum. However, she was held at the Bangkok airport by Thai and Saudi authorities and was asked to return to Kuwait where her family was waiting got her. She refused to get on a flight to Kuwait and barricaded herself into a hotel room. She used Twitter to share her story and sent out several tweets requesting for asylum from various countries. Her ordeal was picked up by the Human Rights Watch and journalists from across the world and later in the week, she was granted asylum in Canada.
Another successful social media campaign resulted in the problem of 'Upskirting' become a crime in the United Kingdom, after the UK Parliament passed a bill. The issue came to forefront when a woman in the UK was a victim of upskirting during a concert. She shared her story via a Facebook post, which went viral and was picked up and shared by thousands of women, who also shared their experiences. After the overwhelming response, she started an online petition to criminalize upskirting which was signed by over 50,000 people. This petition was picked up by a member of Parliament and was introduced as a Private Members Bill. After overcoming parliamentary obstacles, the bill was passed as a legislation.
Sharing issues and starting a dialogue on the internet with millions of people can help bring about radical changes in our society and help push social movements in the forefront of relevant authorities and mainstream media. It can help gather rallies and hold protests in a small amount of time and bring about real change.
Moreover, social media platforms are also being widely used to hold people accountable for their offensive actions and speeches. This was held true when famous actor Kevin Hart had to step down as a host at the Oscars after a public outcry regarding his offensive and homophobic tweets. This also holds true in the case of famous writer-director James Gunn who was fired from Walt Disney Productions due to his offensive tweets on molestation and paedophilia written 10 years ago. As it is famously said, 'what is written on the internet stays there forever,' the rise of social accountability helps hold people responsible for their actions and demand justice.
However, with the increase in the use of online platforms, it is sometimes possible that 'fiction might find a way to become a fact.' When a story is shared on Facebook or Twitter, there is no way to ascertain whether the facts shared are true or false. Due to this, social media can also ruin innocent people's lives. People who are wrongly accused of rape, murder, paedophilia and theft on social media, not only take an emotional and financial toll, they are immediately fired from their jobs, and their careers are ruined. Moreover, people make quick judgments regarding everything we read on the internet without having all the facts and knowledge. Our reactions can have irreversible repercussions. For instance, in Vancouver in 2011, a drunk guy got into a fight and ended up stabbing a teenager through the neck. This incident was quickly taken up on social media and people named the 'wrong guy' in their posts. This nearly destroyed his life as he was immediately dropped from his job and sent death threats. Eventually the truth came out, but the social media frenzy had destroyed this individual's life. Therefore, it is imperative that we do our due diligence before posting or believing anything we see on social media.
In my opinion, the plethora of online platforms available to the citizens of the world can be used in an extremely beneficial manner creating a positive environment. All it takes is one person to come forward with his/her story, which encourages thousands to come forward and share their experiences. It can help people deal with their inner demons, share their ordeals and also help overcome with any kind of mental illness. It is always said that it is easy to share your ordeals with a stranger, I believe that internet connects people to millions of strangers who not only sympathize but can also empathize with the situation. Even though I am aware that the internet can become a place of horror for many people, with regards to online bullying, cyber-crime, body shaming and so on, I do believe it has more positive implications than negative. It is a tool which needs to used wisely and can have long-lasting positive impact on the world.
In this ever-growing world of online platforms and the rise of social revolution where more and more people are sharing their battles and ordeals each day, digital media provides people with an unbiased platform to fight for their rights. They help in spreading socially relevant messages and stories amongst billion of people and bring to our attention different issues faced by people in different countries. Whether it is the oppressed Saudi Arabian women or the unfair treatment of the African-American community, or even the gross human rights violations faced by citizens of war-torn countries, the stories posted online lead to an international outcry for justice, attract attention of rule-makers, non-governmental organisations, journalists and help hold authorities and people accountable for their actions. But at the same time, we must also be wary and cautious of the stories we read on social media and make informed decisions.
The 'Beauty Premium' and other forms of stereotyping are real, and they're a workplace problem
People say "seeing is believing", but that's wrong. The truth is, "I will see it when I believe it".
As an academic psychologist I have spent years, and run dozens of experiments, looking at unconscious or implicit bias and its consequences. I consider factors such as looks, ethnicity, age and gender, to see if they influence world-of-work decisions such as hiring, promotion, salary. 
The short answer is that all these factors make a difference, even though they play no real role in the evaluated person's performance. Beliefs guide the facts we see. They shouldn't, it's unfair. But they do. The so-called 'Beauty Premium' is real, as are a host of other biases.
Taking decisions this way is not unnatural.  Evolution has fashioned us to infer, to fill in knowledge gaps. Is that rustle in the grass the wind, or a snake? Assume, infer, and take the conservative decision. That's how we survive.
But using inference or stereotypes to guide staffing decisions is not effective because the right candidate may be overlooked and the 'right-looking' but wrong candidate selected.
The point is we are very quick to size people up – age, sex, appearance, even height. We fill in the blanks and give them a price tag in a stereotypically consistent way. The problem is that once we decide about something we try to justify it because we don't like to admit we were wrong.
One study I know asked people to vote on the basis of photos, as if they showed candidates running for public office. Afterwards, the voters were given information about the 'candidates' (e.g., political preferences, values, etc.) and then asked to vote again. Despite now having relevant information the voters hardly changed their opinions.
I thought this might be due to past experience – perhaps people have a learned stereotype of what a 'Leader' should look like? So I repeated the experiment with small children, too young to have learned bias, showing them pairs of photos and asking who would make the best captain of a boat (a position of responsibility they could understand). I asked some adults to do the same test. The children and the adults chose the same photos. No experiential factor could explain the choices, it had to be nature.
But, perhaps the motivation or education level of the testers played a role? So I did a similar experiment with kids using photos of candidates for elected positions at the Association of Psychological Science (APS). All the voters and candidates were scientific psychologists. But results were the same. When no photo was available in the original ballot material the APS members voted on the basis of publication record (a reasonably good proxy for the knowledge, status, and success of the candidates). However, when there had been photos included in the ballot materials nothing mattered but the face.
Maybe business people would take decisions in a more rational way? So, we asked experimental subjects to look at photos of managers in a large multinational company, and then asked them to judge the mangers for competence and personality. We accounted statistically for everything possible – age, qualifications, and so forth. Those managers who rated higher on looks earned more.
Implicit bias is even worse for women. Factors such as being overweight count against women even more than they do for men. And it's not just appearance. I worked with a Swiss multinational looking at the transcripts of their internal performance evaluations, and statistically controlled for everything possible.  Men had a much higher likelihood of being described in a positive way; for example, "he really knows how to put his foot down" compared to a similar woman, who "really knows how to use her elbows".
Age discrimination was also rife across the board, even though for high-level, cognitively complex jobs there is zero correlation between performance and age. In short, age and being male predicted future job and salary levels.
So women (and anyone else who does not fit role expectations) are walking on eggs. It's a double bind. They must demonstrate exceptional competence to be seen as equal in ability to men, but must also avoid threatening them with competence and apparent lack of warmth, or behaviour that violates social stereotypes.
An experiment run by a professor at Yale University demonstrated the penalty for violating these social norms. One male and one female actor were each asked to record two versions of the same interview, one where they were calm and one showing some anger. Their answers were the same so rationally, the man and woman should have been ranked the same in the same condition. But it turns out that if a man shows anger it is interpreted completely differently. Men can show their "guts." Women are not allowed to show anger because they are supposed to be nice, nurturing and kind. When subjects were asked to rank the two actors, the man was seen as higher status and more competent, and offered 50 per cent higher salary. The woman was seen as out of control.
There are ways to reduce bias in the workplace. The first is to be aware of your own biases. Then you can take steps to eliminate them and so reduce discrimination.
Second is accountability.  Decisions need to be justified, with objective indicators. Be aware that every piece of information can introduce bias. How the call for applications is made – certain words will attract or discourage women. What information applicants are asked for, including photos, can matter. Who does the initial screening, and is it objective or just personal opinion?  Are the screeners different from the interview panel?  Are the same interview questions asked of all candidates and is the information aggregated independently? Are validated psychometric tests used (e.g., the most used test in the business world, the MBTI, is actually useless; it has no predictive validity).
Data is also key, it allows us to track what is happening, reveals unconscious bias and creates awareness.
Finally – men. We are part of the problem but also part of the solution. If we champion the cause we can reduce these biases. This is our problem too, not just a problem for women or minorities. Taking decisions correctly is not only the ethical thing to do, in the long run it is the economical and rational thing to do.
Source: ILO
Rising human trafficking takes on 'horrific dimensions'
A new UN report published on Monday shows that human trafficking is on the rise and taking on "horrific dimensions", with sexual exploitation of victims the main driver. Children now account for 30 per cent of those being trafficked, and far more girls are detected than boys.
The study from the United Nations Office on Drugs and Crime (UNODC, draws on information from 142 countries, examining trafficking trends and patterns. Yury Fedotov, Executive Director of UNODC, said that "human trafficking has taken on horrific dimensions as armed groups and terrorists use it to spread fear and gain victims to offer as incentives to recruit new fighters," citing child soldiers, forced labour and sexual slavery as examples.
While the average numbers of reported victims had fluctuated during the earlier years for which UNODC had collected data, the global trend has shown a steady increase since 2010. Asia and the Americas are the regions which have seen the largest increase in the numbers of victims detected, which may be explained by improved methods of detecting, recording and reporting data on trafficking – or a real increase in the number of victims.
Most victims of trafficking detected outside their region of origin are from East Asia, followed by sub-Saharan Africa: whilst there has been an increase in the number of convictions for trafficking in these regions, the study concluding that large areas of impunity still exist in many Asian and African countries, and conviction rates for trafficking remain very low.
Trafficking for sexual exploitation is the most prevalent form in European countries, whilst in sub-Saharan Africa and the Middle East, forced labour is the main factor driving the illicit trade. Women and girls make up most trafficking victims worldwide: almost three-quarters of them are trafficked for sexual exploitation, and 35 per cent (women and girls) are trafficked for forced labour.
Armed conflict the focus
The main focus of the report is on the impact of armed conflict on trafficking. In conflict zones, where the rule of law is weak, and civilians have little protection from crime, armed groups and criminals may take the opportunity to traffic them. One example given in the study is the phenomenon of girls and young women in refugee camps in the Middle East being "married off" without their consent and subjected to sexual exploitation in neighbouring countries.
Addressing human trafficking is a key part of the UN Sustainable Development Agenda, requiring Member States to monitor progress in tackling the problem, and report the number of victims by sex, age and form of exploitation.
However, significant gaps in knowledge remain, with many countries in sub-Saharan Africa, South Asia and some parts of East Asia still lacking sufficient capacity to record and share data on trafficking in persons. "This report shows that we need to step up technical assistance and strengthen cooperation, to support all countries to protect victims and bring criminals to justice, and achieve the Sustainable Development Goals," said Mr. Fedotov.