Reflections on NATO's Expansion and Putin's Reaction
"I think [NATO's expansion] is the beginning of a new cold war. "I think the Russians will gradually react quite adversely and it will affect their policies. I think it is a tragic mistake. There was no reason for this whatsoever. No one was threatening anybody else. This expansion would make the Founding Fathers of this country turn over in their graves. We have signed up to protect a whole series of countries, even though we have neither the resources nor the intention to do so in any serious way. NATO expansion was simply a light-hearted action by a Senate that has no real interest in foreign affairs."–George Kennan
[yt_dropcap type="square" font="" size="14″ color="#000″ background="#fff" ] A [/yt_dropcap]s a follow-up to my previous piece on the demise of the EU I'd like to analyze briefly the ongoing tensions between Russia and the West provoked by Putin's aggressive challenge to Western civilization and democracy. The challenge has come in every field imaginable: cyber space, military weapons, invasions and intimidations of US allies, Western-leaning countries, even of neutral states, nuclear posturing, arms control, not to mention religion as a tool of political propaganda, as already analyzed in another article.
Some observers of this troubling scenario have imputed it to political paranoia. There is undoubtedly a case to be made in that respect. Since the implosion of the Soviet Empire there has ensued a failure of democratic institution which were allegedly replacing the old order. Russia is not, by any stretch, the free and open society the West had hoped for at the end of the Cold War. This failure usually comes together with insecurity. Insecurity usually ensues when the people have no true and tried way for power to change hands without violence and unfairness. Indeed, ideally, within a democratic system, the people are in charge.
What obtains in Russia nowadays is the rule of oligarchs who hold power undemocratically over and against ordinary citizens. Those oligarchs are constantly fearful of a coup that may remove them from power. The old paranoia of Western encirclement seems to have resurfaced. The way they deal with the insecurity and paranoia it to bully and intimidate neighboring countries. One's security is in inverse proportion to the insecurity and destabilization of one's neighbors; hence the destabilization of the Ukraine; the outright annexation of the Crimean peninsula; the suring up of Syria; the funding of far right fascist ultranationalist "law and order" authoritarian organizations in the EU in countries such as France, Turkey, Hungary, just to mention a few, which aim at the destruction of the EU (such as the party of Marine Le Pen in France); the discrediting and lampooning of Western institutions, the exaggerated accusations of allegedly rampant corruption and immorality within Western societies, the dissemination of chaos and confusion in EU democratic elections, not to mention the hacking of the US election system. But these are not so much actions as they are reactions to moves made by the West first.
We'll get to that later. For the moment, it must be understood that to fully control the above authoritarian apparatus one has to exercise control on the media, thus substantially diminishing accountability, the democratic process and transparency, while keeping one's favorability numbers within public opinion artificially high. Free speech, rule by consensus, dissent, are all held in low esteem, while order, without justice, is at a premium. This is the sad scenario of today's Russia. Little remains at present of a mutually beneficial working relation between Moscow and Washington.
How did we get to this precarious state of affairs and the impasse of a second Cold War? The leaders on both sides seem to be unwilling or unable to turn back or at least change direction. In part this is due to a failure on the part of the West to try to understand Russia's paranoia, its strategic importance, nuclear arsenal, continental dimensions, natural resources and its potential to create trouble around the world. Also, it is largely due to a failure to recognize Russia's concerns about the expansion of NATO. When Russia was weakest, in the mid-1990s, NATO chose to announce plans for eastward expansion, in violation of a gentleman's agreement that Mikhail Gorbachev had struck with the first Bush administration. Boris Yeltsin objected angrily to NATO's reneging, but to no avail. The first round of enlargement came in 1997 and included the Czech Republic, Poland, and Hungary. Three subsequent rounds inducted other Eastern European countries, including the Baltics in 2004. Ukraine and Georgia, though denied invitations to initiate membership proceedings in 2008, were assured that they would eventually be allowed to join. The 1999 NATO intervention over Kosovo in Yugoslavia, with which Russia shares a religion and Slavic ancestry, provoked long-lasting anger. During the Soviet decades, NATO would not have launched an unprovoked 78-day bombing campaign on the border of Warsaw Pact countries.
There is also a failure to understand that Russian is neither Western nor Eastern, but is what it is sui generis. Russians have spent the last hundred years surviving various apocalypses, many of their own making—the 1917 Bolshevik revolution and civil war; famine, both man-made and natural; the Nazi invasion and the loss of at least 25 million souls; almost three decades of Stalinist despotism, with 20 million Soviets dispatched to the gulag, mass executions, the deportation of entire peoples, and ecological disasters. Then came the collapse of the Soviet Union, sudden widespread impoverishment, two separatist wars, and an Islamist insurgency in the Caucasus that involves terrorist attacks in Russian cities to this day. It is no wonder that most Russians feel that the worst is already behind them and it may have inured them to any further suffering. Putin in some way represents that kind of defiant attitude toward attempt by the West to punish Russia for its misbehavior on the international stage. This may only further provoke the angry bear who may be roaming about ready to replicate in the Baltics what it has done in Crimea.
To return to the original question: will Russian democracy, such as it is, manage to survive? Some have already declared it dead. They see no vestige of it as practiced in the mid-nineties. What seems to have survived is the seething anger over everything lost with the fall of the Soviet Union: the social-welfare state, national pride, low crime rate, and last but not least, superpower status. Democracy, to most Russians, seems unable to restore these values. Putin seems able to do so, or so it seems to popular perception, as misguided as it may appear to Western eyes.
In conclusion, considering the above analysis, the following crucial question seems appropriate: why, in the interests of peace in our time, are Russia's interested not better accommodated at the table of international relations? If the West did not totally exclude it from that table during the Cold War, is it wise to do so now and thus provoke a second Cold War, perhaps even a hot one?
NYT Presents Strong Case for a War-Crimes Prosecution Against Russia
Whereas numerous instances of U.S. war-crimes have been documented in some news-reports well enough to be successfully prosecuted in international war-crimes tribunals (but the U.N.-authorized agency the International Criminal Court cannot prosecute U.S. war-crimes but only war-crimes by third-world countries' leaders), such well-evidenced instances by Russia are far rarer. However, on May 19th the New York Times presented precisely such an instance, under the headline "New Evidence Shows How Russian Soldiers Executed Men in Bucha". Local security-cameras there recorded the frog-marching to their death of nine Ukrainian men who weren't in Ukraine's official armed forces but who had become armed to fight against the invading Russian soldiers in Bucha, and who were then executed by specifically identified Russian soldiers and their corpses abandoned on the ground as Russia's soldiers left Bucha. Locals also told the NYT's reporters what they had seen, and it fit with what those security cameras showed. The NYT reported:
The execution of the captured fighters and the homeowner in Bucha "is the kind of incident that could become a strong case for war crimes prosecution," said Stephen Rapp, former United States ambassador-at-large for war crimes issues. The captives, having been disarmed and taken into custody by the Russians, were "outside of combat," under the laws of war, Mr. Rapp said. According to the United Nations and the International Committee of the Red Cross, such laws mean that prisoners must be treated humanely and protected from mistreatment in all circumstances.
In addition to the soldiers who shot the men, their commanders could be charged if they knew about the killings and failed to act to prevent or punish the conduct, Mr. Rapp said.
However, Ellen Ioanes at Vox posted on April 9th an excellent article, "Here's what the ICC can actually do about Putin's war crimes", and documented in detail that the consequence would be nothing except bad publicity which the U.S. and its allies could exploit, but even that would entail "a lot of hypocrisy" because:
one of the most vocal nations suggesting Putin be tried at the Hague — the United States — isn't itself a party to the ICC. The US government voted against the ICC during the Rome Conference in 1998; former President Bill Clinton signed on to the Rome Statute in 2000 but never submitted it to Congress for ratification. Former President George W. Bush in 2002 notified then-UN Secretary-General Kofi Annan that the US would not ratify the Rome Statute and didn't have to abide by any of its provisions.
The U.S. Government, and many of its allies (such as the post-U.S.-coup-in-Ukraine's government ever since 2014) perpetrate war-crimes (such as this) far more heinous than what the NYT reports there, but that doesn't excuse what these Russian soldiers did. None of these war-crimes will be able to be successfully prosecuted.
Here is the reason why the ICC, and the U.N. itself, turned out to be this way (Ioanes's article provided only a superficial account regarding that matter — "A permanent international court is still relatively new," etc. — but the actual cause, or reason, goes all the way back to answering how and why that has turned out to be the case, and this requires history going back to the 1940s):
Though the United Nations had first been conceived by U.S. President FDR in 1941 only shortly before the U.S. itself famously entered WW II on "a date which will live in infamy"; and though FDR developed, prior to his death on 12 April 1945, a remarkably detailed plan for what the U.N. would be and for what its Charter would need to include, his immediate successor, Harry S. Truman, while he was at the Potsdam Conference with Churchill and Stalin in July 1945, became persuaded by his hero, General Dwight David Eisenhower, that if the U.S. would not conquer the Soviet Union, then the Soviet Union would conquer the United States; and, so, on 25 July 1945, Truman made the decision (which soon thereafter became irrevocable) to set the U.S. Government onto the path of world-domination, to conquering the Soviet Union, and he even decided to demand of Stalin, regarding eastern European countries that the Soviet Union had freed from Hitler's grip, that "I told Stalin until we had free access to those countries and our nationals had their property rights restored, so far as we were concerned ther'd never be recognition. He seems to like it when I hit him with a hammer." Stalin was shocked at this turn of events, because he knew, in general terms, what FDR had been intending for the U.N. to be — a democratic federation of all nations which would terminate all imperialisms and be restricted to addressing only international relations (thereby excluding anything that pertains to intranational matters, such as Truman insisted upon) — and he still hoped, even for a few months afterwards, that Truman wouldn't turn out to be a 180-degree reversal of what FDR had been, but thereafter Stalin gave up altogether on any such hope, and knew that the U.S. was now at war against the Soviet Union. Tragically, Truman, instead of FDR, oversaw, and basically dominated, the creation of the U.N., and so it turned out to be a toothless tiger, nothing like what FDR had intended, which would have been the international democracy of nations and possessed of a practical monopoly of geostrategic weaponry and international armed force, and also including, at the earliest practicable date, an international criminal court, which would try not only the international crimes by the former Axis powers, but the international crimes by the former Allied powers. The U.N. would have been fundamentally different than it is.
And, so, though there do exist international war-crimes cases regarding which the solidly documented historical record is sufficiently complete for an unprejudiced and trustworthy conviction to be possible, it cannot happen unless and until all of the bad history since 12 April 1945 (FDR's death) has become effectively condemned, repudiated, and reversed, by enough of the world's nations, so that the needed type of world government (international laws and their enforcement and juridical handling), replacing all of the existing imperialisms, becomes finally instituted (which was FDR's obsession from 1941 on). However, even today — after all of these many decades of bad history — no one is even so much as talking about this.
One of the experts that Ioanes quoted said "'It really shows a lot of hypocrisy,' and encourages the perception of 'justice for thee, not for me'." And that ("for thee, not for me") is, really, a pervasive and total impossibility of justice, for anyone. In its place can only be hypocrisy. Perhaps that's what "liberalism" (which is certainly NOT progressivism) comes down to: hypocritical conservatism. Rule by the aristocracy (the super-rich), everywhere.
What is bad in the past must be publicly acknowledged (no longer lied about), if ever we are to go forward to an authentically better world. If that fails to happen, the world will only continue to get even worse.
Putin's House of Cards: What will happen to Russia's satellites if his regime falls?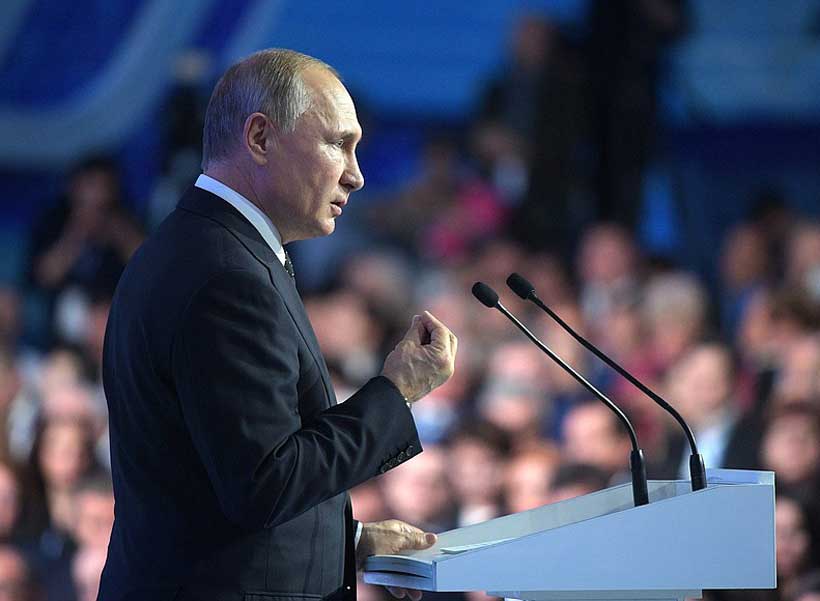 The war in Ukraine has astonished even knowledgeable observers, impressed by Ukraine's valor and ingenuity and by the Russian military's ineptitude. While the war's outcome remains unknown, many are beginning to speculate what Putin's failure to achieve his objectives in Ukraine might mean for the empire he has tried to reconstitute.
Alexei Navalny has even suggested that a defeat for Moscow would result in the break up of the Russian Federation. But what would Putin's humiliation on the world stage mean for those countries beyond Russia's borders that he has dominated? What would it mean for leaders who derive legitimacy not from popular support, but from Vladimir Putin's brutal patronage?
Bashar Al-Assad's regime might be the first to fall. Assad recently traveled to the United Arab Emirates in search of new allies. Prior to that trip, he hadn't left Syria in eleven years except for brief excursions to Tehran or Moscow, his main benefactors. Were Putin to fall, Assad could find himself as isolated internationally as North Korea and possibly the victim of a coup by his elite. Assad currently controls only 60% of Syrian territory. With the coming shortage of bread as a result of severely reduced grain exports from Russia and Ukraine, another Arab Spring could erupt.
The Lukashenko regime in Belarus cannot exist without the economic and power support from Moscow. The Belarusian democratic revolution of 2020 was suppressed by the Russian Federation. Lukashenko possesses few independent resources to defend his unpopular regime. His participation in the Ukrainian war has left him completely dependent on the Kremlin, effectively relinquishing his country's sovereignty. The moment a political crisis arises in Moscow, the turmoil will immediately spread to Belarus. Currently detained opposition leaders, including Viktar Babaryka and Sergei Tikhonovskiy, whose wife Svetlana probably won the 2020 Presidential election, would likely come to power.
The government of Kassym-Jomart Tokayev sacrificed Kazakhstan's national sovereignty by inviting Russian troops to help suppress protests there last January, alienating the Kazakh-speaking majority, and the Almaty elite, who largely shape public opinion, and were already outraged by Tokayev's orders to shoot peaceful protesters. The continuing turmoil has helped produce and is exacerbated by the sharp decline of Kazakhstan's economy, Central Asia's largest, a downturn compounded by sanctions imposed on the Russian Federation, and by Kazakhstan's membership in the Eurasian Economic Union.
The future leader of Kazakhstan will be someone who has the support of the Kazakh-speaking majority, and isn't tainted by last January's bloodshed. Imangali Tasmagambetov has the best shot. Immensely popular, and not a Kremlin puppet, he might be the only candidate who could consolidate support throughout Kazakh society, and enact independent and pragmatic policies.
Putin's downfall could encourage the advancement of universal principles of democracy and human rights in all of Russia's former satellite countries, and the restoration of their territorial integrity. With the support of Turkey, Azerbaijan will take complete possession of Karabakh while ensuring its historic autonomy within Azerbaijan. Georgia would be in a strong position to recover South Ossetia and Abkhazia.
In Moldova, despite Acting Russian Commander Rustam Minnikaev's recent claim that Moscow's forces could extend control along the Black Sea coast to Transnistria, should the Russian army falter, Transnistria could be unified with Chisinău, paving the way for Moldova's European integration.
At the same time, Russia's defeat in Ukraine could propagate new geopolitical risks. Ambitious Turkey will increase its regional influence, and countries bordering Taliban ruled Afghanistan like Tajikistan and Uzbekistan will be subjected to greater Islamist challenges.
China will take advantage of the situation. With Russia's decline, Beijing's Belt Road Initiative could supplant the Eurasian Economic Union in Central Asia. The influence of the democratic West will be limited unless the West provides greater economic assistance to countries in the region to encourage their commitment in word and deed to democratic principles.
Although Putin often compares himself to Czar Alexander III, his real historical parallel is Nicholas II, who believed a small victorious war with underestimated Japan would elevate his second rank power to great power status in the courts of Europe. The result was defeat on the world stage, and more violence and chaos in Russia. Putin made the same mistake with Ukraine, and the consequences will threaten the survivability of his regime and his cherished goal of restoring a great Russian empire.
In the Aftermath of Russia-Ukraine Conflict: Victory without Peace or Peace without Victory?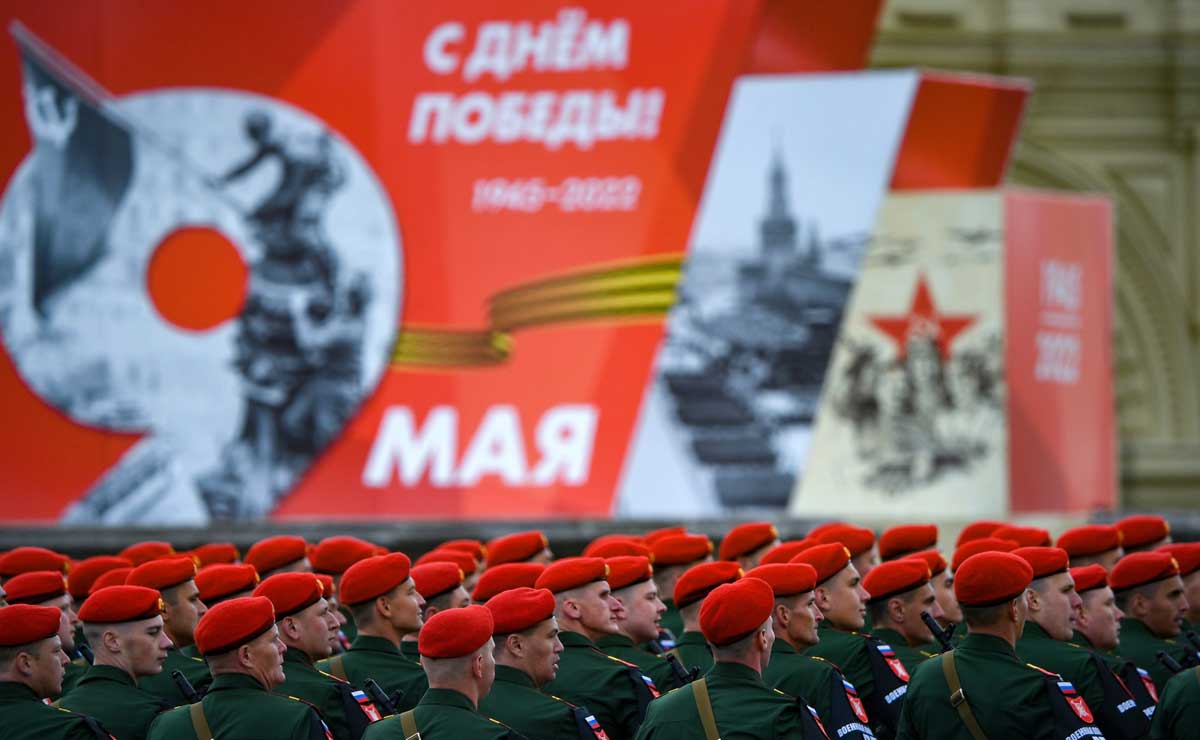 Little did Putin from last year would have anticipated that victory would virtually be absent on Victory Day 2022 – domestically, no triumph from the battlefield to boast; internationally, no political echoes from prominent world leaders (not even from China).
Putin seemed to attempt to belie the faltering, if not foundering, so-called "special military operation" with a speech twice as long as the one from last year, relentlessly decrying the aggression from NATO and the US which ultimately led to Russia's "forced intervention" in Ukraine. However, in the absence of claim of victory, he made no call for threat of a nuclear strike or escalation of the existential war. It is not difficult to tell, therefore, all his self-styled hardball amidst the ongoing Russia-Ukraine conflict is being supplanted by hesitancy and second-guessing, contra his unwavering determination from three months ago.
The subdued tone exuded from Putin's speech can be logically attributed to a slew of Russian military failures prior to Victory Day: not only did Russia fail its "Plan A" – to take down Kyiv in 24 hours and its "Plan B" – to besiege Eastern Ukraine, but Ukrainian troops succeeded in securing further gains of Kharkiv and sinking the Russian flagship Moskva with its Neptune missiles. With unambiguous support from the US and its European allies, it appears that Ukraine is to see the light at the end of the war-torn tunnel, especially after the release of a short yet powerful video message given by President Zelensky, featuring an inspiring and adamant vow of "We won then. We will win now."
Nonetheless, it is still far too early to conclude that the peace between these two nations is right around the corner, Putin's intransigency cannot be negligible, nor can Ukrainian citizens' rising nationalism big with vengeance when they have witnessed the approachable upper-hand on the battlefield. As early as March, Zelensky was starting to seek peaceful solutions to the conflict with Russia. However, when Ukraine is gaining an advantageous position, the flexibility that Zelensky can bring to the negotiation table may otherwise diminish as a result of the pressure from the public opinion.
Blind and inordinate retaliation can oftentimes backfire if not handled carefully. In the early stages of the Paris Peace Conference, British Prime Minister David Lloyd George proposed a peace treaty that would punish Germany instead of crippling it. He was fairly concerned that excessive punishment may push Germany towards radical ideas such as Communism, which in turn would cause chaos and misery. The proposal was concurred with by the US President Woodrow Wilson, who was renowned for his "Fourteen Points" as a basis for peace and also believed that it was those in power that should be punished rather than the people. However, Lloyd George eventually gave in to the anti-German sentiment and Wilson's blueprint of the US joining the League of Nations was shattered by isolationists in Congress. Consequently, the Treaty of Versailles played a resonate victory symphony while producing a short-lived peace before the emergence Nazi Germany.
Compared to the leaders involved in the first World War, political elites in the early 19th century seemed to have a deeper understanding of the trade-off between victory and peace. Despite the chaos that came with the drawn-out Napoleonic Wars, European leaders such as Metternich still made long-term peacekeeping for Europe the cornerstone of the Congress of Vienna instead of dismantling France. Leaders then were not blinded by or complacent about the short-sighted victory. It was their comprehensive and insightful planning that generated the balance of power, which sustained the peace in the continent for the next 100 years till the Sarajevo Assassination that triggered the World War I.
Does the West want to see an end to the Russia-Ukraine conflict? For most of ordinary people, it is a resounding yes. But for some leaders, the answer might become tricky. Take the Biden administration for example, what better way to compensate for the scores lost to the chaotic withdrawal of American troops from Afghanistan last year than a proxy war to cripple the already weakened Russia? As Ukraine's resistance is gathering momentum, Zelensky needs to keep a cool head as he has done since the start of the war rather than being pushed around by either geopolitical calculations of great powers or irrational domestic thirst for vengeance. Pushing Putin too hard (e.g. suggesting Putin's assassination) is likely to prod him to resort to drastic actions – a nuclear strike, which is something the West may not have completely prepared for. What Zelensky should prioritize is the peace in the region and the safety of Ukrainian citizens. After all, a lasting peace is more approachable and practical to prevent history from repeating itself than an abstract victory.