Imaging the Future: A Post-Mugabe Zimbabwe
In August 2016, amidst anti-government protest, President Robert Gabriel Mugabe made it inescapably clear that there will be no Arab Spring in Zimbabwe. The 92-year-old president has ruled Zimbabwe since its independence in 1980, a time when he was told he had " the jewel of Africa" in his hands by Presidents Machel and Nyerere of Mozambique, and Tanzania, respectively.
Thirty-six years later, Zimbabwe now resembles an ordinary rock rather than the much-coveted jewel it once was. There is no denying it, for better or worse, Zimbabwe's politico-economic sphere has been dominated by Mugabe's ZANU-PF (Zimbabwe African National Union-Patriotic Front) since independence. The party has led the country down the path of hyperinflation, laughable corruption and political insecurity due to a lack of good economic and political reforms.
Only after the sharp economic decline from 2000-08 did a strong opposition; The Movement for Democratic Change (MDC) emerge. Consequently, the emergence of a strong opposition resulted in the country's first-ever coalition government in 2009. And due to the coalition government, from 2009-13, there were improved economic policies resulting in a healthy growth for the country. Sadly and predictably, this was short-lived. The MDC were once again in opposition after the highly controversial elections of 2013 that saw ZANU increase its margins. With increased civil unrest, and protests, by any forecast, it would now seem that Zimbabwe is steering full steam ahead towards an iceberg with no signs of stopping, and at the helm is Mugabe. Compounded by internal power struggles within the party, the uncertain leadership succession is likely to result in an unpredictable and violent political transition. The question many political pundits are now asking is what Zimbabwe will look like during, and after this impending interregnum.
Mugabenomics
Much of the protest in Zimbabwe is against the bad economic policies of the regime which have resulted in egregiously high unemployment, unpaid civil and public servants, put simply, the government has no money. The portmanteau word: Mugabenomics, is not a celebration of his economic astuteness, but rather a clear warning against poor economic planning, corruption and over zealous monetary easing. Unlike Abenomics, which sought to stimulate the stagnant Japanese economy through fiscal stimulus, monetary easing (QE) and structural reform; Mugabenomics only had one policy, Quantitative Easing, which inevitably led to devaluation and hyperinflation. Controversially, the cash-strapped government is now in a process of printing yet again more money, but this time a surrogate currency: Bond Notes. These notes are said to hold a 1:1 value as the US dollar, however, this move has been unwelcomed by many zimbabweans as the Bond Notes are practically worthless outside Zimbabwe. Economics Professor, Steve Hanke (Johns Hopkins University) warned the Reserve Bank of Zimbabwe, explaining that "…bond notes would create chaos".
We must note that Zimbabwe was not always in this economic state. After gaining independence, the Zimbabwe dollar was more valuable than the US dollar at the exchange rates. Throughout the 1980s, Zimbabwe enjoyed the positive economic growth of 5% GDP growth per year, in the 90s, 4.3%, however, the new millennium saw a decline in GDP. In 2000, there was a sharp decline of 5% in GDP, then 8% in 2001, 12% in 2002 and 18% in 2003. The Mugabe administration continued its policy of printing money in an attempt to revive the dying economy resulting in hyperinflation and mass unemployment. At the height of inflation (2008-09), the inflation rate was an estimated at 79.6 billion% in November, 2008. By 2009, the Zimbabwean dollar was quickly abandoned, and replaced by the US dollar. As a result of hyperinflation, there has not been any substantial Foreign Direct investment (FDI) in the country, only receiving $ 2billionin FDI, barely doing better than war-torn Somalia's $1.7billion.
The causes of such economic degradation can be traced to three main factors; namely war, land reform and corruption. Firstly, in 1997, in an effort to buy political support from the Independence war veterans, the government announced that it would pay bonuses to the veterans equivalent to 3% of the GDP. This, of course, translated into an electoral victory in 2000 where Mugabe won with 48.6% of the votes, compared to MDCs 47%. Moreover, Zimbabwe's unnecessary involvement in the Second Congo War from 1998 to 2002 badly drained the economy, further weakening an economy that was going through a drought. As a result, Zimbabwe could not pay off its debt to the IMF, World Bank, African Development Bank and other Western states, and thus defaulted on its debts. Secondly, Land Reform policy played a major role in destabilising Zimbabwe. In short, it was the effort to equality redistribute land between black farmers and white Zimbabweans, who at that time made up 5% of the population but owned 70% of the most fertile land. It's crucial to note that the Land reform was part of the Lancaster House Agreement 1979 and that white farmers were being compensated for their land. The agreement stipulated a 10-year wait before Mugabe's government could institute land reform, which it did. From 1979-1997 the principle of "willing buyer, willing seller" was applied with Britain providing £44 million to the government for land reform. However, Blair's Minister for International Development, Ms Clare Short, stated that the "UK did not accept that Britain had a special responsibility to meet the costs of land purchase in Zimbabwe" thus the Blair administration ended all payments.
What followed next was a reaction to the failures to uphold the commitments of Lancaster House, which was the introduction of the "Fast-track Land Reform Programme 2000"; a programme that gained notoriety due to the violent evictions of white Zimbabwean farmers. A referendum held in 2000 denied Mugabe increased powers to confiscate white-owned land, without compensation, by 54.7%, however, the Mugabe administration went on with the programme regardless. Instead of redistributing the land into the hands of black farmers, Mugabe gave most of the land to the top echelons of his government, top generals and war veterans, with some receiving as much as 5-10 farms. The international community (IMF, EU, US and the UK) responded with heavy sanctions on Mugabe's government which had adverse consequences on the economic. The situation was further exacerbated due to the fact that these new "farmers" had no business or farming experience, thus leading to a sharp fall in food production (-45%) and manufacturing (-29%) resulting in price increase, and mass unemployment (-90%). Now these farms are once again being used as political tools to control those whose have fallen out of favour with the party, like Mr Temba Mliswa, whose farm is being confiscated by the state.
To continue, corruption played a huge role in Zimbabwe's economic state. Like all African states, Zimbabwe is very resource rich i.e., resources like gold, platinum and diamonds are amongst its main exports. However, the revenues from most of those resources are unaccounted for. The Marange diamond fields produced 13% of the world's rough diamond, an estimated £15 billion in revenues, however, these revenues never made it back to the exchequer instead lined the pockets of Mugabe and his cronies. The sad thing about this situation is that with this one haul alone, Zimbabwe could have paid off its foreign debt worth £6-8 billion, created jobs, reducing unemployment instead of adding to it by cutting a further 25 000 civil service jobs. Sadly enough, with one of the highest literacy rates, both in the world and in Africa, at 90%, the population is one of Zimbabweans greatest assets. However years of corruption and poor economic planning has seen scores of unemployed graduates and profession, further damaging the economy, and the upcoming leadership succession is unlikely to resolve this issue.
House of cards
The party's dictatorial behaviour stems from its dominance in the political field, aided by the weaknesses of the opposition parties. However, with the vast majority of the public demanding a regime change, the impending interregnum will be the opportune time for Mugabe's house of cards to fall. An interregnum is generally described as a period where leadership is either unclear or influx leaving the future unknown. In political terms, Mugabe will leave a massive power vacuum with various factions vying for power and control which, if we look at history, tends to end up violent. In a thinly veiled threat Mugabe warned that "our patience has limits" in reference to the dissatisfied protesters who took to the streets to protest, brandishing the Zimbabwean flag, against Mugabe's failed economic policies, corruption and wanted a regime change. The Zimbabwe Flag Act has made it illegal for the citizenry to produce, sale and use of the national flag without official permission after activists from the #Thisflag movement turned it into a symbol of anti-government protests. In every sense of the word, Zimbabwe is becoming an Orwellian state.
Article 59 of the Zimbabwean Constitution explicitly states that "[E]very person has the right to demonstrate and to present petitions, but these rights must be exercised peacefully", the government has met the peaceful protesters with brutality, arbitrary imprisonment and fines of up to $200 (when most people live on $2 per day). To make matters worse, when Mugabe recently opened parliament, he introduced a new cybersecurity bill designed to monitor the internet and social media in order to find and arrest "dissidents", violating the Article 61 of the Constitution (freedom of expression). In an ironic twist and a bid to control the citizenry, Mugabe is both, constraining the freedoms he and the early ZANU-PF so valiantly fought for, and setting up the regime for a violent overthrow.
Robert Mugabe is most likely to hand-pick his next successor to continue his policies, though, admittedly, none will have his political astuteness. During this uncertain time, one of five events may happen;
1. Business as usual. ZANU-PF has been the only dominant political force in Zimbabwe for decades, winning elections by hook or crook. Also, in rural areas, there is still strong support for ZANU-PF, and considering the president's age, people may prefer the devil they know as he is entering his twilight. Furthermore, factions within ZANU-PF (Generation 40) are attempting to make Mugabe president-for-life. This scenario will be much welcomed by Mugabe as it will save him from being called up to the Hague for the egregious human rights violations.
2.Infighting. The warring factions of ZANU-PF are sharpening their swords for battle. Already we have seen those who no longer agree with the party, like Mr Agrippah Mutambara, have his farms confiscated. Furthermore, the fiercely loyal War veterans have abandoned Mugabe accusing him of being a dictator, already setting the stage for messy leadership succession. On the other hand, The Zanu-PF Generation 40, (G40) are working hard to ensure Mugabe should be made President for life, and/or that dynastic politics continue with Grace Mugabe taking up the mantle. In direct competition with them, is the so-called Lacoste Faction (due to the T-shirts they wore to an event) whose goal is to crown the VP, Emmerson Mnangagwa, President as he is seen to be a stabilising figure and favourable to the Chinese. The infighting will serve one of two ends, the first being the disbandment of the party as opined by the political scientist, Ibbo Mandaza. The downside to this is that these factions were contained within the party, now have free, political violence is likely to ensue across the country. Second, it will serve to consolidate and concentrate power in the hands of ZANU-PF which will lead to a one party state, in all but name leading to further constraints on civil liberties and violent crackdowns on any opposition.
3.Civil War. Due to Southern Africa, as a whole, being relatively peaceful in comparison to its North or Western counterparts, this is highly unlikely to occur. Furthermore, Zimbabwe's neighbours and trading partners in Southern African Development Community (SADC) will push for a peaceful political transition as, (a) the civil war will be bad for business for the whole region, (b) the resulting displacement of people will put major economic strains and increase xenophobic attacks as seen in South Africa , and (c) the spill from the civil war will result in neighbouring states being inadvertently dragged into the war and used as proxy bases. However, if we look at the Gukurahundi operation (1983-87) in which the army's Fifth Brigade (answerable to the president only) identified and eliminated suspected anti-government elements among the Ndebele community resulting in up to 80 000 deaths, something like this is plausible.
4.Opposition landslide. The upcoming election of 2018, in which the ageing president is standing in, will allow the electorate to vent their frustration against the ruling party. This, in turn, will result in the lifting of some sanctions by the West and the IMF, perhaps debt forgiveness, allowing Zimbabwe to rebuild itself economically and politically. However, if history is anything but a teacher, Mugabe will employ the same tricks he used to win previous elections such as intimidation, electoral fraud and having the dead vote for him. Though this will be the most peaceful event, the election will be highly contested.
A mixture of poor economic planning, corruption and overzealous monetary easing has eroded trust in Zimbabwe's political and financial systems, at this stage, people just want something new. Consequently, this internal power struggle will end up eating the country exposing deadly fissures, ostracizing old faithful retainers and dividing allegiances. If anything is to be taken way from this, dear reader, is that ZANU-PF is Robert Mugabe and Robert Mugabe is ZANU-PF. In his 36 years in power, he has not received any credible challenge from within the party proving that either (a), as long as the upper echelons of the party receive their cut, they will be quite and obedient, (b) none of them have the political astuteness to overthrow him and successfully run the country, and (c) if they do, they are too scared to challenge someone with seemingly endless power. Despite efforts by the opposition and the protesters, I have a feeling that the upcoming election in 2018 is most likely going to be rigged leading yet to another ZANU victory. Regardless of people's own personal feeling towards Mr Mugabe, he has come to define and shape Zimbabwean politics for generations to come. The sad conclusion is that history will not absolve Mr Mugabe. History will remember him as a great liberator of a by-gone era, who, like many in his era, stayed in power for too long. An authoritarian dictator who drove the economy and the country into the ground, violated many human rights, and a leader who often mistook his own personal interest to that of the country. His song will not be that of a glorious revolutionary legacy but rather, one of absolute power corrupting, absolutely.
Global community must go beyond military cooperation to assist Africa
Russian Special Presidential Representative for the Middle East and Africa and Deputy Foreign Minister, Mikhail Bogdanov, has urged global community to go beyond military cooperation to assist African countries that are still facing a number of serious development problems particularly infrastructure, social inequality, healthcare and education.
According to Bogdanov, transnational problems, the issues of arms smuggling, drug trafficking, illegal migration and even slavery continue escalating on the African continent.
"Joint efforts of the whole global community are required for meeting those challenges, I am confident that the aid to African states should go beyond military components," the Russian diplomat stressed.
"It is necessary to fortify public institutions, engage economic and humanitarian fields, construct infrastructure facilities, create new jobs," Bogdanov said, adding "those are the ways of solving such problem as migration, for example, to Europe."
Bogdanov was contributing to the panel discussions on the topic: "Engaging Africa in Dialogue: Towards a Harmonious Development of the Continent" at the Dialogue of Civilisations Forum that was held from October 5-6 in Rhodes, Greece.
This plenary discussion aimed at identifying specifically African countries' priorities and issues holding back these countries and if competition between the West and Asia could benefit Africa, or is a more collaborative effort needed.
Bogdanov's advice to the global community to go "beyond military cooperation" came at the crucial time when as part of the foreign policy, Russia has increasingly stepped up exports of military equipment through its "military-technical cooperation" abroad instead of assisting with needed investment in economic sectors in African countries.
Within the context of strengthening ties, Director for International Cooperation and Regional Policy Department of Rostec, Victor Kladov, said at the Business Forum of 2018 Army Games recently organised by the Ministry of Defense of the Russian Federation that "African countries are now returning to military-technical cooperation market as their national economies steadily develop."
Rosoboronexport's cooperation with traditional importers of Russian weapons from Africa include Algeria, Angola, Burkina Faso, Botswana, Egypt, Ethiopia, Ghana, Libya, Morocco, Mozambique, Namibia, Rwanda, Sudan, South Africa, Uganda and Zimbabwe. It has recently concluded agreements with a few more African countries.
In March, President Putin chaired this year's first meeting of the Commission for Military Technical Cooperation with Foreign States and Kremlin's website transcript pointed to the geographic reach of military technical cooperation as constantly expanding, with the number of partners already in more than 100 countries worldwide.
It's an established fact that the major driver for Moscow's push into Africa is military-technical cooperation more broadly. These often include officer training and the sale of military equipment, though the full details are rarely publicly available.
The Stockholm International Peace Research Institute (SIPRI) reported in December 2017 that Russia accounted for nearly 20% of the volume of major arms supplied to sub-Saharan Africa.
The Soviets provided military assistance, a historically accepted view, but many experts have also acknowledged that now ideology is not a significant factor.
Dmitri Bondarenko, Deputy Director of the Institute for African Studies Institute (IAS) of the Russian Academy of Sciences, told me: "With African countries, the primary aim now for Russian business is to regain a competitive edge in the global arms trade, and what's interesting is that the approach is not ideological but very pragmatic – you pay, we ship. It's simply business and nothing more."
"Russia has revived their contacts with their African comrades that used to be the traditional buyers of Soviet weaponry. It is a similar policy, in the sense, that they are using military diplomacy once again in order to gain stature and influence in certain countries," Scott Firsing, a visiting Bradlow fellow at the South African Institute for International Affairs (SAIIA), wrote in an emailed discussion.
Arguably, Shaabani Nzori, a Moscow based Foreign Policy Expert, thinks that Russia's military-technical cooperation with African countries is appropriate in Russia's foreign policy but African leaders should also allocate enough money to spend on priority development projects in Africa.
"It shows clearly Russia's weak business engagement with Africa. Until now, we can't point to completed Russian infrastructure projects in Africa. There are many investment areas. What is important these days is Russia has to go beyond just selling arms to Africa! Still, Russia has the chance to transfer its technology to agriculture and industries in Africa," Shaabani said in the interview discussion.
President Vladimir Putin said a major part of Russia's weapons business includes new equipment supplies, upgrades and refurbishment of Soviet-era technology and hardware. "Russia places special emphasis on developing countries that gradually increase military procurement. We understand that competition in this sector of the international economy is very high and very serious," he said.
According to Kremlin website, Russia targeted global export contracts worth $50 billion in 2018. Russia's export priority is to expand its scope and strengthen its position on the market. Last year's results indicated that Russia has been keeping its standards high, confirming its status as one of the leading suppliers on the global arms market. The portfolio for Russian arms and military equipment stands at $45 billion.
Russia plans "to enhance multifaceted interaction with African states on a bilateral and multilateral with a focus on promoting mutually beneficial trade and economic cooperation" – the full text of the new foreign policy concept was approved by President of the Russian Federation Vladimir Putin on February 12, 2013.
France and China in Africa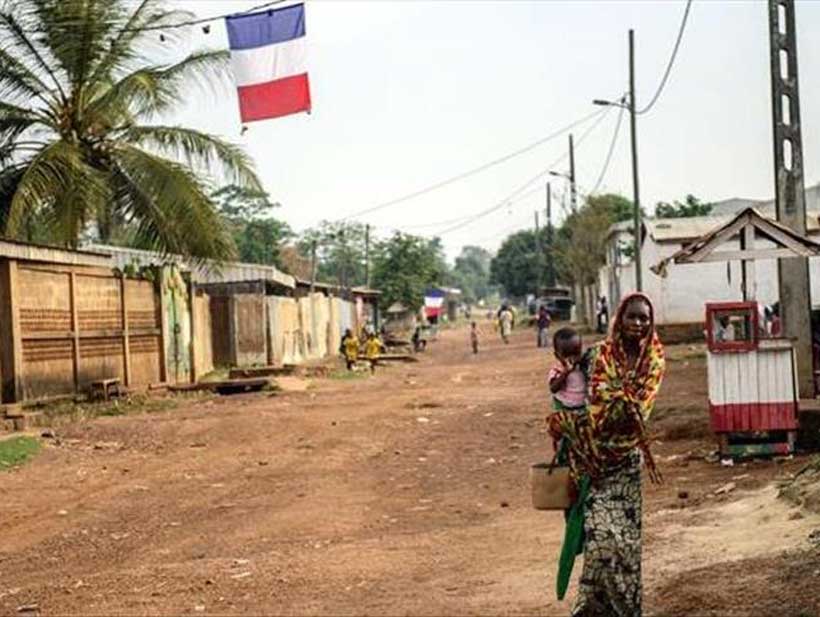 A geoeconomic and strategic clash between China and France is currently emerging across Africa, with France supporting the United States in a new bilateral relationship, and China changing its economic penetration into the Dark Continent- in a new relationship with the Russian Federation.
Let us look at the main data and statistics: this year the African Development Bank has forecast a 1.9% growth in Southern Africa; a 2.2% growth in Central Africa and even 3.4% in Eastern and Northern Africa.
However, the trend is towards a slowdown in economic growth across the world – a slowdown that will be ushered in by the reaching and exceeding of the 100 US dollar threshold of the oil barrel price.
In fact, if we analyse the data and statistical series, the recent great economic and financial crises have been triggered by a significant increase in the oil price – that the West is facing with increasing difficulty.
Reverting to the focus of our analysis, in East Africa growth will be even 5.7%, the current highest rate in the world, apart from some Asian countries.
Africa's development, however, has two sides – the side of the GDP growth and the equally important one of the increase in the external debt of many African countries.
An African indebtedness that mainly concerns China.
Here two very severe cases can be seen: in fact, in January 2017, Mozambique declared it could not to repay its foreign debt, due to a hidden debt incurred by its companies to the tune of 1.8 billion euros.
Furthermore, in August 2017, Congo had to revaluate its debt to 120% of its GDP (it was previously 77%) for similar reasons.
Hidden indebtedness is currently one of Africa's plagues. It is currently worth 34% of the total African GDP. It is a debt mainly denominated in foreign currencies, often run up by unsavory and deceptive bankers, including members of Italy's and other regions' organized crime. This obviously favours China's purchase of African companies that now cost a handful of rice.
In Nigeria, currently 60% of State revenue is used for servicing the public debt, with evident and foreseeable internal turmoil in the near future, considering that the Nigerian government has no reserves for productive public spending and for the necessary poverty mitigation policies.
In Ghana, the government led by Nana Akufo-Addo, who has been in power since January 2017, has taken on the debt piled up by its predecessors, which today accounts for 80% of GDP.
Also Angola, the second sub-Saharan oil power, is debt-ridden and is reducing extraction activities.
In Angola the debt is supposed to account for 90% of GDP and it is rising quickly.
As previously mentioned, China already holds much of the African debt.
It owns 70% of Cameroon's public debt. This holds true also for Kenya.
Moreover, international banks inform us of the fact that between 2010 and 2014 the appetite for Chinese credit has increased by 54% throughout Africa.
A figure never reached by any developed country in banking and economic development relations with Africa.
Until 2017, however, the average of the African public debt was 45% of GDP.
Currently, however, according to the African Development Bank, at least 11 out of the 35 low-income African countries are considered to be at very high over-indebtedness risk.
For years the low cost of raw materials has been the trigger of the crisis, which will certainly become very severe in the phase of the "debt peak" which, in the case of Africa, is expected to materialize in 2021.
At the same time, however, some African States have begun to lend money to some emerging African countries, obviously at a rate higher than the rate granted to them. Countries that had no access to international credit.
And with raw materials that have been on the wane for long time, as well as a growing cost of manpower and the increase in internal political instability, caused by the crisis in public spending for a minimum level of Welfare State.
A debt spiral that has already enabled as many as 32 African countries to accept the unfair conditions of the private Funds for debt recycling, which acquire the securities at derisory prices and then resell them at a higher price to good European and American clients.
In 1996, however, the Ivory Coast, Ghana, Cameroon, Gabon, Rwanda and Kenya accepted the PPTE program of the World Bank and the International Monetary Fund – the program for heavily indebted countries which imposed strict spending control on them so as to later enable them to return into the international credit mechanism.
The recipes are well-known: privatization, in the belief that the private sector is metaphysically better than the State one; heavy cuts in current spending, as well as reduction of spending on security and investments, including the productive ones.
As can be easily imagined, this has created a very profound crisis in the income of the poorest walks of society and has really annihilated the prospects for the young generations who, in fact, flee unreasonably towards the EU – or swell the ranks of the very strong exchange of manpower between the various African countries.
Currently the most indebted countries in Africa are South Africa, Sudan, Egypt, Morocco, Tunisia, Angola, the Democratic Republic of Congo, the Ivory Coast, Nigeria and Kenya. Hence a continent already destroyed before being made sufficiently productive.
Ironically, many of these countries are also on the list of the richest nations in Africa: Egypt, South Africa and Nigeria–again in descending order.
France, however, has lost its traditional role as top investor in Africa.
Between 2015 and 2016, for example, China invested as many as 38.4 billion US dollars in the Dark Continent, while the second largest investor in Africa, namely the United Arab Emirates, reached 15 billion US dollars over the same period.
Italy, however, is the top investor among European countries, especially through ENI.
France ranks only sixth with 7.7 billion US dollars invested.
Meanwhile the Russian Federation is strengthening its traditional ties with Algeria and it is arranging a free trade area in the Maghreb region, with the Alawite Kingdom of Morocco at the core. It is also building nuclear power plants in Egypt and Southern Africa, with further exports of Russian grain to the poorest African countries.
Russia is also organizing peer cooperation projects in Equatorial Guinea, Burundi, Zambia, Uganda and Zimbabwe.
Areas that are less relevant to China or where there may be cooperation between China and Russia, with the latter interested in agriculture and oil and the former building infrastructure and operating on the market of the other raw materials.
China already owns 98% of the world's coltan -i.e. the columbite-tantalite used for all commercial electronic devices – which can be found in the Central African Republic.
France's exports to Africa, however, have almost halved in 2018 compared to 2000, falling from 11% to 5.5%.
In Senegal, French exports fell by 25% in 2017 – a loss that locally favoured Turkey, Spain and, above all, China.
Certainly the French-speaking Africa – linked to the CFA Franc – is a huge source of raw materials, with 14% of the world's energy reserves and 22% of the world's habitable areas.
Through the Africa using the CFA Franc, the French-speaking regions, which alone account for 4% of the world population, still account for 16% of world GDP and 20% of global trade in goods. France led by President Macron (but also France led by his more colourless predecessor Hollande) wants to create an autonomous common market – to be used also against an adverse EU – between the economy of the French Hexagon and the economies of the African French-speaking countries.
And this is precisely the point of geopolitical contrast with China.
China, however, still has many strings to its bow.
Last June, for example, Burkina Faso announced it had broken its relations with Taiwan to recognize only the People's Republic of China.
The first step that China asks all its partners to take.
China also doubled US bilateral trade with Africa as early as 2013.
The beginning of the new relationship between China and Africa – after the "Three Worlds" Maoist theory in which, however, the People's Republic of China became the leader of the Third World, after the two American and Soviet "imperialisms"-materialized after the Tiananmen Square protests and crisis in 1989, with a view to escaping the isolation imposed by the West (and by Russia which, at the time, had many problems to solve).
It should also be noted that many current African leaders have been educated in China.
Think of Joseph Kabila, the leader of the Democratic Republic of Congo, who studied at the National University of Defence in Beijing.
Or to Mulatu Teshoma, the President of Ethiopia, who studied philosophy and political economy with a PhD in international law at the Peking University, before continuing his studies at the Tufts University in the United States.
Or again to Emmerson Mnangagwa, the President of Zimbabwe, former student of the "School of Marxism" at the Peking University, who later spent a period of time in Nanjing studying combat training.
The current leader of Tanzania studied military engineering in China and then returned to the country in 1964.
Hence how is France responding to this? In July 2018 President Macron went to Nigeria -after having paid an official visit to Ghana – but he has the clear intention of gaining broad consensus not only in the old African French-speaking countries, but also in the English-speaking part of the Dark Continent.
The French President believes that also Africa is now "globalized" and hence he must go well beyond the old traditional perimeter of the so called Françafrique.
The concept underling the strategy of President Macron is no longer the traditional one of Françafrique, but rather that of AfricaFrance.
The offer made to the President of Rwanda, Paul Kagame, to become President of the International Organization of the Francophonie must be seen in this context.
From the African autonomous culture – which, according to President Macron, must be revitalized – to the recovery of the French economy and companies in Africa: the French market in Africa fell from 11% in 2003 to 5% in 2017.
Meanwhile China rose from 3% in 2001 to the pan-African 18% in 2017.
Even Germany has currently overtaken France in foreign trade with Africa.
Certainly the French President also wants his country to remain the "policeman" of Africa – as during the Cold War –  but he plans to confine his fight "to terrorism", or more precisely to the sword jihad, in the Sahel region, which is and will be the future core of the French military presence in Africa.
Furthermore, President Macron intends to deal with business, thus limiting the security role played by France in Africa France as much as possible.
This is also the meaning of the increasingly important role that will be given to the G5 Sahel,i.e. the Joint Force of the Group of Five for the Sahel including Mauritania, Mali, Burkina Faso, Niger and Chad.
In short, according to its best strategic analysts, France wants to prevent future geoeconomic battles by preserving its global strategic role. Hence it wants to protect its old African colonies from the predatory and harmful effects of globalization.
This means that France tends to produce a new African "common market" between its economy and the developing economies if its old Françafrique.
Hence the recent France-G5Sahel military operations must be seen in this context: Operation Barkhane, which began in 2014 with 3,000 French soldiers, in addition to those of the G5-Sahel, based in 'Ndjamena, the capital of Chad, as well as the Operation Serval aimed at ousting Islamic militants from the North of Mali, and Operation Epervier, a French counter-terrorist action between Cameroon and Chad.
The other two French military operations, namely Sangaris and Licorne – the former in the Central African Republic, which ended in 2016, and the latter a peacekeeping action in the Ivory Coast, replaced in 2015 by the "French Forces in the Ivory Coast" -were a relative success, but with a progressive support from the US African Command.
However, what about the CFA Franc, which is now a controversial topic inside and outside Africa France?
For some African Heads of State and Government, who obviously do not want to give in to China or to other new players in Africa, the CFA Franc "is a sound currency" and "does good to the African people", just to quote the explicit words of Ivorian President Alassane Ouattara.
President Macron stated that the CFA Franc is "a currency that works and needs to be modernized together".
It should be recalled, however, that France intervened militarily in Africa as many as 42 times from 1968 to 2013.
France will never give up Africa, but it has not the liquidity to really do so. China, too, will certainly not give up Africa and will never intervene militarily, if not directly hit, while investing massively in the Dark Continent.
Hence how will the CFA Franc be reformed?
It is easy to predict: with an increase of its value as against the Euro and new internal regulations governing the relations between France and the other African partners.
The French game in Africa will work until the Chinese economy slows down and hence there will be less Chinese capital to invest in Africa.
China, however, is already a net importer of semi-finished goods, as well as clothes and basic products from countries such as Ethiopia, while many African countries keep on importing high-value-added goods and capital for basic industrialization from China.
In Africa, China tends to replicate the same development as its development of the early days of the "Four Modernizations" phase.
Therefore, the most likely solution in the near future will be a concentration of French power on the G5 Sahel, with a parallel reduced role of France in the Eastern region of the Dark Continent.
While China will keep on expanding its influence in Africa, from the South to sub-Saharan Central Africa, up to Egypt and the Northern Atlantic Coast of Africa.
Twenty Years of South Africa's transition: An Economic and Foreign policy perspective
Authors: Srimal Fernando and Siksha Singh*
South African has made a major transition from apartheid to democracy which is one of the most significant political occurrences of the past 20 years. The flag bearer of this movement was anti-apartheid crusader Nelson Mandela. Through his deep commitment to the cherished ideals of equality he introduced South Africa to the larger world. The nation's vision on foreign affairs during this period was based on the tenet that human rights should be at the core of international relations. This period also witnessed the constitution of Truth and Reconciliation Commission to set in place the justice mechanism. South African constitution has also gone through many transformations post the political upheavals in the region since 1996.
Mandela's tenure from 1994 to 1999 was credited for its emphasis on economic growth through a framework of market economics and encouragement of foreign investment. The former President exercised active, determined leadership in the years following his consolidation of power. There had been sincere attempts to shift to democratic federalist system which had helped in improving the economic welfare of all communities. On the economic front the nation was transitioning from Reconstruction and Development Programme (RDP) Policy to Growth, Employment and Redistribution (GER) Policy. This policy accelerated the economic growth of the nation to 3.5%, led to creation of 400,000 Jobs and uplifted the Black Middle class.
Mandela was succeeded by Mebaki's Presidency. His government was instrumental in establishing intra-continental trade with other African nations which resulted in national exports rising from ZAR 8.6 Billion in 1994 to ZAR 38.8 Billion in 2003 which was a 300% increase. Mebaki's regime was known for quiet diplomacy; however South Africa's leadership among African nations was making new strides. The leader's key emphasis was on finding solutions to Africa's problems such as reducing poverty levels and helping in establishing stability in African states. However his foreign policy was criticized for the refusal to express disapproval of Zimbabwe's President Mugabe's authoritative rule and gross neglect of human rights abuses. The pursuit of economic development at all cost had implications for the political complexation of the Mebaki presidency as well. Former leader therefore wished the country's performance to be measured in terms of its acceleration of economic change.
Zacob Zuma succeeded Thabo Mebaki and his economic policy shifted from Mandela's Growth, Employment and Redistribution to a new macro-economic policy which provided social assistance to 17 million South Africans and ZAR 120 Billion a year on infrastructure projects like Roads, Railways, Ports and electricity supply. During his presidency South Africa also got the distinction of the number one country in the world for extending maximum subsidy for housing. South Africa also became a part of BRICS (Brazil, Russia, India, China and South Africa)in 2011 and helped in laying the foundation for BRICS Development Bank in Johannesburg. The country got the chair of IORA (Indian Ocean Rim Association) and BRICS since 2017.
The appointment of former Vice-President Cyril Ramaphosa as South Africa's President can be seen as a period achieving stability and taking significant steps towards consolidating its economic and social status in the next four years. His policy formulation is vastly different from his predecessors. South Africa's perception of foreign relations has remained fairly consistent since the time of late President Nelson Mandela and current President has been the most successful in combining creativity and collaboration with numerous regional groupings taking a lead on matters of foreign policy. The countries GDP per capita over the last twenty years has grown from 3,447$ in 1994 to 7,524$ (World Bank, 2017).The growth however has been inequitable due to the high rates of unemployment which was estimated to be around 26%.(Statistics office, 2017).The government recently set the vision for 2030 which is Quality basic education, decent employment through inclusive economic growth and Vibrant, equitable and sustainable rural communities contributing to food security for all. Changes in South Africa's social structure during the past decades are insufficient to explain the policy changes that took place during Mandela's period. Transforming the democratic leadership in South Africa was a process of what's called dismantling of the old system in a way that simultaneously creates a new foundation for a political system that will lead South Africa to new heights. Nevertheless there are things that draw these leaders together as the political economy of South Africa has found a stable equilibrium with less than maximal redistributive taxation. The desire to preserve South Africa's status as a global and a continental power will require small steps beyond the presidency.
*Siksha Singh, a scholar of Masters in Diplomacy, Law, International Business at Jindal School of International Affairs, India