America is now at greatest risk of false flag attack
Never in America's history has she been in more danger of a "false flag" attack from her enemies, both foreign and domestic, than she is now. The contemporary term "false flag" describes covert operations that are designed to deceive in such a way that the operations appear as though they are being carried out by entities, groups, or nations other than those who actually planned and executed them.
Historically, the term "false flag" had its origins in naval warfare where the use of a flag other than the belligerent's true battle flag before (but not while) engaging the enemy has long been accepted as a permissible ruse de guerre; by contrast, flying a false flag while engaging the enemy constitutes "perfidy."
Operations carried out during peace-time by civilian organizations, as well as covert government agencies, can (by extension) also be called false flag operations if they seek to hide the real organization behind an operation.
America has been thoroughly infiltrated by a mighty and wealthy foreign power and menace, while her people are suffering financially, and she is now poised to be sacrificed on the altar of history for a one world government headquartered overseas.
The Neo-Con/Communist natives are restless, they desperately want their World War 3, and they are wanting to move their wealth and power to their next world empire, which will be the final one in their sick deluded minds, unopposed and permanent.
Now that Hillary Clinton has been "theoretically re-indicted" by the FBI for the email scandals (although they are being obstructed by our very own US Department of "Justice" under Attorney General Loretta Lynch) this has effectively ruined her chances of becoming President through legal channels, so they only have one more option – and that is a false flag attack leading us directly into World War 3 in a nuclear war, using all of their carefully placed traitors in the Pentagon, Department of Defense, Department of Homeland Security, Federal Bureau of Investigation, Department of Justice, and cooperative local police departments all throughout the United States, with a declaration of a state of emergency in both the United States, and abroad.
This is why it is vitally important that all Americans, both in the private and public sector, start watching their government and elected leaders like "hawks."
Americans need to use the Neo-Con's mantra of "See Something, Say Something" against them.
The Neo-Con/Stasi/Communist's Zersetzung (organized gang-stalking under Bill Clinton's Community Oriented Policing "COPS" program) needs to be turned by the People against them, and the American People need to watch each and every single one of them like they would watch a lunatic holding an AK-47 in a mall.
The Neo-Cons simply can not be trusted, as they work for the Plutocrats, who desperately want to hold on to their power, and will not willingly relinquish it to the People by way of Donald Trump and his Populist Revolt and Uprising.
Some examples of real false flags throughout history having routinely disastrous results, wherein the "winners" re-wrote history, include the:
(1) 1914 Battle of Trindad fought between the British auxiliary cruiser RMS Carmania and the German auxiliary cruiser SMS Cap Trafalgar which had been altered to look like Carmania;
(2) World War II German commerce raider Kormoran which surprised and sank the Australian light cruiser HMAS Sydney in 1941 while disguised as a Dutch merchant ship, causing the greatest recorded loss of life on an Australian warship;
(3) trial of Otto Skorzeny, who planned and commanded Operation Greif, by a U.S. military tribunal at the Dachau Trials included a finding that Skorzeny was not guilty of a crime by ordering his men into action in American uniforms;
(4) 1788 incident wherein the head tailor at the Royal Swedish Opera received an order to sew a number of Russian military uniforms to stage an attack on Puumala, a Swedish outpost on the Russo-Swedish border allowing King Gustav III of Sweden, who lacked the constitutional authority to initiate unprovoked hostilities without the Estates' consent, to launch the Russo-Swedish War (1788–1790);
(5) September 1931 incident wherein Japanese officers fabricated a pretext for invading Manchuria by blowing up a section of railway;
(6) Gleiwitz incident in 1939 involving Reinhard Heydrich fabricating evidence of a Polish attack against Germany to mobilize German public opinion for war with Poland;
(7) November 26, 1939 incident wherein the Soviet army shelled Mainila, a Russian village near the Finnish border blaming Finland for the attack using the incident as a pretext to invade Finland, starting the Winter War, four days later;
(8) 1962 Operation Northwoods plot by the U.S. Department of Defense for a war with Cuba involving scenarios such as fabricating the hijacking or shooting down of passenger and military planes, sinking a U.S. ship in the vicinity of Cuba, burning crops, sinking a boat filled with Cuban refugees, attacks by alleged Cuban infiltrators inside the United States, and harassment of U.S. aircraft and shipping and the destruction of aerial drones by aircraft disguised as Cuban MiGs to be blamed on Cuba and a pretext for an invasion of Cuba and the overthrow of Fidel Castro's communist government;
(9) Reichstag fire which was an arson attack on the Reichstag building in Berlin on February 27, 1933 using as "evidence" by the Nazis that the Communists were beginning a plot against the German government, whereby Adolf Hitler, who was sworn in as Chancellor of Germany four weeks before, on January 30, urged President Paul von Hindenburg to pass an emergency decree to counter the "ruthless confrontation of the Communist Party of Germany" – and then with civil liberties suspended, the government instituted mass arrests of Communists, including all of the Communist parliamentary delegates;
(10) April 4, 1953 incident wherein the CIA was ordered to undermine the government of Iran over a four-month period, as a precursor to overthrowing Prime Minister Mohammad Mosaddegh by carrying out false flag attacks "on mosques and key public figures" to be blamed on Iranian communists loyal to the government, code-named "TP-Ajax," the tactic of a "directed campaign of bombings by Iranians posing as members of the Communist party" involving the bombing of "at least" one well known Muslim's house by CIA agents posing as Communists;
(11) 2008 shooting of two minibuses carrying Georgians who lived in Abkhazia who wanted to cross the border so they could go and vote in the parliamentary election that day, in a volatile area on the border of Abkhazia and the Republic of Georgia, wherein President Saakashvili indicated that the attack had been an attempt to disrupt the election, implying that it had been Abkhaz or Russian forces who had been behind it, providing a favorable opportunity for the president to focus the nation's attention on an external enemy, leading attention away from his domestic critics, as well as making use of his position as leader to rally the Georgians around his candidates in the election;
(12) assassination of Charlemagne Péralte of Haiti in 1919, after checkpoints were passed by military disguised as guerrilla fighters;
(13) Mau Mau uprising in the 1950s, wherein captured Mau Mau members who switched sides and specially trained British troops initiated the pseudo-gang concept to successfully counter Mau Mau;
(14) Algerian civil war in the middle of 1994 wherein death squads composed of Département du Renseignement et de la Sécurité (DRS) security forces disguised themselves as Islamist terrorists and committed false flag terror attacks;
(15) Mexican wars of 1819 and 1846-48;
(16) Spanish-American War of 1898 involving the surprise explosion of the battleship Maine at Havana, Cuba wherein the Hearst Press accused the Spanish, and then the USA declared war on Spain conquering the Philippines, Guam and Cuba;
(17) World War I in 1914-1918 wherein a U-boat torpedo hit the ocean liner "Lusitania" near Britain and some 1200 people, including 128 Americans, on board lost their lives, and subsequent investigations revealed that the major explosions were inside the Lusitania, as it was secretly transporting 6 million pounds of artillery shells and rifle ammunition, as well as other explosives on behalf of the Morgan Banking Corporation to help Britain and France;
(18) World War 2 in 1939-1945 where a U-boat torpedo hit the ocean liner "Atheni" near Britain, with some 1100 passengers, of which 311 were Americans;
(19) US naval intelligence planning and suggesting "8 insults" to bring Japan into war with the US, where President Roosevelt executed this plan immediately and also added some other insults, enraging Japan, such as a total blockade of Japanese oil imports, as agreed between the Americans, British and the Dutch – FDR also declared an all-out embargo against Japan and forbade them the use of the Panama Canal, impeding Japan's access to Venezuelan oil;
(20) one of many incidents provoking Japan to attack Pearl Harbor some 6 months later;
(21) Korean War in 1950-1953 wherein South Korean incursions (the Tiger regiment etc.) into North Korea (1949) led to contrary claims and into war – the cause of this war was covert action involving leaders of Taiwan, South Korea and the US Military Industrial Complex (John Foster Dulles has been mentioned as an organizer of the hostilities);
(22) Vietnam War in "The Gulf of Tonkin Incident" wherein the American destroyer Maddox was supposedly attacked twice by three North Vietnamese torpedo boats in 1964 in the Gulf of Tonkin – but which never happened;
(23) Grenada invasion whereby the Grenadian leader, Maurice Bishop, who favored the left and invited Cubans to build infrastructure to accommodate long range Soviet aircraft, was deposed and executed in October 19, 1983 – six days later the US invaded, with the supposed reason that American medical students studying in Grenada were in danger due to a "Cuban presence" – and of course the new leader supported by the US favored more traditional values and the right;
(24) Panama invasion wherein an incident between American and Panamanian troops led to invasion and the earlier Carter administration plan to hand control of the canal over to Panama was cancelled;
(25) US-Israeli sponsored wars between Iraq and Iran from 1980-1988;
(26) Desert Storm War (First Gulf War) in 1991 wherein Saddam Hussein asked for permission from the US (via their ambassador April Gillespie) to invade Kuwait, and got an answer that the US was not concerned with "Arab quarrels" – this was a trap, and after Saddam occupied Kuwait, George Bush Sr. mobilized a coalition of some 40 nations to "liberate Kuwait" and smash the recently-built Iraqi military power base – this incident also involved a media hoax wherein the daughter of a Kuwaiti US Ambassador played a nurse on TV, and then testified to "witnessing" Iraqi soldiers throwing babies out of incubators in Kuwait;
(27) War on Terror launched by the Bush administration in October 2001 – claimed to be the response to terrorism, especially the 9-11 incidents;
(28) Operation Enduring Freedom (Afghanistan invasion);
(29) Enduring Justice (Second Gulf war); and
(30) countless others.
Paragraph 43 of the Field Manual published by the War Department, United States Army, on October 1, 1940, under the entry Rules of Land Warfare, states:
"National flags, insignias and uniforms as a ruse – in practice it has been authorized to make use of these as a ruse. The foregoing rule (Article 23 of the Annex of the IVth Hague Convention), does not prohibit such use, but does prohibit their improper use. It is certainly forbidden to make use of them during a combat. Before opening fire upon the enemy, they must be discarded."
The American Soldiers' Handbook states:
"The use of the enemy flag, insignia, and uniform is permitted under some circumstances. They are not to be used during actual fighting, and if used in order to approach the enemy without drawing fire, should be thrown away or removed as soon as fighting begins."
The 1977 Protocol Additional to the Geneva Conventions of August 12, 1949 (Protocol I) states:
Article 37. – Prohibition of perfidy – 1. It is prohibited to kill, injure, or capture an adversary by resort to perfidy. Acts inviting the confidence of an adversary to lead him to believe that he is entitled to, or is obliged to accord, protection under the rules of international law applicable in armed conflict, with intent to betray that confidence, shall constitute perfidy. The following acts are examples of perfidy: (a) The feigning of an intent to negotiate under a flag of truce or of a surrender; (b) The feigning of an incapacitation by wounds or sickness; (c) The feigning of civilian, non-combatant status; and (d) The feigning of protected status by the use of signs, emblems or uniforms of the United Nations or of neutral or other States not Parties to the conflict. 2. Ruses of war are not prohibited. Such ruses are acts which are intended to mislead an adversary or to induce him to act recklessly but which infringe no rule of international law applicable in armed conflict and which are not perfidious because they do not invite the confidence of an adversary with respect to protection under that law. The following are examples of such ruses: the use of camouflage, decoys, mock operations and disinformation.
Article 38. – Recognized emblems – 1. It is prohibited to make improper use of the distinctive emblem of the Red Cross, Red Crescent or Red Lion and Sun or of other emblems, signs or signals provided for by the Conventions or by this Protocol. It is also prohibited to misuse deliberately in an armed conflict other internationally recognized protective emblems, signs or signals, including the flag of truce, and the protective emblem of cultural property. 2. It is prohibited to make use of the distinctive emblem of the United Nations, except as authorized by that Organization.
Article 39. – Emblems of nationality – 1. It is prohibited to make use in an armed conflict of the flags or military emblems, insignia or uniforms of neutral or other States not Parties to the conflict. 2. It is prohibited to make use of the flags or military emblems, insignia or uniforms of adverse Parties while engaging in attacks or in order to shield, favour, protect or impede military operations. 3. Nothing in this Article or in Article 37, paragraph 1(d), shall affect the existing generally recognized rules of international law applicable to espionage or to the use of flags in the conduct of armed conflict at sea."
It is vitally important to note that while the United States may have these codes and regulations, her enemies, both foreign and domestic, are not bound by these Rules.
The American People (and indeed the rest of the world) need to be exceptionally on guard and vigilant before the upcoming November 2016 election, and even many months afterwards, because the Neo-Cons/Communists may still try and get their World War 3, even if Donald Trump is elected.
After all, September 11, 2001 took place a full 9 months after George W Bush was sworn in at his Inauguration in January 2001, and this was blamed on Osama Bin Laden who was a known CIA Asset and who allegedly declared War on America in 1998 – he might have been the Neo-Cons' insurance plan, cooked up during the 8 year Clinton Administration from 1992-2000.
And of course, 9-11 is what led to the wholesale bloodshed and regime changing wars for the past 15 years, leaving the Middle East in flames, with countless millions of innocent lives and refugees lost forever, the greatest genocide and bloodbath the world has ever known.
And don't think that these crazed Neo-Con psychopaths won't do it again, especially when there are only a few more countries left to "take out" now – Russia, Iran, and North Korea – as opposed to 20.
Was Trump better for the world than Biden, after all?
Joe Biden and the State Department just approved a major deal with the Saudis for 500mln in choppers maintanance. Effectively, the US sold its soul to the Saudis again after the US intelligence services confirmed months ago that the Saudi Prince is responsible for the brutal killing of journalist Jamal Khashoggi. The Biden administration is already much more inhumane and much worse than Trump. Biden doesn't care about the thousands of American citizens that he left behind at the mercy of the Taliban, the Biden administration kills innocent civilians in drone strikes, they are in bed with the worst of the worsts human right violators calling them friendly nations.
Biden dropped and humiliated France managing to do what no US President has ever accomplished — make France pull out its Ambassador to the US, and all this only to go bother China actively seeking the next big war. Trump's blunders were never this big. And this is just the beginning. There is nothing good in store for America and the world with Biden. All the hope is quickly evaporating, as the world sees the actions behind the fake smile and what's behind the seemingly right and restrained rhetoric on the surface. It's the actions that matter. Trump talked tough talk for which he got a lot of criticism and rarely resorted to military action. Biden is the opposite: he says all the right things but the actions behind are inhumane and destructive. It makes you wonder if Trump wasn't actually better for the world.
Biden's worrisome construct of security and self-defense in the first year of his term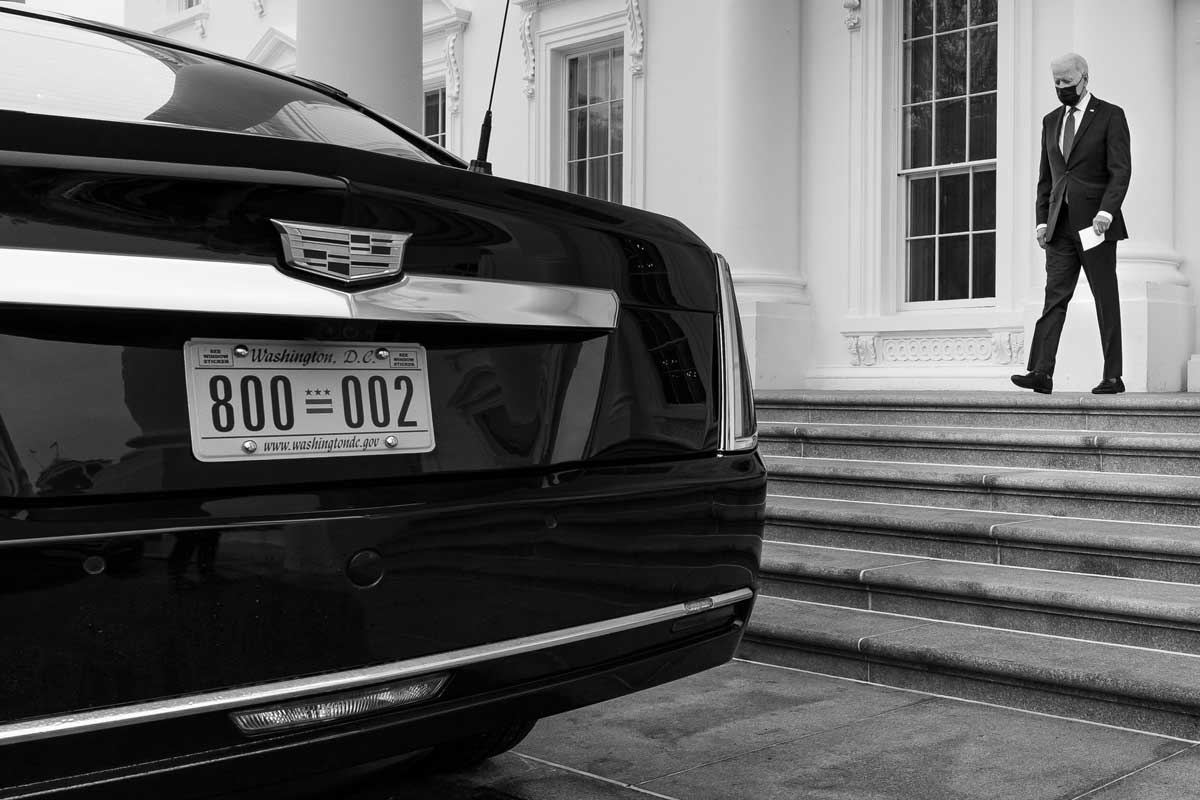 US President Joe Biden's foreign policy is failing so far. He can't get the Iran nuclear diplomacy on track. The Afghanistan withdrawal was a disaster seen by all, placing an unusually high number of weapons and armaments in the hands of the Taliban and leaving everyone behind, to the point that one wonders if it was intentional. The US military has been able to accomplish far more impressive and bigger logistics tasks in the past, so when they want to they can do it.
More worrisome, however – and because it is also oriented towards future impacts – is Biden's construct of vital concepts such as security, international peace and self-defense which has already displayed a consistent pattern during the first year of his term. The signs are already there, so let me bring them out to the surface for you.
Treating a counter-attack in self-defense as an original, first-move strike
This is a pattern that can be noticed already in Biden's reading of what constitutes defense. It first struck me in a place where you might not think of looking. It originated from the criticism of the previous Trump administration's support for the destructive Saudi Arabia campaign on Yemen, leaving Yemen as the biggest famine and disaster on the planet. To avoid the same criticism, the Biden administration decided to do what it always does – play technocratic and legalistic, and hope that people won't notice. On the face of it, it looked like Biden ended US participation by ending the "offensive" support for Saudi Arabia. Then in the months after the February decision, reports started surfacing that the US actually continues doing the same, and now most recently, some troops from Afghanistan were redirected towards Yemen. Biden didn't end Yemen; he set up a task force to examine and limit US military action only to defensive capabilities, which sounds good to a general observer. It reminds me of that famous Einstein saying that all the big decisions were to be taken by him and all the small decisions were to be taken by his wife, but there hasn't been one big decision so far. So see, it just turns out that everything falls under defense, ask the lawyers. Usually no one would object to the well-established right to defend yourself. The problem with that is that the US is actually in Yemen. Treating any counter-strike and any response to your presence as an original, first-move attack is not only problematic but it also simply doesn't work in legal terms. It goes along the lines of "well, I am already here anyways, so your counter-response in self-defense is actually an attack and I get to defend myself". If the issue was only with terrorist or rebel organizations (because let's face it, who cares about the Houthies in Yemen?) I don't think we would be discussing this. But as you guessed it, this approach can already be traced as a pattern in Biden's thinking and the way he forges alliances, draws red lines and allows things to happen, and it stretches to areas that most people definitely care about such as a possible military conflict between the US and China.
Let's take the newest development from today. The US just announced that it has entered into a trilateral partnership with the UK and Australia in the Indo-Pacific, which is encirclement of China par excellence. Where it gets interesting is that the trilateral partnership is purported to be only for "advanced defense capabilities". The equivalent of this is someone from another city squatting at the door step in your apartment, inviting two others to join, and then when in the morning you push them and step on them to go to work, the squatters claiming that you attacked them and calling the police on you in your own apartment. This is Biden's concept of self-defense: since I am already here in your space, you are attacking me.
The US is trying to start something with China but it doesn't know how to, and China seems completely unconcerned with the US. Chinese leader Jinping doesn't even want to meet Biden, as became clear this week. China doesn't care about the US and just wants to be left alone. They already said that in clear terms by reading it out loud to Wendy Sherman last month. Biden didn't have to ask for a meeting in that phone call this week because he already knew the answer. Wendy Sherman got a clear signal on her China visit that the US president won't be getting that coveted red carpet roll-out any time soon.
So the story says that the US is going all the way to the other side of the world and staging military presence there but only to defend itself. The US has no choice but to move in to defend all the US citizens at risk in the Indian Ocean — that's the stand-up comedy line of the week. It is staging military presence right at China's doorstep — if not in Chinese waters, and the idea is "yes, that's your turf but now that I'm here, if you push me to leave, you are attacking me". This is the strategy of narcissists and those that are looking to point the finger to their opponent when they just don't have anything, so they stage something. China is in the long-term game, playing against itself. The US is that number 2 that's trying to create provocation. In the Indo-Pacific, the US is biting more than it can chew. China is not a big mouth or one to throw around military threats. That's the US style: "be very careful, we might bomb you if you don't do what we say". A dog that barks doesn't bite. On the other hand, China is more like a Ferrari — it will go from 0 to 200 in seconds and then it will go back to its business. The US and Biden will be left whimpering but no one will jump to save the US from its own folly because self-defense in the US packaging is not even bought by the US government itself. Even they don't buy their own packaging. So why should anyone else?
Treating embarrassing discoveries and things that don't go my way as a threat to international peace
This one is a big one. With this one, Biden is playing with the queen, namely action under Chapter 7 of the UN Charter in the name of international peace and security. A threat to international peace and security is grounds for action under Chapter 7 which includes military action, and it's never to be spoken lightly. Words have consequences. The UN Security Council rarely specifies grounds for action under chapter 7 for threats to international peace and security but it's enough to take a look at the practice: resolutions were passed when Iraq invaded Kuwait in 1990, in response to 9/11, against Kaddafi who was marching toward Benghazi to wipe out the people in 2011, in relation to genocide, etc. Grounds for a threat to international peace can't be "because I don't like the way things are turning out for me".
Peace and security are not like beauty – in the eye of the beholder. There has to be an actual or imminent attack and actual military action or violence. Loose interpretations of threats to peace and security are a sign of weak leadership.
Leaders who construct dissent and criticism as terrorism in relation to the Black Lives Matter movement, as I have argued about the FBI previously in the left media, are weak leaders. In smearing Martin Luther King, the FBI argued national security. As director Oliver Stone said in Cannes this summer, when he was investigating the JFK assassination, every time he was getting close, he heard "national security".
You can see a lot about the character of a nation by the way it constructs security, and notice traits such as narcissism, weakness, cheating. The Biden Administration has to know that a threat to international peace and security can't be "things that make my government look bad". In 2001, the world followed the US in Afghanistan because there was an actual military attack. The world won't follow the Biden administration on a bogus threat to international peace that can best be summed up as a major embarrassment for the US government. Suggesting a link is a threat to the fabric of international society. Not only is it a sign of national narcissism but also a sign of arbitrariness and authoritarianism. Treating criticism and the exposure of US government crimes as if it were a military attack is what horror movies are made of. What's next? Droning journalists?
Treating issues which are a subject to treaties, rules and negotiations as a threat to international peace
The Biden security construct stretches to various regions, including my own. This first struck me with Biden's executive order regarding the Western Balkans when he tied blocking these countries from EU accession to a threat to international peace, which carries significant consequences. If a country, let's say Bulgaria, is exercising its lawful right to veto EU processes, hypothetically, based on Biden's understanding, the US could table a resolution for Chapter 7 action to punish an EU member-state for blocking the accession of an EU candidate because that's a threat to international peace. That could hypothetically lead to military action against an EU country making use of its veto. Biden doesn't have a veto in the EU. Do you know who does? Bulgaria. So until Biden becomes an EU country he doesn't have a say.
Biden was visibly irritated that the process of EU accession has been stalling for quite some time, especially with N. Macedonia and Albania at the EU's doorstep, so he decided to give it a go. Let's not forget that the Balkans are a favorite Biden region and this goes back to the 1990s. I have written about it before: Biden is stuck in the 2000s when if you mentioned the Western Balkans the words international peace were a guaranteed association. Not anymore. Negotiations, rules and voting are the peaceful and reasonable way to resolve issues, agree or even not agree in some situations, and are the opposite of war and aggression. Treating these ways as a threat to peace is just the rhetoric of those who can't get their way. But it's also indicative of a worrisome trend with Biden that anything that the US government doesn't like can be dressed as a threat to international peace, which carries the most significant of all consequences in the international arena.
Treating lawful counter-measures as a threat to national security
Perhaps the best and most fascinating example of lawful counter-measures I ever heard was brought by Andrew Clapham at the Graduate Institute in Geneva. Here is the story. The UK issued unlawful sanctions on a country. In response, lawful counter-measures by that country targeted jam exports because a jam factory in Scotland was the key to turning the elections. The targeted counter-measures worked, hit jam exports, discontent people in the region voted the other way and the government that put in place the sanctions to begin with was ousted. This was a brilliant example that you hit where it hurts and you do it lawfully. Counter-measures don't have to be identical. The US likes to put tariffs on Louis Vuitton bags in retaliation when it deals with France, for example. In the Trump trade wars, Europe would hit bourbon and jeans exports as a counter-measure. You hit their signature product. Not all counter-measures are illegal and count as an attack. International law is full of examples.
Similarly, lawsuits against a government are a lawful counter-measure. This area reveals another part of Biden's worrisome construct of national security. A threat to sue the US government cannot in and of itself be a threat to national security. Tortured reading of what is national security is a sign of weak leaders, narcissists, those on the losing end, or straight up losers – or all of the above.
Treating lawful counter-measures as a cause for self-defense is not only a sign of a wrong understanding of self-defense, but is the ultimate sign of narcissism. Usually those who attack know better and brace for impact in anticipation of the counter-measures. Narcissists, on the other hand, cry that they are being attacked when they receive a counter-strike in response. Strategists know better.
Mistreatment of whistleblowers, critics and opponents as spies and as a threat to national security
This one is an easy one. Only losers treat whistleblowers and critics as spies and as an automatic threat to national security. Take the treatment that Gary Stahl has received at the hands of the Biden Administration and the FBI, for example. Again, the US government doesn't get to construe a huge embarrassment (in what will soon be revealed to shows the true criminal nature of the US government) as a threat to international peace. This is a problem for America. Not only doesn't China plan to attack militarily the US any time soon over what's to come, but China is largely unconcerned with the US and would like to be left alone. Any talk about a risk of military conflict could only mean that it is the US that plans to attack because they are embarrassed they got caught red-handed and the world will see the US government's true nature. Talk of threat to international peace has a very high threshold. No one cares about how America would feel – that's your problem, not an issue of international peace.
The Biden concept of security is that of an ugly, pretentious, old woman who is told she can't enter because her ticket is not valid. She then throws a feat screaming she was attacked, beaten and insulted, expecting everyone to be on her side. But the world simply doesn't care about the problems of this pain-in-the-ass anymore. The US government will have to try much harder if they want to present the issue as anything close to security and self-defense, let alone a threat to international peace. That tune is old and there are no buyers.
The US surely thinks very highly of itself if they think that a scandal like that is worthy of a military conflict but literally no one else sees the US as this important anymore. This scandal will matter only to America in what it reveals about all the layers of the US government across rank, institutions and administrations. That's it. It ends there. Any talk of Chapter 7 threshold is war mongering and no one will care.
People talk about the Biden doctrine on Afghanistan but the Biden doctrine that will be sealed in history will be something along the lines of "Anytime I get caught, it's a threat to international peace and security." This is how Biden will be remembered in history: for creative writing endeavors in the security field and no substantial foreign policy achievements.
Biden's credibility restoration plan
Although damages of the United States' withdrawal from Afghanistan cannot be easily undone, by taking a series of wise steps, Biden can send a strong signal that America is coming back.
Joe Biden's botched withdrawal from Afghanistan has shattered his reputation as a safe haven for allies. This is while, he pledged to restore U.S. leadership after Trump by confronting China's and Russia's growing totalitarian ambitions, restoring historic alliances with European allies, and ending the never-ending conflicts in Afghanistan and the Middle East.
But he is not the only President whose decision has eventually damaged the United States' global reputation. Donald Trump's capitulation deal with the Taliban, Barack Obama's indolence in Syria, and George W. Bush's invasion of Iraq have all tarnished the United States' credibility around the world. The question now; however, is no longer whether Biden and his predecessors should have acted differently. It's how the United States can minimize the damage.
Biden should begin by speaking the truth. So far, the President has failed to admit the failure of his withdrawal plan. Biden ought to be straightforward with himself, the American people, and the whole world.
Biden's policy should, of course, vary depending on the area and global conditions. To promote its interests in the Indo-Pacific area, the United States should station a few ambassadors, including a Navy or Coast Guard attaché, in the Pacific Island countries of Tonga, Tuvalu, and Kiribati. In addition, a considerable number of troops currently stationed in Afghanistan should be redeployed to the Pacific. Finally, Biden's administration should engage with U.S. defense contractors to speed up the transfer of military equipment to Taiwan. Getting Taiwan its armaments swiftly would be a powerful show of support as a steadfast ally, as well as provide modern platforms to prevent a Chinese amphibious invasion.
The Biden administration should also do all in its power to rebuild relations with European partners. For the very first time, NATO invoked Article 5, which identifies an assault on one member as an assault on all. Since then, soldiers from a variety of countries have fought and died alongside US troops. Nonetheless, Biden decided to leave Afghanistan without consulting the governments of these countries, leaving them to plan emergency rescue efforts for their populations. Close allies of the United States are understandably enraged. America's behavior is being chastised in Paris, Berlin, and the British House of Commons on both sides of the aisle.
Last month, at a meeting of regional leaders in Baghdad, Macron made it clear that, unlike the Americans, he was dedicated to remaining in the Middle East. "Whatever the American choice is," he stated in public remarks in Baghdad, "we will maintain our presence in Iraq to fight terrorism as long as terrorist groups function and the Iraqi government requests our assistance." It was a clear example of Macron's idea of "strategic autonomy," which implies European independence from U.S. security policy, and an attempt to use the United States' humiliation to underline that Europe and Washington were not always on the same page. At an emergency G7 summit, Mr. Biden is said to have turned down allied requests to extend the August 31 deadline for exit.
The Biden administration's recent decision not to penalize Nord Stream 2 pipeline participants has enraged Europeans as well. Poland and Ukraine underlined their worries in a joint statement about the ramifications of choices taken on the pipeline without the participation of nations directly impacted, claiming that Nord Stream 2 poses both geological and ecological risks to Europe.
As a result, whether it's diplomatic recognition of the Taliban regime, humanitarian aid for the Afghan people, or any other major issue, the US should not take any more action without engaging partners. Mr. Biden should also dispatch senior members of his national security team to Europe and other regions of the world to reinforce America's commitment to their security.
As to the Middle East, Jake Sullivan, Biden's national security advisor, in a Foreign Affairs article described "America's opportunity in the Middle East," suggesting that diplomacy may work where previous military interventions have failed. The United States' involvement in the area is frequently portrayed in military or counter-terrorism terms, and as a binary option between going all-in or going all-out. Instead, Sullivan advocated for a strategy that relied more on "aggressive diplomacy to generate more long-term benefits."
Accordingly, the President and his team in Vienna should get the new Iranian administration back to the negotiating tables and rejoin the JCPOA and ease the tensions in the Middle East. Also, the United States should do all possible in Afghanistan to secure the safe transit of Afghans who qualify for U.S. visas to the Kabul airport – and to keep flights flying until they are able to leave. This should apply to both Afghans who dealt closely with the United States' military, and to those who engage with U.S. media and humanitarian organizations and must get visas from a third country. In addition to ensuring that the United Nations and humanitarian groups have the resources they need, the United States should cooperate with its Security Council allies to guarantee that the Taliban does not hinder the free flow of help.
Moreover, to follow any influx of jihadists to Afghanistan, intelligence agencies will have to rededicate resources and increase surveillance. They must be pushed to coordinate their efforts on the Taliban in order to keep the most threatening groups under control. The United States could set an example by agreeing to accept a fair share of any displaced Afghans. Neighboring countries like Iran and Pakistan, which already have millions of Afghan refugees, are closing their borders.
Biden may not be able to prevent all of the disastrous repercussions of the Afghan catastrophe, but he must act now before the harm to U.S. interests and moral stature becomes irreversible. By taking these steps, he can send a strong statement to the world that he has learned his lessons and that America is coming back.