Is the EU Frankenstein's Monster Worth Reviving?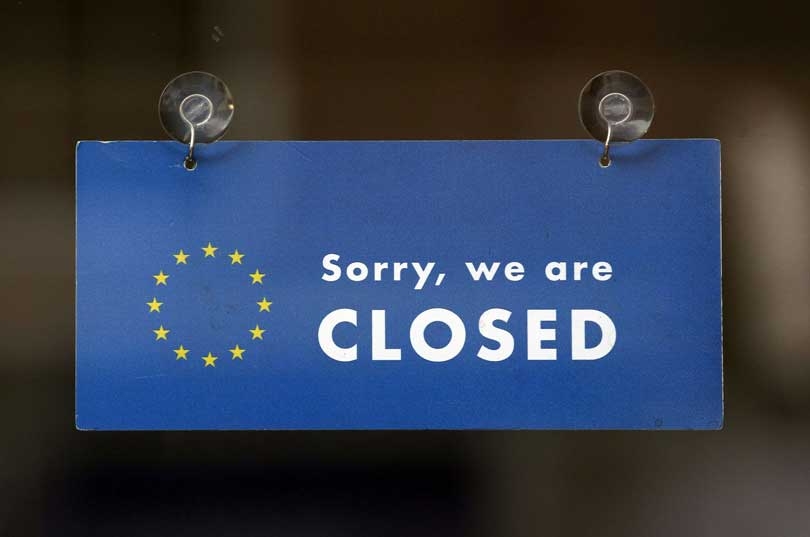 More and more frequently one reads articles analyzing the sad geo-political situation of the European Union and proclaiming its eventual dissolution. The argument usually goes something like this: the center of the union simply does not hold.
There are too many centrifugal forces at work. The idea of a United States of Europe is a preposterous chimera or utopia which will never come to pass. The nations comprising it are too culturally and politically disparate. A bureaucracy residing in Brussels is unwilling or unable to salvage the situation which becomes more and more anti-democratic, leaning to the right and toward a rabid kind of nationalism; which is to say, the good old days are on their way back and right in the middle of the citadel we have the Trojan Horse: the likes of the Europarlamentarian Le Pen (who supports the likes of Donald Trump) ready and willing to assume the helm of the crisis.
What makes possible the above apocalyptic scenario is the political paradigm underpinning it. It is usually comprised of mere economic criteria. While admitting that the Union originally brought about economic prosperity and well being, at least for the well do countries and individuals improving the general condition, they will refrain to ask the primary crucial question which ought to be asked and probed; namely this: if the polity was conceived as a union, what exactly is the cultural glue that ought to hold it together. Is one available or possible? In other words, what does it mean to be a European? Its's a question of identity which is hardly ever debated.
The situation is similar to that of Italy in 1860 when finally the nation became a united nation from the Alps to Sicily. There was a patriot by the name of Massimo D'Azeglio who pointed out the Achilles' heel of such success and it was not that it had taken too long (some 300 years) since Machiavelli advocated the unification of the country (misguidedly claiming the ancestry of the Romans, later also claimed by Mussolini), neither was that the methods to achieve it ought to have been less nationalistic and less Machiavellian, but that the Italians had constructed a polity without pondering what it was that would keep them together within it as Italians; which is to say, the cultural glue may not have been well thought out. So he coined a slogan, later adopted by the de facto prime minister of the new nation under a Constitutional Monarchy, Benso de Cavour, that "now that we have made Italy we need to make the Italians."
The cart had effectively been placed before the horse and the not too surprising result was that you now had two Italies: North and South with a growing economic divergence pretending to be one united country, so that one million Italians (including my own grandfather) had to emigrate to the Americas or to Australia at the end of the 19th century. I dare say that this paradox of a united Italy divided in two economic spheres has never been sufficiently reflected upon. Similarly, the paradox of a united Europe divided in two economic spheres with little cultural glue and identifiable common values to keep the 26 member states together in harmony, is still waiting to be dealt with. Now that the first nation has left the Union and others are contemplating the same move, the question naturally arises: have we made Europe and neglected to make the Europeans, or at the very least pose the question of identity "what does it mean to be a European?"
To better understand the present crisis one needs to envision a Frankestein monster sick in bed with many health experts trying to revive it. Considering the monster that he is, that eventually he will turn on his own creators, one wonders if all those who are trying to revive are wise or foolish. Don't the ones who advocate his demise look wise? Of course they do, unless, unless we change the underlying paradigm by which the union is usually explained.
Let me submit some sundry observations and reflections which may shed some light on the paradox of a union, or a Frankenstein monsters that foments divisions in the name of a union. Let us begin with a quote from the 2004 report in the European Policy Center in Brussels wherein Dr. Jocelyne Cesari, a senior research fellow at the CNRS (National Center for Scientific Research) located in both Paris and Harvard University has this intriguing quote: "Europe is the only part of the world which has a general hostility toward religion. Europeans tend to explain every sign of backwardness in terms of religion…The European tendency to equate Muslim religion with fanaticism—already present in Voltaire's "Mahomet, of Fanaticism (1745), still lives on." She goes on to trace this tendency to the Enlightenment era, which leads one to wonder if the Enlightenment needs to still enlighten itself.
And yet, I dare say that religion may well be best overlooked remedy for the recovery within Western civilization of a lost cultural vibrancy and the sense of the transcendent. The symptoms of such a loss are the observable despair and cynicism, boredom, and a general despondent nihilistic attitude among the young generation; a generation which has all the technological gadgets imaginable to play with, but believes in precious few values. I'd like to suggest that the loss of humanistic modes of thought within Western civilization may well be due to the fact that we live and have our being in a wholly horizontal, immanent culture which misguidedly assumes that it is possible for Man to live by bread alone, and has considerable difficulty in imagining a social paradigm that goes beyond material prosperity, scientific formulas, manipulation of nature and society and a Machiavellian real politick paradigm.
The paradigm of heroic materialism which is so prominent in Marx's ideology (and is often accompanied by state atheism) has turned out to be not so heroic after all; the emperor was in reality naked. Even a Putin would admit as much nowadays although he is cynically manipulating religion (Russian and Greek Orthodoxy) for his own political ends as a good Machiavellian and former KBG agent. He would probably acknowledge that the Marxist ideology did not create the famed "workers' paradise on earth." To the contrary it created untold misery, but now he wants to re-Christianize Europe under the hegemony of the Orthodox Church and save it from its secularism which forbids minarets and religious garb, promotes soccer games on Sunday and forbids the voice of religion in the public agora reducing it to a private affair. The People's Republic of China is now embarked on the same materialistic experiment; it has joined the rat race with the West. Materialistically speaking it has been doing rather well. Déjà-vu?
It seems to me that the very first question that needs to be raised on the above mentioned issues is this: What is the cause for this reluctance within Western development thinking to bring in the same field of vision political and religio-cultural components? A preliminary consideration could be that the myopia in this regard is due to the fact that modern Western Civilization, beginning with Descartes' rationalistic philosophy, and the subsequent advent of the industrial revolution, has opted for a system of cognition and a structure of knowledge which is partial and incomplete, clever by half so to speak, in as much as it privileges the socio-economic component at the expense of the spiritual.
The result of this reductionism leads development specialists to function as one-eyed giants, purveyors of science bereft of wisdom. They analyze, even prescribe and act, as if human destiny can be stripped down to mere material dimensions. Science is seen as what makes this paradigm possible. Trouble is that it truncates the holistic humanity of Man by failing to integrate its three realms: the spiritual, the intellectual, the material.
It may be appropriate here to pause for a reflection upon the high rate of suicide in developed countries. It is quite interesting that Finland, for example, has the highest rate in Europe for attempted suicides in 1989, as per the latest available statistic. World-wide, Finland had 37.2% of all attempted suicides in the world, which is to say 314 over 100,000 people per year. Those rates are much higher in Europe than in Asia. They suggest a nexus between suicide and hopelessness which has little to do with mere material prosperity. More specifically, they hint at four things:
1) that material abundance may be less essential than the presence of meaning in one's life; that people lose even the willingness to survive once they have lost the meaning of their destiny (See Man's Search for Meaning, by Viktor Frankl)
2) that ultimately, a meaningful existence is the most basic of human needs
3) that awe and mystery and a poetic vision are as integral to human existence as rationality and material comfort
4) that the future prospects of the human species depend upon internalizing an essentially religious perspective able to transform what is by now the dominant, materialistic, secular outlook.
It would be enough to read a book such as Jeff Haynes' Religion in Third World Countries (1994) to become convinced that indeed most people in developing countries derive their primary source of meaning from religious beliefs, symbols, and mysteries. They sense that no Marxian ideology or promise of material paradise will ever abolish life's tragic dimensions: suffering, death, wasted talents, hopelessness; that to insist that it can be accomplished with material prosperity alone in a valueless society, is to trivialize life itself.
Moreover, the sociologist Peter Berger in analyzing the link between modernity and secularization arrives at this conclusion in his book titled A Far Glory: The Quest for Faith in an Age of Credulity (1992): "there are vast regions today in which modernization has not only failed to result in secularity but has instead led to reaffirmations of religion … It may be true that the reason for the recurring human outreach toward transcendence is that reality indeed includes transcendence and that reality finally reasserts itself over secularity" (pp. 28-29). An intriguing question which cannot be settled by facile caricatures of religion (which begins with Voltaire) as the promoter of ignorance and obscurantism, not to speak of the proverbial "fear of the gods" of Lucretius.
A similar judgment is expressed by Ramgopal Agarwala, a World Bank officer, when he declares in an essay which appeared in Friday Morning Reflections on the World Bank: Essays on Values and Development (1991) with the title "A Harmonist Manifesto. Hindu Philosophy in Action", asserting that "A society based on harmonism will be more than just a 'sustainable society.' There have been many primitive societies which were sustainable. Instead, it will be a sustainable society, with a cutting hedge at spiritual advancement that will provide the excitement that has been so painfully lacking in recent years. Spiritual advancement is the antidote to the boredom that lies just below the surface of many of the ills of the modern world." This echoes Dostoyevsky's insight that if one places Man in a wholly deterministic universe, he will blow it up simply to prove that he is free.
So much for the theory; the more challenging task in a world with a pervasive secular outlook, is to promote development in practice, while respecting religious and indigenous values. The first pitfall that needs to be avoided is that of treating values in a purely instrumental fashion, as means to goals outside the value system in question. This is the equivalent of using religion to engineer popular compliance with a modernization program. A better stance is the non-instrumental one that begins with an abiding respect for the inner dynamism of traditional values serving as springboard for modes of development which are more humane then those derived from outside paradigms. This is more desirable because indigenous values are the matrix from which people derive meaning in their lives, a sense of identity and cultural integrity, not to speak of the experience of continuity with their environment and their past.
In this regard, let us take a close look at an appropriate example derived from the Islamic religious tradition. Because the Qur'an condemns interests as usury, Islamic banks neither pay interests to depositors nor charge it to borrowers. Since banks need to operate as viable economic enterprises in a modern world, one may wonder as to how they are able to solve this conundrum. They simply spread the risks flowing from their borrowing and lending. They receive a share of the profits earned by their borrowers and pro-rata shares of these profits are then distributed to depositors. This is a clear example of how a religious norm can alter a modern practice, instead of the other way around.
The next difficulty is the identification of those secular matters that already exist within religion as such. This is not an easy task, since the time of Marx's stigmatization of religion as "the opium of the masses," ushering in secular atheistic humanism. To be sure, an anti-religion stance was already in place within Western civilization with the advent of Cartesian rationalism and Voltaire's idolization of reason ushering in rampant rationalism, but the anti-religion stance became more intransigent with Marx's above statement; since then those who consider themselves "enlightened" tend to look upon religion as inimical to a secular humanism which claims to overcome man's religious alienation. That is a caricature of religion in general and Christianity in particular but many have misguidedly thrown out the baby (religious faith) with the bath-water (religious corruption and fanaticism). They usually end up grinding an axe against religion making it the scapegoat for many of the failures of the post-modern rationalistic mind-set.
As is well known, Marx contended that it is such religious alienation that turns Man away from the building of history on earth and the acceptance of 'inevitable progress' as contemplated in Hegel's philosophy of history. He denounced religion on the grounds that it abolishes history by making human destiny ultimately reside outside of history as a sort of pie in the sky. Another caricature if there ever was one. For him Christian humanism was nothing short of a fraud and an oxymoron. Perhaps the French surrealist poet Andre Breton expressed this philosophy best when he branded Jesus Christ as "that eternal thief of human energies," not to speak of Nietzsche's outlandish view of the same. In effect this is the challenge of secularism to religion, the hidden agenda of the eventual elimination of religion as such, often ambiguously disguised as "clear separation" of the secular from the sacred, or as "strict neutrality" on religious matters. More often it comes out of a biased slanderous caricature where the facts are cavalierly distorted and selected.
In facing this challenge religion needs to answer this crucial question: Can it supply men and women of today with a convincing rationale for building up historical tasks within a humanistic philosophy of history, while at the same time bear witness to transcendence? In order to answer this question one needs to analyze the secular commitments which all authentic religions already implicitly advocate. Teilhard de Chardin did that for Christianity in insisting that matter and history matter, that evolution does not contradict creation that building the earth is the responsibility of every human being. He once compared a contemporary pagan with what he called a "true Christian humanist." The former, he said, loves the earth in order to enjoy it; the latter, loving it no less, does so to make it purer and draw from it the strength to escape from it. But the escape is not to be construed as an alienating flight from reality, but rather as the opening, or the issue which alone confers final meaning on the cosmos.
This is the basic difference between an Epicurus and a St. Francis of Assisi. They both loved the world but the first proposed a closed, deterministic immanent world or one based on an eternal return; the other proposes a world with windows to the transcendent tending toward what the ancient Greeks called a telos, or an ultimate purpose. That distinction is crucial. To discern it better, all one needs to do is look around at modern Europe to realize that indeed Epicureanism, since Lucretius, is alive and well in the West: there, soccer games are much more popular than Sunday worship. The rather convenient scapegoat for this phenomenon is usually to blame the "corrupting" pragmatism and materialism of American popular culture. Ironically, some 60% of people in the US worship on Sunday, compared for 25% in Western Europe, which is not to say that merely going to Church makes you a genuine Christian.
In any case, De Chardin insisted all his life that it was a Christian duty to build the earth and history, to contribute to the solution of pressing secular tasks dealing with justice, wisdom, creativity, human development, solidarity, peace, ecological balance, as penultimate responsibilities and goals to be achieved right here on earth. Another example of the commitment to secular values implied in Christianity is the concept of "liberation theology" which embraces the struggle for a more just world that better responds to human needs; fostering the building of history, in other words, without forgetting the witness to transcendence. A creative tension between the immanent and the transcendent needs to be kept together; not unlike the horizontal of a cross (the historical) intersecting the vertical (the transcendent).
What we have argued so far may intimate, at least to those with open minds, that it is an extraordinary mistake to assume with Marx that development is incompatible with religion, just as it is a great mistake to assume that democracy is incompatible with religion. This is especially so today, when most religious institutions allow for, even encourage, "religious freedom." I suggest that if one manages to overcome those unfortunate, stereotypical modern notions originating in the so called "age of reason" which some secular humanists have reduced to caricatures parading as ideas, one may be surprised to discover that a respectful dialogue between religious values and social development plans, usually proves beneficial to both.
In the final analysis the greater challenge today is not that of secularism to religion to become more tolerant, but that of religion to secularism to become more holistic and humane, to open itself to a greater gamut of values, thus leaving history and human endeavors open to the transcendent. Without transcendence one remains stuck in the immanent and the material but the material is only one component of human nature, the intellectual and the spiritual ought to be accorded at least the same importance if the aim is to live according to one's nature. Alas, unless that lesson is re-learned, all the so called technical progress of the modern West may turn out to be a pseudo kind of progress and a pseudo kind of democracy. Indeed, as long as we refuse to change our misguided assumptions and paradigms, the crisis of the EU will remain inevitable.
Baerbock has publicly declared 'a war against Russia'
On January 25 Germany and the United States decided to provide Ukraine with Leopard 2 and Abrams tanks totaling 45 (respectively: 14 + 31). Some European countries also intend to join these supplies that could reach around 300 main battle and light tanks during this year. The Pentagon official confirmed that collected 'the armor basket' could include 300 tanks and ACV/APC during 2023. It will be 28th 'basket' of lethal military supplies of the transatlantic alliance to Ukraine that started on a massive scale in 2022.
– Unlike fascist Germany, current Germany openly declared a war against Russia on January 25. Arguing in favor of sending NATO tanks and ACV/APC to Ukraine, German Foreign Minister Annalena Baerbock said EU countries were fighting a war against Russia. US and EU officials have previously gone out of their way to claim 'they were not a party to the conflict in Ukraine'.
This is a quotation from what Baerbock has stated at PACE. "And therefore, I've said already in the last days – yes, we have to do more to defend Ukraine. Yes, we have to do more also on tanks," Baerbock said during a debate at the Parliamentary Assembly of the Council of Europe (PACE) on January 25. "But the most important and the crucial part is that we do it together and that we do not do the blame game in Europe, because
so far from the German Government, it means that her statement is fully shared by the FRG Government we are fighting a war against Russia and not against each other."
If she has not been sacked and the Parliament.
It also means that the FRG has radically changed its foreign policy and once again is unleashing the next World War – the Third one.
It means that German tanks again will appear in Ukraine and Russia like in 1941-1945.
It also means that pro-Nazi coalition supports ultra-nationalist regime in Kiev that began its own and unprovoked aggression – initially against Donbass in April 2014, and later against Russia in October 2022.
It means that since January 25, 2023 current joint Ukrainian-NATO actions in Ukraine can be politically and juridically labelled as "a declared direct combined Ukrainian-NATO aggression against the Russian Federation".
– Russia angrily reacted to such abnormal statement. Kremlin spokesman Dmitry Peskov told reporters that tank supplies to Ukraine by Western countries testify their direct and growing involvement in their armed conflict. He added that the flow of western weapons to Ukraine does not help potential negotiations between Moscow and Kiev.
Russian Foreign Minister Sergey Lavrov warned that any shipments containing weapons for Ukraine would become a lawful target for Russian forces,
The Russian Embassy in Germany for its part warned that "this extremely dangerous decision [by Berlin] shifts the Ukrainian conflict to a new level of standoff."
All five parliamentary political parties at the Russian State Duma are demanding from the highest military and political structures in the country to destroy all Ukrainian-NATO heavy weapons – not only at the front lines, but additionally and primarily near Ukrainian-NATO border as soon as such weapons cross it on land, in the air and at sea.
Such destruction will save a lot of innocent lives amongst civilians and military men.
– Moscow has also cautioned NATO and non-NATO members against supplying Ukraine with depleted uranium munitions (DUM) and with long-range weaponry capable of striking at cities deep within Russian territory.
Supplying Ukraine with DUM for western military hardware would be regarded by Moscow as the use of "dirty bombs," said Konstantin Gavrilov, head of the Russian delegation to the Vienna Negotiations on Military Security and Arms Control. Speaking at a plenary meeting of the OSCE Forum for Security Cooperation in the capital of Austria Vienna, Gavrilov cautioned "western sponsors of Kiev's war machine" against encouraging "nuclear provocations and blackmail."
"We know that Leopard 2 tanks, as well as Bradley and Marder armored fighting vehicles, can use depleted uranium shells, which can contaminate terrain, just like it happened in Yugoslavia and Iraq," he said. "If Kiev were to be supplied with such munitions for the use in western heavy military hardware, we would regard it as the use of 'dirty nuclear bombs' against Russia, with all the consequences that entails."
Gavrilov also warned that Moscow will retaliate if the West were to supply Kiev with long-range weaponry to carry out strikes against Russian cities. "If Washington and NATO countries provide Kiev with weapons for striking against the cities deep inside the Russian territory and for attempting to seize our constitutionally affirmed territories, it would force Moscow to undertake harsh retaliatory actions. Do not say that we did not warn you," he remarked.
– Ex-President Donald Trump called on Joseph Biden to end 'crazy' Ukraine conflict before it leads to the use of nuclear weapons.
"First come the tanks, then come the nukes. Get this crazy war ended, now. So easy to do," Trump outlined.
Davos more of a show, no longer so important
"Davos has become more of a show, it's no longer so important", concluded Liviu Muresan from Eurodefense Romania at the end of the webinar recently jointly organized by Eurodefense Romania and the Bucharest-based MEPEI think-tank. In the aftermath of the Davos World Economic Forum, 20 key-note speakers invited to examine this year's edition did not hesitate to cast a critical eye upon the outcome and some of them were very straightforward in assessing this year's WEF.
Adrian Severin, former Romanian minister of foreign affairs, gave a remarkable definition to the Davos WEF: "something between mythology and reality because politicians come to Davos to look for intellectual validation and economic support, corporatists come to look for intellectual respectability and political assets, civil activists seek kinship with the political power and financial sponsorship. They make a network of self-legitimized supra-national power that combines the characteristics of occult interest groups, influence groups that associate oligarchic cynicism with democratic hypocrisy. A group of self- proclaimed prophets, self-confirming their prophecies."
Experienced in foreign policy, Severin could identify new approaches during the Forum, so he portrayed in detail "the Davos WEF that turned from an incubator of ideas into a platform for launching messages and trial balloons, from a doctrinal workshop into a ballroom…from a political designer into a moral whistle-blower ….from a producer of doctrines into a producer of dogmas…from the champion of missionary realism into athlete of utopias ….from a platform of dialogue into a platform of war propaganda…from a believer in globalization into a promoter of globalism…from a follower of inclusion into a promoter of exclusion….Davos is at risk of losing popularity and political failure, it no longer solves problems, it either deepens the existing crisis or generates new crises ."
Severin argued that "this year's edition was significant through the absences rather than through the presences because only Olaf Scholtz was present this year out of the G7 leaders….Russia and China were absent….The president of the European Commission has become a US ventriloquist , no longer representative of the European Union that is neither Union, and no longer European…The main representatives of the US were absent. Those present discussed everything but the risk of having the world fractured into two blocks with incompatible cultural identities, with the Euro-Atlantic block increasingly weaker than the Indo-Pacific block and the Euro-African-South-American block…the discussion about green energy and other similar topics is nonsense as long as solutions are not presented."
Severin believes that the main concern should be "to stop the war in Ukraine and to normalize the dialogue between the Euro-Atlantic and the Euro-Asian blocks", especially because this year's theme was "Cooperation in a fragmented world".
The most inspirational speech was given by Antonio Gutierez, the head of United Nations Organization, who referred indeed to the fragmented world, but Severin pointed to the fact that Antonio Gutierez gave such a speech in Davos and not in the UN in New York or Geneva, a sign of the failure of the UN, which means that the UN and the OSCE must be revived.
General Corneliu Pivariu, former head of the Romanian Military Intelligence, stressed that the Davos meeting actually does not solve any problem of the world. It speaks every year about economic inequalities without solving that, doing every year nothing else than acknowledging the deepening of inequalities. For instance, according to Credit Suisse, between December 2019 and December 2021, the global wealth increased with 42 trillion USD but 26 trillion USD belonged to the 1% richest population, and 16% to the rest of 99% of the world's population. Another topic is global warming, which is also never curbed, and an Oxfam report released in November 2022 revealed that a billionaire's annual emissions of CO2 are one million times higher than a person in the 90% of the world's population.
Carlos Branco, senior analyst with the National Defense Institute in Portugal, confirmed that Davos meeting did not find solutions to the world's problems. He reminded that, in Davos, Ursula Von Der Leyen, Olaf Scholtz and other leaders spoke of the need to make Europe independent in terms of energy but they did not explain how exactly Europe will manage to provide itself commodities and raw materials, since Europe currently has 37 strategic dependencies out of which 2% from China and 3% from Russia, while the new technologies will still make Europe dependent on Asia. "The future of Europe will depend on how it will position itself in relation to the advanced technologies, Artificial Intelligence, a.s.o., but for the moment, Europe is trapped."
As an outstanding expert on Asia, Viorel Isticioaia Budura, former Managing Director for Asia and the Pacific at the European External Action Service and former Romanian ambassador in China and Japan, pointed to the absence of many G7 leaders in Davos as well as of Asian leaders, among which China, which is "the beauty and Miss Universe of the world's interdependency", and mentioned the presence of many Asian business people in Davos this year, while reminding of the importance of Asian countries and of the three high-level summits organized in Asia last year, G20, APEC and ASEAN, and of what Anthony Blinken, the US secretary of state, called "the rest of the world", namely, Asian countries that do not follow the Euro-Atlantic order but have become a significant part of the global economy. Isticioaia Budura wondered if the "re-globalization of the supply chains would be possible" and declared China "the champion and the promoter of globalization."
Michael Zinkanell director of the Austrian Institute for European and Security, Vienna, expressed his opinion that "we a living in a bipolar world dominated by the US and China while Russia has no ability to project global power, and some clear conclusions after the Davos meeting are that instability is increasing in the world, the world is becoming more and more interconnected and energy independence and decarbonisation are very important for the future". Zinkanell sees natural disasters and socio-economic risks as the main concerns for the future, but also the interactions with some authoritarian countries that are trying to lead in this new multipolar world that will allow multilateralism.
Germano Dottori, editor of the Italian Geopolitical magazine, also agreed that Davos meeting became too politicized and not too useful but he sees the prospects for the future of the world "not so bleak like a few months ago."
Flavius Caba Maria, president of MEPEI, the Bucharest-based think-tank that co-organized the webinar, expert on the MENA region, mentioned a few aspects among which that fact that the representatives of oil and gas companies were welcomed at Davos, unlike Glasgow, which is a sign that renewables cannot entirely meet the energy needs of humanity.
On the other hand, Caba Maria pointed to the BRICS countries and his remarks could be seen as complementary to the idea mentioned by several speakers that the Western institutions seem to have lost their ability to solve the global problems and to ensure economic equality.
Caba Maria emphasized that "the global South is establishing its own system of alliances, turning them into a source to transform global economy, thus creating a development alternative trend, different from the one promoted by the West, with three regional alliances looming: the African Union, the Community of Latin American States and Shanghai Cooperation Organization in Eurasia. Among all these countries, China stands out and everything that's going on in China is of utmost interest for the other countries, because it has become the world's largest economy."
Facts to keep in mind for the organizers of next Davos meetings.
Serbia must reject the ultimatum regarding Kosovo
The President of Serbia, Aleksandar Vucic on January 20th had a meeting with the Western negotiating team about the solution for Kosovo. European mediator Miroslav Lajcak, American envoy Gabriel Escobar, German and French special advisers Jens Ploetner and Emmanuel Bonne as well as Italian prime minister's adviser Mario Talo once again discussed with the leaders of Serbia (and Kosovo) the plan(ultimatum) that should regulate relations between Belgrade and Pristina. Officially, the plan for a peaceful solution has not been presented to the public. However, Serbian media published the text of the plan and they clearly emphasize that it is an ultimatum from Quinta. And what is even more important, no one from the Government of Serbia denied it.
Which clearly tells us that the Government of Serbia is releasing the plan(ultimatum) as a trial balloon. However, that decision turned out to be wise, because the reactions of the citizens of Serbia to the plan were more than clear on the point of view that the plan was unacceptable. Because that agreement, among other things, requires that Serbia in practice (de facto) recognize the violent secession of its own Province that is, allow Kosovo to join the United Nations.
The plan compiled by the advisers of the leaders of the two largest democracies in Europe – French President Emmanuel Macron and German Chancellor Olaf Scholz – represents a gross violation of UN Security Council Resolution 1244, the basic principles of democratic international relations, the UN Charter, and the OSCE Final Document.
The plan(ultimatum) for Kosovo, humiliates Serbia and the Serbian people by ordering that Serbia respect equality, sovereignty, territorial integrity and the so-called state symbols of Kosovo and all other countries, except it`s own sovereignty, territorial integrity and it`s internationally recognized borders confirmed by the UN, OSCE and other international organizations. Serbia is expected to cooperate in dismantling its own integrity, its own constitutional order and international reputation, so that no one could use the "Kosovo case" as a precedent for unilateral secessions, which primarily refers to Ukraine.
The fact that currently five members of the European Union (Spain, Romania, Slovakia, Greece and Cyprus) and four members of NATO do not recognize the independence of Kosovo shows how bad the acceptance of the plan would be for Serbia. The goal is also to place all responsibility for the victims and destruction on Serbia, as a victim of the NATO aggression in 1999, and to use this act to justify the aggression against Serbia, which was carried out against the international law.
Kosovo is not a frozen conflict, as claimed in the West and repeated by official Belgrade, nor it can be resolved by an ultimatum to Serbia. The best example of this is Cyprus, which was invaded by Turkey in 1974, and despite this, neither Turkey nor Cyprus (or Greece) agree to any ultimatums, nor does anyone give them. The question must be asked here, how is it possible for Quinta to issue an ultimatum to Serbia and why are the Serbian Government and the President of Serbia allowing it?!
The Serbian Government must apply new tactics
Negotiations on Kosovo with Quinta must first be conducted on essential matters. And that means, above all, the protection of the current Serbian population in Kosovo and the return of the 250,000 expelled Serbs. Regulating the status of Serbian state property in Kosovo, which was seized by the separatist government in the province. Plus, the return of stolen property to the Serbs, who were forcibly expelled from the province.
Also, bearing in mind the aggressive policy of the Kosovo separatists, who, contrary to the agreement with NATO, are sending special units to the north of the province, while perpetrating violence against the Serbs, a new strategy is needed. And this is primarily reflected in the fact that the Government of Serbia must help establish the Republika Srpska in the north of Kosovo. This means that the local Serbs would have their own police(including a special police unit), judiciary, prosecutor's office, education, health care and control over border crossings. In other words, parity would be established in the armed forces, bearing in mind that it is not realistic to expect that Serbian president Aleksandar Vucic will ever approve the sending of the Serbian Army to Kosovo. In this way, Serbia would strategically strengthen its positions and would wait for a change on the geopolitical scene of the world, until favorable conditions are created for the full return of the southern Serbian province of Kosovo to Serbia.
Otherwise, if Serbian Government agree to Kosovo's entry into the United Nations, it would mean that Kosovo could unite with Albania, about which Kosovo Prime Minister Albin Kurti also publicly spoke about. This would than open the issue of secession from Serbia of the Presevo Valley and the geographical region of Sandzak. And what is even more important, an incredibly strong pressure to abolish Republika Srpska in Bosnia and Herzegovina would begin. All of the above would have catastrophic consequences for the country of Serbia, but also for the entire Balkans.