EU to remove LTTE from terrorism list
Now is clear that colonialist and imperialist powers cause, promote and support terrorism. There are new "strategic partnerships" across the globe to deny equality, basic rights, and freedoms to people. That is the reason why Palestinians, Kashmiris, Tamils, Chechens, Muslims in Xinjiang continue to struggle for freedom.
The European Union has been mulling removing Hamas and the LTTE (Tamil Tigers) from its "terror list" as its top court took a step toward confirming the removal of Hamas, as well as the Tamil Tigers, from an EU terrorism blacklist despite protestations from Israel and the Sri Lankan government – the real cause for terrorism by accelerating state terror and repressive operations against the respective minorities.
An advocate general at the European Court of Justice, whose advice is usually followed by judges, recommended that they reject an appeal by the Council of EU member states against the lower EU court's decisions in late 2014 to remove both movements for freedom and human rights from the sanctions list due to flaw procedures.
The EU Council's appeal also cited the lower court's failure to accept its argument that the groups' presence on the US terrorism list justified sanctions. Advocate General Eleanor Sharpston concluded, however, that the EU could not assume that other countries gave those it listed sufficient right of appeal. Her advice, which also said some elements of the appeal were justified, is not binding. But judges' rulings typically follow closely the recommendations of the advocates general. The ECJ said its justices were beginning their deliberations on the case and there was no set date for a ruling. The General Court did not address whether the groups' actions merited inclusion on the list of terrorist organisations but ruled the procedures putting them on the list were flawed.
In both cases, judges of the EU's General Court ruled that EU leaders relied too heavily on media reports rather than their own investigations when they imposed asset freezes and travel bans dating back 15 years on members of Hamas and the LTTE. Both organisations argued that they were engaged in legal wars against Israel and the Sri Lankan government respectively.
Israel offered no immediate comment on the court officer's advice on Hamas, the Palestinian Islamist movement which controls the Gaza Strip and has fought Israeli occupational attacks for three decades.
The Sri Lankan government had said in 2014 that it would provide the evidence which the court found lacking to support sanctions against the Liberation Tigers of Tamil Eelam (LTTE).
Israel gets all benefits from European nations and USA by calling the Hamas as terrorists. At the time, Israel, which apparently sells terror goods manufactured in USA and EU, has had fraught relations with the EU in recent years, "rekindled" the old trick of Europeans' treatment of Jews in the Holocaust and denounced the bloc's "staggering hypocrisy".
However, the United States, opposing freedom movement in Palestine and supporting the Israeli fascism and fanaticism with its UN veto, has urged the maintenance of sanctions on Hamas. The assets have since remained frozen pending the appeal.
Hamas was founded in 1987, soon after the First Intifada broke out, as an offshoot of the Egyptian Muslim Brotherhood which in its Gaza branch had been non-confrontational towards Israel, refrained from resistance, and was hostile to the PLO. Co-founder Sheik Ahmed Yassin stated in 1987 and the Hamas Charter affirmed in 1988, that Hamas was founded to liberate Palestine, including modern-day Israel, from "Israeli occupation" and to establish an Islamic state in the area that is now Israel, the West Bank and the Gaza Strip. The group has stated that it may accept a 10-year truce if Israel withdraws to the 1967 borders and allows Palestinian refugees from 1948, as well as their descendants, to return to what is now Israel although clarifying that this does not mean recognition of Israel or the end of the conflict Hamas's military wing has objected to the truce offer Analysts have said that it seems clear that Hamas knows that many of its conditions for the truce could never be met.
The military wing of Hamas has launched attacks against Israeli soldiers and civilians, often justifying them as retaliatory, in particular for assassinations of the upper echelon of their leadership. Tactics have included suicide bombings, a tactic which was largely, but not totally abandoned after 2005, —and since 2001, rocket attacks. Hamas's rocket arsenal, though mainly consisting of short-range homemade Qassam rockets, also includes long-range weapons that have reached major Israeli cities including Tel Aviv and Haifa. The attacks on civilians have been condemned as war crimes and crimes against humanity by human rights groups such as Human Rights Watch.
In the January 2006 Palestinian parliamentary elections, Hamas won a plurality in the Palestinian Parliament, defeating the PLO-affiliated Fatah party. Following the elections, the Quartet (the United States, Russia, United Nations, and European Union) made future foreign assistance to the PA conditional upon the future government's commitment to non-violence, recognition of the state of Israel, and acceptance of previous agreements. Hamas rejected those changes, which led to the Quartet suspending its foreign assistance program and Israel imposing economic sanctions on the Hamas-led administration In March 2007, a national unity government headed by Prime Minister Ismail Haniyeh of Hamas was briefly formed, but this failed to restart international financial assistance.Tensions over control of Palestinian security forces soon erupted in the 2007 Battle of Gaza after which Hamas took control of Gaza, while its officials were ousted from government positions in the West Bank. Israel and Egypt then imposed an economic blockade of the Gaza Strip, on the grounds that Fatah forces were no longer providing security there. In 2011, Hamas and Fatah announced a reconciliation agreement that provides for creation of a joint caretaker Palestinian government. Progress stalled, until an April 2014 agreement to form a compromise unity government, with elections to be held in late 2014
In 2006, Hamas used an underground cross-border tunnel to capture the Israeli soldier Gilad Shalit, holding him captive until 2011, when he was released in exchange for 1,027 Palestinian prisoners. Since then, Hamas has continued building a network of internal and cross-border tunnels, which are used to store and deploy weapons, shield militants, and facilitate cross-border attacks. Destroying the tunnels was a primary objective of Israeli forces in the 2014 Israel–Gaza conflict.
Hamas, its military wing, together with several charities it runs, has been designated by several governments as a terrorist organization. Others regard this designation as problematic. Israel outlawed Hamas in 1989, in 1996 the United States followed suit, as did Canada in 2002. The European Union defined the Izz ad-Din al-Qassam Brigades as terrorist in 2001, and put Hamas in its list of terrorist organizations in 2003 but such designation was successfully challenged by Hamas in the courts in 2014 on technical grounds. The judgment was appealed, but in 2016 a EU legal advisor recommended that Hamas be removed from the list due to procedural errors. The final decision is not thought likely to effect individual government lists
LTTE – a terrorist organization or defender of Tamils?
Any reaction to state crimes, violence or attacks is called terrorism while all terror operations by the states are glorified as heroism. LTTE as an umbrella organization was formed as a shield to protect from "enemy" attacks the lives and interests of Tamils living in Sri Lanka. Sri Lankan regime used the Tamils in tea plantations and elsewhere to increase economic inputs but denied even basic requirements of the Tamil populations. Disparities between Tamils and Singhalese grew wider and conflict became strong. Lately, Tamils were attacked by Singhalese mobs with state backing, leaving conflict in Lankan society. State suppression methods were harsh which led to the demand by Tamils for separate Tamil state in the island. The Liberation Tigers of Tamil Eelam (LTTE) is the only terrorist group which once possessed its own 'Military' – Tigers (infantry), Sea Tigers (sea wing) and Air Tigers (Air Wing), in the world, began its armed campaign in Sri Lanka for a separate Tamil homeland in 1983. Founded in May 1976 by Velupillai Prabhakaran, it waged a secessionist nationalist insurgency to create an independent state of Tamil Eelam in the north and east of Sri Lanka for Tamil people. This campaign led to the Sri Lankan Civil War, which ran from 1983 until 2009, when the LTTE was defeated by the Sri Lankan military during the presidency of Mahinda Rajapaksa.
The LTTE was a self-styled national liberation organization with the primary goal of establishing an independent Tamil state. Although it had dabbled with Marxism, Tamil nationalism was the primary focus of its ideology. LTTE was influenced by Indian freedom fighters such as Subhas Chandra Bose.LTTE denied being a separatist movement and saw itself as fighting for self-determination and restoration of sovereignty in what they called their homeland. Despite most Tigers being Hindus, the LTTE was an avowedly secular organization hence religion did not play any significant part in their ideology. The Tiger leader criticized what he saw as the oppressive features of traditional Hindu Tamil society such as the caste system and gender inequality. The LTTE presented itself as a revolutionary movement seeking widespread change within Tamil society rather than only independence from the Sri Lankan state; therefore its ideology included removal of caste discrimination and support for women's liberation. The Tiger leader also expressed his political philosophy as being "revolutionary socialism" which constituted the creation of an "egalitarian society"
Since people of Tamil Nadu, government and politicians cutting across their political brands supported the cause of LTTE, Indian government also supported and promoted growth and operations.
Due to its military victories, policies, call for national self-determination and constructive Tamil nationalist platform the LTTE was supported by major sections of the Tamil community. Narrow nationalist ideology the LTTE succeeded in atomizing the community. It took away not only the right to oppose but even the right to evaluate, as a community, the course they were taking. This gives a semblance of illusion that the whole society is behind the LTTE. At the height of its power, the LTTE possessed a well-developed militia and carried out many high-profile attacks, including the assassinations of several high-ranking Sri Lankan and Indian politicians. The LTTE was supposedly behind the assassination of former Indian Prime Minister Gandhi in 1991 and Sri Lankan President Ranasinghe Premadasa in 1993. One is not sure if the organization was used y some world powers to remove these leaders
Historical inter-ethnic imbalances between majority Sinhalese and minority Tamil populations are alleged to have created the background for the origin of the LTTE. Post independent Sri Lankan governments attempted to rectify the disproportionate favoring and empowerment of Tamil minority by the colonial rulers, which led to exclusivist ethnic policies including the ″Sinhala Only Act″ and gave rise to separatist ideologies among many Tamil leaders. By the 1970s, initial non violent political struggle for an independent mono-ethnic Tamil state was used as justification for a violent secessionist insurgency led by the LTTE. Over the course of the conflict, the Tamil Tigers frequently exchanged control of territory in north-east Sri Lanka with the Sri Lankan military, with the two sides engaging in intense military confrontations. It was involved in four unsuccessful rounds of peace talks with the Sri Lankan government over the course of the conflict. At its peak in 2000, the LTTE was in control of 76% of the landmass in the Northern and Eastern provinces of Sri Lanka.
At the start of the final round of peace talks in 2002, the Tamil Tigers controlled a 15,000 km2 area. After the breakdown of the peace process in 2006, the Sri Lankan military launched a major offensive against the Tigers, defeating the LTTE militarily and bringing the entire country under its control. Victory over the Tigers was declared by Sri Lankan President Mahinda Rajapaksa on 16 May 2009, and the LTTE admitted defeat on 17 May 2009.Prabhakaran was killed by government forces on 19 May 2009. Selvarasa Pathmanathan succeeded Prabhakaran as leader of the LTTE, but he was later arrested in Malaysia and handed over to the Sri Lankan government in August 2009.
Meanwhile, former members of the Liberation Tigers of Tamil Eelam (LTTE) are increasingly taking to writing to articulate their reflections on the civil war, which came to an end in May 2009. In recent months, books of three ex-combatants of the LTTE have been brought out and by a coincidence, all are women. A few days ago, the 24-year-old Rathika Pathmanathan launched her book, which contains a set of poems and a narrative account, at an event here in the presence of former President Chandrika Bandaranaike Kumaratunga and leader of the Democratic Front Vasudeva Nanayakkara. Besides the original Tamil work, the Sinhala and English versions were also released. Six months ago, an autobiographical sketch of Subramaniam Sivagami alias 'Colonel' Thamilini, (who died of cancer 10 months ago) was released. It has been rendered into Sinhala and its English version is expected soon. Last month, the work of another ex-combatant was launched in Colombo.
The present political climate has been cited by many as the main reason for this " literary" trend. 'Perhaps, critics of the LTTE are encouraging people to come out with their accounts," says a Tamil writer, who wishes to remain anonymous. V. Thanabalasingham, veteran journalist, says the trend has to be viewed as a reflection of self-criticism. The works also demonstrate that there were members of the LTTE who held views contrary to the position of the LTTE leadership on various issues at different points of time but these persons, bound by discipline of their organisation, had adhered to what the leadership had decided.
S. Sivagurunathan, who did the translation of Rathika's work, says the regime change, which took place in January 2015, has paved the way for an atmosphere of freedom for people to express contrary views. Pointing out that the Sinhala version of Thamilini's work has seen seven prints, he says this shows that many sections of the Sinhalese society are keen on knowing what had happened during the civil war. However, he feels that still, there is a substantial number of Sri Lankan Tamils who do not relish criticism of the LTTE or its chief V. Prabhakaran.
Rathika, who was in the LTTE barely for nine months during 2008-2009 after having been forcibly recruited, says she chose to write her experiences while she was undergoing treatment at a Colombo hospital during 2009-2010 for injury in the leg. "I did it as a way of overcoming my pain." Conceding that her stint with the LTTE was short, she points out that there are many young former combatants who require proper guidance from society and the government. "Otherwise, there is every chance that these youngsters choose the wrong track," she cautions.
Observation
It is indeed a historic decision by the EU to write off both Hamas and LTTE from its terrorist list.
UN has a positive role in this regard. It must ensure that the conditions that led the Hamas and LTTE to choose a path of war with the state terror techniques do not resurface in order to showcase it military prowess against the weak minorities and races.
While Hamas faction of the Palestinians are being terrorized by occupying Israel, the Tamil population in Sri Lanka is being ill treated by majority Singhalese community for which the regime and military-police systems provide full support and Lankan government now led by President Sirisena does not seem to take firm decision to support the needs of Tamils against the will and wish of his own Singhalese community.
It is global shame that colonialist trends still play their devastating role as regional big brother India continues to terrorize Kashmiris after enslaving them on a fake agreement with the former Hindu ruler of a soverign Jammu Kashmir . Indian media deliberately hides the truth about the Jammu Kashmir saying it was a part of India where as the truth is Jammu Kashmir was an independent nation and not an Indian princely state at all and India annexed Jammu Kashmir by fooling the National Conference leader Sheikh Abdullah with an offer of Premiership of new Kashmir under Indian Constitution. Once the deal is safely through, India- Nehru- withdrew the Premiership from Abdullah saying India cannot have tow Premiers.
That was a betrayal of Kashmiris by all concerned and unconcerned. Now whenever India loses cricket match, it quickly attack Pakistan in order to terrorize Kashmiris. Yesterday, India , by chance, lost the fourth ODI to visiting New Zealand though they are playing as per a game plan and package deal, India ahs arrested a few Pakistani officials in New Delhi on "espionage" charges. Indians –Hindus, who are terribly disillusioned by the unexpected defeat of Indian only "Bharatratna" team, are expected to forget the cricket loss and enjoy as Indian TVs show the Pakistani officals are paraded into North Block. India cannot tolerate if foreign teams defeat India in India and there takes all precautionary steps to see a package deal is struck before the tournament by the Boards and foreign teams do not bring best bowlers to "OUT" Indian batboys.
Stateless and Leftover ISIS Brides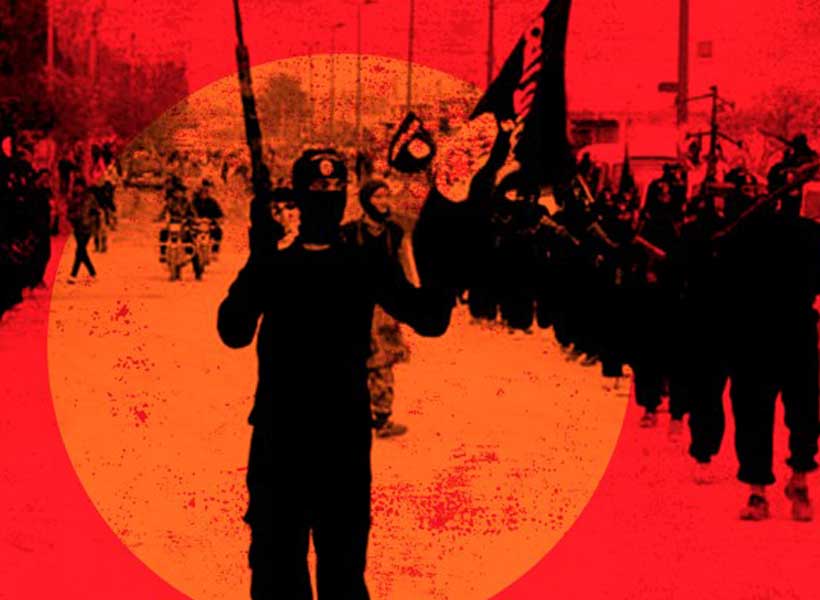 While the World is busy fighting the pandemic and the economic devastation caused by it, one of the important problem that has been pushed to dormancy, is the status of the ISIS(Islamic State of Iraq and Syria) brides. The Pandemic has crippled the capacity of the law enforcement and exploiting this the ISIS executed attacks in Maldives, Iraq, and the Philippines. The United Nations Secretary-General Antonio Guterres has warned that terrorists are exploiting the COVID-19 Pandemic. Albeit the ISIS has been defeated, approximately ten thousand of them are in ISIS detention centres in Northern Syria under Kurds. Most of these detention centres are filled by women and children, who are relatives or widows of the ISIS fighters. With their native states denouncing them, the status of the stateless women and children is unclear.
As it stands today states' counter-terrorism approach has been primarily targeting male militants but women also have played a role in strengthening these terrorist organizations. Women involvement in militant organizations has increased as they perform several activities like birthing next-generation militants/jihadists, managing the logistics and recruiting the new members to the organizations. The world did not recognize women as key players in terrorist organizations until the 1980s when females held major roles in guerilla wars of southern America. Women have either willingly or unwillingly held a variety of roles in these extremist organizations and Islamist terrorist organizations like Hamas and al-Qaeda women do simply provide moral support.
According to the media reports since the US withdrawal from Iraq in 2006 female suicide attacks have been increased and they have been extensively part of ISIS. The ISIS had a female brigade which they called as Al-Khansaa which was established to perform search activities in the state. Both foreign and domestic recruits in the Islamic state have participated in brutal torture. A recently acquired logbook from a guesthouse in Syria provides important information about 1100 females who joined the organization, the western women who are called as 'the muhajirat'.
When the people from rest of the world joined organizations such as ISIS, they burnt their passports and rejected their national identity. Especially women from western countries who were radicalized online based on their phenomenon 'ISIS brides/Jihadi brides' to marry terrorists. Since Islamic State isnot recognized by the world these marriages are not legally valid, apart from this a number of these brides have experienced sexual torture and extreme violence.
While the erstwhile members of the extremist organizations like ISIS and others are left adrift the one challenging question remaining is should states and their societies keep them and reengage or rehabilitate or prosecute them. How firmly the idea of their erstwhile organization is stuck in their minds and especially the followers who crossed the world to join remains a concern to many. The U.S backed Kurdish forces across turkey border hold thousands of these left-behind women and children in their centre. Hundreds of foreign women and children who were once part of an aspirant state, The caliphate are now floating around the concentration camps in Syria, Turkey and Kurdish detention centres and prisons. Many are waiting to return to their origin countries. They pose a unique challenge to their native states like whether to include them or not and even if they include how to integrate adults who at least for a time part of these terrorist organizations and what to do with children who are too young to understand the politics and obstacles keeping them in camps and detention centres where resources are scarce. Women present a problem because its hard to know what kind of crimes they have committed beyond the membership of the terrorist organization.
It is no secret that women also have been part of insurgency across the world, like in ISIS,LTTE,PIRA and PFLP. The responsibility of women in ISIS includes wife to ISIS soldiers, birthing the next generation of jihad and advancing ISIS' global reach through online recruiting. The International Center for Study of Radicalization (ICAR) estimates that out of 40000 people joined ISIS from 80 different countries nearly 8000 are women and children. After the defeat of ISIS and such extreme organization those who are left behind possess the ideological commitment and practical skills which again a threat upon return to home countries.
The states across the world are either revoking the citizenship or ignore their responsibility. The most famous case of Shamima Begum a UK citizen married to an ISIS fighter whose citizenship was revoked by the UK government. In other cases like HodaMuthana of the USA and Iman Osman of Tunisia have been the same case. As recently as Tooba Gondal an ISIS bride who now in a detention camp in northern Syria begged to go home in the UK in a public apology.
The American president Donald Trump issued a statement saying women who joined ISIS cannot return. The NATO deputy head said "…returning ISIS fighters and brides must face full rigours of the law". Revoking the citizenship and making someone stateless is illegal under international law and it is also important to know how gendered these cases are because the UK have successfully prosecuted Mohammad Uddin and the USA has also done it so. Stripping off their citizenship itself a punishment before proper trail and the only good out of it would state can take their hands off in dealing with cases. Samantha Elhassani the only American who repatriated from Iraq so far and pleaded guilty for supporting ISIS. Meanwhile, France is trying to route its citizens who joined the ISIS and extradited few who are under trial in Bagdad.
As experts and political analysts say "countries should take responsibility for their own citizens" because failure to do so will also make the long term situation more dangerous as jihadists will try to a hideout and turn into militant groups for their protection. The children, the second-generation ISIS need cultural centres and rehabilitation centres and this is an international problem. These women known as jihadists brides suffer from a post-traumatic stress disorder and many are pregnant or multiple children born in ISIS territory.
In some countries travelling abroad to join the insurgencies in North Africa and Syria was not always a criminal act, Sweden criminalized such act recently but to prosecute them proof of offences committed in the conflict zone is difficult to collect and most countries in the world do not allow the pre-trial detention for more than 14 days. With problems of different national Lawson extradition and capital punishment and to prosecute them in conflict countries is also a challenge for states. Since Kurdish forces have signalled that they cannot bring all the prisoners into justice the home countries will have to act or else it might create a long term dangerous situation. With the civil war in Syria is about to end it is time to address these issues because since there are more ISIS fighters in Kurdish prisons and detention centres they could be influenced to join rebels who are fighting the regime of Assad in last standing province of Idlib.
If the governments reject the repatriation applications then they will be signalling that their action is essential for national security and thus asserting that failed or poorly resourced states are better equipped to handle potential extremists. The criminal system in Iraq is corrupt and human rights violations have been reported and which creates the risk of further radicalization. One should not forget that even citizenship of Osama bin laden was also stripped but which did not stop him from forming al-Qaeda in Afghanistan. If the citizens commit crimes and forget their responsibility then the states must bring them to justice instead of stripping citizenship. The states must come with a solution for this problem before its too late, setting up an international tribunal to deal with these cases would be a great start but these tribunals are time-consuming and expensive.
States must act as a responsible actor in the international system. Jihadist terrorism is a global problem and states must act together to deal with it because with nearly 40000 fighters joining caliphate from across the world it only shows how global and deeply rooted the phenomenon is. Instead of stripping their citizens' citizenship, states must find a way to act together for the peace and security of the international community.
COVID-19: Game-changer for international peace and security
The world has "entered a volatile and unstable new phase" in terms of the impact of COVID-19 on peace and security, the UN chief told a virtual meeting with world leaders on Wednesday.
Speaking at one of a series of international meetings among heads of State to enhance global cooperation in fighting terrorism and violent extremism, as part of the Aqaba Process, Secretary-General António Guterres said the pandemic was more than a global health crisis.
"It is a game-changer for international peace and security", he spelled out, emphasizing that the process can play a key role in "promoting unity and aligning thinking" on how to beat back the pandemic.
Warning lights flashing
Mr. Guterres maintained that the coronavirus has exposed the basic fragility of humankind, laid bare systemic and entrenched inequalities, and thrust into the spotlight, geopolitical challenges and security threats.
"The warning lights are flashing", he said, pointing out that as the virus is "exacerbating grievances, undermining social cohesion and fueling conflicts", it is also likely to "act as a catalyst in the spread of terrorism and violent extremism".
Moreover, international tensions are being driven by supply chain disruptions, protectionism and growing nationalism – with rising unemployment, food insecurity and climate change, helping to fuel political unrest.
A generation in crosshairs
The UN chief also noted that a generation of students is missing school.
"A whole generation…has seen its education disrupted", he stated. "Many young people are experiencing a second global recession in their short lives."
He explained that they feel left out, neglected and disillusioned by their prospects in an uncertain world.
Wanted: Global solidarity
The pandemic has highlighted vulnerabilities to emerging threats such as bioterrorism and cyber-attacks on critical infrastructure.
"The world faces grave security challenges that no single country or organization can address alone", upheld the Secretary-General, "there is an urgent need for global unity and solidarity".
Recalling the UN's Virtual Counter-Terrorism Week in July, he reminded that participants called for a "reinvigorated commitment to multilateralism to combat terrorism and violent extremism".
However, a lack of international cooperation to tackle the pandemic has been "startling", Mr. Guterres said, highlighting national self-interest, transactional information sharing and manifestations of authoritarianism.
'Put people first'
The UN chief stressed that "we must not return to the status quo ante".
He outlined the need to put people first, by enhancing information sharing and technical cooperation "to prevent terrorists exploiting the pandemic for their own nefarious goals" and thinking "long-term solutions rather than short-term fixes".
"This includes upholding the rights and needs of victims of terrorism…[and] the repatriation of foreign terrorist fighters, especially women and children, and their dependents to their countries of origin", he elaborated.
Closing window
Meanwhile, the risk of COVID-19 is exacerbating the already dire security and humanitarian situation in Syrian and Iraqi camps housing refugees and the displaced.
"The window of opportunity is closing so we must seize the moment", the UN chief said. "We cannot ignore our responsibilities and leave children to fend for themselves and at the mercy of terrorist exploitation".
He also expressed confidence that the Aqaba Process will continue to "strengthen international counter-terrorism cooperation, identify and fill capacity gaps, and address evolving security threats associated with the pandemic", and offered the UN's "full support".
Post-COVID rebuilding
The Secretary-General also addressed the Centenary Summit of the International Organization of Employers (IOE) on how private and public sector cooperation can help drive post-COVID change.
He lauded the IOE's "significant contributions" to global policymaking for economic and social progress, job creation and a mutually beneficial business environment, calling it "an important pillar of the International Labour Organization (ILO) since its earliest days".
"Today, our primary task is to defeat the pandemic and rebuild lives, livelihoods, businesses, and economies", he told the virtual Summit.
In building back, he underscored that workers and small business be protected, and everyone be given the opportunity to fulfil their potential.
Businesses input
The UN chief urged businesses to engage with the multilateral system to create a "conducive global environment for decent work, investment, and sustainability"; and with the UN at the national level, to help ensure that multilateralism "works on the ground".
He also encouraged them to actively participate in national and global public-private dialogue and initiatives, stressing, "there must be space for them to do so".
Tripartite cooperation
ILO chief Guy Ryder highlighted the need for "conscious policy decisions and tripartite cooperation to overcome transformational challenges", such as technological change and climate change, as well as COVID-19.
Mr. Ryder also flagged that employers must continue to collaborate in social dialogue and maintain their commitment to both multilateralism and the ILO.
The IOE represents more than 50 million companies and is a key partner in the international multilateral system for over 100 years as the voice of business at the ILO, across the UN, the G20 richest countries and other emerging forums.
Traumas of terrorism cannot be erased, but victims' voices must never be forgotten
In remembering and honouring all victims of terrorism, Secretary-General António Guterres said the UN stands by those who grieve and those who "continue to endure the physical and psychological wounds of terrorist atrocities".
"Traumatic memories cannot be erased, but we can help victims and survivors by seeking truth, justice and reparation, amplifying their voices and upholding their human rights", he stressed.
Keep spotlight on victims, even amid pandemic
This year's commemoration takes place against the backdrop of the COVID-19 pandemic, when vital services for victims, such as criminal justice processes and psychosocial support, have been interrupted, delayed or ended as Governments focus attention and resources on fighting the pandemic.
Moreover, many memorials and commemorations have been cancelled or moved online, hampering the ability of victims to find solace and comfort together.
And the current restrictions have also forced the first-ever UN Global Congress of Victims of Terrorism has to be postponed until next year.
"But it is important that we keep a spotlight on this important issue," stressed the UN chief.
"Remembering the victims of terrorism and doing more to support them is essential to help them rebuild their lives and heal", said Mr. Guterres, including work with parliamentarians and governments to draft and adopt legislation and national strategies to help victims.
The Secretary-General vowed that "the UN stands in solidarity with all victims of terrorism – today and every day" and underscored the need to "ensure that those who have suffered are always heard and never forgotten".
Terrorism unjustifiable
General Assembly President Tijjani Muhammad-Bande saluted the resilience of terrorist survivors and called the day "an opportunity to honour the memories of the innocent civilians who have lost their lives as a result of terrorist acts around the world".
"Terrorism, in all forms and manifestations, can never be justified", he stated. "Acts of terrorism everywhere must be strongly condemned".
The UN commits to combating terrorism and the Assembly has adopted resolutions to curb the scourge while working to establish and maintain peace and security globally.
Strengthen assistance
Mechanisms for survivors must be strengthened to safeguard a "full recovery, rehabilitation and re-integration into society through long-term multi-dimensional support", stated the UN official.
"Together we can ensure that you live a full life defined by dignity and freedom. You are not alone in this journey. You are not forgotten", concluded the Assembly president.
'Human dimension'
Closing the event, Vladimir Voronkov, chief of the UN Office of Counter-Terrorism, maintained that victims represent "the very human dimension of terrorism".
While terrorists try to depersonalize victims by reducing them to mere numbers or statistics, Mr. Voronkov maintained that "we have a responsibility to do the exact opposite".
"We must see victims' hopes, dreams and daily lives that have been shattered by terrorist violence – a shattering that carries on long after the attack is over", he stated. "We must ensure their human rights are upheld and their needs are met".
Reaffirming humanity
While acknowledging the "terrible reality of terrorism", Mr. Voronkov flagged that the survivors shine as "examples of resilience, and beacons of hope, courage and solidarity in the face of adversity".
In reaffirming "our common humanity", he urged everyone to raise awareness of victims needs and rights.
"Let us commit to showing them that they are not alone and will never be forgotten", concluded the Counter-Terrorism chief.
Survivors remember
At the virtual event, survivors shared their stories while under lockdown, agreeing that the long-term impacts of surviving any kind of an attack is that the traumatic experience never really goes away.
Tahir from Pakistan lost his wife in attack against the UN World Food Programme (WFP) office in Islamabad.
"If you have an accident, you know how to cope with it. Terminal illness, you know how to cope with it. But there is no coping mechanism for a person who dies in an act of terror", he said.
Meanwhile Nigeel's father perished in the 1998 US Embassy attack in Kenya, when he was just months years old.
The 22 year-old shared: "When you are growing, it really doesn't have a heavy impact on you, but as life starts to unfold, mostly I'll find myself asking if I do this and my dad was around, would he be proud of me?"
And Julie, from Australia, lost her 21-year-old daughter in the 2017 London Bridge attack.
"The Australian police came to our house and said 'we have a body, still not confirmed', so they recommended that we fly to London", she recalled. "I can't describe how devastating as a parent to lose a child in these circumstances is for the rest of your life".