Chinese Influence in Latin America and Middle East
China's interest in Latin America is significant and expanding. The region has become a vital source of raw material and food stuffs for china, in the past six years Chinese import from Latin America grown by nearly 60% in a year. China also face a major political challenges in the region, 26 countries of Latin America recognize Taiwan.
China has two primary interests in Latin America:
Gaining access to the natural resources
Wresting diplomatic recognition to Taiwan
China has rapidly expanding economic relations with Latin America that has helped to fuel the regions development in the recent years. China was the regions third largest trading partner in 2005.china contacted 50 billion US dollars in trade and had $6.5 billion worth of investment in the region in 2004. China reduces lots of aggressive diplomacy through increased trade, aid, and investment. Many people in America look to china as an economic and political alternatives to US hegemony. Washington worries about china's growing attention in Latin America. Chinese presence in Latin America is the most serious challenge to US interest in the region since the collapse of Soviet Union. China is promising to bring to Latin America, its growing military to military relations in the region. These all factors are potential threats to the long standing pillars of US policy in the region.US should adopt a new strategy in Latin America including
Expanding its own free trade networks, helping to develop strong market economies, fastening clear and more co-operative relations. Most of the analyst doubted that china's Initiative in Latin America will provoke a confrontation with US.
Similarly Chinese influence in Middle East increases day by day, china is relative new comer into the Middle East geo-politics as for as US interests are concerned. In short term Middle East is defined as world largest oil and gas reserves area of conflict. The Middle East present the Chinese leadership with vast opportunities to fulfill its growing energy needs and to profit from massive weapons deals to oil rich regime regardless of the consequences on regional stability china has seen its new diplomatic influence in the middle east as a geopolitical counter weight to the US.
History and international relations theory portray that tensions and war are often associated with the rise of new great power. The PRC receives the continuous coverage by think tanks as an emerging economic and military power. PRC expanding its influence in geographical regions, PRC sought to expand influence in international issues such as with access to energy and trade policy that is designed to benefit the interest of PRC and reduce the influence of US. The US granted PNTR to strengthen their trade relations and for accession to the market. China also played an effective role in international economy and combating war against terrorism.
China's Imprint underneath the Pyongyang Joint Declaration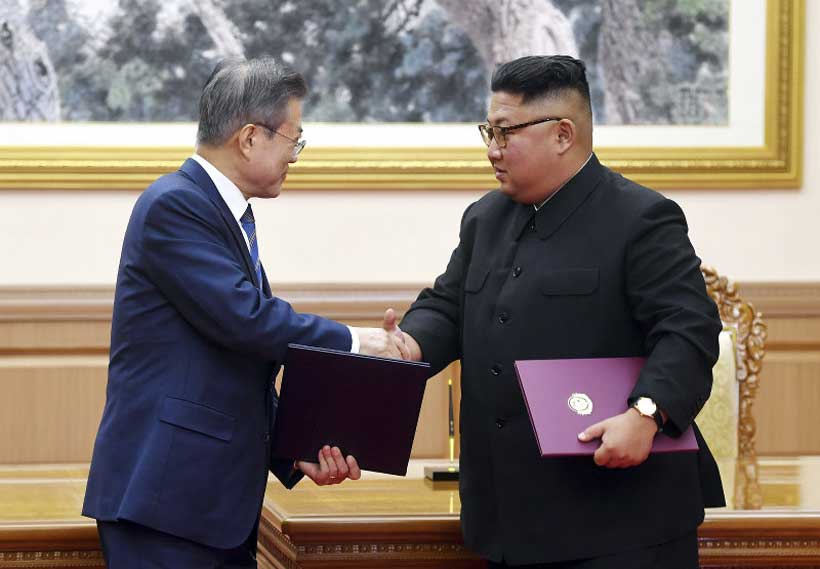 On September 18, the leaders of two Koreas met each other in Pyongyang, the capital of the DPRK. The world media focused on the meeting during which the two sides issued the "Pyongyang Joint Declaration". If we see the Panmunjom Declaration serving as the cornerstone of the dialogue between two Korea, it is necessary to say that this joint declaration took a substantial step to the denuclearization of the Korean peninsula that is vital to the regional peace and beyond.
Literally speaking, the Pyongyang joint declaration highlighted the key issues as follows. First, both sides are determined to achieve the denuclearization of the Korean peninsula. Second, they will work together to improve their relations with a view to the existing state of war, as the defense chiefs from the DPRK and ROK earlier signed a comprehensive agreement aiming to reduce tensions on the peninsula. Third, they will promote the peace talk process of the Korean peninsula. Given that Kim pledged to work toward the "complete denuclearization of the Korean Peninsula", it would be seen as a political declaration that would mark a starting point for peace negotiations. If all goes well, a peace treaty would be sealed and then comes normalization of DPRK-US relations after it achieves complete denuclearization.
As a close neighbor to the Korean Peninsula, China always supports the DPRK and ROK as well in improving their relations through dialogue and consultation and promoting reconciliation and cooperation. This is the consistent and persistent position of Beijing, which has been playing a responsible role in politically resolving the Korean Peninsula issue and achieving the long-standing peace of the region.
In effect, prior to the leaders of two Korea met each other this week in Pyongyang, they have closely contacted their respective allies or strategic partners. Among them is China, dealing with both sides – Pyongyang and Seoul – in a unique way. It is true that China is the largest trading partner of the ROK while it is equally the only legal ally of the DPRK as well as its largest ideological partner now. If we review the bilateral relations between China and North Korea since last March, Kim Jr. has paid three significant, though unofficial, visits to President Xi of China. For example, during his March 25-28 visit, both sides vowed to continue their traditional solidarity in terms of their shared ideologies and common strategic interests. Xi especially proposed to strengthen the close ties between the two ruling parties. As he said to Kim, "party-to-party and state-to-state relations are the common treasure to both sides. And safeguarding, consolidating and developing China – DPRK relations are unswerving guidelines for China's foreign policy and security strategy.
During his second meeting with Xi in Dalian summer resort, Kim vowed to terminate all the nuclear tests and to follow denuclearization if the United States took corresponding measures with good wishes. Then following his meeting with Trump in Singapore on June 12, Kim came to Beijing again on 19 to meet his Chinese counterpart. Xi confirmed China's "3-no change" policy towards the DPRK, that is, political solidarity between the two parties remains unchanged, the friendship between the two peoples remains unchanged, and China's support of a socialist Korea remains unchanged. Essentially, they serve as the foundation of the strategic consensus between Beijing and Pyongyang. In return, Kim reiterated his permanent shutdown of all nuclear tests and facilities if the US would respond sincerely and responsibly.
Given all the analysis above, it is understandable to conclude that China's long-standing adherence to the goal of denuclearization of the Peninsula through dialogue and consultation is fully reflected in the Pyongyang Declaration. Meanwhile, China's stance remains evident since it claims that the Korean issue must be resolved eventually by the Korean people rather than any external power. Therefore, peace not force is the only acceptable way. Also, as China and Russia have repeated that no coercive change of the regime by outside power is tolerated, North Korea can be confident and comfortable to proceed the permanent shutdown of the missile engine test site with international experts observing; and then a complete denuclearization is not too far in the future.
Here is necessary to argue that China has never claimed to play an exclusive role in the Korean Peninsula. Instead of that, China has always encouraged the DPRK to talk to the United States and other relevant parties. Since Kim has agreed to make a trip to Seoul for further talks and to meet the US high-ranking officials in Pyongyang soon, the summit between Kim and Moon marks a leap forward toward peace.
Yet, as the lessons in history show, it is better to approach realistically the Korean issue simply because it has involved too complicated concerns and memories and the overlapped interests. Therefore, we should be ready to accept trial and challenges lying ahead. China has insisted on diplomacy which means that all parties concerned should be brought to the negotiating table under the mandate of the UN Security Council.
Now, Beijing has navigated the course of denuclearization proactively to protect two sides' common core security stakes when Kim reportedly promised to give up his nuclear program if the United States and South Korea respond to his proposal with good will. Due to this reason, China will do what it can to help ensure "no change of regime by force and denuclearization at the same time in the Korean Peninsula". This is China's influence or Beijing's imprint on the Korean denuclearization issue and the regional peace.
Middle Eastern Black Swans dot China's Belt and Road
If any one part of the world has forced China to throw its long-standing foreign and defense policy principles out the window and increasingly adopt attitudes associated with a global power, it is the greater Middle East, a region that stretches from the Atlantic coast of Africa to north-western China, a swath of land populated by the Arab, Turkic and Persian worlds.
It was a series of incidents in 2011 during the popular Arab revolts that drove home the fact that China would not be able to protect with its existing foreign and defence policy kit its mushrooming Diaspora and exponentially expanding foreign investments that within a matter of a few years would be grouped as the infrastructure and connectivity-driven Belt and Road initiative linking the Eurasian landmass to the People's Republic.
Policy principles of non-interference in the domestic affairs of others, an economically-driven win-win approach as a sort of magic wand for problem solution, and no foreign military interventions or bases needed reinterpretation if not being dumped on the dustbin of history.
The incidents included China's approach to the revolt in Libya as it was happening when it deviated from its policy of non-interference by establishing parallel relations with the opposition National Council. The outreach to Libyan leader Col. Moammar Qadhafi's opponents did not save it from being identified with the ancien regime once the opposition gained power. On the contrary, the Council made clear that China would be low on the totem pole because of its past support for the Qadhafi regime.
The price for supporting autocratic rule in the greater Middle East meant that overseas Chinese nationals and assets became potential targets. To ensure the safety and security of its nationals in Libya, China was forced to evacuate 35,000 people, its most major foreign rescue operation. The evacuation was the first of similar operations in Syria, Iraq and Yemen.
The evacuations didn't stop militants in Egypt's Sinai from kidnapping 25 Chinese nationals and radicals in South Sudan from taking several Chinese hostages. The kidnappings sparked significant criticism on Chinese social media of the government's seeming inability to protects its nationals and investments.
With Uyghurs from China's strategic north-western province of Xinjiang joining militant jihadists in Syria and two Uyghur knife attacks in Xinjiang itself in the cities of Hotam and Kashgar, the limits of China's traditional foreign and defense policy meshed with its increasingly repressive domestic approach towards the ethnic Turkic people.
Finally, the greater Middle East's expectations were driven home in a brutal encounter between Arab businessmen and ethnic Chinese scholars and former officials in which the Arabs took the Chinese to task for wanting to benefit from Middle Eastern resources and trade relations without taking on political and geopolitical responsibilities they associated with a rising superpower.
Add to all of this that in subsequent years it was becoming increasingly difficult for China to remain on the sidelines of the Middle East's multiple conflicts and rivalries. This was particularly true with President Donald J. Trump's coming to office. The greater Middle East's problems escalated with Mr. Trump's abandonment of any pretence of impartiality in the Israeli-Palestinian conflict; his heating up of the rivalry between Saudi Arabia and Iran by withdrawing from the 2015 international agreement curbing Iran's nuclear program; and his toying with attempting to change the regime in Tehran that encouraged Saudi Arabia to step up Saudi support for Pakistani militants in the province of Baluchistan; the likely return of Uyghur jihadists in Syria to Central and South Asia that has prompted the establishment of Chinese military outposts in Tajikistan and Afghanistan and consideration of direct military intervention in a possible Syrian-Russian assault on Idlib, the last rebel-held stronghold in Syria; and finally the potential fallout of China's brutal crackdown in Xinjiang.
Already, the events in 2011 and since coupled with the mushrooming of Belt and Road-related investments has led to the creation of the country's first foreign military base in Djibouti and the likely establishment of similar facilities in its string of pearls, the network of ports in the Indian Ocean and beyond.
China's potential policy dilemmas in the greater Middle East were enhanced by the fact that it doesn't really have a Middle East policy that goes beyond its shaky, traditional foreign and defence policy principles and economics. That was evident when China in January 2016 on the eve of President Xi Jinping's visit to the Middle East, the first by a Chinese head of state in seven years, issued its first Middle East-related policy white paper that fundamentally contained no new thinking and amounted to a reiteration of a win-win-based approach to the region.
Moreover, with China dependent on the US security umbrella in the Gulf, Beijing sees itself as competitively cooperating with the United States in the Middle East. That is true despite the US-Chinese trade war; differences over the Iranian nuclear agreement which the United States has abandoned and China wants to salvage; and Mr. Trump's partisan Middle East policy.
China shares with the United States in general and even more so with the Trump administration a fundamental policy principle: stability rather than equitable political reform. China's principle of non-interference is little more than another label for the US equivalent of long-standing support of autocracy in the Middle East in a bid to maintain stability.
In some ways China is learning the lesson, despite recent developments in Xinjiang, that US President George W. Bush and Condoleezza Rice, his national security advisor and subsequent secretary of state, learnt on 9/11. Within a matter of weeks after the Al Qaeda attacks on New York and Washington, Bush and Rice suggested that the United States was co-responsible for the attacks because of its support for autocracy that had fuelled anti-American and anti-Western sentiment. It was why Bush launched his ill-conceived democracy initiative.
China, as a result of its political, economic and commercial approach towards the Belt and Road, is starting to have a similar experience. Chinese overseas outposts and assets have become targets, particularly in Pakistan but also in Central Asia.
The kidnappings in 2011 in the Sinai and South Sudan were the beginning. Uyghurs joined groups like the Islamic State and Al Qaeda not because they were pan-Islamist jihadists but because they wanted to get experience they could later apply in militant struggle against the Chinese.
Beyond profiling themselves in fighting in Syria, Uyghurs have trained with Malhama Tactical, a jihadist for profit Blackwater, the private military company created by Erik Prince.
Anti-Chinese sentiment in countries like Kazakhstan and Tajikistan is on the rise.
Iranians are grateful for Chinese support not only in the current battle over the nuclear accord but also in the previous round of international and US sanctions. They feel however that last time round they were taken for a ride in terms of high Chinese interest rates for project finance, the quality of goods delivered, and a perceived Chinese laxity in adhering to deadlines.
Resentment of the fallout of the Belt and Road investment taps into the broader threat involved in supporting stability by backing autocratic regimes That is nowhere truer than in the greater Middle East, a region that is in a period of volatile, often bloody and brutal transition. It's a transition that started with the 2011 Arab revolts and has been pro-longed by a powerful Saudi-United Arab Emirates-led counterrevolution. Transitions take anywhere from a quarter to half a century. In other words, the Middle East is just at the beginning.
China, like the United States did for decades, ignores the rumblings just below the surface even if the global trend is toward more authoritarian, more autocratic rule. 9/11 was the result of the United States and the West failing to put their ear to the ground and to take note of those rumblings.
Of course, current rumblings may never explode. But the lesson of the people's power movement in the Philippines in 1986, the video in late 2010 of a fruit and vegetable vendor in Tunisia who set himself alight that sparked the Arab revolts, months of street and online protests in Morocco in the last year, the mass protests in Jordan earlier this year against a draft tax bill that have now restarted because of the legislation's resurrection, and the current protests in the Iraqi city of Basra potentially are the writing on the wall.  All it takes is a black swan.
Said Financial Times columnist Jamil Anderlini:" China is at risk of inadvertently embarking on its own colonial adventure in Pakistan— the biggest recipient of BRI investment and once the East India Company's old stamping ground… Pakistan is now virtually a client state of China. Many within the country worry openly that its reliance on Beijing is already turning it into a colony of its huge neighbour. The risks that the relationship could turn problematic are greatly increased by Beijing's ignorance of how China is perceived abroad and its reluctance to study history through a non-ideological lens… It is easy to envisage a scenario in which militant attacks on Chinese projects overwhelm the Pakistani military and China decides to openly deploy the People's Liberation Army to protect its people and assets. That is how 'win-win' investment projects can quickly become the foundations of empire."
The Chinese crackdown in Xinjiang could just be a black swan on multiple fronts given the fact that its fallout is felt far beyond China's borders. For starters, the wall of Western and Muslim silence is cracking with potentially serious consequences for China as well as the Islamic world.
What is happening in Xinjiang is fundamentally different from past incidents including protests against a novel by Salman Rushdie and Ayatollah Khomeini's fatwa ordering his killing; the 2006 Muslim boycott of Danish products because of controversial Danish cartoons depicting the Prophet Mohammed, and the more recent protests sparked by the burning of a Qur'an by a Florida evangelist. The Chinese campaign in Xinjiang challenges fundamentals of the Islamic faith itself.
The earlier incidents were sparked by protests, primarily among South Asians in either Birmingham or Pakistan. This month has seen the first of Xinjiang-related anti-Chinese protests in Bangladesh and India. The first critical article on Xinjiang in the Pakistani press was published this week.
Malaysia is the first Muslim country to speak out with condemnations by a senior figure in Malaysian prime minister Mahathir Mohamad's political party as well as the country's likely next head of government, Anwar Ibrahim.
Consideration in Washington of Xinjiang-related sanctions by the Trump administration, coupled with United Nations reporting on the crackdown and a German and Swedish ban on deportations of Uyghurs, puts the issue on the map and increases pressure on Muslim nations, particularly those like Saudi Arabia, Iran, Turkey and Pakistan that claim to speak on behalf of Islam.
This together with the fact that Chinese support for autocratic or authoritarian rule creates a potential opportunity to export its model of the surveillance state, the most extreme example of which is on display in Xinjiang, constitutes risks and involves potential black swans. To be sure, Pakistan can hardly be described as a liberal society, but it is also not exactly an authoritarian state, yet Pakistan is China's first export target. And others closer to home could follow.
If all of this is more than enough to digest, factor in the geopolitics of Eurasia, certainly as they relate to the greater Middle East. The Chinese-backed Russian-Iranian-Turkish alliance is brittle at best, witness differences over the possible battle for Idlib and the post-war presence of Iran in Syria.
Saudi Arabia, the United Arab Emirates and Iran, and to a lesser degree Israel are players in what is a 21st century Great Game. That is particularly true in the Caucasus and Central Asia as well as Pakistan and as it relates to port diplomacy in Pakistan's Gwadar and the Indian-backed Iranian port of Chabahar.
Add to this the fact that if Saudi Arabia is the world's swing oil producer, Iran is Eurasia's swing gas producer with the potential to co-shape the supercontinent's future energy architecture.
And finally, there are multiple ways that China risks being sucked into the Saudi-Iranian rivalry not least if the United States and Saudi Arabia decide to take plans off the drawing board and initiate a campaign to destabilize Iran by stirring unrest among its Baloch, Kurdish, Iranian Arab and Azeri minorities.
The long and short of this is that the Great Game in Eurasia remains largely undecided and that change in China's foreign and defense policy is already a fact. The question is how all of this will affect China and how potential obstacles on the Belt and Road will play out.
Edited remarks at the RSIS Book Launch of China and the Middle East; Venturing into the Maelstrom (Palgrave 2018), 20 September 2018
A de facto alliance exists between China and Russia
From mid-August to September 15, 2018, Chinese troops went to Russia to participate in the "Vostok-2018" strategic military exercise, which was the largest strategic exercise organized by the Russian military since the 1980s. It was also the first time that China had sent such a large group of troops to attend a military exercise outside its territory. Since China and Russia have been the comprehensive strategic partners of coordination, it is supposed that the two Eurasian powers have in effect forged the allies in all terms. According to classical balance of power theory, states forms alliances in order to prevent stronger powers from dominating them. This is precisely the root cause of Beijing and Moscow having decided to move forward since the collapse of the Soviet Union toward the current strong ties.
Over the past decades, some have argued that either China or Russia, ostensibly avoiding challenging the United States, might be cautious to advance their overall strategic ties to a real military level, yet the "Vostok-2018" drill has proved that a de facto alliance between the two powers comes out of age. It is self-evident that China and Russia vowed to further deepen military ties and improve their troops' combat abilities to respond to various security threats, as they formally concluded the "Vostok-2018" strategic drills with a military parade at the Tsugol training range in Russia's Trans-Baikal region. President Putin praised Russian and Chinese troops who participated in high-level drills in which they demonstrated their capability to counter potential military threats.
To the realist scholars, like Kissinger, Kenna, Walt and Mearsheimer, they believe that China and the former USSR and now Russia are doomed to compete with each other in light of their geographical vicinity and the lack of mutual trust resulted from the pursuit of greatness and historical memories. Kissinger even argued that neither country will entrust the security of these borders to the continued goodwill of the other, whatever its current irritation with an allegedly hegemonic United States. Yet, the Fourth East Economic Forum held in September 13 in Vladivostok witnessed the leaders of the two countries vowed to promote their bilateral relations to a new stage in a new era, especially regarding investment, e-commerce and people-to- people exchanges in the Far East region and beyond.
China and Russia have come to so close and coordinated strategically due to primarily the hegemonic policy and conduct of Washington. For example, in 2017 U.S. National Security Paper defined China and Russia as the strategic rivals. Also the NATO headed by the US has pushed Russia to its defined red-line; and the US have tried to align Japan and India to advance what is termed the Pacific-Indian Ocean strategy that aims to "contain" the rise of China rather than engagement of China. Because of this stark reality, the strategic partnership of Beijing and Moscow has proceeded at a steady and occasionally cautious-like pace. As long as Russia struggles for advancing its legitimate national security and its economic recovery, Xi deems that China and Russia will certainly be able to provide driving forces for mutual security, regional stability and global peace and justice. Equally, China needs Russia's support in realizing trilateral cooperation between Russia, China and Mongolia, not mention of the advanced weaponry.
In addition, the strategic consensus between China and Moscow come out of their common belief that the U.S. has consistently ignored the U.N. resolution by unilateral launch of wars against Iraq, Libya and Syria. In that context, China and Russia have the consensus to promote multilateralism rather than any single hegemony in the world. The two leaders have reiterated that they are firmly fighting against any sort of unilateralism and protectionism. In terms of the recent trade war between China and the US, China has been well-aware of the urgency to promote economic cooperation with Russia. It is true that the two Eurasian powers have huge potentials which are complementary in view of strategic resources and manufacture capabilities. As close neighbors, they bestow them a strategic depth to coordinate and support each other, including the China-proposed Belt and Road Initiative and the Russia-led Eurasian Economic Union. During his state visit to China this summer, President Putin stated that deepening Russia-China comprehensive strategic partnership of coordination is the priority of Moscow's foreign policy. In order to correct the relations between the two powers in terms of "politically warm yet tepid economically, Putin's Russia also enhances the cooperation with China in such areas as agriculture, energy and infrastructure. For example, trade between the two countries has developed remarkably over the past decade and, as a result, China was Russia's largest trading partner in eight continuous years up to 2017. The bilateral trade volume reached over 84 billion dollars, representing a 20.8 percent increase year-on-year, and is expected to increase to as high as 100 billion dollars in 2019.
It is clear that this military exercise aims to send a signal to the world that China and Russia will continue their military cooperation and explore new possible ways to boost their combat abilities, which covers a classic anti-invasion campaign and equally shows off the two countries' sophisticated approach to modern warfare with the ability to conduct surgical style, precision attacks. However, China and Russia have moved their strategic ties to such a historical level due to the personal contributions of President Xi and his counterpart President Putin. As Chinese FM Wang Yi said that the joint efforts by the two leaders have injected new dynamics into the relations between the two countries, and particularly propelled by the personal efforts of Xi and Putin, Sino-Russian comprehensive strategic partnership will probably set an example for building a new type of international relations and developing equality-based and mutually beneficial cooperation between major countries.